FLEURSDUMAL POETRY LIBRARY – classic, modern, experimental & visual & sound poetry, poetry in translation, city poets, poetry archive, pre-raphaelites, editor's choice, etc.
·
Vladimir Majakovski nieuwe uitgave van Verzamelde gedichten
·
Diane di Prima: The Poetry Deal. San Francisco Poet Laureate Series No. 5
·
Hugo Ball: 1 Stern und 7 kazamogipuffel
·
Gérard de Nerval: A Victor Hugo – Poéme
·
Meena Alexander: Atmospheric Embroidery. Poems
·
The Written World. The Power of Stories to Shape People, History and Civilization by Martin Puchner
·
The Fix (Poetry) by Lisa Wells
·
Eye Level. Poems by Jenny Xie
·
Paul Muldoon: Selected Poems 1968–2014
·
Bert Bevers: In volle werking (gedicht)
·
Gérard de Nerval: A Madame Sand
·
Amélie Nothomb: Les Prénoms épicènes
Sinds de vertaling van Marko Fondse van Majakovski's werken uitkwam, vijfentwintig jaar geleden, is diens poëzie niet meer weg te denken uit de Nederlandse boekhandel. De ongeëvenaarde lenigheid van de taal die Fondse wist aan te boren zette de dichter hier voorgoed op de kaart.
Met de ge-update versie van de poëzie van Majakovski zijn zijn beroemde poèma's en andere gedichten nu weer beschikbaar. Het bekende Een wolk in broek en Mens, die dateren van voor de revolutie van 1917, laten de gepassioneerde (liefdes)dichter in optima forma zien. De grote gedichten Ik heb lief en Daarover, van na de revolutie, zijn twee positieve uitzonderingen op de socialistische poëzie waaraan Majakovski zijn dichterschap ten slotte offerde: daarin keert de bravoure van zijn vroege lyriek even terug.
Deze uitgave van Majakovski's poëzie is voor de gelegenheid aangevuld met een grote hoeveelheid gedichten uit zijn enorme oeuvre. Vele daarvan verschenen niet eerder in Nederlandse vertaling. De herziening en uitbreiding zijn in handen van Majakovski-vertaler Yolanda Bloemen.
Alles waarvoor de dichter Vladimir Majakovski (1893–1930) hartstochtelijk leefde en werkte, de revolutie en de opbouw van het socialisme, is een eeuw na zijn geboorte grondig in diskrediet geraakt en ineengestort. Naar Majakovski's socialistische poëzie kijkt bijna geen mens meer om. Wel wordt zijn voorrevolutionaire werk nog gelezen: de gedichten van Een wolk in broek tot en met Mens, een ding, met hun unieke mixtuur van lyrische, epische en dramatische kwaliteiten. Na 1917 wist Majakovski zich nog twee maal van zijn socialistische preoccupaties los te maken in de twee grote poëma's Ik heb lief en Daarover (1921-1923).
Auteur: Vladimir Majakovski
Titel: Verzamelde gedichten
Vertalingen: Marko Fondse, Yolanda Bloemen e.a.
Taal: Nederlands
Uitgever: Uitgeverij van Oorschot
Bindwijze: Paperback
Verschijningsdatum: september 2018
Druk: 1e druk
Afmetingen: 21 x 13 x 2,9 cm
Aantal pagina's: 480
ISBN-13 9789028280915
ISBN-10 902828091X
€ 29,99
# new poetry translations
Vladimir Majakovski
fleursdumal.nl magazine
More in: - Book Lovers, - Book News, Archive M-N, Archive M-N, Art & Literature News, Constructivism, Constuctivisme, Majakovsky, Vladimir, TRANSLATION ARCHIVE
---
The Poetry Deal is the first full-length collection of individual poems in decades from legendary feminist Beat poet, Diane di Prima.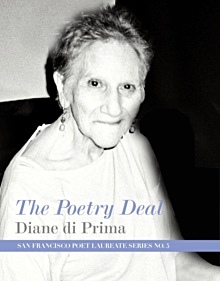 Framed by two passionate, and critical, prose statements assessing her adopted home city, The Poetry Deal is a collection of poems that provide a personal and political look at 40 years of Bay Area culture. Often elegiac in tone, the book captures the poet's sense of loss as she chronicles the deaths of friends from the AIDS epidemic as well as the passing of illustrious countercultural colleagues like Philip Whalen, Pigpen from the Grateful Dead, and Kirby Doyle.
She also recalls and mourns out-of-town inspirations like Chogyam Trungpa Rinpoche, Audre Lorde, and Ezra Pound. Yet even as she laments the state of her city today, she finds triumph and solace in her own relationships, the marriages of her friends, the endurance of City Lights, and other symbols of San Francisco's heritage.
Born in Brooklyn in 1934, di Prima emerged as a member of the Beat Generation in New York in the late '50s; in the early '60s, she founded the important mimeo magazine, The Floating Bear, with her lover LeRoi Jones (Amiri Baraka). In the late '60s, she moved to San Francisco, where she would publish her groundbreaking Revolutionary Letters (1971) with City Lights. Her other important books include Memoirs of a Beatnik, Pieces of a Dream, Recollections of My Life as a Woman, and Loba. She was named San Francisco Poet Laureate in 2009.
"The Poetry Deal is fresh flame from a revolutionary fire that continues to burn. Every woman of every age should carry it in a purse with their pepper spray. Diane is the ultimate weapon."—Amber Tamblyn, author of Dark Sparkler
Title The Poetry Deal
Subtitle San Francisco Poet Laureate Series No. 5
Author Diane di Prima
Collection San Francisco Poet Laureates
Publisher City Lights Publishers
Publication 2014
Format Paperback
ISBN-10 1931404151
ISBN-13 9781931404150
pages 120
Price $11.95
# new books
Diane di Prima poet
fleursdumal.nl magazine
More in: #Beat Generation Archives, - Book Lovers, - Book News, Archive O-P, Archive O-P, Art & Literature News
---
1 Stern und 7 kazamogipuffel
1 Stern und 7 kazamogipuffel
macht 13 zakopaddogei
zubtrahiere 5 franschöse Männlin
macht 1 Libanotterbett
nehme 3 Quentlin Klotzpulfer
legs in himmelsdeifelsnamen
dabei, wirst sehen wohinst
kommst wnr bällt wnr heult
wnr pfaucht wnre Daugen däht
Hugo Ball
(1886-1927)
gedicht
fleursdumal.nl magazine
More in: Archive A-B, Ball, Hugo, Dada, DADA, Dadaïsme
---
A Victor Hugo – Poéme
De votre amitié, maître, emportant cette preuve
Je tiens donc sous mon bras le Rhin.
—J'ai l'air d'un fleuve
El je me sens grandir par la comparaison.
Mais le Fleuve sait-il lui pauvre
Dieu sauvage
Ce qui lui donne un nom, une source, un rivage,
Et s'il coule pour tous quelle en est la raison.
Assis au mamelon de l'immense nature,
Peut-être ignore-t-il comme la créature
D'où lui vient ce bienfait qu'il doit aux Immortels:
Moi je sais que de vous, douce et sainte habitude,
Me vient l'Enthousiasme et l'Amour et l'Étude,
Et que mon peu de feu s'allume à vos autels.
Gérard de Nerval
(1808 – 1855)
A Victor Hugo – Poéme
fleursdumal.nl magazine
More in: Archive M-N, Hugo, Victor, Nerval, Gérard de
---
In this haunting collection of poems we travel through zones of violence to reach the crystalline depths of words  – –

Meena Alexander writes `So landscape becomes us, / Also an interior space bristling with light`. At the heart of this book is the poem cycle 'Indian Ocean Blues', a sustained meditation on the journey of the poet as a young child from India to Sudan..There are poems inspired by the drawings of children from war torn Darfur and others set in New York City in the present. These sensual lyrics of body, memory and place evoke the fragile, shifting nature of dwelling in our times.
Meena Alexander is an award-winning author and scholar whose previous volumes of poetry include Birthplace with Buried Stones, Quickly Changing River, Raw Silk, and Illiterate Heart (winner of the PEN Open Book Award), all published by TriQuarterly/Northwestern. Her poetry has been translated into several languages and set to music. She is also the author of an acclaimed autobiography, Fault Lines, as well as two novels; an academic study, Women in Romanticism; and a collection of essays, Poetics of Dislocation. Alexander is Distinguished Professor of English at the City University of New York and teaches at Hunter College and the CUNY Graduate Center.
Atmospheric Embroidery
Poems by Meena Alexander
Trade Paper – $17.95
NorthwesternPress
ISBN 978-0-8101-3760-8
ISBN 978-0-8101-3761-5
Publication Date June 2018
Categories: Poetry
Page Count 112 pages
new poetry
fleursdumal.nl magazine
More in: - Book News, - Bookstores, Archive A-B, Art & Literature News, MODERN POETRY
---
The story of literature in sixteen acts—from Homer to Harry Potter, including The Tale of Genji, Don Quixote, The Communist Manifesto, and how they shaped world history
In this groundbreaking book, Martin Puchner leads us on a remarkable journey through time and around the globe to reveal the how stories and literature have created the world we have today. Through sixteen foundational texts selected from more than four thousand years of world literature, he shows us how writing has inspired the rise and fall of empires and nations, the spark of philosophical and political ideas, and the birth of religious beliefs.
We meet Murasaki, a lady from eleventh-century Japan who wrote the first novel, The Tale of Genji, and follow the adventures of Miguel de Cervantes as he battles pirates, both seafaring and literary. We watch Goethe discover world literature in Sicily, and follow the rise in influence of The Communist Manifesto. Puchner takes us to Troy, Pergamum, and China, speaks with Nobel laureates Derek Walcott in the Caribbean and Orhan Pamuk in Istanbul, and introduces us to the wordsmiths of the oral epic Sunjata in West Africa. This delightful narrative also chronicles the inventions—writing technologies, the printing press, the book itself—that have shaped people, commerce, and history. In a book that Elaine Scarry has praised as "unique and spellbinding," Puchner shows how literature turned our planet into a written world.
Martin Puchner is the Byron and Anita Wien Professor of English and Comparative Literature at Harvard University. His prize-winning books range from philosophy to the arts, and his bestselling six-volume Norton Anthology of World Literature and HarvardX MOOC (massive open online course) have brought four thousand years of literature to students across the globe. He lives in Cambridge, Massachusetts.
Martin Puchner
The Written World
The Power of Stories to Shape People, History, and Civilization
Random House Trade Paperbacks
Paperback
Jul 24, 2018
464 Pages
$20.00
ISBN 9780812988277
new books
fleursdumal.nl magazine
More in: #More Poetry Archives, - Book News, - Bookstores, Archive O-P, Art & Literature News, MONTAIGNE, NONFICTION: ESSAYS & STORIES
---
Proceeding from Hélène Cixous's charge to "kill the false woman who is preventing the live one from breathing," The Fix forges that woman's reckoning with her violent past, with her sexuality, and with a future unmoored from the trappings of domestic life.
These poems of lyric beauty and unflinching candor negotiate the terrain of contradictory desire—often to darkly comedic effect.
In encounters with strangers in dive bars and on highway shoulders, and through ekphrastic engagement with visionaries like William Blake, José Clemente Orozco, and the Talking Heads, this book seeks the real beneath the dissembling surface.
Here, nothing is fixed, but grace arrives by diving into the complicated past in order to find a way to live, now.
Often I am permitted to return to this kitchen
tipsy, pinned to the fridge, to the precise
instant the kiss smashed in.
When the jaws of night are grinding
and the double bed is half asleep
the snore beside me syncs
to the traffic light, pulsing red, ragged up
in the linen curtain.
(From "Woman Seated with Thighs Apart")
Lisa Wells is a poet and nonfiction writer who lives in Tucson, Arizona. Her work has appeared in Best New Poets, the Believer, Denver Quarterly, Rumpus, Third Coast, and the Iowa Review.
Lisa Wells (Author)
The Fix
Publisher: University Of Iowa Press
1 edition (April 15, 2018)
Series: Iowa Poetry Prize
Language: English
Product Dimensions:
6 x 0.3 x 8 inches
ISBN-10: 1609385470
ISBN-13: 978-1609385477
Paperback
70 pages
$19.95
new poetry
lisa wells: the fix
fleursdumal.nl magazine
More in: - Book News, - Bookstores, Archive W-X, Archive W-X
---
Jenny Xie's award-winning debut, Eye Level, takes us far and near, to Phnom Penh, Corfu, Hanoi, New York, and elsewhere, as we travel closer and closer to the acutely felt solitude that centers this searching, moving collection.
"Magnificent . . . [Jenny Xie] braids in the lonesomeness and sorrow of being unmoored and on your own."—The Paris Review, Staff Picks

Animated by a restless inner questioning, these poems meditate on the forces that moor the self and set it in motion, from immigration to travel to estranging losses and departures. The sensual worlds here―colors, smells, tastes, and changing landscapes―bring to life questions about the self as seer and the self as seen.
As Xie writes, "Me? I'm just here in my traveler's clothes, trying on each passing town for size." Her taut, elusive poems exult in a life simultaneously crowded and quiet, caught in between things and places, and never quite entirely at home. Xie is a poet of extraordinary perception―both to the tangible world and to "all that is untouchable as far as the eye can reach."
Jenny Xie was born in Hefei, China, and raised in New Jersey. She holds degrees from Princeton University and New York University, and has received fellowships and support from Kundiman, the Fine Arts Work Center in Provincetown, the Elizabeth George Foundation, and Poets & Writers. She is the recipient of the 2017 Walt Whitman Award of the Academy of American Poets for Eye Level and the 2016 Drinking Gourd Chapbook Prize for Nowhere to Arrive. Her poems have appeared in the American Poetry Review, Harvard Review, the New Republic, Tin House, and elsewhere. She teaches at New York University.
"For years now, I've been using the wrong palette.
Each year with its itchy blue, as the bruise of solitude reaches its expiration date.
Planes and buses, guesthouse to guesthouse.
I've gotten to where I am by dint of my poor eyesight,
my overreactive motion sickness.
9 p.m., Hanoi's Old Quarter: duck porridge and plum wine.
Voices outside the door come to a soft boil."
(from "Phnom Penh Diptych: Dry Season")
Title Eye Level
Subtitle Poems
Author Jenny Xie
Publisher Graywolf Press
Format Paperback
ISBN-10 1555978029
ISBN-13 9781555978020
Publication Date 03 April 2018
Main content page count 80
$16.00
new poetry
fleursdumal.nl magazine
More in: - Book News, - Bookstores, Archive W-X, Archive Y-Z, Art & Literature News
---
Selected Poems 1968-2014 offers forty-five years of work drawn from twelve individual collections by a poet who 'began as a prodigy and has gone on to become a virtuoso' (Michael Hofmann).
Hailed by Seamus Heaney as 'one of the era's true originals', Muldoon seems determined to escape definition yet this volume, chosen by the poet himself, serves as an indispensable introduction to his trademark combination of intellectual high jinx and emotional honesty. Among his many honours are the Pulitzer Prize for Poetry and the Shakespeare Prize 'for contributions from English-speaking Europe to the European inheritance.'
Paul Muldoon was born in County Armagh in 1951. He read English at Queen's University, Belfast, and published his first collection of poems, New Weather, in 1973. He is the author of ten books of poetry, including Moy Sand and Gravel (2002), for which he received the Pulitzer Prize for Poetry, and Horse Latitudes (2006). Since 1987 he has lived in the United States, where he is the Howard G. B. Clark Professor in the Humanities at Princeton University. From 1999 to 2004 he was Professor of Poetry at Oxford University. A Fellow of the Royal Society of Literature, Paul Muldoon was given an American Academy of Arts and Letters award in 1996. Other recent awards include the 1994 T. S. Eliot Prize, the 1997 Irish Times Poetry Prize, and the 2003 Griffin Prize.
Paul Muldoon
Selected Poems 1968–2014
Published 01/06/2017
Publisher: Faber & Faber
Length 240 pages
Language: English
ISBN-10: 0571327966
ISBN-13: 978-0571327966
Paperback
£12.99
# new books
fleursdumal.nl magazine
More in: - Book News, - Bookstores, Archive M-N, Art & Literature News
---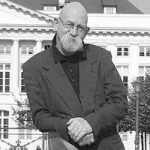 In volle werking
Die man daar, in volle werking, heeft nooit
iets anders geleerd dan te doen wat hij doet.
Wat hij moet. Dat zag hij goed, de bekijker.
Reeds jong vermoedde hij het: groot genoeg
is nooit je jeugd. De scheppingsdrift? Check.
De hitte van jong bloed? Check. Van wijken
geen weet. Hij wilde weg van louter wit en
zwart. Wenste naar de vervaarlijke geheimen
van zanglijstereiblauw en zonnebloemgeel.
Naar het ruw idioom van vergeten sermoenen.
Hij wist het vroeg reeds, en hij leefde ernaar:
het heeft geen zin om in dode akkers te spitten.
Bert Bevers
Gedicht: In volle werking
Geschreven bij Brief met schets aan Theo van Gogh van Vincent van Gogh, en verschenen in Omtrent Vincent, Uitgeverij Trajart, Chaam, april 2015
Bert Bevers is a poet and writer who lives and works in Antwerp (Be)
fleursdumal.nl magazine
More in: Archive A-B, Archive A-B, Bevers, Bert
---

 A Madame Sand
« Ce roc voûté par art, chef-d'oeuvre d'un autre âge,
Ce roc de Tarascon hébergeait autrefois
Les géants descendus des montagnes de Foix,
Dont tant d'os excessifs rendent sûr témoignage. »
O seigneur Du Bartas ! Je suis de ton lignage,
Moi qui soude mon vers à ton vers d'autrefois ;
Mais les vrais descendants des vieux Comtes de Foix
Ont besoin de témoins pour parler dans notre âge.
J'ai passé près Salzbourg sous des rochers tremblant ;
La Cigogne d'Autriche y nourrit les Milans,
Barberousse et Richard ont sacré ce refuge.
La neige règne au front de leurs pies infranchis ;
Et ce sont, m'a-t-on dit, les ossements blanchis
Des anciens monts rongés par la mer du Déluge.
Gérard de Nerval
(1808 – 1855)
A Madame Sand
fleursdumal.nl magazine
More in: Archive M-N, Archive S-T, George Sand, Nerval, Gérard de
---
Et puis, pas de rentrée littéraire sans Amélie Nothomb ! Vous le savez : Amélie Nothomb est la marraine de cette émission.

Elle sera donc à mes côtés pour ce premier rendez-vous de la saison et évoquera son 27ème roman, « Les prénoms épicènes » (Albin Michel), l'histoire d'une relation père-fille dans laquelle la frontière entre l'amour et la haine se montre particulièrement ténue.
La Grande Librairie
Depuis 1992 et Hygiène de l'assassin, tous les livres d'Amélie Nothomb ont été publiés aux éditions Albin Michel. Elle a reçu, entre autres, le prix Chardonne, le Grand prix du roman de l'Académie française, le prix de Flore, et le Grand prix Jean Giono pour l'ensemble de son oeuvre. Ses oeuvres sont traduites dans 40 langues, des U.S.A. au Japon.
Amélie Nothomb est un écrivain belge de langue française. Elle est né le 13 août 1967 à Kobe, au Japon, où son père, le baron Patrick Nothomb, fut ambassadeur de Belgique. Belgique, qu'elle ne connaîtra qu'à 17 ans, pour y terminer ses études de philologie romane à l'Université libre de Bruxelles.
Depuis 1992, Amélie Nothomb publie aux éditions Albin Michel un roman par an.
Amélie Nothomb
Les Prénoms épicènes
Édition brochée
€17.50
22 Août 2018
130mm x 200mm
Broché: 162 pages
Editeur : Albin Michel
Collection : A.M. ROM.FRANC
Langue : Français
ISBN-10: 2226437347
ISBN-13: 978-2226437341
Dimensions du produit: 13 x 1,5 x 20,4 cm
Littérature française
Éditeur Albin Michel
Nombre de pages 162
Langue français
new books
fleursdumal.nl magazine
More in: - Book News, - Bookstores, Archive M-N, Archive M-N, Art & Literature News, Maison de la Poésie
---
Older Entries »
Thank you for reading FLEURSDUMAL.NL - magazine for art & literature