– Archive Tombeau de la jeunesse
·
Sibylla Schwarz: Alß sie ein Poëtischer Geist tribe
·
Biënnale Kunst in de Heilige Driehoek – Liefde – nog tot en met 22 oktober 2017 in Oosterhout
·
Feest der Poëzie organiseert 'Het Festijn van Tachtig'
·
Pierre L.Th.A. Maréchal: Frans Babylon – herinneringsgewijs
·
The DEATHS of the Poets by Michael Symmons Roberts & Paul Farley
·
Jeroen BROUWERS: De laatste deur (nieuwe herziene en uitgebreide editie)
·
LAURE (COLETTE PEIGNOT): D'OÙ VIENS-TU?
·
EGYPTIAN POET SHAIMAA EL-SABBAGH KILLED DURING PEACEFUL PROTEST IN CAIRO
·
Tristan Corbière: A une camarade
·
Jules Laforgue: Hypertrophie
·
Charles Guérin: Epitaphe pour lui-même
·
Emily BRONTË: Remembrance
Sibylla Schwarz
Alß sie ein Poëtischer Geist tribe
Ich, der ich sonsten pflag von schlechten Dingen schreiben,
bin gänzlich umgekehrt, nun muß mein Lob wohl bleiben,
und grünen wie ein Zweig, iezt wil ich meinen Sinn,
von dem, das niedrig ist, biß in die Wolcken ziehn.
Die Göttin Fama wil mir selber Flügel geben,
die immer für und für am helle n Himmel kleben,
und wo der Venus Sohn hinfüro schiessen wil
nach mir, so raht ich, daß er in die Wolcken Ziel.
Da soll mein Ball=Plaz seyn, da soll das Glüder fliegen,
wie Spreu das brennen muß, und allzeit unten ligen.
Die Clio bindet mir schon selbst die Lohrbeer=Kron,
die Ewig grünen wird / nun soll die Kunst den Lohn
erlangen, recht; So muß ein freyer Sinn bekleiben;
nuhn, ich will immer auch bey meinen Worten bleiben,
und steigen mit dem Sinn des Himmels Leiter an,
ein jeder sey bereit, daß er mir folgen kan.
Sibylla Schwarz (1621 – 1638)
Gedicht: Alß sie ein Poëtischer Geist tribe
fleursdumal.nl magazine
More in: - Archive Tombeau de la jeunesse, Archive S-T, SIbylla Schwarz
---
Het eeuwenoude gebied De Heilige Driehoek in het Noord-Brabantse Oosterhout vormt tijdens de 1e Biënnale Kunst in de Heilige Driehoek het decor voor hedendaagse kunst, met – in deze eerste editie – liefde als thema.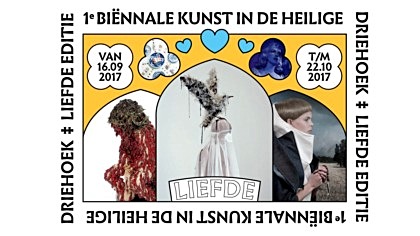 Op uitnodiging van curator Guus van den Hout tonen vijfentwintig hedendaagse kunstenaars, onder wie Reinoud van Vught, Sam Drukker, Carolein Smit en Aziz Bekkaoui, veelal nieuwe werken, geïnspireerd door de unieke locatie en de rijke historische, religieuze en spirituele tradities. De in totaal circa 150 kunstwerken variëren van schilderijen, fotografie, video, muziek en prenten tot mode, sculpturen en zelfs een geurinstallatie.
De 1e Biënnale Kunst in de Heilige Driehoek is de enige grootschalige hedendaagse kunstbiënnale in Europa die kunst en religie nadrukkelijk als uitgangspunt neemt.
Uniek kloostergebied als inspiratie én decor van hedendaagse kunst Het gebied De Heilige Driehoek – ruim 100 hectare groot – dankt zijn naam aan drie monumentale, eeuwenoude kloosters die zijn omgeven door grote kloostertuinen en landerijen: de Onze Lieve Vrouwe Abdij, De Sint-Paulusabdij en het Sint-Catharinadal. De Heilige Driehoek is de enige plek in Nederland waar nog een combinatie van drie actieve kloosters bestaat.
De Biënnale vindt plaats in de kloostergebouwen, de kloostertuinen en de kloosterkapellen, die voor het eerst worden geopend voor het grote publiek en voor hedendaagse kunst. De kunstenaars laten zich inspireren door het gebied zelf, de rijke historie en de artistiek-religieuze tradities. Veel werken zijn in opdracht van de Biënnale gemaakt en worden dan ook voor het eerst getoond. De Biënnale heeft de ambitie om de kunstzinnige tradities van de kloosters, die excelleerden in architectuur, schilderkunst, het restaureren van wandtapijten, handschriften en boeken, en kunstnijverheid, te verbinden met artistieke vernieuwing.
Deelnemende kunstenaars zijn: Aziz Bekkaoui, Caspar Berger, Krien Clevis, Sam Drukker, Huub en Adelheid Kortekaas, Judith Krebbekx, Elisa Pesapane, Ruudt Peters, René van Tol, Tijmen van Tol, Heidi Wallheimer, Erik Zwaga, Marieke Bolhuis, Patrizia Comand, Frans Franciscus, Robin Kolleman, Bernardien Sternheim, Hansa Versteeg, Moreno Bondi, dré didderiëns, Athar Jaber, Jago Moons, Spank Moons, Michael Petry, Carolein Smit en Reinoud van Vught.
# Meer informatie op website www.kunstindeheiligedriehoek.nl
1e Biënnale Kunst in de Heilige Driehoek – Liefde nog tot en met 22 oktober 2017 in Oosterhout
fleursdumal.nl magazine
More in: - Archive Tombeau de la jeunesse, Art & Literature News, Exhibition Archive, FDM Art Gallery, Performing arts, Photography, Sculpture
---
Ontdek het rebelse literaire Amsterdam van 1880, met theater, muziek, poëzie, film, eten, drinken en veel meer op 27 – 28 – 29 oktober 2017
De locaties
Festivalhart: Het Tropeninstituut
Mauritskade 63, Amsterdam
Kassa, theaterzaal en foyer zijn tijdens het festival gevestigd in het voormalige Tropentheater aan de zijkant van het gebouw, in de Linnaeusstraat. De boekverkoop van de Linnaeusboekhandel, de foyer (het Soeterijn Café) én de Poëziebar met absint en sonnetten vindt u in het Tropentheater.
Grote Zaal
Project Diepenbrock, op de zaterdagavond, vindt plaats in de spectaculaire Grote Zaal, te betreden via de hoofdingang aan de Mauritskade.
Grand Café de Tropen
De Tachtigersconferentie en de Thee met Van Deyssel vinden plaats in de Subtropenzaal van Grand Café de Tropen. Het Grand Café is open voor drankjes, lunch en borrelhapjes, en is 's avonds de locatie voor het Van Deysseldiner.
Witsenhuis
Oosterpark 82, Amsterdam
Het Witsenhuis, waar fotograaf Willem Witsen woonde en regelmatig de Tachtigers over de vloer kreeg, heeft een verdieping in de oude staat gehouden. Wilt u ook bij de Tachtigers langskomen? Dat kan! Bij wijze van uitzondering opent het Witsenhuis zijn deuren voor rondleidingen.
Pianola Museum
Westerstraat 118, Amsterdam

Het Geelvinck Pianola Museum bezit een grote hoeveelheid automatische piano's (pianola's), pianolarollen, automatische instrumenten en bijzondere grammofoons, alsook een kleine collectie schellakplaten. Op zondag 29 oktober vindt een bijzonder Koffieconcert rondom de Tachtigers plaats, met oude opnamen en pianolarollen van Nederlandse componisten uit hun tijd!
Bijzondere Collecties van de Universiteit van Amsterdam
Oude Turfmarkt 129, Amsterdam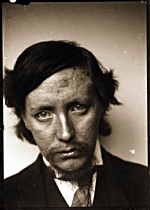 Tot de Bijzondere Collecties van de Universiteit van Amsterdam behoren rijke literaire verzamelingen en de Tachtigers zijn daarin ruim vertegenwoordigd. De collectie van het Frederik van Eeden-Genootschap wordt er beheerd en het archief van Albert Verwey is er eveneens te raadplegen. Verder zijn er stukken van onder anderen Willem Kloos en Jacques Perk, en archivalia van Flanor, de literaire vereniging waar veel Tachtigers in hun studententijd bij aangesloten waren. Een kleine tentoonstelling met manuscripten, foto's, tekeningen en persoonlijke documenten van Tachtigers is gratis te zien in de hal tijdens het gehele festival, gedurende de openingstijden van de Bijzondere Collecties.
Rondleiding Concertgebouw en Alphons Diepenbrock
Concertgebouwplein 10, 1071 LN Amsterdam

De componist onder de Tachtigers, die warme banden onderhield met vooral Herman Gorter, was Alphons Diepenbrock. Hij toonzette onder ander gedichten van Tachtigers Jacques Perk en Lodewijk van Deyssel, en staat vermeld op een cartouche in de Grote Zaal van het Concertgebouw, die tijdens de Tweede Gouden Eeuw van Amsterdam eind 19e eeuw werd gebouwd, en waar de Tachtigers regelmatig te vinden waren in de beginjaren. Een speciale, eenmalige rondleiding voor slechts 15 personen brengt u in verschillende ruimten van het Concertgebouw, die normaal niet toegankelijk zijn voor het publiek. Tevens wordt daarbij verteld over het Concertgebouw en zijn orkest in de tijd van de Tachtigers in het algemeen en Diepenbrocks betrokkenheid daarbij in het bijzonder.
Stichting Feest der Poëzie organiseert bijzondere voorstellingen met gedichten en muziek op mooie plaatsen, en richt zich op vormvaste dichtkunst, klassieke voordrachtskunst en ambachtelijke boekdrukkunst.
Stichting Feest der Poëzie, een collectief van dichters, musici en een magiër, treedt op in binnen- en buitenland. Wegens het tienjarig bestaan van de stichting is 'Het Festijn van Tachtig' in het leven geroepen.
Dit seizoen organiseren zij naast het Festijn nog avonden in het Pianola Museum in Amsterdam, WORM in Rotterdam, Nieuwe Erven in Amersfoort en op andere plaatsen.
# Meer info website Feest der Poëzie
Feest der Poëzie organiseert 'Het Festijn van Tachtig'
fleursdumal.nl magazine
More in: *Archive Les Poètes Maudits, - Archive Tombeau de la jeunesse, - Book Lovers, - Book Stories, Art & Literature News, CLASSIC POETRY, Gorter, Herman, Kloos, Willem, Literary Events, LITERARY MAGAZINES, Lodewijk van Deyssel, Museum of Literary Treasures, MUSIC, THEATRE
---
Volgens Pierre Maréchal was de Brabantse dichter Frans Babylon een zieke poète maudit die zowel de poëzie als de kunst stimuleerde te vernieuwen. Brabant liep sterk achter bij de ontwikkelingen.
Uiteindelijk verwierp hij de traditionele dichtstijlen en schreef hij gedichten op gevoel. Met vrienden vormde hij de Bredero-club en stimuleerde hij kunstenaars om zich verder te ontwikkelen. Babylon bevorderde eveneens de ontwikkeling van openbare kunstexposities voor groot publiek.
Naast Brabant en Amsterdam was Frankrijk een geliefde omgeving. Ondanks zijn bipolaire stoornis en dankzij zijn creativiteit bracht Frans Babylon veel tot stand.
Pierre Maréchal werkte onder meer voor de internationale trekvogel-bescherming. Ruim twintig jaar is hij actief bezig met poëzie. Hij schrijft en organiseert maandelijks diverse podia en optredens. De laatste jaren doet hij dit bij de PoëzieClub Eindhoven en de werkgroep 'Boekenkast'. Frans Babylon – herinneringsgewijs is typisch zo'n onderwerp. Het is een project over een bekende en tegelijk een minder bekende dichter, wiens daden van betekenis waren voor de ontwikkeling van de poëzie en de kunsten in het zuiden van ons land.
Pierre L.Th.A. Maréchal
Frans Babylon – herinneringsgewijs
Biografie Frans Babylon,
pseudoniem van Franciscus Gerardus Jozef Obers (1924 – 1968)
ISBN: 978-94-0223-720-7
Paperback 12,5 x 20 cm
186 pag. – 2017
€ 19,99
fleursdumal.nl magazine
More in: *Archive Les Poètes Maudits, - Archive Tombeau de la jeunesse, - Book News, Archive A-B, Archive A-B, Art & Literature News, Babylon, Frans, Brabantia Nostra, Frans Babylon
---
What is the price of poetry? An examination of how the deaths of great poets have shaped our culture's distorted sense of poetry.
From Chatterton's Pre-Raphaelite demise to Keats' death warrant in a smudge of arterial blood; from Dylan Thomas's eighteen straight whiskies to Sylvia Plath's desperate suicide in the gas oven of her Primrose Hill kitchen or John Berryman's leap from a bridge onto the frozen Mississippi, the deaths of poets have often cast a backward shadow on their work.
The post-Romantic myth of the dissolute drunken poet – exemplified by Thomas and made iconic by his death in New York – has fatally skewed the image of poets in our culture. Novelists can be stable, savvy, politically adept and in control, but poets should be melancholic, doomed and self-destructive. Is this just a myth, or is there some essential truth behind it: that great poems only come when a poet's life is pushed right to an emotional knife-edge of acceptability, safety, security? What is the price of poetry? In this book, two contemporary poets undertake a series of journeys – across Britain, America and Europe – to the death places of poets of the past, in part as pilgrims, honouring inspirational writers, but also as investigators, interrogating the myth. The result is a book that is, in turn, enlightening and provocative, eye-wateringly funny and powerfully moving.
Michael Symmons Roberts's sixth collection of poetry, Drysalter, was the winner of both the Forward Prize and the Costa Poetry Prize in 2013. He has published two novels, and is Professor of Poetry at Manchester Metropolitan University.
Paul Farley is the author of four collections of poetry and has won the Forward Prize for Best First Collection, the Whitbread Poetry Award and the E. M. Forster Award.
Edgelands, co-written with Michael Symmons Roberts, received the Royal Society of Literature's Jerwood Award and the 2011 Foyles Best Book of Ideas Award and was serialised as Radio 4 Book of the Week.
The Deaths of the Poets
Michael Symmons Roberts & Paul Farley
ISBN : 9780224097543
Hardback, 400 pages
February 2017
Publisher: Random House Children's Publishers UK
fleursdumal.nl magazine
More in: - Archive Tombeau de la jeunesse, - Book News, Art & Literature News, DEAD POETS CORNER, Galerie des Morts, POETRY ARCHIVE
---
De laatste deur (nieuwe herziene en zeer uitgebreide editie)
door Jeroen Brouwers
Liefde-literatuur-dood is de thematische drie-eenheid binnen het oeuvre van Jeroen Brouwers. Zijn fascinatie voor zelfmoord dateert van het begin van de jaren zeventig, toen een vriendin zich het leven had benomen. Brouwers' wens om het zelfmoordraadsel te begrijpen resulteerde in het inmiddels legendarische boek De laatste deur.
Dit is de ingrijpend herziene en zeer uitgebreide editie van het dertig jaar geleden verschenen werk, dat handelt over de zelfverkozen dood van Nederlandstalige schrijvers. Vanuit gevoelens van mededogen, begrip en solidariteit met hen die in het verleden en de meer recente tijd de hand aan zichzelf sloegen (van wie hij er enkelen van zeer nabij heeft gekend), poogt Brouwers aan de hand van hun literaire werk een mogelijke verklaring te vinden voor hun ultieme daad.
Brouwers karakteriseert op integere en invoelende wijze uiteenlopende figuren als François Haverschmidt (Piet Paaltjens), Menno ter Braak, Halbo Kool, Jan Emmens, Jan Arends, Dirk de Witte, Jan Emiel Daele, Jotie T'Hooft en tal van anderen. Deze nieuwe editie bevat ook levensgeschiedenissen van overledenen in de laatste jaren: Adriaan Venema, Anil Ramdas, Nanne Tepper, Joost Zwagerman en Wim Brands.
Aan De laatste deur is een supplement toegevoegd (De zwarte zon, De versierde dood en verspreide opstellen) met essays over buitenlandse schrijvers en onderwerpen als zelfmoordverenigingen en –sekten, en geruchten en verzinsels over zelfmoord. Een aantal van deze opstellen is niet eerder in boekvorm verschenen.
Auteur(s) : Jeroen Brouwers
Uitgeverij : Atlas Contact
ISBN : 9789045021089
Taal : Nederlands
Uitvoering : Hardcover
Aantal pagina's : 1400
Verschijningsdatum : 15-03-2017
Afmetingen : 314 x 254 x 27 mm.
Gewicht : 700 gr.
fleursdumal.nl magazine
More in: - Archive Tombeau de la jeunesse, - Book News, Art & Literature News, Babylon, Frans, Brands, Wim, DRUGS & MEDICINE & LITERATURE, Galerie des Morts, Jeroen Brouwers, Zwagerman, Joost
---
Laure
(Colette Peignot 1903 – 1938))
D'où viens-tu ?
D'où viens-tu avec ton cœur
déchiré aux ronces du chemin.
Les mains calleuses de casseur de pierre
et ta tête gonflée comme une
outre piquée ?
Nous sommes ceux qui crient dans le désert
qui hurlent à la lune.
Je le sens bien maintenant : « mon devoir m'est remis. » Mais
lequel exactement ?
C'est parfois si lourd et si dur que je voudrais courir dans la
Campagne.
Nager dans la rivière
oublier tout ce qui fut, oublier l'enfance sordide et timorée.
Le vendredi saint, le mercredi des cendres.
l'enfance toute endeuillée à odeur de crêpe et de naphtaline
L'adolescence hâve et tourmentée.
Les mains d'anémiée.
Oublier le sublime et l'infâme
Les gestes hiératiques
Les grimaces démoniaques.
Oublier
Tout élan falsifié
Tout espoir étouffé
Ce goût de cendre
Oublier qu'à vouloir tout
on ne peut rien
Vivre enfin
« Ni tourmentante
Ni tourmentée »
Remonter le cours des fleuves
Retrouver les sources des montagnes
les femmes les vrais hommes travailleurs
qui enfantent
moissonnant
M'étendre dans les prairies
Quitter ce climat
Ses dunes, ses landes sablonneuses, cette grisaille et
ses déserts artificiels,
Ce désespoir dont on fait vertu,
Ce désespoir qui se boit
se sirote à la terrasse des cafés
s'édite… et ne demanderait qu'à nourrir très bien son homme
Vivre enfin
Sans s'accuser
ni se justifier
Victime
ou coupable
comment dire ?
Un tremblement de terre m'a dévastée
On t'a mordu l'âme
Enfant !
Et ces cris et ces plaintes
Et cette faiblesse native
Oui –
Et s'ils ont vu mes larmes
Que ma tête s'enfonce
jusqu'à toucher
le bois
et la terre
LAURE (Colette Peignot) poetry
fleursdumal.nl magazine
More in: - Archive Tombeau de la jeunesse, Archive K-L, Laure (Colette Peignot)
---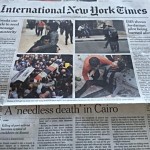 On 24th January 2015 Shaimaa el-Sabbagh, a poet and a member of the Socialist Popular Alliance Party, was marching to commemorate the hundreds of demonstrators that were killed during the Arab Spring uprising of 2011.
Shaimaa el-Sabbagh was shot in the back by riot police officers, while heading to Tahrir Square in Cairo to lay flowers there.
The Alliance Party said in a statement, that their only intention was to place flowers for of the fourth anniversary of the Jan. 25 revolution. Other demonstrators were also injured in the same demonstration.
Egyptian Government officials denied that the police had fired any shots.
At Sunday the funeral of the 31-year-old mother and poet, held in Alexandria, was attended by nearly 10,000 people.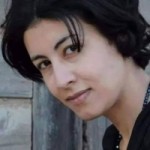 I am the girl banned from love in the squares …
I stood in the middle of the street
and gathered in my hand the stars of the sky individually
And the sweat of the street vendors.
The voice of beggars
And the people who love God
as they damn this moment where the creatures of God approved
To crucifying Jesus naked in the crowded square
on the clock arms as it declared one at noon
I am the girl banned from saying no,
will never miss the dawn
Shaimaa al-Sabbagh
(From the poem: I'm the girl banned from attending the Christian religion classes, and Sunday mass. Translation by Maged Zaher)
# See Twitter Account Shaimaa el-Sabbagh
# Poems (in English) of Shaimaa el-Sabbagh on website: TIN HOUSE
fleursdumal.nl magazine
More in: - Archive Tombeau de la jeunesse, In Memoriam, REPRESSION OF WRITERS, JOURNALISTS & ARTISTS
---
Tristan Corbière
(1845-1875)
A une camarade
Que me veux-tu donc, femme trois fois fille ?…
oi qui te croyais un si bon enfant !
– De l'amour?… – Allons : cherche, apporte, pille !
'aimer aussi, toi ! .., moi qui t'aimais tant.
Oh ! je t'aimais comme.. un lézard qui pèle
Aime le rayon qui cuit son sommeil…
L'Amour entre nous vient battre de l'aile :
– Eh ! qu'il s'ôte de devant mon soleil !
on amour, à moi, n'aime pas qu'on l'aime ;
endiant, il a peur d'être écouté…
C'est un lazzarone enfin, un bohème,
Déjeunant de jeûne et de liberté.
– Curiosité, bibelot, bricole ?…
C'est possible : il est rare – et c'est son bien –
ais un bibelot cassé se recolle ;
Et lui, décollé, ne vaudra plus rien ! …
Va, n'enfonçons pas la porte entr'ouverte
Sur un paradis déjà trop rendu !
Et gardons à la pomme, jadis verte,
Sa peau, sous son fard de fruit défendu.
Que nous sommes-nous donc fait l'un à l'autre ?…
– Rien… – Peut-être alors que c'est pour cela ;
– Quel a commencé? – Pas moi, bon apôtre !
Après, quel dira : c'est donc tout – voilà !
– Tous les deux, sans doute… – Et toi, sois bien sûre
Que c'est encor moi le plus attrapé :
Car si, par erreur, ou par aventure,
Tu ne me trompais.., je serais trompé !
Appelons cela : l'amitié calmée ;
Puisque l'amour veut mettre son holà.
N'y croyons pas trop, chère mal-aimée…
– C'est toujours trop vrai ces mensonges-là ! –
Nous pourrons, au moins, ne pas nous maudire
– Si ça t'est égal – le quart-d'heure après.
Si nous en mourons – ce sera de rire…
oi qui l'aimais tant ton rire si frais !
Tristan Corbière poetry
fleursdumal.nl magazine
More in: *Archive Les Poètes Maudits, - Archive Tombeau de la jeunesse, Archive C-D, CLASSIC POETRY, Corbière, Tristan
---
Jules Laforgue
(1860-1887)
Hypertrophie
Astres lointains des soirs, musiques infinies,
Ce Coeur universel ruisselant de douceur
Est le coeur de la Terre et de ses insomnies.
En un pantoum sans fin, magique et guérisseur
Bercez la Terre, votre soeur.
Le doux sang de l'Hostie a filtré dans mes moelles,
J'asperge les couchants de tragiques rougeurs,
Je palpite d'exil dans le coeur des étoiles,
Mon spleen fouette les grands nuages voyageurs.
Je beugle dans les vents rageurs.
Aimez-moi. Bercez-moi. Le cœur de l'oeuvre immense
Vers qui l'Océan noir pleurait, c'est moi qui l'ai.
Je suis le coeur de tout, et je saigne en démence
Et déborde d'amour par l'azur constellé,
Enfin ! que tout soit consolé.
Pauvre petit coeur sur la main,
La vie n'est pas folle pour nous
De sourires, ni de festins,
Ni de fêtes : et, de gros sous ?
Elle ne nous a pas gâtés
Et ne nous fait pas bon visage
Comme on fait à ces Enfants sages
Que nous sommes, en vérité.
Si sages nous ! Et, si peu fière
Notre façon d'être avec elle ;
Francs aussi, comme la lumière
Nous voudrions la trouver belle
Autant que d'Autres – pourtant quels ?
Et pieux, charger ses autels
Des plus belles fleurs du parterre
Et des meilleurs fruits de la terre.
Mais d'ailleurs, nous ne lui devrons
Que du respect, tout juste assez,
Qu'il faut professer envers ces
Empêcheurs de danser en rond.
Jules Laforgue poetry
fleursdumal.nl magazine
More in: - Archive Tombeau de la jeunesse, Archive K-L, CLASSIC POETRY
---
Charles Guérin
(1873 – 1907 )
Epitaphe pour lui-même
Il fut le très subtil musicien des vents
Qui se plaignent en de nocturnes symphonies ;
Il nota le murmure des herbes jaunies
Entre les pavés gris des cours d'anciens couvents.
Il trouva sur la viole des dévots servants
Pour ses maîtresses des tendresses infinies ;
Il égrena les ineffables litanies
Ou s'alanguissent tous les amoureux fervents.
Un soir, la chair brisée aux voluptés divines,
Il détourna du ciel son front fleuri d'épines,
Et se coucha, les pieds meurtris et le coeur las.
Ô toi, qui, dégoûté du rire et de la lutte
Odieuse, vibras aux sanglots de sa flûte,
Poète, ralentis le pas : cy dort Heirclas.
Charles Guérin poetry
fleursdumal.nl magazine
More in: - Archive Tombeau de la jeunesse, Archive G-H, CLASSIC POETRY
---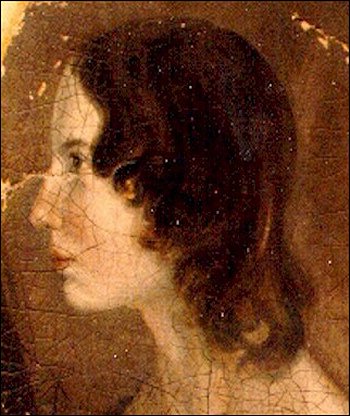 Emily Jane Brontë
(1818-1848)
Remembrance

Cold in the earth–and the deep snow piled above thee,
Far, far, removed, cold in the dreary grave!
Have I forgot, my only Love, to love thee,
Severed at last by Time's all-severing wave?
Now, when alone, do my thoughts no longer hover
Over the mountains, on that northern shore,
Resting their wings where heath and fern-leaves cover
Thy noble heart for ever, ever more?
Cold in the earth–and fifteen wild Decembers,
From those brown hills, have melted into spring:
Faithful, indeed, is the spirit that remembers
After such years of change and suffering!
Sweet Love of youth, forgive, if I forget thee,
While the world's tide is bearing me along;
Other desires and other hopes beset me,
Hopes which obscure, but cannot do thee wrong!
No later light has lightened up my heaven,
No second morn has ever shone for me;
All my life's bliss from thy dear life was given,
All my life's bliss is in the grave with thee.
But, when the days of golden dreams had perished,
And even Despair was powerless to destroy;
Then did I learn how existence could be cherished,
Strengthened, and fed without the aid of joy.
Then did I check the tears of useless passion–
Weaned my young soul from yearning after thine;
Sternly denied its burning wish to hasten
Down to that tomb already more than mine.
And, even yet, I dare not let it languish,
Dare not indulge in memory's rapturous pain;
Once drinking deep of that divinest anguish,
How could I seek the empty world again?

Ellis Bell (Emily Jane Brontë) poetry

fleursdumal.nl magazine
More in: - Archive Tombeau de la jeunesse, Anne, Emily & Charlotte Brontë, Archive A-B, Brontë, Anne, Emily & Charlotte
---
Older Entries »
Thank you for reading FLEURSDUMAL.NL - magazine for art & literature