– Archive Tombeau de la jeunesse
·
Ulrich von Hutten: Eine Zierde zwar ist das Alter des Geschlechts
·
Ain new lied von herr Ulrichs von Hutten
·
Nora Pembroke: My Baby
·
Red Comet. The Short Life and Blazing Art of Sylvia Plath by Heather Clark
·
Georg Trakl: Die junge Magd
·
Will Streets: April Evening, 1916 (Poem)
·
Joe Hill's Last Will (Poem written in his cell on the eve of his execution)
·
Joe Hill: Ta-Ra-Ra Boom De-Ay (Song)
·
Georg Trakl: Helian (Gedicht)
·
Will Streets: A Soldiers' Cemetery (Poem)
·
Georg Trakl: Menschliches Elend (Gedicht)
·
Georg Trakl: Menschheit (Gedicht)
Eine Zierde zwar ist das Alter des Geschlechts
Eine Zierde zwar ist das Alter des Geschlechts,
aber eigentlich doch nur eine Aufforderung,
den Ahnen ähnlich zu werden.
Ulrich von Hutten
Ritter und Dichter
(* 21.04.1488, † 29.08.1523)
Eine Zierde zwar ist das Alter des Geschlechts
• fleursdumal.nl magazine
More in: #Editors Choice Archiv, - Archive Tombeau de la jeunesse, Archive G-H, Archive G-H, Hutten, Ulrich von
---
Ain new lied herr Ulrichs von Hutten
1
Ich habs gewagt mit sinnen
und trag des noch kain rew,
mag ich nit dran gewinnen,
noch muoß man spüren trew;
dar mit ich main nit aim allain,
wenn man es wolt erkennen:
dem land zuo guot, wie wol man tuot
ain pfaffenfeind mich nennen.
2
Da laß ich ieden liegen
und reden was er wil;
hett warhait ich geschwigen,
mir wären hulder vil:
nun hab ichs gsagt, bin drum verjagt,
das klag ich allen frummen,
wie wol noch ich nit weiter fliech,
villeicht werd wider kummen.
3
Umb gnad wil ich nit bitten,
die weil ich bin on schuld;
ich hett das recht gelitten,
so hindert ungeduld,
daß man mich nit nach altem sit
zuo ghör hat kummen laßen;
villeicht wils got und zwingt sie not
zuo handlen diser maßen.
4
Nun ist oft diser gleichen
geschehen auch hie vor,
daß ainer von den reichen
ain guotes spil verlor,
oft großer flam von fünklin kam,
wer waiß ob ichs werd rechen!
stat schon im lauf, so setz ich drauf:
muoß gan oder brechen!
5
Dar neben mich zuo trösten
mit guotem gwißen hab,
daß kainer von den bösten
mir eer mag brechen ab
noch sagen daß uf ainig maß
ich anders sei gegangen,
dann eren nach, hab dise sach
in guotem angefangen.
6
Wil nun ir selbs nit raten
dis frumme nation,
irs schadens sich ergatten,
als ich vermanet han,
so ist mir laid; hie mit ich schaid,
wil mengen baß die karten,
bin unverzagt, ich habs gewagt
und wil des ends erwarten.
7
Ob dann mir nach tuot denken
der curtisanen list:
ain herz last sich nit krenken,
das rechter mainung ist;
ich waiß noch vil, wöln auch ins spil
und soltens drüber sterben:
auf, landsknecht guot und reuters muot,
last Hutten nit verderben!
Ulrich von Hutten
Ritter und Dichter
(* 21.04.1488, † 29.08.1523)
Ain new lied herr Ulrichs von Hutten
• fleursdumal.nl magazine
More in: #Editors Choice Archiv, - Archive Tombeau de la jeunesse, Archive G-H, Archive G-H, Hutten, Ulrich von
---
My Baby
He lay on my breast so sweet and fair,
I fondly fancied his home was there,
Nor thought that the eyes of merry blue,
With baby love for me laughing through,
Were pining to go from whence he came,
Leaving my arm empty and heart in pain,
Longing to spread out his wings and fly
To his native home far beyond the sky
They took him out of my arms and said
My baby so sweet and fair was dead,
My baby that was my heart's delight
The fair little body they robed in white
Flowers they placed at the head and feet
Like my baby fair, like my baby sweet,
They laid him down in a certain place,
And round him they draped soft folds of lace
Till I'd look my last at my baby white,
Before they carried him from my sight,
By the sweet dead babe, so fair to see,
They tried in kindness to comfort me
They said, he is safe from care and pain,
Safe and unspotted by sin or stain;
Before the mystery of the years
Brings heart ache or pang, or sorrow's tears.
He's safe, sweet lamb, in the Shepherd's care,
Sorrow nor suffering enters there;
But with brow of gladness, clothed in light,
He is fair as the angels in His sight.
I know what they said to me was true,
And should have fallen on my heart like dew;
For, although my grief was very sore,
My baby was safe for evermore.
I know that they spoke with kindly care,
My grief to comfort and soothe, or share;
But I gave my baby the last, last kiss,
Saying, God alone comforts grief like this.
Nora Pembroke
(Margaret Moran Dixon McDougall)
1826 – 1898
My Baby
• fleursdumal.nl magazine
More in: - Archive Tombeau de la jeunesse, Archive O-P, Archive O-P, CLASSIC POETRY
---
The highly anticipated new biography of Sylvia Plath that focuses on her remarkable literary and intellectual achievements, while restoring the woman behind the long-held myths about her life and art.
With a wealth of never-before-accessed materials–including unpublished letters and manuscripts; court, police, and psychiatric records; and new interviews–Heather Clark brings to life the brilliant daughter of Wellesley, Massachusetts.
Sylvia Plath had poetic ambition from a very young age and was an accomplished, published writer of poems and stories even before she became a star English student at Smith College in the early 1950s. Determined not to read Plath's work as if her every act, from childhood on, was a harbinger of her tragic fate, Clark here evokes a culture in transition, in the shadow of the atom bomb and the Holocaust, as she explores Plath's world: her early relationships and determination not to become a conventional woman and wife; her conflicted ties to her well-meaning, widowed mother; her troubles at the hands of an unenlightened mental-health industry; her Cambridge years and thunderclap meeting with Ted Hughes, a marriage of true minds that would change the course of poetry in English; and much more.
Clark's clear-eyed sympathy for Hughes, his lover Assia Wevill, and the other demonized players in the arena of Plath's suicide promotes a deeper understanding of her final days, with their outpouring of first-rate poems. Along with illuminating readings of the poems themselves, Clark's meticulous, compassionate research brings us closer than ever to the spirited woman and visionary artist who blazed a trail that still lights the way for women poets the world over.
Heather Clark earned her bachelor's degree in English Literature from Harvard University and her doctorate in English from Oxford University. Her awards include a National Endowment for the Humanities Public Scholar Fellowship; a Leon Levy Biography Fellowship at the City University of New York; and a Visiting U.S. Fellowship at the Eccles Centre for American Studies, British Library. A former Visiting Scholar at the Oxford Centre for Life-Writing, she is the author of The Grief of Influence: Sylvia Plath and Ted Hughes and The Ulster Renaissance: Poetry in Belfast 1962-1972. Her work has appeared in publications including Harvard Review and The Times Literary Supplement, and she recently served as a consultant for the BBC documentary Sylvia Plath: Life Inside the Bell Jar. She divides her time between Chappaqua, New York, and Yorkshire, England, where she is Professor of Contemporary Poetry at the University of Huddersfield.
Red Comet
The Short Life and Blazing Art of Sylvia Plath
By Heather Clark
Hardcover
1152 Pages
$40.00
Oct 06, 2020
ISBN 9780307961167
Published by Knopf
$40.00
# new biography
• fleursdumal.nl magazine
More in: #Biography Archives, - Archive Tombeau de la jeunesse, - Book Lovers, - Book News, Archive C-D, Archive G-H, Archive O-P, Archive O-P, Plath, Sylvia
---
Die junge Magd
1
Oft am Brunnen, wenn es dämmert,
Sieht man sie verzaubert stehen
Wasser schöpfen, wenn es dämmert.
Eimer auf und niedergehen.
In den Buchen Dohlen flattern
Und sie gleichet einem Schatten.
Ihre gelben Haare flattern
Und im Hofe schrein die Ratten.
Und umschmeichelt von Verfalle
Senkt sie die entzundenen Lider.
Dürres Gras neigt im Verfalle
Sich zu ihren Füßen nieder.
2
Stille schafft sie in der Kammer
Und der Hof liegt längst verödet.
Im Hollunder vor der Kammer
Kläglich eine Amsel flötet.
Silbern schaut ihr Bild im Spiegel
Fremd sie an im Zwielichtscheine
Und verdämmert fahl im Spiegel
Und ihr graut vor seiner Reine.
Traumhaft singt ein Knecht im Dunkel
Und sie starrt von Schmerz geschüttelt.
Röte träufelt durch das Dunkel.
Jäh am Tor der Südwind rüttelt.
3
Nächtens übern kahlen Anger
Gaukelt sie in Fieberträumen.
Mürrisch greint der Wind im Anger
Und der Mond lauscht aus den Bäumen.
Balde rings die Sterne bleichen
Und ermattet von Beschwerde
Wächsern ihre Wangen bleichen.
Fäulnis wittert aus der Erde.
Traurig rauscht das Rohr im Tümpel
Und sie friert in sich gekauert.
Fern ein Hahn kräht. Übern Tümpel
Hart und grau der Morgen schauert.
4
In der Schmiede dröhnt der Hammer
Und sie huscht am Tor vorüber.
Glührot schwingt der Knecht den Hammer
Und sie schaut wie tot hinüber.
Wie im Traum trifft sie ein Lachen;
Und sie taumelt in die Schmiede,
Scheu geduckt vor seinem Lachen,
Wie der Hammer hart und rüde.
Hell versprühn im Raum die Funken
Und mit hilfloser Geberde
Hascht sie nach den wilden Funken
Und sie stürzt betäubt zur Erde.
5
Schmächtig hingestreckt im Bette
Wacht sie auf voll süßem Bangen
Und sie sieht ihr schmutzig Bette
Ganz von goldnem Licht verhangen.
Die Reseden dort am Fenster
Und den bläulich hellen Himmel.
Manchmal trägt der Wind ans Fenster
Einer Glocke zag Gebimmel.
Schatten gleiten übers Kissen,
Langsam schlägt die Mittagsstunde
Und sie atmet schwer im Kissen
Und ihr Mund gleicht einer Wunde.
6
Abends schweben blutige Linnen,
Wolken über stummen Wäldern,
Die gehüllt in schwarze Linnen,
Spatzen lärmen auf den Feldern.
Und sie liegt ganz weiß im Dunkel.
Unterm Dach verhaucht ein Girren.
Wie ein Aas in Busch und Dunkel
Fliegen ihren Mund umschwirren.
Traumhaft klingt im braunen Weiler
Nach ein Klang von Tanz und Geigen,
Schwebt ihr Antlitz durch den Weiler,
Weht ihr Haar in kahlen Zweigen.
Georg Trakl
(1887 – 1914)
Die junge Magd
Der Brenner, 3. Jg. (1913)
• fleursdumal.nl magazine
More in: - Archive Tombeau de la jeunesse, Archive S-T, Trakl, Georg, Trakl, Georg, WAR & PEACE
---
April Evening, 1916
O sweet blue eve that seems so loath to die,
Trailing the sunset glory into night,
Within the soft, cool strangeness of thy light,
My heart doth seem to find its sanctuary.
The day doth verge with all its secret care,
The thrush is lilting vespers on the thorn;
In Nature's inner heart seems to be born
A sweet serenity; and over there
Within the shadows of the stealing Night,
Beneath the benison of all her stars
Men, stirr'd to passion by relentless Mars,
Laughing at Death, wage an unceasing fight.
The thunder of the guns, the scream of shells
Now seem to rend the placid evening air:
Yet as the night is lit by many a flare
The thrush his love in one wild lyric tells.
O sweet blue eve! Lingering awhile with thee,
Before the earth with thy sweet dews are wet,
My heart all but thy beauty shall forget
And find itself in thy serenity.
John William (Will) Streets
(1886 –1916)
April Evening, 1916
• fleursdumal.nl magazine
More in: - Archive Tombeau de la jeunesse, Archive S-T, Streets, Will, WAR & PEACE
---
Last Will
My will is easy to decide,
For there is nothing to divide.
My kind don't need to fuss and moan —
"Moss does not cling to a rolling stone."
My body? Ah, If I could choose,
I would to ashes it reduce,
And let the merry breezes blow
My dust to where some flowers grow.
Perhaps some fading flower then
Would come to life and bloom again.
This is my last and final will.
Good luck to all of you.
Joe Hill
(1879-1915)
Last Will
Written in his cell on the eve of his execution
Joe Hill was sentenced to death after being accused of the murder of two shopkeepers. His conviction is often disputed by historians. On November 18, 1915, one day before his execution, he wrote his last will. On that same day, he sent a telegram to fellow IWW member Bill Haywood, telling him: "Don't waste time mourning – Organize!"
• fleursdumal.nl magazine
More in: # Music Archive, - Archive Tombeau de la jeunesse, Archive G-H, Archive G-H, In Memoriam, Joe Hill
---
Ta-Ra-Ra Boom De-Ay
I had a job once threshing wheat, worked sixteen hours with hands and feet.
And when the moon was shining bright, they kept me working all the night.
One moonlight night, I hate to tell, I "accidentally" slipped and fell.
My pitchfork went right in between some cog wheels of that thresh-machine.
Ta-ra-ra-boom-de-ay!
It made a noise that way.
And wheels and bolts and hay,
Went flying every way.
That stingy rube said, "Well!
A thousand gone to hell."
But I did sleep that night,
I needed it all right.
Next day that stingy rube did say, "I'll bring my eggs to town today;
You grease my wagon up, you mutt, and don't forget to screw the nut."
I greased his wagon all right, but I plumb forgot to screw the nut,
And when he started on that trip, the wheel slipped off and broke his hip.
Ta-ra-ra-boom-de-ay!
It made a noise that way,
That rube was sure a sight,
And mad enough to fight;
His whiskers and his legs
Were full of scrambled eggs;
I told him, "That's too bad —
I'm feeling very sad."
And then that farmer said, "You turk! I bet you are an I-Won't Work."
He paid me off right there, By Gum! So I went home and told my chum.
Next day when threshing did commence, my chum was Johnny on the fence;
And 'pon my word, that awkward kid, he dropped his pitchfork, like I did.
Ta-ra-ra-boom-de-ay!
It made a noise that way,
And part of that machine
Hit Reuben on the bean.
He cried, "Oh me, oh my;
I nearly lost my eye."
My partner said, "You're right —
It's bedtime now, good night."
But still that rube was pretty wise, these things did open up his eyes.
He said, "There must be something wrong; I think I work my men too long."
He cut the hours and raised the pay, gave ham and eggs for every day,
Now gets his men from union hall, and has no "accidents" at all.
Ta-ra-ra-boom-de-ay!
That rube is feeling gay;
He learned his lesson quick,
Just through a simple trick.
For fixing rotten jobs
And fixing greedy slobs,
This is the only way,
Ta-ra-ra-boom-de-ay!
Joe Hill
(1879-1915)
Ta-Ra-Ra Boom De-Ay
Song
• fleursdumal.nl magazine
More in: # Music Archive, - Archive Tombeau de la jeunesse, Archive G-H, Joe Hill, MUSEUM OF PUBLIC PROTEST, Workers of the World
---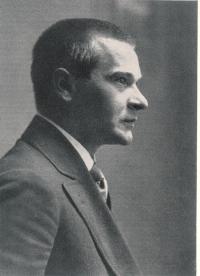 Helian
In den einsamen Stunden des Geistes
Ist es schön, in der Sonne zu gehn
An den gelben Mauern des Sommers hin.
Leise klingen die Schritte im Gras; doch immer schläft
Der Sohn des Pan im grauen Marmor.
Abends auf der Terrasse betranken wir uns mit braunem Wein.
Rötlich glüht der Pfirsich im Laub;
Sanfte Sonate, frohes Lachen.
Schön ist die Stille der Nacht.
Auf dunklem Plan
Begegnen wir uns mit Hirten und weißen Sternen.
Wenn es Herbst geworden ist
Zeigt sich nüchterne Klarheit im Hain.
Besänftigte wandeln wir an roten Mauern hin
Und die runden Augen folgen dem Flug der Vögel.
Am Abend sinkt das weiße Wasser in Graburnen.
In kahlen Gezweigen feiert der Himmel.
In reinen Händen trägt der Landmann Brot und Wein
Und friedlich reifen die Früchte in sonniger Kammer.
O wie ernst ist das Antlitz der teueren Toten.
Doch die Seele erfreut gerechtes Anschaun.
Gewaltig ist das Schweigen des verwüsteten Gartens,
Da der junge Novize die Stirne mit braunem Laub bekränzt,
Sein Odem eisiges Gold trinkt.
Die Hände rühren das Alter bläulicher Wasser
Oder in kalter Nacht die weißen Wangen der Schwestern.
Leise und harmonisch ist ein Gang an freundlichen Zimmern hin,
Wo Einsamkeit ist und das Rauschen des Ahorns,
Wo vielleicht noch die Drossel singt.
Schön ist der Mensch und erscheinend im Dunkel,
Wenn er staunend Arme und Beine bewegt,
Und in purpurnen Höhlen stille die Augen rollen.
Zur Vesper verliert sich der Fremdling in schwarzer Novemberzerstörung,
Unter morschem Geäst, an Mauern voll Aussatz hin,
Wo vordem der heilige Bruder gegangen,
Versunken in das sanfte Saitenspiel seines Wahnsinns.
O wie einsam endet der Abendwind.
Ersterbend neigt sich das Haupt im Dunkel des Ölbaums.
Erschütternd ist der Untergang des Geschlechts.
In dieser Stunde füllen sich die Augen des Schauenden
Mit dem Gold seiner Sterne.
Am Abend versinkt ein Glockenspiel, das nicht mehr tönt.
Verfallen die schwarzen Mauern am Platz,
Ruft der tote Soldat zum Gebet.
Ein bleicher Engel
Tritt der Sohn ins leere Haus seiner Väter.
Die Schwestern sind ferne zu weißen Greisen gegangen.
Nachts fand sie der Schläfer unter den Säulen im Hausflur,
Zurückgekehrt von traurigen Pilgerschaften.
O wie starrt von Kot und Würmern ihr Haar,
Da er darein mit silbernen Füßen steht,
Und jene verstorben aus kahlen Zimmern treten.
O ihr Psalmen in feurigen Mitternachtsregen,
Da die Knechte mit Nesseln die sanften Augen schlugen,
Die kindlichen Früchte des Hollunders
Sich staunend neigen über ein leeres Grab.
Leise rollen vergilbte Monde
Über die Fieberlinnen des Jünglings,
Eh dem Schweigen des Winters folgt.
Ein erhabenes Schicksal sinnt den Kidron hinab,
Wo die Zeder, ein weiches Geschöpf,
Sich unter den blauen Brauen des Vaters entfaltet,
Über die Weide nachts ein Schäfer seine Herde führt.
Oder es sind Schreie im Schlaf,
Wenn ein eherner Engel im Hain den Menschen antritt,
Das Fleisch des Heiligen auf glühendem Rost hinschmilzt.
Um die Lehmhütten rankt purpurner Wein,
Tönende Bündel vergilbten Korns,
Das Summen der Bienen, der Flug des Kranichs.
Am Abend begegnen sich Auferstandene auf Felsenpfaden.
In schwarzen Wassern spiegeln sich Aussätzige;
Oder sie öffnen die kotbefleckten Gewänder
Weinend dem balsamischen Wind, der vom rosigen Hügel weht.
Schlanke Mägde tasten durch die Gassen der Nacht,
Ob sie den liebenden Hirten fänden.
Sonnabends tönt in den Hütten sanfter Gesang.
Lasset das Lied auch des Knaben gedenken,
Seines Wahnsinns, und weißer Brauen und seines Hingangs,
Des Verwesten, der bläulich die Augen aufschlägt.
O wie traurig ist dieses Wiedersehn.
Die Stufen des Wahnsinns in schwarzen Zimmern,
Die Schatten der Alten unter der offenen Tür,
Da Helians Seele sich im rosigen Spiegel beschaut
Und Schnee und Aussatz von seiner Stirne sinken.
An den Wänden sind die Sterne erloschen
Und die weißen Gestalten des Lichts.
Dem Teppich entsteigt Gebein der Gräber,
Das Schweigen verfallener Kreuze am Hügel,
Des Weihrauchs Süße im purpurnen Nachtwind.
O ihr zerbrochenen Augen in schwarzen Mündern,
Da der Enkel in sanfter Umnachtung
Einsam dem dunkleren Ende nachsinnt,
Der stille Gott die blauen Lider über ihn senkt.
Georg Trakl
(1887 – 1914)
Helian
• fleursdumal.nl magazine
More in: - Archive Tombeau de la jeunesse, Archive S-T, Trakl, Georg, Trakl, Georg, WAR & PEACE
---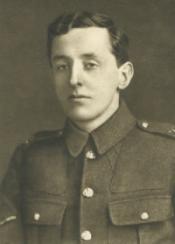 A Soldiers' Cemetery
Behind that long and lonely trenchèd line
To which men come and go, where brave men die,
There is a yet unmarked and unknown shrine,
A broken plot, a soldiers' cemet'ry.
There lie the flower of Youth, the men who scorned
To live (so died) when languished liberty:
Across their graves, flowerless and unadorned,
Still scream the shells of each artillery.
When war shall cease this lonely, unknown spot
Of many a pilgrimage will be the end,
And flowers will bloom in this now barren plot
And fame upon it through the years descend –
But many a heart upon each simple cross
Will hang the grief, the memory of its loss.
John William (Will) Streets
(1886 –1916)
A Soldiers' Cemetery
• fleursdumal.nl magazine
More in: - Archive Tombeau de la jeunesse, Archive S-T, Streets, Will, WAR & PEACE
---
Menschliches Elend
Die Uhr, die vor der Sonne fünfe schlägt —
Einsame Menschen packt ein dunkles Grausen,
Im Abendgarten kahle Bäume sausen.
Des Toten Antlitz sich am Fenster regt.
Vielleicht, daß diese Stunde stille steht.
Vor trüben Augen blaue Bilder gaukeln
Im Takt der Schiffe, die am Flusse schaukeln.
Am Kai ein Schwesternzug vorüberweht.
Im Hasel spielen Mädchen blaß und blind,
Wie Liebende, die sich im Schlaf umschlingen.
Vielleicht, daß um ein Aas dort Fliegen singen,
Vielleicht auch weint im Mutterschoß ein Kind.
Aus Händen sinken Astern blau und rot,
Des Jünglings Mund entgleitet fremd und weise;
Und Lider flattern angstverwirrt und leise;
Durch Fieberschwärze weht ein Duft von Brot.
Es scheint, man hört auch gräßliches Geschrei;
Gebeine durch verfallne Mauern schimmern.
Ein böses Herz lacht laut in schönen Zimmern;
An einem Träumer läuft ein Hund vorbei.
Ein leerer Sarg im Dunkel sich verliert.
Dem Mörder will ein Raum sich bleich erhellen,
Indes Laternen nachts im Sturm zerschellen.
Des Edlen weiße Schläfe Lorbeer ziert.
Georg Trakl
(1887 – 1914)
Menschliches Elend
• fleursdumal.nl magazine
More in: - Archive Tombeau de la jeunesse, Archive S-T, Trakl, Georg, Trakl, Georg, WAR & PEACE
---
Menschheit
Menschheit vor Feuerschlünden aufgestellt,
Ein Trommelwirbel, dunkler Krieger Stirnen,
Schritte durch Blutnebel; schwarzes Eisen schellt,
Verzweiflung, Nacht in traurigen Gehirnen:
Hier Evas Schatten, Jagd und rotes Geld.
Gewölk, das Licht durchbricht, das Abendmahl.
Es wohnt in Brot und Wein ein sanftes Schweigen
Und jene sind versammelt zwölf an Zahl.
Nachts schrein im Schlaf sie unter Ölbaumzweigen;
Sankt Thomas taucht die Hand ins Wundenmal.
Georg Trakl
(1887 – 1914)
Menschheit, 1913
• fleursdumal.nl magazine
More in: - Archive Tombeau de la jeunesse, Archive S-T, Trakl, Georg, Trakl, Georg, WAR & PEACE
---
Older Entries »
Thank you for reading FLEURSDUMAL.NL - magazine for art & literature