#More Poetry Archives
·
Reel Verse. Poems About the Movies. Edited by Michael Waters and Harold Schechter
·
Antoine de Latour : Notre-Dame de Paris (Poème)
·
Bas Kwakman: In poëzie en oorlog. Vijftig jaar Poetry International
·
Poëzieweek & Gedichtendag 2019 (31 januari t.m. 6 februari)
·
Poëziepaleis zoekt talent!
·
Unwritten: Caribbean Poems After the First World War edited by Karen McCarthy Woolf
·
Stairs and Whispers: D/deaf and Disabled Poets Write Back
·
Winternachten festival van 17 tot en met 20 januari 2019 in Den Haag
·
Wintertuinfestival Nijmegen van 20-25 november 2018
·
26ste editie Crossing Border festival Den Haag
·
The Written World. The Power of Stories to Shape People, History and Civilization by Martin Puchner
·
Kunstenfestival Watou 2018 nog t/m 2 september
Reel Verse is a unique Pocket Poets anthology of a hundred years of poetic tributes to the silver screen, from the silent film era to the present.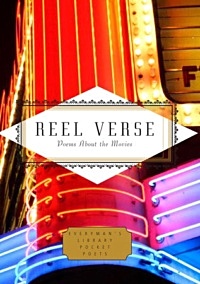 The variety of subjects is dazzling, from movie stars to bit players, from B-movies to Bollywood, from Clark Gable to Jean Cocteau.
More than a hundred poets riff on their movie memories: Langston Hughes and John Updike on the theaters of their youth, Jack Kerouac and Robert Lowell on Harpo Marx, Sharon Olds on Marilyn Monroe, Louise Erdrich on John Wayne, May Swenson on the James Bond films, Terrance Hayes on early Black cinema, Maxine Kumin on Casablanca, and Richard Wilbur on The Prisoner of Zenda. Orson Welles, Leni Riefenstahl, and Ingmar Bergman share the spotlight with Shirley Temple, King Kong, and Carmen Miranda; Bonnie and Clyde and Ridley Scott with Roshomon, Hitchcock, and Bresson.
In Reel Verse, one of our oldest art forms pays loving homage to one of our newest—the thrilling art of cinema.
POPCORN PALACES
Meena Alexander, "South India Cinema" – John Allman, "Loew's Triboro" – Robert Hayden, "Double Feature" – Robert Hershon, "1948: Saturdays" – Edward Hirsch, "The Skokie Theater" – Langston Hughes, "Movies" – Esther Lin, "Poem Ending in Antarctica" – Frank O'Hara, "Ave Maria" – Theodore Roethke, "Double Feature" – Jon Tribble, "Concessions" – John Updike, "Movie House" – Ellen Bryant Voigt, "At the Movies, Virginia, 1956"
FEATURE PRESENTATIONS
Amy Clampitt, "The Godfather Returns to Color TV" – Martha Collins, "Meanwhile" – Jane Cooper, "Seventeen Questions About King Kong" – Denise Duhamel, "An Unmarried Woman" – Amy Gerstler, "The Bride Goes Wild" – Allen Ginsberg, "The Blue Angel" – Juliana Gray, "Rope" – George Green, "Art Movies: The Agony and the Ecstasy" – Richard Howard, "King Kong (1933)" – Allison Joseph, "Imitation of Life" – Ron Koertge, "Aubade" – Maxine Kumin, "Casablanca" – Gerry LaFemina, "Variations on a Theme by Ridley Scott" – Laura McCullough, "Soliloquy with Honey: Time to Die" – John Murillo, "Enter the Dragon" – Stanley Plumly, "The Best Years of Our Life" – Anna Rabinowitz, "from Present Tense" – Philip Schultz, "Shane" – May Swenson, "The James Bond Movie" – Susan Terris, "Take Two: Bonnie & Clyde/Dashboard Scene" – Richard Wilbur, "The Prisoner of Zenda"
MORE STARS THAN IN HEAVEN
Frank Bidart, "Poem Ending with a Sentence by Heath Ledger" – Christopher Buckley, "For Ingrid Bergman," – Gerald Costanzo, "Fatty Arbuckle" – Marsha de la O, "Janet Leigh is Afraid of Jazz" – Louise Erdrich, "Dear John Wayne" – Sonia Greenfield, "Celebrity Stalking" – Patricia Spears Jones, "Hud" – Jack Kerouac, "To Harpo Marx" – David Lehman, "July 13 from The Daily Mirror" – Vachel Lindsay, "Mae Marsh, Motion Picture Actress" – Patricia Lockwood, "The Fake Tears of Shirley Temple" – Robert Lowell, "Harpo Marx" – Sharon Olds, "The Death of Marilyn Monroe" – William Pillin, "You, John Wayne" – Nicole Sealey, "An Apology for Trashing Magazines in Which You Appear" – William Jay Smith, "Old Movie Stars" – John Wain, "Villanelle for Harpo Marx" – John Wieners, "Garbos and Dietrichs"
B MOVIES & BIT PLAYERS
Angela Ball, "To Lon Chaney in The Unknown" – Gregory Djanikian, "Movie Extras" Cornelius Eady, "Sam" – Martín Espada, "The Death of Carmen Miranda" – Kenneth Fearing, "St. Agnes' Eve" – Edward Field, "Curse of the Cat Woman" – Richard Frost, "Horror Show" – Howard Moss, "Horror Movie" – Ogden Nash, "Viva Vamp, Vale Vamp" – Robert Polito, "Three Horse Operas" – Virgil Suarez, "Harry Dean Stanton is Dying" – David Trinidad, "Ode to Thelma Ritter" – William Trowbridge, "Elisha Cook, Jr." – Chase Twichell, "Bad Movies, Bad Audience" – Marcus Wicker, "Love Letter to Pam Grier"
AUTEURS
Paul Carroll, "Ode to Fellini on Interviewing Actors for a Forthcoming Film" – René Char, "Antonin Artaud" – Robert Creeley, "Bresson's Movies" – Robert Duncan, "Ingmar Bergman's Seventh Seal" – James Franco, "Editing" – Major Jackson, "After Riefenstahl" – Claudia Rankine, "from Don't Let Me Be Lonely" – Jean-Mark Sens, "In De Sica's Bicycle Thief" – Vijay Seshadri, "Script Meeting" – David St. John, "from The Face, XXXVI" – Timothy Steele, "Last Tango" – Gerald Stern, "Orson" – Michael Waters, "Blue Ankle" – David Yezzi, "Stalker"
FLASHBACKS
Kim Addonizio, "Scary Movies" – Elizabeth Alexander, "Early Cinema" – John Berryman, "Dream Song #9" – Ryan Black, "This is Cinerama" – Richard Brautigan, "Mrs. Myrtle Tate, Movie Projectionist" – Kurt Brown, "Silent Film, DVD" – Elena Karina Byrne, "Easy Rider" – Nicholas Christopher, "Atomic Field, 1972 #6" – Rita Dove, "Watching Last Year at Marienbad at Roger Haggerty's House in Auburn, Atlanta" – D. J. Enright,"A Grand Night" – Aniela Gregorek, "Cinema" – Joseph O. Legaspi, "At the Movies with My Mother" – Michael McFee, "My Mother and Clark Gable on the World's Most Famous Beach" – Mihaela Moscaliuc, "Watching Tess in Romania, 1986" – Paul Muldoon, "The Weepies" – Carol Muske-Dukes, "Unsent Letter 4" – Tom Sleigh, "Newsreel" – Elizabeth Spires, "Mutoscope" – Michael Paul Thomas, "Movies in Childhood" – David Wojahn, "Buddy Holly Watching Rebel Without a Cause"
REMAKES
Billy Collins, "The Movies" – Carol Ann Duffy, "Queen Kong" – Albert Goldbarth, "Survey: Frankenstein Under the Front Porch Light" – Kimiko Hahn, "The Continuity Script: Rashomon" – Bruce F. Kawin, "Old Frankenstein" – Glyn Maxwell, "Disney's Island" – Rajiv Mohabir, "Bollywood Confabulation" – Geoffrey O'Brien, "Voice Over" – Michael Ondaatje, "King Kong Meets Wallace Stevens" – Elise Paschen, "Red Lanterns" – Matthew Zapruder, "Frankenstein Love"
REEL LIFE
David Baker, "Violence" – Tom Clark, "Final Farewell" – Lucille Clifton, "Come Home from the Movies" – Hart Crane, "Chaplinesque" – Stephen Dunn, "At the Film Society" – Lynn Emanuel, "Blonde Bombshell" – Robert Hass, "Old Movie with the Sound Turned Off" – Terrance Hayes, "Variation on a Black Cinema Treasure: Broken Earth" – Marie Howe, "After the Movie" – Steven Huff, "Merton, Lax and My Father" – Ann Inoshita, "TV" – Weldon Kees, "Subtitle" – Haji Khavari, "Upon the Actor's Longing for the Alienation Effect" – John Lucas, "Hollywood Nights" – Donna Masini, "A Fable" – William Matthews, "A Serene Heart at the Movies" –  Eileen Myles, "Absolutely Earth" – Ishmael Reed, "Poison Light" – David Rigsbee, "Lincoln" – Muriel Rukeyser, "Movie" – Grace Schulman, "The Movie" – Gary Soto, "Hands" – George Yatchisin, "Single, Watching Fred and Ginger"
Reel Verse
Poems About the Movies
Edited by Michael Waters and Harold Schechter
Category: Poetry | Classics
Hardcover
256 Pages
Jan 22, 2019
Published by Everyman's Library
ISBN 9781101908037
$14.95
# more poetry
Reel Verse
Poems About the Movies
• fleursdumal.nl magazine
More in: #More Poetry Archives, - Book News, Art & Literature News, AUDIO, CINEMA, RADIO & TV
---
La cathédrale Notre-Dame ravagée par les flammes
Le feu a pris dans les combles du monument le plus visité d'Europe un peu avant 19 heures.
Le Monde, 15 Avril 2019 à 19h50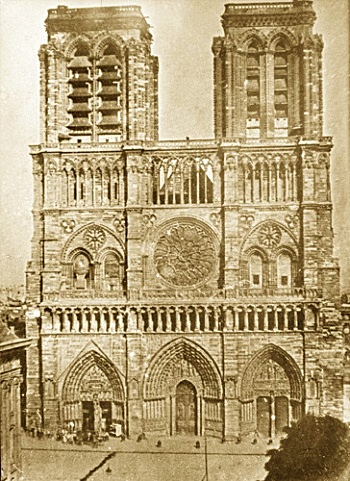 Notre-Dame de Paris
Ce poème vivant, seconde Notre-Dame,
Qui doit se voir encore debout à l'horizon,
Quand l'autre qui l'inspire et dont il prend le nom,
Aura dans la poussière exhalé sa grande âme ;
Ce colosse qu'un soir de son rêve de flamme
L'artiste a vu sortir, fait d'or et de limon,
Ce chant aux mille échos, où l'ange et le démon
Mêlent le cri du tigre au soupir de la femme ;
Ce livre de l'enfer et du ciel, le voici :
Lisez, mais si vers vous un pauvre enfant transi
Tend la main pour sa sœur qui danse sur la place,
Donnez, ne comptez pas, c'est Dieu qui comptera ;
Donnez, que votre cœur, en voyant l'humble tasse,
Se rappelle toujours la brune Esméralda.
Antoine de Latour
(1808-1881)
Poème: Notre-Dame de Paris (1835)
• fleursdumal.nl magazine
More in: #More Poetry Archives, Archive K-L, CATHEDRALS, FDM in Paris, The talk of the town
---
In In poëzie en oorlog onthult directeur Bas Kwakman van Poetry International op verrassende en soms ontluisterende wijze de wereld van de poëzie.

Daarbij ontziet de schrijver niets en niemand, ook zichzelf niet. In poëzie en oorlog is alles geoorloofd.
Leidraad is de geschiedenis van het Poetry International Festival in Rotterdam, dat in 1970 in anarchie werd geboren en inmiddels wereldwijd een van de belangrijkste ontmoetingsplaatsen voor dichters en poëzieliefhebbers is geworden.
Gedreven door de liefde voor poëzie en een gezonde argwaan jegens het menselijke bedrijf daarachter beschrijft Kwakman met warmte, humor, kennis en verbazing zijn unieke ervaringen in de bijzondere wereld tussen de versregels.
Auteur: Bas Kwakman
In poëzie en oorlog.
Vijftig jaar Poetry International
Uitgeverij: De Arbeiderspers
NUR: 320
Paperback
ISBN: 9789029525602
Taal: Nederlands
Bladzijden: 400 pp.
Paperback
Literaire non-fictie
Prijs: € 24,99
Publicatiedatum: 21-05-2019
# new books
In poëzie en oorlog.
Vijftig jaar Poetry International
Bas Kwakman
• fleursdumal.nl magazine
More in: #More Poetry Archives, - Book Lovers, - Book News, Archive K-L, Art & Literature News, MODERN POETRY, Poetry International
---
Het thema van de Poëzieweek 2019 is Vrijheid, met als motto: Zonder handen, zonder tanden.
De week opent op donderdag 31 januari met Gedichtendag en wordt woensdagavond 6 februari feestelijk afgesloten met De Grote Poëzieprijs, de Awater Poëzieprijs en de Turing Gedichtenwedstrijd. Tom Lanoye schrijft het Poëziegeschenk Vrij – Wij?, cadeau van de boekwinkel bij aankoop van € 12,50 aan poëzie.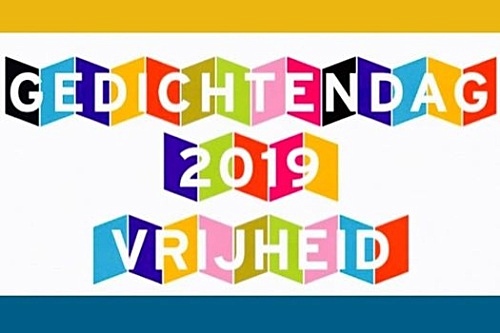 Met Gedichtendag (31 januari 2019) gaat op de laatste donderdag van januari traditiegetrouw de Poëzieweek van start. Gedichtendag, sinds 2000 georganiseerd door Poetry International Rotterdam, is hét poëziefeest van Nederland en Vlaanderen.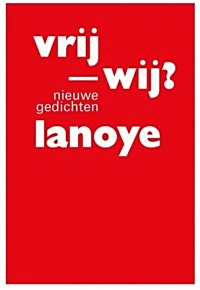 Poëzieliefhebbers in Nederland en Vlaanderen organiseren die dag een grote diversiteit aan eigen poëzieactiviteiten en ook de media klinken die dag een stuk poëtischer.
 Voor de enorme hoeveelheid optredens, publicaties, poëzieprijzen, -programma's en -activiteiten is één dag simpelweg veel te kort!
De Poëzieweek wil een zo groot mogelijk bereik voor poëzie creëren en bundelt tal van activiteiten van organisatoren in Nederland en Vlaanderen.
De Poëzieweek is een samenwerking van Stichting CPNB, Poëziecentrum, Stichting Poetry International, Vlaams Fonds voor de Letteren, Nederlands Letterenfonds, Stichting Lezen Nederland, Iedereen Leest Vlaanderen, De Schrijverscentrale, Boek.be, Taalunie, Stichting Van Beuningen/Peterich-fonds, Turing Foundation, Awater, Het Literatuurhuis, Poëzieclub, SLAG, School der Poëzie en De Nieuwe Oost | Wintertuin.
# Voor een overzicht van alle activiteiten zie de website POËZIEWEEK
• fleursdumal.nl magazine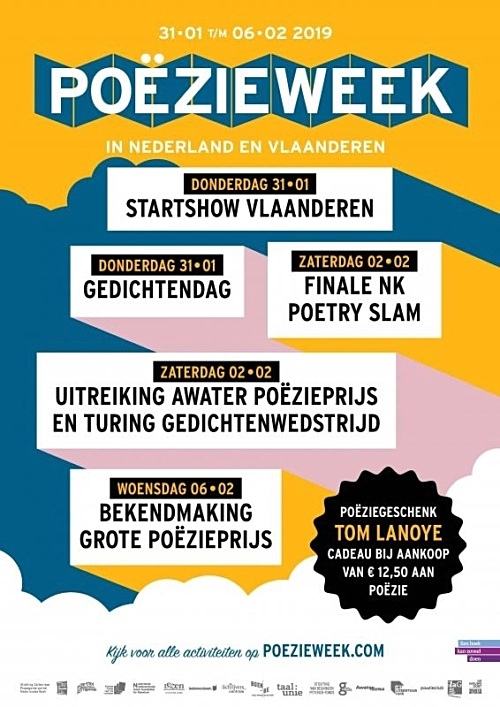 More in: #Archive A-Z Sound Poetry, #Archive Concrete & Visual Poetry, #More Poetry Archives, *War Poetry Archive, - Book Lovers, - Bookstores, Art & Literature News, LIGHT VERSE, Literary Events, MODERN POETRY, Poetry International, Poetry Slam, Poëziepaleis, Poëzieweek, STREET POETRY, THEATRE, Tilt Festival Tilburg, Tom Lanoye
---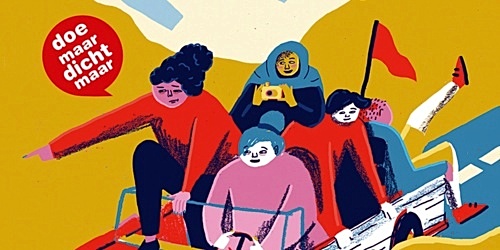 Kun jij goed schrijven? Ben jij creatief met woorden en heb je gevoel voor dichten, rappen of songteksten schrijven? Doe dan gauw mee met de dichtwedstrijd Doe Maar Dicht Maar. De honderd beste gedichten winnen een plekje in een mooie dichtbundel!
De deadline van de editie Doe Maar Dicht Maar 2018-2019 is 5 februari 2019. Stuur nu maximaal 3 gedichten in via het wedstrijdformulier. Vanzelfsprekend schrijf jij deze gedichten zelf; plagiaat is verboden! Omdat er duizenden gedichten worden ingestuurd, krijgen alleen de honderd winnaars begin mei 2019 bericht. De uitslag komt half mei op de website te staan.
Wanneer mag je meedoen?
– Je bent 12 t/m 18 jaar;
– Je spreekt en schrijft Nederlands;
– Je zit op het VMBO/ Havo/ VWO/ ROC of MBO;
– Je zit op de eerste t/m de derde graad van het secundair onderwijs in België.
Wat kun je winnen?
Van de duizenden inzendingen worden 100 gedichten gekozen die een plekje in de dichtbundel Doe Maar Dicht Maar 2018 krijgen.
De tien allerbeste dichters, vijf winnaars uit de leeftijdscategorie 12 t/m 14 jaar en vijf winnaars uit de leeftijdscategorie 15 t/m 18 jaar, krijgen een uniek cadeau met hun gedicht erop. De winnaars uit deze categorieën, gekozen door de jury, winnen een hoofdprijs!
Bovendien organiseert Het Poëziepaleis ieder jaar de dichtwedstrijd Kinderen & Poëzie voor basisschoolleerlingen uit groep 3 t/m 8. Alle kinderen van 6 t/m 12 jaar uit Nederland en België mogen meedoen.
Schrijf een gedicht over wat jij leuk, spannend, mooi of grappig vindt. Het gedicht mag rijmen, maar dat hoeft zeker niet. Je kunt dichten over jezelf, gebeurtenissen, dromen, verzinsels, mensen, dieren, gevoelens… je kunt het zo gek niet bedenken! Alles mag, zolang het gedicht maar door jou is verzonnen en geschreven.
# meer informtie op website Poëziepaleis
• fleursdumal.nl magazine
More in: #More Poetry Archives, Art & Literature News, Children's Poetry, Kinderstadsdichters / Children City Poets, MODERN POETRY, Poëziepaleis
---
What does it mean to fight for a 'mother country' that refuses to accept you as one of its own?
Britain's First World War poets changed the way we view military conflict and had a deep impact on the national psyche. Yet the stories of the 15,600 volunteers who signed up to the British West Indian Regiment remain largely unknown. Sadly, these citizens of empire were not embraced as compatriots on an equal footing. Instead they faced prejudice, injustice and discrimination while being confined to menial and auxiliary work, regardless of rank or status.
As a collaborative project, co-commissioned by 14-18 NOW, BBC Contains Strong Language and the British Council, Unwritten Poems invited contemporary Caribbean and Caribbean diaspora poets to write into that vexed space, and explore the nature of war and humanity – as it exists now, and at a time when Britain's colonial ambitions were still at a peak. Unwritten: Caribbean Poems After the First World War is a result of that provocation and also includes new material written for broadcast and live performance.
Unwritten:
Caribbean Poems After the First World War
by Karen McCarthy Woolf (Author, Editor)
With contributions from Jay Bernard, Malika Booker, Kat Francois, Jay T. John, Anthony Joseph, Ishion Hutchinson, Charnell Lucien, Vladimir Lucien, Rachel Manley, Tanya Shirley and Karen McCarthy Woolf.
Paperback
Publisher: Nine Arches Press
4 Oct. 2018
Poetry
Language: English
ISBN-10: 1911027298
ISBN-13: 978-1911027294
Product Dimensions: 16.3 x 1 x 23 cm
160 pages
Price: £14.99
# new book
Caribbean Poems After the First World War
• fleursdumal.nl magazine
More in: #Editors Choice Archiv, #More Poetry Archives, - Book News, - Bookstores, Archive W-X, Art & Literature News
---
Stairs and Whispers: D/deaf and Disabled Poets Write Back, edited by Sandra Alland, Khairani Barokka and Daniel Sluman, is a ground-breaking anthology examining UK disabled and D/deaf poetics.
Packed with fierce poetry, essays, photos and links to accessible online videos and audio recordings, it showcases a diversity of opinions and survival strategies for an ableist world.
With contributions that span Vispo to Surrealism, and range from hard-hitting political commentary to intimate lyrical pieces, these poets refuse to perform or inspire according to tired old narratives.
With poetry & prose by: Aaron Williamson, Abi Palmer, Abigail Penny, Alec Finlay, Alison Smith, Andra Simons, Angela Readman, Bea Webster, Cath Nichols, Catherine Edmunds, Cathy Bryant, Claire Cunningham, Clare Hill, Colin Hambrook, Daniel Sluman, Debjani Chatterjee, Donna Williams, El Clarke, Eleanor Ward, Emily Ingram, Gary Austin Quinn, Georgi Gill, Giles L. Turnbull, Gram Joel Davies, Grant Tarbard, Holly Magill, Isha, Jackie Hagan, Jacqueline Pemberton, Joanne Limburg, Julie McNamara, Karen Hoy, Khairani Barokka, Kitty Coles, Kuli Kohli, Lisa Kelly, Lydia Popowich, Mark Mace Smith, Markie Burnhope, Michelle Green, Miki Byrne, Miss Jacqui, Naomi Woddis, Nuala Watt, Rachael Boast, Raisa Kabir, Raymond Antrobus, Rosamund McCullain, Rose Cook, Sandra Alland, Saradha Soobrayen, Sarah Golightley, sean burn, Stephanie Conn
About the Editors: Alland's collections include Blissful Times (BookThug, 2007) and Naturally Speaking (espresso, 2012). Barokka's works include Indigenous Species (Tilted Axis, 2016) and Rope (Nine Arches, 2017). Sluman has two books with Nine Arches: Absence has a weight of its own (2012) and The Terrible (2015).
Stairs and Whispers:
D/deaf and Disabled Poets Write Back
Edited by Sandra Alland, Khairani Barokka & Daniel Sluman
Paperback
264 pages
Publisher: Nine Arches Press
2017
Language: English
ISBN-10: 1911027190
ISBN-13: 978-1911027195
Product Dimensions: 13.8 x 1 x 21.6 cm
eBook: Available at Amazon Kindle Store from September 2017
Discover the audio content that accompanies this book available on Soundcloud
Discover the video content that accompanies this book on Youtube
Price: £14.99
More information on website Nine Arches Press   (http://ninearchespress.com/)

# more books
Stairs and Whispers:
D/deaf and Disabled Poets Write Back
fleursdumal.nl magazine
More in: #Editors Choice Archiv, #More Poetry Archives, - Audiobooks, - Book News, - Book Stories, Art & Literature News, AUDIO, CINEMA, RADIO & TV, The Art of Reading
---
Winternachten festival geeft het woord aan schrijvers en dichters over brandende kwesties van nu.
Van 17 tot en met 20 januari 2019 presenteert het internationale literatuurfestival gesprekken, proza, poëzie, spoken word en films op twaalf Haagse podia. Ruim 80 binnen- en buitenlandse auteurs komen naar Den Haag. De 24e festivaleditie staat onder het motto Who Wants to Live Forever? in het teken van onze toekomst.
Winternachten internationaal literatuurfestival Den Haag inspireert met vertellen, lezen, luisteren en denken. Tijdens vier sfeervolle winterse dagen nodigen gesprekken, voordrachten en films uit tot nadenken over de grote vragen van onze tijd.
Sinds de start in 1995 is het festival uitgegroeid tot het belangrijkste internationale literaire evenement van Nederland waar schrijvers en dichters zich uitspreken over actuele thema's. Ook bezoekers – onder hen veel wijkbewoners, studenten en scholieren – dragen actief bij met eigen verhalen of gedichten.
'Who Wants to Live Forever?'
Ieder Winternachten festival krijgt een actueel thema mee. Deze 24e editie staat in het teken van het oeroude verlangen van de mens naar eeuwig leven in het licht van de technologie van nu. Onder het motto Who Wants to Live Forever? spreken auteurs onder meer over de relatie tussen mens en robot, over de impact van technologische innovatie en over hoop en vrees rond de politieke toekomst.
De 24e editie van het festival Winternachten staat met het motto 'Who Wants to Live Forever' in het teken van onze toekomst.
Gesprekken, voordachten, muziek en film over de verhouding tussen mens en robot, over nieuwe maakbaarheid door technologische innovatie, over hoop en vrees voor de politieke toekomst en over het terugkerend verlangen naar eeuwig leven.
Het festival verwelkomt uit het buitenland onder anderen schrijvers Jennifer Nansubuga Makumbi uit Oeganda, Leni Zumas uit de VS, Basma Abdelaziz uit Egypte, Jennifer Clement uit Mexico, Ayelet Gundar-Goshen uit Israël, Mark O'Connell uit Ierland, David Van Reybrouck uit België, Ramayana-expert Arshia Sattar uit India en de Zuid-Afrikaanse rapper, spoken word-artiest en schrijver HemelBesem, Adam Zagajewski (Polen), Jennifer Nansubuga Makumbi (Oeganda), Mark O'Connell (Ierland), Leni Zumas (VS) en Basma Abdelaziz (Egypte).
Uit Nederland nemen tientallen schrijvers, dichters, denkers en performers deel, zoals Akwasi, Elfie Tromp, Youp van 't Hek, Ian Buruma, Nelleke Noordervliet, Radna Fabias, Dimitri Verhulst, Aafke Romeijn, Damiaan Denys, Derek Otte, Luuk van Middelaar, Auke Hulst, Hanna Bervoets, Simone van Saarloos, Rodaan Al Galidi, ASKO/Schönberg, Lounar en Vamba Sherif.
De grote festivalavonden Friday Night Unlimited (vrijdag 18 januari) en Saturday Night Unlimited (zaterdag 19 januari) vormen de kern van het festival. De bezoeker kiest per avond uit vijfentwintig programma's op zes podia in Theater aan het Spui en Filmhuis Den Haag. Dit jaar is in samenwerking met Filmhuis Den Haag het filmprogramma uitgebreid.
Nieuw is ook de Winternachten-editie van het spoken-word programma 'Woorden worden Zinnen' in het popcentrum Paard. Daarnaast zijn er festivalprogramma's in Theater Dakota, de Speakers' Corner in de Haagse Hogeschool, de bibliotheken Schilderswijk en Nieuw Waldeck en het International Institute of Social Studies.
Graag tot ziens in Theater aan het Spui, Filmhuis Den Haag, Paard, Theater Dakota, International Institute of Social Studies en de andere festivallocaties van dit jaar!
   #  more informatie op website writersunlimited.nl   

Winternachten festival
17 tot en met 20 januari 2019
Den Haag
# fleursdumal.nl magazine
More in: # Music Archive, #Biography Archives, #More Poetry Archives, - Book Lovers, - Bookstores, Art & Literature News, AUDIO, CINEMA, RADIO & TV, LITERARY MAGAZINES, PRESS & PUBLISHING, STREET POETRY, THEATRE, Winternachten
---
Het Wintertuinfestival, dat van 20 tot en met 25 november 2018 plaatsvindt in Nijmegen, gaat dit jaar over de vraag: Wat horen we als we luisteren? Tientallen schrijvers, dichters, wetenschappers, muzikanten en kunstenaars gaan in op dit thema. Zowel grote literaire namen als aanstormende talenten reizen af naar Nijmegen.
20 t/m 25 november: Wintertuinfestival Nijmegen
  # meer info wintertuinfestival  

fleursdumal.nl magazine
More in: # Music Archive, #More Poetry Archives, - Book Lovers, - Bookstores, Art & Literature News, THEATRE, Wintertuin Festival
---
Crossing Border heeft ook dit jaar weer vanuit de hele wereld een groot aantal vernieuwende auteurs en muzikanten uitgenodigd die een passie delen voor het gesproken woord, songteksten en taal.
Unieke optredens waar literatuur en muziek samenwerken én botsen. Dit jaar vindt de 26ste editie van het festival plaats.
Al sinds de eerste editie in 1993 zoekt Crossing Border de grenzen op van muziek en woord om er vervolgens een brug tussen te slaan. De afgelopen jaren is het festival uitgegroeid tot een van de meest progressieve internationale festivals op het gebied van literatuur en muziek in Europa.
Elk jaar komen meer dan 100 schrijvers, artiesten en muzikanten van over de hele wereld samen op het Crossing Border festival in Den Haag.
Grote namen en opkomend talent wisselen elkaar af. De 26ste editie beslaat een week, met zowel overdag als 's avonds programmering op meerdere podia in Theater aan het Spui, De Nieuwe Kerk, festivaltent Katrina, Filmhuis Den Haag en de Centrale Bibliotheek.
Michael Palin – Karrie Fransman – Murat Isik – Aminatta Forna – Sandro Veronesi – Sasha Marianna Salzmann – Oyinkan Braithwaite – Daniel Kehlmann – Tracyanne & Danny – St. Paul & the Broken Bones – Theo Loevendie – Joe Armon-Jones – Simone Atangana Bekono – Richard Powers – De Poezieboys – Patrick deWitt – Radna Fabias – Hannah Sullivan – Sharlene Teo – Radna Fabias – Cynan Jones – Rembrandt Frerichs Trio – Gary Grosby José Eduardo Agualusa – Xylouris White – Gavin Bryars – Ramón Esono Ebalé – Christian Vander- Moses Boyd-Exodus – Hossein Alizadeh – Alela Diane – Gavin Bryars – Melle Smets – Christian Vander – Benjamin Glorieux – Lewsberg- Pete Wu – Lana Lux – Alfred Birney – Daniel Blumberg – Eva Meijer – Byron Rich – Kris De Decker – Jack Underwood – Douglas Firs – Yonatan Gat – Bregje Hofstede – Rashif El Kaoui – Douglas Firs – Seward – Charlotte Mutsaers – Momtaza Mehri – Abdelkader Benali – The Addict – Sofie Lakmaker – Honey Harper – Paolo Giordano – Marente de Moor – Pitou – Fantastic Negrito- Ties Mellema – StringTing – Anthony Anaxagorou – Kees 't Hart – Maartje Wortel – Sarah Arnolds – Rachael Allen – Tommy Wieringa – Michael Fehr – Gabriel Royal – Steve Davis – Lina Wolff – Joost Pollmann – Kavus Torabi – Mauro Libertella – Michael Fehr – Saskia de Coster – Jeroen Janssen – Meg Baird en Mary Lattimore – Sabrina Mahfouz – Edoardo Albinati – Dean Bowen – Little Raven – Peter Buurman – Maarja Nuut & Ruum – Sunny Sjoerd – Johan Harstad- Emma-Jean Thackray – Skinny Pelembe
Theater aan het Spui
Bibliotheek Den Haag
Nieuwe Kerk
Festivaltent Katrina
Filmhuis Den Haag
26ste editie Crossing Border festival Den Haag
9 oct t/m 4 nov 2018
# meer informatie op website crossing border
fleursdumal.nl magazine
More in: # Music Archive, #Editors Choice Archiv, #More Poetry Archives, - Book Lovers, Art & Literature News, AUDIO, CINEMA, RADIO & TV, Literary Events, LITERARY MAGAZINES, STREET POETRY, The talk of the town, THEATRE
---
The story of literature in sixteen acts—from Homer to Harry Potter, including The Tale of Genji, Don Quixote, The Communist Manifesto, and how they shaped world history
In this groundbreaking book, Martin Puchner leads us on a remarkable journey through time and around the globe to reveal the how stories and literature have created the world we have today. Through sixteen foundational texts selected from more than four thousand years of world literature, he shows us how writing has inspired the rise and fall of empires and nations, the spark of philosophical and political ideas, and the birth of religious beliefs.
We meet Murasaki, a lady from eleventh-century Japan who wrote the first novel, The Tale of Genji, and follow the adventures of Miguel de Cervantes as he battles pirates, both seafaring and literary. We watch Goethe discover world literature in Sicily, and follow the rise in influence of The Communist Manifesto. Puchner takes us to Troy, Pergamum, and China, speaks with Nobel laureates Derek Walcott in the Caribbean and Orhan Pamuk in Istanbul, and introduces us to the wordsmiths of the oral epic Sunjata in West Africa. This delightful narrative also chronicles the inventions—writing technologies, the printing press, the book itself—that have shaped people, commerce, and history. In a book that Elaine Scarry has praised as "unique and spellbinding," Puchner shows how literature turned our planet into a written world.
Martin Puchner is the Byron and Anita Wien Professor of English and Comparative Literature at Harvard University. His prize-winning books range from philosophy to the arts, and his bestselling six-volume Norton Anthology of World Literature and HarvardX MOOC (massive open online course) have brought four thousand years of literature to students across the globe. He lives in Cambridge, Massachusetts.
Martin Puchner
The Written World
The Power of Stories to Shape People, History, and Civilization
Random House Trade Paperbacks
Paperback
Jul 24, 2018
464 Pages
$20.00
ISBN 9780812988277
new books
fleursdumal.nl magazine
More in: #More Poetry Archives, - Book News, - Bookstores, Archive O-P, Art & Literature News, MONTAIGNE, NONFICTION: ESSAYS & STORIES
---
Elke zomer opnieuw slaat het Kunstenfestival van Watou haar tenten op in het gelijknamige kunstdorpje aan de Franse grens.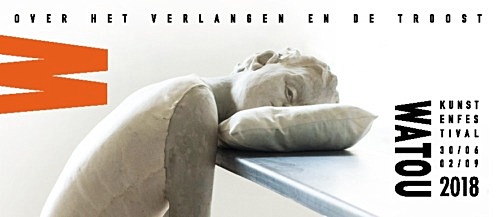 Dichters en beeldend kunstenaars, aanstormend talent en gevestigde waarden, kunstwerken uit binnen- en uit buitenland strijken er neer en vormen een bijzonder kunstenparcours. Het dorp is de setting en biedt een tiental karakteristieke locaties als tentoonstellingsruimte: een voormalig klooster, een oude boerderij of de kelder van een brouwerij. De wisselwerking tussen die verrassende, nostalgische ruimtes met hedendaagse beeldende kunst en poëzie zorgt telkens weer voor een unieke kunstbeleving. Zomeren in Watou is dan ook prikkelen en onthaasten tegelijk. Kleine momenten van gelukzaligheid.
Iedere editie van het Kunstenfestival kadert in een ander thema, waarrond intendant Jan Moeyaert en poëziecurator Willy Tibergien beeld en taal samenbrengen. Schrijvers, dichters en kunstenaars palmen gedurende een zomer het dorp in en bieden de bezoekers een caleidoscoop aan inzichten en perspectieven rond een bepaald onderwerp.
De afgelopen edities van Kunstenfestival Watou groeide er gestaag een nieuwe poëtische lijn in het dorp. Ook dit jaar selecteerde poëziecurator Willy Tibergien gedichten van gevestigde waarden in het Nederlandstalig poëzielandschap om hen een permanente plaats te geven in Watou.
Aan het werk van Eddy van Vliet, Paul Snoek, Remco Campert, Hugues C. Pernath, Jean-Claude Pirotte, Leo Vroman, Miriam Van hee, Stefan Hertmans, Gerrit Kouwenaar en Marc Insingel, Leonard Nolens, Christine D'Haen, Joost Zwagerman, Jotie T'Hooft, Charles Ducal en Luuk Gruwez worden dit jaar gedichten van Anna Enquist, Eva Gerlach en Frans Deschoemaeker toegevoegd.
STRING CARPET – GIDEON KIEFER – KUNSTENAARSGESPREK – ZONZO COMPAGNIE – ELS DEJONGHE – HET VLIEGEND TAPIJT – VRIJDAG VIERT FEEST – KRISTIN VERELLEN – POSTKANTOOR 00/00/00 – LIZE PEDE – BERNARD DEWULF – ALICJA GESCINSKA – DE TROOSTWINKEL – DOWN TIGER DOWN – SIEL EN LARISSA – NELLY AGASSI – IK ZIE MENSEN – POËZIE POËZIE POËZIE – DEREK & RENAUD – WIM CHIELENS – DE PLUIZENTUIN – WALLY DEDONCKER – ANT AND … – IK BEN WEER VELEN – STEPHANIE STRUIJK –  BERNARD DEWULF – MENNO WIGMAN – GRAHAM FAGEN – GERRIT KOUWENAAR – FRANS DESCHOEMAEKER – ANNA ENQUIST – EVA GERLACH – FRAUKE WILKEN – SAM DURANT – SIGRID VON LINTIG – PAUL SNOEK – MAUD BEKAERT -PETER VERHELST- DENIS VERCRUYSSE – MOHAMED EL BAZ – PARSE/ERROR – KATRIN DEKONINCK – ARPAÏS DU BOIS – GRZEGORZ GWIAZDA – SHIMABUKU – PETER DE MEYER – ROBINE CLIGNETT – ELS LESAGE – RADNA FABIAS – RY ROCKLEN – CHAIM VAN LUIT – SYLVIA EVERS – TORI WRÅNES – RONNY DELRUE – PETER MORRENS – HERVÉ MARTIJN – THÉ VANBERGEN – HANNE VAN ROMPAEY – STEFAN HERTMANS – TOM VAN DEEL – DANIELLE VAN ZADELHOFF – ANTON COTTELEER – SU-MEI TSE – POLIEN BOONS – JONAS VANSTEENKISTE – GURT SWANENBERG – ARANTHELL – GEERTJE VANGENECHTEN – MAARTEN VANDEN EYNDE – DOMINIQUE DE GROEN – JANI LEINONEN – JOSÉ COBO – TATJANA GERHARD – NADIA NAVEAU – HESTER KNIBBE – LUK VAN SOOM – JEROEN VAN KAN – CAROL ANN DUFFY – IRINA RATUSHINSKAYA – YEHUDA AMICHAI – NIDAA KHOURY – ZIYA MOHAVED – HANS OP DE BEECK- MASSIMO UBERTI -VAJIKO CHACHKHIANI – MOYA DE FEYTER – SHEILA HICKSEMMA VAN ROEY – BERNARDÍ ROIG -PETER THEUNYNCK – GIDEON KIEFER – EDITH DEKYNDT – THOMAS LEROOY – RANDALL CASAER- CHRISTINA MIGNOLET – GERD KANZ- GREET DESAL – HANNAH VAN BINSBERGEN – MELIK OHANIAN – JOHAN CLARYSSE – SOPHIE BOUVIER AUSLÄNDER – HANS DEFER- LUDOVIC LAFFINEUR – ARNE QUINZE – MARIJE LANGELAAR – TANYA SCHULTZ – ERLEND VAN LANDEGHEM – ROLAND JOORIS – LUKA FINEISEN – MEKHITAR GARABEDIAN – FRANZ SCHMIDT – CLARISSE BRUYNBROECK – FRANCIS PONGE – DAVID DE POOTER – RUTGER KOPLAND – JAN VANRIET – HUGO CLAUS – NELLY AGASSI – K. MICHEL – MICHAL MARTYCHOWIEC – PAUL DEMETS – STEPHAN MUIS – SAMMY BALOJI – TANG NANNAN – ADEL ABDESSEMED – LAURENS HAM – TODD ROBINSON – PANAMARENKO – GILLES BARBIER – HELEN DUNMORE – CASPER BRAAT – SYLVIE MARIE – CHANTAL POLLIER – EZRA VELDHUIS – HARLINDE DE MOL – ELEANOR CROOK – ANNO DIJKSTRA
Kunstenfestival Watou 2018 loopt nog tot en met 2 september
Open: woensdag tot zondag van 11u tot 19u – maandag en dinsdag gesloten, behalve op feestdagen
Adres:
Watouplein 12
8978 Watou
Poperinge (België)
De start van het Kunstenfestival is te vinden in het Festivalhuis (Watouplein 12), op het marktplein naast de Spar. Opg  elet! Voor alle weekend-events zijn de plaatsen beperkt. Een plaats reserveren kan enkel de dag zelf aan de kassa, bij aankoop van uw ticket.
# meer informatie op website kunstenfestival Watou
Kunstenfestival Watou 2018
fleursdumal.nl magazine
More in: # Music Archive, #Editors Choice Archiv, #More Poetry Archives, - Book Lovers, - Book Stories, Art & Literature News, Exhibition Archive, FDM Art Gallery, LITERARY MAGAZINES, PRESS & PUBLISHING, STREET POETRY, THEATRE, Watou Kunstenfestival
---
Older Entries »
Thank you for reading FLEURSDUMAL.NL - magazine for art & literature