Kaur, Rupi
·
Rupi Kaur: Home Body (poetry)
·
Milk and Honey by Rupi Kaur
From the Number One Sunday Times bestselling author of milk and honey and the sun and her flowers comes her greatly anticipated third collection of poetry.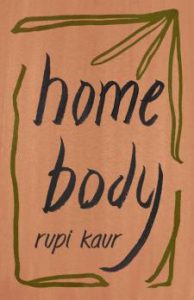 Rupi Kaur constantly embraces growth, and in home body, she walks readers through a reflective and intimate journey visiting the past, the present and the potential of the self. home body is a collection of raw, honest conversations with oneself – reminding readers to fill up on love, acceptance, community, family, and embrace change. illustrated by the author, themes of nature and nurture, light and dark, rest here.
i dive into the well of my body
and end up in another world
everything i need
already exists in me
there's no need
to look anywhere else
– home
rupi kaur is a poet. artist. and performer. as a 21-year-old university student rupi wrote. illustrated. and self-published her first poetry collection milk and honey. next came its artistic sibling the sun and her flowers. these collections have sold over 8 million copies and have been translated into over 40 languages. home body is her third collection of poetry. rupi's work touches on love. loss. trauma. healing. femininity. and migration. she feels most at home when creating art or performing her poetry onstage.
Rupi Kaur
Home Body
Paperback
ISBN : 9781471196720
Publisher: Simon & Schuster UK
November 17, 2020
English Poetry
$13.59
# new poetry
Rupi Kaur
Home Body
• fleursdumal.nl magazine
More in: - Book News, Archive K-L, Archive K-L, Art & Literature News, Kaur, Rupi
---
#1 New York Times bestseller Milk and Honey is a collection of poetry and prose about survival. About the experience of violence, abuse, love, loss, and femininity.
The book is divided into four chapters, and each chapter serves a different purpose. Deals with a different pain. Heals a different heartache. Milk and Honey takes readers through a journey of the most bitter moments in life and finds sweetness in them because there is sweetness everywhere if you are just willing to look.
rupi kaur is a bestselling author and illustrator of two collections of poetry. her artistic expression began at the age of 5 when her mother handed her a paintbrush and said—draw your heart out. while studying at the university of waterloo rupi self-published her first collection milk and honey in 2014.
milk and honey became an international phenomenon that's been translated into over 30 languages and sold over 2.5 million copies. rupi's long-awaited second collection the sun and her flowers was published in 2017 and immediately debuted as a #1 global bestseller. through her poetry rupi explores a variety of themes ranging from love. loss. trauma. healing. femininity. migration. revolution.
rupi is a storyteller and chronicler. there's a simplicity and nuance to her work that has found a home in the hearts of millions. this magic is best captured in her stage performances which are magnetic musical interactions of poetry art and theatre. in the years to come rupi hopes to continue her artistic exploration through art and poetry—searching for ways to understand and articulate the world around her.
Milk and Honey
by Rupi Kaur
Publisher Andrews McMeel Publishing
Publication date 10/2015
US Edition
Binding Trade Paperback
208 pages
Price € 13.50
ISBN 9781449474256
new poetry books
fleursdumal.nl magazine
More in: - Book Lovers, - Book News, Archive K-L, Archive K-L, Art & Literature News, Kaur, Rupi
---
Thank you for reading FLEURSDUMAL.NL - magazine for art & literature