Archive O-P
·
Nora Pembroke: My Baby
·
Paul van Ostaijen: Gulden Sporen Negentienhonderd Zestien
·
George Orwell: A dressed man and a naked man
·
George Orwell: Ironic Poem about Prostitution
·
Natalie Portman's Fables by Natalie Portman (Author) & Janna Mattia (Illustrator)
·
"Odes" by Sharon Olds
·
Hagar Peeters: De schrijver is een alleenstaande moeder (gedichten)
·
Jacques Perk: Madonna
·
Zonal by Don Paterson
·
Jacques Perk: Eerste aanblik
·
The Selected Poetry of Pier Paolo Pasolini
·
Jacques Perk: Die lach
My Baby
He lay on my breast so sweet and fair,
I fondly fancied his home was there,
Nor thought that the eyes of merry blue,
With baby love for me laughing through,
Were pining to go from whence he came,
Leaving my arm empty and heart in pain,
Longing to spread out his wings and fly
To his native home far beyond the sky
They took him out of my arms and said
My baby so sweet and fair was dead,
My baby that was my heart's delight
The fair little body they robed in white
Flowers they placed at the head and feet
Like my baby fair, like my baby sweet,
They laid him down in a certain place,
And round him they draped soft folds of lace
Till I'd look my last at my baby white,
Before they carried him from my sight,
By the sweet dead babe, so fair to see,
They tried in kindness to comfort me
They said, he is safe from care and pain,
Safe and unspotted by sin or stain;
Before the mystery of the years
Brings heart ache or pang, or sorrow's tears.
He's safe, sweet lamb, in the Shepherd's care,
Sorrow nor suffering enters there;
But with brow of gladness, clothed in light,
He is fair as the angels in His sight.
I know what they said to me was true,
And should have fallen on my heart like dew;
For, although my grief was very sore,
My baby was safe for evermore.
I know that they spoke with kindly care,
My grief to comfort and soothe, or share;
But I gave my baby the last, last kiss,
Saying, God alone comforts grief like this.
Nora Pembroke
(Margaret Moran Dixon McDougall)
1826 – 1898
My Baby
• fleursdumal.nl magazine
More in: - Archive Tombeau de la jeunesse, Archive O-P, Archive O-P, CLASSIC POETRY
---
Gulden Sporen
Negentienhonderd Zestien
In dertienhonderd en twee
beken naar de stroom, stromen naar de zee,
zó de verdedigers van het vlaamse-gemeente-sisteem, sterk in de strijd,
wal, tegen de aanval van de franse leenroerigheid;
zee-wal, pal, als de Rode Zee ten tijde van de Eksode
was, tocht van godsvolk naar Kanaäan, tocht der Joden.
Maar negentienhonderd zestien
zal, zij aan zij,
pal, rij op rij,
het aktieve leger groeien zien,
tot een wil en tot een daad,
gekromd de rug en vuist gebald, die de vijand slaat
en de nacht; breekt de dag door dageraad.
Negentienhonderd zestien, jaar dat woord werd,
woord dat vlees werd,
leger van ons land,
wachtersdaad bij wachterswoord en -hand.
Vastberaân, wij staan
in kamp. Wij staan.
… Ik en de stad …
Paul van Ostaijen
(1896 – 1928)
Gulden Sporen
Negentienhonderd Zestien
• fleursdumal.nl magazine
More in: Archive O-P, Archive O-P, Ostaijen, Paul van, Paul van Ostaijen
---
A dressed man
and a naked man

A dressed man and a naked man
Stood by the kip-house fire,
Watching the sooty cooking-pots
That bubble on the wire;
And bidding tanners up and down,
Bargaining for a deal,
Naked skin for empty skin,
Clothes against a meal.
'Ten bob it is,' the dressed man said,
'These boots cost near a pound,
This coat's a blanket of itself.
When you kip on the frosty ground.'
'One dollar,' said the naked man,
'And that's a hog too dear;
I've seen a man strip off his shirt
For a fag and a pot of beer.'
'Eight and a tanner,' the dressed man said,
'And my life-work is yours,
All I've earned at the end of a life
Knocking at farmers' doors;
Turnips, apples, hops and peas,
And the spike when times are slack,
Fifty years I've tobied it
For these clothes upon my back.'
'Take seven,' said the naked man,
'It's cold and the spikes are shut;
Better be naked here in kip
Than dressed in Lambeth Cut.'
'One tanner more,' the dressed man said,
'One tanner says the word,
Off comes my coat of ratcatcher
And my breeches of velvet cord;
Now pull my shirt over my head,
I'm naked sole to crown,
And that's the end of fifty years
Tobying up and down.'
A minute and they had changed about,
And each had his desire;
A dressed man and a naked man
Stood by the kip-house fire.
George Orwell
(1903 – 1950)
The Adelphi Magazine. October 1933
• fleursdumal.nl magazine
More in: Archive O-P, Archive O-P, George Orwell, Orwell, George
---
Ironic Poem
about Prostitution
When I was young and had no sense
In far-off Mandalay
I lost my heart to a Burmese girl
As lovely as the day.
Her skin was gold, her hair was jet,
Her teeth were ivory;
I said, "for twenty silver pieces,
Maiden, sleep with me".
She looked at me, so pure, so sad,
The loveliest thing alive,
And in her lisping, virgin voice,
Stood out for twenty-five.
George Orwell
(1903 – 1950)
• fleursdumal.nl magazine
More in: Archive O-P, Archive O-P, George Orwell, Orwell, George
---
Academy Award-winning actress, director, producer, and activist Natalie Portman retells three classic fables and imbues them with wit and wisdom.
From realizing that there is no "right" way to live to respecting our planet and learning what really makes someone a winner, the messages at the heart of Natalie Portman's Fables are modern takes on timeless life lessons.
Told with a playful, kid-friendly voice and perfectly paired with Janna Mattia's charming artwork, Portman's insightful retellings of The Tortoise and the Hare, The Three Little Pigs, and Country Mouse and City Mouse are ideal for reading aloud and are sure to become beloved additions to family libraries.
Natalie Portman is an Academy Award-winning actress, director, producer, and activist whose credits include Leon: The Professional, Cold Mountain, Closer, V for Vendetta, the Star Wars franchise prequels, A Tale of Love and Darkness, Jackie, and Thor: Love and Thunder. Born in Jerusalem, Israel, she is a graduate of Harvard University, and now lives with her family in Los Angeles. Natalie Portman's Fables is her debut picture book.
Janna Mattia was born and raised in San Diego. She received a degree in Illustration for Entertainment from Laguna College of Art and Design, and now works on concept and character art for film, illustration for licensing, and private commissions. Natalie Portman's Fables is her picture book debut.
Natalie Portman's Fables
Natalie Portman (Author)
Janna Mattia (Illustrator)
Age Range: 4 – 6 years
Hardcover: 64 pages
Publisher: Feiwel & Friends (October 20, 2020)
Language: English
ISBN-10: 1250246865
ISBN-13: 978-1250246868
$17.99
# new books
Natalie Portman's Fables
• fleursdumal.nl magazine
More in: - Book Lovers, - Book News, - Bookstores, Archive O-P, AUDIO, CINEMA, RADIO & TV, Tales of Mystery & Imagination
---
Following the Pulitzer prize-winning collection Stag's Leap, Sharon Olds gives us a stunning book of odes. Opening with the powerful and tender "Ode to the Hymen," Olds addresses and embodies, in this age-old poetic form, many aspects of love and gender and sexual politics in a collection that is centered on the body and its structures and pleasures.
The poems extend parts of her narrative as a daughter, mother, wife, lover, friend, and poet of conscience that will be familiar from earlier collections, each episode and memory burnished by the wisdom and grace and humor of looking back.
In such poems as "Ode to My Sister," "Ode of Broken Loyalty," "Ode to My Whiteness," "Blow Job Ode," and "Ode to the Last Thirty-Eight Trees in New York City Visible from This Window," Olds treats us to an intimate examination that, like all her work, is universal, by turns searing and charming in its honesty.
From the bodily joys and sorrows of childhood to the deaths of those dearest to us, Olds shapes the world in language that is startlingly fresh, profound in its conclusions, and life-giving for the reader.
SHARON OLDS was born in San Francisco and educated at Stanford University and Columbia University. The winner of both the Pulitzer Prize and England's T. S. Eliot Prize for her 2012 collection, Stag's Leap, she is the author of eleven previous books of poetry and the winner of many other honors, including the National Book Critics Circle Award for The Dead and the Living. Olds teaches in the Graduate Creative Writing Program at New York University and helped to found the NYU outreach programs, among them the writing workshop for residents of Goldwater Hospital on Roosevelt Island, and for the veterans of the Iraq and Afghanistan wars. She lives in New York City.
Odes
by Sharon Olds
Published by Knopf
128 Pages
Hardcover
ISBN 9780451493620
$26.95
Paperback
ISBN 9780451493644
$16.95
2016
# new poetry
Sharon Olds:
Odes
• fleursdumal.nl magazine
More in: #Editors Choice Archiv, #More Poetry Archives, Archive O-P, Archive O-P
---
Hagar Peeters (1972) brak in 1997 door als rapdichter en studeerde daarna cum laude af in de cultuur-, mentaliteits en ideeëngeschiedenis vanaf de Verlichting.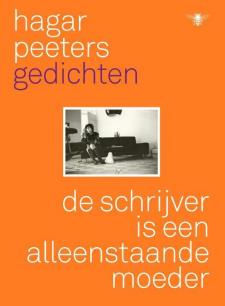 Haar dichtbundels en non-fictie werden meermaals bekroond. In 2008 stond ze op de shortlist van de verkiezing van de Dichter des Vaderlands.
De gedichten van Hagar Peeters worden gezongen door Wende Snijders, Van Dik Hout en Herman van Veen.
Haar in 2015 verschenen debuutroman Malva is bekroond met de Gouden Boekenuil en in zes talen vertaald.
De dichtbundel De schrijver is een alleenstaande moeder vormt het eerste deel van een trilogie waarin ze de verhouding tussen schrijverschap en alleenstaand moederschap onderzoekt.
Het vervolg bestaat uit proza-exercities en filosofische beschouwing. Ze ontving daarvoor een beurs van NIAS-KNAW.
Hagar Peeters studeerde Cultuurgeschiedenis en Algemene Letteren aan de Universiteit van Utrecht en was redacteur bij het Historisch Nieuwsblad. Haar performance op het Double Talk-festival in 1997 bleek voor haar de doorbraak: ze werd gevraagd op te treden bij De Nacht van de Poëzie en Crossing Border, nog voordat zij was gedebuteerd. Dat zou gebeuren in 1999, met Genoeg gedicht over de liefde vandaag. Daarna publiceerde ze Gerrit de stotteraar. Biografie van een boef (2001), waarvoor zij de Nationale Scriptieprijs 2001 van Het Parool kreeg. In 2003 verscheen bij De Bezige Bij haar tweede dichtbundel Koffers zeelucht, die werd bekroond met de Jo Peters Poëzieprijs en de J.C. Bloemprijs. De bundel werd vele malen herdrukt. In het najaar van 2008 verscheen de bundel Loper van licht. Voor de dichtbundel Wasdom (januari 2011) verzamelde Hagar Peeters haar meest recente poëzie, gecombineerd met een selectie uit de gedichten die ze vóór haar twintigste schreef. In september 2015 verscheen haar alom geprezen debuutroman Malva. Het boek werd bekroond met de eerste Fintro Literatuurprijs (voormalige Gouden Boekenuil) 2016 en genomineerd voor de Opzij Literatuurprijs, de Libris Literatuurprijs, de Bronzen Uil, de Inktaap en de ANV Debutantenprijs en is tot nog toe in zes talen vertaald.
De schrijver is een alleenstaande moeder
Gedichten
Auteur: Hagar Peeters
Taal: Nederlands
Paperback
September 2019
96 pagina's
Uitgever De Bezige Bij
EAN 9789403167305
20,99 Euro
# new poetry
Hagaar Peeters
De schrijver is een alleenstaande moeder
• fleursdumal.nl magazine
More in: - Book News, Archive O-P, Archive O-P, Art & Literature News, Peeters, Hagar
---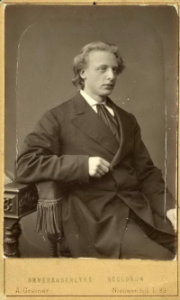 Madonna
Hoe minzaam heeft uw kozend woord geklonken
Uw zilvren woord, maar al te goed verstaan!
'k Zag in uw oog een glimlach en een traan,
Blauw bloempje, waarin morgenparels blonken;
Gij wijst mij naar de moedermaagd, ik waan
Mij in aanbidding voor haar weggezonken…
Daar voel ik me eindeloozen vreê geschonken:
Ik zie naar haar – Mathilde, u bid ik aan:
Gij, die de moeder mijner liefde zijt,
Zijt moeder Gods, want God is mij de liefde:
U zij mijn hart, mijn vlammend hart gewijd!
Een kerk rijst allerwegen aan uw zij –
O, deernisvolle ziel, die niemand griefde,
O, mijn Madonna! bid o bid voor mij!
Jacques Perk
(1859 – 1881)
Madonna
• fleursdumal.nl magazine
More in: Archive O-P, Archive O-P, Jacques Perk
---
Don Paterson's new collection of poetry starts from the premise that the crisis of mid-life may be a permanent state of mind.
Zonal is an experiment in science-fictional and fantastic autobiography, with all of its poems taking their imaginative cue from the first season of The Twilight Zone (1959-1960), playing fast and loose with both their source material and their author's own life. Narrative and dramatic in approach, genre-hopping from horror to Black Mirror-style sci-fi, 'weird tale' to metaphysical fantasy, these poems change voices constantly in an attempt to get at the truth by alternate means. Occupying the shadowlands between confession and invention, Zonal takes us to places and spaces that feel endlessly surprising, uncanny and limitless.
Don Paterson has published seven poetry collections, three books of aphorisms, translations of Machado and Rilke, several works of literary criticism and an ambitious ars poetica, The Poem. His poetry has received many awards. He is Professor of Poetry at the University of St Andrews and Poetry Editor at Picador Macmillan; he also works as a jazz musician. He lives in Edinburgh.
Zonal
Don Paterson (author)
Poems
English language
Faber & Faber (publisher)
Hardback
Pages: 80
Publication Date: March 5, 2020
ISBN: 9780571338245
RRP: £14.99
# new books
Zonal
poems by Don Paterson
• fleursdumal.nl magazine
More in: #Editors Choice Archiv, - Book News, - Bookstores, Archive O-P, Archive O-P
---
Eerste aanblik
En peinzend zie 'k uw zee-blauwe oogen pralen,
Waarin de deernis kwijnt, de liefde droomt, –
En weet niet wat mij door mijn adren stroomt:
Ik zie naar u en kan niet ademhalen:
Een gouden waterval van zonnestralen
Heeft nooit een zachter aangezicht bezoomd…
't Is of me een engel heeft verwellekoomd,
Die met een paradijs op aard kwam dalen.
'k Gevoel mij machtig tot u aangedreven
En buiten mij. 'k Was dood, ik ben herrezen,
En voel mij tusschen zijn en niet-zijn zweven:
Wat hebt gij, tooveres, mij goed belezen!
Aan u en aan uwe oogen hangt mijn leven:
Een diepe rust vervult geheel mijn wezen. –
Jacques Perk
(1859 – 1881)
Eerste aanblik
• fleursdumal.nl magazine
More in: Archive O-P, CLASSIC POETRY, Jacques Perk
---
Most people outside Italy know Pier Paolo Pasolini for his films, many of which began as literary works—Arabian Nights, The Gospel According to Matthew, The Decameron, and The Canterbury Tales among them.
What most people are not aware of is that he was primarily a poet, publishing nineteen books of poems during his lifetime, as well as a visual artist, novelist, playwright, and journalist. Half a dozen of these books have been excerpted and published in English over the years, but even if one were to read all of those, the wide range of poetic styles and subjects that occupied Pasolini during his lifetime would still elude the English-language reader.
For the first time, Anglophones will now be able to discover the many facets of this singular poet. Avoiding the tactics of the slim, idiosyncratic, and aesthetically or politically motivated volumes currently available in English, Stephen Sartarelli has chosen poems from every period of Pasolini's poetic oeuvre. In doing so, he gives English-language readers a more complete picture of the poet, whose verse ranged from short lyrics to longer poems and extended sequences, and whose themes ran not only to the moral, spiritual, and social spheres but also to the aesthetic and sexual, for which he is most known in the United States today. This volume shows how central poetry was to Pasolini, no matter what else he was doing in his creative life, and how poetry informed all of his work from the visual arts to his political essays to his films. Pier Paolo Pasolini was "a poet of the cinema," as James Ivory says in the book's foreword, who "left a trove of words on paper that can live on as the fast-deteriorating images he created on celluloid cannot."
Pier Paolo Pasolini (1922–75) was an Italian film director, writer, and intellectual. This generous selection of poems will be welcomed by poetry lovers and film buffs alike and will be an event in American letters.
The Selected Poetry of Pier Paolo Pasolini
A Bilingual Edition
Edited and Translated by Stephen Sartarelli
With a Foreword by James Ivory
Format Paperback
512 pages
Dimensions 152.4 x 226.06 x 33.02mm
Publisher The University of Chicago Press
Language English
Edition Bilingual edition
ISBN10 022632544X
ISBN13 9780226325446
2015
Paper $25.00
Susan Stewart | The Nation: "An accused blasphemer deeply devoted to Franciscan Catholicism, a Gramscian communist permanently expelled from the party, an avowed homosexual dedicated to the consensual sexual freedom of everyone, a champion of the local on a global scale, a neorealist of the imagination, and a radically innovative poet alienated from the existing practices of the avant-garde: Pasolini is not so much a figure of contradictions as he is a force against the incoherence hiding in every hypocrisy."
• fleursdumal.nl magazine
More in: - Book News, Archive O-P, Archive O-P, AUDIO, CINEMA, RADIO & TV, Pier Paolo Pasolini
---
Die lach
Zooals wanneer opeens de zonneschijn
Door 't zwart der breede wolken heen komt breken,
En schittert in de tranen, die er leken
Van blad en bloem, als vloeiend kristallijn,
Zóó, dat het weenen lachen schijnt te zijn:
Zoo is, wat mij ontstemt, opeens geweken,
Mathilde! ontsluit úw mond zich om te spreken,
En doolt een glimlach om uw lippen, fijn: –
Doch van den lach is glimlach dageraad,
En klinkt uw lach, hoe drinken hem mijne ooren!
De vreugde vaart door pols en vezel rond. –
En met geloken oog zie 'k uw gelaat,
Zoo zonnig: 'k meen uw zilvren lach te hooren,
Wanneer ik roerloos wacht op de' uchtendstond….
Jacques Perk
(1859 – 1881)
Die lach
• fleursdumal.nl magazine
More in: Archive O-P, Archive O-P, CLASSIC POETRY, Jacques Perk
---
Older Entries »
Thank you for reading FLEURSDUMAL.NL - magazine for art & literature