FICTION & NON-FICTION – books, booklovers, lit. history, biography, essays, translations, short stories, columns, literature: celtic, beat, travesty, war, dada & de stijl, drugs, dead poets
·
Tori Telfer: Lady Killers. Deadly Women Throughout History
·
Patti Smith: The New Jerusalem – Bilingual edition – Nexus Library
·
Ton van Reen: Het diepste blauw (058). Een roman als feuilleton
·
Kunstenfestival Watou 2018 van 30 juni t/m 2 september
·
Ton van Reen: Het diepste blauw (057). Een roman als feuilleton
·
Gertrud Kolmar: Der Engel im Walde
·
Samuel Taylor Coleridge: Rime of the Ancient Mariner
·
Ton van Reen: Het diepste blauw (056). Een roman als feuilleton
·
James Joyce: Lean Out of the Window
·
Ton van Reen: Het diepste blauw (055). Een roman als feuilleton
·
Bobby Parker: Working Class Voodoo
·
Nieuwe digitale bundel Fantom Ebooks (nr 2) van Paul Bezembinder
Author Tori Telfer's "Lady Killers," a thrilling and entertaining compendium, investigates female serial killers and their crimes through the ages.
When you think of serial killers throughout history, the names that come to mind are ones like Jack the Ripper, John Wayne Gacy, and Ted Bundy. But what about Tillie Klimek, Moulay Hassan, Kate Bender?
The narrative we're comfortable with is the one where women are the victims of violent crime, not the perpetrators. In fact, serial killers are thought to be so universally, overwhelmingly male that in 1998, FBI profiler Roy Hazelwood infamously declared in a homicide conference, "There are no female serial killers."
Lady Killers, based on the popular online series that appeared on Jezebel and The Hairpin, disputes that claim and offers fourteen gruesome examples as evidence.
Though largely forgotten by history, female serial killers such as Erzsébet Báthory, Nannie Doss, Mary Ann Cotton, and Darya Nikolayevna Saltykova rival their male counterparts in cunning, cruelty, and appetite for destruction.
Lady Killers
Deadly Women Throughout History
by Tori Telfer
2017
ISBN: 9780062433732
ISBN 10: 0062433733
Imprint: Harper Perennial
Pages: 352
List Price: 15.99 USD
TRUE CRIME – Murder- Serial Killers -History – Women
Illustrations by Dame Darcy
new books
fleursdumal.nl magazine
More in: - Book News, - Book Stories, Archive S-T, Art & Literature News, CRIME & PUNISHMENT, Tales of Mystery & Imagination, The Ideal Woman
---
The New Jerusalem, the latest book by Patti Smith – poet, punk legend and author of the bestsellers Just Kids and M Train – is now available for order. A stunning long prose poem in the tradition of St. John and William Blake, The New Jerusalem presents a prophetic vision of art and humanity, faith and freedom; a vision of escape from the rituals of power and the mechanisms of social control.
Illustrated with colour photographs and art work by Patti Smith, this beautiful hardbound volume is a true collector's item and will be irresistible to bibliophiles. With an introduction by Rob Riemen exploring the connection between art and spirituality in Patti Smith's poem and in art more broadly, The New Jerusalem can serve as a reminder of the prophetic power of poetry and a guide to all who need it in these times of resistance.
The New Jerusalem was presented at the Nexus Symposium with Patti Smith 'An Education in Counterculture', 26 May 2018 in Amsterdam.
The New Jerusalem, the new book by poet and punk legend Patti Smith. This long prose poem in the tradition of John's Revelation and the poetry of William Blake shows a prophetic vision of art and humanity, faith and freedom; an image of the escape from the rituals of power and the mechanisms of social control.
This beautiful bilingual (English & Dutch), bound edition features color illustrations and photos by Patti Smith and is irresistible to the real bibliophile. The introduction by Rob Riemen discusses the relationship between art and spirituality in the poem by Patti Smith and in art in a general sense.
Patti Smith
United States, 1946
Patti Smith is a singer and poet. As the 'Godmother of Punk', she protested against social conventions, mindless factory labour and the commercialised world with her powerful and controversial music. She grew up with the music of Bob Dylan, lived together with photographer Robert Mapplethorpe and became a familiar face in the turbulent art scene of New York City. In 1974 Smith started performing with guitarist Lenny Kaye, forming the core of The Patti Smith Group. Her debut album Horses (1975) is considered to be one of the most influential albums in the history of rock music. With Bruce Springsteen she wrote Because the Night, her biggest hit. In addition to many albums, Smith also published poetry and books, including Just Kids (2010), her award-winning autobiography on life in New York in the seventies and her relation with Mapplethorpe.
Rob Riemen
The Netherlands, 1962
Rob Riemen is the founder and president of the Nexus Institute, established in 1994. He has also been editor-in-chief of the journal Nexus since its creation in 1991. In Nexus, prominent and original thinkers and writers reflect on important contemporary issues in essays on art, culture, politics and society. Riemen is the author of Nobility of Spirit. A Forgotten Ideal (2008), on the ideals of European humanism, translated into eighteen languages, and To Fight Against this Age (2018), with essays on the eternal return of fascism and on the European spirit.
The New Jerusalem – Bilingual edition – Nexus Library
ISBN: 9789090309798
Publisher: Nexus Institute
Publication Date: May 26th, 2018
Pages: 76
By Patti Smith, Rob Riemen (Introduction By), Onno Kosters (Translator)
Bilingual English-Dutch, hardbound, illustrated colour edition
Translation Onno Kosters (The New Jerusalem), Liz Waters (introduction)
The New Jerusalem is available for sale in the United States at:
McNally Jackson, New York City
Book Culture, New York City
Strand Bookstore, New York City
Rizzoli Bookstore, New York City
Mast Books, New York City
Greenlight Bookstore, Brooklyn
# more information on website Nexus Institute
fleursdumal.nl magazine
More in: - Book News, - Bookstores, Archive S-T, Archive S-T, Art & Literature News, Nexus Instituut, Patti Smith, Smith, Patti
---
De chauffeur van de vliegende schotels stopt bij Mels.
`Ik zit hier toch wel goed?' roept hij. `Is hier komende zondag kermis?'
Mels knikt.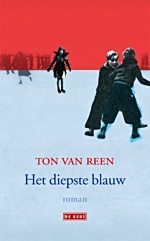 `Ik kom hier voor het eerst. Is het hier wat? Komt hier volk?'
`Veel kabaal en zatlappen', zegt Mels.
`En meiden?'
`Die komen uit de stad. Ze doen hier missiewerk.'
`Nonnen?' zegt de chauffeur verbaasd.
`Nee, net zulke meiden als in jouw vliegende schotels.'
`Dan zit ik hier goed', lacht de chauffeur.
Mels wijst hem de weg naar het weiland achter de molen, dat sinds een paar jaar dienstdoet als evenemententerrein. Een flink stuk wei is onlangs bestraat als parkeerterrein voor de bezoekers van de feesten en van de watermolen.
De kleine carrousel, waarin hij als kind zo veel plezier beleefde, is al in geen jaren meer geweest.
Ton van Reen: Het diepste blauw (058)
wordt vervolgd
fleursdumal.nl magazine
More in: - Book Stories, - Het diepste blauw, Archive Q-R, Reen, Ton van
---
Elke zomer opnieuw slaat het Kunstenfestival van Watou haar tenten op in het gelijknamige kunstdorpje aan de Franse grens.
Dichters en beeldend kunstenaars, aanstormend talent en gevestigde waarden, kunstwerken uit binnen- en uit buitenland strijken er neer en vormen een bijzonder kunstenparcours. Het dorp is de setting en biedt een tiental karakteristieke locaties als tentoonstellingsruimte: een voormalig klooster, een oude boerderij of de kelder van een brouwerij.
De wisselwerking tussen die verrassende, nostalgische ruimtes met hedendaagse beeldende kunst en poëzie zorgt telkens weer voor een unieke kunstbeleving. Zomeren in Watou is dan ook prikkelen en onthaasten tegelijk. Kleine momenten van gelukzaligheid.
Iedere editie van het Kunstenfestival kadert in een ander thema, waarrond intendant Jan Moeyaert en poëziecurator Willy Tibergien beeld en taal samenbrengen. Schrijvers, dichters en kunstenaars palmen gedurende een zomer het dorp in en bieden de bezoekers een caleidoscoop aan inzichten en perspectieven rond een bepaald onderwerp.
In het verleden waren er onder meer tentoonstellingen over de liefde in al haar facetten, over toevallige ontmoetingen, blijvende herinneringen en het geluk in overvloedige tijden. Verhalen verzamelen, heet dat. Van harte welkom om ze te komen lezen!
Kunstenfestival Watou 2018 vindt plaats van
30 juni tot en met 2 september
Open
woensdag tot zondag van 11u tot 19u
maandag en dinsdag gesloten, behalve op feestdagen
# meer informatie op website kunstenfestivalwatou
Adres
Watouplein 12
8978 Watou
Poperinge (België)
fleursdumal.nl magazine
More in: - Bookstores, Art & Literature News, Historia Belgica, Watou Kunstenfestival
---
Mels voelt zich te groot voor de draaimolen, maar hij kan er uren bij rondhangen. Hij is gek op orgelmuziek. Het is een mondharmonica in het groot.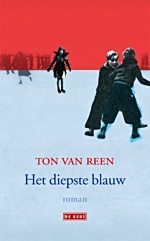 Soms mag hij helpen met het verwisselen van de banden, maar het zijn steeds dezelfde deuntjes. `Schneewälzer', `Holzackerbuben', `Klatsch' en `Muss i denn' zijn de favorieten van de baas, maar Mels weet er soms `Roseanne, hoog te paard' en `Er waren eens twee koningskinderen' tussen te krijgen.
's Ochtends, voordat het zeil wordt weggehaald, helpt hij met het schoonmaken.
Binnen in de gesloten draaimolen is het een andere wereld, met figuren die hier hun eigen leven leiden. Paarden uit duizend-en-een-nacht. Scheepjes teruggekeerd van verre zeeën. Olifanten en leeuwen uit het oerwoud.
Binnen heerst rust. Midden tussen de kinderen die hij om zich heen op het plein hoort spelen, is hij er alleen. Buiten lijkt ver weg. Dit geheimzinnige wereldje lijkt een beetje op die andere wereld waarover hij zo vaak droomt. Hier is hij al een beetje in China.
Soms wordt de droom verstoord door spiedende ogen die door gaten in het zeil naar binnen gluren.
Ton van Reen: Het diepste blauw (057)
wordt vervolgd
fleursdumal.nl magazine
More in: - Book Stories, - Het diepste blauw, Archive Q-R, Reen, Ton van
---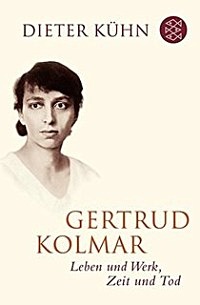 Der Engel im Walde
Gib mir deine Hand, die liebe Hand, und komm mit mir;
Denn wir wollen hinweggehen von den Menschen.
Sie sind klein und böse, und ihre kleine Bosheit haßt und peinigt uns.
Ihre hämischen Augen schleichen um unser Gesicht, und
ihr gieriges Ohr betastet das Wort unseres Mundes.
Sie sammeln Bilsenkraut . . .
So laß uns fliehn
Zu den sinnenden Feldern, die freundlich mit Blumen und
Gras unsere wandernden Füße trösten,
An den Strom, der auf seinern Rücken geduldig wuchtende
Bürden, schwere, güterstrotzende Schiffe trägt,
Zu den Tieren des Waldes, die nicht übelreden.
Komm.
Herbstnebel schleiert und feuchtet das Moos mit dumpf
smaragdenem Leuchten.
Buchenlaub rollt, Reichtum goldbronzener Münzen.
Vor unseren Schritten springt, rote zitternde Flamme,
das Eichhorn nur.
Schwarze gewundene Erlen züngeln am Pfuhl empor in
kupfriges Abendglasten.
Komm.
Denn die Sonne ist nieder in ihre Höhle gekrochen, und ihr
warmer rötlicher Atem verschwebt.
Nun tut ein Gewölb sich auf.
Unter seinem graublauen Bogen zwischen bekrönten Säulen
der Bäume wird der Engel stehn,
Hoch und schmal, ohne Schwingen.
Sein Antlitz ist Leid.
Und sein Gewand hat die Bleiche eisig blinkender Sterne
in Winternächten.
Der Seiende,
Der nicht sagt, nicht soll, der nur ist,
Der keinen Fluch weiß noch Segen bringt und nicht in
Städte hinwallt zu dem, was stirbt :
Er schaut uns nicht
In seinem silbernen Schweigen.
Wir aber schauen ihn,
Weil wir zu zweit und verlassen sind.
Vielleicht
Weht ein braunes, verwelktes Blatt an seine Schulter,
entgleitet;
Das wollen wir aufheben und verwahren, ehe wir weiterziehn.
Komm, mein Freund, mit mir, komm.
Die Treppe in meines Vaters Haus ist dunkel und krumm
und eng, und die Stufen sind abgetreten;
Aber jetzt ist es das Haus der Waise, und fremde Leute wohnen darin.
Nimm mich fort.
Schwer fügt der alte rostige Schlüssel im Tor sich meinen
schwachen Händen.
Nun knarrt es zu.
Nun sieh mich an in der Finsternis, du, von heut meine Heimat.
Denn deine Arme sollen mir bergende Mauern baun,
Und dein Herz wird mir Kammer sein und dein Auge mein
Fenster, durch das der Morgen scheint.
Und es türmt sich die Stirn, da du schreitest.
Du bist mein Haus an allen Straßen der Welt, in jeder
Senke, auf jedem Hügel.
Du Dach, du wirst ermattet mit mir unter glühendem
Mittag lechzen, mit mir erschauern, wenn Schneesturm
peitscht.
Wir werden dürsten und hungern, zusammen erdulden,
Zusammen einst an staubigem Wegesrande sinken und weinen …
Gertrud Kolmar
(1894-1943)
gedicht: Der Engel im Walde
fleursdumal.nl magazine
More in: Archive K-L, Archive K-L, Kolmar, Gertrud
---
Samuel Taylor Coleridge
Part I
It is an ancient Mariner,
And he stoppeth one of three.
'By thy long grey beard and glittering eye,
Now wherefore stopp'st thou me?
The bridegroom's doors are opened wide,
And I am next of kin;
The guests are met, the feast is set:
Mayst hear the merry din.'
He holds him with his skinny hand,
"There was a ship," quoth he.
'Hold off! unhand me, grey-beard loon!'
Eftsoons his hand dropped he.
He holds him with his glittering eye—
The Wedding-Guest stood still,
And listens like a three years' child:
The Mariner hath his will.
The Wedding-Guest sat on a stone:
He cannot choose but hear;
And thus spake on that ancient man,
The bright-eyed Mariner.
"The ship was cheered, the harbour cleared,
Merrily did we drop
Below the kirk, below the hill,
Below the lighthouse top.
The sun came up upon the left,
Out of the sea came he!
And he shone bright, and on the right
Went down into the sea.
Higher and higher every day,
Till over the mast at noon—"
The Wedding-Guest here beat his breast,
For he heard the loud bassoon.
The bride hath paced into the hall,
Red as a rose is she;
Nodding their heads before her goes
The merry minstrelsy.
The Wedding-Guest he beat his breast,
Yet he cannot choose but hear;
And thus spake on that ancient man,
The bright-eyed Mariner.
"And now the storm-blast came, and he
Was tyrannous and strong:
He struck with his o'ertaking wings,
And chased us south along.
With sloping masts and dipping prow,
As who pursued with yell and blow
Still treads the shadow of his foe,
And foward bends his head,
The ship drove fast, loud roared the blast,
And southward aye we fled.
And now there came both mist and snow,
And it grew wondrous cold:
And ice, mast-high, came floating by,
As green as emerald.
And through the drifts the snowy clifts
Did send a dismal sheen:
Nor shapes of men nor beasts we ken—
The ice was all between.
The ice was here, the ice was there,
The ice was all around:
It cracked and growled, and roared and howled,
Like noises in a swound!
At length did cross an Albatross,
Thorough the fog it came;
As it had been a Christian soul,
We hailed it in God's name.
It ate the food it ne'er had eat,
And round and round it flew.
The ice did split with a thunder-fit;
The helmsman steered us through!
And a good south wind sprung up behind;
The Albatross did follow,
And every day, for food or play,
Came to the mariner's hollo!
In mist or cloud, on mast or shroud,
It perched for vespers nine;
Whiles all the night, through fog-smoke white,
Glimmered the white moonshine."
'God save thee, ancient Mariner,
From the fiends that plague thee thus!—
Why look'st thou so?'—"With my crossbow
I shot the Albatross."
Part II
"The sun now rose upon the right:
Out of the sea came he,
Still hid in mist, and on the left
Went down into the sea.
And the good south wind still blew behind,
But no sweet bird did follow,
Nor any day for food or play
Came to the mariners' hollo!
And I had done a hellish thing,
And it would work 'em woe:
For all averred, I had killed the bird
That made the breeze to blow.
Ah wretch! said they, the bird to slay,
That made the breeze to blow!
Nor dim nor red, like God's own head,
The glorious sun uprist:
Then all averred, I had killed the bird
That brought the fog and mist.
'Twas right, said they, such birds to slay,
That bring the fog and mist.
The fair breeze blew, the white foam flew,
The furrow followed free;
We were the first that ever burst
Into that silent sea.
Down dropped the breeze, the sails dropped down,
'Twas sad as sad could be;
And we did speak only to break
The silence of the sea!
All in a hot and copper sky,
The bloody sun, at noon,
Right up above the mast did stand,
No bigger than the moon.
Day after day, day after day,
We stuck, nor breath nor motion;
As idle as a painted ship
Upon a painted ocean.
Water, water, every where,
And all the boards did shrink;
Water, water, every where,
Nor any drop to drink.
The very deep did rot: O Christ!
That ever this should be!
Yea, slimy things did crawl with legs
Upon the slimy sea.
About, about, in reel and rout
The death-fires danced at night;
The water, like a witch's oils,
Burnt green, and blue, and white.
And some in dreams assured were
Of the Spirit that plagued us so;
Nine fathom deep he had followed us
From the land of mist and snow.
And every tongue, through utter drought,
Was withered at the root;
We could not speak, no more than if
We had been choked with soot.
Ah! well-a-day! what evil looks
Had I from old and young!
Instead of the cross, the Albatross
About my neck was hung."
Part III
"There passed a weary time. Each throat
Was parched, and glazed each eye.
A weary time! a weary time!
How glazed each weary eye—
When looking westward, I beheld
A something in the sky.
At first it seemed a little speck,
And then it seemed a mist;
It moved and moved, and took at last
A certain shape, I wist.
A speck, a mist, a shape, I wist!
And still it neared and neared:
As if it dodged a water-sprite,
It plunged and tacked and veered.
With throats unslaked, with black lips baked,
We could nor laugh nor wail;
Through utter drought all dumb we stood!
I bit my arm, I sucked the blood,
And cried, A sail! a sail!
With throats unslaked, with black lips baked,
Agape they heard me call:
Gramercy! they for joy did grin,
And all at once their breath drew in,
As they were drinking all.
See! see! (I cried) she tacks no more!
Hither to work us weal;
Without a breeze, without a tide,
She steadies with upright keel!
The western wave was all a-flame,
The day was well nigh done!
Almost upon the western wave
Rested the broad bright sun;
When that strange shape drove suddenly
Betwixt us and the sun.
And straight the sun was flecked with bars,
(Heaven's Mother send us grace!)
As if through a dungeon-grate he peered
With broad and burning face.
Alas! (thought I, and my heart beat loud)
How fast she nears and nears!
Are those her sails that glance in the sun,
Like restless gossameres?
Are those her ribs through which the sun
Did peer, as through a grate?
And is that Woman all her crew?
Is that a Death? and are there two?
Is Death that Woman's mate?
Her lips were red, her looks were free,
Her locks were yellow as gold:
Her skin was as white as leprosy,
The Nightmare Life-in-Death was she,
Who thicks man's blood with cold.
The naked hulk alongside came,
And the twain were casting dice;
'The game is done! I've won! I've won!'
Quoth she, and whistles thrice.
The sun's rim dips; the stars rush out:
At one stride comes the dark;
With far-heard whisper o'er the sea,
Off shot the spectre-bark.
We listened and looked sideways up!
Fear at my heart, as at a cup,
My life-blood seemed to sip!
The stars were dim, and thick the night,
The steersman's face by his lamp gleamed white;
From the sails the dew did drip—
Till clomb above the eastern bar
The horned moon, with one bright star
Within the nether tip.
One after one, by the star-dogged moon,
Too quick for groan or sigh,
Each turned his face with a ghastly pang,
And cursed me with his eye.
Four times fifty living men,
(And I heard nor sigh nor groan)
With heavy thump, a lifeless lump,
They dropped down one by one.
The souls did from their bodies fly,—
They fled to bliss or woe!
And every soul it passed me by,
Like the whizz of my crossbow!"
Part IV
'I fear thee, ancient Mariner!
I fear thy skinny hand!
And thou art long, and lank, and brown,
As is the ribbed sea-sand.
I fear thee and thy glittering eye,
And thy skinny hand, so brown.'— Poem:
"Fear not, fear not, thou Wedding-Guest!
This body dropped not down.
Alone, alone, all, all alone,
Alone on a wide wide sea!
And never a saint took pity on
My soul in agony.
The many men, so beautiful!
And they all dead did lie;
And a thousand thousand slimy things
Lived on; and so did I.
I looked upon the rotting sea,
And drew my eyes away;
I looked upon the rotting deck,
And there the dead men lay.
I looked to heaven, and tried to pray;
But or ever a prayer had gusht,
A wicked whisper came and made
My heart as dry as dust.
I closed my lids, and kept them close,
And the balls like pulses beat;
Forthe sky and the sea, and the sea and the sky,
Lay like a load on my weary eye,
And the dead were at my feet.
The cold sweat melted from their limbs,
Nor rot nor reek did they:
The look with which they looked on me
Had never passed away.
An orphan's curse would drag to hell
A spirit from on high;
But oh! more horrible than that
Is the curse in a dead man's eye!
Seven days, seven nights, I saw that curse,
And yet I could not die.
The moving moon went up the sky,
And no where did abide:
Softly she was going up,
And a star or two beside—
Her beams bemocked the sultry main,
Like April hoar-frost spread;
But where the ship's huge shadow lay,
The charmed water burnt alway
A still and awful red.
Beyond the shadow of the ship
I watched the water-snakes:
They moved in tracks of shining white,
And when they reared, the elfish light
Fell off in hoary flakes.
Within the shadow of the ship
I watched their rich attire:
Blue, glossy green, and velvet black,
They coiled and swam; and every track
Was a flash of golden fire.
O happy living things! no tongue
Their beauty might declare:
A spring of love gushed from my heart,
And I blessed them unaware:
Sure my kind saint took pity on me,
And I blessed them unaware.
The selfsame moment I could pray;
And from my neck so free
The Albatross fell off, and sank
Like lead into the sea."
Part V
"Oh sleep! it is a gentle thing,
Beloved from pole to pole!
To Mary Queen the praise be given!
She sent the gentle sleep from heaven,
That slid into my soul.
The silly buckets on the deck,
That had so long remained,
I dreamt that they were filled with dew;
And when I awoke, it rained.
My lips were wet, my throat was cold,
My garments all were dank;
Sure I had drunken in my dreams,
And still my body drank.
I moved, and could not feel my limbs:
I was so light—almost
I thought that I had died in sleep,
And was a blessed ghost.
And soon I heard a roaring wind:
It did not come anear;
But with its sound it shook the sails,
That were so thin and sere.
The upper air burst into life!
And a hundred fire-flags sheen,
To and fro they were hurried about!
And to and fro, and in and out,
The wan stars danced between.
And the coming wind did roar more loud,
And the sails did sigh like sedge;
And the rain poured down from one black cloud;
The moon was at its edge.
The thick black cloud was cleft, and still
The moon was at its side:
Like waters shot from some high crag,
The lightning fell with never a jag,
A river steep and wide.
The loud wind never reached the ship,
Yet now the ship moved on!
Beneath the lightning and the moon
The dead men gave a groan.
They groaned, they stirred, they all uprose,
Nor spake, nor moved their eyes;
It had been strange, even in a dream,
To have seen those dead men rise.
The helmsman steered, the ship moved on;
Yet never a breeze up blew;
The mariners all 'gan work the ropes,
Where they were wont to do;
They raised their limbs like lifeless tools—
We were a ghastly crew.
The body of my brother's son
Stood by me, knee to knee:
The body and I pulled at one rope,
But he said nought to me."
'I fear thee, ancient Mariner!'
"Be calm, thou Wedding-Guest!
'Twas not those souls that fled in pain,
Which to their corses came again,
But a troop of spirits blest:
For when it dawned—they dropped their arms,
And clustered round the mast;
Sweet sounds rose slowly through their mouths,
And from their bodies passed.
Around, around, flew each sweet sound,
Then darted to the sun;
Slowly the sounds came back again,
Now mixed, now one by one.
Sometimes a-dropping from the sky
I heard the skylark sing;
Sometimes all little birds that are,
How they seemed to fill the sea and air
With their sweet jargoning!
And now 'twas like all instruments,
Now like a lonely flute;
And now it is an angel's song,
That makes the heavens be mute.
It ceased; yet still the sails made on
A pleasant noise till noon,
A noise like of a hidden brook
In the leafy month of June,
That to the sleeping woods all night
Singeth a quiet tune.
Till noon we quietly sailed on,
Yet never a breeze did breathe;
Slowly and smoothly went the ship,
Moved onward from beneath.
Under the keel nine fathom deep,
From the land of mist and snow,
The spirit slid: and it was he
That made the ship to go.
The sails at noon left off their tune,
And the ship stood still also.
The sun, right up above the mast,
Had fixed her to the ocean:
But in a minute she 'gan stir,
With a short uneasy motion—
Backwards and forwards half her length
With a short uneasy motion.
Then like a pawing horse let go,
She made a sudden bound:
It flung the blood into my head,
And I fell down in a swound.
How long in that same fit I lay,
I have not to declare;
But ere my living life returned,
I heard and in my soul discerned
Two voices in the air.
'Is it he?' quoth one, 'Is this the man?
By him who died on cross,
With his cruel bow he laid full low
The harmless Albatross.
The spirit who bideth by himself
In the land of mist and snow,
He loved the bird that loved the man
Who shot him with his bow.'
The other was a softer voice,
As soft as honey-dew:
Quoth he, 'The man hath penance done,
And penance more will do.'
Part VI
First Voice
But tell me, tell me! speak again,
Thy soft response renewing—
What makes that ship drive on so fast?
What is the ocean doing?
Second Voice
Still as a slave before his lord,
The ocean hath no blast;
His great bright eye most silently
Up to the moon is cast—
If he may know which way to go;
For she guides him smooth or grim.
See, brother, see! how graciously
She looketh down on him.
First Voice
But why drives on that ship so fast,
Without or wave or wind?
Second Voice
The air is cut away before,
And closes from behind.
Fly, brother, fly! more high, more high!
Or we shall be belated:
For slow and slow that ship will go,
When the Mariner's trance is abated.
"I woke, and we were sailing on
As in a gentle weather:
'Twas night, calm night, the moon was high;
The dead men stood together.
All stood together on the deck,
For a charnel-dungeon fitter:
All fixed on me their stony eyes,
That in the moon did glitter.
The pang, the curse, with which they died,
Had never passed away:
I could not draw my eyes from theirs,
Nor turn them up to pray.
And now this spell was snapped: once more
I viewed the ocean green,
And looked far forth, yet little saw
Of what had else been seen—
Like one that on a lonesome road
Doth walk in fear and dread,
And having once turned round walks on,
And turns no more his head;
Because he knows a frightful fiend
Doth close behind him tread.
But soon there breathed a wind on me,
Nor sound nor motion made:
Its path was not upon the sea,
In ripple or in shade.
It raised my hair, it fanned my cheek
Like a meadow-gale of spring—
It mingled strangely with my fears,
Yet it felt like a welcoming.
Swiftly, swiftly flew the ship,
Yet she sailed softly too:
Sweetly, sweetly blew the breeze—
On me alone it blew.
Oh! dream of joy! is this indeed
The lighthouse top I see?
Is this the hill? is this the kirk?
Is this mine own country?
We drifted o'er the harbour-bar,
And I with sobs did pray—
O let me be awake, my God!
Or let me sleep alway.
The harbour-bay was clear as glass,
So smoothly it was strewn!
And on the bay the moonlight lay,
And the shadow of the moon.
The rock shone bright, the kirk no less,
That stands above the rock:
The moonlight steeped in silentness
The steady weathercock.
And the bay was white with silent light,
Till rising from the same,
Full many shapes, that shadows were,
In crimson colours came.
A little distance from the prow
Those crimson shadows were:
I turned my eyes upon the deck—
Oh, Christ! what saw I there!
Each corse lay flat, lifeless and flat,
And, by the holy rood!
A man all light, a seraph-man,
On every corse there stood.
This seraph-band, each waved his hand:
It was a heavenly sight!
They stood as signals to the land,
Each one a lovely light;
This seraph-band, each waved his hand,
No voice did they impart—
No voice; but oh! the silence sank
Like music on my heart.
But soon I heard the dash of oars,
I heard the Pilot's cheer;
My head was turned perforce away,
And I saw a boat appear.
The Pilot and the Pilot's boy,
I heard them coming fast:
Dear Lord in heaven! it was a joy
The dead men could not blast.
I saw a third—I heard his voice:
It is the Hermit good!
He singeth loud his godly hymns
That he makes in the wood.
He'll shrieve my soul, he'll wash away
The Albatross's blood."
Part VII
"This Hermit good lives in that wood
Which slopes down to the sea.
How loudly his sweet voice he rears!
He loves to talk with marineers
That come from a far country.
He kneels at morn, and noon, and eve—
He hath a cushion plump:
It is the moss that wholly hides
The rotted old oak-stump.
The skiff-boat neared: I heard them talk,
'Why, this is strange, I trow!
Where are those lights so many and fair,
That signal made but now?'
'Strange, by my faith!' the Hermit said—
'And they answered not our cheer!
The planks looked warped! and see those sails,
How thin they are and sere!
I never saw aught like to them,
Unless perchance it were
Brown skeletons of leaves that lag
My forest-brook along;
When the ivy-tod is heavy with snow,
And the owlet whoops to the wolf below,
That eats the she-wolf's young.'
'Dear Lord! it hath a fiendish look—
(The Pilot made reply)
I am afeared'—'Push on, push on!'
Said the Hermit cheerily.
The boat came closer to the ship,
But I nor spake nor stirred;
The boat came close beneath the ship,
And straight a sound was heard.
Under the water it rumbled on,
Still louder and more dread:
It reached the ship, it split the bay;
The ship went down like lead.
Stunned by that loud and dreadful sound,
Which sky and ocean smote,
Like one that hath been seven days drowned
My body lay afloat;
But swift as dreams, myself I found
Within the Pilot's boat.
Upon the whirl where sank the ship
The boat spun round and round;
And all was still, save that the hill
Was telling of the sound.
I moved my lips—the Pilot shrieked
And fell down in a fit;
The holy Hermit raised his eyes,
And prayed where he did sit.
I took the oars: the Pilot's boy,
Who now doth crazy go,
Laughed loud and long, and all the while
His eyes went to and fro.
'Ha! ha!' quoth he, 'full plain I see,
The Devil knows how to row.'
And now, all in my own country,
I stood on the firm land!
The Hermit stepped forth from the boat,
And scarcely he could stand.
O shrieve me, shrieve me, holy man!
The Hermit crossed his brow.
'Say quick,' quoth he 'I bid thee say—
What manner of man art thou?'
Forthwith this frame of mine was wrenched
With a woeful agony,
Which forced me to begin my tale;
And then it left me free.
Since then, at an uncertain hour,
That agony returns;
And till my ghastly tale is told,
This heart within me burns.
I pass, like night, from land to land;
I have strange power of speech;
That moment that his face I see,
I know the man that must hear me:
To him my tale I teach.
What loud uproar bursts from that door!
The wedding-guests are there:
But in the garden-bower the bride
And bride-maids singing are;
And hark the little vesper bell,
Which biddeth me to prayer!
O Wedding-Guest! this soul hath been
Alone on a wide wide sea:
So lonely 'twas, that God himself
Scarce seemed there to be.
O sweeter than the marriage-feast,
'Tis sweeter far to me,
To walk together to the kirk
With a goodly company!—
To walk together to the kirk,
And all together pray,
While each to his great Father bends,
Old men, and babes, and loving friends,
And youths and maidens gay!
Farewell, farewell! but this I tell
To thee, thou Wedding-Guest!
He prayeth well, who loveth well
Both man and bird and beast.
He prayeth best, who loveth best
All things both great and small;
For the dear God who loveth us,
He made and loveth all."
The Mariner, whose eye is bright,
Whose beard with age is hoar,
Is gone; and now the Wedding-Guest
Turned from the bridegroom's door.
He went like one that hath been stunned,
And is of sense forlorn:
A sadder and a wiser man
He rose the morrow morn.
Samuel Taylor Coleridge (1772 – 1834)
Poem: Rime of the Ancient Mariner
fleursdumal.nl magazine
More in: Archive C-D, Coleridge, Coleridge, Samuel Taylor
---
Een paar kermiswagens rijden richting watermolen. Stapvoets. Op een trailer staat de opbouw van een carrousel. Op de wanden van een andere vrachtwagen staan halfblote meiden in vliegende schotels die op enorme bromtollen lijken.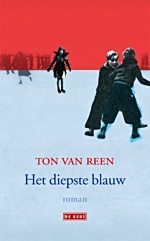 Elk jaar wordt de kermis groter. Het dorp groeit, en met het dorp groeit de kermis mee. Stonden er vroeger alleen een zweefmolen, een schommel, een carrousel, een schiettent en een viskraam, nu komen er elk jaar steeds nieuwe attracties bij, de een nog groter dan de ander. Met knallende muziek. Vorig jaar nog is hij er gaan kijken, vooral om te luisteren naar het orgel van de carrousel, maar het geluid verzoop in het lawaai.
Ton van Reen: Het diepste blauw (056)
wordt vervolgd
fleursdumal.nl magazine
More in: - Book Stories, - Het diepste blauw, Archive Q-R, Reen, Ton van
---
Lean Out of the Window
Lean out of the window,
Goldenhair,
I hear you singing
A merry air.
My book was closed,
I read no more,
Watching the fire dance
On the floor.
I have left my book,
I have left my room,
For I heard you singing
Through the gloom.
Singing and singing
A merry air,
Lean out of the window,
Goldenhair.
James Joyce
(1882-1941)
Lean Out of the Window
fleursdumal.nl magazine
More in: Archive I-J, Archive I-J, Joyce, James, Joyce, James
---
Mels ligt op zijn rug op de bodem van de boot en kijkt naar de lucht. De pluimen van het riet glijden voorbij en aaien hem over zijn wang. Vogels vliegen over. Als je op je rug ligt, lijkt de wijde ruimte van de hemel heel dichtbij. Hij voelt zich het middelpunt van de grote blauwe koepel boven zich.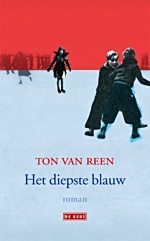 Het bootje haakt vast in het riet en ligt stil. De stroom ruist langs. Het water borrelt onder de boeg. Het lijkt op het rochelen van een man. Is er iemand in de buurt?
Hij gaat rechtop zitten. Er is niemand. Het borrelen komt uit een putje van de bunker die verscholen ligt in het riet op de oever. Voor de oorlog hebben er Nederlandse soldaten in gezeten, in de oorlog Duitse. Na de bevrijding kwamen de soldaten er naar de hoeren die er in waren getrokken bij gebrek aan betere behuizing. Volgens grootvader Rudolf waren het zwerfsters die hun ziel aan de duivel hadden verkocht. Ze waren er alleen 's nachts. Overdag sliepen ze in het hooi bij een boer die hen er flink voor liet betalen.
Mels legt de boot vast aan een tak, stapt uit en klimt door het mitrailleurgat in de bunker. Muizen vluchten alle kanten op.
Hij veegt de spinnenwebben weg. Op de vloer liggen een paar verrotte matrassen. Die hoeren moeten vuile wijven zijn geweest. Lang hebben ze hier niet gezeten. Ze zijn opgepakt en weggebracht naar een tehuis voor arme meisjes, waar nonnen hen probeerden op te voeden tot huishoudsters en pastoorsmeiden. Dat laatste was wat grootvader Bernhard erover vertelde, maar volgens grootvader Rudolf waren ze gewoon naar de gevangenis gebracht.
Smeerlappen hebben gore tekeningen op de muren gemaakt. Vrouwen met de benen wijd. Kerels met een pik van een meter. Mels begrijpt waarom kinderen hier niet mogen komen.
Hij loopt terug naar de boot en roeit tegen de stroom in terug naar het dorp.
Van ver af ziet hij de oude Amerikaanse legervrachtwagens waarop de geraamtes van de zweefmolen en de carrousel liggen opgestapeld, onder kleurig zeildoek. Hij roeit vlugger. Over een paar dagen is het kermis. Al een paar jaar mag hij meehelpen met het opbouwen van de attracties.
Ton van Reen: Het diepste blauw (055)
wordt vervolgd
fleursdumal.nl magazine
More in: - Book Stories, - Het diepste blauw, Archive Q-R, Reen, Ton van
---
Bobby Parker's Working Class Voodoo is an enterprise of dark metaphysics which exists in the same tradition as Thomas de Quincey and Elizabeth Bishop.
Punishing, plaintive, improper, vitally comic, Parker employs a vibrato narrative deeply concerned with the cost of both journey and arrival, with the irresistible darkness of both humour and tragedy in contrast and counter to one another. In poems which push at questions of contemporary masculinity, of the domestic and of the bonds of family, our unreliability, our desires, our addictions and our weaknesses are both indulged and confronted. Yet where such commitment to the uncovering of artifice might be expected to provoke disdain,
Parker's singing faith in human love is what these poems reveal. What is lost will be recovered, and what was thought impossible will be achieved, no matter the darkness, no matter the weight. Working Class Voodoo is a confessional and a challenge, and a swampy, seductive ride into the night.
Bobby Parker
Working Class Voodoo
Publisher: Offord Road Books
Poetry
Publ. 3 May 2018
Paperback
64pp
ISBN 978–1–999–93041–7
£10
new poetry
fleursdumal.nl magazine
More in: - Book News, Archive O-P, Art & Literature News, LIGHT VERSE, MODERN POETRY
---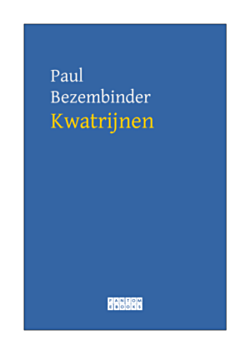 More in: - Book News, - Fantom Ebooks, Archive A-B, Art & Literature News, Bezembinder, Paul, PRESS & PUBLISHING
---
Older Entries »
Thank you for reading FLEURSDUMAL.NL - magazine for art & literature