FICTION & NON-FICTION – books, booklovers, lit. history, biography, essays, translations, short stories, columns, literature: celtic, beat, travesty, war, dada & de stijl, drugs, dead poets
·
'Antony Kok had me te pakken' vertelde Kees Verwey
·
Cahiers de prison : février-octobre 1946 de Louis-Ferdinand Céline
·
Crosby, Stills, Nash and Young. The Wild, Definitive Saga of Rock's Greatest Supergroup by David Browne
·
The Milk Bowl of Feathers. Essential Surrealist Writings edited by Mary Ann Caws
·
Lord Byron: By the Rivers of Babylon We Sat Down and Wept (Poem)
·
Agnita Feis: De Soldaat (gedicht)
·
Antony Kok website: www.antonykok.nl
·
Karel van de Woestijne: Stad (Gedicht)
·
Kate Tempest nieuwe CD: Book of Traps and Lessons
·
MUSEUM VALKENBURG GEDENKT 50e STERFDAG VAN JAN HANLO
·
Francisca Stoecklin: Venus (Gedicht)
·
Bert Bevers: Terugwerkende kracht (Gedicht)
Antony Kok (1882 – 1969)
Antony Kok, was met Theo van Doesburg en Piet Mondriaan oprichter en medewerker van het avant-gardistische kunsttijdschrift De Stijl (1917 – 1932). Hij was vooral actief als dichter en schrijver van aforismen.
Kees Verwey (1900 -1995)
Tijdens zijn leven, dat bijna een eeuw beslaat, maakte de kunstenaar verschillende ontwikkelingen in de schilderkunst mee. Al op jonge leeftijd kwam hij in aanraking met het werk van George Breitner en Floris Verster. Ook werd hij beïnvloed door Franse (post-)impressionisten en later door de moderne kunst van o.a. Karel Appel en Pablo Picasso. Omringd door de kunst van zijn idolen wordt in deze nieuwe tentoonstelling de enorme vaardigheid en veelzijdigheid van de schilder Verwey duidelijk.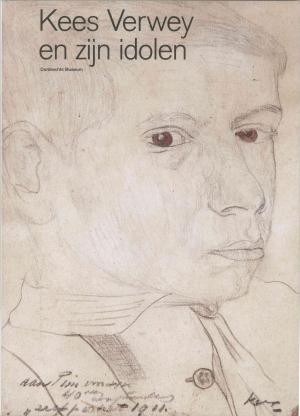 Na hun ontmoeting (in Haarlem in 1953) verklaarde Kees Verwey:
'Antony Kok had me te pakken. Ruim een jaar ben ik met die ene man bezig geweest. Je zou zeggen dat zoiets ondenkbaar is, maar ik kon niet buiten de visie op die man. Het was een proces dat niet meer kon worden tegengehouden. Ik heb hem er wel eens over ondervraagd, toen zei hij: maar jij hebt die tekeningen niet gemaakt, ik heb ze gemaakt.'
In het eerste jaren van hun kennismaking maakte Verwey meer dan 30 portretten van Kok. De eerste serie zou in de jaren vijftig worden tentoongesteld in het Stedelijk Museum Amsterdam en het Van Abbe Museum Eindhoven.
Lees meer over Kees Verwey, zijn vrienden en favoriete kunstenaars, zoals Karel Appel, Pablo Picasso, Edouard Vuillard, Floris Verster en Antony Kok in de bij de tentoonstelling verschenen publicatie.
Kees Verwey en zijn idolen
Dordrechts Museum
2019
ISBN 978-90-71722-30-1
Redactie: Laura van den Hout, Judith Spijksma
Publicatie ter gelegenheid van de tentoonstelling 'Kees Verwey en zijn idolen', die van 14 juli 2019 tot en met 5 januari 2020 plaatsvindt in het Dordrechts Museum. De tentoonstelling kwam tot stand in samenwerking met Stichting Kees Verwey.
I N H O U D
6
Max van Rooy
Portretten als stillevens en het atelier als goudmijn
12
Karlijn de Jong
De moeder van de moderne kunst
Kees Verwey en De Onafhankelijken
22
Tijdlijn
26
Barbara Collé
Kijk ik naar de een, dan vlamt de ander
Over kleurenparen in Moeders theetafel en Het gele jakje van Kees Verwey, en Stilleven met boeken van Henri Frédéric Boot
34
Iduna Paalman
Sigaretje
36
Ester Naomi Perquin
Bes
38
Maartje Smits
Door je kind getekend
40
Maarten Buser
Pirouettes draaien op een idee
Kees Verwey en de literatuur
46
Jorne Vriens
Gekoesterde intimiteit
50
Max van Rooy
De onderzoekende kracht van het kijken
54
Sascha Broeders
De kunstenaar en de museumdirecteur
Kees Verwey volgens Jup de Groot, voormalig directeur van het Dordrechts Museum
56
Hanneke van Kempen en Jef van Kempen
'Antony Kok had me te pakken'
66
Sandra Kisters
Het atelier van Kees Verwey – een kristal met vele facetten
75
Biografieën
76
Colofon
Tentoonstelling van 6 juli 2019 t/m 5 januari 2020
Kees Verwey en zijn idolen
Over Karel Appel, Pablo Picasso, Edouard Vuillard, Floris Verster, Antony Kok e.a.
Dordrechts Museum
Museumstraat 40, Dordrecht
3311 XP Dordrecht
www.dordrechtsmuseum.nl
'Antony Kok had me te pakken' sprak Kees Verwey
fleursdumal.nl magazine
More in: - Book News, - Book Stories, Antony Kok, Archive K-L, Archive W-X, Art & Literature News, Dada, DADA, De Stijl, Exhibition Archive, FDM Art Gallery, Hanneke van Kempen, Jef van Kempen, Kees Verwey, Kok, Antony, Piet Mondriaan, Theo van Doesburg
---
En décembre 1945, Louis-Ferdinand Céline est arrêté à Copenhague, où il s'était réfugié avec Lucette et son chat Bébert et tentait d'écrire la suite de Guignol's band.

L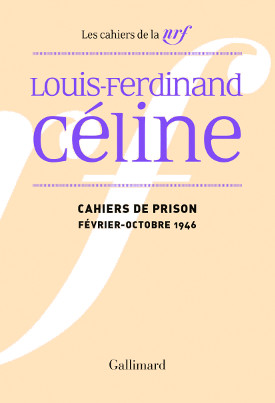 e dénommé Destouches, immédiatement incarcéré à la prison de l'Ouest, réclame de quoi écrire. L'administration pénitentiaire lui fournit dix cahiers d'écolier de 32 pages avec des règles à respecter : « On ne doit pas écrire sur l'affaire dont on est justiciable ni sur la détention. Tout propos licencieux et malséant est également interdit. »
À partir de février 1946, le prisonnier note d'emblée des éléments de défense pour empêcher son extradition dans la France de l'épuration, et s'en prend à l'ambassadeur Charbonnières qui le persécute. Mais Céline est repris par l'écriture et les Cahiers de prison dévoilent sa vie après son arrivée au Danemark, sa relation avec Lucette, des souvenirs de Londres ou de Montmartre, et surtout montrent de manière inédite le Céline lecteur. Isolé dans la cellule 609 de la section K., Céline s'entoure de livres apportés par sa femme et cite abondamment Chateaubriand, Hugo, Chamfort, Voltaire, etc., en se comparant avec les « grands écrivains exilés emprisonnés ». Les Cahiers illustrent aussi la transition littéraire vers sa « seconde révolution narrative et stylistique », note Jean Paul Louis, avec la mise en chantier de Féerie pour une autre fois, et des passages que l'on retrouvera dans D'un château l'autre, Nord et Rigodon.
Ce volume des Cahiers de la NRF constitue la première édition originale et intégrale des Cahiers de prison de Céline. Avec un nouveau travail d'établissement du texte et des notes, ainsi qu'un index centré sur les noms d'auteurs et les titres d'oeuvres, Céline nous apparaît tel qu'en lui-même, obsédé par la littérature et sa condition d'écrivain : « C'est moi maintenant le traître, le monstre, c'est moi qu'on s'apprête à lyncher. »
Louis-Ferdinand Céline
Cahiers de prison (Février – octobre 1946)
Édition de Jean Paul Louis
Collection Les Cahiers de la NRF,
Série Céline (n° 13), Gallimard
Parution : 23-05-2019
240 pages
sous couverture décorée, 140 x 205 mm
Achevé d'imprimer : 01-05-2019
Genre : Mémoires et autobiographies
Thème : littérature
Catégorie – Sous-catégorie :
Littérature française
Mémoires et autobiographies
Époque : XXe siècle
ISBN : 9782072852695
Gencode : 9782072852695
Code distributeur : G03149
Broché
EUR 20,00
# more books
Louis-Ferdinand Céline
Cahiers de prison
• fleursdumal.nl magazine
More in: #Biography Archives, - Book Lovers, - Book News, Archive C-D, CRIME & PUNISHMENT, Louis-Ferdinand Céline, WAR & PEACE
---
The first and most complete narrative biography of Crosby, Stills, Nash and Young, by acclaimed music journalist and Rolling Stone senior writer David Browne.
Even in the larger-than-life world of rock and roll, it was hard to imagine four more different men.

David Crosby, the opinionated hippie guru. Stephen Stills, the perpetually driven musician. Graham Nash, the tactful pop craftsman. Neil Young, the creatively restless loner.

But together, few groups were as in sync with their times as Crosby, Stills, Nash and Young. Starting with the original trio's landmark 1969 debut album, the group embodied much about its era: communal musicmaking, protest songs that took on the establishment and Richard Nixon, and liberal attitudes toward partners and lifestyles. Their group or individual songs–"Wooden Ships," "Suite: Judy Blue Eyes," "After the Gold Rush," "For What It's Worth" (with Stills and Young's Buffalo Springfield), "Love the One You're With," "Long Time Gone," "Just a Song Before I Go," "Southern Cross"–became the soundtrack of a generation.
But their story would rarely be as harmonious as their legendary and influential vocal blend. In the years that followed, these four volatile men would continually break up, reunite, and disband again–all against a backdrop of social and musical change, recurring disagreements and jealousies, and self-destructive tendencies that threatened to cripple them both as a group and as individuals.
In Crosby, Stills, Nash and Young: The Wild, Definitive Saga of Rock's Greatest Supergroup, longtime music journalist and Rolling Stone writer David Browne presents the ultimate deep dive into rock and roll's most musical and turbulent brotherhood on the occasion of its 50th anniversary. Featuring exclusive interviews with David Crosby and Graham Nash along with band members, colleagues, fellow superstars, former managers, employees, and lovers-and with access to unreleased music and documents–Browne takes readers backstage and onstage, into the musicians' homes, recording studios, and psyches, to chronicle the creative and psychological ties that have bound these men together–and sometimes torn them apart.

This is the sweeping story of rock's longest-running, most dysfunctional, yet pre-eminent musical family, delivered with the epic feel their story rightly deserves.
Crosby, Stills, Nash and Young:
The Wild, Definitive Saga of Rock's Greatest Supergroup
by David Browne (Author)
Hardcover: 480 pages
Publisher: Da Capo Press;
1st Edition edition April 2, 2019
Language: English
ISBN-10: 0306903288
ISBN-13: 978-0306903281
April 2, 2019
Hardcover
$20.23
# more books
Crosby, Stills, Nash and Young:
The Wild, Definitive Saga of Rock's Greatest Supergroup
• fleursdumal.nl magazine
More in: # Music Archive, #Biography Archives, - Book News, - Book Stories, Archive A-B, AUDIO, CINEMA, RADIO & TV, Crosby, Stills, Nash and Young, Opium-Eaters
---
An exciting new collection of the essential writings of surrealism, the European avant-garde movement of the mind's deepest powers
Originating in 1916 with the avant-garde Dada movement at the famous Café Voltaire in Zurich, surrealism aimed to unleash the powers of the creative act without thinking. Max Ernst, André Breton, Tristan Tzara, Paul Éluard, Philippe Soupault, and Louis Aragon created a movement that spread wildly to all corners of the globe, inspiring not only poetry but also artists like Joan Miro and René Magritte and cinematic works by Antonin Artaud, Luis Bunuel, and Salvador Dalí.
As the editor, Mary Ann Caws, says, "Essential to surrealist behavior is a constant state of openness, of readiness for whatever occurs, whatever marvelous object we might come across, manifesting itself against the already thought, the already lived."
Here are the gems of this major, mind-bending aesthetic, political, and humane movement: writers as diverse as Aragon, Breton, Dalí, René Char, Robert Desnos, Mina Loy, Paul Magritte, Alice Paalen, Gisele Prassinos, Man Ray, Kay Sage, and Elsa von Freytag-Loringhoven are included here, providing a grand picture of this revolutionary movement that shocked the world.
Title: The Milk Bowl of Feathers
Subtitle: Essential Surrealist Writings
Edited by Mary Ann Caws
Publisher: New Directions
Title First Published 25 September 2018
Format Paperback $13.95
ISBN-10 0811227073
ISBN-13 9780811227070
128 pages
# more books
The Milk Bowl of Feathers.
Essential Surrealist Writings
Edited by Mary Ann Caws
•fleursdumal.nl magazine
More in: - Book News, Art & Literature News, Artaud, Antonin, Dada, DADA, Dadaïsme, Desnos, Robert, Freytag-Loringhoven, Elsa von, Loy, Mina, Surrealism, SURREALISM, Surrealisme, Tzara, Tristan
---
By the Rivers of Babylon
We Sat Down and Wept

1
We sat down and wept by the waters
Of Babel, and thought of the day
When our foe, in the hue of his slaughters,
Made Salem's high places his prey;
And ye, oh her desolate daughters!
Were scattered all weeping away.
2
While sadly we gazed on the river
Which rolled on in freedom below,
They demanded the song; but, oh never
That triumph the stranger shall know!
May this right hand be withered for ever,
Ere it string our high harp for the foe!
3
On the willow that harp is suspended,
Oh Salem! its sound should be free;
And the hour when thy glories were
ended
But left me that token of thee:
And ne'er shall its soft tones be blended
With the voice of the spoiler by me!
George Gordon Byron
(1788 – 1824)
By the Rivers of Babylon We Sat Down and Wept
(Poem)
• fleursdumal.nl magazine
More in: Archive A-B, Archive A-B, Byron, Lord
---
De Soldaat.
 
Geen mensch.
Geen dier.
Geen plant:
Een ding.
 
 
Het mort
noch klaagt:
Zijn kracht
verging.
 
 
Het lijdt.
Het sjouwt.
Het torst
gewicht.
 
 
Geen vreugd.
Geen lach
op zijn
gezicht.
 
 
Vraag.
 
 
O mensch,
mijn vriend,
waar gaat
dat heen?
 
 
Antwoord.
 
 
Het vuur,
de dood,
't Is mij
heusch één!
Agnita Feis
(1881 – 1944)
Uit: Oorlog. Verzen in Staccato (1916).
De Soldaat
• fleursdumal.nl magazine
More in: *Concrete + Visual Poetry F-J, *War Poetry Archive, Agnita Feis, Antony Kok, Archive E-F, Archive E-F, DADA, De Stijl, Feis, Agnita, Theo van Doesburg (I.K. Bonset)
---
Website Antony Kok: information on poet and writer Antony Kok, one of the founders of art-group and magazine "De Stijl". Antony Kok died in 1969, this year exactly 50 years ago.
More on www.antonykok.nl
More in: Antony Kok, Archive K-L, De Stijl, Essays about Van Doesburg, Kok, Mondriaan, Schwitters, Milius & Van Moorsel, Kok, Antony, Piet Mondriaan, Theo van Doesburg
---
Stad
Verloren tijd, hoe schoon vind ik u weer,
waar elk herinnren wordt een nieuw verlangen.
o Steden-laan, wat zijn uw meisjes schoon.
Eens was ik jong, en 'k ben niet jong gebleven…
Ik wandel bij de bomen die mijn jeugd
beveiligd hebben en haar jonge liefde.
Water is de adem van een meisjes mond
De stad is heet en droog als een begeerte.
Er is, tussen de dubble glans der laan,
er is een maan, er is een andre maan.
De een is de maan; de andere is gene maan.
Het paard wringt als een zilvren vis. En de ijlte is rood
maar roder zet de galm des voermans de ijlte uit.
Hitte.
Mijn vriend, gij hebt de geur der grote magazijnen.
Zo zijn er meisjes, schraal en met een witte neus.
Leeg schelpje aan nachtlijke ebbe: ik; maar de stad
in duizend dake' als duizend diamanten.
Ik scheer de muren; – als een rechthoek ligt
naast mij mijn schaduw als een vals gedicht.
Menigte, uw geur bijt mijne lippen stuk.
o Menigte, gij doet mijne woorden bloeden.
Waarom te wenen in dit stenen woud?
Gij zult regeren als gij weet te lachen.
Jaag naar huis, o hart: gij vindt er
volle schotelen aan leed.
Stad: eind-punt; vierkant; rust en zekerheid.
'k Zet me op een paal; ik wacht de roep der ijlte.
Karel van de Woestijne
(1878 – 1929)
Stad
• fleursdumal.nl magazine
More in: Archive W-X, Archive W-X, Woestijne, Karel van de
---
Kate Tempest is een Londense rapper, dichter en toneelschrijfster. Ze bracht al twee soloalbums uit, namelijk 'Everybody Down' in 2014 en 'Let Them Eat Chaos' in 2016, beiden werden genomineerd voor een Mercury Prize.
Ook bracht ze meerdere dichtbundels en een roman uit en schreef ze drie toneelstukken, maar nu is het tijd voor haar derde album.
Net als haar vorige twee albums zal 'The Book Of Traps And Lessons' een narratief karakter kennen en bestaan uit meerdere nummers die bedoeld zijn om in één zitting te beluisteren.

Tempest werkte de afgelopen vijf jaar aan dit album.
Nadat producer Rick Rubin contact met haar zocht, maakte ze enkele demo's, maar die sloten niet aan bij wat de twee samen wilden maken.

Daarom werd het maken van 'The Books Of Traps And Lessons' even op pauze gezet en verscheen 'Let Them Eat Chaos' eerder (in 2016).
Ondertussen werd er langzaam doorgewerkt aan het album, samen met Rubin trad Tempest in detail en ging op zoek naar de kern van haar werk, de tekst die los kwam te staan van de beat.

Het is dan ook niet gek dat we op dit album minder begeleidende muziek horen dan op haar eerdere twee albums.
Kate Tempest hoopt dat mensen zich met het album zullen vereenzelvigen en als gevolg beter met zichzelf en met anderen gaan verbinden.
Tracklist
1. Thirsty
2. Keep Moving Don't Move
3. Brown Eyed Man
4. Three Sided Coin
5. I Trap You
6. All Humans Too Late
7. Hold Your Own
8. Lessons
9. Firesmoke
10. Holy Elixir
11. People's Faces
Artiest: Kate Tempest
Releasedatum: 14 juni 2019
Label: Universal Music
EAN 0602577583872
CD (ALBUM)
Standard Edition
1 disk
Speelduur 45:00
Stereo
Taal: Engels
Alternative Hip hop
# more on website kate tempest
# New CD
Kate Tempest
Book of Traps and Lessons
2019
• fleursdumal.nl magazine
More in: # Music Archive, #Archive A-Z Sound Poetry, Archive S-T, Archive S-T, Art & Literature News, AUDIO, CINEMA, RADIO & TV, Kate Tempest, Poetry Slam, STREET POETRY, Street Poetry, Tempest, Kate
---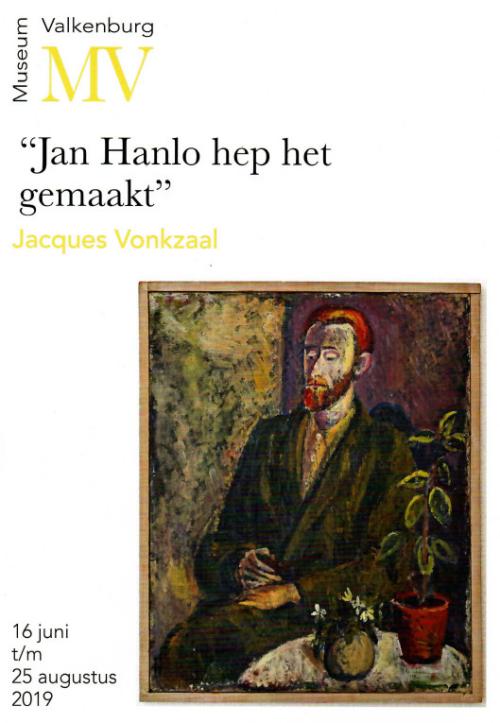 Op 16 juni 2019 was het vijftig jaar geleden dat de dichter Jan Hanlo overleed. Museum Valkenburg gedenkt Jan Hanlo met een mooie expositie van zijn werk in de Jacques Vonkzaal.
Afgelopen maanden heeft een werkgroep van Jan Hanlo-kenners – dichter en letterkundige Wiel Kusters, Ser J.L. Prop en Jan Schurgers – met vertegenwoordigers van het museum de tentoonstelling voorbereid. Stukken uit de nalatenschap van Hanlo in het Literatuurmuseum in Den Haag zijn doorvorst en geselecteerd. Niet alleen zijn literaire werk is vertegenwoordigd, ook zijn er aquarellen en kindertekeningen van Jan Hanlo te zien. Prof. Wiel Kusters noemt de expositie een waardige hommage aan een groot en oorspronkelijk dichter.
Johannes Bernardus Maria Raphaël Hanlo (1912–1969) woonde een groot deel van zijn leven in Valkenburg. Hij werd in 1912 geboren in Bandung, het toenmalige Nederlands Indië. Zijn vader was voorzitter van de Landraad in Bandung, zijn moeder dochter van een Deurnese gemeente arts. Nog in het jaar van zijn geboorte scheidden zijn ouders en kwam moeder met Jan terug naar Deurne.

In 1927 namen ze hun intrek in Valkenburg. Jan werd als 15-jarige ingeschreven op het Sint Bernardinuscollege in Heerlen. Als scholier schreef hij al zijn eerste gedichten. Na het eindexamen volgde een studie M.O. Engels en in 1942 ging hij psychologie studeren in Amsterdam. Tot 1958 werkte Hanlo als leraar Engels aan Instituut Schoevers in Amsterdam. Door ziekte van zijn moeder besloot hij definitief naar Valkenburg terug te keren. Na haar overlijden bleef hij tot zijn dood in Valkenburg wonen, in het poortwachtershuisje van Geerlingshof in Strabeek.
De tentoonstelling in Museum Valkenburg bestaat uit documenten, foto's en teksten, afkomstig uit de collectie van het Literatuurmuseum in Den Haag en uit particuliere verzamelingen.
Tot en met zondag 25 augustus 2019 in Museum Land van Valkenburg, Valkenburg (LB): 'Jan Hanlo hep het gemaakt'.

Museum Land van Valkenburg
Grotestraat Centrum 31
6301 CW Valkenburg
+31 43 601 6394
Website: https://www.museumvalkenburg.nl/
• fleursdumal.nl magazine
More in: #Archive A-Z Sound Poetry, *Concrete + Visual Poetry F-J, - Book Stories, Archive G-H, Archive G-H, Art & Literature News, Hanlo, Jan, Literary Events
---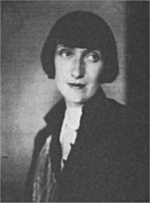 Venus
O Tag der Gnade,
Sieg des frühlinghaften Glänzens!
Da sich das Meer
in dich hineingeliebt,
die schlankste Welle
deine Anmutslinie zog.
Und dann ihr kluges Spiel
auf ewige Zeit
in deine Adern sang,
damit du sein Geheimnis
großen Liebenden erhältst.
Ihr Priesterinnen,
die in Venus Zeichen flammt,
fühlt oft die Sehnsucht
schmerzend nach dem Meere,
und in den höchsten Liebesfesten
Tod und Todesangst.
Du aber Göttin
schwebst unsterblich,
lächelnd über allem –
und mit bestrickender Gebärde
hält deine Hand
die rosige Muschel
des Verschenkens.
Himmel und Qualen
der Jahrtausende!
Francisca Stoecklin
(1894-1931)
Venus
• fleursdumal.nl magazine
More in: Archive S-T, Archive S-T, Stoecklin, Francisca
---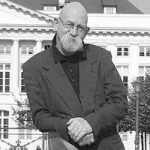 Terugwerkende kracht
Bij Nostalghia van Andrej Tarkovski

Toen ik het hier voor het eerst zag
moest ik huilen, want dit licht doet
me denken aan herfst in Bologna.
Ik wil niets meer voor mezelf alleen.
Wat kan er gebeuren?
Alles wat je wenst als je knielt, want
zonder enig gebed gebeurt er niets.
Je wilt zeker gelukkig zijn, maar
in het leven zijn er belangrijker zaken.
Dus: een, twee, drie, geloof!
Wat moeten wij dan doen
om elkaar te leren kennen?
Grenzen slechten.
Welke?
Die tussen vroeger en later.
Bert Bevers
Terugwerkende kracht
Bij Nostalghia van Andrej Tarkovski
Verschenen op Versindaba, Stellenbosch, februari 2019
Bert Bevers is a poet and writer who lives and works in Antwerp (Be)

• fleursdumal.nl magazine
More in: Archive A-B, Archive A-B, Bevers, Bert, LITERARY MAGAZINES
---
Older Entries »
Thank you for reading FLEURSDUMAL.NL - magazine for art & literature