FICTION & NON-FICTION – books, booklovers, lit. history, biography, essays, translations, short stories, columns, literature: celtic, beat, travesty, war, dada & de stijl, drugs, dead poets
·
The War of the Worlds by H.G. Wells
·
Vladimir Majakovski nieuwe uitgave van Verzamelde gedichten
·
Cyrille Offermans: Dagboeknotities. Een iets beschuttere plek misschien
·
Milkman by Anna Burns winner of the 50th Man Booker Prize
·
Diane di Prima: The Poetry Deal. San Francisco Poet Laureate Series No. 5
·
Aslı Erdoğan: The Stone Building and Other Places
·
Ton van Reen: Het diepste blauw (075). Een roman als feuilleton
·
Hugo Ball: 1 Stern und 7 kazamogipuffel
·
Marie Richeux: Climats de France. Roman
·
Centre Pompidou: Le Cubisme
·
Haruki Murakami: Killing Commendatore. A novel
·
Gérard de Nerval: A Victor Hugo – Poéme
H. G. Wells was born Herbert George in Bromley, Kent, England, on September 21, 1866. His father was a professional cricketer and sometimes shopkeeper, his mother a former lady's maid.
Although "Bertie" left school at fourteen to become a draper's apprentice (a life he detested), he later won a scholarship to the Normal School of Science in London, where he studied with the famous Thomas Henry Huxley. He began to sell articles and short stories regularly in 1893.
In 1895, his immediately successful novel rescued him from a life of penury on a schoolteacher's salary. His other "scientific romances"—The Island of Dr. Moreau (1896), The Invisible Man (1897), The War of the Worlds (1898), The First Men in the Moon (1901), and The War in the Air (1908)—won him the distinction as the father of science fiction.
Henry James saw in Wells the most gifted writer of the age, but Wells, having coined the phrase "the war that will end war" to describe World War I, became increasingly disillusioned and focused his attention on educating mankind with his bestselling Outline of History (1920) and his later utopian works. Living until 1946, Wells witnessed a world more terrible than any of his imaginative visions, and he bitterly observed: "Reality has taken a leaf from my book and set itself to supercede me."
The War of the Worlds (1898) conjures a terrifying, tentacled race of Martians who devastate the Earth and feed on their human victims while their voracious vegetation, the red weed, spreads over the ruined planet. After the novel's hero finds himself trapped in what is left of London, despairing at the destruction of human civilization, he discovers that life on Earth is more resilient than he had imagined. Adapted by Orson Welles for his notorious 1938 radio drama and subsequently by many filmmakers, H. G. Wells's timeless story shows no sign of losing its grip on readers' imaginations.
The War of the Worlds
By H.G. Wells
Category: Science Fiction
Paperback
Nov 06, 2018
192 Pages
$8.00
Published by Vintage
ISBN 9780525564164
# Books That Everyone Should Read
fleursdumal.nl magazine
More in: - Book Lovers, - Book News, Archive W-X, AUDIO, CINEMA, RADIO & TV, H.G. Wells, Tales of Mystery & Imagination, Wells, H.G.
---
Sinds de vertaling van Marko Fondse van Majakovski's werken uitkwam, vijfentwintig jaar geleden, is diens poëzie niet meer weg te denken uit de Nederlandse boekhandel. De ongeëvenaarde lenigheid van de taal die Fondse wist aan te boren zette de dichter hier voorgoed op de kaart.
Met de ge-update versie van de poëzie van Majakovski zijn zijn beroemde poèma's en andere gedichten nu weer beschikbaar. Het bekende Een wolk in broek en Mens, die dateren van voor de revolutie van 1917, laten de gepassioneerde (liefdes)dichter in optima forma zien. De grote gedichten Ik heb lief en Daarover, van na de revolutie, zijn twee positieve uitzonderingen op de socialistische poëzie waaraan Majakovski zijn dichterschap ten slotte offerde: daarin keert de bravoure van zijn vroege lyriek even terug.
Deze uitgave van Majakovski's poëzie is voor de gelegenheid aangevuld met een grote hoeveelheid gedichten uit zijn enorme oeuvre. Vele daarvan verschenen niet eerder in Nederlandse vertaling. De herziening en uitbreiding zijn in handen van Majakovski-vertaler Yolanda Bloemen.
Alles waarvoor de dichter Vladimir Majakovski (1893–1930) hartstochtelijk leefde en werkte, de revolutie en de opbouw van het socialisme, is een eeuw na zijn geboorte grondig in diskrediet geraakt en ineengestort. Naar Majakovski's socialistische poëzie kijkt bijna geen mens meer om. Wel wordt zijn voorrevolutionaire werk nog gelezen: de gedichten van Een wolk in broek tot en met Mens, een ding, met hun unieke mixtuur van lyrische, epische en dramatische kwaliteiten. Na 1917 wist Majakovski zich nog twee maal van zijn socialistische preoccupaties los te maken in de twee grote poëma's Ik heb lief en Daarover (1921-1923).
Auteur: Vladimir Majakovski
Titel: Verzamelde gedichten
Vertalingen: Marko Fondse, Yolanda Bloemen e.a.
Taal: Nederlands
Uitgever: Uitgeverij van Oorschot
Bindwijze: Paperback
Verschijningsdatum: september 2018
Druk: 1e druk
Afmetingen: 21 x 13 x 2,9 cm
Aantal pagina's: 480
ISBN-13 9789028280915
ISBN-10 902828091X
€ 29,99
# new poetry translations
Vladimir Majakovski
fleursdumal.nl magazine
More in: - Book Lovers, - Book News, Archive M-N, Archive M-N, Art & Literature News, Constructivism, Constuctivisme, Majakovsky, Vladimir, TRANSLATION ARCHIVE
---
Heel 2017 schreef Cyrille Offermans aan wat je nog het beste zou kunnen omschrijven als een intellectueel journaal: een verzameling notities, beschouwingen, herinneringen, observaties en essayistische commentaren op gelezen boeken en gebeurtenissen in de wereld.
Dat de barre werkelijkheid voortdurend zijn plaats op de voorgrond opeist, zegt genoeg over onze tijd. Het boek (en dus het jaar) begint en eindigt met de doffe ellende in Syrië.
Daartussen presenteert zich een baaierd aan onderwerpen – van de Franse verkiezingen en de afnemende tekenvaardigheid van de schooljeugd tot en met uiteenzettingen over bibliomanie, de betekenis van carnaval, de eerste woordjes van een kleinkind of de ziekte van een vriendin.
Er is alles in de wereld. En er is alles in dit boek.
Cyrille Offermans (Geleen, 8 april 1945) is een Nederlandse schrijver, essayist en criticus. Hij publiceert met name in De Groene Amsterdammer, Vrij Nederland, De Standaard en Raster. Bij het laatste literair tijdschrift werkte hij tevens als redacteur. Hij publiceerde meer dan twintig boeken in uiteenlopende genres, vooral essayistiek in het grensgebied van literatuur, filosofie, cultuurgeschiedenis en politiek. Zijn werk werd diverse malen met prestigieuze prijzen bekroond.
Cyrille Offermans
Een iets beschuttere plek misschien
Dagboeknotities
Uitgeverij De Arbeiderspers
Privé-domein – Paperback
Publicatiedatum: 25-09-2018
ISBN: 9789029525794
NUR: 321
€ 25,99
# new books
cyrille offermans
fleursdumal.nl magazine
More in: - Book Lovers, - Book News, - Book Stories, Archive O-P, Art & Literature News, Art Criticism, AUDIO, CINEMA, RADIO & TV, LITERARY MAGAZINES, MONTAIGNE
---
'None of us has ever read anything like this before. Anna Burns' utterly distinctive voice challenges conventional thinking and form in surprising and immersive prose. It is a story of brutality, sexual encroachment and resistance threaded with mordant humour. Set in a society divided against itself, Milkman explores the insidious forms oppression can take in everyday life.'  Kwame Anthony Appiah, 2018 Chair of Judges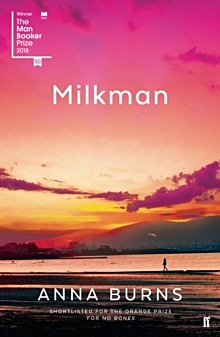 Set in an un-named city but with an astonishing, breath-shorteningly palpable sense of time and place Milkman is a tale of gossip and hearsay, silence and deliberate deafness. The story of inaction with enormous consequences and decisions that are never made, but for which people are judged and punished.
Middle sister is our protagonist. She is busy attempting to keep her mother from discovering her nearly-boyfriend and to keep everyone in the dark about her encounter with milkman (which she herself for the life of her cannot work out how it came about). But when first brother-in-law, who of course had sniffed it out, told his wife, her first sister, to tell her mother to come and have a talk with her, middle sister becomes 'interesting'. The last thing she ever wanted to be. To be interesting is to be noticed and to be noticed is dangerous.
Milkman is a searingly honest novel told in prose that is as precise and unsentimental as it is devastating and brutal. A novel that is at once unlocated and profoundly tethered to place is surely a novel for our times.
Anna Burns was born in Belfast, Northern Ireland. She is the author of two novels, No Bones and Little Constructions, and of the novella, Mostly Hero. No Bones won the Winifred Holtby Memorial Prize and was short-listed for the Orange Prize for Fiction. She lives in East Sussex, England.
Milkman
by Anna Burns
Fiction
Language: English
Publisher: Faber & Faber
Imprint: Faber Fiction
2018
360 pages
Paperback
ISBN-10: 9780571338757
ISBN-13: 978-0571338757
Awards: Man Booker Prize 2018 UK
# new fiction
man booker prize 2018
fleursdumal.nl magazine
More in: - Book Lovers, - Book News, Archive A-B, Art & Literature News, Awards & Prizes, Literary Events
---
The Poetry Deal is the first full-length collection of individual poems in decades from legendary feminist Beat poet, Diane di Prima.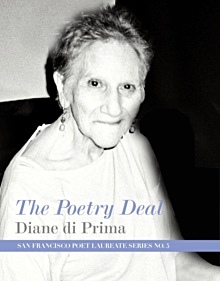 Framed by two passionate, and critical, prose statements assessing her adopted home city, The Poetry Deal is a collection of poems that provide a personal and political look at 40 years of Bay Area culture. Often elegiac in tone, the book captures the poet's sense of loss as she chronicles the deaths of friends from the AIDS epidemic as well as the passing of illustrious countercultural colleagues like Philip Whalen, Pigpen from the Grateful Dead, and Kirby Doyle.
She also recalls and mourns out-of-town inspirations like Chogyam Trungpa Rinpoche, Audre Lorde, and Ezra Pound. Yet even as she laments the state of her city today, she finds triumph and solace in her own relationships, the marriages of her friends, the endurance of City Lights, and other symbols of San Francisco's heritage.
Born in Brooklyn in 1934, di Prima emerged as a member of the Beat Generation in New York in the late '50s; in the early '60s, she founded the important mimeo magazine, The Floating Bear, with her lover LeRoi Jones (Amiri Baraka). In the late '60s, she moved to San Francisco, where she would publish her groundbreaking Revolutionary Letters (1971) with City Lights. Her other important books include Memoirs of a Beatnik, Pieces of a Dream, Recollections of My Life as a Woman, and Loba. She was named San Francisco Poet Laureate in 2009.
"The Poetry Deal is fresh flame from a revolutionary fire that continues to burn. Every woman of every age should carry it in a purse with their pepper spray. Diane is the ultimate weapon."—Amber Tamblyn, author of Dark Sparkler
Title The Poetry Deal
Subtitle San Francisco Poet Laureate Series No. 5
Author Diane di Prima
Collection San Francisco Poet Laureates
Publisher City Lights Publishers
Publication 2014
Format Paperback
ISBN-10 1931404151
ISBN-13 9781931404150
pages 120
Price $11.95
# new books
Diane di Prima poet
fleursdumal.nl magazine
More in: #Beat Generation Archives, - Book Lovers, - Book News, Archive O-P, Archive O-P, Art & Literature News
---
Vivid stories from one of Turkey's most admired contemporary female authors, whose political activism has made her the target of state persecution.
Three interconnected stories feature women whose lives have been interrupted by forces beyond their control. Exile, serious illness, or the imprisonment of one's beloved are each met with versions of strength and daring, while there is no undoing what fate has wrought. These atmospheric, introspective tales culminate in an experimental, multi-voiced novella, whose "stone building" is a metaphor for the various oppressive institutions—prisons, police HQs, hospitals and psychiatric asylums—that dominate the lives of all of these characters. Here is a literary distillation of the alienation, helplessness, and controlled fury of exile and incarceration—both physical and mental—presented in a series of moving, allegorical portraits of lives ensnared by the structures of power.
Aslı Erdoğan (Istanbul, 1967) is a renowned, prize-winning author, journalist, and human rights activist whose fiction has been translated into many languages. She has published novels, collections of short stories and poetic prose, and selections from her political essays. As a journalist, she has covered controversial topics such as state violence, discrimination, and human rights, for which she has been persecuted in a variety of ways.
Erdogan was imprisoned for four months by the Turkish government in a sweeping roundup of dissident voices after the failed coup attempt of July 2016. The subject of both PEN International and PEN America advocacy campaigns, she was released from prison in late December 2016.
This is her second work to be translated into English.
"Aslı Erdoğan is an exceptionally perceptive and sensitive writer who always produces perfect literary texts."—Orhan Pamuk, author of The Red-Haired Woman
Title The Stone Building and Other Places
Author Aslı Erdoğan
Translated by Sevinç Türkkan
Publisher City Lights Publishers
literature in translation
Title First Published 27 February 2018
Format Paperback
ISBN-10 0872867501
ISBN-13 9780872867505
Publication Date 27 February 2018
Main content page count 174
List Price $15.95
# new novel
Aslı Erdoğan
fleursdumal.nl magazine
More in: - Book News, - Book Stories, Archive E-F, Ivo van Leeuwen, PRESS & PUBLISHING, REPRESSION OF WRITERS, JOURNALISTS & ARTISTS
---
Voor ze naar binnen gaan, plukken ze dikke ijspegels van het afdakje boven de deur, om op te sabbelen.
Binnen maken ze een vuurtje van houtblokken. Als het een beetje warm is, trekken Mels en Tijger hun schoenen en sokken uit om ze bij het vuur te drogen. Hun tenen zijn zo wit als die van hun grootmoeder toen ze opgebaard lag en haar voeten net iets onder het laken uit staken. Mels had het niet kunnen laten om er even in te knijpen. Hij weet zeker dat ze even de ogen opende en dat ze heel zacht `au' had gezegd. Zijn grootmoeder hield van grapjes, daaraan kon de dood niets veranderen. Maar van zijn vader had hij een draai om zijn oren gekregen.

Daardoor weet Mels het nog. Veel meer dan dat voorval heeft hij niet van haar onthouden: hij was nog klein toen ze doodging. Ze kennen haar vooral uit de verhalen van grootvader Bernhard. En ze weten dat ze van paarse viooltjes hield, want hij zorgt ervoor dat haar graf altijd vol paarse viooltjes staat.
`Ik zal jullie voeten warmen', zegt Thija. Ze wrijft hun tenen warm met sneeuw, net zo lang tot ze gloeien als ijzer in smidsvuur. Ondertussen vertelt ze over de winter in China, waar het heel gewoon is dat de sneeuw zo hoog ligt dat de mensen er tunnels in aanleggen en de dorpen in de winter op vestingen lijken, met daken van ijs waar de zon doorheen schijnt.
`Er was eens een meisje in China dat in een gevangenis zat', begint Thija.
`Waarom?'
`Omdat haar moeder niet van haar hield. Ze zat niet in een echte gevangenis, voor haar gevoel was het zo. Om lief voor haar moeder te zijn, plukte ze bloemen. Maar toen ze de bloemen aan haar moeder gaf, vond die de kleur niet mooi. Toen bakte ze een taart voor haar moeder, maar die lustte de taart niet omdat ze in plaats van suiker per ongeluk zout had gebruikt. Een lieve moeder had tegen haar kind gezegd: "O, wat heb jij een lekkere taart gebakken. Geef me nog maar een stukje." Maar in haar zenuwachtigheid deed het meisje alles fout. Op een keer, toen haar moeder weer tegen haar schreeuwde, werd het meisje heel boos. Toen haar moeder sliep, pakte ze het taartmes en sneed haar het hoofd af. Ze stopte het in een taartdoos en stuurde het naar de keizer, omdat de keizer oud en alleen en blind en een beetje zielig was. Ze dacht: Als hij de doos opent en het haar van mijn moeder voelt, vindt hij er misschien troost in door het te strelen. Zo was haar moeder dan toch nog ergens goed voor. De rest van het lichaam sneed ze in stukken en gooide die in zee.'
`En toen?'
`Dit is alles.'
`Dit verhaal is niet af', zegt Mels. `Krijgt ze straf? Wordt die moeder weer heel en krijgt ze dan spijt?'
`Vertel jij het verhaal maar verder.'
`Goed. Op een dag toen de keizer het haar van de moeder zat te strelen, merkte hij dat het alleen een hoofd was. Dat deed hem verdriet. Hij wilde het hele lichaam van de vrouw kunnen strelen. Hij liet in het land omroepen dat wie hem het lichaam van de vrouw bracht, een beloning zou krijgen.
Op een dag vonden een paar vissers de stukken van het lichaam in hun netten. Ze brachten ze naar de keizer. Die was blij. Vurig wenste hij dat de vrouw weer tot leven kwam. Maar toen de keizerlijke dokters haar in elkaar aan het zetten waren, ontdekten ze dat ze geen hart had. Daarom gaven ze haar het hart van een slang. Ze begon weer te leven. De vrouw was verbaasd toen ze zichzelf in de armen van de keizer terugvond.'
`En toen?' vraagt Tijger.
`Dan is het verhaal afgelopen.'
`Dat kan niet. Ik weet hoe het verdergaat. De vrouw wil zich wreken op haar dochter. En ze is sluw omdat ze nu het hart heeft van een slang. Op een nacht glijdt ze, in de gedaante van een slang, het huis van haar dochter binnen en probeert haar te wurgen. Maar de dochter herkent haar aan haar ogen. Die zijn nog altijd even vals. Nu kan haar moeder haar slangengedaante niet meer afleggen, want wie in valse vermomming herkend wordt, moet voor altijd in die gedaante blijven huizen en kan nooit meer zichzelf worden. De moeder vlucht naar het bos. Daar woont ze nu nog, als een gevaarlijke slang. Alle kinderen die in het bos komen, eet ze op.'
Zo is het genoeg', zegt Thija. `Zwarte sprookjes eindigen altijd met opgegeten kinderen.'
De schoenen en sokken zijn weer droog. Het vuur is al bijna uit. Ze gooien een paar emmers sneeuw op de nog gloeiende as die sissend protesteert, alsof de duivel zelf zich in de resten van het vuur ligt te warmen.
Ze gaan naar de zolder. Het raampje van de molenzolder is wit van de sneeuw. De binnenkant van het glas is geëtst met ijsbloemen die lijken op het suikerwerk op een abrikozenvlaai.
Het is alsof ze onder een stolp zitten. Om elkaar te verstaan is fluisteren meer dan genoeg. Hun stemmen komen met wolkjes uit hun mond. De woorden bevriezen bijna op hun lippen, de letters vallen als spelden zo zacht op de vloer, maar maken toch nog genoeg geluid om elkaar onder deze stolp van stilte te kunnen verstaan.
Tijger blaast zijn handen warm. Het klinkt oorverdovend luid.
`Stil', zegt Thija. `We zijn hier om te luisteren naar de stilte.'
Ze durven bijna niet meer te ademen.
Plotseling horen ze een kreet. Ver weg. Het is net alsof hij over een enorme vlakte naar hen toe komt.
`Dat is iemand die bang is', zegt Thija.
`Het is die zigeunerjongen', zegt Mels. `Jacob.'
`Is hij dan nog niet dood?'
`Hij zit in die wagen om beter te worden. Hij roept zo hard omdat hij alleen is. Het is mijn schuld. Ik heb beloofd dat ik terugkwam.'
`Dan gaan we nu', zegt Thija.
Ze verlaten de stille stolp van de molen en lopen langs de Wijer het dorp uit.
Door het dikke zuigende pak sneeuw duurt de tocht eindeloos lang.
De woonwagens en de kleine keet staan nog steeds op dezelfde plaats, aan het eind van een bosweg.
Iemand tikt op het beslagen raam van het keetje. Ze moeten goed kijken. Het is Jacob.
`Ik dacht dat je me vergeten was', roept hij.
`We konden je tot in het dorp horen roepen', zegt Mels. `Als het koud is, draagt een stem heel ver.'
`Ik was even buiten', zegt de jongen. `Om door de sneeuw te lopen. Ik geloof niet dat ik beter word door in dit hok te blijven zitten. Daarom schreeuwde ik zo hard. Niet van kwaadheid, hoor. Van blijdschap omdat ik de sneeuw voelde.'
Jacobs moeder komt uit haar woonwagen naar buiten. Ze kennen haar goed. Mels' moeder heeft zeker al twintig vingerhoeden van haar gekocht, maar ze gebruikt er nooit een. Ze zien Jacobs vader achter de ruit zitten, zijn hoofd in de rook van een sigaret.
`Ik ben blij dat jullie Jacob opzoeken', zegt ze.
`Hoelang is hij al ziek?'
`Al heel lang. Kom even binnen, ik heb thee.'
In de wagen moeten ze zich voorzichtig bewegen om de porseleinen engelen en adelaars en de kristallen vazen niet om te stoten. De wagen staat propvol.
Ze drinken thee.
`Het gaat niet goed met Jacob', zegt zijn moeder. `Ik zeg het eerlijk, het is een wonder dat hij nog leeft. Hij wil niet dood. Misschien haalt hij de lente. Dan kan het nog lang duren.'
Jacobs vader zucht, inhaleert diep en blaast de rook uit in kringetjes.
`Als hij niet beter wordt, dan mag hij toch wel uit dat keetje?' vraagt Mels.
`Als we tegen hem zeggen dat hij eruit mag, weet hij dat het afgelopen is.'
`Dank u voor de thee', zegt Mels. `We willen nu graag naar Jacob.'
Jacobs vader dooft de sigaret, kijkt hen een voor een aan, lijkt iets te willen zeggen, slikt, alsof hij een brok in zijn keel heeft, zegt niets en rolt een nieuwe sigaret.
Door de sneeuw lopen ze terug naar de kleine wagen.
Jacob nodigt hen naar binnen. Dat mag nu dus ook.
In de wagen ruikt het naar schoonmaakmiddelen. Zijn het de medicijnen die zijn longen beter moeten maken?
Jacob zit op het bed. Zijn gezicht is wit als sneeuw.
`Zien zieke kinderen er allemaal zo uit als ik?' vraagt hij.
`Als je beter bent, krijg je net zo'n rode kleur van de kou als wij', zegt Mels. `Straks, als je weer naar school gaat.'
`Op scholen houden ze niet van zigeuners.'
`Bij ons wel', zegt Mels. `We hebben ook een meisje uit China in de klas.'
`Zij?' Jacob kijkt naar Thija.
`Als je van verhalen houdt, kun je vriend van ons worden', zegt Thija.
`Zigeuners kennen veel verhalen', zegt Jacob. Hij vertelt over hoe de zigeuners door de eeuwen heen door de Kaukasus trokken en door Europa en ten slotte hier zijn aangekomen. Hij heeft een boek over de lange reis. Het staat vol platen. Zigeuners op feesten. Dansende meisjes met wijde rokken. Kampvuren. Vrouwen die levende egels opblazen door ze een strootje in hun gat te steken, ze in klei rollen en ze levend in het vuur roosteren.
`Bah, dat jullie egels eten', zegt Mels.
Jacob zwijgt. Hij is moe. Ze staan op.
`Komen jullie weer terug?'
`Zeker', zegt Mels.
Zachtjes gaan ze naar buiten. De sneeuw lijkt nu nog witter. Hij knarst onder hun voeten.
Zwijgend lopen ze terug naar huis.
`Raar dat Jacob blauwe ogen heeft', zegt Thija. `En blond haar.'
`Zou het dan toch waar zijn dat zigeuners kinderen roven?' vraagt Tijger.
`Er zijn ook blonde Chinezen', zegt Thija.
`Bestaat niet.'
`Wel. Afstammelingen van gestrande scheepsbemanningen. En van Marco Polo. Die kreeg honderd vrouwen van de keizer.'
`Als je in de Middeleeuwen een zigeuner doodsloeg kreeg je een beloning', zegt Mels.
`Veel?' vraagt Tijger.
`Als je een gezin uitmoordde was je rijk. Dan kon je een kasteel kopen.'
`Jammer dat we niet in de Middeleeuwen leven', zegt Tijger. `Dan hadden we genoeg geld om naar China te vliegen.'
Thija kijkt hem verbijsterd aan.
`Natuurlijk hadden we hen dan doodgeslagen', zegt Tijger. `Als we toen hadden geleefd, hadden wij ook gedacht als middeleeuwers.'
Ton van Reen: Het diepste blauw (075)
wordt vervolgd
fleursdumal.nl magazine
More in: - Book News, - Het diepste blauw, Archive Q-R, Reen, Ton van
---
1 Stern und 7 kazamogipuffel
1 Stern und 7 kazamogipuffel
macht 13 zakopaddogei
zubtrahiere 5 franschöse Männlin
macht 1 Libanotterbett
nehme 3 Quentlin Klotzpulfer
legs in himmelsdeifelsnamen
dabei, wirst sehen wohinst
kommst wnr bällt wnr heult
wnr pfaucht wnre Daugen däht
Hugo Ball
(1886-1927)
gedicht
fleursdumal.nl magazine
More in: Archive A-B, Ball, Hugo, Dada, DADA, Dadaïsme
---
Tout commence à Alger en 2009, avec l'émotion profonde de Marie au moment où elle découvre « Climat de France », le bâtiment qu'y construisit Fernand Pouillon.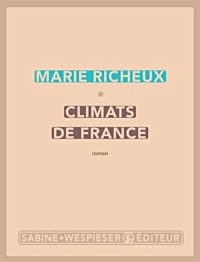 La pierre de taille, les perspectives imposantes, elle les connaît intimement: elle a grandi à Meudon-la-Forêt, dans un ensemble bâti par le même architecte.
Mue par le désir de comprendre ce qui mystérieusement relie les deux lieux, elle plonge dans leur passé, et dans celui de leurs habitants. Plusieurs récits s'entrelacent, comme autant de fragments d'une histoire dont elle traque le motif entre l'Algérie et la France : l'arrivée de Fernand Pouillon à Alger en mai 1953, invité à construire mille logements pour la fin de l'année par le maire récemment élu ; le souvenir d'une nuit de 1997 à Meudon-la-Forêt, quand Marie, treize ans, ne parvient pas à s'endormir à cause des chants de deuil résonnant dans la cage d'escalier ; les confidences de son voisin Malek, que ses parents, sentant le vent tourner à Oran, ont envoyé en France en 1956 et qui, devenu chauffeur de taxi, semble avoir échappé à la guerre dont la violence se déployait pourtant dans les rues de Paris.
Ici, comme en écho à l'émotion fondatrice, celle du lecteur naît de la manière dont l'écrivain laisse s'élever les voix de ces hommes et de ces femmes que l'histoire, parfois à leur insu, a traversés et qui, de part et d'autre de la Méditerranée, obstinément et silencieusement ont déroulé leur existence.
Marie Richeux
Née à Paris en 1984, Marie Richeux a grandi en banlieue parisienne. Pendant ses années d'études, elle collabore à France Culture, puis à FIP. Elle s'éloigne un temps de la radio pour se consacrer aux sciences humaines. À l'École des hautes études en sciences sociales, elle mène des recherches sur la transmission intergénérationnelle dans les familles ayant migré en France depuis le Maghreb, puis débute une thèse sur la place du silence dans cette transmission, et la possibilité collective, muséale, politique de pallier cela.
En 2009, elle commence à produire régulièrement des petites formes (fictions, documentaires, créations sonores) pour « Les Passagers de la nuit » de Thomas Baumgartner sur France Culture, et développe un travail de son et d'écriture, notamment dans l'espace public, auprès de l'artiste Malte Martin. C'est alors qu'elle préparait un documentaire sur le football breton dans les années 1970, qu'on lui propose l'animation d'une tranche quotidienne et matinale sur France Culture. Elle met en suspens sa thèse et ses autres activités et produit, à partir de 2010, l'émission « Pas la peine de crier » sur France Culture, et dont le titre devient, en septembre 2014, « Les Nouvelles Vagues ». Depuis septembre 2017, elle produit et anime, toujours sur France Culture, « Par les temps qui courent », grand entretien d'une heure avec une personnalité de l'actualité culturelle, diffusé du lundi au vendredi de 21 h à 22 h.
En 2013, elle publie son premier livre, Polaroïds, chez Sabine Wespieser éditeur. Suivi, en mars 2015, d'un récit personnel et poétique autour de la figure d'Achille, relecture contemporaine du mythe. Son premier roman, Climats de France, paraît en août 2017, toujours chez Sabine Wespieser éditeur.
Marie Richeux
Climats de France
Roman
Language: French
Paperback
272 pages
Publisher: Sabine Wespieser éditeur
2017
ISBN-10: 2848052279
ISBN-13: 978-2848052274
€ 21
# new books
Marie Richeux
fleursdumal.nl magazine
More in: - Book Lovers, - Book News, Archive Q-R, Art & Literature News
---
Pour la première fois en France depuis 1953, le Centre Pompidou consacre une exposition au cubisme au travers d'un vaste panorama de l'histoire du mouvement à Paris entre 1907 et 1917.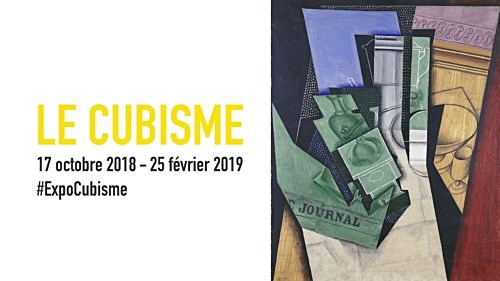 L'originalité du projet consiste à élargir la vision traditionnellement concentrée sur les grands noms du mouvement, Georges Braque, Juan Gris, Fernand Léger et Pablo Picasso, aux cubistes secondaires, comme Gleizes et Metzinger, ou différents tels Robert et Sonia Delaunay, Marcel Duchamp ou Francis Picabia, qui exposaient dans les salons officiels parisiens   lorsque les pionniers réservaient leurs créations expérimentales à un seul jeune marchand inconnu, Daniel-Henry Kahnweiler.
Riche de trois cents œuvres et de documents significatifs de son rayonnement, la présentation s'articule chronologiquement en quatorze chapitres où se détachent des chefs-d'œuvre comme le Portrait de Gertrude Stein (1905-1906) ou ceux d'Ambroise Vollard (1909) et de Daniel-Henry Kahnweiler (1910) par Picasso et des ensembles de peintures et de sculptures, jamais réunies. Elles mettent en valeur l'évolution à rebondissements du cubisme, remontant aux sources primitivistes (avec des sculptures tribales collectionnées par les artistes), et à la fascination des cubistes pour Gauguin et Cézanne. Elles reflètent la progression formelle du mouvement, d'une première étape cézannienne (avec la présence de l'exceptionnelle nature morte de Picasso, Pains et compotier sur une table, 1909) vers une transcription analytique hermétique (1910-1912) transformée en version plus synthétique (1913-1917), qui marque le retour de la représentation et de la couleur.
La part la plus révolutionnaire du cubisme – l'invention des papiers collés, des collages et des constructions de Braque, Picasso, Gris et Henri Laurens – est représentée par des grandes icônes de l'art du 20e siècle, comme la Nature morte à la chaise cannée de Picasso (1912) ou sa Guitare en tôle et fils de fer (1914). D'autres aspects illustrent l'importance et le prestige de la constellation cubiste : les liens avec la littérature sont retracés dans une salle dédiée aux critiques et aux poètes, incarnés par les portraits les plus marquants de Max Jacob ou d'Apollinaire, par le Douanier Rousseau et Marie Laurencin, les éditions Kahnweiler de livres cubistes, la collaboration entre les Delaunay et Blaise Cendrars autour de La Prose du Transsibérien en 1913, etc. La tragédie de la Grande Guerre (1914-1918) qui mobilise ou exile les artistes et leurs soutiens est retracée par des œuvres des artistes du front (Raymond Duchamp-Villon, Fernand Léger) ou de l'arrière parce qu'étrangers (Pablo Picasso, Cartes à jouer, verres, bouteille de rhum, « Vive la France », 1914-1915) qui témoignent de l'inévitable stérilisation du mouvement frappé par l'histoire (Marc Chagall, Les Portes du cimetière, 1917). La fin du parcours témoigne à la fois de la renaissance des rescapés comme Braque (La Musicienne, 1917-1918) et de l'influence exercée par le cubisme sur ses contemporains, comme Henri Matisse (Porte-fenêtre à Collioure, 1914) et ses héritiers abstraits (Piet Mondrian, Composition n°IV, 1914), Kasimir Malévitch, Croix noire, 1915 ou contestataires (Marcel Duchamp, Roue de bicyclette, 1913/1964), tous tributaires de la révolution cubiste.
Avec le soutien exceptionnel du Musée national Picasso-Paris
L'exposition est coproduite avec le Kunstmuseum de Bâle
Expositions
Le cubisme
17 oct. 2018 – 25 févr. 2019 de 11h à 21h
Galerie 1 – Centre Pompidou, Paris
Centre Pompidou
Place Georges Pompidou, 75004 Paris
# Le Cubisme
Exposition Centre Pompidou
fleursdumal.nl magazine
More in: Art & Literature News, Art Criticism, Exhibition Archive, Gertrude Stein, Kubisme, Marcel Duchamp, Pablo Picasso, Piet Mondriaan, Sculpture
---
In Killing Commendatore, a thirty-something portrait painter in Tokyo is abandoned by his wife and finds himself holed up in the mountain home of a famous artist, Tomohiko Amada.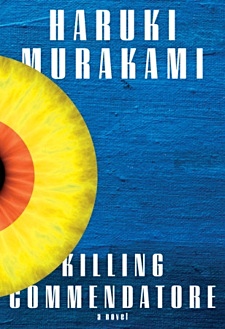 When he discovers a previously unseen painting in the attic, he unintentionally opens a circle of mysterious circumstances.
To close it, he must complete a journey that involves a mysterious ringing bell, a two-foot-high physical manifestation of an Idea, a dapper businessman who lives across the valley, a precocious thirteen-year-old girl, a Nazi assassination attempt during World War II in Vienna, a pit in the woods behind the artist's home, and an underworld haunted by Double Metaphors.
A tour de force of love and loneliness, war and art—as well as a loving homage to The Great Gatsby—Killing Commendatore is a stunning work of imagination from one of our greatest writers.
Haruki Murakami was born in Kyoto in 1949 and now lives near Tokyo. His work has been translated into more than fifty languages, and the most recent of his many international honors is the Hans Christian Andersen Literature Award, whose previous recipients include J. K. Rowling, Isabel Allende, and Salman Rushdie.
# more on harukimurakami.com
Killing Commendatore
A novel
By Haruki Murakami
Category: Literary Fiction
Historical Fiction
Oct 09, 2018
Hardcover
$30.00
704 Pages
Published by Knopf
Oct 09, 2018
ISBN 9780525520047
# new books
fleursdumal.nl magazine
More in: - Book News, - Bookstores, Archive M-N, Art & Literature News, Haruki Murakami
---
A Victor Hugo – Poéme
De votre amitié, maître, emportant cette preuve
Je tiens donc sous mon bras le Rhin.
—J'ai l'air d'un fleuve
El je me sens grandir par la comparaison.
Mais le Fleuve sait-il lui pauvre
Dieu sauvage
Ce qui lui donne un nom, une source, un rivage,
Et s'il coule pour tous quelle en est la raison.
Assis au mamelon de l'immense nature,
Peut-être ignore-t-il comme la créature
D'où lui vient ce bienfait qu'il doit aux Immortels:
Moi je sais que de vous, douce et sainte habitude,
Me vient l'Enthousiasme et l'Amour et l'Étude,
Et que mon peu de feu s'allume à vos autels.
Gérard de Nerval
(1808 – 1855)
A Victor Hugo – Poéme
fleursdumal.nl magazine
More in: Archive M-N, Hugo, Victor, Nerval, Gérard de
---
Older Entries »
Thank you for reading FLEURSDUMAL.NL - magazine for art & literature