FICTION & NON-FICTION – books, booklovers, lit. history, biography, essays, translations, short stories, columns, literature: celtic, beat, travesty, war, dada & de stijl, drugs, dead poets
·
Francisca Stoecklin: Angst (Gedicht)
·
Lawrence Weschler: En hoe gaat het met u, dokter Sacks?
·
Brandon Shimoda: The Grave on the Wall
·
Anton (AHJ) Dautzenberg Stadsdichter van Tilburg
·
Paper Aeroplane: Selected Poems 1989-2014 by Simon Armitage
·
Herman Melville: The Maldive Shark (Poem)
·
Blandine Rinkel: Le nom secret des choses
·
Walt Whitman: As I lay with my head in your lap camerado (Poem)
·
Emily Dickinson: A Word (Poem)
·
Marcel Schwob: Chez Le Mastroquet (Poème)
·
Ludwig Bechstein: Der Mann ohne Herz (Märchen)
·
Death Blossoms. Reflections from a Prisoner of Conscience, Expanded Edition by Mumia Abu-Jamal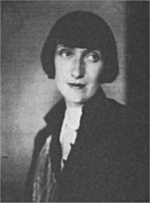 Angst
O wie ist diese Nacht so schwer,
Und wie hangen die Wolken so tief.
Warum stöhnen die sanften Tiere,
Bluten laubdunkle Bäume,
Seufzt in jedem Winkel der Tod?
Wo sind die blassen Engel geblieben
Und die zittergoldenen Sterne?
Ist Gott gestorben?
O, diese Nacht ist tausend Jahre schwer.
Auf der Brücke geht noch mit hastigen Schritten ein Mann.
Er wird zu spät kommen –
In der Mansarde salbt der junge Priester
Den Mund der Sterbenden.
Eine schwarze Blume wächst furchtbar in ihre Fieber,
Aber selig umglänzt der Mond ihre Wangen.
In meinem Zimmer knistert die Kerze.
Schmächtige Schatten steigen aus den Wänden:
Leben, die ich gelebt habe und vergaß.
Ein Gesicht weint lange in meinen Händen.
Francisca Stoecklin
(1894-1931)
Angst
• fleursdumal.nl magazine
More in: Archive S-T, Archive S-T, Stoecklin, Francisca
---
Begin jaren tachtig ontmoette Lawrence Weschler de toen nog hard aan de weg timmerende Oliver Sacks in New York.

Het was een onzekere periode voor de jonge neuroloog: Sacks' eerste boek Ontwaken in verbijstering was tien jaar eerder al verschenen, maar hij had het grote publiek nog niet bereikt.
Met de jaren groeide Sacks' bekendheid en werd de vriendschap tussen hem en Weschler hechter. Op zijn sterfbed vroeg Sacks zijn goede vriend of hij zijn verhaal zou willen optekenen. Dit boek is het resultaat van dat verzoek.

In En hoe gaat het met u, dokter Sacks? brengt Weschler Sacks' extravagante persoonlijkheid prachtig tot leven. We worden teruggevoerd naar Sacks' jongere jaren vol drugs en turbulentie, volgen hem in zijn werk als neuroloog en schrijver, zien hem patiënten helpen en vrienden vermoeien, en we volgen zijn strijd met medische en wetenschappelijke instellingen om aandacht te krijgen voor zijn belangrijkste bekommernis als neuroloog: de individuele menselijke ziel.
Weschler is erin geslaagd om Sacks' belangrijkste vraag voor zijn patiënten – Hoe gaat het met u? – terug te kaatsen naar de beroemde neuroloog zelf.
Lawrence Weschler (1952) schreef meer dan twintig jaar voor The New Yorker. Daarnaast gaf hij les aan prominente Amerikaanse universiteiten waaronder Princeton, Columbia, Brown en New York University. Aan de laatstgenoemde universiteit was hij tot 2013 directeur van het New York Institute for the Humanities. Weschlers oeuvre bestaat uit veelgeprezen literaire non-fictie over allerlei politieke en culturele onderwerpen.
En hoe gaat het met u, dokter Sacks?
Lawrence Weschler
Oorspronkelijke titel: And How AreYou, Dr. Sacks?
Paperback
De Bezige Bij 2019
Aantal pagina's 496
Paperback: 34,99
# new books
And How AreYou, Dr. Sacks?
Lawrence Weschler
• fleursdumal.nl magazine
More in: #Biography Archives, - Book News, - Book Stories, Archive S-T, Archive W-X, In Memoriam, Oliver Sacks, Psychiatric hospitals
---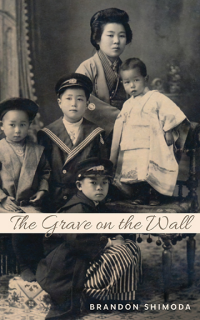 The Grave on the Wall is a memoir and a book of mourning, a grandson's attempt to reconcile his own uncontested citizenship with his grandfather's lifelong struggle.
Award-winning poet Brandon Shimoda has crafted a lyrical portrait of his paternal grandfather, Midori Shimoda, whose life—child migrant, talented photographer, suspected enemy alien and spy, desert wanderer, American citizen—mirrors the arc of Japanese America in the twentieth century.
In a series of pilgrimages, Shimoda records the search to find his grandfather, and unfolds, in the process, a moving elegy on memory and forgetting.
"Shimoda brings his poetic lyricism to this moving and elegant memoir, the structure of which reflects the fragmentation of memories. . . . It is at once wistful and devastating to see Midori's life come full circle . . . In between is a life with tragedy, love, and the horrors unleashed by the atomic bomb."––Booklist

Title: The Grave on the Wall
Author: Brandon Shimoda
Publisher: City Lights Publishers
Format: Paperback
ISBN-10 0872867900
ISBN-13 9780872867901
Publication Date: 06 August 2019
222 pages
List Price $16.95
# New books
Brandon Shimoda
The Grave on the Wall
• fleursdumal.nl magazine
More in: - Book News, - Bookstores, Archive S-T, Archive S-T, Art & Literature News
---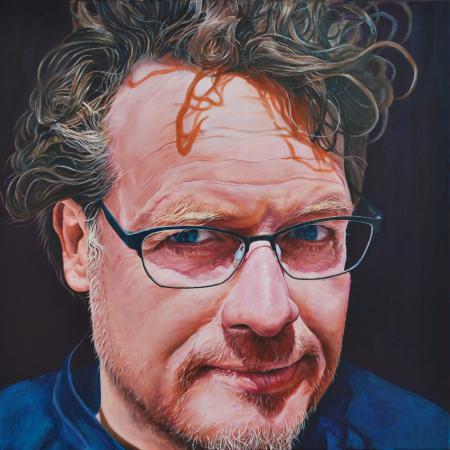 Portret Anton (AHJ) Dautzenberg
Stadsdichter van Tilburg (2017 -2019)
door kunstenaar Ivo van Leeuwen
• fleursdumal.nl magazine for art & literature
More in: A.H.J. Dautzenberg, Art & Literature News, City Poets / Stadsdichters, Ivo van Leeuwen, Literary Events
---
Paper Aeroplane: Selected Poems 1989-2014 by Simon Armitage is the essential selection of poems from one of Britain's foremost contemporary poets.
When Simon Armitage burst on to the poetry scene in 1989 with his spectacular debut Zoom!, readers were introduced to an exceptional new talent who would reshape the landscape of contemporary poetry in the years to come.
Twenty-five years on, Simon Armitage's reputation as one of the nation's most original, most respected and best-loved poets seems secure. Paper Aeroplane: Poems 1989-2014 is the author's own selection from across a quarter-century of work, from his debut to the latest, uncollected work. Drawing upon all of his award-winning poetry collections, including Kid, Book of Matches, The Universal Home Doctor and Seeing Stars, this generous selection provides an essential gathering of this most thrilling of poets, and is key reading for students and general readers alike.
Simon Armitage was born in West Yorkshire and is Professor of Poetry at the University of Leeds. A recipient of numerous prizes and awards, he has published twelve collections of poetry, including Seeing Stars (2010), The Unaccompanied (2017), Sandettie Light Vessel Automatic (2019) and his acclaimed translation of Sir Gawain and the Green Knight (2007). He writes extensively for television and radio, and is the author of two novels and the non-fiction bestsellers All Points North (1998), Walking Home (2012) and Walking Away (2015). His theatre works include The Last Days of Troy, performed at Shakespeare's Globe in 2014. In 2015 he was appointed Professor of Poetry at Oxford University and in 2018 he was awarded the Queen's Gold Medal for Poetry. Simon Armitage is Poet Laureate of the UK.
Paper Aeroplane: Selected Poems 1989-2014
by Simon Armitage (Author), Sue Roberts (Author)
2014/2015
Hardback Price £14.99
Paperback Price £10.99
Pages: 248pp
Publisher: Faber and Faber Poetry
Language: English
ISBN-10: 0571310699
ISBN-13: 978-0571310692
# new books
Paper Aeroplane:
Selected Poems 1989-2014
by Simon Armitage (Author)
• fleursdumal.nl magazine
More in: - Book Lovers, - Book News, Archive A-B, Archive A-B, Armitage, Simon
---
The Maldive Shark
About the Shark, phlegmatical one,
Pale sot of the Maldive sea,
The sleek little pilot-fish, azure and slim,
How alert in attendance be.
From his saw-pit of mouth, from his charnel of maw,
They have nothing of harm to dread,
But liquidly glide on his ghastly flank
Or before his Gorgonian head;
Or lurk in the port of serrated teeth
In white triple tiers of glittering gates,
And there find a haven when peril's abroad,
An asylum in jaws of the Fates!
They are friends; and friendly they guide him to prey,
Yet never partake of the treat —
Eyes and brains to the dotard lethargic and dull,
Pale ravener of horrible meat.
Herman Melville
(1819 – 1891)
The Maldive Shark
• fleursdumal.nl magazine
More in: Archive M-N, Archive M-N, Herman Melville, Natural history
---
Tu avais l'âge de quitter ton enfance, l'âge où on se sent libre et où, dans le train pour Paris, on s'assoit dans le sens de la marche.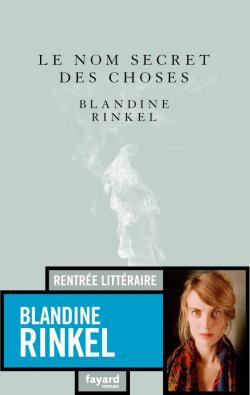 Dès ton arrivée, tu t'es sentie obligée de devenir quelqu'un d'autre. Quelqu'un qui n'oserait plus dire « je ne sais pas ». C'était la ville qui t'imposait ça, dans ce qu'elle avait à tes yeux de violent et de désirable : sa culture .
Puis tu as rencontré Elsa.
Elle avait le goût des métamorphoses.
Blandine Rinkel (1991) est une journaliste, musicienne et écrivaine française.
Après des études de lettres et de philosophie, elle intègre la classe d'écriture de l'ENSATT et la quitte pour l'EHESS. En parallèle, elle écrit portraits et critiques littéraires pour la presse écrite (Le Matricule des Anges, Gonzai, Brain Magazine, Inferno, France Inter, Citizen K…) et imagine des fictions radiophoniques.
Blandine Rinkel a fait une entrée en littérature très remarquée avec L'abandon des prétentions , paru chez Fayard en 2017. Le nom secret des choses est son deuxième roman.
Le nom secret des choses
Blandine Rinkel
Editeur : Fayard
Collection : Littérature Française
Langue : Français
Paru le: 21 Août 2019
Format: 135 x 215 mm
Broché : 304 pages
ISBN-10 : 2213712905
Prix : 19.00 €
# new books
Le nom secret des choses
Blandine Rinkel
• fleursdumal.nl magazine
More in: - Book News, - Book Stories, Archive Q-R, Art & Literature News, PRESS & PUBLISHING
---
As I lay with my head in your lap camerado
As I lay with my head in your lap camerado,
The confession I made I resume, what I said to you and the open air I
resume,
I know I am restless and make others so,
I know my words are weapons full of danger, full of death,
For I confront peace, security, and all the settled laws, to unsettle
them,
I am more resolute because all have denied me than I could ever have
been had all accepted me,
I heed not and have never heeded either experience, cautions,
majorities, nor ridicule,
And the threat of what is call'd hell is little or nothing to me;
And the lure of what is call'd heaven is little or nothing to me;
Dear camerado! I confess I have urged you onward with me, and still
urge you, without the least idea what is our destination,
Or whether we shall be victorious, or utterly quell'd and defeated.
Walt Whitman
(1819 – 1892)
As I lay with my head in your lap camerado
From: Leaves of grass
• fleursdumal.nl magazine
More in: Archive W-X, Archive W-X, Whitman, Walt
---
A Word
A word is dead
When it is said,
Some say.
I say it just
Begins to live
That day.
Emily Dickinson
(1830-1886)
A Word
• fleursdumal.nl magazine
More in: Archive C-D, Archive C-D, Dickinson, Emily
---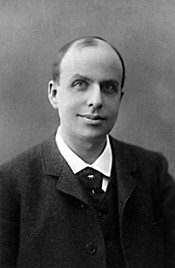 Chez Le Mastroquet
Boutique sang de boeuf jusqu'au premier étage.
A travers le treillis défoncé du grillage
Des carreaux maculés. -Deux rideaux mal blanchis
Frôlant le crépi mort de leurs plis avachis.
Trois melons étalés en pleine devanture,
Près de beignets dorés dans un bain de friture.
Des raviers blancs suant du jus noir de pruneaux.
L'or fameux des harengs baisant de vieux cerneaux.
La trogne enluminée, à la rondeur bonasse,
Du patron ballonné jusqu'au cou de vinasse
Met une tache rouge au milieu du comptoir.
Quelques bouchers sanglants sortis de l'abattoir,
Coiffés d'une viscope à tournure de mitre,
Avalent sur le zing le vin bleuté d'un litre
Et puisent, pour se mettre en goût, au tas d'oeufs durs.
Contre le fond graisseux et charbonné des murs,
Une vieille qui dort laisse pendre sa lippe:
Un limousin plâtré crache en fumant sa pipe.
Marcel Schwob
(1867-1905)
Chez Le Mastroquet
Juin 1888
 •fleursdumal.nl magazine
More in: #Editors Choice Archiv, Archive S-T, Archive S-T, Marcel Schwob
---
Der Mann ohne Herz
Es sind einmal sieben Brüder gewesen, waren arme Waisen, hatten keine Schwester, mußten alles im Hause selbst tun, das gefiel ihnen nicht, wurden Rates untereinander, sie wollten heiraten. Nun gab es aber da, wo sie wohnten keine Bräute für sie, da sagten die älteren, sie wollten in die Fremde ziehen, sich Bräute suchen und ihr Jüngster sollte das Haus hüten, und dem wollten sie eine
recht schöne Braut mitbringen.
Das war der Jüngste gar wohl zufrieden und die sechse machten sich fröhlich und wohlgemut auf den Weg. Unterwegs kamen sie an ein kleines Häuschen, das stand ganz einsam in einem Walde, und vor dem Häuschen stand ein alter alter Mann, der rief die Brüder an und fragte: »Heda! Ihr jungen Gieke in die Welt! Wohin denn so lustig und so geschwind?« – »Ei, wir wollen uns jeder eine hübsche Braut holen, und unsern jüngsten Bruder daheim auch eine!« antworteten die Brüder.
»O liebe Jungen!« sprach da der Alte: »ich lebe hier so mutterseelensternallein, bringt mir doch auch eine Braut mit, aber eine junge hübsche muß es sein!«
Die Brüder gingen von dannen und dachten: Hm, was will so ein alter eisgrauer Hozelmann mit einer jungen hübschen Braut anfangen? –
Da nun die Brüder in eine Stadt gekommen waren, so fanden sie dort sieben Schwestern, so jung und so hübsch als sie sie nur wünschen konnten, die nahmen sie und die jüngste nahmen sie für ihren Bruder mit. Der Weg führte sie wieder durch den Wald, und der Alte stand wieder vor seinem Häuschen, als wartete er auf sie, und sagte: »Ei ihr braven Jungen! Das lob ich, daß ihr mir so eine junge hübsche Braut mitgebracht habt!« – »Nein!« sagten die Brüder, »die ist nicht für dich, die ist für unsern Bruder zu Hause, den haben wir sie versprochen!« –
»So?« sagte der Alte: »versprochen? Ei daß dich! ich will euch auch versprechen!« und nahm ein weißes Stäbchen und murmelte ein paar Zauberworte, und rührte die Brüder und die Bräute mit dem Stäbchen an – bis auf die jüngste – da wurden sie alle in graue Steine verwandelt. Die jüngste aber von den Schwestern führte der Mann in das Haus, und das mußte sie nun beschicken und in Ordnung halten, tat das auch gern, aber sie hatte immer Angst, der Alte könne bald sterben, und dann werde sie in dem einsamen Häuschen im wilden öden Walde auch so mutterseelensternallein sein, wie der Alte zuvor gewesen war. Das sagte sie ihm und er antwortete: »Hab kein Bangen, fürchte nicht und hoffe nicht, daß ich sterbe. Sieh, ich habe kein Herz in der Brust! stürbe ich aber dennoch, so findest du über der Türe mein weißes Zauberstäbchen, und rührst damit an die grauen Steine, so sind deine Schwestern und ihre Freier befreit und du hast Gesellschaft genug.«
»Wo aber in aller Welt hast du denn dein Herz, wenn du es nicht in der Brust hast?« fragte die junge Braut. »Mußt du alles wissen?« fragte der Alte. »Nun wenn du es denn wissen mußt, in der Bettdecke steckt mein Herz.«
Da nähte und stickte die junge Braut, wenn der Alte fort und seinen Geschäften nachging, in ihrer Einsamkeit gar schöne Blumen auf seine Bettdecke, damit sein Herz eine Freude haben sollte. Der Alte aber lächelte darüber und sagte: »Du gutes Kind, es war ja nur mein Scherz;mein Herz das steckt – das steckt –« »Nun wo steckt es denn lieber Vater?« – »Das steckt in der – Stubentür!« –
Da hat die junge Frau am andern Tage, als der Alte fort[107] war, die Stubentüre gar schön geschmückt mit bunten Federn und frischen Blumen und hat Kränze daran gehangen. Fragte der Alte, als er heimkam, was das bedeuten solle? sagte sie: »Das tat ich,
deinem Herzen was zu Liebe zu tun.« Da lächelte wieder der Alte, und sagte: »Gutes Kind, ganz wo anders, als in der Stubentüre, ist mein Herz.« Da wurde die junge Braut sehr betrübt, und sprach: »Ach Vater, so hast du doch ein Herz, und kannst sterben und ich werde dann so allein sein.« Da wiederholte der Alte alles, was er ihr schon zweimal gesagt, und sie drang aufs neue in ihn, ihr zu sagen, wo doch eigentlich sein Herz sei? Da sprach der Alte: »Weit weit von hier liegt in tiefer Einsamkeit eine große uralte Kirche, die ist fest verwahrt mit eisernen Türen, um sie ist ein tiefer Wallgraben gezogen, über den führt keine Brücke, und in der Kirche da fliegt ein Vogel wohl ab und auf, der ißt nicht und trinkt nicht und stirbt nicht, und niemand vermag ihn zu fangen und so lange der Vogel lebt, so lange lebe auch ich, denn in dem Vogel ist mein Herz.«
Da wurde die Braut traurig, daß sie dem Herzen ihres Alten nichts zu Liebe tun konnte, und die Zeit wurde ihr lang, wenn sie so allein saß, denn der Alte war fast den ganzen Tag auswärts.
Da kam einmal ein junger Wandergesell am Häuschen vorüber, der grüßte sie und sie grüßte ihn und sie gefiel ihm, und er kam näher und sie fragte ihn, wohin er reise, woher er komme? – »Ach!« seufzte der junge Gesell: »Ich bin gar traurig. Ich hatte noch sechs Brüder, die sind von dannen gezogen sich Bräute zu holen und mir, dem Jüngsten, wollten sie auch eine mitbringen, sind aber nimmer wieder gekommen, und da bin ich nun auch fort vom Hause, und will meine Brüder suchen.«
»Ach lieber Gesell!« rief die Braut: »da brauchst du nicht weiter zu gehen! Erst setze dich und iß und trinke etwas, und dann laß dir erzählen!« Und gab ihm zu essen und zu trinken, und erzählte ihm, wie seine Brüder in die Stadt gekommen, und wie sie ihre Schwestern und sie selbst als Bräute mit sich nach Hause hätten führen wollen, und daß sie für ihn, ihren Gast, bestimmt gewesen, und wie der Alte sie bei sich behalten, und die andern in graue Steine verwandelt habe. Das alles erzählte sie ihm aufrichtig und weinte dazu, und auch daß der Alte kein Herz in der Brust habe und daß es weit weit weg sei in einer festen Kirche und in einem unsterblichen Vogel. Da sagte der Bräutigam: »Ich will fort, ich will den Vogel suchen, vielleicht hilft mir Gott, daß ich ihn fange.« – »Ja das tue, daran wirst du wohl tun, dann werden deine Brüder und meine Schwestern wieder Menschen werden!« und versteckte den Bräutigam, denn es wurde schon Abend, und als am andern Morgen der Alte wieder fort war, da packte sie dem Wandergesellen viel zu essen und zu trinken ein, und gab es ihm mit, und wünschte ihm alles Glück und Gottes Segen auf seine Fahrt.
Als nun der Gesell eine tüchtige Strecke gegangen war, deuchte ihm, es sei wohl Zeit zu frühstücken, packte seine Reisetasche aus, freute sich der vielen Gaben und rief: »Holla! nun wollen wir schmausen! herbei, wer mein Gast sein will!«
Da rief es hinter dem Gesellen: »Muh!« und wie er sich umsah, stand ein großer roter Ochse da und sprach: »Du hast eingeladen, ich möchte wohl dein Gast sein!« – »Sei willkommen und lange zu, so gut ich's habe!« Da legte sich der Ochse gemächlich an den Boden, und ließ sich's schmecken, und leckte sich dann mit der Zunge sein Maul recht schön ab, und als er satt war, sagte er: »Habe du großen Dank und wenn du einmal jemand brauchst, dir in Not und Gefahr zu helfen, so rufe nur in Gedanken nach mir, deinem Gast.« Und erhob sich und verschwand im Gebüsch. Der Gesell packte seine Tafelreste zusammen und pilgerte weiter; wieder eine tüchtige Strecke, da deuchte ihm nach dem kurzen Schatten den er warf, es müsse Mittag sein, und seinem Magen deuchte das nämliche. Da setzte er sich an den Boden hin, breitete sein Tafeltuch aus, setzte seine Speisen und Getränke darauf, und rief: »Wohlan! Mittagmahlzeit! Jetzt melde sich, was mittafeln will!« Da rauschte es ganz stark in den Büschen, und es brach ein wildes Schwein heraus, das grunzte: »Qui oui oui«, und sagte: »Es hat hier jemand zum Essen gerufen! Ich weiß nicht ob du es warst, und ob ich gemeint bin?«
»Immerhin, lange nur zu, was da ist!« sprach der Wandersmann und da aßen sie beide wohlgemut miteinander und schmeckte beiden gut. Darauf erhob sich das wilde Schwein und sagte: »Habe Dank, bedarfst du mein so rufe dem Schwein!« und damit trollte es in die Büsche. Nun wanderte der Gesell gar eine lange Strecke, und war schon gar weit gewandert, da wurde es gegen Abend, und er fühlte wieder Hunger und hatte auch noch Vorrat, und da dachte er: wie wär es mit dem Vespern? Zeit wär es dächt ich; und breitete wieder sein Tuch aus und legte seine Speisen darauf, hatte auch noch etwas zu trinken, und rief: »Wer Lust hat mit zu essen, der soll eingeladen sein. Es ist nicht, als wenn nichts da wäre!« Da rauschte über ihm ein schwerer Flügelschlag und wurde dunkel auf dem Boden, wie vom Schatten einer Wolke, und es ließ sich ein großer Vogel Greif sehen, der rief: »Ich hörte jemand hier unten zur Tafel einladen! Für mich wird wohl nichts abfallen?«
»Warum denn nicht? Lasse dich nieder und nimm vorlieb, viel wird's nicht mehr sein!« rief der Jüngling, und da ließ sich der Vogel Greif nieder und aß zur Genüge und dann sagte er: »Brauchst du mich, so rufe mich!« hob sich in die Lüfte und verschwand. Ei, dachte der Geselle: der hat's recht eilig; er hätte mir wohl den Weg nach der Kirche zeigen können, denn so finde ich sie wohl
nimmer und raffte seine Sachen zusammen, und wollte vor dem Schlafengehen noch ein Stückchen wandern. Und wie er gar nicht lange gegangen war, so sah er mit einem Male die Kirche vor sich liegen und war bald bei ihr, das heißt, am breiten und tiefen Graben, der sie rings ohne Brücke umzog. Da suchte er sich ein hübsches Ruheplätzchen, denn er war müde von dem weiten Weg und schlief, und am andern Morgen da wünschte er sich über den Graben und dachte: Schau, wenn der rote Ochse da wär und hätte rechten Durst, so könnte der den Graben aussaufen und ich käme trocken hinüber. Kaum war dieser Wunsch getan, so stand der Ochse schon da und begann den Graben auszusaufen. Nun stand der Gesell an der Kirchenmauer, die war gar dick und die Türme waren von Eisen, da dachte er so in seinen Gedanken: ach, wer doch einen Mauerbrecher hätte! Das starke wilde Schwein könnte vielleicht hier eher etwas ausrichten, als ich. Und siehe, gleich kam das wilde Schwein daher gerannt und stieß heftig an die Mauer und wühlte mit seinen Hauern einen Stein los, und wie erst einer los war, so wühlte es immer mehr und immer mehr Steine aus der Mauer, bis ein großes tiefes Loch gewühlt war, durch das man in die Kirche einsteigen konnte. Da stieg nun der Jüngling hinein, und sah den Vogel darin herumfliegen, vermochte aber nicht ihn zu ergreifen. Da sprach er: »Wenn jetzt der Vogel Greif da wäre, der würde dich schon greifen, dafür ist er ja der Vogel Greif!« Und gleich war der Greif da und gleich griff er den Vogel, in dem des alten Mannes Herz war, und der junge Gesell verwahrte selbigen Vogel sehr gut, der Vogel Greif aber flog davon.
Nun eilte der Jüngling so sehr er konnte zur jungen Braut, kam noch vor Abends an und erzählte ihr alles, und sie gab ihm wieder zu essen und zu trinken und hieß ihn unter die Bettstelle kriechen mitsamt seinem Vogel, damit ihn der Alte nicht sähe. Dies tat er alsbald, nachdem er gegessen und getrunken hatte; der Alte kam nach Hause und klagte, daß er sich krank fühle, daß es nicht mehr mit ihm fortwolle – das mache, weil sein Herzvogel gefangen war. Das hörte der Bräutigam unter dem Bette und dachte, der Alte hat dir zwar nichts Böses getan, aber er hat deine Brüder und ihre Bräute verzaubert, und deine Braut hat er für sich behalten, das ist des Bösen nicht zu wenig, und da kneipte er den Vogel, und da wimmerte der Alte: »Ach, es kneipt mich! Ach, der Tod kneipt mich, Kind – ich sterbe!« Und fiel vom Stuhl und war ohnmächtig, und ehe sich's der Jüngling versah, hatte er den Vogel totgekneipt, und da war es aus mit dem Alten. Nun kroch er hervor, und die Braut nahm den weißen Stab, wie ihr der Alte gelehrt hatte, und schlug damit an die zwölf grauen Steine, siehe, da wurden sie wieder die sechs Brüder und die sechs Schwestern, das war eine Freude und ein Umarmen und Herzen und Küssen, und der alte Mann war tot und blieb tot, konnt ihn keine Meisterwurz wieder lebendig machen, wenn sie ihn auch hätten wieder lebendig haben wollen. Da zogen sie alle miteinander fort, und hielten Hochzeit miteinander und lebten gut und glücklich miteinander lange Jahre.
Ludwig Bechstein
(1801 – 1860)
Der Mann ohne Herz
Sämtliche Märchen
• fleursdumal.nl magazine
More in: Archive A-B, Bechstein, Bechstein, Ludwig
---
Profound meditations on life, death, freedom, family, and faith, written by radical Black journalist, Mumia Abu-Jamal, while he was awaiting his execution.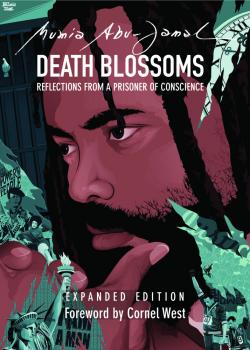 During the spring of 1996, black journalist Mumia Abu-Jamal was living on death row and expecting to be executed for a crime he steadfastly maintained he did not commit—the murder of a white Philadelphia police officer. It was in that period, with the likelihood of execution looming over him, that he received visits from members of the Bruderhof spiritual community––refugees from Hitler's Germany––anti-fascist, anti-racist, and deeply opposed to the death penalty. Inspired by the encounters, Mumia hand-wrote Death Blossoms—a series of short essays and personal vignettes reflecting on his search for spiritual meaning, freedom, and truth in a deeply racist and materialistic society.
Featuring a new introduction by Mumia and a report by Amnesty International detailing how his trial was "in violation of minimum international standards," this new edition of Death Blossoms is essential reading for the Black Lives Matter era, and is destined to endure as a classic in American prison literature.
"In this revised edition of his groundbreaking work, Death Blossoms, convicted death row prisoner Mumia Abu-Jamal tackles hard and existential questions, searching for God and a greater meaning in a caged life that may be cut short if the state has its way and takes his life. As readers follow Mumia's journey through his poems, short essays, and longer musings, they will learn not only about this singular individual who has retained his humanity despite the ever present threat of execution, but also about themselves and our society: what we are willing to tolerate and who we are willing to cast aside. If there is any justice, Mumia will prevail in his battle for his life and for his freedom."––Lara Bazelon, author of Rectify: The Power of Restorative Justice After Wrongful Conviction
"Mumia Abu-Jamal has challenged us to see the prison at the center of a long history of US oppression, and he has inspired us to keep faith with ordinary struggles against injustice under the most terrible odds and circumstances. Written more than two decades ago, Death Blossoms helps us to see beyond prison walls; it is as timely and as necessary as the day it was published."––Nikhil Pal Singh, founding faculty director of the NYU Prison Eduction Program, author of Race and America's Long War.
Title: Death Blossoms
Subtitle: Reflections from a Prisoner of Conscience, Expanded Edition
Author: Mumia Abu-Jamal
Foreword: Cornel West
Introduction by Mumia Abu-Jamal
Preface by Julia Wright
Publisher: City Lights Publishers
Tags: African American history, black lives matter, black panther party, death row, injustice, institutional injustice, mass incarceration, prison industrial complex, prison writing, racial injustice, U.S. political prisoners, white supremacy
Format: Paperback
ISBN-10 0872867978
ISBN-13 9780872867970
Publication Date; 12 November 2019
Main content page count 240
List Price $16.95
# new books
Mumia Abu-Jamal
Death Blossoms
Reflections from a Prisoner of Conscience
• fleursdumal.nl magazine
More in: #Editors Choice Archiv, - Book Lovers, - Book News, Archive A-B, Archive A-B, CRIME & PUNISHMENT, REPRESSION OF WRITERS, JOURNALISTS & ARTISTS
---
Older Entries »
Thank you for reading FLEURSDUMAL.NL - magazine for art & literature