FICTION & NON-FICTION – books, booklovers, lit. history, biography, essays, translations, short stories, columns, literature: celtic, beat, travesty, war, dada & de stijl, drugs, dead poets
·
Herman Melville: A Requiem. For Soldiers lost in Ocean Transports (Poem)
·
Gerard Manley Hopkins: Nightfall
·
Agnita Feis: De eer (gedicht)
·
Joe Hill's Last Will (Poem written in his cell on the eve of his execution)
·
Stranger Than Kindness: The Nick Cave Exhibition + Book
·
Friedrich Hölderlin: Brod und Wein (Gedicht)
·
Joan Murray: One Morganatic Leer (poem)
·
Raymond Garfield Dandridge: The Poet
·
Russian activist and artist, Yulia Tsvetkova, is facing six year sentence for drawing the female body
·
Marcel Schwob: Ta fine bouche est un fil rose… (Poème)
·
Gilbert Keith Chesterton: Nightmare (Poem)
·
Poetry by Keetje Kuipers: 'All Its Charms'
A Requiem
For Soldiers lost in Ocean Transports
When, after storms that woodlands rue,
To valleys comes atoning dawn,
The robins blithe their orchard-sports renew;
And meadow-larks, no more withdrawn
Caroling fly in the languid blue;
The while, from many a hid recess,
Alert to partake the blessedness,
The pouring mites their airy dance pursue.
So, after ocean's ghastly gales,
When laughing light of hoyden morning
breaks,
Every finny hider wakes–
From vaults profound swims up with
glittering scales;
Through the delightsome sea he sails,
With shoals of shining tiny things
Frolic on every wave that flings
Against the prow its showery spray;
All creatures joying in the morn,
Save them forever from joyance torn,
Whose bark was lost where now the
dolphins play;
Save them that by the fabled shore,
Down the pale stream are washed away,
Far to the reef of bones are borne;
And never revisits them the light,
Nor sight of long-sought land and pilot more;
Nor heed they now the lone bird's flight
Round the lone spar where mid-sea surges
pour.
Herman Melville
(1819 – 1891)
A Requiem
For Soldiers lost in Ocean Transports
•fleursdumal.nl magazine
More in: Archive M-N, Archive M-N, Herman Melville, WAR & PEACE
---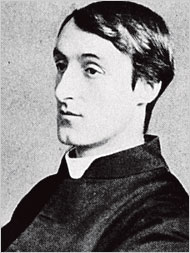 Nightfall
The times are nightfall, look, their light grows less;
The times are winter, watch, a world undone:
They waste, they wither worse; they as they run
Or bring more or more blazon man's distress.
And I not help. Nor word now of success:
All is from wreck, here, there, to rescue one –
Work which to see scarce so much as begun
Makes welcome death, does dear forgetfulness.
Or what is else? There is your world within.
There rid the dragons, root out there the sin.
Your will is law in that small commonweal . . .
Gerard Manley Hopkins
(1844 – 1889)
Nightfall
• fleursdumal.nl magazine
More in: Archive G-H, Archive G-H, CLASSIC POETRY, Hopkins, Gerard Manley
---
De eer.
t Is een
kanon.
't Is een
geweer….
Men schiet.
Men moordt:
Maar 't is
voor d'eer!
Men steekt
elkaar
een mes
in 't hart,
En zie
zoo'n daad
is wit,
niet zwart.
Want 't is
voor d'eer!
Men steelt.
Men brandt.
En zie
't is goed,
want 't is
voor 't land!
Vervloekt
die eer!
Vervloekt
dat land!
Vervloekt
de mensch!
Vervloekt
de hand,
die grijpt
naar 't zwaard,
die grijpt
naar d'eer,
die grijpt
in bloed.
Steeds meer.
Steeds weer.
Weg met
die eer!
Z'is voos!
Z'is rot!
Wat maakt
zij van
den mensch?
Een zot!
Agnita Feis
(1881 – 1944)
Uit: Oorlog. Verzen in Staccato (1916).
De eer
• fleursdumal.nl magazine
More in: *War Poetry Archive, Agnita Feis, Antony Kok, Archive E-F, De Stijl, Doesburg, Theo van, Feis, Agnita, Theo van Doesburg, Theo van Doesburg (I.K. Bonset), WAR & PEACE
---
Last Will
My will is easy to decide,
For there is nothing to divide.
My kind don't need to fuss and moan —
"Moss does not cling to a rolling stone."
My body? Ah, If I could choose,
I would to ashes it reduce,
And let the merry breezes blow
My dust to where some flowers grow.
Perhaps some fading flower then
Would come to life and bloom again.
This is my last and final will.
Good luck to all of you.
Joe Hill
(1879-1915)
Last Will
Written in his cell on the eve of his execution
Joe Hill was sentenced to death after being accused of the murder of two shopkeepers. His conviction is often disputed by historians. On November 18, 1915, one day before his execution, he wrote his last will. On that same day, he sent a telegram to fellow IWW member Bill Haywood, telling him: "Don't waste time mourning – Organize!"
• fleursdumal.nl magazine
More in: # Music Archive, - Archive Tombeau de la jeunesse, Archive G-H, Archive G-H, In Memoriam, Joe Hill
---
Stranger Than Kindness is a journey in images and words into the creative world of musician, storyteller and cultural icon Nick Cave.
This highly collectable book invites the reader into the innermost core of the creative process and paves the way for an entirely new and intimate meeting with the artist, presenting Cave's life, work and inspiration and exploring his many real and imagined universes. It features full colour reproductions of original artwork, handwritten lyrics, photographs and collected personal artefacts along with commentary and meditations from Nick Cave, Janine Barrand and Darcey Steinke.
Stranger Than Kindness asks what shapes our lives and makes us who we are, and celebrates the curiosity and power of the creative spirit.
The book has been developed and curated by Nick Cave in collaboration with Christina Back. The images were selected from 'Stranger Than Kindness: The Nick Cave Exhibition', opening at the Royal Danish Library in Copenhagen in March 2020.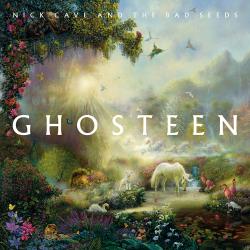 Nick Cave has been performing music for more than thirty years and is best known as the songwriter and lead singer of Nick Cave & The Bad Seeds, whose latest album Ghosteen was widely received as their best work ever. Cave's body of work also covers a wider range of media and modes of expression including film score composition and writing of novels. His recent Conversations events and Red Hand Files website have seen Cave exploring deeper and more direct relationships with his fans.
Stranger Than Kindness: The Nick Cave Exhibition
A journey into the creative world of musician, storyteller and cultural icon Nick Cave.
23 March 2020 – 3 October 2020
Exhibition in the Black Diamond Copenhagen
Stranger Than Kindness: The Nick Cave Exhibition
The Black Diamond – Royal Danish Library
Søren Kierkegaards Plads, Copenhagen, Denmark
Please check our website for a new opening date:
www.thenickcaveexhibition.com
The exhibition was developed and designed by Christina Back, Royal Danish Library and Janine Barrand, Arts Centre Melbourne in collaboration with Nick Cave for The Black Diamond, Copenhagen. It was curated and produced by Royal Danish Library in collaboration with the Australian Music Vault at Arts Centre Melbourne. The soundscapes were composed and recorded for the exhibition by Nick Cave and Warren Ellis.
The book: Stranger Than Kindness is a journey in images and words into the creative world of musician, storyteller and cultural icon Nick Cave.
This highly collectable book invites the reader into the innermost core of the creative process and paves the way for an entirely new and intimate meeting with the artist, presenting Cave's life, work and inspiration and exploring his many real and imagined universes.
Nick Cave
Stranger Than Kindness
Hardcover: 276 pages
Publisher: Canongate Books;
Main edition (23 Mar. 2020)
Language: English
ISBN-10: 1838852247
ISBN-13: 978-1838852245
Product Dimensions: 22 x 3 x 29 cm
£35.00
https://canongate.co.uk/
• fleursdumal.nl magazine
More in: # Music Archive, - Book News, - Bookstores, Archive C-D, Nick Cave, THEATRE
---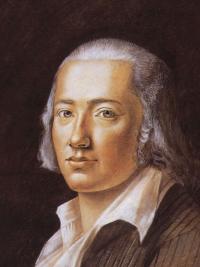 Brod und Wein
An Heinze
1
Rings um ruhet die Stadt; still wird die erleuchtete Gasse,
Und, mit Fakeln geschmükt, rauschen die Wagen hinweg.
Satt gehn heim von Freuden des Tags zu ruhen die Menschen,
Und Gewinn und Verlust wäget ein sinniges Haupt
Wohlzufrieden zu Haus; leer steht von Trauben und Blumen,
Und von Werken der Hand ruht der geschäfftige Markt.
Aber das Saitenspiel tönt fern aus Gärten; vieleicht, daß
Dort ein Liebendes spielt oder ein einsamer Mann
Ferner Freunde gedenkt und der Jugendzeit; und die Brunnen
Immerquillend und frisch rauschen an duftendem Beet.
Still in dämmriger Luft ertönen geläutete Gloken,
Und der Stunden gedenk rufet ein Wächter die Zahl.
Jezt auch kommet ein Wehn und regt die Gipfel des Hains auf,
Sieh! und das Schattenbild unserer Erde, der Mond
Kommet geheim nun auch; die Schwärmerische, die Nacht kommt,
Voll mit Sternen und wohl wenig bekümmert um uns,
Glänzt die Erstaunende dort, die Fremdlingin unter den Menschen
Über Gebirgeshöhn traurig und prächtig herauf.
2
Wunderbar ist die Gunst der Hocherhabnen und niemand
Weiß von wannen und was einem geschiehet von ihr.
So bewegt sie die Welt und die hoffende Seele der Menschen,
Selbst kein Weiser versteht, was sie bereitet, denn so
Will es der oberste Gott, der sehr dich liebet, und darum
Ist noch lieber, wie sie, dir der besonnene Tag.
Aber zuweilen liebt auch klares Auge den Schatten
Und versuchet zu Lust, eh′ es die Noth ist, den Schlaf,
Oder es blikt auch gern ein treuer Mann in die Nacht hin,
Ja, es ziemet sich ihr Kränze zu weihn und Gesang,
Weil den Irrenden sie geheiliget ist und den Todten,
Selber aber besteht, ewig, in freiestem Geist.
Aber sie muß uns auch,daß in der zaudernden Weile,
Daß im Finstern für uns einiges Haltbare sei,
Uns die Vergessenheit und das Heiligtrunkene gönnen,
Gönnen das strömende Wort, das, wie die Liebenden, sei,
Schlummerlos und vollern Pokal und kühneres Leben,
Heilig Gedächtniß auch, wachend zu bleiben bei Nacht.
3
Auch verbergen umsonst das Herz im Busen, umsonst nur
Halten den Muth noch wir, Meister und Knaben, denn wer
Möcht′ es hindern und wer möcht′ uns die Freude verbieten?
Göttliches Feuer auch treibet, bei Tag und bei Nacht,
Aufzubrechen. So komm! daß wir das Offene schauen,
Daß ein Eigenes wir suchen, so weit es auch ist.
Fest bleibt Eins; es sei um Mittag oder es gehe
Bis in die Mitternacht, immer bestehet ein Maas,
Allen gemein, doch jeglichem auch ist eignes beschieden,
Dahin gehet und kommt jeder, wohin er es kann.
Drum! und spotten des Spotts mag gern frohlokkender Wahnsinn,
Wenn er in heiliger Nacht plözlich die Sänger ergreift.
Drum an den Isthmos komm! dorthin, wo das offene Meer rauscht
Am Parnaß und der Schnee delphische Felsen umglänzt,
Dort ins Land des Olymps, dort auf die Höhe Cithärons,
Unter die Fichten dort, unter die Trauben, von wo
Thebe drunten und Ismenos rauscht im Lande des Kadmos,
Dorther kommt und zurük deutet der kommende Gott.
4
Seeliges Griechenland! du Haus der Himmlischen alle,
Also ist wahr, was einst wir in der Jugend gehört?
Festlicher Saal! der Boden ist Meer! und Tische die Berge,
Wahrlich zu einzigem Brauche vor Alters gebaut!
Aber die Thronen, wo? die Tempel, und wo die Gefäße,
Wo mit Nectar gefüllt, Göttern zu Lust der Gesang?
Wo, wo leuchten sie denn, die fernhintreffenden Sprüche?
Delphi schlummert und wo tönet das große Geschik?
Wo ist das schnelle? wo brichts, allgegenwärtigen Glüks voll
Donnernd aus heiterer Luft über die Augen herein?
Vater Aether! so riefs und flog von Zunge zu Zunge
Tausendfach, es ertrug keiner das Leben allein;
Ausgetheilet erfreut solch Gut und getauschet, mit Fremden,
Wirds ein Jubel, es wächst schlafend des Wortes Gewalt
Vater! heiter! und hallt, so weit es gehet, das uralt
Zeichen, von Eltern geerbt, treffend und schaffend hinab.
Denn so kehren die Himmlischen ein, tiefschütternd gelangt so
Aus den Schatten herab unter die Menschen ihr Tag.
5
Unempfunden kommen sie erst, es streben entgegen
Ihnen die Kinder, zu hell kommet, zu blendend das Glük,
Und es scheut sie der Mensch, kaum weiß zu sagen ein Halbgott,
Wer mit Nahmen sie sind, die mit den Gaaben ihm nahn.
Aber der Muth von ihnen ist groß, es füllen das Herz ihm
Ihre Freuden und kaum weiß er zu brauchen das Gut,
Schafft, verschwendet und fast ward ihm Unheiliges heilig,
Das er mit seegnender Hand thörig und gütig berührt.
Möglichst dulden die Himmlischen diß; dann aber in Wahrheit
Kommen sie selbst und gewohnt werden die Menschen des Glüks
Und des Tags und zu schaun die Offenbaren, das Antliz
Derer, welche, schon längst Eines und Alles genannt,
Tief die verschwiegene Brust mit freier Genüge gefüllet,
Und zuerst und allein alles Verlangen beglükt;
So ist der Mensch; wenn da ist das Gut, und es sorget mit Gaaben
Selber ein Gott für ihn, kennet und sieht er es nicht.
Tragen muß er, zuvor; nun aber nennt er sein Liebstes,
Nun, nun müssen dafür Worte, wie Blumen, entstehn.
6
Und nun denkt er zu ehren in Ernst die seeligen Götter,
Wirklich und wahrhaft muß alles verkünden ihr Lob.
Nichts darf schauen das Licht, was nicht den Hohen gefället,
Vor den Aether gebührt müßigversuchendes nicht.
Drum in der Gegenwart der Himmlischen würdig zu stehen,
Richten in herrlichen Ordnungen Völker sich auf
Untereinander und baun die schönen Tempel und Städte
Vest und edel, sie gehn über Gestaden empor –
Aber wo sind sie? wo blühn die Bekannten, die Kronen des Festes?
Thebe welkt und Athen; rauschen die Waffen nicht mehr
In Olympia, nicht die goldnen Wagen des Kampfspiels,
Und bekränzen sich denn nimmer die Schiffe Korinths?
Warum schweigen auch sie, die alten heilgen Theater?
Warum freuet sich denn nicht der geweihete Tanz?
Warum zeichnet, wie sonst, die Stirne des Mannes ein Gott nicht,
Drükt den Stempel, wie sonst, nicht dem Getroffenen auf?
Oder er kam auch selbst und nahm des Menschen Gestalt an
Und vollendet′ und schloß tröstend das himmlische Fest.
7
Aber Freund! wir kommen zu spät. Zwar leben die Götter,
Aber über dem Haupt droben in anderer Welt.
Endlos wirken sie da und scheinens wenig zu achten,
Ob wir leben, so sehr schonen die Himmlischen uns.
Denn nicht immer vermag ein schwaches Gefäß sie zu fassen,
Nur zu Zeiten erträgt göttliche Fülle der Mensch.
Traum von ihnen ist drauf das Leben. Aber das Irrsaal
Hilft, wie Schlummer und stark machet die Noth und die Nacht,
Biß daß Helden genug in der ehernen Wiege gewachsen,
Herzen an Kraft, wie sonst, ähnlich den Himmlischen sind.
Donnernd kommen sie drauf. Indessen dünket mir öfters
Besser zu schlafen, wie so ohne Genossen zu seyn,
So zu harren und was zu thun indeß und zu sagen,
Weiß ich nicht und wozu Dichter in dürftiger Zeit?
Aber sie sind, sagst du, wie des Weingotts heilige Priester,
Welche von Lande zu Land zogen in heiliger Nacht.
8
Nemlich, als vor einiger Zeit, uns dünket sie lange,
Aufwärts stiegen sie all, welche das Leben beglükt,
Als der Vater gewandt sein Angesicht von den Menschen,
Und das Trauern mit Recht über der Erde begann,
Als erschienen zu lezt ein stiller Genius, himmlisch
Tröstend, welcher des Tags Ende verkündet′ und schwand,
Ließ zum Zeichen, daß einst er da gewesen und wieder
Käme, der himmlische Chor einige Gaaben zurük,
Derer menschlich, wie sonst, wir uns zu freuen vermöchten,
Denn zur Freude, mit Geist, wurde das Größre zu groß
Unter den Menschen und noch, noch fehlen die Starken zu höchsten
Freuden, aber es lebt stille noch einiger Dank.
Brod ist der Erde Frucht, doch ists vom Lichte geseegnet,
Und vom donnernden Gott kommet die Freude des Weins.
Darum denken wir auch dabei der Himmlischen, die sonst
Da gewesen und die kehren in richtiger Zeit,
Darum singen sie auch mit Ernst die Sänger den Weingott
Und nicht eitel erdacht tönet dem Alten das Lob.
9
Ja! sie sagen mit Recht, er söhne den Tag mit der Nacht aus,
Führe des Himmels Gestirn ewig hinunter, hinauf,
Allzeit froh, wie das Laub der immergrünenden Fichte,
Das er liebt, und der Kranz, den er von Epheu gewählt,
Weil er bleibet und selbst die Spur der entflohenen Götter
Götterlosen hinab unter das Finstere bringt.
Was der Alten Gesang von Kindern Gottes geweissagt,
Siehe! wir sind es, wir; Frucht von Hesperien ists!
Wunderbar und genau ists als an Menschen erfüllet,
Glaube, wer es geprüft! aber so vieles geschieht,
Keines wirket, denn wir sind herzlos, Schatten, bis unser
Vater Aether erkannt jeden und allen gehört.
Aber indessen kommt als Fakelschwinger des Höchsten
Sohn, der Syrier, unter die Schatten herab.
Seelige Weise sehns; ein Lächeln aus der gefangnen
Seele leuchtet, dem Licht thauet ihr Auge noch auf.
Sanfter träumet und schläft in Armen der Erde der Titan,
Selbst der neidische, selbst Cerberus trinket und schläft.
Friedrich Hölderlin
(1770 – 1843)
Brod und Wein
Gedicht
• fleursdumal.nl magazine
More in: Archive G-H, Archive G-H, Hölderlin, Friedrich
---
One Morganatic Leer
You think you complain
of the ugliness of people.
Meet your own bed.
Smell what you said.
Your words, unmitigated, dead,
Sink like a noon sun in the crass tomb
beneath the steeple.
Two feet above the sand,
look down
A tartan shore,
A clan, a clack, a whore,
A mobile open door,
To the dog against the tree,
the brittle mugging clown.
Claws like tumbled fingers here
Stand for hands,
Elastic bands,
Minds and trends.
Thighs sprout here enough to breed
the honor of your morganatic leer.
Joan Murray
(1917-1942)
One Morganatic Leer
from: Poems (1947)
• fleursdumal.nl magazine
More in: Archive M-N, Archive M-N, Joan Murray
---
The Poet
The poet sits and dreams and dreams;
He scans his verse; he probes his themes.
Then turns to stretch or stir about,
Lest, like his thoughts, his strength give out.
Then off to bed, for he must rise
And cord some wood, or tamp some ties,
Or break a field of fertile soil,
Or do some other manual toil.
He dare not live by wage of pen,
Most poorly paid of poor paid men,
With shoes o'er-run, and threadbare clothes,—
And editors among the foes
Who mock his song, deny him bread,
Then sing his praise when he is dead.
Raymond Garfield Dandridge
(1882 – 1930)
The Poet
• fleursdumal.nl magazine
More in: Archive C-D, Archive C-D, CLASSIC POETRY
---
Russian activist and artist, Yulia Tsvetkova, is facing prosecution and harassment for defending women's and LGBTI rights.
She has been under house arrest since 22 November, under absurd charges of "production and dissemination of pornography" for her drawings of the female body. She is facing up to six years in prison if convicted. Yulia Tsvetkova is a prisoner of conscience and must be immediately and unconditionally released.
Yulia Tsvetkova is an LGBTI and women's rights activist, artist and stage director, from Komsomolsk-on-Amur, the Russian Far East.
She was detained on 20 November 2019 and put on house arrest two days later, after being charged with the "production and dissemination of pornographic materials", for making body positive drawings of the female body and sharing them on social media.
Her drawings included pictures of female reproductive organs, and she shared them online as part of her women's empowerment campaign.
On the day of her arrest, police searched Yulia's apartment and the children's educational club where she worked previously. The police seized her electronic devices, documents, and brochures on gender issues. Yulia later said that during the search police officers referred to her as a "lesbian, sex trainer and propagandist leader".
Yulia has been the target of an overtly homophobic campaign since March 2019, when she was forced to leave Merak, the amateur youth theatre company she worked at, after police launched an investigation into alleged "propaganda of non-traditional sexual relations among minors".
The investigation was launched in reaction to Yulia's anti-bullying, anti-discrimination play, Blue and Pink.
On 11 December 2019 Yulia was found guilty of "propaganda of non-traditional sexual relations among minors", and fined 50,000 rubles (approximately 600 GBP), for serving as the administrator of two LGBTI online communities on the popular Russian social media site, VKontakte.
Both of the online communities were properly marked as "18+", as required by Russian law. Even under the confines of the homophobic Russian "gay propaganda" legislation, the "offence" should only be valid if the "propaganda" material is targeted at people under the age of 18.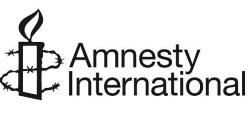 On 17 January, Yulia informed the media that new proceedings had been opened against her, under the same Article of the Code of Administrative Offences that she had previously been charged under. This time she was being prosecuted for posting a drawing she made depicting two same-sex couples with child on social media, alongside the statement, "Family is where love is. Support LGBT+ families".
She published the drawing in support of a same-sex couple who were forced to flee Russia with their adopted children after authorities threatened to remove their children from their custody.
# visit Website Amnesty International UK for more information and urgent actions
# support amnesty international
# take urgent action now
• fleursdumal.nl magazine
More in: Archive S-T, Art & Literature News, AUDIO, CINEMA, RADIO & TV, Illustrators, Illustration, MUSEUM OF PUBLIC PROTEST, PRESS & PUBLISHING, REPRESSION OF WRITERS, JOURNALISTS & ARTISTS, THEATRE, Urban Art
---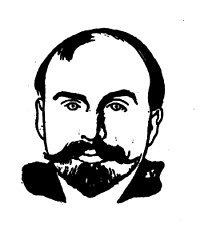 Ta fine bouche est un fil rose…
Ta fine bouche est un fil rose
Tendu sur un masque de soie,
Ta chevelure qui s'éploie,
Est-ce un arc-en-ciel qui se pose?
Tes yeux noirs ont un coeur vermeil
Pailleté d'or et de rubis,
Ce sont deux boucliers fourbis
Avec des gouttes de soleil.
Ton souple corps est une tige
Flexible d'aubépine blanche,
Le svelte ruban de la branche
D'une liane qui voltige.
Tes seins crémeux sont deux cocons
Pomponnés de satin grenat,
Avec deux bourgeons d'incarnat
Crevant la neige des flocons.
Ton ventre comme une cuirasse
Couverte de moire argentée
D'une javeline plantée
A son coeur garde la trace.
Tes deux mains sont les coques d'or
D'une grenade au sein creusé
Où brille d'un éclat rosé
Le chapelet des grains qui dort.
Ta fine bouche est un fil rose
Tendu sur un masque de moire;
Au coeur d'une houppette noire,
C'est un calice qui repose.
Ces deux gouttelettes de pluie
Qu'un nuage pleura pour toi,
Ta petite main les essuie:
Mon coeur, je veux savoir pourquoi.
Ce n'est qu'une gaminerie:
Il ne faut pas pleurer, mon coeur;
Ne pleure pas, ô ma chérie –
La pluie est un amant moqueur.
Elle aime les plantes, et tresse
Le tercet du trèfle en quatrain,
Et sous son humide caresse
Fait craquer le corset du grain.
Elle aime les arbres, et tisse
Aux vieux de moussus corselets,
Aux jeunes une robe lisse
Pour draper leurs bras maigrelets.
Marcel Schwob
(1867-1905)
Ta fine bouche est un fil rose…
Portrait: Félix Vallotton
• fleursdumal.nl magazine
More in: Archive S-T, Archive S-T, Félix Vallotton, Marcel Schwob
---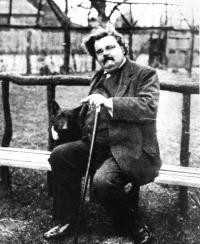 Nightmare
The silver and violet leopard of the night
Spotted with stars and smooth with silence sprang;
And though three doors stood open, the end of light
Closed like a trap; and stillness was a clang.
Under the leopard sky of lurid stars
I strove with evil sleep the hot night long,
Dreams dumb and swollen of triumphs without wars,
Of tongueless trumpet and unanswering gong.
I saw a pale imperial pomp go by,
Helmet and hornèd mitre and heavy wreath;
Their high strange ensigns hung upon the sky
And their great shields were like the doors of death.
Their mitres were as moving pyramids
And all their crowns as marching towers were tall;
Their eyes were cold under their carven lids
And the same carven smile was on them all.
Over a paven plain that seemed unending
They passed unfaltering till it found an end
In one long shallow step; and these descending
Fared forth anew as long away to wend.
I thought they travelled for a thousand years;
And at the end was nothing for them all,
For all that splendour of sceptres and of spears,
But a new step, another easy fall.
The smile of stone seemed but a little less,
The load of silver but a little more:
And ever was that terraced wilderness
And falling plain paved like a palace floor.
Rust red as gore crawled on their arms of might
And on their faces wrinkles and not scars:
Till the dream suddenly ended; noise and light
Loosened the tyranny of the tropic stars.
But over them like a subterranean sun
I saw the sign of all the fiends that fell;
And a wild voice cried "Hasten and be done,
Is there no steepness in the stairs of hell?"
He that returns, He that remains the same,
Turned the round real world, His iron vice;
Down the grey garden paths a bird called twice,
And through three doors mysterious daylight came.
Gilbert Keith Chesterton
(1874 – 1936)
Nightmare
• fleursdumal.nl magazine
More in: Archive C-D, Archive C-D, Chesterton, Gilbert Keith, G.K. Chesterton
---
A luminous new collection from Keetje Kuipers, All Its Charms is a fearless and transformative reckoning of identity.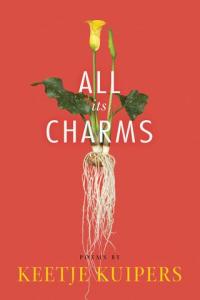 By turns tender and raw, these poems chronicle Kuipers's decision to become a single mother by choice, her marriage to the woman she first fell in love with more than a decade before giving birth to her daughter, and her family's struggle to bring another child into their lives. All Its Charms is about much more than the reinvention of the American family—it's about transformation, desire, and who we can become when we move past who we thought we would be.
Keetje Kuipers is the author of three books of poems: Beautiful in the Mouth, The Keys to the Jail, and, most recently, All Its Charms, which includes poems honored by publication in both The Pushcart Prize and Best American Poetry anthologies. 
Her poetry and prose have appeared in Narrative, Virginia Quarterly Review, The New York Times Magazine, The Believer, and over a hundred other magazines. Her poems have also been featured as part of the Academy of American Poets' Poem-a-Day series and read on NPR. Keetje has been a Stegner Fellow, a Bread Loaf fellow, and PEN Northwest's Margery Davis Boyden Wilderness Writing Resident. She lives with her wife and children on an island in the Salish Sea, a short ferry ride away from Seattle where she is Editor of Poetry Northwest.
(. . .)
I climbed the red rocks robed in their red dust.
I put the earth—all its charms—within me,
into each waiting pocket. Lip and ear.
What will happen when my body can no longer
hold this fragrant salt, its hardened tears,
inside? Let mine into the dirt. The names
I've chosen for my children are already fast
across the sky like the ochre feathers that frame
the blackbird's shrug.
(. . .)
Fragment of 'Landscape with Sage and the Names of My Children'
All Its Charms
By: Keetje Kuipers
Language: English
Paperback: 112 pages
Publisher: BOA Editions Ltd.
Publication Date: April 23, 2019
ISBN-10: 1942683766
ISBN-13: 978-1942683766
Regular price $ 17.00
# new poetry
Keetje Kuipers:
All Its Charms
• fleursdumal.nl magazine
More in: - Book News, Archive K-L, Archive K-L, MODERN POETRY
---
Older Entries »
Thank you for reading FLEURSDUMAL.NL - magazine for art & literature