TOMBEAU DE LA JEUNESSE – early death: writers, poets & artists who died young
·
Les étrennes des orphelins par Arthur Rimbaud (Poème)
·
Georg Trakl: Menschliches Elend (Gedicht)
·
Anne Brontë: Music on Christmas Morning
·
Georg Trakl: Menschheit (Gedicht)
·
Gladys Cromwell: Approach (Poem)
·
Will Streets: A Lark Above the Trenches 1916 (Poem)
·
Gladys Cromwell: Folded Power (Poem)
·
Georg Trakl: An meine Schwester (Gedicht)
·
Will Streets: A Soldier's Funeral (Poem)
·
Georg Trakl: Nähe des Todes (Gedicht)
·
Gladys Cromwell: Autumn Communion (Poem)
·
Will Streets: Comrades (Poem)
Les étrennes des orphelins
I
La chambre est pleine d'ombre ; on entend vaguement
De deux enfants le triste et doux chuchotement.
Leur front se penche, encore alourdi par le rêve,
Sous le long rideau blanc qui tremble et se soulève…
– Au dehors les oiseaux se rapprochent frileux ;
Leur aile s'engourdit sous le ton gris des cieux ;
Et la nouvelle Année, à la suite brumeuse,
Laissant traîner les plis de sa robe neigeuse,
Sourit avec des pleurs, et chante en grelottant…
II
Or les petits enfants, sous le rideau flottant,
Parlent bas comme on fait dans une nuit obscure.
Ils écoutent, pensifs, comme un lointain murmure…
Ils tressaillent souvent à la claire voix d'or
Du timbre matinal, qui frappe et frappe encor
Son refrain métallique en son globe de verre…
– Puis, la chambre est glacée… on voit traîner à terre,
Épars autour des lits, des vêtements de deuil
L'âpre bise d'hiver qui se lamente au seuil
Souffle dans le logis son haleine morose !
On sent, dans tout cela, qu'il manque quelque chose…
– Il n'est donc point de mère à ces petits enfants,
De mère au frais sourire, aux regards triomphants ?
Elle a donc oublié, le soir, seule et penchée,
D'exciter une flamme à la cendre arrachée,
D'amonceler sur eux la laine et l'édredon
Avant de les quitter en leur criant : pardon.
Elle n'a point prévu la froideur matinale,
Ni bien fermé le seuil à la bise hivernale ?…
– Le rêve maternel, c'est le tiède tapis,
C'est le nid cotonneux où les enfants tapis,
Comme de beaux oiseaux que balancent les branches,
Dorment leur doux sommeil plein de visions blanches !…
– Et là, – c'est comme un nid sans plumes, sans chaleur,
Où les petits ont froid, ne dorment pas, ont peur ;
Un nid que doit avoir glacé la bise amère…
III
Votre coeur l'a compris : – ces enfants sont sans mère.
Plus de mère au logis ! – et le père est bien loin !…
– Une vieille servante, alors, en a pris soin.
Les petits sont tout seuls en la maison glacée ;
Orphelins de quatre ans, voilà qu'en leur pensée
S'éveille, par degrés, un souvenir riant…
C'est comme un chapelet qu'on égrène en priant :
– Ah ! quel beau matin, que ce matin des étrennes !
Chacun, pendant la nuit, avait rêvé des siennes
Dans quelque songe étrange où l'on voyait joujoux,
Bonbons habillés d'or, étincelants bijoux,
Tourbillonner, danser une danse sonore,
Puis fuir sous les rideaux, puis reparaître encore !
On s'éveillait matin, on se levait joyeux,
La lèvre affriandée, en se frottant les yeux…
On allait, les cheveux emmêlés sur la tête,
Les yeux tout rayonnants, comme aux grands jours de fête,
Et les petits pieds nus effleurant le plancher,
Aux portes des parents tout doucement toucher…
On entrait !… Puis alors les souhaits… en chemise,
Les baisers répétés, et la gaîté permise !
IV
Ah ! c'était si charmant, ces mots dits tant de fois !
– Mais comme il est changé, le logis d'autrefois :
Un grand feu pétillait, clair, dans la cheminée,
Toute la vieille chambre était illuminée ;
Et les reflets vermeils, sortis du grand foyer,
Sur les meubles vernis aimaient à tournoyer…
– L'armoire était sans clefs !… sans clefs, la grande armoire !
On regardait souvent sa porte brune et noire…
Sans clefs !… c'était étrange !… on rêvait bien des fois
Aux mystères dormant entre ses flancs de bois,
Et l'on croyait ouïr, au fond de la serrure
Béante, un bruit lointain, vague et joyeux murmure…
– La chambre des parents est bien vide, aujourd'hui
Aucun reflet vermeil sous la porte n'a lui ;
Il n'est point de parents, de foyer, de clefs prises :
Partant, point de baisers, point de douces surprises !
Oh ! que le jour de l'an sera triste pour eux !
– Et, tout pensifs, tandis que de leurs grands yeux bleus,
Silencieusement tombe une larme amère,
Ils murmurent : » Quand donc reviendra notre mère ? »
V
Maintenant, les petits sommeillent tristement :
Vous diriez, à les voir, qu'ils pleurent en dormant,
Tant leurs yeux sont gonflés et leur souffle pénible !
Les tout petits enfants ont le coeur si sensible !
– Mais l'ange des berceaux vient essuyer leurs yeux,
Et dans ce lourd sommeil met un rêve joyeux,
Un rêve si joyeux, que leur lèvre mi-close,
Souriante, semblait murmurer quelque chose…
– Ils rêvent que, penchés sur leur petit bras rond,
Doux geste du réveil, ils avancent le front,
Et leur vague regard tout autour d'eux se pose…
Ils se croient endormis dans un paradis rose…
Au foyer plein d'éclairs chante gaîment le feu…
Par la fenêtre on voit là-bas un beau ciel bleu ;
La nature s'éveille et de rayons s'enivre…
La terre, demi-nue, heureuse de revivre,
A des frissons de joie aux baisers du soleil…
Et dans le vieux logis tout est tiède et vermeil
Les sombres vêtements ne jonchent plus la terre,
La bise sous le seuil a fini par se taire …
On dirait qu'une fée a passé dans cela ! …
– Les enfants, tout joyeux, ont jeté deux cris… Là,
Près du lit maternel, sous un beau rayon rose,
Là, sur le grand tapis, resplendit quelque chose…
Ce sont des médaillons argentés, noirs et blancs,
De la nacre et du jais aux reflets scintillants ;
Des petits cadres noirs, des couronnes de verre,
Ayant trois mots gravés en or : » A NOTRE MÈRE ! «
Arthur Rimbaud
(1854 – 1891)
Les étrennes des orphelins
Poème
• fleursdumal.nl magazine
More in: Archive Q-R, Archive Q-R, Arthur Rimbaud, Rimbaud, Arthur, Rimbaud, Arthur
---
Menschliches Elend
Die Uhr, die vor der Sonne fünfe schlägt —
Einsame Menschen packt ein dunkles Grausen,
Im Abendgarten kahle Bäume sausen.
Des Toten Antlitz sich am Fenster regt.
Vielleicht, daß diese Stunde stille steht.
Vor trüben Augen blaue Bilder gaukeln
Im Takt der Schiffe, die am Flusse schaukeln.
Am Kai ein Schwesternzug vorüberweht.
Im Hasel spielen Mädchen blaß und blind,
Wie Liebende, die sich im Schlaf umschlingen.
Vielleicht, daß um ein Aas dort Fliegen singen,
Vielleicht auch weint im Mutterschoß ein Kind.
Aus Händen sinken Astern blau und rot,
Des Jünglings Mund entgleitet fremd und weise;
Und Lider flattern angstverwirrt und leise;
Durch Fieberschwärze weht ein Duft von Brot.
Es scheint, man hört auch gräßliches Geschrei;
Gebeine durch verfallne Mauern schimmern.
Ein böses Herz lacht laut in schönen Zimmern;
An einem Träumer läuft ein Hund vorbei.
Ein leerer Sarg im Dunkel sich verliert.
Dem Mörder will ein Raum sich bleich erhellen,
Indes Laternen nachts im Sturm zerschellen.
Des Edlen weiße Schläfe Lorbeer ziert.
Georg Trakl
(1887 – 1914)
Menschliches Elend
• fleursdumal.nl magazine
More in: - Archive Tombeau de la jeunesse, Archive S-T, Trakl, Georg, Trakl, Georg, WAR & PEACE
---
Music on Christmas Morning
'Music I love – but never strain
Could kindle raptures so divine,
So grief assuage, so conquer pain,
And rouse this pensive heart of mine –
As that we hear on Christmas morn,
Upon the wintry breezes born.
Though Darkness still her empire keep,
And hours must pass, ere morning break;
From troubled dreams, or slumbers deep,
That music kindly bids us wake:
It calls us, with an angel's voice,
To wake, and worship, and rejoice;
To greet with joy the glorious morn,
Which angels welcomed long ago,
When our redeeming Lord was born,
To bring the light of Heaven below;
The Powers of Darkness to dispel,
And rescue Earth from Death and Hell.
While listening to that sacred strain,
My raptured spirit soars on high;
I seem to hear those songs again
Resounding through the open sky,
That kindled such divine delight,
In those who watched their flocks by night.
With them – I celebrate His birth –
Glory to God, in highest Heaven,
Good will to men, and peace on Earth,
To us a saviour-king is given;
Our God is come to claim His own,
And Satan's power is overthrown!
A sinless God, for sinful men,
Descends to suffer and to bleed;
Hell must renounce its empire then;
The price is paid, the world is freed.
And Satan's self must now confess,
That Christ has earned a Right to bless:
Now holy Peace may smile from heaven,
And heavenly Truth from earth shall spring:
The captive's galling bonds are riven,
For our Redeemer is our king;
And He that gave his blood for men
Will lead us home to God again.'
Anne Brontë
(1820 – 1849)
Music on Christmas Morning (1843)
Anne Brontë (1820 – 1849) was an English novelist and poet, the youngest member of the Brontë literary family. Charlotte (1816–1855) and Emily Brontë (1818–1848) were her sisters.
• fleursdumal.nl magazine
More in: Anne, Emily & Charlotte Brontë, Archive A-B, Archive A-B, Brontë, Anne, Emily & Charlotte
---
Menschheit
Menschheit vor Feuerschlünden aufgestellt,
Ein Trommelwirbel, dunkler Krieger Stirnen,
Schritte durch Blutnebel; schwarzes Eisen schellt,
Verzweiflung, Nacht in traurigen Gehirnen:
Hier Evas Schatten, Jagd und rotes Geld.
Gewölk, das Licht durchbricht, das Abendmahl.
Es wohnt in Brot und Wein ein sanftes Schweigen
Und jene sind versammelt zwölf an Zahl.
Nachts schrein im Schlaf sie unter Ölbaumzweigen;
Sankt Thomas taucht die Hand ins Wundenmal.
Georg Trakl
(1887 – 1914)
Menschheit, 1913
• fleursdumal.nl magazine
More in: - Archive Tombeau de la jeunesse, Archive S-T, Trakl, Georg, Trakl, Georg, WAR & PEACE
---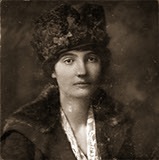 Approach
Apparelled in a mask of joy till now,
I knew thee not. Asleep, I see thy face
More simply. Sorrow s leisure lets me trace
The nicer lines. Thy sealed lids, thy brow,
Thy lasting posture, purposes avow ;
In thy spent form resides a moveless grace.
A pageant was thy life, and in its place
I find a truth to feed and to endow
My heart. Thy wonted mask of joy belied
The meaning death s bare attitude makes clear.
From living gesture thought went often wide,
And I was poor interpreter ; but here,
Where it would seem our thoughts anew divide,
The steady silence draws thy spirit near.
Gladys Cromwell
(1885-1919)
Approach
From: Songs of the Dust, 1915
• fleursdumal.nl magazine
More in: Archive C-D, Archive C-D, Cromwell, Gladys, Gladys Cromwell
---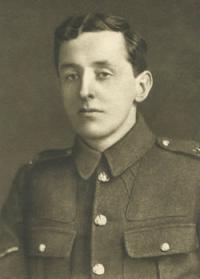 A Lark Above the Trenches 1916
Hushed is the shriek of hurtling shells: and hark!
Somewhere within that bit of soft blue sky-
Grand in his loneliness, his ecstasy,
His lyric wild and free – carols a lark.
I in the trench, he lost in heaven afar,
I dream of Love, its ecstasy he sings;
Doth lure my soul to love till like a star
It flashes into Life: O tireless wings
That beat love's message into melody –
A song that touches in this place remote
Gladness supreme in its undying note
And stirs to life the soul of memory –
'Tis strange that while you're beating into life
Men here below and plunged in sanguine strife!
John William (Will) Streets
(1886 –1916)
A Lark Above the Trenches 1916
• fleursdumal.nl magazine
More in: - Archive Tombeau de la jeunesse, Archive S-T, Natural history, Streets, Will, WAR & PEACE
---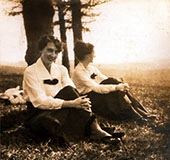 Folded Power
Sorrow can wait,
For there is magic in the calm estate
Of grief; lo, where the dust complies
Wisdom lies.
Sorrow can rest,
Indifferent, with her head upon her breast;
Idle and hushed, guarded from fears;
Content with tears.
Sorrow can bide,
With sealèd lids and hands unoccupied.
Sorrow can fold her latent might,
Dwelling with night.
But Sorrow will rise
From her dream of sombre and hushed eternities.
Lifting a Child, she will softly move
With a mother's love.
She will softly rise.
Her embrace the dying will recognize,
Lifting them gently through strange delight
To a clearer light.
Gladys Cromwell
(1885-1919)
Folded Power
• fleursdumal.nl magazine
More in: Archive C-D, Cromwell, Gladys, Gladys Cromwell
---
An meine Schwester
Wo du gehst wird Herbst und Abend,
Blaues Wild, das unter Bäumen tönt,
Einsamer Weiher am Abend.
Leise der Flug der Vögel tönt,
Die Schwermut über deinen Augenbogen.
Dein schmales Lächeln tönt.
Gott hat deine Lider verbogen.
Sterne suchen nachts Karfreitagskind
Deinen Stirnenbogen.
Georg Trakl
(1887 – 1914)
An meine Schwester, 1913
• fleursdumal.nl magazine
More in: - Archive Tombeau de la jeunesse, Archive S-T, Trakl, Georg, Trakl, Georg, WAR & PEACE
---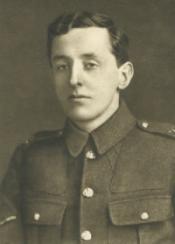 A Soldier's Funeral
No splendid show of solemn funeral rite,
No stricken mourners following his bier,
No peal of organ reaching thro' his night,
Is rendered him whom now we bury here.
'Tis but a soldier stricken in the fight,
A youth who flung his passion into life,
Flung scorn at Death, fought true for Freedom's might,
Till Death did close his vision in the strife.
No splendid rite is here – yet lay him low,
Ye comrades of his youth he fought beside,
Close where the winds do sigh and wild flowers grow,
Where the sweet brook doth babble by his side.
No splendour, yet we lay him tenderly
To rest, his requiem the artillery.
John William (Will) Streets
(1886 –1916)
A Soldier's Funeral
• fleursdumal.nl magazine
More in: - Archive Tombeau de la jeunesse, Archive S-T, Streets, Will, WAR & PEACE
---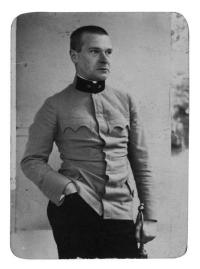 Nähe des Todes
O der Abend, der in die finsteren Dörfer der Kindheit geht.
Der Weiher unter den Weiden
Füllt sich mit den verpesteten Seufzern der Schwermut.
O der Wald, der leise die braunen Augen senkt,
Da aus des Einsamen knöchernen Händen
Der Purpur seiner verzückten Tage hinsinkt.
O die Nähe des Todes. Laß uns beten.
Jn dieser Nacht lösen auf lauen Kissen
Vergilbt von Weihrauch sich der Liebenden schmächtige Glieder.
Georg Trakl
(1887 – 1914)
Nähe des Todes
• fleursdumal.nl magazine
More in: - Archive Tombeau de la jeunesse, Archive S-T, Trakl, Georg, Trakl, Georg, WAR & PEACE
---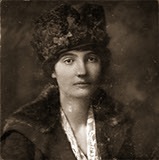 Autumn Communion
This autumn afternoon
My fancy need invent
No untried sacrament.
Man can still commune
With Beauty as of old:
The tree, the wind's lyre,
The whirling dust, the fire—
In these my faith is told.
Beauty warms us all;
When horizons crimson burn,
We hold heaven's cup in turn.
The dry leaves gleaming fall,
Crumbs of mystical bread;
My dole of Beauty I break,
Love to my lips I take,
And fear is quieted.
The symbols of old are made new:
I watch the reeds and the rushes,
The spruce trees dip their brushes
In the mountain's dusky blue;
The sky is deep like a pool;
A fragrance the wind brings over
Is warm like hidden clover,
Though the wind itself is cool.
Across the air, between
The stems and the grey things,
Sunlight a trellis flings.
In quietude I lean:
I hear the lifting zephyr
Soft and shy and wild;
And I feel earth gentle and mild
Like the eyes of a velvet heifer.
Love scatters and love disperses.
Lightly the orchards dance
In a lovely radiance.
Down sloping terraces
They toss their mellow fruits.
The rhythmic wind is sowing,
Softly the floods are flowing
Between the twisted roots.
What Beauty need I own
When the symbol satisfies?
I follow services
Of tree and cloud and stone.
Color floods the world;
I am swayed by sympathy;
Love is a litany
In leaf and cloud unfurled.
Gladys Cromwell
(1885-1919)
Autumn Communion
• fleursdumal.nl magazine
More in: Archive C-D, Cromwell, Gladys, Gladys Cromwell
---
Comrades
Those whom I've known, admired, ardently friended
Lie silent there wrapp'd in a soldier's shroud;
Death broke their dreams, their aspirations ended,
These sanguine youth, noble, brave and proud.
Slowly they bear them 'neath the dim star light
Unto their rest – the soldiers' cemetery:
The chaplain chants a low, brief litany;
The nightingale flings rapture on the night.
Back to their Mother Earth this night return
Unnumbered youth along the far-flung line;
But 'tis for these my eyes with feeling burn,
That Memory doth erect a fadeless shrine –
For these I've known, admired, ardently friended
Stood by when Death their love, their youth swift ended.
John William (Will) Streets
(1886 –1916)
Comrades
• fleursdumal.nl magazine
More in: - Archive Tombeau de la jeunesse, Archive S-T, Streets, Will, WAR & PEACE
---
Older Entries »
Thank you for reading FLEURSDUMAL.NL - magazine for art & literature