TOMBEAU DE LA JEUNESSE – early death: writers, poets & artists who died young
·
Joe Hill's Last Will (Poem written in his cell on the eve of his execution)
·
Joan Murray: One Morganatic Leer (poem)
·
Joe Hill: Ta-Ra-Ra Boom De-Ay (Song)
·
Renée Vivien: Victoire (Poème)
·
Georg Trakl: Helian (Gedicht)
·
Gladys Cromwell: Dusk (Poem)
·
Will Streets: A Soldiers' Cemetery (Poem)
·
Renée Vivien: Vers d'amour (Poème)
·
Les étrennes des orphelins par Arthur Rimbaud (Poème)
·
Georg Trakl: Menschliches Elend (Gedicht)
·
Anne Brontë: Music on Christmas Morning
·
Georg Trakl: Menschheit (Gedicht)
Last Will
My will is easy to decide,
For there is nothing to divide.
My kind don't need to fuss and moan —
"Moss does not cling to a rolling stone."
My body? Ah, If I could choose,
I would to ashes it reduce,
And let the merry breezes blow
My dust to where some flowers grow.
Perhaps some fading flower then
Would come to life and bloom again.
This is my last and final will.
Good luck to all of you.
Joe Hill
(1879-1915)
Last Will
Written in his cell on the eve of his execution
Joe Hill was sentenced to death after being accused of the murder of two shopkeepers. His conviction is often disputed by historians. On November 18, 1915, one day before his execution, he wrote his last will. On that same day, he sent a telegram to fellow IWW member Bill Haywood, telling him: "Don't waste time mourning – Organize!"
• fleursdumal.nl magazine
More in: # Music Archive, - Archive Tombeau de la jeunesse, Archive G-H, Archive G-H, In Memoriam, Joe Hill
---
One Morganatic Leer
You think you complain
of the ugliness of people.
Meet your own bed.
Smell what you said.
Your words, unmitigated, dead,
Sink like a noon sun in the crass tomb
beneath the steeple.
Two feet above the sand,
look down
A tartan shore,
A clan, a clack, a whore,
A mobile open door,
To the dog against the tree,
the brittle mugging clown.
Claws like tumbled fingers here
Stand for hands,
Elastic bands,
Minds and trends.
Thighs sprout here enough to breed
the honor of your morganatic leer.
Joan Murray
(1917-1942)
One Morganatic Leer
from: Poems (1947)
• fleursdumal.nl magazine
More in: Archive M-N, Archive M-N, Joan Murray
---
Ta-Ra-Ra Boom De-Ay
I had a job once threshing wheat, worked sixteen hours with hands and feet.
And when the moon was shining bright, they kept me working all the night.
One moonlight night, I hate to tell, I "accidentally" slipped and fell.
My pitchfork went right in between some cog wheels of that thresh-machine.
Ta-ra-ra-boom-de-ay!
It made a noise that way.
And wheels and bolts and hay,
Went flying every way.
That stingy rube said, "Well!
A thousand gone to hell."
But I did sleep that night,
I needed it all right.
Next day that stingy rube did say, "I'll bring my eggs to town today;
You grease my wagon up, you mutt, and don't forget to screw the nut."
I greased his wagon all right, but I plumb forgot to screw the nut,
And when he started on that trip, the wheel slipped off and broke his hip.
Ta-ra-ra-boom-de-ay!
It made a noise that way,
That rube was sure a sight,
And mad enough to fight;
His whiskers and his legs
Were full of scrambled eggs;
I told him, "That's too bad —
I'm feeling very sad."
And then that farmer said, "You turk! I bet you are an I-Won't Work."
He paid me off right there, By Gum! So I went home and told my chum.
Next day when threshing did commence, my chum was Johnny on the fence;
And 'pon my word, that awkward kid, he dropped his pitchfork, like I did.
Ta-ra-ra-boom-de-ay!
It made a noise that way,
And part of that machine
Hit Reuben on the bean.
He cried, "Oh me, oh my;
I nearly lost my eye."
My partner said, "You're right —
It's bedtime now, good night."
But still that rube was pretty wise, these things did open up his eyes.
He said, "There must be something wrong; I think I work my men too long."
He cut the hours and raised the pay, gave ham and eggs for every day,
Now gets his men from union hall, and has no "accidents" at all.
Ta-ra-ra-boom-de-ay!
That rube is feeling gay;
He learned his lesson quick,
Just through a simple trick.
For fixing rotten jobs
And fixing greedy slobs,
This is the only way,
Ta-ra-ra-boom-de-ay!
Joe Hill
(1879-1915)
Ta-Ra-Ra Boom De-Ay
Song
• fleursdumal.nl magazine
More in: # Music Archive, - Archive Tombeau de la jeunesse, Archive G-H, Joe Hill, MUSEUM OF PUBLIC PROTEST, Workers of the World
---
Victoire
Donne-moi tes baisers amers comme des larmes,
Le soir, quand les oiseaux s'attardent dans leurs vols.
Nos longs accouplements sans amour ont les charmes
Des rapines, l'attrait farouche des viols.
Repousse, délivrant ta haine contenue,
Le frisson de ma bouche éprise de ta chair.
Pour crier ton dégoût, dresse-toi, froide et nue,
Comme un marbre funèbre aux lueurs d'un éclair.
Tes yeux ont la splendeur auguste de l'orage…
Exhale ton mépris jusqu'en ta pâmoison,
O très chère ! — Ouvre-moi tes lèvres avec rage :
J'en boirai lentement le fiel et le poison.
J'ai l'émoi du pilleur devant un butin rare,
Pendant la nuit de fièvre où ton regard pâlit…
L'âme des conquérants, éclatante et barbare,
Chante dans mon triomphe au sortir de ton lit
Renée Vivien
born Pauline Mary Tarn;
(1877–1909)
Victoire;
Etudes et préludes
• fleursdumal.nl magazine
More in: Archive U-V, Archive U-V, Renée Vivien, Vivien, Renée
---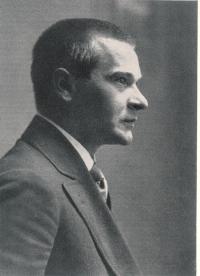 Helian
In den einsamen Stunden des Geistes
Ist es schön, in der Sonne zu gehn
An den gelben Mauern des Sommers hin.
Leise klingen die Schritte im Gras; doch immer schläft
Der Sohn des Pan im grauen Marmor.
Abends auf der Terrasse betranken wir uns mit braunem Wein.
Rötlich glüht der Pfirsich im Laub;
Sanfte Sonate, frohes Lachen.
Schön ist die Stille der Nacht.
Auf dunklem Plan
Begegnen wir uns mit Hirten und weißen Sternen.
Wenn es Herbst geworden ist
Zeigt sich nüchterne Klarheit im Hain.
Besänftigte wandeln wir an roten Mauern hin
Und die runden Augen folgen dem Flug der Vögel.
Am Abend sinkt das weiße Wasser in Graburnen.
In kahlen Gezweigen feiert der Himmel.
In reinen Händen trägt der Landmann Brot und Wein
Und friedlich reifen die Früchte in sonniger Kammer.
O wie ernst ist das Antlitz der teueren Toten.
Doch die Seele erfreut gerechtes Anschaun.
Gewaltig ist das Schweigen des verwüsteten Gartens,
Da der junge Novize die Stirne mit braunem Laub bekränzt,
Sein Odem eisiges Gold trinkt.
Die Hände rühren das Alter bläulicher Wasser
Oder in kalter Nacht die weißen Wangen der Schwestern.
Leise und harmonisch ist ein Gang an freundlichen Zimmern hin,
Wo Einsamkeit ist und das Rauschen des Ahorns,
Wo vielleicht noch die Drossel singt.
Schön ist der Mensch und erscheinend im Dunkel,
Wenn er staunend Arme und Beine bewegt,
Und in purpurnen Höhlen stille die Augen rollen.
Zur Vesper verliert sich der Fremdling in schwarzer Novemberzerstörung,
Unter morschem Geäst, an Mauern voll Aussatz hin,
Wo vordem der heilige Bruder gegangen,
Versunken in das sanfte Saitenspiel seines Wahnsinns.
O wie einsam endet der Abendwind.
Ersterbend neigt sich das Haupt im Dunkel des Ölbaums.
Erschütternd ist der Untergang des Geschlechts.
In dieser Stunde füllen sich die Augen des Schauenden
Mit dem Gold seiner Sterne.
Am Abend versinkt ein Glockenspiel, das nicht mehr tönt.
Verfallen die schwarzen Mauern am Platz,
Ruft der tote Soldat zum Gebet.
Ein bleicher Engel
Tritt der Sohn ins leere Haus seiner Väter.
Die Schwestern sind ferne zu weißen Greisen gegangen.
Nachts fand sie der Schläfer unter den Säulen im Hausflur,
Zurückgekehrt von traurigen Pilgerschaften.
O wie starrt von Kot und Würmern ihr Haar,
Da er darein mit silbernen Füßen steht,
Und jene verstorben aus kahlen Zimmern treten.
O ihr Psalmen in feurigen Mitternachtsregen,
Da die Knechte mit Nesseln die sanften Augen schlugen,
Die kindlichen Früchte des Hollunders
Sich staunend neigen über ein leeres Grab.
Leise rollen vergilbte Monde
Über die Fieberlinnen des Jünglings,
Eh dem Schweigen des Winters folgt.
Ein erhabenes Schicksal sinnt den Kidron hinab,
Wo die Zeder, ein weiches Geschöpf,
Sich unter den blauen Brauen des Vaters entfaltet,
Über die Weide nachts ein Schäfer seine Herde führt.
Oder es sind Schreie im Schlaf,
Wenn ein eherner Engel im Hain den Menschen antritt,
Das Fleisch des Heiligen auf glühendem Rost hinschmilzt.
Um die Lehmhütten rankt purpurner Wein,
Tönende Bündel vergilbten Korns,
Das Summen der Bienen, der Flug des Kranichs.
Am Abend begegnen sich Auferstandene auf Felsenpfaden.
In schwarzen Wassern spiegeln sich Aussätzige;
Oder sie öffnen die kotbefleckten Gewänder
Weinend dem balsamischen Wind, der vom rosigen Hügel weht.
Schlanke Mägde tasten durch die Gassen der Nacht,
Ob sie den liebenden Hirten fänden.
Sonnabends tönt in den Hütten sanfter Gesang.
Lasset das Lied auch des Knaben gedenken,
Seines Wahnsinns, und weißer Brauen und seines Hingangs,
Des Verwesten, der bläulich die Augen aufschlägt.
O wie traurig ist dieses Wiedersehn.
Die Stufen des Wahnsinns in schwarzen Zimmern,
Die Schatten der Alten unter der offenen Tür,
Da Helians Seele sich im rosigen Spiegel beschaut
Und Schnee und Aussatz von seiner Stirne sinken.
An den Wänden sind die Sterne erloschen
Und die weißen Gestalten des Lichts.
Dem Teppich entsteigt Gebein der Gräber,
Das Schweigen verfallener Kreuze am Hügel,
Des Weihrauchs Süße im purpurnen Nachtwind.
O ihr zerbrochenen Augen in schwarzen Mündern,
Da der Enkel in sanfter Umnachtung
Einsam dem dunkleren Ende nachsinnt,
Der stille Gott die blauen Lider über ihn senkt.
Georg Trakl
(1887 – 1914)
Helian
• fleursdumal.nl magazine
More in: - Archive Tombeau de la jeunesse, Archive S-T, Trakl, Georg, Trakl, Georg, WAR & PEACE
---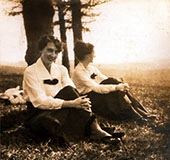 Dusk
As flowers at dusk their choicest perfumes hold,
Some hearts hoard beauty when the body s old:
I see an age-bent woman lead the herd
To pasture, with no need of guiding word.
While the dull beasts in the tall grasses browse,
Inside her soul the earth s enchantments drowse ;
The needles pause between her wasted hands,
For light is always mellow where she stands.
No motion marks her life s harmonious dream ;
It is a part of Nature s quiet theme.
Each day renews the uneventful past,
Although her spirit nears a change at last.
From the grey threshold of her silent home
One night, her spirit, kin to evening s shade,
Will float away from crevices life made,
Like seaweed from a cliff into white foam.
Gladys Cromwell
(1885-1919)
Dusk
From: Songs of the Dust, 1915
• fleursdumal.nl magazine
More in: Archive C-D, Cromwell, Gladys, Gladys Cromwell
---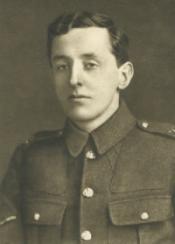 A Soldiers' Cemetery
Behind that long and lonely trenchèd line
To which men come and go, where brave men die,
There is a yet unmarked and unknown shrine,
A broken plot, a soldiers' cemet'ry.
There lie the flower of Youth, the men who scorned
To live (so died) when languished liberty:
Across their graves, flowerless and unadorned,
Still scream the shells of each artillery.
When war shall cease this lonely, unknown spot
Of many a pilgrimage will be the end,
And flowers will bloom in this now barren plot
And fame upon it through the years descend –
But many a heart upon each simple cross
Will hang the grief, the memory of its loss.
John William (Will) Streets
(1886 –1916)
A Soldiers' Cemetery
• fleursdumal.nl magazine
More in: - Archive Tombeau de la jeunesse, Archive S-T, Streets, Will, WAR & PEACE
---
Vers d'amour
Tu gardes dans tes yeux la volupté des nuits,
O Joie inespérée au fond des solitudes!
Ton baiser est pareil à la saveur des fruits
Et ta voix fait songer aux merveilleux préludes
Murmurés par la mer à la beauté des nuits.
Tu portes sur ton front la langueur et l'ivresse,
Les serments éternels et les aveux d'amour,
Tu sembles évoquer la craintive caresse
Dont l'ardeur se dérobe à la clarté du jour
Et qui te laisse au front la langueur et l'ivresse.
Renée Vivien
born Pauline Mary Tarn;
(1877–1909)
Vers d'amour;
Cendres et Poussières, 1902
• fleursdumal.nl magazine
More in: Archive U-V, Archive U-V, Renée Vivien, Vivien, Renée
---
Les étrennes des orphelins
I
La chambre est pleine d'ombre ; on entend vaguement
De deux enfants le triste et doux chuchotement.
Leur front se penche, encore alourdi par le rêve,
Sous le long rideau blanc qui tremble et se soulève…
– Au dehors les oiseaux se rapprochent frileux ;
Leur aile s'engourdit sous le ton gris des cieux ;
Et la nouvelle Année, à la suite brumeuse,
Laissant traîner les plis de sa robe neigeuse,
Sourit avec des pleurs, et chante en grelottant…
II
Or les petits enfants, sous le rideau flottant,
Parlent bas comme on fait dans une nuit obscure.
Ils écoutent, pensifs, comme un lointain murmure…
Ils tressaillent souvent à la claire voix d'or
Du timbre matinal, qui frappe et frappe encor
Son refrain métallique en son globe de verre…
– Puis, la chambre est glacée… on voit traîner à terre,
Épars autour des lits, des vêtements de deuil
L'âpre bise d'hiver qui se lamente au seuil
Souffle dans le logis son haleine morose !
On sent, dans tout cela, qu'il manque quelque chose…
– Il n'est donc point de mère à ces petits enfants,
De mère au frais sourire, aux regards triomphants ?
Elle a donc oublié, le soir, seule et penchée,
D'exciter une flamme à la cendre arrachée,
D'amonceler sur eux la laine et l'édredon
Avant de les quitter en leur criant : pardon.
Elle n'a point prévu la froideur matinale,
Ni bien fermé le seuil à la bise hivernale ?…
– Le rêve maternel, c'est le tiède tapis,
C'est le nid cotonneux où les enfants tapis,
Comme de beaux oiseaux que balancent les branches,
Dorment leur doux sommeil plein de visions blanches !…
– Et là, – c'est comme un nid sans plumes, sans chaleur,
Où les petits ont froid, ne dorment pas, ont peur ;
Un nid que doit avoir glacé la bise amère…
III
Votre coeur l'a compris : – ces enfants sont sans mère.
Plus de mère au logis ! – et le père est bien loin !…
– Une vieille servante, alors, en a pris soin.
Les petits sont tout seuls en la maison glacée ;
Orphelins de quatre ans, voilà qu'en leur pensée
S'éveille, par degrés, un souvenir riant…
C'est comme un chapelet qu'on égrène en priant :
– Ah ! quel beau matin, que ce matin des étrennes !
Chacun, pendant la nuit, avait rêvé des siennes
Dans quelque songe étrange où l'on voyait joujoux,
Bonbons habillés d'or, étincelants bijoux,
Tourbillonner, danser une danse sonore,
Puis fuir sous les rideaux, puis reparaître encore !
On s'éveillait matin, on se levait joyeux,
La lèvre affriandée, en se frottant les yeux…
On allait, les cheveux emmêlés sur la tête,
Les yeux tout rayonnants, comme aux grands jours de fête,
Et les petits pieds nus effleurant le plancher,
Aux portes des parents tout doucement toucher…
On entrait !… Puis alors les souhaits… en chemise,
Les baisers répétés, et la gaîté permise !
IV
Ah ! c'était si charmant, ces mots dits tant de fois !
– Mais comme il est changé, le logis d'autrefois :
Un grand feu pétillait, clair, dans la cheminée,
Toute la vieille chambre était illuminée ;
Et les reflets vermeils, sortis du grand foyer,
Sur les meubles vernis aimaient à tournoyer…
– L'armoire était sans clefs !… sans clefs, la grande armoire !
On regardait souvent sa porte brune et noire…
Sans clefs !… c'était étrange !… on rêvait bien des fois
Aux mystères dormant entre ses flancs de bois,
Et l'on croyait ouïr, au fond de la serrure
Béante, un bruit lointain, vague et joyeux murmure…
– La chambre des parents est bien vide, aujourd'hui
Aucun reflet vermeil sous la porte n'a lui ;
Il n'est point de parents, de foyer, de clefs prises :
Partant, point de baisers, point de douces surprises !
Oh ! que le jour de l'an sera triste pour eux !
– Et, tout pensifs, tandis que de leurs grands yeux bleus,
Silencieusement tombe une larme amère,
Ils murmurent : » Quand donc reviendra notre mère ? »
V
Maintenant, les petits sommeillent tristement :
Vous diriez, à les voir, qu'ils pleurent en dormant,
Tant leurs yeux sont gonflés et leur souffle pénible !
Les tout petits enfants ont le coeur si sensible !
– Mais l'ange des berceaux vient essuyer leurs yeux,
Et dans ce lourd sommeil met un rêve joyeux,
Un rêve si joyeux, que leur lèvre mi-close,
Souriante, semblait murmurer quelque chose…
– Ils rêvent que, penchés sur leur petit bras rond,
Doux geste du réveil, ils avancent le front,
Et leur vague regard tout autour d'eux se pose…
Ils se croient endormis dans un paradis rose…
Au foyer plein d'éclairs chante gaîment le feu…
Par la fenêtre on voit là-bas un beau ciel bleu ;
La nature s'éveille et de rayons s'enivre…
La terre, demi-nue, heureuse de revivre,
A des frissons de joie aux baisers du soleil…
Et dans le vieux logis tout est tiède et vermeil
Les sombres vêtements ne jonchent plus la terre,
La bise sous le seuil a fini par se taire …
On dirait qu'une fée a passé dans cela ! …
– Les enfants, tout joyeux, ont jeté deux cris… Là,
Près du lit maternel, sous un beau rayon rose,
Là, sur le grand tapis, resplendit quelque chose…
Ce sont des médaillons argentés, noirs et blancs,
De la nacre et du jais aux reflets scintillants ;
Des petits cadres noirs, des couronnes de verre,
Ayant trois mots gravés en or : » A NOTRE MÈRE ! «
Arthur Rimbaud
(1854 – 1891)
Les étrennes des orphelins
Poème
• fleursdumal.nl magazine
More in: Archive Q-R, Archive Q-R, Arthur Rimbaud, Rimbaud, Arthur, Rimbaud, Arthur
---
Menschliches Elend
Die Uhr, die vor der Sonne fünfe schlägt —
Einsame Menschen packt ein dunkles Grausen,
Im Abendgarten kahle Bäume sausen.
Des Toten Antlitz sich am Fenster regt.
Vielleicht, daß diese Stunde stille steht.
Vor trüben Augen blaue Bilder gaukeln
Im Takt der Schiffe, die am Flusse schaukeln.
Am Kai ein Schwesternzug vorüberweht.
Im Hasel spielen Mädchen blaß und blind,
Wie Liebende, die sich im Schlaf umschlingen.
Vielleicht, daß um ein Aas dort Fliegen singen,
Vielleicht auch weint im Mutterschoß ein Kind.
Aus Händen sinken Astern blau und rot,
Des Jünglings Mund entgleitet fremd und weise;
Und Lider flattern angstverwirrt und leise;
Durch Fieberschwärze weht ein Duft von Brot.
Es scheint, man hört auch gräßliches Geschrei;
Gebeine durch verfallne Mauern schimmern.
Ein böses Herz lacht laut in schönen Zimmern;
An einem Träumer läuft ein Hund vorbei.
Ein leerer Sarg im Dunkel sich verliert.
Dem Mörder will ein Raum sich bleich erhellen,
Indes Laternen nachts im Sturm zerschellen.
Des Edlen weiße Schläfe Lorbeer ziert.
Georg Trakl
(1887 – 1914)
Menschliches Elend
• fleursdumal.nl magazine
More in: - Archive Tombeau de la jeunesse, Archive S-T, Trakl, Georg, Trakl, Georg, WAR & PEACE
---
Music on Christmas Morning
'Music I love – but never strain
Could kindle raptures so divine,
So grief assuage, so conquer pain,
And rouse this pensive heart of mine –
As that we hear on Christmas morn,
Upon the wintry breezes born.
Though Darkness still her empire keep,
And hours must pass, ere morning break;
From troubled dreams, or slumbers deep,
That music kindly bids us wake:
It calls us, with an angel's voice,
To wake, and worship, and rejoice;
To greet with joy the glorious morn,
Which angels welcomed long ago,
When our redeeming Lord was born,
To bring the light of Heaven below;
The Powers of Darkness to dispel,
And rescue Earth from Death and Hell.
While listening to that sacred strain,
My raptured spirit soars on high;
I seem to hear those songs again
Resounding through the open sky,
That kindled such divine delight,
In those who watched their flocks by night.
With them – I celebrate His birth –
Glory to God, in highest Heaven,
Good will to men, and peace on Earth,
To us a saviour-king is given;
Our God is come to claim His own,
And Satan's power is overthrown!
A sinless God, for sinful men,
Descends to suffer and to bleed;
Hell must renounce its empire then;
The price is paid, the world is freed.
And Satan's self must now confess,
That Christ has earned a Right to bless:
Now holy Peace may smile from heaven,
And heavenly Truth from earth shall spring:
The captive's galling bonds are riven,
For our Redeemer is our king;
And He that gave his blood for men
Will lead us home to God again.'
Anne Brontë
(1820 – 1849)
Music on Christmas Morning (1843)
Anne Brontë (1820 – 1849) was an English novelist and poet, the youngest member of the Brontë literary family. Charlotte (1816–1855) and Emily Brontë (1818–1848) were her sisters.
• fleursdumal.nl magazine
More in: Anne, Emily & Charlotte Brontë, Archive A-B, Archive A-B, Brontë, Anne, Emily & Charlotte
---
Menschheit
Menschheit vor Feuerschlünden aufgestellt,
Ein Trommelwirbel, dunkler Krieger Stirnen,
Schritte durch Blutnebel; schwarzes Eisen schellt,
Verzweiflung, Nacht in traurigen Gehirnen:
Hier Evas Schatten, Jagd und rotes Geld.
Gewölk, das Licht durchbricht, das Abendmahl.
Es wohnt in Brot und Wein ein sanftes Schweigen
Und jene sind versammelt zwölf an Zahl.
Nachts schrein im Schlaf sie unter Ölbaumzweigen;
Sankt Thomas taucht die Hand ins Wundenmal.
Georg Trakl
(1887 – 1914)
Menschheit, 1913
• fleursdumal.nl magazine
More in: - Archive Tombeau de la jeunesse, Archive S-T, Trakl, Georg, Trakl, Georg, WAR & PEACE
---
Older Entries »
Thank you for reading FLEURSDUMAL.NL - magazine for art & literature