POETRY ARCHIVE
·
Francisca Stoecklin: Angst (Gedicht)
·
Brandon Shimoda: The Grave on the Wall
·
Paper Aeroplane: Selected Poems 1989-2014 by Simon Armitage
·
Herman Melville: The Maldive Shark (Poem)
·
Georg Trakl: Menschheit (Gedicht)
·
Walt Whitman: As I lay with my head in your lap camerado (Poem)
·
Emily Dickinson: A Word (Poem)
·
Marcel Schwob: Chez Le Mastroquet (Poème)
·
Death Blossoms. Reflections from a Prisoner of Conscience, Expanded Edition by Mumia Abu-Jamal
·
Joris-Karl Huysmans: Aan de vrouw
·
Agnita Feis: Het land is stom (gedicht)
·
Gladys Cromwell: Approach (Poem)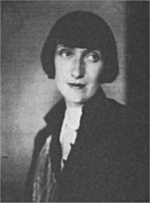 Angst
O wie ist diese Nacht so schwer,
Und wie hangen die Wolken so tief.
Warum stöhnen die sanften Tiere,
Bluten laubdunkle Bäume,
Seufzt in jedem Winkel der Tod?
Wo sind die blassen Engel geblieben
Und die zittergoldenen Sterne?
Ist Gott gestorben?
O, diese Nacht ist tausend Jahre schwer.
Auf der Brücke geht noch mit hastigen Schritten ein Mann.
Er wird zu spät kommen –
In der Mansarde salbt der junge Priester
Den Mund der Sterbenden.
Eine schwarze Blume wächst furchtbar in ihre Fieber,
Aber selig umglänzt der Mond ihre Wangen.
In meinem Zimmer knistert die Kerze.
Schmächtige Schatten steigen aus den Wänden:
Leben, die ich gelebt habe und vergaß.
Ein Gesicht weint lange in meinen Händen.
Francisca Stoecklin
(1894-1931)
Angst
• fleursdumal.nl magazine
More in: Archive S-T, Archive S-T, Stoecklin, Francisca
---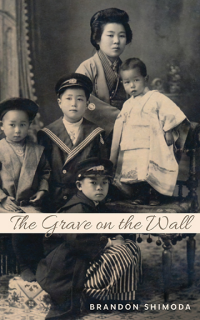 The Grave on the Wall is a memoir and a book of mourning, a grandson's attempt to reconcile his own uncontested citizenship with his grandfather's lifelong struggle.
Award-winning poet Brandon Shimoda has crafted a lyrical portrait of his paternal grandfather, Midori Shimoda, whose life—child migrant, talented photographer, suspected enemy alien and spy, desert wanderer, American citizen—mirrors the arc of Japanese America in the twentieth century.
In a series of pilgrimages, Shimoda records the search to find his grandfather, and unfolds, in the process, a moving elegy on memory and forgetting.
"Shimoda brings his poetic lyricism to this moving and elegant memoir, the structure of which reflects the fragmentation of memories. . . . It is at once wistful and devastating to see Midori's life come full circle . . . In between is a life with tragedy, love, and the horrors unleashed by the atomic bomb."––Booklist

Title: The Grave on the Wall
Author: Brandon Shimoda
Publisher: City Lights Publishers
Format: Paperback
ISBN-10 0872867900
ISBN-13 9780872867901
Publication Date: 06 August 2019
222 pages
List Price $16.95
# New books
Brandon Shimoda
The Grave on the Wall
• fleursdumal.nl magazine
More in: - Book News, - Bookstores, Archive S-T, Archive S-T, Art & Literature News
---
Paper Aeroplane: Selected Poems 1989-2014 by Simon Armitage is the essential selection of poems from one of Britain's foremost contemporary poets.
When Simon Armitage burst on to the poetry scene in 1989 with his spectacular debut Zoom!, readers were introduced to an exceptional new talent who would reshape the landscape of contemporary poetry in the years to come.
Twenty-five years on, Simon Armitage's reputation as one of the nation's most original, most respected and best-loved poets seems secure. Paper Aeroplane: Poems 1989-2014 is the author's own selection from across a quarter-century of work, from his debut to the latest, uncollected work. Drawing upon all of his award-winning poetry collections, including Kid, Book of Matches, The Universal Home Doctor and Seeing Stars, this generous selection provides an essential gathering of this most thrilling of poets, and is key reading for students and general readers alike.
Simon Armitage was born in West Yorkshire and is Professor of Poetry at the University of Leeds. A recipient of numerous prizes and awards, he has published twelve collections of poetry, including Seeing Stars (2010), The Unaccompanied (2017), Sandettie Light Vessel Automatic (2019) and his acclaimed translation of Sir Gawain and the Green Knight (2007). He writes extensively for television and radio, and is the author of two novels and the non-fiction bestsellers All Points North (1998), Walking Home (2012) and Walking Away (2015). His theatre works include The Last Days of Troy, performed at Shakespeare's Globe in 2014. In 2015 he was appointed Professor of Poetry at Oxford University and in 2018 he was awarded the Queen's Gold Medal for Poetry. Simon Armitage is Poet Laureate of the UK.
Paper Aeroplane: Selected Poems 1989-2014
by Simon Armitage (Author), Sue Roberts (Author)
2014/2015
Hardback Price £14.99
Paperback Price £10.99
Pages: 248pp
Publisher: Faber and Faber Poetry
Language: English
ISBN-10: 0571310699
ISBN-13: 978-0571310692
# new books
Paper Aeroplane:
Selected Poems 1989-2014
by Simon Armitage (Author)
• fleursdumal.nl magazine
More in: - Book Lovers, - Book News, Archive A-B, Archive A-B, Armitage, Simon
---
The Maldive Shark
About the Shark, phlegmatical one,
Pale sot of the Maldive sea,
The sleek little pilot-fish, azure and slim,
How alert in attendance be.
From his saw-pit of mouth, from his charnel of maw,
They have nothing of harm to dread,
But liquidly glide on his ghastly flank
Or before his Gorgonian head;
Or lurk in the port of serrated teeth
In white triple tiers of glittering gates,
And there find a haven when peril's abroad,
An asylum in jaws of the Fates!
They are friends; and friendly they guide him to prey,
Yet never partake of the treat —
Eyes and brains to the dotard lethargic and dull,
Pale ravener of horrible meat.
Herman Melville
(1819 – 1891)
The Maldive Shark
• fleursdumal.nl magazine
More in: Archive M-N, Archive M-N, Herman Melville, Natural history
---
Menschheit
Menschheit vor Feuerschlünden aufgestellt,
Ein Trommelwirbel, dunkler Krieger Stirnen,
Schritte durch Blutnebel; schwarzes Eisen schellt,
Verzweiflung, Nacht in traurigen Gehirnen:
Hier Evas Schatten, Jagd und rotes Geld.
Gewölk, das Licht durchbricht, das Abendmahl.
Es wohnt in Brot und Wein ein sanftes Schweigen
Und jene sind versammelt zwölf an Zahl.
Nachts schrein im Schlaf sie unter Ölbaumzweigen;
Sankt Thomas taucht die Hand ins Wundenmal.
Georg Trakl
(1887 – 1914)
Menschheit, 1913
• fleursdumal.nl magazine
More in: - Archive Tombeau de la jeunesse, Archive S-T, Trakl, Georg, Trakl, Georg, WAR & PEACE
---
As I lay with my head in your lap camerado
As I lay with my head in your lap camerado,
The confession I made I resume, what I said to you and the open air I
resume,
I know I am restless and make others so,
I know my words are weapons full of danger, full of death,
For I confront peace, security, and all the settled laws, to unsettle
them,
I am more resolute because all have denied me than I could ever have
been had all accepted me,
I heed not and have never heeded either experience, cautions,
majorities, nor ridicule,
And the threat of what is call'd hell is little or nothing to me;
And the lure of what is call'd heaven is little or nothing to me;
Dear camerado! I confess I have urged you onward with me, and still
urge you, without the least idea what is our destination,
Or whether we shall be victorious, or utterly quell'd and defeated.
Walt Whitman
(1819 – 1892)
As I lay with my head in your lap camerado
From: Leaves of grass
• fleursdumal.nl magazine
More in: Archive W-X, Archive W-X, Whitman, Walt
---
A Word
A word is dead
When it is said,
Some say.
I say it just
Begins to live
That day.
Emily Dickinson
(1830-1886)
A Word
• fleursdumal.nl magazine
More in: Archive C-D, Archive C-D, Dickinson, Emily
---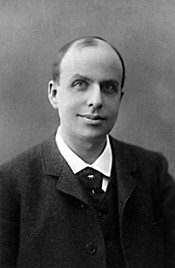 Chez Le Mastroquet
Boutique sang de boeuf jusqu'au premier étage.
A travers le treillis défoncé du grillage
Des carreaux maculés. -Deux rideaux mal blanchis
Frôlant le crépi mort de leurs plis avachis.
Trois melons étalés en pleine devanture,
Près de beignets dorés dans un bain de friture.
Des raviers blancs suant du jus noir de pruneaux.
L'or fameux des harengs baisant de vieux cerneaux.
La trogne enluminée, à la rondeur bonasse,
Du patron ballonné jusqu'au cou de vinasse
Met une tache rouge au milieu du comptoir.
Quelques bouchers sanglants sortis de l'abattoir,
Coiffés d'une viscope à tournure de mitre,
Avalent sur le zing le vin bleuté d'un litre
Et puisent, pour se mettre en goût, au tas d'oeufs durs.
Contre le fond graisseux et charbonné des murs,
Une vieille qui dort laisse pendre sa lippe:
Un limousin plâtré crache en fumant sa pipe.
Marcel Schwob
(1867-1905)
Chez Le Mastroquet
Juin 1888
 •fleursdumal.nl magazine
More in: #Editors Choice Archiv, Archive S-T, Archive S-T, Marcel Schwob
---
Profound meditations on life, death, freedom, family, and faith, written by radical Black journalist, Mumia Abu-Jamal, while he was awaiting his execution.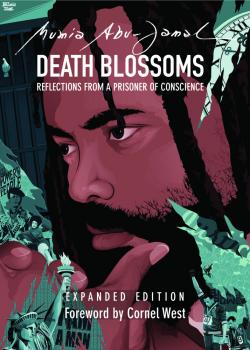 During the spring of 1996, black journalist Mumia Abu-Jamal was living on death row and expecting to be executed for a crime he steadfastly maintained he did not commit—the murder of a white Philadelphia police officer. It was in that period, with the likelihood of execution looming over him, that he received visits from members of the Bruderhof spiritual community––refugees from Hitler's Germany––anti-fascist, anti-racist, and deeply opposed to the death penalty. Inspired by the encounters, Mumia hand-wrote Death Blossoms—a series of short essays and personal vignettes reflecting on his search for spiritual meaning, freedom, and truth in a deeply racist and materialistic society.
Featuring a new introduction by Mumia and a report by Amnesty International detailing how his trial was "in violation of minimum international standards," this new edition of Death Blossoms is essential reading for the Black Lives Matter era, and is destined to endure as a classic in American prison literature.
"In this revised edition of his groundbreaking work, Death Blossoms, convicted death row prisoner Mumia Abu-Jamal tackles hard and existential questions, searching for God and a greater meaning in a caged life that may be cut short if the state has its way and takes his life. As readers follow Mumia's journey through his poems, short essays, and longer musings, they will learn not only about this singular individual who has retained his humanity despite the ever present threat of execution, but also about themselves and our society: what we are willing to tolerate and who we are willing to cast aside. If there is any justice, Mumia will prevail in his battle for his life and for his freedom."––Lara Bazelon, author of Rectify: The Power of Restorative Justice After Wrongful Conviction
"Mumia Abu-Jamal has challenged us to see the prison at the center of a long history of US oppression, and he has inspired us to keep faith with ordinary struggles against injustice under the most terrible odds and circumstances. Written more than two decades ago, Death Blossoms helps us to see beyond prison walls; it is as timely and as necessary as the day it was published."––Nikhil Pal Singh, founding faculty director of the NYU Prison Eduction Program, author of Race and America's Long War.
Title: Death Blossoms
Subtitle: Reflections from a Prisoner of Conscience, Expanded Edition
Author: Mumia Abu-Jamal
Foreword: Cornel West
Introduction by Mumia Abu-Jamal
Preface by Julia Wright
Publisher: City Lights Publishers
Tags: African American history, black lives matter, black panther party, death row, injustice, institutional injustice, mass incarceration, prison industrial complex, prison writing, racial injustice, U.S. political prisoners, white supremacy
Format: Paperback
ISBN-10 0872867978
ISBN-13 9780872867970
Publication Date; 12 November 2019
Main content page count 240
List Price $16.95
# new books
Mumia Abu-Jamal
Death Blossoms
Reflections from a Prisoner of Conscience
• fleursdumal.nl magazine
More in: #Editors Choice Archiv, - Book Lovers, - Book News, Archive A-B, Archive A-B, CRIME & PUNISHMENT, REPRESSION OF WRITERS, JOURNALISTS & ARTISTS
---
Na een avond uit met zijn beste vriend Cyprien betrapt André zijn vrouw Berthe op overspel. Vernederd, woedend en verdrietig verlaat hij de echtelijke woning.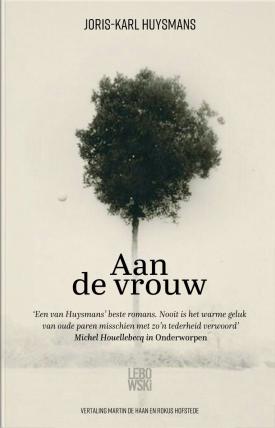 Wat te doen? Met Cyprien praat hij veelvuldig over de beslommeringen van het huwelijk en het leven van alleenstaanden in een grote stad. Moet André zijn huwelijk proberen te redden, misschien zelf een buitenechtelijke relatie aangaan, of de voorkeur geven aan eenzaamheid?
In de klassieker Aan de vrouw uit 1881 portretteert Huysmans het huiselijke, kleinburgerlijke leven met veel ironie en zwarte humor, evenals het verarmde kunstenaarsmilieu waarin de schrijver André en de schilder Cyprien zich bewegen. Een verrassend tijdloos verhaal over de eeuwige strijd tussen de seksen, over de sleur van een huwelijk, relaties en seksualiteit. Verkiezen André en Cyprien uiteindelijk het burgerlijk bestaan boven hun artistieke ambities en vrijheid?
Met een nawoord door vertalers Martin de Haan & Rokus Hofstede en een voorwoord door fin-de-siècle-expert Sander Bink.
Joris-Karl Huysmans (1848-1907) was een Franse auteur. Hij schreef Aan de vrouw (En ménage) in 1881, drie jaar voor zijn bekendste werk verscheen: Tegen de keer (À rebours, 1884). Joris-Karl Huysmans is een van de favoriete auteurs van Michel Houellebecq.
Aan de vrouw
Joris-Karl Huysmans
Oorspronkelijke titel: En ménage
Vertaling: Rokus Hofstede
Uitgever: Lebowski
ISBN: 9789048841936
Verschenen: 05-09-2019
Paperback
304 blz.
€ 21.99
# new books
Joris-Karl Huysmans
Aan de vrouw
En ménage
• fleursdumal.nl magazine
More in: - Book Lovers, - Book News, - Book Stories, Archive G-H, Archive G-H, Huysmans, J.-K., Huysmans, Joris-Karl, J.-K. Huysmans, Joris-Karl Huysmans
---
Het land is stom
Geen kleur.
Geen klank.
Het land
is stom.
Slechts oog
en oor
voor zwaard
en trom.
O mensch
verhef
uw stem
dan toch!
Gil, krijsch,
huil, brul!
't Is tijd,
nu nog.
Maar straks
niet meer……….
Het vuur
brandt voort.
't Verteert.
't Verkoolt……….
't Blijft stil.
Geen woord.
Geen kleur.
Geen klank:
Het land
is stom.
Slechts oog
en oor
voor zwaard
en trom.
Agnita Feis
(1881 – 1944)
Uit: Oorlog. Verzen in Staccato (1916).
Het land is stom
•fleursdumal.nl magazine
More in: *War Poetry Archive, Antony Kok, Archive E-F, De Stijl, Doesburg, Theo van, Feis, Agnita, Kok, Antony, Theo van Doesburg, WAR & PEACE
---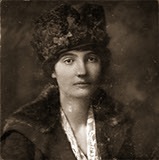 Approach
Apparelled in a mask of joy till now,
I knew thee not. Asleep, I see thy face
More simply. Sorrow s leisure lets me trace
The nicer lines. Thy sealed lids, thy brow,
Thy lasting posture, purposes avow ;
In thy spent form resides a moveless grace.
A pageant was thy life, and in its place
I find a truth to feed and to endow
My heart. Thy wonted mask of joy belied
The meaning death s bare attitude makes clear.
From living gesture thought went often wide,
And I was poor interpreter ; but here,
Where it would seem our thoughts anew divide,
The steady silence draws thy spirit near.
Gladys Cromwell
(1885-1919)
Approach
From: Songs of the Dust, 1915
• fleursdumal.nl magazine
More in: Archive C-D, Archive C-D, Cromwell, Gladys, Gladys Cromwell
---
Older Entries »
Thank you for reading FLEURSDUMAL.NL - magazine for art & literature