POETRY ARCHIVE
·
After Mozart (Heroin on 5th Street) poetry by Robert Lundquist
·
Agnita Feis: Menschenmateriaal (gedicht)
·
August Stramm: Mondschein (Gedicht)
·
Will Streets: A Soldier's Funeral (Poem)
·
Georg Trakl: Nähe des Todes (Gedicht)
·
Francisca Stoecklin: Morphina (Gedicht)
·
Lord Byron: Oh! Snatched Away in Beauty's Bloom (Poem)
·
Robert Southey: The Pauper's Funeral (Poem)
·
Gladys Cromwell: Autumn Communion (Poem)
·
Marcel Schwob: Rasant les murs du port… (Poème)
·
Will Streets: Comrades (Poem)
·
Victor Hugo: Les femmes sont sur la terre . . . . (Poème)
Robert Lundquist was one of the rising stars of the Santa Cruz renaissance. By the early 1970s he was published in the Paris Review, anthologized in Raymond Carver's magazine Quarry West, and listed in Rolling Stone magazine's 'Best 100 American Poets.' This is Lundquist's first major work. Discover a lost genius in these pages.
These poems were written in bursts over five decades. From 1969 to 1973, from 1980 to 1985, and from 2014 to 2018. Lundquist has an extraordinarily sensitive voice deeply engaged with the works of García Lorca, César Vallejo, Paul Celan, James Wight, Wallace Stevens, and John Ashbery. He addresses themes of love, loss, alcoholism, and emotional pain. He meditates on death, romance, and beauty with wild formal experiments and a visceral, surreal vision that is all his own.
Central to his poetry is the changing spirit of Downtown L.A. The poet was raised and has lived his entire life there. His grandmother was a waitress in Union Station and his father an undercover policeman. Some darker chapters are inspired by a stint living next to skid row. The neighbourhoods of DTLA – the automobiles, diners, bars, porches, birds, and characters they contain – are evoked here with a noir melancholy and hallucinatory brilliance.
Until now most of this great work was available only in magazine archives, anthologies, and out-of-print chapbooks. Lundquist was previously led away from publishing by a rejection of the MFA culture that came to dominate American letters, struggles with addiction, the anxiety of influence, and a commitment to his psychoanalytic practice. A renewed interest in Lundquist's work in recent years has resurrected his need to create, and we are all the better for it.
Robert Lundquist is a poet and practicing psychoanalyst in Los Angeles. Robert is also an avid blues harmonica player. His poems have appeared in such magazines as: The Nation, The Paris Review, Poetry Now, Kayak, and Quarry West. Robert was also one of five writers who taught poetry in the prison system in California, afterwards editing an anthology of prose and poetry by the writers in prison;, the anthology is entitled About Time II. When Robert is not with his wife, Nazare Magaz, or writing, he is seeing patients in his office above The Last Bookstore in Downtown Los Angeles. Robert knows a lot about the inner workings of Downtown Los Angeles as his Grandmother was a waitress at Union Station and his father was an under cover cop, chasing down heroin dealers when smack was coming through Flower Street. Included in his adventures in DTLA was entering Zen Center Los Angeles for two years when he was eighteen and in his adolescence taking harmonica lessons from George Smith in Watts. Robert began to write poetry at twenty and at twenty-one moved to Santa Cruz, California, to be a part of a literary renaissance in Santa Cruz where he was featured in the magazine Quarry West started by Ray Carver.
After Mozart (Heroin on 5th Street)
by Robert Lundquist (Author)
Language: English
ISBN-10: 199963103X
ISBN-13: 978-1999631031
Published: 2018
Format: Soft cover/Paperback
Publisher: New River Press Ltd
# more poetry
Robert Lundquist
fleursdumal.nl magazine
More in: - Book News, - Bookstores, Archive K-L, Art & Literature News
---
Menschenmateriaal.
Het is
maar bloed.
Het is
maar been.
Is 't heusch
maar stof?
Is 't stof
alleen?
Men schendt
natuur.
Men schendt
den geest.
Men is
geen mensch.
Men is
geen beest!
Werp maar
den mensch
in 't vuur!
Ga voort!
Maar 't is
ùw ziel,
die wordt
vermoord!
Agnita Feis
(1881 – 1944)
Uit: Oorlog. Verzen in Staccato (1916).
Menschenmateriaal
• fleursdumal.nl magazine
More in: *War Poetry Archive, Agnita Feis, Antony Kok, Archive E-F, De Stijl, Doesburg, Theo van, Feis, Agnita, Kok, Antony, Theo van Doesburg, Theo van Doesburg (I.K. Bonset), WAR & PEACE
---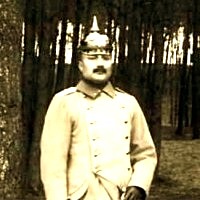 Mondschein
Bleich und müde
Schmieg und weich
Kater duften
Blüten graunen
Wasser schlecken
Winde schluchzen
Schein entblößt die zitzen Brüste
Fühlen stöhnt in meine Hand.
August Stramm
(1874-1915)
Mondschein, 1914
• fleursdumal.nl magazine
More in: *War Poetry Archive, Archive S-T, Expressionism, Stramm, August
---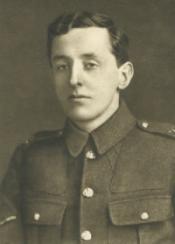 A Soldier's Funeral
No splendid show of solemn funeral rite,
No stricken mourners following his bier,
No peal of organ reaching thro' his night,
Is rendered him whom now we bury here.
'Tis but a soldier stricken in the fight,
A youth who flung his passion into life,
Flung scorn at Death, fought true for Freedom's might,
Till Death did close his vision in the strife.
No splendid rite is here – yet lay him low,
Ye comrades of his youth he fought beside,
Close where the winds do sigh and wild flowers grow,
Where the sweet brook doth babble by his side.
No splendour, yet we lay him tenderly
To rest, his requiem the artillery.
John William (Will) Streets
(1886 –1916)
A Soldier's Funeral
• fleursdumal.nl magazine
More in: - Archive Tombeau de la jeunesse, Archive S-T, Streets, Will, WAR & PEACE
---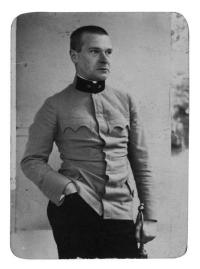 Nähe des Todes
O der Abend, der in die finsteren Dörfer der Kindheit geht.
Der Weiher unter den Weiden
Füllt sich mit den verpesteten Seufzern der Schwermut.
O der Wald, der leise die braunen Augen senkt,
Da aus des Einsamen knöchernen Händen
Der Purpur seiner verzückten Tage hinsinkt.
O die Nähe des Todes. Laß uns beten.
Jn dieser Nacht lösen auf lauen Kissen
Vergilbt von Weihrauch sich der Liebenden schmächtige Glieder.
Georg Trakl
(1887 – 1914)
Nähe des Todes
• fleursdumal.nl magazine
More in: - Archive Tombeau de la jeunesse, Archive S-T, Trakl, Georg, Trakl, Georg, WAR & PEACE
---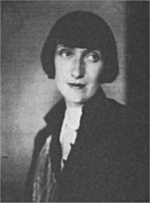 Morphina
Im Traume fand ich dich,
Mädchen, in mondener Nacht
Kamst du mir zögernd entgegen.
Auf deiner Stirne träumte ein Stern,
Deine kleinen Schritte klangen wie Glas,
Um deinen Mund ein überweltliches Lächeln.
Deine schmalen Schultern froren im Wind.
Ich umschlang dich, deinen eisigen Körper.
Schwester! wie lange bist du gestorben …
Wir sanken, wir fielen.
Mohn umblühte unser Sterben.
Francisca Stoecklin
(1894-1931)
Morphina
• fleursdumal.nl magazine
More in: Archive S-T, Archive S-T, Opium-Eaters, Stoecklin, Francisca, ·
---
Oh! Snatched Away in Beauty's Bloom
Oh! snatched away in beauty's bloom,
On thee shall press no ponderous tomb;
But on thy turf shall roses rear
Their leaves, the earliest of the year;
And the wild cypress wave in tender
gloom:
And oft by yon blue gushing stream
Shall sorrow lean her drooping head,
And feed deep thought with many a dream,
And lingering pause and lightly tread;
Fond wretch! as if her step disturbed the
dead!
Away! we know that tears are vain,
That death nor heeds nor hears distress:
Will this unteach us to complain?
Or make one mourner weep the less?
And thou – who tell'st me to forget,
Thy looks are wan, thine eyes are wet.
George Gordon Byron
(1788 – 1824)
Oh! Snatched Away in Beauty's Bloom
(Poem)
• fleursdumal.nl magazine
More in: Archive A-B, Archive A-B, Byron, Lord
---
The Pauper's Funeral
What! and not one to heave the pious sigh!
Not one whose sorrow-swoln and aching eye
For social scenes, for life's endearments fled,
Shall drop a tear and dwell upon the dead!
Poor wretched Outcast! I will weep for thee,
And sorrow for forlorn humanity.
Yes I will weep, but not that thou art come
To the stern Sabbath of the silent tomb:
For squalid Want, and the black scorpion Care,
Heart-withering fiends! shall never enter there.
I sorrow for the ills thy life has known
As thro' the world's long pilgrimage, alone,
Haunted by Poverty and woe-begone,
Unloved, unfriended, thou didst journey on:
Thy youth in ignorance and labour past,
And thine old age all barrenness and blast!
Hard was thy Fate, which, while it doom'd to woe,
Denied thee wisdom to support the blow;
And robb'd of all its energy thy mind,
Ere yet it cast thee on thy fellow-kind,
Abject of thought, the victim of distress,
To wander in the world's wide wilderness.
Poor Outcast sleep in peace! the wintry storm
Blows bleak no more on thine unshelter'd form;
Thy woes are past; thou restest in the tomb;–
I pause–and ponder on the days to come.
Robert Southey
(1774 – 1843)
The Pauper's Funeral
• fleursdumal.nl magazine
More in: Archive S-T, Archive S-T, CLASSIC POETRY
---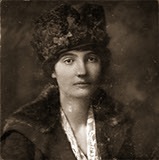 Autumn Communion
This autumn afternoon
My fancy need invent
No untried sacrament.
Man can still commune
With Beauty as of old:
The tree, the wind's lyre,
The whirling dust, the fire—
In these my faith is told.
Beauty warms us all;
When horizons crimson burn,
We hold heaven's cup in turn.
The dry leaves gleaming fall,
Crumbs of mystical bread;
My dole of Beauty I break,
Love to my lips I take,
And fear is quieted.
The symbols of old are made new:
I watch the reeds and the rushes,
The spruce trees dip their brushes
In the mountain's dusky blue;
The sky is deep like a pool;
A fragrance the wind brings over
Is warm like hidden clover,
Though the wind itself is cool.
Across the air, between
The stems and the grey things,
Sunlight a trellis flings.
In quietude I lean:
I hear the lifting zephyr
Soft and shy and wild;
And I feel earth gentle and mild
Like the eyes of a velvet heifer.
Love scatters and love disperses.
Lightly the orchards dance
In a lovely radiance.
Down sloping terraces
They toss their mellow fruits.
The rhythmic wind is sowing,
Softly the floods are flowing
Between the twisted roots.
What Beauty need I own
When the symbol satisfies?
I follow services
Of tree and cloud and stone.
Color floods the world;
I am swayed by sympathy;
Love is a litany
In leaf and cloud unfurled.
Gladys Cromwell
(1885-1919)
Autumn Communion
• fleursdumal.nl magazine
More in: Archive C-D, Cromwell, Gladys, Gladys Cromwell
---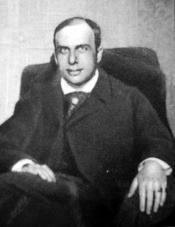 Rasant les murs du port…
Rasant les murs du port, passent trois matelots.
Le loustic de la bande a dans une bataille
Attrapé sur le nez une profonde entaille,
Il rit et bat à coups de poings les volets clos.
Sous l'obscure lueur sanglante des falots,
Une hôtesse ventrue à mine de futaille
Leur fait signe et tous trois, la prenant par la taille,
Se poussent au comptoir derrière les hublots.
Les mathurins béats, accoudés sur la table,
Avalent éblouis un velours délectable
Versé par le patron dans leurs quarts de fer-blanc.
A côté d'un gabier qui va dégringolant,
De l'escalier graisseux et vermoulu du bouge
Une fille en cheveux descend, la trogne rouge.
Marcel Schwob
(1867-1905)
Rasant les murs du port…
•fleursdumal.nl magazine
More in: Archive S-T, Archive S-T, Marcel Schwob
---
Comrades
Those whom I've known, admired, ardently friended
Lie silent there wrapp'd in a soldier's shroud;
Death broke their dreams, their aspirations ended,
These sanguine youth, noble, brave and proud.
Slowly they bear them 'neath the dim star light
Unto their rest – the soldiers' cemetery:
The chaplain chants a low, brief litany;
The nightingale flings rapture on the night.
Back to their Mother Earth this night return
Unnumbered youth along the far-flung line;
But 'tis for these my eyes with feeling burn,
That Memory doth erect a fadeless shrine –
For these I've known, admired, ardently friended
Stood by when Death their love, their youth swift ended.
John William (Will) Streets
(1886 –1916)
Comrades
• fleursdumal.nl magazine
More in: - Archive Tombeau de la jeunesse, Archive S-T, Streets, Will, WAR & PEACE
---
Les femmes sont sur la terre . . . .
Les femmes sont sur la terre
Pour tout idéaliser ;
L'univers est un mystère
Que commente leur baiser.
C'est l'amour qui, pour ceinture,
A l'onde et le firmament,
Et dont toute la nature,
N'est, au fond, que l'ornement.
Tout ce qui brille, offre à l'âme
Son parfum ou sa couleur ;
Si Dieu n'avait fait la femme,
Il n'aurait pas fait la fleur.
A quoi bon vos étincelles,
Bleus saphirs, sans les yeux doux ?
Les diamants, sans les belles,
Ne sont plus que des cailloux ;
Et, dans les charmilles vertes,
Les roses dorment debout,
Et sont des bouches ouvertes
Pour ne rien dire du tout.
Tout objet qui charme ou rêve
Tient des femmes sa clarté ;
La perle blanche, sans Eve,
Sans toi, ma fière beauté,
Ressemblant, tout enlaidie,
A mon amour qui te fuit,
N'est plus que la maladie
D'une bête dans la nuit.
Victor Hugo
(1802-1885)
Les femmes sont sur la terre . . . .
(Poème)
• fleursdumal.nl magazine
More in: Archive G-H, Archive G-H, Hugo, Victor, Victor Hugo
---
Older Entries »
Thank you for reading FLEURSDUMAL.NL - magazine for art & literature