POETRY ARCHIVE
·
Kate Tempest: Running Upon The Wires (new poetry)
·
Gertrude Stein: Susie Asado
·
Mirjam Van Hengel: Een knipperend ogenblik. Biografie Remco Campert
·
Bert Bevers: Selfie van Rogi Wieg (Gedicht)
·
Gérard de Nerval: Une femme est l'amour – Poéme
·
François Cheng: Enfin le royaume. Quatrains
·
Ambrose Bierce: Presentiment
·
René van Stipriaan: De hartenjager. Leven, werk en roem van Gerbrandt Adriaensz. Bredero
·
The Disappearing Room by Mara Bergman
·
Gertrud Kolmar: Die Einsame
·
James Joyce: Be Not Sad
·
Kunstenfestival Watou 2018 nog t/m 2 september
Running Upon The Wires is Kate Tempest's first book of free-standing poetry since the acclaimed Hold Your Own.

In a beautifully varied series of formal poems, spoken songs, fragments, vignettes and ballads, Tempest charts the heartbreak at the end of one relationship and the joy at the beginning of a new love; but also tells us what happens in between, when the heart is pulled both ways at once.
Running Upon The Wires is, in a sense, a departure from her previous work, and unashamedly personal and intimate in its address – but will also confirm Tempest's role as one of our most important poetic truth–tellers: it will be no surprise to readers to discover that she's no less a direct and unflinching observer of matters of the heart than she is of social and political change. Running Upon The Wires is a heartbreaking, moving and joyous book about love, in its endings and in its beginnings.
Kate Tempest:
Running Upon The Wires
publisher: Picador
paperback
6 September 2018
ISBN 9781509830022
64 pages
£9.99
Kate Tempest was born in London in 1985. She works across the shrinking gaps of a steadily converging media industry. Equally at home within the genres of theatre, performance, poetry and music, her name now appears on album covers, poetry books, and billboard hoardings. It is fitting then, that her individual works blend elements of oral, sonic, visual and written culture.
Her 2016 work, Let Them Eat Chaos, was published by Picador, composed for live performance and released as an album of the same name.
Kate Tempest was nominated for the Mercury Music Prize for her debut album, Everybody Down, and received the Ted Hughes Award and a Herald Angel Award for Brand New Ancients. Kate was also named a Next Generation poet in 2014.
Books by Kate Tempest
2016 Let Them Eat Chaos
2016 The Bricks that Built the Houses
2015 Hopelessly Devoted
2014 Hold Your Own
2014 Everybody Down
2013 Wasted
2012 Everything Speaks in its Own Way
Awards
2016 Costa Book Award for Best Poetry Collection (shortlist)
2014 Next Generation Poet
2013 Ted Hughes Award
new poetry
by Kate Tempest
fleursdumal.nl magazine
More in: Archive S-T, Archive S-T, Art & Literature News, Kate Tempest, Tempest, Kate
---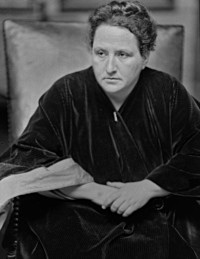 Susie Asado
Sweet sweet sweet sweet sweet tea.
Susie Asado.
Sweet sweet sweet sweet sweet tea.
Susie Asado.
Susie Asado which is a told tray sure.
A lean on the shoe this means slips slips hers.
When the ancient light grey is clean it is yellow, it is a silver seller.
This is a please this is a please there are the saids to jelly. These are the wets these say the sets to leave a crown to Incy.
Incy is short for incubus.
A pot. A pot is a beginning of a rare bit of trees. Trees tremble, the old vats are in bobbles, bobbles which shade and shove and render clean, render clean must.
Drink pups.
Drink pups drink pups lease a sash hold, see it shine and a bobolink has pins. It shows a nail.
What is a nail. A nail is unison.
Sweet sweet sweet sweet sweet tea.
Stein, Gertrude
(1874-1946)
Susie Asado
fleursdumal.nl magazine
More in: Archive S-T, Archive S-T, Gertrude Stein, Stein, Gertrude
---
'Eigenlijk wil ik gewoon elke morgen wakker worden en niks weten en gaan schrijven.'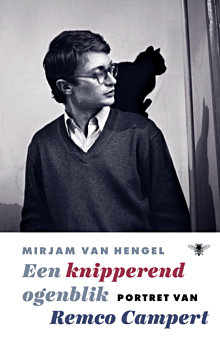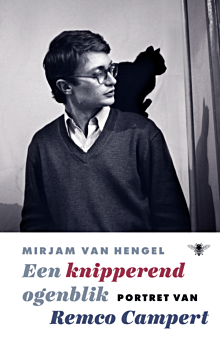 Dat zegt Remco Campert, de virtuoos terloopse dichter die altijd zijn vinger aan de pols van de tijd heeft gehouden.
Het verhaal van zijn leven loopt van de naoorlogse avant-garde via feestende jongeren rond het Vondelpark en toenemende publieke zichtbaarheid naar de stilte van een werkkamer. Er was de afwezige vader, er kwamen en gingen grote liefdes, maar altijd bleef het schrijven, dicht op de eigen huid.
Mirjam van Hengel, die eerder het succesvolle Hoe mooi alles (2014) publiceerde over de liefde tussen Leo en Tineke Vroman, sprak wekelijks met Campert en kreeg inzage in al zijn papieren.
Ze schreef een portret over de man die al meer dan een halve eeuw het Nederlandse literaire landschap kleurt, die even graag alleen is als in gezelschap, even lui als productief, even opgeruimd als melancholiek, even betrokken bij de wereld als onverstoorbaar zichzelf.
Mirjam van Hengel (1967) studeerde Nederlandse letterkunde aan de Universiteit Utrecht. Ze was jarenlang redacteur bij uitgeverij Van Oorschot en uitgeverij Querido en is poëzieprogrammeur bij onder meer De Nieuwe Liefde. In 2014 verscheen haar boek Hoe mooi alles. Leo en Tineke Vroman, een liefde in oorlogstijd, dat lovend werd ontvangen en bewerkt tot theaterstuk.
Remco Campert (1929) is dichter, romancier en columnist. Voor zijn poëzie ontving hij onder meer de Reina Prinsen Geerligsprijs, de Poëzieprijs van de gemeente Amsterdam, de Jan Campertprijs, de P.C. Hooft-prijs en De Gouden Ganzenveer. In 2015 werd hij bekroond met de Prijs der Nederlandse Letteren. De vader van Remco Campert was de dichter Jan Campert, die 'Het Lied der Achttien Dooden' schreef, zijn moeder de actrice Joeki Broedelet. Voorjaar 1950 richt Remco Campert met Rudy Kousbroek het tijdschrift Braak op. In juli van hetzelfde jaar wordt de redactie uitgebreid met Lucebert en Bert Schierbeek. Na het verschijnen van de bloemlezing Atonaal in 1951, onder redactie van Simon Vinkenoog, worden de daarin opgenomen dichters onder wie Gerrit Kouwenaar, Jan G. Elburg en Hugo Claus, aangeduid als de Vijftigers.
Remco Camperts verhalen en romans worden gewaardeerd door een groot publiek en boeken als Het leven is vurrukkulluk (1961) en Tjeempie! of Liesje in luiletterland (1968) staan nog steeds op de leeslijsten.
In 1976 ontvangt hij de P.C. Hooftprijs voor zijn poëzie: 'Het hele poëtische oeuvre van Remco Campert overziend, is de jury onder de indruk gekomen van de persoonlijke kroniek van de jaren 1950-1970 die erin is neergeschreven. De hachelijke en belachelijke feiten van deze levensperiode zijn door de dichter onvergetelijk geboekstaafd.'
Van 1989 tot 1995 leest Campert met Jan Mulder en Bart Chabot in theaters voor uit eigen werk. Van 1996 tot 2006 schrijft Campert samen met Mulder een gezamenlijke column op de voorpagina van de Volkskrant, CaMu. Sinds 2012 heeft hij in deze krant een eigen wekelijkse column en daarnaast zijn 'Somberman', over het gelijknamige personage dat hij voor het eerst opvoerde in Somberman's actie, het Boekenweekgeschenk van 1985. In 2004 verscheen Een liefde in Parijs, zijn eerste roman in meer dan tien jaar, die zeer lovend werd besproken en uitgroeide tot een grote bestseller. Het Parool schreef: 'Hier is de meester aan het werk.' In 2006 volgde Het satijnen hart, een weemoedig portret van een schilder die tot op hoge leeftijd niet kan kiezen tussen liefde en kunst.
De afgelopen vijf jaar verschenen onder meer de roman Hôtel du Nord (2013), de dichtbundels Licht van mijn leven (2014, met litho's van Ysbrant) en Verloop van jaren: 40 poëtische notities (2015). Het fotoboek De ziel krijgt voeten (2013), maakte hij met zijn dochter Cleo Campert. Zijn verzamelde columns voor de Volkskrant zijn te lezen in Het verband tussen de dingen ben ik zelf (2012), Te vroeg in het seizoen (2014), Vandaag ben ik een lege kartonnen doos (2015), Zonder roken bij mij geen poëzie (2016) en Somberman op drift (2016). In 2016 verscheen eveneens Campert & Campert, een bundeling van alle stukken van Remco én zijn vader Jan Campert in Elsevier. Recent verscheen de dichtbundel Open ogen (2018).   (Bron: Bezige Bij)
Titel: Een knipperend ogenblik.
Portret van Remco Campert
Auteur: Mirjam Van Hengel
Biografie
Taal: Nederlands
Uitgever: Bezige Bij, De
Druk: 1e
Aantal pagina's 512
Uitvoering: Gebonden
Verschenen: 23 augustus 2018
Presentatie: 5 september 2018
ISBN 9789403122908
€ 29,99
new books
portret van Remco Campert
fleursdumal.nl magazine
More in: #Biography Archives, - Book News, - Bookstores, Archive C-D, Archive G-H, Art & Literature News, Campert, Remco, Remco Campert
---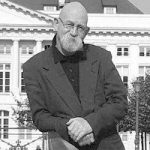 Selfie van Rogi Wieg
De tijd graaft mij in. Dit moet
een droombeeld zijn: Ik wandel
tussen rozen. Ik heb niet aan de dood
gedacht. Ik zie door glas hoe regen
neerdaalt. De avond hangt stil en ik
ben doorgelopen. Wij spreken niet
van doodgaan. Niets gaat verloren
in het ruisen, maar niemand wijst
de weg. Zo zal het einde zijn.
Wie weggaat komt ooit ergens aan.
Bert Bevers
Gedicht: Selfie van Rogi Wieg
Verschenen in In de kring van menselijke warmte – Hommage aan Rogi Wieg, samenstelling Peter de Rijk, Uitgeverij In De Knipscheer, Haarlem, 2017
Bert Bevers is a poet and writer who lives and works in Antwerp (Be)
fleursdumal.nl magazine
More in: Archive A-B, Archive A-B, Bevers, Bert, Wieg, Rogi
---
 Une femme est l'amour – Poéme
Une femme est l'amour, la gloire et l'espérance;
Aux enfants qu'elle guide, à l'homme consolé.
Elle élève le cœur et calme la souffrance,
Comme un esprit des cieux sur la terre exilé.
Courbé par le travail ou par la destinée,
L'homme à sa voix s'élève et son front s'éclaircit;
Toujours impatient dans sa course bornée,
Un sourire le dompte et son cœur s'adoucit.
Dans ce siècle de fer la gloire est incertaine :
Bien longtemps à l'attendre il faut se résigner.
Mais qui n'aimerail pas. dons sa grâce sereine,
La beauté qui la donne ou qui la fait gagner?
Gérard de Nerval
(1808 – 1855)
Une femme est l'amour – Poéme
fleursdumal.nl magazine
More in: Archive M-N, Nerval, Gérard de, Nerval, Gérard de
---
Forme brève, mais moins abrupte que le haïku, le quatrain ne s'en tient pas au lapidaire, il sait donner du rythme à la pensée, à l'émotion, à la surprise, il sait initier un questionnement, amorcer une méditation, esquisser un chant.
À la suite des poètes chinois des origines, mais aussi d'Omar Khayyâm et d'Emily Dickinson, François Cheng atteste ici du pouvoir singulier de ce mode d'expression resserré, pourtant si peu enclos, si ouvert aux résonances, aux errances fertiles, voire à une manière salutaire d'envoûtement simple.
François Cheng (1929) de l'Académie française (2002) – Grand prix de la Francophonie de l'Académie française (2001)
François Cheng
Enfin le royaume. Quatrains
Collection Blanche, Gallimard
Parution : 08-02-2018
160 pages
140 x 205 mm
Genre : Poésie: Littérature française
Époque : XXe-XXIe siècle
ISBN : 9782072767449
Gencode : 9782072767449
Code distributeur : G01421
Prix: €15,00
new poetry François Cheng
fleursdumal.nl
More in: - Book News, - Bookstores, Archive C-D, Archive C-D, Art & Literature News
---
Presentiment
With saintly grace and reverent tread,
She walked among the graves with me;
Her every foot-fall seemed to be
A benediction on the dead.
The guardian spirit of the place
She seemed, and I some ghost forlorn
Surprised in the untimely morn
She made with her resplendent face.
Moved by some waywardness of will,
Three paces from the path apart
She stepped and stood — my prescient heart
Was stricken with a passing chill.
The folk-lore of the years agone
Remembering, I smiled and thought:
"Who shudders suddenly at naught,
His grave is being trod upon."
But now I know that it was more
Than idle fancy. O, my sweet,
I did not think so little feet
Could make a buried heart so sore!
Ambrose Bierce
(1842-1914)
poetry
fleursdumal.nl magazine
More in: Archive A-B, Archive A-B, Bierce, Ambrose
---
Het leven van Gerbrandt Adriaensz. Bredero (1585-1618) was kort maar ongekend vruchtbaar.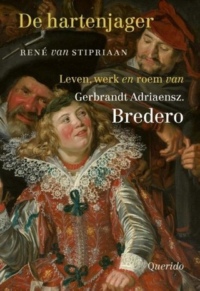 In nauwelijks acht jaar schreef hij honderden gedichten en liederen die tot de mooiste uit de Nederlandse literatuur behoren, en meer dan tien toneelstukken die nog altijd sprankelen van leven. Zijn kluchten, het blijspel Moortje en vooral de onweerstaanbare Spaanschen Brabander hebben door de eeuwen heen vele duizenden mensen onvergetelijke uren bezorgd.
Wie was Bredero? Het is een van de grote vragen van de Nederlandse literatuur. Over zijn leven is weinig bekend, zijn werk is heel concreet alledaags, maar tegelijkertijd ook raadselachtig.
Hoe hield hij zich overeind in het van energie en spanning bruisende Amsterdam? In De hartenjager ontrafelt René van Stipriaan de mythen en mysteries rond een van de meest getalenteerde en vrijmoedige auteurs uit het Nederlandse taalgebied: zijn afkomst, zijn vriendschappen en liefdes, zijn enorme productiviteit en zijn plotselinge dood. Weinig is wat het lijkt.
René van Stipriaan (1959) is auteur van Het volle leven en stelde Ooggetuigen van de Gouden Eeuw en, met Geert Mak, Ooggetuigen van de wereldgeschiedenis samen. In augustus verschijnt De hartenjager, over het leven en werk van Bredero.
Auteur: René van Stipriaan
De hartenjager.
Leven, werk en roem van Gerbrandt Adriaensz. Bredero
Non-Fictie – biografie
Taal: Nederlands
Uitgever: Em. Querido's Uitgeverij BV, Amsterdam
Publicatiedatum: 21-08-2018
ISBN 9789021409528
NUR: 321
359 pagina's
illustraties
Met literatuuropgave, register
Prijs: € 24,99
Hardcover
new books
fleursdumal.nl magazine
More in: #Biography Archives, - Book News, - Book Stories, Archive A-B, Archive S-T, Art & Literature News, Bredero, G.A.
---
In Mara Bergman's first full collection, the poet travels from the tenements of New York City to the Sussex countryside, from childhood to motherhood, and beyond.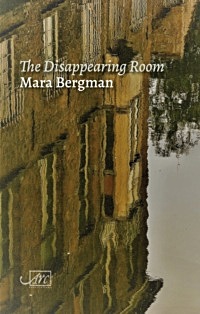 Through a wide range of subjects – steelworkers and young apprentices, photographs and photograms, dolls in a local museum's hidden collection – she writes with a keen sense of time and place.
These are probing poems, seeking to discover; poems with a sense of urgency.
Here are poems about love, loss, friendship, family, fitting in and, ultimately, acceptance. They are infused with wonder and provide a fresh way of looking at the world.
Mara Bergman grew up in Wantagh, New York, and graduated from the State University of New York at Oneonta. During her third year, she studied at Goldsmiths College and later made her home in the UK. Mara's poetry has been published widely here and abroad. Her collection The Tailor's Three Sons and Other New York Poems won the Mslexia Poetry Pamphlet Competition and was published by Seren in 2015. In 2016, Crossing Into Tamil Nadu won a Templar Quarterly Pamphlet Competition. Her poems have been awarded prizes in the Troubadour and Kent & Sussex Poetry Society competitions, among others. Mara works in London as an editor and is also an award-winning author of more than twenty books for young children. She and her husband live in Tunbridge Wells and have three children.
The Disappearing Room
by Mara Bergman (Author)
Paperback
27 Jul 2018
92 pages
Publisher: Arc Publicationas
Language: English
ISBN-10: 1911469347
ISBN-13: 978-1911469346
Product Dimensions: 15 x 2.2 x 21 cm
£9.18
new poetry
fleursdumal.nl magazine
More in: - Book News, - Bookstores, Archive A-B, Art & Literature News
---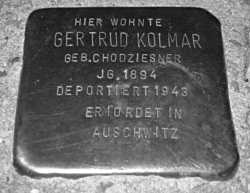 Die Einsame
Ich ziehe meine Einsamkeit um mich,
Sie ist so wie ein wärmendstes Gewand
An mir geworden ohne Kniff noch Stich,
Wenn auch der Ärmel fällt tief über meine Hand.
Ein Ungekannter hat ihr Maß gezirkt,
Die fremdes Antlitz fühlt als trübes Wehn;
Die großen Schwarzhalsschwäne sind gewirkt
In ihre Falten; aber ich nur kann sie sehn.
Es tun sich meine innren Blicke auf
– Ein Pfauenauge, das die Flügel schließt –
Und schaun der Welle jadefarbnen Lauf,
Die alte Säume licht und strömend übergießt.
Sie feuchten so wie einer Elbe Haar.
Sie tragen noch den Fluss. Sie schleppen tief.
Und graues Berggestade fängt das Jahr,
Das wie ein Vogel ängstlich seine Tage rief.
Und nun ist Schweigen, Und das Kleid schwillt nun.
Und ich muss wachsen, dass es mir noch ziemt,
Drin Fische, wie sie niemals wirklich tun,
Um meine Brüste schweben, pupurblau gekiemt.
Der Erde Körner sind hineingesät.
Aus meiner Schulter bricht ein Felsengold,
Das Tuch durchschimmernd, das sich schleift und bläht
Und langsam über meiner Stirn zusammenrollt.
Gertrud Kolmar
(1894-1943)
gedicht: Die Einsame
fleursdumal.nl magazine
More in: Archive K-L, Archive K-L, Kolmar, Gertrud
---
Be Not Sad
Be not sad because all men
Prefer a lying clamour before you:
Sweetheart, be at peace again — –
Can they dishonour you?
They are sadder than all tears;
Their lives ascend as a continual sigh.
Proudly answer to their tears:
As they deny, deny.
James Joyce
(1882-1941)
Be Not Sad
fleursdumal.nl magazine
More in: Archive I-J, Archive I-J, Joyce, James, Joyce, James
---
Elke zomer opnieuw slaat het Kunstenfestival van Watou haar tenten op in het gelijknamige kunstdorpje aan de Franse grens.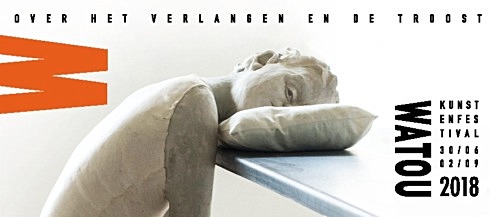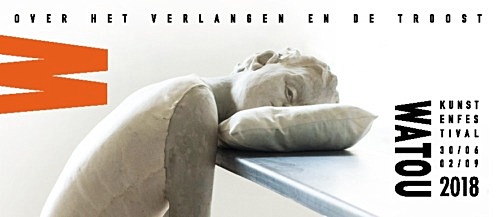 Dichters en beeldend kunstenaars, aanstormend talent en gevestigde waarden, kunstwerken uit binnen- en uit buitenland strijken er neer en vormen een bijzonder kunstenparcours. Het dorp is de setting en biedt een tiental karakteristieke locaties als tentoonstellingsruimte: een voormalig klooster, een oude boerderij of de kelder van een brouwerij. De wisselwerking tussen die verrassende, nostalgische ruimtes met hedendaagse beeldende kunst en poëzie zorgt telkens weer voor een unieke kunstbeleving. Zomeren in Watou is dan ook prikkelen en onthaasten tegelijk. Kleine momenten van gelukzaligheid.
Iedere editie van het Kunstenfestival kadert in een ander thema, waarrond intendant Jan Moeyaert en poëziecurator Willy Tibergien beeld en taal samenbrengen. Schrijvers, dichters en kunstenaars palmen gedurende een zomer het dorp in en bieden de bezoekers een caleidoscoop aan inzichten en perspectieven rond een bepaald onderwerp.
De afgelopen edities van Kunstenfestival Watou groeide er gestaag een nieuwe poëtische lijn in het dorp. Ook dit jaar selecteerde poëziecurator Willy Tibergien gedichten van gevestigde waarden in het Nederlandstalig poëzielandschap om hen een permanente plaats te geven in Watou.
Aan het werk van Eddy van Vliet, Paul Snoek, Remco Campert, Hugues C. Pernath, Jean-Claude Pirotte, Leo Vroman, Miriam Van hee, Stefan Hertmans, Gerrit Kouwenaar en Marc Insingel, Leonard Nolens, Christine D'Haen, Joost Zwagerman, Jotie T'Hooft, Charles Ducal en Luuk Gruwez worden dit jaar gedichten van Anna Enquist, Eva Gerlach en Frans Deschoemaeker toegevoegd.
STRING CARPET – GIDEON KIEFER – KUNSTENAARSGESPREK – ZONZO COMPAGNIE – ELS DEJONGHE – HET VLIEGEND TAPIJT – VRIJDAG VIERT FEEST – KRISTIN VERELLEN – POSTKANTOOR 00/00/00 – LIZE PEDE – BERNARD DEWULF – ALICJA GESCINSKA – DE TROOSTWINKEL – DOWN TIGER DOWN – SIEL EN LARISSA – NELLY AGASSI – IK ZIE MENSEN – POËZIE POËZIE POËZIE – DEREK & RENAUD – WIM CHIELENS – DE PLUIZENTUIN – WALLY DEDONCKER – ANT AND … – IK BEN WEER VELEN – STEPHANIE STRUIJK –  BERNARD DEWULF – MENNO WIGMAN – GRAHAM FAGEN – GERRIT KOUWENAAR – FRANS DESCHOEMAEKER – ANNA ENQUIST – EVA GERLACH – FRAUKE WILKEN – SAM DURANT – SIGRID VON LINTIG – PAUL SNOEK – MAUD BEKAERT -PETER VERHELST- DENIS VERCRUYSSE – MOHAMED EL BAZ – PARSE/ERROR – KATRIN DEKONINCK – ARPAÏS DU BOIS – GRZEGORZ GWIAZDA – SHIMABUKU – PETER DE MEYER – ROBINE CLIGNETT – ELS LESAGE – RADNA FABIAS – RY ROCKLEN – CHAIM VAN LUIT – SYLVIA EVERS – TORI WRÅNES – RONNY DELRUE – PETER MORRENS – HERVÉ MARTIJN – THÉ VANBERGEN – HANNE VAN ROMPAEY – STEFAN HERTMANS – TOM VAN DEEL – DANIELLE VAN ZADELHOFF – ANTON COTTELEER – SU-MEI TSE – POLIEN BOONS – JONAS VANSTEENKISTE – GURT SWANENBERG – ARANTHELL – GEERTJE VANGENECHTEN – MAARTEN VANDEN EYNDE – DOMINIQUE DE GROEN – JANI LEINONEN – JOSÉ COBO – TATJANA GERHARD – NADIA NAVEAU – HESTER KNIBBE – LUK VAN SOOM – JEROEN VAN KAN – CAROL ANN DUFFY – IRINA RATUSHINSKAYA – YEHUDA AMICHAI – NIDAA KHOURY – ZIYA MOHAVED – HANS OP DE BEECK- MASSIMO UBERTI -VAJIKO CHACHKHIANI – MOYA DE FEYTER – SHEILA HICKSEMMA VAN ROEY – BERNARDÍ ROIG -PETER THEUNYNCK – GIDEON KIEFER – EDITH DEKYNDT – THOMAS LEROOY – RANDALL CASAER- CHRISTINA MIGNOLET – GERD KANZ- GREET DESAL – HANNAH VAN BINSBERGEN – MELIK OHANIAN – JOHAN CLARYSSE – SOPHIE BOUVIER AUSLÄNDER – HANS DEFER- LUDOVIC LAFFINEUR – ARNE QUINZE – MARIJE LANGELAAR – TANYA SCHULTZ – ERLEND VAN LANDEGHEM – ROLAND JOORIS – LUKA FINEISEN – MEKHITAR GARABEDIAN – FRANZ SCHMIDT – CLARISSE BRUYNBROECK – FRANCIS PONGE – DAVID DE POOTER – RUTGER KOPLAND – JAN VANRIET – HUGO CLAUS – NELLY AGASSI – K. MICHEL – MICHAL MARTYCHOWIEC – PAUL DEMETS – STEPHAN MUIS – SAMMY BALOJI – TANG NANNAN – ADEL ABDESSEMED – LAURENS HAM – TODD ROBINSON – PANAMARENKO – GILLES BARBIER – HELEN DUNMORE – CASPER BRAAT – SYLVIE MARIE – CHANTAL POLLIER – EZRA VELDHUIS – HARLINDE DE MOL – ELEANOR CROOK – ANNO DIJKSTRA

Kunstenfestival Watou 2018 loopt nog tot en met 2 september
Open: woensdag tot zondag van 11u tot 19u – maandag en dinsdag gesloten, behalve op feestdagen
Adres:
Watouplein 12
8978 Watou
Poperinge (België)
De start van het Kunstenfestival is te vinden in het Festivalhuis (Watouplein 12), op het marktplein naast de Spar. Opg  elet! Voor alle weekend-events zijn de plaatsen beperkt. Een plaats reserveren kan enkel de dag zelf aan de kassa, bij aankoop van uw ticket.
# meer informatie op website kunstenfestival Watou
Kunstenfestival Watou 2018
fleursdumal.nl magazine
More in: # Music Archive, #Editors Choice Archiv, #More Poetry Archives, - Book Lovers, - Book Stories, Art & Literature News, Exhibition Archive, FDM Art Gallery, LITERARY MAGAZINES, PRESS & PUBLISHING, STREET POETRY, THEATRE, Watou Kunstenfestival
---
Older Entries »
Thank you for reading FLEURSDUMAL.NL - magazine for art & literature