POETRY ARCHIVE
·
Marcel Schwob: Sous les vieux arbres gris… (Poème)
·
Karel van de Woestijne: Ween aan mijn borst (Gedicht)
·
Les étrennes des orphelins par Arthur Rimbaud (Poème)
·
Bert Bevers & Joep Eijkens: Haventijding
·
Georg Trakl: Menschliches Elend (Gedicht)
·
Lord Byron: And Wilt Thou Weep When I Am Low? (Poem)
·
'Blue in Green' gedicht van Paul Bezembinder
·
Victor Hugo: Dans la forêt (Poème)
·
Gouden Ganzenveerlaureaat 2020 voor Abdelkader Benali
·
Montague Horatio Mostyn Turtle Pigott: Editors Note (Poem)
·
August Stramm: Begegnung (Gedicht)
·
Herman Melville: The Land Of Love (Poem)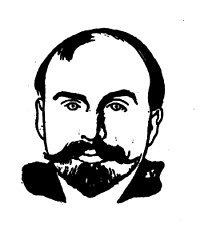 Sous les vieux arbres gris…
Sous les vieux arbres gris aux branches fantastiques,
Forêts ouvertes!
Etendant dans les airs tous leurs rameaux étiques,
Clairières vertes!
Les fleurs d'un rouge sombre ont des parfums mystiques,
Mares désertes!
Loin de nos constructions, nos usines pratiques,
Clairières vertes!
Et un pays étrange aux chaleurs magnétiques,
Forêts ouvertes!
Où rôdent sous les bois des formes extatiques,
Mares désertes!
Sous les vieux arbres gris aux branches fantastiques,
Forêts ouvertes!
Etendant dans les airs tous leurs rameaux étiques,
Clairières vertes!
Les fleurs d'un rouge sombre ont des parfums mystiques,
Mares désertes!
Dans les enlacements des lianes élastiques,
Forêts ouvertes!
On voit se profiler des colonnes antiques,
Clairières vertes!
Et des temples de marbre et d'immenses portiques,
Mares désertes!
Dans les brouillards dorés aux lueurs électriques,
Forêts ouvertes!
Des coupoles d'argent et des dômes féeriques,
Clairières vertes!
S'élèvent au-dessus de cités chimériques,
Mares désertes!
Et les femmes ont des passions hystériques,
Forêts ouvertes!
Pour assouvir les ruts de leurs mâles lubriques,
Clairières vertes!
Se livrant sur les toits, les terrasses de briques,
Mares désertes!
Au coucher du soleil, sous ses rayons obliques,
Forêts ouvertes!
On voit boire à grands traits les fauves faméliques,
Clairières vertes!
Et les guépards errer sur les places publiques.
Mares désertes!
La nuit on n'entend pas de prières bibliques,
Forêts ouvertes!
Ni de prêtres priant pour leurs saintes reliques,
Mares désertes!
Mais les chacals pleurant leurs pleurs mélancoliques,
Mares désertes!
Marcel Schwob
(1867-1905)
Sous les vieux arbres gris…
Mai 1885
Portrait: Félix Vallotton
• fleursdumal.nl magazine
More in: Archive S-T, Archive S-T, Félix Vallotton, Marcel Schwob
---
Ween aan mijn borst
Ween aan mijn borst den schat der tranen
die rijk me maken van uw leed,
ik die van wankelende wanen
als gij het talmend smeken weet;
ik die, mijn kind, op andre schouder
om eendre vreze heb geschreid,
maar van elke onmacht oud en ouder,
weer om een nieuwe hope lijd;
ik die het goud van alle transen
voor de as van oude zonnen ken,
maar van elk glorend morgen-glanzen
de huiverende minnaar ben…
Ween uwe tranen, lange en lijze,
die van uw lijden rijk me maakt:
straks ziet ge in 't oog des levens-wijzen
hoe stééds de wanen-lampe waakt…
Het huis in de stad (1908-1909)
Karel van de Woestijne
(1878 – 1929)
Ween aan mijn borst
Portret van Karel van de Woestijne (1937) door Henri van Straten (1892 – 1944)
• fleursdumal.nl magazine
More in: Archive W-X, Archive W-X, Woestijne, Karel van de
---
Les étrennes des orphelins
I
La chambre est pleine d'ombre ; on entend vaguement
De deux enfants le triste et doux chuchotement.
Leur front se penche, encore alourdi par le rêve,
Sous le long rideau blanc qui tremble et se soulève…
– Au dehors les oiseaux se rapprochent frileux ;
Leur aile s'engourdit sous le ton gris des cieux ;
Et la nouvelle Année, à la suite brumeuse,
Laissant traîner les plis de sa robe neigeuse,
Sourit avec des pleurs, et chante en grelottant…
II
Or les petits enfants, sous le rideau flottant,
Parlent bas comme on fait dans une nuit obscure.
Ils écoutent, pensifs, comme un lointain murmure…
Ils tressaillent souvent à la claire voix d'or
Du timbre matinal, qui frappe et frappe encor
Son refrain métallique en son globe de verre…
– Puis, la chambre est glacée… on voit traîner à terre,
Épars autour des lits, des vêtements de deuil
L'âpre bise d'hiver qui se lamente au seuil
Souffle dans le logis son haleine morose !
On sent, dans tout cela, qu'il manque quelque chose…
– Il n'est donc point de mère à ces petits enfants,
De mère au frais sourire, aux regards triomphants ?
Elle a donc oublié, le soir, seule et penchée,
D'exciter une flamme à la cendre arrachée,
D'amonceler sur eux la laine et l'édredon
Avant de les quitter en leur criant : pardon.
Elle n'a point prévu la froideur matinale,
Ni bien fermé le seuil à la bise hivernale ?…
– Le rêve maternel, c'est le tiède tapis,
C'est le nid cotonneux où les enfants tapis,
Comme de beaux oiseaux que balancent les branches,
Dorment leur doux sommeil plein de visions blanches !…
– Et là, – c'est comme un nid sans plumes, sans chaleur,
Où les petits ont froid, ne dorment pas, ont peur ;
Un nid que doit avoir glacé la bise amère…
III
Votre coeur l'a compris : – ces enfants sont sans mère.
Plus de mère au logis ! – et le père est bien loin !…
– Une vieille servante, alors, en a pris soin.
Les petits sont tout seuls en la maison glacée ;
Orphelins de quatre ans, voilà qu'en leur pensée
S'éveille, par degrés, un souvenir riant…
C'est comme un chapelet qu'on égrène en priant :
– Ah ! quel beau matin, que ce matin des étrennes !
Chacun, pendant la nuit, avait rêvé des siennes
Dans quelque songe étrange où l'on voyait joujoux,
Bonbons habillés d'or, étincelants bijoux,
Tourbillonner, danser une danse sonore,
Puis fuir sous les rideaux, puis reparaître encore !
On s'éveillait matin, on se levait joyeux,
La lèvre affriandée, en se frottant les yeux…
On allait, les cheveux emmêlés sur la tête,
Les yeux tout rayonnants, comme aux grands jours de fête,
Et les petits pieds nus effleurant le plancher,
Aux portes des parents tout doucement toucher…
On entrait !… Puis alors les souhaits… en chemise,
Les baisers répétés, et la gaîté permise !
IV
Ah ! c'était si charmant, ces mots dits tant de fois !
– Mais comme il est changé, le logis d'autrefois :
Un grand feu pétillait, clair, dans la cheminée,
Toute la vieille chambre était illuminée ;
Et les reflets vermeils, sortis du grand foyer,
Sur les meubles vernis aimaient à tournoyer…
– L'armoire était sans clefs !… sans clefs, la grande armoire !
On regardait souvent sa porte brune et noire…
Sans clefs !… c'était étrange !… on rêvait bien des fois
Aux mystères dormant entre ses flancs de bois,
Et l'on croyait ouïr, au fond de la serrure
Béante, un bruit lointain, vague et joyeux murmure…
– La chambre des parents est bien vide, aujourd'hui
Aucun reflet vermeil sous la porte n'a lui ;
Il n'est point de parents, de foyer, de clefs prises :
Partant, point de baisers, point de douces surprises !
Oh ! que le jour de l'an sera triste pour eux !
– Et, tout pensifs, tandis que de leurs grands yeux bleus,
Silencieusement tombe une larme amère,
Ils murmurent : » Quand donc reviendra notre mère ? »
V
Maintenant, les petits sommeillent tristement :
Vous diriez, à les voir, qu'ils pleurent en dormant,
Tant leurs yeux sont gonflés et leur souffle pénible !
Les tout petits enfants ont le coeur si sensible !
– Mais l'ange des berceaux vient essuyer leurs yeux,
Et dans ce lourd sommeil met un rêve joyeux,
Un rêve si joyeux, que leur lèvre mi-close,
Souriante, semblait murmurer quelque chose…
– Ils rêvent que, penchés sur leur petit bras rond,
Doux geste du réveil, ils avancent le front,
Et leur vague regard tout autour d'eux se pose…
Ils se croient endormis dans un paradis rose…
Au foyer plein d'éclairs chante gaîment le feu…
Par la fenêtre on voit là-bas un beau ciel bleu ;
La nature s'éveille et de rayons s'enivre…
La terre, demi-nue, heureuse de revivre,
A des frissons de joie aux baisers du soleil…
Et dans le vieux logis tout est tiède et vermeil
Les sombres vêtements ne jonchent plus la terre,
La bise sous le seuil a fini par se taire …
On dirait qu'une fée a passé dans cela ! …
– Les enfants, tout joyeux, ont jeté deux cris… Là,
Près du lit maternel, sous un beau rayon rose,
Là, sur le grand tapis, resplendit quelque chose…
Ce sont des médaillons argentés, noirs et blancs,
De la nacre et du jais aux reflets scintillants ;
Des petits cadres noirs, des couronnes de verre,
Ayant trois mots gravés en or : » A NOTRE MÈRE ! «
Arthur Rimbaud
(1854 – 1891)
Les étrennes des orphelins
Poème
• fleursdumal.nl magazine
More in: Archive Q-R, Archive Q-R, Arthur Rimbaud, Rimbaud, Arthur, Rimbaud, Arthur
---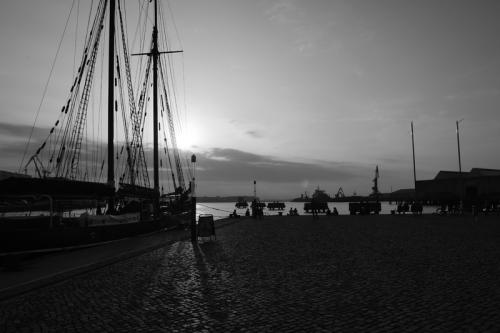 Haventijding
Ze laten water nimmer alleen en nemen ook kaarten
die niemand lezen kan mee. Geen schrik van weertij
hebben ze, en voor wroeging geen geduld. Schippers
hechten aan hun roer. Bedenken dat Maria Rome
nooit zag, nimmer voer. Hun schepen haten blijven.
© gedicht Bert Bevers 2019
© foto Joep Eijkens 2019
• fleursdumal.nl magazine
More in: Archive A-B, Archive A-B, Archive E-F, Bevers & Eijkens, Bevers, Bert, Joep Eijkens Photos, Natural history, Photography
---
Menschliches Elend
Die Uhr, die vor der Sonne fünfe schlägt —
Einsame Menschen packt ein dunkles Grausen,
Im Abendgarten kahle Bäume sausen.
Des Toten Antlitz sich am Fenster regt.
Vielleicht, daß diese Stunde stille steht.
Vor trüben Augen blaue Bilder gaukeln
Im Takt der Schiffe, die am Flusse schaukeln.
Am Kai ein Schwesternzug vorüberweht.
Im Hasel spielen Mädchen blaß und blind,
Wie Liebende, die sich im Schlaf umschlingen.
Vielleicht, daß um ein Aas dort Fliegen singen,
Vielleicht auch weint im Mutterschoß ein Kind.
Aus Händen sinken Astern blau und rot,
Des Jünglings Mund entgleitet fremd und weise;
Und Lider flattern angstverwirrt und leise;
Durch Fieberschwärze weht ein Duft von Brot.
Es scheint, man hört auch gräßliches Geschrei;
Gebeine durch verfallne Mauern schimmern.
Ein böses Herz lacht laut in schönen Zimmern;
An einem Träumer läuft ein Hund vorbei.
Ein leerer Sarg im Dunkel sich verliert.
Dem Mörder will ein Raum sich bleich erhellen,
Indes Laternen nachts im Sturm zerschellen.
Des Edlen weiße Schläfe Lorbeer ziert.
Georg Trakl
(1887 – 1914)
Menschliches Elend
• fleursdumal.nl magazine
More in: - Archive Tombeau de la jeunesse, Archive S-T, Trakl, Georg, Trakl, Georg, WAR & PEACE
---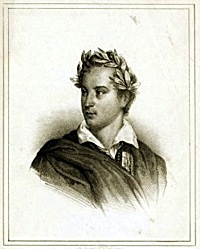 And Wilt Thou Weep When I Am Low ?
And wilt thou weep when I am low?
Sweet lady! speak those words again:
Yet if they grieve thee, say not so—
I would not give that bosom pain.
My heart is sad, my hopes are gone,
My blood runs coldly through my breast;
And when I perish, thou alone
Wilt sigh above my place of rest.
And yet, methinks, a gleam of peace
Doth through my cloud of anguish shine:
And for a while my sorrows cease,
To know thy heart hath felt for mine.
Oh lady! blessd be that tear—
It falls for one who cannot weep;
Such precious drops are doubly dear
To those whose eyes no tear may steep.
Sweet lady! once my heart was warm
With every feeling soft as thine;
But Beauty's self hath ceased to charm
A wretch created to repine.
Yet wilt thou weep when I am low?
Sweet lady! speak those words again:
Yet if they grieve thee, say not so—
I would not give that bosom pain.
George Gordon Byron
(1788 – 1824)
And Wilt Thou Weep When I Am Low ?
(Poem)
• fleursdumal.nl magazine
More in: Archive A-B, Archive A-B, Byron, Lord
---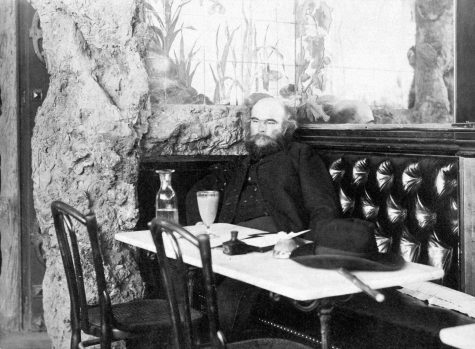 Paul Verlaine drinkt absint in een Café.
(Foto van Paul François Arnold Cardon a.k.a. Dornac, 1892)
Blue in Green
Je vindt uiteindelijk je vrouw
en in het coloriet van wouw
en wede stuit je op verdriet.
De insecten vliegen af en aan,
in goud, smaragd en malachiet,
hun schaduw rillend van cyaan.
En in de luister van de vliet,
in het gefluister van het riet,
dient nieuwe poëzie zich aan.
Paul Bezembinder
Paul Bezembinder studeerde theoretische natuurkunde in Nijmegen. In zijn poëzie zoekt hij in vooral klassieke versvormen en thema's naar de balans tussen serieuze poëzie, pastiche en smartlap. Zijn gedichten (Nederlands) en vertalingen (Russisch-Nederlands) verschenen in verschillende (online) literaire tijdschriften. Voorbeelden van zijn werk zijn te vinden op zijn website: www.paulbezembinder.nl
• fleursdumal.nl magazine
More in: Archive A-B, Archive U-V, Bezembinder, Paul, Opium-Eaters, Verlaine, Paul
---
Dans la forêt
De quoi parlait le vent ? De quoi tremblaient les branches ?
Était-ce, en ce doux mois des nids et des pervenches,
Parce que les oiseaux couraient dans les glaïeuls,
Ou parce qu'elle et moi nous étions là tout seuls ?
Elle hésitait. Pourquoi ? Soleil, azur, rosées,
Aurore ! Nous tâchions d'aller, pleins de pensées,
Elle vers la campagne et moi vers la forêt.
Chacun de son côté tirait l'autre, et, discret,
Je la suivais d'abord, puis, à son tour docile,
Elle venait, ainsi qu'autrefois en Sicile
Faisaient Flore et Moschus, Théocrite et Lydé.
Comme elle ne m'avait jamais rien accordé,
Je riais, car le mieux c'est de tâcher de rire
Lorsqu'on veut prendre une âme et qu'on ne sait que dire ;
J'étais le plus heureux des hommes, je souffrais.
Que la mousse est épaisse au fond des antres frais !
Par instants un éclair jaillissait de notre âme ;
Elle balbutiait : Monsieur… et moi : Madame.
Et nous restions pensifs, muets, vaincus, vainqueurs,
Après cette clarté faite dans nos deux coeurs.
Une source disait des choses sous un saule ;
Je n'avais encor vu qu'un peu de son épaule,
Je ne sais plus comment et je ne sais plus où ;
Oh ! le profond printemps, comme cela rend fou !
L'audace des moineaux sous les feuilles obscures,
Les papillons, l'abeille en quête, les piqûres,
Les soupirs, ressemblaient à de vagues essais,
Et j'avais peur, sentant que je m'enhardissais.
Il est certain que c'est une action étrange
D'errer dans l'ombre au point de cesser d'être un ange,
Et que l'herbe était douce, et qu'il est fabuleux
D'oser presser le bras d'une femme aux yeux bleus.
Nous nous sentions glisser vaguement sur la pente
De l'idylle où l'amour traître et divin serpente,
Et qui mène, à travers on ne sait quel jardin,
Souvent à l'enfer, mais en passant par l'éden.
Le printemps laisse faire, il permet, rien ne bouge.
Nous marchions, elle était rose, et devenait rouge,
Et je ne savais rien, tremblant de mon succès,
Sinon qu'elle pensait à ce que je pensais.
Pâle, je prononçais des noms, Béatrix, Dante ;
Sa guimpe s'entrouvrait, et ma prunelle ardente
Brillait, car l'amoureux contient un curieux.
Viens ! dis-je… – Et pourquoi pas, ô bois mystérieux ?
3 avril 1874
Victor Hugo
(1802-1885)
Dans la forêt
(Poème)
Toute la lyre
• fleursdumal.nl magazine
More in: Archive G-H, Archive G-H, Hugo, Victor, Victor Hugo
---
De Academie De Gouden Ganzenveer kent De Gouden Ganzenveer 2020 toe aan schrijver en programmamaker Abdelkader Benali. Academievoorzitter Jet Bussemaker maakte de laureaat op 11 januari bekend in het radioprogramma De Taalstaat.
De Academie De Gouden Ganzenveer eert Benali als ambassadeur van de Nederlandse taal die met zijn enthousiasmerende inzet jongeren weet te bereiken. Met zijn veelzijdige pen die hij speels en creatief inzet, slaat hij een brug tussen culturen. Zijn toewijding aan de publieke zaak van het geschreven woord, zijn grote bijdrage –juist vanuit een Marokkaanse achtergrond- maken hem tot de Gouden Ganzenveerlaureaat 2020.
De prijsuitreiking vindt plaats op donderdag 2 april a.s. in Amsterdam. Een weerslag van deze bijeenkomst wordt vastgelegd in een speciale uitgave, die in de loop van het jaar zal verschijnen.
De Academie, een initiatief van het bestuur van stichting De Gouden Ganzenveer, kent jaarlijks deze culturele prijs toe. De leden zijn afkomstig uit de wereld van cultuur, wetenschap, politiek en het bedrijfsleven.
Met deze onderscheiding wil de Academie het geschreven en gedrukte woord in het Nederlands taalgebied onder de aandacht brengen.
Voorgaande laureaten zijn Ian Buruma, Antjie Krog, Arnon Grunberg, Xandra Schutte, Geert Mak, David Van Reybrouck, Ramsey Nasr, Annejet van der Zijl, Remco Campert, Joke van Leeuwen, Adriaan van Dis, Joost Zwagerman, Tom Lanoye, Peter van Straaten, Maria Goos, Kees van Kooten, Jan Blokker en Michaël Zeeman.
Uitgebreide informatie is te vinden op www.goudenganzenveer.nl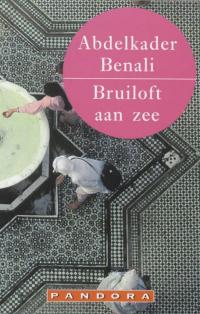 "Abdelkader Benali, (Ighazzazen, Marokko, 1975) schrijft romans, verhalen en poëzie, maar ook toneel en journalistiek werk. Bruiloft aan zee is zijn bejubelde en bekroonde debuut, dat een internationale bestseller werd. Nadien verschenen van zijn hand vele verschillende boeken, zoals de Marathonloper, het Marokkaanse huis-, tuin- en keukenkookboek Casa Benali en Brief aan mijn dochter, waarmee hij ook in de theaters stond met Lavinia Meijer, de poëziebundel Wax Hollandais en in 2019 de roman De weekendmiljonair.
Benali presenteerde meerdere tv-programma's waarin hij schrijvers interviewde onder andere De schrijver en de stad en Benali boekt alsook Chez Benali, een culinair-historische ontdekkingsreis door zijn geboorteland.
Daarnaast is Benali actief in het onderwijs. Als detective Appie nam hij basisscholieren in filmpjes mee langs de Schrijfgeheimen van de Schoolschrijvers. Voor middelbare scholieren stelde hij TXT een bloemlezing van verhalen samen en bezocht hij afgelopen najaar scholen tijdens Literatour, de boekenweek voor scholieren. Momenteel brengt hij de theatervoorstelling Kalief in Nederland."
Gouden Ganzenveerlaureaat 2020
Abdelkader Benali
Donderdag 2 april 2020 in Amsterdam
• fleursdumal.nl magazine
Portretfoto: Linda Stulic
More in: #Editors Choice Archiv, - Book News, Abdelkader Benali, Archive A-B, Archive A-B, Art & Literature News, AUDIO, CINEMA, RADIO & TV, Awards & Prizes
---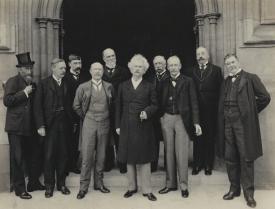 Editors Note
A haggard youth with glittering eye
Into our presence sped;
He placed these verses on our desk,
A pistol at our head.
Well, we didn't much want to be bored with his
lead.
So our readers we bore with his verses instead.
Montague Horatio Mostyn Turtle Pigott
(1865–1927)
Editors Note (Poem)
• fleursdumal.nl magazine
More in: Archive O-P, Archive O-P, Mostyn Turtle Pigott
---
Begegnung
Dein Gehen lächelt in mich über
Und
Reißt das Herz.
Das Nicken hakt und spannt.
Im Schatten deines Rocks
Verhaspelt
Schlingern
Schleudert
Klatscht!
Du wiegst und wiegst.
Mein Greifen haschet blind.
Die Sonne lacht!
Und
Blödes Zagen lahmet fort
Beraubt beraubt!
August Stramm
(1874-1915)
Begegnung, 1914
• fleursdumal.nl magazine
More in: *War Poetry Archive, Archive S-T, Expressionism, Stramm, August
---
The Land Of Love
Hail! voyagers, hail!
Whence e'er ye come, where'er ye rove,
No calmer strand,
No sweeter land,
Will e'er ye view, than the Land of Love!
Hail! voyagers, hail!
To these, our shores, soft gales invite:
The palm plumes wave,
The billows lave,
And hither point fix'd stars of light!
Hail! voyagers, hail!
Think not our groves wide brood with gloom;
In this, our isle,
Bright flowers smile:
Full urns, rose-heaped, these valleys bloom.
Hail! voyagers, hail!
Be not deceived; renounce vain things;
Ye may not find
A tranquil mind,
Though hence ye sail with swiftest wings.
Hail! voyagers, hail!
Time flies full fast; life soon is o'er;
And ye may mourn,
That hither borne,
Ye left behind our pleasant shore.
Herman Melville
(1819 – 1891)
The Land Of Love
• fleursdumal.nl magazine
More in: Archive M-N, Archive M-N, Herman Melville
---
Older Entries »
Thank you for reading FLEURSDUMAL.NL - magazine for art & literature