WAR POETRY
·
Wilfred Owen: A Terre (Poem)
·
August Stramm: Weltwehe (Gedicht)
·
August Stramm: Feuertaufe (Gedicht)
·
Gladys Cromwell: Transmission
·
Wilfred Owen poetry: The End
·
Jacques Vaché: Lettres de guerre (1914-1918)
·
Robert Bridges: To Joseph Joachim
·
Nadine Akkerman: Invisible Agents Women and Espionage in Seventeenth-Century Britain
·
Armistice of 11 November 1918/2018 – Wilfred Owen: Dulce et Decorum Est (Poem)
·
L'esprit littéraire de la Grande Guerre à Redu
·
Dennis Whitehead: SHELL SHOCK. Twin Sisters Struck Down by the Horrors of World War I
·
Gladys Cromwell: Preparation
A Terre
(Being the philosophy of many Soldiers.)
Sit on the bed; I'm blind, and three parts shell.
Be careful; can't shake hands now; never shall.
Both arms have mutinied against me,—brutes.
My fingers fidget like ten idle brats.
I tried to peg out soldierly,—no use!
One dies of war like any old disease.
This bandage feels like pennies on my eyes.
I have my medals?—Discs to make eyes close.
My glorious ribbons?—Ripped from my own back
In scarlet shreds. (That's for your poetry book.)
A short life and a merry one, my buck!
We used to say we'd hate to live dead-old,—
Yet now … I'd willingly be puffy, bald,
And patriotic. Buffers catch from boys
At least the jokes hurled at them. I suppose
Little I'd ever teach a son, but hitting,
Shooting, war, hunting, all the arts of hurting.
Well, that's what I learnt,—that, and making money.
Your fifty years ahead seem none too many?
Tell me how long I've got? God! For one year
To help myself to nothing more than air!
One Spring! Is one too good to spare, too long?
Spring wind would work its own way to my lung,
And grow me legs as quick as lilac-shoots.
My servant's lamed, but listen how he shouts!
When I'm lugged out, he'll still be good for that.
Here in this mummy-case, you know, I've thought
How well I might have swept his floors for ever.
I'd ask no night off when the bustle's over,
Enjoying so the dirt. Who's prejudiced
Against a grimed hand when his own's quite dust,
Less live than specks that in the sun-shafts turn,
Less warm than dust that mixes with arms' tan?
I'd love to be a sweep, now, black as Town,
Yes, or a muckman. Must I be his load?
O Life, Life, let me breathe,—a dug-out rat!
Not worse than ours the lives rats lead—
Nosing along at night down some safe rut,
They find a shell-proof home before they rot.
Dead men may envy living mites in cheese,
Or good germs even. Microbes have their joys,
And subdivide, and never come to death.
Certainly flowers have the easiest time on earth.
"I shall be one with nature, herb, and stone,"
Shelley would tell me. Shelley would be stunned:
The dullest Tommy hugs that fancy now.
"Pushing up daisies," is their creed, you know.
To grain, then, go my fat, to buds my sap,
For all the usefulness there is in soap.
D'you think the Boche will ever stew man-soup?
Some day, no doubt, if …
Friend, be very sure
I shall be better off with plants that share
More peaceably the meadow and the shower.
Soft rains will touch me,— as they could touch once,
And nothing but the sun shall make me ware.
Your guns may crash around me. I'll not hear;
Or, if I wince, I shall not know I wince.
Don't take my soul's poor comfort for your jest.
Soldiers may grow a soul when turned to fronds,
But here the thing's best left at home with friends.
My soul's a little grief, grappling your chest,
To climb your throat on sobs; easily chased
On other sighs and wiped by fresher winds.
Carry my crying spirit till it's weaned
To do without what blood remained these wounds.
Wilfred Owen
(1893 – 1918)
A Terre (Poem)
• fleursdumal.nl magazine
More in: Archive O-P, Archive O-P, Galerie des Morts, Owen, Wilfred, WAR & PEACE
---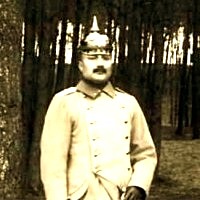 Weltwehe
Nichts Nichts Nichts
Haucht
Nichts
Hauchen
Nichts
Hauch
Wägen
Wägen wegen
Wegen regen
Stauen
Lauen
Weben schweben wallen ballen
Warmen
Biegen bogen
Wärmen
Drehen drehen
Dunsten
Streifen glimmen
Fachen
Hitzen
Glühen
Wellen
Sieden brodeln rauschen brausen
Züngeln springen
Flammen spritzen
Platzen
Knattern knallen krachen
Tausend
Null Null Null
Tausend
Null
Milliarden
Null Null Null
Weißen
Lichten
Kreisen kreisen
Bahnen
Fliegen
Kreisen kreisen
Rollen
Kugeln
Kugeln kugeln
Glatten
Kugeln
Platten
Kugeln
Kreisen
Kugeln
Dichten schichten wichten walzen wälzen
Festen
Kreisen
Pressen
Kugeln
Schmieden
Kreisen
Kernen
Kugeln
Kern.
Halten fassen kraften schwingen
Ruhen reißen sprengen
Heben senken falten
Schieben wogen
Starren
Heißen
Beben
Schweißen
Beben
Leben
Atmen
Leben
Leben leben
Zeugen
Bären
Leben leben
Blühen
Wachsen
Leben leben
Brennen
Starken
Marken
Rollen rollen
Leuchten trocknen feuchten lichten
Streben ranken
Tönen
Ringen
Kämpfen
Ringen
Ringen
Können
Wollen
Können
Schwanken
Können
Wollen
Blühen
Wollen
Rollen
Können
Kranken
Placken racken ächzen
Rollen
Wollen
Lallen
Wollen wollen
Ranken
Wollen wollen
Rollen
Drehen wehen rollen
Wollen wollen
Stürmen wollen
Drehen
Matten
Wollen
Matten
Rollen drehen
Wehen wehen
Wollen
Kreisen
Engen
Kreisen
Engen
Schwanken
Wanken
Zittern
Schwingen
Wiegen kreisen engen lockern
Trudeln krudeln
Trudeln
Schlacken
Lockern
Schlacken
Bröckeln
Aschen
Trollen trollen
Aschen
Trollen trollen
Sollen
Wollen
Stocken reißen
Sacken rasen
Rasen
Sprengen
Platzen
Schmettern
Stäuben stäuben stäuben
Schweben
Weben
Wallen
Weben
Fallen
Wegen
Reigen
Wolken
Schleichen
Flaken
Weiten
Flaken
Wachten
Steinen
Nachten
Nebeln
Nachten
Weiten
Nachten nachten
Losen
Nachten nachten
Lösen
Nachten nachten
Raumen
Nachten nachten
Zeiten
Nachten
Weiten raumen zeiten
Nachten
Zeiten zeiten
Nachten
Zeiten
Nachten
Weiten
Weiten
Nichts Nichts Nichts
Nichts.
August Stramm
(1874-1915)
Weltwehe, 1914
• fleursdumal.nl magazine
More in: *War Poetry Archive, Archive S-T, Expressionism, Stramm, August
---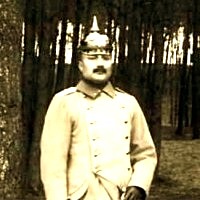 Feuertaufe
Der Körper schrumpft den weiten Rock
Der Kopf verkriecht die Beine
Erschrecken
Würgt die Flinte
Ängste
Knattern
Knattern schrillen
Knattern hieben
Knattern stolpern
Knattern
Übertaumeln
Gelle
Wut.
Der Blick
Spitzt
Zisch
Die Hände spannen Klaren.
Das Trotzen ladet.
Wollen äugt
Und
Stahler Blick
Schnellt
Streck
Das
Schicksal.
August Stramm
(1874-1915)
Feuertaufe, 1914
• fleursdumal.nl magazine
More in: *War Poetry Archive, Archive S-T, Expressionism, Stramm, August
---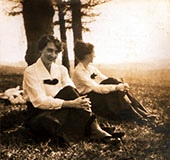 Transmission
A shell, expressed the verity
In tones more limpid than the sea,
Distilled the sea s infinity.
A mellow leaf disclosed the true
In more than sun s pellucid hue,
The sun was tinged in passing through.
A wing revealed the sky unseen,
Till motion made the air serene,
A wing a soaring life, I mean.
Gladys Cromwell
(1885-1919)
Transmission
fleursdumal.nl magazine
More in: Archive C-D, Cromwell, Gladys, Gladys Cromwell
---
The End
After the blast of lightning from the east,
The flourish of loud clouds, the Chariot Throne;
After the drums of time have rolled and ceased,
And by the bronze west long retreat is blown,
Shall Life renew these bodies? Of a truth
All death will he annul, all tears assuage?-
Or fill these void veins full again with youth,
And wash, with an immortal water, Age?
When I do ask white Age he saith not so:
'My head hangs weighed with snow.'
And when I hearken to the Earth, she saith:
'My fiery heart shrinks, aching. It is death.
Mine ancient scars shall not be glorified,
Nor my titanic tears, the seas, be dried.'
Wilfred Owen
(1893 – 1918)
The End
fleursdumal.nl magazine
More in: Archive O-P, Owen, Wilfred, WAR & PEACE
---
Mort d'une surdose d'opium en 1919 à l'âge de vingt-trois ans, alors qu'il est encore sous l'uniforme, Jacques Vaché est reconnu comme celui par qui le surréalisme est arrivé.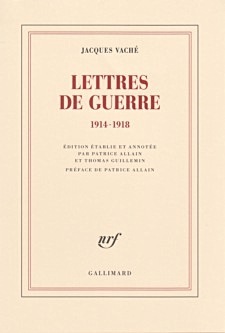 Du premier Manifeste à ses derniers Entretiens, André Breton aura toujours célébré celui qu'il appelait «l'homme que j'ai le plus aimé au monde».
Et quinze Lettres de guerre, envoyées depuis le front à son ami poète ainsi qu'à Théodore Fraenkel et Louis Aragon, auront suffi pour que Vaché devienne l'arme secrète de plusieurs générations.
Breton révélait en 1919 son «Umour» sans H, surgi au milieu des combats, l'expression poétique la plus pure de l'humour noir et de la «désertion intérieure».
Présenter pour la première fois l'intégralité des lettres écrites par Jacques Vaché à sa famille et à ses amis pendant la guerre (158 dont 23 totalement inédites) permet de marquer le point de départ d'une aventure moderne et de mettre en lumière le soldat en action, la vocation prometteuse du dessinateur et la singularité du «dandy des tranchées».
Jacques Vaché:
Lettres de guerre (1914-1918)
Édition de Patrice Allain et Thomas Guillemin.
Préface de Patrice Allain
Collection Blanche, Gallimard
Parution: 08-11-2018
480 pages,
ill.,
140 x 205 mm
Achevé d'imprimer: 01-10-2018
Genre : Correspondances
Prix: 24,00 €
# new books
Jacques Vaché:
Lettres de guerre (1914-1918)
fleursdumal.nl magazine
More in: #Biography Archives, *War Poetry Archive, - Book News, - Bookstores, Archive U-V, Archive U-V, Art & Literature News, Jacques Vaché, Opium-Eaters, Vaché, Jacques
---
To Joseph Joachim
Belov'd of all to whom that Muse is dear
Who hid her spirit of rapture from the Greek,
Whereby our art excelleth the antique,
Perfecting formal beauty to the ear;
Thou that hast been in England many a year
The interpreter who left us nought to seek,
Making Beethoven's inmost passion speak,
Bringing the soul of great Sebastian near.
Their music liveth ever, and 'tis just
That thou, good Joachim, so high thy skill,
Rank (as thou shalt upon the heavenly hill)
Laurel'd with them, for thy ennobling trust
Remember'd when thy loving hand is still
And every ear that heard thee stopt with dust.
Robert Bridges
(1844-1930)
To Joseph Joachim
fleursdumal.nl magazine
More in: *War Poetry Archive, Archive A-B, Bridges, Robert
---
A compelling history of women in seventeenth century espionage, telling the forgotten tales of women from all walks of life who acted as spies in early modern Britain.
Nadine Akkerman has immersed herself in archives and letter collections, acting as a modern-day Spymistress to unearth plots and conspiracies that have long been hidden by history.
It would be easy for the modern reader to conclude that women had no place in the world of early modern espionage, with a few seventeenth-century women spies identified and then relegated to the footnotes of history.
If even the espionage carried out by Susan Hyde, sister of Edward Hyde, Earl of Clarendon, during the turbulent decades of civil strife in Britain can escape the historiographer's gaze, then how many more like her lurk in the archives?
Nadine Akkerman's search for an answer to this question has led to the writing of Invisible Agents, the very first study to analyse the role of early modern women spies, demonstrating that the allegedly-male world of the spy was more than merely infiltrated by women.
This compelling and ground-breaking contribution to the history of espionage details a series of case studies in which women – from playwright to postmistress, from lady-in-waiting to laundry woman – acted as spies, sourcing and passing on confidential information on account of political and religious convictions or to obtain money or power.
The struggle of the She-Intelligencers to construct credibility in their own time is mirrored in their invisibility in modern historiography.
Akkerman has immersed herself in archives, libraries, and private collections, transcribing hundreds of letters, breaking cipher codes and their keys, studying invisible inks, and interpreting riddles, acting as a modern-day Spymistress to unearth plots and conspiracies that have long remained hidden by history.
Nadine Akkerman is Reader in early modern English Literature at Leiden University and Visiting Fellow at All Souls College, Oxford. She is author of the critically acclaimed Invisible Agents: Women and Espionage in Seventeenth-Century Britain (OUP), and of The Correspondence of Elizabeth Stuart, Queen of Bohemia (OUP), the third and final volume of which will be published in 2020, and is currently writing the definitive biography of Elizabeth Stuart. She has also published extensively on women's history, diplomacy, and masques, and curated several exhibitions, including the popular Courtly Rivals at the Haags Historisch Museum. In 2017 she was elected to The Young Academy of the Royal Netherlands Academy of Arts and Sciences, and received a Special Recognition Award from the World Cultural Council.
Invisible Agents
Women and Espionage in Seventeenth-Century Britain
Nadine Akkerman
Language: English
Oxford University Press
Hardcover
288 pages
Published: 12 July 2018
8 colour plates & 12 black and white images
234x156mm
ISBN-10: 0198823010
ISBN-13: 978-0198823018
£20.00
# new books
Nadine Akkerman:
Invisible Agents
fleursdumal.nl magazine
More in: #Biography Archives, *War Poetry Archive, - Book News, - Book Stories, Archive A-B, CRIME & PUNISHMENT, History of Britain, Tales of Mystery & Imagination, WAR & PEACE
---
Dulce et Decorum Est
Bent double, like old beggars under sacks,
Knock-kneed, coughing like hags, we cursed through sludge,
Till on the haunting flares we turned our backs,
And towards our distant rest began to trudge.
Men marched asleep. Many had lost their boots,
But limped on, blood-shod. All went lame; all blind;
Drunk with fatigue; deaf even to the hoots
Of gas-shells dropping softly behind.
Gas! GAS! Quick, boys!—An ecstasy of fumbling
Fitting the clumsy helmets just in time,
But someone still was yelling out and stumbling
And flound'ring like a man in fire or lime.—
Dim through the misty panes and thick green light,
As under a green sea, I saw him drowning.
In all my dreams before my helpless sight,
He plunges at me, guttering, choking, drowning.
If in some smothering dreams, you too could pace
Behind the wagon that we flung him in,
And watch the white eyes writhing in his face,
His hanging face, like a devil's sick of sin;
If you could hear, at every jolt, the blood
Come gargling from the froth-corrupted lungs,
Obscene as cancer, bitter as the cud
Of vile, incurable sores on innocent tongues,—
My friend, you would not tell with such high zest
To children ardent for some desperate glory,
The old Lie: Dulce et decorum est
Pro patria mori.
Wilfred Owen
(1893 – 1918)
Dulce et Decorum Est (Poem)
# Armistice of 11 November 1918 – 2018

fleursdumal.nl magazine
More in: Archive O-P, Archive O-P, Galerie des Morts, Galerie Deutschland, Histoire de France, Historia Belgica, History of Britain, Owen, Wilfred, WAR & PEACE
---
Redu, en tant que village du livre, ne peut célébrer le centième anniversaire de la fin de la Grande Guerre qu'en mettant à l'honneur la littérature de l'époque.

L'angle de vue choisi est celui de la poésie née sur, ou au plus près des champs de bataille et des tranchées.
Une poésie européenne au sens le plus large qui balaie l'Europe de la Russie aux Iles britanniques ; une poésie qui, pour exprimer la puissance de cette première conflagration mondiale en son effet sur le corps et sur les consciences, se cherche des formes nouvelles.
En ce début du vingtième siècle le soldat est scolarisé.
Il lit, il écrit : des lettres, des carnets d'instantanés, et de la poésie, qui rendent compte de l'instant d'angoisse, de désespoir, de sentiment d'abandon dans un monde devenu fou.
Ainsi la Grande Guerre donne-t-elle naissance à une poésie de l'instant vécu avec une intensité hors norme par des écrivains devenus combattants.
Ce parcours tracé dans les rues de Redu, les poèmes affichés aux murs du village, en témoignent.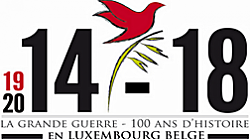 Du 19 mai au 11 novembre 2018
Un circuit de 20 poèmes des soldats de la Grande Guerre.
https://www.redu-villagedulivre.be/fr/
photos: fleursdumal.nl
fleursdumal.nl magazine
More in: *War Poetry Archive, - Book Lovers, - Bookstores, Art & Literature News, FDM Art Gallery, Galerie des Morts, Historia Belgica, WAR & PEACE
---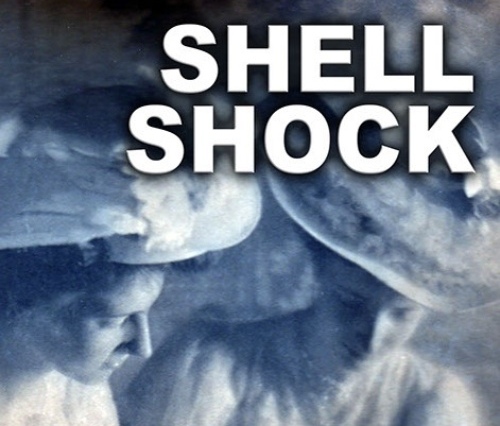 The true story of twin sisters, Dorothea and Gladys Cromwell, born into New York's Gilded Age, living lives of wealth and privilege, as told by Dennis Whitehead.

Amid the fervor of America's entry into the First World War, the sisters volunteered for service with the American Red Cross in France, a country they knew and loved. To French soldiers seeking refreshment and solace in the Red Cross canteen, the identical twins were known as anges jumeaux, the twin angels.
Witnessing the non-stop horrors in the worst fighting in the war, the sisters were utterly exhaustion, both mentally and physically, when they boarded the SS La Lorraine for the return journey home. They had wished to continue their service to the people of France after the fighting stopped but were convinced to return to New York by their brother.
What happened on that ship, on that frigid January 1919 evening, almost one-hundred years ago, is one of the great untold stories of World War I, and the impact that modern warfare had upon not just the men in the trenches, but upon its women and other non-combatants, as well as civilians, that remained unrecognized until the Vietnam War.
Dennis Whitehead: A native of Cincinnati and a graduate of Ohio University, Dennis Whitehead is a writer, photographer, and media producer in Arlington, Virginia.
Shell Shock: Twin Sisters Born Into New York's Gilded Age Struck Down by the Horrors of War
by Dennis Whitehead
Kindle Edition
$2,99
Available for download
Language: English
File Size: 27502 KB
Print Length: 52 pages
Publisher: MMImedia LLC (July 18, 2018)
Publication Date: July 18, 2018
Amazon Digital
# More information and link with Amazon Kindle Edition
Shell Shock is the story of the twin Cromwell sisters who served with the American Red Cross in World War I France. Witnessing the unrelenting horrors of war, the Cromwell sisters illustrate the unrecognized trauma wrought upon non-combatants in the First World War. Gladys Cromwell (1885-1919) was a very talented poet.
# Digital biography
American writers
Gladys Cromwell
fleursdumal.nl magazine
More in: #Biography Archives, *War Poetry Archive, - Book Stories, Archive C-D, Archive W-X, AUDIO, CINEMA, RADIO & TV, Gladys Cromwell, Photography, WAR & PEACE
---
Preparation
A time will come when I shall breathe
New melodies to soothe and fold,
Like portions of a mellow sheath,
My sorrow. While my songs withhold
Their tones, I pause before the years;
I gaze on the grey world ; I strive
To clear the mist of doubting tears.
My songs, what music you ll derive
From silence in the time to come!
Gladys Cromwell
(1885-1919)
Preparation
fleursdumal.nl magazine
More in: Archive C-D, Cromwell, Gladys, Gladys Cromwell
---
Older Entries »
Thank you for reading FLEURSDUMAL.NL - magazine for art & literature