WAR POETRY
·
August Stramm: Fluch (Gedicht)
·
Gladys Cromwell: The Fugitive (Poem)
·
August Stramm: Siede (Gedicht)
·
August Stramm: Tanz (Gedicht)
·
Kill Class by Nomi Stone (Poetry)
·
Wilfred Owen: Anthem for Doomed Youth (Poem)
·
August Stramm: Erfüllung (Gedicht)
·
Wilfred Owen: Arms and the Boy (Poem)
·
Poëzieweek & Gedichtendag 2019 (31 januari t.m. 6 februari)
·
August Stramm: Ich (Gedicht)
·
Wilfred Owen: A Terre (Poem)
·
August Stramm: Weltwehe (Gedicht)
Fluch
Du sträubst und wehrst!
Die Brände heulen
Flammen
Sengen!
Nicht Ich
Nicht Du
Nicht Dich!
Mich!
Mich!
August Stramm
(1874-1915)
Fluch, 1914
• fleursdumal.nl magazine
More in: *War Poetry Archive, Archive S-T, Expressionism, Stramm, August
---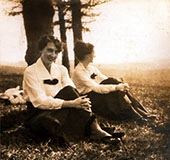 The Fugitive
Fool, fool,
They can hear thy frighted feet,
And they poke fun at thee,
Or pity thee,
Or pity thee.
They can hear thy steps retreat,
Shuffling timidly.
Thy gait is hobbling and uncouth,
For stubborn is earth's clay;
There was a day,
There was a day,
When from the doom of its own youth,
Thy spirit stole away.
Do they not know thy spirit's home?
Thy spirit, glancing, glides
Beneath all tides,
Beneath all tides.
It is a coral under foam;
In the cool deep it hides.
For lo, the yielding element
Of immortality
Is like the sea,
Is like the sea.
Do they not hear, in wonderment,
The tides enfolding thee?
Gladys Cromwell
(1885-1919)
The Fugitive
• fleursdumal.nl magazine
More in: Archive C-D, Cromwell, Gladys, Gladys Cromwell
---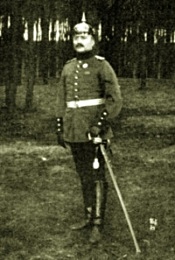 Siede
Meine Schwäche hält sich mühsam
An den eigenen Händen
Mit meinen Kräften
Spielen deine Knöchel
Fangeball!
In deinem Schreiten knistert
Hin
Mein Denken
Und
Dir im Auggrund
Stirbt
Mein letztes Will!
Dein Hauch zerweht mich
Schreivoll in Verlangen
Kühl
Kränzt dein Tändeln
In das Haar
Sich
Lächelnd
Meine Qual!
August Stramm
(1874-1915)
Siede, 1914
• fleursdumal.nl magazine
More in: *War Poetry Archive, Archive S-T, Expressionism, Stramm, August
---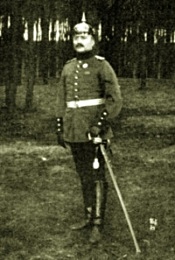 Tanz
Milchweiche Schultern!
Augen flirren, flackern!
Blond und schwarz und sonnengolden
Taumeln Haare, wirren, krampfen,
Schlingen Brücken,
Brücken!
Hin
Und rüber
Taumeln, Kitzel,
Bäumen, saugen,
Saugen, züngeln
Schürfen
Blut
Schweres, lustgesträubtes
Blut!
In die Wunden
Hüpfen Töne,
Sielen, bohren,
Wühlen, quirlen,
Fallen kichernd,
Schwellen auf und fressen sich,
Gatten, gatten, schwängern sich,
Bären Schauer
Wahnengroß!
Hilflos surren um die Lichter
Mutterängste
Nach den Kindern,
Die sich winden,
Winden, huschen
Vor den Tritten,
Die sie packen,
Ihre glasen, sichten Leiber
Schinden, scharren,
Pressen, schleudern,
Tückisch abgemessne Lüste
Jagen unter Brunstgestöne,
Brunstgeächze
Und
Gekrächze!
Durch die Wirrnis
Durch die Flirrnis
Blitzt Verstummen!
Jäh zerflattern
Drängen gellend
An die Decke
Sich die Töne,
Klammern, krallen
Scheu verwimmernd
Am Gebälk!
Glotzen nieder,
Wo mit Wuchten
Schlorrt das Keuchen,
Schlappet
Ringsum an den Wänden
Seinen ungefügen Leib,
Unzahlmäulig
zuckt und schnauft!
An die angstzerglühten Herzen
Reißen flammend hoch die Lichter
Ihre hetzverstörten Kinder,
Die in Irren, Wirren
Zitternd
Ob der ungewohnten Ruhe
Ab sich tasten
Und sich streicheln
Gegenseitig
Hell von Staunen,
Daß sie leben noch,
Sie leben!
Zagig finden sie das Lächeln,
Fluten leise, fluten, fluten,
Reichen summend sich die Hände,
werden warm
Und
Schwingen Reigen!
Da
In Peitschlust, Streitdurst, Quälsucht
Vollgesogen
Vom Gebälke
Stiebt das Gellen!
Schrillt unbändig,
Ueberschlägt sich,
Purzelt, flattert,
Springt und stöbert,
Federt, pumpelt auf
Das Untier,
Das
Mit tausend Füßen aufschrickt,
Trippelt, trappelt,
Trappelt, grappelt,
Gell gedrängelt
Von den Tönen,
Die zerrasseln,
Niederprasseln,
Peitschen, schlagen, fiebern, kosen
Und im Wirbel
Wringen, wiegen
Schwelles,
Blaßhellrotes Fleisch!
Milchweiche Schultern!
Augen . . .
August Stramm
(1874-1915)
Tanz, 1914
• fleursdumal.nl magazine
More in: *War Poetry Archive, Archive S-T, Expressionism, Stramm, August
---
A poet and anthropologist explores the surprising world of war games in mock Middle Eastern villages in which the U.S. military trains.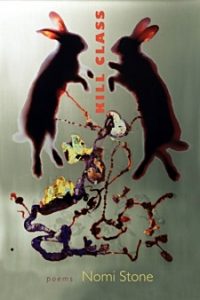 With deft lyrical attention, these documentary poems reveal the nuanced culture and violence of the war machine—alive and well within these basecamp villages, the American military, and, ultimately, the human heart.
Kill Class is based on Nomi Stone's two years of fieldwork in mock Middle Eastern villages at military bases across the United States.
The speaker in these poems, an anthropologist, both witnesses and participates in combat training exercises staged at "Pineland," a simulated country in the woods of the American South, where actors of Middle Eastern origin are hired to theatricalize war, repetitively pretending to bargain and mourn and die.
Kill Class is an arresting ethnography of American military culture, one that allows readers to circle at length through the cloverleaf interchanges where warfare nestles into even the most mundane corners of everyday life.
Nomi Stone is a poet, anthropologist, and author of a previous book of poems, Stranger's Notebook (TriQuarterly, 2008). Winner of a 2018 Pushcart Prize, Stone's poems appear recently in POETRY Magazine, American Poetry Review, The Best American Poetry, The New Republic, Tin House, New England Review, and elsewhere. Stone has a PhD in Cultural Anthropology from Columbia University, an MPhil in Middle East Studies from Oxford, and an MFA in Poetry from Warren Wilson College. She teaches at Princeton University and her ethnography in progress, Human Technology and American War, is a finalist for the University of California Press Atelier Series.
Kill Class
by Nomi Stone (Author)
Paperback
87 pages
Publisher: Tupelo Press
February 1, 2019
Language: English
Poetry
ISBN-10: 1946482196
ISBN-13: 978-1946482198
$17.95
# new poetry
Kill Class
by Nomi Stone
• fleursdumal.nl magazine
More in: *War Poetry Archive, - Book News, - Book Stories, Archive S-T, Archive S-T, Art & Literature News, WAR & PEACE
---
Anthem for Doomed Youth
What passing-bells for these who die as cattle?
— Only the monstrous anger of the guns.
Only the stuttering rifles' rapid rattle
Can patter out their hasty orisons.
No mockeries now for them; no prayers nor bells;
Nor any voice of mourning save the choirs,—
The shrill, demented choirs of wailing shells;
And bugles calling for them from sad shires.
What candles may be held to speed them all?
Not in the hands of boys, but in their eyes
Shall shine the holy glimmers of goodbyes.
The pallor of girls' brows shall be their pall;
Their flowers the tenderness of patient minds,
And each slow dusk a drawing-down of blinds.
Wilfred Owen
(1893 – 1918)
Anthem for Doomed Youth (Poem)
• fleursdumal.nl magazine
More in: Archive O-P, Archive O-P, Galerie des Morts, Owen, Wilfred, WAR & PEACE
---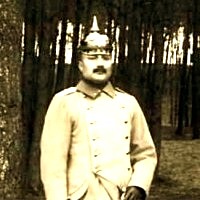 Erfüllung
Meine Sporen frechzen deine Spitzen!
Bläulich kichern die Aederchen fort
In Sicherheit höhnisch
Im
Schimmrigen Weich
Bebige Hügel wiegen Verlangen
Köpfchen rosen empor und steilen Gewähr.
Die Lippe zerfrißt sich!
Golden ringeln Würger hinunter
Und schnüren den Hals zu
Nach meinen Fingern tastet dein Blut
Und siedet den Kampf.
Die Seelen ringen und kollern abseit!
Hoch schlagen die Röcke den Blick auf
Goldhellrot
Rotweichrot
Flamme zischt in das Hirn
Und sticht mir das Schaun aus!
Sinken Sinken
Schweben und Sinken
Schwingen im Sturme
Im Sturm
Im schreikrollen Meer!
Ziegelrot
Ueber uns segnet der Tod
Säender Tod!
August Stramm
(1874-1915)
Erfüllung, 1914
• fleursdumal.nl magazine
More in: *War Poetry Archive, Archive S-T, Expressionism, Stramm, August
---
Arms and the Boy
Let the boy try along this bayonet-blade
How cold steel is, and keen with hunger of blood;
Blue with all malice, like a madman's flash;
And thinly drawn with famishing for flesh.
Lend him to stroke these blind, blunt bullet-leads,
Which long to nuzzle in the hearts of lads,
Or give him cartridges of fine zinc teeth
Sharp with the sharpness of grief and death.
For his teeth seem for laughing round an apple.
There lurk no claws behind his fingers supple;
And God will grow no talons at his heels,
Nor antlers through the thickness of his curls.
Wilfred Owen
(1893 – 1918)
Arms and the Boy (Poem)
• fleursdumal.nl magazine
More in: Archive O-P, Archive O-P, Galerie des Morts, Owen, Wilfred, WAR & PEACE
---
Het thema van de Poëzieweek 2019 is Vrijheid, met als motto: Zonder handen, zonder tanden.
De week opent op donderdag 31 januari met Gedichtendag en wordt woensdagavond 6 februari feestelijk afgesloten met De Grote Poëzieprijs, de Awater Poëzieprijs en de Turing Gedichtenwedstrijd. Tom Lanoye schrijft het Poëziegeschenk Vrij – Wij?, cadeau van de boekwinkel bij aankoop van € 12,50 aan poëzie.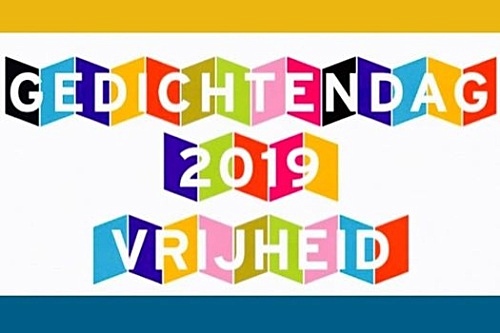 Met Gedichtendag (31 januari 2019) gaat op de laatste donderdag van januari traditiegetrouw de Poëzieweek van start. Gedichtendag, sinds 2000 georganiseerd door Poetry International Rotterdam, is hét poëziefeest van Nederland en Vlaanderen.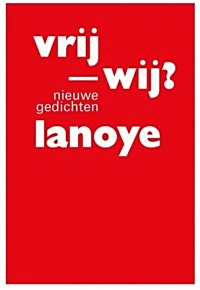 Poëzieliefhebbers in Nederland en Vlaanderen organiseren die dag een grote diversiteit aan eigen poëzieactiviteiten en ook de media klinken die dag een stuk poëtischer.
 Voor de enorme hoeveelheid optredens, publicaties, poëzieprijzen, -programma's en -activiteiten is één dag simpelweg veel te kort!
De Poëzieweek wil een zo groot mogelijk bereik voor poëzie creëren en bundelt tal van activiteiten van organisatoren in Nederland en Vlaanderen.
De Poëzieweek is een samenwerking van Stichting CPNB, Poëziecentrum, Stichting Poetry International, Vlaams Fonds voor de Letteren, Nederlands Letterenfonds, Stichting Lezen Nederland, Iedereen Leest Vlaanderen, De Schrijverscentrale, Boek.be, Taalunie, Stichting Van Beuningen/Peterich-fonds, Turing Foundation, Awater, Het Literatuurhuis, Poëzieclub, SLAG, School der Poëzie en De Nieuwe Oost | Wintertuin.
# Voor een overzicht van alle activiteiten zie de website POËZIEWEEK
• fleursdumal.nl magazine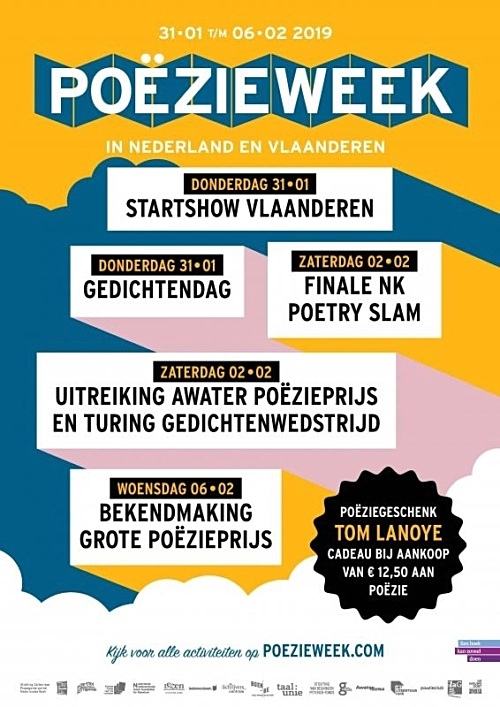 More in: #Archive A-Z Sound Poetry, #Archive Concrete & Visual Poetry, #More Poetry Archives, *War Poetry Archive, - Book Lovers, - Bookstores, Art & Literature News, LIGHT VERSE, Literary Events, MODERN POETRY, Poetry International, Poetry Slam, Poëziepaleis, Poëzieweek, STREET POETRY, THEATRE, Tilt Festival Tilburg, Tom Lanoye
---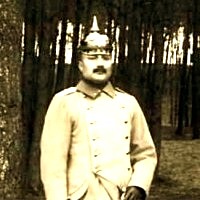 Ich
Du steht! Du steht!
Und ich
Und ich
Ich winge
Raumlos zeitlos wäglos!
Du steht! Du steht!
Und
Rasen bäret mich
Ich
Bär mich selber!
Du!
Du!
Du bannt die Zeit
Du bogt der Kreis
Du seelt der Geist
Du blickt der Blick
Du
Kreist die Welt
Die Welt
Welt!
Ich
Kreis das All!
Und du
Und du
Du
Stehst
Das Ich
Das
Ich!
August Stramm
(1874-1915)
Ich, 1914
• fleursdumal.nl magazine
More in: *War Poetry Archive, Archive S-T, Expressionism, Stramm, August
---
A Terre
(Being the philosophy of many Soldiers.)
Sit on the bed; I'm blind, and three parts shell.
Be careful; can't shake hands now; never shall.
Both arms have mutinied against me,—brutes.
My fingers fidget like ten idle brats.
I tried to peg out soldierly,—no use!
One dies of war like any old disease.
This bandage feels like pennies on my eyes.
I have my medals?—Discs to make eyes close.
My glorious ribbons?—Ripped from my own back
In scarlet shreds. (That's for your poetry book.)
A short life and a merry one, my buck!
We used to say we'd hate to live dead-old,—
Yet now … I'd willingly be puffy, bald,
And patriotic. Buffers catch from boys
At least the jokes hurled at them. I suppose
Little I'd ever teach a son, but hitting,
Shooting, war, hunting, all the arts of hurting.
Well, that's what I learnt,—that, and making money.
Your fifty years ahead seem none too many?
Tell me how long I've got? God! For one year
To help myself to nothing more than air!
One Spring! Is one too good to spare, too long?
Spring wind would work its own way to my lung,
And grow me legs as quick as lilac-shoots.
My servant's lamed, but listen how he shouts!
When I'm lugged out, he'll still be good for that.
Here in this mummy-case, you know, I've thought
How well I might have swept his floors for ever.
I'd ask no night off when the bustle's over,
Enjoying so the dirt. Who's prejudiced
Against a grimed hand when his own's quite dust,
Less live than specks that in the sun-shafts turn,
Less warm than dust that mixes with arms' tan?
I'd love to be a sweep, now, black as Town,
Yes, or a muckman. Must I be his load?
O Life, Life, let me breathe,—a dug-out rat!
Not worse than ours the lives rats lead—
Nosing along at night down some safe rut,
They find a shell-proof home before they rot.
Dead men may envy living mites in cheese,
Or good germs even. Microbes have their joys,
And subdivide, and never come to death.
Certainly flowers have the easiest time on earth.
"I shall be one with nature, herb, and stone,"
Shelley would tell me. Shelley would be stunned:
The dullest Tommy hugs that fancy now.
"Pushing up daisies," is their creed, you know.
To grain, then, go my fat, to buds my sap,
For all the usefulness there is in soap.
D'you think the Boche will ever stew man-soup?
Some day, no doubt, if …
Friend, be very sure
I shall be better off with plants that share
More peaceably the meadow and the shower.
Soft rains will touch me,— as they could touch once,
And nothing but the sun shall make me ware.
Your guns may crash around me. I'll not hear;
Or, if I wince, I shall not know I wince.
Don't take my soul's poor comfort for your jest.
Soldiers may grow a soul when turned to fronds,
But here the thing's best left at home with friends.
My soul's a little grief, grappling your chest,
To climb your throat on sobs; easily chased
On other sighs and wiped by fresher winds.
Carry my crying spirit till it's weaned
To do without what blood remained these wounds.
Wilfred Owen
(1893 – 1918)
A Terre (Poem)
• fleursdumal.nl magazine
More in: Archive O-P, Archive O-P, Galerie des Morts, Owen, Wilfred, WAR & PEACE
---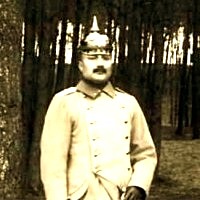 Weltwehe
Nichts Nichts Nichts
Haucht
Nichts
Hauchen
Nichts
Hauch
Wägen
Wägen wegen
Wegen regen
Stauen
Lauen
Weben schweben wallen ballen
Warmen
Biegen bogen
Wärmen
Drehen drehen
Dunsten
Streifen glimmen
Fachen
Hitzen
Glühen
Wellen
Sieden brodeln rauschen brausen
Züngeln springen
Flammen spritzen
Platzen
Knattern knallen krachen
Tausend
Null Null Null
Tausend
Null
Milliarden
Null Null Null
Weißen
Lichten
Kreisen kreisen
Bahnen
Fliegen
Kreisen kreisen
Rollen
Kugeln
Kugeln kugeln
Glatten
Kugeln
Platten
Kugeln
Kreisen
Kugeln
Dichten schichten wichten walzen wälzen
Festen
Kreisen
Pressen
Kugeln
Schmieden
Kreisen
Kernen
Kugeln
Kern.
Halten fassen kraften schwingen
Ruhen reißen sprengen
Heben senken falten
Schieben wogen
Starren
Heißen
Beben
Schweißen
Beben
Leben
Atmen
Leben
Leben leben
Zeugen
Bären
Leben leben
Blühen
Wachsen
Leben leben
Brennen
Starken
Marken
Rollen rollen
Leuchten trocknen feuchten lichten
Streben ranken
Tönen
Ringen
Kämpfen
Ringen
Ringen
Können
Wollen
Können
Schwanken
Können
Wollen
Blühen
Wollen
Rollen
Können
Kranken
Placken racken ächzen
Rollen
Wollen
Lallen
Wollen wollen
Ranken
Wollen wollen
Rollen
Drehen wehen rollen
Wollen wollen
Stürmen wollen
Drehen
Matten
Wollen
Matten
Rollen drehen
Wehen wehen
Wollen
Kreisen
Engen
Kreisen
Engen
Schwanken
Wanken
Zittern
Schwingen
Wiegen kreisen engen lockern
Trudeln krudeln
Trudeln
Schlacken
Lockern
Schlacken
Bröckeln
Aschen
Trollen trollen
Aschen
Trollen trollen
Sollen
Wollen
Stocken reißen
Sacken rasen
Rasen
Sprengen
Platzen
Schmettern
Stäuben stäuben stäuben
Schweben
Weben
Wallen
Weben
Fallen
Wegen
Reigen
Wolken
Schleichen
Flaken
Weiten
Flaken
Wachten
Steinen
Nachten
Nebeln
Nachten
Weiten
Nachten nachten
Losen
Nachten nachten
Lösen
Nachten nachten
Raumen
Nachten nachten
Zeiten
Nachten
Weiten raumen zeiten
Nachten
Zeiten zeiten
Nachten
Zeiten
Nachten
Weiten
Weiten
Nichts Nichts Nichts
Nichts.
August Stramm
(1874-1915)
Weltwehe, 1914
• fleursdumal.nl magazine
More in: *War Poetry Archive, Archive S-T, Expressionism, Stramm, August
---
Older Entries »
Thank you for reading FLEURSDUMAL.NL - magazine for art & literature