Archive C-D
·
Dichter Jules Deelder overleden
·
Emily Dickinson: Drowning is not so pitiful (Poem)
·
Emily Dickinson: A Word (Poem)
·
Gladys Cromwell: Approach (Poem)
·
Gladys Cromwell: Folded Power (Poem)
·
Daniil Charms: De dappere egel
·
Gladys Cromwell: Autumn Communion (Poem)
·
Bob Dylan's Poetics. How the Songs Work by Timothy Hampton
·
Gladys Cromwell: The Beggar (Poem)
·
Gladys Cromwell: The Gates of Utterance (Poem)
·
Gladys Cromwell: The Breath (Poem)
·
Emily Dickinson: The Soul unto itself
Op 19 december 2019 is – na een zeer kort ziekbed – overleden dichter J.A. (Jules) Deelder. De dichter werd volgens zijn familie "tot zijn eigen verbazing" 75 jaar oud.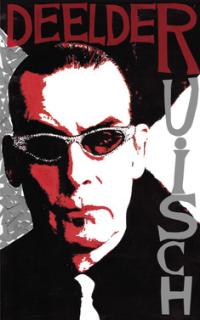 Jules Deelder (Rotterdam, 1944 – 2019) was een opvallende verschijning en erg geliefd als schrijver, dichter, muzikant en performer. Hij was zijn leven lang een groot liefhebber van Jazz en fan van de Rotterdamse voetbalclub Sparta. De club riep hem, kort voor zijn dood, nog uit tot lid van verdienste. Verder stond Deelder bekend als 'De nachtburgemeester van Rotterdam'.
Jules Deelder werd gerekend tot de 'performance poets' ( of 'popdichters') een beweging die aansloot bij de 'Beat Generation' van Amerikaanse dichters als Allen Ginsberg en Jack Kerouac.
De familie van Deelder en uitgeverij De Bezige Bij, staan met dit gedicht stil bij zijn overlijden:
Zijn gaan is
een komen
Zijn komen
een gaan
Hij houdt niet
van zitten
Hij blijft
liever staan
Zichzelf
en de wereld
een raadsel
(Uit: De Zwarte Jager – J.A. Deelder, 1973)
I.M.
Jules Deelder
(1944 – 2019)
• fleursdumal.nl magazine
More in: # Music Archive, #Archive A-Z Sound Poetry, #Beat Generation Archives, #Editors Choice Archiv, Archive C-D, Archive C-D, In Memoriam, Jules Deelder
---
Drowning is not so pitiful
Drowning is not so pitiful
As the attempt to rise.
Three times, 't is said, a sinking man
Comes up to face the skies,
And then declines forever
To that abhorred abode
Where hope and he part company, —
For he is grasped of God.
The Maker's cordial visage,
However good to see,
Is shunned, we must admit it,
Like an adversity.
Emily Dickinson
(1830-1886)
Drowning is not so pitiful
• fleursdumal.nl magazine
More in: Archive C-D, Archive C-D, Dickinson, Emily
---
A Word
A word is dead
When it is said,
Some say.
I say it just
Begins to live
That day.
Emily Dickinson
(1830-1886)
A Word
• fleursdumal.nl magazine
More in: Archive C-D, Archive C-D, Dickinson, Emily
---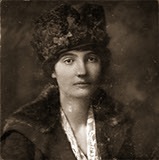 Approach
Apparelled in a mask of joy till now,
I knew thee not. Asleep, I see thy face
More simply. Sorrow s leisure lets me trace
The nicer lines. Thy sealed lids, thy brow,
Thy lasting posture, purposes avow ;
In thy spent form resides a moveless grace.
A pageant was thy life, and in its place
I find a truth to feed and to endow
My heart. Thy wonted mask of joy belied
The meaning death s bare attitude makes clear.
From living gesture thought went often wide,
And I was poor interpreter ; but here,
Where it would seem our thoughts anew divide,
The steady silence draws thy spirit near.
Gladys Cromwell
(1885-1919)
Approach
From: Songs of the Dust, 1915
• fleursdumal.nl magazine
More in: Archive C-D, Archive C-D, Cromwell, Gladys, Gladys Cromwell
---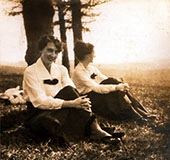 Folded Power
Sorrow can wait,
For there is magic in the calm estate
Of grief; lo, where the dust complies
Wisdom lies.
Sorrow can rest,
Indifferent, with her head upon her breast;
Idle and hushed, guarded from fears;
Content with tears.
Sorrow can bide,
With sealèd lids and hands unoccupied.
Sorrow can fold her latent might,
Dwelling with night.
But Sorrow will rise
From her dream of sombre and hushed eternities.
Lifting a Child, she will softly move
With a mother's love.
She will softly rise.
Her embrace the dying will recognize,
Lifting them gently through strange delight
To a clearer light.
Gladys Cromwell
(1885-1919)
Folded Power
• fleursdumal.nl magazine
More in: Archive C-D, Cromwell, Gladys, Gladys Cromwell
---
Daniil Charms die in werkelijkheid Daniil Ivanovic Juvacov heette, werd in 1905 in St. Petersburg geboren, waar hij in 1942 stierf.
In 1926 richtte hij met Aleksandr Vvdenski en Nikolaj Zabolotski de avantgardegroep Oberiu (Objeedinenije realnogo iskoesstva – 'Vereniging van reële kunst') op. Hun doel was een artistieke revolutie door te voeren, parallel aan de politieke revolutie.
Alhoewel ze het woord niet gebruikten pleitten ze voor absurde kunst. De doodsteek kwam toen ze in 1930 beschuldigd werden van protest tegen de dictatuur van het proletariaat. Charms werd in 1931 veroordeeld tot verbanning naar Koersk, waarvandaan hij in 1933 terugkeerde.
Hij legde zich toen, omdat zijn werk voor volwassenen niet-publicabel was geworden, toe op kinderliteratuur.
Uiteindelijk werd hij in 1941, tijdens het beleg van het Leningrad (tot 1924 Petersburg genoemd), weer gearresteerd en krankzinnig verklaard. Charms stierf begin 1942, vermoedelijk uitgehongerd, in de psychiatrische afdeling van de gevangenis Kresty in Leningrad. Hij heeft geen graf.
Na zijn dood werden zijn manuscripten teruggevonden. In de jaren zestig begonnen publicaties van dit onuitgegeven werk te verschijnen, aanvankelijk vooral in het Westen. Op grond hiervan kreeg Charms algauw de reputatie van Ruslands belangrijkste absurdistische auteur.
# meer informatie op website: https://www.uitgeverijvleugels.nl/
daniil charms
De dappere egel
2019
60 pagina's
vertaling: jan paul hinrichs
isbn 978 90 78627 82 1
uitgeverij vleugels
€ 21,80
uitgeverij vleugels
van 't hoffstraat 27
2665 jl bleiswijk
t 06 30 49 77 49
email: info@uitgeverijvleugels.nl
website: https://www.uitgeverijvleugels.nl/
# more books
daniil charms
De dappere egel
• fleursdumal.nl magazine
More in: - Book News, - Bookstores, Archive C-D, Archive C-D, Archive K-L, Kharms (Charms), Daniil, Modernisme, Psychiatric hospitals, REPRESSION OF WRITERS, JOURNALISTS & ARTISTS, TRANSLATION ARCHIVE
---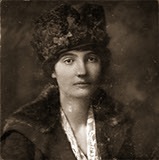 Autumn Communion
This autumn afternoon
My fancy need invent
No untried sacrament.
Man can still commune
With Beauty as of old:
The tree, the wind's lyre,
The whirling dust, the fire—
In these my faith is told.
Beauty warms us all;
When horizons crimson burn,
We hold heaven's cup in turn.
The dry leaves gleaming fall,
Crumbs of mystical bread;
My dole of Beauty I break,
Love to my lips I take,
And fear is quieted.
The symbols of old are made new:
I watch the reeds and the rushes,
The spruce trees dip their brushes
In the mountain's dusky blue;
The sky is deep like a pool;
A fragrance the wind brings over
Is warm like hidden clover,
Though the wind itself is cool.
Across the air, between
The stems and the grey things,
Sunlight a trellis flings.
In quietude I lean:
I hear the lifting zephyr
Soft and shy and wild;
And I feel earth gentle and mild
Like the eyes of a velvet heifer.
Love scatters and love disperses.
Lightly the orchards dance
In a lovely radiance.
Down sloping terraces
They toss their mellow fruits.
The rhythmic wind is sowing,
Softly the floods are flowing
Between the twisted roots.
What Beauty need I own
When the symbol satisfies?
I follow services
Of tree and cloud and stone.
Color floods the world;
I am swayed by sympathy;
Love is a litany
In leaf and cloud unfurled.
Gladys Cromwell
(1885-1919)
Autumn Communion
• fleursdumal.nl magazine
More in: Archive C-D, Cromwell, Gladys, Gladys Cromwell
---
The 2016 Nobel Prize in Literature recognized Bob Dylan as a major modern artist, elevating his work beyond the world of popular music.

In this book, Timothy Hampton focuses on the details and nuances of Dylan's songs, showing how they work as artistic statements designed to create meaning and elicit emotion.
With Bob Dylan's Poetics, Hampton offers a unique examination of both the poetics and politics of Dylan's compositions. He studies Dylan not as a pop hero, but as an artist, as a maker of songs.
F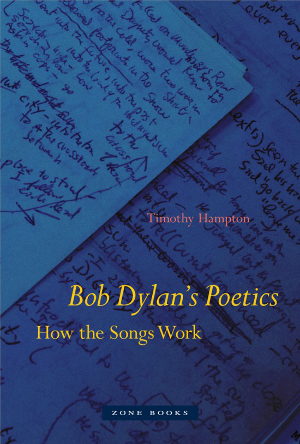 ocusing on the interplay of music and lyric, Hampton traces Dylan's innovative use of musical form, his complex manipulation of poetic diction, and his dialogues with other artists, from Woody Guthrie to Arthur Rimbaud.
Moving from Dylan's earliest experiments with the blues through his mastery of rock and country to his densely allusive more recent recordings, Hampton offers a detailed account of Dylan's achievement.
Locating Dylan in the long history of artistic modernism, he examines the relationships among form, genre, and the political and social themes that crisscross Dylan's work. With this book, Hampton offers both a nuanced engagement with the work of a major artist and a meditation on the contribution of song at times of political and social change.
Title Bob Dylan's Poetics
Subtitle How the Songs Work
Author Timothy Hampton
Publisher MIT Press
Title First Published 01 March 2019
Format Hardcover
ISBN-10 1942130155
ISBN-13 9781942130154
Hardcover – $29.95
# more books
Bob Dylan's Poetics.
How the Songs Work
by Timothy Hampton
• fleursdumal.nl magazine
More in: - Book News, - Bookstores, Archive C-D, Archive C-D, Archive G-H, AUDIO, CINEMA, RADIO & TV, Bob Dylan, Dylan, Bob
---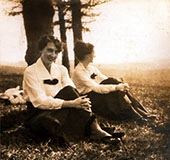 The Beggar
Showing his ill-made frame
And mumbling of troubles many,
Along a public street,
The cripple calls for a penny.
Inviting sympathy,
By his rags and his withered arm,
He follows and frets till we argue
A penny can do him no harm.
Just now, in this intimate room,
Sagacious, clever and witty,
Exposing his hardships, a Beggar
Beckoned his friends for pity.
Ugh! By displaying his pains,
By showing his heart was ashen,
By revealing his twisted life,
He played for a glance of compassion.
Strange how I longed to laugh ;
His feebleness was funny.
I thought : " He's only a Beggar
And affection is golden money.
Gladys Cromwell
(1885-1919)
The Beggar
From: Poems 1919
• fleursdumal.nl magazine
More in: Archive C-D, Cromwell, Gladys, Gladys Cromwell, WAR & PEACE
---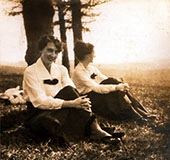 The Gates of Utterance
There is a throng within the gates,
A pressing, diverse throng;
Without, a peaceful throng awaits,
To which I would belong.
Within the gates the varied folk
Advise discordantly;
Without, the poet-crowds convoke
To council harmony.
Within the gates are all the heights
And depths of serried powers;
But when a lyric theme invites,
I reach out-lying bowers
Where dwell the bards of quiet years ;
I join my song to theirs;
My glad, unfettered spirit hears
The melody it shares.
Gladys Cromwell
(1885-1919)
The Gates of Utterance
From: Songs of the Dust, 1915
• fleursdumal.nl magazine
More in: Archive C-D, Archive C-D, Cromwell, Gladys, Gladys Cromwell
---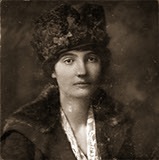 The Breath
A trembling crest
Of smoke, the winter sky
Congeals to bloom,
To please a poet's eye:
A slender reed
Arisen from some gold
Recess or womb
Of flame to spaces cold.
Between the twigs,
That for a nest are spun
On flight's grey loom,
A sapphire thread may run
And so between the grey,
The woven boughs of trees,
A little plume
Of mist the poet sees :
It will suffice —
Too scant a breath to name
For him to whom
It signifies a flame.
Gladys Cromwell
(1885-1919)
The Breath
From: Poems 1919
• fleursdumal.nl magazine
More in: Archive C-D, Cromwell, Gladys, Gladys Cromwell
---
The Soul unto itself
The Soul unto itself
Is an imperial friend –
Or the most agonizing Spy –
An Enemy – could send –
Secure against its own –
No treason it can fear –
Itself – its Sovereign – of itself
The Soul should stand in Awe –
Emily Dickinson
(1830-1886)
The Soul unto itself
fleursdumal.nl magazine
More in: Archive C-D, Dickinson, Emily
---
Older Entries »
Thank you for reading FLEURSDUMAL.NL - magazine for art & literature