AUDIO, CINEMA, RADIO & TV
·
Occupying the Stage. The Theater of May '68 by Kate Bredeson
·
50th Poetry International Festival Rotterdam. Going for gold from 13 – 16 June 2019
·
SIGN NOW: Demand Charges be Dropped Against Three Saudi Writer-Activists
·
World Press Freedom Day on May 3, 2019
·
The History of the Future. Oculus, Facebook, and the Revolution That Swept Virtual Reality by Blake J. Harris
·
Reel Verse. Poems About the Movies. Edited by Michael Waters and Harold Schechter
·
Brabantse schrijver Jan Naaijkens (1919 – 2019) overleden
·
One Hundred Lyrics and a Poem by Neil Tennant (Pet Shop Boys)
·
Salon du Livre de Paris = 15-18 Mars 2019
·
The Responsibilities of an Artist: Nexus-lezing door Ai Weiwei
·
Chronicles of a Liquid Society by Umberto Eco
·
Deathwatch by Jean Genet
Occupying the Stage: the Theater of May '68 tells the story of student and worker uprisings in France through the lens of theater history, and the story of French theater through the lens of May '68.

Based on detailed archival research and original translations, close readings of plays and historical documents, and a rigorous assessment of avant-garde theater history and theory, Occupying the Stage proposes that the French theater of 1959–71 forms a standalone paradigm called "The Theater of May '68."
The book shows how French theater artists during this period used a strategy of occupation-occupying buildings, streets, language, words, traditions, and artistic processes-as their central tactic of protest and transformation. It further proposes that the Theater of May '68 has left imprints on contemporary artists and activists, and that this theater offers a scaffolding on which to build a meaningful analysis of contemporary protest and performance in France, North America, and beyond.
At the book's heart is an inquiry into how artists of the period used theater as a way to engage in political work and, concurrently, questioned and overhauled traditional theater practices so their art would better reflect the way they wanted the world to be. Occupying the Stage embraces the utopic vision of May '68 while probing the period's many contradictions. It thus affirms the vital role theater can play in the ongoing work of social change.
Occupying the Stage
The Theater of May '68
Kate Bredeson (Author)
Publication Date: November 2018
Pages 232
Trim Size 6 x 9
Paper Text – $34.95
Northwestern University Press
Drama & Performance Studies
ISBN 978-0-8101-3815-5
# new books
Occupying the Stage
The Theater of May '68
Kate Bredeson
• fleursdumal.nl magazine
More in: #Editors Choice Archiv, - Book News, - Book Stories, Archive A-B, Art & Literature News, AUDIO, CINEMA, RADIO & TV, Protests of MAY 1968, THEATRE
---
This year, the Poetry International Festival Rotterdam turns 50!
The milestone makes it the oldest festival in the city, and one of the oldest in the country, with a wealth of history and highlights. Nobel Prize-winning poets once stood on Poetry's stages as bright young talents, and the festival is both a shining example for, and founding parent of, poetry festivals worldwide.
Poetry International celebrates its golden anniversary with an extra festive edition at Concertgebouw De Doelen, which also hosted the debut festival back in 1970. Trailblazing poets will deliver transformative work thrumming with the now.
Unique fusions of poetry by engaging artists from the worlds of music, cinema, and dance amplify the power, the beauty, and the personal impact of poetry, here in the form of an intimate reading or workshop, there as a multidisciplinary theatrical poetry spectacle. Right in the heart of the city, inviting, challenging, unmissable.
What Happened to the Future? Since 1970, poetry luminaries from all over the world travel to Rotterdam for the annual Poetry International Festival. Thousands of poets have shared their work on the stages of De Doelen and the Schouwburg, but also in the city's squares, parks, and trams. A landmark anniversary like this is an invitation to look back and celebrate the past, but at the same time, Poetry International will be looking ahead. Under the title What Happened to the Future?, the 50th Poetry International Festival unites its rich history with the world's poems and poets of today and tomorrow.
The Metropole Orchestra – nominated for 18 Grammy Awards – will open the 50th Poetry International Festival with a literal bang. In this theatrical kick-off, the orchestra will perform unique duets with poets, including the legendary Last Poets, godfathers of hip hop and spoken word. Inspired by the festival's theme, "What Happened to the Future?", poets from the festival's rich past, such as Judith Herzberg, Antjie Krog, Rita Dove, Raúl Zurita, and Tom Lanoye, will perform side by side with poets of a more recent vintage, such as Marieke Lucas Rijneveld, Koleka Putuma, Patricia Lockwood, Lieke Marsman, Frank Báez, Sayaka Osaki, Ulrike Almut Sandig, and Galina Rymboe. Whether rooted in the past or inspired by the future, their readings will festively raise the curtains on this golden-anniversary edition.
From festival hub De Doelen, Poetry International will take you on a poetic walking tour through the heart of Rotterdam. Led by a guide from UrbanGuides, you will discover extraordinary art in public spaces and have surprising encounters with festival poets and spoken-word artists. Explore the city's hidden stories together!
Practical festival information
Following the Opening Night on 13 June the 50th Poetry International Festival will presents three days packed with readings, concerts, workshops, specials, poetic city walks, interviews, award ceremonies and book presentations. Check the changing starting times beforehand! Almost all programs take place or depart from De Doelen, in the heart of the city within a 5-minute walk of Rotterdam Central Station.
The 50th Poetry International Festival will kick-off on 13 June in the Main Auditorium of de Doelen. On 14, 15 and 16 June most events will take place in or around the Jurriaanse zaal. De Doelen is situated within walking distance of Rotterdam Central Station
# More information on website Poetry International Festival
• fleursdumal.nl magazine
More in: #Archive A-Z Sound Poetry, #More Poetry Archives, - Book News, Art & Literature News, AUDIO, CINEMA, RADIO & TV, LITERARY MAGAZINES, Marieke Lucas Rijneveld, MODERN POETRY, Poetry International, STREET POETRY, Tom Lanoye
---
Saudi Arabia has long been considered one of the most restrictive countries in the world for human rights, and particularly for women.
The fleeting hope that generational transition in the Saudi leadership would open the door toward greater respect for individual rights and international law has collapsed entirely, with individuals paying the highest price as the government resorts to rank barbarism as a blunt means to suppress and deter dissent.
Through their writing and activism, Nouf Abdulaziz, Loujain Al-Hathloul, and Eman Al-Nafjan have challenged the Saudi government, demanding human rights, even in the face of intimidation and brutality.
These three courageous women—who are being honored this month with the 2019 PEN/Barbey Freedom to Write Award—have challenged one of the world's most notoriously misogynist governments, inspiring the world with their demand to drive, to govern their own lives, and to liberate all Saudi women from a form of repression that has no place in the 21st century.
Sign the petition to call on the Saudi Arabian government to drop all charges against these courageous writer-activists and ensure that they and others have the right to speak and advocate freely and without fear of repercussions.
Nouf Abdulaziz, Loujain Al-Hathloul, Eman Al-Nafjan
To the Saudi Arabian government:
We are distressed to observe the continuation of systematic rights abuses in Saudi Arabia, and the brutal crackdown against critical voices whose peaceful efforts are aimed at encouraging their government to uphold the most basic standards of human rights and international law. We call on your government to drop all charges against Nouf Abdulaziz, Loujain Al-Hathloul, and Eman Al-Nafjan, and their fellow activists and ensure that they and others have the right to speak and advocate freely and without fear of repercussions.
# Take action – See website PEN America
• fleursdumal.nl magazine
More in: Art & Literature News, AUDIO, CINEMA, RADIO & TV, PRESS & PUBLISHING, REPRESSION OF WRITERS, JOURNALISTS & ARTISTS
---
Every year, 3 May is a date which celebrates the fundamental principles of press freedom, to evaluate press freedom around the world, to defend the media from attacks on their independence and to pay tribute to journalists who have lost their lives in the exercise of their profession.
World Press Freedom Day was proclaimed by the UN General Assembly in 1993 following a Recommendation adopted at the twenty-sixth session of UNESCO's General Conference in 1991. This in turn was a response to a call by African journalists who in 1991 produced the landmark Windhoek Declaration (link is external) on media pluralism and independence.
At the core of UNESCO's mandate is freedom of the press and freedom of expression. UNESCO believes that these freedoms allow for mutual understanding to build a sustainable peace.
It serves as an occasion to inform citizens of violations of press freedom – a reminder that in dozens of countries around the world, publications are censored, fined, suspended and closed down, while journalists, editors and publishers are harassed, attacked, detained and even murdered.
It is a date to encourage and develop initiatives in favour of press freedom, and to assess the state of press freedom worldwide.
3 May acts as a reminder to governments of the need to respect their commitment to press freedom and is also a day of reflection among media professionals about issues of press freedom and professional ethics. Just as importantly, World Press Freedom Day is a day of support for media which are targets for the restraint, or abolition, of press freedom. It is also a day of remembrance for those journalists who lost their lives in the pursuit of a story.
WORLD PRESS FREEDOM DAY
May 3, 2019
# more information website unesco
• fleursdumal.nl magazine
More in: - Book Stories, Art & Literature News, AUDIO, CINEMA, RADIO & TV, LITERARY MAGAZINES, Photography, PRESS & PUBLISHING, REPRESSION OF WRITERS, JOURNALISTS & ARTISTS
---
The dramatic, larger-than-life true story behind the founding of Oculus and its quest for virtual reality, by the bestselling author of Console Wars.
In The History of the Future, Harris once again deep-dives into a tech drama for the ages to expertly tell the larger-than-life true story of Oculus, the virtual reality company founded in 2012 that—less than two years later—would catch the attention of Mark Zuckerberg and wind up being bought by Facebook for over $2 billion dollars.
This incredible underdog story begins with inventor Palmer Luckey, then just a nineteen-year-old dreamer, living alone in a camper trailer in Long Beach, California. At the time, virtual reality—long-hailed as the ultimate technology—was so costly and experimental that it was unattainable outside of a few research labs and military training facilities. But with the founding of Oculus, and the belief that his tantalizing vision of the future could one day be more than science fiction, Luckey put everything he had into creating a device that would allow gamers like him to step into virtual worlds and, in doing so, hopefully kickstart a VR revolution.
Over the course of three years, Harris conducted hundreds of interviews with key players in the VR revolution—including Luckey, his partners, and their cult of dreamers—to weave together a rich, cinematic narrative that captures the breakthroughs, breakdowns, and human drama of trying to change the world.
The result is a supremely accessible, entertaining look at the birth of a new multi-billion-dollar industry; one full of heroes, villains, and twists at every corner. Take, for instance, Harris' own discovery while writing this story. When he started this endeavor, he had no idea that this tale would somehow involve Donald Trump, billion-dollar lawsuits, illegal practices, and end with Luckey—eventually ousted from Facebook—as one of the most polarizing figures in Silicon Valley.
The History of the Future.
Oculus, Facebook, and the Revolution That Swept Virtual Reality
by Blake J. Harris
Hardcover
Pages: 528
HarperCollins Publishers
Imprint: Dey Street Books
On Sale: 02/19/2019
ISBN: 9780062455963
ISBN 10: 0062455966
Computers / Virtual Worlds
List Price: 28.99 USD
# new books
The History of the Future
Blake J. Harris
• fleursdumal.nl magazine
More in: - Book News, Archive G-H, Art & Literature News, AUDIO, CINEMA, RADIO & TV, Exhibition Archive, Photography, Visual & Concrete Poetry
---
Reel Verse is a unique Pocket Poets anthology of a hundred years of poetic tributes to the silver screen, from the silent film era to the present.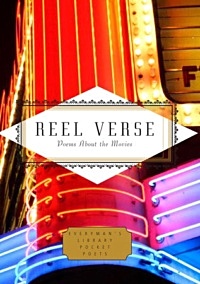 The variety of subjects is dazzling, from movie stars to bit players, from B-movies to Bollywood, from Clark Gable to Jean Cocteau.
More than a hundred poets riff on their movie memories: Langston Hughes and John Updike on the theaters of their youth, Jack Kerouac and Robert Lowell on Harpo Marx, Sharon Olds on Marilyn Monroe, Louise Erdrich on John Wayne, May Swenson on the James Bond films, Terrance Hayes on early Black cinema, Maxine Kumin on Casablanca, and Richard Wilbur on The Prisoner of Zenda. Orson Welles, Leni Riefenstahl, and Ingmar Bergman share the spotlight with Shirley Temple, King Kong, and Carmen Miranda; Bonnie and Clyde and Ridley Scott with Roshomon, Hitchcock, and Bresson.
In Reel Verse, one of our oldest art forms pays loving homage to one of our newest—the thrilling art of cinema.
POPCORN PALACES
Meena Alexander, "South India Cinema" – John Allman, "Loew's Triboro" – Robert Hayden, "Double Feature" – Robert Hershon, "1948: Saturdays" – Edward Hirsch, "The Skokie Theater" – Langston Hughes, "Movies" – Esther Lin, "Poem Ending in Antarctica" – Frank O'Hara, "Ave Maria" – Theodore Roethke, "Double Feature" – Jon Tribble, "Concessions" – John Updike, "Movie House" – Ellen Bryant Voigt, "At the Movies, Virginia, 1956"
FEATURE PRESENTATIONS
Amy Clampitt, "The Godfather Returns to Color TV" – Martha Collins, "Meanwhile" – Jane Cooper, "Seventeen Questions About King Kong" – Denise Duhamel, "An Unmarried Woman" – Amy Gerstler, "The Bride Goes Wild" – Allen Ginsberg, "The Blue Angel" – Juliana Gray, "Rope" – George Green, "Art Movies: The Agony and the Ecstasy" – Richard Howard, "King Kong (1933)" – Allison Joseph, "Imitation of Life" – Ron Koertge, "Aubade" – Maxine Kumin, "Casablanca" – Gerry LaFemina, "Variations on a Theme by Ridley Scott" – Laura McCullough, "Soliloquy with Honey: Time to Die" – John Murillo, "Enter the Dragon" – Stanley Plumly, "The Best Years of Our Life" – Anna Rabinowitz, "from Present Tense" – Philip Schultz, "Shane" – May Swenson, "The James Bond Movie" – Susan Terris, "Take Two: Bonnie & Clyde/Dashboard Scene" – Richard Wilbur, "The Prisoner of Zenda"
MORE STARS THAN IN HEAVEN
Frank Bidart, "Poem Ending with a Sentence by Heath Ledger" – Christopher Buckley, "For Ingrid Bergman," – Gerald Costanzo, "Fatty Arbuckle" – Marsha de la O, "Janet Leigh is Afraid of Jazz" – Louise Erdrich, "Dear John Wayne" – Sonia Greenfield, "Celebrity Stalking" – Patricia Spears Jones, "Hud" – Jack Kerouac, "To Harpo Marx" – David Lehman, "July 13 from The Daily Mirror" – Vachel Lindsay, "Mae Marsh, Motion Picture Actress" – Patricia Lockwood, "The Fake Tears of Shirley Temple" – Robert Lowell, "Harpo Marx" – Sharon Olds, "The Death of Marilyn Monroe" – William Pillin, "You, John Wayne" – Nicole Sealey, "An Apology for Trashing Magazines in Which You Appear" – William Jay Smith, "Old Movie Stars" – John Wain, "Villanelle for Harpo Marx" – John Wieners, "Garbos and Dietrichs"
B MOVIES & BIT PLAYERS
Angela Ball, "To Lon Chaney in The Unknown" – Gregory Djanikian, "Movie Extras" Cornelius Eady, "Sam" – Martín Espada, "The Death of Carmen Miranda" – Kenneth Fearing, "St. Agnes' Eve" – Edward Field, "Curse of the Cat Woman" – Richard Frost, "Horror Show" – Howard Moss, "Horror Movie" – Ogden Nash, "Viva Vamp, Vale Vamp" – Robert Polito, "Three Horse Operas" – Virgil Suarez, "Harry Dean Stanton is Dying" – David Trinidad, "Ode to Thelma Ritter" – William Trowbridge, "Elisha Cook, Jr." – Chase Twichell, "Bad Movies, Bad Audience" – Marcus Wicker, "Love Letter to Pam Grier"
AUTEURS
Paul Carroll, "Ode to Fellini on Interviewing Actors for a Forthcoming Film" – René Char, "Antonin Artaud" – Robert Creeley, "Bresson's Movies" – Robert Duncan, "Ingmar Bergman's Seventh Seal" – James Franco, "Editing" – Major Jackson, "After Riefenstahl" – Claudia Rankine, "from Don't Let Me Be Lonely" – Jean-Mark Sens, "In De Sica's Bicycle Thief" – Vijay Seshadri, "Script Meeting" – David St. John, "from The Face, XXXVI" – Timothy Steele, "Last Tango" – Gerald Stern, "Orson" – Michael Waters, "Blue Ankle" – David Yezzi, "Stalker"
FLASHBACKS
Kim Addonizio, "Scary Movies" – Elizabeth Alexander, "Early Cinema" – John Berryman, "Dream Song #9" – Ryan Black, "This is Cinerama" – Richard Brautigan, "Mrs. Myrtle Tate, Movie Projectionist" – Kurt Brown, "Silent Film, DVD" – Elena Karina Byrne, "Easy Rider" – Nicholas Christopher, "Atomic Field, 1972 #6" – Rita Dove, "Watching Last Year at Marienbad at Roger Haggerty's House in Auburn, Atlanta" – D. J. Enright,"A Grand Night" – Aniela Gregorek, "Cinema" – Joseph O. Legaspi, "At the Movies with My Mother" – Michael McFee, "My Mother and Clark Gable on the World's Most Famous Beach" – Mihaela Moscaliuc, "Watching Tess in Romania, 1986" – Paul Muldoon, "The Weepies" – Carol Muske-Dukes, "Unsent Letter 4" – Tom Sleigh, "Newsreel" – Elizabeth Spires, "Mutoscope" – Michael Paul Thomas, "Movies in Childhood" – David Wojahn, "Buddy Holly Watching Rebel Without a Cause"
REMAKES
Billy Collins, "The Movies" – Carol Ann Duffy, "Queen Kong" – Albert Goldbarth, "Survey: Frankenstein Under the Front Porch Light" – Kimiko Hahn, "The Continuity Script: Rashomon" – Bruce F. Kawin, "Old Frankenstein" – Glyn Maxwell, "Disney's Island" – Rajiv Mohabir, "Bollywood Confabulation" – Geoffrey O'Brien, "Voice Over" – Michael Ondaatje, "King Kong Meets Wallace Stevens" – Elise Paschen, "Red Lanterns" – Matthew Zapruder, "Frankenstein Love"
REEL LIFE
David Baker, "Violence" – Tom Clark, "Final Farewell" – Lucille Clifton, "Come Home from the Movies" – Hart Crane, "Chaplinesque" – Stephen Dunn, "At the Film Society" – Lynn Emanuel, "Blonde Bombshell" – Robert Hass, "Old Movie with the Sound Turned Off" – Terrance Hayes, "Variation on a Black Cinema Treasure: Broken Earth" – Marie Howe, "After the Movie" – Steven Huff, "Merton, Lax and My Father" – Ann Inoshita, "TV" – Weldon Kees, "Subtitle" – Haji Khavari, "Upon the Actor's Longing for the Alienation Effect" – John Lucas, "Hollywood Nights" – Donna Masini, "A Fable" – William Matthews, "A Serene Heart at the Movies" –  Eileen Myles, "Absolutely Earth" – Ishmael Reed, "Poison Light" – David Rigsbee, "Lincoln" – Muriel Rukeyser, "Movie" – Grace Schulman, "The Movie" – Gary Soto, "Hands" – George Yatchisin, "Single, Watching Fred and Ginger"
Reel Verse
Poems About the Movies
Edited by Michael Waters and Harold Schechter
Category: Poetry | Classics
Hardcover
256 Pages
Jan 22, 2019
Published by Everyman's Library
ISBN 9781101908037
$14.95
# more poetry
Reel Verse
Poems About the Movies
• fleursdumal.nl magazine
More in: #More Poetry Archives, - Book News, Art & Literature News, AUDIO, CINEMA, RADIO & TV
---
Jan Naaijkens was bekend als schrijver van proza, toneel, gedichten en liedjes.
Daarnaast was hij een onderwijzer in hart en nieren. En niet te vergeten: radiopresentator, acteur, verzetsheld, én vader van 12 kinderen.
Jan Naaijkens heeft veel betekend voor de culturele emancipatie van Brabant in de periode na de Tweede Wereldoorlog.
Hij werd in februari 100 jaar oud. Op 17 april overleed Jan Naaijkens in zijn slaap.
Jan Naaijkens
(Hilvarenbeek, 10 februari 1919 – 17 april 2019)
# Meer over Jan Naaijkens in fleursdumal.nl magazine via deze link
# Link Jan Naaijkens op Wikipedia
• fleursdumal.nl magazine
More in: - Book Stories, Archive M-N, Archive M-N, Art & Literature News, AUDIO, CINEMA, RADIO & TV, Brabantia Nostra, FDM Art Gallery, In Memoriam, Jan Naaijkens, THEATRE
---
Over a career that spans four decades and thirteen studio albums with Pet Shop Boys, Neil Tennant has consistently proved himself to be one of the most elegant and stylish of contemporary lyricists.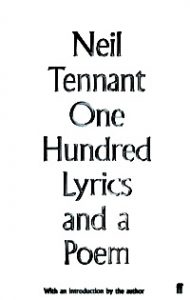 Arranged alphabetically, One Hundred Lyrics and a Poem presents an overview of his considerable achievement as a chronicler of modern life: the romance, the break-ups, the aspirations, the changing attitudes, the history, the politics, the pain.
The landscape of Tennant's lyrics is recognisably British in character – restrained and preoccupied with the mundane, occasionally satirical, yet also yearning for escape and theatrical release.
Often surprisingly revealing, this volume is contextualised by a personal commentary on each lyric and an introduction by the author which gives a fascinating insight into the process and genesis of writing.
Flamboyant, understated, celebratory and elegiac, Neil Tennant's lyrics are a document of our times.
Everything I've ever done
Everything I ever do
Every place I've ever been
Everywhere I'm going to
One Hundred Lyrics and a Poem
Neil Tennant
Hardback
272 pages
English
Poetry
Published 01/11/2018
ISBN13 9780571348909
Publisher Faber & Faber Inc.
18,99 euro
# new books
One Hundred Lyrics and a Poem
Neil Tennant
• fleursdumal.nl magazine
More in: Archive S-T, Archive S-T, Art & Literature News, AUDIO, CINEMA, RADIO & TV, Pet Shop Boys
---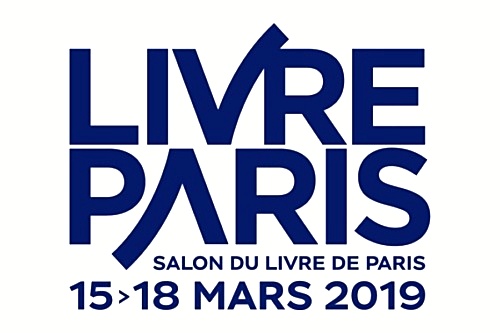 Livre Paris
Salon du Livre de Paris
Porte de Versailles – Paris
15-18 Mars 2019
Literary event of the year
165 000 visitors
3 900 authors
250 conferences and debates
688 school groups
391 stands and 515 brands
• fleursdumal.nl magazine
More in: - Book Lovers, - Book News, - Bookstores, Art & Literature News, AUDIO, CINEMA, RADIO & TV, FDM in Paris, Literary Events
---
Dictatuur, schendingen van mensenrechten, milieuvervuiling, verdronken vluchtelingen: dit zijn niet alleen de urgentste kwesties in de wereldpolitiek, maar ook de thema's in het werk van Ai Weiwei.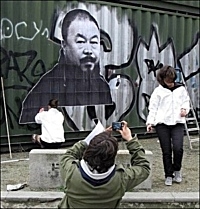 Met zijn enorm veelzijdige creativiteit en maatschappelijke engagement zet hij als een van de beroemdste en grootste kunstenaars van onze tijd vrijwel alles op het spel: hij werd gearresteerd, zijn paspoort werd ingenomen, en afgelopen zomer nog sloopten de Chinese autoriteiten zonder waarschuwing zijn studio in Beijing.
Als geen ander kan Ai Weiwei dus vertellen over de verantwoordelijkheid van de kunstenaar. Wat vermag de kunst in een tijd waarin dissidenten worden opgesloten en journalisten zonder pardon het land uit worden gezet?
Hoe ver mag de kunstenaar gaan?
Hoe ver moét hij gaan?
Hoor het bij de Nexus-lezing 2019, The Responsibilities of an Artist.
The Responsibilities of an Artist
Nexus-lezing Ai Weiwei
25 mei 2019
14.30 – 17.30
Aula VU Amsterdamhttps://nexus-instituut.nl/
# meer informatie op website nexus-instituut
• fleursdumal.nl magazine
More in: Ai Weiwei, Art & Literature News, AUDIO, CINEMA, RADIO & TV, DICTIONARY OF IDEAS, Nexus Instituut
---
The final book from one of Europe's cultural giants: an entertaining collection of essays about the modern world – from unbridled individualism to mobile phones.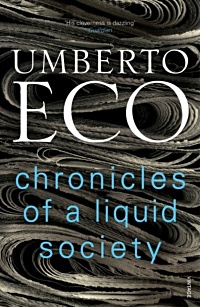 Umberto Eco was an international cultural superstar. A celebrated essayist as well as novelist, in this, his last collection, he explores many aspects of the modern world with irrepressible curiosity and wisdom written in his uniquely ironic voice.
Written by Eco as articles for his regular column in l'Espresso magazine, he brings his dazzling erudition, incisiveness and keen sense of the everyday to bear on topics such as popular culture and politics, unbridled individualism, conspiracies, the old and the young, mobile phones, mass media, racism, good manners and the crisis in ideological values.
It is a final gift to his readers – astute, witty and illuminating.
" A swan song from one of Europe's great intellectuals…Eco entertains with his intellect, humor, and insatiable curiosity…there's much here to enjoy and ponder ".  Tim Parks, Guardian
Chronicles of a Liquid Society
by Umberto Eco
Paperback
ISBN 9781784705206
Hardback
ISNB 9781911215318
2017/2018
Harvill Secker / Vintage
320 pages
Language & Literary Studies
# New books
Chronicles of a Liquid Society
by Umberto Eco
• fleursdumal.nl magazine
More in: - Book News, - Bookstores, Archive E-F, Art & Literature News, AUDIO, CINEMA, RADIO & TV, DICTIONARY OF IDEAS, MONTAIGNE, Museum of Literary Treasures, NONFICTION: ESSAYS & STORIES, Umberto Eco
---
Deathwatch, Jean Genet's earliest, shortest and most formally straightforward play, was first performed in Paris in 1949.
It retains an intense power and makes an excellent introduction to his later dramas – The Maids, The Balcony, The Blacks, The Screens. The French text of Deathwatch, published by Gallimard, was extensively altered by Genet during rehearsal; and Bernard Frechtman's translation is of the final 'performance' version, which supersedes the original published text.Three convicts share a cramped prison cell.
There is no question as to which of them is the dominant dog in the pack: Green Eyes (Yeux-Verts) has brutally murdered a woman and is to be executed.
Lefranc and the younger novice-like Maurice are inside for less grave crimes. But both of them covet Green Eyes' attention, baiting each other in the process, a duel that drives inexorably toward violence
Three young convicts share a cell. Locked into a world of dangerous rivalries, criminals Lefranc and Maurice compete for the attention of the charismatic condemned man, Green-Eyes.
Informed by his own experience in French prisons, Jean Genet's first play, Deathwatch is an explosive exploration of the inversion of moral order.
Genet was one of the most prominent and provocative writers of the twentieth century.
Jean Genet's Deathwatch premiered in this translation by David Rudkin with the Royal Shakespeare Company in 1987 and was revived at the Print Room, London, in April 2016.
Jean Genet was born in Paris in 1910. An illegitimate child who never knew his parents, he was abandoned to the Public Assistance Authorities. He was ten when he was sent to a reformatory for stealing; thereafter he spent time in the prisons of nearly every country he visited in thirty years of prowling through the European underworld. With ten convictions for theft in France to his credit he was, the eleventh time, condemned to life imprisonment. Eventually he was granted a pardon by President Auriol as a result of appeals from France's leading artists and writers led by Jean Cocteau. His first novel, Our Lady of the Flowers, was written while he was in prison, followed by Miracle of the Rose, the autobiographical The Thief's Journal, Querelle of Brest and Funeral Rites. He wrote six plays: The Balcony, The Blacks, The Screens, The Maids, Deathwatch and Splendid's (the manuscript of which was rediscovered only in 1993). Jean Genet died in 1986.
Deathwatch
by Jean Genet
English
Translated by David Rudkin
Play
Faber & Faber
Paperback
64 pages
2016
ISBN 9780571332618
£9.99

# more books
Deathwatch by Jean Genet
• fleursdumal.nl
More in: - Book Lovers, - Book Stories, Archive G-H, Art & Literature News, AUDIO, CINEMA, RADIO & TV, CRIME & PUNISHMENT, Jean Genet, THEATRE
---
Older Entries »
Thank you for reading FLEURSDUMAL.NL - magazine for art & literature