Berger, Karl
·
40ste editie van het Kunstenfestival Watou: 'Watou 2021'
·
Brooklyn Book Festival Announces: 15th Anniversary Will Be An All-Virtual Festival
Elke zomer slaat het Kunstenfestival Watou haar tenten op in het gelijknamige kunstdorpje net voorbij Poperinge, tegen de Franse grens aan.
Dichters en beeldend kunstenaars, aanstormend talent en gevestigde waarden, uit binnen- en uit buitenland zorgen telkens weer voor een wonderlijke ervaring in karaktervolle tentoonstellingsplekken: een verlaten herenhuis, de kelder van een brouwerij, … Een unieke kunstbeleving ontstaat uit het samengaan van beeldende kunst en poëzie in verrassende, karaktervolle ruimtes
De 40ste editie van het Kunstenfestival Watou staat voor beweging, meerstemmigheid, menselijkheid en intensiteit. 'Watou 2021' nodigt het publiek uit om te kijken, te lezen, te voelen, te reflecteren en te verbinden. Met de kunst, de poëzie, de natuur en met elkaar. Bezoekers bewegen zich tussen de drie hoeken van het parcours: Watou, het kunstdorp zelf, de Gasthuiskapel in het centrum van Poperinge en de nieuwe locatie, het Kasteel De Lovie, daartussen.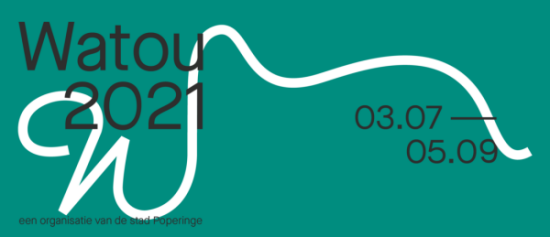 Kunst en poëzie dringen volgens de curatoren altijd meervoudige perspectieven op: "Heel wat vormen en inhoudelijke visies bestaan gelijktijdig en zonder hiërarchie. Er is geen groot gelijk, er is geen waarheid, er is alleen meerstemmigheid en die meerstemmigheid is een rijkdom."
'Watou 2021' presenteert werk van 40 kunstenaars uit binnen- en buitenland, van verschillende generaties en met diverse achtergronden. De focus ligt op creaties, verrassende samenwerkingen en werk dat nooit eerder in Vlaanderen te zien was. De selectie poëzie weerspiegelt eenzelfde meerstemmigheid. Er is werk te lezen én te horen van 40 dichters: van overleden dichters tot gevestigde namen en jonge dichters en debutanten. Een aantal gedichten wordt ingelezen door ondermeer Wannes Cappelle, Zwangere Guy, Charlotte Adigéry en Lander Gyselinck.
Het programma bevat onder andere optredens en performances van Esther Kläs & Gustavo Gomes, Stefan Hertmans, Catharina van Eetvelde en Claron McFadden, IKRAAAN, CHVE / Colin H van Eeckhout, Fulco, Les Âmes Perdues, Marieke Lucas Rijneveld én Wannes Cappelle en Nicolas Callot en Koen Vanmechelen, curator van het experimentele traject Patchwork.
Als de wereld onder onze ogen aan het veranderen is en we nog niet kunnen benoemen wat we zien. Als alles wat we al decennia denken en voor waar aannemen onder druk staat. Als we ons, beroofd van onze zekerheden, onveilig voelen. Als de wereld complex is geworden, dan is er één plek waar al die onzekerheden, al dat geweld, al die onrust, al die complexiteit, en ook al die schoonheid en al dat verlangen samenkomen: de kunst. Daar is het dat we intens leven, tijdens het maken van kunst, het ervaren van kunst, en het herinneren van kunst. 'Watou 2021' is een uitnodiging om poëzie en beeldende kunst te ervaren met hersenen, zintuigen en gevoelens. Om vervuld te worden van die complexiteit, van die meerlagigheid.
'Watou 2021' vertrekt vanuit de mens zelf. Wat is onze rol en positie in deze wereld? Wat is de impact van de recente transformaties op ons menszijn? Door de aanwas van technologie en artificiële intelligentie, maar ook door de crisis die we meemaken, leunen we niet alleen op onze rationele, maar ook op onze emotionele, spirituele, intuïtieve en biologische intelligentie.
Het vertrouwde werd vervangen door het confronterende en het oncomfortabele. Het daagt ons uit om onze blik open en dynamisch te houden. Met beweging als constante. Naar de ander en het andere.
Kunst en poëzie dringen altijd meervoudige perspectieven op: heel wat vormen en inhoudelijke visies bestaan gelijktijdig en zonder hiërarchie. Er is geen groot gelijk, er is geen waarheid, er is alleen meerstemmigheid en die meerstemmigheid is een rijkdom.
W A T O U  2 0 2 1
Kunstenaars
Arocha & Schraenen – Sarah & Charles – Leyla Aydoslu – Blauwhaus – Melanie Bonajo – Peter Buggenhout – N. Dash – Michael Dean – Lieven De Boeck – Ella de Burca – Anouk De Clercq – Edith Dekyndt – Bram Demunter – Tracey Emin – Bendt Eyckermans – Mekhitar Garabedian – Gijs Van Vaerenbergh – Nadia Guerroui – Esther Kläs – Margaret Lee – Bart Lodewijks & Jan Kempenaers – Ariane Loze – Ives Maes – Mark Manders – Neo Matloga – Vincent Meessen – Lucy Skaer – Socle – Joris Van de Moortel – Catharina Van Eetvelde – Luca Vanello – Johan Van Geluwe – Eva Vermandel – Leon Vranken – Ugo Rondinone – Zhang Yunyao
Dichters
Anellie David – Anna Enquist – Anne Vegter – Armando – Bernke Klein Zandvoort – Cees Nooteboom – Charlotte Van den Broeck – Chris Lomans – Dean Bowen – Dominique De Groen – Erwin Mortier – Estelle Boelsma – Geert Buelens – Gerrit Kouwenaar – Gertrude Starink – Hester Knibbe – J.V. Neylen – Jan Arends – Jan de Roek – Jos De Haes – Lamia Makaddam – Lara Taveirne – Laurine Verweijen – Levina van Winden – M. Vasalis – Marieke Lucas Rijneveld – Mattijs Deraedt – Miriam Van Hee – Nele Buyst – Paul Van Ostaijen Piet Gerbrandy – Poli Roumeliotis – René Van Gijsegem – Roelof ten Napel – Sanne Kabalt – Sasja Janssen – Stefan Hertmans – Thomas Möhlmann – Tonnus Oosterhoff – Yousra Benfquih
M E E R   I N F O R M AT I E
en tickets
www.kunstenfestivalwatou.be
KUNSTENFESTIVAL WATOU
een organisatie van de stad POPERINGE
Grote Markt 1, 8970 Poperinge (BE)
kunstenfestival@poperinge.be
• fleursdumal.nl magazine
More in: #More Poetry Archives, - Book Lovers, Armando, AUDIO, CINEMA, RADIO & TV, Berger, Karl, Gerrit Kouwenaar, Historia Belgica, Literary Events, Marieke Lucas Rijneveld, Paul van Ostaijen, Paul van Ostaijen, Performing arts, Photography, Street Art, STREET POETRY, Street Poetry, Vasalis, M., Watou Kunstenfestival
---
The 2020 Virtual Brooklyn Book Festival will be the 15th anniversary of free literary programming!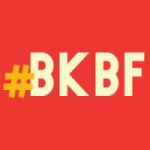 This fall an array of national and international literary stars and emerging authors will participate as part of a Virtual Festival including Sigrid Nunez, Lee Child, Salman Rushdie, Mia Couto, Ngũgĩ wa Thiong'o, Joyce Carol Oates, Adrian Tomine, Emily St. John Mandel, Claudia Rankine, Edmund White, Marie Lu, Colson Whitehead, and more.
Plus independent publishers, literary magazines, and literary organizations will be showcased in our Virtual Literary Marketplace starting August 15.
Each year the Festival also includes a week of Bookend events — see them virtually this year from locations all over the city. This year we celebrate the 10th anniversary of Bookends!
At Children's Day, more than 50 authors will participate in a full day of author readings and performances, workshops, activities, and book signings — all virtual.
Some of the children's authors in 2020 are Max Brallier, Tami Charles, Ben Clanton, Chris Grabenstein, Carlos Hernandez, Oliver Jeffers, Varian Johnson, Meg Medina, and R.L. Stine.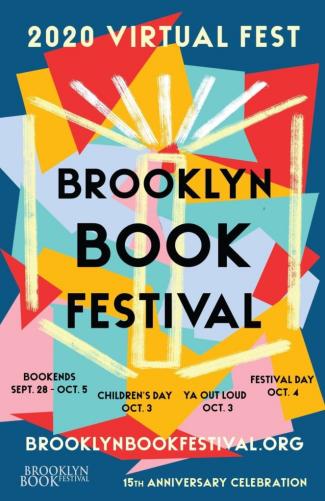 About the Brooklyn Book Festival: The Brooklyn Book Festival was launched in 2006 to address the need for a major literary event that embraced the diverse constituencies of New York City. The Festival's mission is to celebrate published literature and support the literary community through programming that connects New York City readers with local, national, and international authors, publishers, and booksellers. To this end the festival develops original programs that are hip, smart, and diverse and collaborates to present free and low-cost programming including the Festival Day, Bookend Events, YA Outloud, and the BKBF Children's Day. BKBF is presented by the non-profit Brooklyn Book Festival, Inc. and the Brooklyn Book Festival Literary Council.
The Festival is proud of its roster of supporters including the Amazon Literary Partnership, the Baillie Gifford Non Fiction Prize, the Brooklyn Borough President's Office, Brookfield Properties and J.P. Morgan Chase, Con Edison, Disney, Downtown Brooklyn Partnership, Kirby Family Foundation, Little A, the Mayor's Office of Media & Entertainment, New York City Department of Cultural Affairs, New York City Council Speaker Corey Johnson and Council Members Brad Lander, Stephen Levin and Carlos Menchaca, NYC COVID-19 Response and Impact Fund in New York Community Trust, New York State Council on the Arts, Lit Tap, NYU. The Festival's media sponsors include C-SPAN, Book TV, the New York Review of Books, and WNYC.
Be sure to visit www.old.brooklynbookfestival.org or check out the official Facebook page, follow the Festival on Instagram (@bkbookfest), on Twitter (@BKBF), and past Festival photos on Flickr.
2020 Brooklyn Book Festival
Sunday, October 4 = 10am — 8pm
Virtual Festival Day
Saturday, October 3 = 10am — 4pm
Virtual Children's Day
Saturday, October 3 = 1pm — 6pm
Y.A. Out Loud
September 28 — October 5
Virtual Bookend Events
Confirmed Authors Festival 2020: Salar Abdohbv – Aria Aber – Ayad Akhtar – Becky Albertalli – Rochelle Alers – A. Andrews – Diannely Antigua – Zaina Arafat – Will Arbery – Derf Backderf – Brit Bennett – Carl Bergman – Marie-Helene Bertino – Mark Bibbins – Chelsea Bieker – Betsy Bird – Eula Biss – Max Brallier – Libba Bray – Bill Buford – Susannah Cahalan – Patrice Caldwell – Ada Calhoun – Kacen Callender – Maisy Card – Veronica Chambers – Ruth Chan – Tami Charles – Lee Child – Dave Chisholm – Ben Clanton – Brandy Colbert – Zoraida Córdova – Eduardo C. Corral – Mia Couto – Mike Curato – Angela Dominguez – Sophie Escabasse – Debbi Michiko Florence – Nick Flynn – Curdella Forbes – Carolyn Forché – Gilbert Ford – Kelli Jo Ford – Lauren Francis-Sharma – Marcial Gala – Matt Gallagher – Camryn Garrett – Sasha Geffen – Nelson George – Hafizah Geter – Julia Gfrörer – Paolo Giordano – Chris Grabenstein – Isabel Greenberg – Chris Grine – Kristen Gudsnuk – Romesh Gunesekera – Shawn Harris – Mike Hawthorne – Carlos Hernandez – Amy Herzog – Cathy Park Hong – Mark Honigsbaum – Kiku Hughes – Michael R. Jackson – Victoria James – Oliver Jeffers – N.K. Jemisin – Beverly Jenkins – Kim Johnson – Leah Johnson – Varian Johnson – Tayari Jones – Wayne Jordan – Stephanie Kelton – Jessica Kim – Lily King – Peter Kispert – Yusef Komunyakaa – Andrew Krivak – Ryan La Sala – Stephan Lee – Attica Locke – Marie Lu – Alain Mabanckou – Deborah Madison – Maureen Mahon – Kevin Noble Maillard – Ricardo Alberto Maldonado – Emily St. John Mandel – Ilana Masad – Janae Marks – Bernice L. McFadden – Karen McManus – Juana Medina – Meg Medina – Fernanda Melchor – Colin Meloy – Maaza Mengiste – Kate Messner – Adrienne Miller – Lydia Millet – Jonah Mixon-Webster – Marcus J. Moore – John Murillo – Daniel Nayeri – Emily Nemens – Andrés Neuman – Kevin Nguyen – Lynn Nottage – Sigrid Nunez – Joyce Carol Oates – Tracy O'Neill – Tochi Onyebuchi – Claribel Ortega – Carey Pietsch – Rory Power – Claudia Rankine – Raúl the Third – Calvin Reid – Kiley Reid – Jared Reinmuth – Justin A. Reynolds – Hallie Rubenhold – Salman Rushdie – Kate Elizabeth Russell – Joe Sacco – Aisha Saeed – Jerry Saltz – Maria Scrivan – Tariq Shah – Kevin Sherry – Adania Shibli – Curtis Sittenfeld – Bishakh Som – Mika Song – Leslie Stein – R.L. Stine – Emma Straub – Brandon Taylor – Emily Temple – Ngũgĩ wa Thiong'o – Héctor Tobar -Adrian Tomine – Laura van den Berg – Juan Pablo Villalobos – Ivan Vladislavić – Karolina Waclawiak – Kawai Strong Washburn – Jesse Wegman – Edmund White – Colson Whitehead – Rick Wilson – Alexis Wright – Shannon Wright – Yao Xiao – Bianca Xunise – Gene Luen Yang – Brigit Young – Lidia Yuknavitch – Kate Zambreno –
Brooklyn Book Festival Announces: 15th Anniversary Will Be An All-Virtual Festival
• https://brooklynbookfestival.org/
• fleursdumal.nl magazine
More in: - Book Lovers, - Book News, Art & Literature News, AUDIO, CINEMA, RADIO & TV, Berger, Karl, FICTION & NONFICTION ARCHIVE, LITERARY MAGAZINES, Magazines
---
Thank you for reading FLEURSDUMAL.NL - magazine for art & literature