– Book Lovers
·
Kinderboekenweek: En toen? Van 30 september t/m 11 oktober 2020
·
Independent Bookstore Day: saturday august 29, 2020
·
Brooklyn Book Festival Announces: 15th Anniversary Will Be An All-Virtual Festival
·
Laat jouw stem voor cultuur horen!
·
Red Comet. The Short Life and Blazing Art of Sylvia Plath by Heather Clark
·
The Discomfort of Evening from Marieke Lucas Rijneveld on 2020 International Booker Prize Shortlist
·
The Penguin Book of Oulipo: Queneau, Perec, Calvino and the Adventure of Form by Philip Terry (Editor)
·
85ste Boekenweek van zaterdag 7 t/m zondag 15 maart 2020
·
METROPOLITAN MUSEUM – TILBURG : Overzichtstentoonstelling Sander Neijnens en Ivo van Leeuwen
·
Paper Aeroplane: Selected Poems 1989-2014 by Simon Armitage
·
Death Blossoms. Reflections from a Prisoner of Conscience, Expanded Edition by Mumia Abu-Jamal
·
Joris-Karl Huysmans: Aan de vrouw
Tijdens de Kinderboekenweek 2020 gaan we terug in de tijd
Boeken brengen geschiedenis tot leven, waardoor de wereld van vroeger tastbaar wordt. Lees spannende verhalen over ridders, verplaats je in oorlogstijd of kom van alles te weten over de Oudheid. Je hebt geen tijdmachine nodig om andere tijden te ontdekken. Verken alle werelden van toen door het lezen van boeken!
30 september t/m 11 oktober 2020
Kinderboekenweek: En toen?
# website kinderboekenweek 2020
• fleursdumal.nl magazine
More in: - Book Lovers, - Book News, - Bookstores, Children's Poetry, Kinderboekenweek, Kinderstadsdichters / Children City Poets, Literary Events
---
  Independent Bookstore Day
  saturday august 29, 2020
• more on website indiebookstoreday
• https://www.indiebookstoreday.com/
• fleursdumal.nl magazine
More in: - Book Lovers, - Book News, - Bookstores, Art & Literature News, AUDIO, CINEMA, RADIO & TV, FDM in New York, The Art of Reading
---
The 2020 Virtual Brooklyn Book Festival will be the 15th anniversary of free literary programming!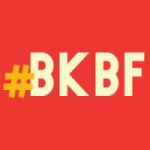 This fall an array of national and international literary stars and emerging authors will participate as part of a Virtual Festival including Sigrid Nunez, Lee Child, Salman Rushdie, Mia Couto, Ngũgĩ wa Thiong'o, Joyce Carol Oates, Adrian Tomine, Emily St. John Mandel, Claudia Rankine, Edmund White, Marie Lu, Colson Whitehead, and more.
Plus independent publishers, literary magazines, and literary organizations will be showcased in our Virtual Literary Marketplace starting August 15.
Each year the Festival also includes a week of Bookend events — see them virtually this year from locations all over the city. This year we celebrate the 10th anniversary of Bookends!
At Children's Day, more than 50 authors will participate in a full day of author readings and performances, workshops, activities, and book signings — all virtual.
Some of the children's authors in 2020 are Max Brallier, Tami Charles, Ben Clanton, Chris Grabenstein, Carlos Hernandez, Oliver Jeffers, Varian Johnson, Meg Medina, and R.L. Stine.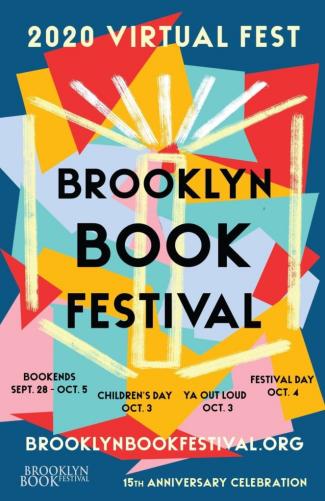 About the Brooklyn Book Festival: The Brooklyn Book Festival was launched in 2006 to address the need for a major literary event that embraced the diverse constituencies of New York City. The Festival's mission is to celebrate published literature and support the literary community through programming that connects New York City readers with local, national, and international authors, publishers, and booksellers. To this end the festival develops original programs that are hip, smart, and diverse and collaborates to present free and low-cost programming including the Festival Day, Bookend Events, YA Outloud, and the BKBF Children's Day. BKBF is presented by the non-profit Brooklyn Book Festival, Inc. and the Brooklyn Book Festival Literary Council.
The Festival is proud of its roster of supporters including the Amazon Literary Partnership, the Baillie Gifford Non Fiction Prize, the Brooklyn Borough President's Office, Brookfield Properties and J.P. Morgan Chase, Con Edison, Disney, Downtown Brooklyn Partnership, Kirby Family Foundation, Little A, the Mayor's Office of Media & Entertainment, New York City Department of Cultural Affairs, New York City Council Speaker Corey Johnson and Council Members Brad Lander, Stephen Levin and Carlos Menchaca, NYC COVID-19 Response and Impact Fund in New York Community Trust, New York State Council on the Arts, Lit Tap, NYU. The Festival's media sponsors include C-SPAN, Book TV, the New York Review of Books, and WNYC.
Be sure to visit www.old.brooklynbookfestival.org or check out the official Facebook page, follow the Festival on Instagram (@bkbookfest), on Twitter (@BKBF), and past Festival photos on Flickr.
2020 Brooklyn Book Festival
Sunday, October 4 = 10am — 8pm
Virtual Festival Day
Saturday, October 3 = 10am — 4pm
Virtual Children's Day
Saturday, October 3 = 1pm — 6pm
Y.A. Out Loud
September 28 — October 5
Virtual Bookend Events
Confirmed Authors Festival 2020: Salar Abdohbv – Aria Aber – Ayad Akhtar – Becky Albertalli – Rochelle Alers – A. Andrews – Diannely Antigua – Zaina Arafat – Will Arbery – Derf Backderf – Brit Bennett – Carl Bergman – Marie-Helene Bertino – Mark Bibbins – Chelsea Bieker – Betsy Bird – Eula Biss – Max Brallier – Libba Bray – Bill Buford – Susannah Cahalan – Patrice Caldwell – Ada Calhoun – Kacen Callender – Maisy Card – Veronica Chambers – Ruth Chan – Tami Charles – Lee Child – Dave Chisholm – Ben Clanton – Brandy Colbert – Zoraida Córdova – Eduardo C. Corral – Mia Couto – Mike Curato – Angela Dominguez – Sophie Escabasse – Debbi Michiko Florence – Nick Flynn – Curdella Forbes – Carolyn Forché – Gilbert Ford – Kelli Jo Ford – Lauren Francis-Sharma – Marcial Gala – Matt Gallagher – Camryn Garrett – Sasha Geffen – Nelson George – Hafizah Geter – Julia Gfrörer – Paolo Giordano – Chris Grabenstein – Isabel Greenberg – Chris Grine – Kristen Gudsnuk – Romesh Gunesekera – Shawn Harris – Mike Hawthorne – Carlos Hernandez – Amy Herzog – Cathy Park Hong – Mark Honigsbaum – Kiku Hughes – Michael R. Jackson – Victoria James – Oliver Jeffers – N.K. Jemisin – Beverly Jenkins – Kim Johnson – Leah Johnson – Varian Johnson – Tayari Jones – Wayne Jordan – Stephanie Kelton – Jessica Kim – Lily King – Peter Kispert – Yusef Komunyakaa – Andrew Krivak – Ryan La Sala – Stephan Lee – Attica Locke – Marie Lu – Alain Mabanckou – Deborah Madison – Maureen Mahon – Kevin Noble Maillard – Ricardo Alberto Maldonado – Emily St. John Mandel – Ilana Masad – Janae Marks – Bernice L. McFadden – Karen McManus – Juana Medina – Meg Medina – Fernanda Melchor – Colin Meloy – Maaza Mengiste – Kate Messner – Adrienne Miller – Lydia Millet – Jonah Mixon-Webster – Marcus J. Moore – John Murillo – Daniel Nayeri – Emily Nemens – Andrés Neuman – Kevin Nguyen – Lynn Nottage – Sigrid Nunez – Joyce Carol Oates – Tracy O'Neill – Tochi Onyebuchi – Claribel Ortega – Carey Pietsch – Rory Power – Claudia Rankine – Raúl the Third – Calvin Reid – Kiley Reid – Jared Reinmuth – Justin A. Reynolds – Hallie Rubenhold – Salman Rushdie – Kate Elizabeth Russell – Joe Sacco – Aisha Saeed – Jerry Saltz – Maria Scrivan – Tariq Shah – Kevin Sherry – Adania Shibli – Curtis Sittenfeld – Bishakh Som – Mika Song – Leslie Stein – R.L. Stine – Emma Straub – Brandon Taylor – Emily Temple – Ngũgĩ wa Thiong'o – Héctor Tobar -Adrian Tomine – Laura van den Berg – Juan Pablo Villalobos – Ivan Vladislavić – Karolina Waclawiak – Kawai Strong Washburn – Jesse Wegman – Edmund White – Colson Whitehead – Rick Wilson – Alexis Wright – Shannon Wright – Yao Xiao – Bianca Xunise – Gene Luen Yang – Brigit Young – Lidia Yuknavitch – Kate Zambreno –
Brooklyn Book Festival Announces: 15th Anniversary Will Be An All-Virtual Festival
• https://brooklynbookfestival.org/
• fleursdumal.nl magazine
More in: - Book Lovers, - Book News, Art & Literature News, AUDIO, CINEMA, RADIO & TV, Berg, Carl, FICTION & NONFICTION ARCHIVE, LITERARY MAGAZINES, Magazines
---
Laat hier jouw stem voor cultuur horen!
• fleursdumal.nl magazine

More in: - Book Lovers, Art & Literature News, AUDIO, CINEMA, RADIO & TV, DANCE, Design, Fashion, Graffity, Illustrators, Illustration, LITERARY MAGAZINES, MUSIC, THEATRE
---
The highly anticipated new biography of Sylvia Plath that focuses on her remarkable literary and intellectual achievements, while restoring the woman behind the long-held myths about her life and art.
With a wealth of never-before-accessed materials–including unpublished letters and manuscripts; court, police, and psychiatric records; and new interviews–Heather Clark brings to life the brilliant daughter of Wellesley, Massachusetts.
Sylvia Plath had poetic ambition from a very young age and was an accomplished, published writer of poems and stories even before she became a star English student at Smith College in the early 1950s. Determined not to read Plath's work as if her every act, from childhood on, was a harbinger of her tragic fate, Clark here evokes a culture in transition, in the shadow of the atom bomb and the Holocaust, as she explores Plath's world: her early relationships and determination not to become a conventional woman and wife; her conflicted ties to her well-meaning, widowed mother; her troubles at the hands of an unenlightened mental-health industry; her Cambridge years and thunderclap meeting with Ted Hughes, a marriage of true minds that would change the course of poetry in English; and much more.
Clark's clear-eyed sympathy for Hughes, his lover Assia Wevill, and the other demonized players in the arena of Plath's suicide promotes a deeper understanding of her final days, with their outpouring of first-rate poems. Along with illuminating readings of the poems themselves, Clark's meticulous, compassionate research brings us closer than ever to the spirited woman and visionary artist who blazed a trail that still lights the way for women poets the world over.
Heather Clark earned her bachelor's degree in English Literature from Harvard University and her doctorate in English from Oxford University. Her awards include a National Endowment for the Humanities Public Scholar Fellowship; a Leon Levy Biography Fellowship at the City University of New York; and a Visiting U.S. Fellowship at the Eccles Centre for American Studies, British Library. A former Visiting Scholar at the Oxford Centre for Life-Writing, she is the author of The Grief of Influence: Sylvia Plath and Ted Hughes and The Ulster Renaissance: Poetry in Belfast 1962-1972. Her work has appeared in publications including Harvard Review and The Times Literary Supplement, and she recently served as a consultant for the BBC documentary Sylvia Plath: Life Inside the Bell Jar. She divides her time between Chappaqua, New York, and Yorkshire, England, where she is Professor of Contemporary Poetry at the University of Huddersfield.
Red Comet
The Short Life and Blazing Art of Sylvia Plath
By Heather Clark
Hardcover
1152 Pages
$40.00
Oct 06, 2020
ISBN 9780307961167
Published by Knopf
$40.00
# new biography
• fleursdumal.nl magazine
More in: #Biography Archives, - Archive Tombeau de la jeunesse, - Book Lovers, - Book News, Archive C-D, Archive G-H, Archive O-P, Archive O-P, Plath, Sylvia
---
The International Booker Prize is awarded annually for a single book, translated into English and published in the UK or Ireland.
The vital work of translators is celebrated, with the prize money divided equally between the author and translator.
The judges of the 2020 International Booker Prize have revealed the six shortlisted books of the International Booker Prize which celebrates the finest translated fiction from around the world.
The 2020 International Booker Prize shortlist is as follows:
◊ The Enlightenment of the Greengage Tree by Shokoofeh Azar (Farsi-Iran), translated by Anonymous, published by Europa Editions
◊ The Adventures of China Iron by Gabriela Cabezón Cámara (Spanish-Argentina), translated by Iona Macintyre and Fiona Mackintosh, published by Charco Press
◊ Tyll by Daniel Kehlmann (Germany-German), translated by Ross Benjamin, published by Quercus
◊ Hurricane Season by Fernanda Melchor (Spanish-Mexico), translated by Sophie Hughes, Published by Fitzcarraldo Editions
◊ The Memory Police by Yoko Ogawa (Japanese-Japan), translated by Stephen Snyder, published by Harvill Secker
◊ The Discomfort of Evening by Marieke Lucas Rijneveld (Dutch-Netherlands), translated by Michele Hutchison, published by Faber & Faber
The shortlist was chosen by a panel of five judges, chaired by Ted Hodgkinson, Head of Literature and Spoken Word at Southbank Centre. The panel also includes: Lucie Campos, director of the Villa Gillet, France's centre for international writing; Man Booker International Prize-winning translator and writer Jennifer Croft; Booker Prize longlisted author Valeria Luiselli and writer, poet and musician Jeet Thayil, whose novel Narcopolis was shortlisted for the Man Booker Prize in 2012.
◊ The Winner will be announced on 19 may 2020
# More information on website Booker Prize
• fleursdumal.nl magazine
More in: - Book Lovers, - Book News, Archive Q-R, Archive Q-R, Awards & Prizes, Rijneveld, Marieke Lucas, TRANSLATION ARCHIVE
---
Brought together for the first time, here are 100 pieces of 'Oulipo' writing, celebrating the literary group who revelled in maths problems, puzzles, trickery, wordplay and conundrums.
Featuring writers including Georges Perec, Raymond Queneau and Italo Calvino, it includes poems, short stories, word games and even recipes. Alongside these famous Oulipians, are 'anticipatory' wordsmiths who crafted language with unusual constraints and literary tricks, from Jonathan Swift to Lewis Carroll.
Philip Terry is a translator, and a writer of fiction and poetry. He has translated the work of Georges Perec, Stéphane Mallarmé and Raymond Queneau, and is the author of the novel tapestry, shortlisted for the Goldsmiths Prize.
His poetry volumes include Oulipoems, Shakespeare's Sonnets, Dante's Inferno (a Times Literary Supplement Book of the Year, London Review Bookshop Book of the Week, and recipient of a Society of Authors Travelling Scholarship Prize), Quennets, and Dictator, a version of the Epic of Gilgamesh in Globish.
He is currently translating  Ice Age signs from the caves at Lascaux.
• 'Philip Terry's collection is packed with fabulous, wide-ranging work that displays the full ingenuity, brio and originality of Oulipian ideals in action. An exhilarating feat of in-depth reading, and translating, it takes its place as the definitive anthology in English for decades to come.' – Marina Warner
• Philip Terry's playful selection will appeal to lovers of word games, puzzles and literary delights.
The Penguin Book of Oulipo
Queneau, Perec, Calvino and the Adventure of Form
Edited by Philip Terry
Imprint: Penguin Classics
Published: 31/10/2019
ISBN: 9780241378427
Hardcover
Length: 576 Pages
Dimensions: 240mm x 49mm x 162mm
RRP: £25.00
# new books
The Penguin Book of Oulipo
Queneau, Perec, Calvino and the Adventure of Form
Philip Terry (Edited by)
• fleursdumal.nl magazine
More in: #Archive Concrete & Visual Poetry, - Book Lovers, - Book News, - Objets Trouvés (Ready-Mades), Archive C-D, Archive O-P, Archive Q-R, Art & Literature News, AUDIO, CINEMA, RADIO & TV, Carroll, Lewis, Dadaïsme, Georges Perec, OULIPO (PATAFYSICA), Surrealisme, Swift, Jonathan
---
 Rebellen en dwarsdenkers
De 85ste Boekenweek staat in het teken van hen die ons voorstellingsvermogen vergroten: de rebellen en dwarsdenkers. Het lezen van boeken zet namelijk aan
tot nadenken, zodat lezers begrip ontwikkelen voor anderen en minder vasthouden aan vooroordelen (bron: KVB Boekwerk, De impact van het boek). Van de dromerige dwarsdenker die veilig thuis afreist naar een andere wereld tot de rebel die zijn messcherpe pen als wapen gebruikt tegen de status quo. In de literatuur is er ruimte voor al die geluiden. Het lef van schrijvers om taboes te doorbreken en een steen in de vijver te gooien is van levensbelang voor onze samenleving. Daarom koesteren we de vrijheid die door schrijvers genomen wordt om tegen de stroom in te werken, om dwars en vervelend te zijn, onaangepast en onafhankelijk.
 Een greep uit rebelse boeken en dwarse schrijvers
De rebellen van de literatuur hebben altijd ons denken beïnvloed: stoere, onorthodoxe, eigengereide auteurs als Multatuli, Annie M.G. Schmidt, Willem Frederik Hermans, Astrid
Roemer, Dimitri Verhulst en Charlotte Mutsaers hebben werelden geopend. Rebelse personages en dwarse karakters zoals Don Quichot, Madame Bovary, Tommy Wieringa's Joe Speedboot, Esther Gerritsens Roxy en Hava uit Aafke Romeijns Concept M houden een spiegel voor en laten ons nadenken over wie wij zijn. Schrijvers als Jan Cremer, Connie Palmen, Anna Blaman en Jan Wolkers zoeken grenzen van de literatuur op en verleggen ze. Boeken kunnen weerstand oproepen, kunnen verboden worden en verbrand, maar de kracht van de woorden laat zich niet temmen. Nabokovs Lolita, Houellebecqs Onderworpen of Erasmus' Lof der zotheid hebben onder vuur gelegen, maar zijn inmiddels onmiskenbare oriëntatiepunten in het literaire landschap. Om de steeds veranderende wereld om ons heen te begrijpen, hebben we dwarsdenkers en ordescheppers nodig. Renate Rubinstein en Anton de Kom hebben ons bewust gemaakt van onze oogkleppen. Ook door non-fictie prikkelen, stimuleren en scherpen we onze geest. Het maatschappelijk debat op de meest uiteenlopende onderwerpen wordt bepaald door dappere en dwarse denkers: Dick Swaab en Rosanne Hertzberger, Rutger Bregman en Joris Luyendijk, Anousha Nzume en Paul Scheffer.
• De 85ste Boekenweek vindt plaats van zaterdag 7 t/m zondag 15 maart 2020
• Het boekenweekgeschenk is dit jaar geschreven door Annejet van der Zijl: Leon & Juliette. Een  liefdesgeschiedenis
• Özcan Akyol schrijft dit jaar het Boekenweekessay: Generaal zonder leger.
• Ellen Deckwitz schrijft Boekenweekgedicht 2020
#  Meer informatie op website Boekenweek
• fleursdumal.nl magazine
More in: - Book Lovers, - Book News, - Book Stories, - Bookstores, AUDIO, CINEMA, RADIO & TV, Boekenweek, PRESS & PUBLISHING
---
METROPOLITAN MUSEUM | TILBURG: Overzichtstentoonstelling vier jaar TilburgsAns, een kunstproject van Sander Neijnens en Ivo van Leeuwen
Wè knòrrie?
Sinds april 2016 zwerft TilburgsAns door de stad, een lettertype met eigenzinnige karakters en inmiddels 123 pictogrammen. Het lettertype is ontworpen door Sander Neijnens en geïnspireerd op het rauwe, eigenzinnige, humoristische, verrassende en experimentele karakter van Tilburg. De pictogrammen van karakteristieke Tilburgse locaties, evenementen, verhalen en woorden zijn van de hand van Ivo van Leeuwen. TilburgsAns is een uniek (typo)grafisch portret van Tilburg. Dit kunstproject is omarmd door de inwoners van de stad.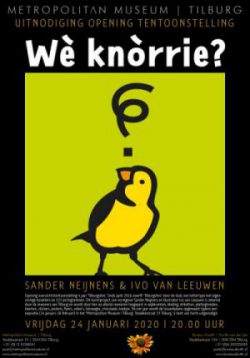 Het lettertype wordt op allerlei manieren toegepast in wijkkranten, kleding, etiketten, plattegronden, kaarten, stickers, posters, flyers en tatoeages. Daarnaast organiseerden de ontwerpers de wekelijkse kaajbaandexpositie van pictogrammen op de vuilcontainers van 81 huishoudens en hielden zij reeds vele workshops, lezingen in binnen- en buitenland en lessen voor basis-, middelbaar en hoger onderwijs. Ook presenteerden zij 'Dègge bedankt zèèt dè witte wèèn' en 'We zullen et saome wel rôoje wèèn', Chocolinde sjeklaatjes, de Tilburgse lekkernij met een Q en een serie speldjes. Na vier jaar wordt de tussenbalans opgemaakt met deze expositie in het Metropolitan Museum Tilburg, de raamtentoonstellingen aan de Stedekestraat 15 te Tilburg.
Het lettertype TilburgsAns kan gratis gedownload worden op de website www.tilburgsans.nl. Daar treft u ook nadere achtergrondinformatie over het project en het bijbehorende letteradoptieplan alsmede vele voorbeelden van hoe het lettertype en de pictogrammen in en buiten de stad worden toegepast.
Gratis raamtentoonstelling
'Wè knòrrie?' van TilburgsAns
Sander Neijnens en Ivo van Leeuwen
dagelijks nog t/m 18 februari 2020
'Metropolitan Museum | Tilburg'
Stedekestraat 15 | 5041DM Tilburg
Sjon Brands en Dorith van der Lee
telefoon 013 5358041 | 06 20325030
mail post@metropolitanmuseum.nl
site www.metropolitanmuseum.nl
• fleursdumal.nl magazine
More in: - Book Lovers, Archive K-L, Archive M-N, Art & Literature News, Exhibition Archive, Ivo van Leeuwen, Metropolitan Museum Tilburg, Sander Neijnens, Theater van de Verloren Tijd
---
Paper Aeroplane: Selected Poems 1989-2014 by Simon Armitage is the essential selection of poems from one of Britain's foremost contemporary poets.
When Simon Armitage burst on to the poetry scene in 1989 with his spectacular debut Zoom!, readers were introduced to an exceptional new talent who would reshape the landscape of contemporary poetry in the years to come.
Twenty-five years on, Simon Armitage's reputation as one of the nation's most original, most respected and best-loved poets seems secure. Paper Aeroplane: Poems 1989-2014 is the author's own selection from across a quarter-century of work, from his debut to the latest, uncollected work. Drawing upon all of his award-winning poetry collections, including Kid, Book of Matches, The Universal Home Doctor and Seeing Stars, this generous selection provides an essential gathering of this most thrilling of poets, and is key reading for students and general readers alike.
Simon Armitage was born in West Yorkshire and is Professor of Poetry at the University of Leeds. A recipient of numerous prizes and awards, he has published twelve collections of poetry, including Seeing Stars (2010), The Unaccompanied (2017), Sandettie Light Vessel Automatic (2019) and his acclaimed translation of Sir Gawain and the Green Knight (2007). He writes extensively for television and radio, and is the author of two novels and the non-fiction bestsellers All Points North (1998), Walking Home (2012) and Walking Away (2015). His theatre works include The Last Days of Troy, performed at Shakespeare's Globe in 2014. In 2015 he was appointed Professor of Poetry at Oxford University and in 2018 he was awarded the Queen's Gold Medal for Poetry. Simon Armitage is Poet Laureate of the UK.
Paper Aeroplane: Selected Poems 1989-2014
by Simon Armitage (Author), Sue Roberts (Author)
2014/2015
Hardback Price £14.99
Paperback Price £10.99
Pages: 248pp
Publisher: Faber and Faber Poetry
Language: English
ISBN-10: 0571310699
ISBN-13: 978-0571310692
# new books
Paper Aeroplane:
Selected Poems 1989-2014
by Simon Armitage (Author)
• fleursdumal.nl magazine
More in: - Book Lovers, - Book News, Archive A-B, Archive A-B, Armitage, Simon
---
Profound meditations on life, death, freedom, family, and faith, written by radical Black journalist, Mumia Abu-Jamal, while he was awaiting his execution.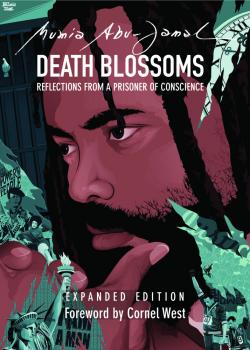 During the spring of 1996, black journalist Mumia Abu-Jamal was living on death row and expecting to be executed for a crime he steadfastly maintained he did not commit—the murder of a white Philadelphia police officer. It was in that period, with the likelihood of execution looming over him, that he received visits from members of the Bruderhof spiritual community––refugees from Hitler's Germany––anti-fascist, anti-racist, and deeply opposed to the death penalty. Inspired by the encounters, Mumia hand-wrote Death Blossoms—a series of short essays and personal vignettes reflecting on his search for spiritual meaning, freedom, and truth in a deeply racist and materialistic society.
Featuring a new introduction by Mumia and a report by Amnesty International detailing how his trial was "in violation of minimum international standards," this new edition of Death Blossoms is essential reading for the Black Lives Matter era, and is destined to endure as a classic in American prison literature.
"In this revised edition of his groundbreaking work, Death Blossoms, convicted death row prisoner Mumia Abu-Jamal tackles hard and existential questions, searching for God and a greater meaning in a caged life that may be cut short if the state has its way and takes his life. As readers follow Mumia's journey through his poems, short essays, and longer musings, they will learn not only about this singular individual who has retained his humanity despite the ever present threat of execution, but also about themselves and our society: what we are willing to tolerate and who we are willing to cast aside. If there is any justice, Mumia will prevail in his battle for his life and for his freedom."––Lara Bazelon, author of Rectify: The Power of Restorative Justice After Wrongful Conviction
"Mumia Abu-Jamal has challenged us to see the prison at the center of a long history of US oppression, and he has inspired us to keep faith with ordinary struggles against injustice under the most terrible odds and circumstances. Written more than two decades ago, Death Blossoms helps us to see beyond prison walls; it is as timely and as necessary as the day it was published."––Nikhil Pal Singh, founding faculty director of the NYU Prison Eduction Program, author of Race and America's Long War.
Title: Death Blossoms
Subtitle: Reflections from a Prisoner of Conscience, Expanded Edition
Author: Mumia Abu-Jamal
Foreword: Cornel West
Introduction by Mumia Abu-Jamal
Preface by Julia Wright
Publisher: City Lights Publishers
Tags: African American history, black lives matter, black panther party, death row, injustice, institutional injustice, mass incarceration, prison industrial complex, prison writing, racial injustice, U.S. political prisoners, white supremacy
Format: Paperback
ISBN-10 0872867978
ISBN-13 9780872867970
Publication Date; 12 November 2019
Main content page count 240
List Price $16.95
# new books
Mumia Abu-Jamal
Death Blossoms
Reflections from a Prisoner of Conscience
• fleursdumal.nl magazine
More in: #Editors Choice Archiv, - Book Lovers, - Book News, Archive A-B, Archive A-B, CRIME & PUNISHMENT, REPRESSION OF WRITERS, JOURNALISTS & ARTISTS
---
Na een avond uit met zijn beste vriend Cyprien betrapt André zijn vrouw Berthe op overspel. Vernederd, woedend en verdrietig verlaat hij de echtelijke woning.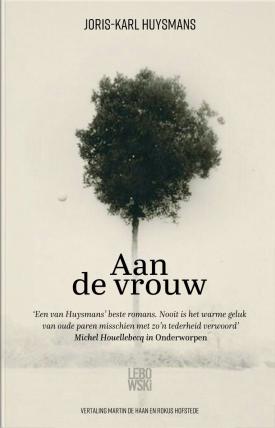 Wat te doen? Met Cyprien praat hij veelvuldig over de beslommeringen van het huwelijk en het leven van alleenstaanden in een grote stad. Moet André zijn huwelijk proberen te redden, misschien zelf een buitenechtelijke relatie aangaan, of de voorkeur geven aan eenzaamheid?
In de klassieker Aan de vrouw uit 1881 portretteert Huysmans het huiselijke, kleinburgerlijke leven met veel ironie en zwarte humor, evenals het verarmde kunstenaarsmilieu waarin de schrijver André en de schilder Cyprien zich bewegen. Een verrassend tijdloos verhaal over de eeuwige strijd tussen de seksen, over de sleur van een huwelijk, relaties en seksualiteit. Verkiezen André en Cyprien uiteindelijk het burgerlijk bestaan boven hun artistieke ambities en vrijheid?
Met een nawoord door vertalers Martin de Haan & Rokus Hofstede en een voorwoord door fin-de-siècle-expert Sander Bink.
Joris-Karl Huysmans (1848-1907) was een Franse auteur. Hij schreef Aan de vrouw (En ménage) in 1881, drie jaar voor zijn bekendste werk verscheen: Tegen de keer (À rebours, 1884). Joris-Karl Huysmans is een van de favoriete auteurs van Michel Houellebecq.
Aan de vrouw
Joris-Karl Huysmans
Oorspronkelijke titel: En ménage
Vertaling: Rokus Hofstede
Uitgever: Lebowski
ISBN: 9789048841936
Verschenen: 05-09-2019
Paperback
304 blz.
€ 21.99
# new books
Joris-Karl Huysmans
Aan de vrouw
En ménage
• fleursdumal.nl magazine
More in: - Book Lovers, - Book News, - Book Stories, Archive G-H, Archive G-H, Huysmans, J.-K., Huysmans, Joris-Karl, J.-K. Huysmans, Joris-Karl Huysmans
---
Older Entries »
Thank you for reading FLEURSDUMAL.NL - magazine for art & literature