FLEURSDUMAL POETRY LIBRARY – classic, modern, experimental & visual & sound poetry, poetry in translation, city poets, poetry archive, pre-raphaelites, editor's choice, etc.
«« Previous page
·
Sophie Albrecht: Sehnsucht (Gedicht)
·
Antonin Artaud: Qui suis-je ? (Poème)
·
Bert Bevers: Boodschapper (gedicht)
·
Emily Dickinson: The Outlet
·
Gérard de Nerval: Les heures de la nuit – Poéme
·
David Lynch: Someone is in my House. Retrospectief in Bonnefantenmuseum
·
Martin Rowson: Pastrami Faced Racist
·
Sara Teasdale: The Look
·
The Annotated Prison Writings of Oscar Wilde
·
Unwritten: Caribbean Poems After the First World War edited by Karen McCarthy Woolf
·
August Stramm: Feuertaufe (Gedicht)
·
Gerald Janecek: Everything Has Already Been Written. Moscow Conceptualist Poetry and Performance
Sehnsucht
Entfernter Freund!
Um den auf immer
Im stillen Zimmer
Mein Auge weint;
Dann, wenn die Sterne
Am Himmel blinken,
Und Liebe winken,
Denk ich der Ferne
In der du, ach!
Jetzt um mich leidest,
Und Freuden meidest,
Mit Thränen nach.
Und wenn mein Freund
Im Stralenkleide,
Zu meinem Leide
Mitleidig scheint;
Da werf ich mich,
Mit stummen Sehnen
Und tausend Thränen –
O! sähst du mich!
An jene Flüsse
Zur Erde nieder,
Die unsre Lieder
Und unsere Küsse
Beym Sternenschein
So oft belauschten,
und sanfter rauschten
Durch diesen Hayn –
Ach! keine Lieder
Und keine Küsse,
Ihr – Hayn – und Flüsse!
Belauscht ihr wieder –
Und denk an dich,
An jene Zeiten,
So voller Freuden
Für mich und dich;
Dann ruf ich dich
Durch alle Wälder,
Durch Thal und Felder
Als hört'st du mich.
Und wüst und schaurig
Ist Hayn – und Trifte,
Wie Todtengrüfte,
So bang und traurig.
O! Mond und Sterne,
Blickt tausend Küsse
Und tausend Grüsse
Dem in der Ferne,
Ihr könnt' ihn finden!
So ruf und weine
Ich oft alleine
In öden Gründen.
So lächelt dir
Der Mond oft Küsse
So traurig süsse
Mein Freund von mir.
Sophie Albrecht
(1757-1840)
Gedicht
Im Junius 1783
• fleursdumal.nl magazine
More in: Archive A-B, Archive A-B, CLASSIC POETRY, Galerie Deutschland
---
Qui suis-je ?
Qui suis-je ?
D'où je viens ?
Je suis Antonin Artaud
et que je le dise
comme je sais le dire
immédiatement
vous verrez mon corps actuel
voler en éclats
et se ramasser
sous dix mille aspects
notoires
un corps neuf
où vous ne pourrez
plus jamais
m'oublier.
Antonin Artaud
Poème
Qui suis-je ?
(1896 – 1948)
• fleursdumal.nl magazine
More in: Archive A-B, Archive A-B, Artaud, Antonin
---
Boodschapper
Ze wegen door, die tafelen. Hij
sjouwt wat op en neer met
boodschappen en lijstjes met
benodigdheden: acaciahout,
gelooide huiden, getwijnd lijnwaad
en geitenhaar, onyxstenen, roodgeverfde
ramsvellen, zalfolie en o ja natuurlijk
brons en zilver niet te vergeten.
Want een beetje ark.
Groeiend tabernakel.
Nader niet te dicht,
bandeloos volk:
wacht tot de hoorn schalt.
Geloof
niet in goud
Bert Bevers
Gedicht: Boodschapper
Niet eerder verschenen
Bert Bevers is a poet and writer who lives and works in Antwerp (Be)
• fleursdumal.nl magazine
More in: Archive A-B, Archive A-B, Bevers, Bert
---
The Outlet
My river runs to thee:
Blue sea, wilt welcome me?
My river waits reply.
Oh sea, look graciously!
I'll fetch thee brooks
From spotted nooks,—
Say, sea,
Take me!
Emily Dickinson
(1830-1886)
The Outlet, 1860
• fleursdumal.nl magazine
More in: Archive C-D, Dickinson, Emily
---
Les heures de la nuit – Poéme
Nous sommes des Heures heureuses
Par qui le Plaisir est conduit;
Quand les étoiles amoureuses
Percent le voile de la nuit,
Près de la beauté qui repose,
Œil entr'ouvert, bouche mi-close,
Vers un lit parfumé de rose,
Nous guidons César et l'Amour.
Et, là, nous demeurons sans trêve
Jusqu'au moment où, comme un rêve,
L'Aube naissante nous enlève
Sur le premier rayon du jour.
Gérard de Nerval
(1808 – 1855)
Les heures de la nuit – Poéme
• fleursdumal.nl magazine
More in: Archive M-N, Nerval, Gérard de, Nerval, Gérard de
---
Vanaf 30 november 2018 tot 28 april 2019 presenteert het Bonnefantenmuseum het omvangrijke retrospectief Someone is in my House van de Amerikaanse kunstenaar David Lynch.
Hoewel David Lynch onmiskenbaar een spilfiguur is in de internationale film- en tv-wereld, is zijn werk als beeldend kunstenaar veel minder bekend. Dat is op zijn minst vreemd, aangezien Lynch zelf altijd heeft bena­drukt dat hij zichzelf vóór alles ziet als beeldend kunste­naar.
Een beeldend kunstenaar die tijdens zijn studie aan de kunstacademie toevallig in aanraking kwam met het medium film, waarmee de basis gelegd werd voor zijn carrière als filmregisseur.
Naast zijn werk als regisseur is Lynch altijd actief gebleven als beeldend kunstenaar en heeft hij in de afgelopen decennia een grenzeloos oeuvre gecreëerd van onder andere schilderijen, tekeningen, litho's, foto's, lampsculpturen, muziek en installaties.
Een oeuvre dat tot nu toe nog maar zelden is belicht en in musea werd getoond. Met ruim 500 werken brengt het Bonnefantenmuseum niet alleen de eerste Nederlandse museumpresentatie van Lynch' beeldend oeuvre, maar ook de grootste overzichtstentoonstelling ooit.
David Lynch: Someone is in my House
30.11.2018 – 28.04.2019
David Lynch, beeldend kunstenaar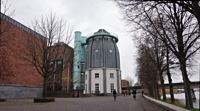 Anders dan het werk van Lynch (1946, Missoula, Montana, VS), vol duister geweld en seksua­liteit, doet vermoeden, is de kindertijd van de kunstenaar en filmmaker ge­lukkig en liefdevol.
Lynch groeit op met reislustige ouders en leidt op jonge leeftijd een nomadenbestaan, een voor hem idyllische en veilige omgeving. Van jongs af aan aangemoedigd om zich creatief te ontplooien – kleurboeken waren uit den boze, eigen verbeelding gebruiken was het credo – komt hij uiteindelijk op de Pennsylvania Academy of the Fine Arts in Philadelphia terecht om schilderkunst te studeren.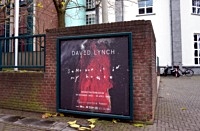 Hier ontwikkelt Lynch zijn artistieke vocabulaire en thema's die blijvend aanwezig zullen zijn in zijn werk. En hier ligt de voedingsbodem voor zijn eerste mixed-media installatie met stop-motion film Six Men Getting Sick (Six Times) (1967), die een opmaat vormde naar zijn eerste speelfilm, Eraserhead (1977). De rest is (film)geschiedenis en inmiddels zijn Lynch' films moderne klassiekers.
Lynch' kunstenaarschap loopt als een rode draad door zijn leven en films. Hij is gedurende zijn vijftigjarige carrière altijd blijven tekenen en schilde­ren, ook als er vanwege zijn werk als filmregisseur weinig tijd was om in het atelier door te brengen.
"I miss painting when I'm not painting", zegt Lynch zelf in de recente biografie Room to Dream. * David Lynch en Kristine McKenna. Room to Dream. Edinburgh, Canongate Books, 2018, p. 301
In samenwerking met David Lynch toont het Bonnefanten een indrukwekkend artistiek overzicht van het veelzijdige kunstenaarschap van Lynch.
De tentoonstelling omvat schilderijen, foto's, tekeningen, litho's en aquarellen uit de jaren 60 tot heden, unieke tekeningen op luciferboekjes uit de jaren 70, schetsboektekeningen uit de jaren 60/70/80, zwart-wit foto's uit verschillende periodes, waaronder de befaamde Snow Men-fotoserie (1993), cartoons uit de serie The Angriest Dog in the World (1982-1993), audiowerken én een aantal kortfilms uit 1968-2015.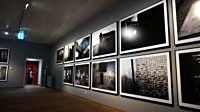 Voor het eerst sinds het ontstaan in 1967, zal ook het allesbepalende academiewerk Six Men Getting Sick (Six Times) in een museumtentoonstelling te zien zijn.
Publicatie
Bij de tentoonstelling verschijnt een rijk geïllustreerde monografie met tekstbijdragen van curator Stijn Huijts (artistiek directeur Bonnefantenmuseum), Kristine McKenna (journalist en curator, Verenigde Staten), Petra Giloy-Hirtz (schrijver en curator, Duitsland) en Michael Chabon (schrijver, Verenigde Staten). De publicatie is verkrijgbaar in het Nederlands, Engels en Frans en wordt uitgegeven door Uitgeverij Hannibal in samenwerking met Prestel.
Tentoonstellingsteaser
In aanloop naar zijn omvangrijke retrospectief Someone is in my House, maakte Lynch speciaal voor het Bonnefanten een unieke tentoonstellingsteaser. In deze typisch Lynchiaanse kortfilm, met in de hoofdrol naast Lynch zelf de 'White Monkey' – een personage dat eerder opdook in Lynch' Weird daily weather report – nodigt hij de kijker uit om naar het Bonnefanten te komen.
Flankerend programma
Parallel aan de tentoonstelling is er in samenwerking met Lumière Cinema in Maastricht een compleet filmretrospectief gewijd aan de films en het leven van David Lynch met filmvertoningen, documentaires en lezingen over de filmmaker.
Daarnaast brengt EYE filmmuseum drie digitaal gerestaureerde films opnieuw uit in de filmtheaters in heel het land. Voor meer informatie: https://www.eyefilm.nl/themas/gerestaureerde-david-lynch-klassiekers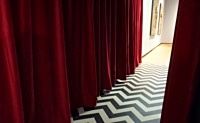 De philharmonie zuidnederland werkte met de Poolse componist Marek Zebrowski aan een compositie en uitvoering van Music for David, een strijkkwartet dat Zebrowski in 2015 componeerde als een hommage aan Lynch, die op zijn beurt de korte animatie film Pożar (Fire) maakte bij Zebrowski's compositie. Het muziekstuk zal een aantal keren live (op zaal) bij de film ten gehore worden gebracht.
# meer informatie op website Bonnefantenmuseum
# Expositie & publicatie
David Lynch: Someone is in my House
30.11.2018 – 28.04.2019

• photos: jef van kempen
• fleursdumal.nl magazine
More in: #Archive A-Z Sound Poetry, *Concrete + Visual Poetry K-O, - Book News, - Bookstores, Archive K-L, Art & Literature News, AUDIO, CINEMA, RADIO & TV, David Lynch, Exhibition Archive, FDM Art Gallery, Jef van Kempen Photos & Drawings, Museum of Literary Treasures, Photography, Tales of Mystery & Imagination, THEATRE
---
Undeterred by the embarrassing success of his ridiculous four-volume verse epic The Limerickiad, award-winning cartoonist Martin Rowson continues to lower the tone with a series of metrical rants and cautionary tales about contemporary political and literary life.
Accompanied by the ghosts of Chesterton, Shelley, Burns and Browning, Rowson casts his gaze across the satirical spectrum from governments, gammon-faced racists, class war, nationalism and the harsh realities of child rearing to the world of literary festivals, international book fairs, best-sellers, book-launches, holiday reading lists, bottom lines, liggers, bloggers, blaggers, book-signings and book-burnings.
Martin Rowson is an award-winning cartoonist whose work appears regularly in The Guardian, The Independent on Sunday, The Daily Mirror, The Morning Star and many other publications.
His books include graphic adaptations of The Waste Land, Tristram Shandy and Gulliver's Travels. Among his other books are Snatches, The Dog Allusion, Fuck, Stuff (long-listed for the Samuel Johnson Prize) and four volumes of The Limerickiad. His most recent book is The Communist Manifesto: A Graphic Novel.
Martin Rowson
Pastrami Faced Racist
Published by Smokestack Books
Release date: 01 Nov. 2018
Language: English
Paperback
84 pages
ISBN-10: 1999827686
ISBN-13: 978-1999827687
£8.99
# new books
Martin Rowson
Pastrami Faced Racist
• fleursdumal.nl magazine
More in: - Book News, - Book Stories, Archive Q-R, Archive Q-R, Art & Literature News, Illustrators, Illustration
---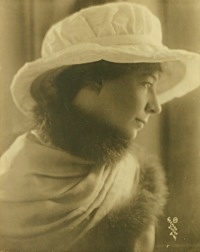 The Look
Strephon kissed me in the spring,
Robin in the fall,
But Colin only looked at me
And never kissed at all.
Strephon's kiss was lost in jest,
Robin's lost in play,
But the kiss in Colin's eyes
Haunts me night and day.
Sara Teasdale
(1884-1933)
The Look
• fleursdumal.nl magazine
More in: Archive S-T, Archive S-T, Teasdale, Sara
---
"And I? May I say nothing, my lord?" With these words, Oscar Wilde's courtroom trials came to a close. The lord in question, High Court justice Sir Alfred Wills, sent Wilde to the cells, sentenced to two years in prison with hard labor for the crime of "gross indecency" with other men.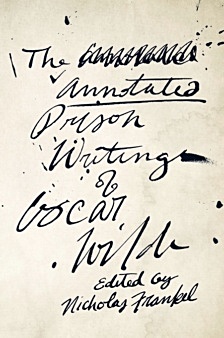 As cries of "shame" emanated from the gallery, the convicted aesthete was roundly silenced.
But he did not remain so. Behind bars and in the period immediately after his release, Wilde wrote two of his most powerful works—the long autobiographical letter De Profundis and an expansive best-selling poem, The Ballad of Reading Gaol.
In The Annotated Prison Writings of Oscar Wilde, Nicholas Frankel collects these and other prison writings, accompanied by historical illustrations and his rich facing-page annotations. As Frankel shows, Wilde experienced prison conditions designed to break even the toughest spirit, and yet his writings from this period display an imaginative and verbal brilliance left largely intact.
Wilde also remained politically steadfast, determined that his writings should inspire improvements to Victorian England's grotesque regimes of punishment. But while his reformist impulse spoke to his moment, Wilde also wrote for eternity.
At once a savage indictment of the society that jailed him and a moving testimony to private sufferings, Wilde's prison writings—illuminated by Frankel's extensive notes—reveal a very different man from the famous dandy and aesthete who shocked and amused the English-speaking world.
Nicholas Frankel is Professor of English at Virginia Commonwealth University.
"Frankel provides a valuable service in comprehensively editing these works for a fresh generation of readers." — Joseph Bristow, University of California, Los Angeles
The Annotated Prison Writings of Oscar Wilde
Oscar Wilde
Edited by Nicholas Frankel
Harvard University Press
Paperback
408 pages
Publication: May 2018
ISBN 9780674984387
€17.00
# more books
The Annotated Prison Writings of Oscar Wilde
-Clemency Petition to the Home Secretary, 2 July 1896
-De Profundis
-Letter to the Daily Chronicle, 27 May 1897
-The Ballad of Reading Gaol
-Letter to the Daily Chronicle, 23 March 1898
• fleursdumal.nl magazine
More in: - Book News, - Book Stories, Archive W-X, Archive W-X, Art & Literature News, CRIME & PUNISHMENT, REPRESSION OF WRITERS, JOURNALISTS & ARTISTS, Wilde, Oscar, Wilde, Oscar
---
What does it mean to fight for a 'mother country' that refuses to accept you as one of its own?
Britain's First World War poets changed the way we view military conflict and had a deep impact on the national psyche. Yet the stories of the 15,600 volunteers who signed up to the British West Indian Regiment remain largely unknown. Sadly, these citizens of empire were not embraced as compatriots on an equal footing. Instead they faced prejudice, injustice and discrimination while being confined to menial and auxiliary work, regardless of rank or status.
As a collaborative project, co-commissioned by 14-18 NOW, BBC Contains Strong Language and the British Council, Unwritten Poems invited contemporary Caribbean and Caribbean diaspora poets to write into that vexed space, and explore the nature of war and humanity – as it exists now, and at a time when Britain's colonial ambitions were still at a peak. Unwritten: Caribbean Poems After the First World War is a result of that provocation and also includes new material written for broadcast and live performance.
Unwritten:
Caribbean Poems After the First World War
by Karen McCarthy Woolf (Author, Editor)
With contributions from Jay Bernard, Malika Booker, Kat Francois, Jay T. John, Anthony Joseph, Ishion Hutchinson, Charnell Lucien, Vladimir Lucien, Rachel Manley, Tanya Shirley and Karen McCarthy Woolf.
Paperback
Publisher: Nine Arches Press
4 Oct. 2018
Poetry
Language: English
ISBN-10: 1911027298
ISBN-13: 978-1911027294
Product Dimensions: 16.3 x 1 x 23 cm
160 pages
Price: £14.99
# new book
Caribbean Poems After the First World War
• fleursdumal.nl magazine
More in: #Editors Choice Archiv, #More Poetry Archives, - Book News, - Bookstores, Archive W-X, Art & Literature News
---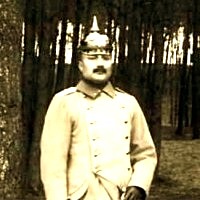 Feuertaufe
Der Körper schrumpft den weiten Rock
Der Kopf verkriecht die Beine
Erschrecken
Würgt die Flinte
Ängste
Knattern
Knattern schrillen
Knattern hieben
Knattern stolpern
Knattern
Übertaumeln
Gelle
Wut.
Der Blick
Spitzt
Zisch
Die Hände spannen Klaren.
Das Trotzen ladet.
Wollen äugt
Und
Stahler Blick
Schnellt
Streck
Das
Schicksal.
August Stramm
(1874-1915)
Feuertaufe, 1914
• fleursdumal.nl magazine
More in: *War Poetry Archive, Archive S-T, Expressionism, Stramm, August
---
In this book, Gerald Janecek provides a comprehensive account of Moscow Conceptualist poetry and performance, arguably the most important development in the arts of the late Soviet period and yet one underappreciated in the West.
Such innovative poets as Vsevolod Nekrasov, Lev Rubinstein, and Dmitry Prigov are among the most prominent literary figures of Russia in the 1980s and 1990s, yet they are virtually unknown outside Russia. The same is true of the numerous active Russian performance art groups, especially the pioneering Collective Actions group, led by the brilliantly inventive Andrey Monastyrsky.
Everything Has Already Been Written strives to make Moscow Conceptualism more accessible, to break the language barrier and to foster understanding among an international readership by thoroughly discussing a broad range of specific works and theories.
Janecek's study is the first comprehensive analysis of Moscow Conceptualist poetry and theory, vital for an understanding of Russian culture in the post-Conceptualist era.
Gerald Janecek: is a professor emeritus of Russian at the University of Kentucky. He is the author of The Look of Russian Literature: Avant-Garde Visual Experiments, 1900–1930; ZAUM: The Transrational Poetry of Russian Futurism; and Sight and Sound Entwined: Studies of the New Russian Poetry; and the editor of Staging the Image: Dmitry Prigov as Artist and Writer.
Everything Has Already Been Written.
Moscow Conceptualist Poetry and Performance
Gerald Janecek (Author)
Publication Date: December 2018
Studies in Russian Literature and Theory
312 pages
Northwestern University Press
-Paper Text – $39.95
ISBN 978-0-8101-3901-5
-Cloth Text – $120.00
ISBN 978-0-8101-3902-2
# new books
Moscow Conceptualist Poetry and Performance
Gerald Janecek
fleursdumal.nl magazine
More in: #Archive A-Z Sound Poetry, #Archive Concrete & Visual Poetry, #Editors Choice Archiv, - Book News, Archive I-J, Art & Literature News, Chlebnikov, Velimir, Conceptual writing, FDM Art Gallery, Kharms (Charms), Daniil, Majakovsky, Vladimir, Performing arts, REPRESSION OF WRITERS, JOURNALISTS & ARTISTS, Visual & Concrete Poetry
---
Older Entries »
« Newer Entries
Thank you for reading FLEURSDUMAL.NL - magazine for art & literature