EXHIBITION – art, art history, photos, paintings, drawings, sculpture, ready-mades, video, performing arts, collages, gallery, etc.
·
R. Crumb's Dream Diary
·
Kunstenfestival Watou 2018 nog t/m 2 september
·
Paul Kempers: 'Het gaat om heel eenvoudige dingen'. Jean Leering en de kunst
·
Chinese Authorities Razing Ai Weiwei's Studio Part of Larger Attack on Artistic Expression
·
41ste editie Uitmarkt van 24 tot 26 augustus 2018 in Amsterdam
·
Rick Warner: Godard and the Essay Film. A Form That Thinks
·
Designed in the USSR: 1950 -1989
·
Matthew Arnold: Requiescat
·
Hybrids 2018. Een expositie van Lustwarande Tilburg
·
Avant-garde in Groningen. De Ploeg 1918-1928
·
Alexander von Humboldt: Das Buch der Begegnungen Menschen – Kulturen – Geschichten aus den Amerikanischen Reisetagebüchern
·
Bettina Röhl: "Die RAF hat euch lieb". Die Bundesrepublik im Rausch von 68 – Eine Familie im Zentrum der Bewegung
For more than 40 years, legendary American artist Robert Crumb has documented his nightly dreams in a meticulously kept private journal.
This material has stood as a guarded secret in a career defined by an impish compulsion to publically self-disclose. All of the artist's well-documented preoccupations are present and accounted for—rampant egomania, insatiable lust, profound self-disgust, the sad beauty of old America, the moral bankruptcy of new America and the fool's errand quest for spiritual enlightenment—but here they are entirely untamed, springing forth from forces beyond even his control.
Published for the first time, the complete Dream Diaries offer readers a deep, dark look under the hood of one of America's most aggressively dynamic comedic voices.
Widely considered the greatest cartoonist of the 20th century, Robert Crumb (born 1943) drew comics from a very young age. After a brief career in greeting-card design in Cleveland, in 1965 the young artist discovered LSD, and headed for San Francisco, where he published Zap Comix 1, reinventing the comics medium. In 1994 he was the subject of an acclaimed documentary film by Terry Zwigoff. His adaptation of The Book of Genesis was published in 2009 and the original art for the project was exhibited internationally, most notably at the Hammer Museum, Los Angeles, in 2009, and as part of the 55th Venice Biennale in 2013. His most recent books include Bible of Filth, Art & Beauty Magazine and (with Aline Kominsky-Crumb) Drawn Together. Crumb lives and works in Southern France.
R. Crumb's
Dream Diary
Edited by Ronald Bronstein & Sammy Harkham
Elara Press
Compiles forty years of never-before-published somnambulant mindspray from one of the most unique thinkers in comics.
The first and only book on Crumb's writings
containing 15 illustrations.
US $25.00
Hardcover
500 pgs
Publication: Sep 25 2018
Language: English
ISBN-10: 1942884338
ISBN-13: 978-1942884330
new books
fleursdumal.nl magazine
More in: #Biography Archives, - Book News, - Bookstores, Archive C-D, Art & Literature News, Illustrators, Illustration
---
Elke zomer opnieuw slaat het Kunstenfestival van Watou haar tenten op in het gelijknamige kunstdorpje aan de Franse grens.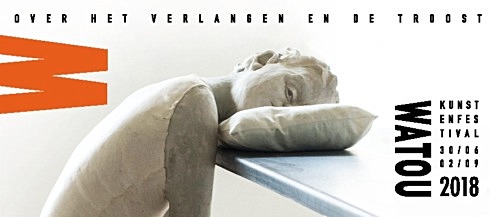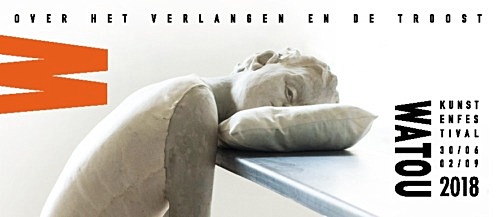 Dichters en beeldend kunstenaars, aanstormend talent en gevestigde waarden, kunstwerken uit binnen- en uit buitenland strijken er neer en vormen een bijzonder kunstenparcours. Het dorp is de setting en biedt een tiental karakteristieke locaties als tentoonstellingsruimte: een voormalig klooster, een oude boerderij of de kelder van een brouwerij. De wisselwerking tussen die verrassende, nostalgische ruimtes met hedendaagse beeldende kunst en poëzie zorgt telkens weer voor een unieke kunstbeleving. Zomeren in Watou is dan ook prikkelen en onthaasten tegelijk. Kleine momenten van gelukzaligheid.
Iedere editie van het Kunstenfestival kadert in een ander thema, waarrond intendant Jan Moeyaert en poëziecurator Willy Tibergien beeld en taal samenbrengen. Schrijvers, dichters en kunstenaars palmen gedurende een zomer het dorp in en bieden de bezoekers een caleidoscoop aan inzichten en perspectieven rond een bepaald onderwerp.
De afgelopen edities van Kunstenfestival Watou groeide er gestaag een nieuwe poëtische lijn in het dorp. Ook dit jaar selecteerde poëziecurator Willy Tibergien gedichten van gevestigde waarden in het Nederlandstalig poëzielandschap om hen een permanente plaats te geven in Watou.
Aan het werk van Eddy van Vliet, Paul Snoek, Remco Campert, Hugues C. Pernath, Jean-Claude Pirotte, Leo Vroman, Miriam Van hee, Stefan Hertmans, Gerrit Kouwenaar en Marc Insingel, Leonard Nolens, Christine D'Haen, Joost Zwagerman, Jotie T'Hooft, Charles Ducal en Luuk Gruwez worden dit jaar gedichten van Anna Enquist, Eva Gerlach en Frans Deschoemaeker toegevoegd.
STRING CARPET – GIDEON KIEFER – KUNSTENAARSGESPREK – ZONZO COMPAGNIE – ELS DEJONGHE – HET VLIEGEND TAPIJT – VRIJDAG VIERT FEEST – KRISTIN VERELLEN – POSTKANTOOR 00/00/00 – LIZE PEDE – BERNARD DEWULF – ALICJA GESCINSKA – DE TROOSTWINKEL – DOWN TIGER DOWN – SIEL EN LARISSA – NELLY AGASSI – IK ZIE MENSEN – POËZIE POËZIE POËZIE – DEREK & RENAUD – WIM CHIELENS – DE PLUIZENTUIN – WALLY DEDONCKER – ANT AND … – IK BEN WEER VELEN – STEPHANIE STRUIJK –  BERNARD DEWULF – MENNO WIGMAN – GRAHAM FAGEN – GERRIT KOUWENAAR – FRANS DESCHOEMAEKER – ANNA ENQUIST – EVA GERLACH – FRAUKE WILKEN – SAM DURANT – SIGRID VON LINTIG – PAUL SNOEK – MAUD BEKAERT -PETER VERHELST- DENIS VERCRUYSSE – MOHAMED EL BAZ – PARSE/ERROR – KATRIN DEKONINCK – ARPAÏS DU BOIS – GRZEGORZ GWIAZDA – SHIMABUKU – PETER DE MEYER – ROBINE CLIGNETT – ELS LESAGE – RADNA FABIAS – RY ROCKLEN – CHAIM VAN LUIT – SYLVIA EVERS – TORI WRÅNES – RONNY DELRUE – PETER MORRENS – HERVÉ MARTIJN – THÉ VANBERGEN – HANNE VAN ROMPAEY – STEFAN HERTMANS – TOM VAN DEEL – DANIELLE VAN ZADELHOFF – ANTON COTTELEER – SU-MEI TSE – POLIEN BOONS – JONAS VANSTEENKISTE – GURT SWANENBERG – ARANTHELL – GEERTJE VANGENECHTEN – MAARTEN VANDEN EYNDE – DOMINIQUE DE GROEN – JANI LEINONEN – JOSÉ COBO – TATJANA GERHARD – NADIA NAVEAU – HESTER KNIBBE – LUK VAN SOOM – JEROEN VAN KAN – CAROL ANN DUFFY – IRINA RATUSHINSKAYA – YEHUDA AMICHAI – NIDAA KHOURY – ZIYA MOHAVED – HANS OP DE BEECK- MASSIMO UBERTI -VAJIKO CHACHKHIANI – MOYA DE FEYTER – SHEILA HICKSEMMA VAN ROEY – BERNARDÍ ROIG -PETER THEUNYNCK – GIDEON KIEFER – EDITH DEKYNDT – THOMAS LEROOY – RANDALL CASAER- CHRISTINA MIGNOLET – GERD KANZ- GREET DESAL – HANNAH VAN BINSBERGEN – MELIK OHANIAN – JOHAN CLARYSSE – SOPHIE BOUVIER AUSLÄNDER – HANS DEFER- LUDOVIC LAFFINEUR – ARNE QUINZE – MARIJE LANGELAAR – TANYA SCHULTZ – ERLEND VAN LANDEGHEM – ROLAND JOORIS – LUKA FINEISEN – MEKHITAR GARABEDIAN – FRANZ SCHMIDT – CLARISSE BRUYNBROECK – FRANCIS PONGE – DAVID DE POOTER – RUTGER KOPLAND – JAN VANRIET – HUGO CLAUS – NELLY AGASSI – K. MICHEL – MICHAL MARTYCHOWIEC – PAUL DEMETS – STEPHAN MUIS – SAMMY BALOJI – TANG NANNAN – ADEL ABDESSEMED – LAURENS HAM – TODD ROBINSON – PANAMARENKO – GILLES BARBIER – HELEN DUNMORE – CASPER BRAAT – SYLVIE MARIE – CHANTAL POLLIER – EZRA VELDHUIS – HARLINDE DE MOL – ELEANOR CROOK – ANNO DIJKSTRA

Kunstenfestival Watou 2018 loopt nog tot en met 2 september
Open: woensdag tot zondag van 11u tot 19u – maandag en dinsdag gesloten, behalve op feestdagen
Adres:
Watouplein 12
8978 Watou
Poperinge (België)
De start van het Kunstenfestival is te vinden in het Festivalhuis (Watouplein 12), op het marktplein naast de Spar. Opg  elet! Voor alle weekend-events zijn de plaatsen beperkt. Een plaats reserveren kan enkel de dag zelf aan de kassa, bij aankoop van uw ticket.
# meer informatie op website kunstenfestival Watou
Kunstenfestival Watou 2018
fleursdumal.nl magazine
More in: # Music Archive, #Editors Choice Archiv, #More Poetry Archives, - Book Lovers, - Book Stories, Art & Literature News, Exhibition Archive, FDM Art Gallery, LITERARY MAGAZINES, PRESS & PUBLISHING, STREET POETRY, THEATRE, Watou Kunstenfestival
---
Amper dertig jaar was Jean Leering (1934-2005) toen hij benoemd werd tot directeur van het Van Abbemuseum. De opvolger van Edy de Wilde maakte van het Van Abbe een spraakmakend museum, waar de erfenis van Theo van Doesburg, László Moholy-Nagy en El Lissitzky werd verknoopt met de nieuwste kunst van de jaren zestig en zeventig.
Als eerste haalde Leering kunstenaars als Robert Morris, Donald Judd, Christo, Bruce Nauman en Joseph Beuys naar Nederland. Hij organiseerde exposities over minimal art, seriële kunst en lichtkunst die internationaal de aandacht trokken.
De bewonderde tentoonstellingmaker – opgeleid als bouwkundig ingenieur – schrok niet terug voor ferme uitspraken. Het museum? Dat was onderdeel van de preventieve geestelijke gezondheidszorg, een instrument voor emancipatie, een kritisch beeldinstituut dat kon bijdragen aan de vorming van de publieke opinie. Met geëngageerde tentoonstellingen als 'De Straat', 'Cityplan Eindhoven' en 'Bouwen '20-'40' zou het van Abbe de toon zetten voor een generatie jonge curatoren in de eenentwintigste eeuw.
Leering was een activist van de geest wiens ideeën soms op felle tegenstand stuitten. Met zijn vaste vormgever Jan van Toorn zette hij vraagtekens bij de status van het museum als onbetwiste autoriteit. De vraagtekens werden uitroeptekens toen Leering ontslag nam om leiding te geven aan de nieuwe koers van het Tropenmuseum (1973-1975) in Amsterdam.
Tentoonstellingen, vond Leering, dienden inzicht te geven in hoe de wereld in elkaar stak. Hoe de wereld verkeerd in elkaar stak, soms. En wat daar aan gedaan kon worden. Want een museum dat zijn werkzaamheid alleen tot het netvlies wilde beperken, was een half museum.
Over hoe dat museum eruit had kunnen zien, gaat dit boek. Over de kijker tegenover het kunstwerk en de band tussen kunst en samenleving. Met Heidegger, Merleau-Ponty en Foucault waakzaam in de coulissen.
Biografie Jean Leering
'Het gaat om heel eenvoudige dingen':
Jean Leering en de kunst
Auteur: Paul Kempers
Ontwerp: Sam de Groot
Serie: vis-à-vis
2018, Valiz
paperback
336 blz.
23,5 x 16,5 cm (staand)
Nederlands
ISBN 978-94-92095-07-7
new books
fleursdumal.nl magazine
More in: - Book News, - Bookstores, Antony Kok, Archive K-L, Art & Literature News, Art Criticism, César Domela, De Stijl, Exhibition Archive, Gerrit Rietveld, Piet Mondriaan, Theo van Doesburg
---
_____________________________________________________________________________
August 7, 2018
NEW YORK – The unannounced demolition of Chinese artist Ai Weiwei's studio in Beijing is symptomatic of a larger attack on human rights and artistic expression in China, said PEN America today.
On August 6, Artist and activist Ai Weiwei announced on social media that authorities had demolished his Beijing artist studio. Ai stated that he had received no advance notice prior to the demolition. Although several of his works were damaged in the studio's demolition, the artist explained that he is more preoccupied with the effects of China's "urban development" projects on artists and migrant populations, saying: "Since last year, a policy was enacted to clear out migrant workers from Beijing . . . Those who do not belong to the establishment, including artists, are always the first to be discriminated against and sacrificed."
Within the past few years, artist colonies including Songzhuang and Caochangdi—the latter an arts district that Ai helped develop—have been targeted for eviction and demolition. Artists have cited both runaway economic development and political disfavor as rationales for authorities' hostile attitudes. More broadly, an urban development policy conceived last year to push migrant workers out of Beijing has empowered local authorities to take unannounced action to demolish property, a policy that has led to thousands of migrant workers losing their homes.
"Regardless of the government's motives, the unannounced demolition of an artist's studio is a demonstration of a lack of appreciation or even acknowledgment for the role of the artist in society," said Julie Trébault, Director of PEN America's Artists at Risk Connection. "Around the world, artist studios and communes are spaces to be cherished, not discarded."
PEN America leads the Artists at Risk Connection (ARC), a program dedicated to assisting imperiled artists and strengthening the network of organizations that support them. If you or someone you know is an artist at risk, contact ARC here.
PEN America stands at the intersection of literature and human rights to protect open expression in the United States and worldwide. They champion the freedom to write, recognizing the power of the word to transform the world. Their mission is to unite writers and their allies to celebrate creative expression and defend the liberties that make it possible.
www.pen.org
the freedom to write
fleursdumal.nl magazine
More in: Ai Weiwei, Art & Literature News, AUDIO, CINEMA, RADIO & TV, Exhibition Archive, FDM Art Gallery, MUSEUM OF PUBLIC PROTEST, REPRESSION OF WRITERS, JOURNALISTS & ARTISTS
---
De Uitmarkt vindt evenals vorig jaar plaats rond het Oosterdok en het Marineterrein Amsterdam. Traditiegetrouw in het laatste weekend van augustus, dit jaar van vrijdag 24 tot en met zondag 26 augustus. Gedurende deze drie dagen zijn er op zo'n 25 podia circa 300 optredens te bewonderen, met op zondagavond de populaire Musical Sing a Long als afsluiter.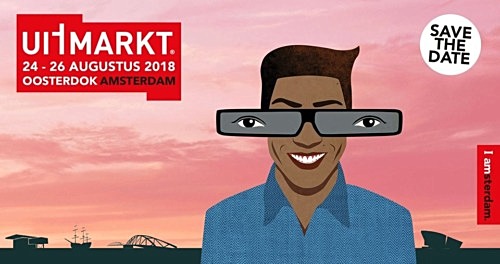 De Uitmarkt vormt de start van het culturele seizoen. Het laat bezoekers proeven van het diverse culturele aanbod dat Nederland te bieden heeft. Door het succes van de afgelopen editie heeft Stichting Uitmarkt ervoor gekozen om de Uitmarkt 2018 wederom op en rond het Oosterdok te laten plaatsvinden. Met toegang tot onder andere het Scheepvaartmuseum, NEMO Science Museum en het Marineterrein Amsterdam heeft deze locatie de bezoeker veel variatie te bieden.
Meer nog dan vorig jaar, door de uitbreiding met een extra stuk terrein. Het Scheepvaartmuseum vormt opnieuw het prachtige decor van het hoofdpodium.
'Bezoekers hebben vorig jaar enthousiast gereageerd op de nieuwe locatie. Dit in combinatie met de goede infrastructurele voorzieningen, was voor ons reden genoeg om dit gebied opnieuw in te richten voor de 41 ste editie van de Uitmarkt', zegt Jan de Rooij, voorzitter Stichting Uitmarkt.
Bezoekers van de Uitmarkt krijgen een gratis voorproefje van wat er in het seizoen 2018-2019 in de theaters, musea en concertzalen te beleven is. Artiesten vanuit het hele land en van verschillende genres zijn aanwezig. Naast de gevestigde orde is er ook volop ruimte voor nieuwkomers. Bijvoorbeeld in de Remix Area waar urban talent uit de verschillende Amsterdamse stadsdelen zich presenteren of de jonge theatermakers op het Fringe podium.
# Meer informatie over het programma op website www.uitmarkt.nl
41ste editie van de Uitmarkt – hét startsein van het Nederlandse culturele seizoen – vindt plaats rond het Oosterdok en op het Marineterrein Amsterdam van 24 tot 26 augustus 2018.
fleursdumal.nl magazine
More in: - Book News, - Bookstores, Art & Literature News, AUDIO, CINEMA, RADIO & TV, DANCE, Exhibition Archive, LITERARY MAGAZINES, MUSIC, STREET POETRY, THEATRE
---
Godard and the Essay Film offers a history and analysis of the essay film, one of the most significant forms of intellectual filmmaking since the end of World War II. Warner incisively reconsiders the defining traits and legacies of this still-evolving genre through a groundbreaking examination of the vast and formidable oeuvre of Jean-Luc Godard.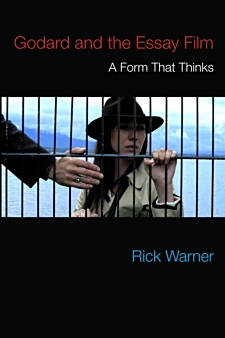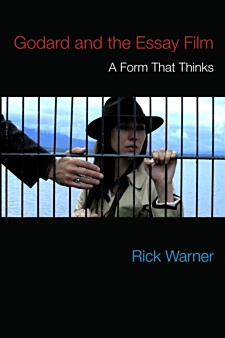 The essay film has often been understood by scholars as an eccentric development within documentary, but Warner shows how an essayistic process of thinking can materialize just as potently within narrative fiction films, through self-critical investigations into the aesthetic, political, and philosophical resources of the medium.
Studying examples by Godard and other directors, such as Orson Welles, Chris Marker, Agnès Varda, and Harun Farocki, Warner elaborates a fresh account of essayistic reflection that turns on the imaginative, constructive role of the viewer.
Through fine-grained analyses, this book contributes the most nuanced description yet of the relational interface between viewer and screen in the context of the essay film. Shedding new light on Godard's work, from the 1960s to the 2010s, in film, television, video, and digital stereoscopy, Warner distills an understanding of essayistic cinema as a shared exercise of critical rumination and perceptual discovery.
Rick Warner is an assistant professor of film in the Department of English and Comparative Literature at the University of North Carolina, Chapel Hill.
Godard and the Essay Film
A Form That Thinks
Rick Warner
Publication Date: July 2018
Categories: Film
Page Count: 288 pages
Size 6 x 9
Northwestern University Press
Cloth Text – $99.95
ISBN 978-0-8101-3738-7
Paper Text – $34.95
ISBN 978-0-8101-3737-0
new books
fleursdumal.nl magazine
More in: - Book News, - Bookstores, Archive G-H, Art & Literature News, AUDIO, CINEMA, RADIO & TV, Photography
---
A fascinating glimpse into design behind the Iron Curtain, revealed through the products and graphics of everyday Soviet life
This captivating survey of Soviet design from 1950 to 1989 features more than 350 items from the Moscow Design Museum's unique collection.
From children's toys, homewares, and fashion to posters, electronics, and space-race ephemera, each object reveals something of life in a planned economy during a fascinating time in Russia's history.
Organized into three chapters – Citizen, State, and World – the book is a micro-to-macro tour of the functional, kitsch, politicized, and often avant-garde designs from this largely undocumented period.
Designed in the USSR: 1950-1989
Moscow Design Museum
Publisher: Phaidon Press
April 2018
Editions: Hardback
Language: English
Price: €34.95
Format: Hardback
Size: 270 x 205 mm
Pages: 240 pp
Illustrations: 350 illustrations
ISBN-10: 0714875570
ISBN-13: 978-0714875576
new books
fleursdumal.nl magazine
More in: - Book News, - Bookstores, Art & Literature News, Design, Illustrators, Illustration, Photography
---
Requiescat
Strew on her roses, roses,
And never a spray of yew.
In quiet she reposes:
Ah! would that I did too.
Her mirth the world required:
She bathed it in smiles of glee.
But her heart was tired, tired,
And now they let her be.
Her life was turning, turning,
In mazes of heat and sound.
But for peace her soul was yearning,
And now peace laps her round.
Her cabin'd, ample Spirit,
It flutter'd and fail'd for breath.
To-night it doth inherit
The vasty hall of Death.
Matthew Arnold
(1822-1888)
poetry
fleursdumal.nl magazine
More in: #More Poetry Archives, Archive A-B, Archive A-B, Galerie des Morts
---
Programma 2018 Lustwarande
26 mei – 23 september
In 2018 presenteert Lustwarande het volgende programma:
Hybrids, een expositie over de zogeheten post-internet generatie, die een artistiek vocabulaire ontwikkelt dat zeer hybride van aard is, en Brief Encounters '18, momenten van event sculpture die op twee middagen plaatsvinden, in mei en in september.
Voor 2018 staat ook de publicatie Sculpture in the Anthropocene gepland, die de exposities Luster (2016), Disruption (2017) en Hybrids bundelt en contextualiseert.
Hybrids focust op een generatie jonge kunstenaars, vaak aangeduid als post-internet, die de allesomvattende, digitale en beeldverzadigde wereld als uitgangspunt voor hun werk nemen. Dit resulteert in een beeldtaal die zeer hybride is.
H y b r i d s
23 juni – 23 september 2018
tien post-internet kunstenaars
Neïl Beloufa (FR)
Giulia Cenci (IT)
Simon Denny (NZ)
Oliver Laric (AU)
Sarah Pichlkostner (AU)
Timur Si-Qin (DE)
Evita Vasiljeva (LV)
Raphaela Vogel (DE)
Anne de Vries (NL)
Dan Walwin (GB)
Curatoren: Chris Driessen en David Jablonowski
B r i e f   E n c o u n t e r s
26 mei & 16 september 2018

Onder de titel Brief Encounters vinden er jaarlijks een aantal event sculptures plaats, vormen van sculptuur die in tijd begrensd zijn. De duur van een werk kan variëren van een paar minuten tot enkele maanden. Deze focus op event sculpture vloeit voort uit de toenemende aandacht voor in tijd begrensde kunst.
# Meer info op website fundament foundations
Lustwarande 2018
park De Oude Warande
Bredaseweg 441 – Tilburg
expo
fleursdumal.nl magazine
More in: Art & Literature News, Dutch Landscapes, Exhibition Archive, Fundament - Lustwarande, Land Art
---
In deze grote overzichtstentoonstelling maken we kennis met het spannende culturele klimaat in Groningen aan het begin van de 20ste eeuw: de periode waarbinnen De Ploeg is ontstaan.

Het museum laat ruim honderd werken zien, waaronder schilderijen, tekeningen, drukwerk en grafiek van Ploegleden zoals Jan Wiegers, Johan Dijkstra en Jan Altink. In contrast met werk van coryfeeën zoals Jozef Israëls, H.W. Mesdag, Otto Eerelman en tijdgenoten. Het toont hoe de 'jonge wilden' zich losmaakten van de toenmalige gevestigde orde. Daarnaast is er aandacht voor het werk van Ernst Ludwig Kirchner en Vincent van Gogh, die beiden van groot belang zijn geweest voor de schilderkunstige ontwikkeling binnen De Ploeg.
Avant-garde in Groningen. De Ploeg 1918-1928
100 jaar De Ploeg
Nog t/m 04 november 2018
Groninger museum, Museumeiland 1, 9711 ME Groningen
http://www.groningermuseum.nl
Het ontstaan van De Ploeg in 1918
Kunstkring De Ploeg ontstond in juni 1918 als reactie op de "Tentoonstelling van werk van Groningsche Kunstenaars" in het Kunstlievend Genootschap Pictura. Hierbij was een groot aantal jonge kunstenaars niet uitgenodigd. Voor schilders zoals Jan Wiegers, Jan Altink en Johan Dijkstra was het duidelijk dat de negentiende-eeuwse schilderkunstige idealen afgeschud moesten worden. Zij zochten aansluiting bij meer contemporaine ontwikkelingen in de beeldende kunst. Het toeval zou hen daarbij een handje helpen. Jan Wiegers die gedurende een gezondheidskuur in Davos (1920-1921) in Zwitserland bevriend was geraakt met Ernst Ludwig Kirchner, introduceerde in Groningen een schilderkunst, die verwant is aan het Duitse expressionisme.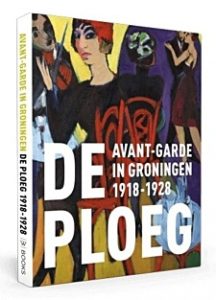 Publicatie bij de tentoonstelling
Bij de tentoonstelling is het boek Avant- garde in Groningen. De Ploeg 1918-1928 verschenen, waarin niet alleen het ontstaan maar ook de voorgeschiedenis van De Ploeg aan bod komt.
De publicatie komt tot stand vanuit een samenwerking van het Groninger Museum met de Stichting 100 jaar De Ploeg en WBOOKS. Het boek verscheen tijdens de Boekenweek in maart 2018.
Avant-garde in Groningen- De Ploeg 1918-1928
Auteurs: Anneke de Vries, Doeke Sijens, Egge Knol, Han Steenbruggen, Henk van Os, Jikke van der Spek, Kees van der Ploeg, Mariëtta Jansen, Mieke van der Wal, Peter Vroege
€ 29,95
ISBN 9789462582484
Aantal pagina's 272
Illustraties ca 350 afbeeldingen
Formaat 24,5 x 31 cm
Uitvoering Gebonden
Taal Nederlands
2018
Uitg. W-Books
In samenwerking met Groninger Museum & Stichting 100 jaar De Ploeg
new books
fleursdumal.nl magazine
More in: - Book News, - Book Stories, Archive U-V, Art & Literature News, De Ploeg, Hendrik Nicolaas Werkman, Werkman, Hendrik Nicolaas
---
Großes Humboldt-Gedenken 2018/2019: bibliophiler Prachtband.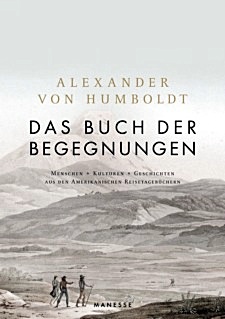 Wagemut und Wissbegier, ein feines Beobachtungs- und Differenzierungsvermögen und vor allem die unbändige Lust an immer neuen Begegnungen machten Alexander von Humboldt vor 200 Jahren zu einem epochalen Weltentdecker.
«Das Buch der Begegnungen», das die emphatischsten Zeugnisse aus den «Amerikanischen Reisetagebüchern» versammelt, zeigt einen warmherzigen Menschen ohne Berührungsängste. Auf seiner Reise in die amerikanischen Tropen von 1799 bis 1804 hielt der preußische Kosmopolit eine Vielzahl exotischer Physiognomien fest und sah die Welt, wie sie vor ihm noch keiner gesehen hatte. Als einer der ersten Europäer überhaupt kritisierte er Kolonialismus, Sklavenhandel und christlichen Bekehrungseifer.
Dagegen betonte er die Würde und den kulturellen Reichtum vermeintlich primitiver Völker. Überzeugt davon, dass es keine unterlegenen oder gar minderwertigen Ethnien gebe, war er seinen Zeitgenossen weit voraus. Und selbst im 21. Jahrhundert kommt Alexander von Humboldt als Anwalt einer universellen Humanität wie gerufen.
Bibliophiler Prachtband: gebunden in bedrucktes Leinen, zweifarbig gedruckt, fadengeheftet, mit farblich abgestimmtem Lesebändchen, gestaltetem Vorsatz sowie Originalillustrationen Alexander von Humboldts.
Ottmar Ette ist Professor für Romanistik an der Universität Potsdam und gehört zu den führenden Experten zu Humboldts Werk. Er leitete das Forschungsprojekt zur Auswertung von Humboldts Amerikanischen Reisetagebüchern.
Alexander von Humboldt (1769–1759), deutscher Universalgelehrter und Expeditionsreisender von internationalem Renommee, machte als Pionier diverser naturwissenschaftlicher Fachdisziplinen von sich reden: von der Botanik und Zoologie über die Klimatologie bis hin zur Astronomie. Seit seiner Amerikanischen Forschungsreise 1799-1804 gilt er als «wissenschaftlicher Wiederentdecker Amerikas» und Mitbegründer der empirisch fundierten Geographie. Doch auch als Ethnologe, Kulturtheoretiker und couragierter Humanist war er seiner Mitwelt weit voraus.
Alexander von Humboldt, Ottmar Ette (Hrsg.)
Das Buch der Begegnungen
Menschen – Kulturen – Geschichten aus den Amerikanischen Reisetagebüchern
Gebundenes Buch, Leinen,
416 Seiten,
17,0 x 24,0 cm
mit ca. 10 Abb.
ISBN: 978-3-7175-2444-1
€ 45,00
Verlag: Manesse
Erscheinungstermin: 25. Juni 2018
new books
fleursdumal.nl magazine
More in: - Book Lovers, - Book Stories, Archive G-H, Department of Birds of Prey, Illustrators, Illustration, Natural history
---
Bettina Röhl über ihre letzten gemeinsamen Jahre mit ihrer Mutter Ulrike Meinhof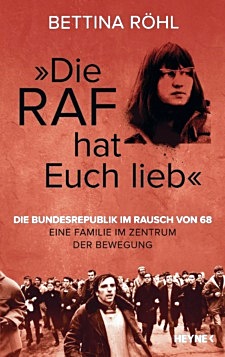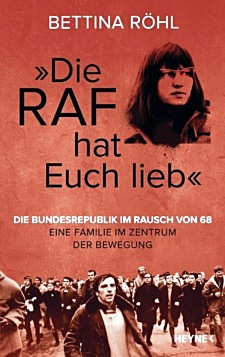 Brauchte die Bundesrepublik die Revolte von 68? Ist 68 gar das Jahr einer "Neugründung" der heutigen Bundesrepublik? Die APO-Bewegung – und ihre "Speerspitze", die RAF – ist das wohl meist beschriebene Thema der neueren politischen Geschichte des Landes. Mit bisher unbekannten Fakten und den Stimmen neuer Zeitzeugen unterlegt, liefert Bettina Röhl, die als Kind die Gründung der RAF hautnah miterlebte, eine spannende Analyse und erzählt die scheinbar bekannte Geschichte neu. Bei ihren Recherchen fand Bettina Röhl zahlreiche bisher unveröffentlichte Briefe, Dokumente und Fotos, die den Leser die damalige Zeit hautnah miterleben und nachvollziehen lassen.
Bettina Röhl wurde 1962 in Hamburg geboren, wo sie 1982 Abitur machte. 1986 begann sie neben ihrem Studium der Geschichte und Germanistik ihr Volontariat bei der Zeitschrift TEMPO. Sie arbeitete für Spiegel TV, Welt online, Cicero, Wirtschaftswoche und viele andere Medien und veröffentlichte zahlreiche Buchbeiträge. 2001 wurde sie mit ihren Veröffentlichungen zu Joschka Fischers Gewaltvergangenheit in stern und BILD bekannt. Nach "So macht Kommunismus Spaß" ist "Die RAF hat euch lieb" ihr zweites historisch-biographisches Buch über die linke Geschichte der Bundesrepublik.
Bettina Röhl
"Die RAF hat euch lieb"
Die Bundesrepublik im Rausch von 68
Eine Familie im Zentrum der Bewegung
Gebundenes Buch mit Schutzumschlag,
640 Seiten,
13,5 x 21,5 cm mit 16 S. Bildteil
ISBN: 978-3-453-20150-7
€ 24,00
Verlag: Heyne Verlag
Erschienen: 10.04.2018
Sprache: Deutsch
new books
fleursdumal.nl magazine
More in: - Book News, - Book Stories, Archive Q-R, Art & Literature News, BIOGRAPHY, Galerie Deutschland, Protests of MAY 1968, Spurensicherung
---
Older Entries »
Thank you for reading FLEURSDUMAL.NL - magazine for art & literature