EXHIBITION – art, art history, photos, paintings, drawings, sculpture, ready-mades, video, performing arts, collages, gallery, etc.
·
Cyrille Offermans: Dagboeknotities. Een iets beschuttere plek misschien
·
Hans Hermans: Landscape (102)
·
Aslı Erdoğan: The Stone Building and Other Places
·
Hugo Ball: 1 Stern und 7 kazamogipuffel
·
Centre Pompidou: Le Cubisme
·
Frida Kahlo: Making Her Self Up in Victoria & Albert Museum London
·
Bruges Triennial 2018: Liquid City
·
Annet Schaap wint De Gouden Griffel 2018 met haar prozadebuut Lampje
·
The Great Nadar. The Man Behind the Camera by Adam Begley
·
René Daniëls: Fragments from an Unfinished Novel
·
Hans Hermans: Landscape (101)
·
Ellebogen van Fatma Aydemir. Een roman als een mokerslag
Heel 2017 schreef Cyrille Offermans aan wat je nog het beste zou kunnen omschrijven als een intellectueel journaal: een verzameling notities, beschouwingen, herinneringen, observaties en essayistische commentaren op gelezen boeken en gebeurtenissen in de wereld.
Dat de barre werkelijkheid voortdurend zijn plaats op de voorgrond opeist, zegt genoeg over onze tijd. Het boek (en dus het jaar) begint en eindigt met de doffe ellende in Syrië.
Daartussen presenteert zich een baaierd aan onderwerpen – van de Franse verkiezingen en de afnemende tekenvaardigheid van de schooljeugd tot en met uiteenzettingen over bibliomanie, de betekenis van carnaval, de eerste woordjes van een kleinkind of de ziekte van een vriendin.
Er is alles in de wereld. En er is alles in dit boek.
Cyrille Offermans (Geleen, 8 april 1945) is een Nederlandse schrijver, essayist en criticus. Hij publiceert met name in De Groene Amsterdammer, Vrij Nederland, De Standaard en Raster. Bij het laatste literair tijdschrift werkte hij tevens als redacteur. Hij publiceerde meer dan twintig boeken in uiteenlopende genres, vooral essayistiek in het grensgebied van literatuur, filosofie, cultuurgeschiedenis en politiek. Zijn werk werd diverse malen met prestigieuze prijzen bekroond.
Cyrille Offermans
Een iets beschuttere plek misschien
Dagboeknotities
Uitgeverij De Arbeiderspers
Privé-domein – Paperback
Publicatiedatum: 25-09-2018
ISBN: 9789029525794
NUR: 321
€ 25,99
# new books
cyrille offermans
fleursdumal.nl magazine
More in: - Book Lovers, - Book News, - Book Stories, Archive O-P, Art & Literature News, Art Criticism, AUDIO, CINEMA, RADIO & TV, LITERARY MAGAZINES, MONTAIGNE
---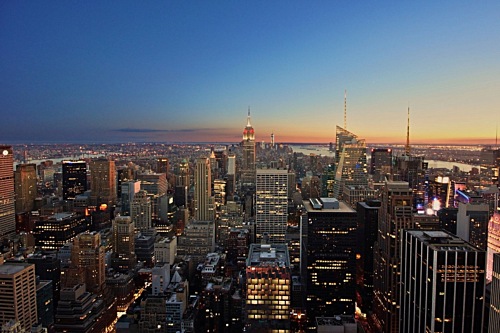 Hans Hermans© photos: landscape
(102 – new york usa)
# more on website hans hermans photos
fleursdumal.nl magazine
More in: FDM Art Gallery, Hans Hermans Photos, Photography
---
Vivid stories from one of Turkey's most admired contemporary female authors, whose political activism has made her the target of state persecution.
Three interconnected stories feature women whose lives have been interrupted by forces beyond their control. Exile, serious illness, or the imprisonment of one's beloved are each met with versions of strength and daring, while there is no undoing what fate has wrought. These atmospheric, introspective tales culminate in an experimental, multi-voiced novella, whose "stone building" is a metaphor for the various oppressive institutions—prisons, police HQs, hospitals and psychiatric asylums—that dominate the lives of all of these characters. Here is a literary distillation of the alienation, helplessness, and controlled fury of exile and incarceration—both physical and mental—presented in a series of moving, allegorical portraits of lives ensnared by the structures of power.
Aslı Erdoğan (Istanbul, 1967) is a renowned, prize-winning author, journalist, and human rights activist whose fiction has been translated into many languages. She has published novels, collections of short stories and poetic prose, and selections from her political essays. As a journalist, she has covered controversial topics such as state violence, discrimination, and human rights, for which she has been persecuted in a variety of ways.
Erdogan was imprisoned for four months by the Turkish government in a sweeping roundup of dissident voices after the failed coup attempt of July 2016. The subject of both PEN International and PEN America advocacy campaigns, she was released from prison in late December 2016.
This is her second work to be translated into English.
"Aslı Erdoğan is an exceptionally perceptive and sensitive writer who always produces perfect literary texts."—Orhan Pamuk, author of The Red-Haired Woman
Title The Stone Building and Other Places
Author Aslı Erdoğan
Translated by Sevinç Türkkan
Publisher City Lights Publishers
literature in translation
Title First Published 27 February 2018
Format Paperback
ISBN-10 0872867501
ISBN-13 9780872867505
Publication Date 27 February 2018
Main content page count 174
List Price $15.95
# new novel
Aslı Erdoğan
fleursdumal.nl magazine
More in: - Book News, - Book Stories, Archive E-F, Ivo van Leeuwen, PRESS & PUBLISHING, REPRESSION OF WRITERS, JOURNALISTS & ARTISTS
---
1 Stern und 7 kazamogipuffel
1 Stern und 7 kazamogipuffel
macht 13 zakopaddogei
zubtrahiere 5 franschöse Männlin
macht 1 Libanotterbett
nehme 3 Quentlin Klotzpulfer
legs in himmelsdeifelsnamen
dabei, wirst sehen wohinst
kommst wnr bällt wnr heult
wnr pfaucht wnre Daugen däht
Hugo Ball
(1886-1927)
gedicht
fleursdumal.nl magazine
More in: Archive A-B, Ball, Hugo, Dada, DADA, Dadaïsme
---
Pour la première fois en France depuis 1953, le Centre Pompidou consacre une exposition au cubisme au travers d'un vaste panorama de l'histoire du mouvement à Paris entre 1907 et 1917.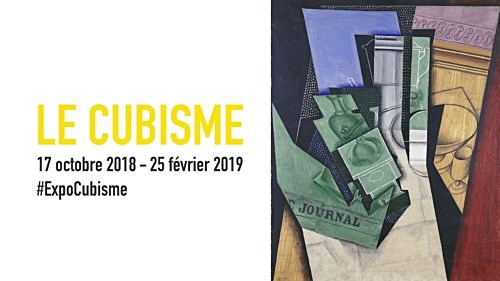 L'originalité du projet consiste à élargir la vision traditionnellement concentrée sur les grands noms du mouvement, Georges Braque, Juan Gris, Fernand Léger et Pablo Picasso, aux cubistes secondaires, comme Gleizes et Metzinger, ou différents tels Robert et Sonia Delaunay, Marcel Duchamp ou Francis Picabia, qui exposaient dans les salons officiels parisiens   lorsque les pionniers réservaient leurs créations expérimentales à un seul jeune marchand inconnu, Daniel-Henry Kahnweiler.
Riche de trois cents œuvres et de documents significatifs de son rayonnement, la présentation s'articule chronologiquement en quatorze chapitres où se détachent des chefs-d'œuvre comme le Portrait de Gertrude Stein (1905-1906) ou ceux d'Ambroise Vollard (1909) et de Daniel-Henry Kahnweiler (1910) par Picasso et des ensembles de peintures et de sculptures, jamais réunies. Elles mettent en valeur l'évolution à rebondissements du cubisme, remontant aux sources primitivistes (avec des sculptures tribales collectionnées par les artistes), et à la fascination des cubistes pour Gauguin et Cézanne. Elles reflètent la progression formelle du mouvement, d'une première étape cézannienne (avec la présence de l'exceptionnelle nature morte de Picasso, Pains et compotier sur une table, 1909) vers une transcription analytique hermétique (1910-1912) transformée en version plus synthétique (1913-1917), qui marque le retour de la représentation et de la couleur.
La part la plus révolutionnaire du cubisme – l'invention des papiers collés, des collages et des constructions de Braque, Picasso, Gris et Henri Laurens – est représentée par des grandes icônes de l'art du 20e siècle, comme la Nature morte à la chaise cannée de Picasso (1912) ou sa Guitare en tôle et fils de fer (1914). D'autres aspects illustrent l'importance et le prestige de la constellation cubiste : les liens avec la littérature sont retracés dans une salle dédiée aux critiques et aux poètes, incarnés par les portraits les plus marquants de Max Jacob ou d'Apollinaire, par le Douanier Rousseau et Marie Laurencin, les éditions Kahnweiler de livres cubistes, la collaboration entre les Delaunay et Blaise Cendrars autour de La Prose du Transsibérien en 1913, etc. La tragédie de la Grande Guerre (1914-1918) qui mobilise ou exile les artistes et leurs soutiens est retracée par des œuvres des artistes du front (Raymond Duchamp-Villon, Fernand Léger) ou de l'arrière parce qu'étrangers (Pablo Picasso, Cartes à jouer, verres, bouteille de rhum, « Vive la France », 1914-1915) qui témoignent de l'inévitable stérilisation du mouvement frappé par l'histoire (Marc Chagall, Les Portes du cimetière, 1917). La fin du parcours témoigne à la fois de la renaissance des rescapés comme Braque (La Musicienne, 1917-1918) et de l'influence exercée par le cubisme sur ses contemporains, comme Henri Matisse (Porte-fenêtre à Collioure, 1914) et ses héritiers abstraits (Piet Mondrian, Composition n°IV, 1914), Kasimir Malévitch, Croix noire, 1915 ou contestataires (Marcel Duchamp, Roue de bicyclette, 1913/1964), tous tributaires de la révolution cubiste.
Avec le soutien exceptionnel du Musée national Picasso-Paris
L'exposition est coproduite avec le Kunstmuseum de Bâle
Expositions
Le cubisme
17 oct. 2018 – 25 févr. 2019 de 11h à 21h
Galerie 1 – Centre Pompidou, Paris
Centre Pompidou
Place Georges Pompidou, 75004 Paris
# Le Cubisme
Exposition Centre Pompidou
fleursdumal.nl magazine
More in: Art & Literature News, Art Criticism, Exhibition Archive, Gertrude Stein, Kubisme, Marcel Duchamp, Pablo Picasso, Piet Mondriaan, Sculpture
---
Exhibition On now until Sunday, 4 November 2018
Frida Kahlo: Making Her Self Up
Experience a fresh perspective on Kahlo's compelling life story through her most intimate personal belongings
This exhibition presents an extraordinary collection of personal artefacts and clothing belonging to the iconic Mexican artist Frida Kahlo. Locked away for 50 years after her death, this collection has never before been exhibited outside Mexico.
Frida Kahlo: Making Her Self Up offers a fresh perspective on the life story of this extraordinary artist, whose charisma and powerful sense of style continue to captivate. Never before seen, specially commissioned photography, shot at the Casa Azul in Mexico City show her distinctive Mexican outfits along with her self-portraits, an unprecedented pairing that is enriched by iconic images of the artist.
Book: Frida Kahlo – Making Her Self Up – offers a fresh perspective on the life story of this extraordinary artist, whose charisma and powerful sense of style continue to captivate. Never before seen, specially commissioned photography, shot at the Casa Azul in Mexico City show her distinctive Mexican outfits along with her self-portraits, an unprecedented pairing that is enriched by iconic images of the artist.
♦Includes six inset booklets, containing photographs of Kahlo's most intimate possessions
♦16 page section showcasing Kahlo's wardrobe, specially conserved and mounted
♦Spectacular details of embellishments and textiles
About the authors C. Wilcox and C. Henestrosa
Claire Wilcox is Senior Curator of Fashion at the V&A and Professor in Fashion Curation at the London College of Fashion, University of the Arts London. She curated the exhibitions Vivienne Westwood (V&A, 2004), The Golden Age of Couture: Paris and London 1947–1957 (V&A, 2007) and Alexander McQueen: Savage Beauty (2015), and edited the accompanying catalogues. Circe Henestrosa is an independent curator and Head of the School of Fashion at LASALLE College of the Arts, Singapore. She curated the exhibition Appearances Can Be Deceiving: The Dresses of Frida Kahlo (Museo Frida Kahlo, Mexico City, 2012).
Format: Hardcover
ISBN 9781851779604
Dimensions 270 x 216 mm
Author: C.Wilcox and C.Henestrosa
Product code 153329
£30.00
Victoria and Albert Museum
Cromwell Road, London, SW7 2RL
# exhibition and publication
Frida Kahlo: Making Her Self Up
in Victoria and Albert Museum London
fleursdumal.nl magazine
More in: - Book News, - Book Stories, Art & Literature News, Exhibition Archive, FDM Art Gallery, FDM in London, Frida Kahlo, Galerie des Morts
---
From May 5 until September 16, 2018, Bruges will be the setting for the second edition of the Triennial, an art route in the heart of the historic city.
With the central theme 'Liquid City', the Triennial wants to investigate the role of a city like Bruges in a globalized and changing world. With the artistic and architectural installations, the participants of Triennale Brugge 2018 | Liquid City create welcoming public spaces in the city center. Those temporary interventions on little known and iconic places in Bruges offer great opportunities for encounter, wonder and dialogue.
Triennial Bruges 2018 will feature works by Jarosław Kozakiewicz (PL), Wesley Meuris (BE), Renato Nicolodi (BE), NLÉ – Kunlé Adeyemi (NG-NL), OBBA (KR), Roxy Paine (US), John Powers (USA), raumlabor (DE), Rotor (BE), Ruimteveldwerk (BE), Tomás Saraceno (AR), Jose Selgas & Lucia Cano (ES), Monir Shahroudy Farmanfarmaian (IR), StudioKCA (US), Peter Van Driessche – Atelier4 (BE).
The Bruges Triennial 2018, themed Liquid City reaches back to 2015 edition, which was a reflection on the city as a megapolis: "What if the 5 million visitors to the city decided to stay?"
This edition takes a step further: how flexible, liquid and resilient can a historic city like Bruges be in an age when nothing seems to be certain any longer? None other than Zygmunt Bauman, prophet of the permanent crisis in the West, devoted his final book to this phenomenon, a year before his death in January 2017.
In Retrotopia, Bauman invites the reader to question the dynamics of our society, as well as the metaphor "liquid" itself, the contemporary era as a time of transition, which today stands in stark contrast with the institutional framework that once formed a safe environment for our (grand)parents. Each institution in turn, whether the government, the church, political parties, insurance companies or banks, have lost the public's trust. This renders society particularly vulnerable to fear-mongers.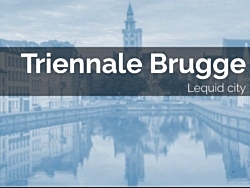 This world is changing rapidly. Established ways of thinking and forms of life are under pressure. What does the future hold?
The Bruges Triennial 2018 co-curators Tilll-Holger Borchert and Michel Dewilde invited international artists and architects to think about these issues. Many of them sought inspiration in the city that is literally crisscrossed and surrounded by water.
The waterways that once earned Bruges its international renown, become a metaphor for Liquid City. Works of art, installations and meeting places have been put up in the city centre.
They form a free hospitable route that brings people together in unexpected spots. That is one of the main objectives of the Bruges Triennial 2018: generating encounters, challenging people not only to view the artworks but also to experience them and to become part of the creative process.
Participating internationally renowned architects include Kunlé Adeyemi, (Nigeria/Netherlands, NLÉ Architects), who designed the third version of MFS – Minne Floating School for Bruges, selgascano (Spain) who created the new swimming pavilion for Brugians and visitors alike on the city canal, and OBBA (Korea) who worked together with Bruges-based Architectuuratelier Dertien12 to construct The Floating Island, a meandering walkway on the water. Climate change and environmental issues are addressed through the installation of the Bruges Whale by StudioKCA (US), INFINITI designed by Peter Van Driessche of Aterlier4 (Belgium) suggests tiny housing situated on the water whereas the Aerocene project by Tomás Saraceno (Argentina) invites us to look to the sky. A very different approach is offered by Brussels-based collective Rotor who presents a museum dedicated to the Chinese Mitten Crab in the Poortersloge and an exotic eatery at the beach in Zeebrugge. raumlabor (Germany) has been working with local youths on their House of Time, a continuous project of building, experimenting and hands-on experience and the Belgian collective Ruimteveldwerk have persuaded the inhabitants of one of the historic almshouse complexes to help create their G.O.D. project. Further installations along the arts trail are created by artists such as Wesley Meuris (Belgium), Renato Nicolodi (Belgium), John Powers (US), Jarosław Kozakiewicz (Poland) and Monir Shahroudy Farmanfarmaian (Iran).
Additional art works, designs, models and documentary materials of all the participants are presented in the free Liquid City exhibition in the Poortersloge, the central information point of the Bruges Triennial 2018.
A further exhibition is located in the Church of the Great Seminary. Architectures Liquides, curated by Abdelkader Damani, is a selection of impressive visionary architectural models from the FRAC-Centre collection in Orléans (France).
The bilingual catalogue (Dutch/English) with contributions by Till-Holger Borchert, Michel Dewilde, Abdelkader Damani, Tom Trevor, Anna Lowenhaupt Tsing, Marc Van den Bossche ea. and photography by Iwan Baan is available at the Triennial information points, arts bookshops and online.
Triënnale Brugge 2018
Liquid City / Vloeibare Stad
Till-Holger Borchert, Michel Dewilde
Photogr.: Misc.
Format: 27 x 20
Pages 160
Hardcover
Dutch, English
ISBN 9789058565990
€ 29,95
# more information on website Bruges Triennial 2018
Bruges Triennial 2018: Liquid City – Contemporary art and architecture trail in the historic heart of Bruges – is open daily until September 16. Opening hours for the exhibitions and some installations: 12–6pm – Free of charge
Triënnale Brugge 2018
fleursdumal.nl magazine
More in: - Book News, Architecture, Art & Literature News, Art Criticism, Design, Exhibition Archive, FDM Art Gallery, Historia Belgica, Land Art, Sculpture, Street Art, Urban Art
---
De Gouden Griffel is gewonnen door Annet Schaap voor haar prozadebuut Lampje.
De bekendste kinderboekenprijs van Nederland en Vlaanderen is gisteren bekendgemaakt en uitgereikt op het Kinderboekenbal in Amsterdam.
Annet Schaap is geen onbekende in de Nederlandse kinderboekenwereld: velen kennen haar illustraties uit de Hoe overleef ik-reeks van Francine Oomen, de boeken van Janneke Schotveld en Jacques Vriens.
De Gouden Griffel is de derde prijs die zij wint voor Lampje (Querido): al eerder ontving zij de Nienke van Hichtum-prijs en de Woutertje Pieterse Prijs. De overige genomineerden waren Joukje Akveld, Annet Huizing, Pim Lammers, Joke van Leeuwen, Marit Törnqvist, Susanne Wouda, Bette Westera, Tjibbe Veldkamp en Edward van de Vendel.
Annet wilde altijd al tekenaar worden of schrijver of ontdekkingsreizigster. Ze studeerde aan twee kunstacademies en een schrijversschool. Sinds 1991 illustreerde ze bijna 200 kinderboeken en is in Nederland het meest bekend door haar tekeningen in de succesvolle kinderboeken van Francine Oomen, Janneke Schotveld en Jacques Vriens.
kinderboekenweek van 3 t/m 14 oktober 2018
De Gouden Griffel:  Annet Schaap – Lampje
fleursdumal.nl magazine
More in: Archive S-T, Awards & Prizes, Grimm, Andersen e.o.: Fables, Fairy Tales & Stories, Illustrators, Illustration, Kinderboekenweek
---
A dazzling, stylish biography of a fabled Parisian photographer, adventurer, and pioneer.
A recent French biography begins, Who doesn't know Nadar? In France, that's a rhetorical question. Of all of the legendary figures who thrived in mid-19th-century Paris—a cohort that includes Victor Hugo, Baudelaire, Gustave Courbet, and Alexandre Dumas—Nadar was perhaps the most innovative, the most restless, the most modern.
The first great portrait photographer, a pioneering balloonist, the first person to take an aerial photograph, and the prime mover behind the first airmail service, Nadar was one of the original celebrity artist-entrepreneurs. A kind of 19th-century Andy Warhol, he knew everyone worth knowing and photographed them all, conferring on posterity psychologically compelling portraits of Manet, Sarah Bernhardt, Delacroix, Daumier and countless others—a priceless panorama of Parisian celebrity.
Born Gaspard-Félix Tournachon, he adopted the pseudonym Nadar as a young bohemian, when he was a budding writer and cartoonist. Later he affixed the name Nadar to the façade of his opulent photographic studio in giant script, the illuminated letters ten feet tall, the whole sign fifty feet long, a garish red beacon on the boulevard. Nadar became known to all of Europe and even across the Atlantic when he launched "The Giant," a gas balloon the size of a twelve-story building, the largest of its time. With his daring exploits aboard his humongous balloon (including a catastrophic crash that made headlines around the world), he gave his friend Jules Verne the model for one of his most dynamic heroes.
The Great Nadar is a brilliant, lavishly illustrated biography of a larger-than-life figure, a visionary whose outsized talent and canny self-promotion put him way ahead of his time.
Adam Begley is the author of Updike. He was the books editor of The New York Observer for twelve years. He has been a Guggenheim fellow and a fellow at the Leon Levy Center for Biography. His writing has appeared in The New York Times, The Guardian, The Financial Times, The London Review of Books, and The Times Literary Supplement. He lives with his wife in Cambridgeshire.
"Irresistible. . . . A richly entertaining and thoughtful biography. . . . Begley seems wonderfully at home in the Second Empire, and shifts effortlessly between historical backgrounds, technical explanation, and close-up scenes, brilliantly recreating Nadar at work." —Richard Holmes, The New York Review of Books
The Great Nadar
The Man Behind the Camera
By Adam Begley
Arts & Entertainment
Biographies & Memoirs
History
Paperback
Jul 10, 2018
256 Pages
$16.00
Published by Tim Duggan Books
ISBN 9781101902622
new books
biographie Nadar
fleursdumal.nl magazine
More in: #Biography Archives, - Book News, - Book Stories, - Objets Trouvés (Ready-Mades), Art & Literature News, History of Britain, Photography
---
September at WIELS will be marked by the pictorial work and the poetic imagination of René Daniëls.
Come to discover over 75 paintings – several of which have never been exhibited and have been specially restored for the occasion – in addition to hundred drawings by the artist who has made his mark on the history of painting.
René Daniëls occupies a prominent place in the history of contemporary art from the latter half of the 20th century, despite the fact that his career was abruptly interrupted in 1987 after he suffered a stroke.
Emerging in the late 1970s, when figurative and expressive painting once again became popular, Daniëls soon developed an original, personal language. Although he enjoyed early recognition, Daniëls had no qualms about experimenting with different pictorial styles.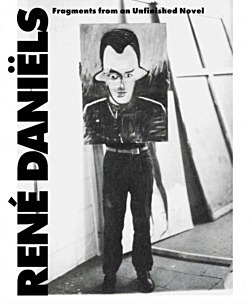 Nevertheless, certain motifs recur under constantly changing forms, following an associative, dream-like logic. Not unlike a composer, Daniëls devises variations on a theme. From 1984 onwards, one motif was to play a dominant role: that of an exhibition room seen in perspective. This form, resembling a bow tie, is reproduced in compositions in which he plays with mirroring effects, overlapping layers, or changes of direction.
Inspired by the title of one of the rare texts written by Daniëls, the exhibition Fragments from an Unfinished Novel explores the phenomenon of déjà vu and the relation between perception and memory, which lie at the heart of his practice.
Including historic paintings and several works never previously exhibited, the exhibition recounts the development of Daniëls' visual language by exploring the effects of repetition and variation inherent in his work. A wide selection of drawings completes the presentation, offering a closer understanding of the evolution of his vocabulary.
René Daniëls:
Fragments from an Unfinished Novel
07.09.2018 – 06.01.2019
WIELS
Kunst · Brussel (stad)
Contemporary Art Centre
Avenue Van Volxemlaan 354
1190 Brussels
# more on exhibition rené daniëls
rené daniëls exhibition
fleursdumal.nl magazine
More in: - Book Stories, Art & Literature News, Exhibition Archive, FDM Art Gallery, René Daniëls
---
Hans Hermans© photos: landscape
(101 – lac du der F)
# more on website hans hermans photos
fleursdumal.nl magazine
More in: FDM Art Gallery, Hans Hermans Photos, Photography
---
Een jonge Turks-Duitse duwt een Duitser voor de metro. Hij sterft, zij voelt geen berouw. Warm en vurig vertelt Fatma Aydemir over diegenen die tussen culturen en landen leven en hun plaats op de wereld zoeken.

Ze is zeventien. Ze is in Berlijn geboren. Ze heet Hazal Akgündüz. Er werd haar beloofd dat ze alles kon worden wat ze maar wou. Maar steeds opnieuw moet ze opboksen tegen vooroordelen en discriminatie.
Tot ze op een nacht te veel gedronken heeft en een Duitse student die haar uitdaagt, voor de metro duwt. Als de politie haar achterna zit vlucht Hazal naar Istanbul, waar ze nooit eerder is geweest. Ze ziet op krantenfoto's de grijns op haar gezicht terwijl ze de jongen aanvalt maar voelt geen berouw.
Ellebogen is een urgent, gewaagd en onverzoenlijk verhaal over de woede van een migrantendochter in een Europa waar ze zich nooit helemaal thuis voelde.
Fatma Aydemir (1986) is de dochter van Turkse gastarbeiders. Ze heeft Duits en Amerikanistiek gestudeerd en werkt als redacteur voor de krant Taz. Haar controversiële debuutroman Ellebogen werd meteen een fenomeen in Duitsland. Op 11 maart 2017 kopte de Volkskrant al: 'Over dit debuut schrijven alle Duitse kwaliteitskranten'. Aydemir neemt met regelmaat deel aan het publieke debat over integratie in Duitsland.
"'Ellebogen is een stomp in de maag. Of beter gezegd, twee. Eén voor de misogyne Turkse gemeenschap. En één voor de huichelarij van onze o zo liberale samenleving.'" – Süddeutsche Zeitung
Titel: Ellebogen
Auteur: Fatma Aydemir
Vertaler(s): Marcel Misset
240 pagina's
€ 19,99
Uitgever: Signatuur
2017
ISBN: 978-90-5672-590-7
NUR: 302
new books
fleursdumal.nl magazine
More in: - Book News, - Bookstores, Archive A-B, Art & Literature News, Galerie Deutschland
---
Older Entries »
Thank you for reading FLEURSDUMAL.NL - magazine for art & literature