·
·
Francisca Stoecklin: Morphina (Gedicht)
·
Punk Rock Is Cool for the End of the World: Poems and Notebooks of Ed Smith
·
Eerste Grote Poëzieprijs voor Radna Fabias
·
Objet trouvés
·
Links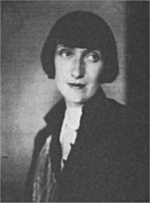 Morphina
Im Traume fand ich dich,
Mädchen, in mondener Nacht
Kamst du mir zögernd entgegen.
Auf deiner Stirne träumte ein Stern,
Deine kleinen Schritte klangen wie Glas,
Um deinen Mund ein überweltliches Lächeln.
Deine schmalen Schultern froren im Wind.
Ich umschlang dich, deinen eisigen Körper.
Schwester! wie lange bist du gestorben …
Wir sanken, wir fielen.
Mohn umblühte unser Sterben.
Francisca Stoecklin
(1894-1931)
Morphina
• fleursdumal.nl magazine
More in: Archive S-T, Archive S-T, Opium-Eaters, Stoecklin, Francisca, ·
---
In Punk Rock Is Cool for the End of the World, David Trinidad brings together a comprehensive selection of Ed Smith's work: his published books; unpublished poems; excerpts from his extensive notebooks; photos and ephemera; and his timely "cry for civilization," "Return to Lesbos": put down that gun / stop electing Presidents.
Ed Smith blazed onto the Los Angeles poetry scene in the early 1980s from out of the hardcore punk scene. The charismatic, nerdy young man hit home with his funny/scary off-the-cuff-sounding poems, like "Fishing": This is a good line. / This is a bad line. This is a fishing line.
Ed's vibrant "gang" of writer and artist friends―among them Amy Gerstler, Dennis Cooper, Bob Flanagan, Mike Kelley, and David Trinidad―congregated at Beyond Baroque in Venice, on LA's west side. They read and partied and performed together, and shared and published each others' work.
Ed was more than bright and versatile: he worked as a math tutor, an animator, and a typesetter. In the mid-1990s, he fell in love with Japanese artist Mio Shirai; they married and moved to New York City. Despite productive years and joyful times, Ed was plagued by mood disorders and drug problems, and at the age of forty-eight, he took his own life.
Ed Smith's poems speak to living in an increasingly dehumanizing consumer society and corrupt political system. This "punk Dorothy Parker" is more relevant than ever for our ADD, technology-distracted times.
Ed Smith (1957–2005) was a poet involved in the punk and alternative arts scenes in Los Angeles in the early 1980s. His books were Fantasyworld (1983) and Tim's Bunnies (1988). His poems appeared in Rolling Stone, St. Mark's Poetry Project Newsletter, and other publications. Smith also worked as an animator on Nickelodeon's Blue's Clues.
David Trinidad is the author of more than twenty books of poetry, collabora-tions, and edited volumes. These include Swinging on a Star (2017), Notes on a Past Life (2016), Dear Prudence: New and Selected Poems (2011), and Plasticville (2000), finalist for the Lenore Marshall Poetry Prize. Trinidad is editor of A Fast Life: The Collected Poems of Tim Dlugos (2011), which won a Lambda Literary Award. He is a professor of poetry in the English and Creative Writing Department at Columbia College, Chicago.
Punk Rock Is Cool for the End of the World:
Poems and Notebooks of Ed Smith
by Ed Smith (Author), David Trinidad (Editor)
June 11, 2019
Publisher: Turtle Point Press
Language: English
ISBN-10: 1885983670
ISBN-13: 978-1885983671
Paperback
400 pages
$15.78
# new books
Poems and Notebooks
Ed Smith
• fleursdumal.nl magazine
More in: ·
---
Met haar succesdebuut Habitus wint Radna Fabias na de C. Buddingh'-prijs 2018 en de Awater Poëzieprijs en Herman De Coninckprijs 2019 óók deze eerste editie van De Grote Poëzieprijs.

De prijs, € 25.000,- voor de beste Nederlandstalige bundel van het jaar, werd op de slotdag van het gouden Poetry International Festival uitgereikt samen met de C. Buddingh'-prijs, die naar Roberta Petzoldt ging, voor haar debuut Vruchtwatervuurlinie'. Habitus is daarmee zonder meer de meest prijswinnende debuutbundel ooit.
Ook werden op het festival prijzen uitgereikt door jongeren, een initiatief van School der Poëzie.

De School der Poëzie-Communityprijs ging naar Ted van Lieshout voor Ze gaan er met je neus vandoor,

Roelof ten Napel kreeg de Jongerenprijs voor Het woedeboek waarmee hij ook kans maakte op De Grote Poëzieprijs én de C. Buddingh'-prijs. Met het uitreikingsprogramma 'Prijs de poëzie!' sloot Poetry International het gouden jubileumfestival even feestelijk af als dat het begon.
De Grote Poëzieprijs voor Radna Fabias
De Grote Poëzieprijs is dé prijs voor Nederlandstalige poëzie en bekroont de beste Nederlandstalige bundel van het jaar met € 25.000,-.

De jury van De Grote Poëzieprijs 2019 kreeg 150 bundels ter lezing en nomineerde er niet vijf maar zes, vanwege het hoge aantal inzendingen, de verlengde periode waarover werd gejureerd en de aangetroffen kwaliteit.
Opnieuw gaat de hoofdprijs dus naar Radna Fabias: "Fabias graaft net zo lang in wat bedenkelijk is – waarbij ze ook zichzelf niet spaart – totdat de complexiteit van een probleem zich openbaart.

Dit maakt dat Habitus (Arbeiderspers) deelneemt aan het 'gesprek van de dag', maar tegelijk – en belangrijker – dat de bundel er ook een krachtig tegengif tegen is.

Niets is eenvoudig in deze bundel, niets is op te lossen met een paar slimme oneliners of standpunten. Fabias maakt het persoonlijke politiek en het politieke persoonlijk," oordeelde de jury.
De C. Buddingh'-prijs voor Roberta Petzoldt
De prijs voor beste Nederlandstalige poëziedebuut – jaarlijks uitgereikt op het Poetry International Festival – gaat dit jaar naar Roberta Petzoldt.
Haar debuut Vruchtwatervuurlinie (Van Oorschot) gaat over verlies en is strijdbaar, humoristisch, prikkelend en fel maar boven alles een rigoureus allerindividueelst onderzoek waarbij de dichter, sneller dan de eigen schaduw, de poëzie zelf op de staart probeert te trappen of 'zonder vliegtuig de wolken raken / bewegen door / een getraind gevoel voor humor / en een eenzame logica'.

Op intieme wijze creëert de dichter een verrassend nieuw poëtisch universum, wat weergaloze gedichten en tijdloze regels oplevert: 'ik weet dat mensen op hun honden lijken, maar jij / lijkt op de hond van iemand anders'", aldus de jury.
Jongerenprijzen bij De Grote Poëzieprijs
School der Poëzie reikte op de slotavond van Poetry International twee prijzen uit namens de Poëzie Community en namens scholieren uit Nederland en Vlaanderen.

De Poëzie Community van School der Poëzie koos unaniem voor Ze gaan er met je neus vandoor (Leopold) van Ted van Lieshout, omdat het "een avontuur was om te lezen." Jongeren van scholen uit Antwerpen, Amsterdam, Rotterdam en Gent namen deel aan workshops van School der Poëzie en lieten zich inspireren door de gedichten van de zes genomineerden. Zij kenden hun Jongerenprijs toe aan Roelof ten Napel voor Het woedeboek (Hollands Diep) "omdat het over woede gaat én over liefde."
De jury van De Grote Poëzieprijs bestond uit Joost Baars, Yra van Dijk, Adriaan van Dis, Cindy Kerseborn en Maud Vanhauwaert.

Zij nomineerden naast Habitus van Radna Fabias ook Nachtboot van Maria Barnas, Stalker van Joost Decorte, Het woedeboek van Roelof ten Napel, Genadeklap van Willem Jan Otten en Onze kinderjaren van Xavier Roelens. De jury van de C. Buddingh'-prijs bestond uit Els Moors, Tsead Bruinja en Kila van der Starre. Zij nomineerden ook Obelisque van Obe Alkema, Dwaallichten van Gerda Blees en Het woedeboek van Roelof ten Napel.
Eerste Grote Poëzieprijs voor Radna Fabias
Roberta Petzoldt wint 'de Buddingh'
Jongerenprijzen voor Ted van Lieshout en Roelof ten Napel
• fleursdumal.nl magazine
More in: #Editors Choice Archiv, #More Poetry Archives, - Book News, - Bookstores, Archive E-F, Archive E-F, Archive K-L, Archive M-N, Archive O-P, Art & Literature News, Awards & Prizes, Lieshout, Ted van, Poetry International, ·
---
More in: ·
---
www.jefvankempen.nl
www.antonykok.nl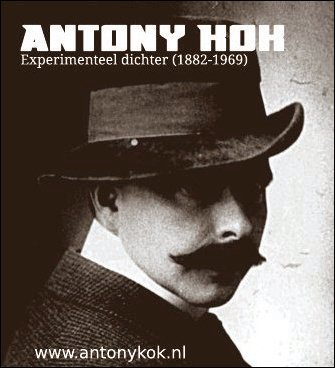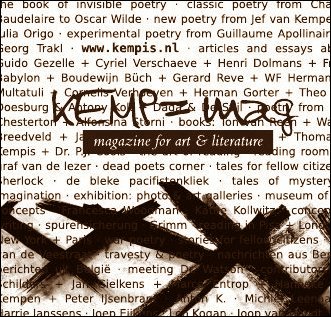 More in: ·
---
Thank you for reading FLEURSDUMAL.NL - magazine for art & literature