#Editors Choice Archiv
·
Forever Words. The Unknown Poems by Johnny Cash
·
Gerard Scharn: de onkleurige
·
Gerard Scharn: en de boer zoekt verder
·
The Nobel Prize in Literature 2020 for Louise Glück
·
Guillotine. Poems by Eduardo C. Corral
·
The Tradition, poems by Jericho Brown
·
Kom zijn liefste – over Herman Gorter ( 29 oktober 2020 – Hilversum)
·
Rachel Eliza Giffiths: Seeing the Body. Poems
·
Mary Jean Chan: Flèche
·
Natalie Diaz: Postcolonial Love Poem
·
Sonnet XXVI (O partial MEMORY!) by Anna Seward
·
Alan Chazaro: This Is Not a Frank Ocean Cover Album
These never-before-published poems by Johnny Cash make the perfect gifts for music lovers and fans alike.
Ed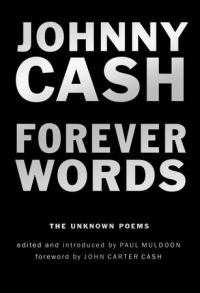 ited and introduced by Pulitzer Prize-winning poet Paul Muldoon with a foreword by John Carter Cash, this poetry collection is illustrated with facsimile reproductions of Cash's own handwritten pages. Now an album with music by Rosanne Cash, Brad Paisley, Willie Nelson, Kacey Musgraves, Elvis Costello, and more.
Since his first recordings in 1955, Johnny Cash has been an icon in the music world. In this collection of poems and song lyrics that have never been published before, we see the world through his eyes and view his reflection on his own interior reality, his frailties and his strengths alike.
In his hallmark voice, he pens verses about love, pain, freedom, and mortality, and expresses insights on culture, his family, his fame, even Christmas. Forever Words confirms Johnny Cash as a brilliant and singular American literary figure. His music is a part of our collective history, and here the depth of his artistry and talent become even more evident.
Forever Words
The Unknown Poems
By Johnny Cash
Category: Poetry | Music
Published by Blue Rider Press
Nov 15, 2016
144 Pages
ISBN 9780399575136
Hardcover $25.00
Nov 12, 2019
ISBN 9780399575150
Paperback
$18.00
# more poetry
Johnny Cash
Forever Words
The Unknown Poems
• fleursdumal.nl magazine
More in: #Editors Choice Archiv, - Book News, - Bookstores, Archive C-D, Archive C-D, Art & Literature News, Johnny Cash
---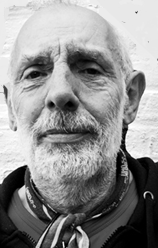 de onkleurige
de grijze man, slechts een krijtstreep geeft
aan waar de grens getrokken is tussen eerste
gulpknoop en de veters van zijn schoenen
heeft de kleur van kweekvis in een chloorbad
zijn vrouw geleased of door de echt verbonden
schittert als een koi in een regenboogvlag
tussen de haaien van het grote geld groeit
iets groots dat krantenkoppen laat blozen als
tomaten in een glazen stad wanneer de grijze
zijn stem verheft en een plan ontvouwt dat de
wereld nog van hem zal horen, een aureool
licht op
Gerard Scharn
Geboren te Gemert in 1946. Enige jaren gevaren (KM) gevolgd door een onrustig arbeids- en studieverleden, uiteindelijk als jurist afgestudeerd aan de Universiteit Tilburg. Foto: Evelien van Breemen
• fleursdumal.nl magazine
More in: #Editors Choice Archiv, Archive S-T, Archive S-T, Scharn, Gerard
---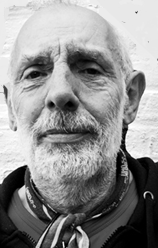 en de boer zoekt verder
voor alle boeren die tussen spelden in een hooiberg
de vrouw gevonden hebben die daar verborgen lag
een woord van dank code rood wordt ingetrokken
een woord van dank voor alle vaderlanders die zochten
in het land van zeven sloten naar de ware liefde binnen
handbereik code oranje blijft van kracht
van kind tot kraai uit het nest gestolen de prijzen
blijven stijgen een witte raaf scoort altijd hoger
dan een gebleekte indiaan of iemand met 'n kampverleden
van code lentefris tot code herfstbock en winterwit
hij die in nederland niet verkaast zal een uitlander
blijven vandaar dat ik schrijf en hem de liefde verklaar
Gerard Scharn
Geboren te Gemert in 1946. Enige jaren gevaren (KM) gevolgd door een onrustig arbeids- en studieverleden, uiteindelijk als jurist afgestudeerd aan de Universiteit Tilburg. Foto: Evelien van Breemen
• fleursdumal.nl magazine
More in: #Editors Choice Archiv, Archive S-T, Archive S-T, Scharn, Gerard
---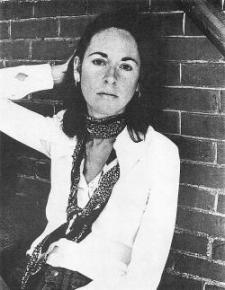 Louise Glück
The Nobel Prize in Literature 2020
Born: 1943, New York, NY, USA
Prize motivation: "for her unmistakable poetic voice that with austere beauty makes individual existence universal."
"The master said You must write what you see.
But what I see does not move me.
The master answered Change what you see."
Louise Glück
Epigraph
(Vita Nova 1999)
(photo 1977)
• fleursdumal.nl magazine
More in: #Editors Choice Archiv, Archive G-H, Archive G-H, Awards & Prizes
---
Guillotine traverses desert landscapes cut through by migrants, the grief of loss, betrayal's lingering scars, the border itself—great distances in which violence and yearning find roots.
Through the voices of undocumented immigrants, border patrol agents, and scorned lovers, award-winning poet Eduardo C. Corral writes dramatic portraits of contradiction, survival, and a deeply human, relentless interiority. With extraordinary lyric imagination, these poems wonder about being unwanted or renounced. What do we do with unrequited love? Is it with or without it that we would waste away?
In the sequence "Testaments Scratched into a Water Station Barrel," with Corral's seamless integration of Spanish and English, poems curve around the surfaces upon which they are written, overlapping like graffiti left by those who may or may not have survived crossing the border. A harrowing second collection, Guillotine solidifies Corral's place in the expanding ecosystem of American poetry.
The astonishing second collection by the author of Slow Lightning, winner of the Yale Younger Poets Prize
Eduardo C. Corral is the author of Slow Lightning, winner of the Yale Younger Poets Prize. He was a founding fellow of the CantoMundo Writers Conference, and recipient of a Whiting Award. He teaches at North Carolina State University.
Guillotine.
Poems
Eduardo C. Corral
ISBN: 978-1-64445-030-7
Format: Paperback
Publication Date: 8/4/20
Subject: Poetry
Pages 72
Graywolf Press, Minneapolis, Minnesota
Price $16.00
# new poetry
Guillotine.
Poems by
Eduardo C. Corral
• fleursdumal.nl magazine
More in: #Editors Choice Archiv, - Book News, - Bookstores, Archive C-D, PRESS & PUBLISHING
---
Beauty abounds in Jericho Brown's Pulitzer Prize-winning poetry collection, despite and inside of the evil that pollutes the everyday.
A National Book Award finalist, The Tradition questions why and how we've become accustomed to terror: in the bedroom, the classroom, the workplace, and the movie theater. From mass shootings to rape to the murder of unarmed people by police, Brown interrupts complacency by locating each emergency in the garden of the body, where living things grow and wither—or survive.
In the urgency born of real danger, Brown's work is at its most innovative. His invention of the duplex—a combination of the sonnet, the ghazal, and the blues—is an all-out exhibition of formal skill, and his lyrics move through elegy and memory with a breathless cadence. Jericho Brown is a poet of eros: here he wields this power as never before, touching the very heart of our cultural crisis.
Jericho Brown is a Pulitzer Prize-winning poet and the recipient of fellowships from the Guggenheim Foundation, the Radcliffe Institute for Advanced Study at Harvard, and the National Endowment for the Arts, and he is the winner of a Whiting Award. Brown's first book, Please (New Issues, 2008), won the American Book Award. His second book, The New Testament (Copper Canyon, 2014), won the Anisfield-Wolf Book Award. His third collection is The Tradition (Copper Canyon, 2019)—winner of the 2020 Pulitzer Prize in Poetry and a finalist for the 2019 National Book Award. His poems have appeared in Bennington Review, BuzzFeed, Fence, jubilat, The New Republic, The New York Times, The New Yorker, The Paris Review, TIME, and several volumes of The Best American Poetry. He is an associate professor and the director of the Creative Writing Program at Emory University.
The Tradition
poems by Jericho Brown
(Winner of the 2020 Pulitzer Prize in Poetry)
Format: Paperback
Paperback
110 pages
ISBN-10 : 1556594860
ISBN-13 : 978-1556594861
Publisher : Copper Canyon Press
2 April 2019
Product Dimensions : 22.35 x 14.99 x 1.27 cm
Language: English
$17.00 list price
Jericho Brown
Awards and Honors
Pulitzer Prize in Poetry, 2020
Whiting Writers Award
American Book Award
National Endowment for the Arts Literature Fellowship
Radcliffe Institute at Harvard University Fellowship
Bread Loaf Writers' Conference Fellowship
Krakow Poetry Seminar Fellowship
John Simon Guggenheim Memorial Foundation Fellowship
Lambda Literary Trustee Award, 2020
• fleursdumal.nl magazine
More in: #Editors Choice Archiv, - Book News, Archive A-B, Archive A-B, Awards & Prizes
---
Stichting Feest der Poëzie organiseert met Sociëteit "De Unie" Hilversum op donderdag 29 oktober 2020 in de serie Gooise dichters van het Feest der Poëzie een avond over Herman Gorter.
Herman Gorter, de dichter van 'Mei' ('Een nieuwe lente en een nieuw geluid…'), woonde een aantal jaren aan de Nieuwe 's-Gravelandseweg 66 in Bussum, in een huis naar ontwerp van architect Berlage.
Voordrachtskunstenaar Simon Mulder en soundscape-artiesten Beggar Brahim (elektrische gitaar) en Jesse LaChiffre (klarinet) brengen nummers van de CD 'Herman Gorter – Verzen 1890', waarbij de gedichten uit de lyrische, experimentele, sensitivistische periode van classicus, dichter en socialist Herman Gorter, een unieke samenklank aangaan met Beggar Brahims klanklandschappen.
Klassiek muziekduo Marleen van Os en Daan van de Velde brengt bijzondere en nauwelijks uitgevoerde liederen op teksten van Gorter, bijgestaan door sopraan Heleen Oomen.
Stadsdichter Mieke van Zonneveld brengt de gedichten van Gorter die zij als motto's in haar debuutbundel Leger gebruikte, en de daarbij behorende gedichten.
Verder bijzondere filmbeelden van Gorter van filminstituut Eye en de première van de videoclip 'In de zwarte nacht'.
Sociëteit "De Unie" Hilversum
donderdag 29 oktober 2020
20:00 – 22:00 uur
s-Gravelandseweg 57
1217 EH Hilversum
Reserveringen worden verzorgd door ticketkantoor.nl
#  Website Stichting Feest der Poëzie
• fleursdumal.nl magazine
More in: # Music Archive, #Editors Choice Archiv, Archive G-H, Archive G-H, Art & Literature News, AUDIO, CINEMA, RADIO & TV, Feest der Poëzie, Gorter, Herman
---
An elegiac and moving meditation on the ways in which we witness "bodies" of grief and healing.
Poems and photographs collide in this intimate collection, challenging the invisible, indefinable ways mourning takes up residence in a body, both before and after life-altering loss.
In radiant poems—set against the evocative and desperate backdrop of contemporary events, pop culture, and politics—Rachel Eliza Griffiths reckons with her mother's death, aging, authority, art, black womanhood, memory, and the American imagination. The poems take shape in the space where public and private mourning converge, finding there magic and music alongside brutality and trauma. Griffiths braids a moving narrative of identity and its possibilities for rebirth through image and through loss.
A photographer as well as a poet, Griffiths accompanies the fierce rhythm of her verses with a series of ghostly, imaginative self-portraits, blurring the body's internal wilderness with landscapes alive with beauty and terror. The collision of text and imagery offers an associative autobiography, in which narratives of language, absence, and presence are at once saved, revised, and often erased. Seeing the Body dismantles personal and public masks of silence and self-destruction to visualize and celebrate the imperfect freedom of radical self-love.
Rachel Eliza Griffiths is the author of four previous collections of poetry, including Lighting the Shadow. Her literary and visual work has appeared in The New Yorker, the New York Times, Paris Review, and many other publications. She lives in New York City.
Seeing the Body
Poems
Rachel Eliza Giffiths
Title Seeing the Body
Subtitle Poems
Author Rachel Eliza Giffiths
Publisher W. W. Norton & Company
Title First Published 09 June 2020
Format Hardcover
ISBN-10 1324005661
ISBN-13 9781324005667
Available for Sale 06/09/2020!
Price $26.95
# more poetry
Rachel Eliza Giffiths
Seeing the Body
• fleursdumal.nl magazine
More in: #Editors Choice Archiv, - Book News, Archive G-H, Archive G-H
---
Flèche (the French word for 'arrow') is an offensive technique commonly used in fencing, a sport of Mary Jean Chan's young adult years, when she competed locally and internationally for her home city, Hong Kong.
This cross-linguistic pun presents the queer, non-white body as both vulnerable ('flesh') and weaponised ('flèche'), and evokes the difficulties of reconciling one's need for safety alongside the desire to shed one's protective armour in order to fully embrace the world.
Central to the collection is the figure of the poet's mother, whose fragmented memories of political turmoil in twentieth-century China are sensitively threaded through the book in an eight-part poetic sequence, combined with recollections from Chan's childhood.
As complex themes of multilingualism, queerness, psychoanalysis and cultural history emerge, so too does a richly imagined personal, maternal and national biography.
The result is a series of poems that feel urgent and true, dazzling and devastating by turns.
Mary Jean Chan grew up in Hong Kong and studied at Swarthmore College, the University of Oxford and Royal Holloway, University of London. Her debut pamphlet, A Hurry of English, was selected as the 2018 Poetry Book Society Summer Pamphlet Choice. In 2017, Chan's poem '//' was shortlisted for the 2017 Forward Prize for Best Single Poem. She is a Ledbury Poetry Critic, editor of Oxford Poetry, advisory board member at the Poetry Translation Centre and member of the Folio Prize Academy. She is a Lecturer in Creative Writing (Poetry) at Oxford Brookes University and lives in London.
Flèche
Mary Jean Chan
Publisher: Faber & Faber
Series: Faber Poetry
Paperback
88 pages
Language: English
ISBN-10: 0571348041
ISBN-13: 978-0571348046
March 31, 2020
£10.99
# new poetry
Mary Jean Chan
Flèche
• fleursdumal.nl magazine
More in: #Editors Choice Archiv, - Book News, Archive C-D, Archive C-D
---
Here, the bodies of indigenous, Latinx, black and brown women are simultaneously the body politic and the body ecstatic, and portrayed with a glowing intimacy: the alphabet of a hand in the dark, the hips' silvered percussion, a thigh's red-gold geometry, the emerald tigers that leap in a throat.
Natalie Diaz was born and raised in the Fort Mojave Indian Village in Needles, California, on the banks of the Colorado River. She is Mojave and an enrolled member of the Gila River Indian Tribe.
Her first poetry collection, When My Brother Was an Aztec, won an American Book Award. She is a 2018 MacArthur Fellow, as well as a Lannan Literary Fellow and a Native Arts and Cultures Foundation Artist Fellow.
She was awarded the Holmes National Poetry Prize and a Hodder Fellowship from Princeton University. She is a member of the Board of Trustees for the United States Artists, where she is an alumna of the Ford Fellowship. Diaz is the Maxine and Jonathan Marshall Chair in Modern and Contemporary Poetry at Arizona State University.
Postcolonial Love Poem
Natalie Diaz
Paperback
128 pages
Publisher: Faber & Faber
Published: 16/07/2020
Language: English
ISBN-10: 0571359868
ISBN-13: 978-0571359868
£10.99
# new poetry
Postcolonial Love Poem
by Natalie Diaz
• fleursdumal.nl magazine
More in: #Editors Choice Archiv, - Book News, Archive C-D, Archive C-D
---
Sonnet XXVI
O partial MEMORY! Years, that fled too fast,
From thee in more than pristine beauty rise,
Forgotten all the transient tears and sighs
Somewhat that dimm'd their brightness! Thou hast chas'd
Each hovering mist from the soft Suns, that grac'd
Our fresh, gay morn of Youth; – the Heart's high prize,
Friendship, – and all that charm'd us in the eyes
Of yet unutter'd Love. – So pleasures past,
That in thy crystal prism thus glow sublime,
Beam on the gloom'd and disappointed Mind
When Youth and Health, in the chill'd grasp of Time,
Shudder and fade; – and cypress buds we find
Ordain'd Life's blighted roses to supply,
While but reflected shine the golden lights of Joy.
Anna Seward
(1742-1809)
Sonnet XXVI
(O partial MEMORY!)
• fleursdumal.nl magazine
More in: #Editors Choice Archiv, Archive S-T, Archive S-T
---
Poetry. California Interest. Chicanx Studies. In his debut short collection, poet Alan Chazaro takes us from the moonlit Bay Bridge to dark Oakland bars to tire shops to backyards to the fireworks and dirt paths of Mexico City.
Chazaro's speakers battle to find internal truths in a world defined by external opposition. Here, we glide from Frank Ocean to 80s synthpop, from Half Moon Bay to Athens, from Oscar De La Hoya to Wolverine. This is a collection about navigating multiple worlds, about traversing from boyhood into manhood. In poems that crackle with "scorpions in the dark" and "Lauryn Hill's voodoo" and "fat / Adidas laces and barbershop fades," Chazaro explores what it means to curate a sense of self as a millennial first-generation California Chicanx writer. His speakers are driven by a desire to control their identity in a world where they haven't been able to control much else—as the children of immigrants, as the occupants of ever-shifting spaces, as bodies that belong and don't belong.
Structured like a rap mixtape, each poem on the "track list" is an ode to some vibration of memory, sound, or Chazaro's native Bay Area landscape. THIS IS NOT A FRANK OCEAN COVER ALBUM, just as we are not ever actually ourselves—but a collection of fragments from our component influences and cultures, a reflection of the choices we make in search of a more genuine self.
"I say fuck
because it feels right
about now,
and I say love because
what wrong
could it bring?
I haven't shot a pistol
since my stepdad
flung his Desert Eagle
from the bedroom and took us
to burst freedom as kids."
• Winner of the Spring 2018 Black River Chapbook Competition
• Alan Chazaro is the author of THIS IS NOT A FRANK OCEAN COVER ALBUM (Black Lawrence Press, 2019) and PIÑATA THEORY (Black Lawrence Press, 2020). He is currently an adjunct professor at the University of San Francisco, a columnist at Palette Poetry, and is raising money for NBA arena workers during COVID-19.
Alan Chazaro
This Is Not a Frank Ocean Cover Album
2019
Publisher: Black Lawrence Press
ISBN: 978-1-62557-825-9
Poetry
Paperback
Pages:40
Price: $ 9.95
• fleursdumal.nl magazine
More in: #Editors Choice Archiv, - Book News, Archive C-D, Archive C-D
---
Older Entries »
Thank you for reading FLEURSDUMAL.NL - magazine for art & literature