Byron, Lord
·
Lord Byron: It is the hour (Poem)
·
Lord Byron: Euthanasia (Poem)
·
Lord Byron: I Speak Not (Poem)
·
Lord Byron: Farewell! If Ever Fondest Prayer (Poem)
·
Lord Byron: My Soul Is Dark (Poem)
·
Lord Byron: There be none of Beauty's daughters. Stanzas for Music
·
Lord Byron: John Keats Poem
·
Lord Byron: I Would I Were a Careless Child (Poem)
·
Gérard de Nerval: Pensée de Byron – Élégie
·
Lord Byron: When we two parted
·
Lord Byron: Growing Old
·
Lord Byron: Italy versus England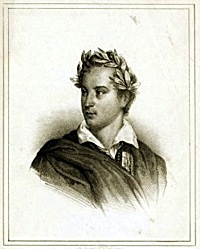 It is the hour
It is the hour when from the boughs
The nightingale's high note is heard;
It is the hour — when lover's vows
Seem sweet in every whisper'd word;
And gentle winds and waters near,
Make music to the lonely ear.
Each flower the dews have lightly wet,
And in the sky the stars are met,
And on the wave is deeper blue,
And on the leaf a browner hue,
And in the Heaven that clear obscure
So softly dark, and darkly pure,
That follows the decline of day
As twilight melts beneath the moon away.
George Gordon Byron
(1788 – 1824)
It is the hour
(Poem)
• fleursdumal.nl magazine
More in: Archive A-B, Archive A-B, Byron, Lord
---
Euthanasia
When Time, or soon or late, shall bring
The dreamless sleep that lulls the dead,
Oblivion! may thy languid wing
Wave gently o'er my dying bed!
No band of friends or heirs be there,
To weep, or wish, the coming blow:
No maiden, with dishevelled hair,
To feel, or feign, decorous woe.
But silent let me sink to earth,
With no officious mourners near:
I would not mar one hour of mirth,
Nor startle friendship with a tear.
Yet Love, if Love in such an hour
Could nobly check its useless sighs,
Might then exert its latest power
In her who lives, and him who dies.
'Twere sweet, my Psyche! to the last
Thy features still serene to see:
Forgetful of its struggles past,
E'en Pain itself should smile on thee.
But vain the wish?for Beauty still
Will shrink, as shrinks the ebbing breath;
And women's tears, produced at will,
Deceive in life, unman in death.
Then lonely be my latest hour,
Without regret, without a groan;
For thousands Death hath ceas'd to lower,
And pain been transient or unknown.
`Ay, but to die, and go,' alas!
Where all have gone, and all must go!
To be the nothing that I was
Ere born to life and living woe!
Count o'er the joys thine hours have seen,
Count o'er thy days from anguish free,
And know, whatever thou hast been,
'Tis something better not to be.
George Gordon Byron
(1788 – 1824)
Euthanasia
(Poem)
• fleursdumal.nl magazine
More in: Archive A-B, Archive A-B, Byron, Lord
---
I Speak Not
I speak not, I trace not, I breathe not thy name;
There is grief in the sound, there is guilt in the fame;
But the tear that now burns on my cheek may impart
The deep thoughts that dwell in that silence of heart.
Too brief for our passion, too long for our peace,
Were those hours – can their joy or their bitterness cease?
We repent, we abjure, we will break from our chain, –
We will part, we will fly to – unite it again!
Oh! thine be the gladness, and mine be the guilt!
Forgive me, adored one! – forsake if thou wilt;
But the heart which is thine shall expire undebased,
And man shall not break it – whatever thou may'st.
And stern to the haughty, but humble to thee,
This soul in its bitterest blackness shall be;
And our days seem as swift, and our moments more sweet,
With thee at my side, than with worlds at our feet.
One sigh of thy sorrow, one look of thy love,
Shall turn me or fix, shall reward or reprove.
And the heartless may wonder at all I resign –
Thy lips shall reply, not to them, but to mine.
George Gordon Byron
(1788 – 1824)
I Speak Not
(Poem)
• fleursdumal.nl magazine
More in: Archive A-B, Archive A-B, Byron, Lord
---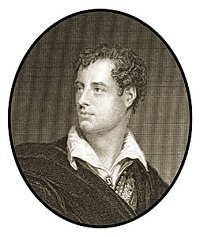 Farewell!
If Ever Fondest Prayer
Farewell! if ever fondest prayer
For other's weal availed on high,
Mine will not all be lost in air,
But waft thy name beyond the sky.
'Twere vain to speak, to weep, to sigh:
Oh! more than tears of blood can tell,
When wrung from guilt's expiring eye,
Are in that word – Farewell! – Farewell!
These lips are mute, these eyes are dry;
But in my breast and in my brain,
Awake the pangs that pass not by,
The thought that ne'er shall sleep again.
My soul nor deigns nor dares complain,
Though grief and passion there rebel;
I only know we loved in vain –
I only feel – Farewell! – Farewell!
George Gordon Byron
(1788 – 1824)
Farewell! If Ever Fondest Prayer
(Poem)
• fleursdumal.nl magazine
More in: Archive A-B, Archive A-B, Byron, Lord
---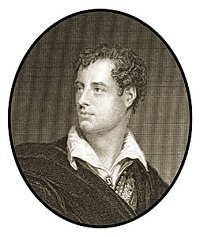 My Soul Is Dark
My soul is dark – Oh! quickly string
The harp I yet can brook to hear;
And let thy gentle fingers fling
Its melting murmurs o'er mine ear.
If in this heart a hope be dear,
That sound shall charm it forth again:
If in these eyes there lurk a tear,
'Twill flow, and cease to burn my brain.
But bid the strain be wild and deep,
Nor let thy notes of joy be first:
I tell thee, minstrel, I must weep,
Or else this heavy heart will burst;
For it hath been by sorrow nursed,
And ached in sleepless silence, long;
And now 'tis doomed to know the worst,
And break at once – or yield to song.
George Gordon Byron
(1788 – 1824)
My Soul Is Dark
(Poem)
• fleursdumal.nl magazine
More in: Archive A-B, Archive A-B, Byron, Lord
---
There be none of Beauty's daughters
Stanzas for Music
There be none of Beauty's daughters
With a magic like Thee;
And like music on the waters
Is thy sweet voice to me:
When, as if its sound were causing
The charméd ocean's pausing,
The waves lie still and gleaming,
And the lull'd winds seem dreaming:
And the midnight moon is weaving
Her bright chain o'er the deep,
Whose breast is gently heaving
As an infant's asleep:
So the spirit bows before thee
To listen and adore thee;
With a full but soft emotion,
Like the swell of Summer's ocean.
George Gordon Byron
(1788 – 1824)
There be none of Beauty's daughters
Stanzas for Music
• fleursdumal.nl magazine
More in: # Music Archive, Archive A-B, Archive A-B, Byron, Lord
---
John Keats Poem
Who killed John Keats?
'I,' says the Quarterly,
So savage and Tartarly;
"Twas one of my feats.'
Who shot the arrow?
'The poet-priest Milman
(So ready to kill man),
Or Southey or Barrow.
George Gordon Byron
(1788 – 1824)
John Keats Poem
• fleursdumal.nl magazine
More in: Archive A-B, Archive A-B, Byron, Lord, Keats, John
---
I Would I Were a Careless Child
I would I were a careless child,
Still dwelling in my Highland cave,
Or roaming through the dusky wild,
Or bounding o'er the dark blue wave;
The cumbrous pomp of Saxon pride
Accords not with the freeborn soul,
Which loves the mountain's craggy side,
And seeks the rocks where billows roll.
Fortune! take back these cultured lands,
Take back this name of splendid sound!
I hate the touch of servile hands,
I hate the slaves that cringe around.
Place me among the rocks I love,
Which sound to Ocean's wildest roar;
I ask but this – again to rove
Through scenes my youth hath known before.
Few are my years, and yet I feel
The world was ne'er designed for me:
Ah! why do dark'ning shades conceal
The hour when man must cease to be?
Once I beheld a splendid dream,
A visionary scene of bliss:
Truth! – wherefore did thy hated beam
Awake me to a world like this?
I loves – but those I love are gone;
Had friends – my early friends are fled:
How cheerless feels the heart alone,
When all its former hopes are dead!
Though gay companions o'er the bowl
Dispel awhile the sense of ill'
Though pleasure stirs the maddening soul,
The heart – the heart – is lonely still.
How dull! to hear the voice of those
Whom rank or chance, whom wealth or power,
Have made, though neither friends nor foes,
Associates of the festive hour.
Give me again a faithful few,
In years and feelings still the same,
And I will fly the midnight crew,
Where boist'rous joy is but a name.
And woman, lovely woman! thou,
My hope, my comforter, my all!
How cold must be my bosom now,
When e'en thy smiles begin to pall!
Without a sigh would I resign
This busy scene of splendid woe,
To make that calm contentment mine,
Which virtue know, or seems to know.
Fain would I fly the haunts of men –
I seek to shun, not hate mankind;
My breast requires the sullen glen,
Whose gloom may suit a darken'd mind.
Oh! that to me the wings were given
Which bear the turtle to her nest!
Then would I cleave the vault of heaven,
To flee away, and be at rest.
George Gordon Byron
(1788 – 1824)
I Would I Were a Careless Child
(Poem)
• fleursdumal.nl magazine
More in: Archive A-B, Archive A-B, Byron, Lord
---
Pensée de Byron – Élégie
Par mon amour et ma constance,
J'avais cru fléchir ta rigueur,
Et le souffle de l'espérance
Avait pénétré dans mon coeur ;
Mais le temps, qu'en vain je prolonge,
M'a découvert la vérité,
L'espérance a fui comme un songe…
Et mon amour seul m'est resté!
Il est resté comme un abîme
Entre ma vie et le bonheur,
Comme un mal dont je suis victime,
Comme un poids jeté sur mon coeur!
Pour fuir le piège où je succombe,
Mes efforts seraient superflus;
Car l'homme a le pied dans la tombe,
Quand l'espoir ne le soutient plus.
J'aimais à réveiller la lyre,
Et souvent, plein de doux transports,
J'osais, ému par le délire,
En tirer de tendres accords.
Que de fois, en versant des larmes,
J'ai chanté tes divins attraits !
Mes accents étaient pleins de charmes,
Car c'est toi qui les inspirais.
Ce temps n'est plus, et le délire
Ne vient plus animer ma voix;
Je ne trouve point à ma lyre
Les sons qu'elle avait autrefois.
Dans le chagrin qui me dévore,
Je vois mes beaux jours s'envoler;
Si mon oeil étincelle encore,
C'est qu'une larme va couler!
Brisons la coupe de la vie;
Sa liqueur n'est que du poison;
Elle plaisait à ma folie,
Mais elle enivrait ma raison.
Trop longtemps épris d'un vain songe,
Gloire ! amour ! vous eûtes mon coeur:
O Gloire ! tu n'es qu'un mensonge;
Amour! tu n'es point le bonheur!
Gérard de Nerval
(1808 – 1855)
Pensée de Byron – Élégie
fleursdumal.nl magazine
More in: Archive M-N, Byron, Lord, Nerval, Gérard de
---
When we two parted
When we two parted
In silence and tears,
Half broken-hearted,
To sever for years,
Pale grew thy cheek and cold,
Colder thy kiss;
Truly that hour foretold
Sorrow to this.
The dew of the morning
Sank chill on my brow
It felt like the warning
Of what I feel now.
Thy vows are all broken,
And light is thy fame:
I hear thy name spoken,
And share in its shame.
They name thee before me,
A knell to mine ear;
A shudder comes o'er me
Why wert thou so dear?
They know not I knew thee,
Who knew thee too well:
Long, long shall I rue thee
Too deeply to tell.
In secret we met
In silence I grieve
That thy heart could forget,
Thy spirit deceive.
If I should meet thee
After long years,
How should I greet thee?
With silence and tears.
Lord George Gordon Noel Byron
(1788 – 1824)
When we two are parted
fleursdumal.nl magazine
More in: Archive A-B, Byron, Lord
---
Growing Old
But now at thirty years my hair is grey—
(I wonder what it will be like at forty ?
I thought of a peruke the other day—)
My heart is not much greener ; and, in short, I
Have squandered my whole summer while 'twas May,
And feel no more the spirit to retort ; I
Have spent my life, both interest and principal,
And deem not, what I deemed, my soul invincible.
No more—no more—Oh ! never more on me
The freshness of the heart can fall like dew,
Which out of all the lovely things we see
Extracts emotions beautiful and new ;
Hived in our bosoms like the bag o' the bee.
Think'st thou the honey with those objects grew ?
Alas ! 'twas not in them, but in thy power
To double even the sweetness of a flower.
No more—no more—Oh! never more my heart,
Canst thou be my sole world, my universe !
Once all in all, but now a thing apart,
Thou canst not be my blessing or my curse :
The illusion's gone for ever, and thou art
Insensible, I trust, but none the worse,
And in thy stead I've got a deal of judgement,
Thou Heaven knows how it ever found a lodgement.
My days of love are over ; me no more
The charms of maid, wife, and still less of widow,
Can make the fool of which they made before,—
In short, I must not lead the life I did do ;
The credulous hope of mutual minds is o'er,
The copious use of claret is forbid too,
So for a good old-gentlemanly vice,
I think I must take up with avarice.
Ambition was my idol, which was broken
Before the shrines of Sorrow, and of Pleasure ;
And the two last have left me many a token
O'er which reflection may be made at leisure :
Now, like Friar Bacon's Brazen Head, I've spoken,
'Time is, Time was, Time's past' : a chymic treasure
Is glittering Youth, which I have spent betimes—
My heart in passion, and my head on rhymes.
What is the end of Fame ? 'tis but to fill
A certain portion of uncertain paper :
Some liken it to climbing up a hill,
Whose summit, like all hills, is lost in vapour ;
For this men write, speak, preach, and heroes kill,
And bards burn what they call their 'midnight taper',
To have, when the original is dust,
A name, a wretched picture and worse bust.
What are the hopes of man ? Old Egypt's King
Cheops erected the first Pyramid
And largest, thinking it was just the thing
To keep his memory whole, and mummy hid ;
But somebody or other rummaging,
Burglariously broke his coffin's lid :
Let not a monument give you or me hopes,
Since not a pinch of dust remains of Cheops.
But I, being fond of true philosophy,
Say very often to myself, 'Alas!
All things that have been born were born to die,
And flesh (which Death mows down to hay) is grass ;
You've passed your youth not so unpleasantly,
And if you had it o'er again—'twould pass—
So thank your stars that matters are no worse,
And read your Bible, sir, and mind your purse.'
Lord Byron (1788-1824)
Growing Old
fleursdumal.nl magazine
More in: Archive A-B, Byron, Lord
---
Italy versus England
With all its sinful doings, I must say,
That Italy's a pleasant place to me,
Who love to see the sun shine every day,
And vines (not nailed to walls) from tree to tree
Festooned, much like the back scene of a play,
Or melodrame, which people flock to see,
When the first act is ended by a dance
In vineyards copied from the South of France.
I like on autumn evenings to ride out,
Without being forced to bid my groom be sure
My cloak is round his middle strapped about,
Because the skies are not the most secure ;
I know too that, if stopped upon my route,
Where the green alleys windingly allure,
Reeling with grapes red wagons choke the way.—
In England 'twould be dung, dust, or a dray.
I also like to dine on becaficas,
To see the sun set, sure he'll rise to-morrow,
Not through a misty morning twinkling weak as
A drunken man's dead eye in maudlin sorrow,
But with all Heaven to himself ; the day will break as
Beauteous as cloudless, nor be forced to borrow
That sort of farthing candlelight which glimmers
Where reeking London's smoky cauldron simmers.
I love the language, that soft bastard Latin,
Which melts like kisses from a female mouth,
And sounds as if it should be writ on satin,
With syllables which breathe of the sweet South,
And gentle liquids gliding all so pat in,
That not a single accent seems uncouth,
Like our harsh northern whistling, grunting guttural,
Which we're obliged to hiss, and spit, and sputter all.
I like the women too (forgive my folly!),
From the rich peasant cheek of ruddy bronze,
And large black eyes that flash on you a volley
Of rays that say a thousand things at once,
To the high Dama's brow, more melancholy,
But clear, and with a wild and liquid glance,
Heart on her lips, and soul within her eyes,
Soft as her clime, and sunny as her skies.
Eve of the land which still is Paradise !
Italian Beauty ! didst thou not inspire
Raphael, who died in thy embrace, and vies
With all we know of Heaven, or can desire,
In what he had bequeathed us ?—in what guise,
Though flashing from the fervour of the lyre,
Would words described thy past and present glow,
While yet Canova can create below ?
'England ! with all thy faults I love thee still',
I said at Calais, and have not forgot it ;
I like to speak and lucubrate my fill ;
I like the government (but that is not it) ;
I like the freedom of the press and quill ;
I like the Habeas Corpus (when we've got it) ;
I like a Parliamentary debate,
Particularly when 'tis not too late ;
I like the taxes, when they're not too many ;
I like a seacoal fire, when not too dear ;
I like a beef-steak, too, as well as any ;
Have no objection to a pot of beer ;
I like the weather,—when it is not rainy,
That is, I like two months of every year.
And so God save the Regent, Church, and King !
Which means that I like all and every thing.
Our standing army, and disbanded seamen,
Poor's rate, Reform, my own, the nation's debt,
Our little riots just to show we're free men,
Our trifling bankruptcies in the Gazette,
Our cloudy climate, and our chilly women,
All these I can forgive, and those forget,
And greatly venerate our recent glories,
And wish they were not owing to the Tories.
Lord Byron (1788-1824)
Italy versus England
fleursdumal.nl magazine
More in: Archive A-B, Byron, Lord
---
Older Entries »
Thank you for reading FLEURSDUMAL.NL - magazine for art & literature