#Archive A-Z Sound Poetry
·
Kafka and Noise. The Discovery of Cinematic Sound in Literary Modernism by Kata Gellen
·
Ufarassus: Gothic translation of the poem "Overvloed" by Bert Bevers
·
ELO 2018 Mind The Gap!
·
Poëzieweek 2017 (26 januari t/m/ 1 februari) en Gedichtendag 2017 (26 januari)
·
BOB DYLAN writes Nobel Prize Speech & PATTI SMITH performs on Nobel Prize Banquet
·
Let's DADA! De Nacht van DADA op 3 december 2016 in Antwerpen
·
KATE TEMPEST IN: PERFORMANCE LIVE (BBC 2 – OCT. 1)
·
KATE TEMPEST: GROOTSTE SLAM POETRY TALENT SINDS JAREN, OP 10 NOVEMBER 2016 IN DE MELKWEG
·
AVOND IN DE STAD: PRESENTATIE VOORDRACHT-CD MET GEDICHTEN VAN HERMAN GORTER
·
IN MEMORIAM BERNARD HEIDSIECK
·
Jef van Kempen over Kurt Schwitters
·
Theo van Doesburg: Anthologie Bonset
A series of disruptive, unnerving sounds haunts the fictional writings of Franz Kafka.
These include the painful squeak in Gregor Samsa's voice, the indeterminate whistling of Josefine the singer, the relentless noise in "The Burrow," and telephonic disturbances in The Castle.
In Kafka and Noise, Kata Gellen applies concepts and vocabulary from film theory to Kafka's works in order to account for these unsettling sounds. Rather than try to decode these noises, Gellen explores the complex role they play in Kafka's larger project.
Kafka and Noise offers a method for pursuing intermedial research in the humanities—namely, via the productive "misapplication" of theoretical tools, which exposes the contours, conditions, and expressive possibilities of the media in question. This book will be of interest to scholars of modernism, literature, cinema, and sound, as well as to anyone wishing to explore how artistic and technological media shape our experience of the world and the possibilities for representing it.
Kata Gellen is an assistant professor in the Department of Germanic Languages and Literature at Duke University.
Kata Gellen (Author)
Kafka and Noise.
The Discovery of Cinematic Sound in Literary Modernism
272 pages
Northwestern University Press
Literary Criticism
Cloth Text – $99.95
ISBN 978-0-8101-3894-0
Paper Text – $34.95
ISBN 978-0-8101-3893-3
Publication Date: January 2019
# new books
The Discovery of Cinematic Sound in Literary Modernism
fleursdumal.nl magazine
More in: # Music Archive, #Archive A-Z Sound Poetry, #Archive Concrete & Visual Poetry, *Concrete + Visual Poetry K-O, - Book News, - Bookstores, Archive G-H, Archive K-L, Art & Literature News, Franz Kafka, Kafka, Franz, Kafka, Franz, Modernisme
---
   Audio-file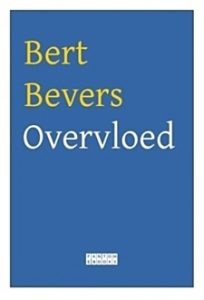 A reading of Ufarassus the Gothic translation of the poem "Overvloed" by Bert Bevers.
Translation by HroÞiland Bairteins, Tom De Herdt and J.G. Quak and recorded by Eric Kingsepp.
# Link to Audio-file of a reading of Ufarassus (Overvloed) by Bert Bevers
BERT BEVERS
OVERVLOED
Tien vertalingen van één gedicht
FANTOM EBOOKS
Art Brut Digital Editions
Series Fantom Ebooks
www.fleursdumal.nl
FANTOM 1
Fantom Ebook 2017
ISBN: 978-90-76326-09-2
NUR 306
1ste PDF-uitgave FANTOM, Augustus 2017
audio-file poem by Bert Bevers
fleursdumal.nl magazine
More in: #Archive A-Z Sound Poetry, - Audiobooks, Archive A-B, AUDIO, CINEMA, RADIO & TV, Overvloed
---
The Electronic Literature Organization (ELO) holds its 2018 Conference and Festival, hosted by the Université du Québec à Montréal from 13 to 17 August 2018.
The Conference, the Festival and Exhibits will be held August 13th to 17th in downtown Montréal, Québec, Canada. Mind the Gap! will be bilingual, with both English and French tracks, showcasing Montreal's important and dynamic local Québécois e-lit/digital arts community and extending a special welcome to e-lit's global francophonie.
The aim of this conference is to think about e-lit in a digital culture. What is its relationship to current cultural practices and trends?
Two directions are proposed: explorations and interventions. The first direction features e-lit's exploratory nature, its formal aspects, its use of technology, its renewal of narrative conventions, and at the same time its impact on literary theories and methodologies to renew themselves.
The second direction considers e-lit's place in the public sphere, its relationship to digital and urban culture, to forms of conservation and presentation, and also to performance.
# more information on website ELO 2018 Mind The Gap!
ELO 2018 Mind The Gap!
13 – 17 August 2018
The Electronic Literature Organization (ELO) announces its 2018 Conference and Festival, hosted by the Université du Québec à Montréal.
fleursdumal.nl magazine
More in: #Archive A-Z Sound Poetry, #Archive Concrete & Visual Poetry, Art & Literature News, AUDIO, CINEMA, RADIO & TV, Literary Events, Visual & Concrete Poetry
---
 Gedichtendag  2017 (26 januari)
 Poëzieweek 2017 (26 januari t/m/ 1 februari)
Opening Poëzieweek 2017 (26 januari t/m/ 1 februari)
Met Gedichtendag gaat op de laatste donderdag van januari traditiegetrouw de Poëzieweek van start. Gedichtendag, sinds 2000 georganiseerd door Poetry International Rotterdam, is hét poëziefeest van Nederland en Vlaanderen. Poëzieliefhebbers in Nederland en Vlaanderen organiseren die dag een grote diversiteit aan eigen poëzieactiviteiten en ook de media klinken die dag een stuk poëtischer.
Voor de enorme hoeveelheid optredens, publicaties, poëzieprijzen, -programma's en -activiteiten is één dag simpelweg veel te kort!
Verspreid poëzie op social media
Breng poëzie in uw leven! Laat u inspireren door de foto-gedichten en deel het op social media met #Gedichtendag. Wijs vrienden en contacten op website poezieweek.com
Lees ook poëzie op website: fleursdumal.nl magazine
 Dicht mee!
More in: #Archive A-Z Sound Poetry, Art & Literature News, CLASSIC POETRY, CONCRETE , VISUAL & SOUND POETRY, EDITOR'S CHOICE, EXPERIMENTAL POETRY, LIGHT VERSE, Literary Events, MODERN POETRY, POETRY ARCHIVE, Poëzieweek, PRESS & PUBLISHING, STREET POETRY, The talk of the town
---
Bob Dylan won the Nobel Prize in Literature 2016 
Bob Dylan born: 24 May 1941, Duluth, MN, USA – Nobel Prize motivation: "for having created new poetic expressions within the great American song tradition" – Bob Dylan (not present at the ceremony) writes Nobel prize speech & Patti Smith will perform Dylan's "A Hard Rain's A-Gonna Fall" on the Nobel banquet on Dec 10, 2016
Bob Dylan's Albums
Bob Dylan (1962)
The Freewheelin' Bob Dylan (1963)
The Times They Are A-Changin' (1964)
Another Side Of Bob Dylan (1964)
Bringing It All Back Home (1965)
Highway 61 Revisited (1965)
Blonde On Blonde (1966)
Bob Dylan's Greatest Hits (1967)
John Wesley Harding (1968)
Nashville Skyline (1969)
Self Portrait (1970)
New Morning (1970)
Bob Dylan's Greatest Hits Vol. 2 (1971)
Pat Garrett & Billy The Kid (1973)
Dylan (1973)
Planet Waves (1974)
Before The Flood (1974)
Blood On The Tracks (1975)
The Basement Tapes (1975)
Desire (1976)
Hard Rain (1976)
Street Legal (1978)
Bob Dylan At Budokan (1978)
Slow Train Coming (1979)
Saved (1980)
Shot Of Love (1981)
Infidels (1983)
Real Live (1984)
Empire Burlesque (1985)
Biograph (1985)
Knocked Out Loaded (1986)
Down In The Groove (1988)
Dylan & The Dead (1989)
Oh Mercy (1989)
Under The Red Sky (1990)
The Bootleg Series Vols. 1-3: Rare And Unreleased 1961-1991 (1991)
Good As I Been to You (1992)
World Gone Wrong (1993)
Bob Dylan's Greatest Hits Vol. 3 (1994)
MTV Unplugged (1995)
The Best Of Bob Dylan (1997)
The Songs Of Jimmie Rodgers: A Tribute (1997)
Time Out Of Mind (1997)
The Bootleg Series, Vol. 4: Bob Dylan Live 1966: The 'Royal Albert Hall' Concert (1998)
The Essential Bob Dylan (2000)
"Love And Theft" (2001)
The Bootleg Series, Vol. 5: Live 1975: The Rolling Thunder Revue (2002)
Masked And Anonymous: The Soundtrack (2003)
Gotta Serve Somebody: The Gospel Songs Of Bob Dylan (2003)
The Bootleg Series, Vol. 6: Live 1964: Concert At Philharmonic Hall (2004)
The Bootleg Series, Vol. 7: No Direction Home: The Soundtrack (2005)
Live At The Gaslight 1962 (2005)
Live At Carnegie Hall 1963 (2005)
Modern Times (2006)
The Traveling Wilburys Collection (2007)
The Bootleg Series, Vol. 8: Tell Tale Signs: Rare And Unreleased, 1989-2006 (2008)
Together Through Life (2009)
Christmas In The Heart (2009)
The Original Mono Recordings (2010)
The Bootleg Series, Vol. 9: The Witmark Demos: 1962-1964 (2010)
Good Rockin' Tonight: The Legacy Of Sun (2011)
Timeless (2011)
Tempest (2012)
The Lost Notebooks Of Hank Williams (2011)
The Bootleg Series, Vol. 10: Another Self Portrait (2013)
The Bootleg Series, Vol. 11: The Basement Tapes Complete (2014)
The Bootleg Series, Vol. 12: The Cutting Edge 1965-1966 (2015)
Shadows In The Night (2015)
Fallen Angels (2016)
Nobel Prizes in Literature since 2000
2016, Bob Dylan "for having created new poetic expressions within the great American song tradition"
2015, Svetlana Alexievich "for her polyphonic writings, a monument to suffering and courage in our time"
2014, Patrick Modiano "for the art of memory with which he has evoked the most ungraspable human destinies and uncovered the life-world of the occupation"
2013, Alice Munro "master of the contemporary short story"
2012, Mo Yan "who with hallucinatory realism merges folk tales, history and the contemporary"
2011, Tomas Tranströmer "because, through his condensed, translucent images, he gives us fresh access to reality"
2010, Mario Vargas Llosa "for his cartography of structures of power and his trenchant images of the individual's resistance, revolt, and defeat"
2009, Herta Müller "who, with the concentration of poetry and the frankness of prose, depicts the landscape of the dispossessed"
2008, Jean-Marie Gustave Le Clézio "author of new departures, poetic adventure and sensual ecstasy, explorer of a humanity beyond and below the reigning civilization"
2007, Doris Lessing "that epicist of the female experience, who with scepticism, fire and visionary power has subjected a divided civilisation to scrutiny"
2006, Orhan Pamuk "who in the quest for the melancholic soul of his native city has discovered new symbols for the clash and interlacing of cultures"
2005, Harold Pinter "who in his plays uncovers the precipice under everyday prattle and forces entry into oppression's closed rooms"
2004, Elfriede Jelinek "for her musical flow of voices and counter-voices in novels and plays that with extraordinary linguistic zeal reveal the absurdity of society's clichés and their subjugating power"
2003, John M. Coetzee "who in innumerable guises portrays the surprising involvement of the outsider"
2002, Imre Kertész "for writing that upholds the fragile experience of the individual against the barbaric arbitrariness of history"
2001, Sir Vidiadhar Surajprasad Naipaul "for having united perceptive narrative and incorruptible scrutiny in works that compel us to see the presence of suppressed histories"
2000, Gao Xingjian "for an æuvre of universal validity, bitter insights and linguistic ingenuity, which has opened new paths for the Chinese novel and drama"
fleursdumal.nl magazine
More in: #Archive A-Z Sound Poetry, Archive C-D, Archive S-T, Art & Literature News, Bob Dylan, Dylan, Bob, Patti Smith, Smith, Patti, THEATRE
---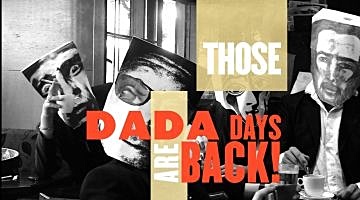 De Nacht van DADA viert zaterdag 3 december 2016 in DE Studio de 100ste verjaardag van de explosieve kunstbeweging met optredens van BLIXA BARGELD en een ontregeld leger artiesten. Let's DADA! VONK & Zonen en Villanella presenteren op zaterdag 3 december de Nacht van DADA in DE Studio. Deze festivalnacht staat helemaal in het teken van 100 jaar dada, de anarchistische en explosieve kunstbeweging die Europa in vuur en vlam zette kort na de eerste wereldoorlog. VONK & Zonen verzamelde een ontregeld leger artiesten die de DADA-geest uit de fles laten die in gesprek gaat met deze woelige tijden.
De Nacht van DADA wordt geopend door een uurlange 'Solo Vocal Performance' van BLIXA BARGELD. Hij ontleende niet voor niets zijn artiestennaam van de Duitse dichter en kunstenaar Johannes Theodor Baargeld (actief in de dadagroep in Keulen). Bargeld brengt een vocale performance in de geest van Kurt Schwitters. Daarna barst het festival uit zijn voegen in de verschillende zalen in DE Studio.
HERR SEELE, MARCEL VANTHILT en TEUN VERBRUGGEN & BONOM bereiden gepast dadaïstisch vuurwerk voor. Poëzierotten JAAP BLONK, PETER HOLVOET-HANSSEN en DIDI DE PARIS knipogen naar de historische dadapoëzie. Er is ook beeldende kunst met collage's van BARBARA BERVOETS, spielereien van BERT LEZY en fluxus art van LUDO MICH. Tip Toe Topic, met o.a. ELKO BLIJWEERT, begeleiden oude experimentele dadafilmpjes. Danser MICHAEL VAN REMOORTERE toont zijn kont. Dichter ANDY FIERENS en muzikant MICHAËL BRIJS verzamelen een 30-koppig gelegenheidskoor onder de noemer De Bronstige Bazooka's dat hun nieuwe dadawereldcreatie 'World Reet Center', waarin goede smaak wanhopig en helaas tevergeefs vecht voor zichzelf, in première zal zingen. De kunstenaars van Yellow Art uit Geel en het psychiatrisch centrum Sint-Amadeus uit Mortsel zorgen voor een 100-tal dadaïstisch beschilderde maskers die tijdens de Nacht van DADA worden uitgedeeld.
Al wat te serieus is in deze wereld zal er aan moeten geloven, dus doe uw beste boots aan en trek een zak over uw lelijke kop. Here we go. Let's DADA!
De Nacht van DADA is een organisatie van VONK & Zonen i.s.m. Villanella en met steun van het Vlaams Fonds voor de Letteren en de stad Antwerpen.
De vorige Nacht van VONK is niet onopgemerkt voorbij gegleden. Meer dan vijftig schrijvers, muzikanten en kunstenaars brachten de geest van Jean-Marie Berckmans tot leven en doopten deze wilde nacht om tot de Nacht van PAFKE.
Dit jaar zet VONK & Zonen het festival in het teken van 100 jaar dada, de anarchistische, explosieve kunstbeweging die Europa in vuur en vlam zette kort na de eerste wereldoorlog. Verwacht u aan interventies van onze beste artiesten, van Herr Seele over Marcel Vanthilt tot Jaap Blonk. Als knallende openingsact hebben we Blixa Bargeld gestrikt voor een solo vocale performance in de geest van Kurt Schwitters. Al wat te serieus is in deze wereld, zal er aan moeten geloven.
DE Studio zal op zijn grondvesten daveren, dus doe uw beste boots aan en trek een zak over uw kop.
Here we go. Let's dada!
DE VOLLEDIGE PROGRAMMATIE
EN TICKETS VIND JE OP
WWW.DESTUDIO.COM &
WWW.VONKENZONEN.BE
Met o.a.
HERR SEELE
JAAP BLONK
TEUN VERBRUGGEN
MARCEL VANTHILT
TIP TOE TOPIC
LUDO MICH
PETER HOLVOET-HANSSEN
BONOM
BARBARA BERVOETS
ANDREW CLAES
BERT LEZY
ANDY FIERENS
MICHAËL BRIJS
DE BRONSTIGE BAZOOKA'S
HERSENCELLEN
GERT VANLERBERGHE
ELKO BLIJWEERT
KUNSTHUIS YELLOW ART
DJ BOOTS
DIANE GRACE
TROEBEL NEYNTJE
KATJA STONEWOOD
VITALSKI
DJ WAGONMAN
SVEN DE SWERTS
MICHAEL VAN REMOORTERE
ANNELEEN VAN OFFEL
ELENA PEETERS
DOMINIQUE OSIER
DIDI DE PARIS
BUTSENZELLER
JEUGD & POËZIE
HAMSTER AXIS OF THE ONE CLICK PANTHER
PHILIP MEERSMAN
GEERT BEULLENS
MCHNRY
FREDERIK LUCIEN DE LAERE
ATERITIS BELDEMOR
DE Studio
Maarschalk Gérardstraat 4
2000 Antwerpen
# Meer info op website DE Studio
fleursdumal.nl magazine
More in: #Archive A-Z Sound Poetry, Art & Literature News, Baargeld, Johannes Theodor, Ball, Hugo, Dada, DADA, Dadaïsme, Doesburg, Theo van, Kok, Antony, Literary Events, Ostaijen, Paul van, Schwitters, Kurt, THEATRE, Tzara, Tristan
---
   BBC2 – Saturday October 1, 2016 – 23.00 CET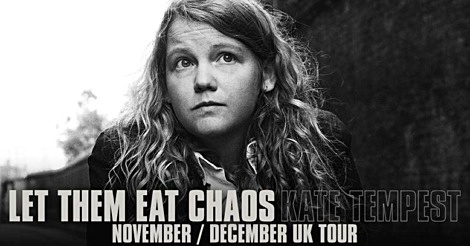 Award-winning artist Kate Tempest hosts a night of poetry that includes her epic new story Let Them Eat Chaos and performances from three of her friends, recorded live at the Rivoli Ballroom in south London.
Fusing hip-hop, poetry and theatre, Let Them Eat Chaos is set in the early hours of one morning and traces the lives of seven people living on a south London street, who all find themselves awake at 4:18am. Kate will be joined by performance poets Deanna Rodger, David J Pugilist and Isaiah Hull, who will offer their own reflections on life in contemporary Britain.

Produced by Battersea Arts Centre, this is the first episode of an ambitious new series, Performance Live. Over the next two years, Performance Live will bring some of the most innovative live theatre, dance, comedy and spoken word to BBC television, in a collaboration between BBC Arts, Arts Council England and Battersea Arts Centre.
Director – Liz Clare
Producer – Andrew Fettis
Executive Producer – Emma Cahusac
Executive Producer – David Jubb
Production Company – Battersea Arts Centre
BBC2 tv – Saturday October 1, 2016 – 23.00 CET
Performance Live: Kate Tempest
fleursdumal.nl magazine
More in: #Archive A-Z Sound Poetry, Archive S-T, Art & Literature News, AUDIO, CINEMA, RADIO & TV, Kate Tempest, MUSIC, Performing arts, Tempest, Kate, THEATRE
---
Kate Tempest vecht met twee wapens; haar pen en haar stem. Als artiest won ze meerdere poetry slams en bracht in 2014 als rapper haar tweede album 'Everybody Down' uit. Daarnaast publiceerde ze als schrijfster een dichtbundel en een roman en schreef tussendoor nog een toneelstuk. Op het podium brengt Kate Tempest verhalen tot leven met haar unieke mix van indie-hiphop vol rauwe, poëtische raps over het grauwe stadsleven in Londen. Tekstueel één van de meest interessante en urgente lyricisten van dit moment.
KATE  TEMPEST

donderdag 10 november 2016 – 19:30 uur
The Max
Melkweg
Lijnbaansgracht 234a
1017 PH Amsterdam
Telefoon: 020-5318181
Verkoop start vrijdag 19 aug
# Meer info op website Melkweg Amsterdam
fleursdumal.nl magazine
More in: #Archive A-Z Sound Poetry, #More Poetry Archives, Archive S-T, Art & Literature News, Kate Tempest, Poetry Slam, STREET POETRY, Tempest, Kate, THEATRE
---
Avond in de Stad – 13 oktober 2015, 20:15 uur – Theater Het Perron, Egelantiersstraat 130, Amsterdam
Presentatie voordracht-CD met gedichten van Herman Gorter tijdens 'Avond in de Stad'
Programma met liederen en gedichten van Herman Gorter en Frederik van Eeden over de avond en de stad
Voordrachtskunstenaar Simon Mulder (ook betrokken bij de documentaire-serie De IJzeren Eeuw in de aflevering over Frederik van Eeden) brengt gedichten, proza, dagboekaantekeningen en brieven van de fascinerende en tragische laatnegentiende- en vroegtwintigste-eeuwse dichter, schrijver, wereldverbeteraar en psychiater Frederik van Eeden, die afgewisseld worden door vrijwel vergeten liederen van Nederlandse componisten op teksten van Van Eeden door liedduo Susanne Winkler (sopraan) en Daan van de Velde (piano).
Na de pauze presenteren Simon Mulder en soundscape-artiest Beggar Brahim hun CD 'Herman Gorter – Verzen 1890', waarbij de gedichten uit de sensitivistische periode van Van Eedens tijdgenoot, classicus, dichter en socialist Herman Gorter, een unieke samenklank aangaan met Beggar Brahims klanklandschappen. Ook worden er enkele nummers live uitgevoerd met voordracht, elektrische gitaar en sopraansaxofoon.
Zaal open: 19:45 uur
Aanvang: 20:15 uur
Entree: €10,-
Website: www.feestderpoezie.nl
Reserveren wordt aangeraden, dit kan via www.hetperron.nl
fleursdumal.nl magazine
More in: #Archive A-Z Sound Poetry, Art & Literature News, Gorter, Herman, MUSIC
---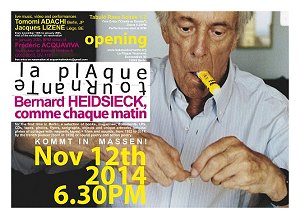 Bernard Heidsieck (1928 – 22 November 2014) a French sound poet was born in Paris.
Apart from being a poet he was vice-president of the Banque Française du Commerce Extérieur in Paris and president of the Commission Poésie at the Centre National du Livre.
In the mid 50s Heidsieck started performing his Poèmes-Partitions pieces. He brought spoken word together with a wide range of recorded material. Bernard Heidsieck organised the first international festival of sound poetry in 1976 and later the event "Rencontres Internationales 1980 de poésie sonore" which took place in Rennes, in Le Havre and at the Pompidou Centre in Paris. He was also initiater of the journals Sound Poetry and Action Poetry.
Bibliographie
Sitôt dit, Seghers, 1955.
B2B3, Éditions du Castel Rose, 1967.
Encoconnage, avec Françoise Janicot, Guy Schraenen, 1972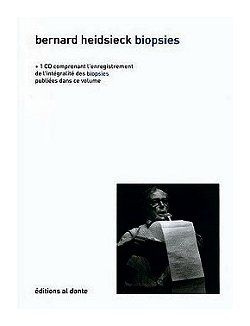 Portraits-Pétales, Guy Schraenen, 1973,
Foules, Guy Schraenen Éditeur, 1976 (Belgique).
D2 + D3Z, Poèmes-Partitions, Collection Où, Henri Chopin Éditeur, 1973.
Partition V, Le Soleil Noir, 1973 avec une œuvre de Ruth Francken.
Poésie action / Poésie sonore 1955-1975, Atelier Annick Le Moine, 1976.
Participation à Tanger I et Tanger II, Christian Bourgois Éditeur, 1978, 1979.
Dis-moi ton utopie, Éditions Eter, 1975.
Poésie sonore et caves romaines suivi de Poème-Partition D4P, Éditions Hundertmark, RFA, 1984.
Au-delà de la poésie, with Julien Blaine and Servin, with drawings by Jean Touzot, L'Unique, 1985
Canal Street, SEVIM/ B. Heidsieck, 1986
Poésie et dynamite (avec un texte de Jean-Jacques Lebel), Factotumbook 38, Sarenco-Strazzer, 1986
Derviche / Le Robert, Éditeurs Évidant, 1988.
Poème-Partition « A », Électre Éditeur, 1992.
D'un art à l'autre (Poésure et Peintrie), Ville de Marseille, 1993
Poème-Partition « R », Cahiers de nuit, Caen, 1994.
Poème-Partition « N », Les Petits classiques du grand pirate, 1995.
Sitôt dit, Seghers, 1995.

Coléoptères and Co, with P.A. Gette, Yéo Éditeur, Paris, 1997.
Poème-Partition « T », with a CD, Derrière la Salle de bains, 1998.
Vaduz, avec un CD, Francesco Conz Éditeur/Al Dante éditeur, 1998.
La Fin d'un millénaire, catalogue Ventabrun Art Contemporain, 2000
Poème-Partition « Q », Derrière la salle de bains, 1999 + une autre édition en 2001.
Bonne Année, avec Yoland Bresson, Éditions du toit, 1999
Respirations et brèves rencontres, with 3 CDs, Al Dante éditeur, 2000. (aussi en K7)
Affiche et bande magnétique, L'Affiche de poésie n°28, Le bleu du ciel, 2000
Nous étions bien peu en …, Onestar Press, 2001.
Partition V, with 1 CD, réédition, Le bleu du ciel, 2001
Canal Street, with 2 CDs, Al Dante éditeur, 2001.
Poème-Partition « F », with 1 CD, le corridor bleu, 2001. (aussi en K7)
Le carrefour de la chaussée d'Antin, with 2 CDs, Al Dante éditeur, 2001
Partition V, Le bleu du ciel, 2001 (2-9511615-3-0)
Notes convergentes, Al Dante Éditeur, 2001. (aussi en K7)
La poinçonneuse, with 1 CD, Al Dante éditeur, 2003.

Ca ne sera pas long, fidel Anthelme X, 2003.(CD)
Lettre à Brion, CD, Al Dante Éditeur, 2004.
Derviche ; Le Robert, with 3 CDs, Al Dante éditeur, 2004.
Démocratie II, with 1 CD, Al Dante éditeur, 2004.
Heidsieck et Hubaut, (cassette) avec Joël Hubaut
Morceaux choisis supplément à Bernard Heidsieck Poésie Action, Jean-Michel Place, (CD)
Collages, L'Affiche de poésie n°42, Le bleu du ciel, 2006
P puissance B, avec Radio Taxi(c), Lotta Poetica and Studio Morra
« Trois biopsies » et « Un passe – partout »
Djerassi, collages et écritures manuscrites, Le bleu du ciel, 2009 (978-2-915232-57-82)
« Trois contre 1″, CD audio et CDROM, avec Joel Hubaut, Jean-François Bory, Julien Blaine ( TRACE LABEL, 1999 ref TRACE 009)
Tapuscrits – Poèmes-Partitions, Biopsies, Passe-Partout, Les Presses du réel, 2013
IN MEMORIAM BERNARD HEIDSIECK
fleursdumal.nl magazine
More in: #Archive A-Z Sound Poetry, #Archive Concrete & Visual Poetry, Archive G-H, EXPERIMENTAL POETRY, In Memoriam
---
Kurt Schwitters en de kunst van het toeval
ANNA BLUME HEEFT EEN VOGEL
door Jef van Kempen
Het jaar 2000 wordt het jaar van De Stijl. De roemruchte groep kunstenaars wordt onder meer herdacht met exposities. Het Brabants Dagblad wijdt er een serie aan. Toen Kurt Schwitters in 1936, tijdens een bijeenkomst van kunstenaars, om zijn mening werd gevraagd over twee nieuwe portretten van Hitler en Goebbels, betrad hij het podium, hield de schilderijen omhoog en zei: "Wat zullen we doen? Zullen we ze ophangen of tegen de muur zetten?" Kurt Schwitters: een Duitser met gevoel voor humor.
In zijn huis in Hannover werkte Kurt Schwitters (1887-1948) bijna twintig jaar lang aan zijn Merzbau, een van de meest oorspronkelijke kunstwerken uit de geschiedenis van de avant-garde. Van de kelder tot de zolder verbouwde hij zijn huis tot één grote collage van afvalmaterialen. Voor Schwitters, die zich verwant voelde aan de dadaïsten, gold 'het toeval' als voornaamste bron voor zijn kunst. Van de dingen die hij op straat vond, knipte, plakte, schilderde en timmerde hij collages, schilderijen en constructies, die hij allemaal het predikaat Merz-kunst gaf. Het begrip Merz ontstond toen bij het verknippen van het woord Kommerzbank alleen het woord Merz overbleef.
Ook in het literaire werk van Kurt Schwitters speelt het toeval een grote rol. Op een van zijn zwerftochten, op zoek naar bruikbaar afvalmateriaal, zag hij een door een kind op een muur geschreven tekst: 'Anna Blume heeft een vogel'. Die tekst heeft in de Duitse taal een dubbele bodem en kan ook betekenen: 'Anna Blume is gek'. Schwitters zou Anna Blume onsterfelijk maken met zijn ironische liefdesverklaring aan een onbekende vrouw. In 1919 werd zijn gedicht An Anna Blume voor het eerst gepubliceerd. Het is een van de meest onzinnige en tegelijkertijd een van de mooiste liefdesgedichten uit de Duitse literatuur.
Blauw is de kleur van jouw gele haren,
Rood is de kleur van jouw groene vogel.
Jij onopvallend meisje in je alledaagse kleren,
Jij lief groen dier, ik hou van jou!
In september 1922 organiseerden Theo en Nelly van Doesburg in Weimar een dadaïstische voorstelling waaraan ook Hans Arp, Tristan Tzara en Kurt Schwitters deelnamen. Vanwege het grote succes zou de voorstelling worden herhaald in Jena en Hannover en werden er  plannen gemaakt voor een serie optredens in Nederland. Uiteindelijk zou alleen Kurt Schwitters de reis naar Nederland maken. In januari en februari 1923 werden er een hele reeks dada-avonden gehouden, voornamelijk in het westen van het land. Uitzonderingen waren de voorstellingen in Den Bosch en Tilburg op 25 en 27 januari. Aan het begin van de dada-veldtocht, zoals de reeks dada-avonden later zou worden genoemd, schreef Van Doesburg aan  Antony Kok: "De dada avonden zijn reusachtig. (…) In Haarlem, waar we Donderdagavond waren, zijn de menschen door de politie uiteengejaagd'.
De voorstellingen, die konden rekenen op grote publieke belangstelling, verliepen, zoals ook voor een deel gepland, volkomen chaotisch. Van Doesburg begon met het op serieuze toon voorlezen van zijn manifest: Wat is dada?, daarbij voortdurend onderbroken door Schwitters, die vanuit de zaal allerlei dierengeluiden nabootste. Schwitters droeg zelf An Anna Blume voor en een aantal -voor het publiek soms totaal onbegrijpelijke- klank- en cijfergedichten. Nelly van Doesburg zorgde voor enkele muzikale intermezzo's op de piano. Bij sommige dadavoorstellingen was het tumult zo groot, dat de kranten er ruim aandacht aan besteedden: "De zaal buldert van den lach. Schwitters kan bijna niet verder, maar houdt vol. (…) Hij is onverstoorbaar. Het publiek brult, blaast, gilt, maakt allerlei geluiden, een fluitje komt boven alles uit."
Het succes van de sympathieke Schwitters stimuleerde Antony Kok tot het schrijven van enkele dadaïstische gedichten. Vanaf 1921 had Schwitters bijdragen geleverd aan De Stijl en de kontakten met de Duitse abonnees verzorgd. Op zijn beurt zou hij een speciaal nummer van zijn eigen tijdschrift Merz wijden aan het dadaïsme in Holland, met bijdragen van Van Doesburg en Kok.
Kurt Schwitters was er de man niet naar om een blad voor de mond te nemen, ook niet bij de opkomst van het nationaal-socialisme. Legendarisch zijn de verhalen over zijn persoonlijke verzet tegen de nieuwe machthebbers. Tijdens een van zijn optredens nodigde hij het publiek uit om een door hem meegebrachte foto van Hitler te bespugen in plaats van te applaudisseren. In 1936 werd een van zijn schilderijen door de nazi's geëxposeerd op een tentoonstelling van 'Entartete Kunst' en gekwalificeerd als 'volkomen krankzinnig'. Schwitters trok zich steeds meer terug om te werken aan zijn Merzbau. In 1937 vluchtte hij naar Noorwegen. Zijn vrouw Helma bleef in Hannover achter. Totaal ontredderd schreef hij: "Alles bij elkaar is het leven zo afgrijselijk, dat je beter nooit geboren had kunnen zijn".
Bij de inval van de Duitsers in Noorwegen, in juni 1940, vluchtte hij opnieuw voor zijn landgenoten, nu naar Engeland. In december 1944 bereikte Schwitters voor het eerst sinds jaren weer nieuws uit Hannover. Zijn vrouw was tijdens een bombardement omgekomen, zijn huis en zijn Merzbau waren vernietigd. Hij zou nooit meer terugkeren naar 'het land van de waanzin'.
Kurt Schwitters moet nog vaak hebben teruggedacht aan de tijd van zijn vriendschap met Theo van Doesburg. In 1947, een jaar voor zijn dood, schreef hij aan Nelly van Doesburg: "Ik leef nog steeds in die tijd en heb mij niet verder ontwikkeld, omdat ik denk dat tóen onze beste tijd was".
(Brabants Dagblad, 27 augustus 1999)

6 Portraits: Theo van Doesburg, Antony Kok, Piet Mondriaan,
Kurt Schwitters, Lena Milius & Nelly van Moorsel
by Jef van Kempen
Published in: Het Brabants Dagblad, 1999-2000

More in: #Archive A-Z Sound Poetry, Essays about Van Doesburg, Kok, Mondriaan, Schwitters, Milius & Van Moorsel, Jef van Kempen, Kurt Schwitters, Kurt Schwitters, Schwitters, Kurt
---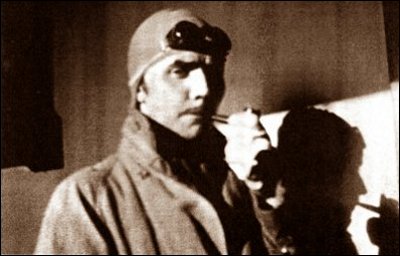 I. K.  B o n s e t

(Theo van Doesburg)

Anthologie Bonset

De Stijl 1921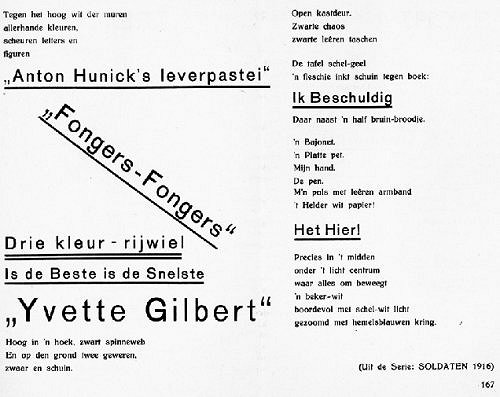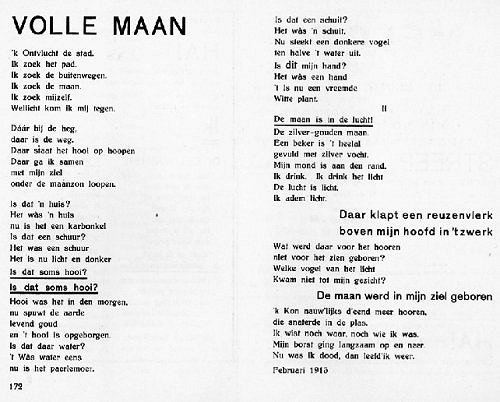 Theo van Doesburg (I.K. Bonset) De Stijl 1921
kemp=mag poetry magazine – magazine for art & literature
More in: #Archive A-Z Sound Poetry, *Concrete + Visual Poetry A-E, Dada, Doesburg, Theo van, Theo van Doesburg (I.K. Bonset)
---
Older Entries »
Thank you for reading FLEURSDUMAL.NL - magazine for art & literature