#Archive A-Z Sound Poetry
·
Kae (Kate) Tempest: Announcing On Connection
·
John Cooper Clarke: I Wanna Be Yours
·
Dichter Jules Deelder overleden
·
Eardrums. Literary Modernism as Sonic Warfare by Tyler Whitney
·
Kate Tempest nieuwe CD: Book of Traps and Lessons
·
MUSEUM VALKENBURG GEDENKT 50e STERFDAG VAN JAN HANLO
·
Kunstenfestival Watou 2019 van 29 juni tot en met 1 september
·
50th Poetry International Festival Rotterdam. Going for gold from 13 – 16 June 2019
·
Poëzieweek & Gedichtendag 2019 (31 januari t.m. 6 februari)
·
David Lynch: Someone is in my House. Retrospectief in Bonnefantenmuseum
·
Gerald Janecek: Everything Has Already Been Written. Moscow Conceptualist Poetry and Performance
·
Kafka and Noise. The Discovery of Cinematic Sound in Literary Modernism by Kata Gellen
This is a meditation on the power of creative connection. Drawing on twenty years' experience as a writer and performer, Kae Tempest explores how and why creativity – however we choose to practise it – can cultivate greater self-awareness and help us establish a deeper relationship between ourselves and the world. Honest, tender and written with piercing clarity, On Connection is a call to arms that speaks to a universal yet intimate truth.
On Connection will be the first work published under their new name and pronouns. Kate to Kae. She/Her to They/Them. Pronounced like the letter 'K'. For more information visit kaetempest.co.uk.
Kae Tempest is an award-winning, Sunday Times-bestselling author, poet and recording artist. Tempest won the 2013 Ted Hughes Award, was nominated for a Costa Book Award and a BRIT Award, has been shortlisted for the Mercury Prize twice and was nominated for two Ivor Novello Awards. They were also named a Next Generation Poet by the Poetry Book Society, a decennial accolade. They released their fourth studio album, The Book of Traps and Lessons, in 2019, produced by Rick Rubin. Tempest grew up in South-East London, where they still live. @kaetempest
Letter from Kae/Kate Tempest to the readers:
I've been struggling to accept myself as I am for a long time. I have tried to be what I thought others wanted me to be so as not to risk rejection. This hiding from myself has led to all kinds of difficulties in my life. And this is a first step towards knowing and respecting myself better. I've loved Kate. But I am beginning a process and I hope you'll come with me … [Kae is] an old English word that means jay bird. Jays are associated with communication, curiosity, adaptation to new situations and COURAGE which is the name of the game at the moment. It can also mean jackdaw which is the bird that symbolises death and rebirth. Ovid said the jackdaw brought the rain. Which I love. It has its roots in the Latin word for rejoice, be glad and take pleasure. And I hope to live more that way each day … This is a time of great reckoning. Privately, locally, globally. For me, the question is no longer 'when will this change' but 'how far am I willing to go to meet the changes and bring them about in myself.' I want to live with integrity. And this is a step towards that. Sending LOVE always.
Instagram 06-08-2020
On Connection
by Kae Tempest (Author)
Hardcover
144 pages
ISBN-10 : 0571354025
ISBN-13 : 978-0571354023
Product Dimensions : 11.1 x 1 x 17.8 cm
Publisher : Faber & Faber
Language: : English
Main Edition (2020)
Price £9.99
• fleursdumal.nl magazine
More in: #Archive A-Z Sound Poetry, Archive S-T, Archive S-T, Art & Literature News, Kate/Kae Tempest, Tempest, Kate/Kae
---
The poet laureate of Punk holds forth in inimitable fashion about his sprawling, idiosyncratic career and the stars and artists with whom he has worked and been championed by. Brimming with his distinctive dry humour and wordplay, I Wanna Be Yours is a beautifully rambling memoir for lifelong fans and new converts alike.
This is a memoir as wry, funny, moving and vivid as only John Cooper Clarke could deliver. Inimitable and iconic, his book will be a joy for both lifelong fans and for a whole new generation.
John Cooper Clarke is a phenomenon: Poet Laureate of Punk, rock star, fashion icon, TV and radio presenter, social and cultural commentator, reluctant national treasure. At 5 feet 11 inches (116lb, 32in chest, 27in waist), in trademark suit jacket, skin-tight drainpipes and dark glasses, with jet-black back-combed hair and mouth full of gold teeth, he is instantly recognizable. As a writer his voice is equally unmistakable and his inimitable dry Salford drawl shines through the prose.
I Wanna Be Yours covers an extraordinary life, filled with remarkable personalities: from Nico to Chuck Berry, from all the great punks to Bernard Manning, and on to more recent fans and collaborators Alex Turner and Plan B – who have championed his work. Interspersed with stories of his rock and roll and performing career, John also reveals his boggling encyclopaedic knowledge of twentieth-century popular culture, his private passions and guilty pleasures: from Baudelaire, Pam Ayres and Rimbaud to football to Coronation Street, comprising horse racing and gambling, politics and jokes – and much more.
'John Cooper Clarke is one of Britain's outstanding poets. His anarchic punk poetry has thrilled people for decades and his no nonsense approach to his work and life in general has appealed to many people including myself for many years. Long may his slender frame and spiky top produce words and deeds that keep us on our toes and alive to the wonders of the world.' – Sir Paul McCartney
I Wanna Be Yours (Hardback)
John Cooper Clarke (author)
Publisher: Pan Macmillan
ISBN: 9781509896103
Number of pages: 320
Hardback
Coming soon
01/10/2020
£20.00
# new books
John Cooper Clarke
I Wanna Be Yours
• fleursdumal.nl magazine
More in: # Punk poetry, #Archive A-Z Sound Poetry, *Concrete + Visual Poetry A-E, Archive C-D, Archive C-D
---
Op 19 december 2019 is – na een zeer kort ziekbed – overleden dichter J.A. (Jules) Deelder. De dichter werd volgens zijn familie "tot zijn eigen verbazing" 75 jaar oud.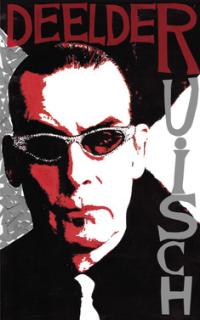 Jules Deelder (Rotterdam, 1944 – 2019) was een opvallende verschijning en erg geliefd als schrijver, dichter, muzikant en performer. Hij was zijn leven lang een groot liefhebber van Jazz en fan van de Rotterdamse voetbalclub Sparta. De club riep hem, kort voor zijn dood, nog uit tot lid van verdienste. Verder stond Deelder bekend als 'De nachtburgemeester van Rotterdam'.
Jules Deelder werd gerekend tot de 'performance poets' ( of 'popdichters') een beweging die aansloot bij de 'Beat Generation' van Amerikaanse dichters als Allen Ginsberg en Jack Kerouac.
De familie van Deelder en uitgeverij De Bezige Bij, staan met dit gedicht stil bij zijn overlijden:
Zijn gaan is
een komen
Zijn komen
een gaan
Hij houdt niet
van zitten
Hij blijft
liever staan
Zichzelf
en de wereld
een raadsel
(Uit: De Zwarte Jager – J.A. Deelder, 1973)
I.M.
Jules Deelder
(1944 – 2019)
• fleursdumal.nl magazine
More in: # Music Archive, #Archive A-Z Sound Poetry, #Beat Generation Archives, #Editors Choice Archiv, Archive C-D, Archive C-D, In Memoriam, Jules Deelder
---
In this innovative study, Tyler Whitney demonstrates how a transformation and militarization of the civilian soundscape in the late nineteenth and early twentieth centuries left indelible traces on the literature that defined the period.

Both formally and thematically, the modernist aesthetics of Franz Kafka, Robert Musil, Detlev von Liliencron, and Peter Altenberg drew on this blurring of martial and civilian soundscapes in traumatic and performative repetitions of war.

At the same time, Richard Huelsenbeck assaulted audiences in Zurich with his "sound poems," which combined references to World War I, colonialism, and violent encounters in urban spaces with nonsensical utterances and linguistic detritus—all accompanied by the relentless beating of a drum on the stage of the Cabaret Voltaire.
Eardrums is the first book-length study to explore the relationship between acoustical modernity and German modernism, charting a literary and cultural history written in and around the eardrum. The result is not only a new way of understanding the sonic impulses behind key literary texts from the period. It also outlines an entirely new approach to the study of literature as as the interaction of text and sonic practice, voice and noise, which will be of interest to scholars across literary studies, media theory, sound studies, and the history of science.
Tyler Whitney is an assistant professor of German at the University of Michigan.
Tyler Whitney (Author)
Eardrums.
Literary Modernism as Sonic Warfare
Cloth Text – $99.95
ISBN 978-0-8101-4022-6
Paper Text – $34.95
ISBN 978-0-8101-4021-9
Northwestern University Press
Publication Date June 2019
Literary Criticism
232 pages
Price: $24.00
# new books
Tyler Whitney
Eardrums.
Literary Modernism as Sonic Warfare
• fleursdumal.nl magazine
More in: # Music Archive, #Archive A-Z Sound Poetry, *War Poetry Archive, - Book News, - Book Stories, Archive W-X, AUDIO, CINEMA, RADIO & TV, DADA, Dadaïsme, Kafka, Franz, Modernisme, Visual & Concrete Poetry
---
Kate Tempest is een Londense rapper, dichter en toneelschrijfster. Ze bracht al twee soloalbums uit, namelijk 'Everybody Down' in 2014 en 'Let Them Eat Chaos' in 2016, beiden werden genomineerd voor een Mercury Prize.
Ook bracht ze meerdere dichtbundels en een roman uit en schreef ze drie toneelstukken, maar nu is het tijd voor haar derde album.
Net als haar vorige twee albums zal 'The Book Of Traps And Lessons' een narratief karakter kennen en bestaan uit meerdere nummers die bedoeld zijn om in één zitting te beluisteren.

Tempest werkte de afgelopen vijf jaar aan dit album.
Nadat producer Rick Rubin contact met haar zocht, maakte ze enkele demo's, maar die sloten niet aan bij wat de twee samen wilden maken.

Daarom werd het maken van 'The Books Of Traps And Lessons' even op pauze gezet en verscheen 'Let Them Eat Chaos' eerder (in 2016).
Ondertussen werd er langzaam doorgewerkt aan het album, samen met Rubin trad Tempest in detail en ging op zoek naar de kern van haar werk, de tekst die los kwam te staan van de beat.

Het is dan ook niet gek dat we op dit album minder begeleidende muziek horen dan op haar eerdere twee albums.
Kate Tempest hoopt dat mensen zich met het album zullen vereenzelvigen en als gevolg beter met zichzelf en met anderen gaan verbinden.
Tracklist
1. Thirsty
2. Keep Moving Don't Move
3. Brown Eyed Man
4. Three Sided Coin
5. I Trap You
6. All Humans Too Late
7. Hold Your Own
8. Lessons
9. Firesmoke
10. Holy Elixir
11. People's Faces
Artiest: Kate Tempest
Releasedatum: 14 juni 2019
Label: Universal Music
EAN 0602577583872
CD (ALBUM)
Standard Edition
1 disk
Speelduur 45:00
Stereo
Taal: Engels
Alternative Hip hop
# more on website kate tempest
# New CD
Kate Tempest
Book of Traps and Lessons
2019
• fleursdumal.nl magazine
More in: # Music Archive, #Archive A-Z Sound Poetry, Archive S-T, Archive S-T, Art & Literature News, AUDIO, CINEMA, RADIO & TV, Kate/Kae Tempest, Poetry Slam, STREET POETRY, Street Poetry, Tempest, Kate/Kae
---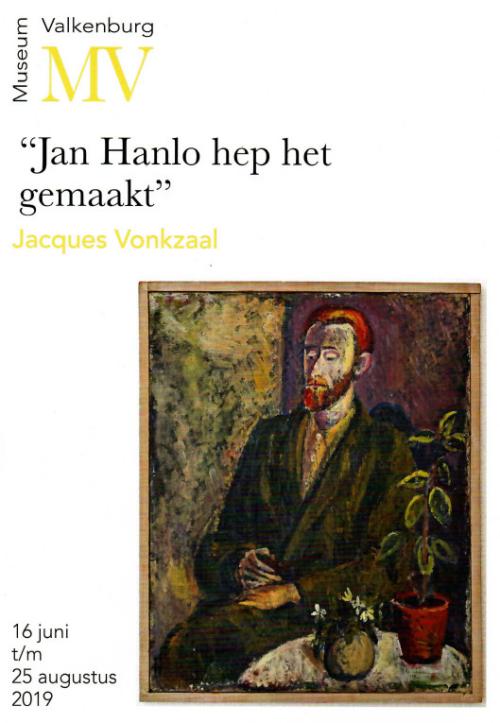 Op 16 juni 2019 was het vijftig jaar geleden dat de dichter Jan Hanlo overleed. Museum Valkenburg gedenkt Jan Hanlo met een mooie expositie van zijn werk in de Jacques Vonkzaal.
Afgelopen maanden heeft een werkgroep van Jan Hanlo-kenners – dichter en letterkundige Wiel Kusters, Ser J.L. Prop en Jan Schurgers – met vertegenwoordigers van het museum de tentoonstelling voorbereid. Stukken uit de nalatenschap van Hanlo in het Literatuurmuseum in Den Haag zijn doorvorst en geselecteerd. Niet alleen zijn literaire werk is vertegenwoordigd, ook zijn er aquarellen en kindertekeningen van Jan Hanlo te zien. Prof. Wiel Kusters noemt de expositie een waardige hommage aan een groot en oorspronkelijk dichter.
Johannes Bernardus Maria Raphaël Hanlo (1912–1969) woonde een groot deel van zijn leven in Valkenburg. Hij werd in 1912 geboren in Bandung, het toenmalige Nederlands Indië. Zijn vader was voorzitter van de Landraad in Bandung, zijn moeder dochter van een Deurnese gemeente arts. Nog in het jaar van zijn geboorte scheidden zijn ouders en kwam moeder met Jan terug naar Deurne.

In 1927 namen ze hun intrek in Valkenburg. Jan werd als 15-jarige ingeschreven op het Sint Bernardinuscollege in Heerlen. Als scholier schreef hij al zijn eerste gedichten. Na het eindexamen volgde een studie M.O. Engels en in 1942 ging hij psychologie studeren in Amsterdam. Tot 1958 werkte Hanlo als leraar Engels aan Instituut Schoevers in Amsterdam. Door ziekte van zijn moeder besloot hij definitief naar Valkenburg terug te keren. Na haar overlijden bleef hij tot zijn dood in Valkenburg wonen, in het poortwachtershuisje van Geerlingshof in Strabeek.
De tentoonstelling in Museum Valkenburg bestaat uit documenten, foto's en teksten, afkomstig uit de collectie van het Literatuurmuseum in Den Haag en uit particuliere verzamelingen.
Tot en met zondag 25 augustus 2019 in Museum Land van Valkenburg, Valkenburg (LB): 'Jan Hanlo hep het gemaakt'.

Museum Land van Valkenburg
Grotestraat Centrum 31
6301 CW Valkenburg
+31 43 601 6394
Website: https://www.museumvalkenburg.nl/
• fleursdumal.nl magazine
More in: #Archive A-Z Sound Poetry, *Concrete + Visual Poetry F-J, - Book Stories, Archive G-H, Archive G-H, Art & Literature News, Hanlo, Jan, Literary Events
---
Elke zomer opnieuw slaat het Kunstenfestival van Watou haar tenten op in het gelijknamige kunstdorpje aan de Franse grens. Dichters en beeldend kunstenaars, aanstormend talent en gevestigde waarden, kunstwerken uit binnen- en uit buitenland strijken er neer en vormen een bijzonder kunstenparcours.

Het dorp is de setting en biedt een tiental karakteristieke locaties als tentoonstellingsruimte: een voormalig klooster, een oude boerderij of de kelder van een brouwerij. De wisselwerking tussen die verrassende, nostalgische ruimtes met hedendaagse beeldende kunst en poëzie zorgt telkens weer voor een unieke kunstbeleving. Zomeren in Watou is dan ook prikkelen en onthaasten tegelijk. Kleine momenten van gelukzaligheid.
Iedere editie van het Kunstenfestival kadert in een ander thema, waarrond intendant Jan Moeyaert en poëziecurator Willy Tibergien beeld en taal samenbrengen. Schrijvers, dichters en kunstenaars palmen gedurende een zomer het dorp in en bieden de bezoekers een caleidoscoop aan inzichten en perspectieven rond een bepaald onderwerp.
Voor het zesde jaar op rij start een bezoek aan Kunstenfestival Watou in het Festivalhuis op het Watouplein. U vindt er niet alleen het onthaal en de festivalshop, maar kan er ook terecht voor alle info over de projecten die in de kantlijn van het Kunstenfestival groeien. Zo kijken we er in onze Blauwe kamer zoals elk jaar even binnen in het hoofd van een creatieve maker, focussen we in de boekshop extra op poëzie en literatuur en starten en eindigen onze jongste bezoekers hier het kinderparcours. Wie graag even de rust opzoekt, is welkom onder onze treurwilg in de Festivaltuin.
Kunstenfestival Watou, dat is kunst kijken en poëzie proeven op spannende locaties, ook voor ons jongste publiek. Het centrale thema van de tentoonstelling, en dan specifiek de zin 'niets bestaat dat niet iets anders aanraakt', keert dan ook terug in het kinderparcours.

Auteur Anne-Marie Van Herck en illustratrice Inge Bogaerts ontwikkelden op basis van hun boekenreeks Adem in, adem uit, een belevingsinstallatie in de Parochiezaal waar families even tot rust kunnen komen en contact kunnen maken met zichzelf en elkaar.
De installatie helpt om plaats te maken in onze hoofden voor de dingen die er echt toe doen. Het eerste boek in de reeks heet Reis in de aarde, en ook dat vindt een plaats op het parcours, in de veranda van het Festivalhuis. Daar werd een luisterplek ingericht waar kinderen zich nog eens kunnen verdiepen in hun innerlijke gevoelswereld.
Om het educatieve luik verder wat extra kleur te geven, maakte Inge Bogaerts op vraag van Kunstenfestival Watou ook een gidsend boekje vol verbinding en rust. Aan de hand van allerlei leuke denk- en doe-opdrachten gaan de kinderen samen met hun gidsen Ti, Mo en Thé op wandel langsheen de kunstwerken op het parcours. Wie de opdrachten tot een goed einde brengt, komt bovendien ook steeds dichterbij de schatkist…
De afgelopen edities van Kunstenfestival Watou groeide er ook gestaag een nieuwe poëtische lijn in het dorp. Ook dit jaar selecteerde poëziecurator Willy Tibergien gedichten van gevestigde waarden in het Nederlandstalig poëzielandschap om hen een permanente plaats te geven in Watou. Aan het werk van Eddy van Vliet, Paul Snoek, Remco Campert, Hugues C. Pernath, Jean-Claude Pirotte, Leo Vroman, Miriam Van hee, Stefan Hertmans, Gerrit Kouwenaar en Marc Insingel, Leonard Nolens, Christine D'Haen, Joost Zwagerman, Jotie T'Hooft, Charles Ducal en Luuk Gruwez, Anna Enquist, Eva Gerlach en Frans Deschoemaeker wordt dit jaar werk van Eriek Verpale, Menno Wigman en Herman De Coninck toegevoegd.
Tentoonstelling
Poëzie
Catalogus
Zomerzinnen
Kantlijnen
Kinderparcours
Kunstenfestival Watou 2019 vindt plaats van 29 juni tot en met 1 september
Open # woensdag tot zondag van 11u tot 19u # maandag en dinsdag gesloten, behalve op feestdagen
Adres # Watouplein 12 # 8978 Watou # Poperinge (België)
Meer informatie
# website kunstenfestival watou
• fleursdumal.nl magazine
More in: #Archive A-Z Sound Poetry, #Archive Concrete & Visual Poetry, - Book News, Art & Literature News, AUDIO, CINEMA, RADIO & TV, Exhibition Archive, Historia Belgica, Visual & Concrete Poetry, Watou Kunstenfestival
---
This year, the Poetry International Festival Rotterdam turns 50!
The milestone makes it the oldest festival in the city, and one of the oldest in the country, with a wealth of history and highlights. Nobel Prize-winning poets once stood on Poetry's stages as bright young talents, and the festival is both a shining example for, and founding parent of, poetry festivals worldwide.
Poetry International celebrates its golden anniversary with an extra festive edition at Concertgebouw De Doelen, which also hosted the debut festival back in 1970. Trailblazing poets will deliver transformative work thrumming with the now.
Unique fusions of poetry by engaging artists from the worlds of music, cinema, and dance amplify the power, the beauty, and the personal impact of poetry, here in the form of an intimate reading or workshop, there as a multidisciplinary theatrical poetry spectacle. Right in the heart of the city, inviting, challenging, unmissable.
What Happened to the Future? Since 1970, poetry luminaries from all over the world travel to Rotterdam for the annual Poetry International Festival. Thousands of poets have shared their work on the stages of De Doelen and the Schouwburg, but also in the city's squares, parks, and trams. A landmark anniversary like this is an invitation to look back and celebrate the past, but at the same time, Poetry International will be looking ahead. Under the title What Happened to the Future?, the 50th Poetry International Festival unites its rich history with the world's poems and poets of today and tomorrow.
The Metropole Orchestra – nominated for 18 Grammy Awards – will open the 50th Poetry International Festival with a literal bang. In this theatrical kick-off, the orchestra will perform unique duets with poets, including the legendary Last Poets, godfathers of hip hop and spoken word. Inspired by the festival's theme, "What Happened to the Future?", poets from the festival's rich past, such as Judith Herzberg, Antjie Krog, Rita Dove, Raúl Zurita, and Tom Lanoye, will perform side by side with poets of a more recent vintage, such as Marieke Lucas Rijneveld, Koleka Putuma, Patricia Lockwood, Lieke Marsman, Frank Báez, Sayaka Osaki, Ulrike Almut Sandig, and Galina Rymboe. Whether rooted in the past or inspired by the future, their readings will festively raise the curtains on this golden-anniversary edition.
From festival hub De Doelen, Poetry International will take you on a poetic walking tour through the heart of Rotterdam. Led by a guide from UrbanGuides, you will discover extraordinary art in public spaces and have surprising encounters with festival poets and spoken-word artists. Explore the city's hidden stories together!
Practical festival information
Following the Opening Night on 13 June the 50th Poetry International Festival will presents three days packed with readings, concerts, workshops, specials, poetic city walks, interviews, award ceremonies and book presentations. Check the changing starting times beforehand! Almost all programs take place or depart from De Doelen, in the heart of the city within a 5-minute walk of Rotterdam Central Station.
The 50th Poetry International Festival will kick-off on 13 June in the Main Auditorium of de Doelen. On 14, 15 and 16 June most events will take place in or around the Jurriaanse zaal. De Doelen is situated within walking distance of Rotterdam Central Station
# More information on website Poetry International Festival
• fleursdumal.nl magazine
More in: #Archive A-Z Sound Poetry, #More Poetry Archives, - Book News, Art & Literature News, AUDIO, CINEMA, RADIO & TV, LITERARY MAGAZINES, Marieke Lucas Rijneveld, MODERN POETRY, Poetry International, STREET POETRY, Tom Lanoye
---
Het thema van de Poëzieweek 2019 is Vrijheid, met als motto: Zonder handen, zonder tanden.
De week opent op donderdag 31 januari met Gedichtendag en wordt woensdagavond 6 februari feestelijk afgesloten met De Grote Poëzieprijs, de Awater Poëzieprijs en de Turing Gedichtenwedstrijd. Tom Lanoye schrijft het Poëziegeschenk Vrij – Wij?, cadeau van de boekwinkel bij aankoop van € 12,50 aan poëzie.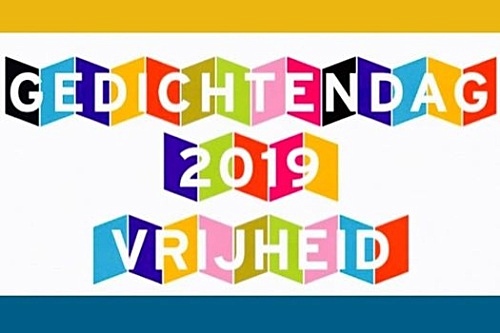 Met Gedichtendag (31 januari 2019) gaat op de laatste donderdag van januari traditiegetrouw de Poëzieweek van start. Gedichtendag, sinds 2000 georganiseerd door Poetry International Rotterdam, is hét poëziefeest van Nederland en Vlaanderen.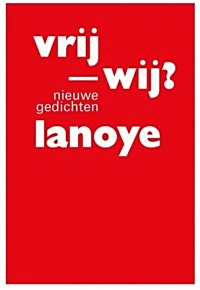 Poëzieliefhebbers in Nederland en Vlaanderen organiseren die dag een grote diversiteit aan eigen poëzieactiviteiten en ook de media klinken die dag een stuk poëtischer.
 Voor de enorme hoeveelheid optredens, publicaties, poëzieprijzen, -programma's en -activiteiten is één dag simpelweg veel te kort!
De Poëzieweek wil een zo groot mogelijk bereik voor poëzie creëren en bundelt tal van activiteiten van organisatoren in Nederland en Vlaanderen.
De Poëzieweek is een samenwerking van Stichting CPNB, Poëziecentrum, Stichting Poetry International, Vlaams Fonds voor de Letteren, Nederlands Letterenfonds, Stichting Lezen Nederland, Iedereen Leest Vlaanderen, De Schrijverscentrale, Boek.be, Taalunie, Stichting Van Beuningen/Peterich-fonds, Turing Foundation, Awater, Het Literatuurhuis, Poëzieclub, SLAG, School der Poëzie en De Nieuwe Oost | Wintertuin.
# Voor een overzicht van alle activiteiten zie de website POËZIEWEEK
• fleursdumal.nl magazine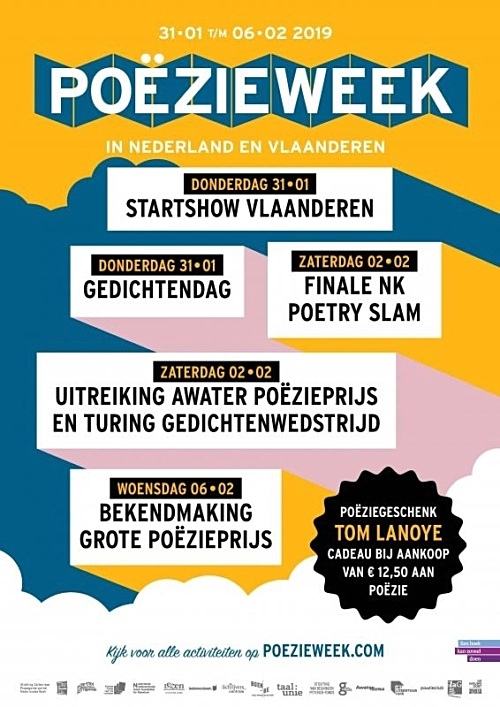 More in: #Archive A-Z Sound Poetry, #Archive Concrete & Visual Poetry, #More Poetry Archives, *War Poetry Archive, - Book Lovers, - Bookstores, Art & Literature News, LIGHT VERSE, Literary Events, MODERN POETRY, Poetry International, Poetry Slam, Poëziepaleis, Poëzieweek, STREET POETRY, THEATRE, Tilt Festival Tilburg, Tom Lanoye
---
Vanaf 30 november 2018 tot 28 april 2019 presenteert het Bonnefantenmuseum het omvangrijke retrospectief Someone is in my House van de Amerikaanse kunstenaar David Lynch.
Hoewel David Lynch onmiskenbaar een spilfiguur is in de internationale film- en tv-wereld, is zijn werk als beeldend kunstenaar veel minder bekend. Dat is op zijn minst vreemd, aangezien Lynch zelf altijd heeft bena­drukt dat hij zichzelf vóór alles ziet als beeldend kunste­naar.
Een beeldend kunstenaar die tijdens zijn studie aan de kunstacademie toevallig in aanraking kwam met het medium film, waarmee de basis gelegd werd voor zijn carrière als filmregisseur.
Naast zijn werk als regisseur is Lynch altijd actief gebleven als beeldend kunstenaar en heeft hij in de afgelopen decennia een grenzeloos oeuvre gecreëerd van onder andere schilderijen, tekeningen, litho's, foto's, lampsculpturen, muziek en installaties.
Een oeuvre dat tot nu toe nog maar zelden is belicht en in musea werd getoond. Met ruim 500 werken brengt het Bonnefantenmuseum niet alleen de eerste Nederlandse museumpresentatie van Lynch' beeldend oeuvre, maar ook de grootste overzichtstentoonstelling ooit.
David Lynch: Someone is in my House
30.11.2018 – 28.04.2019
David Lynch, beeldend kunstenaar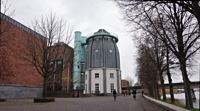 Anders dan het werk van Lynch (1946, Missoula, Montana, VS), vol duister geweld en seksua­liteit, doet vermoeden, is de kindertijd van de kunstenaar en filmmaker ge­lukkig en liefdevol.
Lynch groeit op met reislustige ouders en leidt op jonge leeftijd een nomadenbestaan, een voor hem idyllische en veilige omgeving. Van jongs af aan aangemoedigd om zich creatief te ontplooien – kleurboeken waren uit den boze, eigen verbeelding gebruiken was het credo – komt hij uiteindelijk op de Pennsylvania Academy of the Fine Arts in Philadelphia terecht om schilderkunst te studeren.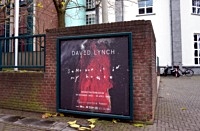 Hier ontwikkelt Lynch zijn artistieke vocabulaire en thema's die blijvend aanwezig zullen zijn in zijn werk. En hier ligt de voedingsbodem voor zijn eerste mixed-media installatie met stop-motion film Six Men Getting Sick (Six Times) (1967), die een opmaat vormde naar zijn eerste speelfilm, Eraserhead (1977). De rest is (film)geschiedenis en inmiddels zijn Lynch' films moderne klassiekers.
Lynch' kunstenaarschap loopt als een rode draad door zijn leven en films. Hij is gedurende zijn vijftigjarige carrière altijd blijven tekenen en schilde­ren, ook als er vanwege zijn werk als filmregisseur weinig tijd was om in het atelier door te brengen.
"I miss painting when I'm not painting", zegt Lynch zelf in de recente biografie Room to Dream. * David Lynch en Kristine McKenna. Room to Dream. Edinburgh, Canongate Books, 2018, p. 301
In samenwerking met David Lynch toont het Bonnefanten een indrukwekkend artistiek overzicht van het veelzijdige kunstenaarschap van Lynch.
De tentoonstelling omvat schilderijen, foto's, tekeningen, litho's en aquarellen uit de jaren 60 tot heden, unieke tekeningen op luciferboekjes uit de jaren 70, schetsboektekeningen uit de jaren 60/70/80, zwart-wit foto's uit verschillende periodes, waaronder de befaamde Snow Men-fotoserie (1993), cartoons uit de serie The Angriest Dog in the World (1982-1993), audiowerken én een aantal kortfilms uit 1968-2015.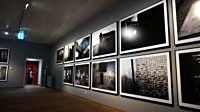 Voor het eerst sinds het ontstaan in 1967, zal ook het allesbepalende academiewerk Six Men Getting Sick (Six Times) in een museumtentoonstelling te zien zijn.
Publicatie
Bij de tentoonstelling verschijnt een rijk geïllustreerde monografie met tekstbijdragen van curator Stijn Huijts (artistiek directeur Bonnefantenmuseum), Kristine McKenna (journalist en curator, Verenigde Staten), Petra Giloy-Hirtz (schrijver en curator, Duitsland) en Michael Chabon (schrijver, Verenigde Staten). De publicatie is verkrijgbaar in het Nederlands, Engels en Frans en wordt uitgegeven door Uitgeverij Hannibal in samenwerking met Prestel.
Tentoonstellingsteaser
In aanloop naar zijn omvangrijke retrospectief Someone is in my House, maakte Lynch speciaal voor het Bonnefanten een unieke tentoonstellingsteaser. In deze typisch Lynchiaanse kortfilm, met in de hoofdrol naast Lynch zelf de 'White Monkey' – een personage dat eerder opdook in Lynch' Weird daily weather report – nodigt hij de kijker uit om naar het Bonnefanten te komen.
Flankerend programma
Parallel aan de tentoonstelling is er in samenwerking met Lumière Cinema in Maastricht een compleet filmretrospectief gewijd aan de films en het leven van David Lynch met filmvertoningen, documentaires en lezingen over de filmmaker.
Daarnaast brengt EYE filmmuseum drie digitaal gerestaureerde films opnieuw uit in de filmtheaters in heel het land. Voor meer informatie: https://www.eyefilm.nl/themas/gerestaureerde-david-lynch-klassiekers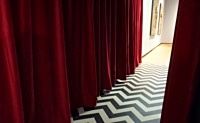 De philharmonie zuidnederland werkte met de Poolse componist Marek Zebrowski aan een compositie en uitvoering van Music for David, een strijkkwartet dat Zebrowski in 2015 componeerde als een hommage aan Lynch, die op zijn beurt de korte animatie film Pożar (Fire) maakte bij Zebrowski's compositie. Het muziekstuk zal een aantal keren live (op zaal) bij de film ten gehore worden gebracht.
# meer informatie op website Bonnefantenmuseum
# Expositie & publicatie
David Lynch: Someone is in my House
30.11.2018 – 28.04.2019

• photos: jef van kempen
• fleursdumal.nl magazine
More in: #Archive A-Z Sound Poetry, *Concrete + Visual Poetry K-O, - Book News, - Bookstores, Archive K-L, Art & Literature News, AUDIO, CINEMA, RADIO & TV, David Lynch, Exhibition Archive, FDM Art Gallery, Jef van Kempen Photos & Drawings, Museum of Literary Treasures, Photography, Tales of Mystery & Imagination, THEATRE
---
In this book, Gerald Janecek provides a comprehensive account of Moscow Conceptualist poetry and performance, arguably the most important development in the arts of the late Soviet period and yet one underappreciated in the West.
Such innovative poets as Vsevolod Nekrasov, Lev Rubinstein, and Dmitry Prigov are among the most prominent literary figures of Russia in the 1980s and 1990s, yet they are virtually unknown outside Russia. The same is true of the numerous active Russian performance art groups, especially the pioneering Collective Actions group, led by the brilliantly inventive Andrey Monastyrsky.
Everything Has Already Been Written strives to make Moscow Conceptualism more accessible, to break the language barrier and to foster understanding among an international readership by thoroughly discussing a broad range of specific works and theories.
Janecek's study is the first comprehensive analysis of Moscow Conceptualist poetry and theory, vital for an understanding of Russian culture in the post-Conceptualist era.
Gerald Janecek: is a professor emeritus of Russian at the University of Kentucky. He is the author of The Look of Russian Literature: Avant-Garde Visual Experiments, 1900–1930; ZAUM: The Transrational Poetry of Russian Futurism; and Sight and Sound Entwined: Studies of the New Russian Poetry; and the editor of Staging the Image: Dmitry Prigov as Artist and Writer.
Everything Has Already Been Written.
Moscow Conceptualist Poetry and Performance
Gerald Janecek (Author)
Publication Date: December 2018
Studies in Russian Literature and Theory
312 pages
Northwestern University Press
-Paper Text – $39.95
ISBN 978-0-8101-3901-5
-Cloth Text – $120.00
ISBN 978-0-8101-3902-2
# new books
Moscow Conceptualist Poetry and Performance
Gerald Janecek
fleursdumal.nl magazine
More in: #Archive A-Z Sound Poetry, #Archive Concrete & Visual Poetry, #Editors Choice Archiv, - Book News, Archive I-J, Art & Literature News, Chlebnikov, Velimir, Conceptual writing, FDM Art Gallery, Kharms (Charms), Daniil, Majakovsky, Vladimir, Performing arts, REPRESSION OF WRITERS, JOURNALISTS & ARTISTS, Visual & Concrete Poetry
---
A series of disruptive, unnerving sounds haunts the fictional writings of Franz Kafka.
These include the painful squeak in Gregor Samsa's voice, the indeterminate whistling of Josefine the singer, the relentless noise in "The Burrow," and telephonic disturbances in The Castle.
In Kafka and Noise, Kata Gellen applies concepts and vocabulary from film theory to Kafka's works in order to account for these unsettling sounds. Rather than try to decode these noises, Gellen explores the complex role they play in Kafka's larger project.
Kafka and Noise offers a method for pursuing intermedial research in the humanities—namely, via the productive "misapplication" of theoretical tools, which exposes the contours, conditions, and expressive possibilities of the media in question. This book will be of interest to scholars of modernism, literature, cinema, and sound, as well as to anyone wishing to explore how artistic and technological media shape our experience of the world and the possibilities for representing it.
Kata Gellen is an assistant professor in the Department of Germanic Languages and Literature at Duke University.
Kata Gellen (Author)
Kafka and Noise.
The Discovery of Cinematic Sound in Literary Modernism
272 pages
Northwestern University Press
Literary Criticism
Cloth Text – $99.95
ISBN 978-0-8101-3894-0
Paper Text – $34.95
ISBN 978-0-8101-3893-3
Publication Date: January 2019
# new books
The Discovery of Cinematic Sound in Literary Modernism
fleursdumal.nl magazine
More in: # Music Archive, #Archive A-Z Sound Poetry, #Archive Concrete & Visual Poetry, *Concrete + Visual Poetry K-O, - Book News, - Bookstores, Archive G-H, Archive K-L, Art & Literature News, Franz Kafka, Kafka, Franz, Kafka, Franz, Modernisme
---
Older Entries »
Thank you for reading FLEURSDUMAL.NL - magazine for art & literature