*Concrete + Visual Poetry F-J
·
Agnita Feis: De Soldaat (gedicht)
·
MUSEUM VALKENBURG GEDENKT 50e STERFDAG VAN JAN HANLO
·
MATHIAS JANSSON: " INK DROPS. . . " (AN ABSTRACT WORD POEM)
·
MATHIAS JANSSON: CLOUD-PAINTING
De Soldaat.
 
Geen mensch.
Geen dier.
Geen plant:
Een ding.
 
 
Het mort
noch klaagt:
Zijn kracht
verging.
 
 
Het lijdt.
Het sjouwt.
Het torst
gewicht.
 
 
Geen vreugd.
Geen lach
op zijn
gezicht.
 
 
Vraag.
 
 
O mensch,
mijn vriend,
waar gaat
dat heen?
 
 
Antwoord.
 
 
Het vuur,
de dood,
't Is mij
heusch één!
Agnita Feis
(1881 – 1944)
Uit: Oorlog. Verzen in Staccato (1916).
De Soldaat
• fleursdumal.nl magazine
More in: *Concrete + Visual Poetry F-J, *War Poetry Archive, Agnita Feis, Antony Kok, Archive E-F, Archive E-F, DADA, De Stijl, Feis, Agnita, Theo van Doesburg (I.K. Bonset)
---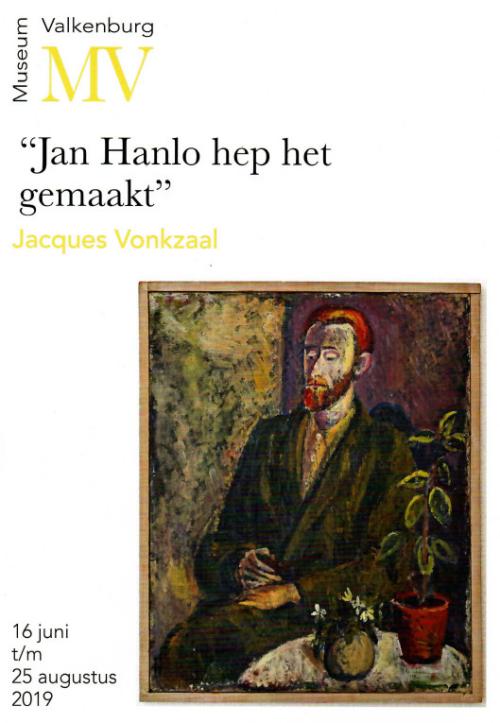 Op 16 juni 2019 was het vijftig jaar geleden dat de dichter Jan Hanlo overleed. Museum Valkenburg gedenkt Jan Hanlo met een mooie expositie van zijn werk in de Jacques Vonkzaal.
Afgelopen maanden heeft een werkgroep van Jan Hanlo-kenners – dichter en letterkundige Wiel Kusters, Ser J.L. Prop en Jan Schurgers – met vertegenwoordigers van het museum de tentoonstelling voorbereid. Stukken uit de nalatenschap van Hanlo in het Literatuurmuseum in Den Haag zijn doorvorst en geselecteerd. Niet alleen zijn literaire werk is vertegenwoordigd, ook zijn er aquarellen en kindertekeningen van Jan Hanlo te zien. Prof. Wiel Kusters noemt de expositie een waardige hommage aan een groot en oorspronkelijk dichter.
Johannes Bernardus Maria Raphaël Hanlo (1912–1969) woonde een groot deel van zijn leven in Valkenburg. Hij werd in 1912 geboren in Bandung, het toenmalige Nederlands Indië. Zijn vader was voorzitter van de Landraad in Bandung, zijn moeder dochter van een Deurnese gemeente arts. Nog in het jaar van zijn geboorte scheidden zijn ouders en kwam moeder met Jan terug naar Deurne.

In 1927 namen ze hun intrek in Valkenburg. Jan werd als 15-jarige ingeschreven op het Sint Bernardinuscollege in Heerlen. Als scholier schreef hij al zijn eerste gedichten. Na het eindexamen volgde een studie M.O. Engels en in 1942 ging hij psychologie studeren in Amsterdam. Tot 1958 werkte Hanlo als leraar Engels aan Instituut Schoevers in Amsterdam. Door ziekte van zijn moeder besloot hij definitief naar Valkenburg terug te keren. Na haar overlijden bleef hij tot zijn dood in Valkenburg wonen, in het poortwachtershuisje van Geerlingshof in Strabeek.
De tentoonstelling in Museum Valkenburg bestaat uit documenten, foto's en teksten, afkomstig uit de collectie van het Literatuurmuseum in Den Haag en uit particuliere verzamelingen.
Tot en met zondag 25 augustus 2019 in Museum Land van Valkenburg, Valkenburg (LB): 'Jan Hanlo hep het gemaakt'.

Museum Land van Valkenburg
Grotestraat Centrum 31
6301 CW Valkenburg
+31 43 601 6394
Website: https://www.museumvalkenburg.nl/
• fleursdumal.nl magazine
More in: #Archive A-Z Sound Poetry, *Concrete + Visual Poetry F-J, - Book Stories, Archive G-H, Archive G-H, Art & Literature News, Hanlo, Jan, Literary Events
---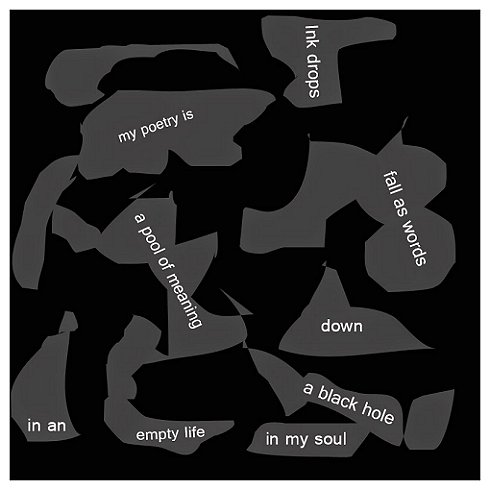 Mathias Jansson:  Abstract Word Poem  "Ink drops…"
Mathias Jansson is a Swedish art critic and poet. He has contributed with visual poetry to magazines as Lex-ICON, Anatematiskpress, Quarter After #4 and Maintenant 8: A Journal of Contemporary Dada. He has also published a chapbook at this is visual poetry and contributed with erasure poetry to anthologies from Silver Birch Press.
Homepage: http://mathiasjansson72.blogspot.se/ and http://wordshavenoeyes.blogspot.se/
fleursdumal.nl magazine

More in: *Concrete + Visual Poetry F-J, Jansson, Mathias, Mathias Jansson, Mathias Jansson, Visual & Concrete Poetry
---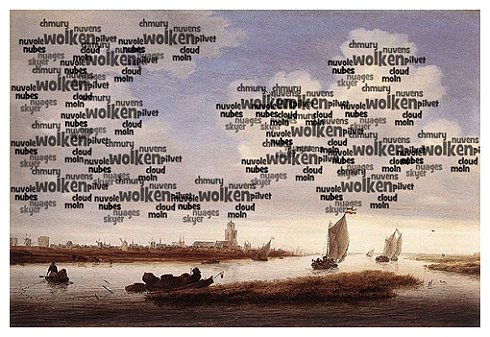 Mathias Jansson: Multi-language cloud-painting after Salomon van Ruisdael, "View of Deventer Seen from the North-West" (1657)
Mathias Jansson is a Swedish art critic and poet. He has contributed with visual poetry to magazines as Lex-ICON, Anatematiskpress, Quarter After #4 and Maintenant 8: A Journal of Contemporary Dada. He has also published a chapbook at this is visual poetry and contributed with erasure poetry to anthologies from Silver Birch Press.
Homepage: http://mathiasjansson72.blogspot.se/ and http://wordshavenoeyes.blogspot.se/
 fleursdumal.nl magazine
More in: *Concrete + Visual Poetry F-J, Jansson, Mathias, Mathias Jansson, Mathias Jansson, Visual & Concrete Poetry
---
Thank you for reading FLEURSDUMAL.NL - magazine for art & literature