– Bookstores
·
Sontag: Her Life and Work by Benjamin Moser
·
Forever Words. The Unknown Poems by Johnny Cash
·
Noor Unnahar: yesterday i was the moon (poetry)
·
Op 5 november verschijnt: Mijn lieve gunsteling, de nieuwe roman van Marieke Lucas Rijneveld
·
Guillotine. Poems by Eduardo C. Corral
·
Kinderboekenweek: En toen? Van 30 september t/m 11 oktober 2020
·
Independent Bookstore Day: saturday august 29, 2020
·
Weird Westerns. Race, Gender, Genre
·
The Memory Police by Yoko Ogawa
·
Roger Robinson: A Portable Paradise (Poetry)
·
Aria Aber: Hard Damage. Poetry
·
Zonal by Don Paterson
No writer is as emblematic of the American twentieth century as Susan Sontag. Mythologized and misunderstood, lauded and loathed, a girl from the suburbs who became a proud symbol of cosmopolitanism, Sontag left a legacy of writing on art and politics, feminism and homosexuality, celebrity and style, medicine and drugs, radicalism and Fascism and Freudianism and Communism and Americanism, that forms an indispensable key to modern culture. No writer negotiated as many worlds; no serious writer had as many glamorous lovers.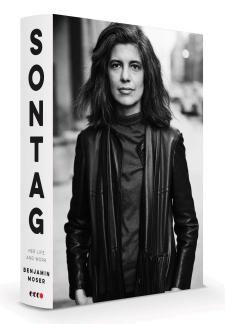 Sontag tells these stories and examines the work upon which her reputation was based. It explores the agonizing insecurity behind the formidable public face: the broken relationships, the struggles with her sexuality, that animated—and undermined—her writing.
And it shows her attempts to respond to the cruelties and absurdities of a country that had lost its way, and her conviction that fidelity to high culture was an activism of its own.
Utilizing hundreds of interviews conducted from Maui to Stockholm and from London to Sarajevo—and featuring nearly one hundred images—Sontag is the first book based on the writer's restricted archives, and on access to many people who have never before spoken about Sontag, including Annie Leibovitz.
It is a definitive portrait—a great American novel in the form of a biography.
About Benjamin Moser: Benjamin Moser was born in Houston. He is the author of Why This World: A Biography of Clarice Lispector, a finalist for the National Book Critics' Circle Award and a New York Times Notable Book of 2009. For his work bringing Clarice Lispector to international prominence, he received Brazil's first State Prize for Cultural Diplomacy. He has published translations from French, Spanish, Portuguese, and Dutch. He is a former books columnist for Harper's Magazine and The New York Times Book Review and has written for The New Yorker, Conde Nast Traveler, and The New York Review of Books.
Sontag: Her Life and Work
by Bejamin Moser
Winner of the Pulitzer Prize
for Biography
Publisher : Ecco
Illustrated edition
Language: : English
Sep 17, 2019
Hardcover
832 pages
ISBN-10 : 0062896393
ISBN-13 : 978-0062896391
$36.82
# new books
Susan Sontag
Biography
• fleursdumal.nl magazine
More in: #Biography Archives, - Book News, - Book Stories, - Bookstores, Archive S-T, Susan Sontag
---
These never-before-published poems by Johnny Cash make the perfect gifts for music lovers and fans alike.
Ed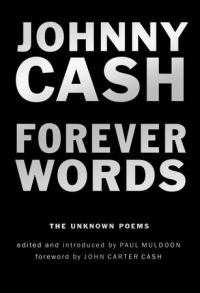 ited and introduced by Pulitzer Prize-winning poet Paul Muldoon with a foreword by John Carter Cash, this poetry collection is illustrated with facsimile reproductions of Cash's own handwritten pages. Now an album with music by Rosanne Cash, Brad Paisley, Willie Nelson, Kacey Musgraves, Elvis Costello, and more.
Since his first recordings in 1955, Johnny Cash has been an icon in the music world. In this collection of poems and song lyrics that have never been published before, we see the world through his eyes and view his reflection on his own interior reality, his frailties and his strengths alike.
In his hallmark voice, he pens verses about love, pain, freedom, and mortality, and expresses insights on culture, his family, his fame, even Christmas. Forever Words confirms Johnny Cash as a brilliant and singular American literary figure. His music is a part of our collective history, and here the depth of his artistry and talent become even more evident.
Forever Words
The Unknown Poems
By Johnny Cash
Category: Poetry | Music
Published by Blue Rider Press
Nov 15, 2016
144 Pages
ISBN 9780399575136
Hardcover $25.00
Nov 12, 2019
ISBN 9780399575150
Paperback
$18.00
# more poetry
Johnny Cash
Forever Words
The Unknown Poems
• fleursdumal.nl magazine
More in: #Editors Choice Archiv, - Book News, - Bookstores, Archive C-D, Archive C-D, Art & Literature News, Johnny Cash
---
Noor Unnahar is a young female voice with power and depth. The Pakistani poet's moving, personal work collects and makes sense of the phases of collapsing and rebuilding one's self on the treacherous modern path from teenager to adult.
Tinged with the heartbreak of a broken home and the complexity of a rich cultural background, yesterday i was the moon stands out from the Insta-poetry crowd as a collection worth keeping.
Noor Unnahar is a modern-day artist and poet whose work combines hand-written text, tactile collage, and photography to illuminate themes of hope, home, self-love, culture, acceptance, and survival.
yesterday i was the moon centers around themes of love and emotional loss, the catharsis of creating art, and the struggle to find one's voice. Noor's poetry ranges from succinct universal truths to flowery prose exploring her heritage, what it means to find a physical and emotional home, and the intimate and painful dance of self-discovery. Her poetry and art has already inspired thousands of fans on Instagram to engage with her words through visual journal entries and posts of their own, and her fan base only continues to grow.
yesterday i was the moon
By Noor Unnahar
Category: Poetry | Design
Paperback
160 pages
Mar 27, 2018
ISBN-13 : 978-0525576013
Publisher : Clarkson Potter (March 27, 2018)
Language: : English
$14.99
# new poetry
Noor Unnahar
yesterday i was the moon
• fleursdumal.nl magazine
More in: - Book News, - Bookstores, Archive U-V, Art & Literature News
---
Mijn lieve gunsteling, de nieuwe roman van Marieke Lucas Rijneveld, verschijnt op 5 november.
Het is het verhaal van de veearts en zijn 'uitverkorene', de dochter van een boer. Tijdens een hete zomer zoeken ze toenadering tot elkaar omdat ze willen ontsnappen aan de grilligheid en de leemten van het plattelandsleven en omdat ze willen ontkomen aan wat er in hen gezaaid is. Gedurende die zomer ontwikkelen ze een obsessieve fascinatie voor elkaar.
De beklemmende bekentenis Mijn lieve gunsteling is een hartverscheurend en tegelijk angstaanjagend verhaal over verlies, verboden liefde, eenzaamheid en identiteit. Het is daarmee een meer dan waardige opvolger van de debuutroman De avond is ongemak waarmee Marieke Lucas Rijneveld als eerste Nederlandse schrijver de International Booker Prize won.
Mijn lieve gunsteling
Marieke Lucas Rijneveld
ISBN 9789025470142
Pagina's: 368
Type: Hardback
Verwacht: november 2020
Prijs: 24,99
# New books
Marieke Lucas Rijneveld
Mijn lieve gunsteling
• fleursdumal.nl magazine
More in: - Book News, - Bookstores, Archive Q-R, Archive Q-R, Art & Literature News, Marieke Lucas Rijneveld, Rijneveld, Marieke Lucas
---
Guillotine traverses desert landscapes cut through by migrants, the grief of loss, betrayal's lingering scars, the border itself—great distances in which violence and yearning find roots.
Through the voices of undocumented immigrants, border patrol agents, and scorned lovers, award-winning poet Eduardo C. Corral writes dramatic portraits of contradiction, survival, and a deeply human, relentless interiority. With extraordinary lyric imagination, these poems wonder about being unwanted or renounced. What do we do with unrequited love? Is it with or without it that we would waste away?
In the sequence "Testaments Scratched into a Water Station Barrel," with Corral's seamless integration of Spanish and English, poems curve around the surfaces upon which they are written, overlapping like graffiti left by those who may or may not have survived crossing the border. A harrowing second collection, Guillotine solidifies Corral's place in the expanding ecosystem of American poetry.
The astonishing second collection by the author of Slow Lightning, winner of the Yale Younger Poets Prize
Eduardo C. Corral is the author of Slow Lightning, winner of the Yale Younger Poets Prize. He was a founding fellow of the CantoMundo Writers Conference, and recipient of a Whiting Award. He teaches at North Carolina State University.
Guillotine.
Poems
Eduardo C. Corral
ISBN: 978-1-64445-030-7
Format: Paperback
Publication Date: 8/4/20
Subject: Poetry
Pages 72
Graywolf Press, Minneapolis, Minnesota
Price $16.00
# new poetry
Guillotine.
Poems by
Eduardo C. Corral
• fleursdumal.nl magazine
More in: #Editors Choice Archiv, - Book News, - Bookstores, Archive C-D, PRESS & PUBLISHING
---
Tijdens de Kinderboekenweek 2020 gaan we terug in de tijd
Boeken brengen geschiedenis tot leven, waardoor de wereld van vroeger tastbaar wordt. Lees spannende verhalen over ridders, verplaats je in oorlogstijd of kom van alles te weten over de Oudheid. Je hebt geen tijdmachine nodig om andere tijden te ontdekken. Verken alle werelden van toen door het lezen van boeken!
30 september t/m 11 oktober 2020
Kinderboekenweek: En toen?
# website kinderboekenweek 2020
• fleursdumal.nl magazine
More in: - Book Lovers, - Book News, - Bookstores, Children's Poetry, Kinderboekenweek, Kinderstadsdichters / Children City Poets, Literary Events
---
  Independent Bookstore Day
  saturday august 29, 2020
• more on website indiebookstoreday
• https://www.indiebookstoreday.com/
• fleursdumal.nl magazine
More in: - Book Lovers, - Book News, - Bookstores, Art & Literature News, AUDIO, CINEMA, RADIO & TV, FDM in New York, The Art of Reading
---
Weird Westerns is an exploration of the hybrid western genre—an increasingly popular and visible form that mixes western themes, iconography, settings, and conventions with elements drawn from other genres, such as science fiction, horror, and fantasy.
Despite frequent declarations of the western's death, the genre is now defined in part by its zombie-like ability to survive in American popular culture in weird, reanimated, and reassembled forms.
The essays in Weird Westerns analyze a wide range of texts, including those by Native American authors Stephen Graham Jones (Blackfeet) and William Sanders (Cherokee); the cult television series Firefly and The Walking Dead; the mainstream feature films Suicide Squad and Django Unchained; the avant-garde and bizarre fiction of Joe R. Lansdale; the tabletop roleplaying game Deadlands: The Weird West; and the comic book series Wynonna Earp.
The essays explore how these weird westerns challenge conventional representations by destabilizing or subverting the centrality of the heterosexual, white, male hero but also often surprisingly reinforce existing paradigms in their inability to imagine an existence outside of colonial frameworks.
Author Bio:
Kerry Fine is an instructor in the Department of English at Arizona State University. Michael K. Johnson is a professor of English at the University of Maine–Farmington. Rebecca M. Lush is an associate professor at California State University, San Marcos. Sara L. Spurgeon is a professor of American literature at Texas Tech University.
Postwestern Horizons:
Postwestern Horizons encourages scholarship which rethinks and reimagines traditional western scholarship by challenging predominant paradigms, including revisionist ones, and dislocating our sense of region. By moving past the West as a national place, process, and idea to more methodologically innovative, transnationally daring, and theoretically fertile horizons of scholarship, this series encourages new ways of conceiving cultural production and reception. Postwestern Horizons encompasses studies of visual culture, environmental studies, literature, history, film studies, and much more.
Weird Westerns
Race, Gender, Genre
Edited by Kerry Fine, Michael K. Johnson, Rebecca M. Lush, and Sara L. Spurgeon
Postwestern Horizons Series
468 pages
Index
Paperback
August 2020
978-1-4962-2178-0
$35.00
Hardcover
August 2020
978-1-4962-2116-2
$70.00
# new books
Weird Westerns.
Race, Gender, Genre
• fleursdumal.nl magazine
More in: - Book News, - Bookstores, Art & Literature News, AUDIO, CINEMA, RADIO & TV, NONFICTION: ESSAYS & STORIES, Western Non-Fiction
---
Shortlisted for the International Booker Prize 2020, an enthralling Orwellian novel about the terrors of state surveillance from one of Japan's greatest writers.
Finalist for the International Booker Prize and the National Book Award.
A haunting Orwellian novel about the terrors of state surveillance, from the acclaimed author of The Housekeeper and the Professor.
On an unnamed island, objects are disappearing: first hats, then ribbons, birds, roses. . . . Most of the inhabitants are oblivious to these changes, while those few able to recall the lost objects live in fear of the draconian Memory Police, who are committed to ensuring that what has disappeared remains forgotten.
When a young writer discovers that her editor is in danger, she concocts a plan to hide him beneath her floorboards, and together they cling to her writing as the last way of preserving the past.
A surreal, provocative fable about the power of memory and the trauma of loss, The Memory Police is a stunning new work from one of the most exciting contemporary authors writing in any language.
Yoko Ogawa has won every major Japanese literary award. Her fiction has appeared in The New Yorker, A Public Space, and Zoetrope: All-Story. Her works include The Diving Pool, a collection of three novellas; The Housekeeper and the Professor; Hotel Iris; and Revenge. She lives in Hyogo.
The Memory Police
Yoko Ogawa
Published by Pantheon
Aug 13, 2019
ISBN 9781101870600
Hardcover
$25.95
Published by Vintage
Jul 28, 2020
ISBN 9781101911815
Paperback
$16.00
# new novel
The Memory Police
by Yoko Ogawa
• fleursdumal.nl magazine
More in: - Book News, - Bookstores, Archive O-P
---
Winner of the T.S. Eliot Prize 2020 and the RSL Ondaatje Prize!
These are finely crafted poems that reveal Roger Robinson's capacity to tell involving stories and capture the essence of a character in a few words, to move the emotions with the force of verbal expression, and engage our thoughts, as in the sequence of poems that reflect on just what paradise might be. A Portable Paradise is a feast to be carried by lovers of poetry wherever they go.
Roger Robinson's range is wide: the joys and pains of family life; the ubiquitous presence of racism, both subtle and unsubtle; observations on the threatening edge of violence below the surface energies of Black British territories in London; emblematic poems on the beauty and often bizarre strangeness of the world of animals; quizzical responses to the strange, the heartening, and the appalling in incidents or accounts of incidents encountered in daily life; reflections on the purposes and costs of making art, as in fine poems on a George Stubbs' painting, John Coltrane's Ascension and cocaine. Not least, in the sequence of poems that reflect on the meanings of the Grenfell Tower fire, Roger Robinson finds ways to move beyond a just indignation to uncover the undertones of experience that bring us nearer to the human reality of that event.
The collection's title points to the underlying philosophy expressed in these poems: that earthly joy is, or ought to be, just within, but is often just beyond our reach, denied by racism, misogyny, physical cruelty and those with the class power to deny others their share of worldly goods and pleasures. A Portable Paradise is not the emptiness of material accumulation, but joy in an openness to people, places, the sensual pleasures of food and the rewards to be had from the arts of word, sound and visual enticement – in short an "insatiable hunger" for life. The poems express a fierce anger against injustice, but also convey the irrepressible sense that Roger Robinson cannot help but love people for their humour, oddity and generosity of spirit.
These are finely crafted poems, that reveal Roger Robinson's capacity to tell involving stories and capture the essence of a character in a few words, to move the emotions with the force of verbal expression, and engage our thoughts, as in the sequence of poems that reflect on just what paradise might be. A Portable Paradise is a feast to be carried by lovers of poetry wherever they go.
• Roger Robinson is a writer and performer who lives between London and Trinidad. His first full poetry collection, The Butterfly Hotel, was shortlisted for The OCM Bocas Poetry Prize. He has toured extensively with the British Council and is a co-founder of both Spoke Lab and the international writing collective Malika's Kitchen.
• Review by Bernardine Evaristo for the New Statesman on Wednesday, November 13, 2019: "A Portable Paradise (Peepal Tree Press) is the fourth poetry collection by Trinidadian-British poet Roger Robinson. It's also his finest, ranging from the most breath-taking poems about the Grenfell Tower fire to the most exquisitely moving poems about the premature birth of his son, who had to fight for his life in an incubator. His poems are deep, mature, moving and inventive."
A Portable Paradise
Roger Robinson (author)
Publisher: Peepal Tree Press Ltd
ISBN: 9781845234331
Number of pages: 144
Dimensions: 206 x 135 mm
Paperback
Published: 08/07/2019
£9.99
# new poetry
Roger Robinson:
A Portable Paradise
• fleursdumal.nl magazine
More in: #Editors Choice Archiv, - Book News, - Bookstores, Archive Q-R, Archive Q-R, Art & Literature News, Awards & Prizes, Black Lives Matter
---
Hard Damage works to relentlessly interrogate the self and its shortcomings. In lyric and documentary poems and essayistic fragments, Aria Aber explores the historical and personal implications of Afghan American relations.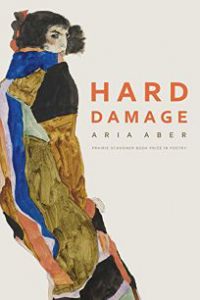 Drawing on material dating back to the 1950s, she considers the consequences of these relations—in particular the funding of the Afghan mujahedeen, which led to the Taliban and modern-day Islamic terrorism—for her family and the world at large.
Invested in and suspicious of the pain of family and the shame of selfhood, the speakers of these richly evocative and musical poems mourn the magnitude of citizenship as a state of place and a state of mind. While Hard Damage is framed by free-verse poetry, the middle sections comprise a lyric essay in fragments and a long documentary poem. Aber explores Rilke in the original German, the urban melancholia of city life, inherited trauma, and displacement on both linguistic and environmental levels, while employing surrealist and eerily domestic imagery.
  One hears everything here, where the landscape
  is a clean knife, slicing the mute—just a cat
  wiping its face, roofs with snow for weeks, ice
  falling from fir trees like books pushed off a shelf.
"The book is an academic asset. It is fine literature, from beyond the borders of the English-speaking sensibilities. Students of literature, political science, sociology, foreign affairs, and many other disciplines can benefit from Hard Damage…" – NY Journal of Books
Aria Aber was raised in Germany, where she was born to Afghan refugees. Her debut book Hard Damage won the Prairie Schooner Book Prize in Poetry and will be published in September 2019. Her poems are forthcoming or have appeared in The New Yorker, New Republic, Kenyon Review, The Yale Review, Poem-A-Day, Narrative, Muzzle Magazine, Wasafiri and others. A graduate from the NYU MFA in Creative Writing, where she was the Writers in Public Schools Fellow, she holds awards and fellowships from Kundiman and Dickinson House and was the 2018-2019 Ron Wallace Poetry Fellow at the Wisconsin Institute of Creative Writing. She's currently based in Berlin and is at work on her second book.
Aria Aber (Author)
Hard Damage
Poetry
Series: Prairie Schooner Book Prize in Poetry
Paperback
126 pages
Publisher: University of Nebraska Press
2019
Language: English
ISBN-10: 1496215702
ISBN-13: 978-1496215703
Product Dimensions:
6 x 0.3 x 9 inches
$17.95
# new books
Aria Aber:
Hard Damage
Poetry
• fleursdumal.nl magazine
More in: #Editors Choice Archiv, - Book News, - Bookstores, Archive A-B, Archive A-B, Art & Literature News
---
Don Paterson's new collection of poetry starts from the premise that the crisis of mid-life may be a permanent state of mind.
Zonal is an experiment in science-fictional and fantastic autobiography, with all of its poems taking their imaginative cue from the first season of The Twilight Zone (1959-1960), playing fast and loose with both their source material and their author's own life. Narrative and dramatic in approach, genre-hopping from horror to Black Mirror-style sci-fi, 'weird tale' to metaphysical fantasy, these poems change voices constantly in an attempt to get at the truth by alternate means. Occupying the shadowlands between confession and invention, Zonal takes us to places and spaces that feel endlessly surprising, uncanny and limitless.
Don Paterson has published seven poetry collections, three books of aphorisms, translations of Machado and Rilke, several works of literary criticism and an ambitious ars poetica, The Poem. His poetry has received many awards. He is Professor of Poetry at the University of St Andrews and Poetry Editor at Picador Macmillan; he also works as a jazz musician. He lives in Edinburgh.
Zonal
Don Paterson (author)
Poems
English language
Faber & Faber (publisher)
Hardback
Pages: 80
Publication Date: March 5, 2020
ISBN: 9780571338245
RRP: £14.99
# new books
Zonal
poems by Don Paterson
• fleursdumal.nl magazine
More in: #Editors Choice Archiv, - Book News, - Bookstores, Archive O-P, Archive O-P
---
Older Entries »
Thank you for reading FLEURSDUMAL.NL - magazine for art & literature