MONTAIGNE
·
Maxime Rovere: Le clan Spinoza. Amsterdam, 1677. L'invention de la liberté
·
Franz Kafka, the Eternal Son. A Biography by Peter-André Alt
·
The Responsibilities of an Artist: Nexus-lezing door Ai Weiwei
·
Chronicles of a Liquid Society by Umberto Eco
·
Yugoslavia: Peace, War, and Dissolution by Noam Chomsky
·
The Hatred of Literature by William Marx
·
Maudits mots. La fabrique des insultes racistes par Marie Treps
·
Cyrille Offermans: Dagboeknotities. Een iets beschuttere plek misschien
·
The Written World. The Power of Stories to Shape People, History and Civilization by Martin Puchner
·
Patti Smith: The New Jerusalem – Bilingual edition – Nexus Library
·
De Parelduiker voorjaar 2018/2
·
Karl Marx: Das Kapital
1677. Un groupe d'intellectuels publie à Amsterdam un livre intitulé Œuvres posthumes avec pour nom d'auteur : B.d.S.
Qui se cache derrière ces initiales? Bento de Spinoza, certes… mais pas seulement.
Son livre est le produit d'échanges palpitants entre les savants de toute l'Europe, de querelles entre les communautés juives et chrétiennes mal unies, d'amitiés éternelles et même d'amours déçues.
Cette fantaisie historique et philosophique, entièrement fondée sur les faits et les textes, transforme la biographie du philosophe Spinoza en un fascinant portrait d'hommes et de femmes épris de liberté, lancés dans l'aventure de la raison moderne.
Synthèse de décennies de recherches collectives, le roman de Maxime Rovere éclaire la naissance et les enjeux d'une philosophie qui n'en finit pas de nous aider à comprendre le monde, et nous avec lui.
Maxime Rovere
Le clan Spinoza
Amsterdam, 1677.
L'invention de la liberté
Littérature française
Libres Champs
560 pages
109 x 178 mm
Broché
Paru le 23/01/2019
EAN : 9782081422506
ISBN : 9782081422506
Prix : €10,00
# more books
Maxime Rovere
Le clan Spinoza
Littérature française
• fleursdumal.nl magazine
More in: - Book News, - Book Stories, Archive Q-R, Archive S-T, Art & Literature News, Spinoza
---
Franz Kafka remains one of the most influential writers of the twentieth century.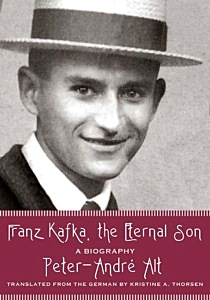 His novels, stories, and letters are still regarded today as the epitome of the dark, fascinating, and uncanny, a model of the modernist aesthetic.
Peter-André Alt's landmark biography, Franz Kafka, the Eternal Son, recounts and explores Kafka's life and literary work throughout the cultural and political upheavals of central Europe.
Alt's biography explores Franz Kafka's own view of life and writing as a unity that shaped his identity. He locates links and echoes among the author's work, life, and surroundings, situating him within the traditions of Prague's German literature, modernity, psychoanalysis, and philosophy as well as within its Jewish culture, arts, theater, and intellectual tradition.
In this biographical tour de force, Kafka emerges as an observant flaneur and wistful loner, an anxious ascetic, an ecstatic and skeptic, a specialist in terror, and a master of irony. Alt masterfully illuminates Kafka's life not as source material but as a mirror of his literary genius. Readers begin to see Kafka's unforgettable novels and stories as shards reflecting the life of their creator.
About the Author
Peter-André André Alt is a German literary scholar and the president of the Free University in Berlin.
Kristine A, Thorsen is a lecturer emeritus of German at Northwestern University.
Franz Kafka, the Eternal Son
A Biography
Contributors
Peter-André Alt (Author)
Kristine Thorsen (Translator)
Publication Date September 2018
Categories Biography
704 pages
Trim Size 7 x 10
ISBN 0-8101-2607-9
Northwestern University Press
-Cloth Text
– $120.00
ISBN 978-0-8101-6243-3
-Paper Text
– $45.00
ISBN 978-0-8101-2607-7
# new books
Franz Kafka
A Biography
• fleursdumal.nl magazine
More in: - Book News, - Book Stories, Archive A-B, Archive K-L, Archive K-L, Art & Literature News, Franz Kafka, Kafka, Franz, Kafka, Franz, MONTAIGNE
---
Dictatuur, schendingen van mensenrechten, milieuvervuiling, verdronken vluchtelingen: dit zijn niet alleen de urgentste kwesties in de wereldpolitiek, maar ook de thema's in het werk van Ai Weiwei.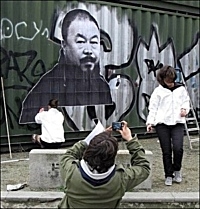 Met zijn enorm veelzijdige creativiteit en maatschappelijke engagement zet hij als een van de beroemdste en grootste kunstenaars van onze tijd vrijwel alles op het spel: hij werd gearresteerd, zijn paspoort werd ingenomen, en afgelopen zomer nog sloopten de Chinese autoriteiten zonder waarschuwing zijn studio in Beijing.
Als geen ander kan Ai Weiwei dus vertellen over de verantwoordelijkheid van de kunstenaar. Wat vermag de kunst in een tijd waarin dissidenten worden opgesloten en journalisten zonder pardon het land uit worden gezet?
Hoe ver mag de kunstenaar gaan?
Hoe ver moét hij gaan?
Hoor het bij de Nexus-lezing 2019, The Responsibilities of an Artist.
The Responsibilities of an Artist
Nexus-lezing Ai Weiwei
25 mei 2019
14.30 – 17.30
Aula VU Amsterdamhttps://nexus-instituut.nl/
# meer informatie op website nexus-instituut
• fleursdumal.nl magazine
More in: Ai Weiwei, Art & Literature News, AUDIO, CINEMA, RADIO & TV, DICTIONARY OF IDEAS, Nexus Instituut
---
The final book from one of Europe's cultural giants: an entertaining collection of essays about the modern world – from unbridled individualism to mobile phones.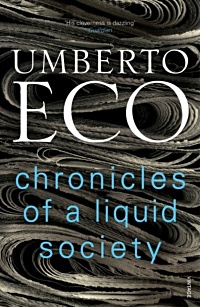 Umberto Eco was an international cultural superstar. A celebrated essayist as well as novelist, in this, his last collection, he explores many aspects of the modern world with irrepressible curiosity and wisdom written in his uniquely ironic voice.
Written by Eco as articles for his regular column in l'Espresso magazine, he brings his dazzling erudition, incisiveness and keen sense of the everyday to bear on topics such as popular culture and politics, unbridled individualism, conspiracies, the old and the young, mobile phones, mass media, racism, good manners and the crisis in ideological values.
It is a final gift to his readers – astute, witty and illuminating.
" A swan song from one of Europe's great intellectuals…Eco entertains with his intellect, humor, and insatiable curiosity…there's much here to enjoy and ponder ".  Tim Parks, Guardian
Chronicles of a Liquid Society
by Umberto Eco
Paperback
ISBN 9781784705206
Hardback
ISNB 9781911215318
2017/2018
Harvill Secker / Vintage
320 pages
Language & Literary Studies
# New books
Chronicles of a Liquid Society
by Umberto Eco
• fleursdumal.nl magazine
More in: - Book News, - Bookstores, Archive E-F, Art & Literature News, AUDIO, CINEMA, RADIO & TV, DICTIONARY OF IDEAS, MONTAIGNE, Museum of Literary Treasures, NONFICTION: ESSAYS & STORIES, Umberto Eco
---
The Balkans, in particular the turbulent ex-Yugoslav territory, have been among the most important world regions in Noam Chomsky's political reflections and activism for decades.

His articles, public talks, and correspondence have provided a critical voice on political and social issues crucial not only to the region but the entire international community, including "humanitarian intervention," the relevance of international law in today's politics, media manipulations, and economic crisis as a means of political control.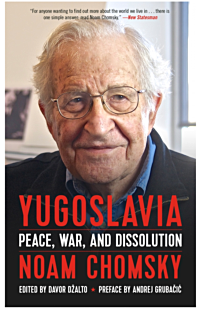 This volume provides a comprehensive survey of virtually all of Chomsky's texts and public talks that focus on the region of the former Yugoslavia, from the 1970s to the present. With numerous articles and interviews, this collection presents a wealth of materials appearing in book form for the first time along with reflections on events twenty-five years after the official end of communist Yugoslavia and the beginning of the war in Bosnia.
The book opens with a personal and wide-ranging preface by Andrej Grubačić that affirms the ongoing importance of Yugoslav history and identity, providing a context for understanding Yugoslavia as an experiment in self-management, antifascism, and mutlethnic coexistence.
Noam Chomsky (1928) is Institute Professor in the Department of Linguistics and Philosophy at the Massachusetts Institute of Technology, Boston. A member of the American Academy of Science, he has published widely in both linguistics and current affairs. His books include At War with Asia, Towards a New Cold War, Fateful Triangle: The U. S., Israel and the Palestinians, Necessary Illusions, Hegemony or Survival, Deterring Democracy, Failed States: The Abuse of Power and the Assault on Democracy and Manufacturing Consent: The Political Economy of the Mass Media.
Title: Yugoslavia: Peace, War, and Dissolution
Author: Noam Chomsky
Edited by Davor Džalto
Preface by Andrej Grubačić
Subjects: Politics / History-Europe
Publisher: PM Press
ISBN: 978-1-62963-442-5
Published: 04/2018
Language: English
Format: Paperback
Size: 6×9
240 pages
$15.63
# new books
Noam Chomsky
Yugoslavia: Peace, War, and Dissolution
• fleursdumal.nl magazine
More in: - Book News, - Book Stories, Archive C-D, AUDIO, CINEMA, RADIO & TV, MONTAIGNE, Noam Chomsky, WAR & PEACE
---
For the last 2,500 years literature has been attacked, booed, and condemned, often for the wrong reasons and occasionally for very good ones. The Hatred of Literature examines the evolving idea of literature as seen through the eyes of its adversaries: philosophers, theologians, scientists, pedagogues, and even leaders of modern liberal democracies.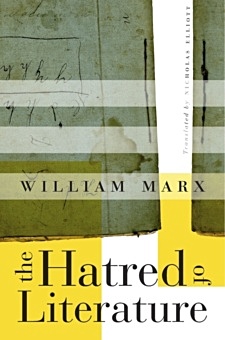 From Plato to C. P. Snow to Nicolas Sarkozy, literature's haters have questioned the value of literature—its truthfulness, virtue, and usefulness—and have attempted to demonstrate its harmfulness.
Literature does not start with Homer or Gilgamesh, William Marx says, but with Plato driving the poets out of the city, like God casting Adam and Eve out of Paradise. That is its genesis. From Plato the poets learned for the first time that they served not truth but merely the Muses. It is no mere coincidence that the love of wisdom (philosophia) coincided with the hatred of poetry. Literature was born of scandal, and scandal has defined it ever since.
In the long rhetorical war against literature, Marx identifies four indictments—in the name of authority, truth, morality, and society. This typology allows him to move in an associative way through the centuries. In describing the misplaced ambitions, corruptible powers, and abysmal failures of literature, anti-literary discourses make explicit what a given society came to expect from literature. In this way, anti-literature paradoxically asserts the validity of what it wishes to deny. The only threat to literature's continued existence, Marx writes, is not hatred but indifference.
William Marx is Professor of Comparative Literature at the University of Paris Nanterre.
The Hatred of Literature
William Marx
Translated by Nicholas Elliott
Belknap Press
Harvard University Press
ISBN 9780674976122
Publ.: January 2018
Hardcover
240 pages
€27.00
# new books
William Marx – The Hatred of Literature
fleursdumal.nl magazine
More in: - Book News, - Book Stories, Archive M-N, Art & Literature News, MONTAIGNE, The Art of Reading, The talk of the town
---
La linguiste Marie Treps retrace l'histoire des insultes racistes dans Maudits mots.

La linguiste effectue un inventaire des insultes racistes au fil du temps, à partir de citations issues de textes anciens ou contemporains. Elle retrace les circonstances historiques dans lesquelles elles ont été imaginées ainsi que les motivations.
"Maudits" mots fournit un inventaire détaillé des termes et des expressions produits, au cours de notre histoire, par la xénophobie ordinaire ou par le racisme exacerbé.
Marie Treps dissèque les multiples insultes adressées aux Allemands, aux Arabes, aux Asiatiques, aux Espagnols, aux Italiens, aux Juifs, et à bien d'autres groupes ainsi réduits à l'état de stéréotypes, voire déshumanisés.

En linguiste et en sémiologue, Marie Treps ausculte tout un lexique qui vise à dégrader, à stigmatiser, à outrager, qui est parfois naïf, faussement affectueux, ou qui se donne une apparence scientifique. L'analyse s'appuie sur des textes anciens et contemporains, dont beaucoup appartiennent à la littérature.
Linguiste et sémiologue, Marie TREPS a publié une quinzaine d'ouvrages consacrés à la langue française, notamment, Les Mots voyageurs, Seuil, 2003 ; Les Mots migrateurs, Seuil, 2009 ; Les Mots-caresses, CNRS Editions, 2011 ; Oh là là, ces Français ! La Librairie Vuibert, 2015.
Marie Treps:
Maudits mots. La fabrique des insultes racistes
Broché: 327 pages
Editeur: Tohu-Bohu éditions
Collection: TOHU BOHU
Langue: Français
2017
ISBN : 978-2-37622-012-1
Dimensions: 15 x 20 cm
€ 20,00
# new books
Maudits mots.
La fabrique des insultes racistes
fleursdumal.nl magazine
More in: - Book News, - Book Stories, Archive S-T, Art & Literature News, CRIME & PUNISHMENT, MONTAIGNE
---
Heel 2017 schreef Cyrille Offermans aan wat je nog het beste zou kunnen omschrijven als een intellectueel journaal: een verzameling notities, beschouwingen, herinneringen, observaties en essayistische commentaren op gelezen boeken en gebeurtenissen in de wereld.
Dat de barre werkelijkheid voortdurend zijn plaats op de voorgrond opeist, zegt genoeg over onze tijd. Het boek (en dus het jaar) begint en eindigt met de doffe ellende in Syrië.
Daartussen presenteert zich een baaierd aan onderwerpen – van de Franse verkiezingen en de afnemende tekenvaardigheid van de schooljeugd tot en met uiteenzettingen over bibliomanie, de betekenis van carnaval, de eerste woordjes van een kleinkind of de ziekte van een vriendin.
Er is alles in de wereld. En er is alles in dit boek.
Cyrille Offermans (Geleen, 8 april 1945) is een Nederlandse schrijver, essayist en criticus. Hij publiceert met name in De Groene Amsterdammer, Vrij Nederland, De Standaard en Raster. Bij het laatste literair tijdschrift werkte hij tevens als redacteur. Hij publiceerde meer dan twintig boeken in uiteenlopende genres, vooral essayistiek in het grensgebied van literatuur, filosofie, cultuurgeschiedenis en politiek. Zijn werk werd diverse malen met prestigieuze prijzen bekroond.
Cyrille Offermans
Een iets beschuttere plek misschien
Dagboeknotities
Uitgeverij De Arbeiderspers
Privé-domein – Paperback
Publicatiedatum: 25-09-2018
ISBN: 9789029525794
NUR: 321
€ 25,99
# new books
cyrille offermans
fleursdumal.nl magazine
More in: - Book Lovers, - Book News, - Book Stories, Archive O-P, Art & Literature News, Art Criticism, AUDIO, CINEMA, RADIO & TV, LITERARY MAGAZINES, MONTAIGNE
---
The story of literature in sixteen acts—from Homer to Harry Potter, including The Tale of Genji, Don Quixote, The Communist Manifesto, and how they shaped world history
In this groundbreaking book, Martin Puchner leads us on a remarkable journey through time and around the globe to reveal the how stories and literature have created the world we have today. Through sixteen foundational texts selected from more than four thousand years of world literature, he shows us how writing has inspired the rise and fall of empires and nations, the spark of philosophical and political ideas, and the birth of religious beliefs.
We meet Murasaki, a lady from eleventh-century Japan who wrote the first novel, The Tale of Genji, and follow the adventures of Miguel de Cervantes as he battles pirates, both seafaring and literary. We watch Goethe discover world literature in Sicily, and follow the rise in influence of The Communist Manifesto. Puchner takes us to Troy, Pergamum, and China, speaks with Nobel laureates Derek Walcott in the Caribbean and Orhan Pamuk in Istanbul, and introduces us to the wordsmiths of the oral epic Sunjata in West Africa. This delightful narrative also chronicles the inventions—writing technologies, the printing press, the book itself—that have shaped people, commerce, and history. In a book that Elaine Scarry has praised as "unique and spellbinding," Puchner shows how literature turned our planet into a written world.
Martin Puchner is the Byron and Anita Wien Professor of English and Comparative Literature at Harvard University. His prize-winning books range from philosophy to the arts, and his bestselling six-volume Norton Anthology of World Literature and HarvardX MOOC (massive open online course) have brought four thousand years of literature to students across the globe. He lives in Cambridge, Massachusetts.
Martin Puchner
The Written World
The Power of Stories to Shape People, History, and Civilization
Random House Trade Paperbacks
Paperback
Jul 24, 2018
464 Pages
$20.00
ISBN 9780812988277
new books
fleursdumal.nl magazine
More in: #More Poetry Archives, - Book News, - Bookstores, Archive O-P, Art & Literature News, MONTAIGNE, NONFICTION: ESSAYS & STORIES
---
The New Jerusalem, the latest book by Patti Smith – poet, punk legend and author of the bestsellers Just Kids and M Train – is now available for order. A stunning long prose poem in the tradition of St. John and William Blake, The New Jerusalem presents a prophetic vision of art and humanity, faith and freedom; a vision of escape from the rituals of power and the mechanisms of social control.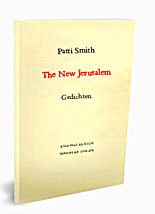 Illustrated with colour photographs and art work by Patti Smith, this beautiful hardbound volume is a true collector's item and will be irresistible to bibliophiles. With an introduction by Rob Riemen exploring the connection between art and spirituality in Patti Smith's poem and in art more broadly, The New Jerusalem can serve as a reminder of the prophetic power of poetry and a guide to all who need it in these times of resistance.
The New Jerusalem was presented at the Nexus Symposium with Patti Smith 'An Education in Counterculture', 26 May 2018 in Amsterdam.
The New Jerusalem, the new book by poet and punk legend Patti Smith. This long prose poem in the tradition of John's Revelation and the poetry of William Blake shows a prophetic vision of art and humanity, faith and freedom; an image of the escape from the rituals of power and the mechanisms of social control.
This beautiful bilingual (English & Dutch), bound edition features color illustrations and photos by Patti Smith and is irresistible to the real bibliophile. The introduction by Rob Riemen discusses the relationship between art and spirituality in the poem by Patti Smith and in art in a general sense.
Patti Smith
United States, 1946
Patti Smith is a singer and poet. As the 'Godmother of Punk', she protested against social conventions, mindless factory labour and the commercialised world with her powerful and controversial music. She grew up with the music of Bob Dylan, lived together with photographer Robert Mapplethorpe and became a familiar face in the turbulent art scene of New York City. In 1974 Smith started performing with guitarist Lenny Kaye, forming the core of The Patti Smith Group. Her debut album Horses (1975) is considered to be one of the most influential albums in the history of rock music. With Bruce Springsteen she wrote Because the Night, her biggest hit. In addition to many albums, Smith also published poetry and books, including Just Kids (2010), her award-winning autobiography on life in New York in the seventies and her relation with Mapplethorpe.
Rob Riemen
The Netherlands, 1962
Rob Riemen is the founder and president of the Nexus Institute, established in 1994. He has also been editor-in-chief of the journal Nexus since its creation in 1991. In Nexus, prominent and original thinkers and writers reflect on important contemporary issues in essays on art, culture, politics and society. Riemen is the author of Nobility of Spirit. A Forgotten Ideal (2008), on the ideals of European humanism, translated into eighteen languages, and To Fight Against this Age (2018), with essays on the eternal return of fascism and on the European spirit.
The New Jerusalem – Bilingual edition – Nexus Library
ISBN: 9789090309798
Publisher: Nexus Institute
Publication Date: May 26th, 2018
Pages: 76
By Patti Smith, Rob Riemen (Introduction By), Onno Kosters (Translator)
Bilingual English-Dutch, hardbound, illustrated colour edition
Translation Onno Kosters (The New Jerusalem), Liz Waters (introduction)
The New Jerusalem is available for sale in the United States at:
McNally Jackson, New York City
Book Culture, New York City
Strand Bookstore, New York City
Rizzoli Bookstore, New York City
Mast Books, New York City
Greenlight Bookstore, Brooklyn
# more information on website Nexus Institute
fleursdumal.nl magazine
More in: #Biography Archives, #Editors Choice Archiv, - Book News, - Bookstores, Archive S-T, Archive S-T, Art & Literature News, Nexus Instituut, Patti Smith, Smith, Patti
---
Poëzie in Mickery
Halbo C. Kools poëzieavonden in 1966
Niels Bokhove
Literair Leeuwarden (I)
Schrijvers die sporen nalieten
Pieter de Groot
Big Brother heeft bestaan
Marco Daane
J. van Oudshoorn en een hongerkunstenaar
Jan Paul Hinrichs
'Puur pooierachtige diefstal'
Nico Keuning
Constantinopel-Scheveningen
Een uniek liefdadigheidsalbum van Philippe Zilcken
Jaap Versteegh
Berliner Beobachter
Deutschsprachige Gemeinschaft Belgiens
Hans Olink
Schoon & haaks
Jan Paul Hinrichs
De Laatste Pagina
Oscar Timmers (1931-2018)
Paul Arnoldusse
Literair Leeuwarden
In drie nummers besteedt De Parelduiker aandacht aan het feit dat Leeuwarden dit jaar Culturele hoofdstad van Europa is. Literair Leeuwarden wordt, steeds vanuit een andere invalshoek en door een andere auteur, onder de loep genomen. Om te beginnen met de negentiende eeuw: de gebroeders Halbertsma uit Grou, François HaverSchmidt, Pieter Jelles Troelstra, Nienke van Hichtum en, niet te vergeten, Trui Jentink, 'de pruttelende koffiekan van de Romkeslaan', feministe van het eerste uur. Het begin van een mooie Leeuwarder literatuurgeschiedenis in vogelvlucht.
Boudewijn de Groot en Lennaert Nijgh in Mickery Loenersloot
Dichter Halbo C. Kool, door tekstdichter Lennaert Nijgh als 'een wonderkind van 60' bezongen, probeerde het succes van Poëzie in Carré (1966) een vervolg te geven met zijn poëzieavonden in het pas geopende Mickery-theater van Ritsaert ten Cate in Loenersloot. Na het eerste optreden van Nina Simone in Nederland aldaar mochten Lennaert Nijgh en zanger Boudewijn de Groot optreden in Mickery met hun cyclus Voor de overlevenden, te midden van dichterscoryfeeën als Clara Eggink, Theun de Vries, Remco Campert, A. Roland Holst, Gerrit Kouwenaar en Fritzi Harmsen van Beek. Mede door de slechte bereikbaarheid – al reed er een speciale bus van het Leidse Bosje – werden de avonden geen succes.
De Parelduiker 2018/2
ISBN 9789059375161
€ 12,50
80 pagina's
geïllustreerd
# Website Uitgeverij Bas Lubberhuizen
Literair tijdschrift De Parelduiker
fleursdumal.nl magazine
More in: - Book Stories, Art & Literature News, LITERARY MAGAZINES, MONTAIGNE, PRESS & PUBLISHING
---
Karl Marx' "Kapital" ist ein Schlüsselwerk der politischen Philosophie. Bis heute wird es kontrovers diskutiert und immer wieder rücken seine Thesen ins Blickfeld einer breiten Öffentlichkeit.
Weitgehend ungelöst scheinen demnach die Fragen, denen sich Marx in seiner scharfsichtigen Analyse widmet: Wie schafft es der Mensch, in einer kapitalistisch organisierten Gesellschaft die Zügel in der Hand zu behalten? Und was ist nötig, damit er hinter ihren offenbar rätselhaften Prozessen nicht gänzlich 'verschwindet'? – Marx' Hauptwerk blieb Fragment.
Der in dieser Ausgabe vollständig enthaltene erste Band, 'Der Produktionsprozess des Kapitals', ist der einzige von vier geplanten Bänden, den Marx in summa selbst verfasst und herausgegeben hat.
In ihm verdichtet sich, nach jahrzehntelangen Studien, seine gesamte politische Ökonomie.
Karl Marx
Das Kapital
Ungekürzte Ausgabe nach der zweiten Auflage von 1872, mit einem Geleitwort von Karl Kosch aus dem Jahre 1932 in feinem Cabra-Leder.
Anaconda Verlag
Gebundene Ausgaben
EAN: 9783730606063
ISBN: 3730606069
Libri: 4204590
Ungekürzte Ausgabe nach der zweiten Auflage von 1872, mit einem Geleitwort von Karl Kosch aus dem Jahre 1932 in feinem Cabra-Leder.
Anaconda Verlag
April 2018
768 Seiten
€ 10,00

new books
fleursdumal.nl magazine
More in: - Book News, Archive M-N, Art & Literature News, Karl Marx, MONTAIGNE
---
Older Entries »
Thank you for reading FLEURSDUMAL.NL - magazine for art & literature