Wieg, Rogi
·
Bert Bevers: Selfie van Rogi Wieg (Gedicht)
·
ROGI WIEG OVERLEDEN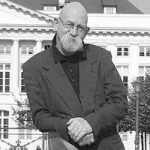 Selfie van Rogi Wieg
De tijd graaft mij in. Dit moet
een droombeeld zijn: Ik wandel
tussen rozen. Ik heb niet aan de dood
gedacht. Ik zie door glas hoe regen
neerdaalt. De avond hangt stil en ik
ben doorgelopen. Wij spreken niet
van doodgaan. Niets gaat verloren
in het ruisen, maar niemand wijst
de weg. Zo zal het einde zijn.
Wie weggaat komt ooit ergens aan.
Bert Bevers
Gedicht: Selfie van Rogi Wieg
Verschenen in In de kring van menselijke warmte – Hommage aan Rogi Wieg, samenstelling Peter de Rijk, Uitgeverij In De Knipscheer, Haarlem, 2017
Bert Bevers is a poet and writer who lives and works in Antwerp (Be)
fleursdumal.nl magazine
More in: Archive A-B, Archive A-B, Bevers, Bert, Wieg, Rogi
---
Na een lang ziekbed is op woensdag 15 juli 2015, in zijn woonplaats Amsterdam, de dichter, schrijver, beeldend kunstenaar en muzikant Rogi Wieg overleden.
Rogi Wieg (1962) debuteerde als dichter in 1981. Zijn ouders waren Hongaarse vluchtelingen die zich in 1957 in Nederland hebben gevestigd.
Wieg werd, vanwege ernstige depressies,  regelmatig opgenomen in psychiatrische ziekenhuizen en deed enkele pogingen tot zelfmoord. Zijn aanvraag voor euthanasie vanwege psychisch lijden werd onlangs gehonoreerd.
Zo zal ik niet sterven, maar ga ik
alleen een beetje dood.

(Rogi Wieg, 15 mei 2015)

fleursdumal.nl magazine
More in: Archive W-X, In Memoriam, Wieg, Rogi
---
Thank you for reading Fleurs du Mal - magazine for art & literature