Archive S-T
·
Annet Schaap wint De Gouden Griffel 2018 met haar prozadebuut Lampje
·
Saki: Laura (short story)
·
Gérard de Nerval: A Madame Sand
·
Saki: The Music on the Hill (short story)
·
Kate Tempest: Running Upon The Wires (new poetry)
·
Correspondence Pablo Picasso and Gertrude Stein
·
Gertrude Stein: Susie Asado
·
K. Schippers: Straks komt het. Roman
·
René van Stipriaan: De hartenjager. Leven, werk en roem van Gerbrandt Adriaensz. Bredero
·
Frankenstein: Annotated for Scientists, Engineers, and Creators of All Kinds
·
Lawrence Schwartzwald: The Art of Reading
·
Ulrike Almut Sandig: Thick of It
De Gouden Griffel is gewonnen door Annet Schaap voor haar prozadebuut Lampje.
De bekendste kinderboekenprijs van Nederland en Vlaanderen is gisteren bekendgemaakt en uitgereikt op het Kinderboekenbal in Amsterdam.
Annet Schaap is geen onbekende in de Nederlandse kinderboekenwereld: velen kennen haar illustraties uit de Hoe overleef ik-reeks van Francine Oomen, de boeken van Janneke Schotveld en Jacques Vriens.
De Gouden Griffel is de derde prijs die zij wint voor Lampje (Querido): al eerder ontving zij de Nienke van Hichtum-prijs en de Woutertje Pieterse Prijs. De overige genomineerden waren Joukje Akveld, Annet Huizing, Pim Lammers, Joke van Leeuwen, Marit Törnqvist, Susanne Wouda, Bette Westera, Tjibbe Veldkamp en Edward van de Vendel.
Annet wilde altijd al tekenaar worden of schrijver of ontdekkingsreizigster. Ze studeerde aan twee kunstacademies en een schrijversschool. Sinds 1991 illustreerde ze bijna 200 kinderboeken en is in Nederland het meest bekend door haar tekeningen in de succesvolle kinderboeken van Francine Oomen, Janneke Schotveld en Jacques Vriens.
kinderboekenweek van 3 t/m 14 oktober 2018
De Gouden Griffel:  Annet Schaap – Lampje
fleursdumal.nl magazine
More in: Archive S-T, Awards & Prizes, Grimm, Andersen e.o.: Fables, Fairy Tales & Stories, Illustrators, Illustration, Kinderboekenweek
---
Laura
"You are not really dying, are you?" asked Amanda.
"I have the doctor's permission to live till Tuesday," said Laura.
"But today is Saturday; this is serious!" gasped Amanda.
"I don't know about it being serious; it is certainly Saturday," said Laura.
"Death is always serious," said Amanda.
"I never said I was going to die. I am presumably going to leave off being Laura, but I shall go on being something. An animal of some kind, I suppose. You see, when one hasn't been very good in the life one has just lived, one reincarnates in some lower organism. And I haven't been very good, when one comes to think of it. I've been petty and mean and vindictive and all that sort of thing when circumstances have seemed to warrant it."
"Circumstances never warrant that sort of thing," said Amanda hastily.
"If you don't mind my saying so," observed Laura, "Egbert is a circumstance that would warrant any amount of that sort of thing. You're married to him — that's different; you've sworn to love, honour, and endure him: I haven't."
"I don't see what's wrong with Egbert," protested Amanda.
"Oh, I daresay the wrongness has been on my part," admitted Laura dispassionately; "he has merely been the extenuating circumstance. He made a thin, peevish kind of fuss, for instance, when I took the collie puppies from the farm out for a run the other day."
"They chased his young broods of speckled Sussex and drove two sitting hens off their nests, besides running all over the flower beds. You know how devoted he is to his poultry and garden."
"Anyhow, he needn't have gone on about it for the entire evening and then have said, 'Let's say no more about it' just when I was beginning to enjoy the discussion. That's where one of my petty vindictive revenges came in," added Laura with an unrepentant chuckle; "I turned the entire family of speckled Sussex into his seedling shed the day after the puppy episode."
"How could you?" exclaimed Amanda.
"It came quite easy," said Laura; "two of the hens pretended to be laying at the time, but I was firm."
"And we thought it was an accident!"
"You see," resumed Laura, "I really have some grounds for supposing that my next incarnation will be in a lower organism. I shall be an animal of some kind. On the other hand, I haven't been a bad sort in my way, so I think I may count on being a nice animal, something elegant and lively, with a love of fun. An otter, perhaps."
"I can't imagine you as an otter," said Amanda.
"Well, I don't suppose you can imagine me as an angel, if it comes to that," said Laura.
Amanda was silent. She couldn't.
"Personally I think an otter life would be rather enjoyable," continued Laura; "salmon to eat all the year round, and the satisfaction of being able to fetch the trout in their own homes without having to wait for hours till they condescend to rise to the fly you've been dangling before them; and an elegant svelte figure —"
"Think of the otter hounds," interposed Amanda; "how dreadful to be hunted and harried and finally worried to death!"
"Rather fun with half the neighbourhood looking on, and anyhow not worse than this Saturday-to-Tuesday business of dying by inches; and then I should go on into something else. If I had been a moderately good otter I suppose I should get back into human shape of some sort; probably something rather primitive — a little brown, unclothed Nubian boy, I should think."
"I wish you would be serious," sighed Amanda; "you really ought to be if you're only going to live till Tuesday."
As a matter of fact Laura died on Monday.
"So dreadfully upsetting," Amanda complained to her uncle-inlaw, Sir Lulworth Quayne. "I've asked quite a lot of people down for golf and fishing, and the rhododendrons are just looking their best."
"Laura always was inconsiderate," said Sir Lulworth; "she was born during Goodwood week, with an Ambassador staying in the house who hated babies."
"She had the maddest kind of ideas," said Amanda; "do you know if there was any insanity in her family?"
"Insanity? No, I never heard of any. Her father lives in West Kensington, but I believe he's sane on all other subjects."
"She had an idea that she was going to be reincarnated as an otter," said Amanda.
"One meets with those ideas of reincarnation so frequently, even in the West," said Sir Lulworth, "that one can hardly set them down as being mad. And Laura was such an unaccountable person in this life that I should not like to lay down definite rules as to what she might be doing in an after state."
"You think she really might have passed into some animal form?" asked Amanda. She was one of those who shape their opinions rather readily from the standpoint of those around them.
Just then Egbert entered the breakfast-room, wearing an air of bereavement that Laura's demise would have been insufficient, in itself, to account for.
"Four of my speckled Sussex have been killed," he exclaimed; "the very four that were to go to the show on Friday. One of them was dragged away and eaten right in the middle of that new carnation bed that I've been to such trouble and expense over. My best flower bed and my best fowls singled out for destruction; it almost seems as if the brute that did the deed had special knowledge how to be as devastating as possible in a short space of time."
"Was it a fox, do you think?" asked Amanda.
"Sounds more like a polecat," said Sir Lulworth.
"No," said Egbert, "there were marks of webbed feet all over the place, and we followed the tracks down to the stream at the bottom of the garden; evidently an otter."
Amanda looked quickly and furtively across at Sir Lulworth.
Egbert was too agitated to eat any breakfast, and went out to superintend the strengthening of the poultry yard defences.
"I think she might at least have waited till the funeral was over," said Amanda in a scandalised voice.
"It's her own funeral, you know," said Sir Lulworth; "it's a nice point in etiquette how far one ought to show respect to one's own mortal remains."
Disregard for mortuary convention was carried to further lengths next day; during the absence of the family at the funeral ceremony the remaining survivors of the speckled Sussex were massacred. The marauder's line of retreat seemed to have embraced most of the flower beds on the lawn, but the strawberry beds in the lower garden had also suffered.
"I shall get the otter hounds to come here at the earliest possible moment," said Egbert savagely.
"On no account! You can't dream of such a thing!" exclaimed Amanda. "I mean, it wouldn't do, so soon after a funeral in the house."
"It's a case of necessity," said Egbert; "once an otter takes to that sort of thing it won't stop."
"Perhaps it will go elsewhere now there are no more fowls left," suggested Amanda.
"One would think you wanted to shield the beast," said Egbert.
"There's been so little water in the stream lately," objected Amanda; "it seems hardly sporting to hunt an animal when it has so little chance of taking refuge anywhere."
"Good gracious!" fumed Egbert, "I'm not thinking about sport. I want to have the animal killed as soon as possible."
Even Amanda's opposition weakened when, during church time on the following Sunday, the otter made its way into the house, raided half a salmon from the larder and worried it into scaly fragments on the Persian rug in Egbert's studio.
"We shall have it hiding under our beds and biting pieces out of our feet before long," said Egbert, and from what Amanda knew of this particular otter she felt that the possibility was not a remote one.
On the evening preceding the day fixed for the hunt Amanda spent a solitary hour walking by the banks of the stream, making what she imagined to be hound noises. It was charitably supposed by those who overheard her performance, that she was practising for farmyard imitations at the forth-coming village entertainment.
It was her friend and neighbour, Aurora Burret, who brought her news of the day's sport.
"Pity you weren't out; we had quite a good day. We found at once, in the pool just below your garden."
"Did you — kill?" asked Amanda.
"Rather. A fine she-otter. Your husband got rather badly bitten in trying to 'tail it.' Poor beast, I felt quite sorry for it, it had such a human look in its eyes when it was killed. You'll call me silly, but do you know who the look reminded me of? My dear woman, what is the matter?"
When Amanda had recovered to a certain extent from her attack of nervous prostration Egbert took her to the Nile Valley to recuperate. Change of scene speedily brought about the desired recovery of health and mental balance. The escapades of an adventurous otter in search of a variation of diet were viewed in their proper light. Amanda's normally placid temperament reasserted itself. Even a hurricane of shouted curses, coming from her husband's dressing-room, in her husband's voice, but hardly in his usual vocabulary, failed to disturb her serenity as she made a leisurely toilet one evening in a Cairo hotel.
"What is the matter? What has happened?" she asked in amused curiosity.
"The little beast has thrown all my clean shirts into the bath! Wait till I catch you, you little —"
"What little beast?" asked Amanda, suppressing a desire to laugh; Egbert's language was so hopelessly inadequate to express his outraged feelings.
"A little beast of a naked brown Nubian boy," spluttered Egbert.
And now Amanda is seriously ill.
Laura
From 'Beasts and Super-Beasts'
by Saki (H. H. Munro)
(1870 – 1916)
fleursdumal.nl magazine
More in: Archive S-T, Saki, Saki, The Art of Reading
---

 A Madame Sand
« Ce roc voûté par art, chef-d'oeuvre d'un autre âge,
Ce roc de Tarascon hébergeait autrefois
Les géants descendus des montagnes de Foix,
Dont tant d'os excessifs rendent sûr témoignage. »
O seigneur Du Bartas ! Je suis de ton lignage,
Moi qui soude mon vers à ton vers d'autrefois ;
Mais les vrais descendants des vieux Comtes de Foix
Ont besoin de témoins pour parler dans notre âge.
J'ai passé près Salzbourg sous des rochers tremblant ;
La Cigogne d'Autriche y nourrit les Milans,
Barberousse et Richard ont sacré ce refuge.
La neige règne au front de leurs pies infranchis ;
Et ce sont, m'a-t-on dit, les ossements blanchis
Des anciens monts rongés par la mer du Déluge.
Gérard de Nerval
(1808 – 1855)
A Madame Sand
fleursdumal.nl magazine
More in: Archive M-N, Archive S-T, George Sand, Nerval, Gérard de
---
The Music on the Hill
Sylvia Seltoun ate her breakfast in the morning-room at Yessney with a pleasant sense of ultimate victory, such as a fervent Ironside might have permitted himself on the morrow of Worcester fight. She was scarcely pugnacious by temperament, but belonged to that more successful class of fighters who are pugnacious by circumstance.

Fate had willed that her life should be occupied with a series of small struggles, usually with the odds slightly against her, and usually she had just managed to come through winning. And now she felt that she had brought her hardest and certainly her most important struggle to a successful issue. To have married Mortimer Seltoun, "Dead Mortimer" as his more intimate enemies called him, in the teeth of the cold hostility of his family, and in spite of his unaffected indifference to women, was indeed an achievement that had needed some determination and adroitness to carry through; yesterday she had brought her victory to its concluding stage by wrenching her husband away from Town and its group of satellite watering-places and "settling him down," in the vocabulary of her kind, in this remote wood-girt manor farm which was his country house.
"You will never get Mortimer to go," his mother had said carpingly, "but if he once goes he'll stay; Yessney throws almost as much a spell over him as Town does. One can understand what holds him to Town, but Yessney —" and the dowager had shrugged her shoulders.
There was a sombre almost savage wildness about Yessney that was certainly not likely to appeal to town-bred tastes, and Sylvia, notwithstanding her name, was accustomed to nothing much more sylvan than "leafy Kensington." She looked on the country as something excellent and wholesome in its way, which was apt to become troublesome if you encouraged it overmuch. Distrust of town-life had been a new thing with her, born of her marriage with Mortimer, and she had watched with satisfaction the gradual fading of what she called "the Jermyn-street-look" in his eyes as the woods and heather of Yessney had closed in on them yesternight. Her will-power and strategy had prevailed; Mortimer would stay.
Outside the morning-room windows was a triangular slope of turf, which the indulgent might call a lawn, and beyond its low hedge of neglected fuchsia bushes a steeper slope of heather and bracken dropped down into cavernous combes overgrown with oak and yew. In its wild open savagery there seemed a stealthy linking of the joy of life with the terror of unseen things. Sylvia smiled complacently as she gazed with a School-of-Art appreciation at the landscape, and then of a sudden she almost shuddered.
"It is very wild," she said to Mortimer, who had joined her; "one could almost think that in such a place the worship of Pan had never quite died out."
"The worship of Pan never has died out," said Mortimer. "Other newer gods have drawn aside his votaries from time to time, but he is the Nature–God to whom all must come back at last. He has been called the Father of all the Gods, but most of his children have been stillborn."
Sylvia was religious in an honest vaguely devotional kind of way, and did not like to hear her beliefs spoken of as mere aftergrowths, but it was at least something new and hopeful to hear Dead Mortimer speak with such energy and conviction on any subject.
"You don't really believe in Pan?" she asked incredulously.
"I've been a fool in most things," said Mortimer quietly, "but I'm not such a fool as not to believe in Pan when I'm down here. And if you're wise you won't disbelieve in him too boastfully while you're in his country."
It was not till a week later, when Sylvia had exhausted the attractions of the woodland walks round Yessney, that she ventured on a tour of inspection of the farm buildings. A farmyard suggested in her mind a scene of cheerful bustle, with churns and flails and smiling dairymaids, and teams of horses drinking knee-deep in duck-crowded ponds. As she wandered among the gaunt grey buildings of Yessney manor farm her first impression was one of crushing stillness and desolation, as though she had happened on some lone deserted homestead long given over to owls and cobwebs; then came a sense of furtive watchful hostility, the same shadow of unseen things that seemed to lurk in the wooded combes and coppices. From behind heavy doors and shuttered windows came the restless stamp of hoof or rasp of chain halter, and at times a muffled bellow from some stalled beast. From a distant corner a shaggy dog watched her with intent unfriendly eyes; as she drew near it slipped quietly into its kennel, and slipped out again as noiselessly when she had passed by. A few hens, questing for food under a rick, stole away under a gate at her approach. Sylvia felt that if she had come across any human beings in this wilderness of barn and byre they would have fled wraith-like from her gaze. At last, turning a corner quickly, she came upon a living thing that did not fly from her. Astretch in a pool of mud was an enormous sow, gigantic beyond the town-woman's wildest computation of swine-flesh, and speedily alert to resent and if necessary repel the unwonted intrusion. It was Sylvia's turn to make an unobtrusive retreat. As she threaded her way past rickyards and cowsheds and long blank walls, she started suddenly at a strange sound — the echo of a boy's laughter, golden and equivocal. Jan, the only boy employed on the farm, a towheaded, wizen-faced yokel, was visibly at work on a potato clearing half-way up the nearest hill-side, and Mortimer, when questioned, knew of no other probable or possible begetter of the hidden mockery that had ambushed Sylvia's retreat. The memory of that untraceable echo was added to her other impressions of a furtive sinister "something" that hung around Yessney.
Of Mortimer she saw very little; farm and woods and trout-streams seemed to swallow him up from dawn till dusk. Once, following the direction she had seen him take in the morning, she came to an open space in a nut copse, further shut in by huge yew trees, in the centre of which stood a stone pedestal surmounted by a small bronze figure of a youthful Pan. It was a beautiful piece of workmanship, but her attention was chiefly held by the fact that a newly cut bunch of grapes had been placed as an offering at its feet. Grapes were none too plentiful at the manor house, and Sylvia snatched the bunch angrily from the pedestal. Contemptuous annoyance dominated her thoughts as she strolled slowly homeward, and then gave way to a sharp feeling of something that was very near fright; across a thick tangle of undergrowth a boy's face was scowling at her, brown and beautiful, with unutterably evil eyes. It was a lonely pathway, all pathways round Yessney were lonely for the matter of that, and she sped forward without waiting to give a closer scrutiny to this sudden apparition. It was not till she had reached the house that she discovered that she had dropped the bunch of grapes in her flight.
"I saw a youth in the wood today," she told Mortimer that evening, "brown-faced and rather handsome, but a scoundrel to look at. A gipsy lad, I suppose."
"A reasonable theory," said Mortimer, "only there aren't any gipsies in these parts at present."
"Then who was he?" asked Sylvia, and as Mortimer appeared to have no theory of his own, she passed on to recount her finding of the votive offering.
"I suppose it was your doing," she observed; "it's a harmless piece of lunacy, but people would think you dreadfully silly if they knew of it."
"Did you meddle with it in any way?" asked Mortimer.
"I— I threw the grapes away. It seemed so silly," said Sylvia, watching Mortimer's impassive face for a sign of annoyance.
"I don't think you were wise to do that," he said reflectively. "I've heard it said that the Wood Gods are rather horrible to those who molest them."
"Horrible perhaps to those that believe in them, but you see I don't," retorted Sylvia.
"All the same," said Mortimer in his even, dispassionate tone, "I should avoid the woods and orchards if I were you, and give a wide berth to the horned beasts on the farm."
It was all nonsense, of course, but in that lonely wood-girt spot nonsense seemed able to rear a bastard brood of uneasiness.
"Mortimer," said Sylvia suddenly, "I think we will go back to Town some time soon."
Her victory had not been so complete as she had supposed; it had carried her on to ground that she was already anxious to quit.
"I don't think you will ever go back to Town," said Mortimer. He seemed to be paraphrasing his mother's prediction as to himself.
Sylvia noted with dissatisfaction and some self-contempt that the course of her next afternoon's ramble took her instinctively clear of the network of woods. As to the horned cattle, Mortimer's warning was scarcely needed, for she had always regarded them as of doubtful neutrality at the best: her imagination unsexed the most matronly dairy cows and turned them into bulls liable to "see red" at any moment. The ram who fed in the narrow paddock below the orchards she had adjudged, after ample and cautious probation, to be of docile temper; today, however, she decided to leave his docility untested, for the usually tranquil beast was roaming with every sign of restlessness from corner to corner of his meadow. A low, fitful piping, as of some reedy flute, was coming from the depth of a neighbouring copse, and there seemed to be some subtle connection between the animal's restless pacing and the wild music from the wood. Sylvia turned her steps in an upward direction and climbed the heather-clad slopes that stretched in rolling shoulders high above Yessney. She had left the piping notes behind her, but across the wooded combes at her feet the wind brought her another kind of music, the straining bay of hounds in full chase. Yessney was just on the outskirts of the Devon-and-Somerset country, and the hunted deer sometimes came that way. Sylvia could presently see a dark body, breasting hill after hill, and sinking again and again out of sight as he crossed the combes, while behind him steadily swelled that relentless chorus, and she grew tense with the excited sympathy that one feels for any hunted thing in whose capture one is not directly interested. And at last he broke through the outermost line of oak scrub and fern and stood panting in the open, a fat September stag carrying a well-furnished head. His obvious course was to drop down to the brown pools of Undercombe, and thence make his way towards the red deer's favoured sanctuary, the sea. To Sylvia's surprise, however, he turned his head to the upland slope and came lumbering resolutely onward over the heather. "It will be dreadful," she thought, "the hounds will pull him down under my very eyes." But the music of the pack seemed to have died away for a moment, and in its place she heard again that wild piping, which rose now on this side, now on that, as though urging the failing stag to a final effort. Sylvia stood well aside from his path, half hidden in a thick growth of whortle bushes, and watched him swing stiffly upward, his flanks dark with sweat, the coarse hair on his neck showing light by contrast. The pipe music shrilled suddenly around her, seeming to come from the bushes at her very feet, and at the same moment the great beast slewed round and bore directly down upon her. In an instant her pity for the hunted animal was changed to wild terror at her own danger; the thick heather roots mocked her scrambling efforts at flight, and she looked frantically downward for a glimpse of oncoming hounds. The huge antler spikes were within a few yards of her, and in a flash of numbing fear she remembered Mortimer's warning, to beware of horned beasts on the farm. And then with a quick throb of joy she saw that she was not alone; a human figure stood a few paces aside, knee-deep in the whortle bushes.
"Drive it off!" she shrieked. But the figure made no answering movement.
The antlers drove straight at her breast, the acrid smell of the hunted animal was in her nostrils, but her eyes were filled with the horror of something she saw other than her oncoming death. And in her ears rang the echo of a boy's laughter, golden and equivocal.
The Music on the Hill
From 'The Chronicles of Clovis'
by Saki (H. H. Munro)
(1870 – 1916)
fleursdumal.nl magazine
More in: Archive S-T, Saki, Saki
---
Running Upon The Wires is Kate Tempest's first book of free-standing poetry since the acclaimed Hold Your Own.

In a beautifully varied series of formal poems, spoken songs, fragments, vignettes and ballads, Tempest charts the heartbreak at the end of one relationship and the joy at the beginning of a new love; but also tells us what happens in between, when the heart is pulled both ways at once.
Running Upon The Wires is, in a sense, a departure from her previous work, and unashamedly personal and intimate in its address – but will also confirm Tempest's role as one of our most important poetic truth–tellers: it will be no surprise to readers to discover that she's no less a direct and unflinching observer of matters of the heart than she is of social and political change. Running Upon The Wires is a heartbreaking, moving and joyous book about love, in its endings and in its beginnings.
Kate Tempest:
Running Upon The Wires
publisher: Picador
paperback
6 September 2018
ISBN 9781509830022
64 pages
£9.99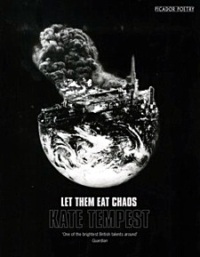 Kate Tempest was born in London in 1985. She works across the shrinking gaps of a steadily converging media industry. Equally at home within the genres of theatre, performance, poetry and music, her name now appears on album covers, poetry books, and billboard hoardings. It is fitting then, that her individual works blend elements of oral, sonic, visual and written culture.
Her 2016 work, Let Them Eat Chaos, was published by Picador, composed for live performance and released as an album of the same name.
Kate Tempest was nominated for the Mercury Music Prize for her debut album, Everybody Down, and received the Ted Hughes Award and a Herald Angel Award for Brand New Ancients. Kate was also named a Next Generation poet in 2014.
Books by Kate Tempest
2016 Let Them Eat Chaos
2016 The Bricks that Built the Houses
2015 Hopelessly Devoted
2014 Hold Your Own
2014 Everybody Down
2013 Wasted
2012 Everything Speaks in its Own Way
Awards
2016 Costa Book Award for Best Poetry Collection (shortlist)
2014 Next Generation Poet
2013 Ted Hughes Award
new poetry
by Kate Tempest
fleursdumal.nl magazine
More in: Archive S-T, Archive S-T, Art & Literature News, Kate Tempest, Tempest, Kate
---
Pablo Picasso and Gertrude Stein. Few can be said to have had as broad an impact on European art in the twentieth century as these two cultural giants.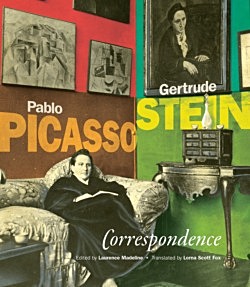 Pablo Picasso, a pioneering visual artist, created a prolific and widely influential body of work.
Gertrude Stein, an intellectual tastemaker, hosted the leading salon for artists and writers between the wars in her Paris apartment, welcoming Henri Matisse, Ernest Hemingway, and Ezra Pound to weekly events at her home to discuss art and literature.
It comes as no surprise, then, that Picasso and Stein were fast friends and frequent confidantes. Through Picasso and Stein's casual notes and reflective letters, this volume of correspondence between the two captures Paris both in the golden age of the early twentieth century and in one of its darkest hours, the Nazi occupation through mentions of dinner parties, lovers, work, and the crises of the two world wars. Illustrated with photographs and postcards, as well as drawings and paintings by Picasso, this collection captures an exhilarating period in European culture through the minds of two artistic greats.
Correspondence
Pablo Picasso and Gertrude Stein
Paper $27.50
ISBN: 9780857425850
Published September 2018
Cloth $29.95
ISBN: 9781905422913
Published November 2008
Distributed for Seagull Books
Edited by Laurence Madeline.
Translated by Lorna Scott Fox.
390 pages
Biography and Letters
Illustrations
new books
Pablo Picasso and Gertrude Stein
fleursdumal.nl magazine
More in: - Book News, - Bookstores, Archive O-P, Archive S-T, Art & Literature News, Gertrude Stein, Pablo Picasso, Stein, Gertrude
---
Susie Asado
Sweet sweet sweet sweet sweet tea.
Susie Asado.
Sweet sweet sweet sweet sweet tea.
Susie Asado.
Susie Asado which is a told tray sure.
A lean on the shoe this means slips slips hers.
When the ancient light grey is clean it is yellow, it is a silver seller.
This is a please this is a please there are the saids to jelly. These are the wets these say the sets to leave a crown to Incy.
Incy is short for incubus.
A pot. A pot is a beginning of a rare bit of trees. Trees tremble, the old vats are in bobbles, bobbles which shade and shove and render clean, render clean must.
Drink pups.
Drink pups drink pups lease a sash hold, see it shine and a bobolink has pins. It shows a nail.
What is a nail. A nail is unison.
Sweet sweet sweet sweet sweet tea.
Stein, Gertrude
(1874-1946)
Susie Asado
fleursdumal.nl magazine
More in: Archive S-T, Archive S-T, Gertrude Stein, Stein, Gertrude
---
De bevrijding door de ogen van de negenjarige K. Schippers – I got rhythm, het kaalscheren van meisjes, het schieten op de Dam.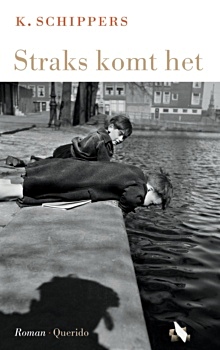 In de bioscoop is hij zo kapot van George Gershwin dat hij hem gaat zoeken in New York, je hoort het vluchten, in elke song. Later volgt hij Kurt Schwitters, op de vlucht voor de nazi's in Noorwegen, je ziet het aan ieder werk.
De reizen vervlecht hij met zijn jeugdherinneringen aan de oorlog en flarden familiegeschiedenis. De routes van zijn jeugd en de routes van zijn idolen, begeleid door de crooners van het American Songbook.
K. Schippers (Amsterdam, 1936) is schrijver, dichter, essayist en kunstcriticus. Hij heeft een omvangrijk oeuvre op zijn naam staan, dat bestaat uit romans, poëzie, essays, verhalen & beschouwingen, en een enkel kinderboek. Al vroeg werd hij bekend door het literaire tijdschrift Barbarber, dat hij in 1958 samen met J. Bernlef en G. Brands oprichtte. Hij introduceerde de readymade als poëzievorm. Van het cultureel tijdschrift Hollands Diep, dat van 1975 tot 1977 bestond, was hij een van de oprichters en eerste redacteuren.
Zijn werk is veel gelauwerd. Voor zijn poëzie ontving hij in 1996 de P.C. Hooftprijs. Een jaar later kreeg hij de Pierre Bayle-Prijs voor zijn kunstkritieken. Zijn roman Poeder en wind (1996) werd genomineerd voor de Generale Bank Literatuurprijs; de roman Waar was je nou (2005) werd bekroond met de Libris Literatuur Prijs en groeide uit tot een bestseller. Hij is de schrijver van Buiten beeld, het Poëziegeschenk van de Poëzieweek 2014.
Auteur: K. Schippers
Titel: Straks komt het
Literaire roman
Uitgeverij: Querido
Publicatiedatum: 28-08-2018
Omvang; 252 pagina's
Bindwijze: Paperback
Taal Nederlands
Met illustraties
Afmetingen: 21,5 x 13,5 x 2,4 cm
Druk: 1e druk
ISBN: 9789021412399
NUR: 301
Prijs: € 20,00
new books
K. Schippers – Straks komt het
fleursdumal.nl magazine
More in: - Book News, - Bookstores, Archive S-T, Art & Literature News, K. Schippers, Schippers, K.
---
Het leven van Gerbrandt Adriaensz. Bredero (1585-1618) was kort maar ongekend vruchtbaar.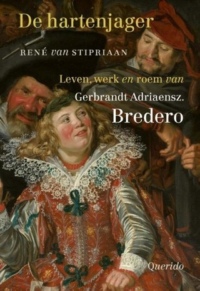 In nauwelijks acht jaar schreef hij honderden gedichten en liederen die tot de mooiste uit de Nederlandse literatuur behoren, en meer dan tien toneelstukken die nog altijd sprankelen van leven. Zijn kluchten, het blijspel Moortje en vooral de onweerstaanbare Spaanschen Brabander hebben door de eeuwen heen vele duizenden mensen onvergetelijke uren bezorgd.
Wie was Bredero? Het is een van de grote vragen van de Nederlandse literatuur. Over zijn leven is weinig bekend, zijn werk is heel concreet alledaags, maar tegelijkertijd ook raadselachtig.
Hoe hield hij zich overeind in het van energie en spanning bruisende Amsterdam? In De hartenjager ontrafelt René van Stipriaan de mythen en mysteries rond een van de meest getalenteerde en vrijmoedige auteurs uit het Nederlandse taalgebied: zijn afkomst, zijn vriendschappen en liefdes, zijn enorme productiviteit en zijn plotselinge dood. Weinig is wat het lijkt.
René van Stipriaan (1959) is auteur van Het volle leven en stelde Ooggetuigen van de Gouden Eeuw en, met Geert Mak, Ooggetuigen van de wereldgeschiedenis samen. In augustus verschijnt De hartenjager, over het leven en werk van Bredero.
Auteur: René van Stipriaan
De hartenjager.
Leven, werk en roem van Gerbrandt Adriaensz. Bredero
Non-Fictie – biografie
Taal: Nederlands
Uitgever: Em. Querido's Uitgeverij BV, Amsterdam
Publicatiedatum: 21-08-2018
ISBN 9789021409528
NUR: 321
359 pagina's
illustraties
Met literatuuropgave, register
Prijs: € 24,99
Hardcover
new books
fleursdumal.nl magazine
More in: #Biography Archives, - Book News, - Book Stories, Archive A-B, Archive S-T, Art & Literature News, Bredero, G.A.
---
Mary Shelley's Frankenstein has endured in the popular imagination for two hundred years.
Begun as a ghost story by an intellectually and socially precocious eighteen-year-old author during a cold and rainy summer on the shores of Lake Geneva, the dramatic tale of Victor Frankenstein and his stitched-together creature can be read as the ultimate parable of scientific hubris. Victor, "the modern Prometheus," tried to do what he perhaps should have left to Nature: create life.
Although the novel is most often discussed in literary-historical terms―as a seminal example of romanticism or as a groundbreaking early work of science fiction―Mary Shelley was keenly aware of contemporary scientific developments and incorporated them into her story. In our era of synthetic biology, artificial intelligence, robotics, and climate engineering, this edition of Frankenstein will resonate forcefully for readers with a background or interest in science and engineering, and anyone intrigued by the fundamental questions of creativity and responsibility.
This edition of Frankenstein pairs the original 1818 version of the manuscript―meticulously line-edited and amended by Charles E. Robinson, one of the world's preeminent authorities on the text―with annotations and essays by leading scholars exploring the social and ethical aspects of scientific creativity raised by this remarkable story.
The result is a unique and accessible edition of one of the most thought-provoking and influential novels ever written.
Essays by Elizabeth Bear, Cory Doctorow, Heather E. Douglas, Josephine Johnston, Kate MacCord, Jane Maienschein, Anne K. Mellor, Alfred Nordmann
Frankenstein: Annotated for Scientists, Engineers, and Creators of All Kinds
by Mary Shelley (Author), David H. Guston (Editor), Ed Finn (Editor), Jason Scott Robert (Editor), & Charles E. Robinson (Introduction)
Paperback
320 pages
Publisher: The MIT Press;
Annotated edition
2017
Language: English
ISBN-10: 0262533286
ISBN-13: 978-0262533287
new books
fleursdumal.nl magazine
More in: - Book Lovers, - Book Stories, Archive S-T, Art & Literature News, Mary Shelley, Museum of Literary Treasures, Shelley, Mary, Tales of Mystery & Imagination
---
The Art of Reading presents the first retrospective of Lawrence Schwartzwald's candid images of readers, made between 2001 and 2017.

Partly inspired by André Kertész's On Reading of 1971, Schwartzwald's subjects are mostly average New Yorkers—sunbathers, a bus driver, shoeshine men, subway passengers, denizens of bookshops and cafes—but also artists, most notably Amy Winehouse at Manhattan's now-closed all-night diner Florent.
In 2001 Schwartzwald's affectionate photo of a New York bookseller reading at his makeshift sidewalk stand on Columbus Avenue (and inadvertently exposing his generous buttock cleavage) caused a minor sensation: first published in the New York Post, it inspired a reporter for the New York Observer to interview the "portly peddler" in a humorous column titled "Wisecracking on Columbus Avenue" of 2001.
Since then Schwartzwald has sought out his readers of books on paper—mostly solitary and often incongruous, desperate or vulnerable—who fly in the face of the closure of traditional bookshops and the surge in e-books, dedicating themselves to what Schwartzwald sees as a vanishing art: the art of reading.
Lawrence Schwartzwald: Born in New York in 1953, Lawrence Schwartzwald studied literature at New York University. He worked as a freelance photographer for the New York Post for nearly two decades and in 1997 New York Magazine dubbed him the Post's "king of the streets." Books and literature have shaped several of his photo series including "Reading New York" and "Famous Poets," both self-published in 2017. Schwartzwald lives and works in Manhattan.
Lawrence Schwartzwald
The Art of Reading
published by Steidl
Hardback / Clothbound
22 x 23 cm
English
ISBN 978-3-95829-508-7
1. Edition 06/2018
€ 28.00
new books
fleursdumal.nl magazine
More in: - Book Lovers, - Book Stories, Archive S-T, Art & Literature News, LITERARY MAGAZINES, PRESS & PUBLISHING, The Art of Reading
---
The poems of Ulrike Almut Sandig are at once simple and fantastic.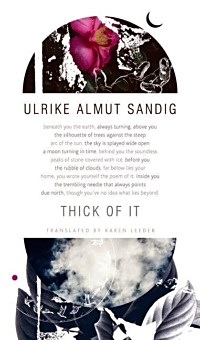 This new collection finds her on her way to imaginary territories. Thick of It charts a journey through two hemispheres to "the center of the world" and navigates a "thicket" that is at once the world, the psyche, and language itself.
The poems explore an urgently urban reality, but that reality is interwoven with references to nightmares, the Bible, fairy tales, and nursery rhymes—all overlaid with a finely tuned longing for a disappearing world. The old names are forgotten, identities fall away; things disappear from the kitchen; everything is sliding away.
Powerful themes emerge, but always mapped onto the local, the fractured individual in "the thick of it" all. This is language at its most crafted and transformative, blisteringly contemporary, but with a kind of austerity, too.
By turns comic, ironic, skeptical, nostalgic, these poems are also profoundly musical, exploiting multiple meanings and stretching syntax, so that the audience is constantly kept guessing, surprised by the next turn in the line.
Titel: Thick of It
Autor: Ulrike Almut Sandig
Sprache: Englisch.
Buch (gebunden)
€ 17,49
YALE UNIVERSITY PRESS ACADEMIC
Distributed for Seagull Books
Translated by Karen Leeder
2018
96 pages
ISBN: 0857425560
EAN: 9780857425560
new poetry
fleursdumal.nl magazine
More in: - Book News, - Bookstores, Archive S-T, Archive S-T, Art & Literature News
---
Older Entries »
Thank you for reading FLEURSDUMAL.NL - magazine for art & literature