Archive S-T
·
August Stramm: Allmacht
·
Gerard Scharn: en de boer zoekt verder
·
August Stramm: Der Marsch
·
August Stramm: Abend
·
Sonnet XXVI (O partial MEMORY!) by Anna Seward
·
Gregor Schneider: Tote Räume in West Den Haag
·
August Stramm: Wiedersehen
·
Sonnet L (In every breast Affection fires) by Anna Seward
·
The Beautiful Poetry of Donald Trump by Rob Sears
·
August Stramm: Abendgang
·
Leïla Slimani: Het land van de anderen – Mathilde roman
·
Russian activist and artist, Yulia Tsvetkova, is facing six year sentence for drawing the female body
Allmacht
Forschen Fragen
Du trägst Antwort
Fliehen Fürchten
Du stehst Mut!
Stank und Unrat
Du breitst Reine
Falsch und Tücke
Du lachst Recht!
Wahn Verzweiflung
Du schmiegst Selig
Tod und Elend
Du wärmst Reich!
Hoch und Abgrund
Du bogst Wege
Hölle Teufel
Du siegst Gott!
August Stramm
(1874-1915)
Allmacht
•fleursdumal.nl magazine
More in: Archive S-T, Archive S-T, Stramm, August, Stramm, August, WAR & PEACE
---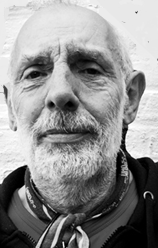 en de boer zoekt verder
voor alle boeren die tussen spelden in een hooiberg
de vrouw gevonden hebben die daar verborgen lag
een woord van dank code rood wordt ingetrokken
een woord van dank voor alle vaderlanders die zochten
in het land van zeven sloten naar de ware liefde binnen
handbereik code oranje blijft van kracht
van kind tot kraai uit het nest gestolen de prijzen
blijven stijgen een witte raaf scoort altijd hoger
dan een gebleekte indiaan of iemand met 'n kampverleden
van code lentefris tot code herfstbock en winterwit
hij die in nederland niet verkaast zal een uitlander
blijven vandaar dat ik schrijf en hem de liefde verklaar
Gerard Scharn
Geboren te Gemert in 1946. Enige jaren gevaren (KM) gevolgd door een onrustig arbeids- en studieverleden, uiteindelijk als jurist afgestudeerd aan de Universiteit Tilburg. Foto: Evelien van Breemen
• fleursdumal.nl magazine
More in: #Editors Choice Archiv, Archive S-T, Archive S-T, Scharn, Gerard
---
Der Marsch
Rum und Trum
Rum und Trum
"Potz Kerle! hebt die Beine!"
Rum und Trum
Rum und Trum
"Verfluchte Sonne!" … Schweine!
Flüt und Tü
Flüt und Tü
"Der Brand! … die heiße Kehle!"
Flüt und Tü
Flüt und Tü
"Wie lang noch das Gequäle?!"
Träterä
Träterä
"Ei schaut! bläht dort das Röckchen!"
Träterä
Träterä
"Verteufelt steht das Böckchen!"
Rum und Trum
Rumlidibum
"Wie blinkt das Dörfchen heiter!"
Flüt und Tü
Träterä
Und "weiter! weiter! weiter!"
August Stramm
(1874-1915)
Der Marsch
• fleursdumal.nl magazine
More in: Archive S-T, Archive S-T, Stramm, August, Stramm, August, WAR & PEACE
---
Abend
Zähnen
Plantschet streif das Blut des Himmels
Denken schicksalt
Tode zattern und verklatschen
Sterne dünsten
Scheine schwimmen
Wolken greifen fetz das Haar
Und
Weinen
Mein
Zergehn
Dir
In
Den
Schoß.
August Stramm
(1874-1915)
Abend
• fleursdumal.nl magazine
More in: Archive S-T, Archive S-T, Stramm, August, Stramm, August, WAR & PEACE
---
Sonnet XXVI
O partial MEMORY! Years, that fled too fast,
From thee in more than pristine beauty rise,
Forgotten all the transient tears and sighs
Somewhat that dimm'd their brightness! Thou hast chas'd
Each hovering mist from the soft Suns, that grac'd
Our fresh, gay morn of Youth; – the Heart's high prize,
Friendship, – and all that charm'd us in the eyes
Of yet unutter'd Love. – So pleasures past,
That in thy crystal prism thus glow sublime,
Beam on the gloom'd and disappointed Mind
When Youth and Health, in the chill'd grasp of Time,
Shudder and fade; – and cypress buds we find
Ordain'd Life's blighted roses to supply,
While but reflected shine the golden lights of Joy.
Anna Seward
(1742-1809)
Sonnet XXVI
(O partial MEMORY!)
• fleursdumal.nl magazine
More in: #Editors Choice Archiv, Archive S-T, Archive S-T
---
• Vol trots kondigt West Den Haag 'Tote Räume' aan, de eerste solo-expositie van Gregor Schneider in Nederland.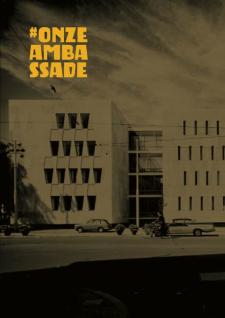 Het werk van Schneider wordt gezien als baanbrekend; en zou als profetisch kunnen worden gezien, in deze tijd waarin het bewaren van afstand verplicht is. Het werk is gebaseerd op mechanismen van fysieke isolatie. De tentoonstelling toont een aaneenschakeling van kamers, beeldhouwwerken, menselijke figuren, foto's en video's die vier decennia van radicale kunst bijeen brengt; en is een wisselwerking met de oorspronkelijke functie van het gebouw: de Ambassade van de Verenigde Staten in Nederland van 1959 tot 2018.
Een duidelijk voorbeeld van de uitwisseling is de 'Interrogation Room' – een ruimte die een kopie is van een van de gevangeniscellen in het detentiekamp Guantánamo Bay, het Amerikaanse detentiecentrum in het zuidoosten van Cuba. Opgenomen in de setting van West Den Haag, overschrijdt 'Interrogation Room' de grenzen van de esthetica en krijgt het de status van een echte autoritaire ruimte. Waarmee de macht over de bezoekers en de potentiële schending van hun soevereiniteit wordt geschetst.
In de sequentie is ook het werk 'Cold Storage Cell' opgenomen; een ruimte waarmee Schneider, een politieke context schetst. Een thema dat zich, met tussenpozen, in al zijn werk herhaalt. Met de opstelling van 'Cryo-Tank Phoenix 3' gaat Schneiders opvatting over afgesloten ruimtes verder dan het geboden politieke kader en krijgt een metafysisch karakter. Iedere plek waar de tank verrijst, wordt getransformeerd tot een tussenzone tussen leven en dood, tussen deze wereld en de wereld die zal komen.
In de expositie is een aparte deel gewijd aan 'Geburtshaus Goebbels', het huis in Mönchengladbach-Rheydt waar Joseph Goebbels— de Rijksminister van Propaganda in Nazi-Duitsland — werd geboren.
In 'Geburtshaus Goebbels' traceert Schneider bijna letterlijk de wortels van de nazigeschiedenis en worden de fysieke fundamenten van Goebbels geboorteplaats blootgelegd —de oorsprong van zijn afkomst. Binnen het universum van Schneider is 'Geburtshaus Goebbels' ook een opvolger van 'Haus u r', het ouderlijk huis van de kunstenaar, dat op steenworp afstand van het geboortehuis van Goebbels staat.
'Haus u r' is het verlaten pand waar hij van 1985 tot 2001 werkte en onophoudelijk de innerlijke structuur reconstrueerde als een eigenzinnige typologie van viscerale kamers die in de bestaande kamers waren gebouwd (met ramen voor de ramen, muren voor de muren, etc.).
Door het proces van zelf verslindende duplicatie – waarbij elke kamer ook de verborgen kamer is, en de ruimte – het verschil – tussen de kamers, wordt 'Haus u r' een ervaring van tegenstrijdigheden, waarbij aanwezigheid en afwezigheid, constructie en eliminatie, niet van elkaar gescheiden kunnen worden.
• In de context van de expositie worden enkele performances opgevoerd. En in aanvulling op het project 'Tote Räume' organiseert West in november van dit jaar een internationaal symposium, met de werktitel: 'Gregor Schneider: Kunst im Kopf'.
• Gregor Schneider (Duitsland, 1969) wordt gezien als een van de meest invloedrijke kunstenaars van de afgelopen drie decennia. Sinds de jaren '90 heeft Schneider in toonaangevende musea over de hele wereld solotentoonstellingen gepresenteerd, waaronder, in Musée d'Art Moderne de Paris, Museum of Contemporary Art, Los Angeles, Kunstsammlung Nordrhein-Westfalen, Düsseldorf en Museo d'Arte Contemporena Roma. In 2001 won Schneider de Golden Lion op de Biënnale van Venetië, en sindsdien is zijn werk wereldwijd het onderwerp van discussies en controverses. Schneiders werk is een combinatie van architectuur, beeldhouwwerk en performance en becommentarieert de (historische) werkelijkheid.
Dit project wordt mede mogelijk gemaakt door het Ministerie van OCW, de Gemeente Den Haag, het Mondriaan Fonds en het Goethe-Institut.
Gregor Schneider
Tote Räume
Exhibition: 29.08.2020 — 06.12.2020
Opening: 29.08.2020, 19:00
Location: West Museumkwartier, vml. Amerikaanse ambassade, Lange Voorhout 102, Den Haag
West Den Haag Lange Voorhout 102, 2514 EJ Den Haag, +31(0)70.3925359, www.westdenhaag.nl
• fleursdumal.nl magazine
More in: Architecture, Archive S-T, Exhibition Archive, Galerie Deutschland, Gregor Schneider
---
Wiedersehen
Dein Schreiten bebt
In Schauen stirbt der Blick
Der Wind
Spielt
Blasse Bänder.
Du
Wendest
Fort!
Den Raum umwirbt die Zeit!
August Stramm
(1874-1915)
Wiedersehen
• fleursdumal.nl magazine
More in: Archive S-T, Archive S-T, Stramm, August, Stramm, August, WAR & PEACE
---
Sonnet L
In every breast Affection fires, there dwells
A secret consciousness to what degree
They are themselves belov'd. – We hourly see
Th' involuntary proof, that either quells,
Or ought to quell false hopes, – or sets us free
From pain'd distrust; – but, O, the misery!
Weak Self-Delusion timidly repels
The lights obtrusive – shrinks from all that tells
Unwelcome truths, and vainly seeks repose
For startled Fondness, in the opiate balm,
Of kind profession, tho', perchance, it flows
To hush Complaint – O! in Belief's clear calm,
Or 'mid the lurid clouds of Doubt, we find
LOVE rise the Sun, or Comet of the Mind.
Anna Seward
(1742-1809)
Sonnet L.
(In every breast Affection fires)
• fleursdumal.nl magazine
More in: #Editors Choice Archiv, Archive S-T, Archive S-T
---
Does a poet's heart beat under Donald Trump's brash exterior? This bestseller rearranges his quotes and tweets into hilarious poetry. It's a new word order and a perfect stocking filler.
What if there's a hidden dimension to Donald Trump; a sensitive, poetic side? Driven by this question, Rob Sears began combing Trump's words for signs of poetry.
What he found was a revelation. By simply taking the 45th President of the United States' tweets and transcripts, cutting them up and reordering them, Sears unearthed a trove of beautiful verse that was just waiting to be discovered.
This groundbreaking collection gives readers a glimpse of Trump's innermost thoughts and feelings on everything from the nature of truth, to what he hates about Lord Sugar. And it will reveal a hitherto hidden Donald, who may surprise and delight both students and critics alike.
Now with seventeen all-new poems! As we lurch deeper into the Trump presidency, this timely publication also includes Sears' scholarly footnotes and introduction, in which he excavates new critical angles and insights into the President's poetry which the casual reader might initially overlook.
"I'm very highly educated.
I know words,
I know the best words"
– Donald Trump,
Campaign Rally, 30 Dec 2015
Rob Sears is a creative director at McCann Erickson advertising agency, has written comedy and fiction for McSweeney's and (with his brother) wrote a sitcom for Audible starring Kevin Eldon, Felicity Montagu and Mitch Benn. He lives in Finsbury Park with his wife.
The Beautiful Poetry of Donald Trump
by Robert Sears (Author)
Subtitel: Newly Updated Edition
Including 12 Recently Discovered Poems
Hardcover: 144 pages
Publisher: Canongate Books Ltd; Main edition
August 31, 2017
Language: English
ISBN-10: 9781786892270
ISBN-13: 978-1786892270
ASIN: 1786892278
Product Dimensions: 14.4 x 1.8 x 22 cm
NUR code 754
$12.99
# new books
The Beautiful Poetry
of Donald Trump
• fleursdumal.nl magazine
More in: #Editors Choice Archiv, - Book News, Archive S-T, Archive S-T, Art & Literature News, Invisible poetry, The talk of the town
---
Abendgang
Durch schmiege Nacht
Schweigt unser Schritt dahin
Die Hände bangen blaß um krampfes Grauen
Der Schein sticht scharf in Schatten unser Haupt
In Schatten
Uns!
Hoch flimmt der Stern
Die Pappel hängt herauf
Und
Hebt die Erde nach
Die schlafe Erde armt den nackten Himmel
Du schaust und schauerst
Deine Lippen dünsten
Der Himmel küßt
Und
Uns gebärt der Kuß!
August Stramm
(1874-1915)
Abendgang
• fleursdumal.nl magazine
More in: Archive S-T, Archive S-T, Stramm, August, Stramm, August, WAR & PEACE
---
1946. De jonge Franse Mathilde valt als een blok voor Amine, een Marokkaanse officier in dienst van het Franse leger.
Ze trouwen en vertrekken naar zijn familieboerderij in een klein dorpje, uren rijden van Rabat.
De liefde wordt constant op de proef gesteld maar houdt stand en ze krijgen een dochter, Aïcha, en een zoon, Selim.
Mathilde vecht tegen de armoede en het heersende patriarchaat, soms met succes. Zo ontwikkelt ze zich tot dokter voor de plattelandsbevolking. Dit kleurrijke familieverhaal speelt zich af tegen de achtergrond van een steeds grimmiger wordende onafhankelijkheidsstrijd van protectoraat Marokko tegen Frankrijk, waarin Mathilde en Amine geen partij willen kiezen. Maar dan komt de dag dat de strijd ook hun afgelegen streek bereikt.
Mathilde is het eerste deel van de trilogie Het land van de anderen. Het verhaal is gebaseerd op Slimani's eigen familiegeschiedenis, met een oma uit de Elzas, een opa uit Marokko, en een moeder die opgroeide op het arme boerenbedrijf van haar ouders maar toch de eerste vrouwelijke gynaecoloog van Marokko werd.
Leïla Slimani (Marokko, 1981) studeerde politicologie en handelswetenschappen in Frankrijk. Voor De perfecte oppas (eerder: Een zachte hand) won ze de Prix Goncourt. Het boek werd verfilmd onder de titel Chanson douce. Ook haar debuut In de tuin van het beest werd een wereldwijde bestseller. Seks en leugens, een bundel met openhartige interviews over de hypocriete seksuele moraal in Marokko, werd genomineerd voor de Prix Renaudot. In Marokko deed ze afstand van haar auteursrechten hierop om het boek betaalbaar te maken voor Marokkaanse vrouwen. Slimani wil een bijdrage leveren aan de ontwikkeling van een vrije samenleving met gelijke rechten voor vrouwen en mannen. Sinds 2017 is ze daarnaast persoonlijk vertegenwoordiger voor President Macron voor de Francofonie. Mathilde is het eerste deel van de trilogie Het land van de anderen. Het verhaal is gebaseerd op haar familiegeschiedenis en kwam in Frankrijk op één binnen in de bestsellerlijst.
Het land van de anderen – Mathilde roman
Auteur: Leïla Slimani
Serie: Het Land Van De Anderen
Taal: Nederlands
Bindwijze: Hardcover
22,99 euro
Druk 1
Verschijningsdatum: juni 2020
Afmetingen 21,6 x 14,4 x 3 cm
Aantal pagina's: 356 pagina's
Uitgever: Nieuw Amsterdam
Vertaald door Gertrud Maes Gertrud Maes
EAN 9789046827000
NUR code 302
Subtitel: roman
Categorieën: Literatuur & Romans/ Familieromans/ Literaire romans
# new books
Leïla Slimani
Mathilde roman
• fleursdumal.nl magazine
More in: - Book News, - Book Stories, Archive S-T, Leïla Slimani
---
Russian activist and artist, Yulia Tsvetkova, is facing prosecution and harassment for defending women's and LGBTI rights.
She has been under house arrest since 22 November, under absurd charges of "production and dissemination of pornography" for her drawings of the female body. She is facing up to six years in prison if convicted. Yulia Tsvetkova is a prisoner of conscience and must be immediately and unconditionally released.
Yulia Tsvetkova is an LGBTI and women's rights activist, artist and stage director, from Komsomolsk-on-Amur, the Russian Far East.
She was detained on 20 November 2019 and put on house arrest two days later, after being charged with the "production and dissemination of pornographic materials", for making body positive drawings of the female body and sharing them on social media.
Her drawings included pictures of female reproductive organs, and she shared them online as part of her women's empowerment campaign.
On the day of her arrest, police searched Yulia's apartment and the children's educational club where she worked previously. The police seized her electronic devices, documents, and brochures on gender issues. Yulia later said that during the search police officers referred to her as a "lesbian, sex trainer and propagandist leader".
Yulia has been the target of an overtly homophobic campaign since March 2019, when she was forced to leave Merak, the amateur youth theatre company she worked at, after police launched an investigation into alleged "propaganda of non-traditional sexual relations among minors".
The investigation was launched in reaction to Yulia's anti-bullying, anti-discrimination play, Blue and Pink.
On 11 December 2019 Yulia was found guilty of "propaganda of non-traditional sexual relations among minors", and fined 50,000 rubles (approximately 600 GBP), for serving as the administrator of two LGBTI online communities on the popular Russian social media site, VKontakte.
Both of the online communities were properly marked as "18+", as required by Russian law. Even under the confines of the homophobic Russian "gay propaganda" legislation, the "offence" should only be valid if the "propaganda" material is targeted at people under the age of 18.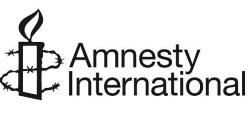 On 17 January, Yulia informed the media that new proceedings had been opened against her, under the same Article of the Code of Administrative Offences that she had previously been charged under. This time she was being prosecuted for posting a drawing she made depicting two same-sex couples with child on social media, alongside the statement, "Family is where love is. Support LGBT+ families".
She published the drawing in support of a same-sex couple who were forced to flee Russia with their adopted children after authorities threatened to remove their children from their custody.
# visit Website Amnesty International UK for more information and urgent actions
# support amnesty international
# take urgent action now
• fleursdumal.nl magazine
More in: Archive S-T, Art & Literature News, AUDIO, CINEMA, RADIO & TV, Illustrators, Illustration, MUSEUM OF PUBLIC PROTEST, PRESS & PUBLISHING, REPRESSION OF WRITERS, JOURNALISTS & ARTISTS, THEATRE, Urban Art
---
Older Entries »
Thank you for reading FLEURSDUMAL.NL - magazine for art & literature