Rossetti
·
Christina Rossetti: In an Artist's Studio (vertaling Cornelis W. Schoneveld)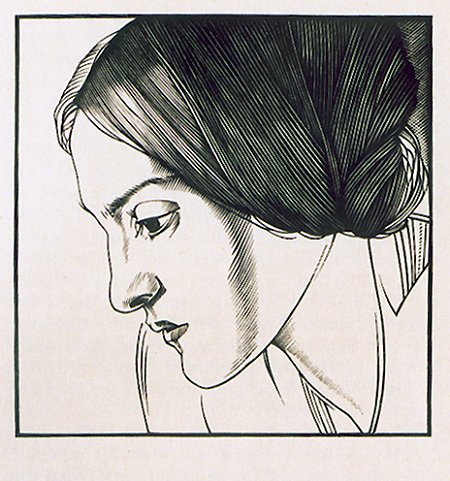 Christina Rossetti
(1830-1894)
In an Artist's Studio
One face looks out from all his canvases,
One selfsame figure sits or walks or leans;
We found her hidden just behind those screens,
That mirror gave back all her loveliness.
A queen in opal or in ruby dress,
A nameless girl in freshest summer-greens,
A saint, an angel; – every canvass means
The same one meaning, neither more nor less.
He feeds upon her face by day and night,
And she with true kind eyes looks back on him
Fair as the moon and joyful as the light:
Not wan with waiting, not with sorrow dim;
Not as she is, but was when hope shone bright;
Not as she is, but as she fills his dream.
1856
In een schildersatelier
Uit al zijn doeken kijkt slechts één gezicht,
Slechts één figuur die loopt, of zit, of rijst;
We ontdekten haar pal achter elke lijst,
Waar haar lieftalligheid weerspiegeld ligt.
'n Prinses, gekleed in rood of in opaal,
Een naamloos wicht in zomergroenen fris,
Engel of heilige; – 'n betekenis
Die steeds dezelfde is, bij allemaal.
Hij leeft bij dag en nacht van haar gezicht,
En zij blikt terug, haar oog van trouw vervuld
Fraai als de maan, en vreugdevol als 't licht:
Niet bleek van smart, en niet vol ongeduld;
Niet als ze is, maar was, hoop nog in zicht;
Niet als zij is, maar zoâls zijn droom zij vult.
Volgens een andere broer van Christina en Dante Gabriel zou het beschreven portret dat van Elizabeth Siddal zijn, die later met D.G. Rossetti trouwde.
Uit: Bestorm mijn hart, de beste Engelse gedichten uit de 16e-19e eeuw gekozen en vertaald door Cornelis W. Schoneveld, tweetalige editie. Rainbow Essentials no. 55, Uitgeverij Maarten Muntinga, Amsterdam, 2008, 296 pp, € 9,95 ISBN: 9789041740588
Bestorm mijn hart bevat een dwarsdoorsnede van vier eeuwen lyrische Engelse dichtkunst. Dichters uit de zestiende tot en met de negentiende eeuw dichter onder andere over liefde, natuur, dood en religie. Niet alleen de Nederlandse vertaling is in deze bundel te vinden, maar ook de originele Engelse versie. Deze prachtige bloemlezing, met gedichten van onder anderen Shakespeare, Milton, Pope en Wordsworth, is samengesteld en vertaald door Cornelis W. Schoneveld. Hij is vele jaren docent historische Engelse letterkunde en vertaalwetenschapper aan de Universiteit van Leiden geweest.
kempis.nl poetry magazine
More in: Rossetti, Rossetti, Christina
---
Thank you for reading FLEURSDUMAL.NL - magazine for art & literature