Archive Y-Z
·
Jihyun Yun: Some Are Always Hungry
·
B. Zwaal: zeesnede – gedichten 1984 – 2019
·
Why Poetry by Matthew Zapruder
·
Feest der Poëzie met presentatie debuutbundel Mieke van ZONNEVELD
·
STEFAN ZWEIG: DIE NACHT DER GNADEN
·
IM MEMORIAM JOOST ZWAGERMAN (1963 – 2015)
·
STEFAN ZWEIG: AHNUNG
·
STEFAN ZWEIG: JUNGE GLUT
·
WILLIAM BUTLER YEATS: HE WISHES FOR THE CLOTHS OF HEAVEN
·
STEFAN ZWEIG: DAS FREMDE LÄCHELN
·
WILLIAM BUTLER YEATS: THE FOLLY OF BEING COMFORTED
·
STEFAN ZWEIG: DAS MÄDCHEN
Winner of the Prairie Schooner Book Prize in Poetry, Some Are Always Hungry chronicles a family's wartime survival, immigration, and heirloom trauma through the lens of food, or the lack thereof.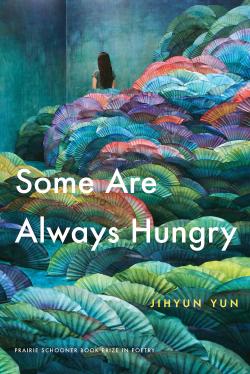 Through the vehicle of recipe, butchery, and dinner table poems, the collection negotiates the myriad ways diasporic communities comfort and name themselves in other nations, as well as the ways cuisine is inextricably linked to occupation, transmission, and survival.
Dwelling on the personal as much as the historical, Some Are Always Hungry traces the lineage of the speaker's place in history and diaspora through mythmaking and cooking, which is to say, conjuring.
Jihyun Yun is a Korean American poet from California who now lives in Ann Arbor, Michigan. A Fulbright research grant recipient, she has received degrees from the University of California–Davis and New York University. Her work has appeared in Narrative Magazine, Poetry Northwest, Adroit Journal, and other publications.
Jihyun Yun
Some Are Always Hungry
Prairie Schooner Book Prize in Poetry
Kwame Dawes, series editor
University of nebraskapress
Poetry
English
September 2020
Paperback
90 pages
ISBN978-1-4962-2218-3
$17.95
# New books
Jihyun Yun
Some Are Always Hungry
• fleursdumal.nl magazine
More in: - Book News, Archive Y-Z, Archive Y-Z, TRANSLATION ARCHIVE
---
Zwaal is een dichter die met een grandioos taalvermogen de wereld toont in al haar facetten, niet alleen als natuurverschijnsel maar ook als erotische verschijning, als de zee, het water, de vrouw, de kleuren en geuren van alles wat tastbaar is.
Zijn werk, dat hij sinds 1984 in een rustige regelmaat heeft gepubliceerd, is nu verzameld in zeesnede, waarin ook is opgenomen de nog niet eerder gepubliceerde bundel averij grosse. Gedichten van enkele woorden, gedichten van niet meer dan twee regels, gedichten met lange regels die van overvloed van de pagina lijken te vallen. Gedichten waarin de hele wereld als nieuw wordt getoond.
B. Zwaal (Vlaardingen, 1944) was theatermaker en regisseur. In 1984 debuteerde hij met de dichtbundel fiere miniature. Daarna verschenen nog tien bundels, waarvan een drifter werd genomineerd voor de Ida Gerhardt Poëzieprijs en zouttong voor de VSB poëzieprijs.
B. Zwaal:
zeesnede
gedichten 1984 – 2019
paperback met flappen
15×22 cm.
536 pagina's
ISBN 9789028427655
prijs € 39,99
• fleursdumal.nl magazine
More in: #Editors Choice Archiv, - Book News, - Bookstores, Archive Y-Z, Archive Y-Z, Art & Literature News
---
Poet and editor Matthew Zapruder was born in Washington, DC. He earned a BA in Russian literature at Amherst College, an MA in Slavic languages and literature at the University of California, Berkeley, and an MFA in poetry at the University of Massachusetts, Amherst.
Zapruder's poems employ nuanced, conversational syntax to engage themes of grief, perception, and logic. As Dana Jennings noted in the New York Times, Zapruder has a "razor eye for the remnants and revenants of modern culture." Discussing his own development as a writer in the Los Angeles Times, Zapruder addressed the role of rhyme in his work: "[T]he rhyme is what I would call 'conceptual,' that is, not made of sounds, but of ideas that accomplish what the sounds do in formal poetry: to connect elements that one wouldn't have expected, and to make the reader or listener, even if just for a moment, feel the complexity and disorder of life, and at the same time what Wallace Stevens called the 'obscurity of an order, a whole.'"
Zapruder is the author of several collections of poetry, including Sun Bear (2014), Come On All You Ghosts (2010), The Pajamaist (2006), and American Linden (2002). He collaborated with painter Chris Uphues on For You in Full Bloom (2009) and cotranslated, with historian Radu Ioanid, Romanian poet Eugen Jebeleanu's last collection, Secret Weapon: Selected Late Poems (2008).
With Brian Henry, Zapruder cofounded Verse Press, which later became Wave Books. As an editor for Wave Books, Zapruder coedited, with Joshua Beckman, the political poetry anthology State of the Union: 50 Political Poems (2008). His own poems have been included in the anthologies Best American Poetry (2013, 2009), Third Rail: The Poetry of Rock and Roll (2007), and Legitimate Dangers: American Poets of the New Century (2006), as well as Poets on Teaching: A Sourcebook (2010). Why Poetry, a book of prose about reading poetry for a general audience, is forthcoming from Ecco/Harper Collins in early 2017.
Zapruder's poetry has been adapted by some of America's most exciting young composers. In Fall, 2012, his poetry was adapted and performed at Carnegie Hall by Composer Gabriel Kahane and Brooklyn Rider. In February, 2014, composer Missy Mazzoli, along with Victoire and Glenn Kotche, performed Vespers for a New Dark Age, a piece commissioned by Carnegie Hall for the 2014 Ecstatic Music Festival, and released as a recording on New Amsterdam records in spring, 2015.
Zapruder's honors include a Guggenheim Fellowship, a Lannan Foundation Residency Fellowship, the William Carlos Williams Award from the Poetry Society of America, and the May Sarton Prize from the American Academy of Arts and Sciences. He has taught at New York University, the New School, the University of California Riverside – Palm Desert Low Residency MFA Program, the University of Massachusetts, Amherst's Juniper Summer Writing Institute, and at the University of California at Berkeley as the Holloway Fellow.
He lives in Oakland, where he is an associate professor in the Saint Mary's College of California MFA Program in Creative Writing, as well as editor at large for Wave Books. He is also a guitarist in the rock band The Figments.
From Matthew Zapruder's poem:
American Singer
(. . .)
I notice probably
because you wrote
that strange
word funeral
the constant black
fabric I think
is taffeta
always draped
over the scaffolds
the figures
scraping paint
are wearing dusty
protective suits
and to each other
saying nothing
I move invisibly
like a breeze
around three men
wearing advanced
practically weightless
jackets impervious
to all possible
weather even
a hurricane
(. . .)
Matthew Zapruder
Why Poetry
Hardcover
2017
Pag. 256
Ecco Publisher
ISBN13: 9780062343079
ISBN10: 0062343076
fleursdumal.nl
More in: - Book News, Archive Y-Z, Archive Y-Z, Art & Literature News
---
De salon van zaterdag 28 januari 2017 staat in het teken van Mieke van Zonneveld; zij presenteert haar debuutbundel 'Leger', uitgegeven door De Bezige Bij, en draagt eruit voor. Het programma brengt dichters die haar inspireren uit het heden en verleden, afgewisseld door passende muziek. Roland Holstprijswinnaar en voormalige stadsdichter van Amsterdam Menno Wigman draagt voor uit o.a. zijn laatste bundel 'Slordig met geluk'. Simon Mulder draagt voor uit favoriete werken van J. H. Leopold.
Presentatie debuut Mieke van Zonneveld met Menno Wigman
Op zaterdagavond 28 januari presenteert  het Feest der Poëzie de dichter Mieke van Zonneveld met haar bundel 'Leger', uitgegeven door De Bezige Bij. Het programma vindt plaats in de prachtige omgeving van het Pianola Museum te Amsterdam. Naast een voordracht van Mieke van Zonneveld uit de nieuwe bundel, zal ook Menno Wigman, voormalig stadsdichter van Amsterdam en winnaar van de A. Roland Holstprijs, voordragen. Ook zijn er gedichten van J. H. Leopold en een pianorecital van Henk van Zonneveld.
Tevens vindt op 18 februari de akoestische reprise van Project Diepenbrock, onze voorstelling tijdens het Feest der Poëzie van 2014, plaats, met chansontrio En Vrac, Mieke van Zonneveld en Simon Mulder.
Praktische informatie
Datum: zaterdag 28 januari 2017
Tijd: zaal open: 20 uur, aanvang: 20:30 uur
Locatie: Pianola Museum, Westerstraat 106, Amsterdam
Reserveren via info@pianola.nl wordt zeer aangeraden.
Meer informatie: www.feestderpoezie.nl onder 'Salon der Verzen'
Mieke van Zonneveld (1989) – lid van collectief het Feest der Poëzie sinds het begin in 2008 – studeerde Nederlands en oudheidkunde aan de Vrije Universiteit en rondt momenteel haar onderzoeksmaster letterkunde af. Ze won in 2014 de landelijke Turing Gedichtenwedstrijd. Zij debuteert met een klassiek aandoende bundel over liefde en vriendschap, over ziekte en geloof. Leger is een gemystificeerd en genadeloos zelfonderzoek van een jonge dichter die de dood in de ogen heeft gekeken. Uitgeverij is Bezige Bij.
Mieke van Zonneveld debuteert met een klassiek aandoende bundel over liefde en vriendschap, over ziekte en geloof. Haar poëzie wekt de indruk van volledige helderheid, maar ze versluiert tegelijk. De eenvoud van woorden roept een grootsheid van beelden op waaronder telkens het risico sluimert uit het volle leven geknipt te worden. Slechts in dromen bestaat de mogelijkheid barrières te beslechten. Leger is een gemystificeerd en genadeloos zelfonderzoek van een jonge dichter die de dood in de ogen heeft gekeken.
Mieke van Zonneveld  publiceerde enkele gedichten in voormalig literair tijdschrift De tweede ronde en in het ambachtelijk gedrukte Avantgaerde. Als lid van het Feest der Poëzie treedt ze af en toe op tijdens literaire salons. Ze is bezig met haar masteronderzoek Letterkunde aan de Vrije Universiteit Amsterdam.
# Meer informatie op website feestderpoezie
fleursdumal.nl magazine
More in: - Book News, Archive Y-Z, Art & Literature News, City Poets / Stadsdichters, Feest der Poëzie, Leopold, J.H., Literary Events, MODERN POETRY, MUSIC, Wigman, Menno
---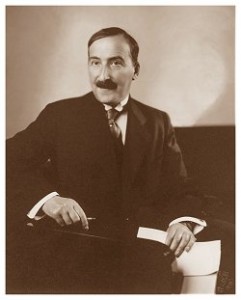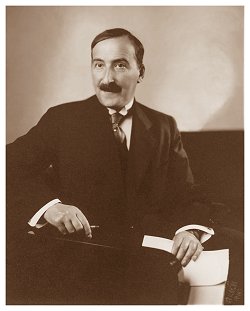 Stefan Zweig
(1881-1942)
Die Nacht der Gnaden
Ein Reigen Sonette
I.
Ein schwarzer Flor umkränzte die Gelände.
Wie Boote segelten am Himmelsmeer
Die letzten lauen Abendwolken her
Und gossen Schattenschleier um die Wände.
Das Zimmer dunkelte. Die heißen Hände
Der beiden lagen willenlos und schwer
In ihrem Schoß und suchten sich nicht mehr.
Die leeren Worte waren längst zu Ende.
Sie bebten beide. Und ein Schweigen kam
Mit banger Schwüle. Er hielt sie umfangen
Und flehte ohne Wort: "Sei mein! Sei mein!"
Sie zitterte. Die Blüte junger Scham
Wuchs purpurn über ihre blassen Wangen,
Und Tränen stammelten: "Es darf nicht sein."
II.
Da ließ er sie: "Ich will dich nicht betören.
Sei du nur mein, wenn du es längst schon bist.
Nicht eine Gabe sollst du mir gewähren,
Gib mir nur das, was lang mein eigen ist.
Sei mein, so wie sich mit den Sternenchören
Der Himmel flutend in die Nacht ergießt,
Und Seligkeiten werden uns gehören,
Durch die der Strom der Ewigkeiten fließt.
Willst du den Kelch der Sünde nicht nur nippen
Und ganz dein Sein an eine Nacht verschwenden,
So wird bis an die Grenze deiner Tage
Ein Leuchten sprühn von ungeahnten Bränden
Aus dieser Nacht!" – Wie eine bange Klage
Umfing ein zartes Lächeln ihre Lippen:
III.
"Was alle andern Schmach und Sünde nennen,
Wär mir ein Pfad zu lichten Seligkeiten,
Wenn nur auf meinem Mund, dem schmerzgeweihten,
Die roten Male deiner Küsse brennen.
Doch du bist Horcher in die Ewigkeiten,
Von denen mich die dunklen Wolken trennen.
Mich ließ nur Sehnsucht meine Jugend kennen
Und nicht die Träume, die zum Lichte leiten.
Drum will ich mich nicht deinem Willen senken,
Ob auch ein jeder Puls in meinen Gliedern
Mit seiner Sehnsucht dir schon angehört.
Ich bin zu arm, dir Liebe zu erwidern,
Und bin zu stolz, um Armut zu verschenken,
Denn sieh: Ich weiß, ich bin nicht deiner wert!"
IV.
Da sprach er sanft – und wie von Orgeldröhnen
War seine Stimme wundersam bewegt -:
"Wer so wie du den Glanz der Güte trägt,
Ist auserwählt, ein Leben licht zu krönen.
Oh fühlst du nicht, wie in verwandten Tönen
In uns der rasche Takt des Blutes schlägt
Und wilde Flamme in der Tiefe regt,
Um sich in unserm Einklang zu versöhnen?
Ich glüh in dir, du glühst in meinem Leben,
Zu neuer Einheit drängt dein junger Schoß
Und will den Ewigkeiten sich vermählen.
Sei mein! Erst wenn uns übermächtig groß
Die Schauer eigner Schöpfungslust durchbeben,
Rauscht eine Welt in unsern freien Seelen."
V.
So sprach er glühend. Und sie beide standen
Im Bann des Blutes, wortlos wie verzagte
Verlorne Pilger nah den lichten Landen,
Wo schon das Frührot der Erfüllung tagte.
Dann kam ein Seufzen … als ob Weinen klagte …
Ein Knistern wie von sinkenden Gewanden …
Ein banger Ruf … Und als sein Auge fragte,
Ob sie der Sehnsucht wildes Wort verstanden,
Ward jählings Glanz in seinen Blick getragen,
Wie Glanz von Firnen … Aus dem Dunkel blühte
Gleich einer Lilie schlank und nackt ihr Leib.
Da schwieg sein Herz. Er wußte nicht zu sagen,
Wie ein Gebet durchdrang ihn ihre Güte,
Und diese Nacht ward sie ihm Gott und Weib.
VI.
Ihm aber war in dieser Nacht der Gnaden,
Als fühlte er die Welt zum erstenmal.
Er sah die Sterne auf beglänzten Pfaden
Wie Boten wandeln durch den Himmelssaal,
Sah weit das Leuchten über den Gestaden,
Der Morgenröte purpurblassen Strahl,
Fühlte die Winde, wie sie duftbeladen
Sich wiegten in den Wipfeln ohne Zahl,
Sah Frucht und Blüte über den Geländen
Und Saat und Segen. Erst in dieser Nacht
Ward ihm das Wunder aller Schöpfung wahr.
Und wie ein Kind, das in die Welt erwacht,
Nahm er aus diesen milden Frauenhänden
Die neue Pracht, die längst sein eigen war.
 Stefan Zweig poetry
fleursdumal.nl magazine
More in: Archive Y-Z, Stefan Zweig, Zweig, Stefan
---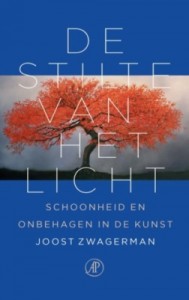 Joost Zwagerman (Alkmaar, 18 november 1963 – Haarlem, 8 september 2015) was een Nederlands schrijver, dichter, essayist en columnist. Hij heeft op 51-jarige leeftijd een eind aan zijn leven gemaakt.
Joost Zwagerman (Alkmaar, 1963 – Haarlem, 2015) debuteerde in 1986 op tweeëntwintigjarige leeftijd met de roman De houdgreep. Enkele jaren later bereikte Zwagerman met zijn romans Gimmick! (1989) en Vals licht (1991) een groot publiek.
In 1994 volgde De buitenvrouw (1994). Van deze drie romans zijn meer dan 200.000 exemplaren per titel verkocht. Op dit moment behoort Joost Zwagerman tot de meest gelezen schrijvers van zijn generatie. Zijn werk verscheen in vertaling in Duitsland, Frankrijk, Hongarije, Tsjechië en Japan.
Naast romans, verhalen en essays schreef Joost Zwagerman ook poëzie. Er zijn vijf dichtbundels van hem verschenen.
Onlangs verscheen het boek: De stilte van het licht. Schoonheid en onbehagen in de kunst, een mooie ingetogen bundel over beeldende kunst.
In het najaar van 2015 verschijnt nog een herdruk van zijn boek: Door eigen hand. Zelfmoord en de nabestaanden.
Van het werk van Joost Zwagerman zijn ruim 1,2 miljoen gexemplaren verkocht.
...zag jij misschien dat ik naar jou,
dat ik je zag en dat ik zag hoe jij
naar mij te kijken zoals ik naar jou
en dat ik hoe dat heet zo steels,
zo en passant en ook zo zijdelings –
dat ik je net zo lang bekeek tot ik
naar je staarde en dat ik staren bleef.
Ik zag je toen en ik wist in te zien
dat in mijn leven zoveel is gezien
zonder dat ik het ooit eerder zag:
dat kijken zoveel liefs vermag.
Joost Zwagerman
Proza
1986 – De Houdgreep, roman
1987 – Kroondomein, verhalen
1989 – Gimmick!, roman
1991 – Vals Licht, roman
1994 – De buitenvrouw, roman
1996 – Tomaatsj, novelle
1997 – Chaos en rumoer, roman
1998 – Het jongensmeisje, verhalen
2002 – Zes sterren, roman
2010 – Duel, Boekenweekgeschenk
Gedichten
1987 – Langs de doofpot, gedichten
1988 – De ziekte van jij, gedichten
1993 – De mooiste vrouw ter wereld, gedichten
2001 – Bekentenissen van de pseudomaan, gedichten
2005 – Roeshoofd hemelt, gedichten
2005 – Tot hier en zelfs verder. De vroege gedichten
2010 – Beeld verplaatst, gedichten bij kunstwerken van oa Erwin Olaf, Rineke Dijkstra, Marlene Dumas en Rob Scholte
2012 – De wereld is hier, een keuze uit de gedichten
2014 – Voor alles, gedichten
Non-fictie
1993 – Collega's van God, essays
1993 – De kus van Michael Jackson, jeugdboek
1996 – In het wild, essays en kritieken
2000 – Pornotheek Arcadië, essays
2001 – Walhalla, essays
2001 – Landschap met klein vuil, columns
2003 – Het wilde westen, columns
2003 – Het vijfde seizoen, essays
2004 – Tussen droom en daad in Dubbelstad: Alkmaar in feit en fictie
2005 – Door eigen hand. Zelfmoord en de nabestaanden, essays en interviews
2006 – Perfect Day en andere popverhalen
2006 – Transito, essays
2007 – De schaamte voor links, pamflet
2007 – Hollands welvaren
2009 – Hitler in de polder & Vrij van God, pamflet
2011 – Alles is gekleurd, omzwervingen in de kunst
2012 – Kennis is geluk. Nieuwe omzwervingen in de kunst
2013 – Americana 1 & 2, Omzwervingen in de Amerikaanse cultuur
2015 – De Stilte van het Licht
Overige
2005 – De Nederlandse en Vlaamse literatuur vanaf 1880 in 250 verhalen, bloemlezing
2006 – De Nederlandse en Vlaamse literatuur vanaf 1880 in 60 lange verhalen, bloemlezing
2007 – De ontdekking van de literatuur. The Paris Review Interviews, bloemlezing
2008 – De Nederlandse en Vlaamse literatuur vanaf 1880 in 200 essays, bloemlezing
2009 – Het volmaakte kleine stukje, een keuze uit het werk van Kees Fens, bloemlezing
(Bron bibliografie: Wikipedia)
fleursdumal.nl magazine
More in: Archive Y-Z, Archive Y-Z, In Memoriam, Joost Zwagerman, Zwagerman, Joost
---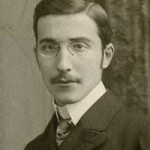 Stefan Zweig
(1881-1942)
Ahnung
Die Sonne endet ihre Reise, –
Wir wandeln unsern Park entlang.
Von ferne summt noch eine Weise …
Wir horchen hin … Und leise, leise
Zieht es uns mit in Wort und Klang,
Als wollte alles sich erfüllen,
Was in uns noch in Blüten steht. –
Wir ahnen den geheimen Willen,
Und unsre Liebe neigt die stillen
Versehnten Augen zum Gebet …
Stefan Zweig poetry
fleursdumal.nl magazine
More in: Archive Y-Z, Stefan Zweig, Zweig, Stefan
---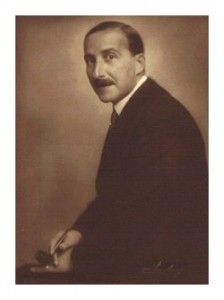 Stefan Zweig
(1881-1942)
Junge Glut
Tiefe Nacht. –
Aus sinneheißem Traum bin ich erwacht.
Ich träumte von schimmernder Glieder Pracht
Von Frauen, die mit liebesfrohen und verständnisstillen
Verschwiegnen Blicken Wunsch und Sucht erfüllen,
Ich träumte von glühenden brennenden Küssen
Von trunkener Geigen laut jubelndem Klang,
Von wilden, berauschenden Glutgenüssen
Von Mädchen, die ich als Sieger bezwang …
Und jede Sehnsucht fand im Traum ihr Ende
Doch nun bin ich erwacht!
Allein! . . . . . . Allein!! . . . . .
… Und sinnetrunken tappen meine Hände
In schweigende Dunkelheiten hinein
Hinein in die leere, nichtssagende Nacht! …
Stefan Zweig poetry
fleursdumal.nl magazine
More in: Archive Y-Z, Stefan Zweig, Zweig, Stefan
---
William Butler Yeats
(1865-1939)
He Wishes For The Cloths Of Heaven
Had I the heavens' embroidered cloths,
Enwrought with golden and silver light,
The blue and the dim and the dark cloths
Of night and light and the half-light,
I would spread the cloths under your feet:
But I, being poor, have only my dreams;
I have spread my dreams under your feet;
Tread softly, because you tread on my dreams.
William Butler Yeats poetry
fleursdumal.nl magazine
More in: Archive Y-Z, Yeats, William Butler
---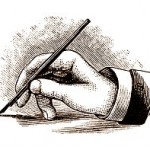 Stefan Zweig
(1881-1942)
Das fremde Lächeln
Mich hält ein leises Lächeln gebannt.
Es hing
Ganz licht und lose am Lippenrand
Einer schönen Frau, die vorüberging.
Die fremde Frau war schön und schlank,
Und fühlte ich gleich, es zielte ihr Gang
In mein Leben.
Und dies Lächeln, das ich in Glut und Scham
Von ihren zartblassen Lippen nahm,
Hat mir ein Schicksal gegeben.
Wie ist dies alles so wundersam,
Das Lächeln, die Frau und mein sehnender Traum
Versponnen zu törichten Tagen.
Mein Herz verirrt sich in Frage und Gram,
Woher dieses seltsame Lächeln kam,
Und weiß ich doch kaum,
Wieso mir das heimliche Wunder geschehn,
Daß ich, erglutend in Glück und Scham,
Ein Lächeln aus fremden Leben nahm
Und in das meine getragen.
Ich fühle nur: seit
Ich das Lächeln der leisen Lippen getrunken,
Ist die Ahnung einer Unendlichkeit
In mein Leben gesunken.
Meine Nächte leuchten nun still und lau
Wie ein Sternengezelt
In beruhigtem Blau.
Und der zarte Traumglanz, der sie erhellt,
Ist das Lächeln der Frau,
Der viellieben Frau,
Der schönen, an der ich vorüberging,
Der fremden, von der ich ein Schicksal empfing.
Stefan Zweig poetry
fleursdumal.nl magazine
More in: Archive Y-Z, Stefan Zweig, Zweig, Stefan
---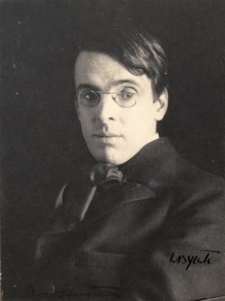 William Butler Yeats
(1865-1939)
The Folly Of Being Comforted
One that is ever kind said yesterday
'Your well-beloved's hair has threads of grey,
And little shadows come about her eyes;
Time can but make it easier to be wise
Though now it seems impossible, and so
Patience is all that you have need of.' No,
I have not a crumb of comfort, not a grain;
Time can but make her beauty over again;
Because of that great nobleness of hers
The fire that stirs about her, when she stirs
Burns but more clearly. O she had not these ways,
When all the wild summer was in her gaze.
O heart! O heart! if she'd but turn her head,
You'd know the folly of being comforted.
William Butler Yeats poetry
fleursdumal.nl magazine
More in: Archive Y-Z, Yeats, William Butler
---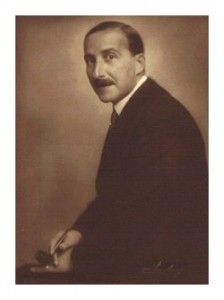 Stefan Zweig
(1881-1942)
Das Mädchen
Heut kann ich keine Ruhe finden …
Das muß die Sommernacht wohl sein.
Durchs off'ne Fenster strömt der Linden
Verträumter Blütenduft herein.
Oh Du mein Herz, wenn er jetzt käme
– Die Mutter ging schon längst zur Ruh –
Und Dich in seine Arme nähme …
Du schwaches Herz, … was tätest du? …
Stefan Zweig poetry
fleursdumal.nl magazine
More in: Archive Y-Z, Stefan Zweig, Zweig, Stefan
---
Older Entries »
Thank you for reading FLEURSDUMAL.NL - magazine for art & literature