*Archive Les Poètes Maudits
·
Charles Baudelaire: Mijn hoofd is een zieke vulkaan. Brieven
·
Jack Kerouac: Old Angel Midnight
·
Feest der Poëzie organiseert 'Het Festijn van Tachtig'
·
Pierre L.Th.A. Maréchal: Frans Babylon – herinneringsgewijs
·
Tristan CORBIÈRE: Feminin singulier
·
PAUL VERLAINE IN PRISON IN MONS
·
ARTHUR RIMBAUD: FÊTES DE LA FAIM
·
Tristan Corbière: A une camarade
·
Le Bateau Ivre in New York
·
Paul Verlaine poème: Vous êtes calme, vous voulez un voeu discret
·
Gérard de Nerval: Le Temps
Hij ging gebukt onder schulden, stond levenslang onder curatele, zag vele schrijfplannen stranden en kende geen geluk in de liefde.
De verschijning van Les fleurs du mal leverde hem gerechtsvervolging en censuur op. En hij werd geteisterd door syfilis.
Uit zijn meer dan 1500 overgeleverde brieven komt Charles Baudelaire naar voren als een mens vol ambities en plannen, en met een druk sociaal leven en contacten met tal van schrijvers (Flaubert, Gautier, Hugo en Sainte -Beuve) en kunstenaars (Manet, Wagner en Nadar).
De boeiende correspondentie met zijn moeder toont hun complexe verstandhouding, die met zijn stiefvader laat zien dat ze lange tijd een warmere band hadden dan doorgaans gedacht wordt.
Charles Baudelaire (1821-1867) leidde een veelbewogen en tragisch leven. Het weerhield hem er niet van met Les fleurs du mal, waarmee hij de grote stad de dichtkunst in schreef, een van de meesterwerken van de Europese literatuur te schrijven.
Auteur: Charles Baudelaire
Mijn hoofd is een zieke vulkaan. Brieven
Vertaler: Kiki Coumans
Uitgeverij: De Arbeiderspers
NUR: 321
Paperback
ISBN: 9789029543774
Publicatiedatum: 30-03-2021
Prijs: € 27,50
• fleursdumal.nl magazine
More in: *Archive Les Poètes Maudits, - Book News, - Book Stories, Archive A-B, Archive A-B, Baudelaire, Charles
---
Old Angel Midnight is a treasure trove of Kerouac's experiments with automatic writing, a method he practiced constantly to sharpen his imaginative reflexes.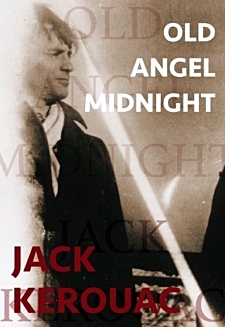 Recorded in a series of notebooks between 1956-1959, what Kerouac called his "endless automatic writing piece" began while he shared a cabin with poet Gary Snyder. Kerouac tried to emulate Snyder's daily Buddhist meditation discipline, using the technique of "letting go" to free his mind for pure spontaneous writing, annotating the stream of words flowing through his consciousness in response to auditory stimuli and his own mental images.
Kerouac continued his exercise in spontaneous composition over the next three years, including a period spent with William Burroughs in Tangiers. He made no revisions to the automatic writing entries in his notebooks, which were collected and transcribed for publication as originally written.
Old Angel Midnight attests to the success of Kerouac's experiment and bears witness to his commitment to his craft, and to the pleasure he takes in writing: "I like the bliss of mind."
Jack Kerouac (1922-1969) was a principal actor in the Beat Generation, a companion of Allen Ginsberg and Neal Cassady in that great adventure. His books include On the Road, The Dharma Bums, Mexico City Blues, Lonesome Traveler, Visions of Cody, Pomes All Sizes (City Lights), Scattered Poems (City Lights), and Scripture of the Golden Eternity (City Lights).
Title Old Angel Midnight
Author Jack Kerouac
Preface by Ann Charters, Michael McClure
Collection City Lights/Grey Fox
Publisher City Lights Publishers
Poetry
Published 2016
Format Paperback
ISBN-10 087286703X
ISBN-13 9780872867031
94 pages
List Price $13.95
Books That Everyone Should Read
fleursdumal.nl magazine
More in: #Beat Generation Archives, *Archive Les Poètes Maudits, - Book Stories, Archive K-L, DRUGS & MEDICINE & LITERATURE, Kerouac, Jack, Opium-Eaters
---
Ontdek het rebelse literaire Amsterdam van 1880, met theater, muziek, poëzie, film, eten, drinken en veel meer op 27 – 28 – 29 oktober 2017
De locaties
Festivalhart: Het Tropeninstituut
Mauritskade 63, Amsterdam
Kassa, theaterzaal en foyer zijn tijdens het festival gevestigd in het voormalige Tropentheater aan de zijkant van het gebouw, in de Linnaeusstraat. De boekverkoop van de Linnaeusboekhandel, de foyer (het Soeterijn Café) én de Poëziebar met absint en sonnetten vindt u in het Tropentheater.
Grote Zaal
Project Diepenbrock, op de zaterdagavond, vindt plaats in de spectaculaire Grote Zaal, te betreden via de hoofdingang aan de Mauritskade.
Grand Café de Tropen
De Tachtigersconferentie en de Thee met Van Deyssel vinden plaats in de Subtropenzaal van Grand Café de Tropen. Het Grand Café is open voor drankjes, lunch en borrelhapjes, en is 's avonds de locatie voor het Van Deysseldiner.
Witsenhuis
Oosterpark 82, Amsterdam
Het Witsenhuis, waar fotograaf Willem Witsen woonde en regelmatig de Tachtigers over de vloer kreeg, heeft een verdieping in de oude staat gehouden. Wilt u ook bij de Tachtigers langskomen? Dat kan! Bij wijze van uitzondering opent het Witsenhuis zijn deuren voor rondleidingen.
Pianola Museum
Westerstraat 118, Amsterdam

Het Geelvinck Pianola Museum bezit een grote hoeveelheid automatische piano's (pianola's), pianolarollen, automatische instrumenten en bijzondere grammofoons, alsook een kleine collectie schellakplaten. Op zondag 29 oktober vindt een bijzonder Koffieconcert rondom de Tachtigers plaats, met oude opnamen en pianolarollen van Nederlandse componisten uit hun tijd!
Bijzondere Collecties van de Universiteit van Amsterdam
Oude Turfmarkt 129, Amsterdam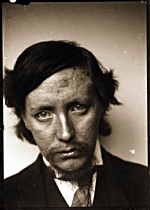 Tot de Bijzondere Collecties van de Universiteit van Amsterdam behoren rijke literaire verzamelingen en de Tachtigers zijn daarin ruim vertegenwoordigd. De collectie van het Frederik van Eeden-Genootschap wordt er beheerd en het archief van Albert Verwey is er eveneens te raadplegen. Verder zijn er stukken van onder anderen Willem Kloos en Jacques Perk, en archivalia van Flanor, de literaire vereniging waar veel Tachtigers in hun studententijd bij aangesloten waren. Een kleine tentoonstelling met manuscripten, foto's, tekeningen en persoonlijke documenten van Tachtigers is gratis te zien in de hal tijdens het gehele festival, gedurende de openingstijden van de Bijzondere Collecties.
Rondleiding Concertgebouw en Alphons Diepenbrock
Concertgebouwplein 10, 1071 LN Amsterdam

De componist onder de Tachtigers, die warme banden onderhield met vooral Herman Gorter, was Alphons Diepenbrock. Hij toonzette onder ander gedichten van Tachtigers Jacques Perk en Lodewijk van Deyssel, en staat vermeld op een cartouche in de Grote Zaal van het Concertgebouw, die tijdens de Tweede Gouden Eeuw van Amsterdam eind 19e eeuw werd gebouwd, en waar de Tachtigers regelmatig te vinden waren in de beginjaren. Een speciale, eenmalige rondleiding voor slechts 15 personen brengt u in verschillende ruimten van het Concertgebouw, die normaal niet toegankelijk zijn voor het publiek. Tevens wordt daarbij verteld over het Concertgebouw en zijn orkest in de tijd van de Tachtigers in het algemeen en Diepenbrocks betrokkenheid daarbij in het bijzonder.
Stichting Feest der Poëzie organiseert bijzondere voorstellingen met gedichten en muziek op mooie plaatsen, en richt zich op vormvaste dichtkunst, klassieke voordrachtskunst en ambachtelijke boekdrukkunst.
Stichting Feest der Poëzie, een collectief van dichters, musici en een magiër, treedt op in binnen- en buitenland. Wegens het tienjarig bestaan van de stichting is 'Het Festijn van Tachtig' in het leven geroepen.
Dit seizoen organiseren zij naast het Festijn nog avonden in het Pianola Museum in Amsterdam, WORM in Rotterdam, Nieuwe Erven in Amersfoort en op andere plaatsen.
# Meer info website Feest der Poëzie
Feest der Poëzie organiseert 'Het Festijn van Tachtig'
fleursdumal.nl magazine
More in: *Archive Les Poètes Maudits, - Archive Tombeau de la jeunesse, - Book Lovers, - Book Stories, Art & Literature News, CLASSIC POETRY, Feest der Poëzie, Gorter, Herman, Kloos, Willem, Literary Events, LITERARY MAGAZINES, Lodewijk van Deyssel, Museum of Literary Treasures, MUSIC, THEATRE
---
Volgens Pierre Maréchal was de Brabantse dichter Frans Babylon een zieke poète maudit die zowel de poëzie als de kunst stimuleerde te vernieuwen. Brabant liep sterk achter bij de ontwikkelingen.
Uiteindelijk verwierp hij de traditionele dichtstijlen en schreef hij gedichten op gevoel. Met vrienden vormde hij de Bredero-club en stimuleerde hij kunstenaars om zich verder te ontwikkelen. Babylon bevorderde eveneens de ontwikkeling van openbare kunstexposities voor groot publiek.
Naast Brabant en Amsterdam was Frankrijk een geliefde omgeving. Ondanks zijn bipolaire stoornis en dankzij zijn creativiteit bracht Frans Babylon veel tot stand.
Pierre Maréchal werkte onder meer voor de internationale trekvogel-bescherming. Ruim twintig jaar is hij actief bezig met poëzie. Hij schrijft en organiseert maandelijks diverse podia en optredens. De laatste jaren doet hij dit bij de PoëzieClub Eindhoven en de werkgroep 'Boekenkast'. Frans Babylon – herinneringsgewijs is typisch zo'n onderwerp. Het is een project over een bekende en tegelijk een minder bekende dichter, wiens daden van betekenis waren voor de ontwikkeling van de poëzie en de kunsten in het zuiden van ons land.
Pierre L.Th.A. Maréchal
Frans Babylon – herinneringsgewijs
Biografie Frans Babylon,
pseudoniem van Franciscus Gerardus Jozef Obers (1924 – 1968)
ISBN: 978-94-0223-720-7
Paperback 12,5 x 20 cm
186 pag. – 2017
€ 19,99
fleursdumal.nl magazine
More in: *Archive Les Poètes Maudits, - Archive Tombeau de la jeunesse, - Book News, Archive A-B, Archive A-B, Art & Literature News, Babylon, Frans, Brabantia Nostra, Frans Babylon
---
Tristan Corbière
Feminin singulier
Éternel Féminin de l'éternel Jocrisse!
Fais-nous sauter, pantins nous payons les décors!
Nous éclairons la rampe…. Et toi, dans la coulisse,
Tu peux faire au pompier le pur don de ton corps.
Fais claquer sur nos dos le fouet de ton caprice,
Couronne tes genoux!… et nos têtes dix-cors;
Ris! montre tes dents! mais … nous avons la police,
Et quelque chose en nous d'eunuque et de recors.
… Ah tu ne comprends pas?…–Moi non plus–Fais la belle
Tourne: nous sommes soûls! Et plats: Fais la cruelle!
Cravache ton pacha, ton humble serviteur!…
Après, sache tomber!–mais tomber avec grâce–
Sur notre sable fin ne laisse pas de trace!…
–C'est le métier de femme et de gladiateur.–
Tristan Corbière (1845 – 1875)
Feminin singulier
fleursdumal.nl magazine
More in: *Archive Les Poètes Maudits, Archive C-D, Corbière, Tristan
---
Verlaine. Cellule 252
Turbulences poétiques
History of Paul Verlaine and Belgium
Verlaine's time in prison in Mons marks a turning point in the artist's work as well as in his moral life. In July 1873, at a hotel in Brussels, Verlaine shot Rimbaud twice with a revolver. After spending some time in prison in Brussels, he spent most of his sentence in Mons, where he wrote some of his most wonderful masterpieces.
 On 25 October 1873, Verlaine arrived in Mons in his prison wagon. The poet was torn between his family and his passionate love for the young Rimbaud, and he had crossed the line. He shot his lover with a revolver, and spent the rest of his sentence in prison in Mons. In cell 252, Verlaine mulled things over. He thought about his life of debauchery and reflected. How had he arrived at this point? Why could he not draw a line under this destructive passion? In Mons, Verlaine did some soul-searching and turned to religion to heal his wounds. He fell in love with Jesus as he had become infatuated with Rimbaud just a few months earlier. He wanted to re-establish a healthier lifestyle and win back his wife's trust. To transform intoxication into wisdom. Verlaine's time in prison in Mons marked a turning point in the artist's work as well as in his moral life.
In his cell, the writer got bored. He spent a lot of time writing. He was granted access to books, and he was not forced to work. In Mons, he wrote some of his most stirring work. He would go on to think of bringing his texts together into a collection called "Cellulairement" (literally, cellularly), but he gave up the idea and these poems were mainly divided between three anthologies: "Sagesse" (wisdom), "Jadis et naguère" (yesteryear and yesterday) and "Parallèlement" (in parallel). The experts are unanimous. From both a human and a literary point of view, his time in prison in Mons transformed Verlaine. He left Hainaut's capital on 16 January 1875 after being granted an early release, and did not return until twenty years later to give a series of talks. His demons had resurfaced and he was a mere shadow of his former self.
Une coproduction de la Fondation Mons 2015, du Pôle muséal de la Ville de Mons et de la Bibliothèque royale de Belgique.
Until 24/01/2016
BAM – Rue Neuve, 8 – 7000 Mons – Belgium
# Website BAM Mons
fleursdumal.nl magazine
More in: *Archive Les Poètes Maudits, Archive Q-R, Archive U-V, Rimbaud, Arthur, Verlaine, Paul
---
Arthur Rimbaud
(1854-1891)
Fêtes de la faim
Ma faim, Anne, Anne,
Fuis sur ton âne.
Si j'ai du goût, ce n'est guères
Que pour la terre et les pierres
Dinn ! dinn ! dinn ! dinn ! je pais l'air,
Le roc, les Terres, le fer.
Tournez, les faims ! paissez, faims,
Le pré des sons !
Puis l'humble et vibrant venin
Des liserons ;
Les cailloux qu'un pauvre brise,
Les vieilles pierres d'églises,
Les galets, fils des déluges,
Pains couchés aux vallées grises !
Mes faims, c'est les bouts d'air noir ;
L'azur sonneur ;
— C'est l'estomac qui me tire.
C'est le malheur.
Sur terre ont paru les feuilles :
Je vais aux chairs de fruit blettes.
Au sein du sillon, je cueille
La doucette et la violette.
Ma faim, Anne, Anne !
Fuis sur ton âne.
Arthur Rimbaud poetry
fleursdumal.nl magazine
More in: *Archive Les Poètes Maudits, Archive Q-R, Arthur Rimbaud, Rimbaud, Arthur, Rimbaud, Arthur
---
Tristan Corbière
(1845-1875)
A une camarade
Que me veux-tu donc, femme trois fois fille ?…
oi qui te croyais un si bon enfant !
– De l'amour?… – Allons : cherche, apporte, pille !
'aimer aussi, toi ! .., moi qui t'aimais tant.
Oh ! je t'aimais comme.. un lézard qui pèle
Aime le rayon qui cuit son sommeil…
L'Amour entre nous vient battre de l'aile :
– Eh ! qu'il s'ôte de devant mon soleil !
on amour, à moi, n'aime pas qu'on l'aime ;
endiant, il a peur d'être écouté…
C'est un lazzarone enfin, un bohème,
Déjeunant de jeûne et de liberté.
– Curiosité, bibelot, bricole ?…
C'est possible : il est rare – et c'est son bien –
ais un bibelot cassé se recolle ;
Et lui, décollé, ne vaudra plus rien ! …
Va, n'enfonçons pas la porte entr'ouverte
Sur un paradis déjà trop rendu !
Et gardons à la pomme, jadis verte,
Sa peau, sous son fard de fruit défendu.
Que nous sommes-nous donc fait l'un à l'autre ?…
– Rien… – Peut-être alors que c'est pour cela ;
– Quel a commencé? – Pas moi, bon apôtre !
Après, quel dira : c'est donc tout – voilà !
– Tous les deux, sans doute… – Et toi, sois bien sûre
Que c'est encor moi le plus attrapé :
Car si, par erreur, ou par aventure,
Tu ne me trompais.., je serais trompé !
Appelons cela : l'amitié calmée ;
Puisque l'amour veut mettre son holà.
N'y croyons pas trop, chère mal-aimée…
– C'est toujours trop vrai ces mensonges-là ! –
Nous pourrons, au moins, ne pas nous maudire
– Si ça t'est égal – le quart-d'heure après.
Si nous en mourons – ce sera de rire…
oi qui l'aimais tant ton rire si frais !
Tristan Corbière poetry
fleursdumal.nl magazine
More in: *Archive Les Poètes Maudits, - Archive Tombeau de la jeunesse, Archive C-D, CLASSIC POETRY, Corbière, Tristan
---
Le Bateau Ivre (Arthur Rimbaud) in New York
© photos hans hermans 2013
fleursdumal.nl magazine
More in: *Archive Les Poètes Maudits, FDM in New York, Rimbaud, Arthur, Rimbaud, Arthur
---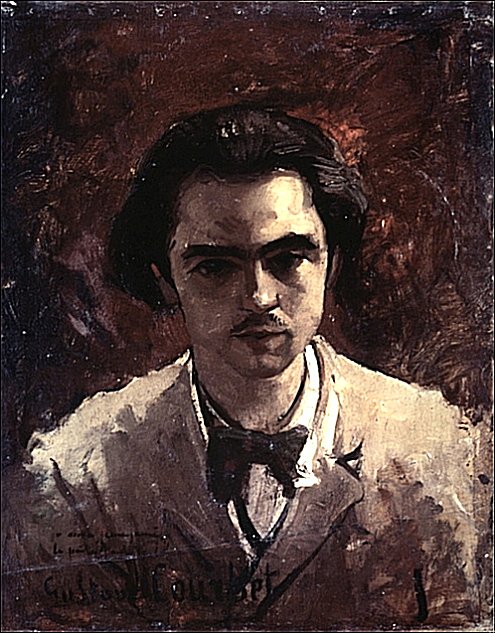 Paul Verlaine
(1844-1896)
Vous êtes calme, vous voulez un voeu discret
Vous êtes calme, vous voulez un voeu discret,
Des secrets à mi-voix dans l'ombre et le silence,
Le coeur qui se répand plutôt qu'il ne s'élance,
Et ces timides, moins transis qu'il ne paraît.
Vous accueillez d'un geste exquis telles pensées
Qui ne marchent qu'en ordre et font le moins de bruit.
Votre main, toujours prête à la chute du fruit,
Patiente avec l'arbre et s'abstient de poussées.
Et si l'immense amour de vos commandements
Embrasse et presse tout en sa sollicitude,
Vos conseils vont dicter aux meilleurs et l'étude
Et le travail des plus humbles recueillements.
Le pécheur, s'il prétend vous connaître et vous plaire,
Ô vous qui nous aimant si fort parliez si peu,
Doit et peut, à tout temps du jour comme en tout lieu,
Bien faire obscurément son devoir et se taire,
Se taire pour le monde, un pur sénat de fous,
Se taire sur autrui, des âmes précieuses,
Car nous taire vous plaît, même aux heures pieuses,
Même à la mort, sinon devant le prêtre et vous.
Donnez-leur le silence et l'amour du mystère,
Ô Dieu glorifieur du bien fait en secret,
À ces timides moins transis qu'il ne paraît,
Et l'horreur, et le pli des choses de la terre,
Donnez-leur, ô mon Dieu, la résignation,
Toute forte douceur, l'ordre et l'intelligence,
Afin qu'au jour suprême ils gagnent l'indulgence
De l'Agneau formidable en la neuve Sion,
Afin qu'ils puissent dire : " Au moins nous sûmes croire "
Et que l'Agneau terrible, ayant tout supputé,
Leur réponde : " Venez, vous avez mérité,
Pacifiques, ma paix, et douloureux, ma gloire. "
Paul Verlaine Poésie

fleursdumal.nl magazine
More in: *Archive Les Poètes Maudits, Archive U-V, Verlaine, Paul
---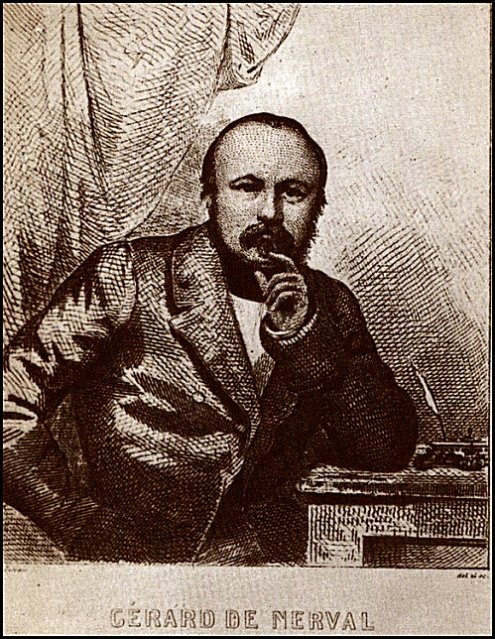 Gérard de Nerval
(1808-1855)

Le Temps

Ode
I
Le Temps ne surprend pas le sage ;
Mais du Temps le sage se rit,
Car lui seul en connaît l'usage ;
Des plaisirs que Dieu nous offrit,
Il sait embellir l'existence ;
Il sait sourire à l'espérance,
Quand l'espérance lui sourit.
II
Le bonheur n'est pas dans la gloire,
Dans les fers dorés d'une cour,
Dans les transports de la victoire,
Mais dans la lyre et dans l'amour.
Choisissons une jeune amante,
Un luth qui lui plaise et l'enchante ;
Aimons et chantons tour à tour !
III
" Illusions ! vaines images ! "
Nous dirons les tristes leçons
De ces mortels prétendus sages
Sur qui l'âge étend ses glaçons ; "
" Le bonheur n'est point sur la terre,
Votre amour n'est qu'une chimère,
Votre lyre n'a que des sons ! "
IV
Ah ! préférons cette chimère
A leur froide moralité ;
Fuyons leur voix triste et sévère ;
Si le mal est réalité,
Et si le bonheur est un songe,
Fixons les yeux sur le mensonge,
Pour ne pas voir la vérité.
V
Aimons au printemps de la vie,
Afin que d'un noir repentir
L'automne ne soit point suivie ;
Ne cherchons pas dans l'avenir
Le bonheur que Dieu nous dispense ;
Quand nous n'aurons plus l'espérance,
Nous garderons le souvenir.
VI
Jouissons de ce temps rapide
Qui laisse après lui des remords,
Si l'amour, dont l'ardeur nous guide,
N'a d'aussi rapides transports :
Profitons de l'adolescence,
Car la coupe de l'existence
Ne pétille que sur ses bords !
(1824)
Gérard de Nerval: Le Temps

KEMP=MAG kempis poetry magzine
More in: *Archive Les Poètes Maudits, Archive M-N, Nerval, Gérard de, Nerval, Gérard de
---
Thank you for reading FLEURSDUMAL.NL - magazine for art & literature