Proust, Marcel
·
Thierry Laget: Proust, prix Goncourt. Une émeute littéraire
·
Evelyne Bloch-Dano: Une jeunesse de Marcel Proust
·
Marcel Proust: Anton van Dyck
·
Marcel Proust: Dordrecht
·
Marcel Proust: Petit pastiche de Mme de Noailles
·
Marcel Proust: Mozart
·
Marcel Proust: Je contemple souvent le ciel de ma mémoire
·
Marcel Proust: Schumann
·
Marcel Proust: Paulus Potter
·
Marcel Proust: Antoine Watteau
·
Marcel Proust: Albert Cuyp
·
Marcel Proust: Afin de me couvrir de fourrure et de moire
10 décembre 1919: le prix Goncourt est attribué à Marcel Proust pour À l'ombre des jeunes filles en fleurs.
Aussitôt éclate un tonnerre de protestations : anciens combattants, pacifistes, réactionnaires, révolutionnaires, chacun se sent insulté par un livre qui, ressuscitant le temps perdu, semble dédaigner le temps présent.
Pendant des semaines, Proust est vilipendé dans la presse, brocardé, injurié, menacé. Son tort? Ne plus être jeune, être riche, ne pas avoir fait la guerre, ne pas raconter la vie dans les tranchées.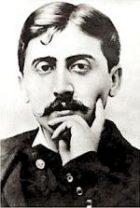 Retraçant l'histoire du prix et les manœuvres en vue de son attribution à Proust, s'appuyant sur des documents inédits, dont il dévoile nombre d'extraits savoureux, Thierry Laget fait le récit d'un événement inouï – cette partie de chamboule-tout qui a déplacé le pôle magnétique de la littérature – et de l'émeute dont il a donné le signal.

Thierry Laget
Proust, prix Goncourt. Une émeute littéraire
Collection Blanche, Gallimard
Parution : 04-04-2019
272 pages
140 x 205 mm
ISBN : 9782072846786
Genre : Essais
Prix €19,50

# new books
Thierry Laget
Proust
prix Goncourt
• fleursdumal.nl magazine
More in: - Book News, Archive K-L, Archive O-P, Archive O-P, Art & Literature News, Awards & Prizes, Marcel Proust, Proust, Marcel
---
Who hasn't heard of Proust's famous questionnaire? The writer's answers have travelled across time and all around the world, but people have forgotten that they came from an album called Confessions that belonged to Antoinette Faure, daughter of the future French President.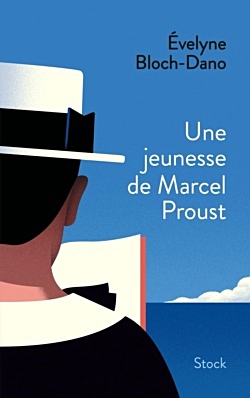 Marcel Proust didn't realize that, by taking part in what was a fashionable parlour game, he would be revealing clues about his teenage self. His answers have elicited commentaries but have never been contextualised or compared, never dated accurately.
Where and when did he answer this questionnaire? What sort of boy was he at the time? And most significantly, how much of that period and those friendships fed into his future work? What traces are left of Gilberte on the Champs-Élysées, Albertine's little group and the "young girls in flower"?
Évelyne Bloch-Dano conducted this enquiry over many years. Using sometimes tiny clues, she managed to identify Antoinette's other friends, some of whom may have known Proust.
A whole world came to life, revolving around the daughters of the late nineteenth-century bourgeoisie, many of them with connections to Le Havre like the Faure family. Some boys appear too. Through their ideas, their books, their customs, what they study and what they dream of, the portrait of a whole generation emerges.
Marcel Proust's generation. Young people born to the defeat at Sedan in 1870, in a vengeful republican France. The generation of General Boulanger, of political scandal and the Dreyfus Affair, but also of schools for girls, electricity, Great Exhibitions and the Belle époque. And later the First World War.
The biographer and essayist Évelyne Bloch-Dano is the author of several prize-winning and widely translated books, including most notably biographies of Madame Zola (1997, Grand Prix of Elle readers), Madame Proust (2004, Prix Renaudot for an essay), Le Dernier Amour de George Sand (2010), but also Jardins de papier (2015), and the more personal La Biographe (2007) and Porte de Champerret (2013).
Evelyne Bloch-Dano: Une jeunesse de Marcel Proust
(Marcel Proust as a young man by Évelyne Bloch-Dano)
Collection: La Bleue
Éditions Stock Paris
Parution: 20/09/2017
304 pages
Format: 135 x 215 mm
EAN: 9782234075696
Prix: €19.50
fleursdumal.nl magazine
More in: Archive A-B, Art & Literature News, BIOGRAPHY, FDM in Paris, Marcel Proust, Proust, Marcel
---
Marcel Proust
(1871-1922)

Anton Van Dyck
Douce fierté des coeurs, grâce noble des choses,
Qui brillent dans les yeux, les velours et les bois ;
Beau langage élevé du maintien et des poses
Héréditaire orgueil des femmes et des rois !
Tu triomphes, Van Dyck, prince des gestes calmes,
Dans tous les êtres beaux qui vont bientôt mourir,
Dans toute belle main qui sait encor s'ouvrir…
Sans s'en douter, qu'importe, elle te tend les palmes !
Halte de cavaliers sous les pins, près des flots
Calmes comme eux, comme eux bien proches des sanglots ;
Enfants royaux déjà magnifiques et graves,
Vêtements résignés, chapeaux à plumes braves,
Et bijoux en qui pleure, onde à travers les flammes,
L'amertume des pleurs dont sont pleines les âmes,
Trop hautaines pour les laisser monter aux yeux ;
Et toi par-dessus tous, promeneur précieux
En chemise bleu pâle, une main à la hanche,
Dans l'autre un fruit feuillu détaché de la branche,
Je rêve sans comprendre à ton geste et tes yeux :
Debout mais reposé dans cet obscur asile
Duc de Richmond, ô jeune sage ! – ou charmant fou ? –
Je te reviens toujours… -. Un saphir à ton cou
A des feux aussi doux que ton regard tranquille.
Marcel Proust poetry
fleursdumal.nl magazine
More in: Marcel Proust, Proust, Marcel
---
Marcel Proust
(1871-1922)

Dordrecht
Ton ciel toujours un peu
bleu
Le matin souvent un peu
pleut
Dordrecht endroit si beau
Tombeau
De mes illusions chéries
Quand j'essaye à dessiner
Tes canaux, tes toits, ton clocher
Je me sens comme aimer
Des patries
Mais le soleil et les cloches
Ont bien vite resséché
Pour la grand-messe et les brioches
Ton luisant clocher
Ton ciel bleu
Souvent pleut
Mais dessous toujours un peu
Reste bleu.
Marcel Proust poetry
fleursdumal.nl magazine
More in: Marcel Proust, Proust, Marcel
---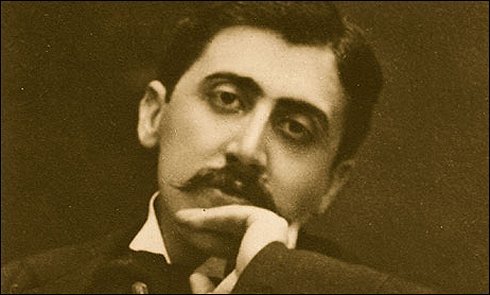 Marcel Proust
(1871-1922)

Petit pastiche de Mme de Noailles
Mon coeur sage, fuyez l'odeur des térébinthes,
Voici que le matin frise comme un jet d'eau.
L'air est un écran d'or où des ailes sont peintes ;
Pourquoi partiriez-vous pour Nice ou pour Yeddo ?
Quel besoin avez-vous de la luisante Asie
Des monts de verre bleu qu'Hokusaï dessinait
Quand vous sentez si fort la belle frénésie
D'une averse dorant les toits du Vésinet !
Ah ! partir pour le Pecq, dont le nom semble étrange,
Voir avant de mourir le Mont Valérien
Quand le soigneux couchant se dispose et s'effrange
Entre la Grande Roue et le Puits artésien.
Marcel Proust poetry

fleursdumal.nl magazine
More in: Marcel Proust, Proust, Marcel
---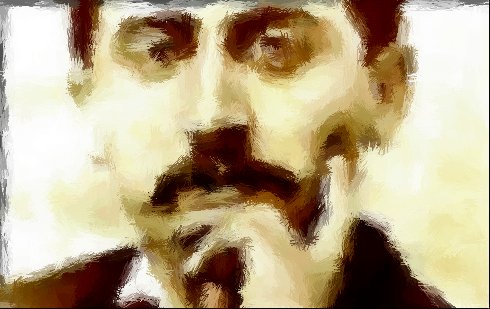 Marcel Proust
(1871-1922)
Mozart
Italian at arms or Prince of Bavaria
His sad and icy eye enchanted by languor!
In his chilly gardens he encounters his heart
His bosom swells to shadow, where he nurses the light.
His tender German heart, – so deep a sigh!
Finally he tastes love's idle being,
His hands too weak to hold his book
Beaming with hope in his charmed head.
Cherub, Don Juan! Standing in pressed flowers
Far from the lapse of memory
Such an amount of perfumes fan
Drying the tears the wind disperses
From Andalusian gardens to the tombs of Tuscany!
In the German park where troubles mist,
The Italian is still king of the night.
His breath makes the air soft and spiritual
And love drips from his enchanted flute
In the hot still shade of good-byes on a fine day
Of fresh sorbets, kisses and sky.

Marcel Proust poetry

fleursdumal.nl magazine
More in: Marcel Proust, Proust, Marcel
---
Marcel Proust
(1871-1922)
Je contemple souvent le ciel de ma mémoire
Le temps efface tout comme effacent les vagues
Les travaux des enfants sur le sable aplani
Nous oublierons ces mots si précis et si vagues
Derrière qui chacun nous sentions l'infini.
Le temps efface tout il n'éteint pas les yeux
Qu'ils soient d'opale ou d'étoile ou d'eau claire
Beaux comme dans le ciel ou chez un lapidaire
Ils brûleront pour nous d'un feu triste ou joyeux.
Les uns joyaux volés de leur écrin vivant
Jetteront dans mon coeur leurs durs reflets de pierre
Comme au jour où sertis, scellés dans la paupière
Ils luisaient d'un éclat précieux et décevant.
D'autres doux feux ravis encor par Prométhée
Étincelle d'amour qui brillait dans leurs yeux
Pour notre cher tourment nous l'avons emportée
Clartés trop pures ou bijoux trop précieux.
Constellez à jamais le ciel de ma mémoire
Inextinguibles yeux de celles que j'aimai
Rêvez comme des morts, luisez comme des gloires
Mon coeur sera brillant comme une nuit de Mai.
L'oubli comme une brume efface les visages
Les gestes adorés au divin autrefois,
Par qui nous fûmes fous, par qui nous fûmes sages
Charmes d'égarement et symboles de foi.
Le temps efface tout l'intimité des soirs
Mes deux mains dans son cou vierge comme la neige
Ses regards caressants mes nerfs comme un arpège
Le printemps secouant sur nous ses encensoirs.
D'autres, les yeux pourtant d'une joyeuse femme,
Ainsi que des chagrins étaient vastes et noirs
Épouvante des nuits et mystère des soirs
Entre ces cils charmants tenait toute son âme
Et son coeur était vain comme un regard joyeux.
D'autres comme la mer si changeante et si douce
Nous égaraient vers l'âme enfouie en ses yeux
Comme en ces soirs marins où l'inconnu nous pousse.
Mer des yeux sur tes eaux claires nous naviguâmes
Le désir gonflait nos voiles si rapiécées
Nous partions oublieux des tempêtes passées
Sur les regards à la découverte des âmes.
Tant de regards divers, les âmes si pareilles
Vieux prisonniers des yeux nous sommes bien déçus
Nous aurions dû rester à dormir sous la treille
Mais vous seriez parti même eussiez-vous tout su
Pour avoir dans le coeur ces yeux pleins de promesses
Comme une mer le soir rêveuse de soleil
Vous avez accompli d'inutiles prouesses
Pour atteindre au pays de rêve qui, vermeil,
Se lamentait d'extase au-delà des eaux vraies
Sous l'arche sainte d'un nuage cru prophète
Mais il est doux d'avoir pour un rêve ces plaies
Et votre souvenir brille comme une fête.
Marcel Proust poetry

fleursdumal.nl magazine
More in: Marcel Proust, Proust, Marcel
---
Marcel Proust
(1871-1922)
Schumann
Your old garden receives your friendship well
Understands the boys whistling from their nests in the hedges
Your step-loves for so many wounds
Schumann, pensive soldier disappointed by war.
The happy pregnant breeze, or passage of doves,
The scent of jasmine submerged in big shadow,
The child reading the future in the hearth's flames,
The clouds or the wind speak to your grave heart.
Formerly your tears ran with the cries of the carnival
Or mixed their softness with bitter victory
Whose insane outburst still shudders in your memory;
You can cry without end: It is to your rival.
Towards Cologne the Rhine rolls its sacred water.
Ah, you sing the feast days merrily on its edges!
– But broken sorrow, you are deadened…
Tears rain in enlightened dark.
You dream where dead see, where faith is thankless,
Your hope is in flowers and powder is their crime…
Then a heart-rending bolt of lightning reawakens,
When the new thunderbolt strikes you for the first time.
Flow, fill with fragrance, march to drums or be beautiful!
Schumann, confidant of love and flowers,
Between your joyous quays, holy rivers sorrow,
Pensive garden, warm, fresh and faithful,
Where moon lilies and swallows kiss,
Army marches, child dreams, woman weeps!

Marcel Proust poetry

fleursdumal.nl magazine
More in: Archive O-P, Marcel Proust, Proust, Marcel
---
Marcel Proust
(1871-1922)

Paulus Potter
Dark sorrow of the skies, uniform grey,
The rare bright spots, sadder to be blue,
And who leave the frozen plains
Filtering the lukewarm tears of a misunderstood sun;
Potter, melancholy mood of the dark plains
That spread endlessly, without joy and without colour,
The trees, the hamlet, do not shed any shadows,
The little gardens carry no flower.
A labourer returns pulling buckets, and, puny,
His mare resigned, worried and dreaming,
Trained and anxious, his pensive brain,
Short breath of a man, the long breath of wind.
Marcel Proust poetry

fleursdumal.nl magazine
More in: Marcel Proust, Proust, Marcel
---
Marcel Proust
(1871-1922)

Antoine Watteau
Crépuscule grimant les arbres et les faces,
Avec son manteau bleu, sous son masque incertain ;
Poussière de baisers autour des bouches lasses…
Le vague devient tendre, et le tout près, lointain.
La mascarade, autre lointain mélancolique,
Fait le geste d'aimer plus faux, triste et charmant.
Caprice de poète – ou prudence d'amant,
L'amour ayant besoin d'être orné savamment –
Voici barques, goûters, silences et musique.


Marcel Proust poetry
fleursdumal.nl magazine
More in: Marcel Proust, Proust, Marcel
---
Marcel Proust
(1871-1922)

Albert Cuyp
Cuyp, soleil déclinant dissous, dans l'air limpide
Qu'un vol de ramiers gris trouble comme de l'eau,
Moiteur d'or, nimbe au front d'un boeuf ou d'un bouleau,
Encens bleu des beaux jours fumant sur le coteau,
Ou marais de clarté stagnant dans le ciel vide.
Des cavaliers sont prêts, plume rose au chapeau,
Paume au côté ; l'air vif qui fait rose leur peau,
Enfle légèrement leurs fines boucles blondes,
Et, tentés par les champs ardents, les fraîches ondes,
Sans troubler par leur trot les boeufs dont le troupeau
Rêve dans un brouillard d'or pâle et de repos,
Ils partent respirer ces minutes profondes.
Marcel Proust poetry

fleursdumal.nl
More in: Marcel Proust, Proust, Marcel
---
Marcel Proust
(1871-1922)

Afin de me couvrir de fourrure et de moire
A Jean Cocteau.
Afin de me couvrir de fourrure et de moire
Sans de ses larges yeux renverser l'encre noire
Tel un sylphe au plafond, tel sur la neige un ski
Jean sauta sur la table auprès de Nijinsky.
C'était dans un salon purpurin de Larue
Dont l'or, d'un goût douteux, jamais ne se voila.
La barbe d'un docteur blanditieuse et drue
Déclarait : " Ma présence est peut-être incongrue
Mais s'il n'en reste qu'un je serai celui-là. "
Et mon coeur succombait aux coups d'Indiana.
Marcel Proust poetry
fleurdumal.nl magazine
More in: Marcel Proust, Proust, Marcel
---
Thank you for reading FLEURSDUMAL.NL - magazine for art & literature