Archive K-L
·
Bas Kwakman: In poëzie en oorlog. Vijftig jaar Poetry International
·
Onias Landveld: De Nasleep (Gedicht)
·
Tilburgs Stadsdichter Onias Landveld gast tijdens Tilt Festival 2019
·
Genomineerd voor E. du Perronprijs 2018: Jan Leyers, Ilja Leonard Pfeijffer en Jolande Withuis
·
Symbionese Liberation Army (SLA): Death to the Fascist Insect
·
The Salt Companion to Mina Loy
·
Onias Landveld: Handen thuis! (gedicht)
·
Poetic Salvage. Reading Mina Loy by Tara Prescott
·
Mina Loy's Critical Modernism by Laura Scuriatti
·
Nu in Museum De Pont Tilburg te zien: Richard Long
·
Benjamin Balint: Kafka's laatste proces. De strijd om een literaire nalatenschap
·
Franz Kafka, the Eternal Son. A Biography by Peter-André Alt
In In poëzie en oorlog onthult directeur Bas Kwakman van Poetry International op verrassende en soms ontluisterende wijze de wereld van de poëzie.

Daarbij ontziet de schrijver niets en niemand, ook zichzelf niet. In poëzie en oorlog is alles geoorloofd.
Leidraad is de geschiedenis van het Poetry International Festival in Rotterdam, dat in 1970 in anarchie werd geboren en inmiddels wereldwijd een van de belangrijkste ontmoetingsplaatsen voor dichters en poëzieliefhebbers is geworden.
Gedreven door de liefde voor poëzie en een gezonde argwaan jegens het menselijke bedrijf daarachter beschrijft Kwakman met warmte, humor, kennis en verbazing zijn unieke ervaringen in de bijzondere wereld tussen de versregels.
Auteur: Bas Kwakman
In poëzie en oorlog.
Vijftig jaar Poetry International
Uitgeverij: De Arbeiderspers
NUR: 320
Paperback
ISBN: 9789029525602
Taal: Nederlands
Bladzijden: 400 pp.
Paperback
Literaire non-fictie
Prijs: € 24,99
Publicatiedatum: 21-05-2019
# new books
In poëzie en oorlog.
Vijftig jaar Poetry International
Bas Kwakman
• fleursdumal.nl magazine
More in: #More Poetry Archives, - Book Lovers, - Book News, Archive K-L, Art & Literature News, MODERN POETRY, Poetry International
---
De Nasleep
Als dat schôon menske weer lillek is geworden.
Als oe bed zich niet onder oe kont bevindt.
Als het daglicht die hossende Rotterdammer verraadt,
Dan rest alleen nog maar de kater,
maar is uw Carnaval waarschijnlijk geslaagd.
De Kater…
Zou het licht alsjeblieft wat minder hard willen praten?
Ik kan mijn hoofdpijn niet zo goed meer verstaan..
Onias Landveld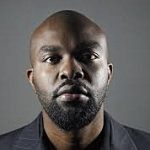 Onias Landveld (Paramaribo, 1985) is een verhalenverteller. Hij schrijft, spreekt, dicht en inspireert. Vanaf aug 2017 is hij voor twee jaar de stadsdichter van Tilburg.
Zijn talent deelt hij graag via concepten, workshops en spreek-cursussen. Maar het podium is waar hij het liefst staat. In 1989 ontvluchtte hij samen met zijn familie de Surinaamse burgeroorlog. Na 3 jaar te hebben gewoond in Utrecht, vertrok het gezin weer naar zijn geboorteland. Sinds 1998 woont hij in Tilburg.
Na jaren te hebben rondgedwaald ontdekte hij zijn liefde voor het gesproken woord. In 2015 mocht hij daarvoor de Van Dale Spoken Award voor storytelling ontvangen.
Het heeft hem nog meer gemotiveerd om naar mensen uit te reiken. Altijd zoekende om iemand te raken met een memorabele boodschap, blijft hij met woorden banden smeden. Hij houdt daarvan. Herkenning creëren door een zaadje te planten, gevoed met passie en identificatie.
• fleursdumal.nl magazine
More in: *Concrete + Visual Poetry K-O, Archive K-L, Archive K-L, City Poets / Stadsdichters, Landveld, Onias
---
Onias Landveld Stadsdichter van Tilburg organiseert op 30 maart, de tweede editie van The Stage. Die avond zal hij met zijn podium te gast zijn bij het Tilt Festival in Theater De Nieuwe Vorst in Tilburg.
Het thema van de avond is "Zij is", een knik naar de Boekenweek 2019, die 'Moeder de vrouw' als onderwerp heeft.
Met een aantal speciale gasten zal The Stage bezoekers die avond vermaken met poëzie, verhalen en muziek.
De stadsdichter is het podium gestart omdat hij iets wil achterlaten als hij in Augustus dit jaar afzwaait.
Onias Landveld vindt dat woordkunst in een stad als Tilburg een plaats moet blijven hebben. Daarom is hij vorig jaar dit evenement gestart dat zijn vaste plek in de Nwe Vorst heeft.
Op 30 maart staan on Stage: Zeinab El Bouni, Aminata Cairo, LouLou Elisabettie, Lev Avitan, Whitney Muanza Sabina Lukovic en Tessa Gabriëls.
Onias Landveld & The Stage
Tilt Festival in Theater De Nieuwe Vorst
Willem II straat – Tilburg.
Aanvang: 20:45
Einde: 22:45
Kaarten verkrijgbaar via de website van Tilt of de Nieuwe Vorst
# website theater de nieuwe vorst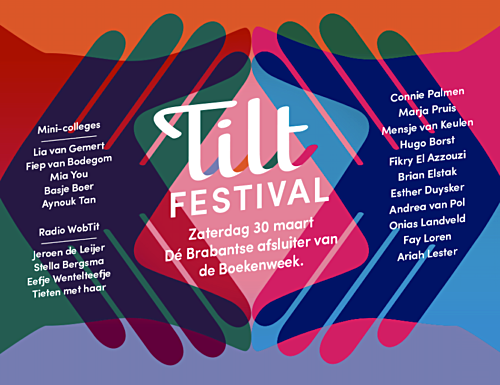 • fleursdumal.nl magazine
More in: *Concrete + Visual Poetry K-O, - Book Lovers, Archive K-L, Archive K-L, Art & Literature News, City Poets / Stadsdichters, Landveld, Onias, STREET POETRY, THEATRE, Tilt Festival Tilburg
---
De schrijvers Jan Leyers, Ilja Leonard Pfeijffer en Jolande Withuis zijn genomineerd voor de E. du Perronprijs 2018. De prijs wordt toegekend aan schrijvers, kunstenaars of instellingen die met een cultuuruiting in brede zin een bijdrage leveren aan een inclusieve samenleving. De uitreiking vindt plaats op dinsdagavond 16 april in de Glazen Zaal in de LocHal in Tilburg. Dan houdt Gloria Wekker de achtste E. du Perronlezing.
Jan Leyers ‒ Allah in Europa. Het reisverslag van een ongelovige (Uitgeverij Das Mag)
Leyers doet in dit boek verslag van een reis door Europa waarin hij op zoek gaat naar 'een Europese versie van de islam'. Vier maanden lang wordt er gesproken met traditionele gelovigen en nieuwe bekeerlingen. Allah in Europa leest als een spannend verslag van gesprekken waarin verschillende denkbeelden tegen elkaar afgewogen worden. Knap is dat het boek nergens belerend of dwingend wordt, hoewel het overduidelijk een pleidooi is voor een open multicultureel Europa, dat de lezer aanzet tot nadenken.
Ilja Leonard Pfeijffer ‒ Grand Hotel Europa (Uitgeverij De Arbeiderspers)
In deze roman neemt Pfeijffer ons mee naar een hotel ergens in Europa waarin zijn alter ego zich verschanst na een stukgelopen liefde. Het hotel is vergane glorie, oude geschiedenis en een metaforisch beeld voor het continent, waarvan de geschiedenis fenomenaal is, maar het heden op allerlei manier ontspoort: er is te veel consumentisme, geen engagement, er zijn geen nieuwe idealen. Pfeijffer verweeft verschillende verhaallijnen met elkaar, en is op zijn best in de essayistische passages waarin hij kritiek geeft op het hedendaagse Europa en vooral op het massatoerisme.
Jolande Withuis ‒ Raadselvader. Kind in de koude oorlog (Uitgeverij De Bezige Bij)
Withuis schreef een indringende biografie over haar vader Berry Withuis (1920-2009), die tegelijk een autobiografische reflectie biedt. De vader was communist en redacteur van de Waarheid. Haar communistische jeugd en de loyaliteit jegens haar ouders hebben Withuis geleerd dat er verschillende kanten zitten aan een historisch narratief. Noch het ontkennen van de slechte behandeling van communisten in Nederland tijdens de Koude Oorlog, noch het slachtofferisme van de zijde van communisten zelf, is de waarheid. Maar ook leert zij dat via het eigen verhaal de geschiedenis van anderen aanknopingspunten biedt en legt ze uit dat totalitaire overtuigingen mensen verleiden onmenselijke misdaden te begaan en het eigen ethische kompas uit te schakelen.
E. du Perronprijs
De E. du Perronprijs is een initiatief van de gemeente Tilburg, de Tilburg School of Humanities & Digital Sciences en Kunstloc Brabant. De prijs is bedoeld voor personen of instellingen die, net als schrijver Du Perron, grenzen signaleren en doorbreken die wederzijds begrip tussen verschillende bevolkingsgroepen in de weg staan. De prijs bestaat uit een geldbedrag van 2500 euro en een textielobject, ontworpen door studio 'by aaaa' (Moyra Besjes en Natasja Lauwers) en vervaardigd bij het TextielMuseum. In 2017 won Margot Vanderstraeten de prijs voor haar boek Mazzel tov. Andere laureaten waren onder meer Stefan Hertmans (2016), Ilja Leonard Pfeijffer (2015), Warna Oosterbaan & Theo Baart (2014), Mohammed Benzakour (2013), Koen Peeters (2012) en Ramsey Nasr (2011).
E. du Perronlezing
Professor dr. Gloria Wekker is emeritus hoogleraar Gender en Etniciteit aan de faculteit Geesteswetenschappen van de Universiteit Utrecht. Ze houdt, op 16 april, na Antjie Krog, Paul Scheffer, Job Cohen, Sheila Sitalsing, Herman van Rompuy, Arnon Grunberg en Marja Pruis de achtste E. du Perronlezing.
Voor het bijwonen van de uitreiking kunnen belangstellenden en genodigden zich aanmelden via www.kunstlocbrabant.nl/eduperron
Meer informatie over de prijs vindt u op: www.tilburguniversity.edu/duperronprijs
# Literaire prijzen
E. du Perronprijs 2018
Jan Leyers
Ilja Leonard Pfeijffer
Jolande Withuis
• fleursdumal.nl magazine
More in: - Book Lovers, - Book News, - Bookstores, Archive K-L, Archive O-P, Archive W-X, Art & Literature News, Awards & Prizes, Literary Events
---
DEATH TO THE FASCIST INSECT is a compilation of the writings and transcribed recordings of the Symbionese Liberation Army (1973–75), a radical left-wing group based in the Bay Area of California. This publication chronicles the militant, if half-baked, political theories that inspired the SLA, as well as the ways that the SLA used violence and manipulation of the media to further the group's goal of provoking armed revolution from the underground.
Founded by escaped convict Donald DeFreeze, aka Field Marshal Cinque, the SLA was mostly composed of young, largely white and middle-class men and women, whose stated aim was to destroy all forms of racism, sexism, and capitalism. One of the SLA's first acts was the murder of the Oakland superintendent of schools; SLA members went on to kidnap newspaper heiress Patricia Hearst, demand millions of dollars from her wealthy family for free food for "people in need," and rob a bank in San Francisco with Hearst. Most of the SLA, including DeFreeze, died in a fire after a gun battle with police in Los Angeles, while Hearst was later pardoned.
This publication features an introduction by editor John Brian King, a chronology of the SLA, the writings and transcribed recordings of the group presented in the context of events at the time, and a fifty-page appendix of notable articles, letters, and other texts related to the SLA.
John Brian King is a writer, photographer, and filmmaker. His works include the nonfiction book Lustmord: The Writings and Artifacts of Murderers (1997), the photography books LAX: Photographs of Los Angeles 1980-84 (2015) and Nude Reagan (2016), and the feature film Redlands (2014).
Death to the Fascist Insect
John Brian King, Editor
Publisher: Spurl Editions
Product Number: 9781943679089
ISBN 978-1-943679-08-9
SKU #: C17B
Binding: Paperback
Pages: 232
Literary Nonfiction
California Interest
African & African American Studies
Political Theory. Crime
Price: $ 18.50
Pub Date: 3/13/2019
# New books
SLA – Symbionese Liberation Army
Death to the Fascist Insect
• fleursdumal.nl magazine
More in: - Book News, - Bookstores, Archive K-L, Art & Literature News, CRIME & PUNISHMENT, MUSEUM OF PUBLIC PROTEST
---
Mina Loy (1882-1966) formed part of the new generation of poets who revolutionised writing in the early twentieth century.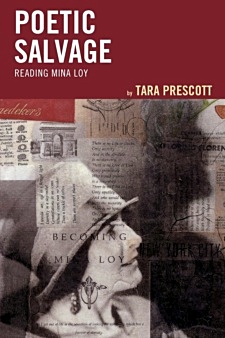 She had personal and artistic links to Italian Futurism and Parisian Surrealism, as well as to individuals such as James Joyce, Ezra Pound, Wyndham Lewis, Djuna Barnes and Gertrude Stein. Working with reference to, but also often against the ideas of these fellow writers, her experimental, witty and inconoclastic poems were both distinctive and arresting.
Since the republication of her poems in 1996-7, Loy has gained in stature and importance both in the UK and the US: her writing is now seen as central to literary innovations in the 1910s and 1920s, and she is often a set author on undergraduate and MA courses. Apart from the collection of essays Mina Loy: Woman and Poet published twelve years ago, there is currently no single book on Loy's work in print. The Companion will be an invaluable new resource for students and readers of modernism. It provides new perspectives and cutting-edge research on Loy's work and is distinctive in its consideration of her prosodic and linguistic experiments alongside a discussion of the literary and historical contexts in which she worked.
The contributors include influential and emerging experts in modernist studies. They are Peter Nicholls, Tim Armstrong, Geoff Gilbert, David Ayers, Andrew Robertson, John Wilkinson, Suzanne Hobson, Rachel Potter, Alan Marshall, Rowan Harris and Sandeep Parmar.
The Salt Companion to Mina Loy
Edited by Dr Rachel Potter ,
Associate editor Suzanne Hobson
The Salt Companion to Mina Loy comprises ten essays by leading scholars and writers on the work of modernist poet Mina Loy.
Format Paperback
Language English
288 pages
228 x 152mm
Publication date 17 May 2010
Publisher Salt Publishing
Publication City/Country Applecross, WA, Australia |
ISBN10 1876857722
ISBN13 9781876857721
£19.99
# More books
The Salt Companion to Mina Loy
Literary studies
• fleursdumal.nl magazine
More in: - Book Lovers, - Book Stories, Archive K-L, Archive K-L, Futurism, Loy, Mina
---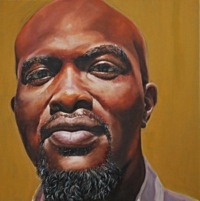 Handen thuis!
Ik las iets…
Moeder wordt op de billen geslagen door jochie van 14.
In de Bisschop Zwijsenstraat, in het bijzijn van haar kinderen,
kon een verse puber zich blijkbaar niet beheersen.
"Ach", zullen sommigen zeggen, "doe rustig het zijn kwajongens streken".
Maar kwajongens worden mannen, met diezelfde onbegrip dat dit meer is dan een aanraking.
En als dat onbegrip ook volwassen wordt, dan krijg je een ergere vorm van aanranding.
Want dat is wat dit was, aanranding, geen misplaats puberaal gedrag.
Voor de eerbaarheid van die vrouw was dit een aanslag.
De schaamte dat je in het bijzijn van je kinderen wordt gedegradeerd.
Blijkbaar ben je publiek eigendom dat zelfs door een tienertje mag worden "gehanteerd".
Tilburg, onze spiegel is hoe wij mensen behandelen.
Vaders, dit is niet de wijsheid die wij op deze wereld moeten achterlaten.
In deze tijd van genderloosheid, zijn sommigen op zoek naar de definitie van man zijn. Maar in ieder geval is het niet dit.
En nu de hamvraag: "Onias, overdrijf je niet?" "Een tik op de billen een aanslag?"
Wel nu mijn wedervraag: Hoe zou jij reageren? Als dit je moeder, dochter, zus, tante, nicht, buurvrouw of collega was?
Want dat was die vrouw en als je dat niet beseft, ligt ergens het probleem ook bij jou.
Was getekend jullie stadsdichter.
Onias Landveld
Stadsdichter Tilburg (2015 – 2017)
Handen thuis! (gedicht)
Portret: Ivo van Leeuwen
• fleursdumal.nl magazine
More in: Archive K-L, Archive K-L, Ivo van Leeuwen, Landveld, Onias, Performing arts
---
Mina Loy (1882 – 1966)—poet, artist, exile, and luminary—was a prominent and admired figure in the art and literary circles of Paris, Florence, and New York in the early years of the twentieth century.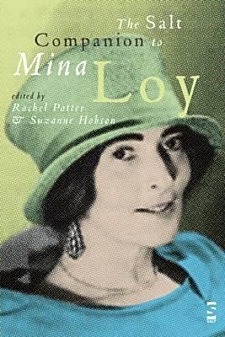 But over time, she gradually receded from public consciousness and her poetry went out of print.
As part of the movement to introduce the work of this cryptic poet to modern audiences, Poetic Salvage: Reading Mina Loy provides new and detailed explications of Loy's most redolent poems.
This book helps readers gain a better understanding of the body of Loy's work as a whole by offering compelling close readings that uncover the source materials that inspired Loy's poetry, including modern artwork, Baedeker travel guides, and even long-forgotten cultural venues.
Helpfully keyed to the contents of Loy's Lost Lunar Baedeker, edited by Roger Conover, this book is an essential aid for new readers and scholars alike. Mina Loy forged a legacy worthy of serious consideration—through a practice best understood as salvage work, of reclaiming what has been so long obscured.
Poetic Salvage: Reading Mina Loy dives deep to bring hidden treasures to the surface.
Tara Prescott is a lecturer in writing programs at the University of California, Los Angeles.
Poetic Salvage.
Reading Mina Loy
by Tara Prescott
Hardcover
292 pages
Publisher: Bucknell University Press
Language: English
Literature & Fiction
ISBN-10: 1611488125
ISBN-13: 978-1611488128
2016
$76.80
# New books
Poetic Salvage
Reading Mina Loy
Tara Prescott
• fleursdumal.nl magazine
More in: - Book Lovers, - Book Stories, Archive K-L, Archive K-L, Futurism, Loy, Mina
---
This book provides a fresh assessment of the works of poet and painter Mina Loy (1882 – 1966).

Laura Scuriatti shows how Loy's "eccentric" writing and art celebrate ideas and aesthetics central to the modernist movement while simultaneously critiquing them, resulting in a continually self-reflexive and detached stance that Scuriatti terms "critical modernism."
Drawing on neglected archival material, Scuriatti illuminates the often-overlooked influence of Loy's time spent amid Italian avant-garde culture. In particular, she considers Loy's assessment of the nature of genius and sexual identity as defined by philosopher Otto Weininger and in Lacerba, a magazine founded by Futurist leader Giovanni Papini. She also investigates Loy's reflections on the artistic masterpiece in relation to the world of commodities; explores the dialogic nature of the self in Loy's autobiographical projects; and shows how Loy used her "eccentric" stance as a political position, especially in her later career in the United States.
Offering new insights into Loy's feminism and tracing the writer's lifelong exploration of themes such as authorship, art, identity, genius, and cosmopolitanism, this volume prompts readers to rethink the place, value, and function of key modernist concepts through the critical spaces created by Loy's texts.
Laura Scuriatti, professor of English and comparative literature at Bard College Berlin, is coeditor of The Exhibit in the Text: Museological Practices of Literature.
Mina Loy's Critical Modernism
Laura Scuriatti
Hardcover
320 pages
Literature – European
ISBN 13: 9780813056302
$85.00
Available for pre-order.
This book will be available in July 2019
(Pub Date: 5/7/2019)
# New books
Mina Loy
Critical Modernism
• fleursdumal.nl magazine
More in: - Book News, - Bookstores, Archive K-L, Archive K-L, Archive S-T, Art & Literature News, Futurism, Loy, Mina
---
Aan de basis van Richard Longs werken ligt steeds een eenvoudige geometrische vorm: de cirkel, de lijn, de spiraal of het kruis – minimale vormen die in het landschap opvallen omdat ze door mensenhanden zijn gemaakt.
Long heeft ze tijdens wandelingen overal ter wereld achtergelaten: cirkels van steen en hout in Frankrijk en Alaska of in de mist in Schotland; een kronkelende lijn in een stenige vlakte in de Sahara en een lijn van water uitgegoten op een brugje in de Italiaanse Alpen.
Van al het werk maakt hij foto's, die hij in galeries en musea laat zien. Ook op andere manieren haalt hij zijn werken het museum binnen, door stenen of takken die hij in de natuur heeft verzameld te rangschikken tot strakke banen of cirkels, maar ook door tekeningen en schilderingen te maken met rivierklei.
Richard Long
16 feb – 16 juni 2019
De Pont is vernoemd naar de jurist en zakenman Jan de Pont (1915-1987) uit wiens nalatenschap in 1988 een stichting 'ter stimulering van de hedendaagse kunst' kon worden opgericht.
Het museum is sinds 1992 gevestigd in een voormalige wolspinnerij die is verbouwd tot een ruimte waar hedendaagse kunst optimaal tot haar recht kan komen. De monumentale oude fabriek met de grote, lichte zaal en de intieme 'wolhokken' vormt een prachtige omgeving voor de vele kunstwerken.
Museum De Pont
Wilhelminapark 1
5041 EA Tilburg
Nederland
# Website Museum De Pont Tilburg
• fleursdumal.nl magazine
More in: Archive K-L, Art & Literature News, Exhibition Archive, FDM Art Gallery, Land Art, Richard Long
---
Het nagelaten werk van Franz Kafka is dankzij zijn vriend Max Brod bewaard gebleven, maar na het overlijden van Brod in 1968 begint een hevige en absurde strijd om het eigendomsrecht.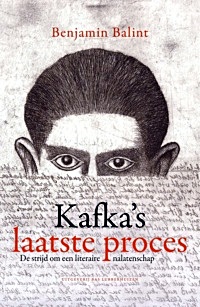 De originele, handgeschreven versies van meesterwerken als Het proces en De gedaanteverwisseling komen achtereenvolgens in handen van Brods secretaresse Esther Hoffe en haar dochter Eva.
Er ontvouwt zich echter een juridisch getouwtrek als zowel Israël als Duitsland het werk claimen.

Duitsland, waar drie zussen van Kafka stierven tijdens de Tweede Wereldoorlog, wil de schrijver recht doen, en Israël meent rechten te hebben als Joodse staat en Kafka's gedroomde land.
Kafka's laatste proces leest als een waargebeurde thriller, maar maakt pijnlijk duidelijk hoe de Joodse schrijver Franz Kafka inzet wordt van zionistische claims. In de verbeten strijd die de twee landen uitvechten, lijken ze vooral de geschiedenis te willen herschrijven.
Benjamin Balint woont in Jeruzalem, waar hij verbonden is aan het Van Leer Institute. Hij schrijft o.a. voor Haaretz en de Wall Street Journal. Over de Joods-Amerikaanse schrijvers die publiceerden in het tijdschrift Commentary, schreef hij Running Commentary (2010).
Benjamin Balint (Auteur)
Kafka's laatste proces.
De strijd om een literaire nalatenschap
Vertaling Frank Lekens
Oorspronkelijke titel:
Kafka's Last Trial.
The Case of a Literary Legacy
Omslagtekening Jirí Slíva
Omslag Bart van den Tooren
Uitg. Bas Lubberhuizen
304 pagina's
15 x 23 cm
Geïllustreerde paperback
ISBN 9789059375284
Verschenen: januari 2019
€ 24,99
# New books
Benjamin Balint
Kafka's Last Trial.
The Case of a Literary Legacy
• fleursdumal.nl magazine
More in: - Book News, - Bookstores, Archive A-B, Archive K-L, Archive K-L, Art & Literature News, Franz Kafka, Kafka, Franz, Kafka, Franz
---
Franz Kafka remains one of the most influential writers of the twentieth century.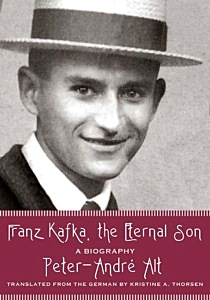 His novels, stories, and letters are still regarded today as the epitome of the dark, fascinating, and uncanny, a model of the modernist aesthetic.
Peter-André Alt's landmark biography, Franz Kafka, the Eternal Son, recounts and explores Kafka's life and literary work throughout the cultural and political upheavals of central Europe.
Alt's biography explores Franz Kafka's own view of life and writing as a unity that shaped his identity. He locates links and echoes among the author's work, life, and surroundings, situating him within the traditions of Prague's German literature, modernity, psychoanalysis, and philosophy as well as within its Jewish culture, arts, theater, and intellectual tradition.
In this biographical tour de force, Kafka emerges as an observant flaneur and wistful loner, an anxious ascetic, an ecstatic and skeptic, a specialist in terror, and a master of irony. Alt masterfully illuminates Kafka's life not as source material but as a mirror of his literary genius. Readers begin to see Kafka's unforgettable novels and stories as shards reflecting the life of their creator.
About the Author
Peter-André André Alt is a German literary scholar and the president of the Free University in Berlin.
Kristine A, Thorsen is a lecturer emeritus of German at Northwestern University.
Franz Kafka, the Eternal Son
A Biography
Contributors
Peter-André Alt (Author)
Kristine Thorsen (Translator)
Publication Date September 2018
Categories Biography
704 pages
Trim Size 7 x 10
ISBN 0-8101-2607-9
Northwestern University Press
-Cloth Text
– $120.00
ISBN 978-0-8101-6243-3
-Paper Text
– $45.00
ISBN 978-0-8101-2607-7
# new books
Franz Kafka
A Biography
• fleursdumal.nl magazine
More in: - Book News, - Book Stories, Archive A-B, Archive K-L, Archive K-L, Art & Literature News, Franz Kafka, Kafka, Franz, Kafka, Franz, MONTAIGNE
---
Older Entries »
Thank you for reading FLEURSDUMAL.NL - magazine for art & literature