Swift, Jonathan
·
Jonathan Swift: An Epigram
·
Jonathan Swift: On A Shadow In A Glass
·
Jonathan Swift: A Love Song In The Modern Taste
·
Jonathan Swift: Judas
·
The Penguin Book of Oulipo: Queneau, Perec, Calvino and the Adventure of Form by Philip Terry (Editor)
·
JONATHAN SWIFT: MARKET WOMEN'S CRIES
·
JONATHAN SWIFT: ADVICE TO THE GRUB STREET VERSE-WRITERS
·
JONATHAN SWIFT: ON THE WORLD
·
JONATHAN SWIFT: STELLA'S BIRTHDAY MARCH 13, 1719
·
Jonathan Swift: PHYLLIS
An Epigram
The scriptures affirm (as I heard in my youth,
For indeed I ne'er read them, to speak for once truth)
That death is the wages of sin, but the just
Shall die not, although they be laid in the dust.
They say so; so be it, I care not a straw,
Although I be dead both in gospel and law;
In verse I shall live, and be read in each climate;
What more can be said of prime sergeant or primate?
While Carter and Prendergast both may be rotten,
And damn'd to the bargain, and yet be forgotten.
Jonathan Swift
(1667 – 1745)
An Epigram
fleursdumal.nl magazine
More in: Archive S-T, Archive S-T, Swift, Jonathan
---
On A Shadow In A Glass
By something form'd, I nothing am,
Yet everything that you can name;
In no place have I ever been,
Yet everywhere I may be seen;
In all things false, yet always true,
I'm still the same – but ever new.
Lifeless, life's perfect form I wear,
Can show a nose, eye, tongue, or ear,
Yet neither smell, see, taste, or hear.
All shapes and features I can boast,
No flesh, no bones, no blood – no ghost:
All colours, without paint, put on,
And change like the cameleon.
Swiftly I come, and enter there,
Where not a chink lets in the air;
Like thought, I'm in a moment gone,
Nor can I ever be alone:
All things on earth I imitate
Faster than nature can create;
Sometimes imperial robes I wear,
Anon in beggar's rags appear;
A giant now, and straight an elf,
I'm every one, but ne'er myself;
Ne'er sad I mourn, ne'er glad rejoice,
I move my lips, but want a voice;
I ne'er was born, nor e'er can die,
Then, pr'ythee, tell me what am I?
Most things by me do rise and fall,
And, as I please, they're great and small;
Invading foes without resistance,
With ease I make to keep their distance:
Again, as I'm disposed, the foe
Will come, though not a foot they go.
Both mountains, woods, and hills, and rocks
And gamesome goats, and fleecy flocks,
And lowing herds, and piping swains,
Come dancing to me o'er the plains.
The greatest whale that swims the sea
Does instantly my power obey.
In vain from me the sailor flies,
The quickest ship I can surprise,
And turn it as I have a mind,
And move it against tide and wind.
Nay, bring me here the tallest man,
I'll squeeze him to a little span;
Or bring a tender child, and pliant,
You'll see me stretch him to a giant:
Nor shall they in the least complain,
Because my magic gives no pain.
Jonathan Swift
(1667 – 1745)
On A Shadow In A Glass
• fleursdumal.nl magazine
More in: Archive S-T, Archive S-T, Swift, Jonathan
---
A Love Song
In The Modern Taste
Fluttering spread thy purple pinions,
Gentle Cupid, o'er my heart:
I a slave in thy dominions;
Nature must give way to art.
Mild Arcadians, ever blooming
Nightly nodding o'er your flocks,
See my weary days consuming
All beneath yon flowery rocks.
Thus the Cyprian goddess weeping
Mourn'd Adonis, darling youth;
Him the boar, in silence creeping,
Gored with unrelenting tooth.
Cynthia, tune harmonious numbers;
Fair Discretion, string the lyre;
Sooth my ever-waking slumbers:
Bright Apollo, lend thy choir.
Gloomy Pluto, king of terrors,
Arm'd in adamantine chains,
Lead me to the crystal mirrors,
Watering soft Elysian plains.
Mournful cypress, verdant willow,
Gilding my Aurelia's brows,
Morpheus, hovering o'er my pillow,
Hear me pay my dying vows.
Melancholy smooth Meander,
Swiftly purling in a round,
On thy margin lovers wander,
With thy flowery chaplets crown'd.
Thus when Philomela drooping
Softly seeks her silent mate,
See the bird of Juno stooping;
Melody resigns to fate.
Jonathan Swift
(1667 – 1745)
A Love Song
In The Modern Taste
1733
• fleursdumal.nl magazine
More in: Archive S-T, Archive S-T, Swift, Jonathan
---
Judas
By the just vengeance of incensed skies,
Poor Bishop Judas late repenting dies.
The Jews engaged him with a paltry bribe,
Amounting hardly to a crown a-tribe;
Which though his conscience forced him to restore,
(And parsons tell us, no man can do more,)
Yet, through despair, of God and man accurst,
He lost his bishopric, and hang'd or burst.
Those former ages differ'd much from this;
Judas betray'd his master with a kiss:
But some have kiss'd the gospel fifty times,
Whose perjury's the least of all their crimes;
Some who can perjure through a two inch-board,
Yet keep their bishoprics, and 'scape the cord:
Like hemp, which, by a skilful spinster drawn
To slender threads, may sometimes pass for lawn.
As ancient Judas by transgression fell,
And burst asunder ere he went to hell;
So could we see a set of new Iscariots
Come headlong tumbling from their mitred chariots;
Each modern Judas perish like the first,
Drop from the tree with all his bowels burst;
Who could forbear, that view'd each guilty face,
To cry, "Lo! Judas gone to his own place,
His habitation let all men forsake,
And let his bishopric another take!"
Jonathan Swift
(1667 – 1745)
Judas
fleursdumal.nl magazine
More in: Archive S-T, Archive S-T, Swift, Jonathan
---
Brought together for the first time, here are 100 pieces of 'Oulipo' writing, celebrating the literary group who revelled in maths problems, puzzles, trickery, wordplay and conundrums.
Featuring writers including Georges Perec, Raymond Queneau and Italo Calvino, it includes poems, short stories, word games and even recipes. Alongside these famous Oulipians, are 'anticipatory' wordsmiths who crafted language with unusual constraints and literary tricks, from Jonathan Swift to Lewis Carroll.
Philip Terry is a translator, and a writer of fiction and poetry. He has translated the work of Georges Perec, Stéphane Mallarmé and Raymond Queneau, and is the author of the novel tapestry, shortlisted for the Goldsmiths Prize.
His poetry volumes include Oulipoems, Shakespeare's Sonnets, Dante's Inferno (a Times Literary Supplement Book of the Year, London Review Bookshop Book of the Week, and recipient of a Society of Authors Travelling Scholarship Prize), Quennets, and Dictator, a version of the Epic of Gilgamesh in Globish.
He is currently translating  Ice Age signs from the caves at Lascaux.
• 'Philip Terry's collection is packed with fabulous, wide-ranging work that displays the full ingenuity, brio and originality of Oulipian ideals in action. An exhilarating feat of in-depth reading, and translating, it takes its place as the definitive anthology in English for decades to come.' – Marina Warner
• Philip Terry's playful selection will appeal to lovers of word games, puzzles and literary delights.
The Penguin Book of Oulipo
Queneau, Perec, Calvino and the Adventure of Form
Edited by Philip Terry
Imprint: Penguin Classics
Published: 31/10/2019
ISBN: 9780241378427
Hardcover
Length: 576 Pages
Dimensions: 240mm x 49mm x 162mm
RRP: £25.00
# new books
The Penguin Book of Oulipo
Queneau, Perec, Calvino and the Adventure of Form
Philip Terry (Edited by)
• fleursdumal.nl magazine
More in: #Archive Concrete & Visual Poetry, - Book Lovers, - Book News, - Objets Trouvés (Ready-Mades), Archive C-D, Archive O-P, Archive Q-R, Art & Literature News, AUDIO, CINEMA, RADIO & TV, Carroll, Lewis, Dadaïsme, Georges Perec, OULIPO (PATAFYSICA), Surrealisme, Swift, Jonathan
---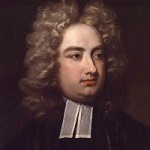 Jonathan Swift
(1667–1745)
Market Women's Cries
APPLES
Come buy my fine wares,
Plums, apples and pears.
A hundred a penny,
In conscience too many:
Come, will you have any?
My children are seven,
I wish them in Heaven;
My husband 's a sot,
With his pipe and his pot,
Not a farthen will gain them,
And I must maintain them.
ONIONS
Come, follow me by the smell,
Here are delicate onions to sell;
I promise to use you well.
They make the blood warmer,
You'll feed like a farmer;
For this is every cook's opinion,
No savoury dish without an onion;
But, lest your kissing should be spoiled,
Your onions must be thoroughly boiled:
Or else you may spare
Your mistress a share,
The secret will never be known:
She cannot discover
The breath of her lover,
But think it as sweet as her own.
HERRINGS
Be not sparing,
Leave off swearing.
Buy my herring
Fresh from Malahide,
Better never was tried.
Come, eat them with pure fresh butter and mustard,
Their bellies are soft, and as white as a custard.
Come, sixpence a dozen, to get me some bread,
Or, like my own herrings, I soon shall be dead.
Jonathan Swift poetry
fleursdumal.nl magazine
More in: Archive S-T, Swift, Jonathan
---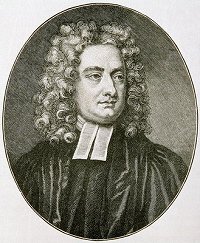 Jonathan Swift
(1667–1745)
Advice To The Grub Street Verse-writers
Ye poets ragged and forlorn,
Down from your garrets haste;
Ye rhymers, dead as soon as born,
Not yet consign'd to paste;
I know a trick to make you thrive;
O, 'tis a quaint device:
Your still-born poems shall revive,
And scorn to wrap up spice.
Get all your verses printed fair,
Then let them well be dried;
And Curll must have a special care
To leave the margin wide.
Lend these to paper-sparing Pope;
And when he sets to write,
No letter with an envelope
Could give him more delight.
When Pope has fill'd the margins round,
Why then recall your loan;
Sell them to Curll for fifty pound,
And swear they are your own.
Jonathan Swift poetry
fleursdumal.nl magazine
More in: Archive S-T, LIGHT VERSE, Swift, Jonathan
---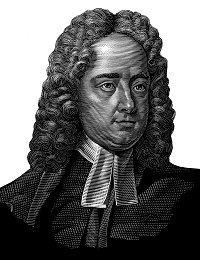 Jonathan Swift
(1667–1745)
On The World
With a whirl of thoughts oppress'd,
I sunk from reverie to rest.
A horrid vision seized my head,
I saw the graves give up their dead!
Jove, arm'd with terrors, bursts the skies,
And thunder roars and lightning flies!
Amazed, confused, its fate unknown,
The world stands trembling at his throne!
While each pale sinner hung his head,
Jove, nodding, shook the heavens, and said:
"Offending race of human kind,
By nature, reason, learning, blind;
You who, through frailty, stepp'd aside;
And you, who never fell from pride:
You who in different sects were shamm'd,
And come to see each other damn'd;
(So some folk told you, but they knew
No more of Jove's designs than you;)
—The world's mad business now is o'er,
And I resent these pranks no more.
—I to such blockheads set my wit!
I damn such fools!—Go, go, you're bit."
Jonathan Swift poetry
fleursdumal.nl magazine
More in: Archive S-T, Swift, Jonathan
---
Jonathan Swift
(1667–1745)
Stella's Birthday March 13, 1719
Stella this day is thirty-four,
(We shan't dispute a year or more:)
However, Stella, be not troubled,
Although thy size and years are doubled,
Since first I saw thee at sixteen,
The brightest virgin on the green;
So little is thy form declin'd;
Made up so largely in thy mind.
Oh, would it please the gods to split
Thy beauty, size, and years, and wit;
No age could furnish out a pair
Of nymphs so graceful, wise, and fair;
With half the lustre of your eyes,
With half your wit, your years, and size.
And then, before it grew too late,
How should I beg of gentle Fate,
(That either nymph might have her swain,)
To split my worship too in twain.
Jonathan Swift poetry
fleursdumal.nl magazine
More in: Archive S-T, Swift, Jonathan
---
Jonathan Swift
(1667-1745)
PHYLLIS
ESPONDING Phyllis was endued
With ev'ry talent of a prude:
She trembled when a man drew near;
Salute her, and she turned her ear:
I o'er against her you were placed,
She durst not look above your waist:
She'd rather take you to her bed,
Than let you see her dress her head;
In church you hear her, thro' the crowd,
Repeat the absolution loud:
In church, secure behind her fan,
She durst behold that monster man:
There practised how to place her head,
And bite her lips to make them red;
Or, on the mat devoutly kneeling,
Would lift her eyes up to the ceiling.
For neighboring beaux to see it bare.
At length a lucky lover came,
And found admittance to the dame.
Suppose all parties now agreed,
The writings drawn, the lawyer feed,
The vicar and the ring bespoke:
Guess, how could such a match be broke?
See then what mortals place their bliss in!
Next morn betimes the bride was missing:
The mother screamed, the father chid;
Where can this idle wench be hid?
No news of Phyl! the bridegroom came,
And thought his bride had skulked for shame;
Because her father used to say,
The girl had such a bashful way!
Now John the butler must be sent
To learn the road that Phyllis went:
The groom was wished to saddle Crop;
For John must neither light nor stop,
But find her, wheresoe'er she fled,
And bring her back alive or dead.
See here again the devil to do!
For truly John was missing too:
The horse and pillion both were gone!
Phyllis, it seems, was fled with John.
Old Madam, who went up to find
What papers Phyl had left behind,
A letter on the toilet sees,
"To my much honoured father–these–"
('Tis always done, romances tell us,
When daughters run away with fellows,)
Filled with the choicest common-places,
By others used in the like cases.
"That long ago a fortune-teller
Exactly said what now befell her;
And in a glass had made her see
A serving-man of low degree.
It was her fate, must be forgiven;
For marriages were made in Heaven:
His pardon begged: but, to be plain,
She'd do't if 'twere to do again:
Thank'd God, 'twas neither shame nor sin;
For John was come of honest kin.
Love never thinks of rich and poor;
She'd beg with John from door to door.
Forgive her, if it be a crime;
She'll never do't another time.
She ne'er before in all her life
Once disobey'd him, maid nor wife."
One argument she summ'd up all in,
"The thing was done and past recalling;
And therefore hoped she should recover
His favour when his passion's over.
She valued not what others thought her,
And was–his most obedient daughter."
Fair maidens all, attend the Muse,
Who now the wand'ring pair pursues:
Away they rode in homely sort,
Their journey long, their money short;
The loving couple well bemired;
The horse and both the riders tired:
Their vituals bad, their lodgings worse;
Phyl cried! and John began to curse:
Phyl wished that she had strained a limb,
When first she ventured out with him;
John wish'd that he had broke a leg,
When first for her he quitted Peg.
But what adventures more befell 'em,
The Must hath no time to tell 'em;
How Johnny wheedled, threatened, fawned,
Till Phyllis all her trinkets pawn'd:
How oft she broke her marriage vows,
In kindness to maintain her spouse,
Till swains unwholesome spoiled the trade;
For now the surgeon must be paid,
To whom those perquisites are gone,
In Christian justice due to John.
When food and raiment now grew scarce,
Fate put a period to the farce,
And with exact poetic justice;
For John was landlord, Phyllis hostess;
They keep, at Stains, the Old Blue Boar,
Are cat and dog, and rogue and whore.
"Phyllis" is reprinted from Miscellanies in Prose and Verse. Jonathan Swift. London: Benjamin Motte, 1727.
fleursdumal.nl magazine
More in: Archive S-T, Swift, Jonathan
---
Thank you for reading FLEURSDUMAL.NL - magazine for art & literature