– Book News
·
Brooklyn Book Festival Announces: 15th Anniversary Will Be An All-Virtual Festival
·
Alan Chazaro: This Is Not a Frank Ocean Cover Album
·
Roger Robinson: A Portable Paradise (Poetry)
·
Aria Aber: Hard Damage. Poetry
·
Zonal by Don Paterson
·
Cécile Coulon: Noir volcan. Poésie
·
Amy Woolard: Neck of the Woods
·
'Small Days and Nights' a novel by Tishani Doshi
·
Paul Celan: "Etwas ganz und gar Persönliches" – Briefe 1934-1970
·
The Selected Poetry of Pier Paolo Pasolini
·
The Beautiful Poetry of Donald Trump by Rob Sears
·
Jean-Louis Cabanès et Pierre Dufief biographie: Les Frères Goncourt
The 2020 Virtual Brooklyn Book Festival will be the 15th anniversary of free literary programming!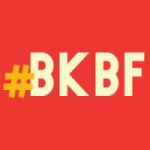 This fall an array of national and international literary stars and emerging authors will participate as part of a Virtual Festival including Sigrid Nunez, Lee Child, Salman Rushdie, Mia Couto, Ngũgĩ wa Thiong'o, Joyce Carol Oates, Adrian Tomine, Emily St. John Mandel, Claudia Rankine, Edmund White, Marie Lu, Colson Whitehead, and more.
Plus independent publishers, literary magazines, and literary organizations will be showcased in our Virtual Literary Marketplace starting August 15.
Each year the Festival also includes a week of Bookend events — see them virtually this year from locations all over the city. This year we celebrate the 10th anniversary of Bookends!
At Children's Day, more than 50 authors will participate in a full day of author readings and performances, workshops, activities, and book signings — all virtual.
Some of the children's authors in 2020 are Max Brallier, Tami Charles, Ben Clanton, Chris Grabenstein, Carlos Hernandez, Oliver Jeffers, Varian Johnson, Meg Medina, and R.L. Stine.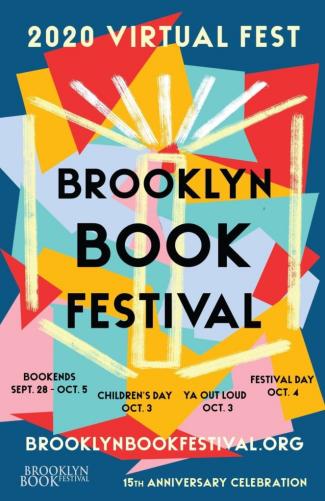 About the Brooklyn Book Festival: The Brooklyn Book Festival was launched in 2006 to address the need for a major literary event that embraced the diverse constituencies of New York City. The Festival's mission is to celebrate published literature and support the literary community through programming that connects New York City readers with local, national, and international authors, publishers, and booksellers. To this end the festival develops original programs that are hip, smart, and diverse and collaborates to present free and low-cost programming including the Festival Day, Bookend Events, YA Outloud, and the BKBF Children's Day. BKBF is presented by the non-profit Brooklyn Book Festival, Inc. and the Brooklyn Book Festival Literary Council.
The Festival is proud of its roster of supporters including the Amazon Literary Partnership, the Baillie Gifford Non Fiction Prize, the Brooklyn Borough President's Office, Brookfield Properties and J.P. Morgan Chase, Con Edison, Disney, Downtown Brooklyn Partnership, Kirby Family Foundation, Little A, the Mayor's Office of Media & Entertainment, New York City Department of Cultural Affairs, New York City Council Speaker Corey Johnson and Council Members Brad Lander, Stephen Levin and Carlos Menchaca, NYC COVID-19 Response and Impact Fund in New York Community Trust, New York State Council on the Arts, Lit Tap, NYU. The Festival's media sponsors include C-SPAN, Book TV, the New York Review of Books, and WNYC.
Be sure to visit www.old.brooklynbookfestival.org or check out the official Facebook page, follow the Festival on Instagram (@bkbookfest), on Twitter (@BKBF), and past Festival photos on Flickr.
2020 Brooklyn Book Festival
Sunday, October 4 = 10am — 8pm
Virtual Festival Day
Saturday, October 3 = 10am — 4pm
Virtual Children's Day
Saturday, October 3 = 1pm — 6pm
Y.A. Out Loud
September 28 — October 5
Virtual Bookend Events
Confirmed Authors Festival 2020: Salar Abdohbv – Aria Aber – Ayad Akhtar – Becky Albertalli – Rochelle Alers – A. Andrews – Diannely Antigua – Zaina Arafat – Will Arbery – Derf Backderf – Brit Bennett – Carl Bergman – Marie-Helene Bertino – Mark Bibbins – Chelsea Bieker – Betsy Bird – Eula Biss – Max Brallier – Libba Bray – Bill Buford – Susannah Cahalan – Patrice Caldwell – Ada Calhoun – Kacen Callender – Maisy Card – Veronica Chambers – Ruth Chan – Tami Charles – Lee Child – Dave Chisholm – Ben Clanton – Brandy Colbert – Zoraida Córdova – Eduardo C. Corral – Mia Couto – Mike Curato – Angela Dominguez – Sophie Escabasse – Debbi Michiko Florence – Nick Flynn – Curdella Forbes – Carolyn Forché – Gilbert Ford – Kelli Jo Ford – Lauren Francis-Sharma – Marcial Gala – Matt Gallagher – Camryn Garrett – Sasha Geffen – Nelson George – Hafizah Geter – Julia Gfrörer – Paolo Giordano – Chris Grabenstein – Isabel Greenberg – Chris Grine – Kristen Gudsnuk – Romesh Gunesekera – Shawn Harris – Mike Hawthorne – Carlos Hernandez – Amy Herzog – Cathy Park Hong – Mark Honigsbaum – Kiku Hughes – Michael R. Jackson – Victoria James – Oliver Jeffers – N.K. Jemisin – Beverly Jenkins – Kim Johnson – Leah Johnson – Varian Johnson – Tayari Jones – Wayne Jordan – Stephanie Kelton – Jessica Kim – Lily King – Peter Kispert – Yusef Komunyakaa – Andrew Krivak – Ryan La Sala – Stephan Lee – Attica Locke – Marie Lu – Alain Mabanckou – Deborah Madison – Maureen Mahon – Kevin Noble Maillard – Ricardo Alberto Maldonado – Emily St. John Mandel – Ilana Masad – Janae Marks – Bernice L. McFadden – Karen McManus – Juana Medina – Meg Medina – Fernanda Melchor – Colin Meloy – Maaza Mengiste – Kate Messner – Adrienne Miller – Lydia Millet – Jonah Mixon-Webster – Marcus J. Moore – John Murillo – Daniel Nayeri – Emily Nemens – Andrés Neuman – Kevin Nguyen – Lynn Nottage – Sigrid Nunez – Joyce Carol Oates – Tracy O'Neill – Tochi Onyebuchi – Claribel Ortega – Carey Pietsch – Rory Power – Claudia Rankine – Raúl the Third – Calvin Reid – Kiley Reid – Jared Reinmuth – Justin A. Reynolds – Hallie Rubenhold – Salman Rushdie – Kate Elizabeth Russell – Joe Sacco – Aisha Saeed – Jerry Saltz – Maria Scrivan – Tariq Shah – Kevin Sherry – Adania Shibli – Curtis Sittenfeld – Bishakh Som – Mika Song – Leslie Stein – R.L. Stine – Emma Straub – Brandon Taylor – Emily Temple – Ngũgĩ wa Thiong'o – Héctor Tobar -Adrian Tomine – Laura van den Berg – Juan Pablo Villalobos – Ivan Vladislavić – Karolina Waclawiak – Kawai Strong Washburn – Jesse Wegman – Edmund White – Colson Whitehead – Rick Wilson – Alexis Wright – Shannon Wright – Yao Xiao – Bianca Xunise – Gene Luen Yang – Brigit Young – Lidia Yuknavitch – Kate Zambreno –
Brooklyn Book Festival Announces: 15th Anniversary Will Be An All-Virtual Festival
• https://brooklynbookfestival.org/
• fleursdumal.nl magazine
More in: - Book Lovers, - Book News, Art & Literature News, AUDIO, CINEMA, RADIO & TV, Bergman, Carl, FICTION & NONFICTION ARCHIVE, LITERARY MAGAZINES, Magazines
---
Poetry. California Interest. Chicanx Studies. In his debut short collection, poet Alan Chazaro takes us from the moonlit Bay Bridge to dark Oakland bars to tire shops to backyards to the fireworks and dirt paths of Mexico City.
Chazaro's speakers battle to find internal truths in a world defined by external opposition. Here, we glide from Frank Ocean to 80s synthpop, from Half Moon Bay to Athens, from Oscar De La Hoya to Wolverine. This is a collection about navigating multiple worlds, about traversing from boyhood into manhood. In poems that crackle with "scorpions in the dark" and "Lauryn Hill's voodoo" and "fat / Adidas laces and barbershop fades," Chazaro explores what it means to curate a sense of self as a millennial first-generation California Chicanx writer. His speakers are driven by a desire to control their identity in a world where they haven't been able to control much else—as the children of immigrants, as the occupants of ever-shifting spaces, as bodies that belong and don't belong.
Structured like a rap mixtape, each poem on the "track list" is an ode to some vibration of memory, sound, or Chazaro's native Bay Area landscape. THIS IS NOT A FRANK OCEAN COVER ALBUM, just as we are not ever actually ourselves—but a collection of fragments from our component influences and cultures, a reflection of the choices we make in search of a more genuine self.
"I say fuck
because it feels right
about now,
and I say love because
what wrong
could it bring?
I haven't shot a pistol
since my stepdad
flung his Desert Eagle
from the bedroom and took us
to burst freedom as kids."
• Winner of the Spring 2018 Black River Chapbook Competition
• Alan Chazaro is the author of THIS IS NOT A FRANK OCEAN COVER ALBUM (Black Lawrence Press, 2019) and PIÑATA THEORY (Black Lawrence Press, 2020). He is currently an adjunct professor at the University of San Francisco, a columnist at Palette Poetry, and is raising money for NBA arena workers during COVID-19.
Alan Chazaro
This Is Not a Frank Ocean Cover Album
2019
Publisher: Black Lawrence Press
ISBN: 978-1-62557-825-9
Poetry
Paperback
Pages:40
Price: $ 9.95
• fleursdumal.nl magazine
More in: #Editors Choice Archiv, - Book News, Archive C-D, Archive C-D
---
Winner of the T.S. Eliot Prize 2020 and the RSL Ondaatje Prize!
These are finely crafted poems that reveal Roger Robinson's capacity to tell involving stories and capture the essence of a character in a few words, to move the emotions with the force of verbal expression, and engage our thoughts, as in the sequence of poems that reflect on just what paradise might be. A Portable Paradise is a feast to be carried by lovers of poetry wherever they go.
Roger Robinson's range is wide: the joys and pains of family life; the ubiquitous presence of racism, both subtle and unsubtle; observations on the threatening edge of violence below the surface energies of Black British territories in London; emblematic poems on the beauty and often bizarre strangeness of the world of animals; quizzical responses to the strange, the heartening, and the appalling in incidents or accounts of incidents encountered in daily life; reflections on the purposes and costs of making art, as in fine poems on a George Stubbs' painting, John Coltrane's Ascension and cocaine. Not least, in the sequence of poems that reflect on the meanings of the Grenfell Tower fire, Roger Robinson finds ways to move beyond a just indignation to uncover the undertones of experience that bring us nearer to the human reality of that event.
The collection's title points to the underlying philosophy expressed in these poems: that earthly joy is, or ought to be, just within, but is often just beyond our reach, denied by racism, misogyny, physical cruelty and those with the class power to deny others their share of worldly goods and pleasures. A Portable Paradise is not the emptiness of material accumulation, but joy in an openness to people, places, the sensual pleasures of food and the rewards to be had from the arts of word, sound and visual enticement – in short an "insatiable hunger" for life. The poems express a fierce anger against injustice, but also convey the irrepressible sense that Roger Robinson cannot help but love people for their humour, oddity and generosity of spirit.
These are finely crafted poems, that reveal Roger Robinson's capacity to tell involving stories and capture the essence of a character in a few words, to move the emotions with the force of verbal expression, and engage our thoughts, as in the sequence of poems that reflect on just what paradise might be. A Portable Paradise is a feast to be carried by lovers of poetry wherever they go.
• Roger Robinson is a writer and performer who lives between London and Trinidad. His first full poetry collection, The Butterfly Hotel, was shortlisted for The OCM Bocas Poetry Prize. He has toured extensively with the British Council and is a co-founder of both Spoke Lab and the international writing collective Malika's Kitchen.
• Review by Bernardine Evaristo for the New Statesman on Wednesday, November 13, 2019: "A Portable Paradise (Peepal Tree Press) is the fourth poetry collection by Trinidadian-British poet Roger Robinson. It's also his finest, ranging from the most breath-taking poems about the Grenfell Tower fire to the most exquisitely moving poems about the premature birth of his son, who had to fight for his life in an incubator. His poems are deep, mature, moving and inventive."
A Portable Paradise
Roger Robinson (author)
Publisher: Peepal Tree Press Ltd
ISBN: 9781845234331
Number of pages: 144
Dimensions: 206 x 135 mm
Paperback
Published: 08/07/2019
£9.99
# new poetry
Roger Robinson:
A Portable Paradise
• fleursdumal.nl magazine
More in: #Editors Choice Archiv, - Book News, - Bookstores, Archive Q-R, Archive Q-R, Art & Literature News, Awards & Prizes, Black Lives Matter
---
Hard Damage works to relentlessly interrogate the self and its shortcomings. In lyric and documentary poems and essayistic fragments, Aria Aber explores the historical and personal implications of Afghan American relations.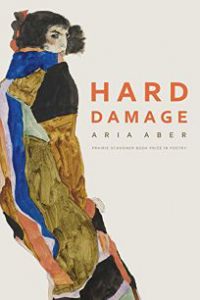 Drawing on material dating back to the 1950s, she considers the consequences of these relations—in particular the funding of the Afghan mujahedeen, which led to the Taliban and modern-day Islamic terrorism—for her family and the world at large.
Invested in and suspicious of the pain of family and the shame of selfhood, the speakers of these richly evocative and musical poems mourn the magnitude of citizenship as a state of place and a state of mind. While Hard Damage is framed by free-verse poetry, the middle sections comprise a lyric essay in fragments and a long documentary poem. Aber explores Rilke in the original German, the urban melancholia of city life, inherited trauma, and displacement on both linguistic and environmental levels, while employing surrealist and eerily domestic imagery.
  One hears everything here, where the landscape
  is a clean knife, slicing the mute—just a cat
  wiping its face, roofs with snow for weeks, ice
  falling from fir trees like books pushed off a shelf.
"The book is an academic asset. It is fine literature, from beyond the borders of the English-speaking sensibilities. Students of literature, political science, sociology, foreign affairs, and many other disciplines can benefit from Hard Damage…" – NY Journal of Books
Aria Aber was raised in Germany, where she was born to Afghan refugees. Her debut book Hard Damage won the Prairie Schooner Book Prize in Poetry and will be published in September 2019. Her poems are forthcoming or have appeared in The New Yorker, New Republic, Kenyon Review, The Yale Review, Poem-A-Day, Narrative, Muzzle Magazine, Wasafiri and others. A graduate from the NYU MFA in Creative Writing, where she was the Writers in Public Schools Fellow, she holds awards and fellowships from Kundiman and Dickinson House and was the 2018-2019 Ron Wallace Poetry Fellow at the Wisconsin Institute of Creative Writing. She's currently based in Berlin and is at work on her second book.
Aria Aber (Author)
Hard Damage
Poetry
Series: Prairie Schooner Book Prize in Poetry
Paperback
126 pages
Publisher: University of Nebraska Press
2019
Language: English
ISBN-10: 1496215702
ISBN-13: 978-1496215703
Product Dimensions:
6 x 0.3 x 9 inches
$17.95
# new books
Aria Aber:
Hard Damage
Poetry
• fleursdumal.nl magazine
More in: #Editors Choice Archiv, - Book News, - Bookstores, Archive A-B, Archive A-B, Art & Literature News
---
Don Paterson's new collection of poetry starts from the premise that the crisis of mid-life may be a permanent state of mind.
Zonal is an experiment in science-fictional and fantastic autobiography, with all of its poems taking their imaginative cue from the first season of The Twilight Zone (1959-1960), playing fast and loose with both their source material and their author's own life. Narrative and dramatic in approach, genre-hopping from horror to Black Mirror-style sci-fi, 'weird tale' to metaphysical fantasy, these poems change voices constantly in an attempt to get at the truth by alternate means. Occupying the shadowlands between confession and invention, Zonal takes us to places and spaces that feel endlessly surprising, uncanny and limitless.
Don Paterson has published seven poetry collections, three books of aphorisms, translations of Machado and Rilke, several works of literary criticism and an ambitious ars poetica, The Poem. His poetry has received many awards. He is Professor of Poetry at the University of St Andrews and Poetry Editor at Picador Macmillan; he also works as a jazz musician. He lives in Edinburgh.
Zonal
Don Paterson (author)
Poems
English language
Faber & Faber (publisher)
Hardback
Pages: 80
Publication Date: March 5, 2020
ISBN: 9780571338245
RRP: £14.99
# new books
Zonal
poems by Don Paterson
• fleursdumal.nl magazine
More in: #Editors Choice Archiv, - Book News, - Bookstores, Archive O-P, Archive O-P
---
En 2018 s'est produit un phénomène que personne n'avait vu venir et qui restera dans l'histoire de la poésie française : un recueil a rencontré à la fois un succès critique et public.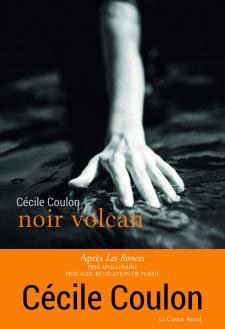 Cécile Coulon avait alors 27 ans, elle était connue comme romancière depuis déjà plusieurs années, et son premier recueil, Les Ronces, suscita un intérêt et un engouement dépassant de loin le cercle « habituel » des lecteurs de poésie.
Son second recueil, Noir volcan, est tout aussi éruptif, celui d'une poésie affranchie, libératrice, terrienne. Il fait partie d'un étonnant renouveau de la poésie constaté par les libraires dont Alexandre Bord : « Des poétesses comme Cécile Coulon et Rupi Kaur, dont les textes ont pu être lus au préalable sur les réseaux sociaux, attirent en librairie des lecteurs qui n'avaient jamais acheté un recueil de poésie. » Il est évident à la lire, que Cécile Coulon ne peut vivre sans poésie.
Cécile Coulon est née en 1990 à Clermont-Ferrand. En quelques années, elle a fait une ascension fulgurante. Elle a publié sept romans dont Trois saisons d'orage (Viviane Hamy), prix des Libraires, et Une bête au paradis (L'Iconoclaste), prix littéraire du Monde. Son premier recueil de poésie, Les Ronces (Le Castor Astral), a reçu le prestigieux prix Apollinaire.
Noir volcan
de Cécile Coulon (Auteur)
Alexandre Bord (Préface)
Broché : 160 pages
Editeur : Le castor astral
6 février 2020
Collection : Poésie
Langue : Français
ISBN-13 : 979-1027802449
ASIN : B07Z76LM7B
Dimensions du produit:
14,1 x 1,5 x 20,5 cm
15,00 EUR
# new books
Cécile Coulon:
Noir volcan
Poésie
• fleursdumal.nl magazine
More in: #Editors Choice Archiv, - Book News, - Bookstores, Archive C-D, Archive C-D, Art & Literature News
---
If two girls are two halves of a deep, lifelong friendship, what does one girl wholly become when the other is gone?
Amy Woolard's debut collection, Neck Of The Woods, sets this question as a hero-quest deep inside the mythos of the American South, wandering through childhood stories in which a girl alone must work to save herself.
These poems take on what happens when you wake up the morning after something happens, and find yourself in a different world, knowing there isn't truly a way back home.
Part-elegy, part-survivor's testimony, Neck Of The Woods maps a path divided into a before and an ever after.
Amy Woolard is a legal aid attorney working on civil rights policy and legislation in Virginia. Her first collection, Neck of the Woods, received the 2018 Alice James Award from Alice James Books. Her poems have appeared in The New Yorker, The Paris Review, Poetry, Boston Review, Ploughshares, and elsewhere, while her essays and reporting have been featured in publications such as Slate, The Guardian, and Virginia Quarterly Review. She has received fellowships from the National Endowment for the Arts, the Vermont Studio Center, and the Breadloaf Writers' Conference. She lives in Charlottesville, Virginia.
Neck of the Woods (Poetry)
Amy Woolard (Author)
Publisher: Alice James Books
Publish Date: April 07, 2020
Pages 100
Dimensions: 5.9 X 0.4 X 8.9 inches
Language: English
Type: Paperback
ISBN: 9781948579070
Price: $16.95
# new poetry
Amy Woolard:
Neck of the Woods
• fleursdumal.nl magazine
More in: #Editors Choice Archiv, - Book News, - Bookstores, Archive W-X, Art & Literature News
---
Poet, writer, and dancer Tishani Doshi was born in Madras, India, to Welsh and Gujarati parents. She earned a BA from Queens College in North Carolina and an MA from the Writing Seminars from the Johns Hopkins University. After working in the fashion magazine industry in London, Doshi returned to India.
An unexpected meeting with one of Indian dance's leading choreographers, Chandralekha, led Doshi to a career in dance. She currently performs internationally with the Chandralekha group. She is a freelance journalist, and her work has appeared in newspapers and journals such as the Guardian, the National, and the Hindu. She writes a regular column for New Indian Express and was a finalist in the Outlook/Picador India Non-Fiction Competition.
Doshi is widely acclaimed as a creative writer; her first book of poetry, Countries of the Body (2006), won a Forward Prize for Best First Collection. Her other collections include Everything Begins Elsewhere (2013), Dolce Marcescenza (Sweet Decay) (2015), and Girls Are Coming Out of the Woods (2018).
Doshi's first novel, The Pleasure Seekers (2010), was shortlisted for the Hindu Best Fiction Award and has been translated into several languages. She is also the author of Fountainville: New Stories from the Mabinogion (2013), a retelling of the Mabinogion myth, as well as two books about place and home, Madras Then Chennai Now (2013) and The Adulterous Citizen (2015). Her latest novel is Small Days and Nights (W. W. Norton, 2020).
From "The River of Girls" by Tishani Doshi the poem:
i.m. India's missing girls
This is not really myth or secret.
This murmur in the mouth
of the mountain where the sound
of rain is born.
  ( . . . . . )
This is the sound of ten million girls
singing of a time in the universe
when they were born with tigers
breathing between their thighs;
when they set out for battle
with all three eyes on fire,
their golden breasts held high
like weapons to the sky.
Tishani Doshi, "The River of Girls". Copyright © 2013 by Tishani Doshi.
Source: Everything Begins Elsewhere (Copper Canyon Press, 2013)
Her honors and awards include an Eric Gregory Award and an All-India Poetry Prize. She lives in Tamil Nadu, India.
Small Days and Nights
A Novel
by Tishani Doshi (Author)
Hardcover
$25.95
272 pages
Publisher: W. W. Norton & Company
January 21, 2020
Language: English
ISBN-10: 1324005238
ISBN-13: 978-1324005230
# fleursdumal.nl magazine
More in: - Book News, - Book Stories, Archive C-D, Archive C-D, Art & Literature News, REPRESSION OF WRITERS, JOURNALISTS & ARTISTS
---
Paul Celan, der meistgedeutete deutschsprachige Dichter nach 1945, ist auch der Autor eines eminenten Briefwerks.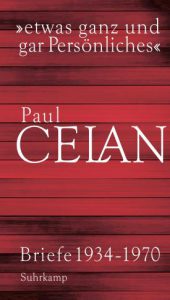 Mit dieser Ausgabe wird es nun erstmals als eigenes Werk sichtbar: in 691 Briefen, davon 330 bisher unpubliziert, an 252 Adressaten. Wer sind die Adressaten? Es sind die Mitglieder der Familie, geliebte Frauen, befreundete Autoren, sehr junge und begeisterte Leser, Übersetzerkollegen, französische Philosophen ebenso wie deutsche Germanisten und die Mitarbeiter vieler Verlage. Aus alledem entsteht in chronologischer Folge über vier Jahrzehnte ein Leben aus Briefen.
In ihnen zeigt sich Celan als herausragender Korrespondenzpartner mit einer enormen stilistischen Bandbreite, ausgeprägt in seiner Fähigkeit, auch auf Unbekannte einzugehen. Die Briefe offenbaren eine Vielzahl bisher verborgener biografischer Fakten, ermöglichen eine Präzisierung seiner Poetologie und zeigen ihn zugleich als Menschen in seinem ganz gewöhnlichen Alltag.
Das Jahr 2020 steht ganz im Zeichen von Paul Celan: Am 20. April jährte sich sein Todestag zum fünfzigsten Mal, und am 23. November 2020 wäre einer der wichtigsten deutschsprachigen Dichter nach 1945 einhundert Jahre alt geworden.
Paul Celan wurde als Paul Antschel am 23. November 1920 als einziger Sohn deutschsprachiger, jüdischer Eltern im damals rumänischen Czernowitz geboren. Nach dem Abitur 1938 begann Celan ein Medizinstudium in Frankreich, kehrte jedoch ein Jahr später nach Rumänien zurück, um dort Romanistik zu studieren. 1942 wurden Paul Celans Eltern deportiert. Im selben Herbst starb sein Vater in einem Lager an Typhus, seine Mutter wurde erschossen. Von 1942 bis 1944 musste Celan in verschiedenen rumänischen Arbeitslagern Zwangsarbeit leisten.
Von 1945 bis 1947 arbeitete er als Lektor und Übersetzer in Bukarest, wo auch erste Gedichte von Celan erschienen. Im Juli 1948 zog er von Wien aus nach Paris, wo der Dichter bis zu seinem Tod lebte. Dort lernte Celan 1951 die Künstlerin Gisèle de Lestrange kennen, die er ein Jahr später heiratete. Ihr gemeinsamer Sohn Eric kam 1955 zur Welt. Im Frühjahr 1970 nahm sich Celan in der Seine das Leben. (Suhrkamp Verlag)
"Dieses aus- und eindrucksvolle Mosaik ist die große Leistung der Herausgeberin Barbara Wiedemann, die schon so viele Publikationen zu Paul Celan verantwortet hat." – Martin Oehlen, Frankfurter Rundschau
Paul Celan
"Etwas ganz und gar Persönliches"
Briefe 1934-1970
Herausgegeben und kommentiert von Barbara Wiedemann
Deutschsprachig
Leinen
Literatur
Suhrkamp Verlag
1286 Seiten
78,00 €
Erschienen: 14.12.2019
ISBN: 978-3-518-42888-7
# new books
Paul Celan
Briefe 1934-1970
• fleursdumal.nl magazine
More in: - Book News, - Bookstores, Archive C-D, Archive C-D, Celan, Paul, Paul Celan
---
Most people outside Italy know Pier Paolo Pasolini for his films, many of which began as literary works—Arabian Nights, The Gospel According to Matthew, The Decameron, and The Canterbury Tales among them.
What most people are not aware of is that he was primarily a poet, publishing nineteen books of poems during his lifetime, as well as a visual artist, novelist, playwright, and journalist. Half a dozen of these books have been excerpted and published in English over the years, but even if one were to read all of those, the wide range of poetic styles and subjects that occupied Pasolini during his lifetime would still elude the English-language reader.
For the first time, Anglophones will now be able to discover the many facets of this singular poet. Avoiding the tactics of the slim, idiosyncratic, and aesthetically or politically motivated volumes currently available in English, Stephen Sartarelli has chosen poems from every period of Pasolini's poetic oeuvre. In doing so, he gives English-language readers a more complete picture of the poet, whose verse ranged from short lyrics to longer poems and extended sequences, and whose themes ran not only to the moral, spiritual, and social spheres but also to the aesthetic and sexual, for which he is most known in the United States today. This volume shows how central poetry was to Pasolini, no matter what else he was doing in his creative life, and how poetry informed all of his work from the visual arts to his political essays to his films. Pier Paolo Pasolini was "a poet of the cinema," as James Ivory says in the book's foreword, who "left a trove of words on paper that can live on as the fast-deteriorating images he created on celluloid cannot."
Pier Paolo Pasolini (1922–75) was an Italian film director, writer, and intellectual. This generous selection of poems will be welcomed by poetry lovers and film buffs alike and will be an event in American letters.
The Selected Poetry of Pier Paolo Pasolini
A Bilingual Edition
Edited and Translated by Stephen Sartarelli
With a Foreword by James Ivory
Format Paperback
512 pages
Dimensions 152.4 x 226.06 x 33.02mm
Publisher The University of Chicago Press
Language English
Edition Bilingual edition
ISBN10 022632544X
ISBN13 9780226325446
2015
Paper $25.00
Susan Stewart | The Nation: "An accused blasphemer deeply devoted to Franciscan Catholicism, a Gramscian communist permanently expelled from the party, an avowed homosexual dedicated to the consensual sexual freedom of everyone, a champion of the local on a global scale, a neorealist of the imagination, and a radically innovative poet alienated from the existing practices of the avant-garde: Pasolini is not so much a figure of contradictions as he is a force against the incoherence hiding in every hypocrisy."
• fleursdumal.nl magazine
More in: - Book News, Archive O-P, Archive O-P, AUDIO, CINEMA, RADIO & TV, Pier Paolo Pasolini
---
Does a poet's heart beat under Donald Trump's brash exterior? This bestseller rearranges his quotes and tweets into hilarious poetry. It's a new word order and a perfect stocking filler.
What if there's a hidden dimension to Donald Trump; a sensitive, poetic side? Driven by this question, Rob Sears began combing Trump's words for signs of poetry.
What he found was a revelation. By simply taking the 45th President of the United States' tweets and transcripts, cutting them up and reordering them, Sears unearthed a trove of beautiful verse that was just waiting to be discovered.
This groundbreaking collection gives readers a glimpse of Trump's innermost thoughts and feelings on everything from the nature of truth, to what he hates about Lord Sugar. And it will reveal a hitherto hidden Donald, who may surprise and delight both students and critics alike.
Now with seventeen all-new poems! As we lurch deeper into the Trump presidency, this timely publication also includes Sears' scholarly footnotes and introduction, in which he excavates new critical angles and insights into the President's poetry which the casual reader might initially overlook.
"I'm very highly educated.
I know words,
I know the best words"
– Donald Trump,
Campaign Rally, 30 Dec 2015
Rob Sears is a creative director at McCann Erickson advertising agency, has written comedy and fiction for McSweeney's and (with his brother) wrote a sitcom for Audible starring Kevin Eldon, Felicity Montagu and Mitch Benn. He lives in Finsbury Park with his wife.
The Beautiful Poetry of Donald Trump
by Robert Sears (Author)
Subtitel: Newly Updated Edition
Including 12 Recently Discovered Poems
Hardcover: 144 pages
Publisher: Canongate Books Ltd; Main edition
August 31, 2017
Language: English
ISBN-10: 9781786892270
ISBN-13: 978-1786892270
ASIN: 1786892278
Product Dimensions: 14.4 x 1.8 x 22 cm
NUR code 754
$12.99
# new books
The Beautiful Poetry
of Donald Trump
• fleursdumal.nl magazine
More in: #Editors Choice Archiv, - Book News, Archive S-T, Archive S-T, Art & Literature News, Invisible poetry, The talk of the town
---
Les Goncourt furent à la fois acteurs et mordants spectateurs d'un demi-siècle de vie littéraire et artistique. Écrivains, critiques, collectionneurs, ils marquèrent profondément leur temps. Cette biographie, rédigée par les deux plus grands spécialistes des Goncourt et appelée à faire date, renoue les fils de cette intense vie à deux.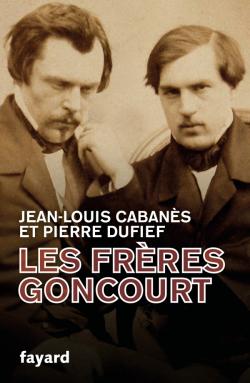 Le nom de Goncourt connaît la célébrité grâce au plus fameux des prix littéraires, mais il mérite aussi de survivre car il fut porté par deux frères, hommes de lettres novateurs, irremplaçables témoins de leur temps.
Leur double biographie ressuscite un demi-siècle de vie littéraire et artistique, où l'on croise Gautier et Flaubert, où l'on côtoie Renan, Taine, Berthelot, Daudet, Zola. Collectionneurs impénitents, esthètes dolents et élitistes, Jules et Edmond de Goncourt ont transformé leur vie et celle de leurs proches en pages d'écriture. Leur Journal, leurs romans, qui ont initié le naturalisme et la littérature fin de siècle, la création de l'académie des Goncourt, tout témoigne de leur aspiration à la survie littéraire. Leurs engagements avant-gardistes s'associent paradoxalement à un conservatisme politique qui n'exclut ni la misogynie ni l'antisémitisme.
Fondée sur des archives familiales, sur des correspondances largement inédites et sur le dépouillement de la presse de la seconde moitié du xixe siècle, cette biographie magistrale s'attache à l'œuvre littéraire et historique aujourd'hui méconnue, elle renoue les fils d'une intense vie à deux, en pénétrant dans l'intimité affective d'une gémellité fusionnelle.
Jean-Louis Cabanès, professeur émérite à l'université de Paris-Nanterre, spécialiste du roman au xixe siècle et des rapports qu'entretiennent écrits littéraires et textes médicaux, est l'auteur de nombreux ouvrages. Il dirige un collectif chargé d'établir une édition critique du Journal des Goncourt.
Pierre Dufief, professeur émérite à l'université de Paris-Nanterre, a travaillé sur le roman (1850-1914) ainsi que sur les écritures personnelles (Les Écritures de l'intime, Bréal, 2001). Président de la Société des amis des frères Goncourt, il édite la correspondance des deux frères.
Les Frères Goncourt
Jean-Louis Cabanès et Pierre Dufief
Parution: 11/03/2020
Pages: 800
Format: 155 x 235 mm
Collection: Histoire Fayard
EAN: 9782213685960
Prix: € 35.00
Les Frères Goncourt de Jean-Louis Cabanès et Pierre Dufief a reçu la Mention spéciale du Prix Goncourt de la biographie.
# new books
Les Frères Goncourt
Jean-Louis Cabanès & Pierre Dufief
• fleursdumal.nl magazine
More in: #Biography Archives, - Book News, Archive G-H, Archive G-H, Awards & Prizes, Histoire de France, Jules et Edmond de Goncourt, Libraries in Literature
---
Older Entries »
Thank you for reading FLEURSDUMAL.NL - magazine for art & literature