MODERN POETRY
·
TENTOONSTELLING: 'TUIN DER TEDERHEID'
·
Bert Bevers: Wachten op de perenval. Een boerengedicht
·
Bert Bevers & Joep Eijkens: Vloed
·
Marieke Lucas Rijneveld wint de Ida Gerhardt Poëzieprijs 2020
·
Bert Bevers: Uit het dagboek van een prinses (Gedicht)
·
Ton van Reen: Vlucht uit Montaillou. Roman
·
Ton van Reen: Eigen Wijs. Nieuwe bundel Korte verhalen
·
Bert Bevers & Joep Eijkens: Geheim
·
The Discomfort of Evening from Marieke Lucas Rijneveld on 2020 International Booker Prize Shortlist
·
Poetry by Keetje Kuipers: 'All Its Charms'
·
Delphine Lecompte: Vrolijke verwoesting. Gedichten
·
Bert Bevers: Belofte (Gedicht)
'Jardin de Tendresse' (Tuin der Tederheid) in het 'Metropolitan Museum Tilburg'
De raamtentoonstellingen aan de Stedekestraat ('Metropolitan Museum Tilburg') laten deze zomer een 'tuin der tederheid' zien, waarmee het museum wederom reageert op deze donkere tijden van corona. Te zien vanaf vrijdagavond 12 juni 2020, Stedekestraat 15 te Tilburg.
De 'anderhalvemetersamenleving', ze is er dan toch van gekomen. Afstand als nieuwe normaal. Wie had dat ooit kunnen denken? Geen hand meer reiken om de ander vriendelijk te begroeten? Geen spontane omhelzingen meer met vrienden en vriendinnen? Geen knuffels meer aan kinderen en kleinkinderen? Niet meer zoenen op het zebrapad? Nooit meer vrijen op het strand? Waar leven we nog voor? Veiligheid voor alles? Echt waar? Gelamineerd door het leven en virtuele gemeenschap?
"Alles van waarde is weerloos," schreef de dichter Lucebert, meteen gevolgd door de magistrale regel: "wordt van aanraakbaarheid rijk en aan alles gelijk!" Aanraking, hoe lang kan een mens zonder? Zonder af te glijden naar een troosteloos robottenbestaan? Waar gaan we heen?
Vandaar een tentoonstelling. Heeft kunst tenminste nog enige zin in deze donkere dagen. En dus nodigen wij u met alle plezier uit voor de expositie 'Jardin de Tendresse' ('Tuin der Tederheid') van Sjon Brands. Een speelse 'exposition dansante', uitgevoerd in bewegende assemblages van alledaagse gebruiksvoorwerpen en speelgoed. Een onbevangen feest van aanraking, tederheid en kwetsbaarheid, te zien in het 'Metropolitan Museum Tilburg'. Welkom! Komt dat zien! Dag en nacht, zeven dagen in de week! Reserveren niet nodig.
◊  Dorith van der Lee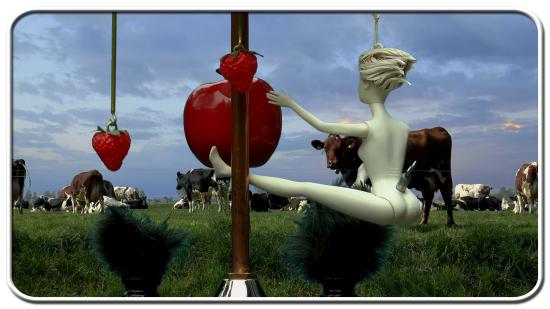 Raamtentoonstelling Sjon Brands:
  'Jardin de Tendresse' ('Tuin der Tederheid')
  vrijdag 12 juni t/m 15 september 2020
  dagelijks, dag en nacht, toegang vrij
  'Metropolitan Museum Tilburg'
  Stedekestraat 15, 5041DM Tilburg
  website: www.metropolitanmuseum.nl
  • fleursdumal.nl magazine
More in: - Objets Trouvés (Ready-Mades), Art & Literature News, Brands, Sjon, Exhibition Archive, Metropolitan Museum Tilburg, Sculpture, Sjon Brands, Surrealism, SURREALISM, Surrealisme, Theater van de Verloren Tijd
---
Wachten op de perenval
Een boerengedicht
Tussen verse klaver en bloeiende netel
roestige val: de dreiging blijft. Aan de voetzolen
poldermodder, smeuïg en zwart.
Uit langse karren bulken ajuinen. Erachter houden
wielrenners zich uit de wind. Boeren klotsen klompen
over de deel. Er zit regen in de lucht.
Bezwangerd land. Fazanten schieten door de greppels.
Hoera: gloeit achter gindse wolk de zon niet weer?
Harken krabben van de tuin de jeuk weg.
Hé Adriaen van Grijpstraten, waar heb je toch mijn
zwingel gelaten? neuriet de knecht. Vergeten is
de landheer die hier dertig jaar geleden op de rozen piste
nog niet gans.
Bert Bevers
Uit: Onaangepaste tijden, Zinderend, Bergen op Zoom, 2006
Bert Bevers is a poet and writer who lives and works in Antwerp (Be)
• fleursdumal.nl magazine
More in: Archive A-B, Archive A-B, Bevers, Bert
---
Vloed
Ze kruipt graag voor, de branding. Spoelt zich het kader
uit de blik in, een kamer waarin nog nooit gewoond werd
tegemoet. Door druppels heen voeren winden landzieke
beloftes aan. Zonder wat voor twijfels dan ook zwijgt
schamel het strand van de ontrouw, en bilzacht de bank.
Bert Bevers
Bert Bevers schreef dit gedicht bij de foto van Joep Eijkens
© gedicht Bert Bevers 2020
© foto Joep Eijkens 2020
• fleursdumal.nl magazine

More in: Archive A-B, Archive A-B, Archive E-F, Bevers & Eijkens, Bevers, Bert, Joep Eijkens Photos, Photography
---
Marieke Lucas Rijneveld wint de Ida Gerhardt Poëzieprijs 2020 voor haar bundel Fantoommerrie. De andere genomineerden waren Bart Moeyaert met Helium en Iduna Paalman: De grom uit de hond halen.

De feestelijke prijsuitreiking in Zutphen op zaterdagavond 14 maart j.l. is geannuleerd vanwege het corona-virus. Op een nader te bepalen moment krijgt Marieke Lucas Rijneveld de geldprijs van 1000 euro en een bronzen beeldje voorstellende Ida Gerhardt overhandigd.
'Haar overrompelende debuut Kalfsvlies (2015) blijkt geen toevalstreffer', schrijven juryleden Petra Possel en Arjan Peters in het juryrapport. 'In lange zinnen, gulle beelden en rijke strofen, hoeft deze dichter ogenschijnlijk niet te zoeken naar woorden; zodra ze gaat schrijven, komen de woorden aan gegaloppeerd.' Fantoommerrie (2019) zit vol dreigende en onontkoombare taal, aldus de jury. 'Als een geluid dat steeds tussen je oren suist en maar niet weg wil gaan.'
Fantoommerrie
Auteur: Marieke Lucas Rijneveld
Taal: Nederlands
Paperback
Druk 1
Verschijningsdatum januari 2019
Afmetingen 24 x 17 x 0,5 cm
64 pagina's
Uitgever Atlas Contact
EAN 9789025453459
NUR code 306
• fleursdumal.nl magazine
More in: Archive Q-R, Archive Q-R, Awards & Prizes, Rijneveld, Marieke Lucas
---
Uit het dagboek van een prinses
Wij weten van dit land dat het bestaat,
en denken van dit volk dat het graag leeft.
Het heeft merkwaardige mensen.
Sommige maken wandelingen van uren
in een draaideur. Andere zwaaien
naar schaduwen. Er zijn er zelfs die lezen.
Ik was in een winkel waar je zomaar
sigaren kunt kopen. In doosjes.
En wat me telkens toch weer opvalt:
Er zijn weinig zwervers zonder hond.
Bert Bevers
Ongepubliceerd
Bert Bevers is a poet and writer who lives and works in Antwerp (Be)
• fleursdumal.nl magazine
More in: Archive A-B, Archive A-B, Bevers, Bert
---
De befaamde en onsterfelijke Franse schrijver Boris Vian zit op het terras van Café La Coupole in Parijs, een plek waar schrijvers en kunstenaars graag vertoeven.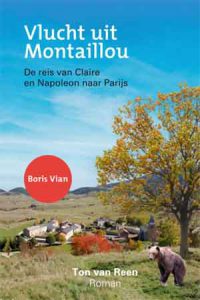 Zijn oog valt op een bericht in de krant. 'Bij het plaatsje Montaillou heeft een beer de wolven verjaagd die het 17-jarige herderinnetje Claire Soubirous dreigden aan te vallen. De beer liet het meisje met rust.' Boris leest het summiere bericht drie keer. Het ontroert hem. Beren zijn z'n lievelingsdieren. Ze hebben het uiterlijk van knuffels en het innerlijk van prijsvechters. Zal hij een boek kunnen schrijven met in de hoofdrol een beer? Een beer met menselijke eigenschappen, zoals kinderen hun knuffelberen zien als hun beste vriendjes en met hen praten?
Hij pakt een lijntjesschrift uit zijn tas en schroeft de dop van zijn pen. Opeens is het er weer, na lange jaren, het geluk van het schrijven. Het eerste hoofdstuk waarin de beer, die Napoleon heet, en Claire besluiten op reis te gaan naar Parijs, vloeit als vanzelf op het papier.
Aan zijn tafeltje op het terras van La Coupole schrijft Boris elke dag een hoofdstuk, vaak in het bijzijn van schrijvers en lezers. Een van hen is de schrijver Ton van Reen, een bewonderaar van het werk van Boris Vian, die een dagboek bijhoudt over de gebeurtenissen. Al vlug ontdekt men dat wat Boris schrijft ook in het echt gebeurt. De pers duikt erop. Frankrijk staat op zijn kop. De toekomst van het land vloeit uit de pen van Boris.
Quotes uit de Franse pers:
'Tja, wat moet ik er van zeggen? Een roman over de liefde? Onzin natuurlijk. Maar het leest lekker weg. En dat ik een rol speel in een boek van Boris Vian? Dat streelt me wel natuurlijk.' – Michel Houellebecq in Le magazin Houellebecq
'Boem. Pats. Zo kennen we Boris Vian weer. IJzersterk in het absurde. En toch heel geloofwaardig, ook omdat het leven van de mens nu eenmaal ongerijmd is. Een boek waarin ik van de eerste tot de laatste letter geloof. Ontroerend is de kleine rol die facteur Ferdinand Cheval speelt in dit heerlijke verhaal, waarin ook ik op mijn plaats word gezet.' – Jean Paul Sartre in L'Echo du Cimétière de Montmartre
'Iedere goede roman is een dwaalspoor door het leven. Dit is zo'n roman. Een waar doolhof waar je niet uit wilt raken, een tuin vol verhalen en sprookjes. Ik zit er nog middenin.' – Françoise 'Tristesse' Sagan in L'heure du Femme de Campagne
Aad Nuis schreef in de Haagsche Post: 'Ton van Reen is een schrijver met karakter. Hij gaat zijn eigen weg, los van de wisselingen van de literaire mode. Hij schrijft graag sprookjes, waarbij de toon onverhoeds kan omslaan van Andersen op zijn charmantst in Grimm op zijn gruwelijkst.'
Vlucht uit Montaillou is zo'n sprookje.
Ton van Reen
Vlucht uit Montaillou
De reis van Claire en Napoleon naar Parijs
Boris Vian-roman
ISBN 978-90-6265-504-5
Eerste uitgave 14 juli 2019
Gebrocheerd in omslag met flappen,
438 blz.
€ 22,00
• fleursdumal.nl magazine
More in: # Music Archive, - Book News, - Book Stories, Archive Q-R, Archive Q-R, Archive U-V, Art & Literature News, Reen, Ton van, Ton van Reen, Vian, Boris
---
Eigen Wijs bevat vijftig korte en zeer korte verhalen waarin de achtenzeventigjarige schrijver Ton van Reen terugkijkt op zijn leven en het korte pad verkent dat hem nog wacht.
Hij beseft dat de verhalen die hij vroeger hoorde van zijn in 1876 geboren grootmoeder Jaantje van Asperen, dochter van een turfschipper uit de Peel, hem hebben gevormd tot schrijver en verteller. Tijdens het kaarten aan de keukentafel riep zij de wonderen van de wereld in hem op. Daarom komt zij veel voor in deze verhalen. Net als zijn moeder, die al heel jong weduwe werd. En de vader die stierf toen Ton tien jaar oud was.
De verhalen springen op en neer, van vroeger naar nu, van het eigenzinnige meisje uit de Peel dat grootmoeder werd, van de moeder die haar eigen weg ging, van het kind dat Ton zelf was naar de grootvader die hij nu is. Samen vormen de verhalen het levenspad van de schrijver. Het zijn verhalen over een wereld die totaal is veranderd, over de jaren vijftig waarin hij in Limburg opgroeide, waarin de kerk nog absolute macht had, tot de tijd van nu, waarin diezelfde kerk een achterhoedegevecht levert. De jaren waarin de heren met de hoeden en de vrouwen met de bontjes, samen met de pastoor, in het dorp de dienst uitmaakten.
Maar er zijn ook verhalen over het avontuur van het lezen, de kunst van het vertellen en de voldoening van het schrijven, tegen de stroom in, vanaf het kleine zolderkamertje waar Ton sliep als kind en waar hij zijn schrijftafeltje had, tot op de dag van vandaag, in zijn werkplaats, de voormalige koeienstal, vol duizenden boeken.
Deze verhalen sluiten naadloos aan bij de eerdere boeken die Ton van Reen schreef over de jaren vijftig, zoals Het winterjaar, In het donkere zuiden, Thuiskomst en Roomse meisjes. Eigen Wijs past prima bij het thema van de Boekenweek 2020: 'Rebellen en dwarsdenkers.' Bij uitgeverij In de Knipscheer verschenen van Ton van Reen onder meer De verdwenen stad, Dochters, De Lichtverkoper en Vlucht uit Montaillou.
Ton van Reen
Eigen Wijs
Korte verhalen
Nederlands
Gebrocheerd in omslag met flappen
200 blz.
ISBN 978 90 6265 790 2
NUR 303
Eerste druk 2020
Uitgeverij In de Knipscheer
• fleursdumal.nl magazine
More in: - Book News, - Book Stories, Archive Q-R, Archive Q-R, Art & Literature News, Reen, Ton van, Ton van Reen
---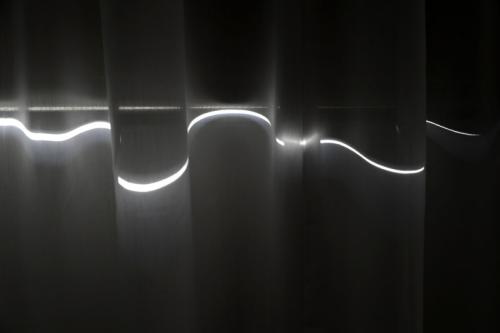 Geheim
Verbazingwekkend scherp gelijke tred
met de herinnering. Halsstarrig bedenken
van ballades omtrent niets. Opgestaan
zijn wij uit een lege slaap, en we eten nu
brood aan langzame, langzame tafels.
Prevel maar voor een gesloten gordijn.
Traagheid is immers van geluk het geheim.
Bert Bevers
Joep Eijkens maakte de foto bij dit gedicht
© gedicht Bert Bevers 2020
© foto Joep Eijkens 2020
• fleursdumal.nl magazine
More in: Archive A-B, Archive E-F, Bevers & Eijkens, Bevers, Bert, Joep Eijkens Photos, Photography
---
The International Booker Prize is awarded annually for a single book, translated into English and published in the UK or Ireland.
The vital work of translators is celebrated, with the prize money divided equally between the author and translator.
The judges of the 2020 International Booker Prize have revealed the six shortlisted books of the International Booker Prize which celebrates the finest translated fiction from around the world.
The 2020 International Booker Prize shortlist is as follows:
◊ The Enlightenment of the Greengage Tree by Shokoofeh Azar (Farsi-Iran), translated by Anonymous, published by Europa Editions
◊ The Adventures of China Iron by Gabriela Cabezón Cámara (Spanish-Argentina), translated by Iona Macintyre and Fiona Mackintosh, published by Charco Press
◊ Tyll by Daniel Kehlmann (Germany-German), translated by Ross Benjamin, published by Quercus
◊ Hurricane Season by Fernanda Melchor (Spanish-Mexico), translated by Sophie Hughes, Published by Fitzcarraldo Editions
◊ The Memory Police by Yoko Ogawa (Japanese-Japan), translated by Stephen Snyder, published by Harvill Secker
◊ The Discomfort of Evening by Marieke Lucas Rijneveld (Dutch-Netherlands), translated by Michele Hutchison, published by Faber & Faber
The shortlist was chosen by a panel of five judges, chaired by Ted Hodgkinson, Head of Literature and Spoken Word at Southbank Centre. The panel also includes: Lucie Campos, director of the Villa Gillet, France's centre for international writing; Man Booker International Prize-winning translator and writer Jennifer Croft; Booker Prize longlisted author Valeria Luiselli and writer, poet and musician Jeet Thayil, whose novel Narcopolis was shortlisted for the Man Booker Prize in 2012.
◊ The Winner will be announced on 19 may 2020
# More information on website Booker Prize
• fleursdumal.nl magazine
More in: - Book Lovers, - Book News, Archive Q-R, Archive Q-R, Awards & Prizes, Rijneveld, Marieke Lucas, TRANSLATION ARCHIVE
---
A luminous new collection from Keetje Kuipers, All Its Charms is a fearless and transformative reckoning of identity.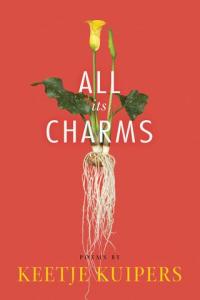 By turns tender and raw, these poems chronicle Kuipers's decision to become a single mother by choice, her marriage to the woman she first fell in love with more than a decade before giving birth to her daughter, and her family's struggle to bring another child into their lives. All Its Charms is about much more than the reinvention of the American family—it's about transformation, desire, and who we can become when we move past who we thought we would be.
Keetje Kuipers is the author of three books of poems: Beautiful in the Mouth, The Keys to the Jail, and, most recently, All Its Charms, which includes poems honored by publication in both The Pushcart Prize and Best American Poetry anthologies. 
Her poetry and prose have appeared in Narrative, Virginia Quarterly Review, The New York Times Magazine, The Believer, and over a hundred other magazines. Her poems have also been featured as part of the Academy of American Poets' Poem-a-Day series and read on NPR. Keetje has been a Stegner Fellow, a Bread Loaf fellow, and PEN Northwest's Margery Davis Boyden Wilderness Writing Resident. She lives with her wife and children on an island in the Salish Sea, a short ferry ride away from Seattle where she is Editor of Poetry Northwest.
(. . .)
I climbed the red rocks robed in their red dust.
I put the earth—all its charms—within me,
into each waiting pocket. Lip and ear.
What will happen when my body can no longer
hold this fragrant salt, its hardened tears,
inside? Let mine into the dirt. The names
I've chosen for my children are already fast
across the sky like the ochre feathers that frame
the blackbird's shrug.
(. . .)
Fragment of 'Landscape with Sage and the Names of My Children'
All Its Charms
By: Keetje Kuipers
Language: English
Paperback: 112 pages
Publisher: BOA Editions Ltd.
Publication Date: April 23, 2019
ISBN-10: 1942683766
ISBN-13: 978-1942683766
Regular price $ 17.00
# new poetry
Keetje Kuipers:
All Its Charms
• fleursdumal.nl magazine
More in: - Book News, Archive K-L, Archive K-L, MODERN POETRY
---
In Vrolijke verwoesting gaat Delphine Lecompte door waar ze gebleven was en tilt ze haar poëzie naar een volgend niveau.
Andermaal is haar verbeelding grenzeloos, kijkt ze de waanzin recht in de ogen en worden haar gedichten bevolkt door talloze wonderlijke figuren, zoals de bedeesde zeepzieder, de mystieke chrysantenkweker en de analfabetische jongenshoer. En ook dit keer bezit haar droomachtige poëzie een expressieve taalkracht die zo groot is dat het effect betoverend is: wie één zin leest, zal zich niet meer kunnen losmaken uit dit fantastische universum.
Delphine Lecompte (1978) debuteerde in 2004 in het Engels met de roman Kittens in the Boiler, daarna schakelde ze over naar gedichten in haar moedertaal. Voor haar debuutbundel De dieren in mij (2009) ontving ze de C. Buddingh'-prijs en de Prijs voor Letterkunde van de Provincie West-Vlaanderen. In 2015 verscheen Dichter, bokser, koningsdochter, dat genomineerd werd voor de VSB Poëzieprijs. Voor The Best of Delphine Lecompte (2018) selecteerde ze zelf de greatest hits uit haar rijke oeuvre, dat met Vrolijke verwoesting (2019) negen dichtbundels omvat.
'Wie Lecompte leest weet waarom poëzie een wonder is.' Menno Wigman
Delphine Lecompte
Vrolijke verwoesting
Gedichten
Nederlands
Paperback
Druk 1
September 2019
168 pagina's
NUR code 306
EAN 9789403167107
Uitgever De Bezige Bij
€ 21,99
# new poetry
Delphine Lecompte
• fleursdumal.nl magazine
More in: #Editors Choice Archiv, - Book News, Archive K-L, Art & Literature News, Historia Belgica, Lecompte, Delphine, Wigman, Menno
---
Belofte
Het zal tijd worden, ja? En dat zal het blijven
worden. Steeds meer zal er van zijn. Beloofd.
Spanning van kader mag je verwachten, ook
trilling van doek. En luister goed: uit een wijk
vol zwanen klinkt een aria van mistige dagen.
Bert Bevers
Ongepubliceerd
Bert Bevers is a poet and writer who lives and works in Antwerp (Be)
• fleursdumal.nl magazine
More in: Archive A-B, Archive A-B, Bevers, Bert
---
Older Entries »
Thank you for reading FLEURSDUMAL.NL - magazine for art & literature