Donne, John
·
Death be Not Proud, Poem by John Donne
·
Sweetest Love, I do Not Go: Poem by John Donne
·
The Broken Heart: Poem by John Donne
·
John DONNE: The Flea
·
JOHN DONNE SONG: GO AND CATCH A FALLING STAR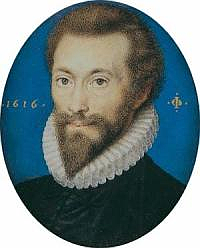 Death be Not Proud
Death be not proud, though some have called thee
Mighty and dreadfull, for, thou art not soe,
For, those, whom thou think'st, thou dost overthrow,
Die not, poore death, nor yet canst thou kill mee.
From rest and sleepe, which but thy pictures bee,
Much pleasure, then from thee, much more must flow,
And soonest our best men with thee doe goe,
Rest of their bones, and soules deliverie.
Thou art slave to Fate, Chance, kings, and desperate men,
And dost with poyson, warre, and sicknesse dwell,
And poppie, or charmes can make us sleepe as well,
And better then thy stroake; why swell'st thou then?
One short sleepe past, wee wake eternally,
And death shall be no more; death, thou shalt die.
John Donne
(1572 – 1631)
Death be Not Proud
(±1618)
• fleursdumal.nl magazine

More in: Archive C-D, Archive C-D, Donne, John
---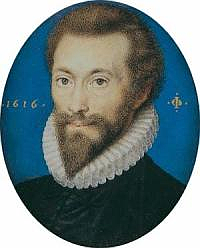 Sweetest Love, I do Not Go
Sweetest love, I do not go,
For weariness of thee,
Nor in hope the world can show
A fitter love for me;
But since that I
At the last must part, 'tis best,
Thus to use myself in jest
By feigned deaths to die.
Yesternight the sun went hence,
And yet is here to-day;
He hath no desire nor sense,
Nor half so short a way;
Then fear not me,
But believe that I shall make
Speedier journeys, since I take
More wings and spurs than he.
O how feeble is man's power,
That if good fortune fall,
Cannot add another hour,
Nor a lost hour recall;
But come bad chance,
And we join to it our strength,
And we teach it art and length,
Itself o'er us to advance.
When thou sigh'st, thou sigh'st not wind,
But sigh'st my soul away;
When thou weep'st, unkindly kind,
My life's blood doth decay.
It cannot be
That thou lovest me as thou say'st,
If in thine my life thou waste,
That art the best of me.
Let not thy divining heart
Forethink me any ill;
Destiny may take thy part,
And may thy fears fulfil.
But think that we
Are but turn'd aside to sleep.
They who one another keep
Alive, ne'er parted be.
John Donne
(1572 – 1631)
Sweetest Love, I do Not Go
• fleursdumal.nl magazine
More in: Archive C-D, Archive C-D, Donne, John
---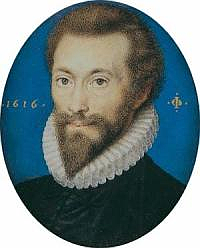 The Broken Heart
He is stark mad, whoever says,
That he hath been in love an hour,
Yet not that love so soon decays,
But that it can ten in less space devour;
Who will believe me, if I swear
That I have had the plague a year?
Who would not laugh at me, if I should say
I saw a flash of powder burn a day?
Ah, what a trifle is a heart,
If once into love's hands it come!
All other griefs allow a part
To other griefs, and ask themselves but some;
They come to us, but us love draws;
He swallows us and never chaws;
By him, as by chain'd shot, whole ranks do die;
He is the tyrant pike, our hearts the fry.
If 'twere not so, what did become
Of my heart when I first saw thee?
I brought a heart into the room,
But from the room I carried none with me.
If it had gone to thee, I know
Mine would have taught thine heart to show
More pity unto me ; but Love, alas!
At one first blow did shiver it as glass.
Yet nothing can to nothing fall,
Nor any place be empty quite;
Therefore I think my breast hath all
Those pieces still, though they be not unite;
And now, as broken glasses show
A hundred lesser faces, so
My rags of heart can like, wish, and adore,
But after one such love, can love no more.
John Donne
(1572 – 1631)
The Broken Heart
• fleursdumal.nl magazine

More in: Archive C-D, Archive C-D, Donne, John
---
John Donne
The Flea
Mark but this flea, and mark in this,
How little that which thou deny'st me is;
It sucked me first, and now sucks thee,
And in this flea our two bloods mingled be;
Thou know'st that this cannot be said
A sin, nor shame, nor loss of maidenhead;
Yet this enjoys before it woo,
And pampered swells with one blood made of two,
And this, alas, is more than we would do.
Oh stay, three lives in one flea spare,
Where we almost, yea, more than married are.
This flea is you and I, and this
Our marriage bed, and marriage temple is;
Though parents grudge, and you, w'are met,
And cloistered in these living walls of jet.
Though use make you apt to kill me,
Let not to that, self-murder added be,
And sacrilege, three sins in killing three.
Cruel and sudden, hast thou since
Purpled thy nail in blood of innocence?
Wherein could this flea guilty be,
Except in that drop which it sucked from thee?
Yet thou triumph'st and say'st that thou
Find'st not thyself, nor me the weaker now;
'Tis true, then learn how false fears be:
Just so much honor, when thou yield'st to me,
Will waste, as this flea's death took life from thee
John Donne (1572 – 1631)
Poem: The Flea
fleursdumal.nl magazine
More in: Archive C-D, Donne, John
---
John Donne
(1572-1631)
Song: Go and catch a falling star
Goe, and catche a falling starre,
Get with child a mandrake roote,
Tell me, where all past yeares are,
Or who cleft the Divels foot,
Teach me to heare Mermaides singing,
Or to keep off envies stinging,
And find
What winde
Serves to advance an honest minde.
If thou beest borne to strange sights,
Things invisible to see,
Ride ten thousand daies and nights,
Till age snow white haires on thee,
Thou, when thou retorn'st, wilt tell me
All strange wonders that befell thee,
And sweare
No where
Loves a woman true, and faire.
If thou findst one, let mee know,
Such a Pilgrimage were sweet;
Yet doe not, I would not goe,
Though at next doore wee might meet,
Though shee were true, when you met her,
And last, till you write your letter,
Yet shee
Will bee
False, ere I come, to two, or three.
John Donne poetry
fleursdumal.nl magazine
More in: Archive C-D, Donne, John
---
Thank you for reading FLEURSDUMAL.NL - magazine for art & literature