Lawrence, D.H.
·
Catherine Millet: Aimer Lawrence
·
D.H. Lawrence: Tortoise Shout
·
D.H. LAWRENCE: Bei Hennef
·
D.H. LAWRENCE: Excursion
·
D. H. Lawrence: The Enkindled Spring
·
D. H. Lawrence: Trees in the Garden
·
D. H. Lawrence: In a Boat
·
D. H. Lawrence: The Almond Tree
·
D. H. Lawrence: Piano
·
D. H. Lawrence: The Elephant is Slow to Mate
·
D. H. Lawrence: Green
·
D. H. Lawrence: Whales Weep Not!
"Il fallait bien qu'un jour je croise la route de Lady Chatterley. J'ai fait mieux, je suis tombée amoureuse de celui qui l'imagina, D. H. Lawrence, à cause de sa figure de mauvais coucheur, à cause de l'extraordinaire sensibilité de son "écriture androgyne" dont parlait Anaïs Nin.
Pendant deux ans, je n'ai pas quitté cet amateur des grands espaces qui, lorsqu'il écrivait, ne s'est jamais encombré des barrières du surmoi. J'ai voulu faire redécouvrir cet auteur célèbre qui n'est plus assez lu, contemporain des suffragettes, et qui vécut entouré de femmes libres. Il avait compris qu'au vortex de leur émancipation et de leurs revendications se trouvait le plein accomplissement de leur jouissance sexuelle."  Catherine Millet.
Catherine Millet
Aimer Lawrence
Paru le 20/09/2017
Genre: Essais littéraires
304 pages
138 x 210 mm
Broché
ISBN-10: 2081372614
ISBN-13: 978-2081372610
€21,00
Editeur : Flammarion
Langue : Français
new books
fleursdumal.nl magazine
More in: - Book Stories, Archive K-L, Archive M-N, D.H. Lawrence, Erotic literature, Lawrence, D.H.
---
D.H. Lawrence
Tortoise Shout
I thought he was dumb,
I said he was dumb,
Yet I've heard him cry.
First faint scream,
Out of life's unfathomable dawn,
Far off, so far, like a madness, under the horizon's dawning rim,
Far, far off, far scream.
Tortoise in extremis.
Why were we crucified into sex?
Why were we not left rounded off, and finished in ourselves,
As we began,
As he certainly began, so perfectly alone?
A far, was-it-audible scream,
Or did it sound on the plasm direct?
Worse than the cry of the new-born,
A scream,
A yell,
A shout,
A pæan,
A death-agony,
A birth-cry,
A submission,
All tiny, tiny, far away, reptile under the first dawn.
War-cry, triumph, acute-delight, death-scream reptilian,
Why was the veil torn?
The silken shriek of the soul's torn membrane?
The male soul's membrane
Torn with a shriek half music, half horror.
Crucifixion.
Male tortoise, cleaving behind the hovel-wall of that dense female,
Mounted and tense, spread-eagle, out-reaching out of the shell
In tortoise-nakedness,
Long neck, and long vulnerable limbs extruded, spread-eagle over her house-roof,
And the deep, secret, all-penetrating tail curved beneath her walls,
Reaching and gripping tense, more reaching anguish in uttermost tension
Till suddenly, in the spasm of coition, tupping like a jerking leap, and oh!
Opening its clenched face from his outstretched neck
And giving that fragile yell, that scream,
Super-audible,
From his pink, cleft, old-man's mouth,
Giving up the ghost,
Or screaming in Pentecost, receiving the ghost.
His scream, and his moment's subsidence,
The moment of eternal silence,
Yet unreleased, and after the moment, the sudden, startling jerk of coition, and at once
The inexpressible faint yell
And so on, till the last plasm of my body was melted back
To the primeval rudiments of life, and the secret.
So he tups, and screams
Time after time that frail, torn scream
After each jerk, the longish interval,
The tortoise eternity,
Agelong, reptilian persistence,
Heart-throb, slow heart-throb, persistent for the next spasm.
I remember, when I was a boy,
I heard the scream of a frog, which was caught with his foot in the mouth of an up-starting snake;
I remember when I first heard bull-frogs break into sound in the spring;
I remember hearing a wild goose out of the throat of night
Cry loudly, beyond the lake of waters;
I remember the first time, out of a bush in the darkness, a nightingale's piercing cries and gurgles startled the depths of my soul;
I remember the scream of a rabbit as I went through a wood at midnight;
I remember the heifer in her heat, blorting and blorting through the hours, persistent and irrepressible;
I remember my first terror hearing the howl of weird, amorous cats;
I remember the scream of a terrified, injured horse, the sheet-lightning
And running away from the sound of a woman in labor, something like an owl whooing,
And listening inwardly to the first bleat of a lamb,
The first wail of an infant,
And my mother singing to herself,
And the first tenor singing of the passionate throat of a young collier, who has long since drunk himself to death,
The first elements of foreign speech
On wild dark lips.
And more than all these,
And less than all these,
This last,
Strange, faint coition yell
Of the male tortoise at extremity,
Tiny from under the very edge of the farthest far-off horizon of life.
The cross,
The wheel on which our silence first is broken,
Sex, which breaks up our integrity, our single inviolability, our deep silence
Tearing a cry from us.
Sex, which breaks us into voice, sets us calling across the deeps, calling, calling for the complement,
Singing, and calling, and singing again, being answered, having found.
Torn, to become whole again, after long seeking for what is lost,
The same cry from the tortoise as from Christ, the Osiris-cry of abandonment,
That which is whole, torn asunder,
That which is in part, finding its whole again throughout the universe.
D.H.Lawrence (1883 – 1930)
Tortoise Shout
fleursdumal.nl magazine
More in: Archive K-L, D.H. Lawrence, Lawrence, D.H.
---
D.H.Lawrence
Bei Hennef
The little river twittering in the twilight,
The wan, wondering look of the pale sky,
This is almost bliss.
And everything shut up and gone to sleep,
All the troubles and anxieties and pain
Gone under the twilight.
Only the twilight now, and the soft "Sh!" of the river
That will last for ever.
And at last I know my love for you is here;
I can see it all, it is whole like the twilight,
It is large, so large, I could not see it before,
Because of the little lights and flickers and interruptions,
Troubles, anxieties and pains.
You are the call and I am the answer,
You are the wish, and I the fulfilment,
You are the night, and I the day.
What else – it is perfect enough.
It is perfectly complete,
You and I,
What more-?
Strange, how we suffer in spite of this.
D.H.Lawrence (1883 – 1930)
Bei Hennef
fleursdumal.nl magazine
More in: Archive K-L, D.H. Lawrence, Lawrence, D.H.
---
D.H. Lawrence
Excursion
I wonder, can the night go by;
Can this shot arrow of travel fly
Shaft-golden with light, sheer into the sky
Of a dawned to-morrow,
Without ever sleep delivering us
From each other, or loosing the dolorous
Unfruitful sorrow!
What is it then that you can see
That at the window endlessly
You watch the red sparks whirl and flee
And the night look through?
Your presence peering lonelily there
Oppresses me so, I can hardly bear
To share the train with you.
You hurt my heart-beats' privacy;
I wish I could put you away from me;
I suffocate in this intimacy,
For all that I love you;
How I have longed for this night in the train,
Yet now every fibre of me cries in pain
To God to remove you.
But surely my soul's best dream is still
That one night pouring down shall swill
Us away in an utter sleep, until
We are one, smooth-rounded.
Yet closely bitten in to me
Is this armour of stiff reluctancy
That keeps me impounded.
So, dear love, when another night
Pours on us, lift your fingers white
And strip me naked, touch me light,
Light, light all over.
For I ache most earnestly for your touch,
Yet I cannot move, however much
I would be your lover.
Night after night with a blemish of day
Unblown and unblossomed has withered away;
Come another night, come a new night, say
Will you pluck me apart?
Will you open the amorous, aching bud
Of my body, and loose the burning flood
That would leap to you from my heart?
D.H.Lawrence (1883 – 1930)
Excursion
fleursdumal.nl magazine
More in: Archive K-L, D.H. Lawrence, Lawrence, D.H.
---
D. H. Lawrence
(1885-1930)
The Enkindled Spring
This spring as it comes bursts up in bonfires green,
Wild puffing of emerald trees, and flame-filled bushes,
Thorn-blossom lifting in wreaths of smoke between
Where the wood fumes up and the watery, flickering rushes.
I am amazed at this spring, this conflagration
Of green fires lit on the soil of the earth, this blaze
Of growing, and sparks that puff in wild gyration,
Faces of people streaming across my gaze.
And I, what fountain of fire am I among
This leaping combustion of spring? My spirit is tossed
About like a shadow buffeted in the throng
Of flames, a shadow that's gone astray, and is lost.
D.H. Lawrence poetry
fleursdumal.nl magazine
More in: Archive K-L, D.H. Lawrence, Lawrence, D.H.
---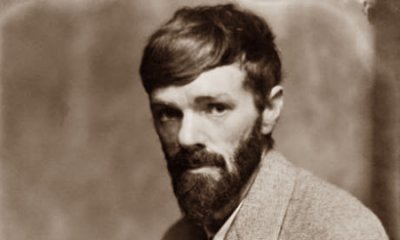 D. H. Lawrence
(1885-1930)
Trees in the Garden
Ah in the thunder air
how still the trees are!
And the lime-tree, lovely and tall, every leaf silent
hardly looses even a last breath of perfume.
And the ghostly, creamy coloured little tree of leaves
white, ivory white among the rambling greens
how evanescent, variegated elder, she hesitates on the green grass
as if, in another moment, she would disappear
with all her grace of foam!
And the larch that is only a column, it goes up too tall to see:
and the balsam-pines that are blue with the grey-blue blueness of
things from the sea,
and the young copper beech, its leaves red-rosy at the ends
how still they are together, they stand so still
in the thunder air, all strangers to one another
as the green grass glows upwards, strangers in the silent garden.
D.H. Lawrence poetry
kempis.nl poetry magazine
More in: Archive K-L, D.H. Lawrence, Lawrence, D.H.
---
D. H. Lawrence
(1885-1930)
In a Boat
See the stars, love,
In the water much clearer and brighter
Than those above us, and whiter,
Like nenuphars.
Star-shadows shine, love,
How many stars in your bowl?
How many shadows in your soul,
Only mine, love, mine?
When I move the oars, love,
See how the stars are tossed,
Distorted, the brightest lost.
—So that bright one of yours, love.
The poor waters spill
The stars, waters broken, forsaken.
—The heavens are not shaken, you say, love,
Its stars stand still.
There, did you see
That spark fly up at us; even
Stars are not safe in heaven.
—What of yours, then, love, yours?
What then, love, if soon
Your light be tossed over a wave?
Will you count the darkness a grave,
And swoon, love, swoon?
D.H. Lawrence poetry
kempis.nl poetry magazine
More in: Archive K-L, D.H. Lawrence, Lawrence, D.H.
---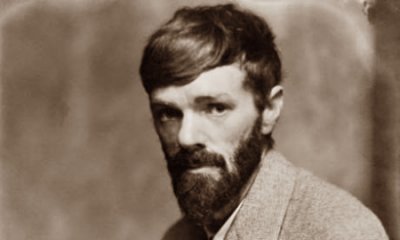 D. H. Lawrence
(1885-1930)
The Almond Tree
(Letter from Town)
You promised to send me some violets. Did you forget?
White ones and blue ones from under the orchard hedge?
Sweet dark purple, and white ones mixed for a pledge
Of our early love that hardly has opened yet.
Here there's an almond tree—you have never seen
Such a one in the north—it flowers on the street, and I stand
Every day by the fence to look up for the flowers that expand
At rest in the blue, and wonder at what they mean.
Under the almond tree, the happy lands
Provence, Japan, and Italy repose,
And passing feet are chatter and clapping of those
Who play around us, country girls clapping their hands.
You, my love, the foremost, in a flowered gown,
All your unbearable tenderness, you with the laughter
Startled upon your eyes now so wide with hereafter,
You with loose hands of abandonment hanging down.
D.H. Lawrence poetry
fleursdumal.nl magazine
More in: Archive K-L, D.H. Lawrence, Lawrence, D.H.
---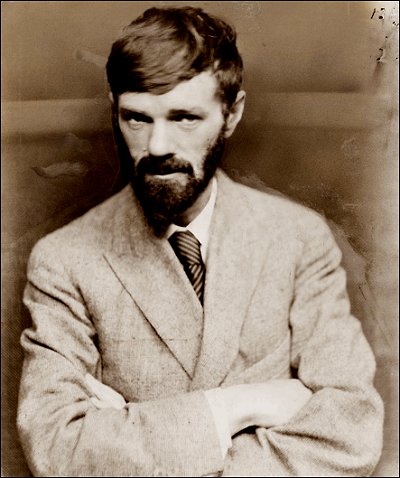 D. H. Lawrence
(1885-1930)
Piano
Softly, in the dusk, a woman is singing to me;
Taking me back down the vista of years, till I see
A child sitting under the piano, in the boom of the tingling strings
And pressing the small, poised feet of a mother who smiles as she sings.
In spite of myself, the insidious mastery of song
Betrays me back, till the heart of me weeps to belong
To the old Sunday evenings at home, with winter outside
And hymns in the cosy parlour, the tinkling piano our guide.
So now it is vain for the singer to burst into clamour
With the great black piano appassionato. The glamour
Of childish days is upon me, my manhood is cast
Down in the flood of remembrance, I weep like a child for the past.
D.H. Lawrence poetry
fleursdumal.nl magazine
More in: Archive K-L, D.H. Lawrence, Lawrence, D.H.
---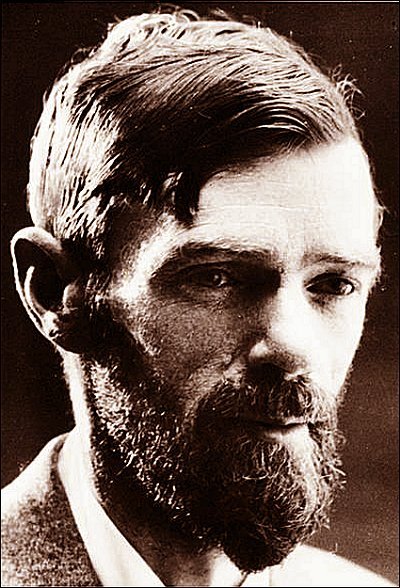 D. H. Lawrence
(1885-1930)
The Elephant is Slow to Mate
The elephant, the huge old beast,
is slow to mate;
he finds a female, they show no haste
they wait
for the sympathy in their vast shy hearts
slowly, slowly to rouse
as they loiter along the river-beds
and drink and browse
and dash in panic through the brake
of forest with the herd,
and sleep in massive silence, and wake
together, without a word.
So slowly the great hot elephant hearts
grow full of desire,
and the great beasts mate in secret at last,
hiding their fire.
Oldest they are and the wisest of beasts
so they know at last
how to wait for the loneliest of feasts
for the full repast.
They do not snatch, they do not tear;
their massive blood
moves as the moon-tides, near, more near
till they touch in flood.
D.H. Lawrence poetry
fleursdumal.nl magazine
More in: Archive K-L, D.H. Lawrence, Lawrence, D.H.
---
D. H. Lawrence
(1885-1930)
Green
The dawn was apple-green,
The sky was green wine held up in the sun,
The moon was a golden petal between.
She opened her eyes, and green
They shone, clear like flowers undone
For the first time, now for the first time seen.
D.H. Lawrence poetry
fleursdumal.nl magazine
More in: Archive K-L, D.H. Lawrence, Lawrence, D.H.
---
D. H. Lawrence
(1885-1930)
Whales Weep Not!
They say the sea is cold, but the sea contains
the hottest blood of all, and the wildest, the most urgent.
All the whales in the wider deeps, hot are they, as they urge
on and on, and dive beneath the icebergs.
The right whales, the sperm-whales, the hammer-heads, the killers
there they blow, there they blow, hot wild white breath out of
the sea!
And they rock, and they rock, through the sensual ageless ages
on the depths of the seven seas,
and through the salt they reel with drunk delight
and in the tropics tremble they with love
and roll with massive, strong desire, like gods.
Then the great bull lies up against his bride
in the blue deep bed of the sea,
as mountain pressing on mountain, in the zest of life:
and out of the inward roaring of the inner red ocean of whale-blood
the long tip reaches strong, intense, like the maelstrom-tip, and
comes to rest
in the clasp and the soft, wild clutch of a she-whale's
fathomless body.
And over the bridge of the whale's strong phallus, linking the
wonder of whales
the burning archangels under the sea keep passing, back and
forth,
keep passing, archangels of bliss
from him to her, from her to him, great Cherubim
that wait on whales in mid-ocean, suspended in the waves of the
sea
great heaven of whales in the waters, old hierarchies.
And enormous mother whales lie dreaming suckling their whale-
tender young
and dreaming with strange whale eyes wide open in the waters of
the beginning and the end.
And bull-whales gather their women and whale-calves in a ring
when danger threatens, on the surface of the ceaseless flood
and range themselves like great fierce Seraphim facing the threat
encircling their huddled monsters of love.
And all this happens in the sea, in the salt
where God is also love, but without words:
and Aphrodite is the wife of whales
most happy, happy she!
and Venus among the fishes skips and is a she-dolphin
she is the gay, delighted porpoise sporting with love and the sea
she is the female tunny-fish, round and happy among the males
and dense with happy blood, dark rainbow bliss in the sea.
D.H. Lawrence poetry
fleursdumal.nl magazine
More in: Archive K-L, D.H. Lawrence, Lawrence, D.H.
---
Older Entries »
Thank you for reading FLEURSDUMAL.NL - magazine for art & literature