Rossetti, Christina
·
Major exhibition devoted to the radical Rossetti generation in Tate Britain
·
CHRISTINA GEORGINA ROSSETTI: REMEMBER
·
CHRISTINA GEORGINA ROSSETTI: THE WIND
·
CHRISTINA ROSSETTI: A HYMN FOR CHRISTMAS DAY
·
Christina Georgina Rossetti: From Sunset to Star Rise
·
Christina Rossetti: In an Artist's Studio (vertaling Cornelis W. Schoneveld)
·
Virginia Woolf: "I Am Christina Rossetti"
·
Christina Rossetti Poetry
·
Christina Rossetti: Song
major exhibition devoted to
the radical Rossetti generation
in Tate Britain
from 6 April until 24 September 2023
This exhibition follows the romance and radicalism of the Rossetti generation, through and beyond the Pre-Raphaelite years: Dante Gabriel, Christina and Elizabeth (née Siddal). Visitors will get to experience world-renowned works from their boundary-pushing careers.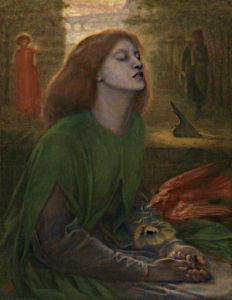 The Rossettis' approach to art, love and lifestyles are considered revolutionary, and this will be thoroughly explored in an immersive show, using spoken poetry, drawings, paintings, photography, design and more.
This is the first retrospective of Dante Gabriel Rossetti at Tate and the largest exhibition of his iconic pictures in two decades.
It will also be the most comprehensive exhibition of Elizabeth Siddal's work for 30 years, featuring rare surviving watercolours and important drawings.
The Rossettis will take a fresh look at the fascinating myths surrounding the unconventional relationships between Dante Gabriel Rossetti, Elizabeth Siddal, Fanny Cornforth and Jane Morris.
The Rossettis exhibition book        
by Carol Jacobi and James Finch
hardback
Dimensions 27.5 x 23 cm
Material FSC certified paper and card
ISBN 9781849768412
£40
This visually captivating hardback exhibition book is devoted to the radical Rossetti generation.
Explore the Rossettis' revolutionary approach to art, love and lifestyles through a collection of thematic essays containing fresh and surprising research, accompanied by beautiful Pre-Raphaelite illustrations.
The Rossettis takes a fresh look at the fascinating myths surrounding the unconventional relationships between Dante Gabriel Rossetti, Elizabeth Siddal, Fanny Cornforth and Jane Morris. Featuring artworks and writings by Dante Gabriel, Christina and Elizabeth (née Siddal), the book distinguishes the Rossettis and foregrounds their countercultural roles.
The catalogue accompanies the first retrospective of Dante Gabriel Rossetti at Tate and the largest exhibition of his iconic pictures in two decades, and what will also be the most comprehensive exhibition of Elizabeth Siddal's work for 30 years, featuring rare surviving watercolours and important drawings.
The publication is edited by Carol Jacobi, Curator, British Art 1850—1915 at Tate and James Finch, Assistant Curator, Nineteenth Century Art at Tate. It features contributions by:
– Chiedza Mhondoro, Assistant Curator, Historic British Art at Tate – Dinah Roe, Reader in Nineteenth Century Literature at Oxford Brookes University – Glenda Youde, a writer and researcher based at University of York – Liz Prettejohn, Professor of Art History at University of York – Jan Marsh, a writer, curator and specialist in the Pre-Raphaelite period – Gursimran Oberoi, an associate teaching fellow at University of Surrey – Margaretta S. Frederick, the former Annette Woolard-Provine Curator of the Bancroft Collection of Pre-Raphaelite Art at Delaware Art Museum – Wendy Parkins, Professor of Victorian Literature and the Director of the Centre for Victorian Literature and Culture at the University of Kent
• fleursdumal.nl magazine
More in: *The Pre-Raphaelites Archive, - Book News, - Bookstores, Archive Q-R, Archive Q-R, Art & Literature News, Exhibition Archive, FDM in London, History of Britain, Illustrators, Illustration, Morris, William, Rossetti, Christina, Rossetti, Dante Gabriel, Siddal, Lizzy
---
Christina Georgina Rossetti
(1830-1894)
Remember
Remember me when I am gone away,
Gone far away into the silent land;
When you can no more hold me by the hand,
Nor I half turn to go yet turning stay.
Remember me when no more day by day
You tell me of our future that you planned:
Only remember me; you understand
It will be late to counsel then or pray.
Yet if you should forget me for a while
And afterwards remember, do not grieve:
For if the darkness and corruption leave
A vestige of the thoughts that once I had,
Better by far you should forget and smile
Than that you should remember and be sad.
Christina Georgina Rossetti poetry
fleursdumal.nl magazine
More in: Archive Q-R, Rossetti, Christina
---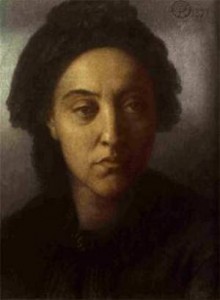 Christina Georgina Rossetti
(1830-1894)
The Wind
Who has seen the wind?
Neither I nor you;
But when the leaves hang trembling
The wind is passing through.
Who has seen the wind?
Neither you nor I;
But when the trees bow down their heads
The wind is passing by.
Christina Georgina Rossetti poetry
fleursdumal.nl magazine
More in: Archive Q-R, Rossetti, Christina
---
Christina Rossetti
(1830-1894)
A Hymn For Christmas Day
The Shepherds watch their flocks by night,
Beneath the moon's unclouded light,
All around is calm and still,
Save the murm'ring of the rill:
When lo! a form of light appears,
And on the awe-struck Shepherds' ears
Are words, of peace and comfort flowing
From lips with love celestial glowing.
Spiritual forms are breaking
Through the gloom, their voices taking
Part in the adoring song
Of the bright angelic throng.
Wondering the Shepherds bend
Their steps to Bethlehem, and wend
To a poor and crowded inn: –
Tremblingly their way they win
To the stable, where they find
The Redeemer of mankind,
Just born into this world of danger,
Lying in an humble manger.
And they spread abroad each word
Which that joyful night they'd heard,
And they glorified the name
Of their gracious God, Who came
Himself to save from endless woe
The offspring of this world below.
Source: The Complete Poems of Christina Rossetti, Vol. 3, p. 122, R. W. Crump, ed. (Penguin, 2001).  Photo Hans Hermans @2010
fleursdumal.nl magazine
More in: Archive Q-R, Rossetti, Christina
---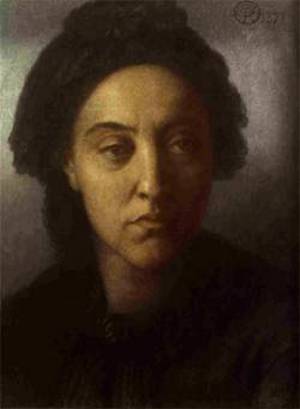 Christina Georgina Rossetti
(1830-1894)
From Sunset to Star Rise
Go from me, summer friends, and tarry not:
I am no summer friend, but wintry cold,
A silly sheep benighted from the fold,
A sluggard with a thorn-choked garden plot.
Take counsel, sever from my lot your lot,
Dwell in your pleasant places, hoard your gold;
Lest you with me should shiver on the wold,
Athirst and hungering on a barren spot.
For I have hedged me with a thorny hedge,
I live alone, I look to die alone:
Yet sometimes, when a wind sighs through the sedge,
Ghosts of my buried years, and friends come back,
My heart goes sighing after swallows flown
On sometime summer's unreturning track.
Christina Georgina Rossetti poetry
fleursdumal.nl magazine
More in: Archive Q-R, Rossetti, Christina
---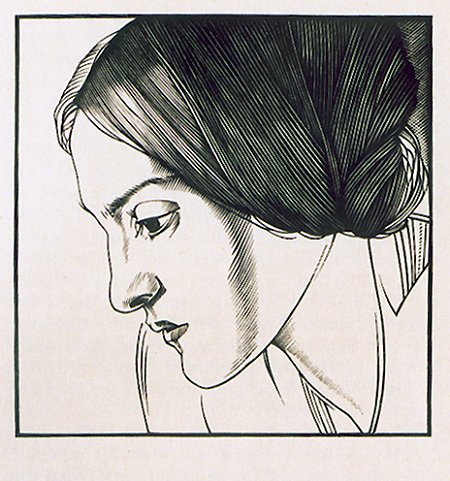 Christina Rossetti
(1830-1894)
In an Artist's Studio
One face looks out from all his canvases,
One selfsame figure sits or walks or leans;
We found her hidden just behind those screens,
That mirror gave back all her loveliness.
A queen in opal or in ruby dress,
A nameless girl in freshest summer-greens,
A saint, an angel; – every canvass means
The same one meaning, neither more nor less.
He feeds upon her face by day and night,
And she with true kind eyes looks back on him
Fair as the moon and joyful as the light:
Not wan with waiting, not with sorrow dim;
Not as she is, but was when hope shone bright;
Not as she is, but as she fills his dream.
1856
In een schildersatelier
Uit al zijn doeken kijkt slechts één gezicht,
Slechts één figuur die loopt, of zit, of rijst;
We ontdekten haar pal achter elke lijst,
Waar haar lieftalligheid weerspiegeld ligt.
'n Prinses, gekleed in rood of in opaal,
Een naamloos wicht in zomergroenen fris,
Engel of heilige; – 'n betekenis
Die steeds dezelfde is, bij allemaal.
Hij leeft bij dag en nacht van haar gezicht,
En zij blikt terug, haar oog van trouw vervuld
Fraai als de maan, en vreugdevol als 't licht:
Niet bleek van smart, en niet vol ongeduld;
Niet als ze is, maar was, hoop nog in zicht;
Niet als zij is, maar zoâls zijn droom zij vult.
Volgens een andere broer van Christina en Dante Gabriel zou het beschreven portret dat van Elizabeth Siddal zijn, die later met D.G. Rossetti trouwde.
Uit: Bestorm mijn hart, de beste Engelse gedichten uit de 16e-19e eeuw gekozen en vertaald door Cornelis W. Schoneveld, tweetalige editie. Rainbow Essentials no. 55, Uitgeverij Maarten Muntinga, Amsterdam, 2008, 296 pp, € 9,95 ISBN: 9789041740588
Bestorm mijn hart bevat een dwarsdoorsnede van vier eeuwen lyrische Engelse dichtkunst. Dichters uit de zestiende tot en met de negentiende eeuw dichter onder andere over liefde, natuur, dood en religie. Niet alleen de Nederlandse vertaling is in deze bundel te vinden, maar ook de originele Engelse versie. Deze prachtige bloemlezing, met gedichten van onder anderen Shakespeare, Milton, Pope en Wordsworth, is samengesteld en vertaald door Cornelis W. Schoneveld. Hij is vele jaren docent historische Engelse letterkunde en vertaalwetenschapper aan de Universiteit van Leiden geweest.
kempis.nl poetry magazine
More in: Rossetti, Rossetti, Christina
---
Virginia Woolf
(1882-1941)


"I Am Christina Rossetti"
On the fifth of this December [1930] Christina Rossetti will celebrate her centenary, or, more properly speaking, we shall celebrate it for her, and perhaps not a little to her distress, for she was one of the shyest of women, and to be spoken of, as we shall certainly speak of her, would have caused her acute discomfort. Nevertheless, it is inevitable; centenaries are inexorable; talk of her we must. We shall read her life; we shall read her letters; we shall study her portraits, speculate about her diseases — of which she had a great variety; and rattle the drawers of her writing-table, which are for the most part empty. Let us begin with the biography — for what could be more amusing? As everybody knows, the fascination of reading biographies is irresistible. No sooner have we opened the pages of Miss Sandars's careful and competent book (Life of Christina Rossetti, by Mary F. Sandars. (Hutchinson)) than the old illusion comes over us. Here is the past and all its inhabitants miraculously sealed as in a magic tank; all we have to do is to look and to listen and to listen and to look and soon the little figures — for they are rather under life size — will begin to move and to speak, and as they move we shall arrange them in all sorts of patterns of which they were ignorant, for they thought when they were alive that they could go where they liked; and as they speak we shall read into their sayings all kinds of meanings which never struck them, for they believed when they were alive that they said straight off whatever came into their heads. But once you are in a biography all is different.
Here, then, is Hallam Street, Portland Place, about the year 1830; and here are the Rossettis, an Italian family consisting of father and mother and four small children. The street was unfashionable and the home rather poverty-stricken; but the poverty did not matter, for, being foreigners, the Rossettis did not care much about the customs and conventions of the usual middle-class British family. They kept themselves to themselves, dressed as they liked, entertained Italian exiles, among them organ-grinders and other distressed compatriots, and made ends meet by teaching and writing and other odd jobs. By degrees Christina detached herself from the family group. It is plain that she was a quiet and observant child, with her own way of life already fixed in her head — she was to write — but all the more did she admire the superior competence of her elders. Soon we begin to surround her with a few friends and to endow her with a few characteristics. She detested parties. She dressed anyhow. She liked her brother's friends and little gatherings of young artists and poets who were to reform the world, rather to her amusement, for although so sedate, she was also whimsical and freakish, and liked making fun of people who took themselves with egotistic solemnity. And though she meant to be a poet she had very little of the vanity and stress of young poets; her verses seem to have formed themselves whole and entire in her head, and she did not worry very much what was said of them because in her own mind she knew that they were good. She had also immense powers of admiration — for her mother, for example, who was so quiet, and so sagacious, so simple and so sincere; and for her elder sister Maria, who had no taste for painting or for poetry, but was, for that very reason, perhaps more vigorous and effective in daily life. For example, Maria always refused to visit the Mummy Room at the British Museum because, she said, the Day of Resurrection might suddenly dawn and it would be very unseemly if the corpses had to put on immortality under the gaze of mere sight-seers — a reflection which had not struck Christina, but seemed to her admirable. Here, of course, we, who are outside the tank, enjoy a hearty laugh, but Christina, who is inside the tank and exposed to all its heats and currents, thought her sister's conduct worthy of the highest respect. Indeed, if we look at her a little more closely we shall see that something dark and hard, like a kernel, had already formed in the centre of Christina Rossetti's being.
It was religion, of course. Even when she was quite a girl her lifelong absorption in the relation of the soul with God had taken possession of her. Her sixty-four years might seem outwardly spent in Hallam Street and Endsleigh Gardens and Torrington Square, but in reality she dwelt in some curious region where the spirit strives towards an unseen God — in her case, a dark God, a harsh God — a God who decreed that all the pleasures of the world were hateful to Him. The theatre was hateful, the opera was hateful, nakedness was hateful — when her friend Miss Thompson painted naked figures in her pictures she had to tell Christina that they were fairies, but Christina saw through the imposture — everything in Christina's life radiated from that knot of agony and intensity in the centre. Her belief regulated her life in the smallest particulars. It taught her that chess was wrong, but that whist and cribbage did not matter. But also it interfered in the most tremendous questions of her heart. There was a young painter called James Collinson, and she loved James Collinson and he loved her, but he was a Roman Catholic and so she refused him. Obligingly he became a member of the Church of England, and she accepted him. Vacillating, however, for he was a slippery man, he wobbled back to Rome, and Christina, though it broke her heart and for ever shadowed her life, cancelled the engagement. Years afterwards another, and it seems better founded, prospect of happiness presented itself. Charles Cayley proposed to her. But alas, this abstract and erudite man who shuffled about the world in a state of absent-minded dishabille, and translated the gospel into Iroquois, and asked smart ladies at a party "whether they were interested in the Gulf Stream", and for a present gave Christina a sea mouse preserved in spirits, was, not unnaturally, a free thinker. Him, too, Christina put from her. Though "no woman ever loved a man more deeply", she would not be the wife of a sceptic. She who loved the "obtuse and furry"— the wombats, toads, and mice of the earth — and called Charles Cayley "my blindest buzzard, my special mole", admitted no moles, wombats, buzzards, or Cayleys to her heaven.
So one might go on looking and listening for ever. There is no limit to the strangeness, amusement, and oddity of the past sealed in a tank. But just as we are wondering which cranny of this extraordinary territory to explore next, the principal figure intervenes. It is as if a fish, whose unconscious gyrations we had been watching in and out of reeds, round and round rocks, suddenly dashed at the glass and broke it. A tea-party is the occasion. For some reason Christina went to a party given by Mrs. Virtue Tebbs. What happened there is unknown — perhaps something was said in a casual, frivolous, tea-party way about poetry. At any rate,
suddenly there uprose from a chair and paced forward into the centre of the room a little woman dressed in black, who announced solemnly, "I am Christina Rossetti!" and having so said, returned to her chair.
With those words the glass is broken. Yes [she seems to say], I am a poet. You who pretend to honour my centenary are no better than the idle people at Mrs. Tebb's tea-party. Here you are rambling among unimportant trifles, rattling my writing-table drawers, making fun of the Mummies and Maria and my love affairs when all I care for you to know is here. Behold this green volume. It is a copy of my collected works. It costs four shillings and sixpence. Read that. And so she returns to her chair.
How absolute and unaccommodating these poets are! Poetry, they say, has nothing to do with life. Mummies and wombats, Hallam Street and omnibuses, James Collinson and Charles Cayley, sea mice and Mrs. Virtue Tebbs, Torrington Square and Endsleigh Gardens, even the vagaries of religious belief, are irrelevant, extraneous, superfluous, unreal. It is poetry that matters. The only question of any interest is whether that poetry is good or bad. But this question of poetry, one might point out if only to gain time, is one of the greatest difficulty. Very little of value has been said about poetry since the world began. The judgment of contemporaries is almost always wrong. For example, most of the poems which figure in Christina Rossetti's complete works were rejected by editors. Her annual income from her poetry was for many years about ten pounds. On the other hand, the works of Jean Ingelow, as she noted sardonically, went into eight editions. There were, of course, among her contemporaries one or two poets and one or two critics whose judgment must be respectfully consulted. But what very different impressions they seem to gather from the same works — by what different standards they judge! For instance, when Swinburne read her poetry he exclaimed: "I have always thought that nothing more glorious in poetry has ever been written", and went on to say of her New Year Hymn that it was
touched as with the fire and bathed as in the light of sunbeams, tuned as to chords and cadences of refluent sea-music beyond reach of harp and organ, large echoes of the serene and sonorous tides of heaven
Then Professor Saintsbury comes with his vast learning, and examines Goblin Market, and reports that
The metre of the principal poem ["Goblin Market"] may be best described as a dedoggerelised Skeltonic, with the gathered music of the various metrical progress since Spenser, utilised in the place of the wooden rattling of the followers of Chaucer. There may be discerned in it the same inclination towards line irregularity which has broken out, at different times, in the Pindaric of the late seventeenth and earlier eighteenth centuries, and in the rhymelessness of Sayers earlier and of Mr. Arnold later.
And then there is Sir Walter Raleigh:
I think she is the best poet alive. . . . The worst of it is you cannot lecture on really pure poetry any more than you can talk about the ingredients of pure water — it is adulterated, methylated, sanded poetry that makes the best lectures. The only thing that Christina makes me want to do, is cry, not lecture.
It would appear, then, that there are at least three schools of criticism: the refluent sea-music school; the line-irregularity school, and the school that bids one not criticise but cry. This is confusing; if we follow them all we shall only come to grief. Better perhaps read for oneself, expose the mind bare to the poem, and transcribe in all its haste and imperfection whatever may be the result of the impact. In this case it might run something as follows: O Christina Rossetti, I have humbly to confess that though I know many of your poems by heart, I have not read your works from cover to cover. I have not followed your course and traced your development. I doubt indeed that you developed very much. You were an instinctive poet. You saw the world from the same angle always. Years and the traffic of the mind with men and books did not affect you in the least. You carefully ignored any book that could shake your faith or any human being who could trouble your instincts. You were wise perhaps. Your instinct was so sure, so direct, so intense that it produced poems that sing like music in one's ears — like a melody by Mozart or an air by Gluck. Yet for all its symmetry, yours was a complex song. When you struck your harp many strings sounded together. Like all instinctives you had a keen sense of the visual beauty of the world. Your poems are full of gold dust and "sweet geraniums' varied brightness"; your eye noted incessantly how rushes are "velvet-headed", and lizards have a "strange metallic mail"— your eye, indeed, observed with a sensual pre-Raphaelite intensity that must have surprised Christina the Anglo-Catholic. But to her you owed perhaps the fixity and sadness of your muse. The pressure of a tremendous faith circles and clamps together these little songs. Perhaps they owe to it their solidity. Certainly they owe to it their sadness — your God was a harsh God, your heavenly crown was set with thorns. No sooner have you feasted on beauty with your eyes than your mind tells you that beauty is vain and beauty passes. Death, oblivion, and rest lap round your songs with their dark wave. And then, incongruously, a sound of scurrying and laughter is heard. There is the patter of animals' feet and the odd guttural notes of rooks and the snufflings of obtuse furry animals grunting and nosing. For you were not a pure saint by any means. You pulled legs; you tweaked noses. You were at war with all humbug and pretence. Modest as you were, still you were drastic, sure of your gift, convinced of your vision. A firm hand pruned your lines; a sharp ear tested their music. Nothing soft, otiose, irrelevant cumbered your pages. In a word, you were an artist. And thus was kept open, even when you wrote idly, tinkling bells for your own diversion, a pathway for the descent of that fiery visitant who came now and then and fused your lines into that indissoluble connection which no hand can put asunder:
But bring me poppies brimmed with sleepy death
And ivy choking what it garlandeth
And primroses that open to the moon.
Indeed so strange is the constitution of things, and so great the miracle of poetry, that some of the poems you wrote in your little back room will be found adhering in perfect symmetry when the Albert Memorial is dust and tinsel. Our remote posterity will be singing:
When I am dead, my dearest,
or:
My heart is like a singing bird,
when Torrington Square is a reef of coral perhaps and the fishes shoot in and out where your bedroom window used to be; or perhaps the forest will have reclaimed those pavements and the wombat and the ratel will be shuffling on soft, uncertain feet among the green undergrowth that will then tangle the area railings. In view of all this, and to return to your biography, had I been present when Mrs. Virtue Tebbs gave her party, and had a short elderly woman in black risen to her feet and advanced to the middle of the room, I should certainly have committed some indiscretion — have broken a paper-knife or smashed a tea-cup in the awkward ardour of my admiration when she said, "I am Christina Rossetti".


Virginia Woolf: The Common Reader, Second Series
kempis poetry magazine
More in: Rossetti, Christina, Woolf, Virginia
---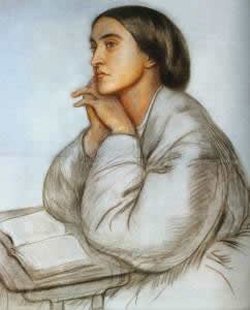 Christina Georgina Rossetti
(1830-1894)
SONG
When I am dead, my dearest,
Sing no sad songs for me;
Plant thou no roses at my head,
Nor shady cypress-tree:
Be the green grass above me
With showers and dewdrops wet;
And if thou wilt, remember,
And if thou wilt, forget.
I shall not see the shadows,
I shall not feel the rain;
I shall not hear the nightingale
Sing on, as if in pain:
And dreaming through the twilight
That doth not rise nor set,
Haply I may remember,
And haply may forget.


FATA MORGANA
A blue-eyed phantom far before
Is laughing, leaping toward the sun;
Like lead I chase it evermore,
I pant and run.
It breaks the sunlight bound on bound;
Goes singing as it leaps along
To sheep-bells with a dreamy sound
A dreamy song.
I laugh, it is so brisk and gay;
It is so far before, I weep:
I hope I shall lie down some day,
Lie down and sleep.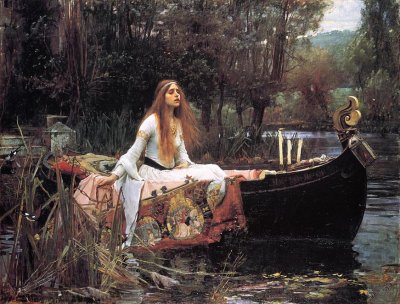 SWEET DEATH
The sweetest blossoms die.
And so it was that, going day by day
Unto the church to praise and pray,
And crossing the green churchyard thoughtfully,
I saw how on the graves the flowers
Shed their fresh leaves in showers,
And how their perfume rose up to the sky
Before it passed away.
The youngest blossoms die.
They die and fall and nourish the rich earth
From which they lately had their birth;
Sweet life, but sweeter death that passeth by
And is as though it had not been:–
All colors turn to green;
The bright hues vanish and the odors fly,
The grass hath lasting worth.
And youth and beauty die.
So be it, O my God, Thou God of truth:
Better than beauty and than youth
Are Saints and Angels, a glad company;
And Thou, O Lord, our Rest and Ease,
Art better far than these.
Why should we shrink from our full harvest? why
Prefer to glean with Ruth?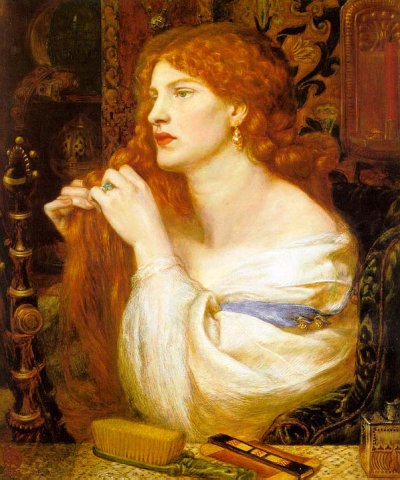 SONG
She sat and sang alway
By the green margin of a stream,
Watching the fishes leap and play
Beneath the glad sunbeam.
I sat and wept alway
Beneath the moon's most shadowy beam,
Watching the blossoms of the May
Weep leaves into the stream.
I wept for memory;
She sang for hope that is so fair:
My tears were swallowed by the sea;
Her songs died on the air.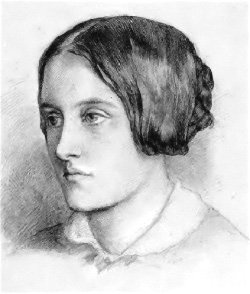 LOVE LIES BLEEDING
Love that is dead and buried, yesterday
Out of his grave rose up before my face,
No recognition in his look, no trace
Of memory in his eyes dust-dimmed and grey.
While I, remembering, found no word to say,
But felt my quickened heart leap in its place;
Caught afterglow thrown back from long set days,
Caught echoes of all music passed away.
Was this indeed to meet?–I mind me yet
In youth we met when hope and love were quick,
We parted with hope dead, but love alive:
I mind me how we parted then heart sick,
Remembering, loving, hopeless, weak to strive:–
Was this to meet? Not so, we have not met.
WHO SHALL DELIVER ME?
God strengthen me to bear myself;
That heaviest weight of all to bear,
Inalienable weight of care.
All others are outside myself;
I lock my door and bar them out,
The turmoil, tedium, gad-about.
I lock my door upon myself,
And bar them out; but who shall wall
Self from myself, most loathed of all?
If I could once lay down myself,
And start self-purged upon the race
That all must run! Death runs apace.
If I could set aside myself,
And start with lightened heart upon
The road by all men overgone!
God harden me against myself,
This coward with pathetic voice
Who craves for ease and rest and joys:
Myself, arch-traitor to myself;
My hollowest friend, my deadliest foe,
My clog whatever road I go.
Yet One there is can curb myself,
Can roll the strangling load from me.
Break off the yoke and set me free.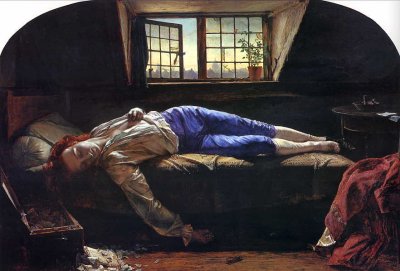 kemp=poetry magazine
More in: Rossetti, Christina
---
Christina Georgina Rossetti
(1830-1894)
SONG
When I am dead, my dearest,
Sing no sad songs for me;
Plant thou no roses at my head,
Nor shady cypress-tree:
Be the green grass above me
With showers and dewdrops wet;
And if thou wilt, remember,
And if thou wilt, forget.
I shall not see the shadows,
I shall not feel the rain;
I shall not hear the nightingale
Sing on, as if in pain:
And dreaming through the twilight
That doth not rise nor set,
Haply I may remember,
And haply may forget.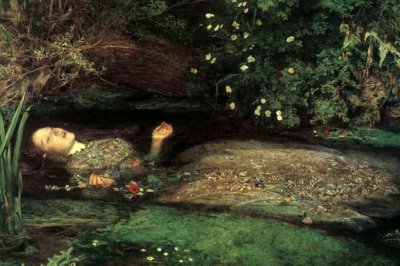 More in: Archive Q-R, Rossetti, Christina
---
Thank you for reading Fleurs du Mal - magazine for art & literature