Borges J.L.
·
Norah Lange: People in the Room. A novel
·
Ficciones by Jorge Luis Borges
·
SHAKESPEARE AND COMPANY, PARIS: A HISTORY OF THE RAG & BONE SHOP OF THE HEART
·
Prinses Máxima nam Alle gedichten van Borges in ontvangst
A young woman in Buenos Aires spies three women in the house across the street from her family's home. Intrigued, she begins to watch them. She imagines them as accomplices to an unknown crime, as troubled spinsters contemplating suicide, or as players in an affair with dark and mysterious consequences.
Lange's imaginative excesses and almost hallucinatory images make this uncanny exploration of desire, domestic space, voyeurism and female isolation a twentieth century masterpiece. Too long viewed as Borges's muse, Lange is today recognized in the Spanish-speaking world as a great writer and is here translated into English for the first time, to be read alongside Virginia Woolf, Clarice Lispector and Marguerite Duras.
Born in 1905 to Norwegian parents in Buenos Aires, Norah Lange was a key figure in the Argentinean avant-garde of the early to mid-twentieth century. Though she began her career writing poetry in the ultraísta mode of urban modernism, her first major success came in 1937 with her memoir Notes from Childhood, followed by the companion memoir Before They Die, and the novels People in the Room and The Two Portraits.
She contributed to the magazines Proa and Martín Fierro, and was a friend to figures such as Jorge Luis Borges, Pablo Neruda, and Federico García Lorca. From her teenage years, when her family home became the site of many literary gatherings, Norah was a mainstay of the Buenos Aires literary scene, and was famous for the flamboyant speeches she gave at parties in celebration of her fellow writers. She traveled widely alone and with her husband, the poet Oliverio Girondo, always returning to Buenos Aires, where she wrote in the house they shared, and where they continued to host legendary literary gatherings. She died in 1972.
Charlotte Whittle has translated works by Silvia Goldman, Jorge Comensal, and Rafael Toriz, among others. Her translations, essays, and reviews have appeared in publications including Mantis, The Literary Review, The Los Angeles Times, Guernica, Electric Literature, BOMB, and the Northwest Review of Books. Originally from England and Utah, she has lived in Mexico, Peru, and Chile, and is now based in New York. She is an editor at Cardboard House Press, a bilingual publisher of Spanish and Latin American poetry.
"Deathly scenes from a wax museum come to life, in a closed, feminine world."  – César Aira
People in the Room
Author: Norah Lange
Translator: Charlotte Whittle
Introduced by César Aira
Language: English
Original language: Spanish
Publisher: And Other Stories
Format: paperback
Publication date: 9 August 2018
ISBN: 9781911508229
Availability: World
Number of pages: 176
Price: €11.09
new books
novel Norah Lange (1905 – 1972)
fleursdumal.nl magazine
More in: - Book News, - Bookstores, Archive K-L, Art & Literature News, Borges J.L., Garcia Lorca, Federico, Libraries in Literature, LITERARY MAGAZINES, Neruda, Pablo
---
Jorge Luis Borges was one of those very rare creators who changed the face of an art form—in his case, the short story. His work has been paid the ultimate honor of being appropriated and imitated by innumerable writers on every continent of the world.
The seventeen brief masterpieces of FICCIONES explode the boundaries of genre, offering up labyrinthine libraries, a fictional encyclopedia entry that spawns an entire world, a review of a nonexistent writer's attempt to re-create Don Quixote word for word, a man with the disabling inability to forget anything he has ever experienced, and other metaphysical puzzles.
But the true measure of Borges's greatness lies in the fact that his fictions—elaborately paradoxical, postmodern, and intellectually delicious as they are—managed to return the short story to the realm of the fabulous and the uncanny from which, as parable and fairy tale, it originally came.
Jorge Luis Borges (1899–1986) was an Argentine poet, essayist, and author of short stories. His most notable works as a key literary Spanish-language figure of the twentieth century include Ficciones (Fictions) and El Aleph (The Aleph). He received a BA from the College of Geneva. He was also appointed the director of the National Public Library and professor of English literature at the University of Buenos Aries in 1955. During his lifetime, Borges received the first Prix International Formentor Prize which he shared alongside Samuel Beckett in 1961. He also received the Jerusalem Prize for the Freedom of the Individual in Society in 1971.
Ficciones
By Jorge Luis Borges
Introduction by John Sturrock
Part of Everyman's Library Contemporary Classics Series
Category: Literary Fiction | Fiction Classics
Hardcover
(1993)- 192 Pages
ISBN 9780679422990
(Book Jacket Status: Jacketed)
fleursdumal.nl magazine
More in: - Book News, - Bookstores, Archive A-B, Art & Literature News, Borges J.L.
---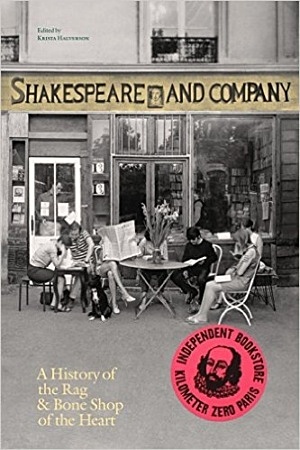 A Biography of a Bookstore – Shakespeare and Company, Paris: A History of the Rag & Bone Shop of the Heart – by Krista Halverson (Editor) – Sylvia Whitman (Afterword) – Jeannette Winterson (Foreword)
A copiously illustrated account of the famed Paris bookstore on its 65th anniversary.
For almost 70 years, Shakespeare and Company has been a home-away-from-home for celebrated writers—including James Baldwin, Jorge Luis Borges, A. M. Homes, and Dave Eggers—as well as for young, aspiring authors and poets. Visitors are invited to read in the library, share a pot of tea, and sometimes even live in the shop itself, sleeping in beds tucked among the towering shelves of books. Since 1951, more than 30,000 have slept at the "rag and bone shop of the heart."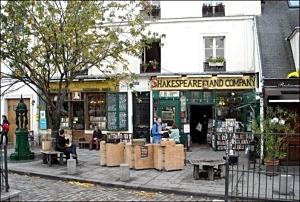 This first-ever history of the legendary bohemian bookstore in Paris interweaves essays and poetry from dozens of writers associated with the shop–Allen Ginsberg, Anaïs Nin, Ethan Hawke, Robert Stone and Jeanette Winterson, among others–with hundreds of never-before-seen archival pieces, including photographs of James Baldwin, William Burroughs and Langston Hughes, plus a foreword by the celebrated British novelist Jeanette Winterson and an epilogue by Sylvia Whitman, the daughter of the store's founder, George Whitman. The book has been edited by Krista Halverson, director of the newly founded Shakespeare and Company publishing house.
George Whitman opened his bookstore in a tumbledown 16th-century building just across the Seine from Notre-Dame in 1951, a decade after the original Shakespeare and Company had closed. Run by Sylvia Beach, it had been the meeting place for the Lost Generation and the first publisher of James Joyce's Ulysses. (This book includes an illustrated adaptation of Beach's memoir.) Since Whitman picked up the mantle, Shakespeare and Company has served as a home-away-from-home for many celebrated writers, from Jorge Luis Borges to Ray Bradbury, A.M. Homes to Dave Eggers, as well as for young authors and poets. Visitors are invited not only to read the books in the library and to share a pot of tea, but sometimes also to live in the bookstore itself–all for free.
More than 30,000 people have stayed at Shakespeare and Company, fulfilling Whitman's vision of a "socialist utopia masquerading as a bookstore." Through the prism of the shop's history, the book traces the lives of literary expats in Paris from 1951 to the present, touching on the Beat Generation, civil rights, May '68 and the feminist movement–all while pondering that perennial literary question, "What is it about writers and Paris?"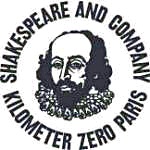 In this first-ever history of the bookstore, photographs and ephemera are woven together with personal essays, diary entries, and poems from writers including Allen Ginsberg, Anaïs Nin, Lawrence Ferlinghetti, Sylvia Beach, Nathan Englander, Dervla Murphy, Jeet Thayil, David Rakoff, Ian Rankin, Kate Tempest, and Ethan Hawke.
With hundreds of images, it features Tumbleweed autobiographies, precious historical documents, and beautiful photographs, including ones of such renowned guests as William Burroughs, Henry Miller, Langston Hughes, Alberto Moravia, Zadie Smith, Jimmy Page, and Marilynne Robinson.
Tracing more than 100 years in the French capital, the book touches on the Lost Generation and the Beats, the Cold War, May '68, and the feminist movement—all while reflecting on the timeless allure of bohemian life in Paris.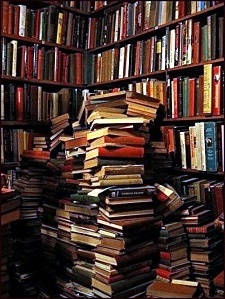 Krista Halverson is the director of Shakespeare and Company bookstore's publishing venture. Previously, she was the managing editor of Zoetrope: All-Story, the art and literary quarterly published by Francis Ford Coppola, which has won several National Magazine Awards for Fiction and numerous design prizes. She was responsible for the magazine's art direction, working with guest designers including Lou Reed, Kara Walker, Mikhail Baryshnikov, Zaha Hadid, Wim Wenders and Tom Waits, among others.
Jeanette Winterson's first novel, Oranges Are Not the Only Fruit, was published in 1985. In 1992 she was one of Granta's Best of Young British Novelists. She has won numerous awards and is published around the world. Her memoir, Why Be Happy When You Could Be Normal?, was an international bestseller. Her latest novel, The Gap of Time, is a "cover version" of Shakespeare's The Winter's Tale.
Sylvia Whitman is the owner of Shakespeare and Company bookstore, which her father opened in 1951. She took on management of the shop in 2004, when she was 23, and now co-manages the bookstore with her partner, David Delannet. Together they have opened an adjoining cafe, as well as launched a literary festival, a contest for unpublished novellas, and a publishing arm.
"I created this bookstore like a man would write a novel, building each room like a chapter, and I like people to open the door the way they open a book, a book that leads into a magic world in their imaginations." —George Whitman, founder
Drawing on a century's worth of never-before-seen archives, this first history of the bookstore features more than 300 images and 70 editorial contributions from shop visitors such as Allen Ginsberg, Anaïs Nin, Kate Tempest, and Ethan Hawke. With a foreword by Jeanette Winterson and an epilogue by Sylvia Whitman, the 400-page book is fully illustrated with color throughout.
Shakespeare and Company, Paris: A History of the Rag & Bone Shop of the Heart by Krista Halverson
Foreword by: Jeanette Winterson
Epilogue by: Sylvia Whitman
Contributions by:
Allen Ginsberg
Anaïs Nin
Lawrence Ferlinghetti
Sylvia Beach
Nathan Englander
Dervla Murphy
Ian Rankin
Kate Tempest
Ethan Hawke
David Rakoff
Publisher: Shakespeare and Company Paris
Publication date: August 2016
Hardback – ISBN: 979-1-09610-100-9
€ 35.00
Publication country:France
Pages:384
Weight: 1501.000g.
# More information on website Shakespeare & Company
Photos: Shakespeare & Comp,  Jef van Kempen FDM
fleursdumal.nl magazine
More in: - Book Lovers, - Book News, - Book Stories, - Bookstores, Art & Literature News, BEAT GENERATION, Borges J.L., Burroughs, William S., Ernest Hemingway, Ginsberg, Allen, J.A. Woolf, James Baldwin, Kate/Kae Tempest, Samuel Beckett, Shakespeare, William, Tempest, Kate/Kae
---
Prinses Máxima nam
Alle gedichten van Borges
in ontvangst
Op 21 september heeft Hare Koninklijke Hoogheid Prinses Máxima der Nederlanden het eerste exemplaar van Alle gedichten van de Argentijnse dichter Jorge Luis Borges in ontvangst genomen, uit handen van de vertalers Maarten Steenmeijer en Barber van de Pol. De overhandiging vond plaats in het woonhuis van Prinses Máxima, De Eikenhorst.
Jorge Luis Borges (Buenos Aires, 1899 – 1986) verwierf vooral wereldfaam met zijn verhalen, verzameld in De Aleph en andere verhalen. Hij geldt als de belangrijkste Zuid-Amerikaanse prozaschrijver van de twintigste eeuw.
Toch zag hij zichzelf in de eerste plaats als dichter. Met name in de laatste dertig jaar van zijn leven schreef hij graag poëzie. Vanaf de jaren veertig raakte hij langzamerhand blind. Hierdoor was hij tijdens het schrijven niet alleen veel meer aangewezen op zijn geheugen en op kortere geschriften, ook gaf poëzie hem de mogelijkheid persoonlijker te zijn dan proza.
Een groot deel van zijn poëzie is nooit in Nederlandse vertaling verschenen. In Alle gedichten is voor het eerst al zijn poëzie opgenomen, in het Nederlands en in het Spaans, ongeveer vijfhonderd gedichten in totaal. Vertalers Barber van de Pol en Maarten Steenmeijer werkten enkele jaren intensief met elkaar samen om deze vertaling tot stand te brengen.
Jorge Luis Borges verwierf pas wereldfaam toen hij al 61 jaar oud was. Op die leeftijd, in 1961, werd hem, samen met Samuel Beckett, de Prix Formentor toegekend, en vanaf die tijd verschenen zijn verhalen in vertaling overal ter wereld, ook in Nederland.
Hij werd een van de boegbeelden van uitgeverij De Bezige Bij, die zijn beroemdste verhalenbundel, De Aleph, vele malen herdrukte. Het paradoxale is dat Borges zichzelf niet in de eerste plaats als prozaschrijver zag, en ook niet als essayist (hij schreef schitterende essays, waarvan er ook vele in het Nederlands zijn uitgegeven), maar als dichter. Vooral in de laatste dertig jaren van zijn leven schreef hij graag poëzie, niet alleen omdat hij langzaam blind werd en tijdens zijn schrijven veel meer op zijn geheugen en dus op kortere geschriften aangewezen was, maar ook omdat gedichten hem de mogelijkheid gaven persoonlijker te zijn dan hij zich in zijn proza meende te kunnen veroorloven.
Slechts een klein deel van zijn poëzie werd tot nu toe in het Nederlands vertaald. In Alle gedichten zijn voor het eerst al zijn gedichten in Nederlandse vertaling bijeengebracht – een mijlpaal.
Jorge Luis Borges – Alle gedichten
Uitgeverij De Bezige Bij, september 2011
gebonden met leeslint en stofomslag, 1246 pagina's, 21,5 x 13 cm
ISBN 9789023464617, verkoopprijs € 59,90
De Nederlandse vertaling is van Barber van de Pol en Maarten Steenmeijer
fleursdumal.nl magazine
More in: Archive A-B, Borges J.L., Jorge Luis Borges
---
Thank you for reading FLEURSDUMAL.NL - magazine for art & literature