REPRESSION OF WRITERS, JOURNALISTS & ARTISTS
·
Death Tourism. Disaster Sites as Recreational Landscape Edited by Brigitte Sion
·
Banned Books Week: Defend free expression, support persecuted writers, and promote literary culture
·
Support PEN Belarus
·
'Small Days and Nights' a novel by Tishani Doshi
·
Free human rights lawyer and prisoner of conscience Nasrin Sotoudeh
·
Release imprisoned journalists worldwide
·
Russian activist and artist, Yulia Tsvetkova, is facing six year sentence for drawing the female body
·
Child refugee faces prison over Facebook posts
·
Death Blossoms. Reflections from a Prisoner of Conscience, Expanded Edition by Mumia Abu-Jamal
·
La 23e édition de PARIS PHOTO: 7-10 nov. 2019 Grand Palais Paris
·
London Literature Festival with Fatima Bhutto: Bollywood, K-Pop and Beyond
·
Design van het Derde Rijk in Design Museum Den Bosch
Auschwitz. Hiroshima. Cambodia's killing fields. The World Trade Center. The mass graves of Rwanda.
These places of violent death have become part of the recreational landscape of tourism, an industry that is otherwise dedicated to pleasure and escape. In dark places like concentration camps, prisons, battlegrounds, and the sites of natural disasters, how are memory and trauma mediated by thanotourism, or tourism of death?
In Death Tourism, Brigitte Sion brings together essays by some of the most trenchant voices in the field to look at the tensions created by the juxtaposition of human remains and food stands, political agendas and educational programs, economic development and architectural ambition.
How does a state redefine its national identity after catastrophic trauma?
And what is the role of this kind of tourism in defining their new identity?
A timely volume on an irresistible subject, this inquiry exposes the intersection of leisure with the inhumane, giving insight into how people respectfully share a public space that is both free and sacred, compelling and tragic.
Death Tourism.
Disaster Sites as Recreational Landscape
Edited by Brigitte Sion
Seagull Books
Publication Year: 2014
Format: Paperback
Pages: 356
illustrations
2014
ISBN: 9780857421074
$35
# new books
Death Tourism.
Disaster Sites as Recreational Landscape
by Brigitte Sion
• fleursdumal.nl magazine
More in: - Book News, - Bookstores, Archive S-T, Art & Literature News, AUDIO, CINEMA, RADIO & TV, CRIME & PUNISHMENT, Galerie des Morts, Holocaust, REPRESSION OF WRITERS, JOURNALISTS & ARTISTS, WAR & PEACE
---
BANNED BOOKS WEEK
September 26 – October 2 for the 2021
celebration of the right to read!

Across the United States, divisive book bans and censorious threats have taken hold in schools, academia, and the public square, particularly in regards to books that center racism, history, and diversity. This has raised questions: Who is allowed to be heard? Who decides? This year, as we celebrate Banned Books Week, PEN America uplifts the books, authors, teachers, and writers who insist on telling stories and examining history with truth, honesty, and complexity.
In an effort to unpack these current challenges, PEN America is hosting a series of virtual and in-person events. These events will offer a clear-eyed view of the current assaults on the freedom to express, the freedom to read, and the freedom to learn.
Join PEN America Today
Defend free expression, support persecuted writers, and promote literary culture.
Read more about what PEN America is doing to fight back against book bans during 2021 Banned Books Week.
BANNED BOOKS WEEK
September 26 – October 2 for the 2021
celebration of the right to read!
Banned Books Week is the annual celebration of the freedom to read. The event is sponsored by a coalition of organizations dedicated to free expression, including American Booksellers Association; American Library Association; American Society of Journalists and Authors; Association of University Presses; Authors Guild; Comic Book Legal Defense Fund; Foundation for Individual Rights in Education (FIRE); Freedom to Read Foundation; Index on Censorship; National Coalition Against Censorship; National Council of Teachers of English; PEN America; People For the American Way Foundation; and Project Censored. It is endorsed by the Center for the Book in the Library of Congress. Banned Books Week also receives generous support from DKT Liberty Project and Penguin Random House.
Read more about the 2021 Banned Books Week.
→   https://bannedbooksweek.org/
• fleursdumal.nl magazine
More in: - Bookstores, Art & Literature News, Banned Books, DICTIONARY OF IDEAS, Literary Events, PEN Actions, PRESS & PUBLISHING, REPRESSION OF WRITERS, JOURNALISTS & ARTISTS
---
This week, the Ministry of Justice in Belarus sent a letter indicating they are seeking to liquidate our sister organization PEN Belarus, which for years has supported writers and free expression in the country. It comes as the country's authoritarian leader Aleksandr Lukashenka continues to crack down on all those who dissent. Show our colleagues and friends at PEN Belarus that they are not alone—and that we rally to support the freedom to write wherever and whenever it comes under threat.
Please join us and take action
Click here:
https://actionnetwork.org/petitions/i-support-pen-belarus?source=email&
Show your support for PEN Belarus.
Thank You!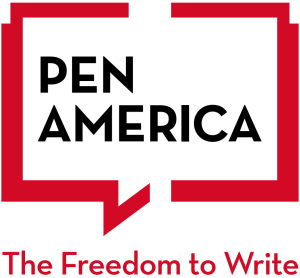 PEN America stands at the intersection of literature and human rights to protect free expression in the United States and worldwide. They champion the freedom to write, recognizing the power of the word to transform the world. Their mission is to unite writers and their allies to celebrate creative expression and defend the liberties that make it possible.
Founded in 1922, PEN America is the largest of the more than 100 centers worldwide that make up the PEN International network. PEN America works to ensure that people everywhere have the freedom to create literature, to convey information and ideas, to express their views, and to access the views, ideas, and literatures of others.
More information on PEN America, click here

• fleursdumal.nl magazine
More in: AUDIO, CINEMA, RADIO & TV, MONTAIGNE, MUSEUM OF PUBLIC PROTEST, PEN Actions, PRESS & PUBLISHING, REPRESSION OF WRITERS, JOURNALISTS & ARTISTS
---
Poet, writer, and dancer Tishani Doshi was born in Madras, India, to Welsh and Gujarati parents. She earned a BA from Queens College in North Carolina and an MA from the Writing Seminars from the Johns Hopkins University. After working in the fashion magazine industry in London, Doshi returned to India.
An unexpected meeting with one of Indian dance's leading choreographers, Chandralekha, led Doshi to a career in dance. She currently performs internationally with the Chandralekha group. She is a freelance journalist, and her work has appeared in newspapers and journals such as the Guardian, the National, and the Hindu. She writes a regular column for New Indian Express and was a finalist in the Outlook/Picador India Non-Fiction Competition.
Doshi is widely acclaimed as a creative writer; her first book of poetry, Countries of the Body (2006), won a Forward Prize for Best First Collection. Her other collections include Everything Begins Elsewhere (2013), Dolce Marcescenza (Sweet Decay) (2015), and Girls Are Coming Out of the Woods (2018).
Doshi's first novel, The Pleasure Seekers (2010), was shortlisted for the Hindu Best Fiction Award and has been translated into several languages. She is also the author of Fountainville: New Stories from the Mabinogion (2013), a retelling of the Mabinogion myth, as well as two books about place and home, Madras Then Chennai Now (2013) and The Adulterous Citizen (2015). Her latest novel is Small Days and Nights (W. W. Norton, 2020).
From "The River of Girls" by Tishani Doshi the poem:
i.m. India's missing girls
This is not really myth or secret.
This murmur in the mouth
of the mountain where the sound
of rain is born.
  ( . . . . . )
This is the sound of ten million girls
singing of a time in the universe
when they were born with tigers
breathing between their thighs;
when they set out for battle
with all three eyes on fire,
their golden breasts held high
like weapons to the sky.
Tishani Doshi, "The River of Girls". Copyright © 2013 by Tishani Doshi.
Source: Everything Begins Elsewhere (Copper Canyon Press, 2013)
Her honors and awards include an Eric Gregory Award and an All-India Poetry Prize. She lives in Tamil Nadu, India.
Small Days and Nights
A Novel
by Tishani Doshi (Author)
Hardcover
$25.95
272 pages
Publisher: W. W. Norton & Company
January 21, 2020
Language: English
ISBN-10: 1324005238
ISBN-13: 978-1324005230
# fleursdumal.nl magazine
More in: - Book News, - Book Stories, Archive C-D, Archive C-D, Art & Literature News, REPRESSION OF WRITERS, JOURNALISTS & ARTISTS, Tishani Doshi
---
Nasrin Sotoudeh and her son

In prisons across Iran, there have been people who have tested positive for COVID-19. This raises grave concerns for prisoners in Iran, including human rights lawyer and prisoner of conscience Nasrin Sotoudeh. Take action and demand she is released now.
After two grossly unfair trails, Nasrin Sotoudeh, a prominent Iranian human rights lawyer, was sentenced to 38 years and six months in prison and 148 lashes because of her work defending women's rights and protesting against Iran's discriminatory and degrading forced veiling laws. Nasrin has dedicated her life to peaceful human rights works.
Now, in prisons across Iran, there have been confirmed cases of COVID-19. This raises grave fears that prisoners, like Nasrin, are at risk of contracting the virus. Prisoners are at particular risk because they are unable to take the same social distancing and hygiene measures as those outside of prison to protect themselves.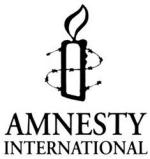 Across Iran, prisoners have pleaded with officials to address overcrowded, unhygienic and unsanitary conditions that put them at greater risk of COVID-19 infections, raising alarms about the authorities' failure to sufficiently protect prison populations from the spread of the virus. Some prisoners have been denied adequate medical care, leaving them at greater risk from the virus if contracted.
Nasrin is among the hundreds of prisoners of conscience jailed in Iran. No one should spend a single day in prison for peacefully exercising their rights.
Call on the Supreme Leader of Iran to release Nasrin Sotoudeh immediately and unconditionally and for her sentences to be quashed without delay.
Iran: Free Nasrin Sotoudeh
Link: action amnesty international
• fleursdumal.nl magazine
More in: AUDIO, CINEMA, RADIO & TV, MUSEUM OF PUBLIC PROTEST, PRESS & PUBLISHING, REPRESSION OF WRITERS, JOURNALISTS & ARTISTS
---
UN should demand release of jailed
journalists amid COVID-19 pandemic
CPJ is calling on several UN special mandate holders to join its effort to secure the release of all jailed journalists globally in the face of the COVID-19 pandemic. At least 250 journalists are behind bars for their work, according to CPJ's most recent prison census.
• Committee to Protect Journalists (CPJ) – 11 April 2020
In the midst of the COVID-19 pandemic, the Committee to Protect Journalists calls on governments to release all journalists from their prisons. On behalf of more than 250 journalists behind bars, we call on authorities to free these political prisoners immediately and unconditionally.
For journalists jailed in countries affected by the virus, freedom is now a matter of life and death. Imprisoned journalists have no control over their surroundings, cannot choose to isolate, and are often denied necessary medical care.
The World Health Organization states that "People deprived of their liberty, and those living or working in enclosed environments in their close proximity, are likely to be more vulnerable to the COVID-19 disease than the general population."
Global press freedom and human rights organizations are calling on world leaders to immediately release all imprisoned journalists. Add your voice to the call and sign our petition today!
The Committee to Protect Journalists submitted a call to several U.N. special mandate holders yesterday encouraging them to join CPJ's effort to secure the release of all jailed journalists globally in the face of the coronavirus pandemic.
# See here website CPJ's petition
• fleursdumal.nl magazine
More in: AUDIO, CINEMA, RADIO & TV, MUSEUM OF PUBLIC PROTEST, PRESS & PUBLISHING, REPRESSION OF WRITERS, JOURNALISTS & ARTISTS
---
Russian activist and artist, Yulia Tsvetkova, is facing prosecution and harassment for defending women's and LGBTI rights.
She has been under house arrest since 22 November, under absurd charges of "production and dissemination of pornography" for her drawings of the female body. She is facing up to six years in prison if convicted. Yulia Tsvetkova is a prisoner of conscience and must be immediately and unconditionally released.
Yulia Tsvetkova is an LGBTI and women's rights activist, artist and stage director, from Komsomolsk-on-Amur, the Russian Far East.
She was detained on 20 November 2019 and put on house arrest two days later, after being charged with the "production and dissemination of pornographic materials", for making body positive drawings of the female body and sharing them on social media.
Her drawings included pictures of female reproductive organs, and she shared them online as part of her women's empowerment campaign.
On the day of her arrest, police searched Yulia's apartment and the children's educational club where she worked previously. The police seized her electronic devices, documents, and brochures on gender issues. Yulia later said that during the search police officers referred to her as a "lesbian, sex trainer and propagandist leader".
Yulia has been the target of an overtly homophobic campaign since March 2019, when she was forced to leave Merak, the amateur youth theatre company she worked at, after police launched an investigation into alleged "propaganda of non-traditional sexual relations among minors".
The investigation was launched in reaction to Yulia's anti-bullying, anti-discrimination play, Blue and Pink.
On 11 December 2019 Yulia was found guilty of "propaganda of non-traditional sexual relations among minors", and fined 50,000 rubles (approximately 600 GBP), for serving as the administrator of two LGBTI online communities on the popular Russian social media site, VKontakte.
Both of the online communities were properly marked as "18+", as required by Russian law. Even under the confines of the homophobic Russian "gay propaganda" legislation, the "offence" should only be valid if the "propaganda" material is targeted at people under the age of 18.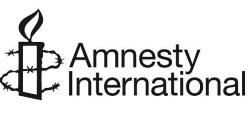 On 17 January, Yulia informed the media that new proceedings had been opened against her, under the same Article of the Code of Administrative Offences that she had previously been charged under. This time she was being prosecuted for posting a drawing she made depicting two same-sex couples with child on social media, alongside the statement, "Family is where love is. Support LGBT+ families".
She published the drawing in support of a same-sex couple who were forced to flee Russia with their adopted children after authorities threatened to remove their children from their custody.
# visit Website Amnesty International UK for more information and urgent actions
# support amnesty international
# take urgent action now
• fleursdumal.nl magazine
More in: Archive S-T, Art & Literature News, AUDIO, CINEMA, RADIO & TV, Illustrators, Illustration, MUSEUM OF PUBLIC PROTEST, PRESS & PUBLISHING, REPRESSION OF WRITERS, JOURNALISTS & ARTISTS, THEATRE, Urban Art
---
Tujan al-Bukhaiti is a 17-year-old Yemeni refugee. She is being tried in Jordan on charges of 'blasphemy' and 'insulting religious figures' over her social media posts, including posts by her dad that she has shared. Stopped from going to school
On 11 December 2019 Tujan's school threatened to expel her for sharing 'beliefs that do not represent the school' on her Facebook page. When she refused their ultimatum they banned her from attending classes.
A week later she was brought in by police for questioning and a statement was taken without her parents or lawyer there. This is illegal and violates her right to a fair trial.
When she was questioned she says that an officer went through her Facebook page insulting various members of her family.
Tujan has been made to go to court three times for her trial and each time the date has been postponed. She is facing potentially a month in prison and a lifetime criminal record just for expressing her views. If Jordan allows the trial to go ahead they will be breaking international law by violating her right to freedom of expression. This young woman should not be punished just for speaking her mind.
Tujan is just a teenager. As a refugee, she's already been through so much. Jordan should drop this case immediately and let her get on with her studies.
Please send an email to Jordan's Minister of Justice .
# More information on website of Amnesty International UK
• fleursdumal.nl magazine
More in: AUDIO, CINEMA, RADIO & TV, MUSEUM OF PUBLIC PROTEST, PRESS & PUBLISHING, REPRESSION OF WRITERS, JOURNALISTS & ARTISTS, The talk of the town
---
Profound meditations on life, death, freedom, family, and faith, written by radical Black journalist, Mumia Abu-Jamal, while he was awaiting his execution.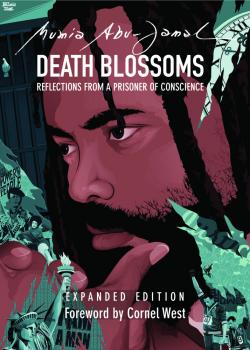 During the spring of 1996, black journalist Mumia Abu-Jamal was living on death row and expecting to be executed for a crime he steadfastly maintained he did not commit—the murder of a white Philadelphia police officer. It was in that period, with the likelihood of execution looming over him, that he received visits from members of the Bruderhof spiritual community––refugees from Hitler's Germany––anti-fascist, anti-racist, and deeply opposed to the death penalty. Inspired by the encounters, Mumia hand-wrote Death Blossoms—a series of short essays and personal vignettes reflecting on his search for spiritual meaning, freedom, and truth in a deeply racist and materialistic society.
Featuring a new introduction by Mumia and a report by Amnesty International detailing how his trial was "in violation of minimum international standards," this new edition of Death Blossoms is essential reading for the Black Lives Matter era, and is destined to endure as a classic in American prison literature.
"In this revised edition of his groundbreaking work, Death Blossoms, convicted death row prisoner Mumia Abu-Jamal tackles hard and existential questions, searching for God and a greater meaning in a caged life that may be cut short if the state has its way and takes his life. As readers follow Mumia's journey through his poems, short essays, and longer musings, they will learn not only about this singular individual who has retained his humanity despite the ever present threat of execution, but also about themselves and our society: what we are willing to tolerate and who we are willing to cast aside. If there is any justice, Mumia will prevail in his battle for his life and for his freedom."––Lara Bazelon, author of Rectify: The Power of Restorative Justice After Wrongful Conviction
"Mumia Abu-Jamal has challenged us to see the prison at the center of a long history of US oppression, and he has inspired us to keep faith with ordinary struggles against injustice under the most terrible odds and circumstances. Written more than two decades ago, Death Blossoms helps us to see beyond prison walls; it is as timely and as necessary as the day it was published."––Nikhil Pal Singh, founding faculty director of the NYU Prison Eduction Program, author of Race and America's Long War.
Title: Death Blossoms
Subtitle: Reflections from a Prisoner of Conscience, Expanded Edition
Author: Mumia Abu-Jamal
Foreword: Cornel West
Introduction by Mumia Abu-Jamal
Preface by Julia Wright
Publisher: City Lights Publishers
Tags: African American history, black lives matter, black panther party, death row, injustice, institutional injustice, mass incarceration, prison industrial complex, prison writing, racial injustice, U.S. political prisoners, white supremacy
Format: Paperback
ISBN-10 0872867978
ISBN-13 9780872867970
Publication Date; 12 November 2019
Main content page count 240
List Price $16.95
# new books
Mumia Abu-Jamal
Death Blossoms
Reflections from a Prisoner of Conscience
• fleursdumal.nl magazine
More in: #Editors Choice Archiv, - Book Lovers, - Book News, Archive A-B, Archive A-B, CRIME & PUNISHMENT, REPRESSION OF WRITERS, JOURNALISTS & ARTISTS
---
# Pour la 23 e édition de Paris Photo, 213 exposants en provenance de 31 pays seront réunis au Grand Palais selon 5 secteurs, offrant aux visiteurs le plus large panorama d'œuvres photographiques disponibles aujourd'hui sur le marché.
# 213 exposants # 180 galeries # 33 editeurs
7-10 nov. 2019
www.parisphoto.com
• fleursdumal.nl magazine
More in: Art & Literature News, AUDIO, CINEMA, RADIO & TV, Exhibition Archive, Photography, PRESS & PUBLISHING, REPRESSION OF WRITERS, JOURNALISTS & ARTISTS
---
literature & poetry # spoken word & live literature # Fatima Bhutto: Bollywood, K-Pop and Beyond # Part of London Literature Festival # 17 – 27 Oct 2019

India's Bollywood films, Turkish dizi soap opera and South Korean pop music: mass culture from the East is taking on Hollywood and finding a truly global audience.
Hear from acclaimed author Fatima Bhutto about the vast cultural movement emerging from beyond the Western world.
Drawing on her book New Kings of the World: Dispatches from Bollywood, Dizi, and K-Pop, Bhutto speaks on the arbiters behind these cultural movements.
She examines how they interweave traditional values into urbanised settings and how they appeal to many millions.
From behind the scenes of Magnificent Century, Turkey's biggest TV show, watched by upwards of 200 million people across 43 countries, to South Korea to see how 'Gangnam Style' became the first YouTube video with one billion views, Bhutto charts the extraordinary rise and reach of these cultural phenomena.
Bhutto was born in Kabul, Afghanistan, in 1982. She grew up in Syria and Pakistan. She is the author of five previous books, including The Shadow of the Crescent Moon which was longlisted in 2014 for the Baileys Women's Prize for Fiction and highly acclaimed novel The Runaways.
Fatima Bhutto
21 Oct 2019 7:15 pm
Approximate run time: 90 mins
Run times may vary, find out more
where?
Purcell Room in Southbank Centre London
Bringing new resonance to timeless narratives, Southbank Centre's London Literature Festival returns for its 13th year with an exploration of fairy tales for our times with today's leading writers, thinkers and cultural observers.
Over 11 days of talks, readings, poetry and performance, the festival features Elizabeth Day, Armistead Maupin, Brett Anderson, Heather Morris, Lemn Sissay, Anthony Daniels (C-3PO), Nikki Giovanni, Fatima Bhutto and Jung Chang.
The festival once again opens with Poetry International, Southbank Centre's longest running festival, founded by Ted Hughes, former poet laureate, in 1967. This year follows the theme of disruption.
The Purcell Room in Queen Elizabeth Hall reopened in April 2018 following almost three years of refurbishment. With new improved facilities and acoustics, this intimate wood-panelled auditorium provides a platform for music and performance events, a variety of talks and debates, plus readings of classical and modern literature.
The world-renowned venue has played host to some of the biggest names of the 20th century and beyond, including David Bowie, Daniel Barenboim, Marianne Faithfull and Radiohead's Jonny Greenwood.
Purcell Room is located in Queen Elizabeth Hall.
London Literature Festival
17 – 27 Oct 2019
poetry – spoken word & live literature
# website Queen Elizabeth Hall / Purcell Room
• fleursdumal.nl magazine
More in: - Book Stories, Archive A-B, Art & Literature News, AUDIO, CINEMA, RADIO & TV, Fatima Bhutto, Literary Events, Poetry International, REPRESSION OF WRITERS, JOURNALISTS & ARTISTS
---
Design Museum Den Bosch presenteert de eerste grote overzichtstentoonstelling van design van het Derde Rijk. De tentoonstelling Design van het Derde Rijk toont de enorme bijdrage van vormgeving aan de ontwikkeling van de kwaadaardige nazi-ideologie.

Met de Volkswagen Kever, de Olympische Spelen in 1936, de swastika en de films van Leni Riefenstahl en andere belangrijke stukken uit Nederland en Duitsland. Design van het Derde Rijk: waarom in Design Museum Den Bosch?

Musea zijn gewend om de goede kant van cultuur te zien. Juist design wordt vaak gepresenteerd als een bijdrage aan een betere wereld.

De geschiedenis van vormgeving bestaat daarom uit steeds terugkerende onderwerpen die het moreel juiste vertegenwoordigen.

Maar design reflecteert de wereld, met al zijn goede én slechte kanten. In de tentoonstelling Design van het Derde Rijk is de vormgeving een instrument in de handen van het ultieme kwaad.
De nazi's waren meesters in het inzetten van vormgeving om hun doel te bereiken; massa's mensen wisten ze ermee aan hun kant te krijgen en te onderdrukken. Design Museum Den Bosch is een designmuseum nieuwe stijl met een kritische opstelling. Als je volmondig dit nooit weer wilt kunnen zeggen, moet je de moeite nemen te analyseren hoe de processen van beïnvloeding destijds werkten. Dat is wat deze tentoonstelling doet.
Het design van het Derde Rijk was in grondslag tegenstrijdig. De tentoonstelling Design van het Derde Rijk is daarom ingedeeld aan de  hand van verschillende tegenstellingen.
Zuiverheid stond centraal, wat betekende dat verschillende bevolkingsgroepen als Joden, homo's en zigeuners dienden te worden vernietigd. Het nazisme bedacht en steunde op een eigen geschiedenis, maar was tegelijkertijd fanatiek gericht op de toekomst. Het was vervuld van romantiek, maar ook geobsedeerd door moderne technologie.
Naar buiten toe liet het nazisme een verleidelijk beeld zien van voorspoed en zorgeloos vertier, terwijl in 1933 al de eerste concentratiekampen werden opgezet. Samen laten deze paradoxen zien hoe het nazisme binnen twaalf jaar eerst tot een enorme ontwikkeling en vervolgens tot een daverende ineenstorting kwam. En op welke manier design in dat proces een doorslaggevende rol speelde.
De tegenstellingen die het nazisme kenmerken worden getoond aan de hand van een ruime selectie objecten uit Nederlandse en Duitse musea en verzamelingen. Zo zijn er architectuurelementen en meubels te zien uit het Haus der Deutschen Kunst en de Rijkskanselarij.

De ontwerpen tonen hoe de nazi's teruggrepen op de classicistische vormgeving als machtsvertoon en symbool voor een nieuwe Duitse cultuur. De vele tijdschriften die opgenomen zijn in de tentoonstelling geven een beeld van het ver doorgevoerde doelgroepenbeleid van de nazi's. Van moeders tot soldaten, van jonge meisjes tot internationale bezoekers, iedereen werd op een eigen manier aangesproken. Instructieboeken laten zien hoe precies ieder onderdeel van de beeldvorming rond de nazi's werd ontworpen. Bij de massabijeenkomsten werd niets aan het toeval over gelaten.
De bruiklenen komen onder andere van het Deutsches Historisches Museum in Berlijn, het Münchner Stadtmuseum, het Haus der Kunst en het Institut für Zeitgeschichte in München, het Eyewitness Museum in Beek en het Nationaal Militair Museum in Soesterberg.
Bij de tentoonstelling is er een uitgebreid publieksprogramma, met activiteiten voor alle doelgroepen.
De tentoonstelling participeert in de herdenking 75 jaar vrijheid.
Design Museum Den Bosch presenteert
Design van het Derde Rijk
7 september 2019 t/m 19 januari 2020
Design Museum Den Bosch – De Mortel 4 – 5211 HV – 's-Hertogenbosch
# meer op website design museum: https://designmuseum.nl/
Design Museum Den Bosch:
Design van het Derde Rijk
• fleursdumal.nl magazine
More in: *War Poetry Archive, Art & Literature News, AUDIO, CINEMA, RADIO & TV, Design, Exhibition Archive, Holocaust, PRESS & PUBLISHING, REPRESSION OF WRITERS, JOURNALISTS & ARTISTS
---
Older Entries »
Thank you for reading FLEURSDUMAL.NL - magazine for art & literature