LITERARY NEWS & EVENTS – art & literature news, in memoriam, festivals, city-poets, writers in Residence
·
Maxime Rovere: Le clan Spinoza. Amsterdam, 1677. L'invention de la liberté
·
Reel Verse. Poems About the Movies. Edited by Michael Waters and Harold Schechter
·
Clemens J. Setz: Der Trost runder Dinge (Erzählungen)
·
Brabantse schrijver Jan Naaijkens (1919 – 2019) overleden
·
Majella Cullinane: Whisper of a Crow's Wing (Poetry)
·
Antoine de Latour : Notre-Dame de Paris (Poème)
·
Arcana. A Stephen Jonas Reader
·
Pol Kurucz: The Normals
·
Hera Lindsay Bird: Pamper Me to Hell & Back (Poetry)
·
Bas Kwakman: In poëzie en oorlog. Vijftig jaar Poetry International
·
One Hundred Lyrics and a Poem by Neil Tennant (Pet Shop Boys)
·
PARK: VAN HIERUIT – tentoonstelling
1677. Un groupe d'intellectuels publie à Amsterdam un livre intitulé Œuvres posthumes avec pour nom d'auteur : B.d.S.
Qui se cache derrière ces initiales? Bento de Spinoza, certes… mais pas seulement.
Son livre est le produit d'échanges palpitants entre les savants de toute l'Europe, de querelles entre les communautés juives et chrétiennes mal unies, d'amitiés éternelles et même d'amours déçues.
Cette fantaisie historique et philosophique, entièrement fondée sur les faits et les textes, transforme la biographie du philosophe Spinoza en un fascinant portrait d'hommes et de femmes épris de liberté, lancés dans l'aventure de la raison moderne.
Synthèse de décennies de recherches collectives, le roman de Maxime Rovere éclaire la naissance et les enjeux d'une philosophie qui n'en finit pas de nous aider à comprendre le monde, et nous avec lui.
Maxime Rovere
Le clan Spinoza
Amsterdam, 1677.
L'invention de la liberté
Littérature française
Libres Champs
560 pages
109 x 178 mm
Broché
Paru le 23/01/2019
EAN : 9782081422506
ISBN : 9782081422506
Prix : €10,00
# more books
Maxime Rovere
Le clan Spinoza
Littérature française
• fleursdumal.nl magazine
More in: - Book News, - Book Stories, Archive Q-R, Archive S-T, Art & Literature News, Spinoza
---
Reel Verse is a unique Pocket Poets anthology of a hundred years of poetic tributes to the silver screen, from the silent film era to the present.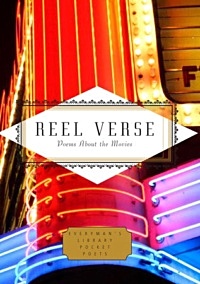 The variety of subjects is dazzling, from movie stars to bit players, from B-movies to Bollywood, from Clark Gable to Jean Cocteau.
More than a hundred poets riff on their movie memories: Langston Hughes and John Updike on the theaters of their youth, Jack Kerouac and Robert Lowell on Harpo Marx, Sharon Olds on Marilyn Monroe, Louise Erdrich on John Wayne, May Swenson on the James Bond films, Terrance Hayes on early Black cinema, Maxine Kumin on Casablanca, and Richard Wilbur on The Prisoner of Zenda. Orson Welles, Leni Riefenstahl, and Ingmar Bergman share the spotlight with Shirley Temple, King Kong, and Carmen Miranda; Bonnie and Clyde and Ridley Scott with Roshomon, Hitchcock, and Bresson.
In Reel Verse, one of our oldest art forms pays loving homage to one of our newest—the thrilling art of cinema.
POPCORN PALACES
Meena Alexander, "South India Cinema" – John Allman, "Loew's Triboro" – Robert Hayden, "Double Feature" – Robert Hershon, "1948: Saturdays" – Edward Hirsch, "The Skokie Theater" – Langston Hughes, "Movies" – Esther Lin, "Poem Ending in Antarctica" – Frank O'Hara, "Ave Maria" – Theodore Roethke, "Double Feature" – Jon Tribble, "Concessions" – John Updike, "Movie House" – Ellen Bryant Voigt, "At the Movies, Virginia, 1956"
FEATURE PRESENTATIONS
Amy Clampitt, "The Godfather Returns to Color TV" – Martha Collins, "Meanwhile" – Jane Cooper, "Seventeen Questions About King Kong" – Denise Duhamel, "An Unmarried Woman" – Amy Gerstler, "The Bride Goes Wild" – Allen Ginsberg, "The Blue Angel" – Juliana Gray, "Rope" – George Green, "Art Movies: The Agony and the Ecstasy" – Richard Howard, "King Kong (1933)" – Allison Joseph, "Imitation of Life" – Ron Koertge, "Aubade" – Maxine Kumin, "Casablanca" – Gerry LaFemina, "Variations on a Theme by Ridley Scott" – Laura McCullough, "Soliloquy with Honey: Time to Die" – John Murillo, "Enter the Dragon" – Stanley Plumly, "The Best Years of Our Life" – Anna Rabinowitz, "from Present Tense" – Philip Schultz, "Shane" – May Swenson, "The James Bond Movie" – Susan Terris, "Take Two: Bonnie & Clyde/Dashboard Scene" – Richard Wilbur, "The Prisoner of Zenda"
MORE STARS THAN IN HEAVEN
Frank Bidart, "Poem Ending with a Sentence by Heath Ledger" – Christopher Buckley, "For Ingrid Bergman," – Gerald Costanzo, "Fatty Arbuckle" – Marsha de la O, "Janet Leigh is Afraid of Jazz" – Louise Erdrich, "Dear John Wayne" – Sonia Greenfield, "Celebrity Stalking" – Patricia Spears Jones, "Hud" – Jack Kerouac, "To Harpo Marx" – David Lehman, "July 13 from The Daily Mirror" – Vachel Lindsay, "Mae Marsh, Motion Picture Actress" – Patricia Lockwood, "The Fake Tears of Shirley Temple" – Robert Lowell, "Harpo Marx" – Sharon Olds, "The Death of Marilyn Monroe" – William Pillin, "You, John Wayne" – Nicole Sealey, "An Apology for Trashing Magazines in Which You Appear" – William Jay Smith, "Old Movie Stars" – John Wain, "Villanelle for Harpo Marx" – John Wieners, "Garbos and Dietrichs"
B MOVIES & BIT PLAYERS
Angela Ball, "To Lon Chaney in The Unknown" – Gregory Djanikian, "Movie Extras" Cornelius Eady, "Sam" – Martín Espada, "The Death of Carmen Miranda" – Kenneth Fearing, "St. Agnes' Eve" – Edward Field, "Curse of the Cat Woman" – Richard Frost, "Horror Show" – Howard Moss, "Horror Movie" – Ogden Nash, "Viva Vamp, Vale Vamp" – Robert Polito, "Three Horse Operas" – Virgil Suarez, "Harry Dean Stanton is Dying" – David Trinidad, "Ode to Thelma Ritter" – William Trowbridge, "Elisha Cook, Jr." – Chase Twichell, "Bad Movies, Bad Audience" – Marcus Wicker, "Love Letter to Pam Grier"
AUTEURS
Paul Carroll, "Ode to Fellini on Interviewing Actors for a Forthcoming Film" – René Char, "Antonin Artaud" – Robert Creeley, "Bresson's Movies" – Robert Duncan, "Ingmar Bergman's Seventh Seal" – James Franco, "Editing" – Major Jackson, "After Riefenstahl" – Claudia Rankine, "from Don't Let Me Be Lonely" – Jean-Mark Sens, "In De Sica's Bicycle Thief" – Vijay Seshadri, "Script Meeting" – David St. John, "from The Face, XXXVI" – Timothy Steele, "Last Tango" – Gerald Stern, "Orson" – Michael Waters, "Blue Ankle" – David Yezzi, "Stalker"
FLASHBACKS
Kim Addonizio, "Scary Movies" – Elizabeth Alexander, "Early Cinema" – John Berryman, "Dream Song #9" – Ryan Black, "This is Cinerama" – Richard Brautigan, "Mrs. Myrtle Tate, Movie Projectionist" – Kurt Brown, "Silent Film, DVD" – Elena Karina Byrne, "Easy Rider" – Nicholas Christopher, "Atomic Field, 1972 #6" – Rita Dove, "Watching Last Year at Marienbad at Roger Haggerty's House in Auburn, Atlanta" – D. J. Enright,"A Grand Night" – Aniela Gregorek, "Cinema" – Joseph O. Legaspi, "At the Movies with My Mother" – Michael McFee, "My Mother and Clark Gable on the World's Most Famous Beach" – Mihaela Moscaliuc, "Watching Tess in Romania, 1986" – Paul Muldoon, "The Weepies" – Carol Muske-Dukes, "Unsent Letter 4" – Tom Sleigh, "Newsreel" – Elizabeth Spires, "Mutoscope" – Michael Paul Thomas, "Movies in Childhood" – David Wojahn, "Buddy Holly Watching Rebel Without a Cause"
REMAKES
Billy Collins, "The Movies" – Carol Ann Duffy, "Queen Kong" – Albert Goldbarth, "Survey: Frankenstein Under the Front Porch Light" – Kimiko Hahn, "The Continuity Script: Rashomon" – Bruce F. Kawin, "Old Frankenstein" – Glyn Maxwell, "Disney's Island" – Rajiv Mohabir, "Bollywood Confabulation" – Geoffrey O'Brien, "Voice Over" – Michael Ondaatje, "King Kong Meets Wallace Stevens" – Elise Paschen, "Red Lanterns" – Matthew Zapruder, "Frankenstein Love"
REEL LIFE
David Baker, "Violence" – Tom Clark, "Final Farewell" – Lucille Clifton, "Come Home from the Movies" – Hart Crane, "Chaplinesque" – Stephen Dunn, "At the Film Society" – Lynn Emanuel, "Blonde Bombshell" – Robert Hass, "Old Movie with the Sound Turned Off" – Terrance Hayes, "Variation on a Black Cinema Treasure: Broken Earth" – Marie Howe, "After the Movie" – Steven Huff, "Merton, Lax and My Father" – Ann Inoshita, "TV" – Weldon Kees, "Subtitle" – Haji Khavari, "Upon the Actor's Longing for the Alienation Effect" – John Lucas, "Hollywood Nights" – Donna Masini, "A Fable" – William Matthews, "A Serene Heart at the Movies" –  Eileen Myles, "Absolutely Earth" – Ishmael Reed, "Poison Light" – David Rigsbee, "Lincoln" – Muriel Rukeyser, "Movie" – Grace Schulman, "The Movie" – Gary Soto, "Hands" – George Yatchisin, "Single, Watching Fred and Ginger"
Reel Verse
Poems About the Movies
Edited by Michael Waters and Harold Schechter
Category: Poetry | Classics
Hardcover
256 Pages
Jan 22, 2019
Published by Everyman's Library
ISBN 9781101908037
$14.95
# more poetry
Reel Verse
Poems About the Movies
• fleursdumal.nl magazine
More in: #More Poetry Archives, - Book News, Art & Literature News, AUDIO, CINEMA, RADIO & TV
---
Ein elsässischer Soldat im Ersten Weltkrieg entdeckt am Nachthimmel das Sternbild des Großen Burschen, das so schauderhaft ist, dass er niemandem davon erzählen kann.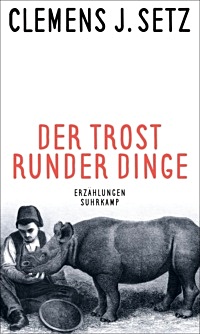 Ein junger Mann, der sich in die blinde Anja verliebt hat, muss feststellen, dass ihr Apartment von oben bis unten mit Beschimpfungen bekritzelt ist. Marcel, sechzehn Jahre alt, hinterlässt auf der Toilettenwand eines Erotiklokals seine Handynummer und den Namen Suzy.
Familie Scheuch bekommt eines Tages Besuch von einem Herrn Ulrichsdorfer, der vorgibt, in ihrem Haus aufgewachsen zu sein, und einen Elektroschocker unter seinem geliehenen Anzugjackett verbirgt.
Das ganz und gar Unerwartete bricht in das Leben von Clemens J. Setz' Figuren ein. Ihr Schöpfer erzählt davon einfühlsam, fast zärtlich. Durch Falltüren gestattet er uns Blicke auf rätselhafte Erscheinungen und in geheimnisvolle Abgründe des Alltags, man stößt auf Wiedergänger und auf Sätze, die einen mit der Zunge schnalzen lassen.
Der Trost runder Dinge ist ein Buch voller Irrlichter und doppelter Böden – radikal erzählt und aufregend bis ins Detail.
Clemens J. Setz wurde 1982 in Graz geboren, wo er Mathematik sowie Germanistik studierte und heute als Übersetzer und freier Schriftsteller lebt. 2011 wurde er für seinen Erzählband Die Liebe zur Zeit des Mahlstädter Kindes mit dem Preis der Leipziger Buchmesse ausgezeichnet. Sein Roman Indigo stand auf der Shortlist des Deutschen Buchpreises 2012 und wurde mit dem Literaturpreis des Kulturkreises der deutschen Wirtschaft 2013 ausgezeichnet. 2014 erschien sein erster Gedichtband Die Vogelstraußtrompete. Für seinen Roman Die Stunde zwischen Frau und Gitarre erhielt Setz den Wilhelm Raabe-Literaturpreis 2015.
Clemens J. Setz
Der Trost runder Dinge
Erzählungen
Erschienen: 11.02.2019
Gebunden
320 Seiten
ISBN: 978-3-518-42852-8
Suhrkamp Verlag AG
Mit Abbildungen
€ 24,00
# new books
Der Trost runder Dinge
Erzählungen
Clemens J. Setz
• fleursdumal.nl magazine
More in: #Short Stories Archive, - Book News, - Book Stories, Archive S-T, Art & Literature News, WAR & PEACE
---
Jan Naaijkens was bekend als schrijver van proza, toneel, gedichten en liedjes.
Daarnaast was hij een onderwijzer in hart en nieren. En niet te vergeten: radiopresentator, acteur, verzetsheld, én vader van 12 kinderen.
Jan Naaijkens heeft veel betekend voor de culturele emancipatie van Brabant in de periode na de Tweede Wereldoorlog.
Hij werd in februari 100 jaar oud. Op 17 april overleed Jan Naaijkens in zijn slaap.
Jan Naaijkens
(Hilvarenbeek, 10 februari 1919 – 17 april 2019)
# Meer over Jan Naaijkens in fleursdumal.nl magazine via deze link
# Link Jan Naaijkens op Wikipedia
• fleursdumal.nl magazine
More in: - Book Stories, Archive M-N, Archive M-N, Art & Literature News, AUDIO, CINEMA, RADIO & TV, Brabantia Nostra, FDM Art Gallery, In Memoriam, Jan Naaijkens, THEATRE
---
Originally from Limerick, Ireland, Majella Cullinane has lived in New Zealand since 2008.
With an MLitt in Creative Writing from St. Andrew's University, Scotland, in 2011, she published her first poetry collection, Guarding The Flame, with Salmon Poetry.

Her poems and short stories have been published in Ireland, the UK and New Zealand.
In 2014 she was awarded the Robert Burns Fellowship at Otago University, and in 2017 was the Sir James Wallace Trust/Otago University Writer in Residence at the Pah Homestead in Auckland.
She won the 2017 Caselberg International Prize for Poetry, and has been shortlisted for the Strokestown and Bridport International Poetry Prizes.
Better to consider
the small shapes in the gorgeous chaos of the world:
a snowflake flitting through the air,
swathes of blue and orange entangling the sky in their warm shawl,
glances to be tucked away like stones run smooth by rivers,
the shadows of our hands like wings, playing with the light.
Whisper of a Crow's Wing
Author: Majella Cullinane
Language: English
Poetry
Paperback
100 pages
ISBN: 9781912561360
Publisher: Salmon Publishing
1 Dec. 2018
£10.00
# more poetry
Majella Cullinane
Whisper of a Crow's Wing
• fleursdumal.nl magazine
More in: - Book News, Archive C-D, Archive C-D, Art & Literature News, Department of Ravens & Crows
---
La cathédrale Notre-Dame ravagée par les flammes
Le feu a pris dans les combles du monument le plus visité d'Europe un peu avant 19 heures.
Le Monde, 15 Avril 2019 à 19h50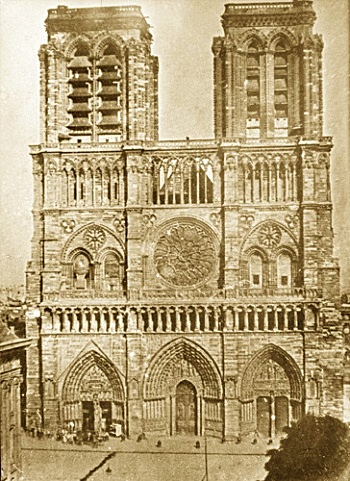 Notre-Dame de Paris
Ce poème vivant, seconde Notre-Dame,
Qui doit se voir encore debout à l'horizon,
Quand l'autre qui l'inspire et dont il prend le nom,
Aura dans la poussière exhalé sa grande âme ;
Ce colosse qu'un soir de son rêve de flamme
L'artiste a vu sortir, fait d'or et de limon,
Ce chant aux mille échos, où l'ange et le démon
Mêlent le cri du tigre au soupir de la femme ;
Ce livre de l'enfer et du ciel, le voici :
Lisez, mais si vers vous un pauvre enfant transi
Tend la main pour sa sœur qui danse sur la place,
Donnez, ne comptez pas, c'est Dieu qui comptera ;
Donnez, que votre cœur, en voyant l'humble tasse,
Se rappelle toujours la brune Esméralda.
Antoine de Latour
(1808-1881)
Poème: Notre-Dame de Paris (1835)
• fleursdumal.nl magazine
More in: #More Poetry Archives, Archive K-L, CATHEDRALS, FDM in Paris, The talk of the town
---
Arcana: A Stephen Jonas Reader is the first selection of his work to appear in 25 years.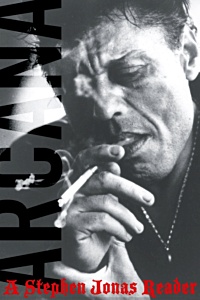 With a biographical introduction and a postscript delving into recent discoveries concerning the poet's birthplace and background, Arcana is a crucial corrective to our understanding of post-war American poetry, restoring Jonas to his rightful place among the period's vanguard.

Featuring previously uncollected and unpublished work, a section of never-before-seen facsimiles from notebooks, and a generous selection from his innovative serial poem Exercises for Ear (1968), Arcana is a much-needed retrieval of an overlooked American poet, as well as a valuable contribution to African American and Queer literature.
Beginning in the 1950s until his untimely death at age 49, Stephen Jonas (1921-1970) was an influential if underground figure of the New American Poetry. A gay, African-American poet of self-obscured origins, heavily influenced by Ezra Pound and Charles Olson, the Boston-based Jonas was a pioneer of the serial poem and an erudite mentor to such acknowledged masters as Jack Spicer and John Wieners, even as he lived a shadowy existence among drug addicts, thieves, and hustlers.

Major publications include Love, the Poem, the Sea & Other Pieces Examined by Me (1957), Exerces for Ear (1968), and Selected Poems (1994).
"A true poet of modern classic culture in mid-twentieth century U.S.A."—Allen Ginsberg
Title: Arcana
Subtitle: A Stephen Jonas Reader
Author: Stephen Jonas
Edited by Garrett Caples, Derek Fenner, David Rich, Joseph Torra
Introduction by Joseph Torra
Afterword by David Rich
Publisher: City Lights Publishers
African American poetry
Format Paperback
ISBN-10 0872867919
ISBN-13 9780872867918
Publication Date: 16 April 2019
Main content page count 264
List Price $21.95
# new books
Arcana
A Stephen Jonas Reader
• fleursdumal.nl magazine
More in: - Book News, Archive I-J, Archive I-J, Art & Literature News
---
Pol Kurucz: The Normals
The Normals is a heteroclit family of excentric women going abot their lives, free, challenging aesthetic, gender and social norms.
Pol Kurucz was born with two different names to a French mother in a Hungarian hospital. His childhood hyperactivity was treated with theater, and theater was later treated with finance. By 27 he was a manager by day and a stage director by night. He then went on consecutive journeys to Bahrain and Brazil, to corporate islands and favelas. He has sailed on the shores of the adult industry and of militant feminism and launched a mainstream money making bar loss making in its indie art basement. Then he suddenly died of absurdity. Pol was reborn in 2015 and merged his two names and his contradictory lives into one where absurdity makes sense.
Today he works on eccentric fashion, celebrity and fine art projects in São Paulo and New York. His photos have been featured in over a hundred publications including: Vogue, ELLE, Glamour, Marie Claire, The Guardian, Dazed, Adobe Create, Hunger, Sleek, Nylon, Hi-Fructose, Galore. Pol's works were exhibited worldwide in 72 galleries and cultural events in 2018 including: Juxtapoz Club House (Art Basel Miami), ArtExpo NYC, Red Dot Miami, Lincoln Center NYC, Shanghai Fashion Week, New York Fashion Week, Superchief Gallery Miami, Lumas Galleries worldwide, Democrart Galleries in Brazil and Pica Photo shows in China.
# more on website pol kurucz: www.polkurucz.com
   (the normals: www.polkurucz.com/normals)
• fleursdumal.nl magazine
More in: Art & Literature News, FDM Art Gallery, Photography, Pol Kurucz, Surrealisme, THEATRE
---
Love, death, Bruce Willis, public urination, being a woman, love, The Nanny, love.

This pamphlet of poetry by Hera Lindsay Bird is a startling departure from her bestselling debut Hera Lindsay Bird by defying convention and remaining exactly the same, only worse. This collection, which focuses on love, childish behaviours, 90's celebrity references and being a woman, is sure to confirm all your worst suspicions and prejudices.
Selected in 2018 by Carol Ann Duffy as part of the Laureate's Choice Collection.  Carol Ann Duffy: "Without doubt the most arresting and original new young poet – on page and in performance – to arrive." 
Hera Lindsay Bird was born in Thames, NZ, in 1987 and lives in Wellington. Her debut book of verse, blithely titled Hera Lindsay Bird, was published in 2016 to immediate and vast acclaim, and won best first book of poetry at the 2017 Ockham New Zealand Book Awards.
Pamper Me to Hell & Back
Author: Hera Lindsay Bird
Published by Smith/Doorstop
(The Poetry Business)
Language: English
ISBN-10: 1910367842
ISBN-13: 978-1910367841
Paperback
30 pages
2018
£7.50
# new poetry
Hera Lindsay Bird
Pamper Me to Hell & Back
• fleursdumal.nl magazine
More in: - Book News, - Bookstores, Archive A-B, Archive A-B, Art & Literature News
---
In In poëzie en oorlog onthult directeur Bas Kwakman van Poetry International op verrassende en soms ontluisterende wijze de wereld van de poëzie.

Daarbij ontziet de schrijver niets en niemand, ook zichzelf niet. In poëzie en oorlog is alles geoorloofd.
Leidraad is de geschiedenis van het Poetry International Festival in Rotterdam, dat in 1970 in anarchie werd geboren en inmiddels wereldwijd een van de belangrijkste ontmoetingsplaatsen voor dichters en poëzieliefhebbers is geworden.
Gedreven door de liefde voor poëzie en een gezonde argwaan jegens het menselijke bedrijf daarachter beschrijft Kwakman met warmte, humor, kennis en verbazing zijn unieke ervaringen in de bijzondere wereld tussen de versregels.
Auteur: Bas Kwakman
In poëzie en oorlog.
Vijftig jaar Poetry International
Uitgeverij: De Arbeiderspers
NUR: 320
Paperback
ISBN: 9789029525602
Taal: Nederlands
Bladzijden: 400 pp.
Paperback
Literaire non-fictie
Prijs: € 24,99
Publicatiedatum: 21-05-2019
# new books
In poëzie en oorlog.
Vijftig jaar Poetry International
Bas Kwakman
• fleursdumal.nl magazine
More in: #More Poetry Archives, - Book Lovers, - Book News, Archive K-L, Art & Literature News, MODERN POETRY, Poetry International
---
Over a career that spans four decades and thirteen studio albums with Pet Shop Boys, Neil Tennant has consistently proved himself to be one of the most elegant and stylish of contemporary lyricists.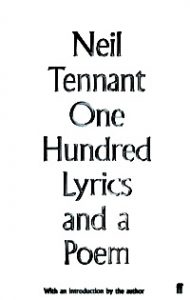 Arranged alphabetically, One Hundred Lyrics and a Poem presents an overview of his considerable achievement as a chronicler of modern life: the romance, the break-ups, the aspirations, the changing attitudes, the history, the politics, the pain.
The landscape of Tennant's lyrics is recognisably British in character – restrained and preoccupied with the mundane, occasionally satirical, yet also yearning for escape and theatrical release.
Often surprisingly revealing, this volume is contextualised by a personal commentary on each lyric and an introduction by the author which gives a fascinating insight into the process and genesis of writing.
Flamboyant, understated, celebratory and elegiac, Neil Tennant's lyrics are a document of our times.
Everything I've ever done
Everything I ever do
Every place I've ever been
Everywhere I'm going to
One Hundred Lyrics and a Poem
Neil Tennant
Hardback
272 pages
English
Poetry
Published 01/11/2018
ISBN13 9780571348909
Publisher Faber & Faber Inc.
18,99 euro
# new books
One Hundred Lyrics and a Poem
Neil Tennant
• fleursdumal.nl magazine
More in: Archive S-T, Archive S-T, Art & Literature News, AUDIO, CINEMA, RADIO & TV, Pet Shop Boys
---
In Van Hieruit toont PARK het werk van negen in Tilburg woonachtige en werkzame kunstenaars. Met deze expositie wil PARK recht doen aan de gedachte Tilburg, stad van makers.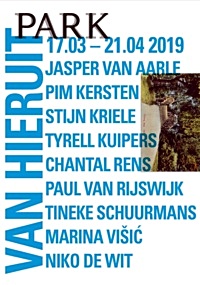 Al vele decennia is de stad rijk gevuld met generaties kunstenaars werkend in verschillende disciplines en expressievormen. In Van Hieruit wordt deze veelzijdigheid omarmd.
PARK handelt vanuit een typisch-Tilburgse makers mentaliteit. Ondanks bezuinigingen lijkt de stad zich hard te blijven maken voor de kunsten. En dat is belangrijk, want kunst heeft het zwaar te verduren. Ze moet functioneel toepasbaar zijn, betrokken zijn met de maatschappij – maar hier niet te aanstootgevend in zijn -, ze moet verbinden, economisch rendabel zijn en ook nog eens aantrekkelijk.
PARK biedt graag ruimte en tijd voor experiment. In deze tentoonstelling concentreert PARK zich op uiteenlopende perspectieven en diverse beroepspraktijken, om te openen in plaats van te vernauwen. Van Hieruit is een groepstentoonstelling gewijd aan nog niet eerder bij PARK getoond Tilburgs talent. De tentoonstelling laat als context een grote diversiteit in werk, leeftijd en media zien en beoogt het gesprek aan te gaan over de waarde van uiteenlopende zienswijzen, mentaliteiten en werkpraktijken. Van hieruit de wereld in.
VAN HIERUIT
tentoonstelling
17.03 2019 – 21.04 2019
Jasper van Aarle
Pim Kersten
Stijn Kriele
Tyrell Kuipers
Chantal Rens
Paul van Rijswijk
Tineke Schuurmans
Marina Višić
Niko de Wit
De opening op zaterdag 16 maart om 16.00 uur wordt verricht door wethouder van cultuur Marcelle Hendrickx. U bent van harte uitgenodigd.
PARK – Wilhelminapark 53 – 5041 ED Tilburg
Tijdens de tentoonstelling geopend:

vrijdag van 13.00 tot 17.00 uur

zaterdag van 13.00 tot 17.00 uur

zondag van 13.00 tot 17.00 uur

toegang is gratis
# meer informatie op website PARK
# Exposition
PARK
Platform for visual arts
Jasper van Aarle – Pim Kersten – Stijn Kriele – Tyrell Kuipers – Chantal Rens – Paul van Rijswijk – Tineke Schuurmans – Marina Višić – Niko de Wit
• fleursdumal.nl magazine
More in: Art & Literature News, Exhibition Archive, FDM Art Gallery, Linda Arts, Park
---
Older Entries »
Thank you for reading FLEURSDUMAL.NL - magazine for art & literature