LITERARY NEWS & EVENTS – art & literature news, in memoriam, festivals, city-poets, writers in Residence
·
Stedelijk Museum Breda – Tentoonstelling Pieter Laurens Mol: Nachtvlucht. Een ode aan de duisternis
·
Brigitte Giraud: Vivre vite
·
15 years fleursdumal.nl – magazine for art & literature
·
Vincent Berquez: Always the coolest of doorway
·
Nanni Balestrini & Primo Moroni: The Golden Horde. Revolutionary Italy, 1960–1977
·
Herta Müller: Father's on the Phone with the Flies. A Selection
·
Meet the author: Vincent Berquez
·
An evening of poetry and art in London with celebrated artist and author Vincent Berquez
·
Ernest Potters (1953-2022): fotograaf en artistiek gangmaker
·
Red, novel by Felicity McLean
·
Joseph Roth: Rot und Weiß. Wanderer zwischen den Städten
·
Eva van Manen: Hoe zijn we hier gekomen?
Speels, poëtisch en gelaagd. Zo valt het oeuvre te omschrijven van de in Breda geboren kunstenaar Pieter Laurens Mol. De tentoonstelling Nachtvlucht laat een selectie van zijn werk zien vanaf 1965 tot nu.
Voor het eerst in 30 jaar is zo'n groot aantal werken van deze internationaal gerenommeerd kunstenaar tegelijkertijd in één tentoonstelling te zien. Het thema van de tentoonstelling Nachtvlucht is de kleur zwart en de uiteenlopende betekenissen van de duisternis.
Een zonsondergang geschilderd met explosieve ingrediënten als salpeter en zwavel. In het werk The Black Sun Sets komt de agressieve kant van het duister naar voren. Maar bij beeldend kunstenaar Pieter Laurens Mol (1946, Breda) staan de kleur zwart en het duister voor veel meer dan alleen vernietiging en dood.
Al sinds zijn jeugd is hij gefascineerd door de symbolische en de wetenschappelijke betekenissen van duisternis, zoals deze bijvoorbeeld terugkomen in de melancholie of astronomie. Zwarte gaten koppelt hij aan de zwaarmoedige lading van de Spaanse woorden confusión en pesimismo. De 'o's' op de teksttekening Studie Voor Zwarte Gaten zijn uitgesneden. De zwaartekracht van de begrippen is zó groot dat de 'o's in een zwart gat weggezogen worden. Het werk toont de uitgesproken poëtische en lyrische kant van Mols kunst.
Nachtvlucht is ingedeeld in zes thematische ensembles met namen als Nachtbraker, Hellevaart en Stille Smart. In de tentoonstelling word je meegenomen in zowel de destructie als de schoonheid van het duister. Het laatste ensemble, getiteld Geboorte van de Kleur, gaat over de hergeboorte die op het donker volgt.
Voor het werk The Total Amount vult Mol tientallen bakjes met pure pigmenten: 'Om je ogen te planten in dit zuivere poeder uit de natuur voelt als een omarming, een prachtig intieme en intense ervaring.' Hoog boven de kleurenbakjes hangt een fotonegatief van de kunstenaar zelf aan de muur. Hulpeloos bungelend aan een kraanwerker kan de eenzame schilder zo in één blik al het prachtige materiaal overzien dat tot zijn beschikking staat. Het idee dat hij schoonheid geboren kan laten worden zodra hij er mee aan de slag gaat vormt een hoopvolle gedachte.
Voor Mol zelf is het een tekenend werk uit de tentoonstelling. Hij onderzoekt op welke wijze de mens onderdeel is van een groter geheel en hoe hij zich daartoe kan verhouden.
Naast astronomie laat Mol zich inspireren door alchemie, natuurwetenschappen, mythologie, vaderlandse geschiedenis en oude kunst. Hierover zegt hij: 'Een oud Egyptisch beeld kan dezelfde emotie oproepen als een stuk dat enkele minuten geleden is gemaakt. De enige echte tijd is het nu en ik breng er dingen uit het verleden en de toekomst naartoe.'
Net zo veelzijdig als zijn bronnen zijn de vormen waarin hij zich uitdrukt. Dat kunnen installaties, sculpturen of objecten zijn. Maar ook fotowerken, schilderijen, tekeningen en grafiek behoren tot de soms nooit eerder tentoongestelde werken.
Mol start zijn carrière in zijn geboorteplaats Breda. Van daaruit groeit hij uit tot een van de meest vooraanstaande kunstenaars van zijn generatie. Als een van de weinigen van zijn leeftijdsgenoten maakt hij de stap naar het buitenland.
De afgelopen vijftig jaar is zijn werk tentoongesteld bij toonaangevende instellingen wereldwijd, zoals het Van Abbemuseum in Eindhoven, de Kunsthalle Basel, Centre d'Art Contemporain Genève, Neue Nationalgalerie in Berlijn, Contemporary Arts Museum Houston, Museum of Modern Art in New York en Heide Museum of Modern Art in Melbourne.
Daarnaast is Mols werk opgenomen in diverse publieke- en privécollecties.
Voor Mol zijn de geschiedenis van Noord-Brabant en kunstenaars afkomstig uit deze regio een bron van inspiratie. De stad is, zeker in de beginperiode van zijn kunstenaarschap, een inspiratiebron.
Tijdens de tentoonstellingsperiode van Nachtvlucht wordt deze verbinding met de stad benadrukt. Zo wordt in de Grote Kerk Breda werk van hem getoond waarin de kerk een prominente rol heeft. Gelijktijdig met Nachtvlucht is er een tentoonstelling in de stad te bezoeken die in samenwerking met Stichting KOP ontwikkeld is en waarvoor vier jonge kunstenaars zijn uitgenodigd nieuw werk te maken voor de publieke ruimte dat geïnspireerd is op het oeuvre van Mol en de thematiek van Nachtvlucht.
Stedelijk Museum Breda
t/m 13 nov 2022
Pieter Laurens Mol – Nachtvlucht
Een ode aan de duisternis
Tentoonstelling
Stedelijk Museum Breda
Boschstraat 22
4811 GH Breda
076 529 9900
info@stedelijkmuseumbreda.nl
Pieter Laurens Mol
Nachtvlucht
W-Books
Speciaal voor de tentoonstelling Pieter Laurens Mol – Nachtvlucht, verschijnt de gelijknamige publicatie Nachtvlucht. In de publicatie wordt de lezer aan de hand van de uiteenlopende betekenissen van het duister en de kleur zwart meegenomen door het oeuvre van Pieter Laurens Mol. Zes thematische opgezette hoofdstukken belichten elk een deelgebied van deze thematiek in zijn werk, waarbij een ruime selectie beeldmateriaal een goed beeld geeft van zijn werk uit de jaren zestig tot nu.
Pieter Laurens Mol
Nachtvlucht
W-Books
Formaat 17 x 24 cm
Aantal pagina's 192
In samenwerking met Stedelijk Museum Breda
Illustraties: Circa 100 afbeeldingen in kleur en zwartwit
ISBN 978 94 625 8491 4
Jaar 2022
Taal Nederlands
Uitvoering Gebonden
24,95 euro

• fleursdumal.nl magazine
More in: - Book News, Archive M-N, Art & Literature News, AUDIO, CINEMA, RADIO & TV, Dutch Landscapes, Exhibition Archive, Pieter Laurens Mol
---
« J'ai été aimantée par cette double mission impossible. Acheter la maison et retrouver les armes cachées. C'était inespéré et je n'ai pas flairé l'engrenage qui allait faire basculer notre existence. Parce que la maison est au coeur de ce qui a provoqué l'accident. »
En un récit tendu qui agit comme un véritable compte à rebours, Brigitte Giraud tente de comprendre ce qui a conduit à l'accident de moto qui a coûté la vie à son mari le 22 juin 1999. Vingt ans après, elle fait pour ainsi dire le tour du propriétaire et sonde une dernière fois les questions restées sans réponse.
Hasard, destin, coïncidences? Elle revient sur ces journées qui s'étaient emballées en une suite de dérèglements imprévisibles jusqu'à produire l'inéluctable. À ce point électrisé par la perspective du déménagement, à ce point pressé de commencer les travaux de rénovation, le couple en avait oublié que vivre était dangereux.
Brigitte Giraud mène l'enquête et met en scène la vie de Claude, et la leur, miraculeusement ranimées.
Brigitte Giraud est l'autrice de dix romans parmi lesquels À présent (Stock mention spéciale du prix Wepler 2001), L'amour est très surestimé (Stock bourse Goncourt de la nouvelle 2007), Une année étrangère (Stock prix Jean-Giono 2009), Un loup pour l'homme et Jour de courage (Flammarion 2017 et 2019).
Vivre vite
par Brigitte Giraud
Paru le 24/08/2022
Genre : Littérature française
Flammarion
208 pages
138 x 208 mm
Broché
EAN : 9782080207340
ISBN : 9782080207340
€ 20,00
•  •  •

Maison de la Poésie Paris
28 septembre 2022
BRIGITTE GIRAUD – VIVRE VITE
Rencontre animée par Sylvie Tanette
« Si je n'avais pas voulu vendre l'appartement. » « Si je ne m'étais pas entêtée à visiter cette maison. » « Si mon frère n'y avait pas garé sa moto pendant sa semaine de vacances. » « S'il avait plu. » Voici quelques-unes des questions qui hantent ce récit remuant. Vingt ans après, Brigitte Giraud tente de comprendre ce qui a conduit à l'accident de moto qui a coûté la vie à son mari. Hasard, destin, coïncidences ? En tout cas, une suite de dérèglements imprévisibles qui se solde par une tragédie : « Nous avions oublié que vivre était dangereux. » Un livre marquant.
À lire – Brigitte Giraud, Vivre vite, Flammarion, 2022.
Maison de la Poésie
Passage Moliėre
157, rue Saint-Martin – 75003 Paris
M ° Rambuteau – RER Les Halles
Mercredi 28 septembre 2022 – 21H00
tarif : 6 €
• fleursdumal.nl magazine
More in: - Book News, - Bookstores, Archive G-H, Maison de la Poésie
---
2007 – 2022 • fleursdumal.nl • 15 years
magazine for art & literature
More in: Art & Literature News, PRESS & PUBLISHING, The talk of the town
---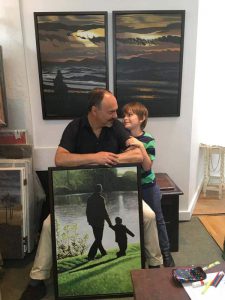 Always the coolest of doorway
It wasn't necessarily the best of times
or the best of me, the best of wines
or the best of you, the warmest of nights,
the brightest of moon, the nicest of streets,
the trendiest of bars in the smart part of town.
We didn't have the cleverest of talks,
sit at the best of tables, with the cleanest of napkins.
My pockets weren't the fullest, as the moths attested.
I wasn't at my wealthiest, or my smartest,
or wearing the shiniest shoes with the strongest of laces,
chewing with the whitest of teeth in the kindest of moods.
We certainly weren't coy about our agenda that night.
It wasn't as if I didn't know you or I didn't want you,
or I wouldn't try or hadn't had; I wanted what I wanted
and slowly the alcohol took hold and awoke the desiring,
and you could've imagined a better seduction,
as the night could've been the dullest ever
without wanting to or trying the making of love to you.
But wasn't the moon the fullest, and weren't we the closest,
didn't we feel the passion and violence of the kissing, the biting,
struggling in a moment of an explosive erotic experience.
Didn't we search for privacy in the dirty streets that night?
Weren't we two bellyfuls of red wine in the emptying city,
swaggering and swollen, swaying in a London doorway,
hidden from the pace of hectic pedestrians.
Hadn't we become the most romantic of couples
in our boozy, breathy pairing, as we locked tight together
and vanished completely in a haze of shaky memories that night.
Vincent Berquez
Always the coolest of doorway
• fleursdumal.nl magazine
Photo: VB – The artist and his son
More in: Archive A-B, Archive A-B, Art & Literature News, Berquez, Vincent, Vincent Berquez
---
The Golden Horde is a definitive work on the Italian revolutionary movements of the 1960s and '70s.
An anthology of texts and fragments woven together with an original commentary, the volume widens our understanding of the full complexity and richness of this period of radical thought and practice.
The book covers the generational turbulence of Italy's postwar period, the transformations of Italian capitalism, the new analyses by worker-focused intellectuals, the student movement of 1968, the Hot Autumn of 1969, the extra-parliamentary groups of the early 1970s, the Red Brigades, the formation of a radical women's movement, the development of Autonomia, and the build-up to the watershed moment of the spontaneous political movement of 1977.
Far from being merely a handbook of political history, The Golden Horde also sheds light on two decades of Italian culture, including the newspapers, songs, journals, festivals, comics, and philosophy that these movements produced.
The book features writings by Sergio Bologna, Umberto Eco, Elvio Fachinelli, Lea Melandri, Danilo Montaldi, Toni Negri, Raniero Panzieri, Franco Piperno, Rossana Rossanda, Paolo Virno, and others, as well as an in-depth introduction by translator Richard Braude outlining the work's composition and development.
Nanni Balestrini (1935–2019) was an Italian poet, experimental writer, visual artist and founding member of both the avant-garde Gruppo '63 and the revolutionary organization Potere Operio.
Primo Moroni (1936–1998) was an Italian writer, activist and archivist. Founder of the Calusca bookshop in Milan, for decades he was a point of reference for radical movements and subcultures across Italy.
Richard Braude lives in Palermo, Italy. His translations include works by Nanni Balestrini, Mariarosa Dalla Costa, Antonio Negri and Rossana Rossanda.
The Golden Horde
Revolutionary Italy, 1960–1977
by Nanni Balestrini and Primo Moroni
Translated by Richard Braude
ISBN: 9780857427465
Pages: 690
Publication Year: May 2021
Size: 6″ x 9″
Format: Hardback
Publisher: Seagull Books
£35
• fleursdumal.nl magazine
More in: #Editors Choice Archiv, #Modern Poetry Archive, - Book News, Archive A-B, Archive M-N, Art & Literature News
---
To create the poems in this collection, Nobel Prize–winner Herta Müller cut up countless newspapers and magazines in search of striking phrases, words, or even fragments of words, which she then arranged in a the form of a collage.
Father's on the Phone with the Flies presents 73 of Müller's collage poems for the first time in English translation, alongside full-colour reproductions of the originals.
Müller takes full advantage of the collage form, generating poems rich in wordplay, ambiguity and startling, surreal metaphors—the disruption and dislocation at their core rendered visible through stark contrasts in colour, font and type size.
Liberating words from conformity and coercion, Müller renders them fresh and invests them forcefully with personal experience.
Herta Müller was born in a German-speaking community in western Romania in 1953. She published her first collection of short stories in 1982. In 1987, she left Romania for West Berlin, where she continued to write and publish. She has been awarded numerous prizes, including the 2009 Nobel Prize for Literature.
Herta Müller
Father's on the Phone with the Flies
A Selection
Translated by Thomas Cooper
ISBN: 9781803090450
Pages: 200 pages
73 colour plates
Publication Year: 2022
Format: Paperback
Size: 5 x 8
Rights: UCP
Series: The Seagull Library of German Literature
Category: Poetry
£11.99
• fleursdumal.nl magazine
More in: #Editors Choice Archiv, *Concrete + Visual Poetry P-T, - Book News, Archive M-N, Archive M-N, Awards & Prizes
---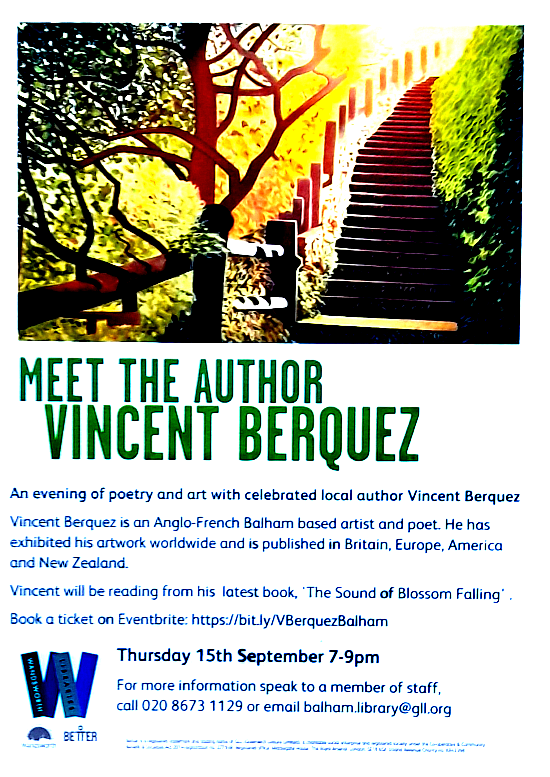 More in: Archive A-B, Berquez, Vincent, Literary Events, Vincent Berquez
---
An evening of poetry and art with celebrated local author Vincent Berquez.
Vincent Berquez is an Anglo-French Balham based artist and poet. He has exhibited his artwork worldwide and is published in Britain, Europe, America and New Zealand.
Vincent will be reading from his latest book, 'The Sound of Blossom Falling'.
Thu, 15 September 2022
19:00 – 21:00 BST
Location
Balham Library
16 Ramsden Road
London
SW12 8QY
United Kingdom
more information on website:
https://allevents.in/london/meet-author-and-artist-vincent-berquez/10000394228948397
• fleursdumal.nl magazine
More in: #Editors Choice Archiv, - Book Lovers, Archive A-B, Archive A-B, Berquez, Vincent, FDM in London, Literary Events, Vincent Berquez
---
Ernest Potters tijdens zijn eerste solo-tentoonstelling sinds lang, in Luycks Gallery, 2012. (Foto: Joep Eijkens)
Ernest Potters timmerde niet alleen als fotograaf aan de weg, maar was ook jarenlang drijvende kracht en organisator van tal van activiteiten in de Tilburgse kunstwereld. Op 10 augustus 2022 overleed hij na een kort ziekbed.
door Joep Eijkens
Ernest Potters werd in 1953 te Tilburg geboren als zoon van de bekende pottenbakkers Henk en Lies Potters. Hij volgde zijn opleiding aan St. Joost Breda en was sinds 1974 werkzaam als fotograaf/fotojournalist. Vanaf de jaren zeventig werkte hij als freelance fotograaf onder meer voor muziekbladen als OOR en Hitkrant, voor het maandblad Jazz Nu en diverse landelijke dag- en weekbladen. Maar ook voor uiteenlopende (kunst)instellingen en andere opdrachtgevers in Tilburg en daarbuiten, waaronder diverse muziek-, dans- en theatergezelschappen.
Potters fotografeerde talloze theater- en dansvoorstellingen. Tot zijn favoriete onderwerpen hoorden architectuur en muzikanten. Wat dat laatste betreft was hij apetrots op een portret dat hij schoot van zijn idool Frank Zappa.
Ruimte X
Maar Potters was beslist méér dan fotograaf. Zo stichtte hij in 1980 met zijn toenmalige levenspartner, danseres Nora van den Eeckhout, Het Danshuis, gevestigd in de Telexstraat in Tilburg. Het betreffende pand werd later onder de naam Ruimte-X een bekend 'multidisciplinair kunstenpodium' waar tussen 1998 en 2012 talloze exposities, voorstellingen en culturele bijeenkomsten plaatsvonden. Potters hoorde bovendien tot degenen die aan de wieg stonden van de succesvolle Werkplaats L'Avventura Tilburg.
Ook kreeg Ernst Potters naam door de kunstexposities die hij elders in de stad organiseerde tijdens de Tilburgse kermis. En door de in literatuur, beeldende kunst, theater en muziek gespecialiseerde uitgeverij teleXpress die hij runde met zijn partner Ingrid Luycks. De producten waren steeds mooi verzorgde publicaties. Zijn eerste foto-expositie had hij in 1976 in het cultureel centrum Boerderij Denissen in Berkel-Enschot. Daarna volgden exposities in binnen- en buitenland.
Qua Vadis
In 2012 sloot Ruimte X de deuren en concentreerde Ernest Potters zich weer meer op zijn werk als fotograaf. Het was in de galerie van Luycks dat hij in datzelfde jaar voor het eerst sinds lange tijd weer solo eigen fotografisch werk exposeerde onder de titel Quo Vadis. Diverse solo- en duo-exposities volgden daarna, eveneens in Luycks Gallery.
Potters timmerde de afgelopen jaren sowieso steviger aan de weg als fotograaf. Zo begon hij eind 2020 op Instagram met een soort dagboek in foto's van dingen en plekken die hij onderweg tegenkwam. Al dan niet alledaagse voorwerpen en plekken waaraan vrijwel niemand aandacht schenkt: van een weggegooid bierblikje op een hoop straatstenen tot een abstract detail van een stukje architectuur. Alsof hij wilde zeggen dat schoonheid ook op straat is te vinden, als je er maar oog voor hebt.
Ernest Potters maakte ook, en regelmatig in samenwerking met anderen, diverse fotoboeken zoals Hoog-Gaat-Ie. Fotoboek van de Tilburgse kermis met Paul Spapens en Lauran Wijffels, en vorig jaar nog Het nieuwe ritme van Tilburg. Dat was een coproductie met de eveneens Tilburgse fotograaf Wil van Dusseldorp over de metamorfose die de voormalige textielstad onderging sinds de jaren zestig. Potters nam daarin vooral het afgelopen decennium voor zijn rekening, met kleurenfoto's die hij speciaal voor dit boek maakte. Het werd uitgegeven door stichting De NWE Stijl, waarin Ingrid Luycks één van de drijvende krachten is. Potters was ook de bedenker van tal van opmerkelijke boekconcepten en uitgaven, waaronder De Kanonbal. Requiem voor een wielrenner en dichtbundels van diverse Tilburgse stadsdichters.
Om ideeën zat Ernest Potters nooit verlegen en hij was ook altijd bereid ideeën van anderen de ruimte geven, vaak letterlijk in Ruimte X. Zijn betrokkenheid bij Tilburg was groot en hij zal in die stad worden gemist, maar zijn wereld was eindeloos veel groter dan stad of provincie.
Eerder gepubliceerd in: Brabant Cultureel. Digitaal podium voor kunst en cultuur
© Joep Eijkens, 11 augustus 2022
https://www.brabantcultureel.nl/
•fleursdumal.nl magazine
More in: #Biography Archives, Archive O-P, AUDIO, CINEMA, RADIO & TV, DANCE & PERFORMANCE, In Memoriam, Joep Eijkens, Photography
---
From award-winning writer and journalist Felicity McLean comes Red, a spirited and striking contemporary retelling of the Ned Kelly story
It's the early 1990s and Ruby 'Red' McCoy dreams about one day leaving her weatherboard house on the Central Coast of New South Wales, where her best friend, Stevie, is loose with the truth, and her dad, Sid, is always on the wrong side of the law.
But wild, whip-smart Red can't stay out of trouble to save her life, and Sid's latest hustle is more harebrained than usual.
Meanwhile, Sergeant Trevor Healy seems to have a vendetta against every generation of the McCoys.
Told in Ruby's vivid, inimitable voice, Red is part True Grit, part Blue Murder. It's a story of police persecution. Of dodgy deals and even dodgier cars.
And of a family history that refuses to stay in the past. A sharp, provocative and savagely funny novel.
Felicity McLean's debut novel, The Van Apfel Girls are Gone, has been published in more than half a dozen countries. It was a Barnes & Noble 'Discover Great New Writers' pick in the US, and was shortlisted for the Indie Book Awards, and longlisted for the UK's Dagger Awards, and the Davitt. Her book, Body Lengths, co-written with Olympian Leisel Jones, was Apple Books 'Best Biography of 2015' and won the 2016 Australian Book Industry Awards 'Reader's Choice' for Small Publisher Adult Book of the Year.
# new book
Red
by Felicity McLean
Novel
Format: Paperback
Language: English
Number Of Pages: 256
Published: 18th May 2022
Publisher: HarperCollins Publishers
ISBN: 9781460755099
ISBN-10: 146075509X
$21.22
• fleursdumal.nl magazine
More in: #Biography Archives, - Book News, - Bookstores, Archive M-N, Art & Literature News
---
»Ich habe die weissen Städte so wiedergefunden, wie ich sie in den Träumen gesehn hatte.
« Von Lyon über Vienne, Les Baux, Nîmes, Avignon und Arles, Tarascon nach Marseille – mit dreißig Jahren geht Joseph Roth den klingenden Namen der Sehnsuchtsorte seiner Jugend nach, sein frühester Traum erfüllt sich und er wird dort, wo er nie war, »wieder ein Kind«.
Ausgestattet mit einem Reportageauftrag der »Frankfurter Zeitung« geht Roth 1925 auf eine Reise durch den französischen Midi: »Die weißen Städte« des unteren Rhônetals und der Provence mit Marseille sind sein Ziel. Es sind die Orte, in die er sich als Kind aus dem galizischen Schtetl Brody gewünscht hat.
Was er als Reisebuch unter dem Titel Die weißen Städte komponiert, sollte so nie gedruckt werden. Das Buch, ein Schlüsselwerk Joseph Roths, erhält sich bloß als Typoskript. Auch in den späteren Werkausgaben und Anthologien findet es entweder entstellt oder nur in anteiliger Überlieferung Aufnahme. Nun werden Die weißen Städte erstmals vollständig, anhand des im Literaturarchiv Marbach verwahrten Typoskripts von Roths letzter Hand veröffentlicht.
Wie Joseph Roth auf seiner Reise durch Südfrankreich eine Traumreise in ost-westlicher Richtung reflektiert, hatte er zuvor die umgekehrte Route genommen: 1927 erscheint sein Großessay über das Ostjudentum Juden auf Wanderschaft, geschrieben für »Westeuropäer, die auf ihre sauberen Matratzen nicht stolz sind«.
Von galizischen Städten und dunklen Bethäusern – aber auch von Ostjuden in den westeuropäischen Ghettos von Paris, Wien und Berlin schreibt Roth. In der Zusammenschau mit den Weißen Städten, mit denen die Juden auf Wanderschaft vielfach korrespondieren, finden wir uns in der zentralen Stelle von Joseph Roths Werk, zwischen persönlichem Essay und literarischem Schreiben, zwischen der Feuilleton-Gewitztheit des Journalisten und der Poetik des Prosadichters.
Volker Breidecker führt durch beide Texte, reichert sie an durch Lektüren von Briefen an Freunde und Zeitgenossen, unveröffentlichten Texten aus den Archiven und entdeckt uns durch die tiefe Kennerschaft der Materialien in einem biographischen Essay den Joseph Roth der 1920er-Jahre.
Joseph Roth (1894–1939) war österreichisch-jüdischer Romancier und Journalist. Nach Kindheit und Jugend im galizischen Städtchen Brody wird Roth mit Stationen über Lemberg und Wien zu einem der wichtigsten Autoren der Zeit zwischen den beiden Weltkriegen. Er stirbt verarmt und nach schwerer Krankheit noch vor dem Ausbruch des Zweiten Weltkriegs 1939 in Paris.
Volker Breidecker (geb. 1952 in Mainz) ist als Literaturwissenschaftler und Publizist einer der besten Kenner Joseph Roths und seiner Zeitgenossen. Für die Andere Bibliothek erschloss er Leben, Werk und Schicksal von Grete De Francesco in ihrer wiederentdeckten Studie Die Macht des Charlatans (Band 434, Februar 2021).
Joseph Roth
Rot und Weiß
Wanderer zwischen den Städte
03.2022
Seitenanzahl: 334
Originalausgaben
Bandnummer: 446
Mit einem Nachwort von Volker Breidecker.
Originalausgabe, nummeriert und limitert.
Fadenheftung mit Lesebändchen.
Buchgestaltung: Buchgut, Berlin
ISBN: 9783847704461
44,00 EUR
• fleursdumal.nl magazine
More in: Archive Q-R, Archive Q-R, Art & Literature News, Joseph Roth
---
De debuutbundel van artiest, songwriter en producer Eva van Manen.
Geveld door Covid-19 brengt een jonge vrouw twee maanden door in bed. Beperkt in haar bewegingsvrijheid, springt ze heen en weer tussen situaties waarin machtsverhoudingen een rol spelen. Ziek- tegenover gezond zijn, mannen tegenover vrouwen en het geheel tegenover het individu.
Als jonge vrouw die een zwaar ziekbed heeft beleefd, kan ze zich niet ontrekken aan de pure willekeur. Het is toeval wie ziek wordt, wie binnen bepaalde grenzen geboren wordt en wie als vrouw.
In Hoe zijn we hier gekomen? spit ze in haar herinneringen op zoek naar de wortels van de vraag hoe we hier gekomen zijn. In dit land, dit lichaam en dit politieke klimaat. De bundel is een aaneenrijging van schurende situaties en gedachten, in verre oorden en dichtbij huis.
Eva van Manen (1989) is artiest, dichter, songwriter en producer. Haar debuutalbum Politiek & Liefde overbrugt stijlen als rap, elektronica en gitaarpop met een persoonlijke invalshoek. Ze onderzoekt waar politiek en liefde elkaar treffen. Het lied Omdat we verdergaan afkomstig van Politiek & Liefde werd genomineerd voor de Annie M.G. Schmidtprijs 2021.
Hoe zijn we hier gekomen?
Eva van Manen
Uitgave: Paperback
Datum: 29-06-2021
Poëzie
Omvang: 80 pagina's
Hollands Diep
ISBN: 9789048860906
Prijs: € 19,99
• fleursdumal.nl magazine
More in: #Modern Poetry Archive, Archive M-N, Archive M-N, Art & Literature News
---
Older Entries »
Thank you for reading FLEURSDUMAL.NL - magazine for art & literature