LITERARY NEWS & EVENTS – art & literature news, in memoriam, festivals, city-poets, writers in Residence
·
Lawrence Schwartzwald: The Art of Reading
·
Conan Doyle for the defense. The True Story of a Sensational British Murder, a Quest for Justice, and the World's Most Famous Detective Writer by Margalit Fox
·
R. Crumb's Dream Diary
·
Violaine Huisman: Fugitive parce que reine
·
Kunstenfestival Watou 2018 nog t/m 2 september
·
How to Write an Autobiographical Novel by Alexander Chee
·
Soho: an intimate and vital poetry debut by Richard Scott
·
New American Stories – Edited by Ben Marcus
·
Girls are Coming Out of the Woods by Tishani Doshi
·
Lisa Gray-Garcia, aka Tiny: Criminal of Poverty. Growing Up Homeless in America
·
Paul Kempers: 'Het gaat om heel eenvoudige dingen'. Jean Leering en de kunst
·
Chinese Authorities Razing Ai Weiwei's Studio Part of Larger Attack on Artistic Expression
The Art of Reading presents the first retrospective of Lawrence Schwartzwald's candid images of readers, made between 2001 and 2017.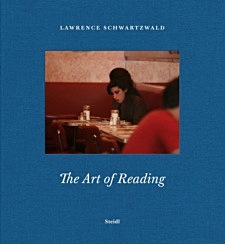 Partly inspired by André Kertész's On Reading of 1971, Schwartzwald's subjects are mostly average New Yorkers—sunbathers, a bus driver, shoeshine men, subway passengers, denizens of bookshops and cafes—but also artists, most notably Amy Winehouse at Manhattan's now-closed all-night diner Florent.
In 2001 Schwartzwald's affectionate photo of a New York bookseller reading at his makeshift sidewalk stand on Columbus Avenue (and inadvertently exposing his generous buttock cleavage) caused a minor sensation: first published in the New York Post, it inspired a reporter for the New York Observer to interview the "portly peddler" in a humorous column titled "Wisecracking on Columbus Avenue" of 2001.
Since then Schwartzwald has sought out his readers of books on paper—mostly solitary and often incongruous, desperate or vulnerable—who fly in the face of the closure of traditional bookshops and the surge in e-books, dedicating themselves to what Schwartzwald sees as a vanishing art: the art of reading.
Lawrence Schwartzwald: Born in New York in 1953, Lawrence Schwartzwald studied literature at New York University. He worked as a freelance photographer for the New York Post for nearly two decades and in 1997 New York Magazine dubbed him the Post's "king of the streets." Books and literature have shaped several of his photo series including "Reading New York" and "Famous Poets," both self-published in 2017. Schwartzwald lives and works in Manhattan.
Lawrence Schwartzwald
The Art of Reading
published by Steidl
Hardback / Clothbound
22 x 23 cm
English
ISBN 978-3-95829-508-7
1. Edition 06/2018
€ 28.00
new books
fleursdumal.nl magazine
More in: - Book Lovers, - Book Stories, Archive S-T, Art & Literature News, LITERARY MAGAZINES, PRESS & PUBLISHING, The Art of Reading
---
For all the scores of biographies of Arthur Conan Doyle, creator of the most famous detective in the world, there is no recent book that tells this remarkable story—in which Conan Doyle becomes a real-life detective on an actual murder case.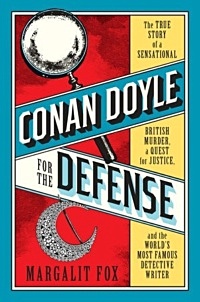 In Conan Doyle for the Defense, Margalit Fox takes us step by step inside Conan Doyle's investigative process and illuminates a murder mystery that is also a morality play for our time—a story of ethnic, religious, and anti-immigrant bias.
In 1908, a wealthy woman was brutally murdered in her Glasgow home. The police found a convenient suspect in Oscar Slater—an immigrant Jewish cardsharp—who, despite his obvious innocence, was tried, convicted, and consigned to life at hard labor in a brutal Scottish prison.
Conan Doyle, already world famous as the creator of Sherlock Holmes, was outraged by this injustice and became obsessed with the case. Using the methods of his most famous character, he scoured trial transcripts, newspaper accounts, and eyewitness statements, meticulously noting myriad holes, inconsistencies, and outright fabrications by police and prosecutors. Finally, in 1927, his work won Slater's freedom.
Margalit Fox, a celebrated longtime writer for The New York Times, has "a nose for interesting facts, the ability to construct a taut narrative arc, and a Dickens-level gift for concisely conveying personality" (Kathryn Schulz, New York). In Conan Doyle for the Defense, she immerses readers in the science of Edwardian crime detection and illuminates a watershed moment in the history of forensics, when reflexive prejudice began to be replaced by reason and the scientific method.
A senior writer at The New York Times, Margalit Fox is considered one of the foremost explanatory writers and literary stylists in American journalism. As a member of the newspaper's celebrated obituary news department, she has written front-page send-offs of some of the leading cultural figures of our age. (Conan Doyle for the Defense is in many ways a fond belated obituary for the long-overlooked Oscar Slater, an immigrant everyman treated inexcusably by history.) Fox's previous book, The Riddle of the Labyrinth, won the William Saroyan International Prize for Writing. She lives in Manhattan with her husband, the writer and critic George Robinson.
Conan Doyle for the Defense
The True Story of a Sensational British Murder, a Quest for Justice, and the World's Most Famous Detective Writer
By Margalit Fox
Illustrated
Hardcover
Published by Random House
Random House
$27.00
Jun 26, 2018
352 Pages
ISBN 9780399589454
new books
fleursdumal.nl magazine
More in: #Biography Archives, - Book News, - Bookstores, Archive E-F, Art & Literature News, Arthur Conan Doyle, CRIME & PUNISHMENT, Sherlock Holmes Theatre
---
For more than 40 years, legendary American artist Robert Crumb has documented his nightly dreams in a meticulously kept private journal.
This material has stood as a guarded secret in a career defined by an impish compulsion to publically self-disclose. All of the artist's well-documented preoccupations are present and accounted for—rampant egomania, insatiable lust, profound self-disgust, the sad beauty of old America, the moral bankruptcy of new America and the fool's errand quest for spiritual enlightenment—but here they are entirely untamed, springing forth from forces beyond even his control.
Published for the first time, the complete Dream Diaries offer readers a deep, dark look under the hood of one of America's most aggressively dynamic comedic voices.
Widely considered the greatest cartoonist of the 20th century, Robert Crumb (born 1943) drew comics from a very young age. After a brief career in greeting-card design in Cleveland, in 1965 the young artist discovered LSD, and headed for San Francisco, where he published Zap Comix 1, reinventing the comics medium. In 1994 he was the subject of an acclaimed documentary film by Terry Zwigoff. His adaptation of The Book of Genesis was published in 2009 and the original art for the project was exhibited internationally, most notably at the Hammer Museum, Los Angeles, in 2009, and as part of the 55th Venice Biennale in 2013. His most recent books include Bible of Filth, Art & Beauty Magazine and (with Aline Kominsky-Crumb) Drawn Together. Crumb lives and works in Southern France.
R. Crumb's
Dream Diary
Edited by Ronald Bronstein & Sammy Harkham
Elara Press
Compiles forty years of never-before-published somnambulant mindspray from one of the most unique thinkers in comics.
The first and only book on Crumb's writings
containing 15 illustrations.
US $25.00
Hardcover
500 pgs
Publication: Sep 25 2018
Language: English
ISBN-10: 1942884338
ISBN-13: 978-1942884330
new books
fleursdumal.nl magazine
More in: #Biography Archives, - Book News, - Bookstores, Archive C-D, Art & Literature News, Illustrators, Illustration
---
« Maman était une force de la nature et elle avait une patience très limitée pour les jérémiades de gamines douillettes. Nos plaies, elle les désinfectait à l'alcool à 90 °, le Mercurochrome apparemment était pour les enfants gâtés.
Et puis il y avait l'éther, dans ce flacon d'un bleu céruléen comme la sphère vespérale. Cette couleur était la sienne, cette profondeur du bleu sombre où se perd le coup de poing lancé contre Dieu.»
Ce premier roman raconte l'amour inconditionnel liant une mère à ses filles, malgré ses fêlures et sa défaillance. Mais l'écriture poétique et sulfureuse de Violaine Huisman porte aussi la voix déchirante d'une femme, une femme avant tout, qui n'a jamais cessé d'affirmer son droit à une vie rêvée, à la liberté.
Violaine Huisman est née en 1979 à Paris et vit depuis vingt ans à New York où elle a organisé de nombreux festivals et événements littéraires. Elle a aussi traduit plusieurs textes de l'américain dont La haine de la poésie de Ben Lerner.
Violaine Huisman
Fugitive parce que reine
Collection Blanche, Gallimard
Parution : 11-01-2018
256 pages
140 x 205 mm
Genre : Romans
Littérature française – Romans et récits
Époque : XXIe siècle
ISBN : 9782072765629
Code distributeur : G01396
new books
fleursdumal.nl magazine
More in: - Book News, - Bookstores, Archive G-H, Art & Literature News
---
Elke zomer opnieuw slaat het Kunstenfestival van Watou haar tenten op in het gelijknamige kunstdorpje aan de Franse grens.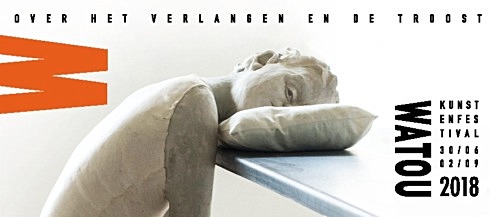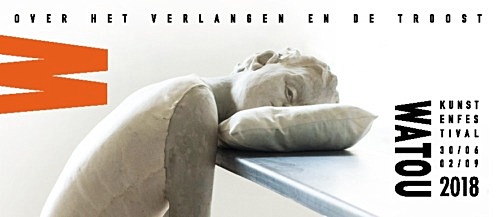 Dichters en beeldend kunstenaars, aanstormend talent en gevestigde waarden, kunstwerken uit binnen- en uit buitenland strijken er neer en vormen een bijzonder kunstenparcours. Het dorp is de setting en biedt een tiental karakteristieke locaties als tentoonstellingsruimte: een voormalig klooster, een oude boerderij of de kelder van een brouwerij. De wisselwerking tussen die verrassende, nostalgische ruimtes met hedendaagse beeldende kunst en poëzie zorgt telkens weer voor een unieke kunstbeleving. Zomeren in Watou is dan ook prikkelen en onthaasten tegelijk. Kleine momenten van gelukzaligheid.
Iedere editie van het Kunstenfestival kadert in een ander thema, waarrond intendant Jan Moeyaert en poëziecurator Willy Tibergien beeld en taal samenbrengen. Schrijvers, dichters en kunstenaars palmen gedurende een zomer het dorp in en bieden de bezoekers een caleidoscoop aan inzichten en perspectieven rond een bepaald onderwerp.
De afgelopen edities van Kunstenfestival Watou groeide er gestaag een nieuwe poëtische lijn in het dorp. Ook dit jaar selecteerde poëziecurator Willy Tibergien gedichten van gevestigde waarden in het Nederlandstalig poëzielandschap om hen een permanente plaats te geven in Watou.
Aan het werk van Eddy van Vliet, Paul Snoek, Remco Campert, Hugues C. Pernath, Jean-Claude Pirotte, Leo Vroman, Miriam Van hee, Stefan Hertmans, Gerrit Kouwenaar en Marc Insingel, Leonard Nolens, Christine D'Haen, Joost Zwagerman, Jotie T'Hooft, Charles Ducal en Luuk Gruwez worden dit jaar gedichten van Anna Enquist, Eva Gerlach en Frans Deschoemaeker toegevoegd.
STRING CARPET – GIDEON KIEFER – KUNSTENAARSGESPREK – ZONZO COMPAGNIE – ELS DEJONGHE – HET VLIEGEND TAPIJT – VRIJDAG VIERT FEEST – KRISTIN VERELLEN – POSTKANTOOR 00/00/00 – LIZE PEDE – BERNARD DEWULF – ALICJA GESCINSKA – DE TROOSTWINKEL – DOWN TIGER DOWN – SIEL EN LARISSA – NELLY AGASSI – IK ZIE MENSEN – POËZIE POËZIE POËZIE – DEREK & RENAUD – WIM CHIELENS – DE PLUIZENTUIN – WALLY DEDONCKER – ANT AND … – IK BEN WEER VELEN – STEPHANIE STRUIJK –  BERNARD DEWULF – MENNO WIGMAN – GRAHAM FAGEN – GERRIT KOUWENAAR – FRANS DESCHOEMAEKER – ANNA ENQUIST – EVA GERLACH – FRAUKE WILKEN – SAM DURANT – SIGRID VON LINTIG – PAUL SNOEK – MAUD BEKAERT -PETER VERHELST- DENIS VERCRUYSSE – MOHAMED EL BAZ – PARSE/ERROR – KATRIN DEKONINCK – ARPAÏS DU BOIS – GRZEGORZ GWIAZDA – SHIMABUKU – PETER DE MEYER – ROBINE CLIGNETT – ELS LESAGE – RADNA FABIAS – RY ROCKLEN – CHAIM VAN LUIT – SYLVIA EVERS – TORI WRÅNES – RONNY DELRUE – PETER MORRENS – HERVÉ MARTIJN – THÉ VANBERGEN – HANNE VAN ROMPAEY – STEFAN HERTMANS – TOM VAN DEEL – DANIELLE VAN ZADELHOFF – ANTON COTTELEER – SU-MEI TSE – POLIEN BOONS – JONAS VANSTEENKISTE – GURT SWANENBERG – ARANTHELL – GEERTJE VANGENECHTEN – MAARTEN VANDEN EYNDE – DOMINIQUE DE GROEN – JANI LEINONEN – JOSÉ COBO – TATJANA GERHARD – NADIA NAVEAU – HESTER KNIBBE – LUK VAN SOOM – JEROEN VAN KAN – CAROL ANN DUFFY – IRINA RATUSHINSKAYA – YEHUDA AMICHAI – NIDAA KHOURY – ZIYA MOHAVED – HANS OP DE BEECK- MASSIMO UBERTI -VAJIKO CHACHKHIANI – MOYA DE FEYTER – SHEILA HICKSEMMA VAN ROEY – BERNARDÍ ROIG -PETER THEUNYNCK – GIDEON KIEFER – EDITH DEKYNDT – THOMAS LEROOY – RANDALL CASAER- CHRISTINA MIGNOLET – GERD KANZ- GREET DESAL – HANNAH VAN BINSBERGEN – MELIK OHANIAN – JOHAN CLARYSSE – SOPHIE BOUVIER AUSLÄNDER – HANS DEFER- LUDOVIC LAFFINEUR – ARNE QUINZE – MARIJE LANGELAAR – TANYA SCHULTZ – ERLEND VAN LANDEGHEM – ROLAND JOORIS – LUKA FINEISEN – MEKHITAR GARABEDIAN – FRANZ SCHMIDT – CLARISSE BRUYNBROECK – FRANCIS PONGE – DAVID DE POOTER – RUTGER KOPLAND – JAN VANRIET – HUGO CLAUS – NELLY AGASSI – K. MICHEL – MICHAL MARTYCHOWIEC – PAUL DEMETS – STEPHAN MUIS – SAMMY BALOJI – TANG NANNAN – ADEL ABDESSEMED – LAURENS HAM – TODD ROBINSON – PANAMARENKO – GILLES BARBIER – HELEN DUNMORE – CASPER BRAAT – SYLVIE MARIE – CHANTAL POLLIER – EZRA VELDHUIS – HARLINDE DE MOL – ELEANOR CROOK – ANNO DIJKSTRA

Kunstenfestival Watou 2018 loopt nog tot en met 2 september
Open: woensdag tot zondag van 11u tot 19u – maandag en dinsdag gesloten, behalve op feestdagen
Adres:
Watouplein 12
8978 Watou
Poperinge (België)
De start van het Kunstenfestival is te vinden in het Festivalhuis (Watouplein 12), op het marktplein naast de Spar. Opg  elet! Voor alle weekend-events zijn de plaatsen beperkt. Een plaats reserveren kan enkel de dag zelf aan de kassa, bij aankoop van uw ticket.
# meer informatie op website kunstenfestival Watou
Kunstenfestival Watou 2018
fleursdumal.nl magazine
More in: # Music Archive, #Editors Choice Archiv, #More Poetry Archives, - Book Lovers, - Book Stories, Art & Literature News, Exhibition Archive, FDM Art Gallery, LITERARY MAGAZINES, PRESS & PUBLISHING, STREET POETRY, THEATRE, Watou Kunstenfestival
---
How to Write an Autobiographical Novel is the author's manifesto on the entangling of life, literature, and politics, and how the lessons learned from a life spent reading and writing fiction have changed him.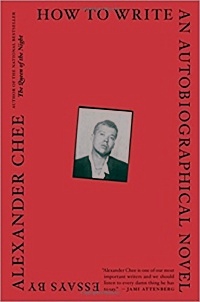 In these essays, he grows from student to teacher, reader to writer, and reckons with his identities as a son, a gay man, a Korean American, an artist, an activist, a lover, and a friend.
He examines some of the most formative experiences of his life and the nation's history, including his father's death, the AIDS crisis, 9/11, the jobs that supported his writing—Tarot-reading, bookselling, cater-waiting for William F. Buckley—the writing of his first novel, Edinburgh, and the election of Donald Trump.
By turns commanding, heartbreaking, and wry, How to Write an Autobiographical Novel asks questions about how we create ourselves in life and in art, and how to fight when our dearest truths are under attack.
Alexander Chee won a Whiting Award for his first novel, Edinburgh, and is a recipient of the NEA Fellowship in Fiction and residencies from the MacDowell Colony, Ledig House, and Civitella Ranieri. His writing has appeared in the New York Times Book Review, Tin House, Slate, and NPR, among others, and he is a Contributing Editor at The New Republic. He lives in New York City.
Alexander Chee
How to Write an Autobiographical Novel
Essays
Mariner Books
Published 17 April 2018
Format Paperback
Pages 288
ISBN-10 1328764524
ISBN-13 9781328764522
new books
fleursdumal.nl magazine
More in: - Book News, - Book Stories, Archive C-D, Art & Literature News, PRESS & PUBLISHING
---
In this intimate and vital debut, Richard Scott creates an uncompromising portrait of love and gay shame.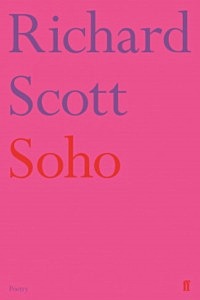 Examining how trauma becomes a part of the language we use, Scott takes us back to our roots: childhood incidents, the violence our scars betray, forgotten forebears and histories. The hungers of sexual encounters are underscored by the risks that threaten when we give ourselves to or accept another. But the poems celebrate joy and tenderness, too, as in a sequence re-imagining the love poetry of Verlaine.
The collection crescendos to Scott's tour de force, 'Oh My Soho!', where a night stroll under the street lamps of Soho Square becomes a search for true lineage, a reclamation of stolen ancestors, hope for healing, and, above all, the finding of our truest selves.
Richard Scott grew up in London and studied at the Royal College of Music and at Goldsmiths College. He has been a winner of the Wasafiri New Writing Prize, a Jerwood/Arvon Poetry mentee, a member of the Aldeburgh 8 and an Open Spaces artist resident at Snape Maltings in Suffolk. His pamphlet Wound (Rialto) won the Michael Marks Poetry Award 2016 and his poem 'crocodile' won the 2017 Poetry London Competition.
Scott was born in London in 1981. His poems have appeared widely in magazines and anthologies including Poetry Review, Poetry London, Swimmers, The Poetry of Sex (Penguin) and Butt Magazine. He has been a winner of the Wasafiri New Writing Prize, a Jerwood/Arvon Poetry Mentee and a member of the Aldeburgh 8. His pamphlet Wound, published by Rialto, won the Michael Marks Poetry Award 2016. His debut collection is forthcoming from Faber & Faber in 2018.
Soho
Richard Scott
£10.99
Paperback
88 pages
Publisher: Faber & Faber
Main edition
5 April 2018
Language: English
ISBN-10: 0571338917
ISBN-13: 978-0571338917
new poetry
fleursdumal.nl magazine
More in: - Book News, - Bookstores, Archive S-T, Art & Literature News
---
In New American Stories, the beautiful, the strange, the melancholy, and the sublime all comingle to show the vast range of the American short story.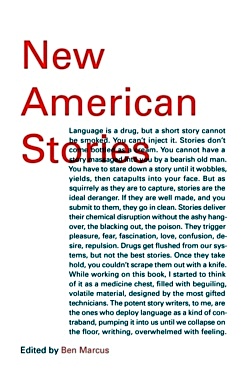 In this remarkable anthology, Ben Marcus has corralled a vital and artistically singular crowd of contemporary fiction writers.
Collected here are practitioners of deep realism, mind-blowing experimentalism, and every hybrid in between.
Luminaries and cult authors stand side by side with the most compelling new literary voices.
Nothing less than the American short story renaissance distilled down to its most relevant, daring, and unforgettable works,
New American Stories puts on wide display the true art of an American idiom.
"Ben Marcus is the rarest kind of writer: a necessary one. It's become impossible to imagine the literary world–the world itself–without his daring, mind-bending and heartbreaking writing."–Jonathan Safran Foer
New American Stories
Edited by Ben Marcus
Part of Vintage Contemporaries
Category: Literary Collections | Literary Fiction
Paperback
2015
784 Pages
$16.95
Published by Vintage
ISBN 9780804173544
short storie
fleursdumal.nl magazine
More in: #Short Stories Archive, - Book News, - Book Stories, Archive M-N, Art & Literature News
---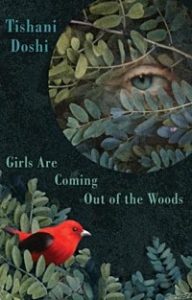 Tishani Doshi on Girls are Coming Out of the Woods: "I want to give this book to the people I love, and say to them, memorize this, never forget. – Jeet Thayil Each poem promises the sharpness of broken sea-shells, the smell of brine.
In this collection, Tishani Doshi inhabits the different homes: her childhood, the body, cities that were passed through, cycles of rain. There are poems of celebration and homages, as there are poems lamenting human cruelty and dispassion. This is also a book of travel and of homecoming, of familiar decay and startling, haunting discoveries of our oldest themes of love, grief, suffering and anger."
Girls are coming out of the woods,
wrapped in cloaks and hoods,
carrying iron bars and candles
and a multitude of scars, collected
on acres of premature grass and city
buses, in temples and bars. Girls
are coming out of the woods
with panties tied around their lips,
making such a noise, it's impossible
to hear. Is the world speaking too?
Tishani Doshi in Girls are Coming Out of the Woods (fragment)
Tishani Doshi is an award-winning poet and dancer of Welsh-Gujarati descent. She was born in Madras, India, in 1975. She received her masters in writing from the Johns Hopkins University in America and worked in London in advertising before returning to India in 2001 to work with the choreographer Chandralekha, with whom she performed on many international stages. An avid traveller, she has been trekking in the Ethiopian Bale Mountains, visited Antarctica with a group of high-school students, and documented the largest transvestite gathering in Koovakam. She has written about her travels in newspapers such as the Guardian, International Herald Tribune, The Hindu and the Financial Times. She won an Eric Gregory Award for her poetry in 2001. In 2006, she won the All-India Poetry Competition, and her debut collection, Countries of the Body (Aark Arts), won the Forward Prize for Best First Collection. Her first novel, The Pleasure Seekers (Bloomsbury, 2010), was longlisted for the Orange Prize and shortlisted for the Hindu Fiction Award, and has been translated into several languages. Her second poetry collection, Everything Begins Elsewhere, was published by Bloodaxe Books in 2012. Her third, Girls Are Coming Out of the Woods, is due from Bloodaxe in 2018. Tishani Doshi currently lives on a beach between two fishing villages in Tamil Nadu with her husband and three dogs, and sometimes moonlights as a dancer.
Girls are Coming Out of the Woods
by Tishani Doshi
PBS Recommendation Summer 2018
Publisher: Bloodaxe Books Ltd
Publication Date: 10 May 2018
Paperback £9.95
ISBN: 9781780371979
Pages: 96
Size: 234 x 156mm
Engelstalig
new poetry
fleursdumal.nl magazine
More in: #Editors Choice Archiv, - Book News, - Bookstores, Archive C-D, Art & Literature News
---
A daughter's struggle to keep her family alive, through poverty, homelessness and incarceration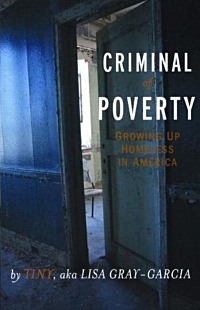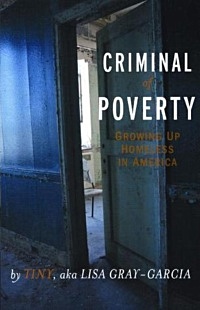 Eleven-year-old Lisa becomes her mother's primary support when they face the prospect of homelessness. As Dee, a single mother, struggles with the demons of her own childhood of neglect and abuse, Lisa has to quickly assume the roles of an adult in an attempt to keep some stability in their lives.
"Dee and Tiny" ultimately become underground celebrities in San Francisco, squatting in storefronts and performing the "art of homelessness." Their story, filled with black humor and incisive analysis, illuminates the roots of poverty, the criminalization of poor families and their struggle for survival.
"Criminal of Poverty lays bare the devastating effects of inheriting a life of poverty, as well the real redemption and power in finding your voice." – Michelle Tea, author of Rose of No Man's Land and Valencia
"Tiny's indomitable spirit comes to life in her amazing story of poverty and homelessness, reaching into and teaching our hearts and minds. With her flawless descriptions of the pain of living in the margins of the richest country in the world, she opens up an important window onto a reality looked upon by many but truly seen by few, augmenting our capacity for empathy and action in an area so in need of social change. Bravo Tiny, for your gift to us all! Punto!!!" – Piri Thomas, author of Down These Mean Streets
Lisa Gray-Garcia  (www.tinygraygarcia.com)
is a journalist, poet and community activist. She is the founder of POOR magazine and the PoorNewsNetwork (PNN), a monthly radio broadcast and an online news service focused on issues of poverty and racism.
(www.poormagazine.org/)
Criminal of Poverty
Growing Up Homeless in America
Lisa Gray-Garcia, aka Tiny
Publisher City Lights Foundation Books
Paperback, 2007
278 pages
ISBN-10 1931404070
ISBN-13 9781931404075
List Price $19.95
books to read before you die
fleursdumal.nl magazine
More in: #Editors Choice Archiv, - Book Stories, Archive G-H, Archive G-H, Art & Literature News, MUSEUM OF PUBLIC PROTEST, The Ideal Woman
---
Amper dertig jaar was Jean Leering (1934-2005) toen hij benoemd werd tot directeur van het Van Abbemuseum. De opvolger van Edy de Wilde maakte van het Van Abbe een spraakmakend museum, waar de erfenis van Theo van Doesburg, László Moholy-Nagy en El Lissitzky werd verknoopt met de nieuwste kunst van de jaren zestig en zeventig.
Als eerste haalde Leering kunstenaars als Robert Morris, Donald Judd, Christo, Bruce Nauman en Joseph Beuys naar Nederland. Hij organiseerde exposities over minimal art, seriële kunst en lichtkunst die internationaal de aandacht trokken.
De bewonderde tentoonstellingmaker – opgeleid als bouwkundig ingenieur – schrok niet terug voor ferme uitspraken. Het museum? Dat was onderdeel van de preventieve geestelijke gezondheidszorg, een instrument voor emancipatie, een kritisch beeldinstituut dat kon bijdragen aan de vorming van de publieke opinie. Met geëngageerde tentoonstellingen als 'De Straat', 'Cityplan Eindhoven' en 'Bouwen '20-'40' zou het van Abbe de toon zetten voor een generatie jonge curatoren in de eenentwintigste eeuw.
Leering was een activist van de geest wiens ideeën soms op felle tegenstand stuitten. Met zijn vaste vormgever Jan van Toorn zette hij vraagtekens bij de status van het museum als onbetwiste autoriteit. De vraagtekens werden uitroeptekens toen Leering ontslag nam om leiding te geven aan de nieuwe koers van het Tropenmuseum (1973-1975) in Amsterdam.
Tentoonstellingen, vond Leering, dienden inzicht te geven in hoe de wereld in elkaar stak. Hoe de wereld verkeerd in elkaar stak, soms. En wat daar aan gedaan kon worden. Want een museum dat zijn werkzaamheid alleen tot het netvlies wilde beperken, was een half museum.
Over hoe dat museum eruit had kunnen zien, gaat dit boek. Over de kijker tegenover het kunstwerk en de band tussen kunst en samenleving. Met Heidegger, Merleau-Ponty en Foucault waakzaam in de coulissen.
Biografie Jean Leering
'Het gaat om heel eenvoudige dingen':
Jean Leering en de kunst
Auteur: Paul Kempers
Ontwerp: Sam de Groot
Serie: vis-à-vis
2018, Valiz
paperback
336 blz.
23,5 x 16,5 cm (staand)
Nederlands
ISBN 978-94-92095-07-7
new books
fleursdumal.nl magazine
More in: - Book News, - Bookstores, Antony Kok, Archive K-L, Art & Literature News, Art Criticism, César Domela, De Stijl, Exhibition Archive, Gerrit Rietveld, Piet Mondriaan, Theo van Doesburg
---
_____________________________________________________________________________
August 7, 2018
NEW YORK – The unannounced demolition of Chinese artist Ai Weiwei's studio in Beijing is symptomatic of a larger attack on human rights and artistic expression in China, said PEN America today.
On August 6, Artist and activist Ai Weiwei announced on social media that authorities had demolished his Beijing artist studio. Ai stated that he had received no advance notice prior to the demolition. Although several of his works were damaged in the studio's demolition, the artist explained that he is more preoccupied with the effects of China's "urban development" projects on artists and migrant populations, saying: "Since last year, a policy was enacted to clear out migrant workers from Beijing . . . Those who do not belong to the establishment, including artists, are always the first to be discriminated against and sacrificed."
Within the past few years, artist colonies including Songzhuang and Caochangdi—the latter an arts district that Ai helped develop—have been targeted for eviction and demolition. Artists have cited both runaway economic development and political disfavor as rationales for authorities' hostile attitudes. More broadly, an urban development policy conceived last year to push migrant workers out of Beijing has empowered local authorities to take unannounced action to demolish property, a policy that has led to thousands of migrant workers losing their homes.
"Regardless of the government's motives, the unannounced demolition of an artist's studio is a demonstration of a lack of appreciation or even acknowledgment for the role of the artist in society," said Julie Trébault, Director of PEN America's Artists at Risk Connection. "Around the world, artist studios and communes are spaces to be cherished, not discarded."
PEN America leads the Artists at Risk Connection (ARC), a program dedicated to assisting imperiled artists and strengthening the network of organizations that support them. If you or someone you know is an artist at risk, contact ARC here.
PEN America stands at the intersection of literature and human rights to protect open expression in the United States and worldwide. They champion the freedom to write, recognizing the power of the word to transform the world. Their mission is to unite writers and their allies to celebrate creative expression and defend the liberties that make it possible.
www.pen.org
the freedom to write
fleursdumal.nl magazine
More in: Ai Weiwei, Art & Literature News, AUDIO, CINEMA, RADIO & TV, Exhibition Archive, FDM Art Gallery, MUSEUM OF PUBLIC PROTEST, REPRESSION OF WRITERS, JOURNALISTS & ARTISTS
---
Older Entries »
Thank you for reading FLEURSDUMAL.NL - magazine for art & literature