Archive A-B
·
François Audouy: Antonin Artaud le sur-vivant. Essai
·
Robert Bridges: To Joseph Joachim
·
Antonin Artaud – Le Visionnaire Hurlant par Laurent Vignat
·
Nederzettingen: nieuwe dichtbundel van Bert Bevers
·
Antonin Artaud: Anthology
·
Hugo Ball: 1 Stern und 7 kazamogipuffel
·
Meena Alexander: Atmospheric Embroidery. Poems
·
Bert Bevers: In volle werking (gedicht)
·
Bert Bevers: Selfie van Rogi Wieg (Gedicht)
·
Ambrose Bierce: Presentiment
·
René van Stipriaan: De hartenjager. Leven, werk en roem van Gerbrandt Adriaensz. Bredero
·
The Disappearing Room by Mara Bergman
Artaud, poète de la survie et de la sur-vie ?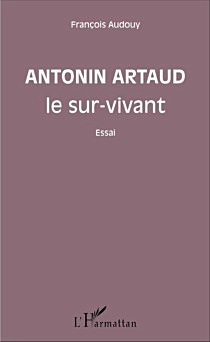 C'est l'angle d'approche de cet essai, qui revisite cet être hors-normes et haut en couleurs.
L'impatient patient Artaud se trouve ici confronté à ses foisonnantes références, religieuses et philosophiques, remis dans son contexte actuel, attaqué et fouillé au corps pour en extraire sa substantifique moelle : celle d'un nouveau-né éternel, d'un trompe-la-mort, d'un tueur de verbe. D'un sur-vivant.
Antonin Artaud, de son vrai nom Antoine Marie Joseph Artaud, est né à Marseille le 4 septembre 1896 et mort à Ivry-sur-Seine le 4 mars 1948. Poète, romancier, acteur, dessinateur, dramaturge et théoricien du théâtre. Dans son essai Le Théâtre et son double, Artaud invente le concept du "théâtre de la cruauté"
François Audouy
Antonin Artaud le sur-vivant.
Essai
Broché
Editions L'Harmattan Paris
Format : 13,5 x 21,5 cm
ISBN : 978-2-343-09048-1
2016
92 pages
€ 12,00
# new books
Antonin Artaud le sur-vivant
fleursdumal.nl magazine
More in: - Book Stories, Antonin Artaud, Archive A-B, Archive A-B, Artaud, Antonin, AUDIO, CINEMA, RADIO & TV, Psychiatric hospitals, THEATRE
---
To Joseph Joachim
Belov'd of all to whom that Muse is dear
Who hid her spirit of rapture from the Greek,
Whereby our art excelleth the antique,
Perfecting formal beauty to the ear;
Thou that hast been in England many a year
The interpreter who left us nought to seek,
Making Beethoven's inmost passion speak,
Bringing the soul of great Sebastian near.
Their music liveth ever, and 'tis just
That thou, good Joachim, so high thy skill,
Rank (as thou shalt upon the heavenly hill)
Laurel'd with them, for thy ennobling trust
Remember'd when thy loving hand is still
And every ear that heard thee stopt with dust.
Robert Bridges
(1844-1930)
To Joseph Joachim
fleursdumal.nl magazine
More in: *War Poetry Archive, Archive A-B, Bridges, Robert
---
Breton, Eluard, Aragon, Cocteau, Picasso, Chanel, Abel Gance, Anaïs Nin, Colette, Diego Rivera, Lacan, Desnos, Van Gogh, Sartre et Beauvoir, plus tard Jim Morrison et Patti Smith…
Ces noms jalonnent la trajectoire d'Antonin Artaud, comète colérique qui a irrigué l'avant-garde artistique et littéraire de l'entre-deux-guerres et irrigue encore notre époque.
Par-delà le cliché de l'aliéné, du mythe du poète fou auteur d'une oeuvre monumentale, cette biographie s'attache à souligner le caractère novateur, toujours d'actualité, de son message : Artaud a imaginé le cinéma en relief, oeuvré à un profond renouvellement de l'art théâtral, rejeté le colonialisme européen, remis en cause les idéologies mortifères du XXe siècle, dénoncé le capitalisme et ses impératifs productivistes, esquissé l'altermondialisme.
Après neuf ans d'internement, il est aussi celui qui a fait vaciller la psychiatrie, ses catégories et sa thérapeutique des électrochocs. Plus que jamais, dans notre époque incertaine, Antonin Artaud est une voix à faire entendre. Une biographie à lire comme un roman.
Né en 1970, Laurent Vignat poursuit des études de lettres à la Sorbonne et devient professeur de français. Il publie son premier roman en 2006, après quelques textes épars publiés dans des revues.
Sur des carnets, il saisit les bizarreries d'une société qu'il juge de plus en plus folle, ses contemporains, des sourires, des tics de langage et des bribes de vie qui deviennent, à force de travail et d'obstination, des histoires.
Quand il n'écrit pas, il fait la classe ; il pédale en côte chalonnaise ; il lit ; il observe ; il regarde ses enfants grandir ; il écoute son épouse ; il suit les doigts graciles de son fils lorsqu'ils filent une impro sur le piano du salon ; il prépare un osso bucco, il s'endort avec Bach ou Jarrett dans les oreilles…
Auteur: Laurent Vignat
Antonin Artaud.
Le visionnaire hurlant
Editeur : Editions Du Jasmin
Collection: Signes de vie
Parution : 27/02/2018
Nombre de pages : 251
Dimensions: 15×19
ISBN: 978-2-35284-177-7
€ 16,00
# new books
Antonin Artaud
fleursdumal.nl magazine
More in: #Biography Archives, - Book News, Antonin Artaud, Archive A-B, Archive A-B, Archive U-V, Art & Literature News, Art Criticism, Artaud, Antonin, AUDIO, CINEMA, RADIO & TV, THEATRE
---
Nederzettingen is de titel van de nieuwe dichtbundel van Bert Bevers, verschenen bij uitgeverij Kleinood & Grootzeer. De bundel is verdeeld in drie reeksen: Nederzettingen, Uit de tijd en Gedichten uit een stadje in de heuvels en bevat dertig recente gedichten.
Bert Bevers is een dichter met een brede kijk op zijn onderwerpen en een onmiskenbaar eigen idioom.
Bert Bevers (° Bergen op Zoom, 1954) woont en werkt in Antwerpen. Keuzes uit zijn gedichten verschenen in de verzamelbundels Afglans (1997) en Eigen terrein (2013).
Werk van zijn hand verscheen in literaire tijdschriften als Ballustrada, Bzzlletin, Deus ex Machina, Dietsche Warande & Belfort, Digther, Fleurs du mal, Gierik & Nieuw Vlaams Tijdschrift, Hollands Maandblad, Meander, Poëziekrant, De Tweede Ronde, TZUM en Versindaba alsmede in vele bloemlezingen.
Hedwig Speliers schreef over zijn werk in Poëziekrant: 'In meestal korte taalmodules werkt Bert Bevers met een intellectuele voedingsbodem aan een stoïcijns gekleurd wereldbeeld. Hij doet dit in beheerste, vaste klankrasters. Er zindert vaak een betoverende klank door, klank die je aangrijpt door zijn semantisch rijke impact. Bij het lezen van deze gedichten denk je constant: zo en niet anders moet het.'
Eerste druk 100 genummerde en door de auteur gesigneerde exemplaren.  Boekje, 42 pagina's, gelijmd 21 x 10,5 cm. ISBN/EAN 978-90-76644-91-2.  Prijs  €18,-
Uitgeverij Kleinood & Grootzeer
Kon. Wilhelminastraat 46
4615 JB Bergen op Zoom NL
email: uitgeverij@kleinood-en-grootzeer.com
web: http://kleinood-en-grootzeer.com
# new poetry
Bert Bevers
fleursdumal.nl magazine
More in: - Book News, - Bookstores, Archive A-B, Art & Literature News, Bevers, Bert, PRESS & PUBLISHING
---
"I am the man," wrote Artaud, "who has best charted his inmost self." Antonin Artaud was a great poet who, like Poe, Holderlin, and Nerval, wanted to live in the infinite and asked that the human spirit burn in absolute freedom.
To society, he was a madman. Artaud, however, was not insane, but in luciferian pursuit of what society keeps hidden. The man who wrote Van Gogh the Man Suicided by Society raged against the insanity of social institutions with insight that proves more prescient with every passing year. Today, as Artaud's vatic thunder still crashes above the "larval confusion" he despised, what is most striking in his writings is an extravagant lucidity.
This collection gives us quintessential Artaud on the occult, magic, the theater, mind and body, the cosmos, rebellion, and revolution in its deepest sense.
Title Artaud Anthology
Author Antonin Artaud
Edited by Jack Hirschman
Publisher City Lights Publishers
Format: Paperback
Nb of pages 256 p.
First published 1963
ISBN-10 0872860000
ISBN-13 9780872860001
$15.95
# new books
Antonin Artaud
fleursdumal.nl magazine
More in: #Biography Archives, - Book Lovers, Antonin Artaud, Archive A-B, Archive A-B, Art & Literature News, Artaud, Antonin, AUDIO, CINEMA, RADIO & TV, Psychiatric hospitals, THEATRE
---
1 Stern und 7 kazamogipuffel
1 Stern und 7 kazamogipuffel
macht 13 zakopaddogei
zubtrahiere 5 franschöse Männlin
macht 1 Libanotterbett
nehme 3 Quentlin Klotzpulfer
legs in himmelsdeifelsnamen
dabei, wirst sehen wohinst
kommst wnr bällt wnr heult
wnr pfaucht wnre Daugen däht
Hugo Ball
(1886-1927)
gedicht
fleursdumal.nl magazine
More in: Archive A-B, Ball, Hugo, Dada, DADA, Dadaïsme
---
In this haunting collection of poems we travel through zones of violence to reach the crystalline depths of words  – –

Meena Alexander writes `So landscape becomes us, / Also an interior space bristling with light`. At the heart of this book is the poem cycle 'Indian Ocean Blues', a sustained meditation on the journey of the poet as a young child from India to Sudan..There are poems inspired by the drawings of children from war torn Darfur and others set in New York City in the present. These sensual lyrics of body, memory and place evoke the fragile, shifting nature of dwelling in our times.
Meena Alexander is an award-winning author and scholar whose previous volumes of poetry include Birthplace with Buried Stones, Quickly Changing River, Raw Silk, and Illiterate Heart (winner of the PEN Open Book Award), all published by TriQuarterly/Northwestern. Her poetry has been translated into several languages and set to music. She is also the author of an acclaimed autobiography, Fault Lines, as well as two novels; an academic study, Women in Romanticism; and a collection of essays, Poetics of Dislocation. Alexander is Distinguished Professor of English at the City University of New York and teaches at Hunter College and the CUNY Graduate Center.
Atmospheric Embroidery
Poems by Meena Alexander
Trade Paper – $17.95
NorthwesternPress
ISBN 978-0-8101-3760-8
ISBN 978-0-8101-3761-5
Publication Date June 2018
Categories: Poetry
Page Count 112 pages
new poetry
fleursdumal.nl magazine
More in: - Book News, - Bookstores, Archive A-B, Art & Literature News, MODERN POETRY
---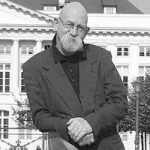 In volle werking
Die man daar, in volle werking, heeft nooit
iets anders geleerd dan te doen wat hij doet.
Wat hij moet. Dat zag hij goed, de bekijker.
Reeds jong vermoedde hij het: groot genoeg
is nooit je jeugd. De scheppingsdrift? Check.
De hitte van jong bloed? Check. Van wijken
geen weet. Hij wilde weg van louter wit en
zwart. Wenste naar de vervaarlijke geheimen
van zanglijstereiblauw en zonnebloemgeel.
Naar het ruw idioom van vergeten sermoenen.
Hij wist het vroeg reeds, en hij leefde ernaar:
het heeft geen zin om in dode akkers te spitten.
Bert Bevers
Gedicht: In volle werking
Geschreven bij Brief met schets aan Theo van Gogh van Vincent van Gogh, en verschenen in Omtrent Vincent, Uitgeverij Trajart, Chaam, april 2015
Bert Bevers is a poet and writer who lives and works in Antwerp (Be)
fleursdumal.nl magazine
More in: Archive A-B, Archive A-B, Bevers, Bert
---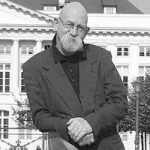 Selfie van Rogi Wieg
De tijd graaft mij in. Dit moet
een droombeeld zijn: Ik wandel
tussen rozen. Ik heb niet aan de dood
gedacht. Ik zie door glas hoe regen
neerdaalt. De avond hangt stil en ik
ben doorgelopen. Wij spreken niet
van doodgaan. Niets gaat verloren
in het ruisen, maar niemand wijst
de weg. Zo zal het einde zijn.
Wie weggaat komt ooit ergens aan.
Bert Bevers
Gedicht: Selfie van Rogi Wieg
Verschenen in In de kring van menselijke warmte – Hommage aan Rogi Wieg, samenstelling Peter de Rijk, Uitgeverij In De Knipscheer, Haarlem, 2017
Bert Bevers is a poet and writer who lives and works in Antwerp (Be)
fleursdumal.nl magazine
More in: Archive A-B, Archive A-B, Bevers, Bert, Wieg, Rogi
---
Presentiment
With saintly grace and reverent tread,
She walked among the graves with me;
Her every foot-fall seemed to be
A benediction on the dead.
The guardian spirit of the place
She seemed, and I some ghost forlorn
Surprised in the untimely morn
She made with her resplendent face.
Moved by some waywardness of will,
Three paces from the path apart
She stepped and stood — my prescient heart
Was stricken with a passing chill.
The folk-lore of the years agone
Remembering, I smiled and thought:
"Who shudders suddenly at naught,
His grave is being trod upon."
But now I know that it was more
Than idle fancy. O, my sweet,
I did not think so little feet
Could make a buried heart so sore!
Ambrose Bierce
(1842-1914)
poetry
fleursdumal.nl magazine
More in: Archive A-B, Archive A-B, Bierce, Ambrose
---
Het leven van Gerbrandt Adriaensz. Bredero (1585-1618) was kort maar ongekend vruchtbaar.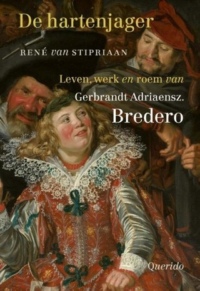 In nauwelijks acht jaar schreef hij honderden gedichten en liederen die tot de mooiste uit de Nederlandse literatuur behoren, en meer dan tien toneelstukken die nog altijd sprankelen van leven. Zijn kluchten, het blijspel Moortje en vooral de onweerstaanbare Spaanschen Brabander hebben door de eeuwen heen vele duizenden mensen onvergetelijke uren bezorgd.
Wie was Bredero? Het is een van de grote vragen van de Nederlandse literatuur. Over zijn leven is weinig bekend, zijn werk is heel concreet alledaags, maar tegelijkertijd ook raadselachtig.
Hoe hield hij zich overeind in het van energie en spanning bruisende Amsterdam? In De hartenjager ontrafelt René van Stipriaan de mythen en mysteries rond een van de meest getalenteerde en vrijmoedige auteurs uit het Nederlandse taalgebied: zijn afkomst, zijn vriendschappen en liefdes, zijn enorme productiviteit en zijn plotselinge dood. Weinig is wat het lijkt.
René van Stipriaan (1959) is auteur van Het volle leven en stelde Ooggetuigen van de Gouden Eeuw en, met Geert Mak, Ooggetuigen van de wereldgeschiedenis samen. In augustus verschijnt De hartenjager, over het leven en werk van Bredero.
Auteur: René van Stipriaan
De hartenjager.
Leven, werk en roem van Gerbrandt Adriaensz. Bredero
Non-Fictie – biografie
Taal: Nederlands
Uitgever: Em. Querido's Uitgeverij BV, Amsterdam
Publicatiedatum: 21-08-2018
ISBN 9789021409528
NUR: 321
359 pagina's
illustraties
Met literatuuropgave, register
Prijs: € 24,99
Hardcover
new books
fleursdumal.nl magazine
More in: #Biography Archives, - Book News, - Book Stories, Archive A-B, Archive S-T, Art & Literature News, Bredero, G.A.
---
In Mara Bergman's first full collection, the poet travels from the tenements of New York City to the Sussex countryside, from childhood to motherhood, and beyond.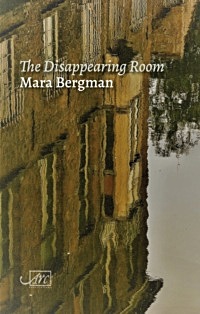 Through a wide range of subjects – steelworkers and young apprentices, photographs and photograms, dolls in a local museum's hidden collection – she writes with a keen sense of time and place.
These are probing poems, seeking to discover; poems with a sense of urgency.
Here are poems about love, loss, friendship, family, fitting in and, ultimately, acceptance. They are infused with wonder and provide a fresh way of looking at the world.
Mara Bergman grew up in Wantagh, New York, and graduated from the State University of New York at Oneonta. During her third year, she studied at Goldsmiths College and later made her home in the UK. Mara's poetry has been published widely here and abroad. Her collection The Tailor's Three Sons and Other New York Poems won the Mslexia Poetry Pamphlet Competition and was published by Seren in 2015. In 2016, Crossing Into Tamil Nadu won a Templar Quarterly Pamphlet Competition. Her poems have been awarded prizes in the Troubadour and Kent & Sussex Poetry Society competitions, among others. Mara works in London as an editor and is also an award-winning author of more than twenty books for young children. She and her husband live in Tunbridge Wells and have three children.
The Disappearing Room
by Mara Bergman (Author)
Paperback
27 Jul 2018
92 pages
Publisher: Arc Publicationas
Language: English
ISBN-10: 1911469347
ISBN-13: 978-1911469346
Product Dimensions: 15 x 2.2 x 21 cm
£9.18
new poetry
fleursdumal.nl magazine
More in: - Book News, - Bookstores, Archive A-B, Art & Literature News
---
Older Entries »
Thank you for reading FLEURSDUMAL.NL - magazine for art & literature