Archive A-B
·
Hera Lindsay Bird: Pamper Me to Hell & Back (Poetry)
·
Lord Byron: My Soul Is Dark (Poem)
·
Régine Foloppe: Baudelaire et la vérité poétique
·
Bert Bevers: Tilt. Gedicht bij de muziek van Scott Walker
·
Hugo Ball: Totentanz 1916
·
Lord Byron: There be none of Beauty's daughters. Stanzas for Music
·
Bert Bevers: Bachten de Kupe (gedicht)
·
Martin Beversluis: Zwart gat (gedicht)
·
Sophie Albrecht: An die Freiheit (Gedicht)
·
Bert Bevers: Kijk maar door me heen (gedicht)
·
Antonin Artaud: Le Navire mystique (Poème)
·
Lord Byron: John Keats Poem
Love, death, Bruce Willis, public urination, being a woman, love, The Nanny, love.

This pamphlet of poetry by Hera Lindsay Bird is a startling departure from her bestselling debut Hera Lindsay Bird by defying convention and remaining exactly the same, only worse. This collection, which focuses on love, childish behaviours, 90's celebrity references and being a woman, is sure to confirm all your worst suspicions and prejudices.
Selected in 2018 by Carol Ann Duffy as part of the Laureate's Choice Collection.  Carol Ann Duffy: "Without doubt the most arresting and original new young poet – on page and in performance – to arrive." 
Hera Lindsay Bird was born in Thames, NZ, in 1987 and lives in Wellington. Her debut book of verse, blithely titled Hera Lindsay Bird, was published in 2016 to immediate and vast acclaim, and won best first book of poetry at the 2017 Ockham New Zealand Book Awards.
Pamper Me to Hell & Back
Author: Hera Lindsay Bird
Published by Smith/Doorstop
(The Poetry Business)
Language: English
ISBN-10: 1910367842
ISBN-13: 978-1910367841
Paperback
30 pages
2018
£7.50
# new poetry
Hera Lindsay Bird
Pamper Me to Hell & Back
• fleursdumal.nl magazine
More in: - Book News, - Bookstores, Archive A-B, Archive A-B, Art & Literature News
---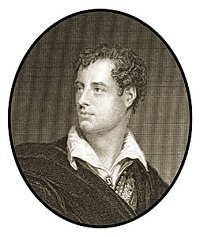 My Soul Is Dark
My soul is dark – Oh! quickly string
The harp I yet can brook to hear;
And let thy gentle fingers fling
Its melting murmurs o'er mine ear.
If in this heart a hope be dear,
That sound shall charm it forth again:
If in these eyes there lurk a tear,
'Twill flow, and cease to burn my brain.
But bid the strain be wild and deep,
Nor let thy notes of joy be first:
I tell thee, minstrel, I must weep,
Or else this heavy heart will burst;
For it hath been by sorrow nursed,
And ached in sleepless silence, long;
And now 'tis doomed to know the worst,
And break at once – or yield to song.
George Gordon Byron
(1788 – 1824)
My Soul Is Dark
(Poem)
• fleursdumal.nl magazine
More in: Archive A-B, Archive A-B, Byron, Lord
---
Quelle force de vérité accorder à la poésie? Apparemment aucune selon Baudelaire.
C'est pourtant lui qui assure le passage décisif vers une poésie qui remet en question ses fondements, son devenir, sa nécessité, une poésie qui exige d'être sans cesse perception à valeur existentielle.
La réflexivité poétique qui s'exerce entre apparence et tréfonds de l'homme exacerbe le poétique et le menace. Où, quand, comment et vers quoi se joue le vrai du poème ?
Pourquoi cette oeuvre pose-t-elle les enjeux de la modernité ?
Se débattant contre tout Idéal absolu, la poétique baudelairienne désire la liberté incarnée et douloureuse de l'artiste, de l'humain.
Régine Foloppe, est l'auteur de plusieurs recueils poétiques, notamment : Tributaires du vent (Le Castor Astral, prix Max-Pol Fouchet) et Famines (Belin). Elle a publié des articles et des poèmes dans des revues (PO&SIE, Eidôlon, Friches, Diérèse…). Agrégée de lettres modernes, docteure en littérature française, elle enseigne à l'Université de Montpellier.
Baudelaire et la vérité poétique
Auteur: Régine Foloppe
Editeur : Editions L'Harmattan
Collection : La philosophie en commun
19 février 2019
Format : 15,5 x 24 cm
Broché
464 pages
Langue : Français
ISBN-10: 2343157642
ISBN-13: 978-2343157641
EUR 42,00
• fleursdumal.nl magazine
More in: - Book News, - Bookstores, Archive A-B, Archive A-B, Archive E-F, Art & Literature News, Baudelaire, Baudelaire, Charles
---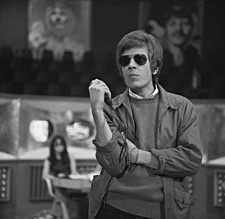 Tilt
Bij de muziek van Scott Walker
I
Slagschaduw van hand met potlood
over de ontcijfering van wat hier klinkt:
links en rechts brandbaar geheimen rollen
in elkaar tot wat een steekspel wordt.
Hij
daar met die neiging, veraf en zo dichtbij
zoals ik hier nu jou reeds weet,
beweegt zich buigend en verlangend
zinvol tasten in. Op zoek naar evenwicht.
II
Deze kluizenaar vermoedt onder kousen sproetjes.
Bezweert binnensmonds nachtmerries en
helt zoals hij denkt in cirkelend
weerkaatsen – luidop maar ongezien,
liefst.
Cimbalen laat hij klateren als water.
Toch hangt van dit geluid zijn leven amper af.
O the Luzerner Zeitung never sold out,
never sold out
III
Over zinnen laat hij zilvergrijze sluiers vallen.
Niemand vraagt waarom. Zo is het dan ook goed.
Zingen is voor deze stem geen afdoend woord:
plofjes adem blijven hangen tussen microfoon en
oren.
Dan zweeft hij tussen fluisteren en fluiten door
op weg naar waterweegbree, webben en de lippen
van een meisje dat met open mond probeert
een mooie ronde o te neuriën
IV
Wereldvreemde man schept eigen logica.
Wie die niet volgen kan mag heel gewoon
een straatje om. Zie je hem dan de pijn niet lijden
van monsters in de nacht, van schaduwen in
regen?
De monnik wist verhalen uit, tegels almaar donkerder
rond de voeten. Hoofdvol galmen wonderen.
In geval van dij, in geval van dij. Hij kust gaten
voor de kogels in geval van dij.
V
Zie hoe het zeil spant. Onder de verse huif
telt hij de rimpels in zijn handen, met die
van zijn vader vol overeenkomsten, net
als de verse verdragen voor toekomst.
Nat
de lakzegel nog. Krullend van heimwee
naar een tijd van jagers stort hij zich
een aanval binnen. Vurig smeedt hij daarin
gulle plannen. Vurig.
Bert Bevers
Verschenen in Gierik & Nieuw Vlaams Tijdschrift, Antwerpen, 1998
In memoriam Scott Walker (born Noel Scott Engel; January 9, 1943 – March 22, 2019)
Photo: Scott Walker – Dutch TV programme Fenklup 1968 – Beeld en Geluid Wiki
• fleursdumal.nl magazine
More in: Archive A-B, Archive W-X, Art & Literature News, Bevers, Bert, In Memoriam, Scott Walker
---
Totentanz 1916
So sterben wir, so sterben wir
Und sterben alle Tage,
Weil es so gemütlich sich sterben lässt.
Morgens noch in Schlaf und Traum,
Mittags schon dahin,
Abends schon zu unterst im Grabe drin.
Die Schlacht ist unser Freudenhaus,
Von Blut ist unsre Sonne,
Tod ist unser Zeichen und Losungswort.
Kind und Weib verlassen wir:
Was gehen sie uns an!
Wenn man sich auf uns nur verlassen kann!
So morden wir, so morden wir
Und morden alle Tage
Unsere Kameraden im Totentanz.
Bruder, reck Dich auf vor mir!
Bruder, Deine Brust!
Bruder, der Du fallen und sterben musst.
Wir murren nicht, wir knurren nicht,
Wir schweigen alle Tage
Bis sich vom Gelenke das Hüftbein dreht.
Hart ist unsre Lagerstatt,
Trocken unser Brot,
Blutig und besudelt der liebe Gott.
Wir danken Dir, wir danken Dir,
Herr Kaiser für die Gnade,
Dass Du uns zum Sterben erkoren hast.
Schlafe Du, schlaf sanft und still,
Bis Dich auferweckt
Unser armer Leib, den der Rasen deckt.
Hugo Ball
(1886-1927)
Totentanz 1916
• fleursdumal.nl magazine
More in: Archive A-B, Ball, Hugo, Dada, DADA, Dadaïsme
---
There be none of Beauty's daughters
Stanzas for Music
There be none of Beauty's daughters
With a magic like Thee;
And like music on the waters
Is thy sweet voice to me:
When, as if its sound were causing
The charméd ocean's pausing,
The waves lie still and gleaming,
And the lull'd winds seem dreaming:
And the midnight moon is weaving
Her bright chain o'er the deep,
Whose breast is gently heaving
As an infant's asleep:
So the spirit bows before thee
To listen and adore thee;
With a full but soft emotion,
Like the swell of Summer's ocean.
George Gordon Byron
(1788 – 1824)
There be none of Beauty's daughters
Stanzas for Music
• fleursdumal.nl magazine
More in: # Music Archive, Archive A-B, Archive A-B, Byron, Lord
---
Bachten de Kupe
Je kunt wel putten in de aarde vloeken
omdat gebeden schaars zijn en schuren
als zand, maar beter is het trots te zijn
omdat je ergens gebleven bent. Waar je
dolend wakker kunt worden uit gemelijk
genot, geschaakte dromen, verzakende
grenzen. Waar je een vogel van vele lentes
herkent als jezelf. Toen ik ontwaakte wist
ik loepzuiver weer hoe gisteren voor me
een meisje huppelend riep: "Een olm is
een iep! Een olm is een iep! Een olm is
een iep!" Het is hier niet druk, maar kijk:
hier loopt niet ieder in zijn eigen ochtend.
Bert Bevers
Gedicht: Bachten de Kupe
Verschenen in Ballustrada, Terneuzen, 2012
Bert Bevers is a poet and writer who lives and works in Antwerp (Be)
• fleursdumal.nl magazine
More in: Archive A-B, Archive A-B, Bevers, Bert
---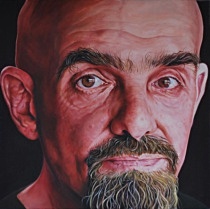 Zwart gat
Dag stad ik maak nog één keer
een foto van je die ik voor eeuwig
in mijn geheugen prent situatie
zoals zij nu is jij bent nog mijn
stad nog net mijn stad en ik ben
nog jouw dichter er zal een tijd
komen dat je hunkert naar mij
dan zal ik er niet zijn ik neem
mijn hoed af buig en groet je nog
een laatste keer ademloze stad
kamer in mijn hart dwaallicht in
mijn denken laat me nog één foto
van je maken zodat ik me herinner
hoe het was hoe jij was hoe wij
samen en dan zal ik je bedanken
zeggen dat ik weliswaar op meer
hoopte we bleven vreemden voor
elkaar maar dat het zo goed is en
ik ook niet kan ontkennen dit
afscheid valt me zwaar daarna
doe ik een stap terug draai me
om kijk nog je één keer aan loop
weg richting het grote zwarte gat
deemoedig en vol overtuiging
waag ik de sprong.
Martin Beversluis
Stadsdichter Tilburg 2015 – 2017
Uit de bundel: Stadsgedichten (2017)
Gedicht bij gelegenheid van de overdracht van zijn functie als stadsdichter
aan zijn opvolger Onias Landveld op 27 augustus 2017
Portret: Ivo van Leeuwen
• fleursdumal.nl magazine
More in: Archive A-B, Archive A-B, Beversluis, Martin, Ivo van Leeuwen, Performing arts
---
An die Freiheit
Goldne Freiheit, kehre wieder
In mein wundes Herz zurück,
Weck' mir neue, heit're Lieder
Und entwölke Geist und Blick.
Komm und trockne meine Thränen
Mit der rosig-zarten Hand,
Stille meines Busens Sehnen,
Löse, was die Liebe band.
Liebe schafft Olympos-Freuden,
Und wer ehrte sie wie ich? –
Tiefer doch sind ihre Leiden,
Und allein sie trafen mich.
Ach! mit Jahren voller Qualen,
Mit des halben Lebens Glück
Mußt' ich ihre Wonne zahlen,
Flüchtig, wie ein Augenblick.
Ohne Freuden stieg der Morgen
Für mich arme Schwärmerin,
Und der Liebe bleiche Sorgen
Welkten meinen Frühling hin.
Wonne hat sie mir versprochen,
Treue war mein Gegenschwur,
Unsern Bund hat sie gebrochen,
Schmerz und Tränen gab sie nur. –
Nimm für deine Palmenkrone
Was die Liebe mir verspricht,
Hier in dieser Männer-Zone
Grünt für mich die Myrte nicht.
Goldne Freiheit, kehre wieder,
Stimme meiner Harfe Ton;
Jubelt lauter, meine Lieder,
Ihr Umarmen fühl' ich schon!
Sophie Albrecht
(1757-1840)
Gedicht
An die Freiheit
• fleursdumal.nl magazine
More in: Archive A-B, Archive A-B, CLASSIC POETRY, Galerie Deutschland
---
Kijk maar door me heen
Zie maar dat ik echt ben. Dat ik niet schuil
voor antwoorden die altijd ergens vandaan
kunnen komen, midscheeps. Dat ik niet bang
ben om het zwaaigat te verlaten. Omdat ik
weet dat over water vele verhalen de ronde
doen. Over hoe het was toen schepen nog pal
in het midden voeren, er werd gefluisterd
dat er vogels vlogen naar daar waar licht
ontstoken werd met andere vlammen. Kijk
hoe ik hier eigenlijk stilletjes wil huilen, maar
me ferm houd aan de reling en peins over oude
tijden waarin brave mensen oprecht wuifden
naar mannen omdat die kleren van bevrijders
droegen. Zie gewoon maar door me heen.
Bert Bevers
Gedicht: Kijk maar door me heen
Verschenen in Watermerk, Middelburg, 2014
Bert Bevers is a poet and writer who lives and works in Antwerp (Be)
• fleursdumal.nl magazine
More in: Archive A-B, Archive A-B, Bevers, Bert
---
Le Navire mystique
Il se sera perdu le navire archaïque
Aux mers où baigneront mes rêves éperdus ;
Et ses immenses mâts se seront confondus
Dans les brouillards d'un ciel de bible et de cantiques.
Un air jouera, mais non d'antique bucolique,
Mystérieusement parmi les arbres nus ;
Et le navire saint n'aura jamais vendu
La très rare denrée aux pays exotiques.
Il ne sait pas les feux des havres de la terre.
Il ne connaît que Dieu, et sans fin, solitaire
Il sépare les flots glorieux de l'infini.
Le bout de son beaupré plonge dans le mystère.
Aux pointes de ses mâts tremble toutes les nuits
L'argent mystique et pur de l'étoile polaire.
Antonin Artaud
(1896 — 1948)
Le Navire mystique
Poème
• fleursdumal.nl magazine
More in: Antonin Artaud, Archive A-B, Archive A-B, Artaud, Antonin
---
John Keats Poem
Who killed John Keats?
'I,' says the Quarterly,
So savage and Tartarly;
"Twas one of my feats.'
Who shot the arrow?
'The poet-priest Milman
(So ready to kill man),
Or Southey or Barrow.
George Gordon Byron
(1788 – 1824)
John Keats Poem
• fleursdumal.nl magazine
More in: Archive A-B, Archive A-B, Byron, Lord, Keats, John
---
Older Entries »
Thank you for reading FLEURSDUMAL.NL - magazine for art & literature