Archive G-H
·
Mary Gardiner Horsford: The Poet's Lesson
·
Mary Gardiner Horsford: The Phantom Bride. – Indian Legends
·
Friedrich Hölderlin: Der Kirchhof (Gedicht)
·
Richard Le Gallienne: Summer Songs
·
The Nobel Prize in Literature 2020 for Louise Glück
·
Richard Le Gallienne: "Face in the Tomb that Lies so Still"
·
Jakob van Hoddis: Varieté
·
Richard Le Gallienne: "I said – – I care not"
·
Kom zijn liefste – over Herman Gorter ( 29 oktober 2020 – Hilversum)
·
Rachel Eliza Giffiths: Seeing the Body. Poems
·
Wilhelm Hauff: Der Kranke, Gedicht
·
Richard Le Gallienne: The Lonely Dancer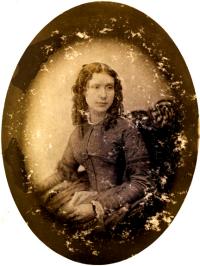 The Poet's Lesson
There came a voice from the realm of thought,
And my spirit bowed to hear,–
A voice with majestic sadness fraught,
By the grace of God most clear.
A mighty tone from the solemn Past,
Outliving the Poet-lyre,
Borne down on the rush of Time's fitful blast.
Like the cloven tongues of fire.
Wouldst thou fashion the song, O! Poet-heart,
For a mission high and free?
The drama of Life, in its every part,
Must a living poem be.
Wouldst thou speed the knight to the battle-field,
In a proven suit of mail?
On the world's highway, with Faith's broad shield,
The peril go forth to hail.
For the noble soul, there is noble strife,
And the sons of earth attain,
Through the wild turmoil and storm of Life,
To discipline, through pain.
Think not that Poesy liveth alone,
In the flow of measured rhyme;
The noble deed with a mightier tone
Shall sound through latest time.
Then poems two, at each upward flight,
In glorious measure fill;
Be the Poem in words, one of beauty and might,
But the Life one, loftier still.
Mary Gardiner Horsford
(1824-1855)
The Poet's Lesson.
• fleursdumal.nl magazine
More in: Archive G-H, Archive G-H, CLASSIC POETRY
---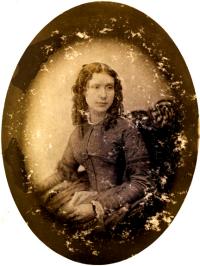 During the Revolutionary war, a young American lady was murdered, while dressed in her bridal robe, by a party of Indians, sent by her betrothed to conduct her to the village where he was encamped.
After the deed was done, they carried her long hair to her lover, who, urged by a frantic despair, hurried to the spot to assure himself of the truth of the tale, and shortly after threw himself, in battle, on the swords of his countrymen.
After this event, the Indians were never successful in their warfare, the spectre of their victim presenting itself continually between them and the enemy.
The Phantom Bride. – Indian Legends
The worn bird of Freedom had furled o'er our land
The shattered wings, pierced by the despot's rude hand,
And stout hearts were vowing, 'mid havoc and strife,
To Liberty, fortune, fame, honor, and life.
The red light of Morning had scarcely betrayed
The sweet summer blossoms that slept in the glade,
When a horseman rode forth from his camp in the wood,
And paused where a cottage in loneliness stood.
The ruthless marauder preceded him there,
For the green vines were torn from the trellis-work fair,
The flowers in the garden all hoof-trodden lay,
And the rafters were black with the smoke of the fray:
But the desolate building he heeded not long,
Was it echo, the wind, or the notes of a song?
One moment for doubt, and he stood by the side
Of the dark-eyed young maiden, his long-promised bride.
Few and short were their words, for the camp of the foe
Was but severed from them, by a stream's narrow flow,
And her fair cheek grew pale at the forest bird's start,
But he said, as he mounted his steed to depart,
"Nay, fear not, but trust to the chief for thy guide,
And the light of the morrow shall see thee my bride."
Why faltered the words ere the sentence was o'er?
Why trembled each heart like the surf on the shore?
In a marvellous legend of old it is said,
That the cross where the Holy One suffered and bled
Was built of the aspen, whose pale silver leaf,
Has ever more quivered with horror and grief;
And e'er since the hour, when thy pinion of light
Was sullied in Eden, and doomed, through a night
Of Sin and of Sorrow, to struggle above,
Hast thou been a trembler, O beautiful Love!
'T was the deep hush of midnight; the stars from the sky
Looked down with the glance of a seraph's bright eye,
When it cleaveth in vision from Deity's shrine
Through infinite space and creation divine,
As the maiden came forth for her bridal arrayed,
And was led by the red men through forest and shade,
Till they paused where a fountain gushed clear in its play,
And the tall pines rose dark and sublime o'er their way.
Alas for the visions that, joyous and pure,
Wove a vista of light through the Future's obscure!
Contention waxed fierce 'neath the evergreen boughs,
And the braves of the chieftain were false to his vows;
In vain knelt the Pale-Face to merciless wrath,
The tomahawk gleamed on her desolate path,
One prayer for her lover, one look towards the sky,
And the dark hand of Death closed the love-speaking eye.
They covered with dry leaves the cold corpse and fair,
And bore the long tresses of soft, golden hair,
In silence and fear, through the dense forest wide,
To the home that the lover had made for his bride.
He knew by their waving those tresses of gold,
Now damp with the life-blood that darkened each fold,
And, mounting his steed, pausing never for breath
Sought the spot where the huge trees stood sentries of Death;
Tore wildly the leaves from the loved form away,
And kissed the pale lips of inanimate clay.
But hark! through the green wood what sounded afar,
'T was the trumpet's loud peal–the alarum of war!
Again on his charger, through forest, o'er plain,
The soldier rode swift to his ranks 'mid the slain:
They faltered, they wavered, half turning to fly
As their leader dashed frantic and fearlessly by,
The damp turf grew crimson wherever he trod,
Where his sword was uplifted a soul went to God.
But that brave arm alone might not conquer in strife,
The madness of grief was conflicting with Life;
His steed fell beneath him, the death-shot whizzed by,
And he rushed on the swords of the victors to die.
'Neath the murmuring pine trees they laid side by side,
The gallant young soldier, the fair, murdered bride:
And never again from that traitorous night,
The red man dared stand in the battle's fierce storm,
For ever before him a phantom of light,
Rose up in the white maiden's beautiful form;
And when he would rush on the foe from his lair,
Those locks of pale gold floated past on the air.
Mary Gardiner Horsford
(1824-1855)
The Phantom Bride. – Indian Legends
• fleursdumal.nl magazine
More in: Archive G-H, Archive G-H, CLASSIC POETRY, Western Fiction
---
Der Kirchhof
Du stiller Ort, der grünt mit jungem Grase,
Da liegen Mann und Frau, und Kreuze stehn,
Wohin hinaus geleitet Freunde gehn,
Wo Fenster sind glänzend mit hellem Glase.
Wenn glänzt an dir des Himmels hohe Leuchte
Des Mittags, wann der Frühling dort oft weilt,
Wenn geistige Wolke dort, die graue, feuchte,
Wenn sanft der Tag vorbei mit Schönheit eilt!
Wie still ist′s nicht an jener grauen Mauer,
Wo drüber her ein Baum mit Früchten hängt;
Mit schwarzen tauigen, und Laub voll Trauer,
Die Früchte aber sind sehr schön gedrängt.
Dort in der Kirch ist eine dunkle Stille
Und der Altar ist auch in dieser Nacht geringe,
Noch sind darin einige schöne Dinge,
Im Sommer aber singt auf Feldern manche Grille.
Wenn einer dort Reden des Pfarrherrn hört,
Indes die Schar der Freunde steht daneben,
Die mit dem Toten sind, welch eignes Leben
Und welcher Geist, und fromm sein ungestört.
Friedrich Hölderlin
(1770 – 1843)
Der Kirchhof
Gedicht
• fleursdumal.nl magazine
More in: Archive G-H, Archive G-H, Hölderlin, Friedrich
---
Summer Songs
I
How thick the grass,
How green the shade–
All for love
And lovers made.
Wood-lilies white
As hidden lace–
Open your bodice,
That's their place.
See how the sun-god
Overpowers
The summer lying
Deep in flowers;
With burning kisses
Of bright gold
Fills her young womb
With joy untold;
And all the world
Is lad and lass,
A blue sky
And a couch of grass.
Summer is here–
let us drain
It all! it may
Not come again.
II
How the leaves thicken
On the boughs,
And the birds make
Their lyric vows.
O the beating, breaking
Heart of things,
The pulse and passion–
How it sings.
How it burns and flames
And showers,
Lusts and laughs, flowers
And deflowers.
III
Summer came,
Rose on rose;
Leaf on leaf,
Summer goes.
Summer came,
Song on song;
O summer had
A golden tongue.
Summer goes,
Sigh on sigh;
Not a rose
Sees him die.
Richard Le Gallienne
(1866 – 1947)
Summer Songs
From: The lonely Dancer and other Poems, 1913
•fleursdumal.nl magazine
More in: Archive G-H, Archive G-H, Gallienne, Richard Le
---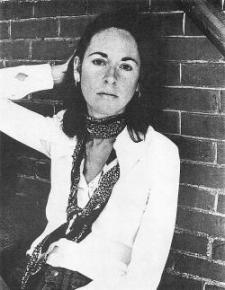 Louise Glück
The Nobel Prize in Literature 2020
Born: 1943, New York, NY, USA
Prize motivation: "for her unmistakable poetic voice that with austere beauty makes individual existence universal."
"The master said You must write what you see.
But what I see does not move me.
The master answered Change what you see."
Louise Glück
Epigraph
(Vita Nova 1999)
(photo 1977)
• fleursdumal.nl magazine
More in: #Editors Choice Archiv, Archive G-H, Archive G-H, Awards & Prizes
---
"Face in the Tomb
 that Lies so Still"
Face in the tomb, that lies so still,
May I draw near,
And watch your sleep and love you,
Without word or tear.
You smile, your eyelids flicker;
Shall I tell
How the world goes that lost you?
Shall I tell?
Ah! love, lift not your eyelids;
'Tis the same
Old story that we laughed at,–
Still the same.
We knew it, you and I,
We knew it all:
Still is the small the great,
The great the small;
Still the cold lie quenches
The flaming truth,
And still embattled age
Wars against youth.
Yet I believe still in the ever-living God
That fills your grave with perfume,
Writing your name in violets across the sod,
Shielding your holy face from hail and snow;
And, though the withered stay, the lovely go,
No transitory wrong or wrath of things
Shatters the faith–that each slow minute brings
That meadow nearer to us where your feet
Shall flicker near me like white butterflies–
That meadow where immortal lovers meet,
Gazing for ever in immortal eyes.
Richard Le Gallienne
(1866 – 1947)
"Face in the Tomb that Lies so Still"
From: The lonely Dancer and other Poems, 1913
• fleursdumal.nl magazine
More in: Archive G-H, Archive G-H, Galerie des Morts, Gallienne, Richard Le
---
Varieté
I
Loge
Ein Walzer rumpelt; geile Geigen kreischen;
Die Luft ist weiss vom Dunst der Zigaretten;
Es riecht nach Moschus, Schminke, Wein, nach fetten
Indianern und entblössten Weiberfleischen.
Ah! Schwimmen in der dicken Luft die vielen
Dämlichen Köpfe, die ins Helle glotzen?
Drei Weiber lässt man auf der Bühne spielen,
Die süsslich mit gemeinen Gesten protzen.
II
Der Athlet
Und der Athlet tritt auf und staunen kannst de,
Wie er ein Brett mit seiner Faust zerhaut.
Er geht einher mit ungeheurem Wanste
Und feistem Arm und Nacken, schweissbetaut.
Und kurze Hosen schlottern um die Beinchen,
Die sind zu dünnen Stöckchen deformiert.
Prunkende Seide seine Füsschen ziert.
Ach! sind die niedlich! Wie zwei rosa Schweinchen.
III
Der Humorist
Ein alter Mann in einem neuen Fracke
Plärrt jetzt seine Liebesabenteuer.
Und besonders nach gewissen neuern
Abenteuern,
Spricht er, gleiche er dem Wracke,
Das auf den Wellen wackle ohne Rast,
Der Winds-"Braut" preisgegeben, ohne Steuer,
Sogar mit halb verfaultem "Mast".
IV
Tanz
Ein kleines Mädchen mit gebrannten Löckchen
In einem Hemd ganz himmelblau –
Die blossen Beine trippeln ohne Söckchen.
Sie singt: "Ach, tu mir nichts zuleide!
Ach Du! Heut werd ich Deine Frau."
Dann tanzt sie gierig und mit Chic
Zu einer holprigen Musik.
Und durch die Wirbel blauer Seide
Siehst de den jungen Leib genau.
V
Die Inderin
Sie hebt den dünnen Arm; da duckt zum Sprunge
Das dunkle Pantherpaar, durch sieben Reifen
Fährt es hindurch mit elegantem Schwunge.
Und ihre bösen starken Pranken streifen
(Wenn sie verwirrt zurück zum Käfig taumeln)
Die Perlenschnüre, die … von einem lila Gurte …
Um ihrer nackten Herrin Hüften baumeln.
VI
Ballet
Neger schlenkern aufrecht mit den Beinen,
Auf dem Rumpfe gelbliche Trikots.
Und dazwischen tanzen unsere frechen kleinen
Weiber blond und nackend; ganz famos
Angezogen:
Nur mit goldenen Stöckelschuhn,
Mit denen sie die fauchenden Athleten
Behende in die dicken Nasen treten.
VII
Die Soubrette
Ein Weibsbild kommt als Jägersmann
Und schiesst auf ihrer Flinten.
Und sieht sich einen Vogel an
Und zeigt sich uns von hinten.
Ihr Hintern biegt sich unerhört
Auf Beinen stramm wie Säulen.
Sie singt: "Mich hat die Lieb verstört
Juchhei! im grünen Walde …"
VIII
Die Tänzerin
Wie mich die zärtlichen Gelenke rühren,
Dein magrer Nacken, Deiner Kniee Biegen!
Ich zürne fast. Werde ich Dir erliegen?
Wirst Du zu jenem Traum zurück mich führen,
Den ich als Knabe liebend mir erbaute
Aus süssen Versen und dem Spiel der schönen
Schauspielerinnen, linden Geigentönen
Und Idealen, die ich klaute?
Ach! keine fand ich jenem Traume gleich,
Ich musste weinend Weib um Weib vermeiden,
Ich war verbannt zu unermessnen Leiden,
Und hasse jenen Traum. Ich spähe bleich,
Und sorgsam späh ich wie Dein Leib sich wende,
Nach jeder Fehle, die im Tanz du zeigst,
Ich bin dir dankbar, da du doch am Ende
Mit einem blöden Lächeln dich verneigst.
IX
Lebendes Bild
Zwei Skribenten mit zu großer Neese
Sitzen vor der Wand aus gelbem Taft;
Und sie sorgen sich um die Synthese
Der Kultur und um die Jungfernschaft.
Denn der Teufel schreitet durch die Mitte
Und ist gänzlich ohne innern Halt.
Feurig federn seine langen Schritte,
Schwarz und wechselnd ist er von Gestalt.
Und er wedelt mit dem schlangenhaften Schweife;
Denn er hat mit einer Maus gehurt,
Und im Vordergrund raucht schon die Pfeife
Seine neugeborne Mißgeburt.
Jakob van Hoddis
(1887 – 1942)
Varieté (Gedicht) 1911
• fleursdumal.nl magazine
More in: Archive G-H, Archive G-H, Hoddis, Jakob van
---
"I said–I care not"
I said–I care not if I can
But look into her eyes again,
But lay my hand within her hand
Just once again.
Though all the world be filled with snow
And fire and cataclysmal storm,
I'll cross it just to lay my head
Upon her bosom warm.
Ah! bosom made of April flowers,
Might I but bring this aching brain,
This foolish head, and lay it down
On April once again!
Richard Le Gallienne
(1866 – 1947)
"I said–I care not"
From: The lonely Dancer and other Poems, 1913
• fleursdumal.nl magazine
More in: Archive G-H, Archive G-H, Gallienne, Richard Le
---
Stichting Feest der Poëzie organiseert met Sociëteit "De Unie" Hilversum op donderdag 29 oktober 2020 in de serie Gooise dichters van het Feest der Poëzie een avond over Herman Gorter.
Herman Gorter, de dichter van 'Mei' ('Een nieuwe lente en een nieuw geluid…'), woonde een aantal jaren aan de Nieuwe 's-Gravelandseweg 66 in Bussum, in een huis naar ontwerp van architect Berlage.
Voordrachtskunstenaar Simon Mulder en soundscape-artiesten Beggar Brahim (elektrische gitaar) en Jesse LaChiffre (klarinet) brengen nummers van de CD 'Herman Gorter – Verzen 1890', waarbij de gedichten uit de lyrische, experimentele, sensitivistische periode van classicus, dichter en socialist Herman Gorter, een unieke samenklank aangaan met Beggar Brahims klanklandschappen.
Klassiek muziekduo Marleen van Os en Daan van de Velde brengt bijzondere en nauwelijks uitgevoerde liederen op teksten van Gorter, bijgestaan door sopraan Heleen Oomen.
Stadsdichter Mieke van Zonneveld brengt de gedichten van Gorter die zij als motto's in haar debuutbundel Leger gebruikte, en de daarbij behorende gedichten.
Verder bijzondere filmbeelden van Gorter van filminstituut Eye en de première van de videoclip 'In de zwarte nacht'.
Sociëteit "De Unie" Hilversum
donderdag 29 oktober 2020
20:00 – 22:00 uur
s-Gravelandseweg 57
1217 EH Hilversum
Reserveringen worden verzorgd door ticketkantoor.nl
#  Website Stichting Feest der Poëzie
• fleursdumal.nl magazine
More in: # Music Archive, #Editors Choice Archiv, Archive G-H, Archive G-H, Art & Literature News, AUDIO, CINEMA, RADIO & TV, Feest der Poëzie, Gorter, Herman
---
An elegiac and moving meditation on the ways in which we witness "bodies" of grief and healing.
Poems and photographs collide in this intimate collection, challenging the invisible, indefinable ways mourning takes up residence in a body, both before and after life-altering loss.
In radiant poems—set against the evocative and desperate backdrop of contemporary events, pop culture, and politics—Rachel Eliza Griffiths reckons with her mother's death, aging, authority, art, black womanhood, memory, and the American imagination. The poems take shape in the space where public and private mourning converge, finding there magic and music alongside brutality and trauma. Griffiths braids a moving narrative of identity and its possibilities for rebirth through image and through loss.
A photographer as well as a poet, Griffiths accompanies the fierce rhythm of her verses with a series of ghostly, imaginative self-portraits, blurring the body's internal wilderness with landscapes alive with beauty and terror. The collision of text and imagery offers an associative autobiography, in which narratives of language, absence, and presence are at once saved, revised, and often erased. Seeing the Body dismantles personal and public masks of silence and self-destruction to visualize and celebrate the imperfect freedom of radical self-love.
Rachel Eliza Griffiths is the author of four previous collections of poetry, including Lighting the Shadow. Her literary and visual work has appeared in The New Yorker, the New York Times, Paris Review, and many other publications. She lives in New York City.
Seeing the Body
Poems
Rachel Eliza Giffiths
Title Seeing the Body
Subtitle Poems
Author Rachel Eliza Giffiths
Publisher W. W. Norton & Company
Title First Published 09 June 2020
Format Hardcover
ISBN-10 1324005661
ISBN-13 9781324005667
Available for Sale 06/09/2020!
Price $26.95
# more poetry
Rachel Eliza Giffiths
Seeing the Body
• fleursdumal.nl magazine
More in: #Editors Choice Archiv, - Book News, Archive G-H, Archive G-H
---
Der Kranke
Zitternd auf der Berge Säume
Fällt der Sonne letzter Strahl,
Eingewiegt in düstre Träume
Blickt der Kranke in das Tal,
Sieht der Wolken schnelles Jagen
Durch das trübe Dämmerlicht —
Ach, des Busens stille Klagen
Tragen ihn zur Heimat nicht!
Und mit glänzendem Gefieder
Zog die Schwalbe durch die Luft,
Nach der Heimat zog sie wieder,
Wo ein milder Himmel ruft;
Und er hört ihr fröhlich Singen,
Sehnsucht füllt des Armen Blick,
Ach, er sah sie auf sich schwingen,
Und sein Kummer bleibt zurück.
Schöner Fluß mit blauem Spiegel,
Hörst du seine Klagen nicht?
Sag' es seiner Heimat Hügel,
Daß des Kranken Busen bricht.
Aber kalt rauscht er vom Strande
Und entrollt ins stille Tal,
Schweiget in der Heimat Lande
Von des Kranken stiller Qual.
Und der Arme stützt die Hände
An das müde, trübe Haupt;
Eins ist noch, wohin sich wende
Der, dem aller Trost geraubt;
Schlägt das blaue Auge wieder
Mutig auf zum Horizont,
Immer stieg ja Trost hernieder
Dorther, wo die Liebe wohnt.
Und es netzt die blassen Wangen
Heil'ger Sehnsucht stiller Quell,
Und es schweigt das Erdverlangen,
Und das Auge wird ihm hell:
Nach der ew'gen Heimat Lande
Strebt sein Sehnen kühn hinauf,
Sehnsucht sprengt der Erde Bande,
Psyche schwingt zum Licht sich auf.
Wilhelm Hauff
(1802 – 1827)
Der Kranke, Gedicht
• fleursdumal.nl magazine
More in: Archive G-H, Archive G-H, Hauff, Hauff, Wilhelm, Tales of Mystery & Imagination
---
The Lonely Dancer
I had no heart to join the dance,
I danced it all so long ago–
Ah! light-winged music out of France,
Let other feet glide to and fro,
Weaving new patterns of romance
For bosoms of new-fallen snow.
But leave me thus where I may hear
The leafy rustle of the waltz,
The shell-like murmur in my ear,
The silken whisper fairy-false
Of unseen rainbows circling near,
And the glad shuddering of the walls.
Another dance the dancers spin,
A shadow-dance of mystic pain,
And other partners enter in
And dance within my lonely brain–
The swaying woodland shod in green,
The ghostly dancers of the rain;
The lonely dancers of the sea,
Foam-footed on the sandy bar,
The wizard dance of wind and tree,
The eddying dance of stream and star;
Yea, all these dancers tread for me
A measure mournful and bizarre:
An echo-dance where ear is eye,
And sound evokes the shapes of things,
Where out of silence and a sigh
The sad world like a picture springs,
As, when some secret bird sweeps by,
We see it in the sound of wings.
Those human feet upon the floor,
That eager pulse of rhythmic breath,–
How sadly to an unknown shore
Each silver footfall hurryeth;
A dance of autumn leaves, no more,
On the fantastic wind of death.
Fire clasped to elemental fire,
'Tis thus the solar atom whirls;
The butterfly in aery gyre,
On autumn mornings, swarms and swirls,
In dance of delicate desire,
No other than these boys and girls.
The same strange music everywhere,
The woven paces just the same,
Dancing from out the viewless air
Into the void from whence they came;
Ah! but they make a gallant flare
Against the dark, each little flame!
And what if all the meaning lies
Just in the music, not in those
Who dance thus with transfigured eyes,
Holding in vain each other close;
Only the music never dies,
The dance goes on,–the dancer goes.
A woman dancing, or a world
Poised on one crystal foot afar,
In shining gulfs of silence whirled,
Like notes of the strange music are;
Small shape against another curled,
Or dancing dust that makes a star.
To him who plays the violin
All one it is who joins the reel,
Drops from the dance, or enters in;
So that the never-ending wheel
Cease not its mystic course to spin,
For weal or woe, for woe or weal.
Richard Le Gallienne
(1866 – 1947)
The Lonely Dancer
From: The lonely Dancer and other Poems, 1913
• fleursdumal.nl magazine
More in: Archive G-H, Archive G-H, Gallienne, Richard Le
---
Older Entries »
Thank you for reading FLEURSDUMAL.NL - magazine for art & literature