Bierce, Ambrose
·
Ambrose Bierce: Presentiment
·
Ambrose Bierce: An Obituarian
·
Ambrose Bierce: A Commuted Sentence
·
Ambrose Bierce: Three Kinds of a Rogue
·
Ambrose Bierce: The Key Note
Presentiment
With saintly grace and reverent tread,
She walked among the graves with me;
Her every foot-fall seemed to be
A benediction on the dead.
The guardian spirit of the place
She seemed, and I some ghost forlorn
Surprised in the untimely morn
She made with her resplendent face.
Moved by some waywardness of will,
Three paces from the path apart
She stepped and stood — my prescient heart
Was stricken with a passing chill.
The folk-lore of the years agone
Remembering, I smiled and thought:
"Who shudders suddenly at naught,
His grave is being trod upon."
But now I know that it was more
Than idle fancy. O, my sweet,
I did not think so little feet
Could make a buried heart so sore!
Ambrose Bierce
(1842-1914)
poetry
fleursdumal.nl magazine
More in: Archive A-B, Archive A-B, Bierce, Ambrose
---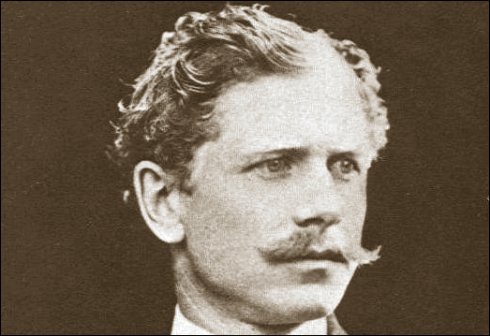 Ambrose Bierce
(1842-1914?)
An Obituarian

Death-poet Pickering sat at his desk,
Wrapped in appropriate gloom;
His posture was pensive and picturesque,
Like a raven charming a tomb.
Enter a party a-drinking the cup
Of sorrow–and likewise of woe:
"Some harrowing poetry, Mister, whack up,
All wrote in the key of O.
"For the angels has called my old woman hence
From the strife (where she fit mighty free).
It's a nickel a line? Cond–n the expense!
For wealth is now little to me."
The Bard of Mortality looked him through
In the piercingest sort of a way:
"It is much to me though it's little to you–
I've taken a wife to-day."
So he twisted the tail of his mental cow
And made her give down her flow.
The grief of that bard was long-winded, somehow–
There was reams and reamses of woe.
The widower man which had buried his wife
Grew lily-like round each gill,
For she turned in her grave and came back to life–
Then he cruel ignored the bill!
Then Sorrow she opened her gates a-wide,
As likewise did also Woe,
And the death-poet's song, as is heard inside,
Is sang in the key of O.

Ambrose Bierce poetry
fleursdumal.nl magazine
More in: Archive A-B, Bierce, Ambrose
---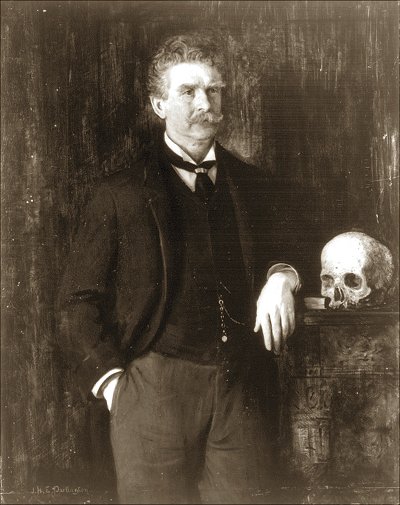 Ambrose Bierce
(1842-1914?)
A Commuted Sentence

Boruck and Waterman upon their grills
In Hades lay, with many a sigh and groan,
Hotly disputing, for each swore his own
Were clearly keener than the other's ills.
And, truly, each had much to boast of–bone
And sinew, muscle, tallow, nerve and skin,
Blood in the vein and marrow in the shin,
Teeth, eyes and other organs (for the soul
Has all of these and even a wagging chin)
Blazing and coruscating like a coal!
For Lower Sacramento, you remember,
Has trying weather, even in mid-December.
Now this occurred in the far future. All
Mankind had been a million ages dead,
And each to her reward above had sped,
Each to his punishment below,–I call
That quite a just arrangement. As I said,
Boruck and Waterman in warmest pain
Crackled and sizzed with all their might and main.
For, when on earth, they'd freed a scurvy host
Of crooks from the State prison, who again
Had robbed and ravaged the Pacific Coast
And (such the felon's predatory nature)
Even got themselves into the Legislature.
So Waterman and Boruck lay and roared
In Hades. It is true all other males
Felt the like flames and uttered equal wails,
But did not suffer them; whereas they bored
Each one the other. But indeed my tale's
Not getting on at all. They lay and browned
Till Boruck (who long since his teeth had ground
Away and spoke Gum Arabic and made
Stump speeches even in praying) looked around
And said to Bob's incinerated shade:
"Your Excellency, this is mighty hard on
The inventors of the unpardonable pardon."
The other soul–his right hand all aflame,
For 'twas with that he'd chiefly sinned, although
His tongue, too, like a wick was working woe
To the reserve of tallow in his frame–
Said, with a sputtering, uncertain flow,
And with a gesture like a shaken torch:
"Yes, but I'm sure we'll not much longer scorch.
Although this climate is not good for Hope,
Whose joyous wing 'twould singe, I think the porch
Of Hell we'll quit with a pacific slope.
Last century I signified repentance
And asked for commutation of our sentence."
Even as he spoke, the form of Satan loomed
In sight, all crimson with reflections's fire,
Like some tall tower or cathedral spire
Touched by the dawn while all the earth is gloomed
In mists and shadows of the night time. "Sire,"
Said Waterman, his agitable wick
Still sputtering, "what calls you back so quick?
It scarcely was a century ago
You left us." "I have come to bring," said Nick,
"St. Peter's answer (he is never slow
In correspondence) to your application
For pardon–pardon me!–for commutation.
"He says that he's instructed to reply
(And he has so instructed me) that sin
Like yours–and this poor gentleman's who's in
For bad advice to you–comes rather high;
But since, apparently, you both begin
To feel some pious promptings to the right,
And fain would turn your faces to the light,
Eternity seems all too long a term.
So 'tis commuted to one-half. I'm quite
Prepared, when that expires, to free the worm
And quench the fire." And, civilly retreating,
He left them holding their protracted meeting.

Ambrose Bierce poetry
fleursdumal.nl magazine
More in: Archive A-B, Bierce, Ambrose
---
Ambrose Bierce
(1842-1914?)
Three Kinds of a Rogue
I
Sharon, ambitious of immortal shame,
Fame's dead-wall daubed with his illustrious name–
Served in the Senate, for our sins, his time,
Each word a folly and each vote a crime;
Law for our governance well skilled to make
By knowledge gained in study how to break;
Yet still by the presiding eye ignored,
Which only sought him when too loud he snored.
Auspicious thunder!–when he woke to vote
He stilled his own to cut his country's throat;
That rite performed, fell off again to sleep,
While statesmen ages dead awoke to weep!
For sedentary service all unfit,
By lying long disqualified to sit,
Wasting below as he decayed aloft,
His seat grown harder as his brain grew soft,
He left the hall he could not bring away,
And grateful millions blessed the happy day!
Whate'er contention in that hall is heard,
His sovereign State has still the final word:
For disputatious statesmen when they roar
Startle the ancient echoes of his snore,
Which from their dusty nooks expostulate
And close with stormy clamor the debate.
To low melodious thunders then they fade;
Their murmuring lullabies all ears invade;
Peace takes the Chair; the portal Silence keeps;
No motion stirs the dark Lethean deeps–
Washoe has spoken and the Senate sleeps.
II
Lo! the new Sharon with a new intent,
Making no laws, but keen to circumvent
The laws of Nature (since he can't repeal)
That break his failing body on the wheel.
As Tantalus again and yet again
The elusive wave endeavors to restrain
To slake his awful thirst, so Sharon tries
To purchase happiness that age denies;
Obtains the shadow, but the substance goes,
And hugs the thorn, but cannot keep the rose;
For Dead Sea fruits bids prodigally, eats,
And then, with tardy reformation–cheats.
Alert his faculties as three score years
And four score vices will permit, he nears–
Dicing with Death–the finish of the game,
And curses still his candle's wasting flame,
The narrow circle of whose feeble glow
Dims and diminishes at every throw.
Moments his losses, pleasures are his gains,
Which even in his grasp revert to pains.
The joy of grasping them alone remains.
III
Ring up the curtain and the play protract!
Behold our Sharon in his last mad act.
With man long warring, quarreling with God,
He crouches now beneath a woman's rod
Predestined for his back while yet it lay
Closed in an acorn which, one luckless day,
He stole, unconscious of its foetal twig,
From the scant garner of a sightless pig.
With bleeding shoulders pitilessly scored,
He bawls more lustily than once he snored.
The sympathetic Comstocks droop to hear,
And Carson river sheds a viscous tear,
Which sturdy tumble-bugs assail amain,
With ready thrift, and urge along the plain.
The jackass rabbit sorrows as he lopes;
The sage-brush glooms along the mountain slopes;
In rising clouds the poignant alkali,
Tearless itself, makes everybody cry.
Washoe canaries on the Geiger Grade
Subdue the singing of their cavalcade,
And, wiping with their ears the tears unshed,
Grieve for their family's unlucky head.
Virginia City intermits her trade
And well-clad strangers walk her streets unflayed.
Nay, all Nevada ceases work to weep
And the recording angel goes to sleep.
But in his dreams his goose-quill's creaking fount
Augments the debits in the long account.
And still the continents and oceans ring
With royal torments of the Silver King!
Incessant bellowings fill all the earth,
Mingled with inextinguishable mirth.
He roars, men laugh, Nevadans weep, beasts howl,
Plash the affrighted fish, and shriek the fowl!
With monstrous din their blended thunders rise,
Peal upon peal, and brawl along the skies,
Startle in hell the Sharons as they groan,
And shake the splendors of the great white throne!
Still roaring outward through the vast profound,
The spreading circles of receding sound
Pursue each other in a failing race
To the cold confines of eternal space;
There break and die along that awful shore
Which God's own eyes have never dared explore–
Dark, fearful, formless, nameless evermore!
Look to the west! Against yon steely sky
Lone Mountain rears its holy cross on high.
About its base the meek-faced dead are laid
To share the benediction of its shade.
With crossed white hands, shut eyes and formal feet,
Their nights are innocent, their days discreet.
Sharon, some years, perchance, remain of life–
Of vice and greed, vulgarity and strife;
And then–God speed the day if such His will–
You'll lie among the dead you helped to kill,
And be in good society at last,
Your purse unsilvered and your face unbrassed.
Ambrose Bierce poetry
fleursdumal.nl magazine
More in: Archive A-B, Bierce, Ambrose
---
Ambrose Bierce
(1842-1914?)
The Key Note

I dreamed I was dreaming one morn as I lay
In a garden with flowers teeming.
On an island I lay in a mystical bay,
In the dream that I dreamed I was dreaming.
The ghost of a scent–had it followed me there
From the place where I truly was resting?
It filled like an anthem the aisles of the air,
The presence of roses attesting.
Yet I thought in the dream that I dreamed I dreamed
That the place was all barren of roses–
That it only seemed; and the place, I deemed,
Was the Isle of Bewildered Noses.
Full many a seaman had testified
How all who sailed near were enchanted,
And landed to search (and in searching died)
For the roses the Sirens had planted.
For the Sirens were dead, and the billows boomed
In the stead of their singing forever;
But the roses bloomed on the graves of the doomed,
Though man had discovered them never.
I thought in my dream 'twas an idle tale,
A delusion that mariners cherished–
That the fragrance loading the conscious gale
Was the ghost of a rose long perished.
I said, "I will fly from this island of woes."
And acting on that decision,
By that odor of rose I was led by the nose,
For 'twas truly, ah! truly, Elysian.
I ran, in my madness, to seek out the source
Of the redolent river–directed
By some supernatural, sinister force
To a forest, dark, haunted, infected.
And still as I threaded ('twas all in the dream
That I dreamed I was dreaming) each turning
There were many a scream and a sudden gleam
Of eyes all uncannily burning!
The leaves were all wet with a horrible dew
That mirrored the red moon's crescent,
And all shapes were fringed with a ghostly blue,
Dim, wavering, phosphorescent.
But the fragrance divine, coming strong and free,
Led me on, though my blood was clotting,
Till–ah, joy!–I could see, on the limbs of a tree,
Mine enemies hanging and rotting!
Ambrose Bierce poetry
fleursdumal.nl magazine
More in: Archive A-B, Bierce, Ambrose
---
Thank you for reading FLEURSDUMAL.NL - magazine for art & literature