DICTIONARY OF IDEAS
·
Emerald Wounds: Selected Poems by Joyce Mansour
·
Alfred Jarry: L'Homme à la hache. D'après et pour P. Gauguin
·
FILMAVOND BOER OF DUTY: film Dick Verdult
·
Banned Books Week: Defend free expression, support persecuted writers, and promote literary culture
·
Ulrike Draesner: Schwitters in the Lakes
·
TENTOONSTELLING: 'TUIN DER TEDERHEID'
·
BLACK LIVES MATTER
·
The Penguin Book of Oulipo: Queneau, Perec, Calvino and the Adventure of Form by Philip Terry (Editor)
·
Assemblages Wijnand van Lieshout # Tentoonstelling in Tilburg
·
Antony Kok – dichter en medeoprichter kunsttijdschrift De Stijl – 50 jaar geleden overleden
·
All That Is Evident Is Suspect. Readings from the Oulipo, 1963 – 2018
·
Nexus-Symposium The Magic Mountain Revisited. Cultivating the Human Spirit in Dispirited Times
Joyce Mansour (1928–1986), a Syrian Jewish exile from Egypt, was born in England.
She became a well known female poet, author of 16 books of poetry, as well as a number of important prose and theatre pieces.

Mansour was 25 years old when she published her first book in Paris in 1953.
Her fierce, macabre, erotically charged works caught the eye of André Breton, who welcomed her into his Surrealist group and became her lifelong friend and ally.
Despite her success in surrealist circles, her books received scant attention from the literary establishment, which is hardly surprising since Mansour's favorite topics happened to be two of society's greatest fears: death and unfettered female desire.
She lived in Paris, France until her death in 1986 at the age of 58.
Now, over half a century later, Mansour's time has come. Emerald Wounds collects her most important work, spanning the entire arc of her career, from the gothic, minimalist fragments of her first published work to the serpentine power of her poems of the 1980s.
In fresh new translations, Mansour's voice surges forth uncensored and raw, communicating the frustrations, anger, and sadness of an intelligent, worldly woman who defies the constraints and oppression of a male-dominated society. Mansour is a poet the world needs today.
"You know very well, Joyce, that you are for me –and very objectively too– the greatest poet of our time. Surrealist poetry, that's you." –André Breton
"A woman created the sun
Inside her
And her hands were beautiful
The earth plunged beneath her feet
Assailing her with the fertile breath
Of volcanoes "

Emerald Wounds: Selected Poems
by Joyce Mansour (Author)
Garrett Caples (Editor)
Emilie Moorhouse (Translator)
Published by City Lights
ISBN: 9780872869011
July 25, 2023
217 pages
Paperback
26,99 euro
• fleursdumal.nl magazine
More in: #Experimental Poetry Archive, - Book News, - Bookstores, Archive M-N, Archive M-N, Surrealism, SURREALISM, Surrealisme
---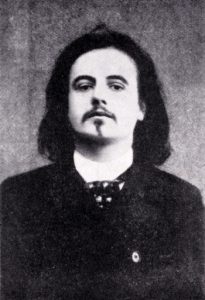 L'Homme à la hache
D'après et pour P. Gauguin
A l'horizon, par les brouillards,
Les tintamarres des hasards,
Vagues, nous armons nos démons
Dans l'entre-deux sournois des monts.
Au rivage que nous fermons
Dome un géant sur les limons.
Nous rampons à ses pieds, lézards.
Lui, sur son char tel un César
Ou sur un piédestal de marbre,
Taille une barque en un tronc d'arbre
Pour debout dessus nous poursuivre
Jusqu'à la fin verte des lieues.
Du rivage ses bras de cuivre
Lèvent au ciel la hache bleue.
Alfred Jarry
(1873-1907)
L'Homme à la hache
D'après et pour P. Gauguin
(1894)
• fleursdumal.nl magazine
More in: Archive I-J, Archive I-J, Jarry, Alfred, Surrealism, SURREALISM, Surrealisme
---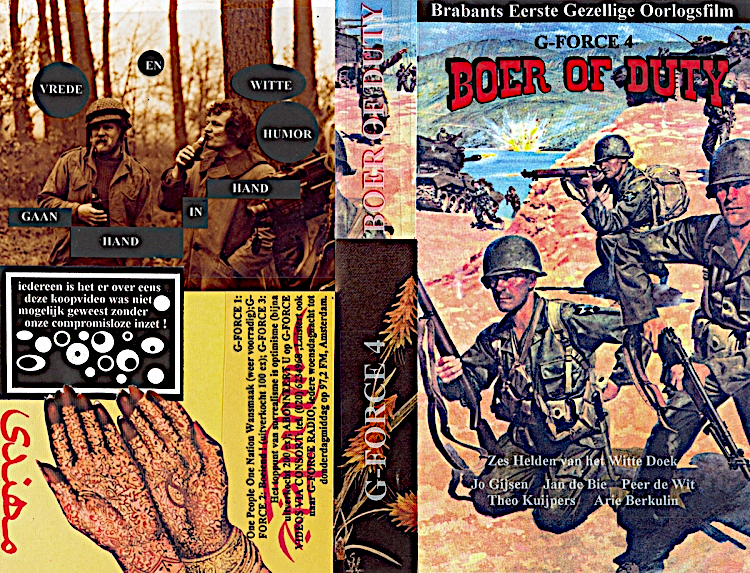 FILMAVOND BOER OF DUTY
film Dick Verdult
02.02 2023
In het kader van de tentoonstelling van Vincent Dams wordt op deze avond de film 'Boer of Duty' van Dick Verdult vertoond. Dams zegt:
'Het toppunt van surrealisme is optimisme!
Twee zomers geleden hielp ik in de lockdown mee op een filmset van goede vriend en collega Dick Verdult. Dus toen de vraag vanuit PARK kwam om een filmavond te organiseren gingen mijn gedachten gelijk daar naartoe. Maar aangezien die film, 'Als uw gat maar lacht', 29 januari aanstaande pas in première gaat op het Rotterdams filmfestival was het zeer begrijpelijk niet echt mogelijk die enkele dagen later te tonen in PARK.
"Je kan misschien wel 'Boer of Duty' laten zien", zei Dick, waarop ik na wat peinzen reageerde, "dat is eigenlijk best een goed idee".
Op het ontwerp van de oude VHS hoes las ik de zin 'Het toppunt van surrealisme is optimisme' waarmee het mooi direct aansluiting vindt bij mijn tentoonstelling over optimisme in rare tijden bij PARK. En terwijl ik als negenjarig jongetje scènes uit Tour of Duty, de welbekende serie over de Vietnamoorlog na speelde in de bosjes en struiken van Veldhoven, deed in 1993 Dick dus hetzelfde, 10 km verderop in de bossen en landerijen van Nederwetten, alleen dan mét camera.
Deze 'eerste gezellige Brabantse oorlogsfilm', die we gerust een cultklassieker kunnen noemen, wiens cast bijna volledig uit oude gerenommeerde Brabantse kunstenaars bestaat zoals Jo Gijsen, Jan de Bie, Peer de Wit, Theo Kuijpers en Arie Berkulin, beleeft dus 30 jaar later eindelijk zijn Tilburgse première.'
Vincent Dams verricht op deze avond ook de introductie.
Credits van de film: Dick Verdult / Ibw / G-Force Videos.
Donderdag 2 februari 2023
Zaal open 19.30 uur
Aanvang 20.00 uur
De film duurt 60 minuten, na afloop is er gelegenheid voor een drankje
Toegang € 5,-
ParkTilburg
Wilhelminapark 53, 5041 ED Tilburg
park(at)park013.nl
Twitter.com/ParkTilburg
Facebook.com/Park013
https://www.instagram.com/park_tilburg/
PARK ligt op 10 minuten loopafstand van het Centraal Station Tilburg in de nabijheid van Museum De Pont. Er is beperkt parkeergelegenheid voor de deur.
Brabants eerste gezellige oorlogsfilm
• fleursdumal.nl magazine
More in: Art & Literature News, AUDIO, CINEMA, RADIO & TV, Exhibition Archive, Literary Events, Park, SURREALISM
---
BANNED BOOKS WEEK
September 26 – October 2 for the 2021
celebration of the right to read!

Across the United States, divisive book bans and censorious threats have taken hold in schools, academia, and the public square, particularly in regards to books that center racism, history, and diversity. This has raised questions: Who is allowed to be heard? Who decides? This year, as we celebrate Banned Books Week, PEN America uplifts the books, authors, teachers, and writers who insist on telling stories and examining history with truth, honesty, and complexity.
In an effort to unpack these current challenges, PEN America is hosting a series of virtual and in-person events. These events will offer a clear-eyed view of the current assaults on the freedom to express, the freedom to read, and the freedom to learn.
Join PEN America Today
Defend free expression, support persecuted writers, and promote literary culture.
Read more about what PEN America is doing to fight back against book bans during 2021 Banned Books Week.
BANNED BOOKS WEEK
September 26 – October 2 for the 2021
celebration of the right to read!
Banned Books Week is the annual celebration of the freedom to read. The event is sponsored by a coalition of organizations dedicated to free expression, including American Booksellers Association; American Library Association; American Society of Journalists and Authors; Association of University Presses; Authors Guild; Comic Book Legal Defense Fund; Foundation for Individual Rights in Education (FIRE); Freedom to Read Foundation; Index on Censorship; National Coalition Against Censorship; National Council of Teachers of English; PEN America; People For the American Way Foundation; and Project Censored. It is endorsed by the Center for the Book in the Library of Congress. Banned Books Week also receives generous support from DKT Liberty Project and Penguin Random House.
Read more about the 2021 Banned Books Week.
→   https://bannedbooksweek.org/
• fleursdumal.nl magazine
More in: - Bookstores, Art & Literature News, Banned Books, DICTIONARY OF IDEAS, Literary Events, PEN Actions, PRESS & PUBLISHING, Racism, REPRESSION OF WRITERS, JOURNALISTS & ARTISTS
---
How do you begin a future that has essentially already ended, separated from your home, your language and yourself by a stretch of water? Kurt Schwitters is forty-nine years old when the Nazis force him to flee Germany. His success, work, possessions, parents, and wife Helma stay behind – and art gives way to the art of survival.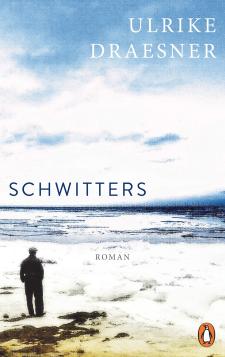 Schwitters's second life in a foreign language begins in Norway, then takes him to London and finally to the Lake District. Wantee, the new woman at his side, keeps him on course and his head above water, even when the word artist falls silent. With his Merzbau installation, Schwitters has discovered a new way to capture sky and serenity, shimmering meadows and transparent air. He is ludicrously disciplined, to the point of exhaustion. As we watch him at work, we learn that art doesn't interpret the world: It translates it into forms that move us.
In Schwitters in the Lakes, Ulrike Draesner follows the writer and artist Kurt Schwitters into exile, giving voice to Kurt, his wife, his son and his lover. Through a virtuoso blend of fact and fiction, she has created a panorama of a time when the struggle for freedom and art was renewed in the face of a world on fire.
A profound yet witty novel about the power of art in dark times.
Ulrike Draesner, born in 1962, is a lyricist, novelist and essayist. She studied English, German and philosophy and has worked as an academic, translator and editor. She has published poetry collections, short stories, and novels, and held posts at several renowned universities such as the Swiss Literature Institute in Biel. She was a Visiting Fellow at New College, Oxford and at the Oxford Research Centre in the Humanities and is professor for German Literature and Creative Writing at the Deutsche Literaturinstitut Leipzig. Ulrike Draesner has received numerous awards.
Ulrike Draesner
Schwitters in the Lakes
Hardcover with jacket
480 pages
13.5 x 21.5 cm
Publishing House: Penguin
ISBN: 978-3-328-60126-5
Date of publication: August 24, 2020
€ 25.00
# new novel
Schwitters in the Lakes
Kurt Schwitters (1887 – 1948)

• fleursdumal.nl magazine
More in: - Book News, Archive C-D, Archive S-T, DADA, Kurt Schwitters, Kurt Schwitters, Schwitters, Kurt
---
'Jardin de Tendresse' (Tuin der Tederheid) in het 'Metropolitan Museum Tilburg'
De raamtentoonstellingen aan de Stedekestraat ('Metropolitan Museum Tilburg') laten deze zomer een 'tuin der tederheid' zien, waarmee het museum wederom reageert op deze donkere tijden van corona. Te zien vanaf vrijdagavond 12 juni 2020, Stedekestraat 15 te Tilburg.
De 'anderhalvemetersamenleving', ze is er dan toch van gekomen. Afstand als nieuwe normaal. Wie had dat ooit kunnen denken? Geen hand meer reiken om de ander vriendelijk te begroeten? Geen spontane omhelzingen meer met vrienden en vriendinnen? Geen knuffels meer aan kinderen en kleinkinderen? Niet meer zoenen op het zebrapad? Nooit meer vrijen op het strand? Waar leven we nog voor? Veiligheid voor alles? Echt waar? Gelamineerd door het leven en virtuele gemeenschap?
"Alles van waarde is weerloos," schreef de dichter Lucebert, meteen gevolgd door de magistrale regel: "wordt van aanraakbaarheid rijk en aan alles gelijk!" Aanraking, hoe lang kan een mens zonder? Zonder af te glijden naar een troosteloos robottenbestaan? Waar gaan we heen?
Vandaar een tentoonstelling. Heeft kunst tenminste nog enige zin in deze donkere dagen. En dus nodigen wij u met alle plezier uit voor de expositie 'Jardin de Tendresse' ('Tuin der Tederheid') van Sjon Brands. Een speelse 'exposition dansante', uitgevoerd in bewegende assemblages van alledaagse gebruiksvoorwerpen en speelgoed. Een onbevangen feest van aanraking, tederheid en kwetsbaarheid, te zien in het 'Metropolitan Museum Tilburg'. Welkom! Komt dat zien! Dag en nacht, zeven dagen in de week! Reserveren niet nodig.
◊  Dorith van der Lee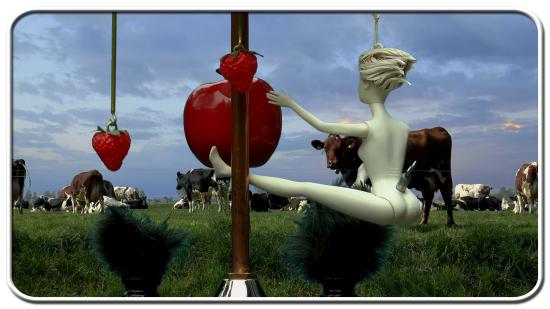 Raamtentoonstelling Sjon Brands:
  'Jardin de Tendresse' ('Tuin der Tederheid')
  vrijdag 12 juni t/m 15 september 2020
  dagelijks, dag en nacht, toegang vrij
  'Metropolitan Museum Tilburg'
  Stedekestraat 15, 5041DM Tilburg
  website: www.metropolitanmuseum.nl
  • fleursdumal.nl magazine
More in: - Objets Trouvés (Ready-Mades), Art & Literature News, Brands, Sjon, Exhibition Archive, Metropolitan Museum Tilburg, Sculpture, Sjon Brands, Surrealism, SURREALISM, Surrealisme, Theater van de Verloren Tijd
---
• fleursdumal.nl magazine
More in: AUDIO, CINEMA, RADIO & TV, Black Lives Matter, DICTIONARY OF IDEAS, The talk of the town
---
Brought together for the first time, here are 100 pieces of 'Oulipo' writing, celebrating the literary group who revelled in maths problems, puzzles, trickery, wordplay and conundrums.
Featuring writers including Georges Perec, Raymond Queneau and Italo Calvino, it includes poems, short stories, word games and even recipes. Alongside these famous Oulipians, are 'anticipatory' wordsmiths who crafted language with unusual constraints and literary tricks, from Jonathan Swift to Lewis Carroll.
Philip Terry is a translator, and a writer of fiction and poetry. He has translated the work of Georges Perec, Stéphane Mallarmé and Raymond Queneau, and is the author of the novel tapestry, shortlisted for the Goldsmiths Prize.
His poetry volumes include Oulipoems, Shakespeare's Sonnets, Dante's Inferno (a Times Literary Supplement Book of the Year, London Review Bookshop Book of the Week, and recipient of a Society of Authors Travelling Scholarship Prize), Quennets, and Dictator, a version of the Epic of Gilgamesh in Globish.
He is currently translating  Ice Age signs from the caves at Lascaux.
• 'Philip Terry's collection is packed with fabulous, wide-ranging work that displays the full ingenuity, brio and originality of Oulipian ideals in action. An exhilarating feat of in-depth reading, and translating, it takes its place as the definitive anthology in English for decades to come.' – Marina Warner
• Philip Terry's playful selection will appeal to lovers of word games, puzzles and literary delights.
The Penguin Book of Oulipo
Queneau, Perec, Calvino and the Adventure of Form
Edited by Philip Terry
Imprint: Penguin Classics
Published: 31/10/2019
ISBN: 9780241378427
Hardcover
Length: 576 Pages
Dimensions: 240mm x 49mm x 162mm
RRP: £25.00
# new books
The Penguin Book of Oulipo
Queneau, Perec, Calvino and the Adventure of Form
Philip Terry (Edited by)
• fleursdumal.nl magazine
More in: #Archive Concrete & Visual Poetry, - Book Lovers, - Book News, - Objets Trouvés (Ready-Mades), Archive C-D, Archive O-P, Archive Q-R, Art & Literature News, AUDIO, CINEMA, RADIO & TV, Carroll, Lewis, Dadaïsme, Georges Perec, OULIPO (PATAFYSICA), Surrealisme, Swift, Jonathan
---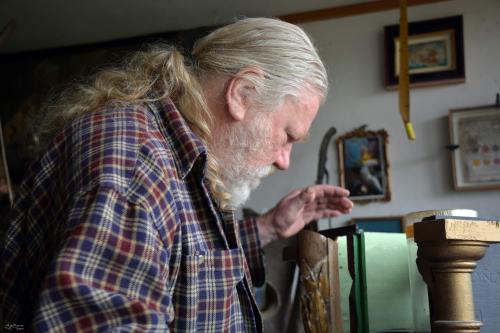 Assemblages Wijnand van Lieshout: Tentoonstelling 'Wagon-Lits-Expresse' in het 'Metropolitan Museum | Tilburg'
Wijnand van Lieshout, de nestor onder de Tilburgse kunstenaars, toont recent werk in de raamtentoonstellingen aan de Stedekestraat ('Metropolitan Museum | Tilburg'). Zijn tentoonstelling 'Wagon-Lits-Expresse' loopt nog tot en met vrijdag 30 november 2019 en is dag en nacht bereikbaar.
Wijnand van Lieshout maakt absurde assemblages van antieke rekwisieten, in onmin geraakte gebruiksvoorwerpen en geconserveerde delen van beesten, met name schaal- en schelpdieren. Hij gebruikt geteisterde objecten, zoals oude gereedschappen, afgedankte medische voorwerpen en ontluisterde meubelen. Wijnand van Lieshout is gefascineerd door het verval in al zijn hoedanigheden. Deze teloorgang wordt uitgedrukt door de dikke lagen stof die zijn kunstwerken sieren. Zijn werk is erotisch getint en uiterst theatraal, volgens de kunstenaar: 'Een wal van verpaupering treedt u tegemoet!'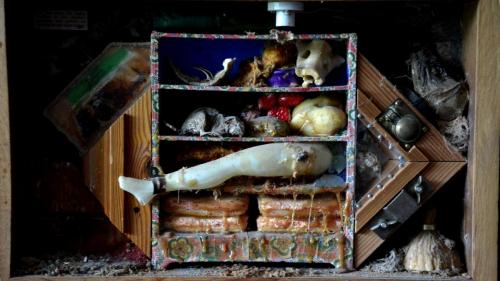 De tentoonstelling bestaat uit tien nieuwe werken. Eén werk is hier helemaal op zijn plaats, het is namelijk geïnspireerd door het leven van een novice achter slot en grendel in het voormalige Clarissenklooster om de hoek. Een ander werk, 'Vrouw van Neptunus', is een magistraal werk, waarin een zeenimf zich te goed doet aan een aangespoelde dildo. De overige werken zijn navenant, absurd, tragikomisch en wentelend in de onuitputtelijke fantasie van de oude meester kunstenaar.
Wijnand van Lieshout (1940) is een geboren en getogen Tilburger. Hij volgde hier zijn kunstopleiding aan de 'R.K. Leergangen' vanaf 1957, studeerde verder aan de 'Jan van Eijck Academie' in Maastricht en het 'Nationaal Hoger Instituut voor Schone Kunsten' in Antwerpen. In 1970 keerde hij terug naar zijn geboortestad, waar hij zich toelegde op geënsceneerde fotografie, installaties en assemblages. Van Lieshout exposeerde o.a. samen met Erwin Olof in Amsterdam, met Niko de Wit in Tilburg, in het 'Noordbrabants Museum' in Den Bosch en reizende tentoonstellingen in België, Duitsland en Japan. Nu te zien in het 'Metropolitan Museum – Tilburg' aan de Stedekestraat'. Belangstellenden zijn van harte welkom!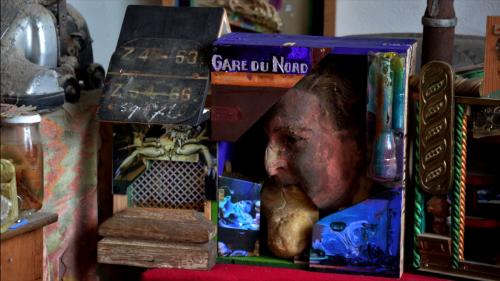 Praktische gegevens: gratis raamtentoonstelling 'Wagon-Lits-Expresse' van Wijnand van Lieshout, dagelijks 1 november t/m 30 november 2019 in het 'Metropolitan Museum | Tilburg', Stedekestraat 15 | 5041DM Tilburg, telefoon 013 5358041 | 06 20325030, mail post@metropolitanmuseum.nl, site www.metropolitanmuseum.nl
METROPOLITAN MUSEUM | TILBURG
15 Stedekestraat | 5041DM Tilburg | Netherlands
www.metropolitanmuseum.nl
# tentoonstelling 'Wagon- Lits-Expresse' nog tot en met vrijdag 30 november 2019, dag en nacht bereikbaar.
# photos – text – movie: Sjon Brands & Dorith van der Lee / Metropolitan Museum – Tilburg
• fleursdumal.nl magazine
More in: - Book News, - Objets Trouvés (Ready-Mades), Art & Literature News, AUDIO, CINEMA, RADIO & TV, DADA, Dadaïsme, Dutch Landscapes, Exhibition Archive, FDM Art Gallery, Metropolitan Museum Tilburg, Photography, Sculpture, Sjon Brands, Theater van de Verloren Tijd, Wijnand van Lieshout
---
Antony Kok
schrijver en experimenteel dichter
door Jef van Kempen
Antony Kok werd op 18 april 1882 in Rotterdam geboren, als zoon van Pieter Kok en Sophia Hagen. Zijn vader was adjunct-commies bij de Staatsspoorwegen. Antony Kok overleed op 29 oktober 1969 te Haarlem.
Het grootste deel van zijn jeugd woonde Antony Kok in het Limburgse Maasbree. Na zijn middelbare schooltijd trad hij in het voetspoor van zijn vader door in 1899 ook bij de Staatsspoorwegen te gaan werken. Na eerst in 's-Hertogenbosch en Oisterwijk als klerk-telegrafist te hebben gewerkt kwam hij in 1908 naar Tilburg, waar hij het na verloop van tijd tot chef-commies zou brengen.
De eerste tien jaar woonde Kok, die zijn hele leven ongehuwd bleef, op kamers boven slagerij De Brouwer in de Tuinstraat. Hij zou in Tilburg later nog vier maal verhuizen.
In 1914 raakte Antony Kok bevriend met de Amsterdamse schrijver en schilder Theo van Doesburg, die tijdens de mobilisatie in de omgeving van Tilburg was gelegerd. Samen organiseerden zij in 1915 tweemaal een Soiree Intime, waarbij Van Doesburg gedichten voordroeg en Kok piano speelde. Onder invloed van Van Doesburg experimenteerde Kok dat jaar, als een van de eersten in Nederland, met het schrijven van klankpoëzie.
In die tijd ontstonden ook plannen voor het oprichten van een eigen tijdschrift, waarin zij hun opvattingen over de moderne beeldende kunst en literatuur zouden kunnen ventileren. Dat tijdschrift werd De Stijl, dat van 1917 tot 1932 verscheen en ook internationaal gezien een van de belangrijkste organen zou blijken voor de vernieuwing van met name beeldende kunst en architectuur. Behalve Van Doesburg en Kok behoorden tot de oprichters ook de schilders Huszàr, Van der Leck en Mondriaan, en de architecten Oud en Wils. Zij wilden de beeldende kunst ontdoen van alle overbodige versieringen en zich beperken tot het gebruik van de rechte lijn en de primaire kleuren.
Antony Kok debuteerde in 1917 met zijn gedicht Excelsior in het tijdschrift Eenheid. In hetzelfde tijdschrift publiceerde hij later nog de gedichten De Rozelaar (1917) en Gods Licht (1918). Verder werd in 1917 Koks experimentele gedicht De Wisselwachter in het tijdschrift Holland Express afgedrukt.
In het eerste nummer van De Stijl van oktober 1917 nam Van Doesburg een beschouwing van zijn Tilburgse vriend op met de titel: De moderne schilderij in het interieur.
Antony Kok zou in de loop van de tijd meer beschouwend proza in De Stijl publiceren, zoals Scheppen (1918), Denkextracten. Over organische schoonheid en Kunst en ontroering. Synthetische analyse (1919).
Hij was ook een van de ondertekenaars van de door Stijl-medewerkers gepubliceerde manifesten over beeldende kunst (1918) en literatuur (1920). Van Kok werden in het tijdschrift De Stijl maar twee gedichten opgenomen: in 1921 Stilte + stem (Vers in W) en in 1923 het acht jaar eerder geschreven Nachtkroeg. De beide gedichten, die voor het grootste deel bestonden uit klanknabootsende woorden, werden niet alleen door Theo van Doesburg, maar ook door Piet Mondriaan en Kurt Schwitters beschouwd als een belangrijke bijdrage tot de vernieuwing van de dichtkunst.
Schwitters nam het gedicht Stilte + stem (Vers in W) ook op in zijn eigen tijdschrift Merz. Geïnspireerd door Schwitters schreef Kok in 1923 een aantal dadaïstische gedichten, die echter pas na zijn dood werden gepubliceerd. Het overlijden van Theo van Doesburg in 1931 betekende het einde van het tijdschrift De Stijl.
In 1932 zou er nog een laatste aflevering verschijnen met daarin een In memoriam van de hand van Kok; dat zou tevens zijn laatste publicatie zijn. De omvangrijke briefwisseling tussen Van Doesburg en Kok is een van de belangrijkste bronnen met betrekking tot de geschiedenis van de beweging rond het tijdschrift De Stijl.
Antony Kok stond bekend als een bedachtzaam en vrijgevig man. Hij was een groot kunstminnaar en een mecenas, niet alleen voor bijvoorbeeld Piet Mondriaan maar ook voor regionale kunstenaars. In de jaren na het overlijden van zijn vriend Theo van Doesburg schreef hij nog zelden gedichten, maar legde zich geheel toe op het schrijven van aforismen.Tot aan zijn dood zou hij er vele duizenden schrijven, die hijzelf echter nooit heeft gepubliceerd.
In 1942 ging Antony Kok met pensioen bij de spoorwegen. De jaren daarna zou hij zijn belangstelling voor het spiritisme en de filosofie verder cultiveren en zich in 1946 aansluiten bij de beweging van De Rozenkruisers. Ter wille van die beweging verhuisde hij in 1952 naar Haarlem. In deze stad maakte Kok kennis met de schilder Kees Verweij, die ruim veertig portretten van hem maakte. De tekeningen, die door Kok van een titel waren voorzien, werden tentoongesteld, onder andere in het Stedelijk Museum Amsterdam en het Van Abbemuseum in Eindhoven (1954-1955).
Op 29 oktober 1969 overleed Antony Kok op 87-jarige leeftijd. De meeste publicaties van en over zijn werk kwamen na zijn dood tot stand. Als gevolg van de toegenomen belangstelling voor zijn werk en zijn persoon, werd begin 1985 in de Stadsschouwburg/Kultureel Sentrum van Tilburg nog een grote tentoonstelling aan de 'Dichter bij De Stijl' gewijd.
Meer informatie over Antony Kok op website: www.antonykok.nl
Dit artikel verscheen eerder in: J. van Oudheusden, e.a. (red.), Brabantse biografieën. Levensbeschrijvingen van bekende en onbekende Noordbrabanders. Deel 1, Amsterdam/Meppel, 1992.
Verder gepubliceerd op 14 september 2017 op de website Brabants Erfgoed: https://www.brabantserfgoed.nl/
Op 29 oktober 2019 is het precies 50 jaar geleden dat Antony Kok, schrijver en experimenteel dichter, overleed in een Haarlems ziekenhuisbed.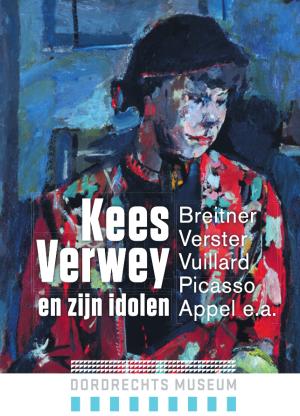 Tot en met 5 januari 2020 is er een expositie te zien in het Dordrechts Museum over de Haarlemse kunstschilder Kees Verwey, onder de titel: Kees Verwey en zijn idolen. Hier zijn ook 30 portretten te zien van Antony Kok (gemaakt door Verwey) uit de collectie van het Rijksmuseum.
Bij deze expositie in Museum Dordrecht, verscheen de publicatie: Kees Verwey en zijn idolen.
Één van de hoofdstukken heeft als titel: 'Antony Kok had me te pakken' en is geschreven door de Antony Kok biografen Hanneke van Kempen en Jef van Kempen.
Kees Verwey en zijn idolen
Dordrechts Museum
2019
ISBN 978-90-71722-30-1
Redactie: Laura van den Hout, Judith Spijksma, Linda Janssen
'Antony Kok had me te pakken' door Hanneke van Kempen en Jef van Kempen geeft een beeld van de gang van zaken rond de vriendschap van Antony Kok en de Haarlemse schilder Kees Verwey en is geïllustreerd.
https://www.dordrechtsmuseum.nl/
antonykok.nl magazine
fleursdumal.nl magazine
29 oktober 2019

More in: Agnita Feis, Antony Kok, Archive K-L, DADA, De Stijl, Essays about Van Doesburg, Kok, Mondriaan, Schwitters, Milius & Van Moorsel, Evert en Thijs Rinsema, Hanneke van Kempen, Jef van Kempen, Kurt Schwitters, Kurt Schwitters, Literaire sporen, Piet Mondriaan, Theo van Doesburg, Theo van Doesburg
---
Since its inception in Paris in 1960, the OuLiPo―ouvroir de littérature potentielle, or workshop for potential literature―has continually expanded our sense of what writing can do.
It's produced, among many other marvels, a detective novel without the letter e (and a sequel of sorts without a, i, o, u, or y); an epic poem structured by the Parisian métro system; a story in the form of a tarot reading; a poetry book in the form of a game of go; and a suite of sonnets that would take almost 200 million years to read completely.
Lovers of literature are likely familiar with the novels of the best-known Oulipians―Italo Calvino, Georges Perec, Harry Mathews, Raymond Queneau―and perhaps even the small number of texts available in English on the group, including Warren Motte's Oulipo: A Primer of Potential Literature and Daniel Levin Becker's Many Subtle Channels: In Praise of Potential Literature.
But the actual work of the group in its full, radiant collectivity has never before been showcased in English. ("The State of Constraint," a dossier in issue 22 of McSweeney's Quarterly Concern, comes closest.)
Enter All That is Evident is Suspect: the first collection in English to offer a life-size picture of the group in its historical and contemporary incarnations, and the first in any language to represent all of its members (numbering 41 as of April 2018 ). Combining fiction, poetry, essays and lectures, and never-published internal correspondence―along with the acrobatically constrained writing and complexly structured narratives that have become synonymous with oulipian practice―this volume shows a unique group of thinkers and artists at work and at play, meditating on and subverting the facts of life, love, and the group itself. It's an unprecedentedly intimate and comprehensive glimpse at the breadth and diversity of one of world literature's most vital, adventurous presences.
Sharks as poets and vice versa, the Brisbane pitch drop experiment, novel classifications for real or imaginary libraries, the monumental sadness of difficult loves, the obsolescence of the novel, the symbolic significance of the cup-and-ball game, holiday closures across the Francophone world, what happens at Fahrenheit 452, Warren G. Harding's dark night of the soul, Marcel Duchamp's imperviousness to conventional spacetime laws, bilingual palindromes, cartoon eodermdromes, oscillating poems, métro poems, metric poems, literary madness, straw cultivation.
Ian Monk is an English poet and Scott Moncrieff Award–winning translator who joined the Oulipo in 1998. He is the author of fifteen books of poetry in English and in French, most recently Vers de l'infini (Cambourakis, 2017), and has translated books by Raymond Roussel, Daniel Pennac, Marie Darrieussecq, Georges Perec, and various other Oulipians. He lives in Paris.
Title All That Is Evident Is Suspect
Subtitle Readings from the Oulipo, 1963 – 2018
Edited by Daniel Levin Becker, Ian Monk
Levin Becker, Daniel (Translator)
Marcel Duchamp (Contributor)
& 1 more
Publisher McSweeney's
Title First Published 01 November 2018
Format Hardcover
ISBN-10 1944211527
ISBN-13 9781944211523
Publication Date 01 November 2018
Hardcover
November 13, 2018
$32.00
# new books
All That Is Evident Is Suspect
Readings from the Oulipo, 1963 – 2018
Edited by Daniel Levin Becker, Ian Monk
• fleursdumal.nl magazine
More in: - Book News, - Book Stories, Art & Literature News, Dada, DADA, Dadaïsme, Georges Perec, Jef van Kempen, LITERARY MAGAZINES, Marcel Duchamp, OULIPO (PATAFYSICA), Surrealism, SURREALISM
---
♦ Nexus-Symposium ♦ The Magic Mountain Revisited♦ Cultivating the Human Spirit in Dispirited Times
∗ Zaterdag 21 september 2019 ∗ 9.15 – 17.00 uur ∗ Nationale Opera & Ballet Amsterdam
'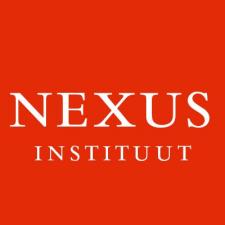 Intellectuele helderheid scheppen over het leven zelf', dat was de ambitie van Thomas Mann met zijn meesterwerk De toverberg.

In die geest brengt het Nexus Instituut inmiddels al een kwart eeuw de belangrijkste denkers en kunstenaars van over de hele wereld bijeen.

Om de 25e verjaardag in stijl te vieren, staat het bijzondere Nexus-symposium, 'The Magic Mountain Revisited', geheel in het teken van de thematiek en muziek uit De toverberg.
Als een hedendaagse Settembrini en Naphta gaan Bernard-Henri Lévy en Aleksandr Dugin met elkaar de strijd aan over Verlichting en anti-Verlichting.

Vervolgens discussiëren vooraanstaande intellectuelen en kunstenaars over leven, dood, cultuur en politiek; gevolgd door Toverberg-muziek verzorgd door de wereldberoemde tenor Ian Bostridge.

Ten slotte bespreekt een groep geëngageerde jongeren wat dit alles betekent voor hun generatie: wat voor Bildung krijgen zij, welke keuzes kunnen zij maken, wat zijn de uitdagingen voor de toekomst?
programma
9.15 uur Opening door Rob Riemen
9.30 uur Debat Bernard-Henri Lévy en Aleksandr Dugin
10.30 uur Koffiepauze
11.00 uur Eerste gespreksronde
12.45 uur Lunch
13.30 uur Muziek Ian Bostridge (zang) en Saskia Giorgini (piano)
14.15 uur Tweede gespreksronde
16.00 uur Einde zaalprogramma
17.00 uur Einde
Spreker(s)
Edoardo Albinati – Italiaanse romanschrijver
Ian Bostridge – wereldberoemd tenor
Antonio Damasio – hersenonderzoeker
Aleksandr Dugin – politiek filosoof en adviseur van Poetin
Rebecca Foon – componist en klimaatactivist
Saskia Giorgini – pianist
Intissar Kherigi – mensenrechtenactivist in Tunesië
Flavia Kleiner – politiek activist
Nadine Labaki – Libanees filmmaker
Bernard-Henri Lévy – Frankrijks bekendste publieke intellectueel
Joan Magrané Figuera – componist
Andrea Marcolongo – classica en schrijver
Celeste Marcus – student Joodse ideeëngeschiedenis
Sari Nusseibeh – Palestijns filosoof
Pamela Paul – hoofdredacteur New York Times Book Review
Jesse Paris Smith – musicus en klimaatactivist
Wojtek Wieczorek – student en dichter
Leon Wieseltier – publiek intellectueel
Nexus-Symposium
The Magic Mountain Revisited
Cultivating the Human Spirit in Dispirited Times
Zaterdag 21 september 2019
9.15 – 17.00 uur
Nationale Opera & Ballet Amsterdam
NEXUS INSTITUUT
Postadres
Nexus Instituut
Kollenbergweg 1
1101 AT AmsterdamTelefoon 085 0471229
E-mail info[at]nexus-instituut.nl
# meer informatie website NEXUS INSTITUUT
• fleursdumal.nl magazine
More in: # Music Archive, - Book News, - Book Stories, Art & Literature News, AUDIO, CINEMA, RADIO & TV, DICTIONARY OF IDEAS, Nexus Instituut
---
Older Entries »
Thank you for reading FLEURSDUMAL.NL - magazine for art & literature