Bradstreet, Anne
·
ANNE BRADSTREET: IN THANKFUL REMEMBRANCE
·
ANNE BRADSTREET: THE FLESH AND THE SPIRIT
·
ANNE BRADSTREET: BY NIGHT WHEN OTHERS SOUNDLY SLEEP
·
ANNE BRADSTREET: THE AUTHOR TO HER BOOK
·
ANNE BRADSTREET: BEFORE THE BIRTH OF ONE OF HER CHILDREN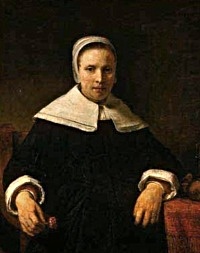 Anne Bradstreet
(1612-1672)
In Thankful Remembrance For
My Dear Husband's Safe Arrival
Sept 3, 1662
What shall I render to Thy name
Or how Thy praises speak?
My thanks how shall I testify?
O Lord, Thou know'st I'm weak.
I owe so much, so little can
Return unto Thy name,
Confusion seizes on my soul,
And I am filled with shame.
O Thou that hearest prayers, Lord,
To Thee shall come all flesh
Thou hast me heard and answered,
My plaints have had access.
What did I ask for but Thou gav'st?
What could I more desire?
But thankfulness even all my days
I humbly this require.
Thy mercies, Lord, have been so great
In number numberless,
Impossible for to recount
Or any way express.
O help Thy saints that sought Thy face
T' return unto Thee praise
And walk before Thee as they ought,
In strict and upright ways.
Anne Bradstreet poetry
fleursdumal.nl magazine
More in: Archive A-B, Bradstreet, Anne
---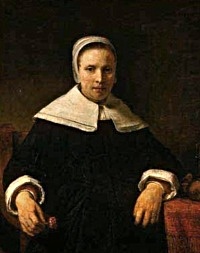 Anne Bradstreet
(1612-1672)
The Flesh And The Spirit
In secret place where once I stood
Close by the Banks of Lacrim flood,
I heard two sisters reason on
Things that are past and things to come.
One Flesh was call'd, who had her eye
On worldly wealth and vanity;
The other Spirit, who did rear
Her thoughts unto a higher sphere.
"Sister," quoth Flesh, "what liv'st thou on
Nothing but Meditation?
Doth Contemplation feed thee so
Regardlessly to let earth go?
Can Speculation satisfy
Notion without Reality?
Dost dream of things beyond the Moon
And dost thou hope to dwell there soon?
Hast treasures there laid up in store
That all in th' world thou count'st but poor?
Art fancy-sick or turn'd a Sot
To catch at shadows which are not?
Come, come. I'll show unto thy sense,
Industry hath its recompence.
What canst desire, but thou maist see
True substance in variety?
Dost honour like? Acquire the same,
As some to their immortal fame;
And trophies to thy name erect
Which wearing time shall ne'er deject.
For riches dost thou long full sore?
Behold enough of precious store.
Earth hath more silver, pearls, and gold
Than eyes can see or hands can hold.
Affects thou pleasure? Take thy fill.
Earth hath enough of what you will.
Then let not go what thou maist find
For things unknown only in mind."
Anne Bradstreet poetry
fleursdumal.nl magazine
More in: Archive A-B, Bradstreet, Anne
---
Anne Bradstreet
(1612-1672)
By Night When Others Soundly Slept
By night when others soundly slept
And hath at once both ease and Rest,
My waking eyes were open kept
And so to lie I found it best.
I sought him whom my Soul did Love,
With tears I sought him earnestly.
He bow'd his ear down from Above.
In vain I did not seek or cry.
My hungry Soul he fill'd with Good;
He in his Bottle put my tears,
My smarting wounds washt in his blood,
And banisht thence my Doubts and fears.
What to my Saviour shall I give
Who freely hath done this for me?
I'll serve him here whilst I shall live
And Loue him to Eternity
Anne Bradstreet poetry
fleursdumal.nl magazine
More in: Archive A-B, Bradstreet, Anne
---
Anne Bradstreet
(1612-1672)
The Author to Her Book
Thou ill-form'd offspring of my feeble brain,
Who after birth didst by my side remain,
Till snatched from thence by friends, less wise than true,
Who thee abroad, expos'd to publick view,
Made thee in raggs, halting to th' press to trudge,
Where errors were not lessened (all may judg).
At thy return my blushing was not small,
My rambling brat (in print) should mother call,
I cast thee by as one unfit for light,
Thy Visage was so irksome in my sight;
Yet being mine own, at length affection would
Thy blemishes amend, if so I could:
I wash'd thy face, but more defects I saw,
And rubbing off a spot, still made a flaw.
I stretched thy joynts to make thee even feet,
Yet still thou run'st more hobling then is meet;
In better dress to trim thee was my mind,
But nought save home-spun Cloth, i' th' house I find.
In this array 'mongst Vulgars mayst thou roam.
In Criticks hands, beware thou dost not come;
And take thy way where yet thou art not known,
If for thy Father askt, say, thou hadst none:
And for thy Mother, she alas is poor,
Which caus'd her thus to send thee out of door.
Anne Bradstreet poetry
fleursdumal.nl magazine
More in: Archive A-B, Bradstreet, Anne
---
Anne Bradstreet
(1612-1672)
Before The Birth Of One Of Her Children
All things within this fading world hath end,
Adversity doth still our joys attend;
No ties so strong, no friends so dear and sweet,
But with death's parting blow is sure to meet.
The sentence past is most irrevocable,
A common thing, yet oh, inevitable.
How soon, my Dear, death may my steps attend.
How soon't may be thy lot to lose thy friend,
We both are ignorant, yet love bids me
These farewell lines to recommend to thee,
That when that knot's untied that made us one,
I may seem thine, who in effect am none.
And if I see not half my days that's due,
What nature would, God grant to yours and you;
The many faults that well you know
I have Let be interred in my oblivious grave;
If any worth or virtue were in me,
Let that live freshly in thy memory
And when thou feel'st no grief, as I no harms,
Yet love thy dead, who long lay in thine arms.
And when thy loss shall be repaid with gains
Look to my little babes, my dear remains.
And if thou love thyself, or loved'st me,
These O protect from step-dame's injury.
And if chance to thine eyes shall bring this verse,
With some sad sighs honour my absent hearse;
And kiss this paper for thy love's dear sake,
Who with salt tears this last farewell did take.
Anne Bradstreet poetry
fleursdumal.nl magazine
More in: Archive A-B, Bradstreet, Anne
---
Thank you for reading FLEURSDUMAL.NL - magazine for art & literature