CLASSIC POETRY
·
Walt Whitman: Song of the banner at daybreak (Poem)
·
Emilienne d'Alençon: Courtisane
·
Jacques Perk: Aan Mathilde
·
Susanna Moodie: Love (Poem)
·
Friedrich Hölderlin: Die Liebe (Gedicht)
·
Digby Mackworth Dolben: From Sappho
·
Jacques Perk: Iris
·
Walt Whitman: The wound-dresser (Poem)
·
Pierre Corneille: Chanson
·
Emilienne d'Alençon: Le Balcon
·
Emily Dickinson: A Syllable (Poem)
·
Augusta Holmès: Sérénade printanière
Song of the banner
at daybreak
Poet
O a new song, a free song,
Flapping, flapping, flapping, flapping, by sounds, by voices clearer,
By the wind's voice and that of the drum,
By the banner's voice and child's voice and sea's voice and father's voice,
Low on the ground and high in the air,
On the ground where father and child stand,
In the upward air where their eyes turn,
Where the banner at daybreak is flapping.
Words! bookwords! what are you?
Words no more, for hearken and see,
My song is there in the open air, and I must sing,
With the banner and pennant a-flapping.
I'll weave the chord and twine in,
Man's desire and babe's desire, I'll twine them in, I'll put in life,
I'll put the bayonet's flashing point, I'll let bullets and slugs whizz,
(As one carrying a symbol and menace far into the future,
Crying with trumpet voice, _Arouse and beware! Beware and arouse!_)
I'll pour the verse with streams of blood, full of volition, full of joy.
Then loosen, launch forth, to go and compete,
With the banner and pennant a-flapping.
Pennant
Come up here, bard, bard,
Come up here, soul, soul,
Come up here, dear little child,
To fly in the clouds and winds with me, and play with the measureless light.
Child
Father what is that in the sky beckoning to me with long finger?
And what does it say to me all the while?
Father
Nothing my babe you see in the sky,
And nothing at all to you it says–but look you my babe,
Look at these dazzling things in the houses, and see you the money-shops opening,
And see you the vehicles preparing to crawl along the streets with goods;
These, ah these, how valued and toil'd for these!
How envied by all the earth.
Poet
Fresh and rosy red the sun is mounting high,
On floats the sea in distant blue careering through its channels,
On floats the wind over the breast of the sea setting in toward land,
The great steady wind from west or west-by-south,
Floating so buoyant with milk-white foam on the waters.
But I am not the sea nor the red sun,
I am not the wind with girlish laughter,
Not the immense wind which strengthens, not the wind which lashes,
Not the spirit that ever lashes its own body to terror and death,
But I am that which unseen comes and sings, sings, sings,
Which babbles in brooks and scoots in showers on the land,
Which the birds know in the woods mornings and evenings,
And the shore-sands know and the hissing wave, and that banner and pennant,
Aloft there flapping and flapping.
Child
O father it is alive–it is full of people–it has children,
O now it seems to me it is talking to its children,
I hear it–it talks to me–O it is wonderful!
O it stretches–it spreads and runs so fast–O my father,
It is so broad it covers the whole sky.
Father
Cease, cease, my foolish babe,
What you are saying is sorrowful to me, much it displeases me;
Behold with the rest again I say, behold not banners and pennants aloft,
But the well-prepared pavements behold, and mark the solid-wall'd houses.
Banner and Pennant
Speak to the child O bard out of Manhattan,
To our children all, or north or south of Manhattan,
Point this day, leaving all the rest, to us over all–and yet we know not why,
For what are we, mere strips of cloth profiting nothing,
Only flapping in the wind?
Poet
I hear and see not strips of cloth alone,
I hear the tramp of armies, I hear the challenging sentry,
I hear the jubilant shouts of millions of men, I hear Liberty!
I hear the drums beat and the trumpets blowing,
I myself move abroad swift-rising flying then,
I use the wings of the land-bird and use the wings of the sea-bird, and look down as from a height,
I do not deny the precious results of peace, I see populous cities with wealth incalculable,
I see numberless farms, I see the farmers working in their fields or barns,
I see mechanics working, I see buildings everywhere founded, going up, or finished,
I see trains of cars swiftly speeding along railroad tracks drawn by the locomotives,
I see the stores, depots, of Boston, Baltimore, Charleston, New Orleans,
I see far in the West the immense area of grain, I dwell awhile hovering,
I pass to the lumber forests of the North, and again to the Southern plantation, and again to California;
Sweeping the whole I see the countless profit, the busy gatherings, earn'd wages,
See the Identity formed out of thirty-eight spacious and haughty
States, (and many more to come,)
See forts on the shores of harbors, see ships sailing in and out;
Then over all, (aye! aye!) my little and lengthen'd pennant shaped like a sword,
Runs swiftly up indicating war and defiance–and now the halyards have rais'd it,
Side of my banner broad and blue, side of my starry banner,
Discarding peace over all the sea and land.
Banner and Pennant
Yet louder, higher, stronger, bard! yet farther, wider cleave!
No longer let our children deem us riches and peace alone,
We may be terror and carnage, and are so now,
Not now are we any one of these spacious and haughty States, (nor any five, nor ten,)
Nor market nor depot we, nor money-bank in the city,
But these and all, and the brown and spreading land, and the mines below, are ours,
And the shores of the sea are ours, and the rivers great and small,
And the fields they moisten, and the crops and the fruits are ours,
Bays and channels and ships sailing in and out are ours–while we over all,
Over the area spread below, the three or four millions of square miles, the capitals,
The forty millions of people,–O bard! in life and death supreme,
We, even we, henceforth flaunt out masterful, high up above,
Not for the present alone, for a thousand years chanting through you,
This song to the soul of one poor little child.
Child
O my father I like not the houses,
They will never to me be any thing, nor do I like money,
But to mount up there I would like, O father dear, that banner I like,
That pennant I would be and must be.
Father
Child of mine you fill me with anguish,
To be that pennant would be too fearful,
Little you know what it is this day, and after this day, forever,
It is to gain nothing, but risk and defy every thing,
Forward to stand in front of wars–and O, such wars!–what have you to do with them?
With passions of demons, slaughter, premature death?
Banner
Demons and death then I sing,
Put in all, aye all will I, sword-shaped pennant for war,
And a pleasure new and ecstatic, and the prattled yearning of children,
Blent with the sounds of the peaceful land and the liquid wash of the sea,
And the black ships fighting on the sea envelop'd in smoke,
And the icy cool of the far, far north, with rustling cedars and pines,
And the whirr of drums and the sound of soldiers marching, and the hot sun shining south,
And the beach-waves combing over the beach on my Eastern shore, and my Western shore the same,
And all between those shores, and my ever running Mississippi with bends and chutes,
And my Illinois fields, and my Kansas fields, and my fields of Missouri,
The Continent, devoting the whole identity without reserving an atom,
Pour in! whelm that which asks, which sings, with all and the yield of all,
Fusing and holding, claiming, devouring the whole,
No more with tender lip, nor musical labial sound,
But out of the night emerging for good, our voice persuasive no more,
Croaking like crows here in the wind.
Poet
My limbs, my veins dilate, my theme is clear at last,
Banner so broad advancing out of the night, I sing you haughty and resolute,
I burst through where I waited long, too long, deafen'd and blinded,
My hearing and tongue are come to me, (a little child taught me,)
I hear from above O pennant of war your ironical call and demand,
Insensate! insensate! (yet I at any rate chant you,) O banner!
Not houses of peace indeed are you, nor any nor all their prosperity,
(if need be, you shall again have every one of those houses to destroy them,
You thought not to destroy those valuable houses, standing fast, full of comfort, built with money,
May they stand fast, then? not an hour except you above them and all stand fast;)
O banner, not money so precious are you, not farm produce you, nor the material good nutriment,
Nor excellent stores, nor landed on wharves from the ships,
Not the superb ships with sail-power or steam-power, fetching and carrying cargoes,
Nor machinery, vehicles, trade, nor revenues–but you as henceforth I see you,
Running up out of the night, bringing your cluster of stars, (ever-enlarging stars,)
Divider of daybreak you, cutting the air, touch'd by the sun, measuring the sky,
(Passionately seen and yearn'd for by one poor little child,
While others remain busy or smartly talking, forever teaching thrift, thrift;)
O you up there! O pennant! where you undulate like a snake hissing so curious,
Out of reach, an idea only, yet furiously fought for, risking bloody death, loved by me,
So loved–O you banner leading the day with stars brought from the night!
Valueless, object of eyes, over all and demanding all–(absolute owner of all)–O banner and pennant!
I too leave the rest–great as it is, it is nothing–houses, machines are nothing–I see them not,
I see but you, O warlike pennant! O banner so broad, with stripes, I sing you only,
Flapping up there in the wind.
Walt Whitman
(1819 – 1892)
Song of the banner at daybreak
From: Leaves of grass
• fleursdumal.nl magazine
More in: Archive W-X, Archive W-X, Whitman, Walt
---
Courtisane
Mes bras se sont ouverts et se sont refermés,
J'ai bu tous les poisons aux coupes exaltantes,
Et si c'est un péché d'avoir beaucoup aimé,
Je veux le premier rang parmi les pénitentes!
Les plaisirs de la chair, se sont sur moi, posés,
La lèvre m'a meurtrie et la dent m'a blessée,
Je porte avec orgueil la trace des baisers,
Je n'ai rien désiré que d'être caressée.
Je ne regrette pas les beaux soirs innocents,
La calme pureté des coeurs de jeunes filles,
Moi qui ne peux calmer la fièvre de mon sang,
Ni l'éclair de mes yeux, quand la voolupté brille.
De l'amour prodigué le long des jours passés,
Des baisers pénétrants, sur les lèvres que j'aime,
De ces morceaux de fleurs, entre mes doigts froissés,
J'ai fait un pur collier de perles et de gemmes.
Je porte fièrement ce mystique joyau,
Dont l'éternel éclat me brûle jusqu'à l'âme:
Moi; que l'amour aura marquée à mon berceau,
J'entraîne vers sa loi, le cortège des femmes.
Emilienne d'Alençon
(1869-1946)
Courtisane
• fleursdumal.nl magazine
More in: Archive A-B, Archive A-B, d'Alençon, Émilienne
---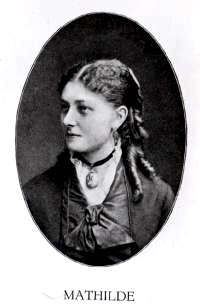 Aan Mathilde
Wanneer de moeder van het licht weêr licht,
En voor heur goud den zwarten mist doet wijken,
Dan laat ze 'er stralen langs de bloemen strijken,
En dankbaar doet elk bloemeke zijn plicht.
Zoodra de bloem de lieve zon ziet prijken,
Dan wolkt ze wierook op in wolken dicht,
En geurenmoeder wordt het moederlicht…
Ik moet, Mathilde, u aan de zon gelijken!
Gij zijt de moeder van deez' liederkrans:
Gij hebt dien met uw zonneblik geschapen
In 't zwarte hart; zoo 't glanst, 't is door úw glans.
Met uwe bloemen krans ik u de slapen,
Uw eigen schepping leg ik om uw hoofd;
Zoo zij uw naam voor eeuwiglijk geloofd! –
Jacques Perk
(1859 – 1881)
Aan Mathilde
• fleursdumal.nl magazine
More in: Archive O-P, CLASSIC POETRY, Jacques Perk
---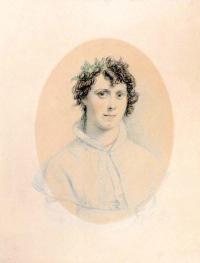 Love
Oh Love! how fondly, tenderly enshrined
In human hearts, how with our being twined!
Immortal principle, in mercy given,
The brightest mirror of the joys of heaven.
Child of Eternity's unclouded clime,
Too fair for earth, too infinite for time:
A seraph watching o'er Death's sullen shroud,
A sunbeam streaming through a stormy cloud;
An angel hovering o'er the paths of life,
But sought in vain amidst its cares and strife;
Claimed by the many–known but to the few
Who keep thy great Original in view;
Who, void of passion's dross, behold in thee
A glorious attribute of Deity!
Susanna Moodie:
Love (Poem)
(1803 – 1885)
• fleursdumal.nl magazine
More in: Archive M-N, Archive M-N, CLASSIC POETRY
---
Die Liebe
Wenn ihr Freunde vergeßt, wenn ihr die Euern all,
O ihr Dankbaren, sie, euere Dichter schmäht,
Gott vergeb es, doch ehret
Nur die Seele der Liebenden.
Denn o saget, wo lebt menschliches Leben sonst,
Da die knechtische jetzt alles, die Sorge, zwingt?
Darum wandelt der Gott auch
Sorglos über dem Haupt uns längst.
Doch, wie immer das Jahr kalt und gesanglos ist
Zur beschiedenen Zeit, aber aus weißem Feld
Grüne Halme doch sprossen,
Oft ein einsamer Vogel singt,
Wenn sich mählich der Wald dehnet, der Strom sich regt,
Schon die mildere Luft leise von Mittag weht
Zur erlesenen Stunde,
So ein Zeichen der schönern Zeit,
Die wir glauben, erwächst einziggenügsam noch,
Einzig edel und fromm über dem ehernen,
Wilden Boden die Liebe,
Gottes Tochter, von ihm allein.
Sei gesegnet, o sei, himmlische Pflanze, mir
Mit Gesange gepflegt, wenn des ätherischen
Nektars Kräfte dich nähren,
Und der schöpfrische Strahl dich reift.
Wachs und werde zum Wald! eine beseeltere,
Vollentblühende Welt! Sprache der Liebenden
Sei die Sprache des Landes,
Ihre Seele der Laut des Volks!
Friedrich Hölderlin
(1770 – 1843)
Die Liebe
Gedicht
• fleursdumal.nl magazine
More in: Archive G-H, Archive G-H, Hölderlin, Friedrich
---
From Sappho
Thou liest dead, lie on: of thee
No sweet remembrances shall be,
Who never plucked Pierian rose,
Who never chanced on Anteros.
Unknown, unnoticed, there below
Through Aides' houses shalt thou go
Alone, for never a flitting ghost
Shall find in thee a lover lost.
Digby Mackworth Dolben
(1848 – 1867)
From Sappho
• fleursdumal.nl magazine
More in: Archive C-D, Archive C-D, Digby Mackworth Dolben, Sappho
---
Iris
Der eerwaarde jonkvrouwe Joanna C. B.
`Ik ben geboren uit zonnegloren
En een zucht van de ziedende zee,
Die omhoog is gestegen, op wieken van regen,
Gezwollen van wanhoop en wee.
Mijn gewaad is doorweven met parels, die beven
Als dauw aan de roos, die ontlook,
Wen de Dagbruid zich baadt en voor 't schuchter gelaat
Een waaier van vlammen ontplook. –
Met tranen in 't oog, uit de diepte omhoog,
Buig ik ten kus naar beneden:
Mijn lichtende haren befloersen de baren
En mijn tranen lachen tevreden:
Want diep in zee splijt de bedding in twee,
Als mijn kus de golven doet gloren…
En de aarde is gekloofd en het lokkige hoofd
Van Zefier doemt lachend naar voren.
Hij lacht… en zijn zucht blaast, mij arme, in de lucht
En een boog van tintlende kleuren
Is mijn spoor, als ik wijk naar het dromerig rijk,
Waar ik eenzaam om Zefier kan treuren.
Hij mint me als ik hém… maar zijn lach, zijn stem,
Zijn kus… is een zucht: wij zwerven
Omhoog, omlaag; wij wíllen gestaâg,
Maar wij kunnen nòch kussen, nòch sterven. –
De sterveling ziet mijn aanschijn niet,
Als ik uitschrei, hoog boven de wolken,
En de regenvlagen met ritselend klagen
Mijn onsterflijken weedom vertolken.
Dan drenkt mijn smart het dorstende hart
Van de bloem, die smacht naar mijn leed
En met dankenden blik naar mij opziet, als ik
Van weedom het wenen vergeet.
En dán verschijn ik door het 't nevelgordijn –
Dat mijn Zefier verscheurt, als hij vliegt –
Somber gekromd… tot de zonneschijn komt
En 't rag mijner wieken zich wiegt.
Dán zegt op aarde, wie mij ontwaarde:
"De goudene Iris lacht!"…
En stil oversprei ik vale vallei
Met een gloed van zonnig smaragd. –
Mijn handen rusten op de uiterste kusten
Der aarde als, in roerloos peinzen, –
Eén bonte gedachte – ik mijn liefde verwachtte…
Die mij achter de zon zal doen deinzen. –
'k Zie 's nachts door mijn armen de sterren zwermen
En het donzige wolkengewemel
En de maan, die mij haat en zich koestert en baadt
In de zilveren lach van den hemel. –
Mijn pauwepronk… is de dos, dien mij schonk
De zon, om de stervling te sparen,
Wien mijn lichtloze blik zou bleeken van schrik
En mijn droeve gestalte vervaren.
Nu omspan ik den trans met mijne armen van glans
Tot mij lokt Zefier's wapprend gewaad,
En ik henenduister naar 't oord, waar de luister
Der lonkende zon mij verlaat. –
Ik ben geboren uit zonnegloren
En een vochtige zucht van de zee,
Die omhoog is gestegen, op wieken van regen,
Gezwollen van 't wereldse wee. –
Mij is gemeenzaam, wie even eenzaam
Het leven verlangende slijt
En die in tranen zijn Vreugde zag tanen…
Doch liefelijk lacht, als hij lijdt!' –
Jacques Perk
(1859 – 1881)
Iris
(Gedichten, 1882)
• fleursdumal.nl magazine
More in: Archive O-P, CLASSIC POETRY, Jacques Perk
---
 The wound-dresser
  1
An old man bending I come among new faces,
Years looking backward resuming in answer to children,
Come tell us old man, as from young men and maidens that love me,
(Arous'd and angry, I'd thought to beat the alarum, and urge relentless war,
But soon my fingers fail'd me, my face droop'd and I resign'd myself,
To sit by the wounded and soothe them, or silently watch the dead;)
Years hence of these scenes, of these furious passions, these chances,
Of unsurpass'd heroes, (was one side so brave? the other was equally brave;)
Now be witness again, paint the mightiest armies of earth,
Of those armies so rapid so wondrous what saw you to tell us?
What stays with you latest and deepest? of curious panics,
Of hard-fought engagements or sieges tremendous what deepest remains?
  2
O maidens and young men I love and that love me,
What you ask of my days those the strangest and sudden your talking recalls,
Soldier alert I arrive after a long march cover'd with sweat and dust,
In the nick of time I come, plunge in the fight, loudly shout in the rush of successful charge,
Enter the captur'd works–yet lo, like a swift-running river they fade,
Pass and are gone they fade–I dwell not on soldiers' perils or soldiers' joys,
(Both I remember well-many the hardships, few the joys, yet I was content.)
But in silence, in dreams' projections,
While the world of gain and appearance and mirth goes on,
So soon what is over forgotten, and waves wash the imprints off the sand,
With hinged knees returning I enter the doors, (while for you up there,
Whoever you are, follow without noise and be of strong heart.)
Bearing the bandages, water and sponge,
Straight and swift to my wounded I go,
Where they lie on the ground after the battle brought in,
Where their priceless blood reddens the grass the ground,
Or to the rows of the hospital tent, or under the roof'd hospital,
To the long rows of cots up and down each side I return,
To each and all one after another I drawn near, not one do I miss,
An attendant follows holding a tray, he carries a refuse pail,
Soon to be fill'd with clotted rags and blood, emptied, and fill'd again.
I onward go, I stop,
With hinged knees and steady hand to dress wounds,
I am firm with each, the pangs are sharp yet unavoidable,
One turns to me his appealing eyes-poor boy! I never knew you,
Yet I think I could not refuse this moment to die for you, if that would save you.
  3
On, on I go, (open doors of time! open hospital doors!)
The crush'd head I dress, (poor crazed hand tear not the bandage away,)
The neck of the cavalry-man with the bullet through and through I examine,
Hard the breathing rattles, quite glazed already the eye, yet life struggles hard,
(Come sweet death! be persuaded O beautiful death!
In mercy come quickly.)
From the stump of the arm, the amputated hand,
I undo the clotted lint, remove the slough, wash off the matter and blood,
Back on his pillow the soldier bends with curv'd neck and side-falling head,
His eyes are closed, his face is pale, he dares not look on the bloody stump,
And has not yet look'd on it.
I dress a wound in the side, deep, deep,
But a day or two more, for see the frame all wasted and sinking,
And the yellow-blue countenance see.
I dress the perforated shoulder, the foot with the bullet-wound,
Cleanse the one with a gnawing and putrid gangrene, so sickening, so offensive,
While the attendant stands behind aside me holding the tray and pail.
I am faithful, I do not give out,
The fractur'd thigh, the knee, the wound in the abdomen,
These and more I dress with impassive hand, (yet deep in my breast a fire, a burning flame.)
  4
Thus in silence in dreams' projections,
Returning, resuming, I thread my way through the hospitals,
The hurt and wounded I pacify with soothing hand,
I sit by the restless all the dark night, some are so young,
Some suffer so much, I recall the experience sweet and sad,
(Many a soldier's loving arms about this neck have cross'd and rested,
Many a soldier's kiss dwells on these bearded lips.)
Walt Whitman
(1819 – 1892)
The wound-dresser
From: Leaves of grass
• fleursdumal.nl magazine
More in: Archive W-X, Archive W-X, Whitman, Walt
---
Chanson
Vos beaux yeux sur ma franchise
N'adressent pas bien leurs coups,
Tête chauve et barbe grise
Ne sont pas viande pour vous ;
Quand j'aurais l'heure de vous plaire,
Ce serait perdre du temps ;
Iris, que pourriez-vous faire
D'un galant de cinquante ans ?
Ce qui vous rend adorable
N'est propre qu'à m'alarmer,
Je vous trouve trop aimable
Et crains de vous trop aimer :
Mon cœur à prendre est facile,
Mes vœux sont des plus constants ;
Mais c'est un meuble inutile
Qu'un galant de cinquante ans.
Si l'armure n'est complète,
Si tout ne va comme il faut,
Il vaut mieux faire retraite
Que d'entreprendre un assaut :
L'amour ne rend point la place
À de mauvais combattants,
Et rit de la vaine audace
Des galants de cinquante ans.
Pierre Corneille
(1606-1684)
Chanson
• fleursdumal.nl magazine
More in: Archive C-D, Archive C-D, Corneille, Pierre
---
Le Balcon
Au balcon de l'hôtel, nous étions accoudées.
Et nous avions au coeur, un tel recueillement
Que la nuit et la mer, à nos pieds déployées,
Semblaient venir à nous, silencieusement.
Le ciel était si proche, au fond de l'ombre immense,
Que nos gestes semblaient atteindre l'horizon,
Les vagues se taisaient et, dans le grand silence,
Tout ce que vous disiez prenait un sens très profond.
Et voici que soudain, des voix mystérieuses
Se mirent à chanter sur la mer, devant nous,
Et les unes étaient tendres et douloureuses,
Et d'autres résonnaient comme un rire très doux.
Les voix disaient le charme et la mélancolie
De la belle rencontre et du divin hasard,
Les voix disaient l'histoire obscure de la vie,
L'angoisse des adieux, les larmes du départ.
Ah! qui saura jamais, pourquoi sous ces étoiles,
Les être dans le soir, se seront pris la main,
Au lieu de s'en aller, comme s'en vont les voiles,
Sur les flots, vers des cieux différents et lointains.
J'ai senti contre moi, votre épaule plus chaude,
Le ciel, en pâlissant, faisait vos yeux plus clairs,
Et des parfums marins de sable, d'algue et d'iode,
Se mêlaient aux parfums qu'exhalait votre chair
Emilienne d'Alençon
(1869-1946)
Le Balcon
Août 1917
• fleursdumal.nl magazine
More in: Archive A-B, Archive A-B, d'Alençon, Émilienne
---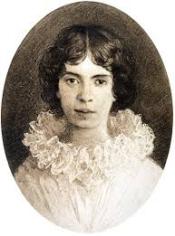 A Syllable
Could mortal lip divine
The undeveloped freight
Of a delivered syllable,
'T would crumble with the weight.
Emily Dickinson
(1830-1886)
A Syllable
• fleursdumal.nl magazine
More in: Archive C-D, Archive C-D, Dickinson, Emily
---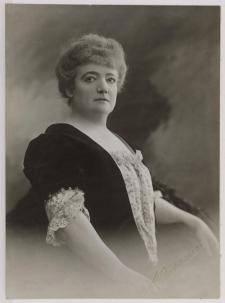 Sérénade printanière
Hier comme aujourd'hui, ce soir comme demain,
Je t'adore !
Quand je vois ton regard, quand je frôle ta main,
C'est l'aurore !
Qui donc nous avait dit que le monde est méchant,
Que l'on souffre,
Que la vie est un pont qui tremble, se penchant
Sur un gouffre ?
Où donc sont les ennuis, les erreurs, les dangers,
Les désastres ?
Avril gazouille et rit dans les tendres vergers
Fleuris d'astres !
Le sombre hiver a fui ; le radieux printemps
Nous délivre.
Viens mêler à mes pleurs tes baisers haletants ;
Je veux vivre !
Nos coeurs sont confondus, nos âmes pour toujours
Sont unies ;
Nous avons épelé le livre des amours
Infinies !
Et je ne vois plus rien que l'éclair de tes yeux
Pleins de fièvres…
Viens ! je veux soupirer les suprêmes aveux
Sur tes lèvres !…
Augusta Holmès
(1847 – 1903)
Sérénade printanière
• fleursdumal.nl magazine
More in: Archive G-H, Archive G-H, CLASSIC POETRY
---
Older Entries »
Thank you for reading FLEURSDUMAL.NL - magazine for art & literature