CLASSIC POETRY
·
Jacques Perk: Eerste aanblik
·
Emily Dickinson: The Inevitable
·
Richard Le Gallienne: The Lonely Dancer
·
Sophie d'Arbouville: Le Poète
·
Paul Celan: "Etwas ganz und gar Persönliches" – Briefe 1934-1970
·
Emilienne d'Alençon: Elégie
·
Emily Dickinson: Parting (Poem)
·
The Passion according to Renée Vivien by Maria-Mercè Marçal
·
Jacques Perk: Die lach
·
Ella Wheeler Wilcox: A Dream
·
Sophie d'Arbouville: Amour de jeune fille
·
Jacques Perk: Zij komt
Eerste aanblik
En peinzend zie 'k uw zee-blauwe oogen pralen,
Waarin de deernis kwijnt, de liefde droomt, –
En weet niet wat mij door mijn adren stroomt:
Ik zie naar u en kan niet ademhalen:
Een gouden waterval van zonnestralen
Heeft nooit een zachter aangezicht bezoomd…
't Is of me een engel heeft verwellekoomd,
Die met een paradijs op aard kwam dalen.
'k Gevoel mij machtig tot u aangedreven
En buiten mij. 'k Was dood, ik ben herrezen,
En voel mij tusschen zijn en niet-zijn zweven:
Wat hebt gij, tooveres, mij goed belezen!
Aan u en aan uwe oogen hangt mijn leven:
Een diepe rust vervult geheel mijn wezen. –
Jacques Perk
(1859 – 1881)
Eerste aanblik
• fleursdumal.nl magazine
More in: Archive O-P, CLASSIC POETRY, Jacques Perk
---
The Inevitable
While I was fearing it, it came,
But came with less of fear,
Because that fearing it so long
Had almost made it dear.
There is a fitting a dismay,
A fitting a despair.
'Tis harder knowing it is due,
Than knowing it is here.
The trying on the utmost,
The morning it is new,
Is terribler than wearing it
A whole existence through.
Emily Dickinson
(1830-1886)
The Inevitable (Poem)

• fleursdumal.nl magazine
More in: Archive C-D, Archive C-D, Dickinson, Emily
---
The Lonely Dancer
I had no heart to join the dance,
I danced it all so long ago–
Ah! light-winged music out of France,
Let other feet glide to and fro,
Weaving new patterns of romance
For bosoms of new-fallen snow.
But leave me thus where I may hear
The leafy rustle of the waltz,
The shell-like murmur in my ear,
The silken whisper fairy-false
Of unseen rainbows circling near,
And the glad shuddering of the walls.
Another dance the dancers spin,
A shadow-dance of mystic pain,
And other partners enter in
And dance within my lonely brain–
The swaying woodland shod in green,
The ghostly dancers of the rain;
The lonely dancers of the sea,
Foam-footed on the sandy bar,
The wizard dance of wind and tree,
The eddying dance of stream and star;
Yea, all these dancers tread for me
A measure mournful and bizarre:
An echo-dance where ear is eye,
And sound evokes the shapes of things,
Where out of silence and a sigh
The sad world like a picture springs,
As, when some secret bird sweeps by,
We see it in the sound of wings.
Those human feet upon the floor,
That eager pulse of rhythmic breath,–
How sadly to an unknown shore
Each silver footfall hurryeth;
A dance of autumn leaves, no more,
On the fantastic wind of death.
Fire clasped to elemental fire,
'Tis thus the solar atom whirls;
The butterfly in aery gyre,
On autumn mornings, swarms and swirls,
In dance of delicate desire,
No other than these boys and girls.
The same strange music everywhere,
The woven paces just the same,
Dancing from out the viewless air
Into the void from whence they came;
Ah! but they make a gallant flare
Against the dark, each little flame!
And what if all the meaning lies
Just in the music, not in those
Who dance thus with transfigured eyes,
Holding in vain each other close;
Only the music never dies,
The dance goes on,–the dancer goes.
A woman dancing, or a world
Poised on one crystal foot afar,
In shining gulfs of silence whirled,
Like notes of the strange music are;
Small shape against another curled,
Or dancing dust that makes a star.
To him who plays the violin
All one it is who joins the reel,
Drops from the dance, or enters in;
So that the never-ending wheel
Cease not its mystic course to spin,
For weal or woe, for woe or weal.
Richard Le Gallienne
(1866 – 1947)
The Lonely Dancer
From: The lonely Dancer and other Poems, 1913
• fleursdumal.nl magazine
More in: Archive G-H, Archive G-H, Gallienne, Richard Le
---
Le Poète
ODE
(Couronnée aux jeux floraux)
Des longs ennuis du jour quand le soir me délivre,
Poète aux chants divins, j'ouvre en rêvant ton livre,
Je me recueille en toi, dans l'ombre et loin du bruit ;
De ton monde idéal, j'ose aborder la rive :
Tes chants que je répète, à mon âme attentive
Semblent plus purs la nuit !
Mais qu'il reste caché, ce trouble de mon âme,
De moi rien ne t'émeut, ni louange, ni blâme.
Quelques hivers à peine ont passé sur mon front…
Et qu'importe à ta muse, en tous lieux adorée,
Qu'au sein de ses foyers une femme ignorée
S'attendrisse à ton nom !
Qui te dira qu'aux sons de ta lyre sublime,
À ses accords divins, ma jeune âme s'anime,
Laissant couler ensemble et ses vers et ses pleurs ?
Quand près de moi ta muse un instant s'est posée,
Je chante…. ainsi le ciel, en versant sa rosée,
Entr'ouvre quelques fleurs.
Poètes ! votre sort est bien digne d'envie.
Le Dieu qui nous créa vous fit une autre vie,
L'horizon ne sert point de limite à vos yeux,
D'un univers plus grand vous sondez le mystère,
Et quand, pauvres mortels, nous vivons sur la terre,
Vous vivez dans les cieux !
Et si, vous éloignant des voûtes éternelles,
Vous descendez vers nous pour reposer vos ailes,
Notre monde à vos yeux se dévoile plus pur ;
L'hiver garde des fleurs, les bois un vert feuillage,
La rose son parfum, les oiseaux leur ramage,
Et le ciel son azur.
Si Dieu, vous révélant les maux de l'existence,
Au milieu de vos chants fait naître la souffrance,
Votre âme, en sa douleur poursuivant son essor,
Comme au temps des beaux jours vibre dans ses alarmes ;
Le monde s'aperçoit, quand vous montrez vos larmes,
Que vous chantez encor !
Le malheur se soumet aux formes du génie,
En passant par votre âme, il devient harmonie.
Votre plainte s'exhale en sons mélodieux.
L'ouragan qui, la nuit, rugit et se déchaîne,
S'il rencontre en son cours la harpe éolienne,
Devient harmonieux.
Moi, sur mes jeunes ans j'ai vu gronder l'orage,
Le printemps fut sans fleurs, et l'été, sans ombrage ;
Aucun ange du ciel n'a regardé mes pleurs.
Que ne puis-je, changeant l'absinthe en ambroisie,
Comme vous, aux accords d'un chant de poésie
Endormir mes douleurs !
À notre âme, ici-bas , il n'est rien qui réponde ;
Poètes inspirés, montrez-nous votre monde !
À ce vaste désert, venez nous arracher.
Pour le divin banquet votre table se dresse…
Oh ! laissez, de la coupe où vous puisez l'ivresse,
Mes lèvres s'approcher !
Oui, penchez jusqu'à moi voire main que j'implore ;
Votre coupe est trop loin, baissez, baissez encore !…
Répandez dans mes vers l'encens inspirateur.
Pour monter jusqu'à vous, mon pied tremble et chancelle…
Poètes ! descendez, et portez sur votre aile
Une timide sœur !
Sophie d'Arbouville
(1810-1850)
Le Poète. Ode
Poésies et nouvelles (1840)
•fleursdumal.nl
More in: Arbouville, Sophie d', Archive A-B, Archive A-B
---
Paul Celan, der meistgedeutete deutschsprachige Dichter nach 1945, ist auch der Autor eines eminenten Briefwerks.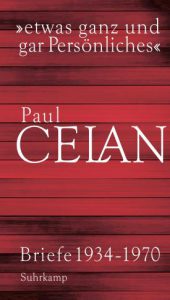 Mit dieser Ausgabe wird es nun erstmals als eigenes Werk sichtbar: in 691 Briefen, davon 330 bisher unpubliziert, an 252 Adressaten. Wer sind die Adressaten? Es sind die Mitglieder der Familie, geliebte Frauen, befreundete Autoren, sehr junge und begeisterte Leser, Übersetzerkollegen, französische Philosophen ebenso wie deutsche Germanisten und die Mitarbeiter vieler Verlage. Aus alledem entsteht in chronologischer Folge über vier Jahrzehnte ein Leben aus Briefen.
In ihnen zeigt sich Celan als herausragender Korrespondenzpartner mit einer enormen stilistischen Bandbreite, ausgeprägt in seiner Fähigkeit, auch auf Unbekannte einzugehen. Die Briefe offenbaren eine Vielzahl bisher verborgener biografischer Fakten, ermöglichen eine Präzisierung seiner Poetologie und zeigen ihn zugleich als Menschen in seinem ganz gewöhnlichen Alltag.
Das Jahr 2020 steht ganz im Zeichen von Paul Celan: Am 20. April jährte sich sein Todestag zum fünfzigsten Mal, und am 23. November 2020 wäre einer der wichtigsten deutschsprachigen Dichter nach 1945 einhundert Jahre alt geworden.
Paul Celan wurde als Paul Antschel am 23. November 1920 als einziger Sohn deutschsprachiger, jüdischer Eltern im damals rumänischen Czernowitz geboren. Nach dem Abitur 1938 begann Celan ein Medizinstudium in Frankreich, kehrte jedoch ein Jahr später nach Rumänien zurück, um dort Romanistik zu studieren. 1942 wurden Paul Celans Eltern deportiert. Im selben Herbst starb sein Vater in einem Lager an Typhus, seine Mutter wurde erschossen. Von 1942 bis 1944 musste Celan in verschiedenen rumänischen Arbeitslagern Zwangsarbeit leisten.
Von 1945 bis 1947 arbeitete er als Lektor und Übersetzer in Bukarest, wo auch erste Gedichte von Celan erschienen. Im Juli 1948 zog er von Wien aus nach Paris, wo der Dichter bis zu seinem Tod lebte. Dort lernte Celan 1951 die Künstlerin Gisèle de Lestrange kennen, die er ein Jahr später heiratete. Ihr gemeinsamer Sohn Eric kam 1955 zur Welt. Im Frühjahr 1970 nahm sich Celan in der Seine das Leben. (Suhrkamp Verlag)
"Dieses aus- und eindrucksvolle Mosaik ist die große Leistung der Herausgeberin Barbara Wiedemann, die schon so viele Publikationen zu Paul Celan verantwortet hat." – Martin Oehlen, Frankfurter Rundschau
Paul Celan
"Etwas ganz und gar Persönliches"
Briefe 1934-1970
Herausgegeben und kommentiert von Barbara Wiedemann
Deutschsprachig
Leinen
Literatur
Suhrkamp Verlag
1286 Seiten
78,00 €
Erschienen: 14.12.2019
ISBN: 978-3-518-42888-7
# new books
Paul Celan
Briefe 1934-1970
• fleursdumal.nl magazine
More in: - Book News, - Bookstores, Archive C-D, Archive C-D, Celan, Paul, Paul Celan
---
 Elégie
L'allée est ténébreuse, et le ciel est mystique;
L'Aphrodita de marbre étend son beau corps nu,
Le gazon est humide et luisant, il a plu…
Sur le gravier s'allonge une ombre fantastique.
L'amour a, par moments, besoin de s'exiler;
Et c'est pourquoi, ce soir, plaisir ou délivrance,
Nous allons à pas lents, baignés dans du silence,
Rechercher la tendresse au jardin isolé.
Douceur de vivre à deux, un soir de lassitude!
O vivre près de toi! bonheur sans lendemain!
Tu m'aimes aujourd'hui – m'aimeras-tu demain?
Et mon soupir a, seul, troublé la solitude.
Cependant on perçoit un long pas, qui nous suit,
Propice à conserver l'illusison divine,
Un pas léger, un as flottant, que l'on devine:
C'est l'ombre de l'amour, dans l'ombre de la nuit.
Emilienne d'Alençon
(1869-1946)
Elégie
• fleursdumal.nl magazine
More in: Archive A-B, Archive A-B, d'Alençon, Émilienne
---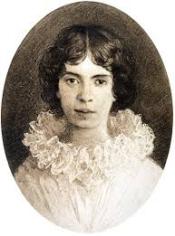 Parting
My life closed twice before its close;
It yet remains to see
If Immortality unveil
A third event to me,
So huge, so hopeless to conceive,
As these that twice befell.
Parting is all we know of heaven,
And all we need of hell.
Emily Dickinson
(1830-1886)
Parting
• fleursdumal.nl magazine
More in: Archive C-D, Archive C-D, Dickinson, Emily
---
First complete translation into English by Kathleen McNerney and Helena Buffery ⊕ Contains the most beautiful prose I've ever read in Catalan – Anna Murià, novelist and translator
In this often poetic and lyrical novel by the revered Catalan poet Maria-Mercè Marçal, we are taken on a journey through the multiple, mobile and contradictory life, letters and loves of the fin-de-siècle Anglo-French writer, Pauline Tarn-Renée Vivien, as researched and reimagined by two principal narrators – a 1980s Catalan documentary film-maker Sara T. and a 1920s French archaeology scholar and museologist Salomon Reinach – alongside the voices of the various friends, relations, lovers, companions and servants who made her acquaintance at different moments in her life.
In the process, we are presented with a compelling reconstruction of the Belle Époque and interwar years in Paris, alongside other key sites in this transformational literary geography – Nice, Bayreuth, Switzerland, Istanbul, and the island of Lesbos – that include often dazzling evocations of other cultural figures and influencers of the age, from Zola to Pierre Louÿs and Remy de Gourmont, Liane de Pougy to Mathilde de Morny and Colette, not forgetting the central figure of Natalie Clifford-Barney, the 'Amazone'.
Maria-Mercè Marçal:
The Passion according to Renée Vivien
Translation into English by Kathleen McNerney and Helena Buffery
Francis Boutle publishers
ISBN 9781916490659
Language: English
Format: paperback
Number of pages 354
£12
»» website Francis Boutle publishers
# new books
Maria-Mercè Marçal:
The Passion according to Renée Vivien
• fleursdumal.nl magazine
More in: - Book News, - Book Stories, Archive M-N, Archive U-V, Archive U-V, Renée Vivien, Vivien, Renée
---
Die lach
Zooals wanneer opeens de zonneschijn
Door 't zwart der breede wolken heen komt breken,
En schittert in de tranen, die er leken
Van blad en bloem, als vloeiend kristallijn,
Zóó, dat het weenen lachen schijnt te zijn:
Zoo is, wat mij ontstemt, opeens geweken,
Mathilde! ontsluit úw mond zich om te spreken,
En doolt een glimlach om uw lippen, fijn: –
Doch van den lach is glimlach dageraad,
En klinkt uw lach, hoe drinken hem mijne ooren!
De vreugde vaart door pols en vezel rond. –
En met geloken oog zie 'k uw gelaat,
Zoo zonnig: 'k meen uw zilvren lach te hooren,
Wanneer ik roerloos wacht op de' uchtendstond….
Jacques Perk
(1859 – 1881)
Die lach
• fleursdumal.nl magazine
More in: Archive O-P, Archive O-P, CLASSIC POETRY, Jacques Perk
---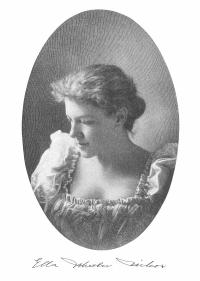 A Dream
In the night I dreamed that you had died,
And I thought you lay in your winding sheet;
And I kneeled low by your coffin side,
With my cheek on your heart that had ceased to beat.
And I thought as I looked on your form so still,
A terrible woe, and an awful pain,
Fierce as vultures that slay and kill,
Tore at my bosom and maddened my brain.
And then it seemed that the chill of death
Over me there like a mantle fell,
And I knew by my fluttering, failing breath
That the end was near, and all was well.
I woke from my dream in the black midnight –
It was only a dream at worst or best –
But I lay and thought till the dawn of light,
Had the dream been true we had both been blest.
Better to kneel by your still dead form,
With my cheek on your breast, and die that way,
Than to live and battle with night and storm,
And drift away from you day by day.
Better the anguish of death and loss,
The sharp, quick pain, and the darkness, then,
Than living on with this heavy cross
To bear about in the world of men.
Ella Wheeler Wilcox
(1855 – 1919)
A Dream (Poem)
• fleursdumal.nl magazine
More in: Archive W-X, Archive W-X, CLASSIC POETRY
---
Amour de jeune fille
Ma mère, quel beau jour ! tout brille, tout rayonne.
Dans les airs, l'oiseau chante et l'insecte bourdonne ;
Les ruisseaux argentés roulent sur les cailloux,
Les fleurs donnent au ciel leur parfum le plus doux.
Le lis s'est entr'ouvert ; la goutte de rosée,
Sur les feuilles des bois par la nuit déposée,
S'enfuyant à l'aspect du soleil et du jour,
Chancelle et tombe enfin comme des pleurs d'amour.
Les fils blancs et légers de la vierge Marie,
Comme un voile d'argent, volent sur la prairie :
Frêle tissu, pour qui mon souffle est l'aquilon,
Et que brise en passant l'aile d'un papillon.
Sous le poids de ses fruits le grenadier se penche,
Dans l'air, un chant d'oiseau nous vient de chaque branche ;
Jusqu'au soir, dans les cieux, le soleil brillera :
Ce jour est un beau jour !… Oh ! bien sûr, il viendra !
Il viendra… mais pourquoi ?… Sait-il donc que je l'aime ?
Sait-il que je l'attends, que chaque jour de même,
— Que ce jour soit celui d'hier ou d'aujourd'hui —
J'espère sa présence et ne songe qu'à lui ?
Oh ! non ! il ne sait rien. Qu'aurait-il pu comprendre !…
Les battements du cœur se laissent-ils entendre ?
Les yeux qu'on tient baissés, ont-ils donc un regard ?
Un sourire, dit-il qu'on doit pleurer plus tard ?
Que sait-on des pensers cachés au fond de l'âme !
La douleur qu'on chérit, le bonneur que l'on blâme ,
Au bal, qui les trahit ?… Des fleurs sont sur mon front,
À tout regard joyeux mon sourire répond ;
Je passe auprès de lui sans détourner la tête,
Sans ralentir mes pas…. et mon cœur seul s'arrête.
Mais qui peut voir le cœur ? qu'il soit amour ou fiel,
C'est un livre fermé, qui ne s'ouvre qu'au ciel !
Une fleur est perdue, au loin, dans la prairie,
Mais son parfum trahit sa présence et sa vie ;
L'herbe cache une source, et le chêne un roseau,
Mais la fraîcheur des bois révèle le ruisseau ;
Le long balancement d'un flexible feuillage
Nous dit bien s'il reçoit ou la brise ou l'orage ;
Le feu qu'ont étouffé des cendres sans couleur,
Se cachant à nos yeux, se sent par la chaleur ;
Pour revoir le soleil quand s'enfuit l'hirondelle,
Le pays qu'elle ignore est deviné par elle :
Tout se laisse trahir par l'odeur ou le son,
Tout se laisse entrevoir par l'ombre ou le rayon,
Et moi seule, ici-bas, dans la foule perdue,
J'ai passé près de lui sans qu'il m'ait entendue…
Mon amour est sans voix, sans parfum, sans couleur,
Et nul pressentiment n'a fait battre son cœur !
Ma mère, c'en est fait ! Le jour devient plus sombre ;
Aucun bruit, aucun pas, du soir ne trouble l'ombre.
Adieux à vous ! — à vous, ingrat sans le savoir !
Vous, coupable des pleurs que vous ne pouvez voir !
Pour la dernière fois, mon Ame déchirée
Rêva votre présence, hélas! tant désirée…
Plus jamais je n'attends. L'amour et l'abandon,
Du cœur que vous brisez les pleurs et le pardon,
Vous ignorerez tout !… Ainsi pour nous, un ange.
Invisible gardien, dans ce monde où tout change.
S'attache à notre vie et vole à nos côtés ;
Sous son voile divin nous sommes abrités,
Et jamais, cependant, on ne voit l'aile blanche
Qui, sur nos fronts baissés, ou s'entrouvre ou se penche.
Dans les salons, au bal, sans cesse, chaque soir,
En dansant près de vous, il me faudra vous voir ;
Et cependant, adieu… comme à mon premier rêve !
Tous deux, à votre insu, dans ce jour qui s'achève,
Nous nous serons quittés ! — Adieu, soyez heureux !…
Ma prière, pour vous, montera vers les Cieux :
Je leur demanderai qu'éloignant les orages,
Ils dirigent vos pas vers de riants rivages,
Que la brise jamais, devenant aquilon,
D'un nuage pour vous ne voile l'horizon ;
Que l'heure à votre gré semble rapide ou lente ;
Lorsque vous écoutez, que toujours l'oiseau chante ;
Lorsque vous regardez, que tout charme vos yeux,
Que le buisson soit vert, le soleil radieux ;
Que celle qui sera de votre cœur aimée,
Pour vous, d'un saint amour soit toujours animée !…
— Si parfois, étonné d'un aussi long bonheur,
Vous demandez à Dieu : « Mais pourquoi donc, Seigneur ? »
Il répondra peut-être : « Un cœur pour toi me prie…
Et sa part de bonheur, il la donne à ta vie ! »
Sophie d'Arbouville
(1810-1850)
Amour de jeune fille
Poésies et nouvelles (1840)
• fleursdumal.nl magazine

More in: Arbouville, Sophie d', Archive A-B, Archive A-B
---
Zij komt
Gij, berken, buigt uw ranke loovertrossen!
Strooit, rozen, op het zand èn sneeuw èn blad!
Gij, zwaatlende olmen, nijgt u naar het pad,
En kust den dauw van sidderende mossen!
En, snelgewiekte liederen der bosschen,
Stemt aan én zang én lof! En, klimveil, dat
Den slanken, diepbeminden beuk omvat,
Druk hechter aan de twijgen u, de rossen!
Voorzegger, die uzelven roept, o kom,
En roep uw koekkoek duizend blijde keeren,
En fladder aan, vergulde vlinderdrom!
Zij zweeft hierheen, die zon en zomer eeren:
De lof van hare schoonheid klinke alom,
Waar zon en zomer te beminnen leeren!
Jacques Perk
(1859 – 1881)
Zij komt
• fleursdumal.nl magazine
More in: Archive O-P, CLASSIC POETRY, Jacques Perk
---
Older Entries »
Thank you for reading FLEURSDUMAL.NL - magazine for art & literature