CLASSIC POETRY
·
Victor Hugo: Le Poëte (Poème)
·
Lord Byron: It is the hour (Poem)
·
Karel van de Woestijne: Gelijk een arme, blinde hond (Gedicht)
·
Emily Dickinson: I measure every Grief I meet
·
Lord Byron: Euthanasia (Poem)
·
Karel van de Woestijne: Kind met het bleek gelaat (Gedicht)
·
Fernando Pessoa: Een spoor van mezelf. Een keuze uit de orthonieme gedichten
·
Gérard de Nerval: Les heures du jour (Poéme)
·
Emily Dickinson: The Soul unto itself
·
Victor Hugo: Exil (Poème)
·
Victor Hugo: Le poète dans les révolutions (Poème)
·
Emily Dickinson: I felt a Funeral, in my Brain
Le poëte
Shakspeare songe ; loin du Versaille éclatant,
Des buis taillés, des ifs peignés, où l'on entend
Gémir la tragédie éplorée et prolixe,
Il contemple la foule avec son regard fixe,
Et toute la forêt frissonne devant lui.
Pâle, il marche, au dedans de lui-même ébloui ;
Il va, farouche, fauve, et, comme une crinière,
Secouant sur sa tête un haillon de lumière.
Son crâne transparent est plein d'âmes, de corps,
De rêves, dont on voit la lueur du dehors ;
Le monde tout entier passe à travers son crible ;
Il tient toute la vie en son poignet terrible ;
Il fait sortir de l'homme un sanglot surhumain.
Dans ce génie étrange où l'on perd son chemin,
Comme dans une mer, notre esprit parfois sombre.
Nous sentons, frémissants, dans son théâtre sombre,
Passer sur nous le vent de sa bouche soufflant,
Et ses doigts nous ouvrir et nous fouiller le flanc.
Jamais il ne recule ; il est géant ; il dompte
Richard-Trois, léopard, Caliban, mastodonte ;
L'idéal est le vin que verse ce Bacchus.
Les sujets monstrueux qu'il a pris et vaincus
Râlent autour de lui, splendides ou difformes ;
Il étreint Lear, Brutus, Hamlet, êtres énormes,
Capulet, Montaigu, César, et, tour à tour,
Les stryges dans le bois, le spectre sur la tour ;
Et, même après Eschyle, effarant Melpomène,
Sinistre, ayant aux mains des lambeaux d'âme humaine,
De la chair d'Othello, des restes de Macbeth,
Dans son œuvre, du drame effrayant alphabet,
Il se repose ; ainsi le noir lion des jongles
S'endort dans l'antre immense avec du sang aux ongles.
Paris, avril 1835.
Victor Hugo
(1802-1885)
Le poëte
(Poème)
Les Contemplations
• fleursdumal.nl magazine
More in: Archive G-H, Archive G-H, Hugo, Victor, Victor Hugo
---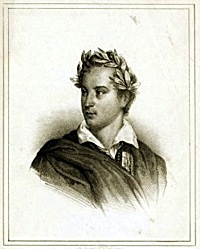 It is the hour
It is the hour when from the boughs
The nightingale's high note is heard;
It is the hour — when lover's vows
Seem sweet in every whisper'd word;
And gentle winds and waters near,
Make music to the lonely ear.
Each flower the dews have lightly wet,
And in the sky the stars are met,
And on the wave is deeper blue,
And on the leaf a browner hue,
And in the Heaven that clear obscure
So softly dark, and darkly pure,
That follows the decline of day
As twilight melts beneath the moon away.
George Gordon Byron
(1788 – 1824)
It is the hour
(Poem)
• fleursdumal.nl magazine
More in: Archive A-B, Archive A-B, Byron, Lord
---
Gelijk een arme, blinde hond
Geljk een arme, blinde hond
van alle troost verstoken,
dwaal 'k door de zoele avond rond
en ruik de lente-roken.
Er waart – lijk om een vrouwe-kleed
waar oude driften in hangen –
er waart een geur van schamper leed
en van huilend-moe verlangen.
En 'k dwaal, een blinde hond gelijk,
door dralige lente-roken,
mijn hart van alle liefden rijk,
mijn hart van liefde verstoken.
Karel van de Woestijne
(1878 – 1929)
Gelijk een arme, blinde hond
• fleursdumal.nl magazine
More in: Archive W-X, Archive W-X, Woestijne, Karel van de
---
I measure every Grief I meet
I measure every Grief I meet
With narrow, probing, eyes –
I wonder if It weighs like Mine –
Or has an Easier size.
I wonder if They bore it long –
Or did it just begin –
I could not tell the Date of Mine –
It feels so old a pain –
I wonder if it hurts to live –
And if They have to try –
And whether – could They choose between –
It would not be – to die –
I note that Some – gone patient long –
At length, renew their smile –
An imitation of a Light
That has so little Oil –
I wonder if when Years have piled –
Some Thousands – on the Harm –
That hurt them early – such a lapse
Could give them any Balm –
Or would they go on aching still
Through Centuries of Nerve –
Enlightened to a larger Pain –
In Contrast with the Love –
The Grieved – are many – I am told –
There is the various Cause –
Death – is but one – and comes but once –
And only nails the eyes –
There's Grief of Want – and grief of Cold –
A sort they call "Despair" –
There's Banishment from native Eyes –
In sight of Native Air –
And though I may not guess the kind –
Correctly – yet to me
A piercing Comfort it affords
In passing Calvary –
To note the fashions – of the Cross –
And how they're mostly worn –
Still fascinated to presume
That Some – are like my own –
Emily Dickinson
(1830-1886)
I measure every Grief I meet
• fleursdumal.nl magazine
More in: Archive C-D, Dickinson, Emily
---
Euthanasia
When Time, or soon or late, shall bring
The dreamless sleep that lulls the dead,
Oblivion! may thy languid wing
Wave gently o'er my dying bed!
No band of friends or heirs be there,
To weep, or wish, the coming blow:
No maiden, with dishevelled hair,
To feel, or feign, decorous woe.
But silent let me sink to earth,
With no officious mourners near:
I would not mar one hour of mirth,
Nor startle friendship with a tear.
Yet Love, if Love in such an hour
Could nobly check its useless sighs,
Might then exert its latest power
In her who lives, and him who dies.
'Twere sweet, my Psyche! to the last
Thy features still serene to see:
Forgetful of its struggles past,
E'en Pain itself should smile on thee.
But vain the wish?for Beauty still
Will shrink, as shrinks the ebbing breath;
And women's tears, produced at will,
Deceive in life, unman in death.
Then lonely be my latest hour,
Without regret, without a groan;
For thousands Death hath ceas'd to lower,
And pain been transient or unknown.
`Ay, but to die, and go,' alas!
Where all have gone, and all must go!
To be the nothing that I was
Ere born to life and living woe!
Count o'er the joys thine hours have seen,
Count o'er thy days from anguish free,
And know, whatever thou hast been,
'Tis something better not to be.
George Gordon Byron
(1788 – 1824)
Euthanasia
(Poem)
• fleursdumal.nl magazine
More in: Archive A-B, Archive A-B, Byron, Lord
---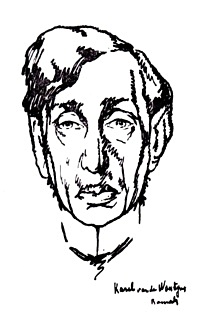 Kind met het bleek gelaat
Kind met het bleek gelaat, dat van uw wijde blikken
geen liefde in mat gebaar noch in lede ogen ziet,
maar in uw zedig kleed uw knieën weet te schikken
zó, dat me te elken male een laaie drift doorschiet:
gij zult het nimmer aan mijn vrome woorden weten
hoe mijn begeren om uw kleren dolen dorst;
maar ìk draag in me-zelf de wonde, zelf gereten,
waarvan de koortse rilt en davert door mijn borst.
Want 'k heb de straffe zélf in 't lillend vlees geslagen;
ik heb een spijt'ge spot gehamerd in mijn brein…
– Gij echter, ga voorbij, arm kind, en zónder vragen:
ik haat u om dees geert', die 'k minne om deze pijn…
Karel van de Woestijne
(1878 – 1929)
Kind met het bleek gelaat
Portret: Karel van de Woestijne, Ramah – Journal Het Roode Zeil, 15 April 1920
• fleursdumal.nl magazine
More in: Archive W-X, Archive W-X, Woestijne, Karel van de
---
Het Portugese woord pessoa komt van het Latijnse persona, dat zowel 'mens' als 'masker' betekent.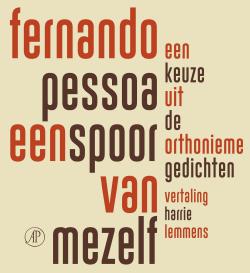 Precies daar moeten we Fernando Pessoa plaatsen, in de wereld van schijn, vermomming, spel, fictie. Hij vergelijkt zichzelf met een podium waarop allerlei acteurs rondlopen.
Zijn bekendste heteroniemen zijn Bernardo Soares (schrijver van het Boek der rusteloosheid) en de dichters Alberto Caeiro, Ricardo Reis en Álvaro de Campos. Pessoa heeft echter ook onder zijn eigen naam gedichten geschreven. Van dat orthonieme werk zag maar weinig het licht tijdens zijn leven.
Pas lang na zijn dood werden alle losse orthonieme gedichten bijeengebracht in drie delen van elk ruim vijfhonderd bladzijden.
Fernando Pessoa (1888-1935) was een groot Portugees dichter. Bij leven publiceerde deze kantoorklerk uit Lissabon slechts enkele werken. Na zijn dood werd op zijn huurkamer een kist aangetroffen met 27 duizend vol gekrabbelde velletjes. Uit die chaos kon een kolossaal oeuvre worden samengesteld. Niet dat van één dichter, maar van zo'n 25 'heteroniemen' – afzonderlijke 'schrijverspersoonlijkheden' met elk een eigen stijl en woordkeus. Pessoa stierf op 47-jarige leeftijd, hij dronk zich dood.
De Arbeiderspers heeft de exclusieve vertaalrechten op zijn oeuvre. August Willemsen (1936-2007) vertaalde het leeuwendeel daarvan en schreef als introductie op de Pessoa-bibliotheek: Het ik als vreemde.
Auteur: Fernando Pessoa
Een spoor van mezelf.
Een keuze uit de orthonieme gedichten
Vertaler: Harrie Lemmens
Nederlands
Uitgeverij: De Arbeiderspers
NUR: 306
Poëzie
Paperback
296 pagina's
ISBN: 9789029526456
Prijs: € 24,99
Publicatiedatum: 04-06-2019
• fleursdumal.nl magazine
More in: - Book News, Archive O-P, Archive O-P, Pessoa, Fernando, TRANSLATION ARCHIVE
---
Les heures du jour

Nous sommes les Heures guerrières
Qui présidons aux durs travaux.
Quand Bellone ouvre les barrières,
Quand César marche à ses rivaux,
Notre cohorte échevelée
Pousse dans l'ardente mêlée
La ruse fertile en détours;
Et sur la plaine, vaste tombe
Où la moisson sanglante tombe,
Souriant à cette hécatombe,
Nous planons avec les vautours.
Gérard de Nerval
(1808 – 1855)
Les heures du jour – Poéme
• fleursdumal.nl magazine
More in: Archive M-N, Nerval, Gérard de, Nerval, Gérard de
---
The Soul unto itself
The Soul unto itself
Is an imperial friend –
Or the most agonizing Spy –
An Enemy – could send –
Secure against its own –
No treason it can fear –
Itself – its Sovereign – of itself
The Soul should stand in Awe –
Emily Dickinson
(1830-1886)
The Soul unto itself
fleursdumal.nl magazine
More in: Archive C-D, Dickinson, Emily
---
Exil
Si je pouvais voir, ô patrie,
Tes amandiers et tes lilas,
Et fouler ton herbe fleurie,
Hélas !
Si je pouvais, – mais, ô mon père,
O ma mère, je ne peux pas, –
Prendre pour chevet votre pierre,
Hélas !
Dans le froid cercueil qui vous gêne,
Si je pouvais vous parler bas,
Mon frère Abel, mon frère Eugène,
Hélas !
Si je pouvais, ô ma colombe,
Et toi, mère, qui t'envolas,
M'agenouiller sur votre tombe,
Hélas !
Oh ! vers l'étoile solitaire,
Comme je lèverais les bras !
Comme je baiserais la terre,
Hélas !
Loin de vous, ô morts que je pleure,
Des flots noirs j'écoute le glas ;
Je voudrais fuir, mais je demeure,
Hélas !
Pourtant le sort, caché dans l'ombre,
Se trompe si, comptant mes pas,
Il croit que le vieux marcheur sombre
Est las.
Victor Hugo
(1802-1885)
Exil
(Poème)
• fleursdumal.nl magazine
More in: Archive G-H, Archive G-H, Hugo, Victor, Victor Hugo
---
Le poète dans les révolutions
" Le vent chasse loin des campagnes
Le gland tombé des rameaux verts ;
Chêne, il le bat sur les montagnes ;
Esquif, il le bat sur les mers.
Jeune homme, ainsi le sort nous presse.
Ne joins pas, dans ta folle ivresse,
Les maux du monde à tes malheurs ;
Gardons, coupables et victimes,
Nos remords pour nos propres crimes,
Nos pleurs pour nos propres douleurs. "
Quoi ! mes chants sont-ils téméraires ?
Faut-il donc, en ces jours d'effroi,
Rester sourd aux cris de ses frères !
Ne souffrir jamais que pour soi !
Non, le poëte sur la terre
Console, exilé volontaire,
Les tristes humains dans leurs fers ;
Parmi les peuples en délire,
Il s'élance, armé de sa lyre,
Comme Orphée au sein des enfers.
" Orphée aux peines éternelles
Vint un moment ravir les morts ;
Toi, sur les têtes criminelles,
Tu chantes l'hymne du remords.
Insensé ! quel orgueil t'entraîne ?
De quel droit vien§-tu dans l'arène
Juger sans avoir combattu ?
Censeur échappé de l'enfance,
Laisse vieillir ton innocence,
Avant de croire à ta vertu. "
Quand le crime, Python perfide,
Brave, impuni, le frein des lois,
La Muse devient l'Euménide,
Apollon saisit son carquois.
Je cède au Dieu qui me rassure ;
J'ignore à ma vie encor pure
Quels maux le sort veut attacher ;
Je suis sans orgueil mon étoile ;
L'orage déchire la voile
La voile sauve le nocher.
" Les hommes vont aux précipices.
Tes chants ne les sauveront pas.
Avec eux, loin des cieux propices,
Pourquoi donc égarer tes pas ?
Peux-tu, dès tes jeunes années,
Sans briser d'autres destinées,
Rompre la chaîne de tes jours ?
Épargne ta vie éphémère :
Jeune homme, n'as-tu pas de mère ?
Poëte, n'as-tu pas d'amours ? "
Eh bien, à mes terrestres flammes,
Si je meurs, les cieux vont s'ouvrir.
L'amour chaste agrandit les âmes,
Et qui sait aimer sait mourir.
Le poëte, en des temps de crime,
Fidèle aux justes qu'on opprime,
Célèbre, imite les héros ;
Il a, jaloux de leur martyre,
Pour les victimes une lyre,
Une tête pour les bourreaux.
" On dit que jadis le poëte,
Chantant des jours encor lointains,
Savait à la terre inquiète
Révéler ses futurs destins.
Mais toi, que peux-tu pour le monde ?
Tu partages sa nuit profonde ;
Le ciel se voile et veut punir ;
Les lyres n'ont plus de prophète,
Et la Muse, aveugle et muette,
Ne sait plus rien de l'avenir ! "
Le mortel qu'un Dieu même anime
Marche à l'avenir, plein d'ardeur ;
C'est en s'élançant dans l'abîme
Qu'il en sonde la profondeur.
Il se prépare au sacrifice ;
Il sait que le bonheur du vice
Par l'innocent est expié ;
Prophète à son jour mortuaire,
La frison est son sanctuaire,
Et l'échafaud est son trépied.
" Que n'est-tu né sur les rivages
Des Abbas et des Cosroës,
Aux rayons d'un ciel sans nuages,
Parmi le myrte et l'aloès !
Là, sourd aux maux que tu déplores,
Le poëte voit ses aurores
Se lever sans trouble et sans pleurs ;
Et la colombe, chère aux sages,
Porte aux vierges ses doux messages
Où l'amour parle avec des fleurs ! "
Qu'un autre au céleste martyre
Préfère un repos sans honneur !
La gloire est le but où j'aspire ;
On n'y va point par le bonheur.
L'alcyon, quand l'océan gronde,
Craint que les vents ne troublent l'onde
Où se berce son doux sommeil ;
Mais pour l'aiglon, fils des orages,
Ce n'est qu'à travers les nuages
Qu'il prend son vol vers le soleil !
Victor Hugo
(1802-1885)
Le poète dans les révolutions
(Poème)
• fleursdumal.nl magazine
More in: Archive G-H, Archive G-H, Hugo, Victor, Victor Hugo
---
I felt a Funeral, in my Brain
I felt a Funeral, in my Brain,
And Mourners to and fro
Kept treading – treading – till it seemed
That Sense was breaking through –
And when they all were seated,
A Service, like a Drum –
Kept beating – beating – till I thought
My mind was going numb –
And then I heard them lift a Box
And creak across my Soul
With those same Boots of Lead, again,
Then Space – began to toll,
As all the Heavens were a Bell,
And Being, but an Ear,
And I, and Silence, some strange Race,
Wrecked, solitary, here –
And then a Plank in Reason, broke,
And I dropped down, and down –
And hit a World, at every plunge,
And Finished knowing – then –
Emily Dickinson
(1830-1886)
I felt a Funeral, in my Brain
fleursdumal.nl magazine
More in: Archive C-D, Archive C-D, Dickinson, Emily
---
Older Entries »
Thank you for reading FLEURSDUMAL.NL - magazine for art & literature