CLASSIC POETRY
·
Rudyard Kipling: If (Poem)
·
William Butler Yeats: An Image from a Past Life
·
Hart Crane: For the Marriage of Faustus and Helen
·
Ulrich von Hutten: Eine Zierde zwar ist das Alter des Geschlechts
·
An Old Man's Thought of School by Walt Whitman
·
William Butler Yeats: A Poet to his Beloved
·
Ain new lied von herr Ulrichs von Hutten
·
William Butler Yeats: When Helen lived
·
Hart Crane: Voyages
·
Sun-Up by Lola Ridge
·
Respondez! by Walt Whitman
·
William Butler Yeats: The Arrow
If—
If you can keep your head when all about you
Are losing theirs and blaming it on you,
If you can trust yourself when all men doubt you,
But make allowance for their doubting too;
If you can wait and not be tired by waiting,
Or being lied about, don't deal in lies,
Or being hated, don't give way to hating,
And yet don't look too good, nor talk too wise:
If you can dream—and not make dreams your master;
If you can think—and not make thoughts your aim;
If you can meet with Triumph and Disaster
And treat those two impostors just the same;
If you can bear to hear the truth you've spoken
Twisted by knaves to make a trap for fools,
Or watch the things you gave your life to, broken,
And stoop and build 'em up with worn-out tools:
If you can make one heap of all your winnings
And risk it on one turn of pitch-and-toss,
And lose, and start again at your beginnings
And never breathe a word about your loss;
If you can force your heart and nerve and sinew
To serve your turn long after they are gone,
And so hold on when there is nothing in you
Except the Will which says to them: 'Hold on!'
If you can talk with crowds and keep your virtue,
Or walk with Kings—nor lose the common touch,
If neither foes nor loving friends can hurt you,
If all men count with you, but none too much;
If you can fill the unforgiving minute
With sixty seconds' worth of distance run,
Yours is the Earth and everything that's in it,
And—which is more—you'll be a Man, my son!
Rudyard Kipling
(1865 – 1936)
If
• fleursdumal.nl magazine
More in: Archive K-L, Archive K-L, Kipling, Rudyard
---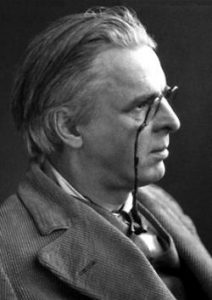 An Image from a Past Life
He. Never until this night have I been stirred.
The elaborate star-light throws a reflection
On the dark stream,
Till all the eddies gleam;
And thereupon there comes that scream
From terrified, invisible beast or bird:
Image of poignant recollection.
She. An image of my heart that is smitten through
Out of all likelihood, or reason,
And when at last,
Youth's bitterness being past,
I had thought that all my days were cast
Amid most lovely places; smitten as though
It had not learned its lesson.
He. Why have you laid your hands upon my eyes?
What can have suddenly alarmed you
Whereon 'twere best
My eyes should never rest?
What is there but the slowly fading west,
The river imaging the flashing skies,
All that to this moment charmed you?
She. A sweetheart from another life floats there
As though she had been forced to linger
From vague distress
Or arrogant loveliness,
Merely to loosen out a tress
Among the starry eddies of her hair
Upon the paleness of a finger.
He. But why should you grow suddenly afraid
And start — I at your shoulder —
Imagining
That any night could bring
An image up, or anything
Even to eyes that beauty had driven mad,
But images to make me fonder?
She. Now she has thrown her arms above her head;
Whether she threw them up to flout me,
Or but to find,
Now that no fingers bind,
That her hair streams upon the wind,
I do not know, that know I am afraid
Of the hovering thing night brought me.
William Butler Yeats
(1865-1939)
An Image from a Past Life
• fleursdumal.nl magazine
More in: Archive Y-Z, Archive Y-Z, Yeats, William Butler
---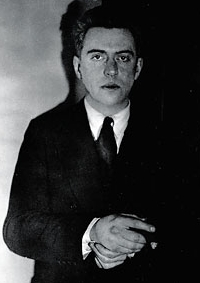 For the Marriage of
Faustus and Helen
"And so we may arrive by Talmud skill
And profane Greek to raise the building up
Of Helen's house against the Ismaelite,
King of Thogarma, and his habergeons
Brimstony, blue and fiery; and the force
Of King Abaddon, and the beast of Cittim;
Which Rabbi David Kimchi, Onkelos,
And Aben Ezra do interpret Rome."
The Alchemist
I
The mind has shown itself at times
Too much the baked and labeled dough
Divided by accepted multitudes.
Across the stacked partitions of the day–
Across the memoranda, baseball scores,
The stenographic smiles and stock quotations
Smutty wings flash out equivocations.
The mind is brushed by sparrow wings;
Numbers, rebuffed by asphalt, crowd
The margins of the day, accent the curbs,
Convoying divers dawns on every corner
To druggist, barber and tobacconist,
Until the graduate opacities of evening
Take them away as suddenly to somewhere
Virginal perhaps, less fragmentary, cool.
There is the world dimensional
for those untwisted
by the love of things irreconcilable . . .
And yet, suppose some evening I forgot
The fare and transfer, yet got by that way
Without recall,–lost yet poised in traffic.
Then I might find your eyes across an aisle,
Still flickering with those prefigurations–
Prodigal, yet uncontested now,
Half-riant before the jerky window frame.
There is some way, I think, to touch
Those hands of yours that count the nights
Stippled with pink and green advertisements.
And now, before its arteries turn dark
I would have you meet this bartered blood.
Imminent in his dream, none better knows
The white wafer cheek of love, or offers words
Lightly as moonlight on the eaves meets snow.
Reflective conversion of all things
At your deep blush, when ecstasies thread
The limbs and belly, when rainbows spread
Impinging on the throat and sides . . .
Inevitable, the body of the world
Weeps in inventive dust for the hiatus
That winks above it, bluet in your breasts.
The earth may glide diaphanous to death;
But if I lift my arms it is to bend
To you who turned away once, Helen, knowing
The press of troubled hands, too alternate
With steel and soil to hold you endlessly.
I meet you, therefore, in that eventual flame
You found in final chains, no captive then–
Beyond their million brittle, bloodshot eyes;
White, through white cities passed on to assume
That world which comes to each of us alone.
Accept a lone eye riveted to your plane,
Bent axle of devotion along companion ways
That beat, continuous, to hourless days–
One inconspicuous, glowing orb of praise.
II
Brazen hypnotics glitter here;
Glee shifts from foot to foot,
Magnetic to their tremulo.
This crashing opera bouffe,
Blest excursion! this ricochet
From roof to roof–
Know, Olympians, we are breathless
While nigger cupids scour the stars!
A thousand light shrugs balance us
Through snarling hails of melody.
White shadows slip across the floor
Splayed like cards from a loose hand;
Rhythmic ellipses lead into canters
Until somewhere a rooster banters.
Greet naively–yet intrepidly
New soothings, new amazements
That cornets introduce at every turn–
And you may fall downstairs with me
With perfect grace and equanimity.
Or, plaintively scud past shores
Where, by strange harmonic laws
All relatives, serene and cool,
Sit rocked in patent armchairs.
O, I have known metallic paradises
Where cuckoos clucked to finches
Above the deft catastrophes of drums.
While titters hailed the groans of death
Beneath gyrating awnings I have seen
The incunabula of the divine grotesque.
This music has a reassuring way.
The siren of the springs of guilty song–
Let us take her on the incandescent wax
Striated with nuances, nervosities
That we are heir to: she is still so young,
We cannot frown upon her as she smiles,
Dipping here in this cultivated storm
Among slim skaters of the gardened skies.
III
Capped arbiter of beauty in this street
That narrows darkly into motor dawn,–
You, here beside me, delicate ambassador
Of intricate slain numbers that arise
In whispers, naked of steel;
religious gunman!
Who faithfully, yourself, will fall too soon,
And in other ways than as the wind settles
On the sixteen thrifty bridges of the city:
Let us unbind our throats of fear and pity.
We even,
Who drove speediest destruction
In corymbulous formations of mechanics,–
Who hurried the hill breezes, spouting malice
Plangent over meadows, and looked down
On rifts of torn and empty houses
Like old women with teeth unjubilant
That waited faintly, briefly and in vain:
We know, eternal gunman, our flesh remembers
The tensile boughs, the nimble blue plateaus,
The mounted, yielding cities of the air!
That saddled sky that shook down vertical
Repeated play of fire—no hypogeum
Of wave or rock was good against one hour.
We did not ask for that, but have survived,
And will persist to speak again before
All stubble streets that have not curved
To memory, or known the ominous lifted arm
That lowers down the arc of Helen's brow
To saturate with blessing and dismay.
A goose, tobacco and cologne
Three winged and gold-shod prophecies of heaven,
The lavish heart shall always have to leaven
And spread with bells and voices, and atone
The abating shadows of our conscript dust.
Anchises' navel, dripping of the sea,–
The hands Erasmus dipped in gleaming tides,
Gathered the voltage of blown blood and vine;
Delve upward for the new and scattered wine,
O brother-thief of time, that we recall.
Laugh out the meager penance of their days
Who dare not share with us the breath released,
The substance drilled and spent beyond repair
For golden, or the shadow of gold hair.
Distinctly praise the years, whose volatile
Blamed bleeding hands extend and thresh the height
The imagination spans beyond despair,
Outpacing bargain, vocable and prayer.
Hart Crane
(1889 – 1932)
Recitative
• fleursdumal.nl magazine
More in: Archive C-D, Archive C-D, Crane, Hart
---
Eine Zierde zwar ist das Alter des Geschlechts
Eine Zierde zwar ist das Alter des Geschlechts,
aber eigentlich doch nur eine Aufforderung,
den Ahnen ähnlich zu werden.
Ulrich von Hutten
Ritter und Dichter
(* 21.04.1488, † 29.08.1523)
Eine Zierde zwar ist das Alter des Geschlechts
• fleursdumal.nl magazine
More in: #Editors Choice Archiv, - Archive Tombeau de la jeunesse, Archive G-H, Archive G-H, Hutten, Ulrich von
---
An Old Man's Thought of School
[The following poem was recited personally by the author
Saturday afternoon, October 31, at the inauguration
of the fine new Cooper Public School, Camden, New Jersey]
An old man's thought of school;
An old man, gathering youthful memories and
blooms that youth itself cannot,
Now only do I know you!
O fair auroral skies! O morning dew upon the
grass!
And these I see—these sparkling eyes,
These stores of mystic meaning—these young lives,
Building, equipping, like a fleet of ships—immortal
ships!
Soon to sail out over the measureless seas,
On the Soul's voyage.
Only a lot of boys and girls?
Only the tiresome spelling, writing, ciphering classes?
Only a public school?
Ah! more—infinitely more;
(As George Fox rais'd his warning cry, "Is it this
pile of brick and mortar—these dead floors,
windows, rails—you call the church?
Why this is not the church at all—the church is
living, ever living souls.")
And you, America,
Cast you the real reckoning for your present?
The lights and shadows of your future—good or evil?
This Union multiform, with all its dazzling hopes
and terrible fears?
Look deeper, nearer, earlier far—provide ahead—
counsel in time;
Not to your verdicts of election days—not to your
voters look,
To girlhood, boyhood look—the teacher and the
school.
Walt Whitman
(1819 – 1892)
Poem: An Old Man's Thought of School
Published in THE DAILY GRAPHIC, NEW YORK, Tuesday, November 3, 1874
• fleursdumal.nl magazine
More in: Archive W-X, Archive W-X, Whitman, Walt
---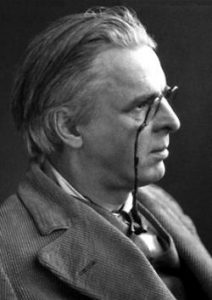 A Poet to his Beloved
I bring you with reverent hands
The books of my numberless dreams,
White woman that passion has worn
As the tide wears the dove-grey sands,
And with heart more old than the horn
That is brimmed from the pale fire of time:
White woman with numberless dreams,
I bring you my passionate rhyme.
William Butler Yeats
(1865-1939)
A Poet to his Beloved
• fleursdumal.nl magazine
More in: Archive Y-Z, Archive Y-Z, Yeats, William Butler
---
Ain new lied herr Ulrichs von Hutten
1
Ich habs gewagt mit sinnen
und trag des noch kain rew,
mag ich nit dran gewinnen,
noch muoß man spüren trew;
dar mit ich main nit aim allain,
wenn man es wolt erkennen:
dem land zuo guot, wie wol man tuot
ain pfaffenfeind mich nennen.
2
Da laß ich ieden liegen
und reden was er wil;
hett warhait ich geschwigen,
mir wären hulder vil:
nun hab ichs gsagt, bin drum verjagt,
das klag ich allen frummen,
wie wol noch ich nit weiter fliech,
villeicht werd wider kummen.
3
Umb gnad wil ich nit bitten,
die weil ich bin on schuld;
ich hett das recht gelitten,
so hindert ungeduld,
daß man mich nit nach altem sit
zuo ghör hat kummen laßen;
villeicht wils got und zwingt sie not
zuo handlen diser maßen.
4
Nun ist oft diser gleichen
geschehen auch hie vor,
daß ainer von den reichen
ain guotes spil verlor,
oft großer flam von fünklin kam,
wer waiß ob ichs werd rechen!
stat schon im lauf, so setz ich drauf:
muoß gan oder brechen!
5
Dar neben mich zuo trösten
mit guotem gwißen hab,
daß kainer von den bösten
mir eer mag brechen ab
noch sagen daß uf ainig maß
ich anders sei gegangen,
dann eren nach, hab dise sach
in guotem angefangen.
6
Wil nun ir selbs nit raten
dis frumme nation,
irs schadens sich ergatten,
als ich vermanet han,
so ist mir laid; hie mit ich schaid,
wil mengen baß die karten,
bin unverzagt, ich habs gewagt
und wil des ends erwarten.
7
Ob dann mir nach tuot denken
der curtisanen list:
ain herz last sich nit krenken,
das rechter mainung ist;
ich waiß noch vil, wöln auch ins spil
und soltens drüber sterben:
auf, landsknecht guot und reuters muot,
last Hutten nit verderben!
Ulrich von Hutten
Ritter und Dichter
(* 21.04.1488, † 29.08.1523)
Ain new lied herr Ulrichs von Hutten
• fleursdumal.nl magazine
More in: #Editors Choice Archiv, - Archive Tombeau de la jeunesse, Archive G-H, Archive G-H, Hutten, Ulrich von
---
When Helen lived
We have cried in our despair
That men desert,
For some trivial affair
Or noisy, insolent sport,
Beauty that we have won
From bitterest hours;
Yet we, had we walked within
Those topless towers
Where Helen walked with her boy,
Had given but as the rest
Of the men and women of Troy,
A word and a jest.
William Butler Yeats
(1865-1939)
When Helen lived
• fleursdumal.nl magazine
More in: Archive Y-Z, Archive Y-Z, Yeats, William Butler
---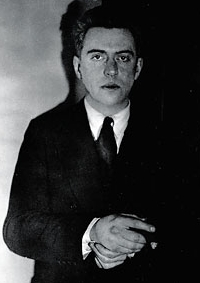 Voyages
I
Above the fresh ruffles of the surf
Bright striped urchins flay each other with sand.
They have contrived a conquest for shell shucks,
And their fingers crumble fragments of baked weed
Gaily digging and scattering.
And in answer to their treble interjections
The sun beats lightning on the waves,
The waves fold thunder on the sand;
And could they hear me I would tell them:
O brilliant kids, frisk with your dog,
Fondle your shells and sticks, bleached
By time and the elements; but there is a line
You must not cross nor ever trust beyond it
Spry cordage of your bodies to caresses
Too lichen-faithful from too wide a breast.
The bottom of the sea is cruel.
II
–And yet this great wink of eternity,
Of rimless floods, unfettered leewardings,
Samite sheeted and processioned where
Her undinal vast belly moonward bends,
Laughing the wrapt inflections of our love;
Take this Sea, whose diapason knells
On scrolls of silver snowy sentences,
The sceptred terror of whose sessions rends
As her demeanors motion well or ill,
All but the pieties of lovers' hands.
And onward, as bells off San Salvador
Salute the crocus lustres of the stars,
In these poinsettia meadows of her tides,–
Adagios of islands, O my Prodigal,
Complete the dark confessions her veins spell.
Mark how her turning shoulders wind the hours,
And hasten while her penniless rich palms
Pass superscription of bent foam and wave,–
Hasten, while they are true,–sleep, death, desire,
Close round one instant in one floating flower.
Bind us in time, O Seasons clear, and awe.
O minstrel galleons of Carib fire,
Bequeath us to no earthly shore until
Is answered in the vortex of our grave
The seal's wide spindrift gaze toward paradise.
III
Infinite consanguinity it bears–
This tendered theme of you that light
Retrieves from sea plains where the sky
Resigns a breast that every wave enthrones;
While ribboned water lanes I wind
Are laved and scattered with no stroke
Wide from your side, whereto this hour
The sea lifts, also, reliquary hands.
And so, admitted through black swollen gates
That must arrest all distance otherwise,–
Past whirling pillars and lithe pediments,
Light wrestling there incessantly with light,
Star kissing star through wave on wave unto
Your body rocking!
and where death, if shed,
Presumes no carnage, but this single change,–
Upon the steep floor flung from dawn to dawn
The silken skilled transmemberment of song;
Permit me voyage, love, into your hands …
IV
Whose counted smile of hours and days, suppose
I know as spectrum of the sea and pledge
Vastly now parting gulf on gulf of wings
Whose circles bridge, I know,
(from palms to the severe
Chilled albatross's white immutability)
No stream of greater love advancing now
Than, singing, this mortality alone
Through clay aflow immortally to you.
All fragrance irrefragably, and claim
Madly meeting logically in this hour
And region that is ours to wreathe again,
Portending eyes and lips and making told
The chancel port and portion of our June–
Shall they not stem and close in our own steps
Bright staves of flowers and quills today as I
Must first be lost in fatal tides to tell?
In signature of the incarnate word
The harbor shoulders to resign in mingling
Mutual blood, transpiring as foreknown
And widening noon within your breast for gathering
All bright insinuations that my years have caught
For islands where must lead inviolably
Blue latitudes and levels of your eyes,–
In this expectant, still exclaim receive
The secret oar and petals of all love.
V
Meticulous, past midnight in clear rime,
Infrangible and lonely, smooth as though cast
Together in one merciless white blade–
The bay estuaries fleck the hard sky limits.
–As if too brittle or too clear to touch!
The cables of our sleep so swiftly filed,
Already hang, shred ends from remembered stars.
One frozen trackless smile … What words
Can strangle this deaf moonlight? For we
Are overtaken. Now no cry, no sword
Can fasten or deflect this tidal wedge,
Slow tyranny of moonlight, moonlight loved
And changed … "There's
Nothing like this in the world," you say,
Knowing I cannot touch your hand and look
Too, into that godless cleft of sky
Where nothing turns but dead sands flashing.
"–And never to quite understand!" No,
In all the argosy of your bright hair I dreamed
Nothing so flagless as this piracy.
But now
Draw in your head, alone and too tall here.
Your eyes already in the slant of drifting foam;
Your breath sealed by the ghosts I do not know:
Draw in your head and sleep the long way home.
VI
Where icy and bright dungeons lift
Of swimmers their lost morning eyes,
And ocean rivers, churning, shift
Green borders under stranger skies,
Steadily as a shell secretes
Its beating leagues of monotone,
Or as many waters trough the sun's
Red kelson past the cape's wet stone;
O rivers mingling toward the sky
And harbor of the phoenix' breast–
My eyes pressed black against the prow,
–Thy derelict and blinded guest
Waiting, afire, what name, unspoke,
I cannot claim: let thy waves rear
More savage than the death of kings,
Some splintered garland for the seer.
Beyond siroccos harvesting
The solstice thunders, crept away,
Like a cliff swinging or a sail
Flung into April's inmost day–
Creation's blithe and petalled word
To the lounged goddess when she rose
Conceding dialogue with eyes
That smile unsearchable repose–
Still fervid covenant, Belle Isle,
–Unfolded floating dais before
Which rainbows twine continual hair–
Belle Isle, white echo of the oar!
The imaged Word, it is, that holds
Hushed willows anchored in its glow.
It is the unbetrayable reply
Whose accent no farewell can know.
Hart Crane
(1889 – 1932)
Voyages
• fleursdumal.nl magazine
More in: Archive C-D, Archive C-D, Crane, Hart
---
Sun-Up
(Shadows over a cradle…
fire-light craning….
A hand
throws something in the fire
and a smaller hand
runs into the flame and out again,
singed and empty….
Shadows
settling over a cradle…
two hands
and a fire.)
I
CELIA
Cherry, cherry,
glowing on the hearth,
bright red cherry….
When you try to pick up cherry
Celia's shriek
sticks in you like a pin.
…
When God throws hailstones
you cuddle in Celia's shawl
and press your feet on her belly
high up like a stool.
When Celia makes umbrella of her hand.
Rain falls through
big pink spokes of her fingers.
When wind blows Celia's gown up off her legs
she runs under pillars of the bank –
great round pillars of the bank
have on white stockings too.
…
Celia says my father
will bring me a golden bowl.
When I think of my father
I cannot see him
for the big yellow bowl
like the moon with two handles
he carries in front of him.
…
Grandpa, grandpa…
(Light all about you…
ginger… pouring out of green jars…)
You don't believe he has gone away and left his great coat…
so you pretend… you see his face up in the ceiling.
When you clap your hands and cry, grandpa, grandpa, grandpa,
Celia crosses herself.
…
It isn't a dream….
It comes again and again….
You hear ivy crying on steeples
the flames haven't caught yet
and images screaming
when they see red light on the lilies
on the stained glass window of St. Joseph.
The girl with the black eyes holds you tight,
and you run… and run
past the wild, wild towers…
and trees in the gardens tugging at their feet
and little frightened dolls
shut up in the shops
crying… and crying… because no one stops…
you spin like a penny thrown out in the street.
Then the man clutches her by the hair….
He always clutches her by the hair….
His eyes stick out like spears.
You see her pulled-back face
and her black, black eyes
lit up by the glare….
Then everything goes out.
Please God, don't let me dream any more
of the girl with the black, black eyes.
…
Celia's shadow rocks and rocks…
and mama's eyes stare out of the pillow
as though she had gone away
and the night had come in her place
as it comes in empty rooms…
you can't bear it –
the night threshing about
and lashing its tail on its sides
as bold as a wolf that isn't afraid –
and you scream at her face, that is white as a stone on a grave
and pull it around to the light,
till the night draws backward… the night that walks alone
and goes away without end.
Mama says, I am cold, Betty, and shivers.
Celia tucks the quilt about her feet,
but I run for my little red cloak
because red is hot like fire.
…
I wish Celia
could see the sea climb up on the sky
and slide off again…
…Celia saying
I'd beg the world with you….
Celia… holding on to the cab…
hands wrenched away…
wind in the masts… like Celia crying….
Celia never minded if you slapped her
when the comb made your hairs ache,
but though you rub your cheek against mama's hand
she has not said darling since….
Now I will slap her again….
I will bite her hand till it bleeds.
It is cool by the port hole.
The wet rags of the wind
flap in your face.
II
THE ALLEY
Because you are four years old
the candle is all dressed up in a new frill.
And stars nod to you through the hole in the curtain,
(except the big stiff planets
too fat to move about much,)
and you curtsey back to the stars
when no one is looking.
You feel sorry for the poor wooden chair
that knows it isn't nice to sit on,
and no one is sad but mama.
You don't like mama to be sad
when you are four years old,
so you pretend
you like the bitter gold-pale tea –
you pretend
if you don't drink it up pretty quick
a little gold-fish
will think it is a pond
and come and get born in it.
…
It's hot in our street
and the breeze is a dirty little broom
that sweeps dust into our room
and bits of paper out of the alley.
You are not let to play
with the children in the alley
But you must be very polite –
so you pass them and say good day
and when they fling banana skins
you fling them back again.
…
There is no one to play with
and the flies on the window
buzz and buzz…
…you can pull out their legs
and stick pins in their bodies
but still they buzz…
and mama says:
When Nero was a little boy
he caught flies on his mama's window
and pulled out their legs
and stuck pins in their bodies
and nobody loved him.
Buzz, blue-bellied flies –
buzz, nasty black wheel
of mama's machine –
you are the biggest fly of all –
you have the loudest buzz.
I hear you at dawn before the locusts.
But I like the picture of the Flood
and the little babies getting drowned….
If I were there I would save them,
but as I can't save them
I like to watch them
getting drowned.
…
When mama buys of Ling Ho,
he smiles very wide
and picks her the largest loquots.
The greens-man gave her a cabbage
and she held it against her black bodice
and said what a beautiful green it was
and put it on the table
as though it had been a flower.
But next day we boiled and ate it with salt.
It was our dinner.
…
Christmas day
I found Janie on my pillow.
Janie is made of rubber.
Her red and blue jacket won't come off.
Christmas dinner was green and white
chicken and lettuce and peas
and drops of oil on the salad
smiley and full of light
like the gold on the lady's teeth.
But mama said politely
Thank you, we are dining out.
She wouldn't let you take one pea
to put in the hole where the whistle was
at the back of Janie's head,
so Janie should have some dinner
So you went to the park with biscuits
and black tea in a bottle.
…
You feel very sad
when you climb on the fence
to watch mama out of sight.
The women in the alley
poke their heads out of doorways
and watch her too.
You know her
by the way she holds her shoulders
till she is only a speck
in a chain of specks –
till she is swallowed up.
But suppose
that day after day
you were to watch for her face
and it didn't come back?
Suppose
it were to drop out of the string of white faces
like the pearl out of my chain
I never found again?
…
Mabel minds you while mama is out,
she washes while she sings
Three blind mice!
they all run away from the farmer's wife
who cut off their tails
with a carving knife –
Wind blows out Mabel's sheets,
way you blow in a bag before you burst it.
Wind has a soapy smell.
It's heavier'n sun
that lies all over you without any weight
and makes you feel happy
and crinkly like bubbling water.
There's no sun on the empty house –
sly-looking house –
you can't see in its windows
that watch you out of their corners.
Perhaps there's a big spider there
spinning gray threads over the windows
till they look like dead people's faces….
Jimmie says:
Jimmie's hair is white as a white mouse.
His lashes are gold as mama's wedding ring
and his mouth feels cool and smooth
like a flower wet with rain.
You wouldn't believe Jimmie was different…
till he showed you….
…
Blind wet sheets
flapping on the lines…
sun in your eyes,
dark gold sun
full of little black spots,
you have to blink and blink…
round eyes of Jimmie….
Jimmie's blue jumper…
blue shadow of wall…
all the world holding still
as when a clock stops…
streets still… people still…
no streets… no people…
only sky and wall…
sun glaring bright as God
down at you and Jimmie…
shadow like a purple cloth
trailing off the wall…
Wild wet sheets
flapping in the wind…
big slippered feet flapping too…
big-balloon-face
rushing up the alley…
houses closing up again…
windows looking round…
… Mabel pulls you in the gate and shakes you
and tells you not to tell your mama…
And you wonder
if God has spoiled Jimmie.
III
MAMA
Mama's face
is smooth and pale as tea-rose leaves.
That ivory oval of aunt Gem
you sucked the miniature off
had black black hair like mama.
…
Pit-it-ty-pat,
Mama walks so fast,
street lamps jig
without bending a leg…
lights in the windows
play twinkling tunes
on crimson and blue
bottles like bubbles
big as balloons…
Faster and faster…
and pink light spurts
over cakes doing polkas
in little white shirts,
with cake-princesses
in flounced white skirts.
Pit-pat –
mama walks slower…
slower and… slower…
Eyes… lamps… stars…
acres and acres of stars…
bells… and sleepily
flapping feet….
You're glad mama walks slow.
It's nice to be carried along
up high near the stars
that look at you with a grave, great look.
…
Every night
mama sings you to sleep.
When she sings, O for the light of thine eyes Dolores,
there's a castle on a cliff
and the sea roars like lions.
It leaps at the castle
and the cliff knocks it down
but always the sea
shakes its flattened head
and gets up again.
The castle has no roof
so the rain spins silvery webs in it,
and Dolores' face
floats dim and beautiful
the way flowers do when they are drowned.
Step by white step
she goes up the castle stairs,
but the stair goes up into the sky
and the sky keeps going up too,
and none of them ever get there.
When mama sings Ba ba black sheep,
the stars seem to shine through her voice
so everything has to be still,
and when she has finished singing
her song goes up off the earth,
higher and higher…
till it is only as big as a tiny silver bird
with nothing but moonlight around it.
IV
BETTY
You can see the sandhills from our new room.
Butterflies
live in the sandhills
and lizards
and centipedes.
If you keep very still
lizards will think you a stone
and run over your lap.
Butterflies' liveries
are scarlet and black.
They drive chariots in air.
People in the chariots
are pale as dew –
you can see right through them –
but the chariots
are made of gold of the sun.
They go up to heaven
and never catch fire.
There are green centipedes
and brown centipedes
and black centipedes,
because green and brown and black
are the colors in hell's flag.
Centipedes
have hundreds of feet
because it is so far from hell
to come up for air.
Centipedes
do not hurry.
They are waiting for the last day
when they will creep over the false prophets
who will have their hands tied.
…
Night calls to the sandhills
and gathers them under her.
she pushes away cities
because their sharp lights
hurt her soft breast.
Even candles make a sore place
when they stick in the night.
There are things in the sandhills
that no one knows about…
they come out at dark when the young snakes play
and tell each other secrets
in the deaf logs.
Sometimes… before rain…
when the stars have gone inside…
the night comes close to your window
and sniffs at the light….
But you must not run away –
you must keep your face to the night
and walk backward.
…
When it rains
and you are pulling off flies' legs…
mama lets you play houses
with Lizzie and Clara.
Because you are the Only One –
and because Only Ones have to live alone
while sisters stay together,
Lizzie and Clara
give you the dry house
and take the one with the leaking roof.
Rain like curly hairpins
blows on Lizzie and Clara's two heads
turned like one head –
two mouths
spread into one laugh.
Lizzie is saying:
why don't you want to play –
when you feel you'd like to braid
the crinkled-silver rain
into a shining rope
to climb up… and up… and up… into the wet sky
and never see any one again.
Our gate doesn't hang right.
It must have pawed at the wind
and gotten a kick
as the wind passed over.
The sitting sky
puffs out a gray smoke
and the wind makes a red-striped sound
blowing out straight,
but our gate drags its foot
and whines to itself on one hinge.
…
What do you think I've found –
two wee knickers of fairy brass,
or two gold sovereigns folded up
in a bit of green silk,
or two gold bugs
in little green shirts?
If you want to know,
you must walk tip-toe
so your feet just whisper in the grass –
you must carry them careful
and very proud,
for their stems bleed drops of milk –
but Lizzie and Clara shout in glee:
Pee-a-bed, pee-a-bed –
dandelions!
You look in the eyes of grown-up people
to see if they feel
the way you feel…
but they hide inside of themselves,
and so you do not find out.
Grown-up people say:
The stars are bright to-night,
but they do not say
what you are thinking about stars –
not even mama says what you are thinking about stars.
This makes you feel very lonely.
…
It's strange about stars….
You have to be still when they look at you.
They push your song inside of you with their song.
Their long silvery rays
sink into you and do not hurt.
It is good to feel them resting on you
like great white birds…
and their shining whiteness
doesn't burn like the sun –
it washes all over you
and makes you feel cleaner'n water.
…
My doll Janie has no waist
and her body is like a tub with feet on it.
Sometimes I beat her
but I always kiss her afterwards.
When I have kissed all the paint off her body
I shall tie a ribbon about it
so she shan't look shabby.
But it must be blue –
it mustn't be pink –
pink shows the dirt on her face
that won't wash off.
…
I beat Janie
and beat her…
but still she smiled…
so I scratched her between the eyes with a pin.
Now she doesn't love me anymore…
she scowls… and scowls…
though I've begged her to forgive me
and poured sugar in the hole at the back of her head.
…
Mama says Janie is a fairy doll
and she has forgiven me –
that she's gone to the market
to buy me some sweets.
– Now she's at the door
and a little bag tied to her neck –
I run to Janie
and kiss her all over….
Ah… she is still frowning.
I let the sweets drop on the floor –
mama
has told you a lie.
…
Chinaman
singing in street:
gleen ledd-ish-es, gleen ledd-ish-es –
hot sun
shining on your face –
it must be a new day.
But why aren't you happy
if it's a new day?
Because something has happened…
something sad and terrible….
Now I remember… it's Janie.
Yesterday
I took Janie out
and tied my handkerchief over her face
and put sand in it
and threw her into the ditch
down in the black water
under the dock leaves…
and when mama asked me where Janie was
I said I had lost her.
…
I'm glad it is night-time
so I'll be able to go to sleep
and forget all about it….
But mama looks at my tongue
and says she will give me senna tea.
When you smell the tea
you shut your eyes tight
and pretend not to hear
the soft, cool voice of mama
that goes over your forehead
like a little wind.
And then you lie in the dark
and stare… and stare…
till the faces come…
yellow faces with leering eyes
drifting in a greeny mist….
I wonder
if Janie sees faces
out there… alone in the dark….
I wonder
if she has got the handkerchief off
or if the water has gone in the hole
where the whistle was
at the back of her head
and drowned her…
or if the stars
can see her under the dock leaves?
…
It's smoky-blue and still
over the red road.
Wind must be lying down with its tail under it –
doesn't even flick off the flies.
And you can hear the silence
buzzing in the gum trees,
the way the angels buzzed
when they flew through the cedars of Lebanon
with thin gauze wings
you could see through.
Nice to hear the silence buzzing –
till it comes too close
and booms in your ears
and presses all over you
till you scream….
When you scream at the silence
it goes to jingling pieces
like a silver mirror
broken into tiny bits.
Perhaps its wings are made of glass –
perhaps it lives down in a dark, dark cave
and only comes up
to warm its wings in the sun….
It's cold in the cave –
no matter how you cover yourself up.
Little girls sit there
dressed in white
and the dolls in their arms
all have white handkerchiefs
over their faces.
Their shadows cannot play with them…
their shadows lie down at their feet…
for the little girls sit stiff as stones
with their backs to the mouth of the cave
where a little light falls off
the wings of the silence
when it comes down out of the sun.
…
Moon catches the flying fish
as they dive in the bay.
Flying fish
spin over and over
slippity-silver
into the water.
Mom bends over jungles
and touches the foreheads of tigers
as they pass under openings made by dropped leaves.
Tigers stop on the trail of the deer
while the moon is on their foreheads –
they let the stags go by.
Moon is shining strangely
on the white palings of the fence.
Fence keeps very still…
most times it moves a little…
everything moves a little
though you mayn't know it…
but now the little fence
wouldn't change places with the great cross
that stands so stiff and high
with its back to the moon.
Moon shining strangely
on the white palings of the fence,
I am shining too
but my light is shut inside of me
and can't get out.
…
Old house with black windows –
blind house begging moonlight
to put out the shadows –
why do you want so much light?
You creak when the wind steps on you –
you cough up dust
and your beams ache –
you know you will soon fall,
the moon just pities you!
Don't waste yourself moon –
come on my bed and play with me.
Wrap me up in blue light,
you who are cool.
I am too hot,
I am all alive
and the shadows are outside of me.
…
There are different kinds of shadows.
The blind ones
are the shadows of things.
These are the tame shadows –
they love to play on the wall with you
and follow you about like cats and dogs.
Sometimes
they hiss at you softly
like snakes that do not bite,
or swish like women's dresses,
but if you poke a candle at them
they pull in their heads and disappear.
But there is a shadow
that is not the shadow of a thing…
it is a thing itself.
When you meet this shadow
you must not look at it too long…
it grows with your looking at it…
till you are all alone
with nothing around you…
nothing… nothing… nothing…
but a shadow
with its eyes full of black light.
…
There's a shadow in the corner of the shed,
crouching, lying in wait…
a black coiled shadow,
watching… ready to strike…
but I mustn't be afraid of it –
I mustn't be afraid of anything.
Poor evil shadow,
the candle would chase it away
only she can't get at it.
Do you think that every one hates you,
shadow with your back to the wall,
afraid to lie down and sleep?
But I don't hate you.
Even the moon means to be kind.
She just treads on you
as I'd tread on a worm that I didn't see.
Don't be afraid of me, shadow.
See – I've no light in my hand –
nothing to save myself with –
yet I walk right up to you –
if you'll let me
I'll put my arms around you
and stroke you softly.
Are you surprised I'd put my arms around you?
Is it your black black sorrow
that nobody loves you?
V
JUDE
When you tell mama
you are going to do something great
she looks at you
as though you were a window
she were trying to see through,
and says she hopes you will be good
instead of great.
…
When you are five years old
you spend the day in the Gardens.
The grass is greener than cabbages,
and orange lilies
stand up very straight
and will not curtsey to the sun
when the wind tells them.
Only pansies bow down very low.
Pansies make little purple cushions
for queen bees to stand on.
Bees
have brown silk hair on their bodies.
If you are careful
they will let you stroke them.
The trees over the marble man
catch up all the sunbeams
so the shadows have it their way –
the shadows swallow him up
like a blue shark.
When you scoop a sunbeam up on your palm
and offer it to the marble man,
he does not notice…
he looks into his stone beard.
… When you do something great
people give you a stone face,
so you do not care any more
when the sun throws gold on you
through leaf-holes the wind makes
in green bushes….
This thought makes me very sad.
…
Jude has eyes like tobacco
with yellow specks on it
and his hair is red as a red orange.
Jude and I
have made a garden in the field
that no one knows about.
We creep in and out
through a little place
where the barbed wire is down.
We lie in the long grass
and crush dandelions
between our two cheeks
till the milk comes out on our faces.
We hold each other tight
and the wind tip-toes all over us
and pelts us with thistle-down.
…
Jude isn't afraid of shadows –
not even of the ones that have eyes in them.
And he can look in the face of the sun
without blinking at all.
Hush! don't say sun so loud.
The sun gets angry when you stare at him.
If you peek in his glory-windows
he spreads into a great white flame
like God out of his Burning Bush…
till you put your hands up on your face
and tremble like a drop of rain upon a flower
that some one throws into the fire…
and then
the sun makes himself small,
the sun swings down out of the sky –
littler'n a star,
little as a spark
little as a fierce red spider
on a burning thread…
and then
the light goes out…
shivers into blackened bits….
You hold on to a wall that whirls around
and the gate is a black hole.
You grope your way in like a toad
that's blinded by a stone…
and mama puts on cold wet rags
that get hot soon….
Hush! don't let's talk about the sun.
…
When you pass by the ditch where Janie is
You run very fast
and look at the other side.
Jude says Janie did love me
only she couldn't forgive me,
and that you can love people very much
and never, never, never forgive them….
so we poked a stick in the bottle-green water.
But only weeds came up
and an old top with the paint washed off.
…
Jude and I
wave to the new moon
curled right up like one gold hair
on the bald-head sandhill.
Mama peeps out the window and smiles.
She thinks
I am playing with myself…
Run, Jude, run with the wind –
but hold my hand tight
or the wind,
looking for some one to play with,
will take me away from you!
Wind with no one to play with
cooees the orange-trees –
stay-at-home orange trees,
have to nurse oranges,
greeny-gold.
Wind shouts to the grass –
run-away-grass
tugs at its roots,
but the earth holds tight
and the grass falls down
and wind boos over it.
Wind whistles the bees –
bees too busy
with taking home stuff out of flowers
won't look back –
bees always going somewhere.
Only Jude and I –
heads over shoulders
watching all roads at one time –
run with the wind,
going to nowhere.
…
Jude and I
were weeding our garden
when we heard his whip –
must have been a new whip
to cut off dandelion-heads at one swing….
He was the kind of boy you knew when you had Celia….
with nice clothes on and curls
crawling about his collar
like little golden slugs,
and his man was leading his horse.
I wish I hadn't run to meet him….
If you hadn't run to meet him
he mightn't have trod on your garden and said:
Get out of my field you dirty little beggar…
he mightn't have struck you with his whip….
How the daisies stared….
I hate daisies –
stupid white faces –
skinny necks
craning over the grass!
I said It is not your field,
and he struck me again.
But he didn't make me run.
His hand
smelled of sweet soap…
he couldn't shake me off,
but his man did….
Funny – how the sky fell down
and turned over and over
like a blue carpet rolling you up,
and the grass caught at your face –
it couldn't have been spiteful –
it must have been saving itself.
Hot road… silly wind playing with your hair….
The road smelled of horses.
I only got up
when I heard a dray.
…
Mama has sung ba ba black sheep,
and put a chair with a cloth on it
between me and the light.
But the clock keeps saying:
Dirty little beggar,
dirty little beggar….
Some day
I will get that boy.
I will pull off his arms and legs
and put him in a box
and hide the box
under the bed….
I wonder
will he buzz
when I take him out to look at his body
that will have no arms to whip me?
Mama drew my cot to the window
so I can look at the stars.
I will not look at the stars.
There is a black chimney
throwing up sparks
and one tall flame
like gold hair in a blaze….
I know now
what I shall do….
I will set fire to him
and he will burn up into a tall flame –
he will scream into the sky
and sparks will fly out of him –
he will burn and burn…
and his blazing hair
shall light up the world.
…
Before he hit me –
I knew he was going to –
I thought about Jude….
I thought if he'd fight…
but he shriveled all up…
he lay down like a fear.
Mama never knew about Jude.
You always wanted to tell her,
but somehow you never did.
You were afraid she'd smile
and say he wasn't real –
that he was only a little dream-boy,
because the grass didn't fall down under his feet….
He is fading now….
He is just lines… like a drawing….
You can see mama in between.
When she moves
she rubs some of him out.
Lola Ridge
(1873-1941)
Sun-Up
• fleursdumal.nl magazine
More in: Archive Q-R, Archive Q-R, Ridge, Lola
---
R e s p o n d e z !
Respondez! Respondez!
(The war is completed the price is paid the title is settled beyond recall;)
Let every one answer! let those who sleep be waked! let none evade!
Must we still go on with our affectations and sneaking?
Let me bring this to a close I pronounce openly for a new distribution of roles;
Let that which stood in front go behind! and let that which was behind advance to the front and speak;
Let murderers, bigots, fools, unclean persons, offer new propositions!
Let the old propositions be postponed!
Let faces and theories be turn'd inside out! let meanings be freely criminal, as well as results!
Let there be no suggestion above the suggestion of drudgery!
Let none be pointed toward his destination! (Say! do you know your destination?)
Let men and women be mock'd with bodies and mock'd with Souls!
Let the love that waits in them, wait! let it die, or pass stillborn to other spheres!
Let the sympathy that waits in every man, wait! or let it also pass, a dwarf, to other spheres!
Let contradictions prevail! let one thing contradict another! and let one line of my poems contradict another!
Let the people sprawl with yearning, aimless hands! let their tongues be broken! let their eyes be discouraged! let none descend into their hearts with the fresh lusciousness of love!
(Stifled, O days! O lands! in every public and private corruption!
Smother'd in thievery, impotence, shamelessness, mountain-high;
Brazen effrontery, scheming, rolling like ocean's waves around and upon you, O my days! my lands!
For not even those thunderstorms, nor fiercest lightnings of the war, have purified the atmosphere;)
Let the theory of America still be management, caste, comparison! (Say! what other theory would you?)
Let them that distrust birth and death still lead the rest! (Say! why shall they not lead you?)
Let the crust of hell be neared and trod on! let the days be darker than the nights! let slumber bring less slumber than waking time brings!
Let the world never appear to him or her for whom it was all made!
Let the heart of the young man still exile itself from the heart of
the old man! and let the heart of the old man be exiled from that of the young man!
Let the sun and moon go! let scenery take the applause of the audience! let there be apathy under the stars!
Let freedom prove no man's inalienable right! every one who can tyrannize, let him tyrannize to his satisfaction!
Let none but infidels be countenanced!
Let the eminence of meanness, treachery, sarcasm, hate, greed, indecency, impotence, lust, be taken for granted above all! let writers, judges, governments, households, religions, philosophies, take such for granted above all!
Let the worst men beget children out of the worst women!
Let the priest still play at immortality!
Let death be inaugurated!
Let nothing remain but the ashes of teachers, artists, moralists, lawyers, and learn'd and polite persons!
Let him who is without my poems be assassinated!
Let the cow, the horse, the camel, the garden-bee let the mudfish, the lobster, the mussel, eel, the sting-ray, and the grunting pig-fish let these, and the like of these, be put on a perfect equality with man and woman!
Let churches accommodate serpents, vermin, and the corpses of those who have died of the most filthy of diseases!
Let marriage slip down among fools, and be for none but fools!
Let men among themselves talk and think forever obscenely of women! and let women among themselves talk and think obscenely of men!
Let us all, without missing one, be exposed in public, naked, monthly, at the peril of our lives! let our bodies be freely handled and examined by whoever chooses!
Let nothing but copies at second hand be permitted to exist upon the earth!
Let the earth desert God, nor let there ever henceforth be mention'd the name of God!
Let there be no God!
Let there be money, business, imports, exports, custom, authority, precedents, pallor, dyspepsia, smut, ignorance, unbelief!
Let judges and criminals be transposed! let the prison-keepers be put in prison! let those that were prisoners take the keys! Say! why might they not just as well be transposed?)
Let the slaves be masters! let the masters become slaves!
Let the reformers descend from the stands where they are forever bawling! let an idiot or insane person appear on each of the stands!
Let the Asiatic, the African, the European, the American, and the Australian, go armed against the murderous stealthiness of each other! let them sleep armed! let none believe in good will!
Let there be no unfashionable wisdom! let such be scorn'd and derided off from the earth!
Let a floating cloud in the sky let a wave of the sea let growing mint, spinach, onions, tomatoes let these be exhibited as shows, at a great price for admission!
Let all the men of These States stand aside for a few smouchers! let the few seize on what they choose! let the rest gawk, giggle, starve, obey!
Let shadows be furnish'd with genitals! let substances be deprived of their genitals!
Let there be wealthy and immense cities but still through any of them, not a single poet, savior, knower, lover!
Let the infidels of These States laugh all faith away! If one man be found who has faith, let the rest set upon him!
Let them affright faith! let them destroy the power of breeding faith!
Let the she-harlots and the he-harlots be prudent! let them dance on, while seeming lasts! (O seeming! seeming! seeming!)
Let the preachers recite creeds! let them still teach only what they have been taught!
Let insanity still have charge of sanity!
Let books take the place of trees, animals, rivers, clouds!
Let the daub'd portraits of heroes supersede heroes!
Let the manhood of man never take steps after itself!
Let it take steps after eunuchs, and after consumptive and genteel persons!
Let the white person again tread the black person under his heel! (Say! which is trodden under heel, after all?)
Let the reflections of the things of the world be studied in mirrors! let the things themselves still continue unstudied!
Let a man seek pleasure everywhere except in himself!
Let a woman seek happiness everywhere except in herself! (What real happiness have you had one single hour through your whole life?)
Let the limited years of life do nothing for the limitless years of death! (What do you suppose death will do, then?)
Walt Whitman
(1819 – 1892)
Respondez!
• fleursdumal.nl magazine
More in: Archive W-X, Archive W-X, WAR & PEACE, Whitman, Walt
---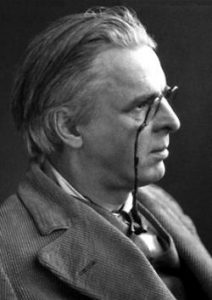 The Arrow
I thought of your beauty, and this arrow,
Made out of a wild thought, is in my marrow.
There's no man may look upon her, no man,
As when newly grown to be a woman,
Tall and noble but with face and bosom
Delicate in colour as apple blossom.
This beauty's kinder, yet for a reason
I could weep that the old is out of season.
William Butler Yeats
(1865-1939)
The Arrow
• fleursdumal.nl magazine
More in: Archive Y-Z, Archive Y-Z, Yeats, William Butler
---
Older Entries »
Thank you for reading FLEURSDUMAL.NL - magazine for art & literature