CLASSIC POETRY
·
Lord Byron: Thy Days Are Done (Poem)
·
Karel van de Woestijne: O Blik vol Dood en Sterren (Gedicht)
·
Victor Hugo: On loge à la nuit (Poème)
·
Victor Hugo: La nature (Poème)
·
Lord Byron: Oh! Snatched Away in Beauty's Bloom (Poem)
·
Robert Southey: The Pauper's Funeral (Poem)
·
Victor Hugo: Les femmes sont sur la terre . . . . (Poème)
·
Lord Byron: So we'll go no more a roving (Poem)
·
Lord Byron: By the Rivers of Babylon We Sat Down and Wept (Poem)
·
Karel van de Woestijne: Stad (Gedicht)
·
Will Streets: Shelley in the Trenches 2nd May 1916 (Poem)
·
Victor Hugo: L'Enfant (Poème)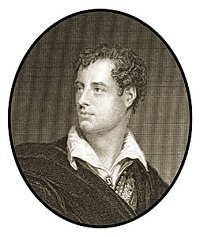 Thy Days Are Done
Thy days are done, thy fame begun;
Thy country's strains record
The triumphs of her chosen Son,
The slaughter of his sword!
The deeds he did, the fields he won,
The freedom he restored!
Though thou art fall'n, while we are free
Thou shalt not taste of death!
The generous blood that flow'd from thee
Disdain'd to sink beneath:
Within our veins its currents be,
Thy spirit on our breath!
Thy name, our charging hosts along,
Shall be the battle-word!
Thy fall, the theme of choral song
From virgin voices pour'd!
To weep would do thy glory wrong:
Thou shalt not be deplored.
George Gordon Byron
(1788 – 1824)
Thy Days Are Done
(Poem)
• fleursdumal.nl magazine
More in: Archive A-B, Archive A-B, Byron, Lord
---
O Blik vol Dood en Sterren
o Blik vol dood en sterren,
o hart vol licht en leed.
De dag is spijtig verre;
de nacht is hel en wreed.
Mijn mond vol wondre smaken
die géne vrucht verzaadt.
Niemand, o hunkrend waken,
die langs mijn venster gaat…
Wij zullen nimmer wezen
dan Godes angst'ge wezen.
– God, laat ons waan en schijn
dat we Uwe wezen zijn.
Karel van de Woestijne
(1878 – 1929)
O Blik vol Dood en Sterren
• fleursdumal.nl magazine
More in: Archive W-X, Archive W-X, Woestijne, Karel van de
---
On loge à la nuit
Aventurier conduit par le louche destin,
Pour y passer la nuit, jusqu'à demain matin,
Entre à l'auberge Louvre avec ta rosse Empire.
Molière te regarde et fait signe à Shakspeare ;
L'un te prend pour Scapin, l'autre pour Richard trois.
Entre en jurant, et fais le signe de la croix.
L'antique hôtellerie est toute illuminée.
L'enseigne, par le temps salie et charbonnée,
Sur le vieux fleuve Seine, à deux pas du Pont-Neuf,
Crie et grince au balcon rouillé de Charles neuf ;
On y déchiffre encor ces quelques lettres : – Sacre ; –
Texte obscur et tronqué, reste du mot Massacre.
Un fourmillement sombre emplit ce noir logis.
Parmi les chants d'ivresse et les refrains mugis,
On rit, on boit, on mange, et le vin sort des outres.
Toute une boucherie est accrochée aux poutres.
Ces êtres triomphants ont fait quelque bon coup.
L'un crie : assommons tout ! et l'autre : empochons tout !
L'autre agite une torche aux clartés aveuglantes.
Par places sur les murs on voit des mains sanglantes.
Les mets fument ; la braise aux fourneaux empourprés
Flamboie ; on voit aller et venir affairés,
Des taches à leurs mains, des taches à leurs chausses,
Les Rianceys marmitons, les Nisards gâte-sauces ;
Et, – derrière la table où sont assis Fortoul,
Persil, Piétri, Carlier, Chapuys le capitoul,
Ducos et Magne au meurtre ajoutant leur paraphe,
Forey dont à Bondy l'on change l'orthographe,
Rouher et Radetzky, Haynau près de Drouyn, –
Le porc Sénat fouillant l'ordure du grouin.
Ces gueux ont commis plus de crimes qu'un évêque
N'en bénirait. Explore, analyse, dissèque,
Dans leur âme où de Dieu le germe est étouffé,
Tu ne trouveras rien. – Sus donc, entre coiffé
Comme Napoléon, botté comme Macaire.
Le général Bertrand te précède ; tonnerre
De bravos. Cris de joie aux hurlements mêlés.
Les spectres qui gisaient dans l'ombre échevelés
Te regardent entrer et rouvrent leurs yeux mornes
Autour de toi s'émeut l'essaim des maritornes,
A beaucoup de jargon mêlant un peu d'argot ;
La marquise Toinon, la duchesse Margot,
Houris au coeur de verre, aux regards d'escarboucles.
Maître, es-tu la régence ? on poudrera ses boucles
Es-tu le directoire ? on mettra des madras.
Fais, ô bel étranger, tout ce que tu voudras.
Ton nom est million, entre ! – Autour de ces belles
Colombes de l'orgie, ayant toutes des ailes,
Folâtrent Suin, Mongis, Turgot et d'Aguesseau,
Et Saint-Arnaud qui vole autrement que l'oiseau.
Aux trois quarts gris déjà, Reibell le trabucaire
Prend Fould pour un curé dont Sibour est vicaire.
Regarde, tout est prêt pour te fêter, bandit.
L'immense cheminée au centre resplendit.
Ton aigle, une chouette, en blasonne le plâtre.
Le boeuf Peuple rôtit tout entier devant l'âtre
La lèchefrite chante en recevant le sang ;
A côté sont assis, souriant et causant,
Magnan qui l'a tué, Troplong qui le fait cuire.
On entend cette chair pétiller et bruire,
Et sur son tablier de cuir, joyeux et las,
Le boucher Carrelet fourbit son coutelas.
La marmite budget pend à la crémaillère.
Viens, toi qu'aiment les juifs et que l'église éclaire,
Espoir des fils d'Ignace et des fils d'Abraham,
Qui t'en vas vers Toulon et qui t'en viens de Ham,
Viens, la journée est faite et c'est l'heure de paître.
Prends devant ce bon feu ce bon fauteuil, ô maître.
Tout ici te vénère et te proclame roi ;
Viens ; rayonne, assieds-toi, chauffe-toi, sèche-toi,
Sois bon prince, ô brigand ! ô fils de la créole,
Dépouille ta grandeur, quitte ton auréole ;
Ce qu'on appelle ainsi dans ce nid de félons,
C'est la boue et le sang collés à tes talons,
C'est la fange rouillant ton éperon sordide.
Les héros, les penseurs portent, groupe splendide,
Leur immortalité sur leur radieux front ;
Toi, tu traînes ta gloire à tes pieds. Entre donc,
Ote ta renommée avec un tire-bottes.
Vois, les grands hommes nains et les gloires nabotes
T'entourent en chantant, ô Tom-Pouce Attila !
Ce boeuf rôtit pour toi ; Maupas, ton nègre, est là ;
Et, jappant dans sa niche au coin du feu, Baroche
Vient te lécher les pieds tout en tournant la broche.
Pendant que dans l'auberge ils trinquent à grand bruit,
Dehors, par un chemin qui se perd dans la nuit,
Hâtant son lourd cheval dont le pas se rapproche,
Muet, pensif, avec des ordres dans sa poche,
Sous ce ciel noir qui doit redevenir ciel bleu,
Arrive l'avenir, le gendarme de Dieu.
1er février.
Victor Hugo
(1802-1885)
On loge à la nuit
"Les Châtiments"
(Poème)
• fleursdumal.nl magazine
More in: Archive G-H, Archive G-H, Hugo, Victor, Victor Hugo
---
La nature
La terre est de granit, les ruisseaux sont de marbre ;
C'est l'hiver ; nous avons bien froid. Veux-tu, bon arbre,
Être dans mon foyer la bûche de Noël ?
— Bois, je viens de la terre, et, feu, je monte au ciel.
Frappe, bon bûcheron. Père, aïeul, homme, femme,
Chauffez au feu vos mains, chauffez à Dieu votre âme.
Aimez, vivez. — Veux-tu, bon arbre, être timon
De charrue ? — Oui, je veux creuser le noir limon,
Et tirer l'épi d'or de la terre profonde.
Quand le soc a passé, la plaine devient blonde,
La paix aux doux yeux sort du sillon entr'ouvert,
Et l'aube en pleurs sourit. — Veux-tu, bel arbre vert,
Arbre du hallier sombre où le chevreuil s'échappe,
De la maison de l'homme être le pilier ? — Frappe.
Je puis porter les toits, ayant porté les nids.
Ta demeure est sacrée, homme, et je la bénis ;
Là, dans l'ombre et l'amour, pensif, tu te recueilles ;
Et le bruit des enfants ressemble au bruit des feuilles.
— Veux-tu, dis-moi, bon arbre, être mât de vaisseau ?
— Frappe, bon charpentier. Je veux bien être oiseau.
Le navire est pour moi, dans l'immense mystère,
Ce qu'est pour vous la tombe ; il m'arrache à la terre,
Et, frissonnant, m'emporte à travers l'infini.
J'irai voir ces grands cieux d'où l'hiver est banni,
Et dont plus d'un essaim me parle en son passage.
Pas plus que le tombeau n'épouvante le sage,
Le profond Océan, d'obscurité vêtu,
Ne m'épouvante point : oui, frappe. — Arbre, veux-tu
Être gibet ? — Silence, homme ! va-t'en, cognée !
J'appartiens à la vie, à la vie indignée !
Va-t'en, bourreau ! va-t'en, juge ! fuyez, démons !
Je suis l'arbre des bois, je suis l'arbre des monts ;
Je porte les fruits mûrs, j'abrite les pervenches ;
Laissez-moi ma racine et laissez-moi mes branches !
Arrière ! homme, tuez, ouvriers du trépas,
Soyez sanglants, mauvais, durs ; mais ne venez pas,
Ne venez pas, traînants des cordes et des chaînes,
Vous chercher un complice au milieu des grands chênes !
Ne faites pas servir à vos crimes, vivants,
L'arbre mystérieux à qui parlent les vents !
Vos lois portent la nuit sur leurs ailes funèbres.
Je suis fils du soleil, soyez fils des ténèbres.
Allez-vous-en ! laissez l'arbre dans ses déserts.
A vos plaisirs, aux jeux, aux festins, aux concerts,
Accouplez l'échafaud et le supplice ; faites.
Soit. Vivez et tuez. Tuez, entre deux fêtes,
Le malheureux, chargé de fautes et de maux ;
Moi, je ne mêle pas de spectre à mes rameaux !
Janvier 1843.
Victor Hugo
(1802-1885)
La nature
(Poème)
Les Contemplations
• fleursdumal.nl magazine
More in: Archive G-H, Archive G-H, Hugo, Victor, Victor Hugo
---
Oh! Snatched Away in Beauty's Bloom
Oh! snatched away in beauty's bloom,
On thee shall press no ponderous tomb;
But on thy turf shall roses rear
Their leaves, the earliest of the year;
And the wild cypress wave in tender
gloom:
And oft by yon blue gushing stream
Shall sorrow lean her drooping head,
And feed deep thought with many a dream,
And lingering pause and lightly tread;
Fond wretch! as if her step disturbed the
dead!
Away! we know that tears are vain,
That death nor heeds nor hears distress:
Will this unteach us to complain?
Or make one mourner weep the less?
And thou – who tell'st me to forget,
Thy looks are wan, thine eyes are wet.
George Gordon Byron
(1788 – 1824)
Oh! Snatched Away in Beauty's Bloom
(Poem)
• fleursdumal.nl magazine
More in: Archive A-B, Archive A-B, Byron, Lord
---
The Pauper's Funeral
What! and not one to heave the pious sigh!
Not one whose sorrow-swoln and aching eye
For social scenes, for life's endearments fled,
Shall drop a tear and dwell upon the dead!
Poor wretched Outcast! I will weep for thee,
And sorrow for forlorn humanity.
Yes I will weep, but not that thou art come
To the stern Sabbath of the silent tomb:
For squalid Want, and the black scorpion Care,
Heart-withering fiends! shall never enter there.
I sorrow for the ills thy life has known
As thro' the world's long pilgrimage, alone,
Haunted by Poverty and woe-begone,
Unloved, unfriended, thou didst journey on:
Thy youth in ignorance and labour past,
And thine old age all barrenness and blast!
Hard was thy Fate, which, while it doom'd to woe,
Denied thee wisdom to support the blow;
And robb'd of all its energy thy mind,
Ere yet it cast thee on thy fellow-kind,
Abject of thought, the victim of distress,
To wander in the world's wide wilderness.
Poor Outcast sleep in peace! the wintry storm
Blows bleak no more on thine unshelter'd form;
Thy woes are past; thou restest in the tomb;–
I pause–and ponder on the days to come.
Robert Southey
(1774 – 1843)
The Pauper's Funeral
• fleursdumal.nl magazine
More in: Archive S-T, Archive S-T, CLASSIC POETRY
---
Les femmes sont sur la terre . . . .
Les femmes sont sur la terre
Pour tout idéaliser ;
L'univers est un mystère
Que commente leur baiser.
C'est l'amour qui, pour ceinture,
A l'onde et le firmament,
Et dont toute la nature,
N'est, au fond, que l'ornement.
Tout ce qui brille, offre à l'âme
Son parfum ou sa couleur ;
Si Dieu n'avait fait la femme,
Il n'aurait pas fait la fleur.
A quoi bon vos étincelles,
Bleus saphirs, sans les yeux doux ?
Les diamants, sans les belles,
Ne sont plus que des cailloux ;
Et, dans les charmilles vertes,
Les roses dorment debout,
Et sont des bouches ouvertes
Pour ne rien dire du tout.
Tout objet qui charme ou rêve
Tient des femmes sa clarté ;
La perle blanche, sans Eve,
Sans toi, ma fière beauté,
Ressemblant, tout enlaidie,
A mon amour qui te fuit,
N'est plus que la maladie
D'une bête dans la nuit.
Victor Hugo
(1802-1885)
Les femmes sont sur la terre . . . .
(Poème)
• fleursdumal.nl magazine
More in: Archive G-H, Archive G-H, Hugo, Victor, Victor Hugo
---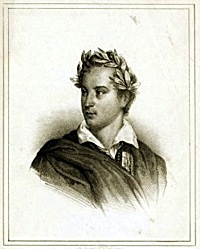 So we'll go no more a roving
So we'll go no more a roving
So late into the night,
Though the heart be still as loving,
And the moon be still as bright.
For the sword outwears its sheath,
And the soul wears out the breast,
And the heart must pause to breathe,
And Love itself have rest.
Though the night was made for loving,
And the day returns too soon,
Yet we'll go no more a roving
By the light of the moon.
George Gordon Byron
(1788 – 1824)
So we'll go no more a roving
(Poem)
• fleursdumal.nl magazine
More in: Archive A-B, Archive A-B, Byron, Lord
---
By the Rivers of Babylon
We Sat Down and Wept

1
We sat down and wept by the waters
Of Babel, and thought of the day
When our foe, in the hue of his slaughters,
Made Salem's high places his prey;
And ye, oh her desolate daughters!
Were scattered all weeping away.
2
While sadly we gazed on the river
Which rolled on in freedom below,
They demanded the song; but, oh never
That triumph the stranger shall know!
May this right hand be withered for ever,
Ere it string our high harp for the foe!
3
On the willow that harp is suspended,
Oh Salem! its sound should be free;
And the hour when thy glories were
ended
But left me that token of thee:
And ne'er shall its soft tones be blended
With the voice of the spoiler by me!
George Gordon Byron
(1788 – 1824)
By the Rivers of Babylon We Sat Down and Wept
(Poem)
• fleursdumal.nl magazine
More in: Archive A-B, Archive A-B, Byron, Lord
---
Stad
Verloren tijd, hoe schoon vind ik u weer,
waar elk herinnren wordt een nieuw verlangen.
o Steden-laan, wat zijn uw meisjes schoon.
Eens was ik jong, en 'k ben niet jong gebleven…
Ik wandel bij de bomen die mijn jeugd
beveiligd hebben en haar jonge liefde.
Water is de adem van een meisjes mond
De stad is heet en droog als een begeerte.
Er is, tussen de dubble glans der laan,
er is een maan, er is een andre maan.
De een is de maan; de andere is gene maan.
Het paard wringt als een zilvren vis. En de ijlte is rood
maar roder zet de galm des voermans de ijlte uit.
Hitte.
Mijn vriend, gij hebt de geur der grote magazijnen.
Zo zijn er meisjes, schraal en met een witte neus.
Leeg schelpje aan nachtlijke ebbe: ik; maar de stad
in duizend dake' als duizend diamanten.
Ik scheer de muren; – als een rechthoek ligt
naast mij mijn schaduw als een vals gedicht.
Menigte, uw geur bijt mijne lippen stuk.
o Menigte, gij doet mijne woorden bloeden.
Waarom te wenen in dit stenen woud?
Gij zult regeren als gij weet te lachen.
Jaag naar huis, o hart: gij vindt er
volle schotelen aan leed.
Stad: eind-punt; vierkant; rust en zekerheid.
'k Zet me op een paal; ik wacht de roep der ijlte.
Karel van de Woestijne
(1878 – 1929)
Stad
• fleursdumal.nl magazine
More in: Archive W-X, Archive W-X, Woestijne, Karel van de
---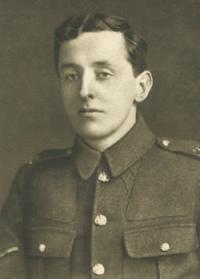 Shelley in the Trenches 2nd May 1916
Impressions are like winds; you feel their cool
Swift kiss upon the brow, yet know not where
They sprang to birth: so like a pool
Rippled by winds from out their forest lair
My soul was stir'd to life; its twilight fled;
There passed across its solitude a dream
That wing'd with supreme ecstasy did seem;
That gave the kiss of life to long-lost dead.
A lark trill'd in the blue: and suddenly
Upon the wings of his immortal ode
My soul rushed singing to the ether sky
And found in visions, dreams, its real abode –
I fled with Shelly, with the lark afar,
Unto the realms where the eternal are.
John William (Will) Streets
(1886 –1916)
Shelley in the Trenches 2nd May 1916
• fleursdumal.nl magazine
More in: - Archive Tombeau de la jeunesse, Archive S-T, Shelley, Percy Byssche, Streets, Will, WAR & PEACE
---
L'Enfant
Les turcs ont passé là. Tout est ruine et deuil.
Chio, l'île des vins, n'est plus qu'un sombre écueil,
Chio, qu'ombrageaient les charmilles,
Chio, qui dans les flots reflétait ses grands bois,
Ses coteaux, ses palais, et le soir quelquefois
Un chœur dansant de jeunes filles.
Tout est désert. Mais non ; seul près des murs noircis,
Un enfant aux yeux bleus, un enfant grec, assis,
Courbait sa tête humiliée ;
Il avait pour asile, il avait pour appui
Une blanche aubépine, une fleur, comme lui
Dans le grand ravage oubliée.
Ah ! pauvre enfant, pieds nus sur les rocs anguleux !
Hélas ! pour essuyer les pleurs de tes yeux bleus
Comme le ciel et comme l'onde,
Pour que dans leur azur, de larmes orageux,
Passe le vif éclair de la joie et des jeux,
Pour relever ta tête blonde,
Que veux-tu ? Bel enfant, que te faut-il donner
Pour rattacher gaîment et gaîment ramener
En boucles sur ta blanche épaule
Ces cheveux, qui du fer n'ont pas subi l'affront,
Et qui pleurent épars autour de ton beau front,
Comme les feuilles sur le saule ?
Qui pourrait dissiper tes chagrins nébuleux ?
Est-ce d'avoir ce lys, bleu comme tes yeux bleus,
Qui d'Iran borde le puits sombre ?
Ou le fruit du tuba, de cet arbre si grand,
Qu'un cheval au galop met, toujours en courant,
Cent ans à sortir de son ombre ?
Veux-tu, pour me sourire, un bel oiseau des bois,
Qui chante avec un chant plus doux que le hautbois,
Plus éclatant que les cymbales ?
Que veux-tu ? fleur, beau fruit, ou l'oiseau merveilleux ?
– Ami, dit l'enfant grec, dit l'enfant aux yeux bleus,
Je veux de la poudre et des balles.
8-10 juillet 1828
Victor Hugo
(1802-1885)
L'Enfant
(Poème)
Les Orientales
• fleursdumal.nl magazine
More in: Archive G-H, Archive G-H, Hugo, Victor, Victor Hugo
---
Older Entries »
Thank you for reading FLEURSDUMAL.NL - magazine for art & literature