CLASSIC POETRY
·
Herman Melville: Shelley's Vision (Poem)
·
Karel van de Woestijne: Ween aan mijn borst (Gedicht)
·
Les étrennes des orphelins par Arthur Rimbaud (Poème)
·
Lord Byron: And Wilt Thou Weep When I Am Low? (Poem)
·
Victor Hugo: Dans la forêt (Poème)
·
NEW YEAR 2020 – Zu Neujahr ein Gedicht von Wilhelm Busch
·
Anne Brontë: Music on Christmas Morning
·
Walt Whitman: Vigil strange I kept on the field one night (Poem)
·
Emily Dickinson: Drowning is not so pitiful (Poem)
·
Walt Whitman: As I lay with my head in your lap camerado (Poem)
·
Emily Dickinson: A Word (Poem)
·
Joris-Karl Huysmans: Aan de vrouw
Shelley's Vision
Wandering late by morning seas
When my heart with pain was low–
Hate the censor pelted me–
Deject I saw my shadow go.
In elf-caprice of bitter tone
I too would pelt the pelted one:
At my shadow I cast a stone.
When lo, upon that sun-lit ground
I saw the quivering phantom take
The likeness of St. Stephen crowned:
Then did self-reverence awake.
Herman Melville
(1819 – 1891)
Shelley's Vision
•fleursdumal.nl magazine
More in: Archive M-N, Archive M-N, Archive S-T, Archive S-T, Herman Melville, Shelley, Percy Byssche
---
Ween aan mijn borst
Ween aan mijn borst den schat der tranen
die rijk me maken van uw leed,
ik die van wankelende wanen
als gij het talmend smeken weet;
ik die, mijn kind, op andre schouder
om eendre vreze heb geschreid,
maar van elke onmacht oud en ouder,
weer om een nieuwe hope lijd;
ik die het goud van alle transen
voor de as van oude zonnen ken,
maar van elk glorend morgen-glanzen
de huiverende minnaar ben…
Ween uwe tranen, lange en lijze,
die van uw lijden rijk me maakt:
straks ziet ge in 't oog des levens-wijzen
hoe stééds de wanen-lampe waakt…
Het huis in de stad (1908-1909)
Karel van de Woestijne
(1878 – 1929)
Ween aan mijn borst
Portret van Karel van de Woestijne (1937) door Henri van Straten (1892 – 1944)
• fleursdumal.nl magazine
More in: Archive W-X, Archive W-X, Woestijne, Karel van de
---
Les étrennes des orphelins
I
La chambre est pleine d'ombre ; on entend vaguement
De deux enfants le triste et doux chuchotement.
Leur front se penche, encore alourdi par le rêve,
Sous le long rideau blanc qui tremble et se soulève…
– Au dehors les oiseaux se rapprochent frileux ;
Leur aile s'engourdit sous le ton gris des cieux ;
Et la nouvelle Année, à la suite brumeuse,
Laissant traîner les plis de sa robe neigeuse,
Sourit avec des pleurs, et chante en grelottant…
II
Or les petits enfants, sous le rideau flottant,
Parlent bas comme on fait dans une nuit obscure.
Ils écoutent, pensifs, comme un lointain murmure…
Ils tressaillent souvent à la claire voix d'or
Du timbre matinal, qui frappe et frappe encor
Son refrain métallique en son globe de verre…
– Puis, la chambre est glacée… on voit traîner à terre,
Épars autour des lits, des vêtements de deuil
L'âpre bise d'hiver qui se lamente au seuil
Souffle dans le logis son haleine morose !
On sent, dans tout cela, qu'il manque quelque chose…
– Il n'est donc point de mère à ces petits enfants,
De mère au frais sourire, aux regards triomphants ?
Elle a donc oublié, le soir, seule et penchée,
D'exciter une flamme à la cendre arrachée,
D'amonceler sur eux la laine et l'édredon
Avant de les quitter en leur criant : pardon.
Elle n'a point prévu la froideur matinale,
Ni bien fermé le seuil à la bise hivernale ?…
– Le rêve maternel, c'est le tiède tapis,
C'est le nid cotonneux où les enfants tapis,
Comme de beaux oiseaux que balancent les branches,
Dorment leur doux sommeil plein de visions blanches !…
– Et là, – c'est comme un nid sans plumes, sans chaleur,
Où les petits ont froid, ne dorment pas, ont peur ;
Un nid que doit avoir glacé la bise amère…
III
Votre coeur l'a compris : – ces enfants sont sans mère.
Plus de mère au logis ! – et le père est bien loin !…
– Une vieille servante, alors, en a pris soin.
Les petits sont tout seuls en la maison glacée ;
Orphelins de quatre ans, voilà qu'en leur pensée
S'éveille, par degrés, un souvenir riant…
C'est comme un chapelet qu'on égrène en priant :
– Ah ! quel beau matin, que ce matin des étrennes !
Chacun, pendant la nuit, avait rêvé des siennes
Dans quelque songe étrange où l'on voyait joujoux,
Bonbons habillés d'or, étincelants bijoux,
Tourbillonner, danser une danse sonore,
Puis fuir sous les rideaux, puis reparaître encore !
On s'éveillait matin, on se levait joyeux,
La lèvre affriandée, en se frottant les yeux…
On allait, les cheveux emmêlés sur la tête,
Les yeux tout rayonnants, comme aux grands jours de fête,
Et les petits pieds nus effleurant le plancher,
Aux portes des parents tout doucement toucher…
On entrait !… Puis alors les souhaits… en chemise,
Les baisers répétés, et la gaîté permise !
IV
Ah ! c'était si charmant, ces mots dits tant de fois !
– Mais comme il est changé, le logis d'autrefois :
Un grand feu pétillait, clair, dans la cheminée,
Toute la vieille chambre était illuminée ;
Et les reflets vermeils, sortis du grand foyer,
Sur les meubles vernis aimaient à tournoyer…
– L'armoire était sans clefs !… sans clefs, la grande armoire !
On regardait souvent sa porte brune et noire…
Sans clefs !… c'était étrange !… on rêvait bien des fois
Aux mystères dormant entre ses flancs de bois,
Et l'on croyait ouïr, au fond de la serrure
Béante, un bruit lointain, vague et joyeux murmure…
– La chambre des parents est bien vide, aujourd'hui
Aucun reflet vermeil sous la porte n'a lui ;
Il n'est point de parents, de foyer, de clefs prises :
Partant, point de baisers, point de douces surprises !
Oh ! que le jour de l'an sera triste pour eux !
– Et, tout pensifs, tandis que de leurs grands yeux bleus,
Silencieusement tombe une larme amère,
Ils murmurent : » Quand donc reviendra notre mère ? »
V
Maintenant, les petits sommeillent tristement :
Vous diriez, à les voir, qu'ils pleurent en dormant,
Tant leurs yeux sont gonflés et leur souffle pénible !
Les tout petits enfants ont le coeur si sensible !
– Mais l'ange des berceaux vient essuyer leurs yeux,
Et dans ce lourd sommeil met un rêve joyeux,
Un rêve si joyeux, que leur lèvre mi-close,
Souriante, semblait murmurer quelque chose…
– Ils rêvent que, penchés sur leur petit bras rond,
Doux geste du réveil, ils avancent le front,
Et leur vague regard tout autour d'eux se pose…
Ils se croient endormis dans un paradis rose…
Au foyer plein d'éclairs chante gaîment le feu…
Par la fenêtre on voit là-bas un beau ciel bleu ;
La nature s'éveille et de rayons s'enivre…
La terre, demi-nue, heureuse de revivre,
A des frissons de joie aux baisers du soleil…
Et dans le vieux logis tout est tiède et vermeil
Les sombres vêtements ne jonchent plus la terre,
La bise sous le seuil a fini par se taire …
On dirait qu'une fée a passé dans cela ! …
– Les enfants, tout joyeux, ont jeté deux cris… Là,
Près du lit maternel, sous un beau rayon rose,
Là, sur le grand tapis, resplendit quelque chose…
Ce sont des médaillons argentés, noirs et blancs,
De la nacre et du jais aux reflets scintillants ;
Des petits cadres noirs, des couronnes de verre,
Ayant trois mots gravés en or : » A NOTRE MÈRE ! «
Arthur Rimbaud
(1854 – 1891)
Les étrennes des orphelins
Poème
• fleursdumal.nl magazine
More in: Archive Q-R, Archive Q-R, Arthur Rimbaud, Rimbaud, Arthur, Rimbaud, Arthur
---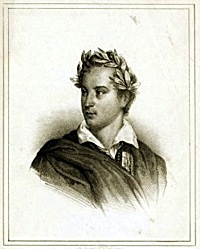 And Wilt Thou Weep When I Am Low ?
And wilt thou weep when I am low?
Sweet lady! speak those words again:
Yet if they grieve thee, say not so—
I would not give that bosom pain.
My heart is sad, my hopes are gone,
My blood runs coldly through my breast;
And when I perish, thou alone
Wilt sigh above my place of rest.
And yet, methinks, a gleam of peace
Doth through my cloud of anguish shine:
And for a while my sorrows cease,
To know thy heart hath felt for mine.
Oh lady! blessd be that tear—
It falls for one who cannot weep;
Such precious drops are doubly dear
To those whose eyes no tear may steep.
Sweet lady! once my heart was warm
With every feeling soft as thine;
But Beauty's self hath ceased to charm
A wretch created to repine.
Yet wilt thou weep when I am low?
Sweet lady! speak those words again:
Yet if they grieve thee, say not so—
I would not give that bosom pain.
George Gordon Byron
(1788 – 1824)
And Wilt Thou Weep When I Am Low ?
(Poem)
• fleursdumal.nl magazine
More in: Archive A-B, Archive A-B, Byron, Lord
---
Dans la forêt
De quoi parlait le vent ? De quoi tremblaient les branches ?
Était-ce, en ce doux mois des nids et des pervenches,
Parce que les oiseaux couraient dans les glaïeuls,
Ou parce qu'elle et moi nous étions là tout seuls ?
Elle hésitait. Pourquoi ? Soleil, azur, rosées,
Aurore ! Nous tâchions d'aller, pleins de pensées,
Elle vers la campagne et moi vers la forêt.
Chacun de son côté tirait l'autre, et, discret,
Je la suivais d'abord, puis, à son tour docile,
Elle venait, ainsi qu'autrefois en Sicile
Faisaient Flore et Moschus, Théocrite et Lydé.
Comme elle ne m'avait jamais rien accordé,
Je riais, car le mieux c'est de tâcher de rire
Lorsqu'on veut prendre une âme et qu'on ne sait que dire ;
J'étais le plus heureux des hommes, je souffrais.
Que la mousse est épaisse au fond des antres frais !
Par instants un éclair jaillissait de notre âme ;
Elle balbutiait : Monsieur… et moi : Madame.
Et nous restions pensifs, muets, vaincus, vainqueurs,
Après cette clarté faite dans nos deux coeurs.
Une source disait des choses sous un saule ;
Je n'avais encor vu qu'un peu de son épaule,
Je ne sais plus comment et je ne sais plus où ;
Oh ! le profond printemps, comme cela rend fou !
L'audace des moineaux sous les feuilles obscures,
Les papillons, l'abeille en quête, les piqûres,
Les soupirs, ressemblaient à de vagues essais,
Et j'avais peur, sentant que je m'enhardissais.
Il est certain que c'est une action étrange
D'errer dans l'ombre au point de cesser d'être un ange,
Et que l'herbe était douce, et qu'il est fabuleux
D'oser presser le bras d'une femme aux yeux bleus.
Nous nous sentions glisser vaguement sur la pente
De l'idylle où l'amour traître et divin serpente,
Et qui mène, à travers on ne sait quel jardin,
Souvent à l'enfer, mais en passant par l'éden.
Le printemps laisse faire, il permet, rien ne bouge.
Nous marchions, elle était rose, et devenait rouge,
Et je ne savais rien, tremblant de mon succès,
Sinon qu'elle pensait à ce que je pensais.
Pâle, je prononçais des noms, Béatrix, Dante ;
Sa guimpe s'entrouvrait, et ma prunelle ardente
Brillait, car l'amoureux contient un curieux.
Viens ! dis-je… – Et pourquoi pas, ô bois mystérieux ?
3 avril 1874
Victor Hugo
(1802-1885)
Dans la forêt
(Poème)
Toute la lyre
• fleursdumal.nl magazine
More in: Archive G-H, Archive G-H, Hugo, Victor, Victor Hugo
---
Zu Neujahr
Will das Glück nach seinem Sinn
Dir was Gutes schenken,
Sage Dank und nimm es hin
Ohne viel Bedenken.
Jede Gabe sei begrüßt,
Doch vor allen Dingen:
Das, worum du dich bemühst,
Möge dir gelingen.
Wilhelm Busch
(1832 – 1908)
Deutscher Zeichner, Maler und Schriftsteller
(Quelle: Wilhelm Busch Gedichte. Schein und Sein, 1909)
• fleursdumal.nl magazine
More in: Archive A-B, Archive A-B, CLASSIC POETRY, Galerie Deutschland, Wilhelm Busch
---
Music on Christmas Morning
'Music I love – but never strain
Could kindle raptures so divine,
So grief assuage, so conquer pain,
And rouse this pensive heart of mine –
As that we hear on Christmas morn,
Upon the wintry breezes born.
Though Darkness still her empire keep,
And hours must pass, ere morning break;
From troubled dreams, or slumbers deep,
That music kindly bids us wake:
It calls us, with an angel's voice,
To wake, and worship, and rejoice;
To greet with joy the glorious morn,
Which angels welcomed long ago,
When our redeeming Lord was born,
To bring the light of Heaven below;
The Powers of Darkness to dispel,
And rescue Earth from Death and Hell.
While listening to that sacred strain,
My raptured spirit soars on high;
I seem to hear those songs again
Resounding through the open sky,
That kindled such divine delight,
In those who watched their flocks by night.
With them – I celebrate His birth –
Glory to God, in highest Heaven,
Good will to men, and peace on Earth,
To us a saviour-king is given;
Our God is come to claim His own,
And Satan's power is overthrown!
A sinless God, for sinful men,
Descends to suffer and to bleed;
Hell must renounce its empire then;
The price is paid, the world is freed.
And Satan's self must now confess,
That Christ has earned a Right to bless:
Now holy Peace may smile from heaven,
And heavenly Truth from earth shall spring:
The captive's galling bonds are riven,
For our Redeemer is our king;
And He that gave his blood for men
Will lead us home to God again.'
Anne Brontë
(1820 – 1849)
Music on Christmas Morning (1843)
Anne Brontë (1820 – 1849) was an English novelist and poet, the youngest member of the Brontë literary family. Charlotte (1816–1855) and Emily Brontë (1818–1848) were her sisters.
• fleursdumal.nl magazine
More in: Anne, Emily & Charlotte Brontë, Archive A-B, Archive A-B, Brontë, Anne, Emily & Charlotte
---
Vigil strange I kept on the field one night
Vigil strange I kept on the field one night;
When you my son and my comrade dropt at my side that day,
One look I but gave which your dear eyes return'd with a look I shall never forget,
One touch of your hand to mine O boy, reach'd up as you lay on the ground,
Then onward I sped in the battle, the even-contested battle,
Till late in the night reliev'd to the place at last again I made my way,
Found you in death so cold dear comrade, found your body son of responding kisses, (never again on earth responding,)
Bared your face in the starlight, curious the scene, cool blew the moderate night-wind,
Long there and then in vigil I stood, dimly around me the battle-field spreading,
Vigil wondrous and vigil sweet there in the fragrant silent night,
But not a tear fell, not even a long-drawn sigh, long, long I gazed,
Then on the earth partially reclining sat by your side leaning my chin in my hands,
Passing sweet hours, immortal and mystic hours with you dearest comrade–not a tear, not a word,
Vigil of silence, love and death, vigil for you my son and my soldier,
As onward silently stars aloft, eastward new ones upward stole,
Vigil final for you brave boy, (I could not save you, swift was your death,
I faithfully loved you and cared for you living, I think we shall surely meet again,)
Till at latest lingering of the night, indeed just as the dawn appear'd,
My comrade I wrapt in his blanket, envelop'd well his form,
Folded the blanket well, tucking it carefully over head and carefully under feet,
And there and then and bathed by the rising sun, my son in his grave, in his rude-dug grave I deposited,
Ending my vigil strange with that, vigil of night and battle-field dim,
Vigil for boy of responding kisses, (never again on earth responding,)
Vigil for comrade swiftly slain, vigil I never forget, how as day brighten'd,
I rose from the chill ground and folded my soldier well in his blanket,
And buried him where he fell.
Walt Whitman
(1819 – 1892)
Vigil strange I kept on the field one night
From: Leaves of grass
• fleursdumal.nl magazine
More in: Archive W-X, Archive W-X, Whitman, Walt
---
Drowning is not so pitiful
Drowning is not so pitiful
As the attempt to rise.
Three times, 't is said, a sinking man
Comes up to face the skies,
And then declines forever
To that abhorred abode
Where hope and he part company, —
For he is grasped of God.
The Maker's cordial visage,
However good to see,
Is shunned, we must admit it,
Like an adversity.
Emily Dickinson
(1830-1886)
Drowning is not so pitiful
• fleursdumal.nl magazine
More in: Archive C-D, Archive C-D, Dickinson, Emily
---
As I lay with my head in your lap camerado
As I lay with my head in your lap camerado,
The confession I made I resume, what I said to you and the open air I
resume,
I know I am restless and make others so,
I know my words are weapons full of danger, full of death,
For I confront peace, security, and all the settled laws, to unsettle
them,
I am more resolute because all have denied me than I could ever have
been had all accepted me,
I heed not and have never heeded either experience, cautions,
majorities, nor ridicule,
And the threat of what is call'd hell is little or nothing to me;
And the lure of what is call'd heaven is little or nothing to me;
Dear camerado! I confess I have urged you onward with me, and still
urge you, without the least idea what is our destination,
Or whether we shall be victorious, or utterly quell'd and defeated.
Walt Whitman
(1819 – 1892)
As I lay with my head in your lap camerado
From: Leaves of grass
• fleursdumal.nl magazine
More in: Archive W-X, Archive W-X, Whitman, Walt
---
A Word
A word is dead
When it is said,
Some say.
I say it just
Begins to live
That day.
Emily Dickinson
(1830-1886)
A Word
• fleursdumal.nl magazine
More in: Archive C-D, Archive C-D, Dickinson, Emily
---
Na een avond uit met zijn beste vriend Cyprien betrapt André zijn vrouw Berthe op overspel. Vernederd, woedend en verdrietig verlaat hij de echtelijke woning.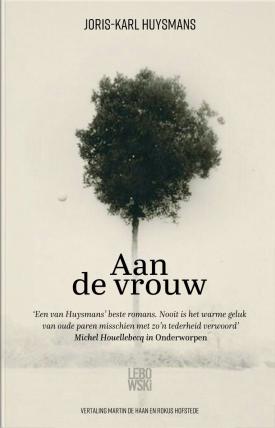 Wat te doen? Met Cyprien praat hij veelvuldig over de beslommeringen van het huwelijk en het leven van alleenstaanden in een grote stad. Moet André zijn huwelijk proberen te redden, misschien zelf een buitenechtelijke relatie aangaan, of de voorkeur geven aan eenzaamheid?
In de klassieker Aan de vrouw uit 1881 portretteert Huysmans het huiselijke, kleinburgerlijke leven met veel ironie en zwarte humor, evenals het verarmde kunstenaarsmilieu waarin de schrijver André en de schilder Cyprien zich bewegen. Een verrassend tijdloos verhaal over de eeuwige strijd tussen de seksen, over de sleur van een huwelijk, relaties en seksualiteit. Verkiezen André en Cyprien uiteindelijk het burgerlijk bestaan boven hun artistieke ambities en vrijheid?
Met een nawoord door vertalers Martin de Haan & Rokus Hofstede en een voorwoord door fin-de-siècle-expert Sander Bink.
Joris-Karl Huysmans (1848-1907) was een Franse auteur. Hij schreef Aan de vrouw (En ménage) in 1881, drie jaar voor zijn bekendste werk verscheen: Tegen de keer (À rebours, 1884). Joris-Karl Huysmans is een van de favoriete auteurs van Michel Houellebecq.
Aan de vrouw
Joris-Karl Huysmans
Oorspronkelijke titel: En ménage
Vertaling: Rokus Hofstede
Uitgever: Lebowski
ISBN: 9789048841936
Verschenen: 05-09-2019
Paperback
304 blz.
€ 21.99
# new books
Joris-Karl Huysmans
Aan de vrouw
En ménage
• fleursdumal.nl magazine
More in: - Book Lovers, - Book News, - Book Stories, Archive G-H, Archive G-H, Huysmans, J.-K., Huysmans, Joris-Karl, J.-K. Huysmans, Joris-Karl Huysmans
---
Older Entries »
Thank you for reading FLEURSDUMAL.NL - magazine for art & literature