Archive U-V
·
Paul Valéry: La Fausse Morte
·
Noor Unnahar: yesterday i was the moon (poetry)
·
Paul Valéry: Rêve
·
Paul Valéry: Vue
·
Paul Valéry: Hélène
·
The Passion according to Renée Vivien by Maria-Mercè Marçal
·
Renée Vivien: Victoire (Poème)
·
Renée Vivien: Vers d'amour (Poème)
·
'Blue in Green' gedicht van Paul Bezembinder
·
Ocean Vuong: Op aarde schitteren we even
·
Jacques Vaché: Lettres de guerre (1914-1918)
·
JACE van de Ven: Met Vaart In Het Hart. Verhalen uit het Brabants Wielercafé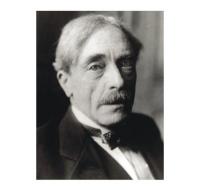 La Fausse Morte
Humblement, tendrement, sur le tombeau charmant
Sur l'insensible monument,
Que d'ombres, d'abandons, et d'amour prodiguée,
Forme ta grâce fatiguée,
Je meurs, je meurs sur toi, je tombe et je m'abats,
Mais à peine abattu sur le sépulcre bas,
Dont la close étendue aux cendres me convie,
Cette morte apparente, en qui revient la vie,
Frémit, rouvre les yeux, m'illumine et me mord,
Et m'arrache toujours une nouvelle mort
Plus précieuse que la vie.
Paul Valéry
(1871-1945)
La Fausse Morte
Poème
• fleursdumal.nl magazine
More in: Archive U-V, Archive U-V, Valéry, Paul
---
Noor Unnahar is a young female voice with power and depth. The Pakistani poet's moving, personal work collects and makes sense of the phases of collapsing and rebuilding one's self on the treacherous modern path from teenager to adult.
Tinged with the heartbreak of a broken home and the complexity of a rich cultural background, yesterday i was the moon stands out from the Insta-poetry crowd as a collection worth keeping.
Noor Unnahar is a modern-day artist and poet whose work combines hand-written text, tactile collage, and photography to illuminate themes of hope, home, self-love, culture, acceptance, and survival.
yesterday i was the moon centers around themes of love and emotional loss, the catharsis of creating art, and the struggle to find one's voice. Noor's poetry ranges from succinct universal truths to flowery prose exploring her heritage, what it means to find a physical and emotional home, and the intimate and painful dance of self-discovery. Her poetry and art has already inspired thousands of fans on Instagram to engage with her words through visual journal entries and posts of their own, and her fan base only continues to grow.
yesterday i was the moon
By Noor Unnahar
Category: Poetry | Design
Paperback
160 pages
Mar 27, 2018
ISBN-13 : 978-0525576013
Publisher : Clarkson Potter (March 27, 2018)
Language: : English
$14.99
# new poetry
Noor Unnahar
yesterday i was the moon
• fleursdumal.nl magazine
More in: - Book News, - Bookstores, Archive U-V, Art & Literature News
---
Rêve
Je rêve un fort splendide et calme, où la nature
S'endort entre la rive et le flot infini,
Près de palais portant des dômes d'or bruni,
Près des vaisseaux couvrant de drapeaux leur mâture.
Vers le large horizon où vont les matelots
Les cloches d'argent fin jettent leurs chants étranges.
L'enivrante senteur des vins et des oranges
Se mêle à la senteur enivrante des flots…
Une lente chanson monte vers les étoiles,
Douce comme un soupir, triste comme un adieu.
Sur l'horizon la lune ouvre son œil de feu
Et jette ses rayons parmi les lourdes voiles.
Brune à la lèvre rose et couverte de fards,
La fille, l'œil luisant comme une girandole,
Sur la hanche roulant ainsi qu'une gondole,
Hideusement s'en va sous les flots blafards.
Et moi, mélancolique amant de l'onde sombre,
Ami des grands vaisseaux noirs le silencieux,
J'erre dans la fraîcheur du vent délicieux
Qui fait trembler dans l'eau des lumières sans nombre.
Paul Valéry
(1871-1945)
Rêve
Poème
• fleursdumal.nl magazine
More in: Archive U-V, Archive U-V, Valéry, Paul
---
Vue
Si la plage planche, si
L'ombre sur l'œil s'use et pleure
Si l'azur est larme, ainsi
Au sel des dents pure affleure
La vierge fumée ou l'air
Que berce en soi puis expire
Vers l'eau debout d'une mer
Assoupie en son empire
Celle qui sans les ouïr
Si la lèvre au vent remue
Se joue à évanouir
Mille mots vains où se mue
Sous l'humide éclair de dents
Le très doux feu du dedans.
Paul Valéry
(1871-1945)
Vue
Poème
• fleursdumal.nl magazine
More in: Archive U-V, Archive U-V, Valéry, Paul
---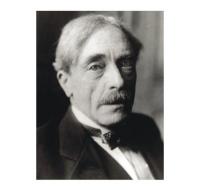 Hélène
Azur ! c'est moi… Je viens des grottes de la mort
Entendre l'onde se rompre aux degrés sonores,
Et je revois les galères dans les aurores
Ressusciter de l'ombre au fil des rames d'or.
Mes solitaires mains appellent les monarques
Dont la barbe de sel amusait mes doigts purs ;
Je pleurais. Ils chantaient leurs triomphes obscurs
Et les golfes enfuis aux poupes de leurs barques.
J'entends les conques profondes et les clairons
Militaires rythmer le vol des avirons ;
Le chant clair des rameurs enchaîne le tumulte,
Et les Dieux, à la proue héroïque exaltés
Dans leur sourire antique et que l'écume insulte,
Tendent vers moi leurs bras indulgents et sculptés.
Paul Valéry
(1871-1945)
Hélène
Poème
• fleursdumal.nl magazine
More in: Archive U-V, Archive U-V, Valéry, Paul
---
First complete translation into English by Kathleen McNerney and Helena Buffery ⊕ Contains the most beautiful prose I've ever read in Catalan – Anna Murià, novelist and translator
In this often poetic and lyrical novel by the revered Catalan poet Maria-Mercè Marçal, we are taken on a journey through the multiple, mobile and contradictory life, letters and loves of the fin-de-siècle Anglo-French writer, Pauline Tarn-Renée Vivien, as researched and reimagined by two principal narrators – a 1980s Catalan documentary film-maker Sara T. and a 1920s French archaeology scholar and museologist Salomon Reinach – alongside the voices of the various friends, relations, lovers, companions and servants who made her acquaintance at different moments in her life.
In the process, we are presented with a compelling reconstruction of the Belle Époque and interwar years in Paris, alongside other key sites in this transformational literary geography – Nice, Bayreuth, Switzerland, Istanbul, and the island of Lesbos – that include often dazzling evocations of other cultural figures and influencers of the age, from Zola to Pierre Louÿs and Remy de Gourmont, Liane de Pougy to Mathilde de Morny and Colette, not forgetting the central figure of Natalie Clifford-Barney, the 'Amazone'.
Maria-Mercè Marçal:
The Passion according to Renée Vivien
Translation into English by Kathleen McNerney and Helena Buffery
Francis Boutle publishers
ISBN 9781916490659
Language: English
Format: paperback
Number of pages 354
£12
»» website Francis Boutle publishers
# new books
Maria-Mercè Marçal:
The Passion according to Renée Vivien
• fleursdumal.nl magazine
More in: - Book News, - Book Stories, Archive M-N, Archive U-V, Archive U-V, Renée Vivien, Vivien, Renée
---
Victoire
Donne-moi tes baisers amers comme des larmes,
Le soir, quand les oiseaux s'attardent dans leurs vols.
Nos longs accouplements sans amour ont les charmes
Des rapines, l'attrait farouche des viols.
Repousse, délivrant ta haine contenue,
Le frisson de ma bouche éprise de ta chair.
Pour crier ton dégoût, dresse-toi, froide et nue,
Comme un marbre funèbre aux lueurs d'un éclair.
Tes yeux ont la splendeur auguste de l'orage…
Exhale ton mépris jusqu'en ta pâmoison,
O très chère ! — Ouvre-moi tes lèvres avec rage :
J'en boirai lentement le fiel et le poison.
J'ai l'émoi du pilleur devant un butin rare,
Pendant la nuit de fièvre où ton regard pâlit…
L'âme des conquérants, éclatante et barbare,
Chante dans mon triomphe au sortir de ton lit
Renée Vivien
born Pauline Mary Tarn;
(1877–1909)
Victoire;
Etudes et préludes
• fleursdumal.nl magazine
More in: Archive U-V, Archive U-V, Renée Vivien, Vivien, Renée
---
Vers d'amour
Tu gardes dans tes yeux la volupté des nuits,
O Joie inespérée au fond des solitudes!
Ton baiser est pareil à la saveur des fruits
Et ta voix fait songer aux merveilleux préludes
Murmurés par la mer à la beauté des nuits.
Tu portes sur ton front la langueur et l'ivresse,
Les serments éternels et les aveux d'amour,
Tu sembles évoquer la craintive caresse
Dont l'ardeur se dérobe à la clarté du jour
Et qui te laisse au front la langueur et l'ivresse.
Renée Vivien
born Pauline Mary Tarn;
(1877–1909)
Vers d'amour;
Cendres et Poussières, 1902
• fleursdumal.nl magazine
More in: Archive U-V, Archive U-V, Renée Vivien, Vivien, Renée
---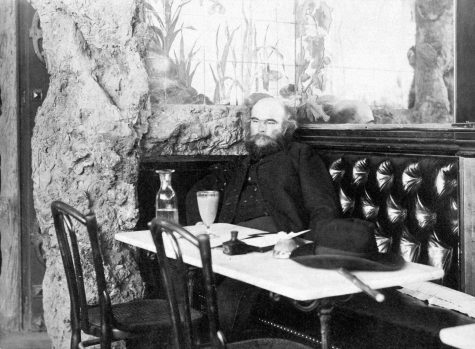 Paul Verlaine drinkt absint in een Café.
(Foto van Paul François Arnold Cardon a.k.a. Dornac, 1892)
Blue in Green
Je vindt uiteindelijk je vrouw
en in het coloriet van wouw
en wede stuit je op verdriet.
De insecten vliegen af en aan,
in goud, smaragd en malachiet,
hun schaduw rillend van cyaan.
En in de luister van de vliet,
in het gefluister van het riet,
dient nieuwe poëzie zich aan.
Paul Bezembinder
Paul Bezembinder studeerde theoretische natuurkunde in Nijmegen. In zijn poëzie zoekt hij in vooral klassieke versvormen en thema's naar de balans tussen serieuze poëzie, pastiche en smartlap. Zijn gedichten (Nederlands) en vertalingen (Russisch-Nederlands) verschenen in verschillende (online) literaire tijdschriften. Voorbeelden van zijn werk zijn te vinden op zijn website: www.paulbezembinder.nl
• fleursdumal.nl magazine
More in: Archive A-B, Archive U-V, Bezembinder, Paul, Opium-Eaters, Verlaine, Paul
---
De debuutroman van de dichter Ocean Vuong is een schokkend familieportret en een indringend relaas van een eerste liefde, waarin de bezwerende kracht van taal en verhalen wordt aangewend als middel om te overleven en kloven te overbruggen.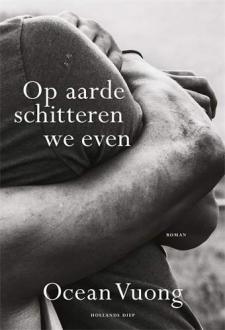 Op aarde schitteren we even is een brief van een zoon aan zijn moeder die niet kan lezen.

De schrijver van de brief, de achtentwintigjarige Hondje, legt een familiegeschiedenis bloot die voor zijn geboorte begon – een geschiedenis waarvan het brandpunt in Vietnam ligt. Daarnaast verschaft hij toegang tot delen van zijn leven waar zijn moeder nooit van heeft geweten, en doet hij een onvergetelijke onthulling.
De roman is behalve een getuigenis van de problematische maar onmiskenbare liefde tussen een alleenstaande moeder en haar zoon, ook een genadeloos eerlijk onderzoek naar ras, klasse en mannelijkheid. Op aarde schitteren we even stelt vragen die centraal staan in het Amerika van nu, dat ondergedompeld is in verslaving, geweld en trauma.

Het is een roman vol mededogen en tederheid over de kracht van je eigen verhaal vertellen en over de vernietigende stilte van niet gehoord worden.
Met verbluffende urgentie en elegantie schrijft Ocean Vuong over mensen die klem zitten tussen onverenigbare werelden, en onderzoekt hij hoe we elkaar kunnen genezen en redden zonder te verloochenen wie we zijn. De vraag hoe we moeten overleven, en hoe we daar een soort vreugde aan kunnen ontlenen, is de drijvende kracht van de belangrijkste debuutroman sinds jaren.
Ocean Vuong (1988) is dichter, essayist en schrijver. Stukken van zijn hand verschenen o.a. in The Atlantic, Harper's en The New Yorker. Hij werd geboren in Saigon en emigreerde in 1990 met zijn familie naar de VS. Zijn familie bestaat voor een groot deel uit dyslectici en zelf leerde hij pas op zijn elfde lezen. Desondanks won hij met zijn veelgeprezen poëziedebuut Night Sky With Exit Wounds een aantal grote literaire prijzen zoals de Whiting Award en de T.S Elliot Prize. Op aarde schitteren we even is zijn romandebuut.
Ocean Vuong
Op aarde schitteren we even
Vertaling: Johannes Jonkers
Uitgeverij Hollands Diep
Paperback
240 p.
ISBN: 9789048846832
Verschijnt op 03-09-2019
€ 21.99
# new books
Ocean Vuong
novel
• fleursdumal.nl magazine
More in: - Book News, - Book Stories, Archive U-V, Archive U-V, Art & Literature News, Ocean Vuong
---
Mort d'une surdose d'opium en 1919 à l'âge de vingt-trois ans, alors qu'il est encore sous l'uniforme, Jacques Vaché est reconnu comme celui par qui le surréalisme est arrivé.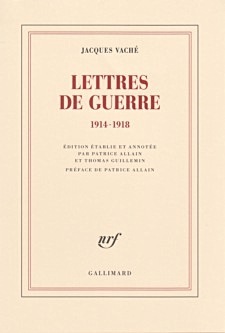 Du premier Manifeste à ses derniers Entretiens, André Breton aura toujours célébré celui qu'il appelait «l'homme que j'ai le plus aimé au monde».
Et quinze Lettres de guerre, envoyées depuis le front à son ami poète ainsi qu'à Théodore Fraenkel et Louis Aragon, auront suffi pour que Vaché devienne l'arme secrète de plusieurs générations.
Breton révélait en 1919 son «Umour» sans H, surgi au milieu des combats, l'expression poétique la plus pure de l'humour noir et de la «désertion intérieure».
Présenter pour la première fois l'intégralité des lettres écrites par Jacques Vaché à sa famille et à ses amis pendant la guerre (158 dont 23 totalement inédites) permet de marquer le point de départ d'une aventure moderne et de mettre en lumière le soldat en action, la vocation prometteuse du dessinateur et la singularité du «dandy des tranchées».
Jacques Vaché:
Lettres de guerre (1914-1918)
Édition de Patrice Allain et Thomas Guillemin.
Préface de Patrice Allain
Collection Blanche, Gallimard
Parution: 08-11-2018
480 pages,
ill.,
140 x 205 mm
Achevé d'imprimer: 01-10-2018
Genre : Correspondances
Prix: 24,00 €
# new books
Jacques Vaché:
Lettres de guerre (1914-1918)
fleursdumal.nl magazine
More in: #Biography Archives, *War Poetry Archive, - Book News, - Bookstores, Archive U-V, Archive U-V, Art & Literature News, Jacques Vaché, Opium-Eaters, Vaché, Jacques
---
'Van de Ven is een opvallende verschijning in het peloton van wielerauteurs. Zijn forse postuur en woeste baard hebben hem de bijnaam Raspoetin bezorgd.
Verwacht geen geschoren benen, carbon frames en wetenschappelijk verantwoorde sportdrank,' schreef het magazine for art en literature 'Fleursdumal.nl' over 'Mag ik nog wat wind van achteren?', de vorige bundel wielerverhalen van Jace van de Ven.
En Het is koers.nl noteerde: 'Het zijn persoonlijke beslommeringen opgedaan tijdens vaak meerdaagse fietstochten, die bij mij de juiste snaar raken en uitnodigen om zelf te fietsen, te lachen, te genieten en na te denken.'
Ook Brabants Dagblad en Brabant Cultureel waren enthousiast. Buiten Noord-Brabant is de continue verwondering van Jace van de Ven, eerste stadsdichter van Tilburg, over coureurs en would-be-renners nog te onbekend. Jammer, want niemand schrijft zo hilarisch en tegelijk zo ontroerend over mensen op de fiets, of het nou sterren zijn of stumpers. Dat bewijzen de vijftien verhalen in ' Met vaart in het hart' opnieuw.
Jace van de Ven is oud-redacteur van Brabants Dagblad en eerste stadsdichter van Tilburg. Als auteur van wielerverhalen wordt hij regelmatig uitgenodigd om zijn verhalen voor te lezen voor wielerverenigingen. De vele verzoeken om zijn teksten eens in boekvorm uit te brengen heeft hij nu gehonoreerd in deze handzame bundeling van zijn mooiste verhalen. Geschreven met wind mee…
JACE van de Ven
Met Vaart In Het Hart.
Verhalen uit het Brabants Wielercafé
Geïllustreerd door Ellis Pruijn
Jaar: 2018
Uitgever: Eigen beheer,
Categorie:
Gedicht / Poëzie / Proza
116 pagina's:
Afmeting: 15×21 cm
Wielerboek
€ 14,00
# meer info sportmediashop
new books
fleursdumal.nl magazine
More in: - Book Lovers, - Book Stories, Archive U-V, Archive U-V, Art & Literature News, Ven, Jace van de
---
Older Entries »
Thank you for reading FLEURSDUMAL.NL - magazine for art & literature