POETRY IN TRANSLATION: SCHONEVELD
·
William Blake: Verzen van Onschuld en van Ervaring – vertaling van Dr. Cornelis W. Schoneveld
·
Vertaling van 'Elegy Written in a Country Churchyard' van Thomas Gray door Cornelis W. Schoneveld
·
WILLIAM BLAKE: VERZEN VAN ONSCHULD EN ERVARING (VERTALING CORNELIS W. SCHONEVELD) -2-
·
WILLIAM BLAKE: VERZEN VAN ONSCHULD EN VAN ERVARING (VERTALING CORNELIS W. SCHONEVELD) -1-
·
GEDICHTEN ANDREW MARVELL VERTAALD DOOR CORNELIS W. SCHONEVELD
·
ELIZABETH BARRETT BROWNING: SONNETS FROM THE PORTUGESE (VERTAALD DOOR CORNELIS W. SCHONEVELD)
·
EMILY DICKINSON: THE MARTYR POETS (vertaling Cornelis W. Schoneveld)
·
NRC neemt het niet zo nauw met laatste gedicht Vroman
·
Nieuwe vertalingen Oscar Wilde door Cornelis W. Schoneveld
·
John Keats: Ode to a nightingale, vertaling C. W. Schoneveld
·
Thomas Hardy: "Ah, Are You Digging on My Grave?" vertaald door Cornelis W. Schoneveld
·
William Shakespeare: Sonnet 152 in een nieuwe vertaling van Cornelis W. Schoneveld
DE ENGEL
Ik had een Droom, die uitleg vraagt!
'k Was een Prinses en was een maagd,
Door een Engel mild bewaakt:
Dwaas verdriet werd nooit gelaakt!
En ik huilde dag en nacht,
En mijn wee werd steeds verzacht,
En ik huilde nacht en dag
En verborg mijn blijde lach.
Dus hij vluchtte op wieken heen;
Toen de dag met blos verscheen
Stelde ik mij, traan droog, te weer
Duizendvoud met schild en speer.
En mijn Engel keerde weer,
Maar mijn wapen sloeg hem neer;
Want mijn jeugdtijd was voorbij,
En grijs hoofdhaar tooide mij
William Blake
vertaald door: Dr. Cornelis W. Schoneveld
THE ANGEL
I Dreamt a Dream! what can it mean?
And that I was a maiden Queen:
Guarded by an Angel mild;
Witless woe, was neer beguil'd!
And I wept both night and day
And he wip'd my tears away
And I wept both day and night
And hid from him my hearts delight
So he took his wings and fled:
Then the morn blush'd rosy red:
I dried my tears & armd my fears,
With ten thousand shields and spears.
Soon my Angel came again;
I was arm'd, he came in vain:
For the time of youth was fled
And grey hairs were on my head
William Blake (1757 – 1827)
Poem: The Angel
Vertaling uit:
Verzen van Onschuld en van Ervaring
William Blake
vertaald door: Dr. Cornelis W. Schoneveld
paperback
gebrocheerd
€ 20,00
ISBN: 978-90-824288-1-0
geïllustreerd
116 blz.
mei 2017
Uitgeverij De Wilde Tomaat
new translations
fleursdumal.nl magazine
More in: - Book Stories, Archive A-B, Blake, Blake, William, TRANSLATION ARCHIVE
---
De 'Elegy Written in a Country Churchyard' van Thomas Gray (1716-1771), voltooid in 1750, is een van de allerbekendste gedichten uit de Engelse literatuurgeschiedenis.
Typisch voor de 18de eeuw generaliseert en moraliseert de dichter naar hartelust in 'poëtische' taal.
Toch illustreert zijn tekst ook op frappante maar voorzichtige wijze trends die tot de 'allerindividueelste emoties' van de Romantiek zouden leiden.
'Far from the madding crowd' (later geleend door Thomas Hardy als romantitel) stelt de hooggeleerde dichter zich voor eenzaam door het dorpsgebied te zwerven en tenslotte op het dorpskerkhof begraven te liggen.
William Blake (1757-1827), auteur van de beroemde Songs of Innocence and of Experience (1795), sneed in 1797 de tekst van Gray's Elegy uit een uitgave van Gray's poëzie uit 1790, bevestigde die in uitsparingen van aquarelbladen en schilderde zo elf bladen met een illustratie rondom de tekst.
Een bekende uitspraak van Blake is 'wie generaliseert is een idioot', maar in Gray's gedicht zag hij blijkbaar vooral de individuele en romantische kant ervan. Zo ontstond een uniek eenmalig product voor een opdrachtgever, dat pas in 1920 in de publiciteit kwam.
Gray's originele strofen en de naar vorm en inhoud getrouwe Nederlandse vertaling van Cornelis W. Schoneveld staan onder elkaar, naast Blake's esoterische illustraties.
Far from the madding crowd's ignoble strife,
Their sober wishes never learned to stray;
Along the cool sequestered vale of life
They kept the noiseless tenour of their way.
Yet e'en these bones from insult to protect
Some frail memorial still erected nigh,
With uncouth rhymes and shapeless sculpture decked,
Implores the passing tribute of a sigh.
x Their name, their years, spelt by the unlettered Muse,
The place of fame and elegy supply:
And many a holy text around she strews,
That teach the rustic moralist to die.
For who, to dumb forgetfulness a prey,
This pleasing anxious being e'er resigned,
Left the warm precincts of the cheerful day,
Nor cast one longing lingering look behind?
Thomas Gray
Ver van het twistend volk, in dwaas verval,
Zwierven hun sobere wensen nooit van huis;
In 't koele afgescheiden levensdal
Hielden zij koers, zonder het minst geruis.
Ter wering van hun beenderen tegen kwaad
Verzoekt een wrakke zerk, hier opgericht,
In grof reliëf en verzen zwak van maat,
Een zucht van de passant als ereplicht.
x Jaren en naam, door 'n Muze slecht gespeld,
Vervangen lofgezang en rouwgedicht,
En menig heilig woord van Haar vertelt
De vrome landman van zijn dood in zicht.
Want wie zei ooit, vergetelheid ten prooi,
Vaarwel tegen 't bezorgd maar schoon bestaan,
Verliet het dagdomein, zo warm, zo mooi,
Zonder een draalblik talend terug te slaan?
Vertaling Cornelis W. Schoneveld

Thomas Gray
Treurzang geschreven op een dorpskerkhof
Vertaling en voorwoord Cornelis W. Schoneveld
isbn: 978 90 824288 7 2
Uitg. DWT De Wilde Tomaat
2017, 27 pag.

fleursdumal.nl magazine
More in: - Book News, Archive G-H, Blake, William, POETRY IN TRANSLATION: SCHONEVELD
---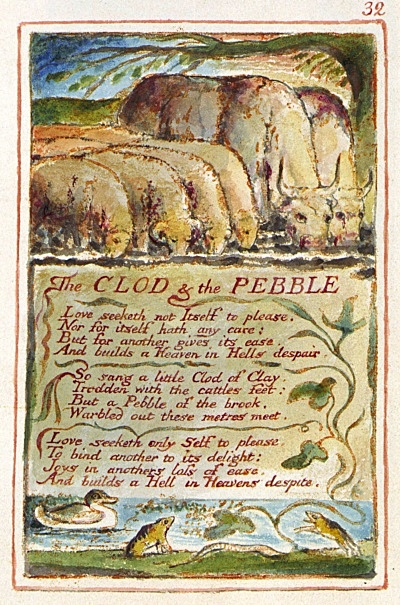 DE KLUIT EN DE KIEZEL
"De Liefde zoekt geen zelfplezier,
En eigen zorg vult niet haar hart,
Maar biedt aan de ander haar vertier,
Door Hemelbouw in Helse smart."
Vertreden door de koeienpoot,
Kweelde dit een Kluit van Klei;
Maar een Kiezel uit de sloot
Zong dit rake rijm daarbij:
"De Liefde zoekt slechts zelfplezier,
Legt op aan anderen haar jolijt,
Zwelgt in een anders onvertier,
En bouwt een Hel, de Hemel ten spijt."
WILLIAM BLAKE
Verzen van Onschuld en van Ervaring
Auteur: William Blake;
vertaling en voorwoord: Cornelis W. Schoneveld
(tweetalige uitgave met illustraties)
118 pagina's; afmetingen: 10x200x125 mm
ISBN: 978 90 824288 1 0
fleursdumal.nl magazine
More in: - Book News, Blake, Blake, William, TRANSLATION ARCHIVE
---
Verzen van Onschuld en van Ervaring
Auteur: William Blake; vertaling en voorwoord: Cornelis W. Schoneveld
De eigenzinnige, visionaire dichter-graficus William Blake (1757-1827) leefde in Engeland op de grens van de 18de en 19de eeuw, maar nog steeds slaagt hij erin nieuwe generaties te fascineren. Wel zijn de vele profetische geschriften en illustraties waarin hij zich uitte moeilijk geheel te door­gronden, maar een uitzondering daarop vormen de overbekende Songs of Innocence and of Experience.
Deze vertonen 'de twee tegenovergestelde toestanden van de menselijke ziel', zoals de ondertitel luidt, op een verrassend toegankelijke manier in verzen, verwant aan liedteksten. Vertrekkend vanuit de wereld van het kind illustreert Blake de begrippen onschuld en ervaring steeds in tegenover elkaar staande gedichten. Dit gebeurt ook letterlijk, door de unieke wijze waarop hij de tekst in handschrift weergaf, omringd door illustraties.
Zo kon hij slechts weinige exemplaren uitgeven en dit bewerkelijke proces verhinderde dan ook dat hij in zijn eigen tijd beroemd werd. Pas na zijn dood verschenen zijn gedichten in boekdruk.
Deze vertaling is de eerste die alle gedichten bevat; bovendien zijn ze geplaatst tegenover kopieën van de originele geïllustreerde platen van Blake.
De in zijn tijd volstrekt unieke en gevarieerde versvormen zijn in de vertaling steeds gehand­haafd.
Prijs: €20,-  Dit boek kunt in de webwinkel van Uitgever DWT  bestellen, maar het is ook te verkrijgen/te bestellen in boekhandels in Nederland en België, of bij internetboekhandels als Bol.com
Verzen van Onschuld en van Ervaring
Auteur: William Blake;
vertaling en voorwoord: Cornelis W. Schoneveld
(tweetalige uitgave met illustraties)
118 pagina's; afmetingen: 10x200x125 mm
ISBN: 978 90 824288 1 0
Illustratie: William Blake – aquarel, in 1807 gemaakt door Thomas Phillips (1770-1845)
fleursdumal.nl magazine
More in: - Book Stories, Archive A-B, Art & Literature News, Blake, TRANSLATION ARCHIVE
---
Het werk van de Engelse dichter Andrew Marvell (1621-1678) staat tegenwoordig misschien wel meer in de belangstelling dan dat van zijn grote voorgangers Donne en Herbert. Marvells tijdgenoten kenden zijn werk nauwelijks; de eerste uitgave ervan verscheen pas drie jaar na zijn dood.
Vertaler Cornelis W. Schoneveld schrijft in zijn inleiding over Marvells intrigerende leven en werk, en hij poneert, na eigen onderzoek, de stelling dat de dichter tijdens zijn verblijf in Nederland van 1662 tot 1663 niet als spion werkte zoals men steeds aanneemt, maar Engels onderwees aan de 12-jarige prins Willem III, neefje van koning Karel II, en later stadhouder van de Republiek en koning van Engeland.
Behalve beroemde gedichten als The Garden en To His Coy Mistress zijn ook de meeste andere lyrische en verhalende gedichten opgenomen, evenals Marvells eerste politieke satire The Character of Holland (1653). Aan alle gaat een korte toelichting vooraf, met daarnaast een fraaie passende afbeelding. De vertalingen houden zich nauwkeurig aan de gevarieerde versvormen die Marvell met zoveel zorg toepaste.
Andrew Marvell: Gedichten. Gekozen, vertaald en toegelicht door Cornelis W. Schoneveld. Tweetalige uitgave. 165 pagina's; afmetingen: 15x200x125 mm, ISBN: 978 90 820255 8 3, prijs € 20,-

fleursdumal.nl magazine
More in: - Book News, Archive M-N, Art & Literature News, POETRY IN TRANSLATION: SCHONEVELD, TRANSLATION ARCHIVE
---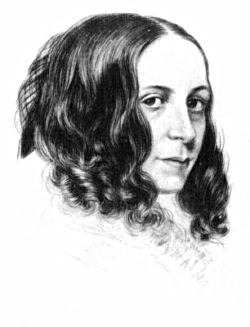 ELIZABETH BARRETT BROWNING
(1806-1861)
Sonnets from the Portuguese
4 Sonnetten van Elisabeth Barret Browning uit een reeks van 44 over de ontwikkeling van haar relatie met Robert Browning. Italiaanse sonnetvorm, jambische vijfvoet, rijmschema steeds: abba abba cdc dcd. De dichteres had haar recht doen gelden om te trouwen tegen de wil van haar vader in, en had haar roem als dichteres op het spel gezet door met haar man, Robert Browning, uit te wijken naar Italië.
Vertaling: Cornelis W. Schoneveld
Sonnet 5
I lift my heavy heart up solemnly,
As once Electra her sepulchral urn,
And, looking in thine eyes, I over-turn
The ashes at thy feet. Behold and see
What a great heap of grief lay hid in me,
And how the red wild sparkles dimly burn
Through the ashen greyness. If thy foot in scorn
Could tread them out to darkness utterly,
It might be well perhaps. But if instead
Thou wait beside me for the wind to blow
The grey dust up,—those laurels on thine head,
O my Beloved, will not shield thee so,
That none of all the fires shall scorch and shred
The hair beneath. Stand further off then! go!
Sonnet 5
Plechtig til ik mijn zware hart omhoog,
Zoâls ooit met de urn Elektra doende was,
En jou in 't oog ziend, stort ik nu de as
Neer aan jouw voet. Kijk toe en houd in 't oog
De last van droefenis die mij bewoog,
En hoe het grijs der as wild en alras
Rood smeulen gaat. Kon nu je boze pas
Het drastisch smoren, voor er brand in vloog,
Dan leek dat juist. Maar als je toch belooft
Te talmen tot door wind het grijsstof zou
Gaan waaien,—dan zijn kransen op je hoofd,
O Lief, niet zo'n bescherming meer voor jou
Dat 't schroeien van je haar eronder dooft.
Dus blijf mij verder uit de buurt! Ga gauw!
Sonnet 14
If thou must love me, let it be for nought
Except for love's sake only. Do not say
"I love her for her smile—her look—her way
Of speaking gently,—for a trick of thought
That falls in well with mine, and certes brought
A sense of pleasant ease on such a day"—
For these things in themselves, Beloved, may
Be changed, or change for thee,—and love, so wrought,
May be unwrought so. Neither love me for
Thine own dear pity's wiping my cheeks dry—
A creature might forget to weep, who bore
Thy comfort long, and lose thy love thereby!
But love me for love's sake, that evermore
Thou may'st love on, through love's eternity.
Sonnet 14
Móet jij mij minnen, moge het dan gaan
Om liefdeswil alleen. En zeg niet hier:
" 'k Bemin haar om haar lach, haar blik, manier
Van lieflijk spreken;" noch zij het gedaan
Vanwege eenzelfde denkpatroon, waaraan
Een dag te danken was vol zoet plezier—
Want die raakt, Liefste, eens uit het vizier;
Een omslag dreigt dan,—liefde, zo ontstaan,
Heeft dan zo afgedaan. Min me óók niet voor
Mijn traan gedroogd, als deernis jou verleidt:
Gaat hartzeer eens door lange troost teloor
Dan raak ik tegelijk je liefde kwijt!
Dus min me slechts om liefdeswil, waardoor
Je liefde blijven kan, in eeuwigheid.
Sonnet 21
Say over again, and yet once over again,
That thou dost love me. Though the word repeated
Should seem a "cuckoo-song," as thou dost treat it,
Remember, never to the hill or plain,
Valley and wood, without her cuckoo-strain
Comes the fresh Spring in all her green completed.
Beloved, I, amid the darkness greeted
By a doubtful spirit-voice, in that doubt's pain
Cry, "Speak once more—thou lovest!" Who can fear
Too many stars, though each in heaven shall roll,
Too many flowers, though each shall crown the year?
Say thou dost love me, love me, love me—toll
The silver iterance!—only minding, Dear,
To love me also in silence with thy soul.
Sonnet 21
Zeg nog eens weer, en daarna nog eens weer,
Dat jij mij liefhebt. Lijkt ook zulk gefluister
Op koekoekszang, besef: zo'n vogel huist er
In dal, in woud, en heuvels evenzeer,
Daar zonder koekoeksklank er nimmer meer
Een nieuw fris voorjaar komt met groene luister.
Mijn lief, ik roep,—belaagd door 'n stem in 't duister
Vol twijfelzucht, en die drukt mij terneer—:
"Zeg nog eens dat je liefhebt!" Wie is bang
Voor te veel sterren in de hemelbaan,
Of rijke bloemenkronen 't heel jaar lang?
Zeg dat je houdt, houdt, houdt van mij—laat slaan
Die zilveren klok steeds weer!—maar Liefste, vang
Mij ook met stille ziel te minnen aan.
Sonnet 43
How do I love thee? Let me count the ways.
I love thee to the depth and breadth and height
My soul can reach, when feeling out of sight
For the ends of Being and ideal Grace.
I love thee to the level of everyday's
Most quiet need, by sun and candlelight.
I love thee freely, as men strive for Right;
I love thee purely, as they turn from Praise.
I love thee with the passion put to use
In my old griefs, and with my childhood's faith.
I love thee with a love I seemed to lose
With my lost saints,—I love thee with the breath,
Smiles, tears, of all my life!—and, if God choose,
I shall but love thee better after death.
Sonnet 43
Hoe ik jou liefheb? Hier mijn optelsom:
Ik heb jou lief zo diep en hoog en wijd
Als waar mijn ziel reikt, niet hier afgeleid
Door zicht op Levenseind en Heiligdom.
Ik heb jou dagelijks lief tot wat ik noem
Mijn kalmste wens, bij zon, in kaarslichttijd.
Ik heb jou vrij lief, als wie Recht bepleit;
Ik heb jou puur lief, als wie breekt met Roem.
Ik heb jou lief met hartstocht even groot
Als vroegere smart, en mijn geloof als kind.
Ik heb jou lief, zoals 'k mijn heiligen genoot
Voorheen,—ik heb jou lief, met levenswind,
Lach, traan heel mijn bestaan!—en na de dood
Heb ik je beter lief nog, als 't God zint.
Vertaling: Cornelis W. Schoneveld
De vertaling van de hele serie van 44 sonnetten, vertaald en toegelicht door C.W. Schoneveld, is een publicatie, onder de titel Liefdesbiecht in klinkdicht, van uitgeverij Liverse te Dordrecht, 2014.
fleursdumal.nl magazine
More in: Archive A-B, Barret-Browning, Barrett Browning, Elizabeth
---
Emily Dickinson
(1830-1886)
The Martyr Poets
The Martyr Poets did not tell,
But wrought their Pang in syllable:
That, when their mortal name be numb,
Their mortal fate encourage Some.
The Martyr Painters never spoke,
Bequeathing—rather—to their Work:
That when their conscious fingers cease,
Some seek in Art the Art of Peace.
[4-voetige jambische regels, rijmschema aabb, 1 halfrijm]
De Dichter Martelaars
De Dichter Martelaars spraken niet,
Hun pijn bleek sprekend uit hun lied:
Dat men, hun naam gedood voorgoed,
Soms uit hun noodlot put voor moed.
De Schilder Martelaars, spraken nooit,
Vermaakten— veeleer—Werk voltooid;
Dat men, hun hand zijn vormkracht kwijt,
Uit Kunst, soms Vredeskunst bereidt.
Vertaling Cornelis W. Schoneveld
fleursdumal.nl magazine
More in: Archive C-D, Dickinson, Dickinson, Emily, TRANSLATION ARCHIVE
---
NRC Handelsblad neemt het niet zo nauw met het laatste gedicht van Leo Vroman (1915-2014)
In de NRC van 1 maart 2014 (blz 12) stond het laatste gedicht dat Leo Vroman voor zijn overlijden schreef. NRC Handelsblad drukte het gedicht foutief af. Het eerste woord van de laatste regel stond gedrukt als laatste woord van de voorafgaande regel, waardoor het rijmpaar verdwenen was.
Cornelis W. Schoneveld, oud-docent historische Engelse letterkunde en vertaalwetenschapper aan de Universiteit van Leiden èn medewerker aan fleursdumal.nl, attendeerde de redactie van NRC op de vergissing.
EINDE
Hij lijkt vast minder erg –
die lief bijeengebrachte
hoop spaanders van mijn gedachten –
op mij dan op een berg.
Waar zal die laaiende gestalte
van mij dan uit bestaan
en waar kwam die al te
late eerste vonk vandaan?
Versie NRC

(. . .)
Waar zal die laaiende gestalte
van mij dan uit bestaan
en waar kwam die al te late
eerste vonk vandaan?
De redactie van NRC liet Cornelis Schoneveld weten het niet de moeite waard te vinden om actie te ondernemen op zijn verzoek om de tekst te corrigeren.
Het is ook maar een gedicht natuurlijk.
fleursdumal.nl magazine
More in: Archive U-V, POETRY IN TRANSLATION: SCHONEVELD, The talk of the town, Vroman, Leo
---

Nieuwe vertalingen Oscar Wilde door Cornelis W. Schoneveld
Bij uitgeverij Liverse te Dordrecht is vorige week een vertaling van alle 90 korte gedichten van Oscar Wilde uitgekomen, van de hand van Cornelis W. Schoneveld. Wilde schreef ze voordat hij grote bekendheid kreeg als toneelschrijver. Hij gebruikte een grote verscheidenheid aan versvormen, welluidend toegepast, gepaard gaande aan een scala van onderwerpen. Zo worden zijn ongelukkige liefdeservaringen, met de be­roem­de schoonheid Lillie Langtree aandoenlijk verwoord in vele toonaarden. Hetzelfde geldt voor Wilde's verwerking van de dood van zijn vader en zijn kleine zusje. Groot pleitbezorger van het "L'art pour l'art " idee, en zeer goed thuis in het nieuwe Franse Impressionisme, laat hij zich door beide vaak inspireren in zijn kijk op het leven, zijn emoties, en de natuur. Ook Wilde's grote kennis van de antieke wereld en mythologie opgedaan als briljant student Klassieke Talen in Oxford en tijdens zijn reizen naar Italië en Griekenland leveren hem veel dichtstof op.
Vallend bloemblad – Oscar Wilde
ISBN 978-90-976982-97-7 € 17,95
De verzamelde korte gedichten (tweetalige uitgave), vertaald door Cornelis W. Schoneveld
In zijn gedichten slaat Oscar Wilde een geheel andere toon aan dan de personages in zijn hilarische blijspelen doen. Humor maakt plaats voor gevoel, snedigheid voor subtiele beschrijving, luchthartigheid voor persoonlijke betrokkenheid. Nooit eerder werden al zijn 90 korte gedichten in het Nederlands vertaald. Cornelis W. Schoneveld, die twee eerdere bloemlezingen op zijn naam heeft staan, volgt ook hier rijm en ritme steeds nauwkeurig. De vertalingen van deze oud-docent Engelse letterkunde aan de Leidse Universiteit 'geven blijk van een groot gevoel voor beide talen en voor poëzie' (Heinz Wallisch).
fleursdumal.nl magazine
More in: Wilde, Wilde, Oscar
---
John Keats
(1795–1821)
Ode to a nightingale
My heart aches, and a drowsy numbness pains
My sense, as though of hemlock I had drunk,
Or emptied some dull opiate to the drains
One minute past, and Lethe-wards had sunk:
'Tis not through envy of thy happy lot,
But being too happy in thine happiness,–
That thou, light-winged Dryad of the trees,
In some melodious plot
Of beechen green, and shadows numberless,
Singest of summer in full-throated ease.
O, for a draught of vintage! that hath been
Cool'd a long age in the deep-delved earth,
Tasting of Flora and the country green,
Dance, and Provençal song, and sunburnt mirth!
O for a beaker full of the warm South,
Full of the true, the blushful Hippocrene,
With beaded bubbles winking at the brim,
And purple-stained mouth;
That I might drink, and leave the world unseen,
And with thee fade away into the forest dim:
Fade far away, dissolve, and quite forget
What thou among the leaves hast never known,
The weariness, the fever, and the fret
Here, where men sit and hear each other groan;
Where palsy shakes a few, sad, last gray hairs,
Where youth grows pale, and spectre-thin, and dies;
Where but to think is to be full of sorrow
And leaden-eyed despairs,
Where Beauty cannot keep her lustrous eyes,
Or new Love pine at them beyond to-morrow.
Away! away! for I will fly to thee,
Not charioted by Bacchus and his pards,
But on the viewless wings of Poesy,
Though the dull brain perplexes and retards:
Already with thee! tender is the night,
And haply the Queen-Moon is on her throne,
Cluster'd around by all her starry Fays;
But here there is no light,
Save what from heaven is with the breezes blown
Through verdurous glooms and winding mossy ways.
I cannot see what flowers are at my feet,
Nor what soft incense hangs upon the boughs,
But, in embalmed darkness, guess each sweet
Wherewith the seasonable month endows
The grass, the thicket, and the fruit-tree wild;
White hawthorn, and the pastoral eglantine;
Fast fading violets cover'd up in leaves;
And mid-May's eldest child,
The coming musk-rose, full of dewy wine,
The murmurous haunt of flies on summer eves.
Darkling I listen; and, for many a time
I have been half in love with easeful Death,
Call'd him soft names in many a mused rhyme,
To take into the air my quiet breath;
Now more than ever seems it rich to die,
To cease upon the midnight with no pain,
While thou art pouring forth thy soul abroad
In such an ecstasy!
Still wouldst thou sing, and I have ears in vain–
To thy high requiem become a sod.
Thou wast not born for death, immortal Bird!
No hungry generations tread thee down;
The voice I hear this passing night was heard
In ancient days by emperor and clown:
Perhaps the self-same song that found a path
Through the sad heart of Ruth, when, sick for home,
She stood in tears amid the alien corn;
The same that oft-times hath
Charm'd magic casements, opening on the foam
Of perilous seas, in faery lands forlorn.
Forlorn! the very word is like a bell
To toll me back from thee to my sole self!
Adieu! the fancy cannot cheat so well
As she is fam'd to do, deceiving elf.
Adieu! adieu! thy plaintive anthem fades
Past the near meadows, over the still stream,
Up the hill-side; and now 'tis buried deep
In the next valley-glades:
Was it a vision, or a waking dream?
Fled is that music:–Do I wake or sleep?
Ode aan een nachtegaal
Hartzeer en lome sufheid plaagt mijn geest,
Alsof 'k een kerveldrank mij had bereid,
Of juist aan duffe opium was geweest
En was verzonken in vergetelheid:
't Komt niet door afgunst op jouw gunstig lot
Maar door te grote vreugd om jouw geluk, –
Dat jij, die vederlichte nimf van 't woud,
Vol melodiegenot
In 't schaduwrijke groen, zo druk
En zoetgevooisd een zomerzangfeest houdt.
O, gun mij een goede wijn! gekoeld bewaard
Diep in de grond, in jaren niet verzet,
Smakend naar Flora en de groene gaard,
Dans, Provençaalse zang, en zonnepret!
O, dat vol zuiderwarmte een glas hier stond,
Vol blozende en ware Hippocreen,
Met luchtbelkraaltjes glinsterend aan de rand,
En paars-gevlekte mond;
Dat ik mij laafde en uit het zicht verdween,
Met jou vervaagd in 't schimmig bomenland:
Vervaagd naar ver, versmolten, en gans kwijt
Wat tussen 't groen jij nooit hebt opgemerkt:
De sleur, de onrust en de narigheid
Alhier, waar men elkaars gekreun verwerkt;
Waar ziekte 't laatste, arm, grijs haar aantast,
Waar – 'n bleke, magere schim – de jongen sterft;
Waar 't denken zelf al leidt tot diepe zorgen
En wanhoop's loden last,
Waar 't oog van Schoonheid snel haar schittering derft,
Of nieuwe Liefd' haar niet begeert na morgen.
Naar ver! naar ver! want 'k volg jouw melodie,
Niet weggekard door Bacchus' luipaard-span,
Maar op de blinde wiek der Poëzie,
Hoewel het trage brein dwarsliggen kan:
Teer is de nacht, bij jou daar in 't verschiet!
En ook, door al haar sterren-feeën omringd,
Zit op haar vorstentroon tevree de Maan;
Licht is híer echter niet,
Behalve wat uit hemelbriezen blinkt
Op somber groen en 't mos der slingerlaan.
Ik heb geen zicht op bloemen aan mijn voet,
Of welke wierook aan de takken hangt,
Maar raad in 't donker elk welriekend zoet
Dat bosje, vruchtboom wild, en gras ontvangt,
Geschonken door het passend jaargetij;
Rustieke egelantier en haagdoorn wit;
Viooltjes, snel verwelkt, door blad omhuld;
En 't oudste kind van Mei,
De muskusroos, waar nevelwijn in zit,
Op 'n zomernacht met vlieggezoem gevuld.
In 't duister luister ik; en ik heb vaak
De Dood, die kalm maakt, half verliefd gekust,
Liefkoosde hem ook vaak met dichtersspraak,
Om lucht te geven aan mijn ademrust;
Nu meer dan ooit schijnt mij het sterven rijk,
Een middennachtelijk einde, vrij van pijn,
Terwijl jouw ziel zich uitstort uit 't gewas
En hoe hartstochtelijk!
Dan zong jij door: mijn oor zou nietig zijn –
En bij jouw requiem was ik wat gras.
Eeuwige Vogel! boreling vrij van dood;
Geen hongerbende ondermijnt jouw lot;
De stem die mij dit nachtuur heeft genood
Hoorde vanouds de keizer en de zot:
Misschien dezelfde zang die toegang vond
Tot 't droeve hart van Ruth, van heimwee ziek,
In tranen tussen 't vreemde koren staand;
Dezelfde die 't bestond
Vensters te openen, magisch met muziek,
Naar zeeschuim wild, in 'n eens betoverd land.
Betoverd! juist het woord dat als een klok
Van jou mij terugluidt enkel naar mijzelf!
Vaarwel! De illusie mist de toverstok
Vaak toegedicht aan die misleidende elf.
Vaarwel! vaarwel! Jouw klaaglied vlucht ook al
Langs weiden hier, over de stille stroom,
De heuvel op, heeft nu een duik gemaakt
Diep in het volgend dal:
Was het een visioen, of wakkere droom?
Weg is het lied: – Slaap ik of ben 'k ontwaakt?
Vertaling: Cornelis W. Schoneveld
Uit: Bestorm mijn hart, de beste Engelse gedichten uit de 16e-19e eeuw gekozen en vertaald door Cornelis W. Schoneveld, tweetalige editie. Rainbow Essentials no. 55, Uitgeverij Maarten Muntinga, Amsterdam, 2008, 296 pp, € 9,95 ISBN: 9789041740588
Bestorm mijn hart bevat een dwarsdoorsnede van vier eeuwen lyrische Engelse dichtkunst. Dichters uit de zestiende tot en met de negentiende eeuw dichter onder andere over liefde, natuur, dood en religie. Niet alleen de Nederlandse vertaling is in deze bundel te vinden, maar ook de originele Engelse versie. Deze prachtige bloemlezing, met gedichten van onder anderen Shakespeare, Milton, Pope en Wordsworth, is samengesteld en vertaald door Cornelis W. Schoneveld. Hij is vele jaren docent historische Engelse letterkunde en vertaalwetenschapper aan de Universiteit van Leiden geweest.
fleursdumal.nl magazine
More in: Archive K-L, John Keats, Keats, Keats, John
---
Thomas Hardy
"Ah, Are You Digging on My Grave?"
"Ah, are you digging on my grave        
            My loved one? — planting rue?"         
– "No, yesterday he went to wed                    
One of the brightest wealth has bred.
'It cannot hurt her now,' he said,                    
            'That I should not be true.'"                
"Then who is digging on my grave?
            My nearest dearest kin?"
– "Ah, no; they sit and think, 'What use!
What good will planting flowers produce?
No tendance of her mound can loose
            Her spirit from Death's gin.' "
"But some one digs upon my grave?
            My enemy?—prodding sly?"
– "Nay: when she heard you had passed the Gate
That shuts on all flesh soon or late,
She thought you no more worth her hate,
            And cares not where you lie."
"Then, who is digging on my grave?
            Say—since I have not guessed!"
– "O it is I, my mistress dear,
Your little dog, who still lives near,
And much I hope my movements here
            Have not disturbed your rest?"
"Ah yes! You dig upon my grave . . .
            Why flashed it not on me
That one true heart was left behind!
What feeling do we ever find
To equal among human kind
            A dog's fidelity!"         
"Mistress, I dug upon your grave
            To bury a bone, in case
I should be hungry near this spot
When passing on my daily trot.
I am sorry, but I quite forgot
            It was your resting-place."
"O joh, graaf jij hier aan mijn graf"
"O joh, graaf jij hier aan mijn graf
Voor tijm-aanplant, mijn schat?"
– "Nee, gisteren is hij gehuwd
Met 'n ster door weelde opgestuwd.
'Haar pijn,' zei hij, 'is nu geluwd,
Al had ik schuld gehad.' "
"Maar wie graaft hier dan aan mijn graf?
Mijn liefste broer of zus?"
– "O nee, zij denken maar, 'Welk nut
Wordt hier uit bloemenkweek geput?
Geen Dood wordt van haar geest geschud
Door terp- of grondwerkklus.' "
"Maar iemand graaft toch aan mijn graf?
Die feeks?—die roddel jouwt?"
– "Nee: want, nu zij jouw vlees voor goed
De poort door weet, die elk door moet,
Vindt zij dat haat er niet toe doet,
En laat jouw terp haar koud."
"Maar wie graaft hier dan aan mijn graf?
Vertel—daar ik 't niet raad!"
– "O, ik ben het, mijn vrouwtje lief,
Je hond, die menig pootje hief
Hier;—hopelijk doet ongerief
Daaruit jouw rust geen kwaad!"
"O ja! Jij graaft hier aan mijn graf—
Waarom bleek me al niet gauw
Dat één trouw hart hier steeds nog was?
En welk gevoel in 't menselijk ras
Houdt ooit ook maar gelijke pas
Met zulke hondentrouw!"
" 'k Begroef hier, vrouwtje, op je graf
Een kluif, voor op de dag
Dat ik geen voer te vinden weet
Als ik hier in mijn rondje treed.
Spijt heb ik, maar vergat compleet
Dat hier jouw rustplaats lag."
Thomas Hardy:   "Ah, Are You Digging on My Grave?"
in een nieuwe vertaling van: Cornelis W. Schoneveld (jan. 2013)
kempis.nl poetry magazine
More in: Archive G-H, Hardy, Thomas, More translations
---
William Shakespeare
Sonnet 152
In loving thee thou know'st I am forsworn,
But thou art twice forsworn to me love swearing;
In act thy bed-vow broke and new faith torn,
In vowing new hate after new love bearing;
But why of two oaths' breach do I accuse thee,
When I break twenty? I am perjured most,
For all my vows are oaths but to misuse thee,
And all my honest faith in thee is lost.
For I have sworn deep oaths of thy deep kindness:
Oaths of thy love, thy truth, thy constancy,
And to enlighten thee gave eyes to blindness,
Or made them swear against the thing they see.
For I have sworn thee fair: more perjured eye,
To swear against the truth so foul a lie.
William Shakespeare
Sonnet 152
Liefde voor jou maakt, weet je, dat ik loog,
Maar jij loog dubbel met jouw liefdes-eden:
Je bed-eed brak je en nieuwe trouw vervloog,
Met liefde nieuw gebaard, en nieuwe haat beleden;
Maar mag 'k om dubbele eedbreuk jou beleren,
Als ik er twintig breek? Mij treft meer schuld,
Want iedere eed dient slechts om jou te onteren,
En mijn geloof in jou werd nooit vervuld.
Want diep vertrouwde ik op jouw mededogen,
Bezwoer je liefde, trouw, standvastigheid,
En schonk voor licht in jou aan blindheid ogen,
Of dwong hun blind te zijn voor zichtbaarheid.
Mijn eed bood jou verschoning: meineed oog,
Dat jij de waarheid zo vervuild beloog!
Vertaald door Cornelis W. Schoneveld
(dec. 2012)
kempis.nl poetry magazine
More in: Shakespeare
---
Older Entries »
Thank you for reading FLEURSDUMAL.NL - magazine for art & literature