*Concrete + Visual Poetry U-Z
·
Peter Jordens: Hendrik Werkman en De Ploeg. The Next Call en het constructivisme
·
Jacques Vaché: Lettres de Guerre
Hendrik Nicolaas Werkman (1882-1945) wordt in 1919 lid van de 'Groninger Kunstkring De Ploeg'.

Men waardeert hem vooral als drukker. In 1922, wanneer hij zakelijk een stap terug moet doen, maakt Werkman kennis met het gebruik van typografisch zetmateriaal als vorm van drukkunst. Hij begint de mogelijkheden ervan te onderzoeken.
De eerste proeve van zijn kunnen is de uitgave van The Next Call, een serie van negen achtbladige cahiers bestaande uit teksten en abstracte composities die hij tussen 1923 en 1926 aan vrienden en andere mogelijk geïnteresseerden toestuurt. Talrijk zijn de aanwijzingen dat Werkman zich daarbij heeft laten inspireren door het dadaïstische en constructivistische idioom van de internationale avant-garde. Een modernistisch tijdschrift als een van de vele andere is The Next Call niet. Teksten en druksels laten zien dat het gaat over Werkman zelf, over wat hem in deze cruciale periode van zijn leven wezenlijk beroert
Peter Jordens:
Hendrik Werkman en De Ploeg.
The Next Call en het constructivisme
Dit boek verschijnt in oktober 2017
€ 22,50
ISBN 9789462582286
Formaat: 20 x 26,5 cm
Aantal pagina's 176
In samenwerking met Museum Belvédère
Circa 150 afbeeldingen in kleur
Jaar 2017
Uitvoering: Gebonden
Uitg.: wbooks
new books
fleursdumal.nl magazine
More in: *Concrete + Visual Poetry U-Z, - Book Lovers, - Book News, Archive W-X, Archive W-X, Art & Literature News, Constructivism, Constuctivisme, Dada, DADA, Dadaïsme, De Ploeg, Hendrik Nicolaas Werkman, PRESS & PUBLISHING, REPRESSION OF WRITERS, JOURNALISTS & ARTISTS, Werkman, Hendrik Nicolaas
---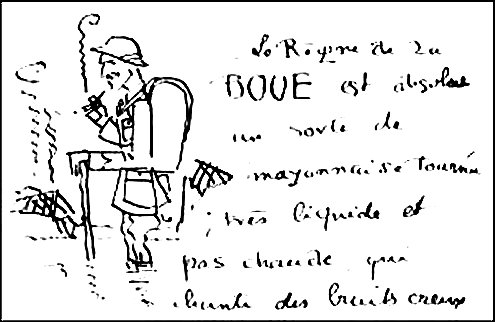 J a c q u e s   V a c h é

L E T T R E S   D E   G U E R R E
Cher Ami,
…Je vous écris d'un ex-village, d'une très étroite étable-à-cochon tendue de couvertures — Je suis avec les soldats anglais — Ils ont avancé sur le parti ennemi beaucoup par ici — C'est très bruyant — Voilà.
…Et puis vous me demandez une définition de l'umour — comme cela ! —
« IL EST DANS L'ESSENCE DES SYMBOLES D'ÊTRE SYMBOLIQUES » m'a longtemps semblé digne d'être cela comme étant capable de contenir une foule de choses vivantes: EXEMPLE: vous savez l'horrible vie du réveillematin — c'est un monstre qui m'a toujours épouvanté à cause que le nombre de choses que ses yeux projettent, et la manière dont cet honnête me fixe lorsque je pénètre dans une chambre — pourquoi donc a-t-il tant d'umour, pourquoi donc? — Mais voilà: c'est ainsi et non autrement — Il y a beaucoup de formidable UBIQUE aussi dans l'umour — comme vous verrez — Mais ceci n'est naturellement — définitif et l'umour dérive trop d'une sensation pour ne pas être très difficilement exprimable — Je crois que c'est une sensation — J'allais presque dire un SENS — aussi — de l'inutilité théâtrale (et sans joie) de tout.
Quand on sait.
Et c'est pourquoi alors les enthousiasmes (d'abord c'est bruyant), des autres sont haïssables — car — n'est-ce pas — nous avons le génie — puisque nous savons l'UMOUR — Et tout — vous n'en aviez d'ailleurs jamais douté? nous est permis. Tout ça est bien ennuyeux, d'ailleurs.
Je joins un bonhomme — et ceci pourrait s'appeler OBSESSION — ou bien — BATAILLE DE LA SOMME ET DU RESTE — oui.
Il m'a suivi longtemps, et m'a contemplé d'innommables fois dans des trous innombrables — Je crois qu'il essaie de me mystifier un peu — J'ai beaucoup d'affection pour lui, entre autres choses.
Jacques Vaché 29 avril 1917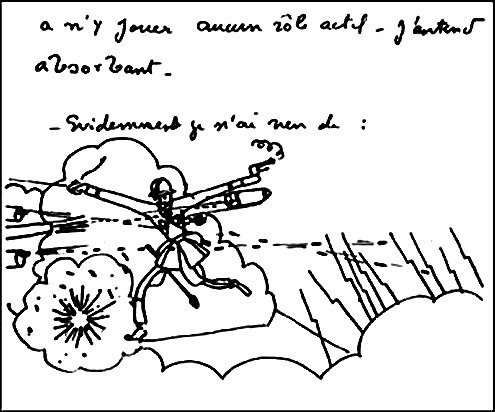 Jacques Vaché (1895-1919)
Lettres de Guerre

partie 1

fleursdumal.nl magazine
More in: *Concrete + Visual Poetry U-Z, Jacques Vaché, Vaché, Jacques, Visual & Concrete Poetry, WAR POETRY
---
Thank you for reading FLEURSDUMAL.NL - magazine for art & literature