LIGHT VERSE
·
Montague Horatio Mostyn Turtle Pigott: The Lion (Poem)
·
In de man zit nog een jongen. Willem Wilmink – De biografie door Elsbeth Etty
·
Poëzieweek & Gedichtendag 2019 (31 januari t.m. 6 februari)
·
Joachim Ringelnatz: Zimmermädchen
·
Bobby Parker: Working Class Voodoo
·
Joachim Ringelnatz: Aus meiner Kinderzeit
·
Joachim Ringelnatz: Ab Kopenhagen
·
Joachim Ringelnatz: Seepferdchen
·
Joachim Ringelnatz: Bumerang
·
Mostyn Turtle Pigott: The hundred best books
·
Joachim Ringelnatz: Aus der Vogelkunde
·
Joachim Ringelnatz: Trüber Tag
The Lion
(Being an essay written by a pupil
in Dame Europa's School)
The Lion is a kind of Ass,
His silliness is simply crass ;
He's such a tame, long-suffering beast
You cannot rile him in the least,
For, though he's very, very strong,
He never will resent a wrong ;
So, though he's very, very big.
The other beasts don't care a fig,
But pinch his tail and tweak his ear.
For he won't mind — He's such a dear !
They give him most tremendous snubs.
And kill whole litters of his cubs ;
He'll sometimes give one little roar,
Montague Horatio Mostyn Turtle Pigott
(1865–1927)
The Lion (Poem)
• fleursdumal.nl magazine
More in: Archive O-P, Mostyn Turtle Pigott, Natural history
---
Willem Wilmink (1936-2003) is een van de meest geliefde dichters van Nederland.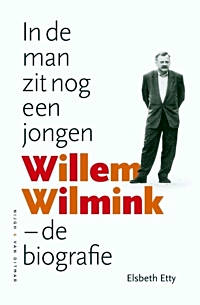 Zijn eenvoudige maar treffende gedichten en liedjes, veelal geschreven voor legendarische tv-programma's als De Stratemakeropzeeshow, J.J. de Bom en De film van Ome Willem, spreken iedereen aan. 'De oude school', 'Deze vuist op deze vuist' en 'Ben Ali Libi' behoren tot de canon van de Nederlandse literatuur. Hetzelfde geldt voor Wilminks hertalingen van Middeleeuwse klassiekers. Hij was een groot kenner van poëzie uit alle tijdvakken en in al haar verschijningsvormen.
Zijn werk is doortrokken van heimwee naar een veilige kinderwereld die nooit heeft bestaan. Naar eigen zeggen is Wilmink altijd elf jaar gebleven, wat aanvankelijk zijn loopbaan en privéleven ernstig frustreerde, maar tegelijkertijd zijn poëtische kapitaal bleek. Met humor en zelfspot maakte hij zijn lange tijd door miskenning en afwijzing getekende leven leefbaar.
Voor In de man zit nog een jongen sprak neerlandicus en journalist Elsbeth Etty met tientallen tijdgenoten en intimi van Wilmink. Het resultaat is een intiem en niets verhullend portret.
Elsbeth Etty (1951) is literair criticus, columnist en voormalig bijzonder hoogleraar literaire kritiek. Ze publiceerde o.a. verschillende essay- en columnbundels. Voor Liefde is heel het leven niet, haar biografie van Henriette Roland Holst, werd ze genomineerd voor de AKO Literatuurprijs en bekroond met de Gouden Uil en de Busken Huetprijs.
In de man zit nog een jongen
Willem Wilmink – De biografie
Auteur: Elsbeth Etty
Uitgeverij: Nijgh & van Ditmar
NUR: 321
Taal Nederlands
Bladzijden 552 pp.
Bindwijze Hardcover
ISBN: 9789038806112
Publicatiedatum: 22-01-2019
Prijs: € 34,99
# New books
Willem Wilmink – De biografie
Auteur: Elsbeth Etty
• fleursdumal.nl magazine
More in: #Biography Archives, - Book News, - Book Stories, - Bookstores, Archive E-F, Archive W-X, Archive W-X, Art & Literature News, Willem Wilmink
---
Het thema van de Poëzieweek 2019 is Vrijheid, met als motto: Zonder handen, zonder tanden.
De week opent op donderdag 31 januari met Gedichtendag en wordt woensdagavond 6 februari feestelijk afgesloten met De Grote Poëzieprijs, de Awater Poëzieprijs en de Turing Gedichtenwedstrijd. Tom Lanoye schrijft het Poëziegeschenk Vrij – Wij?, cadeau van de boekwinkel bij aankoop van € 12,50 aan poëzie.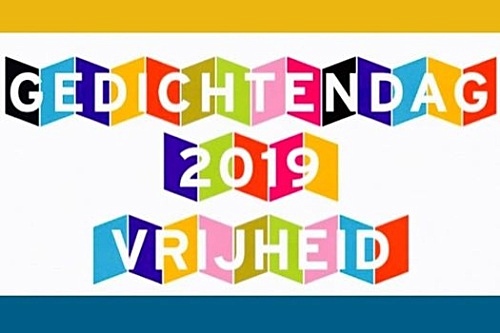 Met Gedichtendag (31 januari 2019) gaat op de laatste donderdag van januari traditiegetrouw de Poëzieweek van start. Gedichtendag, sinds 2000 georganiseerd door Poetry International Rotterdam, is hét poëziefeest van Nederland en Vlaanderen.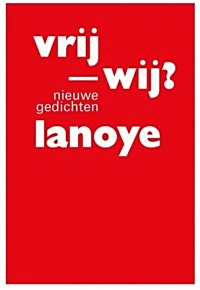 Poëzieliefhebbers in Nederland en Vlaanderen organiseren die dag een grote diversiteit aan eigen poëzieactiviteiten en ook de media klinken die dag een stuk poëtischer.
 Voor de enorme hoeveelheid optredens, publicaties, poëzieprijzen, -programma's en -activiteiten is één dag simpelweg veel te kort!
De Poëzieweek wil een zo groot mogelijk bereik voor poëzie creëren en bundelt tal van activiteiten van organisatoren in Nederland en Vlaanderen.
De Poëzieweek is een samenwerking van Stichting CPNB, Poëziecentrum, Stichting Poetry International, Vlaams Fonds voor de Letteren, Nederlands Letterenfonds, Stichting Lezen Nederland, Iedereen Leest Vlaanderen, De Schrijverscentrale, Boek.be, Taalunie, Stichting Van Beuningen/Peterich-fonds, Turing Foundation, Awater, Het Literatuurhuis, Poëzieclub, SLAG, School der Poëzie en De Nieuwe Oost | Wintertuin.
# Voor een overzicht van alle activiteiten zie de website POËZIEWEEK
• fleursdumal.nl magazine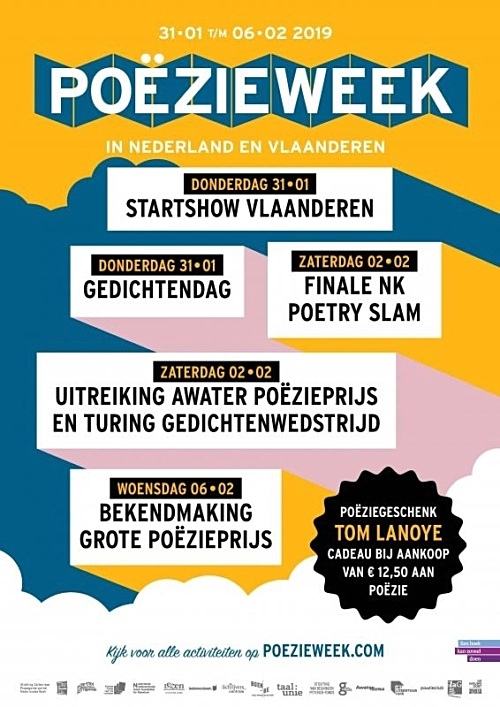 More in: #Archive A-Z Sound Poetry, #Archive Concrete & Visual Poetry, #More Poetry Archives, *War Poetry Archive, - Book Lovers, - Bookstores, Art & Literature News, LIGHT VERSE, Literary Events, MODERN POETRY, Poetry International, Poetry Slam, Poëziepaleis, Poëzieweek, STREET POETRY, THEATRE, Tilt Festival Tilburg, Tom Lanoye
---
Zimmermädchen
Die Zimmermädchen der Hotels,
Die meine Betten schlagen und dann glätten,
Ach wenn sie doch ein wenig Ahnung hätten
Vom Unterschiede zwischen Polster und Fels.
Ach wüßtet ihr, wie süß ihr für mich ausseht
Im Arbeitskleid, ihr Engel der Hotels!
Wenn wirklich eine heimlich mit mir ausgeht,
Dann trägt sie Seide und trägt sogar Pelz,
Sei's auch nur Wunderwandlung Hasenfells.
Dann im Café krümmt ihr beim Tasseheben
Den kleinen, roten Finger nach Manier.
Und du merkst nicht, wie gern ich doch mit dir
Oft eine Stunde möchte unmanierlich leben.
Und würde dann – nebst Geld – als Souvenir
Ein schließend, stilles, zartes Streicheln geben.
Und würdet ihr dies Streicheln doch nicht spüren.
Denn ihr bedient nur Nummern an den Türen.
Und wenn sie schlichte Ehre eng verschließen,
Dann dienen sie, da andere genießen.
Hab ich euch tausendmal in Korridoren
Heiß zugesehn und heiser angesehn,
Was ich erträumte, war voraus verloren.
Denn meine Liebe könnt ihr nicht verstehn.
Joachim Ringelnatz
(1883 – 1934)
Zimmermädchen
fleursdumal.nl magazine
More in: Archive Q-R, Joachim Ringelnatz, LIGHT VERSE
---
Bobby Parker's Working Class Voodoo is an enterprise of dark metaphysics which exists in the same tradition as Thomas de Quincey and Elizabeth Bishop.
Punishing, plaintive, improper, vitally comic, Parker employs a vibrato narrative deeply concerned with the cost of both journey and arrival, with the irresistible darkness of both humour and tragedy in contrast and counter to one another. In poems which push at questions of contemporary masculinity, of the domestic and of the bonds of family, our unreliability, our desires, our addictions and our weaknesses are both indulged and confronted. Yet where such commitment to the uncovering of artifice might be expected to provoke disdain,
Parker's singing faith in human love is what these poems reveal. What is lost will be recovered, and what was thought impossible will be achieved, no matter the darkness, no matter the weight. Working Class Voodoo is a confessional and a challenge, and a swampy, seductive ride into the night.
Bobby Parker
Working Class Voodoo
Publisher: Offord Road Books
Poetry
Publ. 3 May 2018
Paperback
64pp
ISBN 978–1–999–93041–7
£10
new poetry
fleursdumal.nl magazine
More in: - Book News, Archive O-P, Art & Literature News, LIGHT VERSE, MODERN POETRY
---
Aus meiner Kinderzeit
Vaterglückchen, Mutterschößchen,
Kinderstübchen, trautes Heim,
Knusperhexlein, Tantchen Rös'chen,
Kuchen schmeckt wie Fliegenleim.
Wenn ich in die Stube speie,
Lacht mein Bruder wie ein Schwein.
Wenn er lacht, haut meine Schwester,
Wenn sie haut, weint Mütterlein.
Wenn die weint, muß Vater fluchen.
Wenn er flucht, trinkt Tante Wein.
Trinkt sie Wein, schenkt sie mir Kuchen:
Wenn ich Kuchen kriege, muß ich spein.
Joachim Ringelnatz
(1883 – 1934)
Aus meiner Kinderzeit
fleursdumal.nl magazine
More in: Archive Q-R, Joachim Ringelnatz
---
 Ab Kopenhagen
Kein Kaviar, kein' Kokosnuß,
Kein Obst noch Weinbergschnecken –
Am Tage, da ich reisen muß,
Da will mir nichts mehr schmecken.
Lebe wohl, du schönes Kopenhagen!
Wie ist das schlimm: Entbehrlich sein.
Was kümmert dich im Grunde mein
Schweres Herz und mein leerer Magen.
Der mein Gepäck zur Bahn gebracht,
Der Mann kennt keine Tränen.
Im Gegenteil: er grüßt und lacht
Vergnügt. So sind die Dänen.
Wie stets nach dreißig Tagen
Bricht eine neue Welt entzwei.
Mich hat ein Mädchen hier umgarnt,
Ein Wunderweib! – Vorbei! Vorbei!
Nun sitz ich still im Wagen.
Jedoch ich will nicht klagen.
Vor Taschendieben wird gewarnt.
Lebe wohl, du schönes Kopenhagen.
Joachim Ringelnatz
(1883 – 1934)
Ab Kopenhagen
fleursdumal.nl magazine
More in: Archive Q-R, Joachim Ringelnatz
---
Joachim Ringelnatz
Seepferdchen
Als ich noch ein Seepferdchen war,
Im vorigen Leben,
Wie war das wonnig, wunderbar,
Unter Wasser zu schweben.
In den träumenden Fluten
Wogte, wie Güte, das Haar
Der zierlichsten aller Seestuten,
Die meine Geliebte war.
Wir senkten uns still oder stiegen,
Tanzten harmonisch umeinand,
Ohne Arm, ohne Bein, ohne Hand,
Die Wolken sich in Wolken wiegen.
Sie spielte manchmal graziöses Entfliehn,
Auf daß ich ihr folge, sie hasche,
Und legte mir einmal im Ansichziehn
Eierchen in die Tasche.
Sie blickte traurig und stellte sich froh,
Schnappte nach einem Wasserfloh
Und ringelte sich
An einem Stengelchen fest und sprach so:
Ich liebe dich!
Du wieherst nicht, du äpfelst nicht,
Du trägst ein farbloses Panzerkleid
Und hast ein bekümmertes altes Gesicht,
Als wüßtest du um kommendes Leid.
Seestütchen! Schnörkelchen! Ringelnaß!
Wann war wohl das?
Und wer bedauert wohl später meine restlichen Knochen?
Es ist beinahe so, daß ich weine –
Lollo hat das vertrocknete, kleine
Schmerzverkrümmte Seepferd zerbrochen.
Joachim Ringelnatz
(1883 – 1934)
Seepferdchen
fleursdumal.nl magazine
More in: Archive Q-R, Joachim Ringelnatz, Natural history
---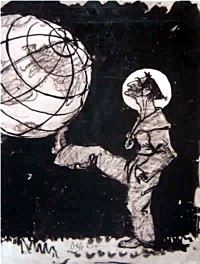 Joachim Ringelnatz
Bumerang
War einmal ein Bumerang;
War ein weniges zu lang.
Bumerang flog ein Stück,
Aber kam nicht mehr zurück.
Publikum – noch stundenlang –
Wartete auf Bumerang.
Joachim Ringelnatz
(1883 – 1934)
Bumerang
fleursdumal.nl magazine
More in: Archive Q-R, Archive Q-R, Joachim Ringelnatz
---
The hundred best books
First there's the Bible,
And then the Koran,
Odgers on Libel,
Pope's Essay on Man,
Confessions of Rousseau,
The Essays of Lamb,
Robinson Crusoe
And Omar Khayyam,
Volumes of Shelley
And venerable Bede,
Machiavelli
And Captain Mayne Reid,
Fox upon Martyrs
And Liddell and Scott,
Stubbs on the Charters,
The works of La Motte,
The Seasons by Thompson,
And Paul de Verlaine,
Theodore Mommsen
And Clemens (Mark Twain),
The Rocks of Hugh Miller,
The Mill on the Floss,
The Poems of Schiller,
The Iliados,
Don Quixote (Cervantes),
La Pucelle by Voltaire,
Inferno (that's Dante's),
And Vanity Fair,
Conybeare-Howson,
Brillat-Savarin,
And Baron Munchausen,
Mademoiselle De Maupin,
The Dramas of Marlowe,
The Three Musketeers,
Clarissa Harlowe,
And the Pioneers,
Sterne's Tristram Shandy,
The Ring and the Book,
And Handy Andy,
and Captain Cook,
The Plato of Jowett,
And Mill's Pol. Econ.,
The Haunts of Howitt,
The Encheiridion,
Lothair by Disraeli,
And Boccaccio,
The Student's Paley,
And Westward Ho!
The Pharmacopœia,
Macaulay's Lays,
Of course The Medea,
And Sheridan's Plays,
The Odes of Horace,
And Verdant Green,
The Poems of Morris,
The Faery Queen,
The Stones of Venice,
Natural History (White's),
And then Pendennis,
The Arabian Nights,
Cicero's Orations,
Plain Tales from the Hills,
The Wealth of Nations,
And Byles on Bills,
As in a Glass Darkly,
Demosthenes' Crown,
The Treatise of Berkeley,
Tom Hughes's Tom Brown,
The Mahabharata,
The Humor of Hook,
The Kreutzer Sonata,
And Lalla Rookh,
Great Battles by Creasy,
And Hudibras,
And Midshipman Easy,
And Rasselas,
Shakespear in extenso
And the Æneid,
And Euclid (Colenso),
The Woman Who Did,
Poe's Tales of Mystery,
Then Rabelais,
Guizot's French History,
And Men of the Day,
Rienzi, by Lytton,
The Poems of Burns,
The Story of Britain,
The Journey (that's Sterne's),
The House of Seven Gables,
Carroll's Looking-glass,
Æsop his Fables,
And Leaves of Grass,
Departmental Ditties,
The Woman in White,
The Tale of Two Cities,
Ships that Pass in the Night,
Meredith's Feverel,
Gibbon's Decline,
Walter Scott's Peveril,
And—some verses of mine.
Mostyn Turtle Pigott
(1865-1927)
The hundred best books
• fleursdumal.nl magazine
More in: - Book Lovers, - Book Stories, Archive O-P, Archive O-P, Mostyn Turtle Pigott
---
Joachim Ringelnatz
Aus der Vogelkunde
Ich spreche von Flugmaschinen.
Sie summen lauter als Bienen
Und sind eine Kreuzung von Taube,
Ente, Maikäfer und Schiffsschraube.
Sie nisten einzeln, paar- und gruppen-
Weise in Hallen und Schuppen.
Ich habe persönlich festgestellt:
Sie bringen lebendige Junge zur Welt,
Die wie Menschen aussehn,
Wenn sie aus ihnen herausgehn.
Auch legen sie Eier und brüten
Im Krieg. Zeus möge das künftig verhüten.
Ihre Nahrung sind Menschen, Koffer, Benzin
Und Zeitungen aus Berlin.
Sie sind über die ganze Welt
Verbreitet und sehr zahm auch in Freiheit.
Außerdem sind sie der Polizeiheit
Und der Zollbehördlichkeit unterstellt.
Volkstümlich nennt man sie schlechthin Maschinen.
Ich könnte Ihnen mit Näherem dienen,
Aber ich verlange dafür
Eine Flugzeugengebühr.
Joachim Ringelnatz
(1883 – 1934)
Aus der Vogelkunde
fleursdumal.nl magazine
More in: Archive Q-R, Joachim Ringelnatz, Natural history
---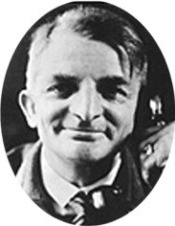 Joachim Ringelnatz
Trüber Tag
Zu Hause heulten die Frauen:
Das tote Kind sah aus wie Schnee.
Wir gingen, nur mein Bruder und ich, in See.
Dem Wetter war nicht zu trauen.
Wir fischten lauter Tränen aus dem Meer,
Das Netz war leer.
Joachim Ringelnatz
(1883 – 1934)
Trüber Tag
fleursdumal.nl magazine
More in: Archive Q-R, Joachim Ringelnatz
---
Older Entries »
Thank you for reading FLEURSDUMAL.NL - magazine for art & literature