Archive A-B
·
Ellebogen van Fatma Aydemir. Een roman als een mokerslag
·
Bert Bevers: Selfie van Rogi Wieg (Gedicht)
·
Ambrose Bierce: Presentiment
·
Poso Wells by Gabriela Alemán
·
Alessandro Baricco: Smith & Wesson
·
Walter Benjamin: Deutsche Menschen – Eine Folge von Briefen
·
In Koli Jean Bofane: La Belle de Casa
·
Matthew Arnold: Requiescat
·
Charlotte Brontë: Presentiment
·
Bert Bevers gedicht: Caprice
·
Bert Bevers gedicht: In de doorslaap
·
Hugo Ball: Eröffnungs-Manifest, 1. Dada-Abend
Een jonge Turks-Duitse duwt een Duitser voor de metro. Hij sterft, zij voelt geen berouw. Warm en vurig vertelt Fatma Aydemir over diegenen die tussen culturen en landen leven en hun plaats op de wereld zoeken.

Ze is zeventien. Ze is in Berlijn geboren. Ze heet Hazal Akgündüz. Er werd haar beloofd dat ze alles kon worden wat ze maar wou. Maar steeds opnieuw moet ze opboksen tegen vooroordelen en discriminatie.
Tot ze op een nacht te veel gedronken heeft en een Duitse student die haar uitdaagt, voor de metro duwt. Als de politie haar achterna zit vlucht Hazal naar Istanbul, waar ze nooit eerder is geweest. Ze ziet op krantenfoto's de grijns op haar gezicht terwijl ze de jongen aanvalt maar voelt geen berouw.
Ellebogen is een urgent, gewaagd en onverzoenlijk verhaal over de woede van een migrantendochter in een Europa waar ze zich nooit helemaal thuis voelde.
Fatma Aydemir (1986) is de dochter van Turkse gastarbeiders. Ze heeft Duits en Amerikanistiek gestudeerd en werkt als redacteur voor de krant Taz. Haar controversiële debuutroman Ellebogen werd meteen een fenomeen in Duitsland. Op 11 maart 2017 kopte de Volkskrant al: 'Over dit debuut schrijven alle Duitse kwaliteitskranten'. Aydemir neemt met regelmaat deel aan het publieke debat over integratie in Duitsland.
"'Ellebogen is een stomp in de maag. Of beter gezegd, twee. Eén voor de misogyne Turkse gemeenschap. En één voor de huichelarij van onze o zo liberale samenleving.'" – Süddeutsche Zeitung
Titel: Ellebogen
Auteur: Fatma Aydemir
Vertaler(s): Marcel Misset
240 pagina's
€ 19,99
Uitgever: Signatuur
2017
ISBN: 978-90-5672-590-7
NUR: 302
new books
fleursdumal.nl magazine
More in: - Book News, - Bookstores, Archive A-B, Art & Literature News, Galerie Deutschland
---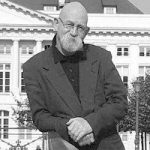 Selfie van Rogi Wieg
De tijd graaft mij in. Dit moet
een droombeeld zijn: Ik wandel
tussen rozen. Ik heb niet aan de dood
gedacht. Ik zie door glas hoe regen
neerdaalt. De avond hangt stil en ik
ben doorgelopen. Wij spreken niet
van doodgaan. Niets gaat verloren
in het ruisen, maar niemand wijst
de weg. Zo zal het einde zijn.
Wie weggaat komt ooit ergens aan.
Bert Bevers
Gedicht: Selfie van Rogi Wieg
Verschenen in In de kring van menselijke warmte – Hommage aan Rogi Wieg, samenstelling Peter de Rijk, Uitgeverij In De Knipscheer, Haarlem, 2017
Bert Bevers is a poet and writer who lives and works in Antwerp (Be)
fleursdumal.nl magazine
More in: Archive A-B, Archive A-B, Bevers, Bert, Wieg, Rogi
---
Presentiment
With saintly grace and reverent tread,
She walked among the graves with me;
Her every foot-fall seemed to be
A benediction on the dead.
The guardian spirit of the place
She seemed, and I some ghost forlorn
Surprised in the untimely morn
She made with her resplendent face.
Moved by some waywardness of will,
Three paces from the path apart
She stepped and stood — my prescient heart
Was stricken with a passing chill.
The folk-lore of the years agone
Remembering, I smiled and thought:
"Who shudders suddenly at naught,
His grave is being trod upon."
But now I know that it was more
Than idle fancy. O, my sweet,
I did not think so little feet
Could make a buried heart so sore!
Ambrose Bierce
(1842-1914)
poetry
fleursdumal.nl magazine
More in: Archive A-B, Archive A-B, Bierce, Ambrose
---
Celebrated Ecuadorian author Gabriela Alemán's first work to appear in English: a noir, feminist eco-thriller in which venally corrupt politicians and greedy land speculators finally get their just comeuppance!
"The story is a condemnation not only of the corrupt businessmen and the criminal gangs that rule Poso Wells but also of the violence against women that plagues Latin America's real slums." –– The New Yorker
In the squalid settlement of Poso Wells, women have been regularly disappearing, but the authorities have shown little interest. When the leading presidential candidate comes to town, he and his entourage are electrocuted in a macabre accident witnessed by a throng of astonished spectators. The sole survivor—next in line for the presidency—inexplicably disappears from sight.
Gustavo Varas, a principled journalist, picks up the trail, which leads him into a violent, lawless underworld. Bella Altamirano, a fearless local, is on her own crusade to pierce the settlement's code of silence, ignoring repeated death threats. It turns out that the disappearance of the candidate and those of the women are intimately connected, and not just to a local crime wave, but to a multinational magnate's plan to plunder the country's cloud forest preserve.
Title: Poso Wells
Author: Gabriela Alemán
Translated by Dick Cluster
Publisher City Lights Publishers
Format Paperback
ISBN-10 0872867552
ISBN-13 9780872867550
Publication Date 14 August 2018
Main content page count 160
List Price $14.95
new books
fleursdumal.nl magazine
More in: - Book News, - Bookstores, Archive A-B, Art & Literature News
---
«Maintenant je résume : on attendait un tas de choses de la vie, on n'a rien fait de bien, on glisse peu à peu vers le néant, et ce dans un trou paumé où une splendide cascade nous rappelle tous les jours que la misère est une invention humaine et la grandeur le cours naturel du monde.»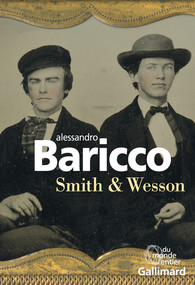 Année 1902, Tom Smith et Jerry Wesson se rencontrent au pied des chutes du Niagara. L'un passe son temps à rédiger des statistiques météorologiques ; l'autre à repêcher les corps engloutis par les rapides.
Rencontre exceptionnelle, comme celle que les deux types font avec Rachel Green, jeune journaliste prête à tout pour dénicher le scoop du siècle, même à embarquer Smith et Wesson dans son projet loufoque : plonger dans les chutes du Niagara et s'en sortir vivante. Tout le monde en rêve, personne ne l'a jamais fait. Il ne reste alors qu'à se glisser dans un tonneau, défier les lois de la physique et sauter.
Nous avons tous besoin d'une histoire mémorable, d'un exploit hors norme pour réaliser quelque chose qui nous soit vraiment propre.
Alessandro Baricco (1958): Prix Médicis étranger 1995
Alessandro Baricco:
Smith & Wesson
Trad. de l'italien par Lise Caillat
Collection Du monde entier, Gallimard
Parution : 17-05-2018
160 pages
140 x 205 mm
Genre : Littérature Italiennes
Pays : Italie
Époque : XXe-XXIe siècle
ISBN : 9782070179039
Code distributeur : A17903
Prix €16,00
new books
fleursdumal.nl magazine
More in: #Biography Archives, - Book News, - Bookstores, Archive A-B
---
Von Ehre ohne Ruhm, von Grösse ohne Glanz, von Würde ohne Sold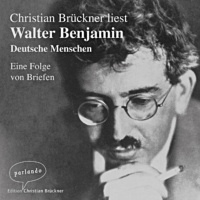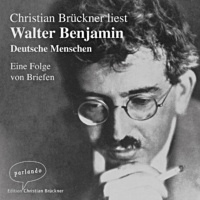 Die 1936 in einem Schweizer Verlag erschienene Briefsammlung "Deutsche Menschen" ist Walter Benjamins letzte Veröffentlichung zu Lebzeiten.
Siebenundzwanzig Briefe von Kant bis Goethe, von Droste-Hülshoff bis Büchner aus den Jahren zwischen 1767 und 1883 hat er zusammengestellt und kommentiert, um seinen Landsleuten das bessere Beispiel eines aufgeklärten und humanistischen Bürgertums vorzuhalten.
Das Private und das Objektive der Briefe sind durch den Abstand des Betrachters nicht mehr Gegensätze: Beides vermischt sich, gleicht sich an. Die Personen mit ihren Bedürfnissen gehen auf in ihrer Epoche, ihre Freuden und Schmerzen zeigen sich als Zeichen ihrer Zeit und Herkunft.
Walter Benjamin
Deutsche Menschen
Eine Folge von Briefen
(Ungekürzte Lesung)
MP3 Hörbuch Download
€13,95
Laufzeit ca. 223 Minuten.
Vorgelesen von Christian Brückner
Argon Verlag GmbH
Oktober 2017
Format: MP3
Kopierschutz: Adobe
new audio books
fleursdumal.nl magazine
More in: - Audiobooks, Archive A-B, Art & Literature News, AUDIO, CINEMA, RADIO & TV, Walter Benjamin
---
Qui a bien pu tuer Ichrak la belle, dans cette ruelle d'un quartier populaire de Casablanca?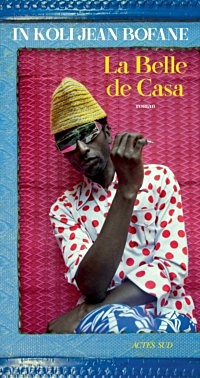 Elle en aga­çait plus d'un, cette effrontée aux courbes sublimes, fille sans père née d'une folle un peu sorcière, qui ne se laissait ni séduire ni importuner. Tous la convoi­taient autant qu'ils la craignaient, sauf peut-être Sese, clandestin arrivé de Kinshasa depuis peu, devenu son ami et associé dans un business douteux. Escrocs de haut vol, brutes épaisses ou modestes roublards, les suspects ne manquent pas dans cette métropole du xxie siècle gouvernée comme les autres par l'argent, le sexe et le pouvoir.
Et ce n'est pas l'infatigable Chergui, vent violent venu du désert pour secouer les palmiers, abraser les murs et assécher les larmes, qui va apaiser les esprits…
Avec sa lucidité acérée et son humour féroce, In Koli Jean Bofane dénonce la corruption immobilière, la précarité des migrants et la concupiscence mascu­line. Par son talent de conteur, son art du dialogue et des portraits, il bouscule joyeusement une réalité contemporaine tout à fait accablante – la truculence du désespoir.
In Koli Jean Bofane est né le 24 octobre 1954 à Mbandaka (R.D. du Congo) et vit en Belgique. En France, il a publié Pourquoi le lion n'est plus le roi des animaux (Gallimard Jeunesse), lauréat du Prix de la Critique de la Communauté Française de Belgique ; et chez Actes Sud : Mathématiques congolaises (2008) et Congo Inc., le testament de Bismarck (2014, Prix des cinq continents de la Francophonie). Ses ouvrages ont été traduits aux USA, en Allemagne, au Brésil, en Corée, en Slovénie.
La Belle de Casa
In Koli Jean BOFANE
Actes Sud Littérature
Domaine français
Août, 2018
11,5 x 21,7
208 pages
isbn 978-2-330-10935-6
€19,00
new books
fleursdumal.nl magazine
More in: - Book News, - Book Stories, Archive A-B, Art & Literature News
---
Requiescat
Strew on her roses, roses,
And never a spray of yew.
In quiet she reposes:
Ah! would that I did too.
Her mirth the world required:
She bathed it in smiles of glee.
But her heart was tired, tired,
And now they let her be.
Her life was turning, turning,
In mazes of heat and sound.
But for peace her soul was yearning,
And now peace laps her round.
Her cabin'd, ample Spirit,
It flutter'd and fail'd for breath.
To-night it doth inherit
The vasty hall of Death.
Matthew Arnold
(1822-1888)
poetry
fleursdumal.nl magazine
More in: #More Poetry Archives, Archive A-B, Archive A-B, Galerie des Morts
---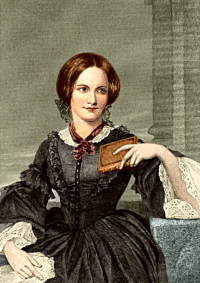 Presentiment
"Sister, you've sat there all the day,
Come to the hearth awhile;
The wind so wildly sweeps away,
The clouds so darkly pile.
That open book has lain, unread,
For hours upon your knee;
You've never smiled nor turned your head;
What can you, sister, see?"
"Come hither, Jane, look down the field;
How dense a mist creeps on!
The path, the hedge, are both concealed,
Ev'n the white gate is gone
No landscape through the fog I trace,
No hill with pastures green;
All featureless is Nature's face.
All masked in clouds her mien.
"Scarce is the rustle of a leaf
Heard in our garden now;
The year grows old, its days wax brief,
The tresses leave its brow.
The rain drives fast before the wind,
The sky is blank and grey;
O Jane, what sadness fills the mind
On such a dreary day!"
"You think too much, my sister dear;
You sit too long alone;
What though November days be drear?
Full soon will they be gone.
I've swept the hearth, and placed your chair,.
Come, Emma, sit by me;
Our own fireside is never drear,
Though late and wintry wane the year,
Though rough the night may be."
"The peaceful glow of our fireside
Imparts no peace to me:
My thoughts would rather wander wide
Than rest, dear Jane, with thee.
I'm on a distant journey bound,
And if, about my heart,
Too closely kindred ties were bound,
'Twould break when forced to part.
"'Soon will November days be o'er:'
Well have you spoken, Jane:
My own forebodings tell me more–
For me, I know by presage sure,
They'll ne'er return again.
Ere long, nor sun nor storm to me
Will bring or joy or gloom;
They reach not that Eternity
Which soon will be my home."
Eight months are gone, the summer sun
Sets in a glorious sky;
A quiet field, all green and lone,
Receives its rosy dye.
Jane sits upon a shaded stile,
Alone she sits there now;
Her head rests on her hand the while,
And thought o'ercasts her brow.
She's thinking of one winter's day,
A few short months ago,
Then Emma's bier was borne away
O'er wastes of frozen snow.
She's thinking how that drifted snow
Dissolved in spring's first gleam,
And how her sister's memory now
Fades, even as fades a dream.
The snow will whiten earth again,
But Emma comes no more;
She left, 'mid winter's sleet and rain,
This world for Heaven's far shore.
On Beulah's hills she wanders now,
On Eden's tranquil plain;
To her shall Jane hereafter go,
She ne'er shall come to Jane!
Charlotte Brontë
(1816-1855)
poetry
fleursdumal.nl magazine
More in: Archive A-B, Archive A-B, Brontë, Anne, Emily & Charlotte
---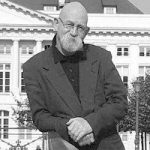 Caprice
Een gedicht zwicht niet voor het schuurpapier
van de logica en dus spoed ik mij op de cadans
van een stencilmachine in dromen door een stad
die het Milaan van Ermanno Olmi moet zijn.
Hoe er oogharen van Lombarden in hun keramiek
zijn beland, er verraad à gogo wordt gepleegd.
Beloftes aan het verleden hebben geen zin.
Bert Bevers
Gedicht: Caprice
Uit Andere taal, Uitgeverij Litera Este, Borgerhout, 2010
Bert Bevers is a poet and writer who lives and works in Antwerp (Be)
fleursdumal.nl magazine
More in: Archive A-B, Archive A-B, Bevers, Bert
---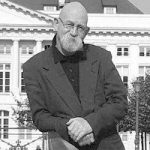 In de doorslaap
Vriendelijk verwant zoals het werkwoord gapen
dat met slapen is liggen wij stilletjes hand in hand.
De hele nacht door sliep je lekker maar tegen
de ochtend werd je steeds weer van een piepje
wakker. Het leek of je keek naar de klei die ik kneed
alsof je weet dat het andere wolken zijn dan van donker:
in de doorslaap kerven zich de klamste dromen.
Bert Bevers
Gedicht: In de doorslaap
Uit Andere taal, Uitgeverij Litera Este, Borgerhout, 2010
Bert Bevers is a poet and writer who lives and works in Antwerp (Be)
fleursdumal.nl magazine
More in: Archive A-B, Archive A-B, Bevers, Bert
---
Dada ist eine neue Kunstrichtung. Das kann man daran erkennen, daß bisher niemand etwas davon wußte und morgen ganz Zürich davon reden wird. Dada stammt aus dem Lexicon. Es ist furchtbar einfach. Im Französischen bedeutets Steckenpferd. Im Deutschen: Addio, steigt mir bitte den Rücken runter, auf Wiedersehen ein ander Mal! Im Rumänischen: 'Ja wahrhaftig, Sie haben Recht, so ist es. Jawohl, wirklich. Machen wir'. Und so weiter.
Ein internationales Wort. Nur ein Wort und das Wort als Bewegung. Es ist einfach furchtbar. Wenn man eine Kunstrichtung daraus macht, muß das bedeuten, man will Komplikationen wegnehmen. Dada Psychologie, Dada Literatur, Dada Bourgeoisie und ihr, verehrteste Dichter, die ihr immer mit Worten, nie aber das Wort selber gedichtet habt. Dada Weltkrieg und kein Ende, Dada Revolution und kein Anfang. Dada ihr Freunde und Auchdichter, allerwerteste Evangelisten. Dada Tzara, Dada Huelsenbeck, Dada m'dada, Dada mhm' dada, Dada Hue, Dada Tza.
Wie erlangt man die ewige Seligkeit? Indem man Dada sagt. Wie wird man berühmt? Indem man Dada sagt. Mit edlem Gestus und mit feinem Anstand. Bis zum Irrsinn, bis zur Bewußtlosigkeit. Wie kann man alles Aalige und Journalige, alles Nette und Adrette, alles Vermoralisierte, Vertierte, Gezierte abtun? Indem man Dada sagt. Dada ist die Weltseele, Dada ist der Clou, Dada ist die beste Lilienmilchseife der Welt. Dada Herr Rubiner, Dada Herr Korrodi, Dada Herr Anastasius Lilienstein.
Das heißt auf Deutsch: die Gastfreundschaft der Schweiz ist über alles zu schätzen, und im Ästhetischen kommt's auf die Norm an. Ich lese Verse, die nichts weniger vorhaben als: auf die Sprache zu verzichten. Dada Johann Fuchsgang Goethe. Dada Stendhal. Dada Buddha, Dalai Lama, Dada m'dada, Dada m'dada, Dada mhm' dada. Auf die Verbindung kommt es an, und daß sie vorher ein bißchen unterbrochen wird. Ich will keine Worte, die andere erfunden haben. Alle Worte haben andere erfunden. Ich will meinen eigenen Unfug, und Vokale und Konsonanten dazu, die ihm entsprechen. Wenn eine Schwingung sieben Ellen lang ist, will ich füglich Worte dazu, die sieben Ellen lang sind. Die Worte des Herrn Schulze haben nur zwei ein halb Zentimeter.
Da kann man nun so recht sehen, wie die artikulierte Sprache entsteht. Ich lasse die Laute ganz einfach fallen. Worte tauchen auf, Schultern von Worten; Beine, Arme, Hände von Worten. Au, oi, u. Man soll nicht zuviel Worte aufkommen lassen. Ein vers ist die Gelegenheit, möglichst ohne Worte und ohne die Sprache auszukommen. Diese vermaledeite Sprache, an der Schmutz klebt wie von Maklerhänden, die die Münzen abgegriffen haben. Das Wort will ich haben, wo es aufhört und wo es anfängt.
Jede Sache hat ihr Wort; da ist das Wort selber zur Sache geworden. Warum kann der Baum nicht Pluplusch heißen, und Pluplubasch, wenn es geregnet hat? Und warum muß er überhaupt etwas heißen? Müssen wir denn überall unseren Mund dran hängen? Das Wort, das Wort, das Weh gerade an diesem Ort, das Wort, meine Herren, ist eine öffentliche Angelegenheit ersten Ranges.
Hugo Ball
(1886-1927)
Eröffnungs-Manifest, 1. Dada-Abend
(Opening-Manifest of the 1st Dada-Evening)
Zürich, 14. Juli 1916
fleursdumal.nl magazine
More in: Archive A-B, Archive A-B, Ball, Hugo, Dada, DADA, Dadaïsme
---
Older Entries »
Thank you for reading FLEURSDUMAL.NL - magazine for art & literature