ULTIMATE LIBRARY – danse macabre, ex libris, grimm & co, fairy tales, art of reading, tales of mystery & imagination, sherlock holmes theatre, erotic poetry, ideal women
·
Mourning Songs. Poems of Sorrow and Beauty edited by Grace Schulman
·
Saki: The She-Wolf (short story)
·
Naakt of bloot? Het vrouwelijk naakt in de hedendaagse kunst in Museum Jan Cunen Oss
·
Saki: The Unrest-Cure (short story)
·
Saki: The Match-Maker (short story)
·
Koos Meinderts: De schelmenstreken van Reinaert de Vos
·
Saki: The Blind Spot (short story)
·
David Lynch: Someone is in my House. Retrospectief in Bonnefantenmuseum
·
This is Not the End of the Book by Umberto Eco & Jean-Claude Carrière
·
Stairs and Whispers: D/deaf and Disabled Poets Write Back
·
Saki: The Romancers (short story)
·
The Unknown Poe. An Anthology of Fugitive Writings by Edgar Allan Poe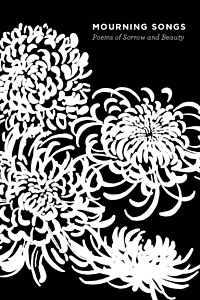 Who has not suffered grief?
In Mourning Songs, the brilliant poet and editor Grace Schulman has gathered together the most moving poems about sorrow by the likes of Elizabeth Bishop, William Carlos Williams, Gwendolyn Brooks, Neruda, Catullus, Dylan Thomas, W. H. Auden, Shakespeare, Emily Dickinson, W. S. Merwin, Lorca, Denise Levertov, Keats, Hart Crane, Michael Palmer, Robert Frost, Hopkins, Hardy, Bei Dao, and Czeslaw Milosz—to name only some of the masters in this slim volume.

"The poems in this collection," as Schulman notes in her introduction, "sing of grief as they praise life." She notes: "As any bereaved survivor knows, there is no consolation. 'Time doesn't heal grief; it emphasizes it,' wrote Marianne Moore.

The loss of a loved one never leaves us. We don't want it to. In grief, one remembers the beloved. But running beside it, parallel to it, is the joy of existence, the love that causes pain of loss, the loss that enlarges us with the wonder of existence."
Winner of the Poetry Society of America's highest award, The Frost Medal, Grace Schulman is the author of seven poetry volumes as well as a book of essays and a new memoir, Strange Paradise: Portrait of a Marriage, about her life with her beloved late husband Jerome. She is a Distinguished Professor of English at Baruch College, CUNY, the former director of the Poetry Center, 92nd Street Y, and was for thirty-five years the poetry editor of The Nation.
Mourning Songs
Poems of sorrow and Beauty
Edited by Grace Schulman
Paperback
96 pages
Publisher: New Directions
Language: English
ISBN-10: 0811228665
ISBN-13: 978-0811228664
Product Dimensions: 4 x 6 inches
Price US 11.95
1 edition: May 28, 2019
# new books
Mourning Songs
Poetry
• fleursdumal.nl magazine
More in: - Book News, Archive S-T, Archive S-T, Art & Literature News, Danse Macabre
---
The She-Wolf
Leonard Bilsiter was one of those people who have failed to find this world attractive or interesting, and who have sought compensation in an "unseen world" of their own experience or imagination — or invention.
Children do that sort of thing successfully, but children are content to convince themselves, and do not vulgarise their beliefs by trying to convince other people. Leonard Bilsiter's beliefs were for "the few," that is to say, anyone who would listen to him.
His dabblings in the unseen might not have carried him beyond the customary platitudes of the drawing-room visionary if accident had not reinforced his stock-intrade of mystical lore. In company with a friend, who was interested in a Ural mining concern, he had made a trip across Eastern Europe at a moment when the great Russian railway strike was developing from a threat to a reality; its outbreak caught him on the return journey, somewhere on the further side of Perm, and it was while waiting for a couple of days at a wayside station in a state of suspended locomotion that he made the acquaintance of a dealer in harness and metalware, who profitably whiled away the tedium of the long halt by initiating his English travelling companion in a fragmentary system of folk-lore that he had picked up from Trans–Baikal traders and natives.
Leonard returned to his home circle garrulous about his Russian strike experiences, but oppressively reticent about certain dark mysteries, which he alluded to under the resounding title of Siberian Magic. The reticence wore off in a week or two under the influence of an entire lack of general curiosity, and Leonard began to make more detailed allusions to the enormous powers which this new esoteric force, to use his own description of it, conferred on the initiated few who knew how to wield it. His aunt, Cecilia Hoops, who loved sensation perhaps rather better than she loved the truth, gave him as clamorous an advertisement as anyone could wish for by retailing an account of how he had turned a vegetable marrow into a wood pigeon before her very eyes. As a manifestation of the possession of supernatural powers, the story was discounted in some quarters by the respect accorded to Mrs. Hoops' powers of imagination.
However divided opinion might be on the question of Leonard's status as a wonderworker or a charlatan, he certainly arrived at Mary Hampton's house-party with a reputation for preeminence in one or other of those professions, and he was not disposed to shun such publicity as might fall to his share. Esoteric forces and unusual powers figured largely in whatever conversation he or his aunt had a share in, and his own performances, past and potential, were the subject of mysterious hints and dark avowals.
"I wish you would turn me into a wolf, Mr. Bilsiter," said his hostess at luncheon the day after his arrival.
"My dear Mary," said Colonel Hampton, "I never knew you had a craving in that direction."
"A she-wolf, of course," continued Mrs. Hampton; "it would be too confusing to change one's sex as well as one's species at a moment's notice."
"I don't think one should jest on these subjects," said Leonard.
"I'm not jesting, I'm quite serious, I assure you. Only don't do it today; we have only eight available bridge players, and it would break up one of our tables. To-morrow we shall be a larger party. To-morrow night, after dinner —"
"In our present imperfect understanding of these hidden forces I think one should approach them with humbleness rather than mockery," observed Leonard, with such severity that the subject was forthwith dropped.
Clovis Sangrail had sat unusually silent during the discussion on the possibilities of Siberian Magic; after lunch he side-tracked Lord Pabham into the comparative seclusion of the billiard-room and delivered himself of a searching question.
"Have you such a thing as a she-wolf in your collection of wild animals? A she-wolf of moderately good temper?"
Lord Pabham considered. "There is Loiusa," he said, "a rather fine specimen of the timber-wolf. I got her two years ago in exchange for some Arctic foxes. Most of my animals get to be fairly tame before they've been with me very long; I think I can say Louisa has an angelic temper, as she-wolves go. Why do you ask?"
"I was wondering whether you would lend her to me for tomorrow night," said Clovis, with the careless solicitude of one who borrows a collar stud or a tennis racquet.
"To-morrow night?"
"Yes, wolves are nocturnal animals, so the late hours won't hurt her," said Clovis, with the air of one who has taken everything into consideration; "one of your men could bring her over from Pabham Park after dusk, and with a little help he ought to be able to smuggle her into the conservatory at the same moment that Mary Hampton makes an unobtrusive exit."
Lord Pabham stared at Clovis for a moment in pardonable bewilderment; then his face broke into a wrinkled network of laughter.
"Oh, that's your game, is it? You are going to do a little Siberian Magic on your own account. And is Mrs. Hampton willing to be a fellow-conspirator?"
"Mary is pledged to see me through with it, if you will guarantee Louisa's temper."
"I'll answer for Louisa," said Lord Pabham.
By the following day the house-party had swollen to larger proportions, and Bilsiter's instinct for self-advertisement expanded duly under the stimulant of an increased audience. At dinner that evening he held forth at length on the subject of unseen forces and untested powers, and his flow of impressive eloquence continued unabated while coffee was being served in the drawing-room preparatory to a general migration to the card-room.
His aunt ensured a respectful hearing for his utterances, but her sensation-loving soul hankered after something more dramatic than mere vocal demonstration.
"Won't you do something to convince them of your powers, Leonard?" she pleaded; "change something into another shape. He can, you know, if he only chooses to," she informed the company.
"Oh, do," said Mavis Pellington earnestly, and her request was echoed by nearly everyone present. Even those who were not open to conviction were perfectly willing to be entertained by an exhibition of amateur conjuring.
Leonard felt that something tangible was expected of him.
"Has anyone present," he asked, "got a three-penny bit or some small object of no particular value —?"
"You're surely not going to make coins disappear, or something primitive of that sort?" said Clovis contemptuously.
"I think it very unkind of you not to carry out my suggestion of turning me into a wolf," said Mary Hampton, as she crossed over to the conservatory to give her macaws their usual tribute from the dessert dishes.
"I have already warned you of the danger of treating these powers in a mocking spirit," said Leonard solemnly.
"I don't believe you can do it," laughed Mary provocatively from the conservatory; "I dare you to do it if you can. I defy you to turn me into a wolf."
As she said this she was lost to view behind a clump of azaleas.
"Mrs. Hampton —" began Leonard with increased solemnity, but he got no further. A breath of chill air seemed to rush across the room, and at the same time the macaws broke forth into ear-splitting screams.
"What on earth is the matter with those confounded birds, Mary?" exclaimed Colonel Hampton; at the same moment an even more piercing scream from Mavis Pellington stampeded the entire company from their seats. In various attitudes of helpless horror or instinctive defence they confronted the evil-looking grey beast that was peering at them from amid a setting of fern and azalea.
Mrs. Hoops was the first to recover from the general chaos of fright and bewilderment.
"Leonard!" she screamed shrilly to her nephew, "turn it back into Mrs. Hampton at once! It may fly at us at any moment. Turn it back!"
"I— I don't know how to," faltered Leonard, who looked more scared and horrified than anyone.
"What!" shouted Colonel Hampton, "you've taken the abominable liberty of turning my wife into a wolf, and now you stand there calmly and say you can't turn her back again!"
To do strict justice to Leonard, calmness was not a distinguishing feature of his attitude at the moment.
"I assure you I didn't turn Mrs. Hampton into a wolf; nothing was farther from my intentions," he protested.
"Then where is she, and how came that animal into the conservatory?" demanded the Colonel.
"Of course we must accept your assurance that you didn't turn Mrs. Hampton into a wolf," said Clovis politely, "but you will agree that appearances are against you."
"Are we to have all these recriminations with that beast standing there ready to tear us to pieces?" wailed Mavis indignantly.
"Lord Pabham, you know a good deal about wild beasts —" suggested Colonel Hampton.
"The wild beasts that I have been accustomed to," said Lord Pabham, "have come with proper credentials from well-known dealers, or have been bred in my own menagerie. I've never before been confronted with an animal that walks unconcernedly out of an azalea bush, leaving a charming and popular hostess unaccounted for. As far as one can judge from outward characteristics," he continued, "it has the appearance of a well-grown female of the North American timber-wolf, a variety of the common species canis lupus."
"Oh, never mind its Latin name," screamed Mavis, as the beast came a step or two further into the room; "can't you entice it away with food, and shut it up where it can't do any harm?"
"If it is really Mrs. Hampton, who has just had a very good dinner, I don't suppose food will appeal to it very strongly," said Clovis.
"Leonard," beseeched Mrs. Hoops tearfully, "even if this is none of your doing can't you use your great powers to turn this dreadful beast into something harmless before it bites us all — a rabbit or something?"
"I don't suppose Colonel Hampton would care to have his wife turned into a succession of fancy animals as though we were playing a round game with her," interposed Clovis.
"I absolutely forbid it," thundered the Colonel.
"Most wolves that I've had anything to do with have been inordinately fond of sugar," said Lord Pabham; "if you like I'll try the effect on this one."
He took a piece of sugar from the saucer of his coffee cup and flung it to the expectant Louisa, who snapped it in mid-air. There was a sigh of relief from the company; a wolf that ate sugar when it might at the least have been employed in tearing macaws to pieces had already shed some of its terrors. The sigh deepened to a gasp of thanks-giving when Lord Pabham decoyed the animal out of the room by a pretended largesse of further sugar. There was an instant rush to the vacated conservatory. There was no trace of Mrs. Hampton except the plate containing the macaws' supper.
"The door is locked on the inside!" exclaimed Clovis, who had deftly turned the key as he affected to test it.
Everyone turned towards Bilsiter.
"If you haven't turned my wife into a wolf," said Colonel Hampton, "will you kindly explain where she has disappeared to, since she obviously could not have gone through a locked door? I will not press you for an explanation of how a North American timber-wolf suddenly appeared in the conservatory, but I think I have some right to inquire what has become of Mrs. Hampton."
Bilsiter's reiterated disclaimer was met with a general murmur of impatient disbelief.
"I refuse to stay another hour under this roof," declared Mavis Pellington.
"If our hostess has really vanished out of human form," said Mrs. Hoops, "none of the ladies of the party can very well remain. I absolutely decline to be chaperoned by a wolf!"
"It's a she-wolf," said Clovis soothingly.
The correct etiquette to be observed under the unusual circumstances received no further elucidation. The sudden entry of Mary Hampton deprived the discussion of its immediate interest.
"Some one has mesmerised me," she exclaimed crossly; "I found myself in the game larder, of all places, being fed with sugar by Lord Pabham. I hate being mesmerised, and the doctor has forbidden me to touch sugar."
The situation was explained to her, as far as it permitted of anything that could be called explanation.
"Then you really did turn me into a wolf, Mr. Bilsiter?" she exclaimed excitedly.
But Leonard had burned the boat in which he might now have embarked on a sea of glory. He could only shake his head feebly.
"It was I who took that liberty," said Clovis; "you see, I happen to have lived for a couple of years in North–Eastern Russia, and I have more than a tourist's acquaintance with the magic craft of that region. One does not care to speak about these strange powers, but once in a way, when one hears a lot of nonsense being talked about them, one is tempted to show what Siberian magic can accomplish in the hands of someone who really understands it. I yielded to that temptation. May I have some brandy? the effort has left me rather faint."
If Leonard Bilsiter could at that moment have transformed Clovis into a cockroach and then have stepped on him he would gladly have performed both operations.
The She-Wolf
From 'Beasts and Super-Beasts'
by Saki (H. H. Munro)
(1870 – 1916)
fleursdumal.nl magazine
More in: Archive S-T, Saki, Saki, The Art of Reading
---
Naakt of bloot? Het vrouwelijk naakt in de Nederlandse schilderkunst 1875-1925
Naakt of bloot? Het vrouwelijk naakt in de hedendaagse kunst
Naakt of bloot? Deze vraag vormt de rode draad van de tentoonstellingen Naakt of bloot? Het vrouwelijk naakt in de Nederlandse schilderkunst 1875-1925 en Naakt of bloot? Het vrouwelijk naakt in de hedendaagse kunst in Museum Jan Cunen (3 februari tot en met 19 mei 2019). Naakten van George Hendrik Breitner, Isaac Israels en Jan Sluijters gaan een dialoog aan met werk van hedendaagse kunstenaars als Lita Cabellut, Bart Hess en Carla van de Puttelaar. Het museum voelt zich geroepen om de tegenstelling die in de huidige samenleving ten aanzien van naakt is ontstaan, zichtbaar en bespreekbaar te maken. Want waar we aan de ene kant krampachtig en preuts omgaan met bloot, worden we er aan de andere kant voortdurend mee overladen.
Naakt of bloot, wat is eigenlijk het verschil? Bij het kijken naar kunst blijkt er een subtiele scheidslijn te zijn tussen deze twee begrippen. 'Bloot' betekent 'zonder kleren zijn', een toestand die vaak samengaat met een gevoel van schaamte, zowel voor degene die kijkt als voor degene naar wie gekeken wordt. 'Naakt' verwijst naar een natuurlijke of artistieke vorm van naaktheid die niet tot verlegenheid stemt. Beide termen zijn echter subjectief. Wat de één als naakt ziet, ervaart een ander als bloot. Wat is voor jou het verschil? Waar trek jij de grens?
De exposities in Museum Jan Cunen roepen de vraag op of de kijk op naakt tussen pakweg 1875 en 1925 eigenlijk wel zo anders is dan tegenwoordig. In de media worden we voortdurend geconfronteerd met bloot, terwijl de omgang daarmee een stuk gevoeliger ligt dan enkele decennia geleden. Terwijl het internet tot in extremen toegang geeft tot alle vormen van bloot, wordt een vrouwentepel stelselmatig verwijderd van social media. Een tendens die raakvlakken heeft met de dubbele moraal in de late negentiende eeuw: enerzijds werd de maatschappij destijds gekenmerkt door kuisheid en preutsheid, anderzijds werd er op zedelijk gebied vaak een oogje dichtgeknepen. 'Wat je niet ziet, bestaat niet' lijkt opnieuw onderdeel van de tijdgeest.
Museum Jan Cunen wil de tegenstelling die in de huidige samenleving ten aanzien van naakt is ontstaan, zichtbaar en bespreekbaar maken en onomwonden de schoonheid van het naakte lichaam vieren. Om overeenkomsten en verschillen bloot te leggen tussen de oude en nieuwe ideeën over het vrouwelijk naakt, gaat de kunst uit het einde van de negentiende en het begin van de twintigste eeuw een dialoog aan met kunstwerken van hedendaagse kunstenaars. Werk van vooraanstaande Nederlandse meesters als George Hendrik Breitner, Isaac Israels, Jan Sluijters en Jan Wiegers worden getoond in combinatie met werk van hedendaagse kunstenaars Lita Cabellut, Bart Hess, Carla van de Puttelaar, Viviane Sassen en Isabelle Wenzel. Ook wordt podium geboden aan vier jonge talenten: Charissa van Dijk, Margherita Soldati, Mariëlle Veldhuis en Meret Zimmermann. Zo koppelt het museum de blik van ruim een eeuw geleden aan de actuele discussie over het naakt in de beeldende kunst en de huidige maatschappelijke positie van het naakt. De vergelijking tussen toen en nu biedt een andere kijk op de eigen tijd en plaatst onze omgang met het blote lichaam in een breder perspectief.
Naakt of bloot? Het vrouwelijk naakt in de Nederlandse schilderkunst 1875-1925
Naakt of bloot? Het vrouwelijk naakt in de hedendaagse kunst
3 februari t/m 19 mei 2019
Museum Jan Cunen
Molenstraat 65
5341 GC Oss
T: (0412) 798 000
E: info@museumjancunen.nl
# Meer informatie op website Museum Jan Cunen Oss
• fleursdumal.nl magazine
More in: Art & Literature News, Erotic literature, Exhibition Archive, FDM Art Gallery, Natural history, The Ideal Woman
---
The Unrest-Cure
On the rack in the railway carriage immediately opposite Clovis was a solidly wrought travelling-bag, with a carefully written label, on which was inscribed, "J. P. Huddle, The Warren, Tilfield, near Slowborough." Immediately below the rack sat the human embodiment of the label, a solid, sedate individual, sedately dressed, sedately conversational.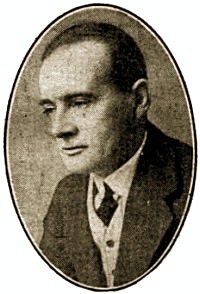 Even without his conversation (which was addressed to a friend seated by his side, and touched chiefly on such topics as the backwardness of Roman hyacinths and the prevalence of measles at the Rectory), one could have gauged fairly accurately the temperament and mental outlook of the travelling bag's owner. But he seemed unwilling to leave anything to the imagination of a casual observer, and his talk grew presently personal and introspective.
"I don't know how it is," he told his friend, "I'm not much over forty, but I seem to have settled down into a deep groove of elderly middle-age. My sister shows the same tendency. We like everything to be exactly in its accustomed place; we like things to happen exactly at their appointed times; we like everything to be usual, orderly, punctual, methodical, to a hair's breadth, to a minute. It distresses and upsets us if it is not so. For instance, to take a very trifling matter, a thrush has built its nest year after year in the catkin-tree on the lawn; this year, for no obvious reason, it is building in the ivy on the garden wall. We have said very little about it, but I think we both feel that the change is unnecessary, and just a little irritating."
"Perhaps," said the friend, "it is a different thrush."
"We have suspected that," said J. P. Huddle, "and I think it gives us even more cause for annoyance. We don't feel that we want a change of thrush at our time of life; and yet, as I have said, we have scarcely reached an age when these things should make themselves seriously felt."
"What you want," said the friend, "is an Unrest-cure."
"An Unrest-cure? I've never heard of such a thing."
"You've heard of Rest-cures for people who've broken down under stress of too much worry and strenuous living; well, you're suffering from overmuch repose and placidity, and you need the opposite kind of treatment."
"But where would one go for such a thing?"
"Well, you might stand as an Orange candidate for Kilkenny, or do a course of district visiting in one of the Apache quarters of Paris, or give lectures in Berlin to prove that most of Wagner's music was written by Gambetta; and there's always the interior of Morocco to travel in. But, to be really effective, the Unrest-cure ought to be tried in the home. How you would do it I haven't the faintest idea."
It was at this point in the conversation that Clovis became galvanized into alert attention. After all, his two days' visit to an elderly relative at Slowborough did not promise much excitement. Before the train had stopped he had decorated his sinister shirt-cuff with the inscription, "J. P. Huddle, The Warren, Tilfield, near Slowborough."
Two mornings later Mr. Huddle broke in on his sister's privacy as she sat reading Country Life in the morning room. It was her day and hour and place for reading Country Life, and the intrusion was absolutely irregular; but he bore in his hand a telegram, and in that household telegrams were recognized as happening by the hand of God. This particular telegram partook of the nature of a thunderbolt. "Bishop examining confirmation class in neighbourhood unable stay rectory on account measles invokes your hospitality sending secretary arrange."
"I scarcely know the Bishop; I've only spoken to him once," exclaimed J. P. Huddle, with the exculpating air of one who realizes too late the indiscretion of speaking to strange Bishops. Miss Huddle was the first to rally; she disliked thunderbolts as fervently as her brother did, but the womanly instinct in her told her that thunderbolts must be fed.
"We can curry the cold duck," she said. It was not the appointed day for curry, but the little orange envelope involved a certain departure from rule and custom. Her brother said nothing, but his eyes thanked her for being brave.
"A young gentleman to see you," announced the parlour-maid.
"The secretary!" murmured the Huddles in unison; they instantly stiffened into a demeanour which proclaimed that, though they held all strangers to be guilty, they were willing to hear anything they might have to say in their defence. The young gentleman, who came into the room with a certain elegant haughtiness, was not at all Huddle's idea of a bishop's secretary; he had not supposed that the episcopal establishment could have afforded such an expensively upholstered article when there were so many other claims on its resources. The face was fleetingly familiar; if he had bestowed more attention on the fellow-traveller sitting opposite him in the railway carriage two days before he might have recognized Clovis in his present visitor.
"You are the Bishop's secretary?" asked Huddle, becoming consciously deferential.
"His confidential secretary," answered Clovis. "You may call me Stanislaus; my other name doesn't matter. The Bishop and Colonel Alberti may be here to lunch. I shall be here in any case."
It sounded rather like the programme of a Royal visit.
"The Bishop is examining a confirmation class in the neighbourhood, isn't he?" asked Miss Huddle.
"Ostensibly," was the dark reply, followed by a request for a large-scale map of the locality.
Clovis was still immersed in a seemingly profound study of the map when another telegram arrived. It was addressed to "Prince Stanislaus, care of Huddle, The Warren, etc." Clovis glanced at the contents and announced: "The Bishop and Alberti won't be here till late in the afternoon." Then he returned to his scrutiny of the map.
The luncheon was not a very festive function. The princely secretary ate and drank with fair appetite, but severely discouraged conversation. At the finish of the meal he broke suddenly into a radiant smile, thanked his hostess for a charming repast, and kissed her hand with deferential rapture.
Miss Huddle was unable to decide in her mind whether the action savoured of Louis Quatorzian courtliness or the reprehensible Roman attitude towards the Sabine women. It was not her day for having a headache, but she felt that the circumstances excused her, and retired to her room to have as much headache as was possible before the Bishop's arrival. Clovis, having asked the way to the nearest telegraph office, disappeared presently down the carriage drive. Mr. Huddle met him in the hall some two hours later, and asked when the Bishop would arrive.
"He is in the library with Alberti," was the reply.
"But why wasn't I told? I never knew he had come!" exclaimed Huddle.
"No one knows he is here," said Clovis; "the quieter we can keep matters the better. And on no account disturb him in the library. Those are his orders."
"But what is all this mystery about? And who is Alberti? And isn't the Bishop going to have tea?"
"The Bishop is out for blood, not tea."
"Blood!" gasped Huddle, who did not find that the thunderbolt improved on acquaintance.
"To-night is going to be a great night in the history of Christendom," said Clovis. "We are going to massacre every Jew in the neighbourhood."
"To massacre the Jews!" said Huddle indignantly. "Do you mean to tell me there's a general rising against them?"
"No, it's the Bishop's own idea. He's in there arranging all the details now."
"But — the Bishop is such a tolerant, humane man."
"That is precisely what will heighten the effect of his action. The sensation will be enormous."
That at least Huddle could believe.
"He will be hanged!" he exclaimed with conviction.
"A motor is waiting to carry him to the coast, where a steam yacht is in readiness."
"But there aren't thirty Jews in the whole neighbourhood," protested Huddle, whose brain, under the repeated shocks of the day, was operating with the uncertainty of a telegraph wire during earthquake disturbances.
"We have twenty-six on our list," said Clovis, referring to a bundle of notes. "We shall be able to deal with them all the more thoroughly."
"Do you mean to tell me that you are meditating violence against a man like Sir Leon Birberry," stammered Huddle; "he's one of the most respected men in the country."
"He's down on our list," said Clovis carelessly; "after all, we've got men we can trust to do our job, so we shan't have to rely on local assistance. And we've got some Boy-scouts helping us as auxiliaries."
"Boy-scouts!"
"Yes; when they understood there was real killing to be done they were even keener than the men."
"This thing will be a blot on the Twentieth Century!"
"And your house will be the blotting-pad. Have you realized that half the papers of Europe and the United States will publish pictures of it? By the way, I've sent some photographs of you and your sister, that I found in the library, to the MATIN and DIE WOCHE; I hope you don't mind. Also a sketch of the staircase; most of the killing will probably be done on the staircase."
The emotions that were surging in J. P. Huddle's brain were almost too intense to be disclosed in speech, but he managed to gasp out: "There aren't any Jews in this house."
"Not at present," said Clovis.
"I shall go to the police," shouted Huddle with sudden energy.
"In the shrubbery," said Clovis, "are posted ten men who have orders to fire on anyone who leaves the house without my signal of permission. Another armed picquet is in ambush near the front gate. The Boy-scouts watch the back premises."
At this moment the cheerful hoot of a motor-horn was heard from the drive. Huddle rushed to the hall door with the feeling of a man half awakened from a nightmare, and beheld Sir Leon Birberry, who had driven himself over in his car. "I got your telegram," he said, "what's up?"
Telegram? It seemed to be a day of telegrams.
"Come here at once. Urgent. James Huddle," was the purport of the message displayed before Huddle's bewildered eyes.
"I see it all!" he exclaimed suddenly in a voice shaken with agitation, and with a look of agony in the direction of the shrubbery he hauled the astonished Birberry into the house. Tea had just been laid in the hall, but the now thoroughly panic-stricken Huddle dragged his protesting guest upstairs, and in a few minutes' time the entire household had been summoned to that region of momentary safety. Clovis alone graced the tea-table with his presence; the fanatics in the library were evidently too immersed in their monstrous machinations to dally with the solace of teacup and hot toast. Once the youth rose, in answer to the summons of the front-door bell, and admitted Mr. Paul Isaacs, shoemaker and parish councillor, who had also received a pressing invitation to The Warren. With an atrocious assumption of courtesy, which a Borgia could hardly have outdone, the secretary escorted this new captive of his net to the head of the stairway, where his involuntary host awaited him.
And then ensued a long ghastly vigil of watching and waiting. Once or twice Clovis left the house to stroll across to the shrubbery, returning always to the library, for the purpose evidently of making a brief report. Once he took in the letters from the evening postman, and brought them to the top of the stairs with punctilious politeness. After his next absence he came half-way up the stairs to make an announcement.
"The Boy-scouts mistook my signal, and have killed the postman. I've had very little practice in this sort of thing, you see. Another time I shall do better."
The housemaid, who was engaged to be married to the evening postman, gave way to clamorous grief.
"Remember that your mistress has a headache," said J. P. Huddle. (Miss Huddle's headache was worse.)
Clovis hastened downstairs, and after a short visit to the library returned with another message:
"The Bishop is sorry to hear that Miss Huddle has a headache. He is issuing orders that as far as possible no firearms shall be used near the house; any killing that is necessary on the premises will be done with cold steel. The Bishop does not see why a man should not be a gentleman as well as a Christian."
That was the last they saw of Clovis; it was nearly seven o'clock, and his elderly relative liked him to dress for dinner. But, though he had left them for ever, the lurking suggestion of his presence haunted the lower regions of the house during the long hours of the wakeful night, and every creak of the stairway, every rustle of wind through the shrubbery, was fraught with horrible meaning. At about seven next morning the gardener's boy and the early postman finally convinced the watchers that the Twentieth Century was still unblotted.
"I don't suppose," mused Clovis, as an early train bore him townwards, "that they will be in the least grateful for the Unrest-cure."
The Unrest-Cure
From 'The Chronicles of Clovis'
by Saki (H. H. Munro)
(1870 – 1916)
• fleursdumal.nl magazine
More in: Archive S-T, Saki, Saki, The Art of Reading
---
The Match-Maker
The grill-room clock struck eleven with the respectful unobtrusiveness of one whose mission in life is to be ignored. When the flight of time should really have rendered abstinence and migration imperative the lighting apparatus would signal the fact in the usual way.
Six minutes later Clovis approached the supper-table, in the blessed expectancy of one who has dined sketchily and long ago.
"I'm starving," he announced, making an effort to sit down gracefully and read the menu at the same time.
"So I gathered;" said his host, "from the fact that you were nearly punctual. I ought to have told you that I'm a Food Reformer. I've ordered two bowls of bread-and-milk and some health biscuits. I hope you don't mind."
Clovis pretended afterwards that he didn't go white above the collar-line for the fraction of a second.
"All the same," he said, "you ought not to joke about such things. There really are such people. I've known people who've met them. To think of all the adorable things there are to eat in the world, and then to go through life munching sawdust and being proud of it."
"They're like the Flagellants of the Middle Ages, who went about mortifying themselves."
"They had some excuse," said Clovis. "They did it to save their immortal souls, didn't they? You needn't tell me that a man who doesn't love oysters and asparagus and good wines has got a soul, or a stomach either. He's simply got the instinct for being unhappy highly developed."
Clovis relapsed for a few golden moments into tender intimacies with a succession of rapidly disappearing oysters.
"I think oysters are more beautiful than any religion," he resumed presently. "They not only forgive our unkindness to them; they justify it, they incite us to go on being perfectly horrid to them. Once they arrive at the supper-table they seem to enter thoroughly into the spirit of the thing. There's nothing in Christianity or Buddhism that quite matches the sympathetic unselfishness of an oyster. Do you like my new waistcoat? I'm wearing it for the first time to-night."
"It looks like a great many others you've had lately, only worse. New dinner waistcoats are becoming a habit with you."
"They say one always pays for the excesses of one's youth; mercifully that isn't true about one's clothes. My mother is thinking of getting married."
"Again!"
"It's the first time."
"Of course, you ought to know. I was under the impression that she'd been married once or twice at least."
"Three times, to be mathematically exact. I meant that it was the first time she'd thought about getting married; the other times she did it without thinking. As a matter of fact, it's really I who am doing the thinking for her in this case. You see, it's quite two years since her last husband died."
"You evidently think that brevity is the soul of widowhood."
"Well, it struck me that she was getting moped, and beginning to settle down, which wouldn't suit her a bit. The first symptom that I noticed was when she began to complain that we were living beyond our income. All decent people live beyond their incomes nowadays, and those who aren't respectable live beyond other peoples. A few gifted individuals manage to do both."
"It's hardly so much a gift as an industry."
"The crisis came," returned Clovis, "when she suddenly started the theory that late hours were bad for one, and wanted me to be in by one o'clock every night. Imagine that sort of thing for me, who was eighteen on my last birthday."
"On your last two birthdays, to be mathematically exact."
"Oh, well, that's not my fault. I'm not going to arrive at nineteen as long as my mother remains at thirty-seven. One must have some regard for appearances."
"Perhaps your mother would age a little in the process of settling down."
"That's the last thing she'd think of. Feminine reformations always start in on the failings of other people. That's why I was so keen on the husband idea."
"Did you go as far as to select the gentleman, or did you merely throw out a general idea, and trust to the force of suggestion?"
"If one wants a thing done in a hurry one must see to it oneself. I found a military Johnny hanging round on a loose end at the club, and took him home to lunch once or twice. He'd spent most of his life on the Indian frontier, building roads, and relieving famines and minimizing earthquakes, and all that sort of thing that one does do on frontiers. He could talk sense to a peevish cobra in fifteen native languages, and probably knew what to do if you found a rogue elephant on your croquet-lawn; but he was shy and diffident with women. I told my mother privately that he was an absolute woman-hater; so, of course, she laid herself out to flirt all she knew, which isn't a little."
"And was the gentleman responsive?"
"I hear he told some one at the club that he was looking out for a Colonial job, with plenty of hard work, for a young friend of his, so I gather that he has some idea of marrying into the family."
"You seem destined to be the victim of the reformation, after all."
Clovis wiped the trace of Turkish coffee and the beginnings of a smile from his lips, and slowly lowered his dexter eyelid. Which, being interpreted, probably meant, "I DON'T think!"
The Match-Maker
From 'The Chronicles of Clovis'
by Saki (H. H. Munro)
(1870 – 1916)
fleursdumal.nl magazine
More in: Archive S-T, Saki, Saki, The Art of Reading
---
Terwijl Reinaert de Vos tijdens het monopoly-spelen met zijn kinderen stiekem een briefje van duizend uit de bank jatte en zich te goed deed aan een kipkluifje, verklaarde Koning Nobel in de paleistuin de jaarlijkse Hofdag voor geopend.
Met de opening van de Hofdag opent ook de fonkelende bewerking die Koos Meinderts maakte van het bekendste epos uit de Middelnederlandse literatuur: Van den Vos Reynaerde.
In achttien hoofdstukken verhaalt Meinderts over de belevenissen van de geslepen vos Reinaert en zijn beklagenswaardige tegenspelers, waaronder Tibeert de Kater, Bruun de Beer en Cuwaert de Haas. Elk hoofdstuk werd geïllustreerd door een vooraanstaand kinderboekillustrator.
Koos Meinderts:
De schelmenstreken van Reinaert de Vos
1e druk
EAN: 978 90 8967 273 5
NUR: 274
Verschenen 12-11-2018
Formaat: 23,5 x 27 cm
48 bladzijden
Gebondend
Bindwijze Hardcover
Genre Kinderboeken
Uitgever Hoogland & Van Klaveren, Uitgeverij
Taal Nederlands
Illustraties Charlotte Dematons e.a.
Prijs: € 17,50
# New books
Koos Meinderts
Reinaert de Vos
• fleursdumal.nl magazine
More in: - Book News, - Book Stories, Archive M-N, Archive Q-R, Archive Q-R, Art & Literature News, Grimm, Andersen e.o.: Fables, Fairy Tales & Stories
---
The Blind Spot
"You've just come back from Adelaide's funeral, haven't you?" said Sir Lulworth to his nephew; "I suppose it was very like most other funerals?"
"I'll tell you all about it at lunch," said Egbert.
"You'll do nothing of the sort. It wouldn't be respectful either to your great-aunt's memory or to the lunch. We begin with Spanish olives, then a borshch, then more olives and a bird of some kind, and a rather enticing Rhenish wine, not at all expensive as wines go in this country, but still quite laudable in its way. Now there's absolutely nothing in that menu that harmonises in the least with the subject of your great-aunt Adelaide or her funeral. She was a charming woman, and quite as intelligent as she had any need to be, but somehow she always reminded me of an English cook's idea of a Madras curry."
"She used to say you were frivolous," said Egbert. Something in his tone suggested that he rather endorsed the verdict.
"I believe I once considerably scandalised her by declaring that clear soup was a more important factor in life than a clear conscience. She had very little sense of proportion. By the way, she made you her principal heir, didn't she?"
"Yes," said Egbert, "and executor as well. It's in that connection that I particularly want to speak to you."
"Business is not my strong point at any time," said Sir Lulworth, "and certainly not when we're on the immediate threshold of lunch."
"It isn't exactly business," explained Egbert, as he followed his uncle into the dining-room.
"It's something rather serious. Very serious."
"Then we can't possibly speak about it now," said Sir Lulworth; "no one could talk seriously during a borshch. A beautifully constructed borshch, such as you are going to experience presently, ought not only to banish conversation but almost to annihilate thought. Later on, when we arrive at the second stage of olives, I shall be quite ready to discuss that new book on Borrow, or, if you prefer it, the present situation in the Grand Duchy of Luxemburg. But I absolutely decline to talk anything approaching business till we have finished with the bird."
For the greater part of the meal Egbert sat in an abstracted silence, the silence of a man whose mind is focussed on one topic. When the coffee stage had been reached he launched himself suddenly athwart his uncle's reminiscences of the Court of Luxemburg.
"I think I told you that great-aunt Adelaide had made me her executor. There wasn't very much to be done in the way of legal matters, but I had to go through her papers."
"That would be a fairly heavy task in itself. I should imagine there were reams of family letters."
"Stacks of them, and most of them highly uninteresting. There was one packet, however, which I thought might repay a careful perusal. It was a bundle of correspondence from her brother Peter."
"The Canon of tragic memory," said Lulworth.
"Exactly, of tragic memory, as you say; a tragedy that has never been fathomed."
"Probably the simplest explanation was the correct one," said Sir Lulworth; "he slipped on the stone staircase and fractured his skull in falling."
Egbert shook his head. "The medical evidence all went to prove that the blow on the head was struck by some one coming up behind him. A wound caused by violent contact with the steps could not possibly have been inflicted at that angle of the skull. They experimented with a dummy figure falling in every conceivable position."
"But the motive?" exclaimed Sir Lulworth; "no one had any interest in doing away with him, and the number of people who destroy Canons of the Established Church for the mere fun of killing must be extremely limited. Of course there are individuals of weak mental balance who do that sort of thing, but they seldom conceal their handiwork; they are more generally inclined to parade it."
"His cook was under suspicion," said Egbert shortly.
"I know he was," said Sir Lulworth, "simply because he was about the only person on the premises at the time of the tragedy. But could anything be sillier than trying to fasten a charge of murder on to Sebastien? He had nothing to gain, in fact, a good deal to lose, from the death of his employer. The Canon was paying him quite as good wages as I was able to offer him when I took him over into my service. I have since raised them to something a little more in accordance with his real worth, but at the time he was glad to find a new place without troubling about an increase of wages. People were fighting rather shy of him, and he had no friends in this country. No; if anyone in the world was interested in the prolonged life and unimpaired digestion of the Canon it would certainly be Sebastien."
"People don't always weigh the consequences of their rash acts," said Egbert, "otherwise there would be very few murders committed. Sebastien is a man of hot temper."
"He is a southerner," admitted Sir Lulworth; "to be geographically exact I believe he hails from the French slopes of the Pyrenees. I took that into consideration when he nearly killed the gardener's boy the other day for bringing him a spurious substitute for sorrel. One must always make allowances for origin and locality and early environment; 'Tell me your longitude and I'll know what latitude to allow you,' is my motto."
"There, you see," said Egbert, "he nearly killed the gardener's boy."
"My dear Egbert, between nearly killing a gardener's boy and altogether killing a Canon there is a wide difference. No doubt you have often felt a temporary desire to kill a gardener's boy; you have never given way to it, and I respect you for your self-control. But I don't suppose you have ever wanted to kill an octogenarian Canon. Besides, as far as we know, there had never been any quarrel or disagreement between the two men. The evidence at the inquest brought that out very clearly."
"Ah!" said Egbert, with the air of a man coming at last into a deferred inheritance of conversational importance, "that is precisely what I want to speak to you about."
He pushed away his coffee cup and drew a pocket-book from his inner breast-pocket. From the depths of the pocket-book he produced an envelope, and from the envelope he extracted a letter, closely written in a small, neat handwriting.
"One of the Canon's numerous letters to Aunt Adelaide," he explained, "written a few days before his death. Her memory was already failing when she received it, and I daresay she forgot the contents as soon as she had read it; otherwise, in the light of what subsequently happened, we should have heard something of this letter before now. If it had been produced at the inquest I fancy it would have made some difference in the course of affairs. The evidence, as you remarked just now, choked off suspicion against Sebastien by disclosing an utter absence of anything that could be considered a motive or provocation for the crime, if crime there was."
"Oh, read the letter," said Sir Lulworth impatiently.
"It's a long rambling affair, like most of his letters in his later years," said Egbert. "I'll read the part that bears immediately on the mystery.
"'I very much fear I shall have to get rid of Sebastien. He cooks divinely, but he has the temper of a fiend or an anthropoid ape, and I am really in bodily fear of him. We had a dispute the other day as to the correct sort of lunch to be served on Ash Wednesday, and I got so irritated and annoyed at his conceit and obstinacy that at last I threw a cupful of coffee in his face and called him at the same time an impudent jackanapes. Very little of the coffee went actually in his face, but I have never seen a human being show such deplorable lack of self-control. I laughed at the threat of killing me that he spluttered out in his rage, and thought the whole thing would blow over, but I have several times since caught him scowling and muttering in a highly unpleasant fashion, and lately I have fancied that he was dogging my footsteps about the grounds, particularly when I walk of an evening in the Italian Garden.'
"It was on the steps in the Italian Garden that the body was found," commented Egbert, and resumed reading.
"'I daresay the danger is imaginary; but I shall feel more at ease when he has quitted my service.'"
Egbert paused for a moment at the conclusion of the extract; then, as his uncle made no remark, he added: "If lack of motive was the only factor that saved Sebastien from prosecution I fancy this letter will put a different complexion on matters."
"Have you shown it to anyone else?" asked Sir Lulworth, reaching out his hand for the incriminating piece of paper.
"No," said Egbert, handing it across the table, "I thought I would tell you about it first. Heavens, what are you doing?"
Egbert's voice rose almost to a scream. Sir Lulworth had flung the paper well and truly into the glowing centre of the grate. The small, neat handwriting shrivelled into black flaky nothingness.
"What on earth did you do that for?" gasped Egbert. "That letter was our one piece of evidence to connect Sebastien with the crime."
"That is why I destroyed it," said Sir Lulworth.
"But why should you want to shield him?" cried Egbert; "the man is a common murderer."
"A common murderer, possibly, but a very uncommon cook."
The Blind Spot
From 'Beasts and Super-Beasts'
by Saki (H. H. Munro)
(1870 – 1916)
• fleursdumal.nl magazine
More in: Archive S-T, Saki, Saki, The Art of Reading
---
Vanaf 30 november 2018 tot 28 april 2019 presenteert het Bonnefantenmuseum het omvangrijke retrospectief Someone is in my House van de Amerikaanse kunstenaar David Lynch.
Hoewel David Lynch onmiskenbaar een spilfiguur is in de internationale film- en tv-wereld, is zijn werk als beeldend kunstenaar veel minder bekend. Dat is op zijn minst vreemd, aangezien Lynch zelf altijd heeft bena­drukt dat hij zichzelf vóór alles ziet als beeldend kunste­naar.
Een beeldend kunstenaar die tijdens zijn studie aan de kunstacademie toevallig in aanraking kwam met het medium film, waarmee de basis gelegd werd voor zijn carrière als filmregisseur.
Naast zijn werk als regisseur is Lynch altijd actief gebleven als beeldend kunstenaar en heeft hij in de afgelopen decennia een grenzeloos oeuvre gecreëerd van onder andere schilderijen, tekeningen, litho's, foto's, lampsculpturen, muziek en installaties.
Een oeuvre dat tot nu toe nog maar zelden is belicht en in musea werd getoond. Met ruim 500 werken brengt het Bonnefantenmuseum niet alleen de eerste Nederlandse museumpresentatie van Lynch' beeldend oeuvre, maar ook de grootste overzichtstentoonstelling ooit.
David Lynch: Someone is in my House
30.11.2018 – 28.04.2019
David Lynch, beeldend kunstenaar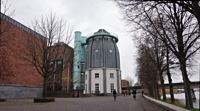 Anders dan het werk van Lynch (1946, Missoula, Montana, VS), vol duister geweld en seksua­liteit, doet vermoeden, is de kindertijd van de kunstenaar en filmmaker ge­lukkig en liefdevol.
Lynch groeit op met reislustige ouders en leidt op jonge leeftijd een nomadenbestaan, een voor hem idyllische en veilige omgeving. Van jongs af aan aangemoedigd om zich creatief te ontplooien – kleurboeken waren uit den boze, eigen verbeelding gebruiken was het credo – komt hij uiteindelijk op de Pennsylvania Academy of the Fine Arts in Philadelphia terecht om schilderkunst te studeren.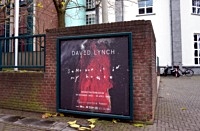 Hier ontwikkelt Lynch zijn artistieke vocabulaire en thema's die blijvend aanwezig zullen zijn in zijn werk. En hier ligt de voedingsbodem voor zijn eerste mixed-media installatie met stop-motion film Six Men Getting Sick (Six Times) (1967), die een opmaat vormde naar zijn eerste speelfilm, Eraserhead (1977). De rest is (film)geschiedenis en inmiddels zijn Lynch' films moderne klassiekers.
Lynch' kunstenaarschap loopt als een rode draad door zijn leven en films. Hij is gedurende zijn vijftigjarige carrière altijd blijven tekenen en schilde­ren, ook als er vanwege zijn werk als filmregisseur weinig tijd was om in het atelier door te brengen.
"I miss painting when I'm not painting", zegt Lynch zelf in de recente biografie Room to Dream. * David Lynch en Kristine McKenna. Room to Dream. Edinburgh, Canongate Books, 2018, p. 301
In samenwerking met David Lynch toont het Bonnefanten een indrukwekkend artistiek overzicht van het veelzijdige kunstenaarschap van Lynch.
De tentoonstelling omvat schilderijen, foto's, tekeningen, litho's en aquarellen uit de jaren 60 tot heden, unieke tekeningen op luciferboekjes uit de jaren 70, schetsboektekeningen uit de jaren 60/70/80, zwart-wit foto's uit verschillende periodes, waaronder de befaamde Snow Men-fotoserie (1993), cartoons uit de serie The Angriest Dog in the World (1982-1993), audiowerken én een aantal kortfilms uit 1968-2015.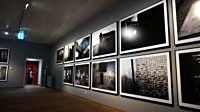 Voor het eerst sinds het ontstaan in 1967, zal ook het allesbepalende academiewerk Six Men Getting Sick (Six Times) in een museumtentoonstelling te zien zijn.
Publicatie
Bij de tentoonstelling verschijnt een rijk geïllustreerde monografie met tekstbijdragen van curator Stijn Huijts (artistiek directeur Bonnefantenmuseum), Kristine McKenna (journalist en curator, Verenigde Staten), Petra Giloy-Hirtz (schrijver en curator, Duitsland) en Michael Chabon (schrijver, Verenigde Staten). De publicatie is verkrijgbaar in het Nederlands, Engels en Frans en wordt uitgegeven door Uitgeverij Hannibal in samenwerking met Prestel.
Tentoonstellingsteaser
In aanloop naar zijn omvangrijke retrospectief Someone is in my House, maakte Lynch speciaal voor het Bonnefanten een unieke tentoonstellingsteaser. In deze typisch Lynchiaanse kortfilm, met in de hoofdrol naast Lynch zelf de 'White Monkey' – een personage dat eerder opdook in Lynch' Weird daily weather report – nodigt hij de kijker uit om naar het Bonnefanten te komen.
Flankerend programma
Parallel aan de tentoonstelling is er in samenwerking met Lumière Cinema in Maastricht een compleet filmretrospectief gewijd aan de films en het leven van David Lynch met filmvertoningen, documentaires en lezingen over de filmmaker.
Daarnaast brengt EYE filmmuseum drie digitaal gerestaureerde films opnieuw uit in de filmtheaters in heel het land. Voor meer informatie: https://www.eyefilm.nl/themas/gerestaureerde-david-lynch-klassiekers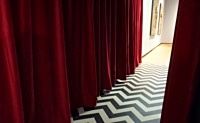 De philharmonie zuidnederland werkte met de Poolse componist Marek Zebrowski aan een compositie en uitvoering van Music for David, een strijkkwartet dat Zebrowski in 2015 componeerde als een hommage aan Lynch, die op zijn beurt de korte animatie film Pożar (Fire) maakte bij Zebrowski's compositie. Het muziekstuk zal een aantal keren live (op zaal) bij de film ten gehore worden gebracht.
# meer informatie op website Bonnefantenmuseum
# Expositie & publicatie
David Lynch: Someone is in my House
30.11.2018 – 28.04.2019

• photos: jef van kempen
• fleursdumal.nl magazine
More in: #Archive A-Z Sound Poetry, *Concrete + Visual Poetry K-O, - Book News, - Bookstores, Archive K-L, Art & Literature News, AUDIO, CINEMA, RADIO & TV, David Lynch, Exhibition Archive, FDM Art Gallery, Jef van Kempen Photos & Drawings, Museum of Literary Treasures, Photography, Tales of Mystery & Imagination, THEATRE
---
The perfect gift for book lovers: a beautifully designed hardcover in which two of the world's great men have a delightfully rambling conversation about the future of the book in the digital era, and decide it is here to stay.
'The book is like the spoon: once invented, it cannot be bettered.' Umberto Eco These days it is almost impossible to get away from discussions of whether the 'book' will survive the digital revolution.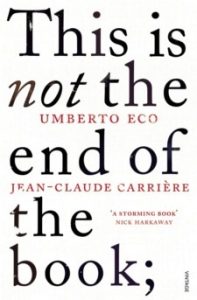 Blogs, tweets and newspaper articles on the subject appear daily, many of them repetitive, most of them admitting they don't know what will happen. Amidst the twittering, the thoughts of Jean-Claude Carrière and Umberto Eco come as a breath of fresh air. There are few people better placed to discuss the past, present and future of the book. Both avid book collectors with a deep understanding of history, they have explored through their work the many and varied ways ideas have been represented through the ages.
This thought-provoking book takes the form of a long conversation in which Carrière and Eco discuss everything from what can be defined as the first book to what is happening to knowledge now that infinite amounts of information are available at the click of a mouse. En route there are delightful digressions into personal anecdote. We find out about Eco's first computer and the book Carrière is most sad to have sold.
Readers will close this entertaining book feeling they have had the privilege of eavesdropping on an intimate discussion between two great minds. And while, as Carrière says, the one certain thing about the future is that it is unpredictable, it is clear from this conversation that, in some form or other, the book will survive.
Umberto Eco (1932–2016) wrote fiction, literary criticism and philosophy. His first novel, The Name of the Rose, was a major international bestseller. His other works include Foucault's Pendulum, The Island of the Day Before, Baudolino, The Mysterious Flame of Queen Loana, The Prague Cemetery and Numero Zero along with many brilliant collections of essays.
Jean-Claude Carrière is a writer, playwright and screenwriter. He is notably the co-author of Conversations About the End of Time (with Stephen Jay Gould, Umberto Eco, etc.) He has also worked with Peter Brook, Milos Forman, Buñuel, Godard and the Dalaï Lama.
This is Not the End of the Book
A conversation curated by Jean-Philippe de Tonnac
By Umberto Eco, Jean-Claude Carrière
Language & Literary Studies
Paperback
ISBN 9780099552451
2012
Vintage Publ.
352 pages
$24.99
# new books
This is Not the End of the Book
Umberto Eco & Jean-Claude Carrière
fleursdumal.nl magazine
More in: - Book Lovers, - Book News, - Book Stories, - Bookstores, Archive C-D, Archive E-F, Art & Literature News, The Art of Reading, Umberto Eco
---
Stairs and Whispers: D/deaf and Disabled Poets Write Back, edited by Sandra Alland, Khairani Barokka and Daniel Sluman, is a ground-breaking anthology examining UK disabled and D/deaf poetics.
Packed with fierce poetry, essays, photos and links to accessible online videos and audio recordings, it showcases a diversity of opinions and survival strategies for an ableist world.
With contributions that span Vispo to Surrealism, and range from hard-hitting political commentary to intimate lyrical pieces, these poets refuse to perform or inspire according to tired old narratives.
With poetry & prose by: Aaron Williamson, Abi Palmer, Abigail Penny, Alec Finlay, Alison Smith, Andra Simons, Angela Readman, Bea Webster, Cath Nichols, Catherine Edmunds, Cathy Bryant, Claire Cunningham, Clare Hill, Colin Hambrook, Daniel Sluman, Debjani Chatterjee, Donna Williams, El Clarke, Eleanor Ward, Emily Ingram, Gary Austin Quinn, Georgi Gill, Giles L. Turnbull, Gram Joel Davies, Grant Tarbard, Holly Magill, Isha, Jackie Hagan, Jacqueline Pemberton, Joanne Limburg, Julie McNamara, Karen Hoy, Khairani Barokka, Kitty Coles, Kuli Kohli, Lisa Kelly, Lydia Popowich, Mark Mace Smith, Markie Burnhope, Michelle Green, Miki Byrne, Miss Jacqui, Naomi Woddis, Nuala Watt, Rachael Boast, Raisa Kabir, Raymond Antrobus, Rosamund McCullain, Rose Cook, Sandra Alland, Saradha Soobrayen, Sarah Golightley, sean burn, Stephanie Conn
About the Editors: Alland's collections include Blissful Times (BookThug, 2007) and Naturally Speaking (espresso, 2012). Barokka's works include Indigenous Species (Tilted Axis, 2016) and Rope (Nine Arches, 2017). Sluman has two books with Nine Arches: Absence has a weight of its own (2012) and The Terrible (2015).
Stairs and Whispers:
D/deaf and Disabled Poets Write Back
Edited by Sandra Alland, Khairani Barokka & Daniel Sluman
Paperback
264 pages
Publisher: Nine Arches Press
2017
Language: English
ISBN-10: 1911027190
ISBN-13: 978-1911027195
Product Dimensions: 13.8 x 1 x 21.6 cm
eBook: Available at Amazon Kindle Store from September 2017
Discover the audio content that accompanies this book available on Soundcloud
Discover the video content that accompanies this book on Youtube
Price: £14.99
More information on website Nine Arches Press   (http://ninearchespress.com/)

# more books
Stairs and Whispers:
D/deaf and Disabled Poets Write Back
fleursdumal.nl magazine
More in: #Editors Choice Archiv, #More Poetry Archives, - Audiobooks, - Book News, - Book Stories, Art & Literature News, AUDIO, CINEMA, RADIO & TV, The Art of Reading
---
The Romancers
It was autumn in London, that blessed season between the harshness of winter and the insincerities of summer; a trustful season when one buys bulbs and sees to the registration of one's vote, believing perpetually in spring and a change of Government.
Morton Crosby sat on a bench in a secluded corner of Hyde Park, lazily enjoying a cigarette and watching the slow grazing promenade of a pair of snow-geese, the male looking rather like an albino edition of the russet-hued female. Out of the corner of his eye Crosby also noted with some interest the hesitating hoverings of a human figure, which had passed and repassed his seat two or three times at shortening intervals, like a wary crow about to alight near some possibly edible morsel. Inevitably the figure came to an anchorage on the bench, within easy talking distance of its original occupant. The uncared-for clothes, the aggressive, grizzled beard, and the furtive, evasive eye of the new-comer bespoke the professional cadger, the man who would undergo hours of humiliating tale-spinning and rebuff rather than adventure on half a day's decent work.
For a while the new-comer fixed his eyes straight in front of him in a strenuous, unseeing gaze; then his voice broke out with the insinuating inflection of one who has a story to retail well worth any loiterer's while to listen to.
"It's a strange world," he said.
As the statement met with no response he altered it to the form of a question.
"I daresay you've found it to be a strange world, mister?"
"As far as I am concerned," said Crosby, "the strangeness has worn off in the course of thirty-six years."
"Ah," said the greybeard, "I could tell you things that you'd hardly believe. Marvellous things that have really happened to me."
"Nowadays there is no demand for marvellous things that have really happened," said Crosby discouragingly; "the professional writers of fiction turn these things out so much better. For instance, my neighbours tell me wonderful, incredible things that their Aberdeens and chows and borzois have done; I never listen to them. On the other hand, I have read 'The Hound of the Baskervilles' three times."
The greybeard moved uneasily in his seat; then he opened up new country.
"I take it that you are a professing Christian," he observed.
"I am a prominent and I think I may say an influential member of the Mussulman community of Eastern Persia," said Crosby, making an excursion himself into the realms of fiction.
The greybeard was obviously disconcerted at this new check to introductory conversation, but the defeat was only momentary.
"Persia. I should never have taken you for a Persian," he remarked, with a somewhat aggrieved air.
"I am not," said Crosby; "my father was an Afghan."
"An Afghan!" said the other, smitten into bewildered silence for a moment. Then he recovered himself and renewed his attack.
"Afghanistan. Ah! We've had some wars with that country; now, I daresay, instead of fighting it we might have learned something from it. A very wealthy country, I believe. No real poverty there."
He raised his voice on the word "poverty" with a suggestion of intense feeling. Crosby saw the opening and avoided it.
"It possesses, nevertheless, a number of highly talented and ingenious beggars," he said; "if I had not spoken so disparagingly of marvellous things that have really happened I would tell you the story of Ibrahim and the eleven camel-loads of blotting-paper. Also I have forgotten exactly how it ended."
"My own life-story is a curious one," said the stranger, apparently stifling all desire to hear the history of Ibrahim; "I was not always as you see me now."
"We are supposed to undergo complete change in the course of every seven years," said Crosby, as an explanation of the foregoing announcement.
"I mean I was not always in such distressing circumstances as I am at present," pursued the stranger doggedly.
"That sounds rather rude," said Crosby stiffly, "considering that you are at present talking to a man reputed to be one of the most gifted conversationalists of the Afghan border."
"I don't mean in that way," said the greybeard hastily; "I've been very much interested in your conversation. I was alluding to my unfortunate financial situation. You mayn't hardly believe it, but at the present moment I am absolutely without a farthing. Don't see any prospect of getting any money, either, for the next few days. I don't suppose you've ever found yourself in such a position," he added.
"In the town of Yom," said Crosby, "which is in Southern Afghanistan, and which also happens to be my birthplace, there was a Chinese philosopher who used to say that one of the three chiefest human blessings was to be absolutely without money. I forget what the other two were."
"Ah, I daresay," said the stranger, in a tone that betrayed no enthusiasm for the philosopher's memory; "and did he practise what he preached? That's the test."
"He lived happily with very little money or resources," said Crosby.
"Then I expect he had friends who would help him liberally whenever he was in difficulties, such as I am in at present."
"In Yom," said Crosby, "it is not necessary to have friends in order to obtain help. Any citizen of Yom would help a stranger as a matter of course."
The greybeard was now genuinely interested.
The conversation had at last taken a favourable turn.
"If someone, like me, for instance, who was in undeserved difficulties, asked a citizen of that town you speak of for a small loan to tide over a few days' impecuniosity — five shillings, or perhaps a rather larger sum — would it be given to him as a matter of course?"
"There would be a certain preliminary," said Crosby; "one would take him to a wine-shop and treat him to a measure of wine, and then, after a little high-flown conversation, one would put the desired sum in his hand and wish him good-day. It is a roundabout way of performing a simple transaction, but in the East all ways are roundabout."
The listener's eyes were glittering.
"Ah," he exclaimed, with a thin sneer ringing meaningly through his words, "I suppose you've given up all those generous customs since you left your town. Don't practise them now, I expect."
"No one who has lived in Yom," said Crosby fervently, "and remembers its green hills covered with apricot and almond trees, and the cold water that rushes down like a caress from the upland snows and dashes under the little wooden bridges, no one who remembers these things and treasures the memory of them would ever give up a single one of its unwritten laws and customs. To me they are as binding as though I still lived in that hallowed home of my youth."
"Then if I was to ask you for a small loan —" began the greybeard fawningly, edging nearer on the seat and hurriedly wondering how large he might safely make his request, "if I was to ask you for, say —"
"At any other time, certainly," said Crosby; "in the months of November and December, however, it is absolutely forbidden for anyone of our race to give or receive loans or gifts; in fact, one does not willingly speak of them. It is considered unlucky. We will therefore close this discussion."
"But it is still October!" exclaimed the adventurer with an eager, angry whine, as Crosby rose from his seat; "wants eight days to the end of the month!"
"The Afghan November began yesterday," said Crosby severely, and in another moment he was striding across the Park, leaving his recent companion scowling and muttering furiously on the seat.
"I don't believe a word of his story," he chattered to himself; "pack of nasty lies from beginning to end. Wish I'd told him so to his face. Calling himself an Afghan!"
The snorts and snarls that escaped from him for the next quarter of an hour went far to support the truth of the old saying that two of a trade never agree.
The Romancers
From 'Beasts and Super-Beasts'
by Saki (H. H. Munro)
(1870 – 1916)
fleursdumal.nl magazine
More in: Archive S-T, Saki, Saki, The Art of Reading
---
An indispensable anthology of brilliant hard-to-find writings by Poe on poetry, the imagination, humor, and the sublime which adds a new dimension to his stature as a speculative thinker and philosopher. Essays (in translation) by Charles Baudelaire, Stéphane Mallarmé, Paul Valéry, & André Breton shed light on Poe's relevance within European literary tradition.
These are the arcana of Edgar Allan Poe: writings on wit, humor, dreams, drunkenness, genius, madness, and apocalypse. Here is the mind of Poe at its most colorful, its most incisive, and its most exceptional.
Edgar Allan Poe's dark, melodic poems and tales of terror and detection are known to readers everywhere, but few are familiar with his cogent literary criticism, or his speculative thinking in science, psychology or philosophy. This book is an attempt to present his lesser known, out of print, or hard to find writings in a single volume, with emphasis on the theoretical and esoteric. The second part, "The Friend View," includes seminal essays by Poe's famous admirers in France, clarifying his international literary importance.
America has never seen such a personage as Edgar Allan Poe. He is a figure who appears once an epoch, before passing into myth. American critics from Henry James to T. S. Eliot have disparaged and attempted to explain away his influence to no end, save to perpetuate his fame. Even the disdainful Eliot once conceded, "and yet one cannot be sure that one's own writing has not been influence by Poe."
Edgar Allan Poe (1809-1849), born in Boston, Massachusetts, was an American poet, writer, editor, and literary critic. He is well known for his haunting poetry and mysterious short stories. Regarded as being a central figure of Romanticism, he is also considered the inventor of detective fiction and the growing science fiction genre. Some of his most famous works include poems such as The Raven, Annabel Lee, and A Dream Within a Dream; tales such as The Cask of Amontillado, The Masque of Red Death, and The Tell-Tale Heart.
Title: The Unknown Poe
Subtitle: An Anthology of Fugitive Writings
Author: Edgar Allan Poe
Edited by Raymond Foye
Publisher: City Lights Publishers
Format: Paperback
124 pages
1980
ISBN-10 0872861104
ISBN-13 9780872861107
List Price $11.95
# American writers
Edgar Allan Poe
fleursdumal.nl magazine
More in: - Book Lovers, - Book Stories, Archive O-P, Archive O-P, Art & Literature News, Edgar Allan Poe, Poe, Edgar Allan, Poe, Edgar Allan, Tales of Mystery & Imagination
---
Older Entries »
Thank you for reading FLEURSDUMAL.NL - magazine for art & literature