ULTIMATE LIBRARY – danse macabre, ex libris, grimm & co, fairy tales, art of reading, tales of mystery & imagination, sherlock holmes theatre, erotic poetry, ideal women
·
The Brother and Sister by Mary Shelley
·
Saki: Sredni Vashtar (short story)
·
Lady Chatterley's Lover: keep this important piece of literary and social history in the UK
·
H. G. Wells: The Flying Man
·
Mourning Songs. Poems of Sorrow and Beauty edited by Grace Schulman
·
Saki: The She-Wolf (short story)
·
Naakt of bloot? Het vrouwelijk naakt in de hedendaagse kunst in Museum Jan Cunen Oss
·
Saki: The Unrest-Cure (short story)
·
Saki: The Match-Maker (short story)
·
Koos Meinderts: De schelmenstreken van Reinaert de Vos
·
Saki: The Blind Spot (short story)
·
David Lynch: Someone is in my House. Retrospectief in Bonnefantenmuseum
It is well known that the hatred borne by one family against another, and the strife of parties, which often led to bloodshed in the Italian cities during the Middle Ages, so vividly described by Shakespeare in "Romeo and Juliet," was not confined to the Montecchi and Ciapelletti of Verona, but existed with equal animosity in almost every other town of that beautiful peninsula.

T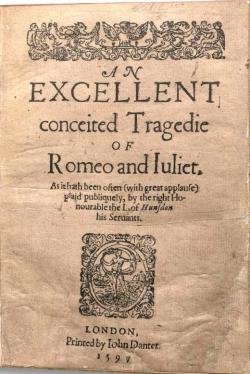 he greatest men among them were the victims; and crowds of exiles—families who but the day before were in the full enjoyment of the luxuries of life and the endearing associations of home—were every now and then seen issuing from the gates of their native cities, deprived of every possession, and with melancholy and slow steps dragging their wearied limbs to the nearest asylum offered them, thence to commence a new career of dependence and poverty, to endure to the end of their lives, or until some lucky accident should enable them to change places with their enemies, making those the sufferers who were late the tyrants.

In that country, where each town formed an independent State, to change one for the other was to depart from the spot cherished as a country and a home for distant banishment—or worse; for as each city entertained either hatred or contempt for its neighbour, it often happened that the mourning exile was obliged to take up his abode among a people whom he had injured or scoffed. Foreign service offered a resource to the young and bold among the men. But lovely Italy was to be left, the ties of young hearts severed, and all the endearing associations of kin and country broken and scattered for ever. The Italians were always peculiarly susceptible to these misfortunes. They loved their native walls, the abodes of their ancestors, the familiar scenes of youth, with all the passionate fervour characteristic of that clime.
It was therefore no uncommon thing for any one among them, like Foscari of Venice, to prefer destitution and danger in their own city, to a precarious subsistence among strangers in distant lands; or, if compelled to quit the beloved precincts of their native walls, still to hover near, ready to avail themselves of the first occasion that should present itself for reversing the decree that condemned them to misery.
For three days and nights there had been warfare in the streets of Siena,—blood flowed in torrents,—yet the cries and groans of the fallen but excited their friends to avenge them—not their foes to spare. On the fourth morning, Ugo Mancini, with a scanty band of followers, was driven from the town; succours from Florence had arrived for his enemies, and he was forced to yield. Burning with rage, writhing with an impotent thirst for vengeance, Ugo went round to the neighbouring villages to rouse them, not against his native town, but the victorious Tolomei. Unsuccessful in these endeavours, he next took the more equivocal step of seeking warlike aid from the Pisans. But Florence kept Pisa in check, and Ugo found only an inglorious refuge where he had hoped to acquire active allies. He had been wounded in these struggles; but, animated by a superhuman spirit, he had forgotten his pain and surmounted his weakness; nor was it until a cold refusal was returned to his energetic representations, that he sank beneath his physical sufferings. He was stretched on a bed of torture when he received intelligence that an edict of perpetual banishment and confiscation of property was passed against him. His two children, beggars now, were sent to him. His wife was dead, and these were all of near relations that he possessed. His bitter feelings were still too paramount for him to receive comfort from their presence; yet these agitated and burning emotions appeared in after-times a remnant of happiness compared to the total loss of every hope—the wasting inaction of sickness and of poverty.
For five years Ugo Mancini lay stretched on his couch, alternating between states of intense pain and overpowering weakness; and then he died. During this interval, the wreck of his fortunes, consisting of the rent of a small farm, and the use of some money lent, scantily supported him. His few relatives and followers were obliged to seek their subsistence elsewhere, and he remained alone to his pain, and to his two children, who yet clung to the paternal side.
Hatred to his foes, and love for his native town, were the sentiments that possessed his soul, and which he imparted in their full force to the plastic mind of his son, which received like molten metal the stamp he desired to impress. Lorenzo was scarcely twelve years old at the period of his father's exile, and he naturally turned with fondness towards the spot where he had enjoyed every happiness, where each hour had been spent in light-hearted hilarity, and the kindness and observance of many attended on his steps. Now, how sad the contrast!—dim penury—a solitude cheered by no encouraging smiles or sunny flatteries—perpetual attendance on his father, and untimely cares, cast their dark shadows over his altered lot.
Lorenzo was a few years older than his sister. Friendless and destitute as was the exile's family, it was he who overlooked its moderate disbursements, who was at once his father's nurse and his sister's guardian, and acted as the head of the family during the incapacity of his parent. But instead of being narrowed or broken in spirit by these burdens, his ardent soul rose to meet them, and grew enlarged and lofty from the very calls made upon it. His look was serious, not careworn; his manner calm, not humble; his voice had all the tenderness of a woman—his eye all the pride and fire of a hero.
Still his unhappy father wasted away, and Lorenzo's hours were entirely spent beside his bed. He was indefatigable in his attentions—weariness never seemed to overcome him. His limbs were always alert—his speech inspiriting and kind. His only pastime was during any interval in his parent's sufferings, to listen to his eulogiums on his native town, and to the history of the wrongs which, from time immemorial, the Mancini had endured from the Tolomei. Lorenzo, though replete with noble qualities, was still an Italian; and fervent love for his birthplace, and violent hatred towards the foes of his house, were the darling passions of his heart. Nursed in loneliness, they acquired vigour; and the nights he spent in watching his father were varied by musing on the career he should hereafter follow—his return to his beloved Siena, and the vengeance he would take on his enemies.
Ugo often said, I die because I am an exile:—at length these words were fulfilled, and the unhappy man sank beneath the ills of fortune. Lorenzo saw his beloved father expire—his father, whom he loved. He seemed to deposit in his obscure grave all that best deserved reverence and honour in the world; and turning away his steps, he lamented the loss of the sad occupation of so many years, and regretted the exchange he made from his father's sick bed to a lonely and unprized freedom.
The first use he made of the liberty he had thus acquired was to return to Siena with his sister. He entered his native town as if it were a paradise, and he found it a desert in all save the hues of beauty and delight with which his imagination loved to invest it. There was no one to whom he could draw near in friendship within the whole circuit of its walls. According to the barbarous usage of the times, his father's palace had been razed, and the mournful ruins stood as a tomb to commemorate the fall of his fortunes. Not as such did Lorenzo view them; he often stole out at nightfall, when the stars alone beheld his enthusiasm, and, clambering to the highest part of the massy fragments, spent long hours in mentally rebuilding the desolate walls, and in consecrating once again the weed-grown hearth to family love and hospitable festivity. It seemed to him that the air was more balmy and light, breathed amidst these memorials of the past; and his heart warmed with rapture over the tale they told of what his progenitors had been—what he again would be.
Yet, had he viewed his position sanely, he would have found it full of mortification and pain; and he would have become aware that his native town was perhaps the only place in the world where his ambition would fail in the attainment of its aim. The Tolomei reigned over it. They had led its citizens to conquest, and enriched them with spoils. They were adored; and to flatter them, the populace were prone to revile and scoff at the name of Mancini. Lorenzo did not possess one friend within its walls: he heard the murmur of hatred as he passed along, and beheld his enemies raised to the pinnacle of power and honour; and yet, so strangely framed is the human heart, that he continued to love Siena, and would not have exchanged his obscure and penurious abode within its walls to become the favoured follower of the German Emperor. Such a place, through education and the natural prejudices of man, did Siena hold in his imagination, that a lowly condition there seemed a nobler destiny than to be great in any other spot.
To win back the friendship of its citizens and humble his enemies was the dream that shed so sweet an influence over his darkened hours. He dedicated his whole being to this work, and he did not doubt but that he should succeed. The house of Tolomei had for its chief a youth but a year or two older than himself—with him, when an opportunity should present itself, he would enter the lists. It seemed the bounty of Providence that gave him one so nearly equal with whom to contend; and during the interval that must elapse before they could clash, he was busy in educating himself for the struggle. Count Fabian dei Tolomei bore the reputation of being a youth full of promise and talent; and Lorenzo was glad to anticipate a worthy antagonist. He occupied himself in the practice of arms, and applied with perseverance to the study of the few books that fell in his way. He appeared in the market-place on public occasions modestly attired; yet his height, his dignified carriage, and the thoughtful cast of his noble countenance, drew the observation of the bystanders;—though, such was the prejudice against his name, and the flattery of the triumphant party, that taunts and maledictions followed him. His nobility of appearance was called pride; his affability, meanness; his aspiring views, faction;—and it was declared that it would be a happy day when he should no longer blot their sunshine with his shadow. Lorenzo smiled,—he disdained to resent, or even to feel, the mistaken insults of the crowd, who, if fortune changed, would the next day throw up their caps for him. It was only when loftier foes approached that his brow grew dark, that he drew himself up to his full height, repaying their scorn with glances of defiance and hate.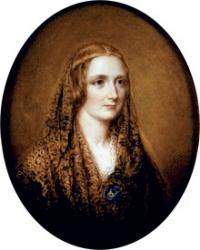 But although he was ready in his own person to encounter the contumely of his townsmen, and walked on with placid mien, regardless of their sneers, he carefully guarded his sister from such scenes. She was led by him each morning, closely veiled, to hear mass in an obscure church. And when, on feast-days, the public walks were crowded with cavaliers and dames in splendid attire, and with citizens and peasants in their holiday garb, this gentle pair might be seen in some solitary and shady spot, Flora knew none to love except her brother—she had grown under his eyes from infancy; and while he attended on the sick-bed of their father, he was father, brother, tutor, guardian to her—the fondest mother could not have been more indulgent; and yet there was mingled a something beyond, pertaining to their difference of sex. Uniformly observant and kind, he treated her as if she had been a high-born damsel, nurtured in her gayest bower.
Her attire was simple—but thus, she was instructed, it befitted every damsel to dress; her needle-works were such as a princess might have emulated; and while she learnt under her brother's tutelage to be reserved, studious of obscurity, and always occupied, she was taught that such were the virtues becoming her sex, and no idea of dependence or penury was raised in her mind. Had he been the sole human being that approached her, she might have believed herself to be on a level with the highest in the land; but coming in contact with dependants in the humble class of life, Flora became acquainted with her true position; and learnt, at the same time, to understand and appreciate the unequalled kindness and virtues of her brother.
Two years passed while brother and sister continued, in obscurity and poverty, cherishing hope, honour, and mutual love. If an anxious thought ever crossed Lorenzo, it was for the future destiny of Flora, whose beauty as a child gave promise of perfect loveliness hereafter. For her sake he was anxious to begin the career he had marked out for himself, and resolved no longer to delay his endeavours to revive his party in Siena, and to seek rather than avoid a contest with the young Count Fabian, on whose overthrow he would rise—Count Fabian, the darling of the citizens, vaunted as a model for a youthful cavalier, abounding in good qualities, and so adorned by gallantry, subtle wit, and gay, winning manners, that he stepped by right of nature, as well as birth, on the pedestal which exalted him the idol of all around.
It was on a day of public feasting that Lorenzo first presented himself in rivalship with Fabian. His person was unknown to the count, who, in all the pride of rich dress and splendid accoutrements, looked with a smile of patronage on the poorly-mounted and plainly-attired youth, who presented himself to run a tilt with him. But before the challenge was accepted, the name of his antagonist was whispered to Fabian; then, all the bitterness engendered by family feuds; all the spirit of vengeance, which had been taught as a religion, arose at once in the young noble's heart; he wheeled round his steed, and, riding rudely up to his competitor, ordered him instantly to retire from the course, nor dare to disturb the revels of the citizens by the hated presence of a Mancini. Lorenzo answered with equal scorn; and Fabian, governed by uncontrollable passion, called together his followers to drive the youth with ignominy from the lists. A fearful array was mustered against the hateful intruder; but had their number been trebled, the towering spirit of Lorenzo had met them all. One fell—another was disabled by his weapon before he was disarmed and made prisoner; but his bravery did not avail to extract admiration from his prejudiced foes: they rather poured execrations on him for its disastrous effects, as they hurried him to a dungeon, and called loudly for his punishment and death.
Far from this scene of turmoil and bloodshed, in her poor but quiet chamber, in a remote and obscure part of the town, sat Flora, occupied by her embroidery, musing, as she worked, on her brother's project, and anticipating his success. Hours passed, and Lorenzo did not return; the day declined, and still he tarried. Flora's busy fancy forged a thousand causes for the delay. Her brother's prowess had awaked the chilly zeal of the partisans of their family;—he was doubtless feasting among them, and the first stone was laid for the rebuilding of their house. At last, a rush of steps upon the staircase, and a confused clamour of female voices calling loudly for admittance, made her rise and open the door;—in rushed several women—dismay was painted on their faces—their words flowed in torrents—their eager gestures helped them to a meaning, and, though not without difficulty, amidst the confusion, Flora heard of the disaster and imprisonment of her brother—of the blood shed by his hand, and the fatal issue that such a deed ensured. She grew pale as marble. Her young heart was filled with speechless terror; she could form no image of the thing she dreaded, but its indistinct idea was full of fear. Lorenzo was in prison—Count Fabian had placed him there—he was to die! Overwhelmed for a moment by such tidings, yet she rose above their benumbing power, and without proffering a word, or listening to the questions and remonstrances of the women, she rushed past them, down the high staircase, into the street; and then with swift pace to where the public prison was situated. She knew the spot she wished to reach, but she had so seldom quitted her home that she soon got entangled among the streets, and proceeded onwards at random. Breathless, at length, she paused before the lofty portal of a large palace—no one was near—the fast fading twilight of an Italian evening had deepened into absolute darkness. At this moment the glare of flambeaux was thrown upon the street, and a party of horsemen rode up; they were talking and laughing gaily. She heard one addressed as Count Fabian: she involuntarily drew back with instinctive hate; and then rushed forward and threw herself at his horse's feet, exclaiming, "Save my brother!" The young cavalier reined up shortly his prancing steed, angrily reproving her for her heedlessness, and, without deigning another word, entered the courtyard. He had not, perhaps, heard her prayer;—he could not see the suppliant, he spoke but in the impatience of the moment;—but the poor child, deeply wounded by what had the appearance of a personal insult, turned proudly from the door, repressing the bitter tears that filled her eyes. Still she walked on; but night took from her every chance of finding her way to the prison, and she resolved to return home, to engage one of the women of the house, of which she occupied a part, to accompany her. But even to find her way back became matter of difficulty; and she wandered on, discovering no clue to guide her, and far too timid to address any one she might chance to meet. Fatigue and personal fear were added to her other griefs, and tears streamed plentifully down her cheeks as she continued her hopeless journey! At length, at the corner of a street, she recognised an image of the Madonna in a niche, with a lamp burning over it, familiar to her recollection as being near her home. With characteristic piety she knelt before it in thankfulness, and was offering a prayer for Lorenzo, when the sound of steps made her start up, and her brother's voice hailed, and her brother's arms encircled her; it seemed a miracle, but he was there, and all her fears were ended.
Lorenzo anxiously asked whither she had been straying; her explanation was soon given; and he in return related the misfortunes of the morning—the fate that impended over him, averted by the generous intercession of young Fabian himself; and yet—he hesitated to unfold the bitter truth—he was not freely pardoned—he stood there a banished man, condemned to die if the morrow's sun found him within the walls of Siena.
They had arrived, meanwhile, at their home; and with feminine care Flora placed a simple repast before her brother, and then employed herself busily in making various packages. Lorenzo paced the room, absorbed in thought; at length he stopped, and, kissing the fair girl, said,—
"Where can I place thee in safety? how preserve thee, my flower of beauty, while we are divided?"
Flora looked up fearfully. "Do I not go with you?" she asked; "I was making preparations for our journey."
"Impossible, dearest; I go to privation and hardship."
"And I would share them with thee."
"It may not be, sweet sister," replied Lorenzo, "fate divides us, and we must submit. I go to camps—to the society of rude men; to struggle with such fortune as cannot harm me, but which for thee would be fraught with peril and despair. No, my Flora, I must provide safe and honourable guardianship for thee, even in this town." And again Lorenzo meditated deeply on the part he should take, till suddenly a thought flashed on his mind. "It is hazardous," he murmured, "and yet I do him wrong to call it so. Were our fates reversed, should I not think myself highly honoured by such a trust?" And then he told his sister to don hastily her best attire; to wrap her veil round her, and to come with him. She obeyed—for obedience to her brother was the first and dearest of her duties. But she wept bitterly while her trembling fingers braided her long hair, and she hastily changed her dress.
At length they walked forth again, and proceeded slowly, as Lorenzo employed the precious minutes in consoling and counselling his sister. He promised as speedy a return as he could accomplish; but if he failed to appear as soon as he could wish, yet he vowed solemnly that, if alive and free, she should see him within five years from the moment of parting. Should he not come before, he besought her earnestly to take patience, and to hope for the best till the expiration of that period; and made her promise not to bind herself by any vestal or matrimonial vow in the interim. They had arrived at their destination, and entered the courtyard of a spacious palace. They met no servants; so crossed the court, and ascended the ample stairs. Flora had endeavoured to listen to her brother. He had bade her be of good cheer, and he was about to leave her; he told her to hope; and he spoke of an absence to endure five years—an endless term to her youthful anticipations. She promised obedience, but her voice was choked by sobs, and her tottering limbs would not have supported her without his aid. She now perceived that they were entering the lighted and inhabited rooms of a noble dwelling, and tried to restrain her tears, as she drew her veil closely around her. They passed from room to room, in which preparations for festivity were making; the servants ushered them on, as if they had been invited guests, and conducted them into a hall filled with all the nobility and beauty of Siena. Each eye turned with curiosity and wonder on the pair. Lorenzo's tall person, and the lofty expression of his handsome countenance, put the ladies in good-humour with him, while the cavaliers tried to peep under Flora's veil.
"It is a mere child," they said, "and a sorrowing one—what can this mean?"
The youthful master of the house, however, instantly recognised his uninvited and unexpected guest; but before he could ask the meaning of his coming, Lorenzo had advanced with his sister to the spot where he stood, and addressed him.
"I never thought, Count Fabian, to stand beneath your roof, and much less to approach you as a suitor. But that Supreme Power, to whose decrees we must all bend, has reduced me to such adversity as, if it be His will, may also visit you, notwithstanding the many friends that now surround you, and the sunshine of prosperity in which you bask. I stand here a banished man and a beggar. Nor do I repine at this my fate. Most willing am I that my right arm alone should create my fortunes; and, with the blessing of God, I hope so to direct my course, that we may yet meet upon more equal terms. In this hope I turn my steps, not unwillingly, from this city; dear as its name is to my heart—and dear the associations which link its proud towers with the memory of my forefathers. I leave it a soldier of fortune; how I may return is written in the page where your unread destiny is traced as well as mine. But my care ends not with myself. My dying father bequeathed to me this child, my orphan sister, whom I have, until now, watched over with a parent's love. I should ill perform the part intrusted to me, were I to drag this tender blossom from its native bower into the rude highways of life. Lord Fabian, I can count no man my friend; for it would seem that your smiles have won the hearts of my fellow-citizens from me; and death and exile have so dealt with my house, that not one of my name exists within the walls of Siena. To you alone can I intrust this precious charge. Will you accept it until called upon to render it back to me, her brother, or to the juster hands of our Creator, pure and untarnished as I now deliver her to you? I ask you to protect her helplessness, to guard her honour; will you—dare you accept a treasure, with the assurance of restoring it unsoiled, unhurt?"
The deep expressive voice of the noble youth and his earnest eloquence enchained the ears of the whole assembly; and when he ceased, Fabian, proud of the appeal, and nothing loath in the buoyant spirit of youth to undertake a charge which, thus proffered before his assembled kinsmen and friends, became an honour, answered readily, "I agree, and solemnly before Heaven accept your offer. I declare myself the guardian and protector of your sister; she shall dwell in safety beneath my kind mother's care, and if the saints permit your return, she shall be delivered back to you as spotless as she now is."
Lorenzo bowed his head; something choked his utterance as he thought that he was about to part for ever from Flora; but he disdained to betray this weakness before his enemies. He took his sister's hand and gazed upon her slight form with a look of earnest fondness, then murmuring a blessing over her, and kissing her brow, he again saluted Count Fabian, and turning away with measured steps and lofty mien, left the hall. Flora, scarcely understanding what had passed, stood trembling and weeping under her veil. She yielded her passive hand to Fabian, who, leading her to his mother, said: "Madam, I ask of your goodness, and the maternal indulgence you have ever shown, to assist me in fulfilling my promise, by taking under your gracious charge this young orphan."
"You command here, my son," said the countess, "and your will shall be obeyed." Then making a sign to one of her attendants, Flora was conducted from the hall, to where, in solitude and silence, she wept over her brother's departure, and her own strange position.
Flora thus became an inmate of the dwelling of her ancestral foes, and the ward of the most bitter enemy of her house. Lorenzo was gone she knew not whither, and her only pleasure consisted in reflecting that she was obeying his behests. Her life was uniform and tranquil. Her occupation was working tapestry, in which she displayed taste and skill. Sometimes she had the more mortifying task imposed on her of waiting on the Countess de' Tolomei, who having lost two brothers in the last contest with the Mancini, nourished a deep hatred towards the whole race, and never smiled on the luckless orphan. Flora submitted to every command imposed upon her. She was buoyed up by the reflection that her sufferings wore imposed on her by Lorenzo; schooling herself in any moment of impatience by the idea that thus she shared his adversity. No murmur escaped her, though the pride and independence of her nature were often cruelly offended by the taunts and supercilious airs of her patroness or mistress, who was not a bad woman, but who thought it virtue to ill-treat a Mancini. Often, indeed, she neither heard nor heeded these things. Her thoughts were far away, and grief for the loss of her brother's society weighed too heavily on her to allow her to spend more than a passing sigh on her personal injuries.
The countess was unkind and disdainful, but it was not thus with Flora's companions. They were amiable and affectionate girls, either of the bourgeois class, or daughters of dependants of the house of Tolomei. The length of time which had elapsed since the overthrow of the Mancini, had erased from their young minds the bitter duty of hatred, and it was impossible for them to live on terms of daily intercourse with the orphan daughter of this ill-fated race, and not to become strongly attached to her. She was wholly devoid of selfishness, and content to perform her daily tasks in inoffensive silence. She had no envy, no wish to shine, no desire of pleasure. She was nevertheless ever ready to sympathize with her companions, and glad to have it in her power to administer to their happiness. To help them in the manufacture of some piece of finery; to assist them in their work; and, perfectly prudent and reserved herself, to listen to all their sentimental adventures; to give her best advice, and to aid them in any difficulty, were the simple means she used to win their unsophisticated hearts. They called her an angel; they looked up to her as to a saint, and in their hearts respected her more than the countess herself.
One only subject ever disturbed Flora's serene melancholy. The praise she perpetually heard lavished on Count Fabian, her brother's too successful rival and oppressor, was an unendurable addition to her other griefs. Content with her own obscurity, her ambition, her pride, her aspiring thoughts were spent upon her brother. She hated Count Fabian as Lorenzo's destroyer, and the cause of his unhappy exile. His accomplishments she despised as painted vanities; his person she contemned as the opposite of his prototype. His blue eyes, clear and open as day; his fair complexion and light brown hair; his slight elegant person; his voice, whose tones in song won each listener's heart to tenderness and love; his wit, his perpetual flow of spirits, and unalterable good-humour, were impertinences and frivolities to her who cherished with such dear worship the recollection of her serious, ardent, noble-hearted brother, whose soul was ever set on high thoughts, and devoted to acts of virtue and self-sacrifice; whose fortitude and affectionate courtesy seemed to her the crown and glory of manhood; how different from the trifling flippancy of Fabian! "Name an eagle," she would say, "and we raise our eyes to heaven, there to behold a creature fashioned in Nature's bounty; but it is a degradation to waste one thought on the insect of a day." Some speech similar to this had been kindly reported to the young count's lady mother, who idolized her son as the ornament and delight of his age and country. She severely reprimanded the incautious Flora, who, for the first time, listened proudly and unyieldingly. From this period her situation grew more irksome; all she could do was to endeavour to withdraw herself entirely from observation, and to brood over the perfections, while she lamented yet more keenly the absence, of her brother.
Two or three years thus flew away, and Flora grew from a childish-looking girl of twelve into the bewitching beauty of fifteen. She unclosed like a flower, whose fairest petals are yet shut, but whose half-veiled loveliness is yet more attractive. It was at this time that on occasion of doing honour to a prince of France, who was passing on to Naples, the Countess Tolomei and her son, with a bevy of friends and followers, went out to meet and to escort the royal traveller on his way. Assembled in the hall of the palace, and waiting for the arrival of some of their number, Count Fabian went round his mother's circle, saying agreeable and merry things to all. Wherever his cheerful blue eyes lighted, there smiles were awakened and each young heart beat with vanity at his harmless flatteries. After a gallant speech or two, he espied Flora, retired behind her companions.
"What flower is this," he said, "playing at hide and seek with her beauty?" And then, struck by the modest sweetness of her aspect, her eyes cast down, and a rosy blush mantling over her cheek, he added, "What fair angel makes one of your company?"
"An angel indeed, my lord," exclaimed one of the younger girls, who dearly loved her best friend; "she is Flora Mancini."
"Mancini!" exclaimed Fabian, while his manner became at once respectful and kind. "Are you the orphan daughter of Ugo—the sister of Lorenzo, committed by him to my care?" For since then, through her careful avoidance, Fabian had never even seen his fair ward. She bowed an assent to his questions, while her swelling heart denied her speech; and Fabian, going up to his mother, said, "Madam, I hope for our honour's sake that this has not before happened. The adverse fortune of this young lady may render retirement and obscurity befitting; but it is not for us to turn into a menial one sprung from the best blood in Italy. Let me entreat you not to permit this to occur again. How shall I redeem my pledged honour, or answer to her brother for this unworthy degradation?"
"Would you have me make a friend and a companion of a Mancini?" asked the countess, with raised colour.
"I ask you not, mother, to do aught displeasing to you," replied the young noble; "but Flora is my ward, not our servant;—permit her to retire; she will probably prefer the privacy of home, to making one among the festive crowd of her house's enemies. If not, let the choice be hers—Say, gentle one, will you go with us or retire?"
She did not speak, but raising her soft eyes, curtsied to him and to his mother, and quitted the room; so, tacitly making her selection.
From this time Flora never quitted the more secluded apartments of the palace, nor again saw Fabian. She was unaware that he had been profuse in his eulogium on her beauty; but that while frequently expressing his interest in his ward, he rather avoided the dangerous power of her loveliness. She led rather a prison life, walking only in the palace garden when it was else deserted, but otherwise her time was at her own disposal, and no commands now interfered with her freedom. Her labours were all spontaneous. The countess seldom even saw her, and she lived among this lady's attendants like a free boarder in a convent; who cannot quit the walls, but who is not subservient to the rules of the asylum. She was more busy than ever at her tapestry frame, because the countess prized her work; and thus she could in some degree repay the protection afforded her. She never mentioned Fabian, and always imposed silence on her companions when they spoke of him. But she did this in no disrespectful terms. "He is a generous enemy, I acknowledge," she would say, "but still he is my enemy, and while through him my brother is an exile and a wanderer upon earth, it is painful to me to hear his name."
After the lapse of many months spent in entire seclusion and tranquillity, a change occurred in the tenor of her life. The countess suddenly resolved to pass the Easter festival at Rome. Flora's companions were wild with joy at the prospect of the journey, the novelty, and the entertainment they promised themselves from this visit, and pitied the dignity of their friend, which prevented her from making one in their mistress's train; for it was soon understood that Flora was to be left behind; and she was informed that the interval of the lady's absence was to be passed by her in a villa belonging to the family situated in a sequestered nook among the neighbouring Apennines.
The countess departed in pomp and pride on her so-called pilgrimage to the sacred city, and at the same time Flora was conveyed to her rural retreat. The villa was inhabited only by the peasant and his family, who cultivated the farm, or podere, attached to it, and the old cassiére or housekeeper. The cheerfulness and freedom of the country were delightful, and the entire solitude consonant to the habits of the meditative girl, accustomed to the confinement of the city, and the intrusive prattle of her associates. Spring was opening with all the beauty which that season showers upon favoured Italy. The almond and peach trees were in blossom; and the vine-dresser sang at his work, perched with his pruning-knife among the vines. Blossoms and flowers, in laughing plenty, graced the soil; and the trees, swelling with buds ready to expand into leaves, seemed to feel the life that animated their dark old boughs. Flora was enchanted; the country labours interested her, and the hoarded experience of old Sandra was a treasure-house of wisdom and amusement. Her attention had hitherto been directed to giving the most vivid hues and truest imitation to her transcript with her needle of some picture given her as a model; but here was a novel occupation. She learned the history of the bees, watched the habits of the birds, and inquired into the culture of plants. Sandra was delighted with her new companion; and, though notorious for being cross, yet could wriggle her antique lips into smiles for Flora.
To repay the kindness of her guardian and his mother, she still devoted much time to her needle. This occupation but engaged half her attention; and while she pursued it, she could give herself up to endless reverie on the subject of Lorenzo's fortunes. Three years had flown since he had left her; and, except a little gold cross brought to her by a pilgrim from Milan, but one month after his departure, she had received no tidings of him. Whether from Milan he had proceeded to France, Germany, or the Holy Land, she did not know. By turns her fancy led him to either of these places, and fashioned the course of events that might have befallen him. She figured to herself his toilsome journeys—his life in the camp—his achievements, and the honours showered on him by kings and nobles; her cheek glowed at the praises he received, and her eye kindled with delight as it imaged him standing with modest pride and an erect but gentle mien before them. Then the fair enthusiast paused; it crossed her recollection like a shadow, that if all had gone prosperously, he had returned to share his prosperity with her, and her faltering heart turned to sadder scenes to account for his protracted absence.
Sometimes, while thus employed, she brought her work into the trellised arbour of the garden, or, when it was too warm for the open air, she had a favourite shady window, which looked down a deep ravine into a majestic wood, whence the sound of falling water met her ears. One day, while she employed her fingers upon the spirited likeness of a hound which made a part of the hunting-piece she was working for the countess, a sharp, wailing cry suddenly broke on her ear, followed by trampling of horses and the hurried steps and loud vociferations of men. They entered the villa on the opposite side from that which her window commanded; but, the noise continuing, she rose to ask the reason, when Sandra burst into the room, crying, "O Madonna! he is dead! he has been thrown from his horse, and he will never speak more." Flora for an instant could only think of her brother. She rushed past the old woman, down into the great hall, in which, lying on a rude litter of boughs, she beheld the inanimate body of Count Fabian. He was surrounded by servitors and peasants, who were all clasping their hands and tearing their hair as, with frightful shrieks, they pressed round their lord, not one of them endeavouring to restore him to life. Flora's first impulse was to retire; but, casting a second glance on the livid brow of the young count, she saw his eyelids move, and the blood falling in quick drops from his hair on the pavement. She exclaimed, "He is not dead—he bleeds! hasten some of you for a leech!" And meanwhile she hurried to get some water, sprinkled it on his face, and, dispersing the group that hung over him and impeded the free air, the soft breeze playing on his forehead revived him, and he gave manifest tokens of life; so that when the physician arrived, he found that, though he was seriously and even dangerously hurt, every hope might be entertained of his recovery.
Flora undertook the office of his nurse, and fulfilled its duties with unwearied attention. She watched him by night and waited on him by day with that spirit of Christian humility and benevolence which animates a Sister of Charity as she tends the sick. For several days Fabian's soul seemed on the wing to quit its earthly abode; and the state of weakness that followed his insensibility was scarcely less alarming. At length, he recognised and acknowledged the care of Flora, but she alone possessed any power to calm and guide him during the state of irritability and fever that then ensued. Nothing except her presence controlled his impatience; before her he was so lamb-like, that she could scarcely have credited the accounts that others gave her of his violence, but that, whenever she returned, after leaving him for any time, she heard his voice far off in anger, and found him with flushed cheeks and flashing eyes, all which demonstrations subsided into meek acquiescence when she drew near.
In a few weeks he was able to quit his room; but any noise or sudden sound drove him almost insane. So loud is an Italian's quietest movements, that Flora was obliged to prevent the approach of any except herself; and her soft voice and noiseless footfall were the sweetest medicine she could administer to her patient. It was painful to her to be in perpetual attendance on Lorenzo's rival and foe, but she subdued her heart to her duty, and custom helped to reconcile her. As he grew better, she could not help remarking the intelligence of his countenance, and the kindness and cordiality of his manners. There was an unobtrusive and delicate attention and care in his intercourse with her that won her to be pleased. When he conversed, his discourse was full of entertainment and variety. His memory was well-stored with numerous fabliaux, novelle, and romances, which he quickly discovered to be highly interesting to her, and so contrived to have one always ready from the exhaustless stock he possessed. These romantic stories reminded her of the imaginary adventures she had invented, in solitude and silence, for her brother; and each tale of foreign countries had a peculiar charm, which animated her face as she listened, so that Fabian could have gone on for ever, only to mark the varying expression of her countenance as he proceeded. Yet she acknowledged these attractions in him as a Catholic nun may the specious virtues of a heretic; and, while he contrived each day to increase the pleasure she derived from his society, she satisfied her conscience with regard to her brother by cherishing in secret a little quiet stock of family hate, and by throwing over her manners, whenever she could recollect so to do, a cold and ceremonious tone, which she had the pleasure of seeing vexed him heartily.
Nearly two months had passed, and he was so well recovered that Flora began to wonder that he did not return to Siena, and of course to fulfil her duty by wishing that he should; and yet, while his cheek was sunk through past sickness, and his elastic step grown slow, she, as a nurse desirous of completing her good work, felt averse to his entering too soon on the scene of the busy town and its noisy pleasures. At length, two or three of his friends having come to see him, he agreed to return with them to the city. A significant glance which they cast on his young nurse probably determined him. He parted from her with a grave courtesy and a profusion of thanks, unlike his usual manner, and rode off without alluding to any probability of their meeting again.
S
he fancied that she was relieved from a burden when he went, and was surprised to find the days grow tedious, and mortified to perceive that her thoughts no longer spent themselves so spontaneously on her brother, and to feel that the occupation of a few weeks could unhinge her mind and dissipate her cherished reveries; thus, while she felt the absence of Fabian, she was annoyed at him the more for having, in addition to his other misdeeds, invaded the sanctuary of her dearest thoughts. She was beginning to conquer this listlessness, and to return with renewed zest to her usual occupations, when, in about a week after his departure, Fabian suddenly returned. He came upon her as she was gathering flowers for the shrine of the Madonna; and, on seeing him, she blushed as rosy red as the roses she held. He looked infinitely worse in health than when he went. His wan cheeks and sunk eyes excited her concern; and her earnest and kind questions somewhat revived him. He kissed her hand, and continued to stand beside her as she finished her nosegay. Had any one seen the glad, fond look with which he regarded her as she busied herself among the flowers, even old Sandra might have prognosticated his entire recovery under her care.
Flora was totally unaware of the feelings that were excited in Fabian's heart, and the struggle he made to overcome a passion too sweet and too seductive, when awakened by so lovely a being, ever to be subdued. He had been struck with her some time ago, and avoided her. It was through his suggestion that she passed the period of the countess's pilgrimage in this secluded villa. Nor had he thought of visiting her there; but, riding over one day to inquire concerning a foal rearing for him, his horse had thrown him, and caused him that injury which had made him so long the inmate of the same abode. Already prepared to admire her—her kindness, her gentleness, and her unwearied patience during his illness, easily conquered a heart most ready and yet most unwilling to yield. He had returned to Siena resolved to forget her, but he came back assured that his life and death were in her hands.
At first Count Fabian had forgot that he had any but his own feelings and prejudices, and those of his mother and kindred, to overcome; but when the tyranny of love vanquished these, he began to fear a more insurmountable impediment in Flora. The first whisper of love fell like mortal sin upon her ear; and disturbed, and even angry, she replied:—
"Methinks you wholly forget who I am, and what you are. I speak not of ancient feuds, though these were enough to divide us for ever. Know that I hate you as my brother's oppressor. Restore Lorenzo to me—recall him from banishment—erase the memory of all that he has suffered through you—win his love and approbation;—and when all this is fulfilled, which never can be, speak a language which now it is as the bitterness of death for me to hear!"
And saying this, she hastily retired, to conceal the floods of tears which this, as she termed it, insult had caused to flow; to lament yet more deeply her brother's absence and her own dependence.
Fabian was not so easily silenced; and Flora had no wish to renew scenes and expressions of violence so foreign to her nature. She imposed a rule on herself, by never swerving from which she hoped to destroy the ill-omened love of her protector. She secluded herself as much as possible; and when with him assumed a chilling indifference of manner, and made apparent in her silence so absolute and cold a rejection of all his persuasions, that had not love with its unvanquishable hopes reigned absolutely in young Fabian's heart, he must have despaired. He ceased to speak of his affection, so to win back her ancient kindness. This was at first difficult; for she was timid as a young bird, whose feet have touched the limed twigs. But naturally credulous, and quite inexperienced, she soon began to believe that her alarm was exaggerated, and to resume those habits of intimacy which had heretofore subsisted between them. By degrees Fabian contrived to insinuate the existence of his attachment—he could not help it. He asked no return; he would wait for Lorenzo's arrival, which he was sure could not be far distant. Her displeasure could not change, nor silence destroy, a sentiment which survived in spite of both. Intrenched in her coldness and her indifference, she hoped to weary him out by her defensive warfare, and fancied that he would soon cease his pursuit in disgust.
The countess had been long away; she had proceeded to view the feast of San Gennaro at Naples, and had not received tidings of her son's illness. Her return was now expected; and Fabian resolved to return to Siena in time to receive her. Both he and Flora were therefore surprised one day, when she suddenly entered the apartment where they both were. Flora had long peremptorily insisted that he should not intrude while she was employed on her embroidery frame; but this day he had made so good a pretext, that for the first time he was admitted, and then suffered to stay a few minutes—they now neither of them knew how long; she was busy at her work; and he sitting near, gazing unreproved on her unconscious face and graceful figure, felt himself happier than he had ever been before.
The countess was sufficiently surprised, and not a little angry; but before she could do more than utter one exclamation, Fabian interrupted, by entreating her not to spoil all. He drew her away; he made his own explanations, and urged his wishes with resistless persuasion. The countess had been used to indulge him in every wish; it was impossible for her to deny any strongly urged request; his pertinacity, his agitation, his entreaties half won her; and the account of his illness, and his assurances, seconded by those of all the family, that Flora had saved his life, completed the conquest, and she became in her turn a suitor for her son to the orphan daughter of Mancini.
Flora, educated till the age of twelve by one who never consulted his own pleasures and gratifications, but went right on in the path of duty, regardless of pain or disappointment, had no idea of doing aught merely because she or others might wish it. Since that time she had been thrown on her own resources; and jealously cherishing her individuality, every feeling of her heart had been strengthened by solitude and by a sense of mental independence. She was the least likely of any one to go with the stream, or to yield to the mere influence of circumstances. She felt, she knew, what it became her to do, and that must be done in spite of every argument.
The countess's expostulations and entreaties were of no avail. The promise she had made to her brother of engaging herself by no vow for five years must be observed under every event; it was asked from her at the sad and solemn hour of their parting, and was thus rendered doubly sacred. So constituted, indeed, were her feelings, that the slightest wish she ever remembered having been expressed by Lorenzo had more weight with her than the most urgent prayers of another. He was a part of her religion; reverence and love for him had been moulded into the substance of her soul from infancy; their very separation had tended to render these impressions irradicable. She brooded over them for years; and when no sympathy or generous kindness was afforded her—when the countess treated her like an inferior and a dependant, and Fabian had forgotten her existence, she had lived from month to month, and from year to year, cherishing the image of her brother, and only able to tolerate the annoyances that beset her existence, by considering that her patience, her fortitude, and her obedience were all offerings at the shrine of her beloved Lorenzo's desires.
It is true that the generous and kindly disposition of Fabian won her to regard him with a feeling nearly approaching tenderness, though this emotion was feeble, the mere ripple of the waves, compared to the mighty tide of affection that set her will all one way, and made her deem everything trivial except Lorenzo's return—Lorenzo's existence—obedience to Lorenzo. She listened to her lover's persuasions so unyieldingly that the countess was provoked by her inflexibility; but she bore her reproaches with such mildness, and smiled so sweetly, that Fabian was the more charmed. She admitted that she owed him a certain submission as the guardian set over her by her brother; Fabian would have gladly exchanged this authority for the pleasure of being commanded by her; but this was an honour he could not attain, so in playful spite he enforced concessions from her. At his desire she appeared in society, dressed as became her rank, and filled in his house the station a sister of his own would have held. She preferred seclusion, but she was averse to contention, and it was little that she yielded, while the purpose of her soul was as fixed as ever.
The fifth year of Lorenzo's exile was now drawing to a close, but he did not return, nor had any intelligence been received of him. The decree of his banishment had been repealed, the fortunes of his house restored, and his palace, under Fabian's generous care, rebuilt. These were acts that demanded and excited Flora's gratitude; yet they were performed in an unpretending manner, as if the citizens of Siena had suddenly become just and wise without his interference. But these things dwindled into trifles while the continuation of Lorenzo's absence seemed the pledge of her eternal misery; and the tacit appeal made to her kindness, while she had no thought but for her brother, drove her to desperation. She could no longer tolerate the painful anomaly of her situation; she could not endure her suspense for her brother's fate, nor the reproachful glances of Fabian's mother and his friends. He himself was more generous,—he read her heart, and, as the termination of the fifth year drew nigh, ceased to allude to his own feelings, and appeared as wrapt as herself in doubt concerning the fate of the noble youth, whom they could scarcely entertain a hope of ever seeing more. This was small comfort to Flora. She had resolved that when the completion of the fifth year assured her that her brother was for ever lost, she would never see Fabian again. At first she had resolved to take refuge in a convent, and in the sanctity of religious vows. But she remembered how averse Lorenzo had always shown himself to this vocation, and that he had preferred to place her beneath the roof of his foe, than within the walls of a nunnery. Besides, young as she was, and, despite of herself, full of hope, she recoiled from shutting the gates of life upon herself for ever. Notwithstanding her fears and sorrow, she clung to the belief that Lorenzo lived; and this led her to another plan. When she had received her little cross from Milan, it was accompanied by a message that he believed he had found a good friend in the archbishop of that place. This prelate, therefore, would know whither Lorenzo had first bent his steps, and to him she resolved to apply. Her scheme was easily formed. She possessed herself of the garb of a pilgrim, and resolved on the day following the completion of the fifth year to depart from Siena, and bend her steps towards Lombardy, buoyed up by the hope that she should gain some tidings of her brother.
Meanwhile Fabian had formed a similar resolve. He had learnt the fact from Flora, of Lorenzo having first resorted to Milan, and he determined to visit that city, and not to return without certain information. He acquainted his mother with his plan, but begged her not to inform Flora, that she might not be tortured by double doubt during his absence.
The anniversary of the fifth year was come, and with it the eve of these several and separate journeys. Flora had retired to spend the day at the villa before mentioned. She had chosen to retire thither for various reasons. Her escape was more practicable thence than in the town; and she was anxious to avoid seeing both Fabian and his mother, now that she was on the point of inflicting severe pain on them. She spent the day at the villa and in its gardens, musing on her plans, regretting the quiet of her past life—saddened on Fabian's account—grieving bitterly for Lorenzo. She was not alone, for she had been obliged to confide in one of her former companions, and to obtain her assistance. Poor little Angeline was dreadfully frightened with the trust reposed in her, but did not dare expostulate with or betray her friend; and she continued near her during this last day, by turns trying to console and weeping with her. Towards evening they wandered together into the wood contiguous to the villa. Flora had taken her harp with her, but her trembling fingers refused to strike its chords; she left it, she left her companion, and strayed on alone to take leave of a spot consecrated by many a former visit. Here the umbrageous trees gathered about her, and shaded her with their thick and drooping foliage;—a torrent dashed down from neighbouring rock, and fell from a height into a rustic basin, hollowed to receive it; then, overflowing the margin at one spot, it continued falling over successive declivities, till it reached the bottom of a little ravine, when it stole on in a placid and silent course. This had ever been a favourite resort of Flora. The twilight of the wood and the perpetual flow, the thunder, the hurry, and the turmoil of the waters, the varied sameness of the eternal elements, accorded with the melancholy of her ideas, and the endless succession of her reveries. She came to it now; she gazed on the limpid cascade—for the last time; a soft sadness glistened in her eyes, and her attitude denoted the tender regret that filled her bosom; her long bright tresses streaming in elegant disorder, her light veil and simple, yet rich, attire, were fitfully mirrored in the smooth face of the rushing waters. At this moment the sound of steps more firm and manly than those of Angeline struck her ear, and Fabian himself stood before her; he was unable to bring himself to depart on his journey without seeing her once again. He had ridden to the villa, and, finding that she had quitted it, sought and found her in the lone recess where they had often spent hours together which had been full of bliss to him. Flora was sorry to see him, for her secret was on her lips, and yet she resolved not to give it utterance. He was ruled by the same feeling. Their interview was therefore short, and neither alluded to what sat nearest the heart of each. They parted with a simple "Good-night," as if certain of meeting the following morning; each deceived the other, and each was in turn deceived. There was more of tenderness in Flora's manner than there had ever been; it cheered his faltering soul, about to quit her, while the anticipation of the blow he was about to receive from her made her regard as venial this momentary softening towards her brother's enemy.
Fabian passed the night at the villa, and early the next morning he departed for Milan. He was impatient to arrive at the end of his journey, and often he thrust his spurs into his horse's sides, and put him to his speed, which even then appeared slow. Yet he was aware that his arrival at Milan might advance him not a jot towards the ultimate object of his journey; and he called Flora cruel and unkind, until the recollection of her kind farewell consoled and cheered him.
He stopped the first night at Empoli, and, crossing the Arno, began to ascend the Apennines on the northern side. Soon he penetrated their fastnesses, and entered deep into the ilex woods. He journeyed on perseveringly, and yet the obstructions he met with were many, and borne with impatience. At length, on the afternoon of the third day, he arrived at a little rustic inn, hid deep in a wood, which showed signs of seldom being visited by travellers. The burning sun made it a welcome shelter for Fabian; and he deposited his steed in the stable, which he found already partly occupied by a handsome black horse, and then entered the inn to seek refreshment for himself. There seemed some difficulty in obtaining this. The landlady was the sole domestic, and it was long before she made her appearance, and then she was full of trouble and dismay; a sick traveller had arrived—a gentleman to all appearance dying of a malignant fever. His horse, his well-stored purse, and rich dress showed that he was a cavalier of consequence;—the more the pity. There was no help, nor any means of carrying him forward; yet half his pain seemed to arise from his regret at being detained—he was so eager to proceed to Siena. The name of his own town excited the interest of Count Fabian, and he went up to visit the stranger, while the hostess prepared his repast.
Meanwhile Flora awoke with the lark, and with the assistance of Angeline attired herself in her pilgrim's garb. From the stir below, she was surprised to find that Count Fabian had passed the night at the villa, and she lingered till he should have departed, as she believed, on his return to Siena. Then she embraced her young friend, and taking leave of her with many blessings and thanks, alone, with Heaven, as she trusted, for her guide, she quitted Fabian's sheltering roof, and with a heart that maintained its purpose in spite of her feminine timidity, began her pilgrimage. Her journey performed on foot was slow, so that there was no likelihood that she could overtake her lover, already many miles in advance. Now that she had begun it, her undertaking appeared to her gigantic, and her heart almost failed her. The burning sun scorched her; never having before found herself alone in a highway, a thousand fears assailed her, and she grew so weary, that soon she was unable to support herself. By the advice of a landlady at an inn where she stopped, she purchased a mule to help her on her long journey. Yet with this help it was the third night before she arrived at Empoli, and then crossing the Arno, as her lover had done before, her difficulties seemed to begin to unfold themselves, and to grow gigantic, as she entered the dark woods of the Apennines, and found herself amidst the solitude of its vast forests. Her pilgrim's garb inspired some respect, and she rested at convents by the way. The pious sisters held up their hands in admiration of her courage; while her heart beat faintly with the knowledge that she possessed absolutely none. Yet, again and again, she repeated to herself, that the Apennines once passed, the worst would be over. So she toiled on, now weary, now frightened—very slowly, and yet very anxious to get on with speed.
On the evening of the seventh day after quitting her home, she was still entangled in the mazes of these savage hills. She was to sleep at a convent on their summit that night, and the next day arrive at Bologna. This hope had cheered her through the day; but evening approached, the way grew more intricate, and no convent appeared. The sun had set, and she listened anxiously for the bell of the Ave Maria, which would give her hope that the goal she sought was nigh; but all was silent, save the swinging boughs of the vast trees, and the timid beating of her own heart; darkness closed around her, and despair came with the increased obscurity, till a twinkling light, revealing itself among the trees, afforded her some relief. She followed this beamy guide till it led her to a little inn, where the sight of a kind-looking woman, and the assurance of safe shelter, dispelled her terrors, and filled her with grateful pleasure.
Seeing her so weary, the considerate hostess hastened to place food before her, and then conducted her to a little low room where her bed was prepared. "I am sorry, lady," said the landlady in a whisper, "not to be able to accommodate you better; but a sick cavalier occupies my best room—it is next to this—and he sleeps now, and I would not disturb him. Poor gentleman! I never thought he would rise more; and under Heaven he owes his life to one who, whether he is related to him or not I cannot tell, for he did not accompany him. Four days ago he stopped here, and I told him my sorrow—how I had a dying guest, and he charitably saw him, and has since then nursed him more like a twin-brother than a stranger."
The good woman prattled on. Flora heard but little of what she said; and overcome by weariness and sleep, paid no attention to her tale. But having performed her orisons, and placed her head on the pillow, she was quickly lapped in the balmy slumber she so much needed.
Early in the morning she was awoke by a murmur of voices in the next room. She started up, and recalling her scattered thoughts, tried to remember the account the hostess had given her the preceding evening. The sick man spoke, but his accent was low, and the words did not reach her;—he was answered—could Flora believe her senses? did she not know the voice that spoke these words?—"Fear nothing, a sweet sleep has done you infinite good; and I rejoice in the belief that you will speedily recover. I have sent to Siena for your sister, and do indeed expect that Flora will arrive this very day."
More was said, but Flora heard no more; she had risen, and was hastily dressing herself; in a few minutes she was by her brother's, her Lorenzo's bedside, kissing his wan hand, and assuring him that she was indeed Flora.
"These are indeed wonders," he at last said; "and if you are mine own Flora you perhaps can tell me who this noble gentleman is, who day and night has watched beside me, as a mother may by her only child, giving no time to repose, but exhausting himself for me."
"How, dearest brother," said Flora, "can I truly answer your question? to mention the name of our benefactor were to speak of a mask and a disguise, not a true thing. He is my protector and guardian, who has watched over and preserved me while you wandered far; his is the most generous heart in Italy, offering past enmity and family pride as sacrifices at the altar of nobleness and truth. He is the restorer of your fortunes in your native town"—
"And the lover of my sweet sister.—I have heard of these things, and was on my way to confirm his happiness and to find my own, when sickness laid me thus low, and would have destroyed us both for ever, but for Fabian Tolomei"—
"Who how exerts his expiring authority to put an end to this scene," interrupted the young count. "Not till this day has Lorenzo been sufficiently composed to hear any of these explanations, and we risk his returning health by too long a conversation. The history of these things and of his long wanderings, now so happily ended, must be reserved for a future hour; when assembled in our beloved Siena, exiles and foes no longer, we shall long enjoy the happiness which Providence, after so many trials, has bounteously reserved for us."
Mary Shelley
(1797 – 1851)
The Brother and Sister: An Italian Story harkens to the familiar tragedy of feuding families, Romeo and Juliet.
• fleursdumal.nl magazine
More in: Archive S-T, Mary Shelley, Shelley, Mary, Tales of Mystery & Imagination
---
Sredni Vashtar
Conradin was ten years old, and the doctor had pronounced his professional opinion that the boy would not live another five years. The doctor was silky and effete, and counted for little, but his opinion was endorsed by Mrs. de Ropp, who counted for nearly everything. Mrs. De Ropp was Conradin's cousin and guardian, and in his eyes she represented those three-fifths of the world that are necessary and disagreeable and real; the other two-fifths, in perpetual antagonism to the foregoing, were summed up in himself and his imagination. One of these days Conradin supposed he would succumb to the mastering pressure of wearisome necessary things — such as illnesses and coddling restrictions and drawn-out dullness. Without his imagination, which was rampant under the spur of loneliness, he would have succumbed long ago.
Mrs. de Ropp would never, in her honestest moments, have confessed to herself that she disliked Conradin, though she might have been dimly aware that thwarting him "for his good" was a duty which she did not find particularly irksome. Conradin hated her with a desperate sincerity which he was perfectly able to mask. Such few pleasures as he could contrive for himself gained an added relish from the likelihood that they would be displeasing to his guardian, and from the realm of his imagination she was locked out — an unclean thing, which should find no entrance.
In the dull, cheerless garden, overlooked by so many windows that were ready to open with a message not to do this or that, or a reminder that medicines were due, he found little attraction. The few fruit-trees that it contained were set jealously apart from his plucking, as though they were rare specimens of their kind blooming in an arid waste; it would probably have been difficult to find a market-gardener who would have offered ten shillings for their entire yearly produce. In a forgotten corner, however, almost hidden behind a dismal shrubbery, was a disused tool-shed of respectable proportions, and within its walls Conradin found a haven, something that took on the varying aspects of a playroom and a cathedral. He had peopled it with a legion of familiar phantoms, evoked partly from fragments of history and partly from his own brain, but it also boasted two inmates of flesh and blood. In one corner lived a ragged-plumaged Houdan hen, on which the boy lavished an affection that had scarcely another outlet. Further back in the gloom stood a large hutch, divided into two compartments, one of which was fronted with close iron bars. This was the abode of a large polecat-ferret, which a friendly butcher-boy had once smuggled, cage and all, into its present quarters, in exchange for a long-secreted hoard of small silver. Conradin was dreadfully afraid of the lithe, sharp-fanged beast, but it was his most treasured possession. Its very presence in the tool-shed was a secret and fearful joy, to be kept scrupulously from the knowledge of the Woman, as he privately dubbed his cousin. And one day, out of Heaven knows what material, he spun the beast a wonderful name, and from that moment it grew into a god and a religion. The Woman indulged in religion once a week at a church near by, and took Conradin with her, but to him the church service was an alien rite in the House of Rimmon. Every Thursday, in the dim and musty silence of the tool-shed, he worshipped with mystic and elaborate ceremonial before the wooden hutch where dwelt Sredni Vashtar, the great ferret. Red flowers in their season and scarlet berries in the winter-time were offered at his shrine, for he was a god who laid some special stress on the fierce impatient side of things, as opposed to the Woman's religion, which, as far as Conradin could observe, went to great lengths in the contrary direction. And on great festivals powdered nutmeg was strewn in front of his hutch, an important feature of the offering being that the nutmeg had to be stolen. These festivals were of irregular occurrence, and were chiefly appointed to celebrate some passing event. On one occasion, when Mrs. de Ropp suffered from acute toothache for three days, Conradin kept up the festival during the entire three days, and almost succeeded in persuading himself that Sredni Vashtar was personally responsible for the toothache. If the malady had lasted for another day the supply of nutmeg would have given out.
The Houdan hen was never drawn into the cult of Sredni Vashtar. Conradin had long ago settled that she was an Anabaptist. He did not pretend to have the remotest knowledge as to what an Anabaptist was, but he privately hoped that it was dashing and not very respectable. Mrs. de Ropp was the ground plan on which he based and detested all respectability.
After a while Conradin's absorption in the tool-shed began to attract the notice of his guardian. "It is not good for him to be pottering down there in all weathers," she promptly decided, and at breakfast one morning she announced that the Houdan hen had been sold and taken away overnight. With her short-sighted eyes she peered at Conradin, waiting for an outbreak of rage and sorrow, which she was ready to rebuke with a flow of excellent precepts and reasoning. But Conradin said nothing: there was nothing to be said. Something perhaps in his white set face gave her a momentary qualm, for at tea that afternoon there was toast on the table, a delicacy which she usually banned on the ground that it was bad for him; also because the making of it "gave trouble," a deadly offence in the middle-class feminine eye.
"I thought you liked toast," she exclaimed, with an injured air, observing that he did not touch it.
"Sometimes," said Conradin.
In the shed that evening there was an innovation in the worship of the hutch-god. Conradin had been wont to chant his praises, to-night he asked a boon.
"Do one thing for me, Sredni Vashtar."
The thing was not specified. As Sredni Vashtar was a god he must be supposed to know. And choking back a sob as he looked at that other empty corner, Conradin went back to the world he so hated.
And every night, in the welcome darkness of his bedroom, and every evening in the dusk of the tool-shed, Conradin's bitter litany went up: "Do one thing for me, Sredni Vashtar."
Mrs. de Ropp noticed that the visits to the shed did not cease, and one day she made a further journey of inspection.
"What are you keeping in that locked hutch?" she asked. "I believe it's guinea-pigs. I'll have them all cleared away."
Conradin shut his lips tight, but the Woman ransacked his bedroom till she found the carefully hidden key, and forthwith marched down to the shed to complete her discovery. It was a cold afternoon, and Conradin had been bidden to keep to the house. From the furthest window of the dining-room the door of the shed could just be seen beyond the corner of the shrubbery, and there Conradin stationed himself. He saw the Woman enter, and then he imagined her opening the door of the sacred hutch and peering down with her short-sighted eyes into the thick straw bed where his god lay hidden. Perhaps she would prod at the straw in her clumsy impatience. And Conradin fervently breathed his prayer for the last time. But he knew as he prayed that he did not believe. He knew that the Woman would come out presently with that pursed smile he loathed so well on her face, and that in an hour or two the gardener would carry away his wonderful god, a god no longer, but a simple brown ferret in a hutch. And he knew that the Woman would triumph always as she triumphed now, and that he would grow ever more sickly under her pestering and domineering and superior wisdom, till one day nothing would matter much more with him, and the doctor would be proved right. And in the sting and misery of his defeat, he began to chant loudly and defiantly the hymn of his threatened idol:
Sredni Vashtar went forth,
His thoughts were red thoughts and his teeth were white.
His enemies called for peace, but he brought them death.
Sredni Vashtar the Beautiful.
And then of a sudden he stopped his chanting and drew closer to the window-pane. The door of the shed still stood ajar as it had been left, and the minutes were slipping by. They were long minutes, but they slipped by nevertheless. He watched the starlings running and flying in little parties across the lawn; he counted them over and over again, with one eye always on that swinging door. A sour-faced maid came in to lay the table for tea, and still Conradin stood and waited and watched. Hope had crept by inches into his heart, and now a look of triumph began to blaze in his eyes that had only known the wistful patience of defeat. Under his breath, with a furtive exultation, he began once again the paean of victory and devastation. And presently his eyes were rewarded: out through that doorway came a long, low, yellow-and-brown beast, with eyes a-blink at the waning daylight, and dark wet stains around the fur of jaws and throat. Conradin dropped on his knees. The great polecat-ferret made its way down to a small brook at the foot of the garden, drank for a moment, then crossed a little plank bridge and was lost to sight in the bushes. Such was the passing of Sredni Vashtar.
"Tea is ready," said the sour-faced maid; "where is the mistress?"
"She went down to the shed some time ago," said Conradin.
And while the maid went to summon her mistress to tea, Conradin fished a toasting-fork out of the sideboard drawer and proceeded to toast himself a piece of bread. And during the toasting of it and the buttering of it with much butter and the slow enjoyment of eating it, Conradin listened to the noises and silences which fell in quick spasms beyond the dining-room door. The loud foolish screaming of the maid, the answering chorus of wondering ejaculations from the kitchen region, the scuttering footsteps and hurried embassies for outside help, and then, after a lull, the scared sobbings and the shuffling tread of those who bore a heavy burden into the house.
"Whoever will break it to the poor child? I couldn't for the life of me!" exclaimed a shrill voice. And while they debated the matter among themselves, Conradin made himself another piece of toast.
Sredni Vashtar
From 'The Chronicles of Clovis'
by Saki (H. H. Munro)
(1870 – 1916)
• fleursdumal.nl magazine
More in: Archive S-T, Saki, Saki, The Art of Reading
---
English PEN have launched a crowdfunding campaign to ensure that a hand-annotated copy of Lady Chatterley's Lover used by the judge in its landmark obscenity trial can remain in the UK
During the trial, the presiding judge, the Hon. Sir Laurence Byrne, referred to a copy of the book which had been annotated by his wife. She had made notes of character names in the margins, underlined important sections, and had produced a list of page numbers relating to significant passages in the book ("love making", "coarse", etc).

Because of its unique crucial importance in British history, the arts minister, Michael Ellis, has determined that it should remain in the UK and has placed a temporary bar preventing its overseas export from being exported overseas if a UK-based bidder can match its price. English PEN have launched the GoFundMe campaign to raise the money required to keep the book in the UK.
Philippe Sands QC, President of English PEN, said:
DH Lawrence was an active member of English PEN and unique in the annals of English literary history. Lady Chatterley's Lover was at the heart of the struggle for freedom of expression, in the courts and beyond. This rare copy of the book, used and marked up by the judge, must remain in the UK, accessible to the British public to help understand what is lost without freedom of expression. This unique text belongs here, a symbol of the continuing struggle to protect the rights of writers and readers at home and abroad.
Lady Chatterley's Lover was published in Europe in 1928, but remained unpublished in the UK for thirty years following DH Lawrence's death in 1930. Its narrative – of an aristocratic woman embarking on a passionate relationship with a groundskeeper outside of her sexless marriage – challenged establishment sensibilities, and publishers were unwilling to publish it through fear of prosecution.
The 1960 obscenity trial of Lady Chatterley's Lover was one of the most important cases in British literary and social history, and led to a significant shift in the cultural landscape. The trial highlighted the distance between modern society and an out-of-touch establishment, shown in the opening remarks of Mervyn Griffith-Jones, the lead prosecutor:
Would you approve of your young sons, young daughters – because girls can read as well as boys – reading this book?
Is it a book that you would have lying around in your own house? Is it a book that you would even wish your wife or your servants to read?
However, it took the jury just three hours to reach a decision that the novel was not obscene, and, within a day, the book sold 200,000 copies, rising to more than 2 million copies in the next two years.
The verdict was a crucial step in ushering the permissive and liberal sixties and was an enormously important victory for freedom of expression.
We want to ensure this piece of our cultural history remains in the UK. Please support us and help spread the word.
# Support the campaign see website ENGLISH PEN
• fleursdumal.nl magazine
More in: - Book Stories, Archive K-L, D.H. Lawrence, Erotic literature, Lawrence, D.H., PRESS & PUBLISHING, REPRESSION OF WRITERS, JOURNALISTS & ARTISTS
---
The Flying Man
The Ethnologist looked at the bhimraj feather thoughtfully. "They seemed loth to part with it," he said.
"It is sacred to the Chiefs," said the lieutenant; "just as yellow silk, you know, is sacred to the Chinese Emperor."
The Ethnologist did not answer. He hesitated. Then opening the topic abruptly, "What on earth is this cock-and-bull story they have of a flying man?"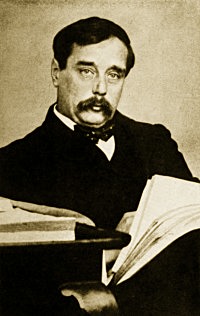 The lieutenant smiled faintly. "What did they tell you?"
"I see," said the Ethnologist, "that you know of your fame."
The lieutenant rolled himself a cigarette. "I don't mind hearing about it once more. How does it stand at present?"
"It's so confoundedly childish," said the Ethnologist, becoming irritated. "How did you play it off upon them?"
The lieutenant made no answer, but lounged back in his folding-chair, still smiling.
"Here am I, come four hundred miles out of my way to get what is left of the folk-lore of these people, before they are utterly demoralised by missionaries and the military, and all I find are a lot of impossible legends about a sandy-haired scrub of an infantry lieutenant. How he is invulnerable — how he can jump over elephants — how he can fly. That's the toughest nut. One old gentleman described your wings, said they had black plumage and were not quite as long as a mule. Said he often saw you by moonlight hovering over the crests out towards the Shendu country. — Confound it, man!"
The lieutenant laughed cheerfully. "Go on," he said. "Go on."
The Ethnologist did. At last he wearied. "To trade so," he said, "on these unsophisticated children of the mountains. How could you bring yourself to do it, man?"
"I'm sorry," said the lieutenant, "but truly the thing was forced upon me. I can assure you I was driven to it. And at the time I had not the faintest idea of how the Chin imagination would take it. Or curiosity. I can only plead it was an indiscretion and not malice that made me replace the folk-lore by a new legend. But as you seem aggrieved, I will try and explain the business to you.
"It was in the time of the last Lushai expedition but one, and Walters thought these people you have been visiting were friendly. So, with an airy confidence in my capacity for taking care of myself, he sent me up the gorge — fourteen miles of it — with three of the Derbyshire men and half a dozen Sepoys, two mules, and his blessing, to see what popular feeling was like at that village you visited. A force of ten — not counting the mules — fourteen miles, and during a war! You saw the road?"
"Road!" said the Ethnologist.
"It's better now than it was. When we went up we had to wade in the river for a mile where the valley narrows, with a smart stream frothing round our knees and the stones as slippery as ice. There it was I dropped my rifle. Afterwards the Sappers blasted the cliff with dynamite and made the convenient way you came by. Then below, where those very high cliffs come, we had to keep on dodging across the river — I should say we crossed it a dozen times in a couple of miles.
"We got in sight of the place early the next morning. You know how it lies, on a spur halfway between the big hills, and as we began to appreciate how wickedly quiet the village lay under the sunlight, we came to a stop to consider.
"At that they fired a lump of filed brass idol at us, just by way of a welcome. It came twanging down the slope to the right of us where the boulders are, missed my shoulder by an inch or so, and plugged the mule that carried all the provisions and utensils. I never heard such a death-rattle before or since. And at that we became aware of a number of gentlemen carrying matchlocks, and dressed in things like plaid dusters, dodging about along the neck between the village and the crest to the east.
"'Right about face,' I said. 'Not too close together.'
"And with that encouragement my expedition of ten men came round and set off at a smart trot down the valley again hitherward. We did not wait to save anything our dead had carried, but we kept the second mule with us — he carried my tent and some other rubbish — out of a feeling of friendship.
"So ended the battle — ingloriously. Glancing back, I saw the valley dotted with the victors, shouting and firing at us. But no one was hit. These Chins and their guns are very little good except at a sitting shot. They will sit and finick over a boulder for hours taking aim, and when they fire running it is chiefly for stage effect. Hooker, one of the Derbyshire men, fancied himself rather with the rifle, and stopped behind for half a minute to try his luck as we turned the bend. But he got nothing.
"I'm not a Xenophon to spin much of a yarn about my retreating army. We had to pull the enemy up twice in the next two miles when he became a bit pressing, by exchanging shots with him, but it was a fairly monotonous affair — hard breathing chiefly — until we got near the place where the hills run in towards the river and pinch the valley into a gorge. And there we very luckily caught a glimpse of half a dozen round black heads coming slanting-ways over the hill to the left of us — the east that is — and almost parallel with us.
"At that I called a halt. 'Look here,' says I to Hooker and the other Englishmen; 'what are we to do now?' and I pointed to the heads.
"'Headed orf, or I'm a nigger,' said one of the men.
"'We shall be,' said another. 'You know the Chin way, George?'
"'They can pot every one of us at fifty yards,' says Hooker, 'in the place where the river is narrow. It's just suicide to go on down.'
"I looked at the hill to the right of us. It grew steeper lower down the valley, but it still seemed climbable. And all the Chins we had seen hitherto had been on the other side of the stream.
"'It's that or stopping,' says one of the Sepoys.
"So we started slanting up the hill. There was something faintly suggestive of a road running obliquely up the face of it, and that we followed. Some Chins presently came into view up the valley, and I heard some shots. Then I saw one of the Sepoys was sitting down about thirty yards below us. He had simply sat down without a word, apparently not wishing to give trouble. At that I called a halt again; I told Hooker to try another shot, and went back and found the man was hit in the leg. I took him up, carried him along to put him on the mule — already pretty well laden with the tent and other things which we had no time to take off. When I got up to the rest with him, Hooker had his empty Martini in his hand, and was grinning and pointing to a motionless black spot up the valley. All the rest of the Chins were behind boulders or back round the bend. 'Five hundred yards,' says Hooker, 'if an inch. And I'll swear I hit him in the head.'
"I told him to go and do it again, and with that we went on again.
"Now the hillside kept getting steeper as we pushed on, and the road we were following more and more of a shelf. At last it was mere cliff above and below us. 'It's the best road I have seen yet in Chin Lushai land,' said I to encourage the men, though I had a fear of what was coming.
"And in a few minutes the way bent round a corner of the cliff. Then, finis! the ledge came to an end.
"As soon as he grasped the position one of the Derbyshire men fell a-swearing at the trap we had fallen into. The Sepoys halted quietly. Hooker grunted and reloaded, and went back to the bend.
"Then two of the Sepoy chaps helped their comrade down and began to unload the mule.
"Now, when I came to look about me, I began to think we had not been so very unfortunate after all. We were on a shelf perhaps ten yards across it at widest. Above it the cliff projected so that we could not be shot down upon, and below was an almost sheer precipice of perhaps two or three hundred feet. Lying down we were invisible to anyone across the ravine. The only approach was along the ledge, and on that one man was as good as a host. We were in a natural stronghold, with only one disadvantage, our sole provision against hunger and thirst was one live mule. Still we were at most eight or nine miles from the main expedition, and no doubt, after a day or so, they would send up after us if we did not return.
"After a day or so . . . "
The lieutenant paused. "Ever been thirsty, Graham?"
"Not that kind," said the Ethnologist.
"H'm. We had the whole of that day, the night, and the next day of it, and only a trifle of dew we wrung out of our clothes and the tent. And below us was the river going giggle, giggle, round a rock in mid stream. I never knew such a barrenness of incident, or such a quantity of sensation. The sun might have had Joshua's command still upon it for all the motion one could see; and it blazed like a near furnace. Towards the evening of the first day one of the Derbyshire men said something — nobody heard what — and went off round the bend of the cliff. We heard shots, and when Hooker looked round the corner he was gone. And in the morning the Sepoy whose leg was shot was in delirium, and jumped or fell over the cliff. Then we took the mule and shot it, and that must needs go over the cliff too in its last struggles, leaving eight of us.
"We could see the body of the Sepoy down below, with the head in the water. He was lying face downwards, and so far as I could make out was scarcely smashed at all. Badly as the Chins might covet his head, they had the sense to leave it alone until the darkness came.
"At first we talked of all the chances there were of the main body hearing the firing, and reckoned whether they would begin to miss us, and all that kind of thing, but we dried up as the evening came on. The Sepoys played games with bits of stone among themselves, and afterwards told stories. The night was rather chilly. The second day nobody spoke. Our lips were black and our throats afire, and we lay about on the ledge and glared at one another. Perhaps it's as well we kept our thoughts to ourselves. One of the British soldiers began writing some blasphemous rot on the rock with a bit of pipeclay, about his last dying will, until I stopped it. As I looked over the edge down into the valley and saw the river rippling I was nearly tempted to go after the Sepoy. It seemed a pleasant and desirable thing to go rushing down through the air with something to drink — or no more thirst at any rate — at the bottom. I remembered in time, though, that I was the officer in command, and my duty to set a good example, and that kept me from any such foolishness.
"Yet, thinking of that, put an idea into my head. I got up and looked at the tent and tent ropes, and wondered why I had not thought of it before. Then I came and peered over the cliff again. This time the height seemed greater and the pose of the Sepoy rather more painful. But it was that or nothing. And to cut it short, I parachuted.
"I got a big circle of canvas out of the tent, about three times the size of that table-cover, and plugged the hole in the centre, and I tied eight ropes round it to meet in the middle and make a parachute. The other chaps lay about and watched me as though they thought it was a new kind of delirium. Then I explained my notion to the two British soldiers and how I meant to do it, and as soon as the short dusk had darkened into night, I risked it. They held the thing high up, and I took a run the whole length of the ledge. The thing filled with air like a sail, but at the edge I will confess I funked and pulled up.
"As soon as I stopped I was ashamed of myself — as well I might be in front of privates — and went back and started again. Off I jumped this time — with a kind of sob, I remember — clean into the air, with the big white sail bellying out above me.
"I must have thought at a frightful pace. It seemed a long time before I was sure that the thing meant to keep steady. At first it heeled sideways. Then I noticed the face of the rock which seemed to be streaming up past me, and me motionless. Then I looked down and saw in the darkness the river and the dead Sepoy rushing up towards me. But in the indistinct light I also saw three Chins, seemingly aghast at the sight of me, and that the Sepoy was decapitated. At that I wanted to go back again.
"Then my boot was in the mouth of one, and in a moment he and I were in a heap with the canvas fluttering down on the top of us. I fancy I dashed out his brains with my foot. I expected nothing more than to be brained myself by the other two, but the poor heathen had never heard of Baldwin, and incontinently bolted.
"I struggled out of the tangle of dead Chin and canvas, and looked round. About ten paces off lay the head of the Sepoy staring in the moonlight. Then I saw the water and went and drank. There wasn't a sound in the world but the footsteps of the departing Chins, a faint shout from above, and the gluck of the water. So soon as I had drunk my full I started off down the river.
"That about ends the explanation of the flying man story. I never met a soul the whole eight miles of the way. I got to Walters' camp by ten o'clock, and a born idiot of a sentinel had the cheek to fire at me as I came trotting out of the darkness. So soon as I had hammered my story into Winter's thick skull, about fifty men started up the valley to clear the Chins out and get our men down. But for my own part I had too good a thirst to provoke it by going with them.
"You have heard what kind of a yarn the Chins made of it. Wings as long as a mule, eh? — And black feathers! The gay lieutenant bird! Well, well."
The lieutenant meditated cheerfully for a moment. Then he added, "You would scarcely credit it, but when they got to the ridge at last, they found two more of the Sepoys had jumped over."
"The rest were all right?" asked the Ethnologist.
"Yes," said the lieutenant; "the rest were all right, barring a certain thirst, you know."
And at the memory he helped himself to soda and whisky again.
Herbert George Wells
(1866-1946)
The Stolen Bacillus and other incidents
short stories
fleursdumal.nl magazine
More in: - Book Lovers, Archive W-X, H.G. Wells, Tales of Mystery & Imagination, Wells, H.G.
---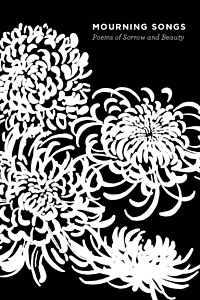 Who has not suffered grief?
In Mourning Songs, the brilliant poet and editor Grace Schulman has gathered together the most moving poems about sorrow by the likes of Elizabeth Bishop, William Carlos Williams, Gwendolyn Brooks, Neruda, Catullus, Dylan Thomas, W. H. Auden, Shakespeare, Emily Dickinson, W. S. Merwin, Lorca, Denise Levertov, Keats, Hart Crane, Michael Palmer, Robert Frost, Hopkins, Hardy, Bei Dao, and Czeslaw Milosz—to name only some of the masters in this slim volume.

"The poems in this collection," as Schulman notes in her introduction, "sing of grief as they praise life." She notes: "As any bereaved survivor knows, there is no consolation. 'Time doesn't heal grief; it emphasizes it,' wrote Marianne Moore.

The loss of a loved one never leaves us. We don't want it to. In grief, one remembers the beloved. But running beside it, parallel to it, is the joy of existence, the love that causes pain of loss, the loss that enlarges us with the wonder of existence."
Winner of the Poetry Society of America's highest award, The Frost Medal, Grace Schulman is the author of seven poetry volumes as well as a book of essays and a new memoir, Strange Paradise: Portrait of a Marriage, about her life with her beloved late husband Jerome. She is a Distinguished Professor of English at Baruch College, CUNY, the former director of the Poetry Center, 92nd Street Y, and was for thirty-five years the poetry editor of The Nation.
Mourning Songs
Poems of sorrow and Beauty
Edited by Grace Schulman
Paperback
96 pages
Publisher: New Directions
Language: English
ISBN-10: 0811228665
ISBN-13: 978-0811228664
Product Dimensions: 4 x 6 inches
Price US 11.95
1 edition: May 28, 2019
# new books
Mourning Songs
Poetry
• fleursdumal.nl magazine
More in: - Book News, Archive S-T, Archive S-T, Art & Literature News, Danse Macabre
---
The She-Wolf
Leonard Bilsiter was one of those people who have failed to find this world attractive or interesting, and who have sought compensation in an "unseen world" of their own experience or imagination — or invention.
Children do that sort of thing successfully, but children are content to convince themselves, and do not vulgarise their beliefs by trying to convince other people. Leonard Bilsiter's beliefs were for "the few," that is to say, anyone who would listen to him.
His dabblings in the unseen might not have carried him beyond the customary platitudes of the drawing-room visionary if accident had not reinforced his stock-intrade of mystical lore. In company with a friend, who was interested in a Ural mining concern, he had made a trip across Eastern Europe at a moment when the great Russian railway strike was developing from a threat to a reality; its outbreak caught him on the return journey, somewhere on the further side of Perm, and it was while waiting for a couple of days at a wayside station in a state of suspended locomotion that he made the acquaintance of a dealer in harness and metalware, who profitably whiled away the tedium of the long halt by initiating his English travelling companion in a fragmentary system of folk-lore that he had picked up from Trans–Baikal traders and natives.
Leonard returned to his home circle garrulous about his Russian strike experiences, but oppressively reticent about certain dark mysteries, which he alluded to under the resounding title of Siberian Magic. The reticence wore off in a week or two under the influence of an entire lack of general curiosity, and Leonard began to make more detailed allusions to the enormous powers which this new esoteric force, to use his own description of it, conferred on the initiated few who knew how to wield it. His aunt, Cecilia Hoops, who loved sensation perhaps rather better than she loved the truth, gave him as clamorous an advertisement as anyone could wish for by retailing an account of how he had turned a vegetable marrow into a wood pigeon before her very eyes. As a manifestation of the possession of supernatural powers, the story was discounted in some quarters by the respect accorded to Mrs. Hoops' powers of imagination.
However divided opinion might be on the question of Leonard's status as a wonderworker or a charlatan, he certainly arrived at Mary Hampton's house-party with a reputation for preeminence in one or other of those professions, and he was not disposed to shun such publicity as might fall to his share. Esoteric forces and unusual powers figured largely in whatever conversation he or his aunt had a share in, and his own performances, past and potential, were the subject of mysterious hints and dark avowals.
"I wish you would turn me into a wolf, Mr. Bilsiter," said his hostess at luncheon the day after his arrival.
"My dear Mary," said Colonel Hampton, "I never knew you had a craving in that direction."
"A she-wolf, of course," continued Mrs. Hampton; "it would be too confusing to change one's sex as well as one's species at a moment's notice."
"I don't think one should jest on these subjects," said Leonard.
"I'm not jesting, I'm quite serious, I assure you. Only don't do it today; we have only eight available bridge players, and it would break up one of our tables. To-morrow we shall be a larger party. To-morrow night, after dinner —"
"In our present imperfect understanding of these hidden forces I think one should approach them with humbleness rather than mockery," observed Leonard, with such severity that the subject was forthwith dropped.
Clovis Sangrail had sat unusually silent during the discussion on the possibilities of Siberian Magic; after lunch he side-tracked Lord Pabham into the comparative seclusion of the billiard-room and delivered himself of a searching question.
"Have you such a thing as a she-wolf in your collection of wild animals? A she-wolf of moderately good temper?"
Lord Pabham considered. "There is Loiusa," he said, "a rather fine specimen of the timber-wolf. I got her two years ago in exchange for some Arctic foxes. Most of my animals get to be fairly tame before they've been with me very long; I think I can say Louisa has an angelic temper, as she-wolves go. Why do you ask?"
"I was wondering whether you would lend her to me for tomorrow night," said Clovis, with the careless solicitude of one who borrows a collar stud or a tennis racquet.
"To-morrow night?"
"Yes, wolves are nocturnal animals, so the late hours won't hurt her," said Clovis, with the air of one who has taken everything into consideration; "one of your men could bring her over from Pabham Park after dusk, and with a little help he ought to be able to smuggle her into the conservatory at the same moment that Mary Hampton makes an unobtrusive exit."
Lord Pabham stared at Clovis for a moment in pardonable bewilderment; then his face broke into a wrinkled network of laughter.
"Oh, that's your game, is it? You are going to do a little Siberian Magic on your own account. And is Mrs. Hampton willing to be a fellow-conspirator?"
"Mary is pledged to see me through with it, if you will guarantee Louisa's temper."
"I'll answer for Louisa," said Lord Pabham.
By the following day the house-party had swollen to larger proportions, and Bilsiter's instinct for self-advertisement expanded duly under the stimulant of an increased audience. At dinner that evening he held forth at length on the subject of unseen forces and untested powers, and his flow of impressive eloquence continued unabated while coffee was being served in the drawing-room preparatory to a general migration to the card-room.
His aunt ensured a respectful hearing for his utterances, but her sensation-loving soul hankered after something more dramatic than mere vocal demonstration.
"Won't you do something to convince them of your powers, Leonard?" she pleaded; "change something into another shape. He can, you know, if he only chooses to," she informed the company.
"Oh, do," said Mavis Pellington earnestly, and her request was echoed by nearly everyone present. Even those who were not open to conviction were perfectly willing to be entertained by an exhibition of amateur conjuring.
Leonard felt that something tangible was expected of him.
"Has anyone present," he asked, "got a three-penny bit or some small object of no particular value —?"
"You're surely not going to make coins disappear, or something primitive of that sort?" said Clovis contemptuously.
"I think it very unkind of you not to carry out my suggestion of turning me into a wolf," said Mary Hampton, as she crossed over to the conservatory to give her macaws their usual tribute from the dessert dishes.
"I have already warned you of the danger of treating these powers in a mocking spirit," said Leonard solemnly.
"I don't believe you can do it," laughed Mary provocatively from the conservatory; "I dare you to do it if you can. I defy you to turn me into a wolf."
As she said this she was lost to view behind a clump of azaleas.
"Mrs. Hampton —" began Leonard with increased solemnity, but he got no further. A breath of chill air seemed to rush across the room, and at the same time the macaws broke forth into ear-splitting screams.
"What on earth is the matter with those confounded birds, Mary?" exclaimed Colonel Hampton; at the same moment an even more piercing scream from Mavis Pellington stampeded the entire company from their seats. In various attitudes of helpless horror or instinctive defence they confronted the evil-looking grey beast that was peering at them from amid a setting of fern and azalea.
Mrs. Hoops was the first to recover from the general chaos of fright and bewilderment.
"Leonard!" she screamed shrilly to her nephew, "turn it back into Mrs. Hampton at once! It may fly at us at any moment. Turn it back!"
"I— I don't know how to," faltered Leonard, who looked more scared and horrified than anyone.
"What!" shouted Colonel Hampton, "you've taken the abominable liberty of turning my wife into a wolf, and now you stand there calmly and say you can't turn her back again!"
To do strict justice to Leonard, calmness was not a distinguishing feature of his attitude at the moment.
"I assure you I didn't turn Mrs. Hampton into a wolf; nothing was farther from my intentions," he protested.
"Then where is she, and how came that animal into the conservatory?" demanded the Colonel.
"Of course we must accept your assurance that you didn't turn Mrs. Hampton into a wolf," said Clovis politely, "but you will agree that appearances are against you."
"Are we to have all these recriminations with that beast standing there ready to tear us to pieces?" wailed Mavis indignantly.
"Lord Pabham, you know a good deal about wild beasts —" suggested Colonel Hampton.
"The wild beasts that I have been accustomed to," said Lord Pabham, "have come with proper credentials from well-known dealers, or have been bred in my own menagerie. I've never before been confronted with an animal that walks unconcernedly out of an azalea bush, leaving a charming and popular hostess unaccounted for. As far as one can judge from outward characteristics," he continued, "it has the appearance of a well-grown female of the North American timber-wolf, a variety of the common species canis lupus."
"Oh, never mind its Latin name," screamed Mavis, as the beast came a step or two further into the room; "can't you entice it away with food, and shut it up where it can't do any harm?"
"If it is really Mrs. Hampton, who has just had a very good dinner, I don't suppose food will appeal to it very strongly," said Clovis.
"Leonard," beseeched Mrs. Hoops tearfully, "even if this is none of your doing can't you use your great powers to turn this dreadful beast into something harmless before it bites us all — a rabbit or something?"
"I don't suppose Colonel Hampton would care to have his wife turned into a succession of fancy animals as though we were playing a round game with her," interposed Clovis.
"I absolutely forbid it," thundered the Colonel.
"Most wolves that I've had anything to do with have been inordinately fond of sugar," said Lord Pabham; "if you like I'll try the effect on this one."
He took a piece of sugar from the saucer of his coffee cup and flung it to the expectant Louisa, who snapped it in mid-air. There was a sigh of relief from the company; a wolf that ate sugar when it might at the least have been employed in tearing macaws to pieces had already shed some of its terrors. The sigh deepened to a gasp of thanks-giving when Lord Pabham decoyed the animal out of the room by a pretended largesse of further sugar. There was an instant rush to the vacated conservatory. There was no trace of Mrs. Hampton except the plate containing the macaws' supper.
"The door is locked on the inside!" exclaimed Clovis, who had deftly turned the key as he affected to test it.
Everyone turned towards Bilsiter.
"If you haven't turned my wife into a wolf," said Colonel Hampton, "will you kindly explain where she has disappeared to, since she obviously could not have gone through a locked door? I will not press you for an explanation of how a North American timber-wolf suddenly appeared in the conservatory, but I think I have some right to inquire what has become of Mrs. Hampton."
Bilsiter's reiterated disclaimer was met with a general murmur of impatient disbelief.
"I refuse to stay another hour under this roof," declared Mavis Pellington.
"If our hostess has really vanished out of human form," said Mrs. Hoops, "none of the ladies of the party can very well remain. I absolutely decline to be chaperoned by a wolf!"
"It's a she-wolf," said Clovis soothingly.
The correct etiquette to be observed under the unusual circumstances received no further elucidation. The sudden entry of Mary Hampton deprived the discussion of its immediate interest.
"Some one has mesmerised me," she exclaimed crossly; "I found myself in the game larder, of all places, being fed with sugar by Lord Pabham. I hate being mesmerised, and the doctor has forbidden me to touch sugar."
The situation was explained to her, as far as it permitted of anything that could be called explanation.
"Then you really did turn me into a wolf, Mr. Bilsiter?" she exclaimed excitedly.
But Leonard had burned the boat in which he might now have embarked on a sea of glory. He could only shake his head feebly.
"It was I who took that liberty," said Clovis; "you see, I happen to have lived for a couple of years in North–Eastern Russia, and I have more than a tourist's acquaintance with the magic craft of that region. One does not care to speak about these strange powers, but once in a way, when one hears a lot of nonsense being talked about them, one is tempted to show what Siberian magic can accomplish in the hands of someone who really understands it. I yielded to that temptation. May I have some brandy? the effort has left me rather faint."
If Leonard Bilsiter could at that moment have transformed Clovis into a cockroach and then have stepped on him he would gladly have performed both operations.
The She-Wolf
From 'Beasts and Super-Beasts'
by Saki (H. H. Munro)
(1870 – 1916)
fleursdumal.nl magazine
More in: Archive S-T, Saki, Saki, The Art of Reading
---
Naakt of bloot? Het vrouwelijk naakt in de Nederlandse schilderkunst 1875-1925
Naakt of bloot? Het vrouwelijk naakt in de hedendaagse kunst
Naakt of bloot? Deze vraag vormt de rode draad van de tentoonstellingen Naakt of bloot? Het vrouwelijk naakt in de Nederlandse schilderkunst 1875-1925 en Naakt of bloot? Het vrouwelijk naakt in de hedendaagse kunst in Museum Jan Cunen (3 februari tot en met 19 mei 2019). Naakten van George Hendrik Breitner, Isaac Israels en Jan Sluijters gaan een dialoog aan met werk van hedendaagse kunstenaars als Lita Cabellut, Bart Hess en Carla van de Puttelaar. Het museum voelt zich geroepen om de tegenstelling die in de huidige samenleving ten aanzien van naakt is ontstaan, zichtbaar en bespreekbaar te maken. Want waar we aan de ene kant krampachtig en preuts omgaan met bloot, worden we er aan de andere kant voortdurend mee overladen.
Naakt of bloot, wat is eigenlijk het verschil? Bij het kijken naar kunst blijkt er een subtiele scheidslijn te zijn tussen deze twee begrippen. 'Bloot' betekent 'zonder kleren zijn', een toestand die vaak samengaat met een gevoel van schaamte, zowel voor degene die kijkt als voor degene naar wie gekeken wordt. 'Naakt' verwijst naar een natuurlijke of artistieke vorm van naaktheid die niet tot verlegenheid stemt. Beide termen zijn echter subjectief. Wat de één als naakt ziet, ervaart een ander als bloot. Wat is voor jou het verschil? Waar trek jij de grens?
De exposities in Museum Jan Cunen roepen de vraag op of de kijk op naakt tussen pakweg 1875 en 1925 eigenlijk wel zo anders is dan tegenwoordig. In de media worden we voortdurend geconfronteerd met bloot, terwijl de omgang daarmee een stuk gevoeliger ligt dan enkele decennia geleden. Terwijl het internet tot in extremen toegang geeft tot alle vormen van bloot, wordt een vrouwentepel stelselmatig verwijderd van social media. Een tendens die raakvlakken heeft met de dubbele moraal in de late negentiende eeuw: enerzijds werd de maatschappij destijds gekenmerkt door kuisheid en preutsheid, anderzijds werd er op zedelijk gebied vaak een oogje dichtgeknepen. 'Wat je niet ziet, bestaat niet' lijkt opnieuw onderdeel van de tijdgeest.
Museum Jan Cunen wil de tegenstelling die in de huidige samenleving ten aanzien van naakt is ontstaan, zichtbaar en bespreekbaar maken en onomwonden de schoonheid van het naakte lichaam vieren. Om overeenkomsten en verschillen bloot te leggen tussen de oude en nieuwe ideeën over het vrouwelijk naakt, gaat de kunst uit het einde van de negentiende en het begin van de twintigste eeuw een dialoog aan met kunstwerken van hedendaagse kunstenaars. Werk van vooraanstaande Nederlandse meesters als George Hendrik Breitner, Isaac Israels, Jan Sluijters en Jan Wiegers worden getoond in combinatie met werk van hedendaagse kunstenaars Lita Cabellut, Bart Hess, Carla van de Puttelaar, Viviane Sassen en Isabelle Wenzel. Ook wordt podium geboden aan vier jonge talenten: Charissa van Dijk, Margherita Soldati, Mariëlle Veldhuis en Meret Zimmermann. Zo koppelt het museum de blik van ruim een eeuw geleden aan de actuele discussie over het naakt in de beeldende kunst en de huidige maatschappelijke positie van het naakt. De vergelijking tussen toen en nu biedt een andere kijk op de eigen tijd en plaatst onze omgang met het blote lichaam in een breder perspectief.
Naakt of bloot? Het vrouwelijk naakt in de Nederlandse schilderkunst 1875-1925
Naakt of bloot? Het vrouwelijk naakt in de hedendaagse kunst
3 februari t/m 19 mei 2019
Museum Jan Cunen
Molenstraat 65
5341 GC Oss
T: (0412) 798 000
E: info@museumjancunen.nl
# Meer informatie op website Museum Jan Cunen Oss
• fleursdumal.nl magazine
More in: Art & Literature News, Erotic literature, Exhibition Archive, FDM Art Gallery, Natural history, The Ideal Woman
---
The Unrest-Cure
On the rack in the railway carriage immediately opposite Clovis was a solidly wrought travelling-bag, with a carefully written label, on which was inscribed, "J. P. Huddle, The Warren, Tilfield, near Slowborough." Immediately below the rack sat the human embodiment of the label, a solid, sedate individual, sedately dressed, sedately conversational.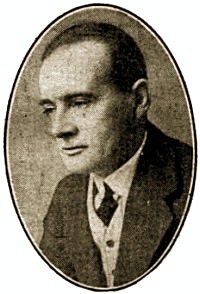 Even without his conversation (which was addressed to a friend seated by his side, and touched chiefly on such topics as the backwardness of Roman hyacinths and the prevalence of measles at the Rectory), one could have gauged fairly accurately the temperament and mental outlook of the travelling bag's owner. But he seemed unwilling to leave anything to the imagination of a casual observer, and his talk grew presently personal and introspective.
"I don't know how it is," he told his friend, "I'm not much over forty, but I seem to have settled down into a deep groove of elderly middle-age. My sister shows the same tendency. We like everything to be exactly in its accustomed place; we like things to happen exactly at their appointed times; we like everything to be usual, orderly, punctual, methodical, to a hair's breadth, to a minute. It distresses and upsets us if it is not so. For instance, to take a very trifling matter, a thrush has built its nest year after year in the catkin-tree on the lawn; this year, for no obvious reason, it is building in the ivy on the garden wall. We have said very little about it, but I think we both feel that the change is unnecessary, and just a little irritating."
"Perhaps," said the friend, "it is a different thrush."
"We have suspected that," said J. P. Huddle, "and I think it gives us even more cause for annoyance. We don't feel that we want a change of thrush at our time of life; and yet, as I have said, we have scarcely reached an age when these things should make themselves seriously felt."
"What you want," said the friend, "is an Unrest-cure."
"An Unrest-cure? I've never heard of such a thing."
"You've heard of Rest-cures for people who've broken down under stress of too much worry and strenuous living; well, you're suffering from overmuch repose and placidity, and you need the opposite kind of treatment."
"But where would one go for such a thing?"
"Well, you might stand as an Orange candidate for Kilkenny, or do a course of district visiting in one of the Apache quarters of Paris, or give lectures in Berlin to prove that most of Wagner's music was written by Gambetta; and there's always the interior of Morocco to travel in. But, to be really effective, the Unrest-cure ought to be tried in the home. How you would do it I haven't the faintest idea."
It was at this point in the conversation that Clovis became galvanized into alert attention. After all, his two days' visit to an elderly relative at Slowborough did not promise much excitement. Before the train had stopped he had decorated his sinister shirt-cuff with the inscription, "J. P. Huddle, The Warren, Tilfield, near Slowborough."
Two mornings later Mr. Huddle broke in on his sister's privacy as she sat reading Country Life in the morning room. It was her day and hour and place for reading Country Life, and the intrusion was absolutely irregular; but he bore in his hand a telegram, and in that household telegrams were recognized as happening by the hand of God. This particular telegram partook of the nature of a thunderbolt. "Bishop examining confirmation class in neighbourhood unable stay rectory on account measles invokes your hospitality sending secretary arrange."
"I scarcely know the Bishop; I've only spoken to him once," exclaimed J. P. Huddle, with the exculpating air of one who realizes too late the indiscretion of speaking to strange Bishops. Miss Huddle was the first to rally; she disliked thunderbolts as fervently as her brother did, but the womanly instinct in her told her that thunderbolts must be fed.
"We can curry the cold duck," she said. It was not the appointed day for curry, but the little orange envelope involved a certain departure from rule and custom. Her brother said nothing, but his eyes thanked her for being brave.
"A young gentleman to see you," announced the parlour-maid.
"The secretary!" murmured the Huddles in unison; they instantly stiffened into a demeanour which proclaimed that, though they held all strangers to be guilty, they were willing to hear anything they might have to say in their defence. The young gentleman, who came into the room with a certain elegant haughtiness, was not at all Huddle's idea of a bishop's secretary; he had not supposed that the episcopal establishment could have afforded such an expensively upholstered article when there were so many other claims on its resources. The face was fleetingly familiar; if he had bestowed more attention on the fellow-traveller sitting opposite him in the railway carriage two days before he might have recognized Clovis in his present visitor.
"You are the Bishop's secretary?" asked Huddle, becoming consciously deferential.
"His confidential secretary," answered Clovis. "You may call me Stanislaus; my other name doesn't matter. The Bishop and Colonel Alberti may be here to lunch. I shall be here in any case."
It sounded rather like the programme of a Royal visit.
"The Bishop is examining a confirmation class in the neighbourhood, isn't he?" asked Miss Huddle.
"Ostensibly," was the dark reply, followed by a request for a large-scale map of the locality.
Clovis was still immersed in a seemingly profound study of the map when another telegram arrived. It was addressed to "Prince Stanislaus, care of Huddle, The Warren, etc." Clovis glanced at the contents and announced: "The Bishop and Alberti won't be here till late in the afternoon." Then he returned to his scrutiny of the map.
The luncheon was not a very festive function. The princely secretary ate and drank with fair appetite, but severely discouraged conversation. At the finish of the meal he broke suddenly into a radiant smile, thanked his hostess for a charming repast, and kissed her hand with deferential rapture.
Miss Huddle was unable to decide in her mind whether the action savoured of Louis Quatorzian courtliness or the reprehensible Roman attitude towards the Sabine women. It was not her day for having a headache, but she felt that the circumstances excused her, and retired to her room to have as much headache as was possible before the Bishop's arrival. Clovis, having asked the way to the nearest telegraph office, disappeared presently down the carriage drive. Mr. Huddle met him in the hall some two hours later, and asked when the Bishop would arrive.
"He is in the library with Alberti," was the reply.
"But why wasn't I told? I never knew he had come!" exclaimed Huddle.
"No one knows he is here," said Clovis; "the quieter we can keep matters the better. And on no account disturb him in the library. Those are his orders."
"But what is all this mystery about? And who is Alberti? And isn't the Bishop going to have tea?"
"The Bishop is out for blood, not tea."
"Blood!" gasped Huddle, who did not find that the thunderbolt improved on acquaintance.
"To-night is going to be a great night in the history of Christendom," said Clovis. "We are going to massacre every Jew in the neighbourhood."
"To massacre the Jews!" said Huddle indignantly. "Do you mean to tell me there's a general rising against them?"
"No, it's the Bishop's own idea. He's in there arranging all the details now."
"But — the Bishop is such a tolerant, humane man."
"That is precisely what will heighten the effect of his action. The sensation will be enormous."
That at least Huddle could believe.
"He will be hanged!" he exclaimed with conviction.
"A motor is waiting to carry him to the coast, where a steam yacht is in readiness."
"But there aren't thirty Jews in the whole neighbourhood," protested Huddle, whose brain, under the repeated shocks of the day, was operating with the uncertainty of a telegraph wire during earthquake disturbances.
"We have twenty-six on our list," said Clovis, referring to a bundle of notes. "We shall be able to deal with them all the more thoroughly."
"Do you mean to tell me that you are meditating violence against a man like Sir Leon Birberry," stammered Huddle; "he's one of the most respected men in the country."
"He's down on our list," said Clovis carelessly; "after all, we've got men we can trust to do our job, so we shan't have to rely on local assistance. And we've got some Boy-scouts helping us as auxiliaries."
"Boy-scouts!"
"Yes; when they understood there was real killing to be done they were even keener than the men."
"This thing will be a blot on the Twentieth Century!"
"And your house will be the blotting-pad. Have you realized that half the papers of Europe and the United States will publish pictures of it? By the way, I've sent some photographs of you and your sister, that I found in the library, to the MATIN and DIE WOCHE; I hope you don't mind. Also a sketch of the staircase; most of the killing will probably be done on the staircase."
The emotions that were surging in J. P. Huddle's brain were almost too intense to be disclosed in speech, but he managed to gasp out: "There aren't any Jews in this house."
"Not at present," said Clovis.
"I shall go to the police," shouted Huddle with sudden energy.
"In the shrubbery," said Clovis, "are posted ten men who have orders to fire on anyone who leaves the house without my signal of permission. Another armed picquet is in ambush near the front gate. The Boy-scouts watch the back premises."
At this moment the cheerful hoot of a motor-horn was heard from the drive. Huddle rushed to the hall door with the feeling of a man half awakened from a nightmare, and beheld Sir Leon Birberry, who had driven himself over in his car. "I got your telegram," he said, "what's up?"
Telegram? It seemed to be a day of telegrams.
"Come here at once. Urgent. James Huddle," was the purport of the message displayed before Huddle's bewildered eyes.
"I see it all!" he exclaimed suddenly in a voice shaken with agitation, and with a look of agony in the direction of the shrubbery he hauled the astonished Birberry into the house. Tea had just been laid in the hall, but the now thoroughly panic-stricken Huddle dragged his protesting guest upstairs, and in a few minutes' time the entire household had been summoned to that region of momentary safety. Clovis alone graced the tea-table with his presence; the fanatics in the library were evidently too immersed in their monstrous machinations to dally with the solace of teacup and hot toast. Once the youth rose, in answer to the summons of the front-door bell, and admitted Mr. Paul Isaacs, shoemaker and parish councillor, who had also received a pressing invitation to The Warren. With an atrocious assumption of courtesy, which a Borgia could hardly have outdone, the secretary escorted this new captive of his net to the head of the stairway, where his involuntary host awaited him.
And then ensued a long ghastly vigil of watching and waiting. Once or twice Clovis left the house to stroll across to the shrubbery, returning always to the library, for the purpose evidently of making a brief report. Once he took in the letters from the evening postman, and brought them to the top of the stairs with punctilious politeness. After his next absence he came half-way up the stairs to make an announcement.
"The Boy-scouts mistook my signal, and have killed the postman. I've had very little practice in this sort of thing, you see. Another time I shall do better."
The housemaid, who was engaged to be married to the evening postman, gave way to clamorous grief.
"Remember that your mistress has a headache," said J. P. Huddle. (Miss Huddle's headache was worse.)
Clovis hastened downstairs, and after a short visit to the library returned with another message:
"The Bishop is sorry to hear that Miss Huddle has a headache. He is issuing orders that as far as possible no firearms shall be used near the house; any killing that is necessary on the premises will be done with cold steel. The Bishop does not see why a man should not be a gentleman as well as a Christian."
That was the last they saw of Clovis; it was nearly seven o'clock, and his elderly relative liked him to dress for dinner. But, though he had left them for ever, the lurking suggestion of his presence haunted the lower regions of the house during the long hours of the wakeful night, and every creak of the stairway, every rustle of wind through the shrubbery, was fraught with horrible meaning. At about seven next morning the gardener's boy and the early postman finally convinced the watchers that the Twentieth Century was still unblotted.
"I don't suppose," mused Clovis, as an early train bore him townwards, "that they will be in the least grateful for the Unrest-cure."
The Unrest-Cure
From 'The Chronicles of Clovis'
by Saki (H. H. Munro)
(1870 – 1916)
• fleursdumal.nl magazine
More in: Archive S-T, Saki, Saki, The Art of Reading
---
The Match-Maker
The grill-room clock struck eleven with the respectful unobtrusiveness of one whose mission in life is to be ignored. When the flight of time should really have rendered abstinence and migration imperative the lighting apparatus would signal the fact in the usual way.
Six minutes later Clovis approached the supper-table, in the blessed expectancy of one who has dined sketchily and long ago.
"I'm starving," he announced, making an effort to sit down gracefully and read the menu at the same time.
"So I gathered;" said his host, "from the fact that you were nearly punctual. I ought to have told you that I'm a Food Reformer. I've ordered two bowls of bread-and-milk and some health biscuits. I hope you don't mind."
Clovis pretended afterwards that he didn't go white above the collar-line for the fraction of a second.
"All the same," he said, "you ought not to joke about such things. There really are such people. I've known people who've met them. To think of all the adorable things there are to eat in the world, and then to go through life munching sawdust and being proud of it."
"They're like the Flagellants of the Middle Ages, who went about mortifying themselves."
"They had some excuse," said Clovis. "They did it to save their immortal souls, didn't they? You needn't tell me that a man who doesn't love oysters and asparagus and good wines has got a soul, or a stomach either. He's simply got the instinct for being unhappy highly developed."
Clovis relapsed for a few golden moments into tender intimacies with a succession of rapidly disappearing oysters.
"I think oysters are more beautiful than any religion," he resumed presently. "They not only forgive our unkindness to them; they justify it, they incite us to go on being perfectly horrid to them. Once they arrive at the supper-table they seem to enter thoroughly into the spirit of the thing. There's nothing in Christianity or Buddhism that quite matches the sympathetic unselfishness of an oyster. Do you like my new waistcoat? I'm wearing it for the first time to-night."
"It looks like a great many others you've had lately, only worse. New dinner waistcoats are becoming a habit with you."
"They say one always pays for the excesses of one's youth; mercifully that isn't true about one's clothes. My mother is thinking of getting married."
"Again!"
"It's the first time."
"Of course, you ought to know. I was under the impression that she'd been married once or twice at least."
"Three times, to be mathematically exact. I meant that it was the first time she'd thought about getting married; the other times she did it without thinking. As a matter of fact, it's really I who am doing the thinking for her in this case. You see, it's quite two years since her last husband died."
"You evidently think that brevity is the soul of widowhood."
"Well, it struck me that she was getting moped, and beginning to settle down, which wouldn't suit her a bit. The first symptom that I noticed was when she began to complain that we were living beyond our income. All decent people live beyond their incomes nowadays, and those who aren't respectable live beyond other peoples. A few gifted individuals manage to do both."
"It's hardly so much a gift as an industry."
"The crisis came," returned Clovis, "when she suddenly started the theory that late hours were bad for one, and wanted me to be in by one o'clock every night. Imagine that sort of thing for me, who was eighteen on my last birthday."
"On your last two birthdays, to be mathematically exact."
"Oh, well, that's not my fault. I'm not going to arrive at nineteen as long as my mother remains at thirty-seven. One must have some regard for appearances."
"Perhaps your mother would age a little in the process of settling down."
"That's the last thing she'd think of. Feminine reformations always start in on the failings of other people. That's why I was so keen on the husband idea."
"Did you go as far as to select the gentleman, or did you merely throw out a general idea, and trust to the force of suggestion?"
"If one wants a thing done in a hurry one must see to it oneself. I found a military Johnny hanging round on a loose end at the club, and took him home to lunch once or twice. He'd spent most of his life on the Indian frontier, building roads, and relieving famines and minimizing earthquakes, and all that sort of thing that one does do on frontiers. He could talk sense to a peevish cobra in fifteen native languages, and probably knew what to do if you found a rogue elephant on your croquet-lawn; but he was shy and diffident with women. I told my mother privately that he was an absolute woman-hater; so, of course, she laid herself out to flirt all she knew, which isn't a little."
"And was the gentleman responsive?"
"I hear he told some one at the club that he was looking out for a Colonial job, with plenty of hard work, for a young friend of his, so I gather that he has some idea of marrying into the family."
"You seem destined to be the victim of the reformation, after all."
Clovis wiped the trace of Turkish coffee and the beginnings of a smile from his lips, and slowly lowered his dexter eyelid. Which, being interpreted, probably meant, "I DON'T think!"
The Match-Maker
From 'The Chronicles of Clovis'
by Saki (H. H. Munro)
(1870 – 1916)
fleursdumal.nl magazine
More in: Archive S-T, Saki, Saki, The Art of Reading
---
Terwijl Reinaert de Vos tijdens het monopoly-spelen met zijn kinderen stiekem een briefje van duizend uit de bank jatte en zich te goed deed aan een kipkluifje, verklaarde Koning Nobel in de paleistuin de jaarlijkse Hofdag voor geopend.
Met de opening van de Hofdag opent ook de fonkelende bewerking die Koos Meinderts maakte van het bekendste epos uit de Middelnederlandse literatuur: Van den Vos Reynaerde.
In achttien hoofdstukken verhaalt Meinderts over de belevenissen van de geslepen vos Reinaert en zijn beklagenswaardige tegenspelers, waaronder Tibeert de Kater, Bruun de Beer en Cuwaert de Haas. Elk hoofdstuk werd geïllustreerd door een vooraanstaand kinderboekillustrator.
Koos Meinderts:
De schelmenstreken van Reinaert de Vos
1e druk
EAN: 978 90 8967 273 5
NUR: 274
Verschenen 12-11-2018
Formaat: 23,5 x 27 cm
48 bladzijden
Gebondend
Bindwijze Hardcover
Genre Kinderboeken
Uitgever Hoogland & Van Klaveren, Uitgeverij
Taal Nederlands
Illustraties Charlotte Dematons e.a.
Prijs: € 17,50
# New books
Koos Meinderts
Reinaert de Vos
• fleursdumal.nl magazine
More in: - Book News, - Book Stories, Archive M-N, Archive Q-R, Archive Q-R, Art & Literature News, Grimm, Andersen e.o.: Fables, Fairy Tales & Stories
---
The Blind Spot
"You've just come back from Adelaide's funeral, haven't you?" said Sir Lulworth to his nephew; "I suppose it was very like most other funerals?"
"I'll tell you all about it at lunch," said Egbert.
"You'll do nothing of the sort. It wouldn't be respectful either to your great-aunt's memory or to the lunch. We begin with Spanish olives, then a borshch, then more olives and a bird of some kind, and a rather enticing Rhenish wine, not at all expensive as wines go in this country, but still quite laudable in its way. Now there's absolutely nothing in that menu that harmonises in the least with the subject of your great-aunt Adelaide or her funeral. She was a charming woman, and quite as intelligent as she had any need to be, but somehow she always reminded me of an English cook's idea of a Madras curry."
"She used to say you were frivolous," said Egbert. Something in his tone suggested that he rather endorsed the verdict.
"I believe I once considerably scandalised her by declaring that clear soup was a more important factor in life than a clear conscience. She had very little sense of proportion. By the way, she made you her principal heir, didn't she?"
"Yes," said Egbert, "and executor as well. It's in that connection that I particularly want to speak to you."
"Business is not my strong point at any time," said Sir Lulworth, "and certainly not when we're on the immediate threshold of lunch."
"It isn't exactly business," explained Egbert, as he followed his uncle into the dining-room.
"It's something rather serious. Very serious."
"Then we can't possibly speak about it now," said Sir Lulworth; "no one could talk seriously during a borshch. A beautifully constructed borshch, such as you are going to experience presently, ought not only to banish conversation but almost to annihilate thought. Later on, when we arrive at the second stage of olives, I shall be quite ready to discuss that new book on Borrow, or, if you prefer it, the present situation in the Grand Duchy of Luxemburg. But I absolutely decline to talk anything approaching business till we have finished with the bird."
For the greater part of the meal Egbert sat in an abstracted silence, the silence of a man whose mind is focussed on one topic. When the coffee stage had been reached he launched himself suddenly athwart his uncle's reminiscences of the Court of Luxemburg.
"I think I told you that great-aunt Adelaide had made me her executor. There wasn't very much to be done in the way of legal matters, but I had to go through her papers."
"That would be a fairly heavy task in itself. I should imagine there were reams of family letters."
"Stacks of them, and most of them highly uninteresting. There was one packet, however, which I thought might repay a careful perusal. It was a bundle of correspondence from her brother Peter."
"The Canon of tragic memory," said Lulworth.
"Exactly, of tragic memory, as you say; a tragedy that has never been fathomed."
"Probably the simplest explanation was the correct one," said Sir Lulworth; "he slipped on the stone staircase and fractured his skull in falling."
Egbert shook his head. "The medical evidence all went to prove that the blow on the head was struck by some one coming up behind him. A wound caused by violent contact with the steps could not possibly have been inflicted at that angle of the skull. They experimented with a dummy figure falling in every conceivable position."
"But the motive?" exclaimed Sir Lulworth; "no one had any interest in doing away with him, and the number of people who destroy Canons of the Established Church for the mere fun of killing must be extremely limited. Of course there are individuals of weak mental balance who do that sort of thing, but they seldom conceal their handiwork; they are more generally inclined to parade it."
"His cook was under suspicion," said Egbert shortly.
"I know he was," said Sir Lulworth, "simply because he was about the only person on the premises at the time of the tragedy. But could anything be sillier than trying to fasten a charge of murder on to Sebastien? He had nothing to gain, in fact, a good deal to lose, from the death of his employer. The Canon was paying him quite as good wages as I was able to offer him when I took him over into my service. I have since raised them to something a little more in accordance with his real worth, but at the time he was glad to find a new place without troubling about an increase of wages. People were fighting rather shy of him, and he had no friends in this country. No; if anyone in the world was interested in the prolonged life and unimpaired digestion of the Canon it would certainly be Sebastien."
"People don't always weigh the consequences of their rash acts," said Egbert, "otherwise there would be very few murders committed. Sebastien is a man of hot temper."
"He is a southerner," admitted Sir Lulworth; "to be geographically exact I believe he hails from the French slopes of the Pyrenees. I took that into consideration when he nearly killed the gardener's boy the other day for bringing him a spurious substitute for sorrel. One must always make allowances for origin and locality and early environment; 'Tell me your longitude and I'll know what latitude to allow you,' is my motto."
"There, you see," said Egbert, "he nearly killed the gardener's boy."
"My dear Egbert, between nearly killing a gardener's boy and altogether killing a Canon there is a wide difference. No doubt you have often felt a temporary desire to kill a gardener's boy; you have never given way to it, and I respect you for your self-control. But I don't suppose you have ever wanted to kill an octogenarian Canon. Besides, as far as we know, there had never been any quarrel or disagreement between the two men. The evidence at the inquest brought that out very clearly."
"Ah!" said Egbert, with the air of a man coming at last into a deferred inheritance of conversational importance, "that is precisely what I want to speak to you about."
He pushed away his coffee cup and drew a pocket-book from his inner breast-pocket. From the depths of the pocket-book he produced an envelope, and from the envelope he extracted a letter, closely written in a small, neat handwriting.
"One of the Canon's numerous letters to Aunt Adelaide," he explained, "written a few days before his death. Her memory was already failing when she received it, and I daresay she forgot the contents as soon as she had read it; otherwise, in the light of what subsequently happened, we should have heard something of this letter before now. If it had been produced at the inquest I fancy it would have made some difference in the course of affairs. The evidence, as you remarked just now, choked off suspicion against Sebastien by disclosing an utter absence of anything that could be considered a motive or provocation for the crime, if crime there was."
"Oh, read the letter," said Sir Lulworth impatiently.
"It's a long rambling affair, like most of his letters in his later years," said Egbert. "I'll read the part that bears immediately on the mystery.
"'I very much fear I shall have to get rid of Sebastien. He cooks divinely, but he has the temper of a fiend or an anthropoid ape, and I am really in bodily fear of him. We had a dispute the other day as to the correct sort of lunch to be served on Ash Wednesday, and I got so irritated and annoyed at his conceit and obstinacy that at last I threw a cupful of coffee in his face and called him at the same time an impudent jackanapes. Very little of the coffee went actually in his face, but I have never seen a human being show such deplorable lack of self-control. I laughed at the threat of killing me that he spluttered out in his rage, and thought the whole thing would blow over, but I have several times since caught him scowling and muttering in a highly unpleasant fashion, and lately I have fancied that he was dogging my footsteps about the grounds, particularly when I walk of an evening in the Italian Garden.'
"It was on the steps in the Italian Garden that the body was found," commented Egbert, and resumed reading.
"'I daresay the danger is imaginary; but I shall feel more at ease when he has quitted my service.'"
Egbert paused for a moment at the conclusion of the extract; then, as his uncle made no remark, he added: "If lack of motive was the only factor that saved Sebastien from prosecution I fancy this letter will put a different complexion on matters."
"Have you shown it to anyone else?" asked Sir Lulworth, reaching out his hand for the incriminating piece of paper.
"No," said Egbert, handing it across the table, "I thought I would tell you about it first. Heavens, what are you doing?"
Egbert's voice rose almost to a scream. Sir Lulworth had flung the paper well and truly into the glowing centre of the grate. The small, neat handwriting shrivelled into black flaky nothingness.
"What on earth did you do that for?" gasped Egbert. "That letter was our one piece of evidence to connect Sebastien with the crime."
"That is why I destroyed it," said Sir Lulworth.
"But why should you want to shield him?" cried Egbert; "the man is a common murderer."
"A common murderer, possibly, but a very uncommon cook."
The Blind Spot
From 'Beasts and Super-Beasts'
by Saki (H. H. Munro)
(1870 – 1916)
• fleursdumal.nl magazine
More in: Archive S-T, Saki, Saki, The Art of Reading
---
Vanaf 30 november 2018 tot 28 april 2019 presenteert het Bonnefantenmuseum het omvangrijke retrospectief Someone is in my House van de Amerikaanse kunstenaar David Lynch.
Hoewel David Lynch onmiskenbaar een spilfiguur is in de internationale film- en tv-wereld, is zijn werk als beeldend kunstenaar veel minder bekend. Dat is op zijn minst vreemd, aangezien Lynch zelf altijd heeft bena­drukt dat hij zichzelf vóór alles ziet als beeldend kunste­naar.
Een beeldend kunstenaar die tijdens zijn studie aan de kunstacademie toevallig in aanraking kwam met het medium film, waarmee de basis gelegd werd voor zijn carrière als filmregisseur.
Naast zijn werk als regisseur is Lynch altijd actief gebleven als beeldend kunstenaar en heeft hij in de afgelopen decennia een grenzeloos oeuvre gecreëerd van onder andere schilderijen, tekeningen, litho's, foto's, lampsculpturen, muziek en installaties.
Een oeuvre dat tot nu toe nog maar zelden is belicht en in musea werd getoond. Met ruim 500 werken brengt het Bonnefantenmuseum niet alleen de eerste Nederlandse museumpresentatie van Lynch' beeldend oeuvre, maar ook de grootste overzichtstentoonstelling ooit.
David Lynch: Someone is in my House
30.11.2018 – 28.04.2019
David Lynch, beeldend kunstenaar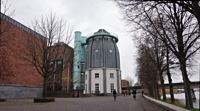 Anders dan het werk van Lynch (1946, Missoula, Montana, VS), vol duister geweld en seksua­liteit, doet vermoeden, is de kindertijd van de kunstenaar en filmmaker ge­lukkig en liefdevol.
Lynch groeit op met reislustige ouders en leidt op jonge leeftijd een nomadenbestaan, een voor hem idyllische en veilige omgeving. Van jongs af aan aangemoedigd om zich creatief te ontplooien – kleurboeken waren uit den boze, eigen verbeelding gebruiken was het credo – komt hij uiteindelijk op de Pennsylvania Academy of the Fine Arts in Philadelphia terecht om schilderkunst te studeren.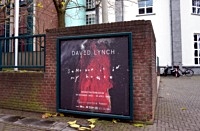 Hier ontwikkelt Lynch zijn artistieke vocabulaire en thema's die blijvend aanwezig zullen zijn in zijn werk. En hier ligt de voedingsbodem voor zijn eerste mixed-media installatie met stop-motion film Six Men Getting Sick (Six Times) (1967), die een opmaat vormde naar zijn eerste speelfilm, Eraserhead (1977). De rest is (film)geschiedenis en inmiddels zijn Lynch' films moderne klassiekers.
Lynch' kunstenaarschap loopt als een rode draad door zijn leven en films. Hij is gedurende zijn vijftigjarige carrière altijd blijven tekenen en schilde­ren, ook als er vanwege zijn werk als filmregisseur weinig tijd was om in het atelier door te brengen.
"I miss painting when I'm not painting", zegt Lynch zelf in de recente biografie Room to Dream. * David Lynch en Kristine McKenna. Room to Dream. Edinburgh, Canongate Books, 2018, p. 301
In samenwerking met David Lynch toont het Bonnefanten een indrukwekkend artistiek overzicht van het veelzijdige kunstenaarschap van Lynch.
De tentoonstelling omvat schilderijen, foto's, tekeningen, litho's en aquarellen uit de jaren 60 tot heden, unieke tekeningen op luciferboekjes uit de jaren 70, schetsboektekeningen uit de jaren 60/70/80, zwart-wit foto's uit verschillende periodes, waaronder de befaamde Snow Men-fotoserie (1993), cartoons uit de serie The Angriest Dog in the World (1982-1993), audiowerken én een aantal kortfilms uit 1968-2015.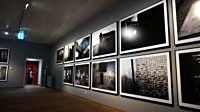 Voor het eerst sinds het ontstaan in 1967, zal ook het allesbepalende academiewerk Six Men Getting Sick (Six Times) in een museumtentoonstelling te zien zijn.
Publicatie
Bij de tentoonstelling verschijnt een rijk geïllustreerde monografie met tekstbijdragen van curator Stijn Huijts (artistiek directeur Bonnefantenmuseum), Kristine McKenna (journalist en curator, Verenigde Staten), Petra Giloy-Hirtz (schrijver en curator, Duitsland) en Michael Chabon (schrijver, Verenigde Staten). De publicatie is verkrijgbaar in het Nederlands, Engels en Frans en wordt uitgegeven door Uitgeverij Hannibal in samenwerking met Prestel.
Tentoonstellingsteaser
In aanloop naar zijn omvangrijke retrospectief Someone is in my House, maakte Lynch speciaal voor het Bonnefanten een unieke tentoonstellingsteaser. In deze typisch Lynchiaanse kortfilm, met in de hoofdrol naast Lynch zelf de 'White Monkey' – een personage dat eerder opdook in Lynch' Weird daily weather report – nodigt hij de kijker uit om naar het Bonnefanten te komen.
Flankerend programma
Parallel aan de tentoonstelling is er in samenwerking met Lumière Cinema in Maastricht een compleet filmretrospectief gewijd aan de films en het leven van David Lynch met filmvertoningen, documentaires en lezingen over de filmmaker.
Daarnaast brengt EYE filmmuseum drie digitaal gerestaureerde films opnieuw uit in de filmtheaters in heel het land. Voor meer informatie: https://www.eyefilm.nl/themas/gerestaureerde-david-lynch-klassiekers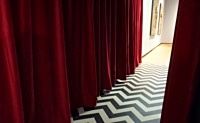 De philharmonie zuidnederland werkte met de Poolse componist Marek Zebrowski aan een compositie en uitvoering van Music for David, een strijkkwartet dat Zebrowski in 2015 componeerde als een hommage aan Lynch, die op zijn beurt de korte animatie film Pożar (Fire) maakte bij Zebrowski's compositie. Het muziekstuk zal een aantal keren live (op zaal) bij de film ten gehore worden gebracht.
# meer informatie op website Bonnefantenmuseum
# Expositie & publicatie
David Lynch: Someone is in my House
30.11.2018 – 28.04.2019

• photos: jef van kempen
• fleursdumal.nl magazine
More in: #Archive A-Z Sound Poetry, *Concrete + Visual Poetry K-O, - Book News, - Bookstores, Archive K-L, Art & Literature News, AUDIO, CINEMA, RADIO & TV, David Lynch, Exhibition Archive, FDM Art Gallery, Jef van Kempen Photos & Drawings, Museum of Literary Treasures, Photography, Tales of Mystery & Imagination, THEATRE
---
Older Entries »
Thank you for reading FLEURSDUMAL.NL - magazine for art & literature